Posts labeled with Country
' USA'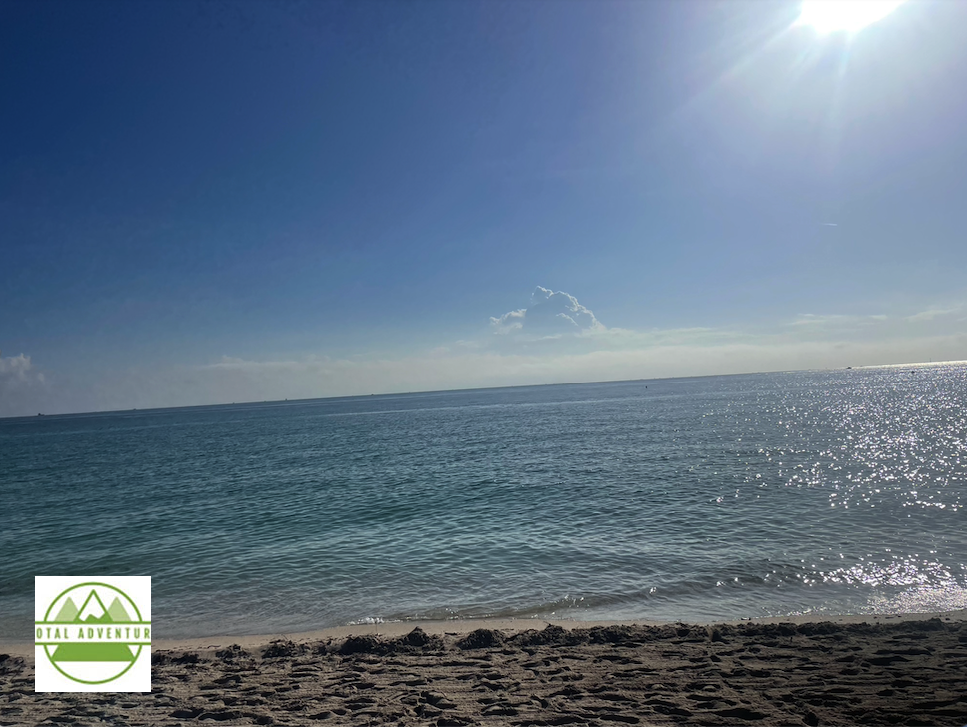 11000 KM South To Antarctica ! See the video above !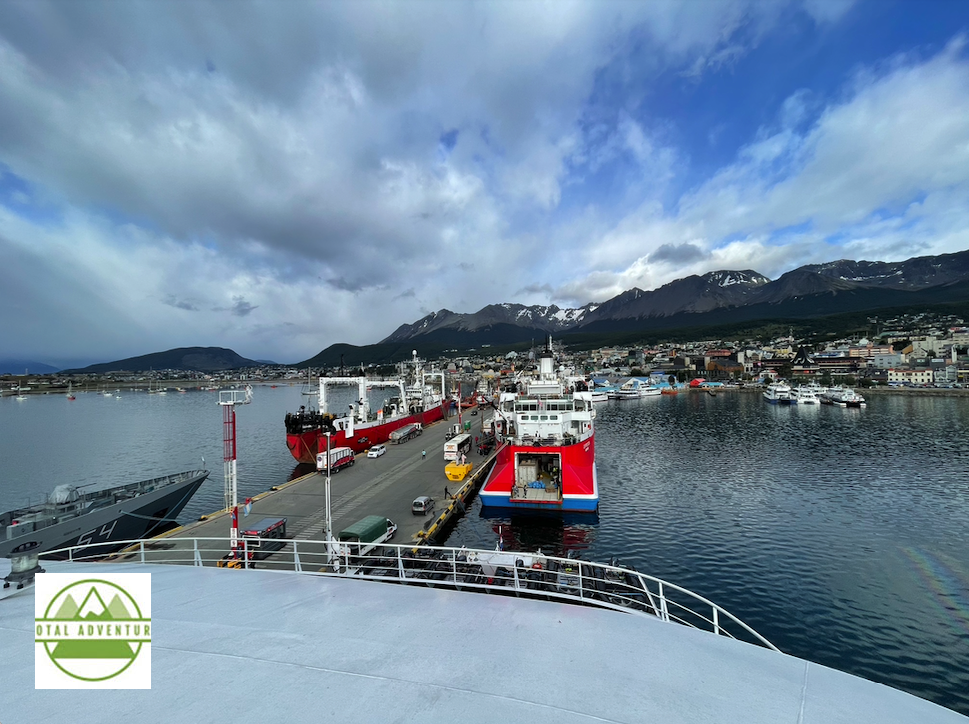 On November 29,2022 TotalAdventure and a colleague boarded an Aerolineas jet for Buenos Aires arriving in Ezezia that evening. The next morning , from Aeroparque, we boarded a smaller jet for the 4 hour flight to Ushuaia. Please see the Ushuaia article above, if you have not already.
Above is the dock at Ushuaia, where our ship, the MV Hondius departed to and arrived from, Antarctica.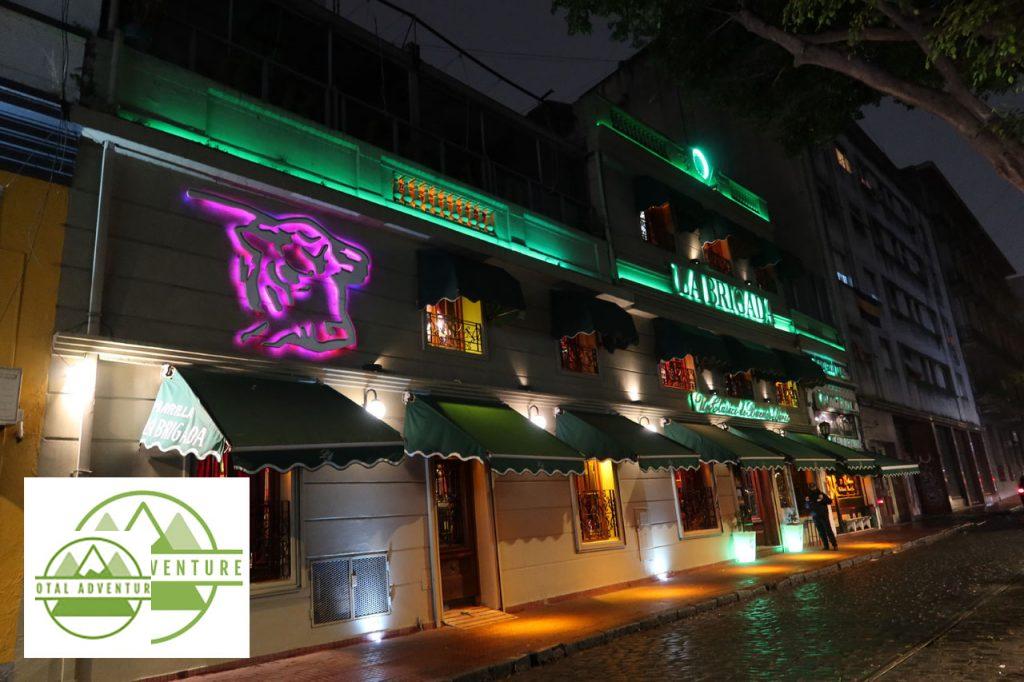 Buenos Aires By Night.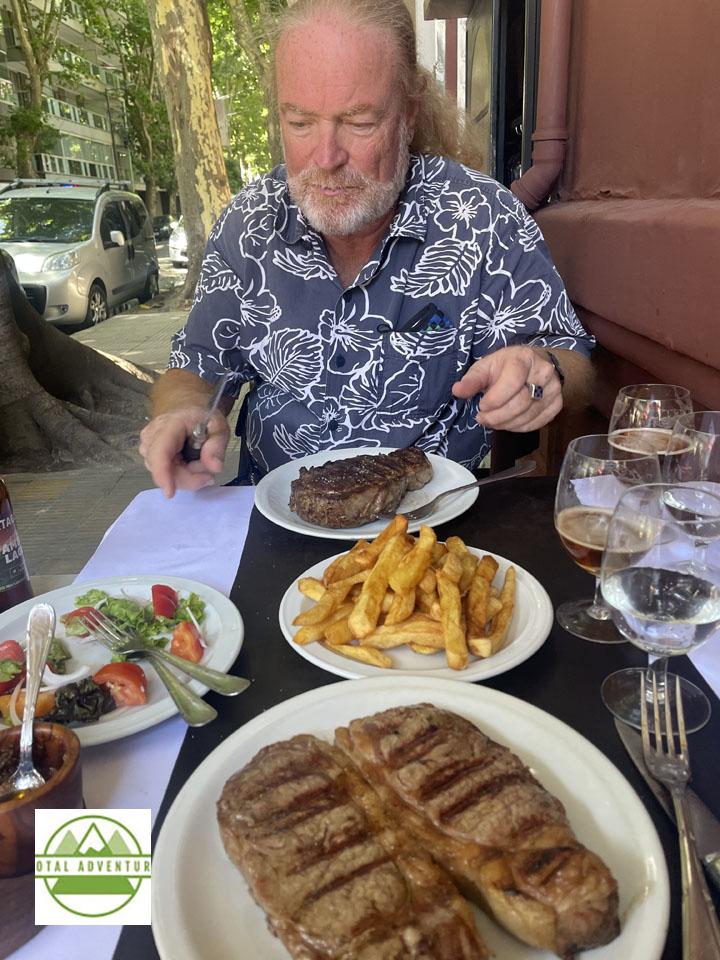 Dining At The World's Top Rated Steakhouse – Don Julio ! The 95 degree summer weather was welcome on our return from Antarctica.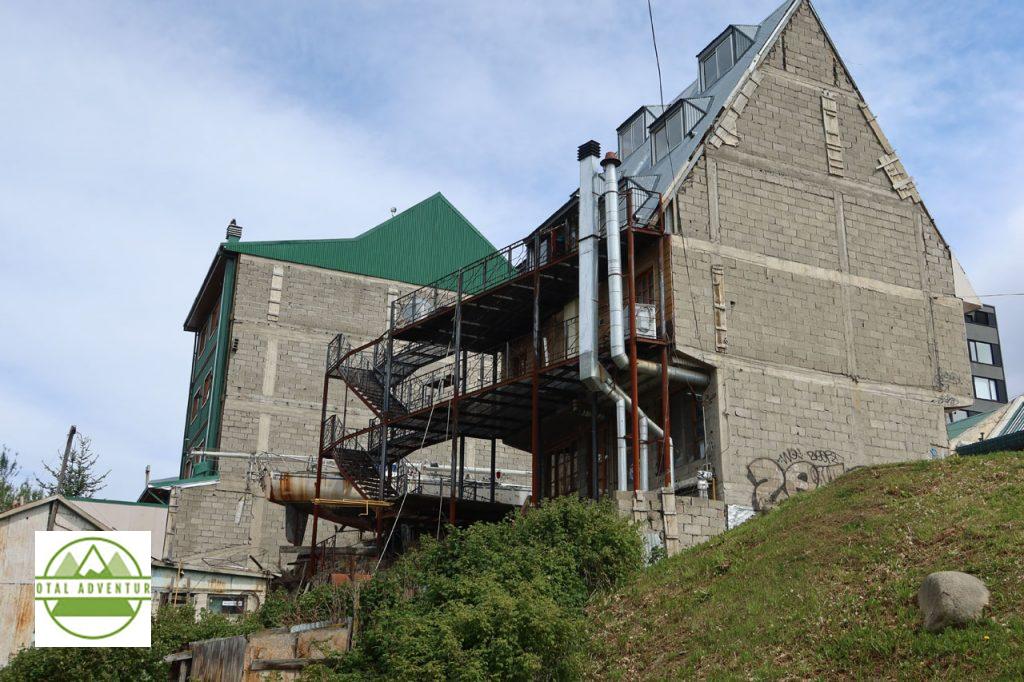 Ushuaia – Time to board the ship to cross the Drake ! Read on in the series below !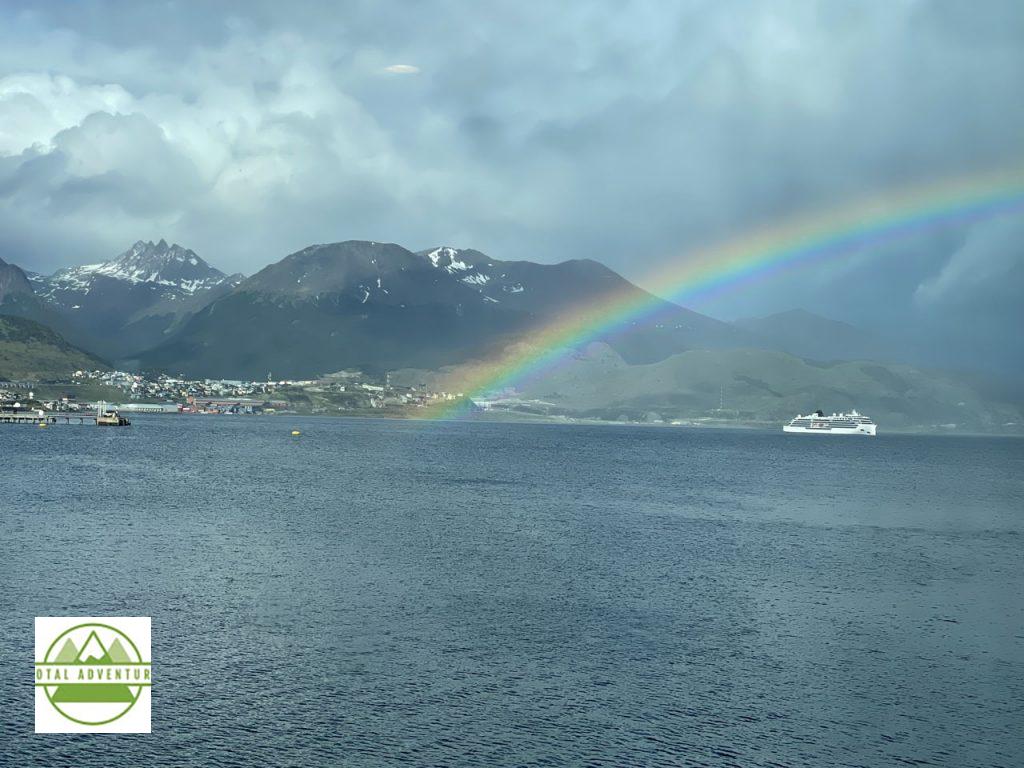 Good Fortune Ahead From Ushuaia Across The Drake !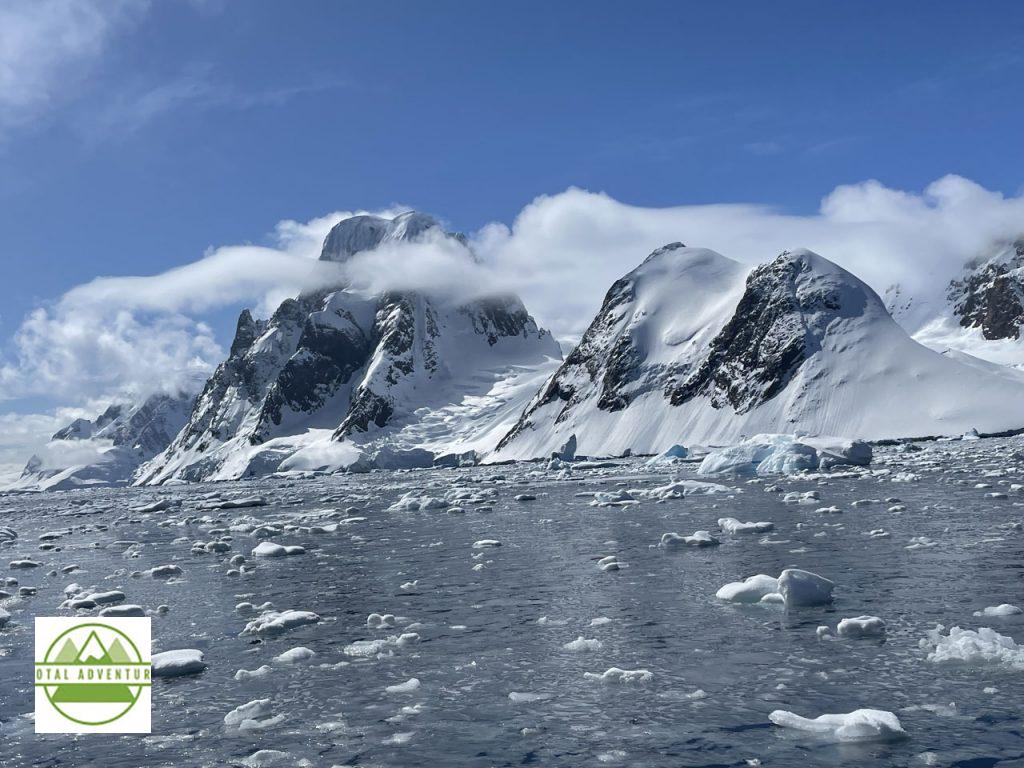 A Long Way From Miami !
The First Art Basel was scheduled for 2001. It was cancelled due to 9/11. When I my journalistic career took me to Miami in 2002 , I was privileged to attend the first one. Admission was $ 5 and we went in our bathing suits. Fast forward to 20 years later, including in the video above. It's a very different scene now.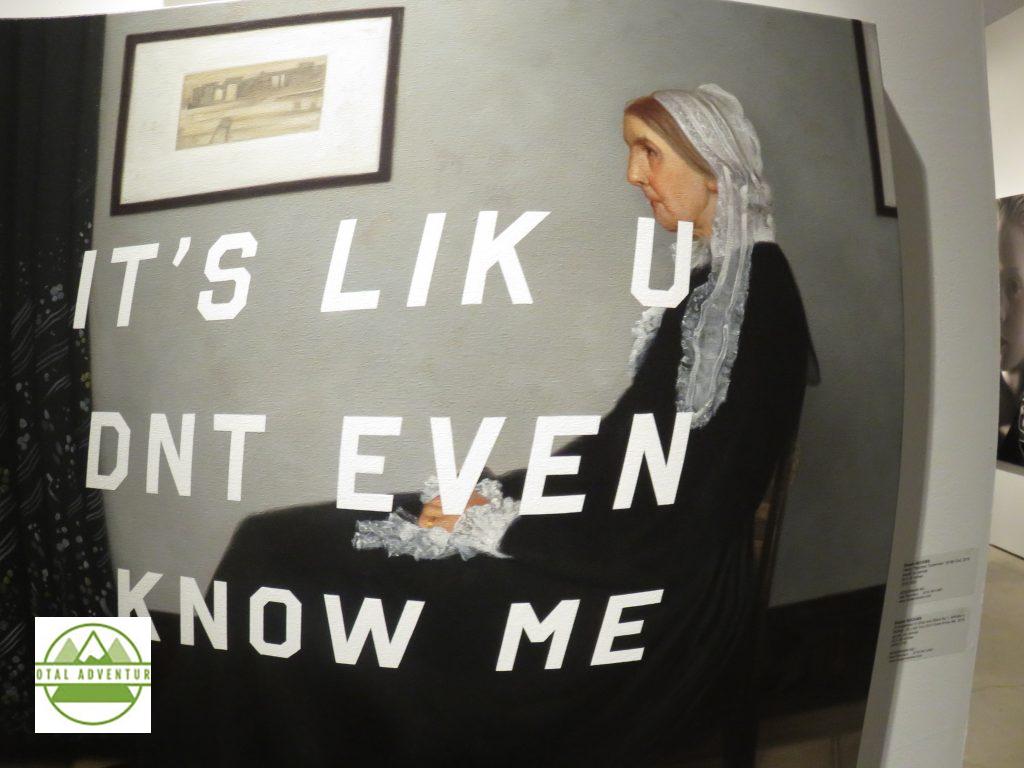 Back in 2002 some Argentine friends had picked up a couple Picassos and had them propped up on the floor of their Venetian Island house. Now there don't seem to be many Picassos.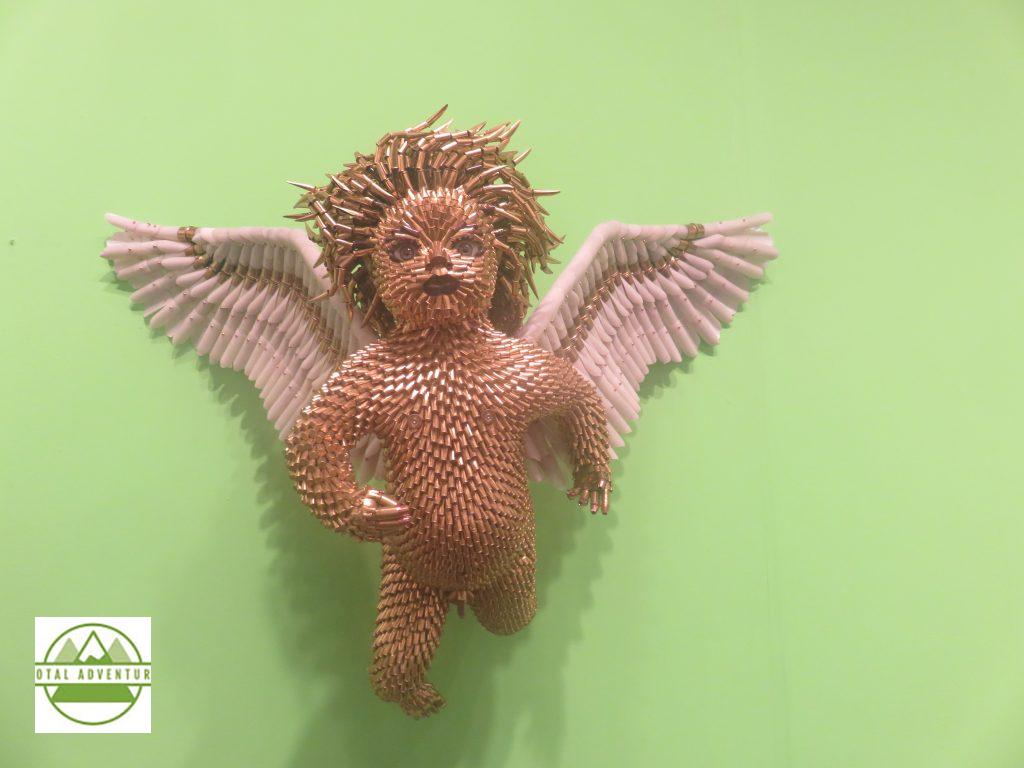 Angel Of Anger.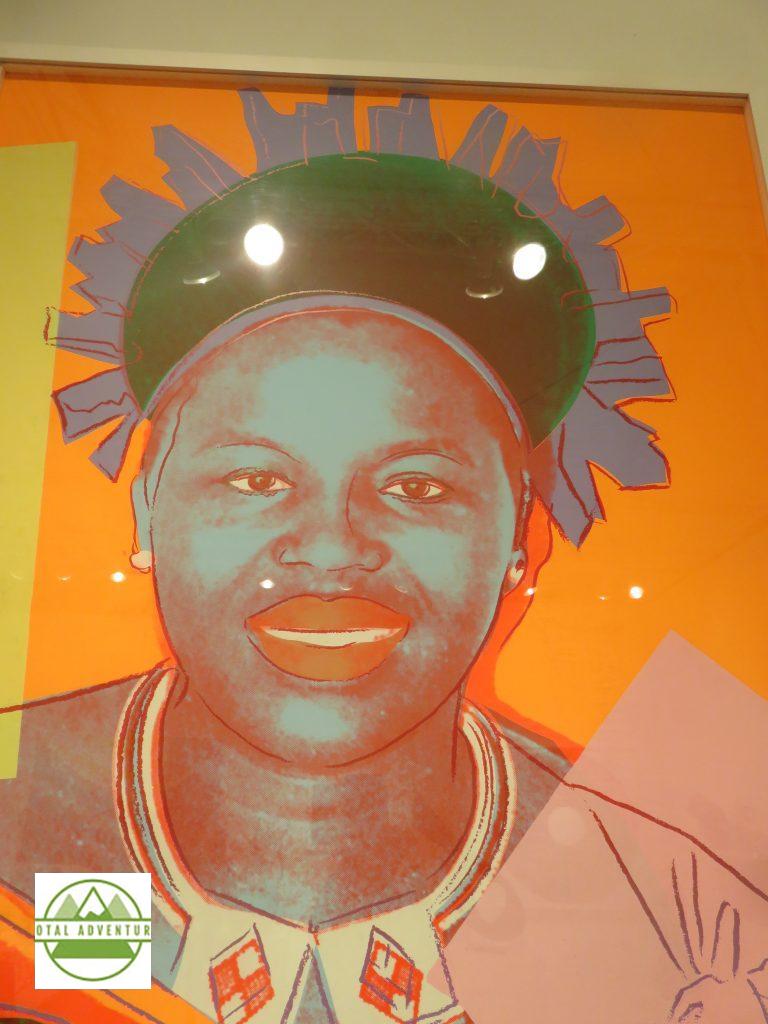 Big and Beautiful !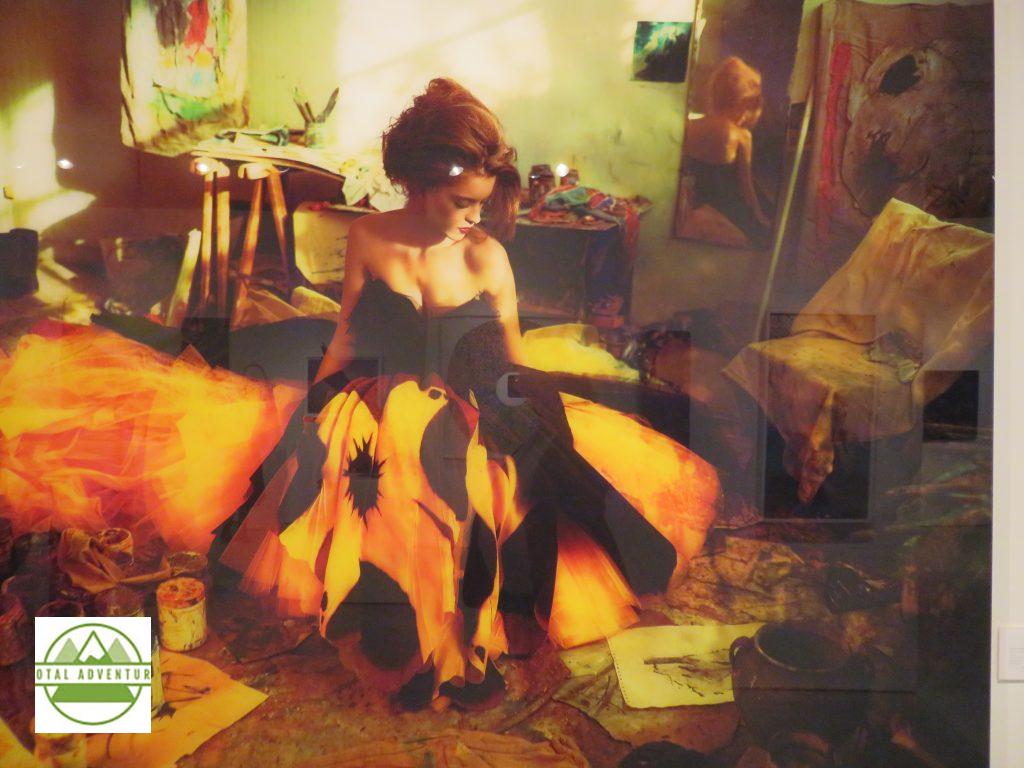 Devil In Disguise.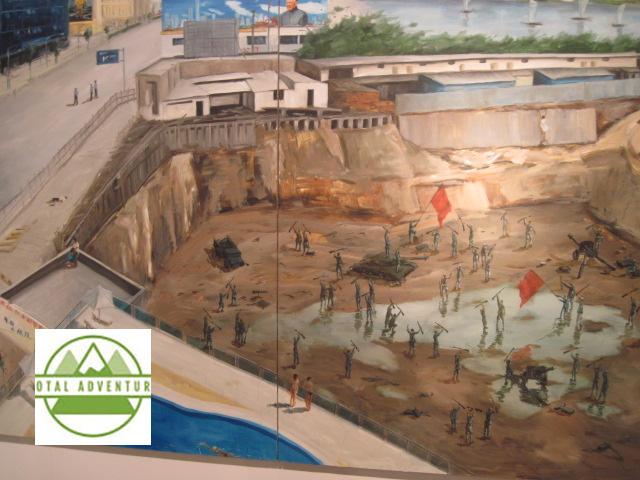 A Deathly Dig.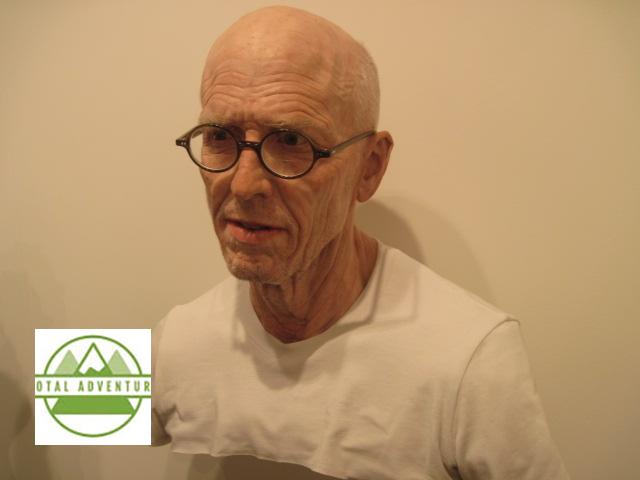 A Wall Streeter On Vacation.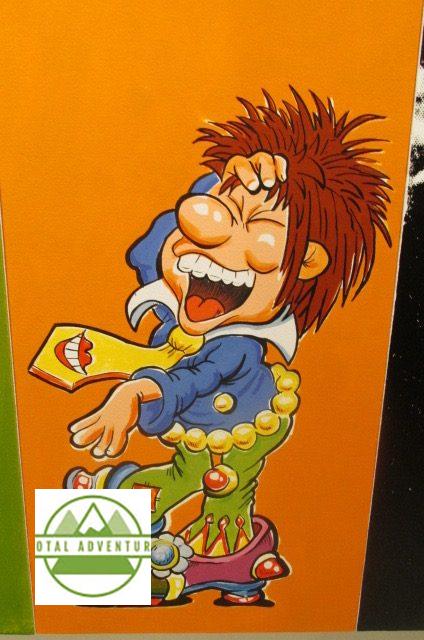 Since 2002 – only one shaw did not happen – in the COVID lockdowns of 2020.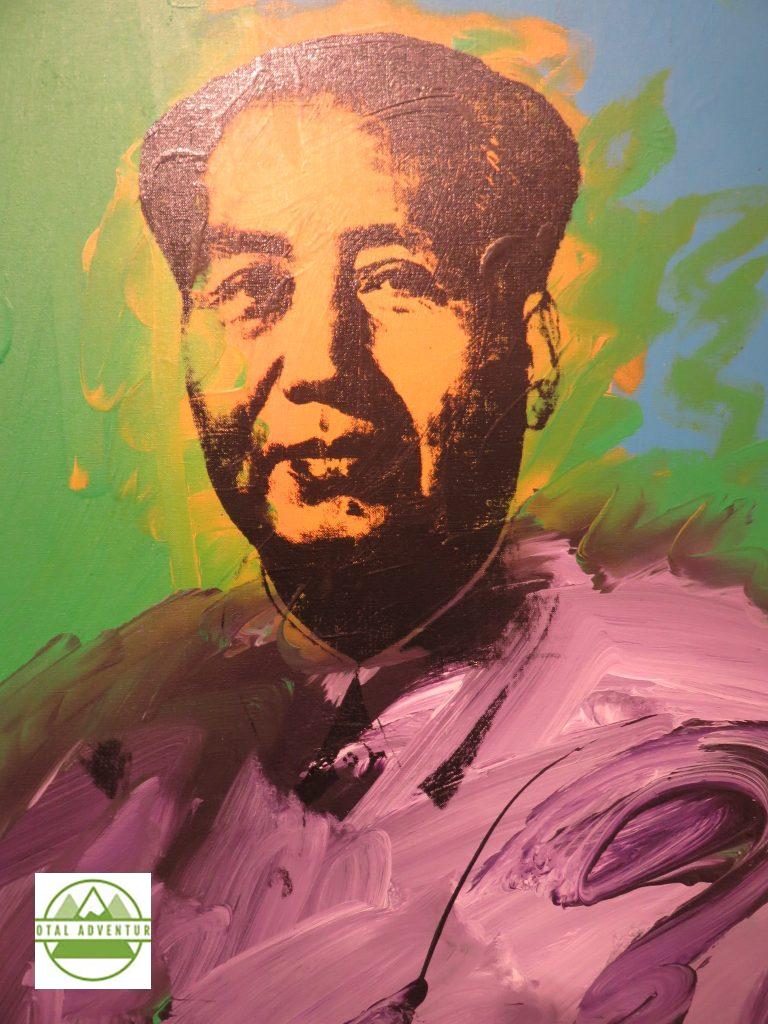 All Hail To The Great Helmsman !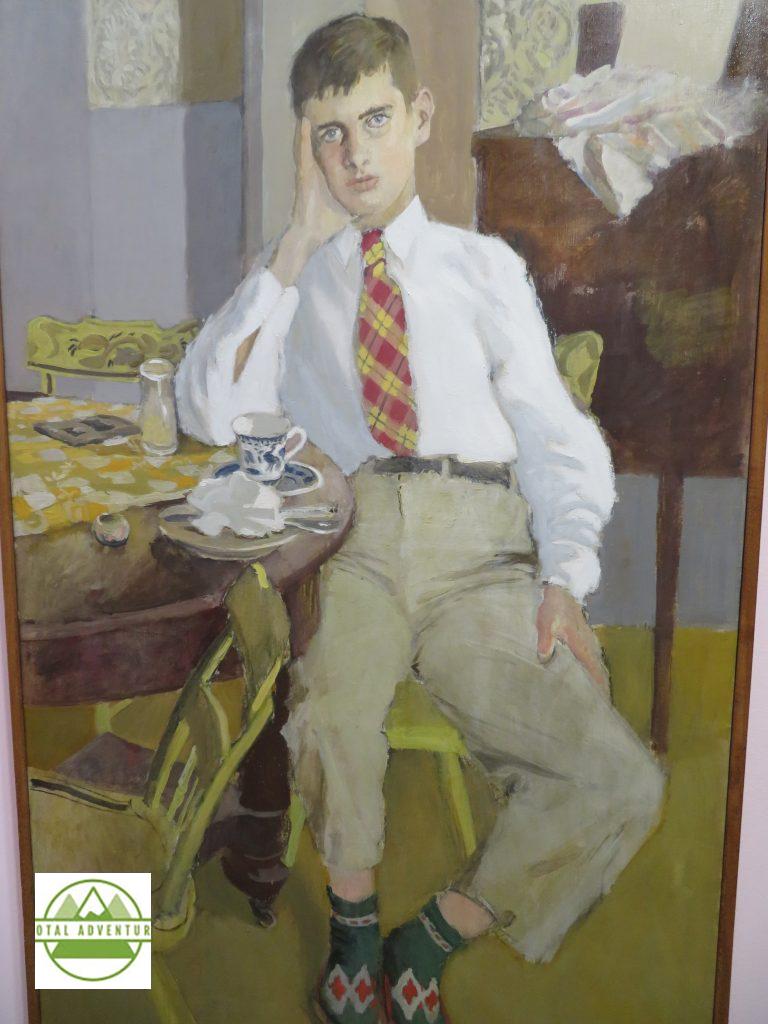 Teatime Troubles.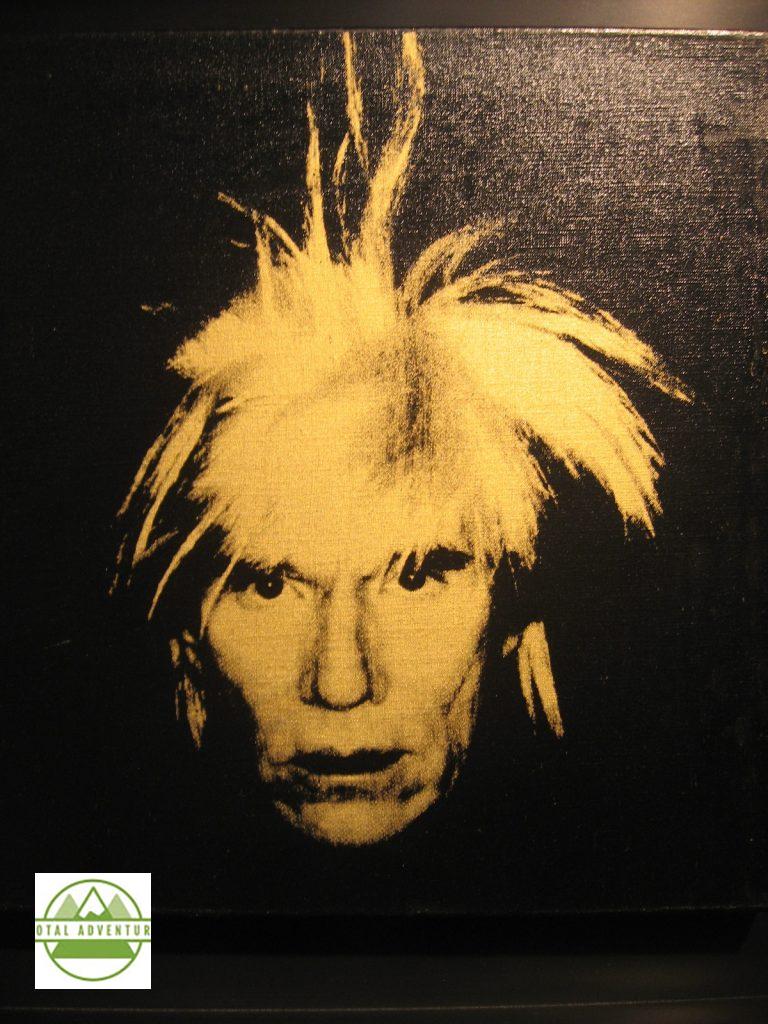 We wished I picked up a Warhol for $2000 back in 1987 ,just before he died.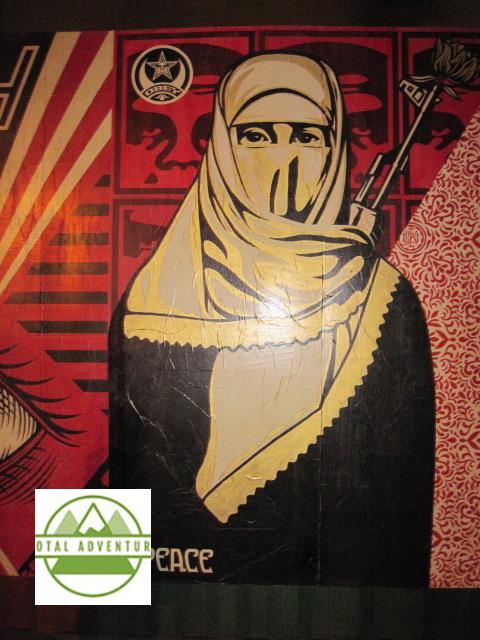 Terror Or Tyranny ?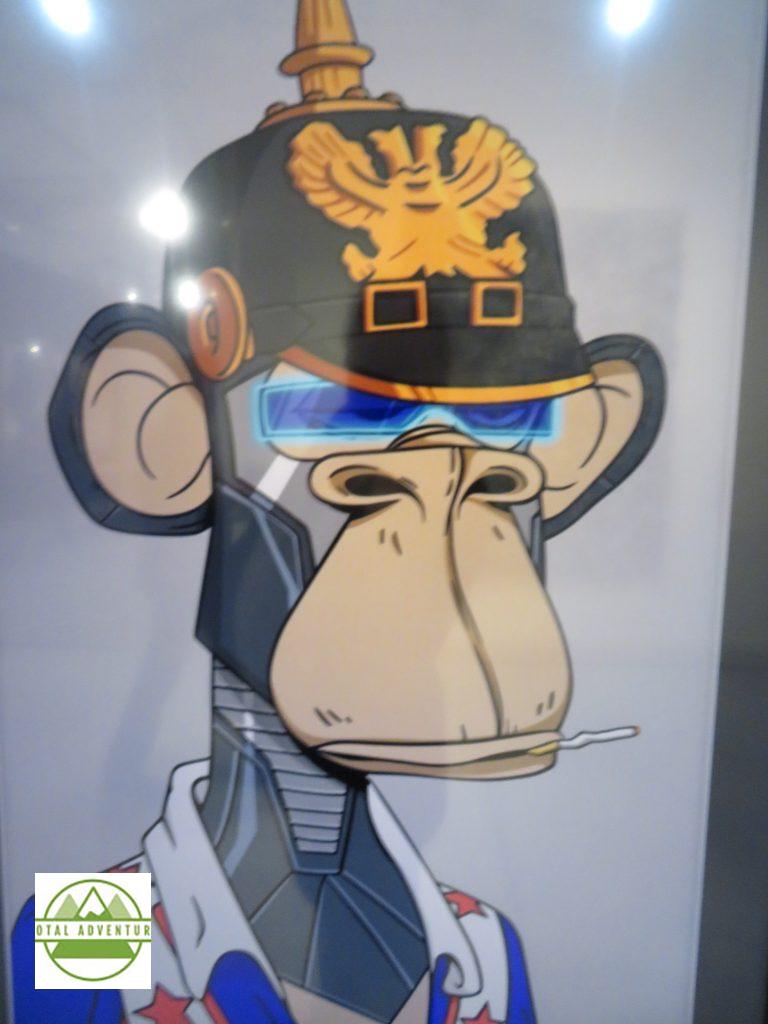 Imperial Irony. The Forerunner of the NFT Craze. Will NFTs continue by 2023 ?,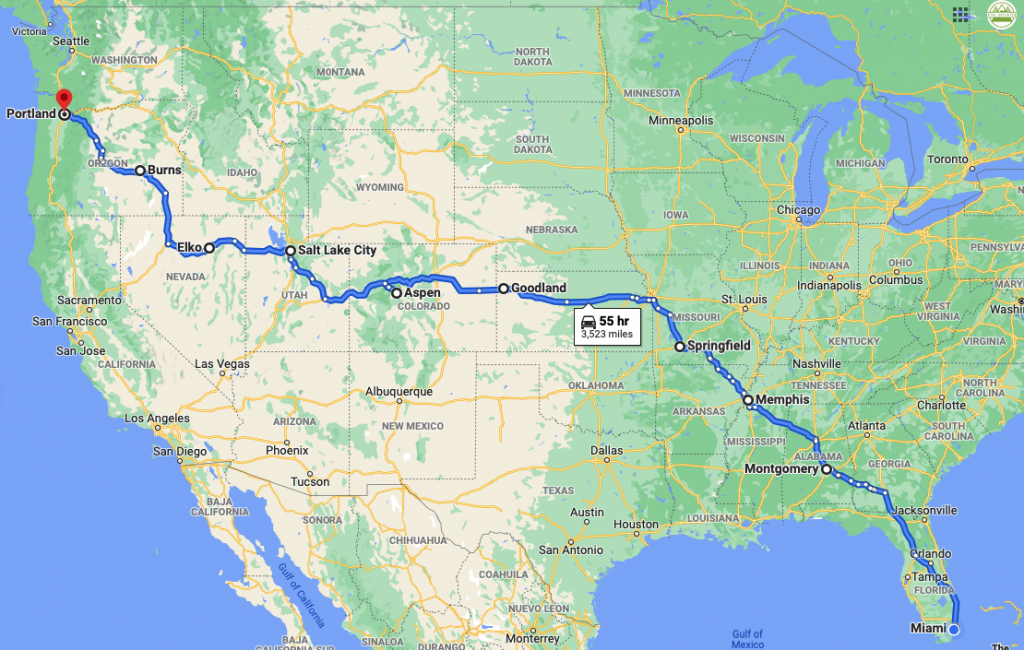 In the dark early morning hours of June 28, TotalAdventure once again set out across North America. TotalAdventure was on his way to Portland,Oregon to see his 3 month old Grandson, and also see parts of the 48 States not seen in the Summer of 2020. The continued worldwide COVID crackdowns had eased a bitt, bit still made seamless travel impossible. Even the Canadian border remained closed, and it was hoped it would open in July in time for TotalAdventure's return to the East.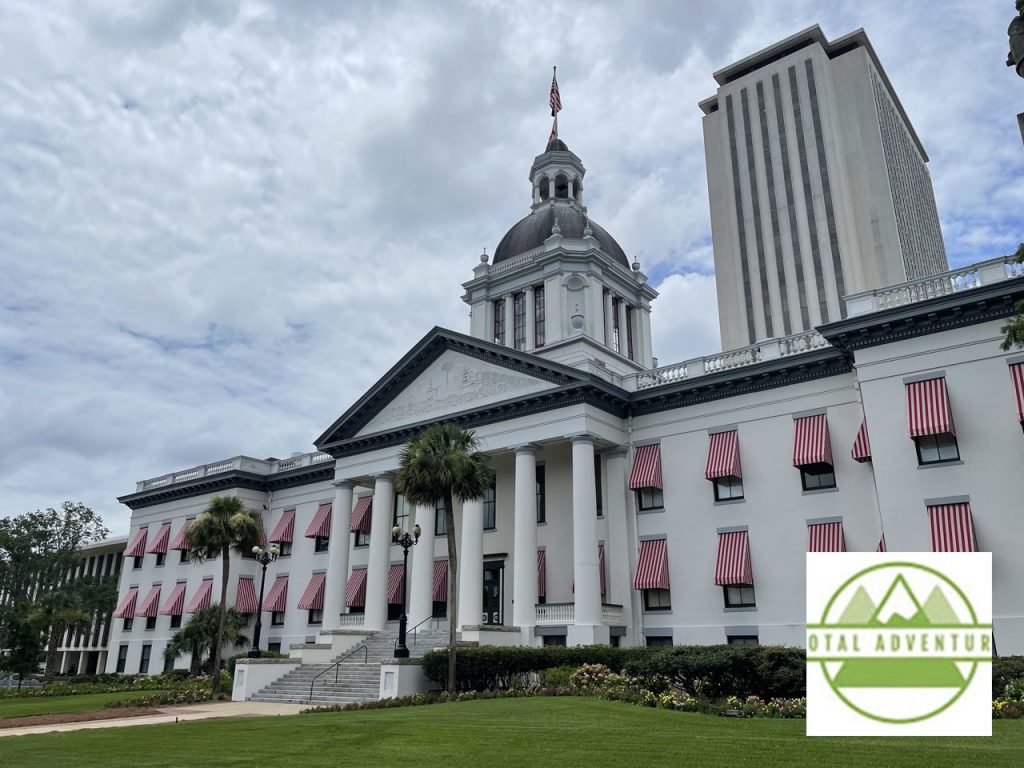 The first 600 miles were high speed and effortless and I arrived in the sleepy Southern town of Tallahassee, which happens to be our capitol. Florida is a large and diverse state . Sophisticated city dwellers of the large International Latin & New Yorker Metropolis 600 miles away do not appreciate being legislated by Bible Belt moralizers. As the joke goes, "Why is the capital of Florida in Alabama ? "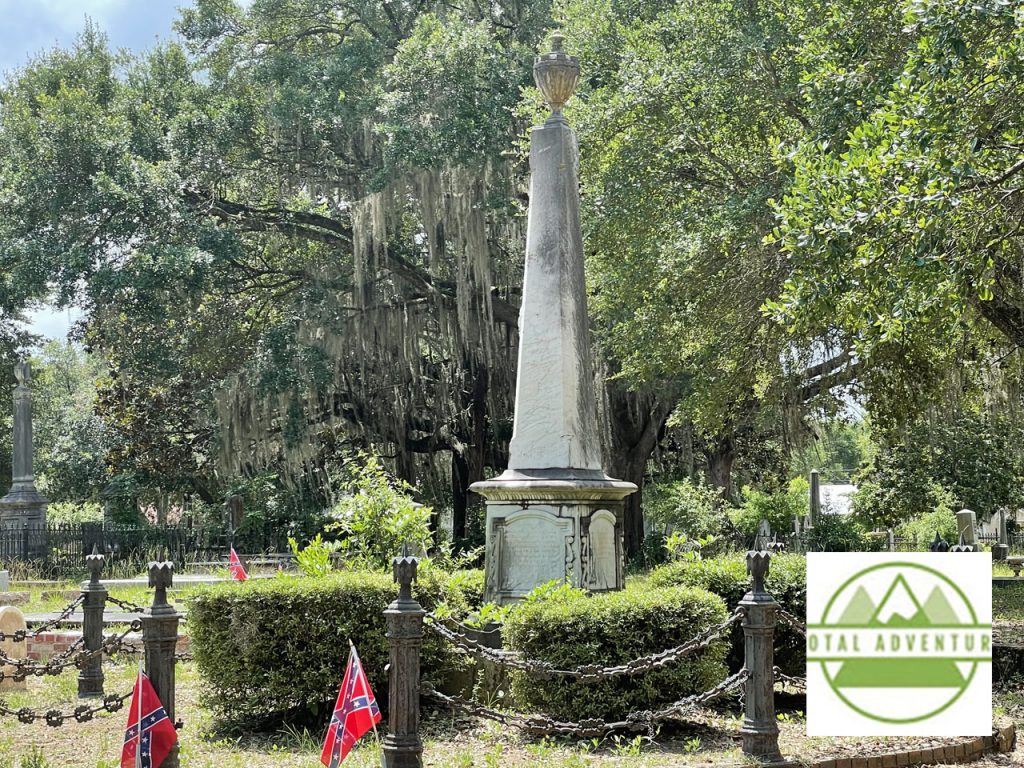 Alabama is a State of the Old South being pulled in seperate ways – those who want to be part of the New South and those who wish to remain in the past.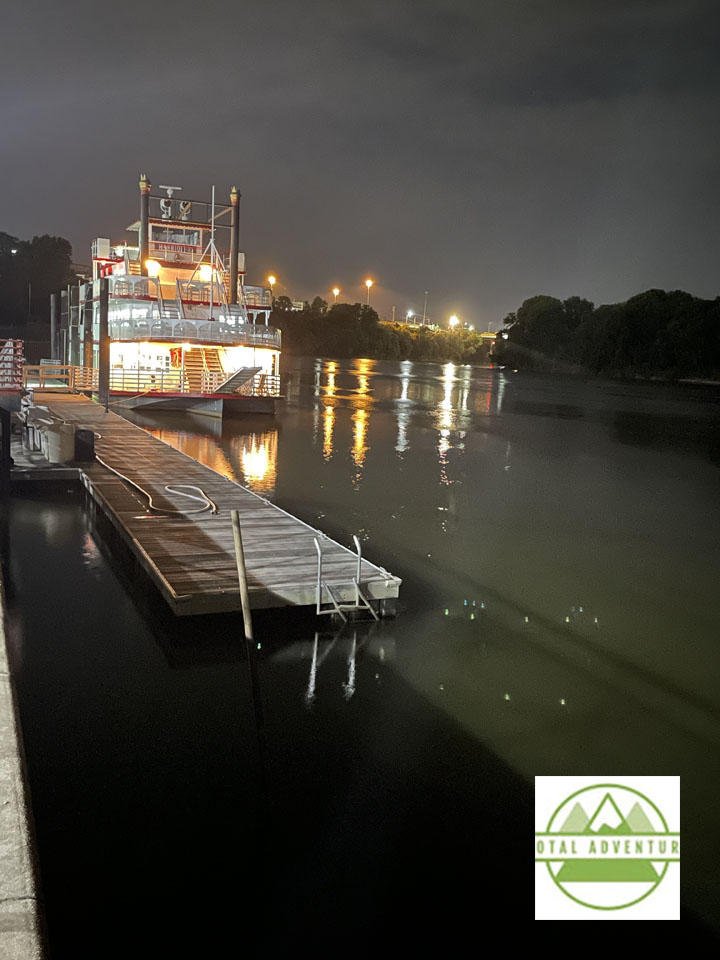 TotalAdventure spent the night in Montgomery and traveled though Selma the next morning.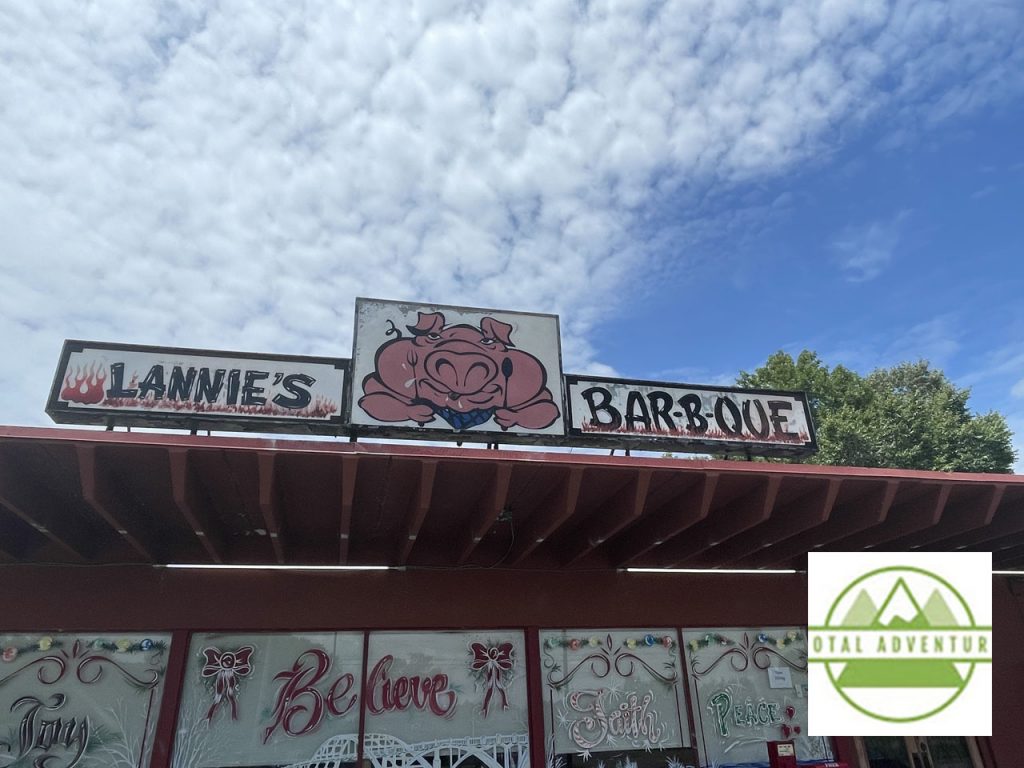 TotalAdventure explored the Civil Rights Battlefield city of Selma. Now peaceful, the genteel old buildings are a bit run down. One of the only restaurants in town has some great BBQ !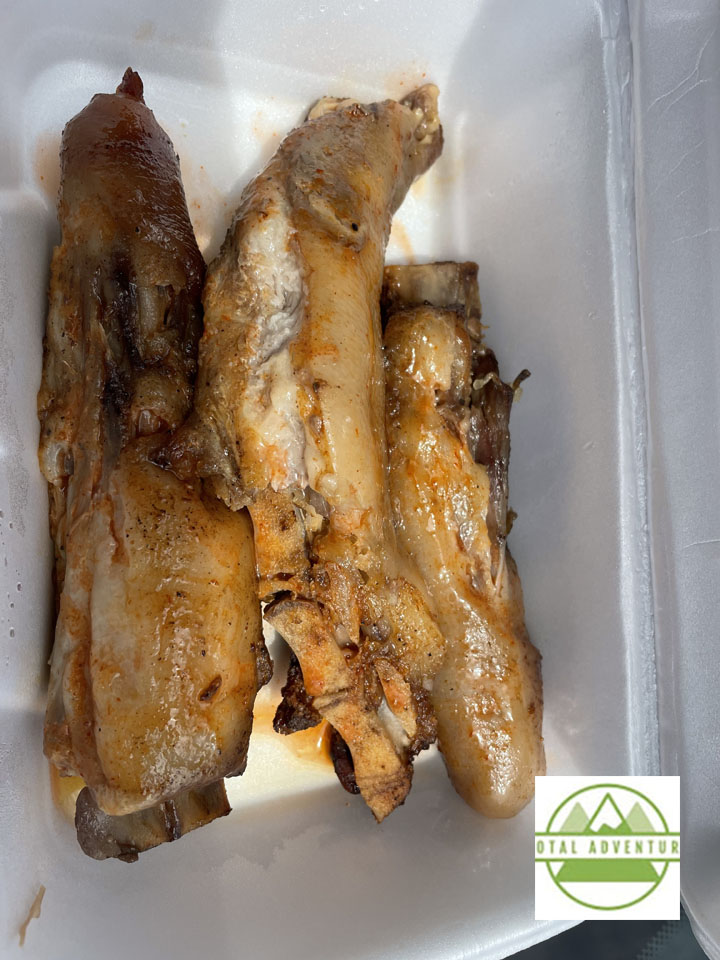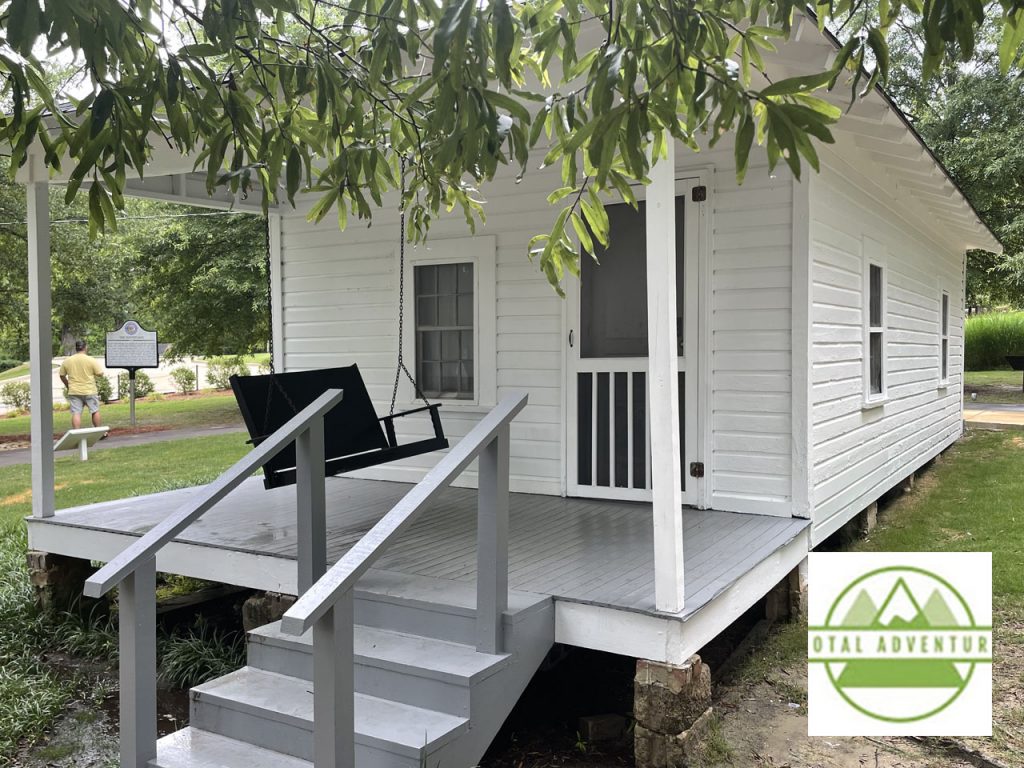 The next stop of the day was Tupelo, Mississippi, at the Birthplace of Elvis Presley. Not only is it a shrine, but also a National Landmark.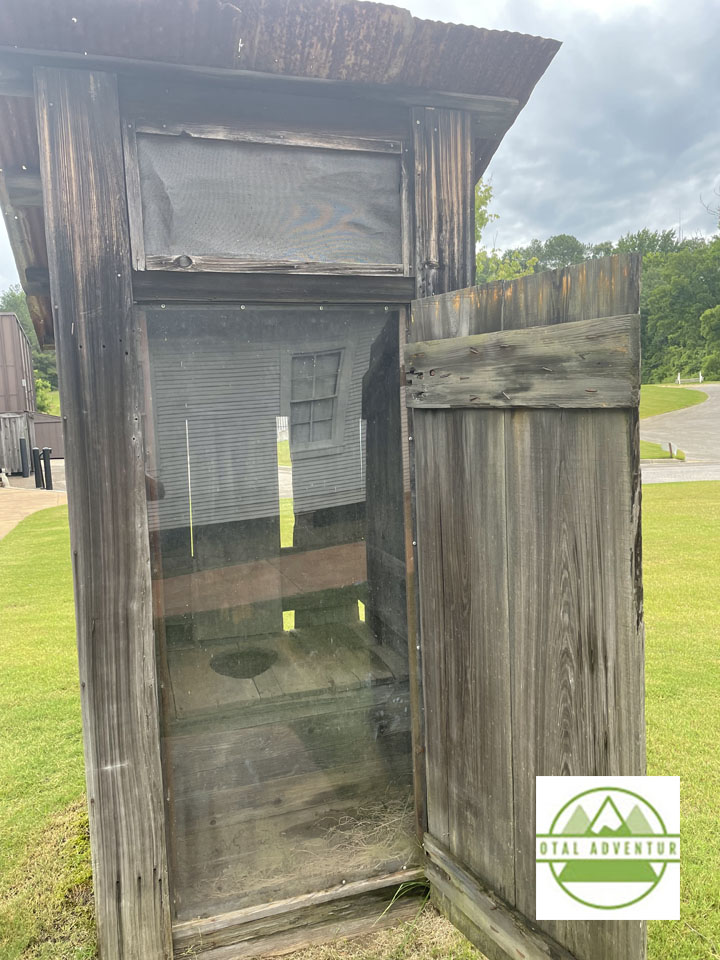 The family was so poor ,the house had no s electricity or running water. The outhouse was shared with 8 other families.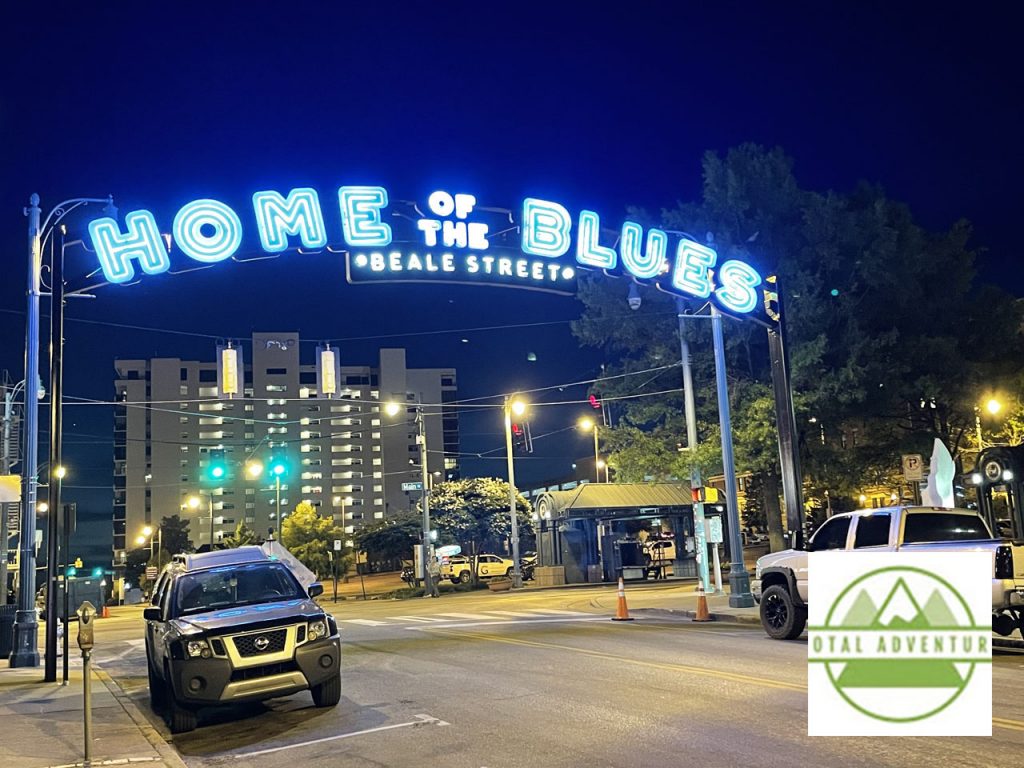 The second day finished up in Memphis ,Tennessee, just across the Mississippi River from Arkansas.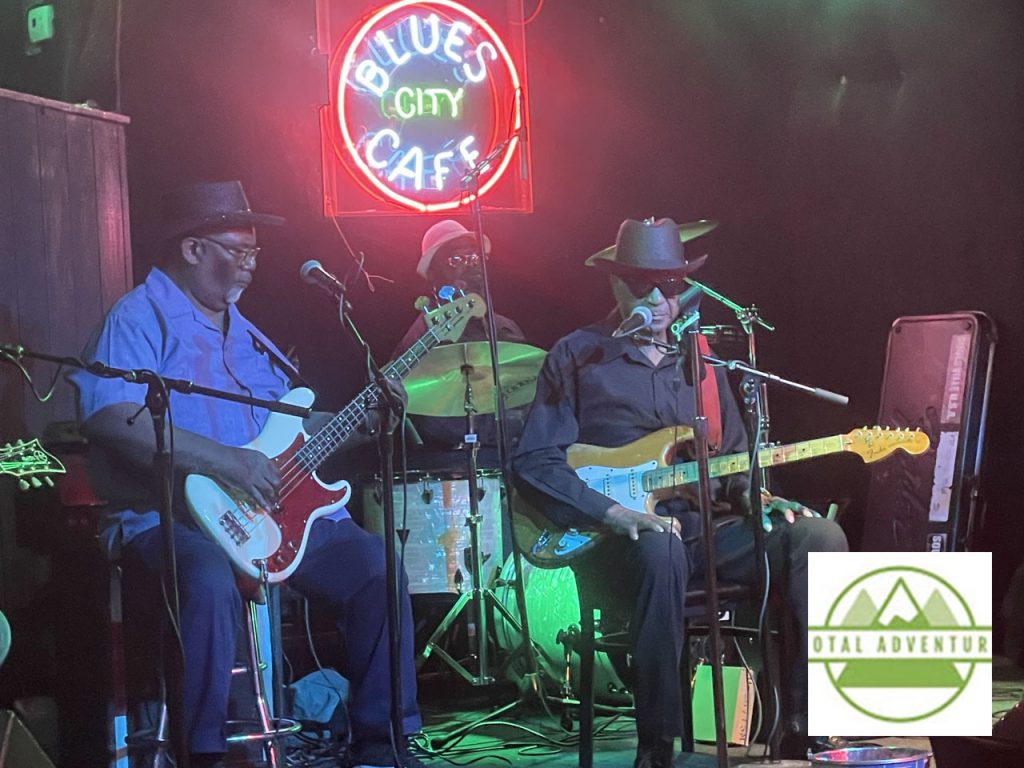 Beale Street, not quite as lively as the French Quarter, was in recovery mode from COVID and music was back on the menu, along with fine BBQ.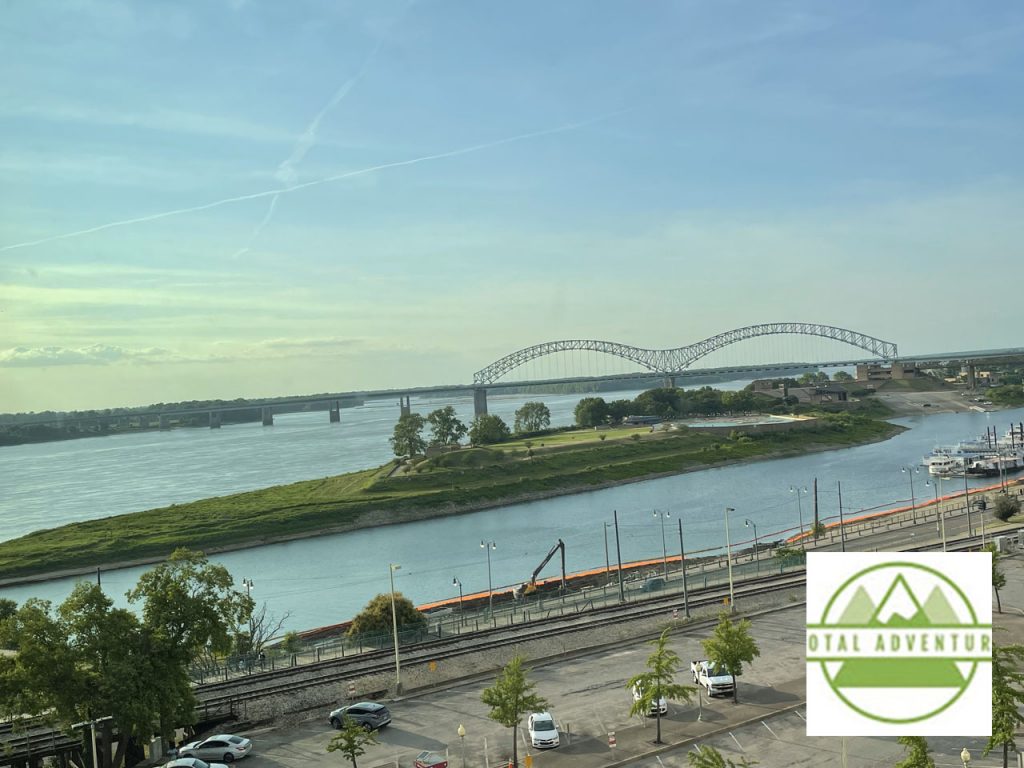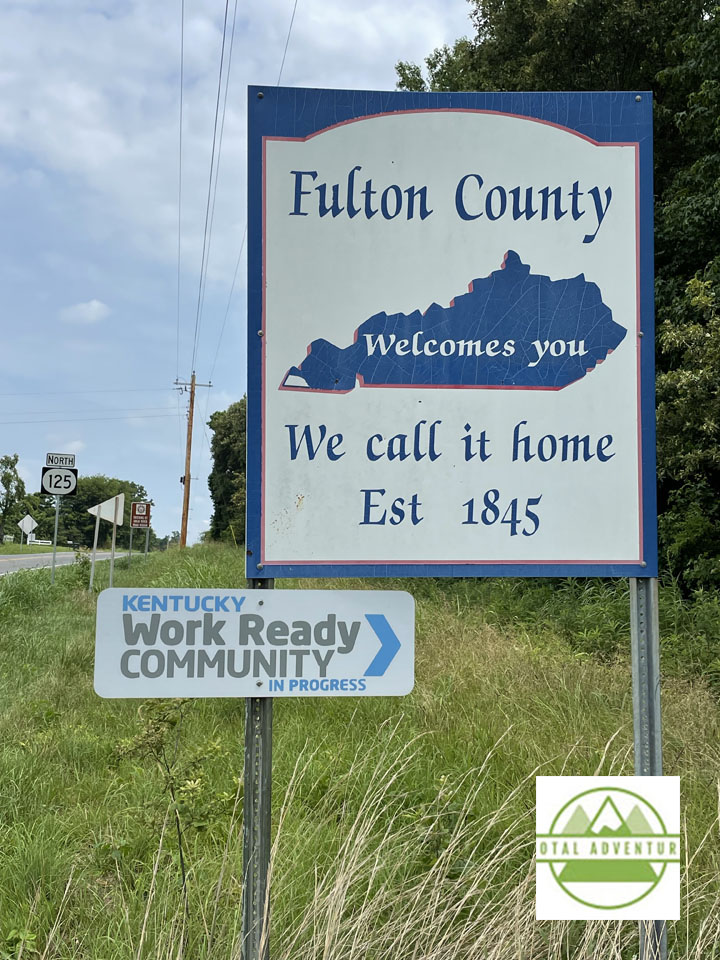 Most of the the time crossing the Mississippi is on a high steel bridge ,hundreds of feet over the water. TotalAdventure decided to do it Mark Twain style – on a car ferry across the 1.5 mile wide River from Hickman KY to a cornfield 20 miles north of New Madrid MO.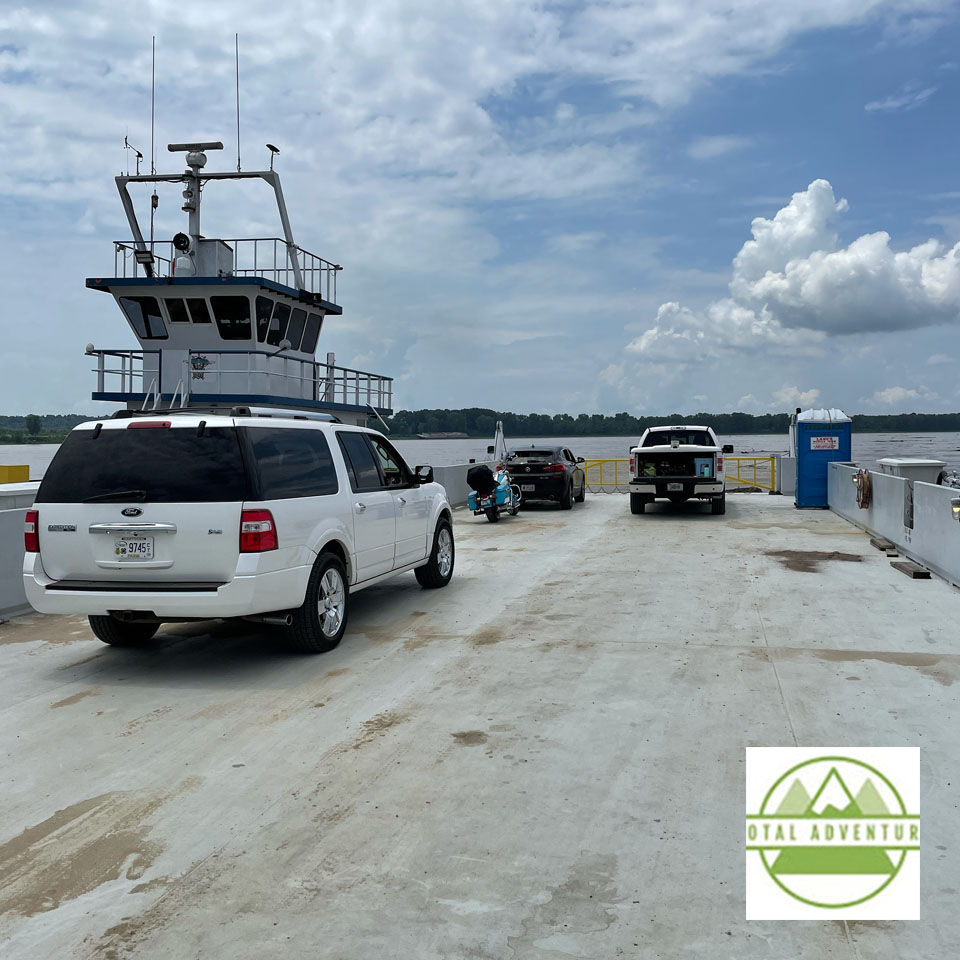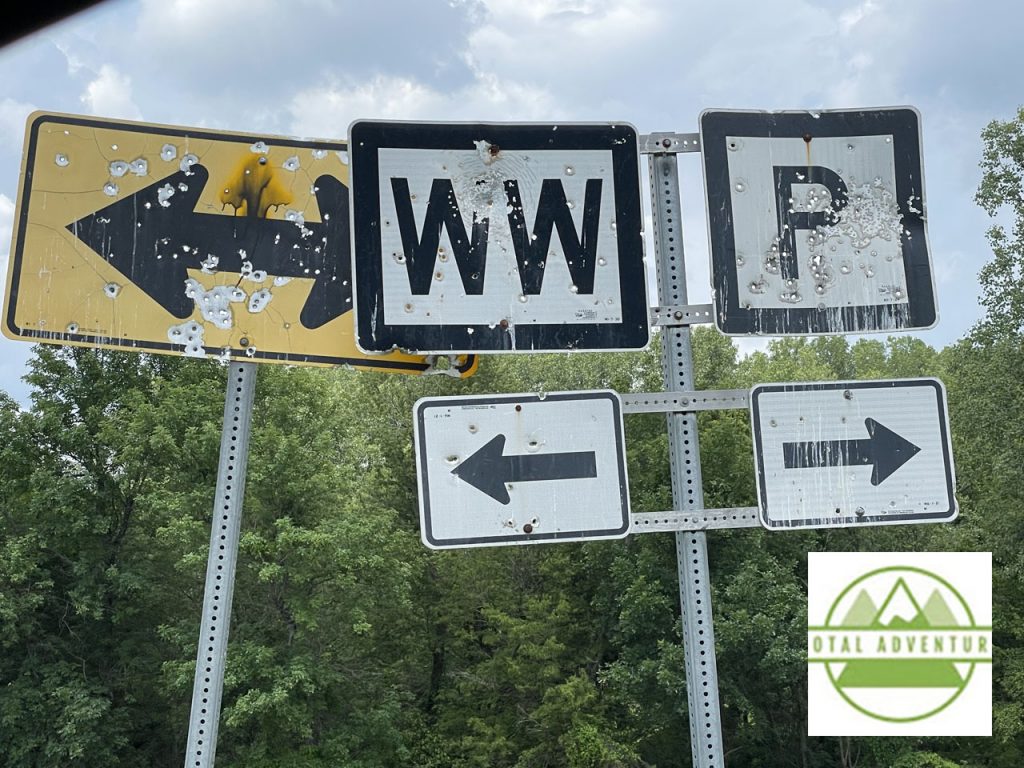 One drives off the ramp of the ferry onto a road through miles o Missouri cornfields, , some of which go in circles. Even the map gets confused. Finally we come upon roadsigns. Missouri has lettered routes as well as numbers. The signs are frequently used for high-calibre target practice. New Madrid was the site of one of the most powerful earthquakes in US History. In 1812 and earthquake of 8.2 reversed the flow of the Mississippi, destroyed the town and was felt as far away as New York. It can and will happen again.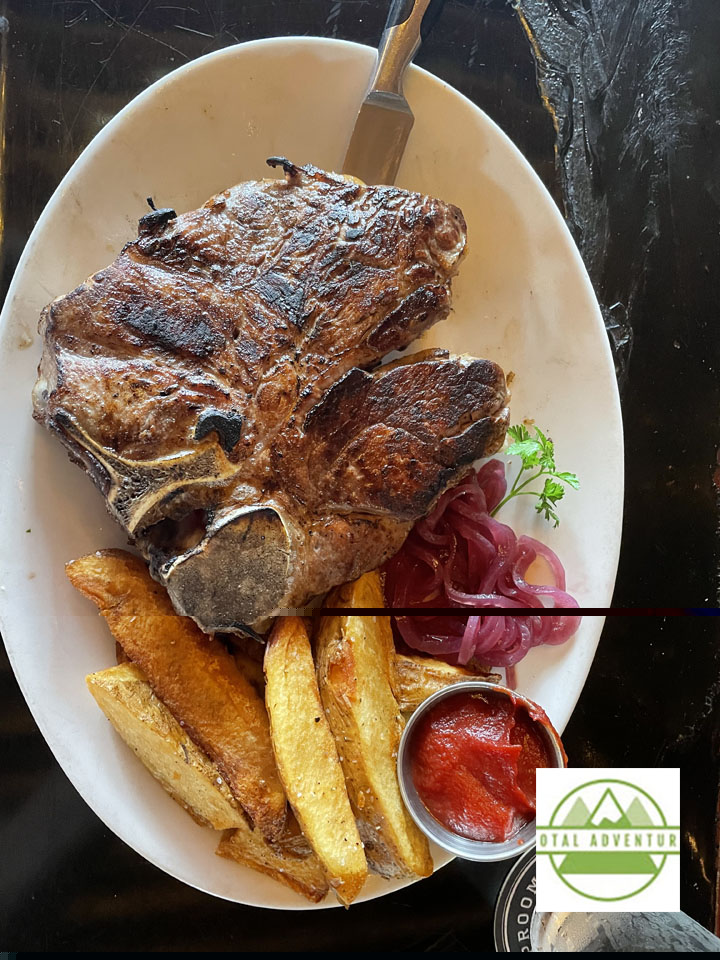 FromNew Madrid it was Westward bound through the hills of the Ozarks. The Ozarks are higher mountains in Arkansas. Watch the video to see the ferry ride and the Ozarks ! At mid day on July 1 I dined on Porterhouse at Antoine's in downtown Kansas City.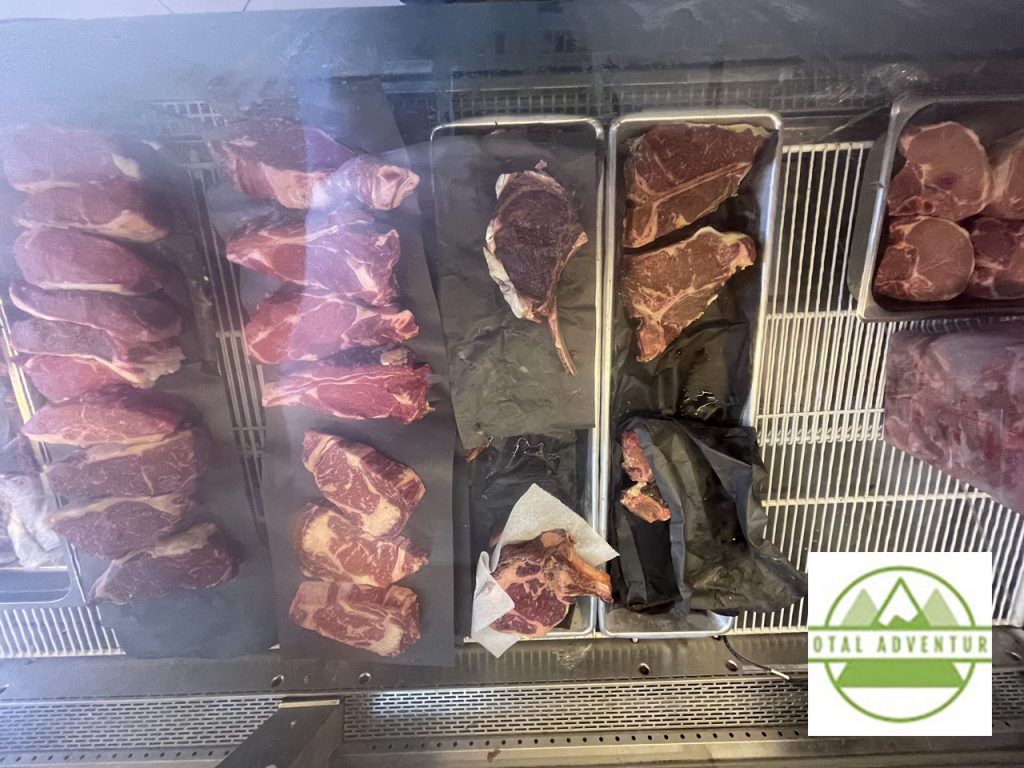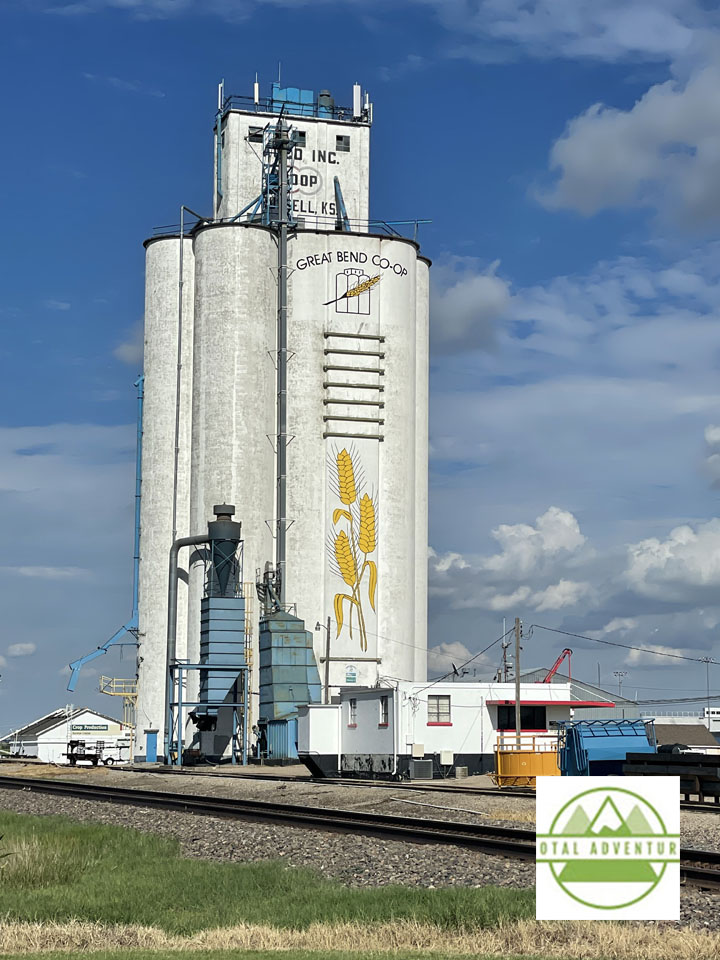 In Kansas City it rained for about 10 minutes. After that, I did not see rain again for the entire trip. After lunch the X 2 did a high speed crossing of the Kansas cornfields.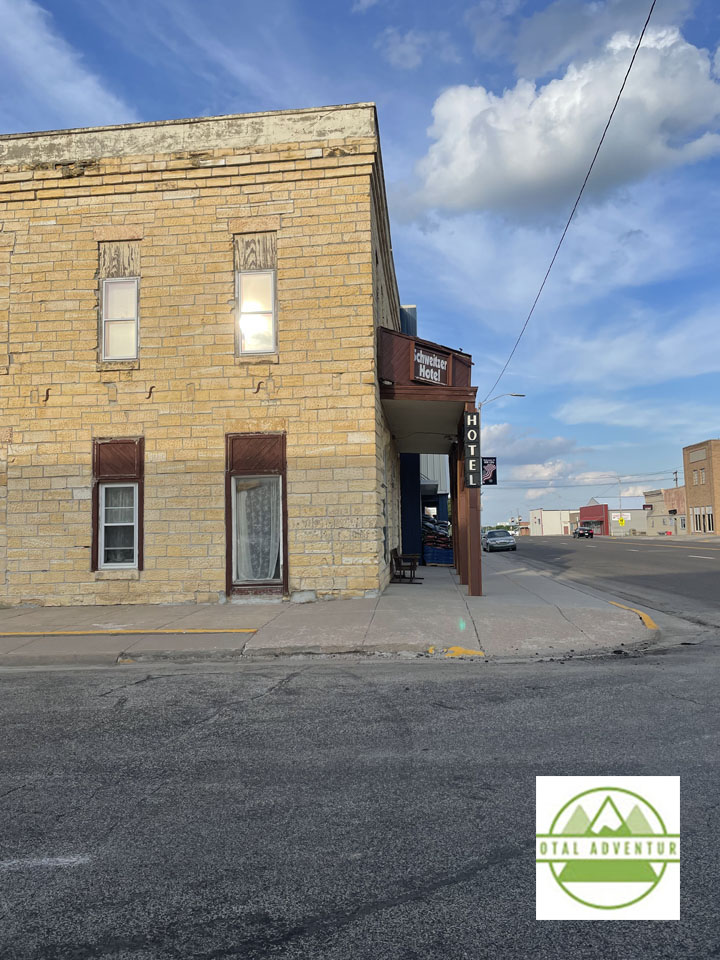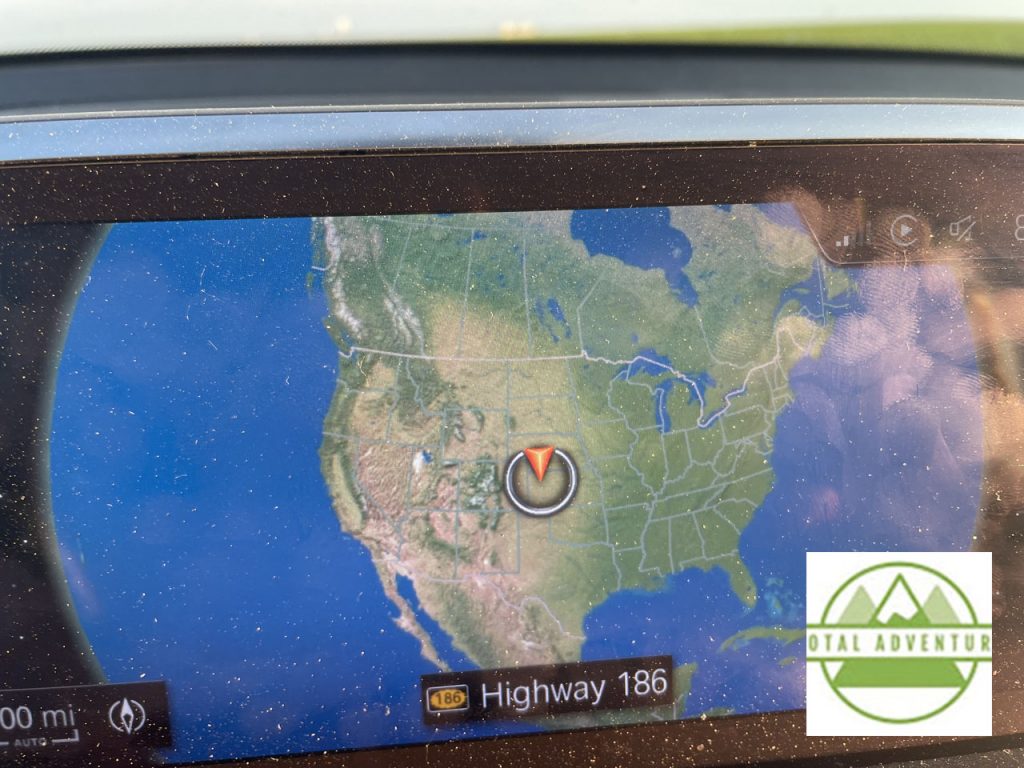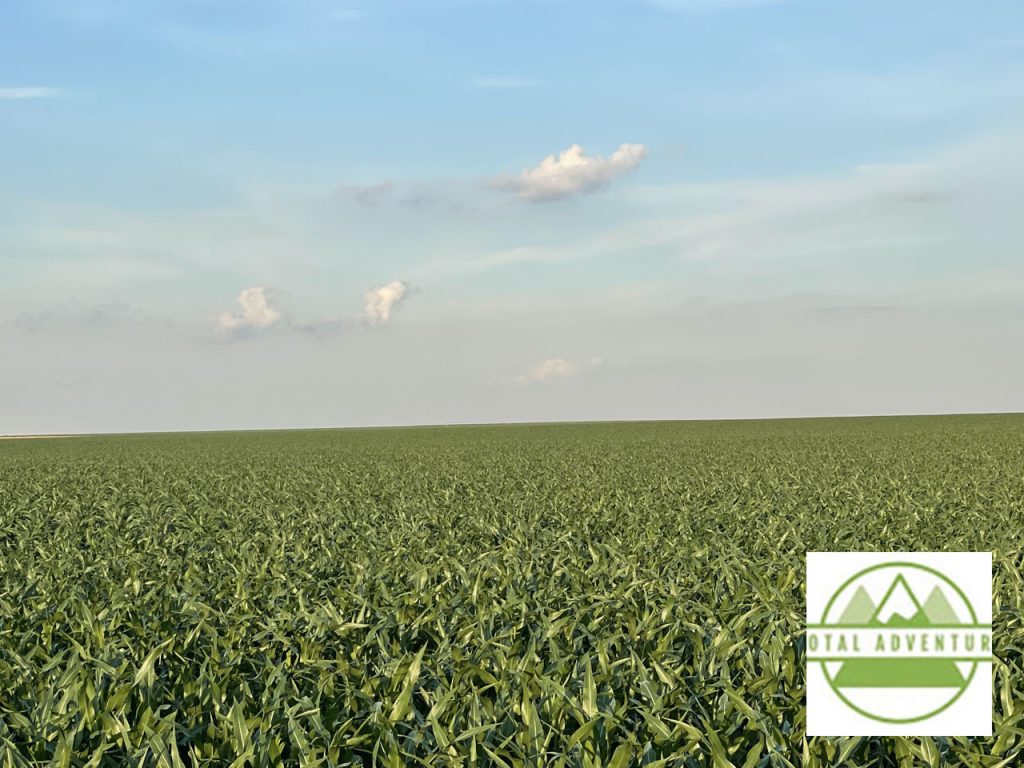 Considering the human eye can see 7 miles distant at flat ground level – that's a lot of corn !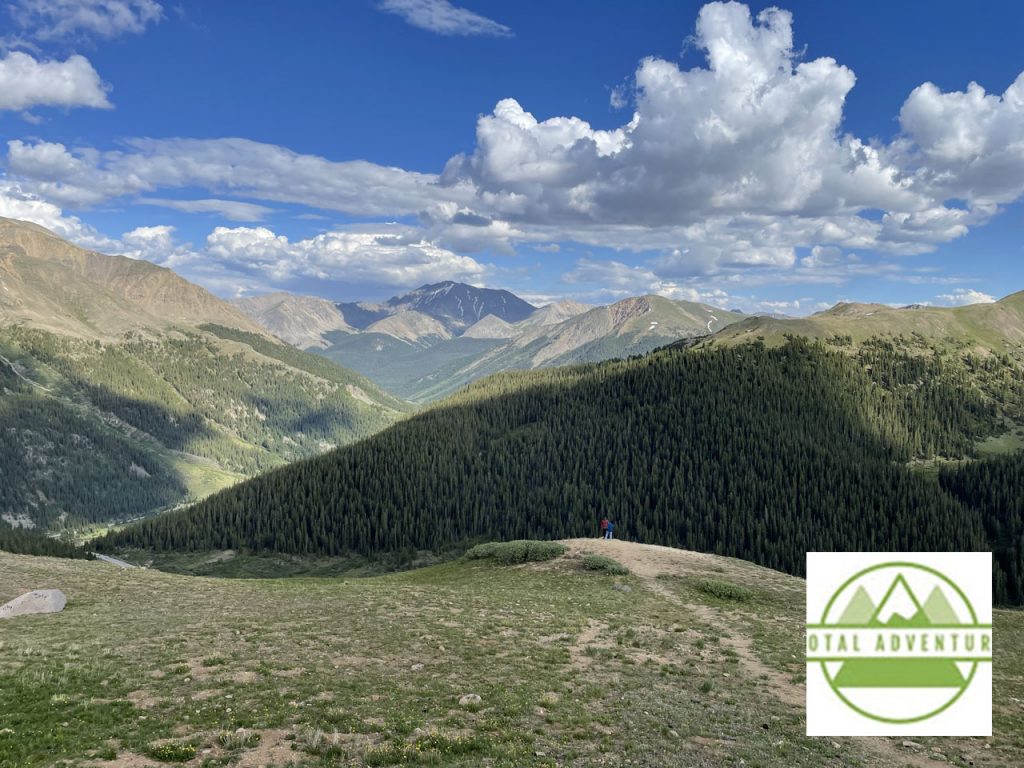 By mid day on Friday July 2, TotalAdventure reached the Rockies at Boulder Colorado. Spnt the night at a lodge at 10,000 feet in Nederland ,where the temperature dropped to 40 at night.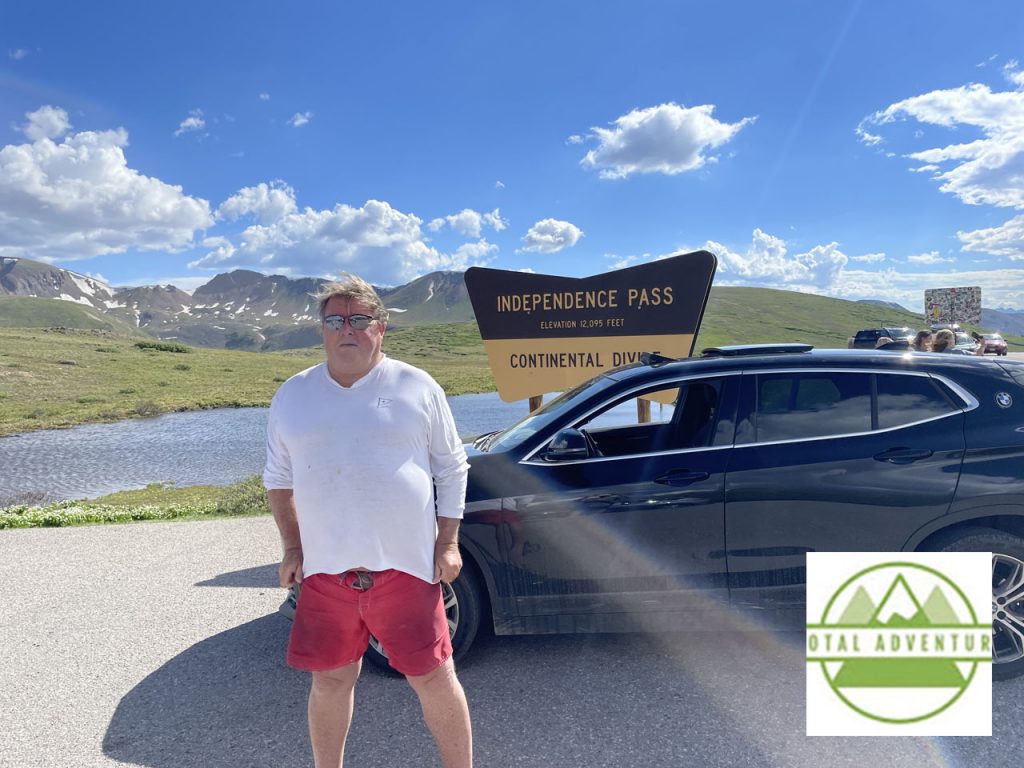 The TotalAdventure X-2 Crosses The Continental Divide For The Third Time. TotalAdventure spent 4th of July Weekend in Aspen. I had also worked there in the Winter of 1979 -giving me the taste for Adventure Travel as I hitchiked around the West.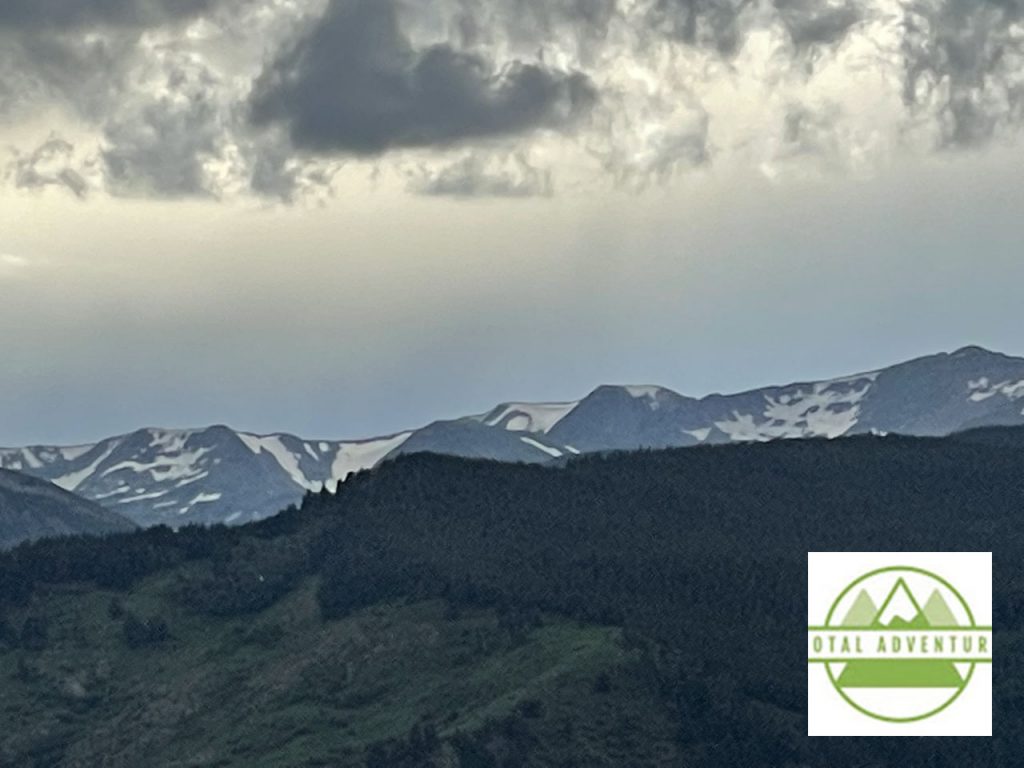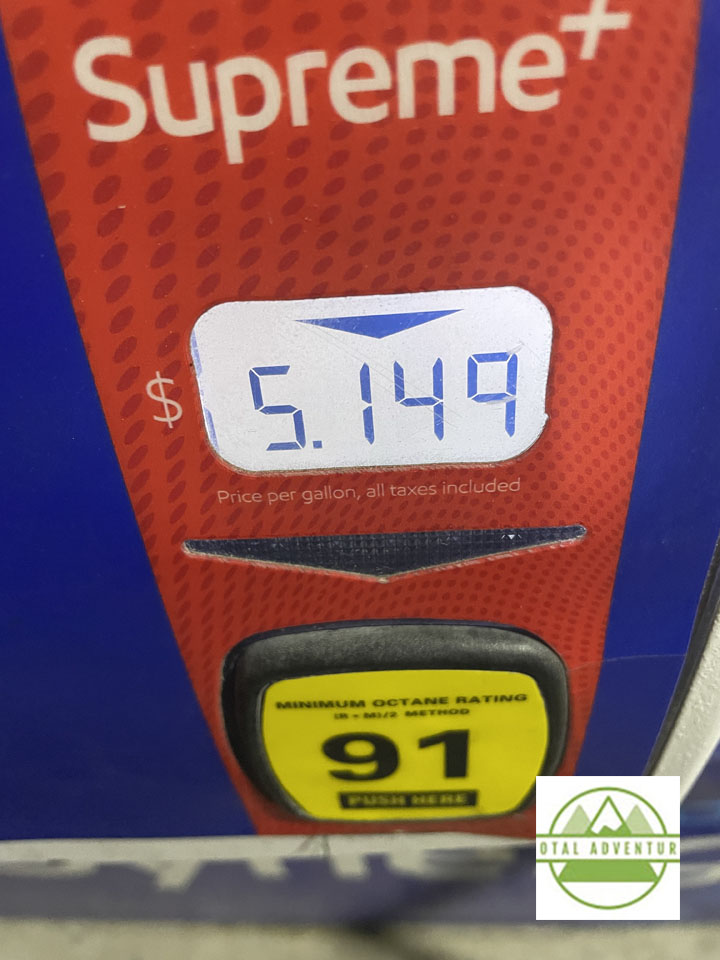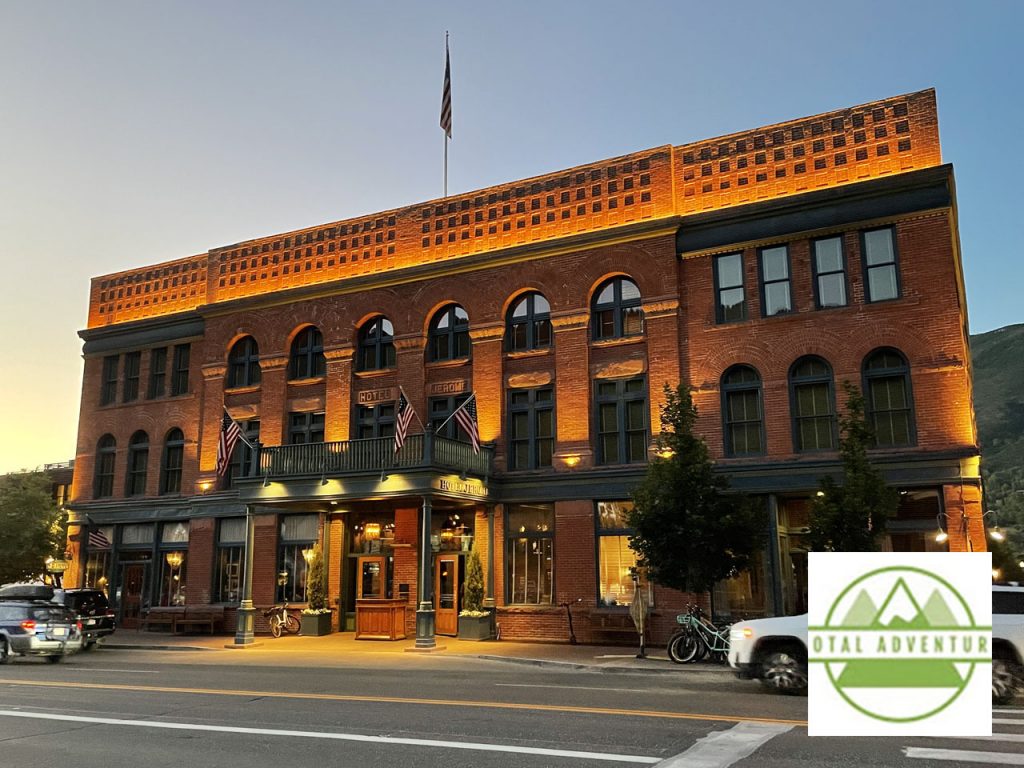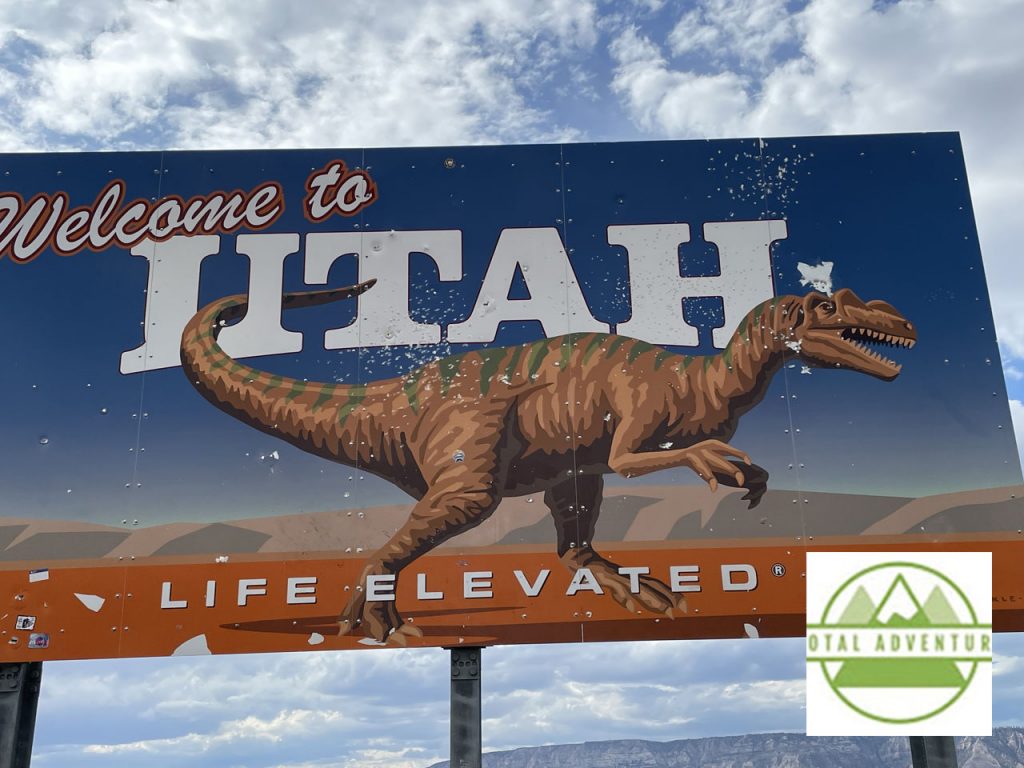 Only A Week Into The Trip – And Already Crossing Into Utah. From Aspen it was on to Dinosaur National Monument, which is in both Colorado and Utah.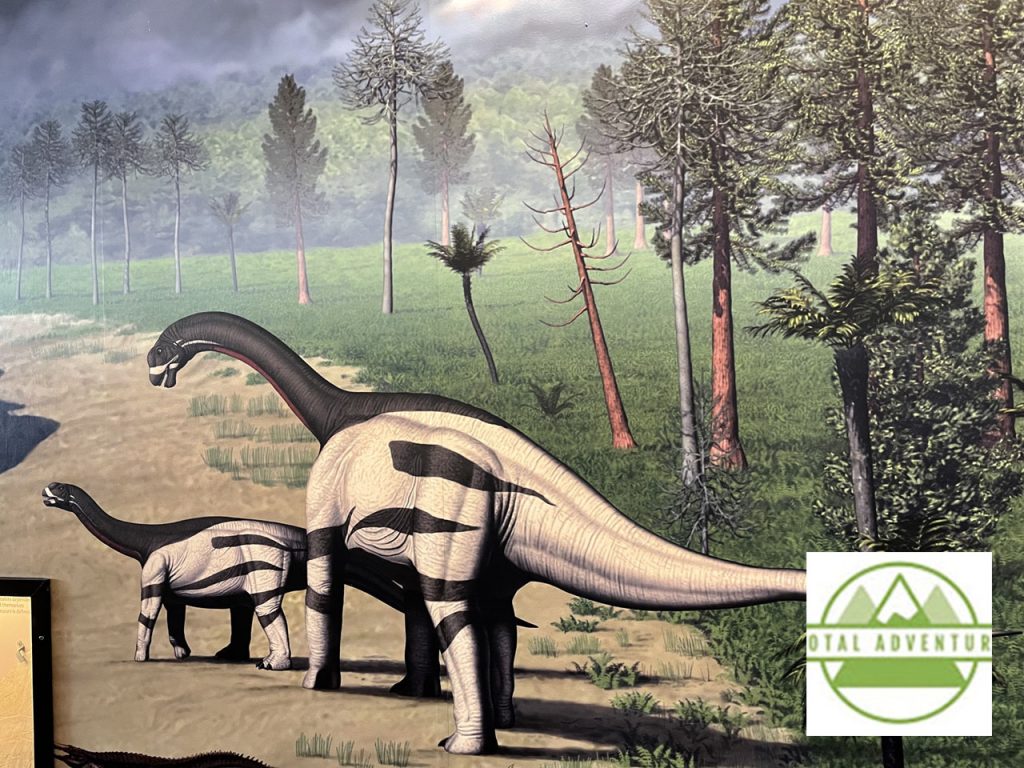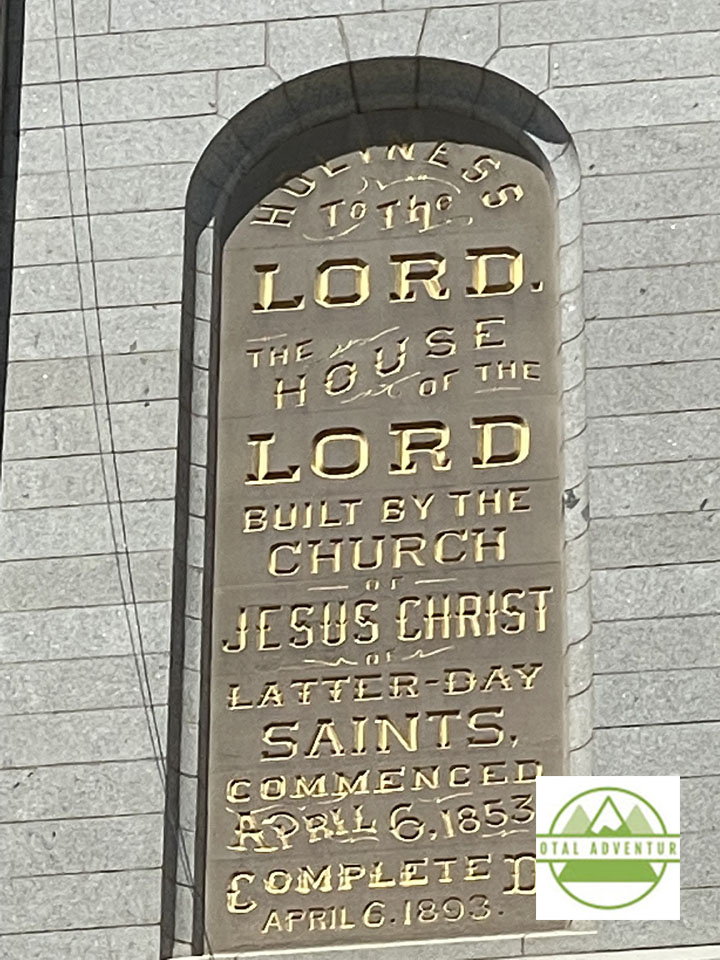 In Salt Lake City ,stayed at the very nice Little America Hotel and went around the Mormon Temple which was under reconstruction, for the first time since being built by Prophet Joesph Smith.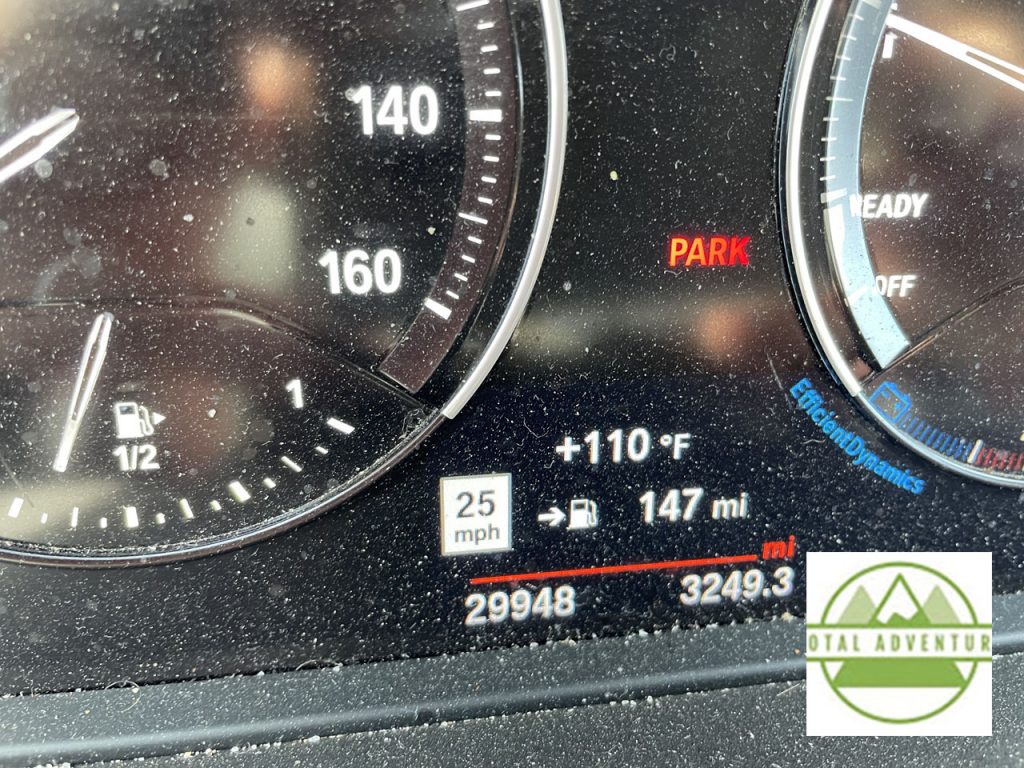 I then swam in Great Salt Lake, which you can experience in the video. It was amazing to float on top of the water,whcih has ten times the salt volume of an ocean. It is not a pleasurable undertaking, but more of a bucket list thing. Bugs swarm, the water smells and you have to walk half a mile each way in 110 degree heat to actually get to the water. See above.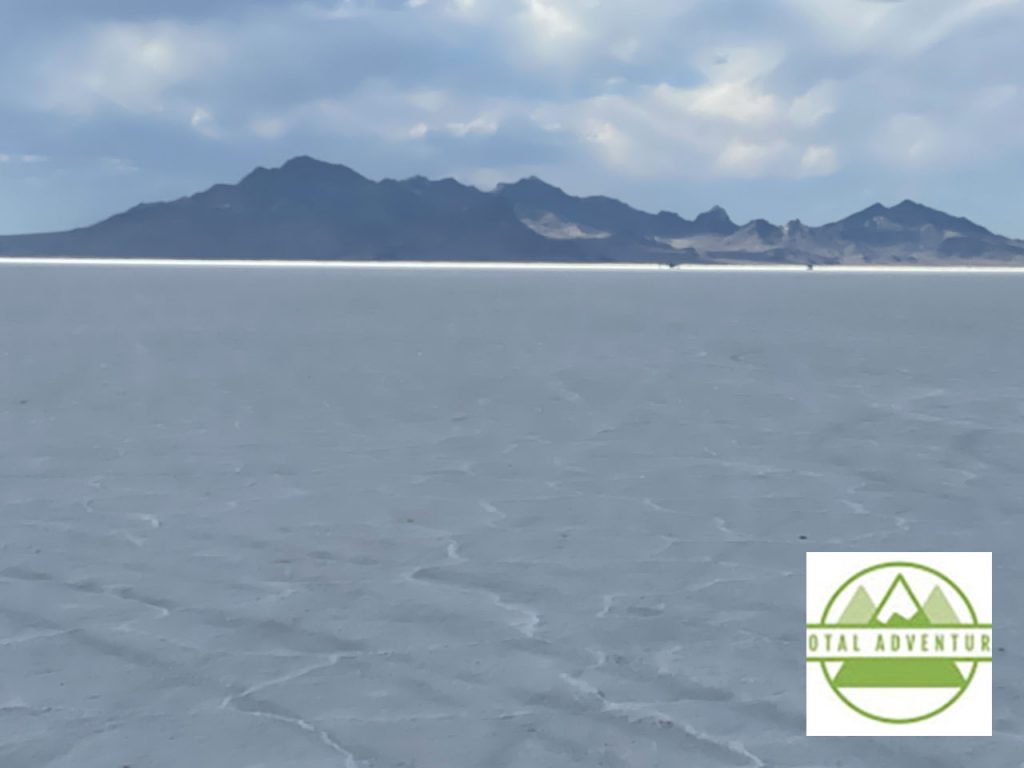 By late day , almost to the Nevada border, I crossed the Bonneville Salt Flats on 1-80. The world's fastest car has driven there, breaking the sound barrier at 1,220 km/h (760 mph) set October 15, 1997.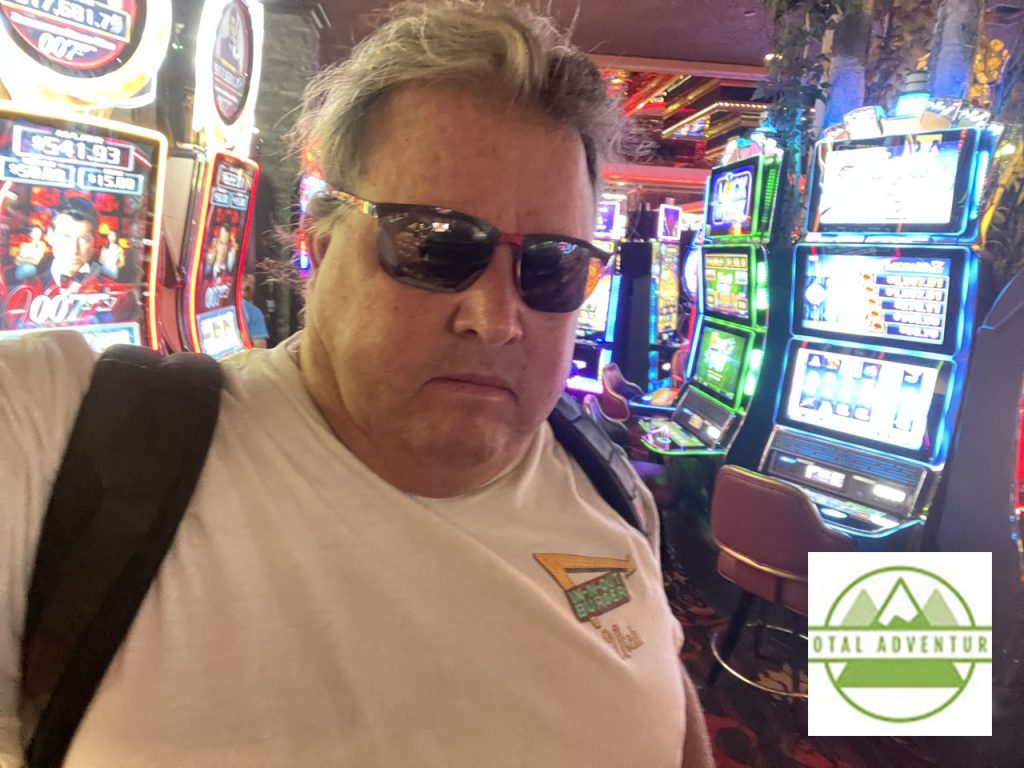 Spent the night in Elko, Nevada, a poor mans Vegas. TotalAdventure hit a $50 jackpot, which paid for a steak dinner and cocktails.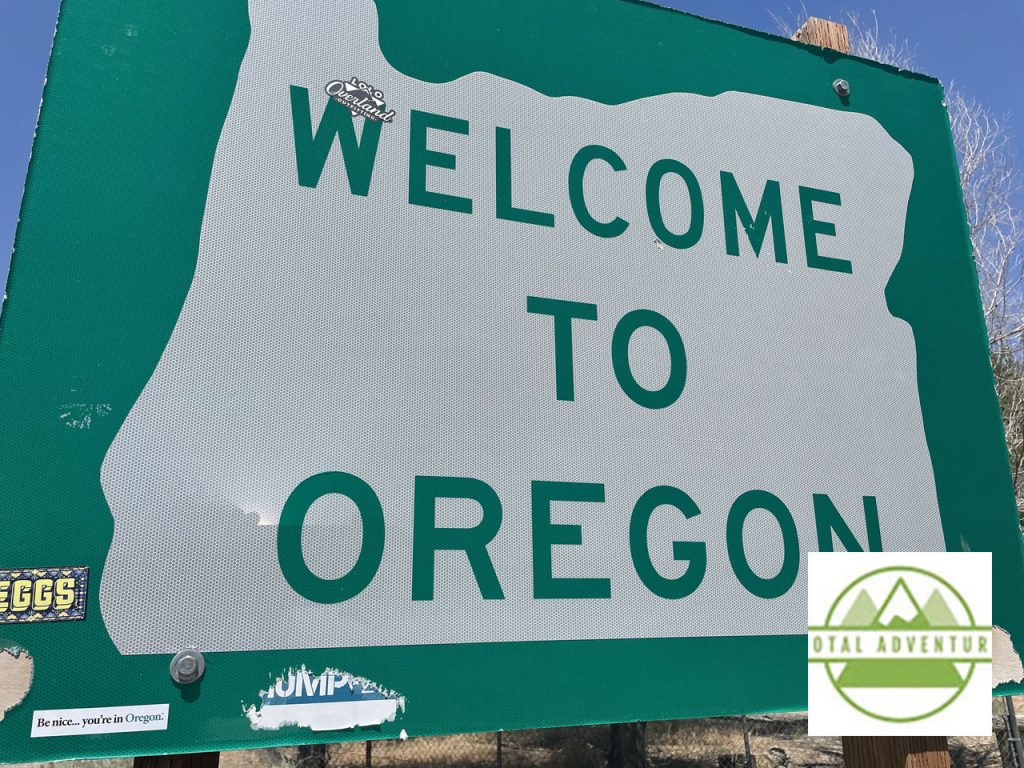 In the morning the X-2 drove north through the Black Rock Desert, not far from where Burning Man is held. Crossed the line into Oregon at Denio Junction.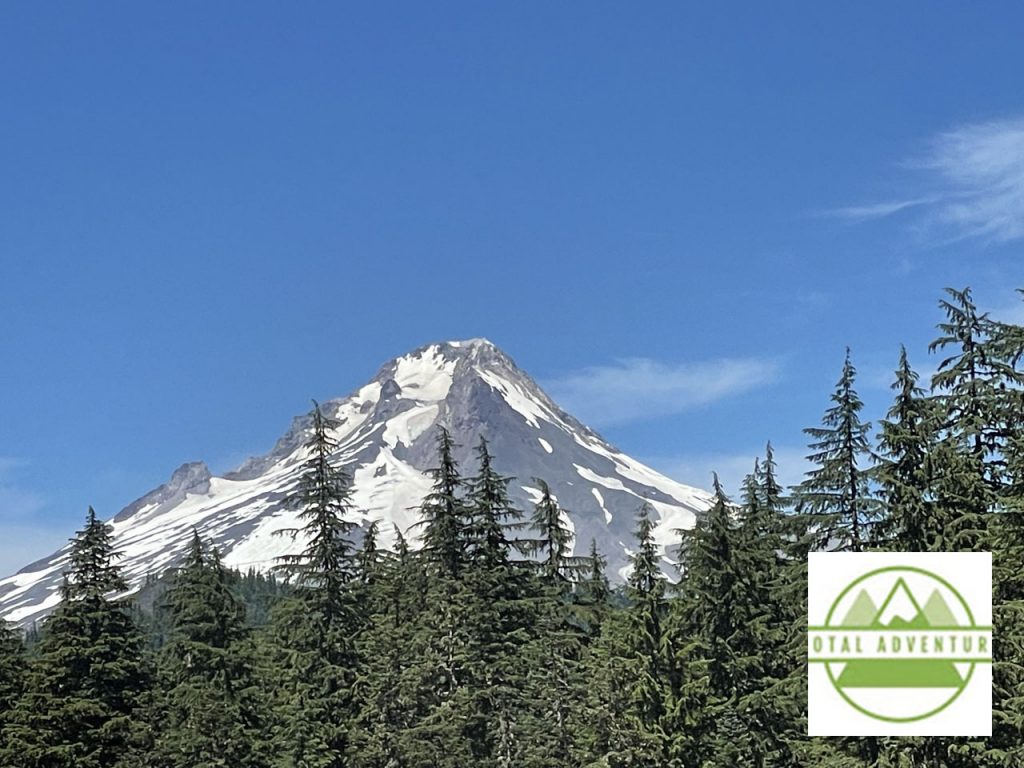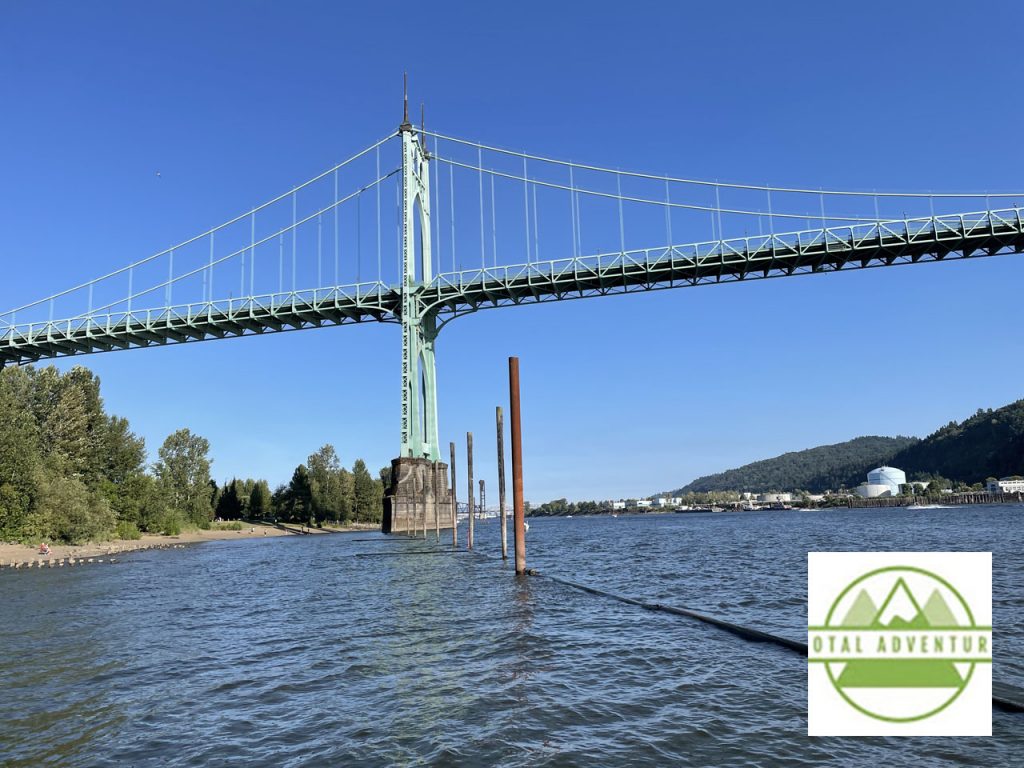 11 Days and over 4000 miles after leaving Miami, TotalAdventure was in Portland !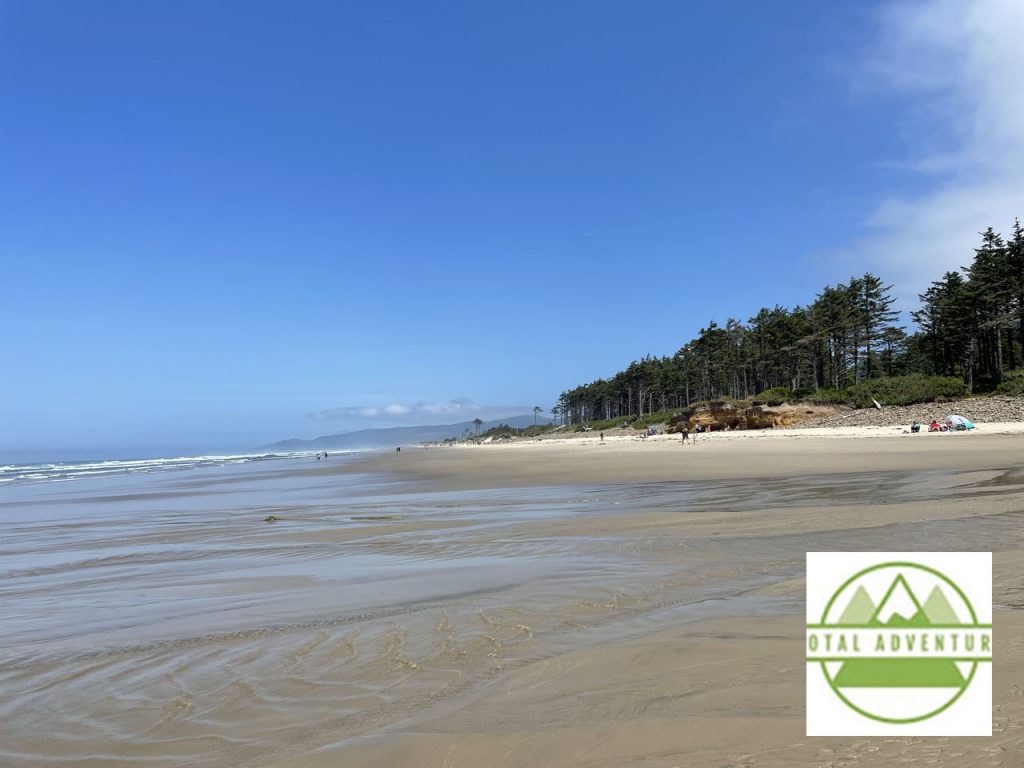 We reached the Westernmost Point of the journey at Tillamook ,Oregon. After 3 trips across the USA in the last 12 months, it was hoped the X2 would journey North through Washington State and on the British Columbia, as a Northern Route home through the Great White North.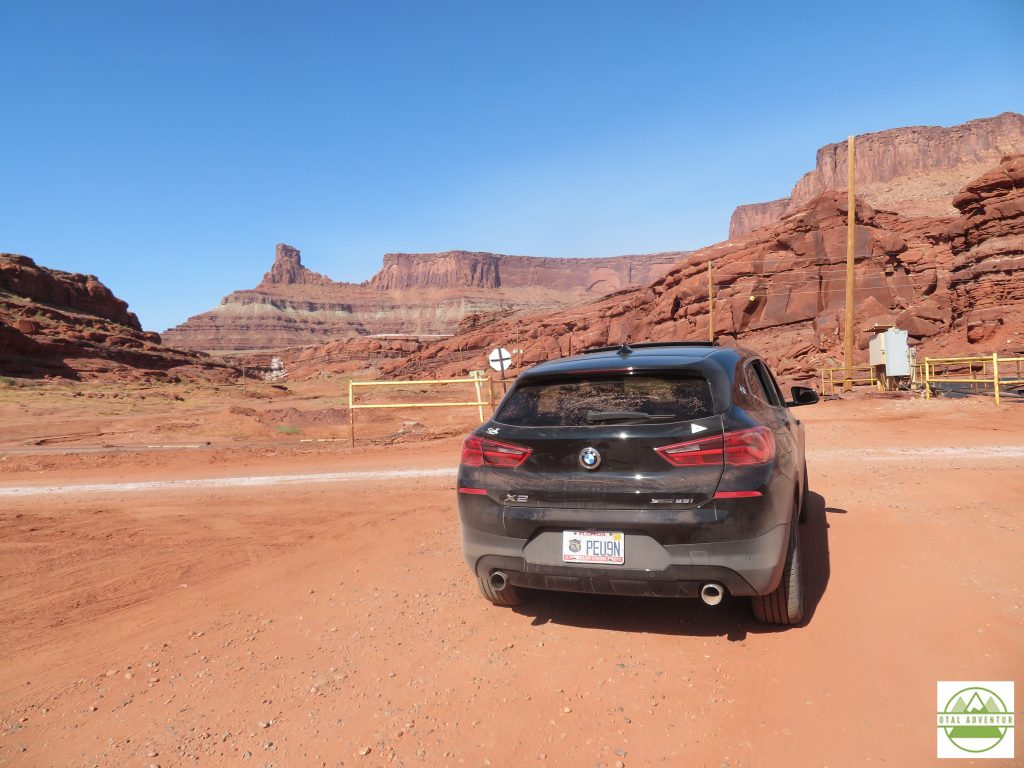 On the broiling hot morning of Monday, June 29,2020 TotalAdventure departed Miami at dawn – for a 3 to 4 month journey – crossing – actually circumnavigating the United States.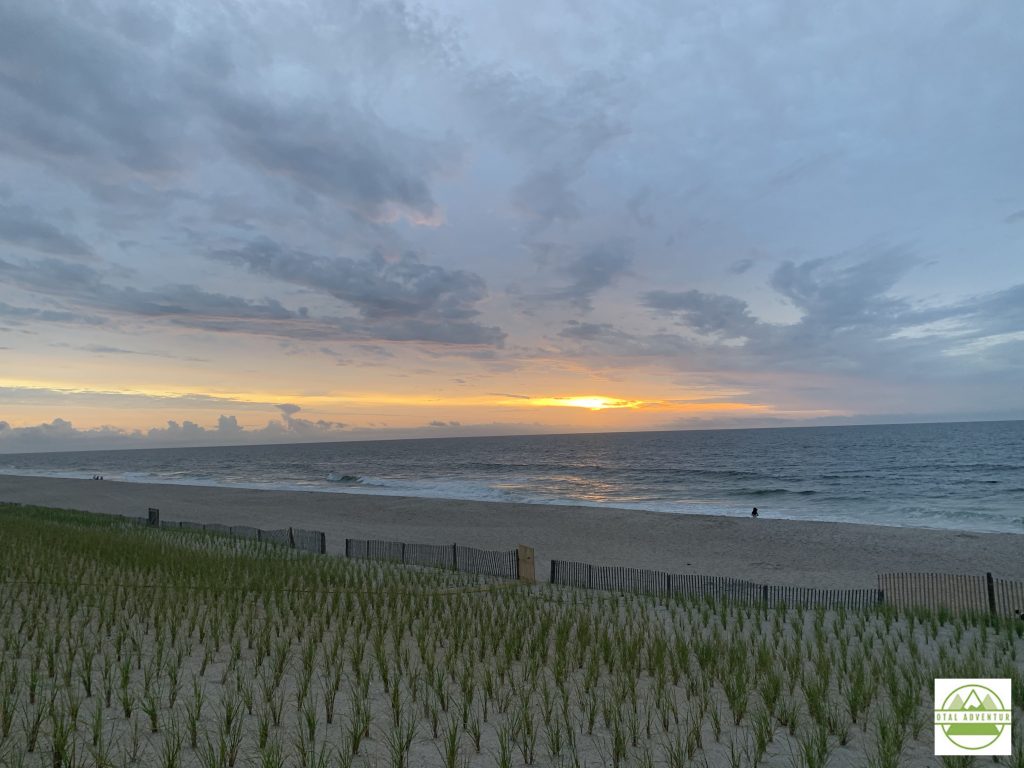 In May, at the height of the COVID panic, I traded in my 2013 BMW X1 with 120,000 miles ( plus a considerable amount of cash) for a 2020 BMW X2 with 19 miles. Technological advancements had been considerable in the last 7 years and now, with all the navigational and entertainment needs I was set to cruise the Nation in what was like a jet on the ground. Driving was a pleasure even on the most boring stretches of I-95 up the East Coast.
At the start of the trip there were 2300 miles on the odometer and at the end over 17000 – a 15000 mile journey in all. I did almost all alone – though others were invited. There was no timetable ( which made it difficult for others to join) and no interstates except for some segments, especially up the East Coast. The first day I did 1000 miles to Fredericksburg ,Virginia, stopping only for gas and and excellent BBQ lunch in Georgia. The next day, I arrived in my hometown of Bay Head New Jersey, where I spent the next 10 days seeing friends and family, with one day trip into ghostly New York.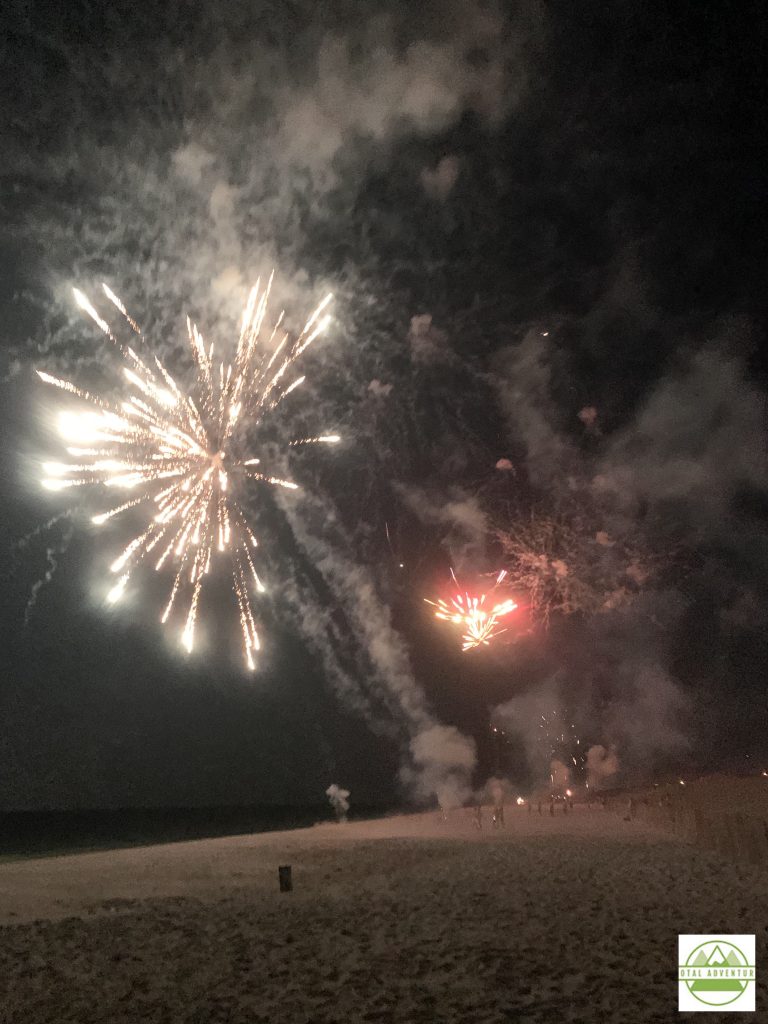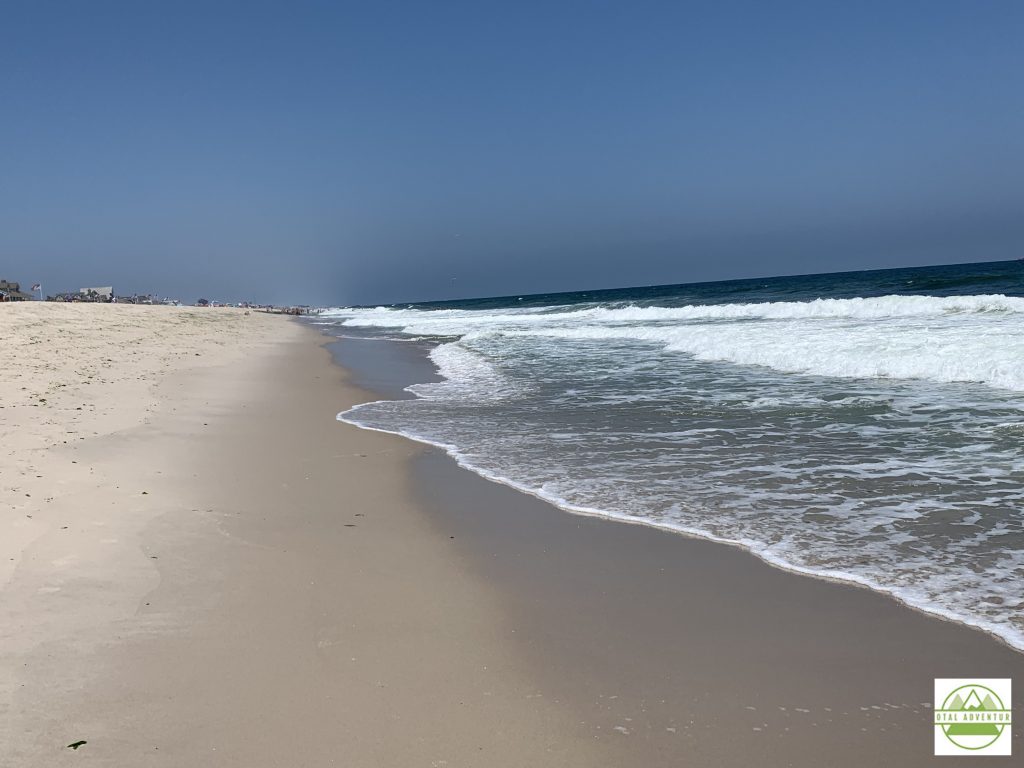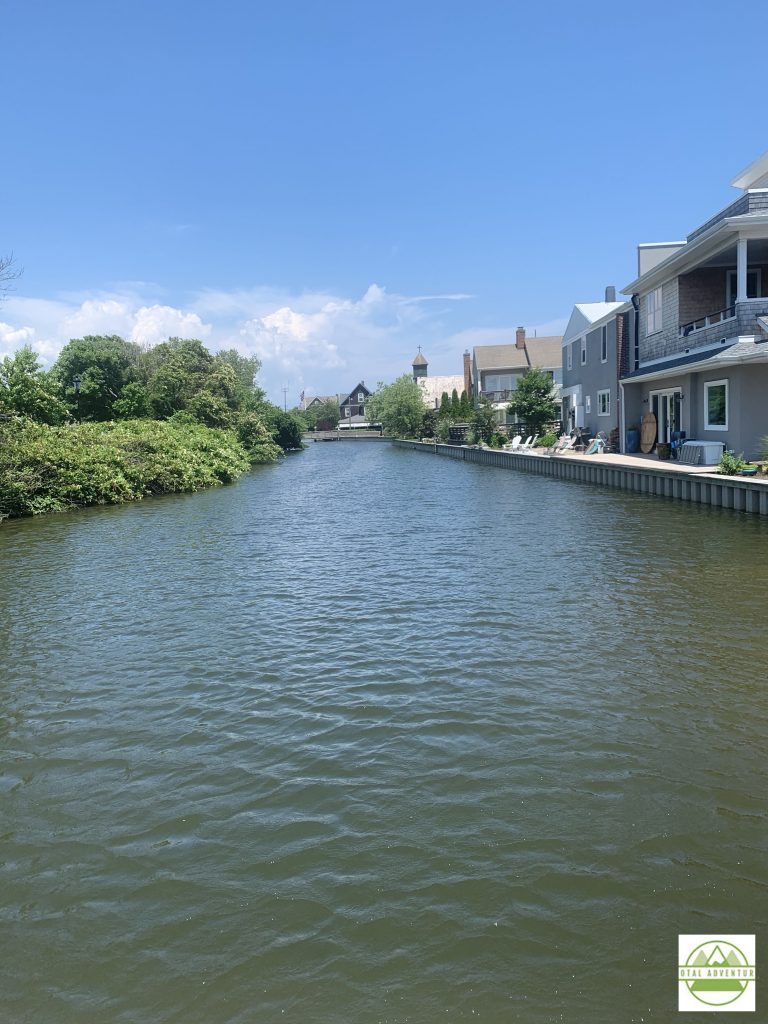 On Friday, July 10, just ahead of an approaching hurricane, I took a sunrise swim in the Atlantic and headed west to the Pacific. The first stop was New Wilmington, Pennsylvania to visit an ancestral graveyard. With the help of the caretaker, I was able to find the grave of my Great-Grandfather who died early, and that of my Great Great Grandparents as well.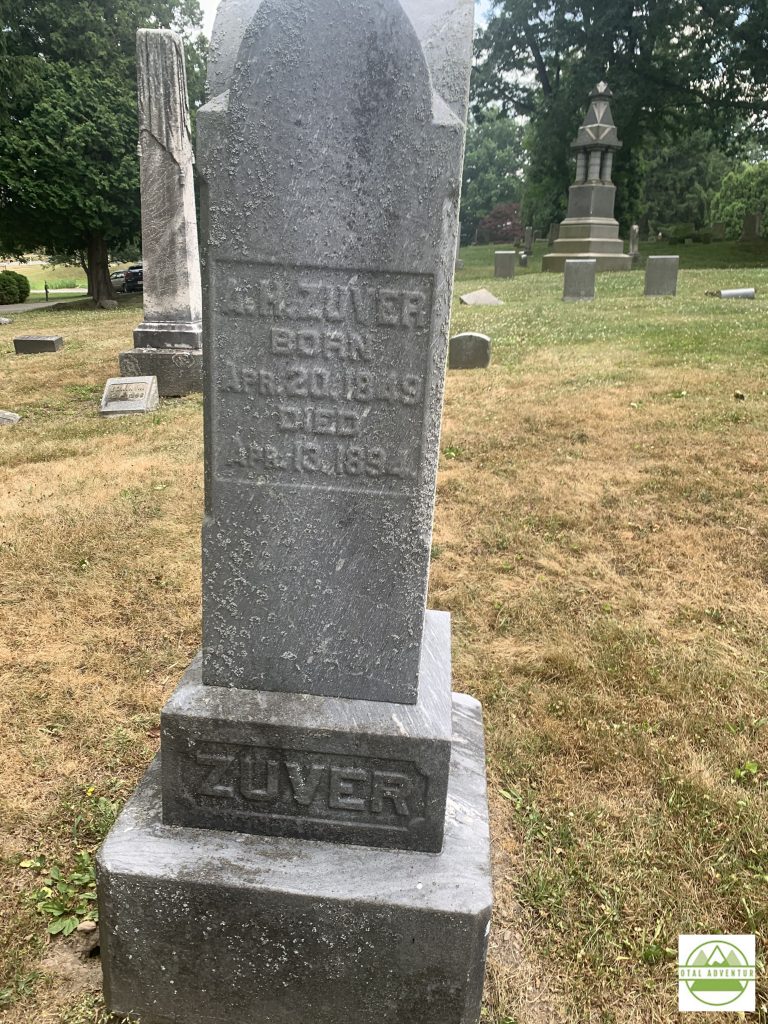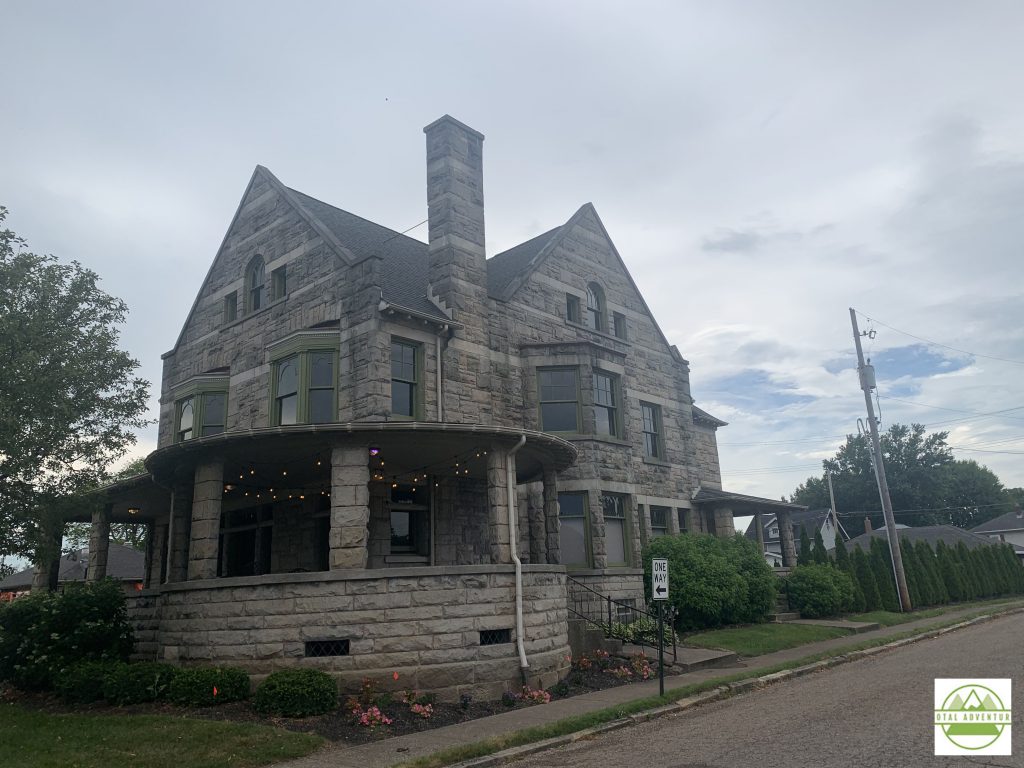 I spent the night in Massillon, Ohio where my Father grew up. My Grandfather,Blaine Zuver, was an industrialist who supplied hundred s of jobs in the town. Enterprise Aluminum Company developed the Percolator – first at home coffee maker, as well as cookware. In World War II the factory went on war production, making canteens and mess kits for the army ,as well as bomb fins and crates, and bullet cannisters.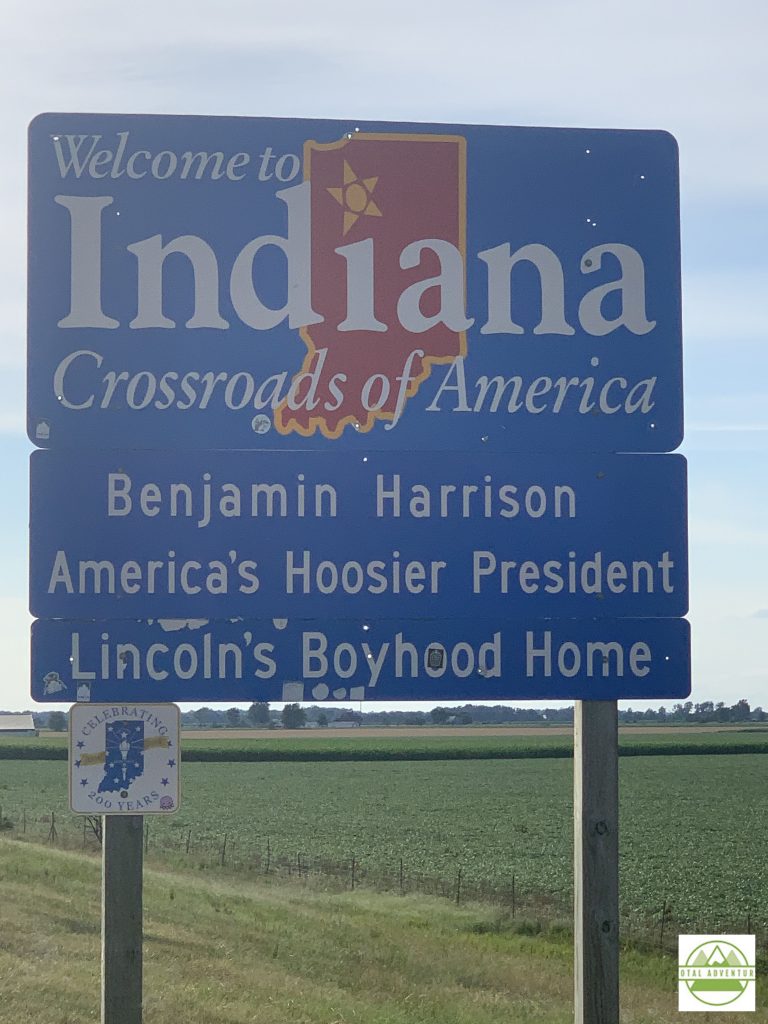 That afternoon I drove Highway 30, the Lincoln Highway, as there would be no more interstates for a long time. The idea was to see the real America. I spent the night in Auburn, north of Ft.Wayne.
At the beginning of the trip I had been to 43 States. The route was also planned that I would visit the 7 remaining states I had not been to. On Sunday morning July 12, I entered Michigan, my 44th State.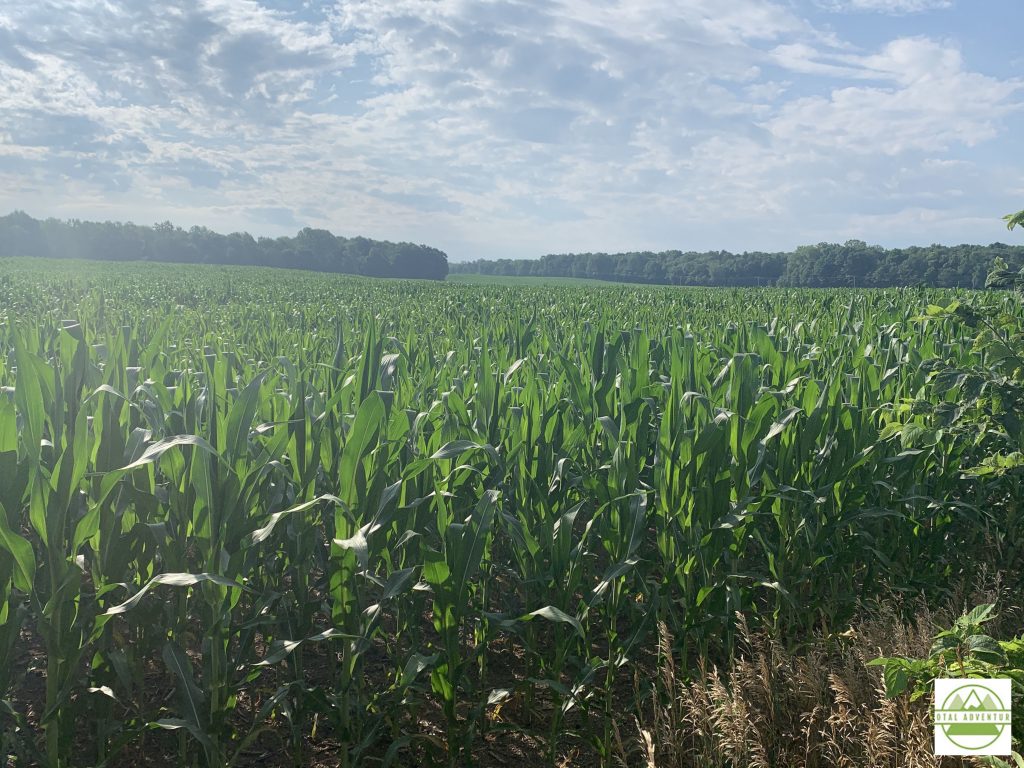 There's a lot of corn in the Midwest, so much we can't eat it all. That's why 10% of the gasoline you put in your car is actually ethanol from corn. And the corn tortillas of Mexico -made with American corn. Pigs in the US and China eat corn too.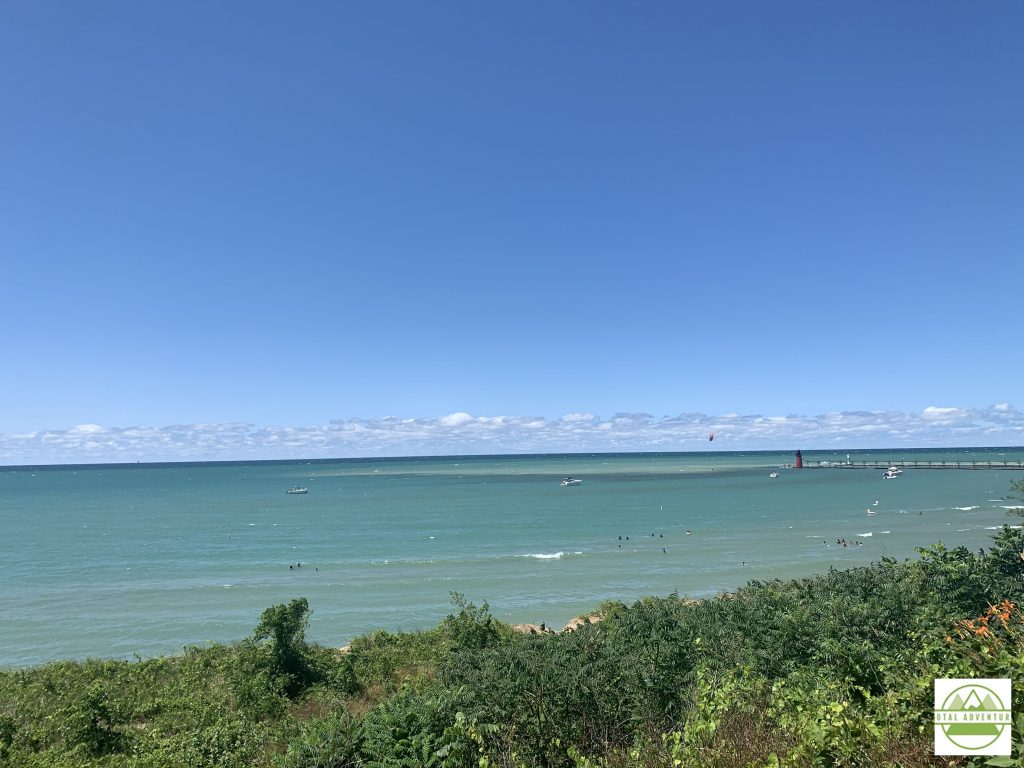 West of Kalamazoo, I reached Lake Michigan. I even caught a rideable wave. From there it was off to Whitehall to stay with old friends in their compound overlooking Lake Michigan and Whitehall Lake.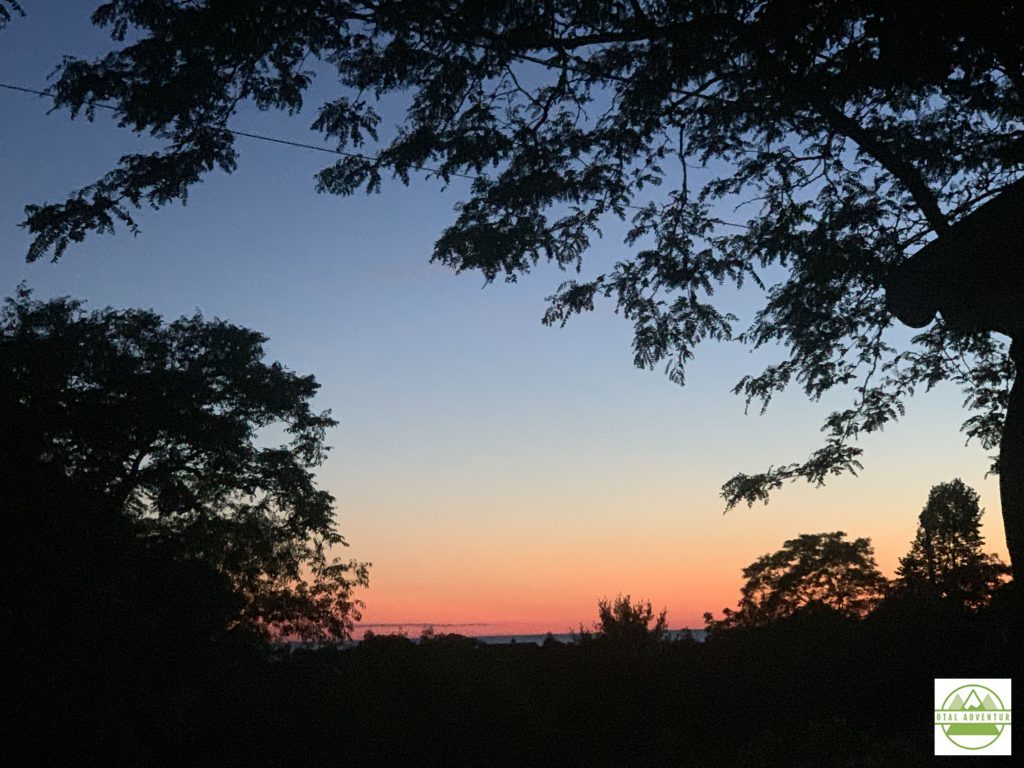 10 PM Sunset, very far west in the Eastern Time Zone while my hosts served delicious Scandinavian meals and many libations.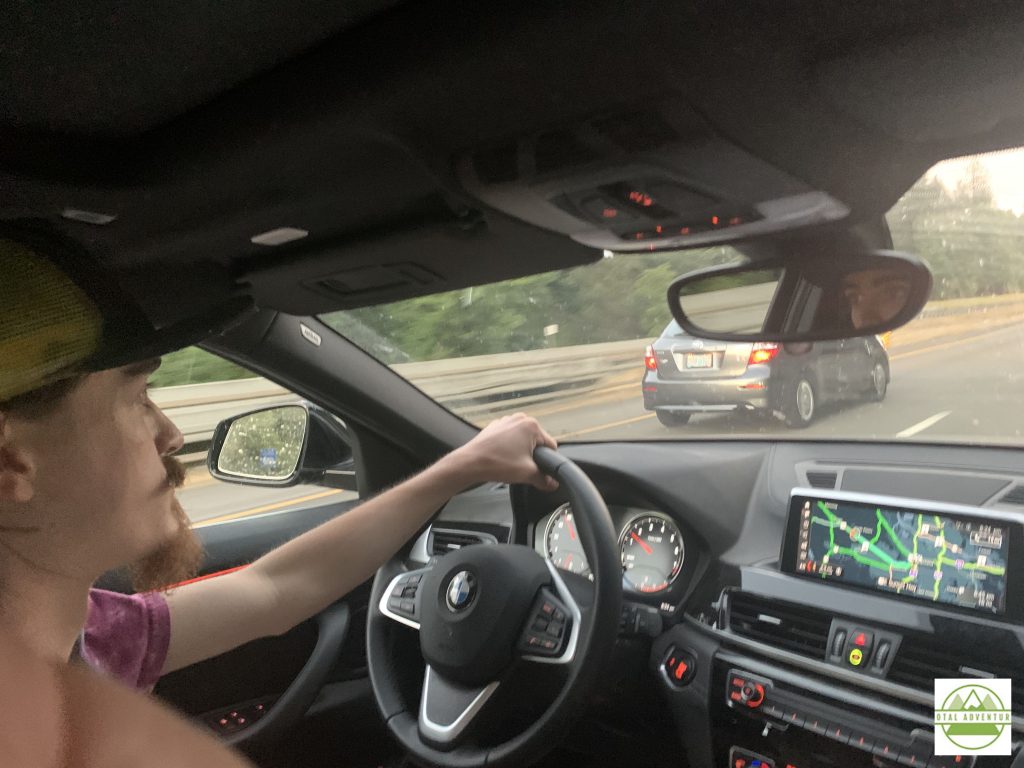 Watch The Video Above To Cross Into All The 33 States !
When most people think of Michigan, they think of Detroit,city of cars and now, urban wasteland. The Upper Peninsula is a very different land that most Michiganders have never been to, and very reminiscent of nearby Canada. People even add " eh" to the end of every sentence.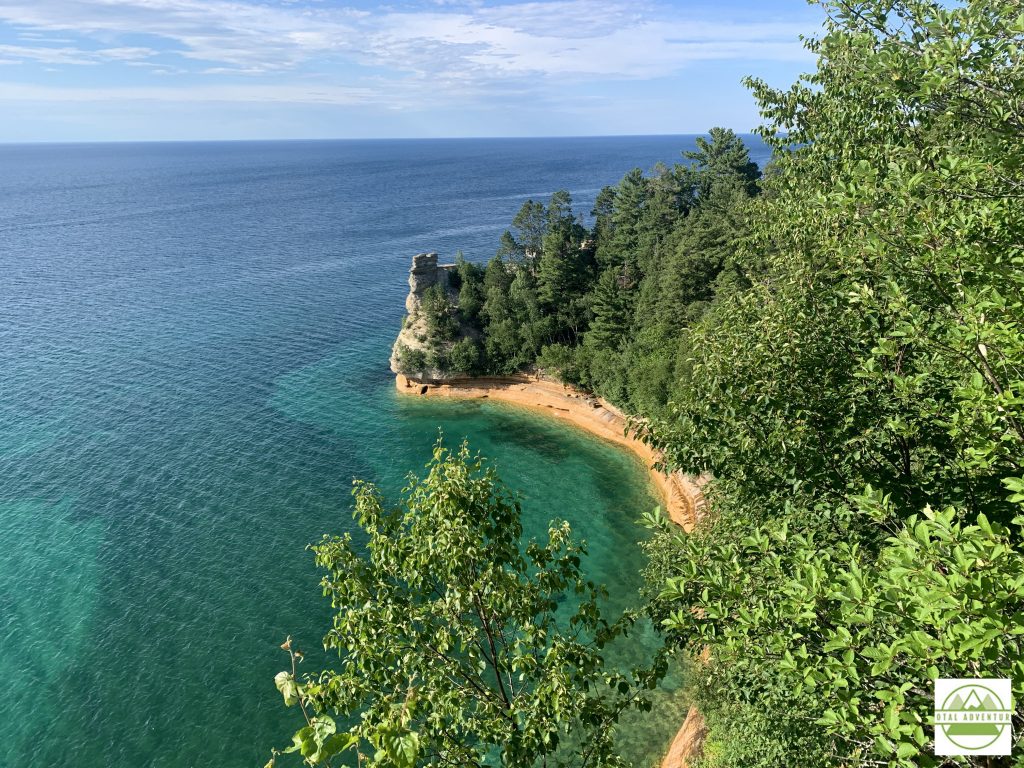 On Wednesday, July 15 I departed Whitehall and drove through the only major rainstorm I encountered in 3 months and spent the night in in Sault Ste. Marie, normally a bustling border town, now a ghost town because of the almost total border shutdown.In July instead of 2500 cars per hour crossing, it was 50 trucks, as commercial traffic was permitted.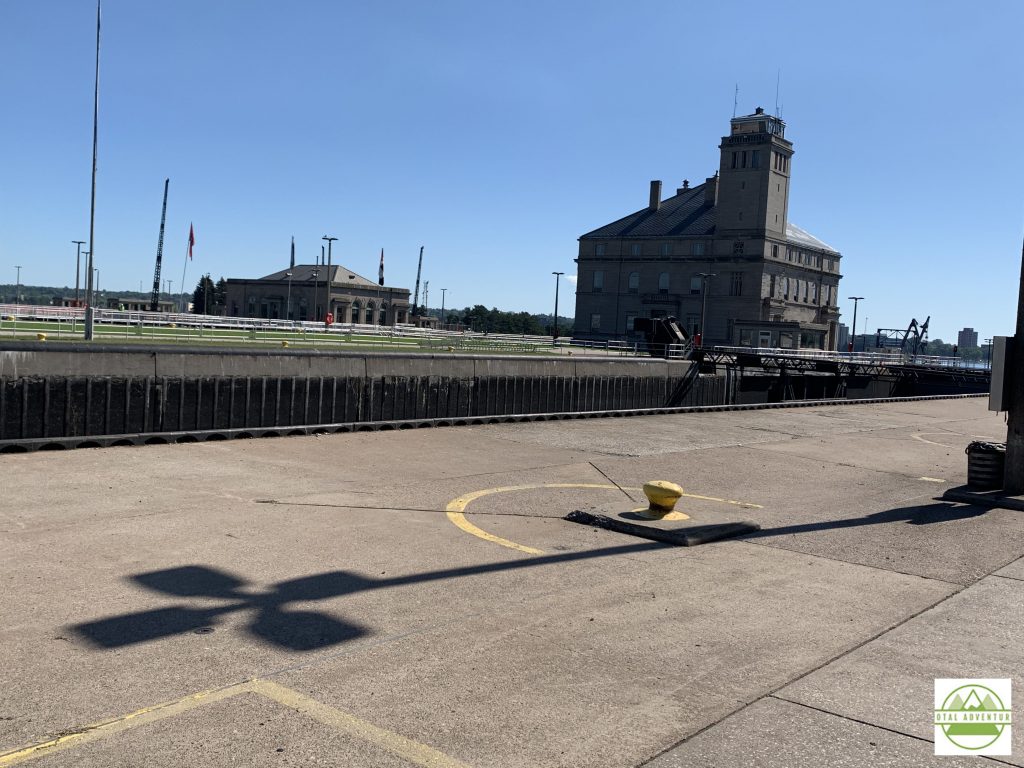 It was about 4 hours to Pictured Rocks National Lakeshore. I parked and took a 4 mile hike through the woods ( each way) to Lake Superior.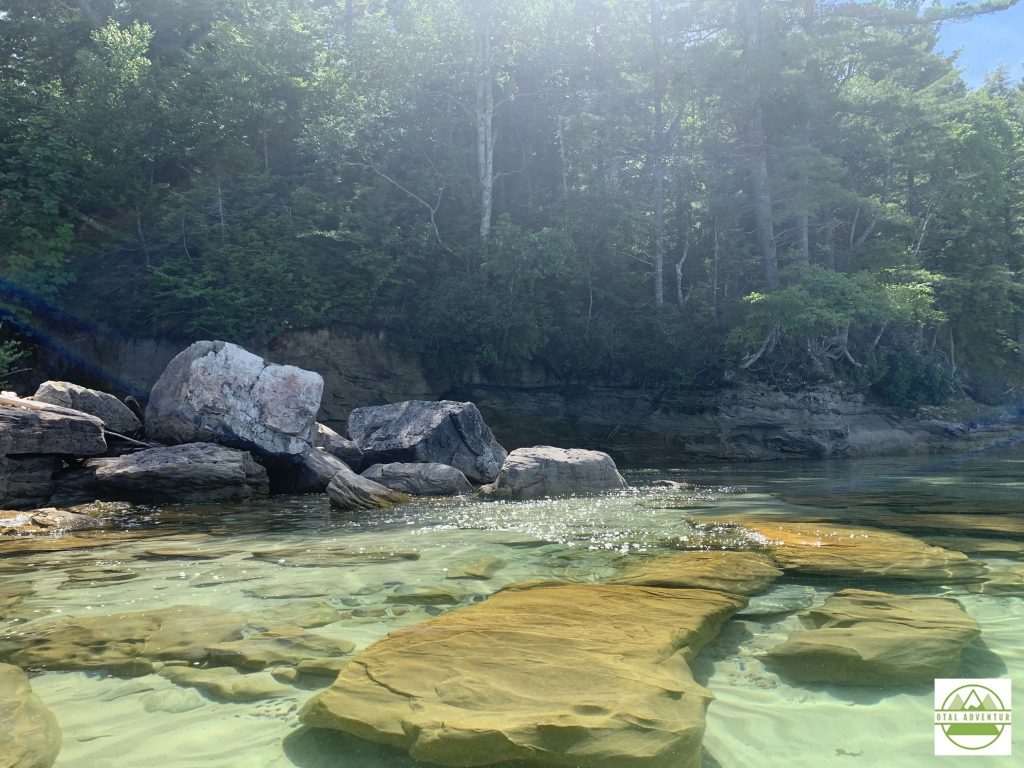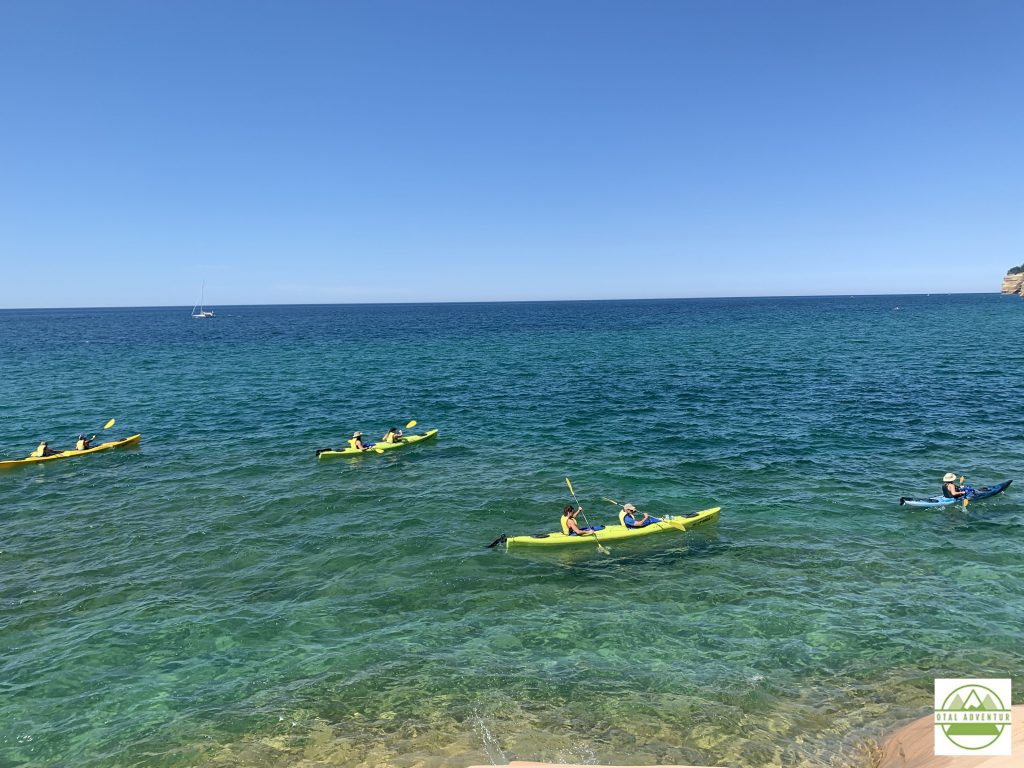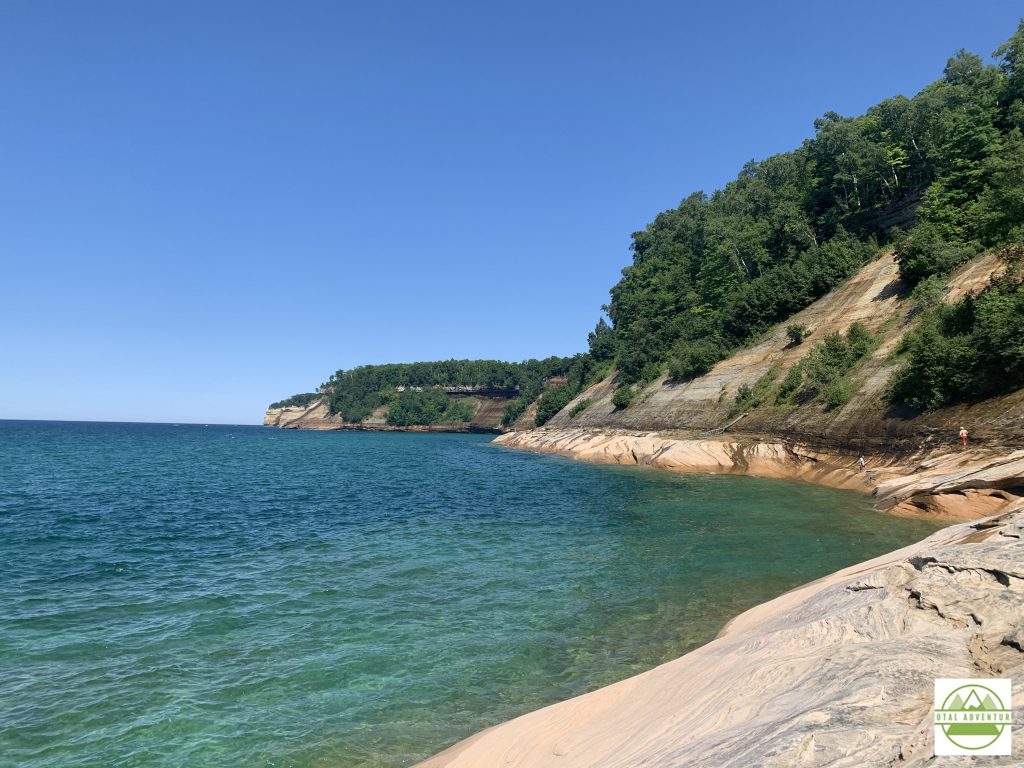 For Full Effect, Watch The Video Above.!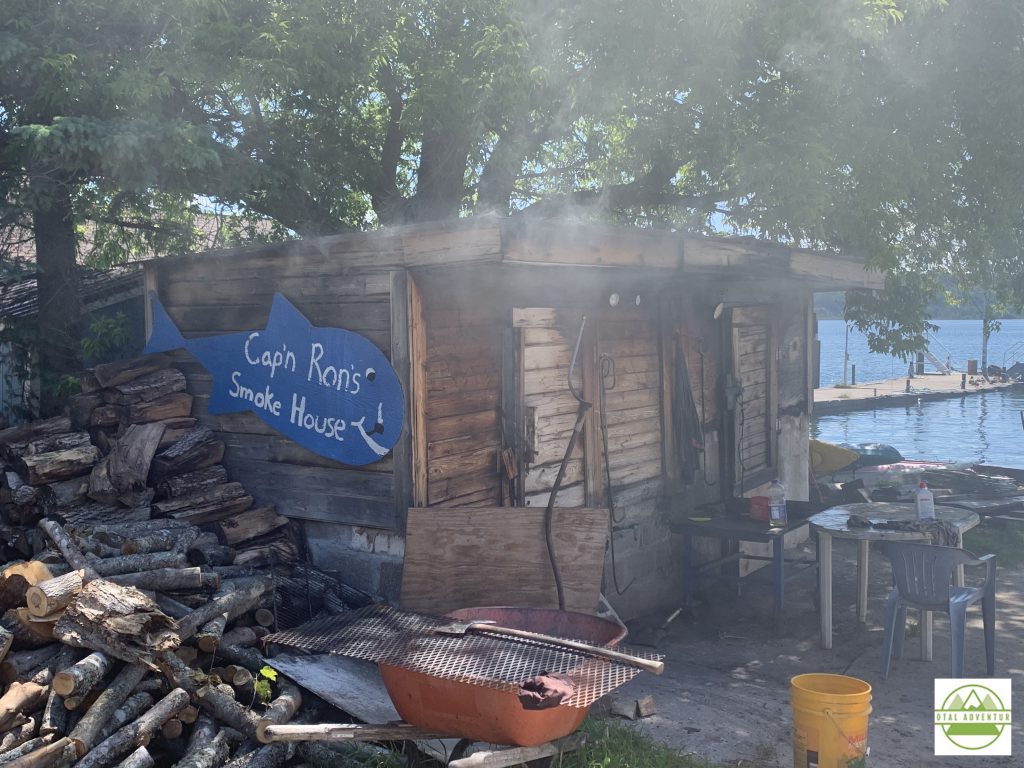 For lunch and dinner I dined on delicious lake fish ,fresh smoked. Much healthier than burgers and not a slave to the early Midwestern clock.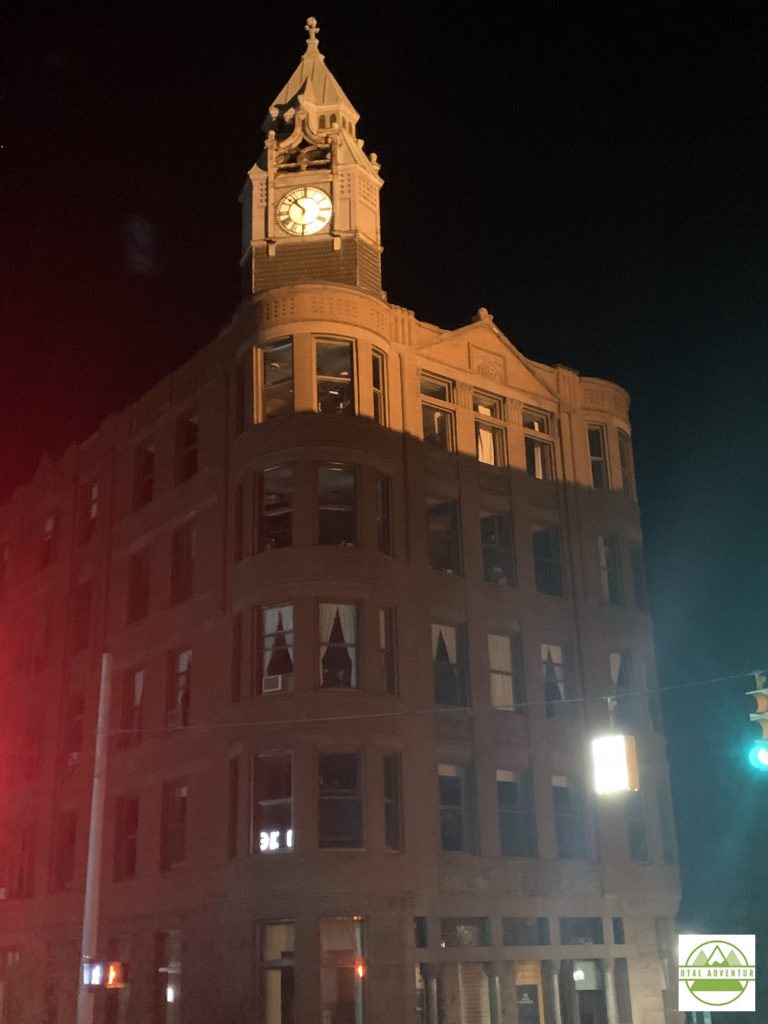 Saturday morning, July 18th I departed Marquette and drove the rest of the vast Peninsula. Crossed into Central Daylight Time The iPhone changed instantly, but the X2 had to be set manually.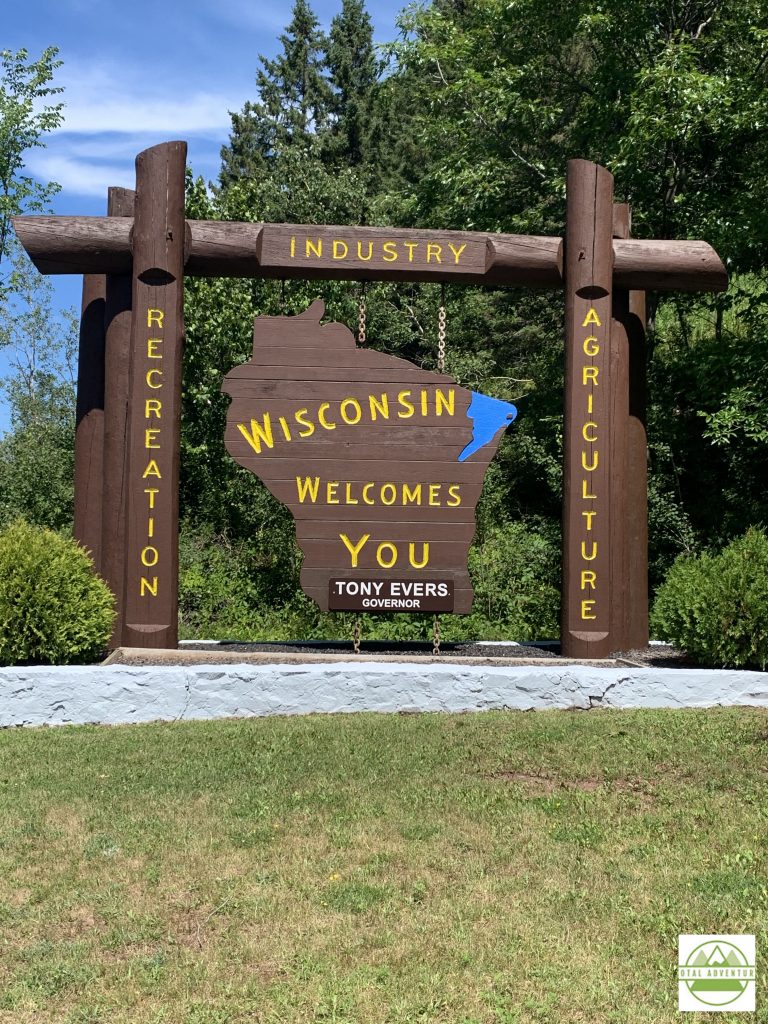 Around Noon,I entered Wisconsin, my 45th State – the first of 2 new states that day. Mostly I stuck to the Lake Superior shoreline. Though it was a beautiful summer day, outdoor eating is not a thing in Wisconsin ,so I had my only McDonald's meal of the trip. And then – it was on to Minnesota.
On Saturday afternoon, July 18th, I crossed over the bridge from Superior Wisconsin to Duluth Minnesota. Minnesota was my 46th State and my second new state of the day.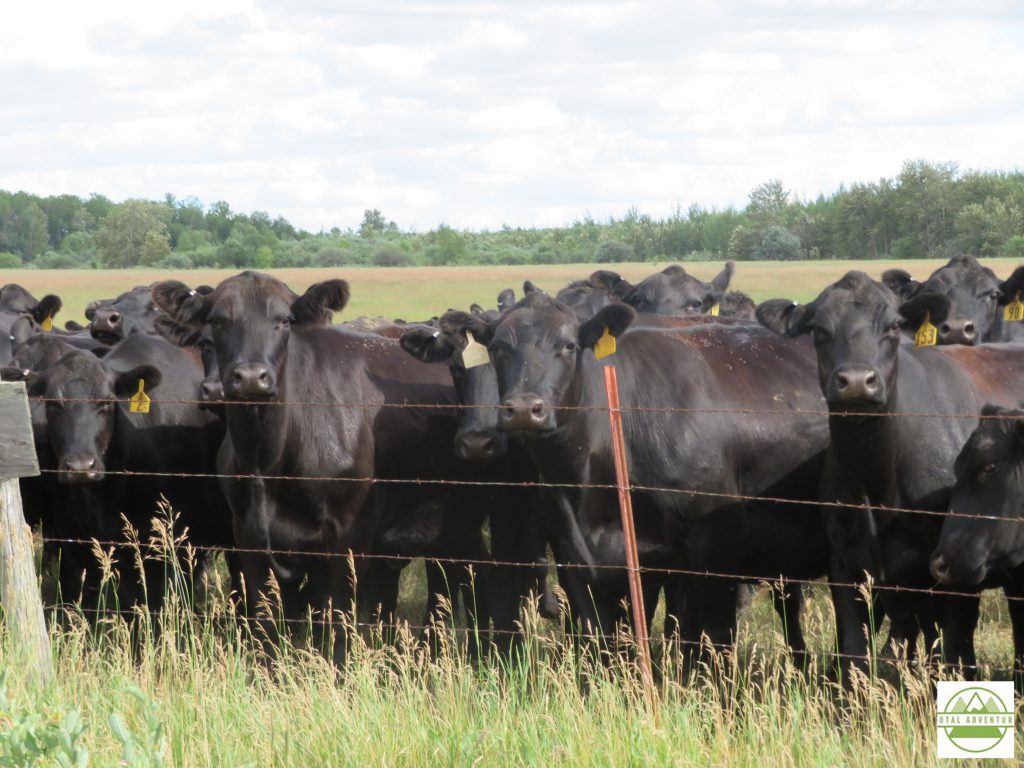 I spent the night in Duluth, a city of low mountains overlooking vast Lake Superior. Though the inhabitants are thoroughly American ,the city has a European look to it.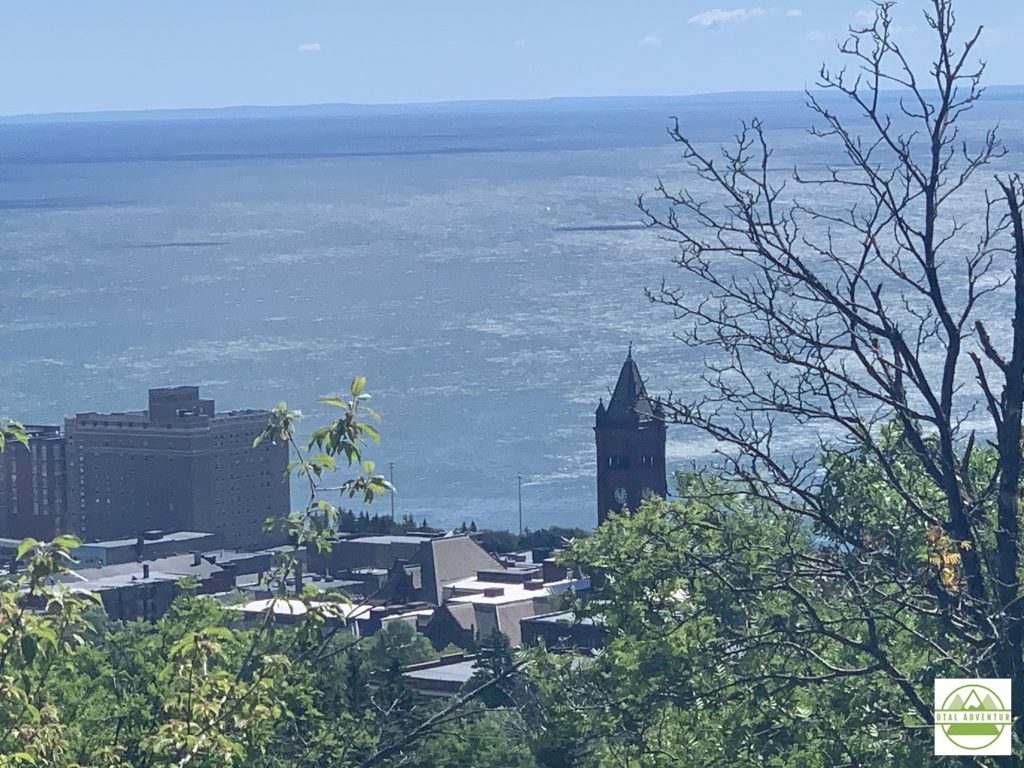 Iron Ore from the Iron Mountains is shipped to steel plants all over the world.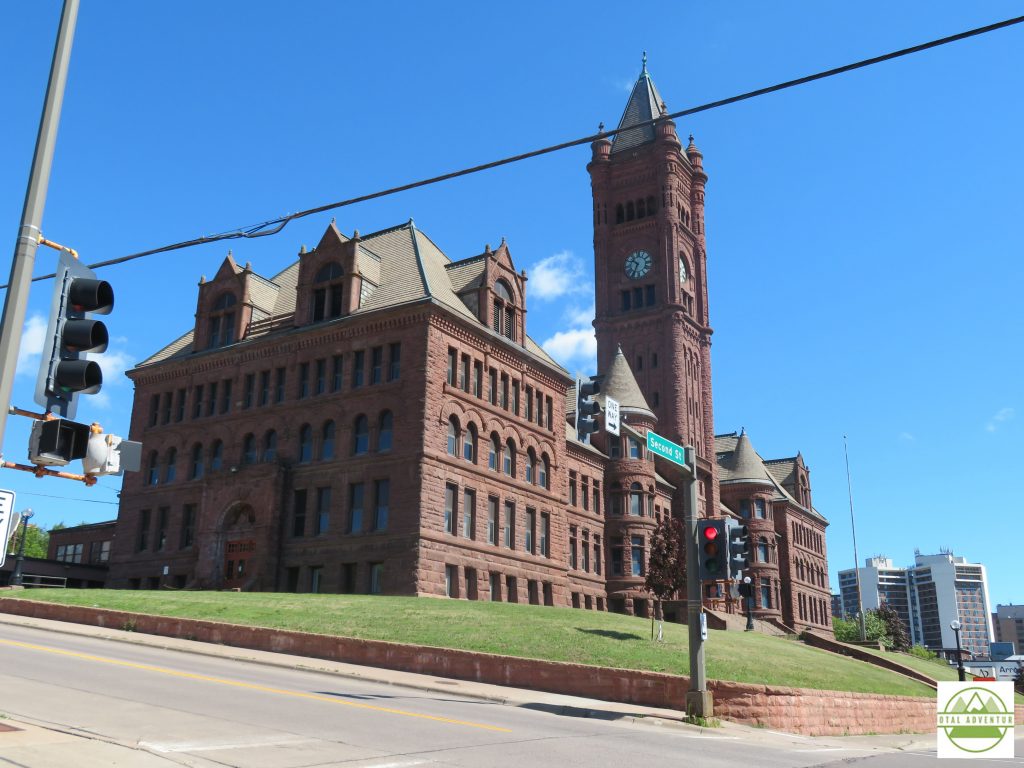 I stayed at Fitgers Inn, a nice splurge , located in an old brewery.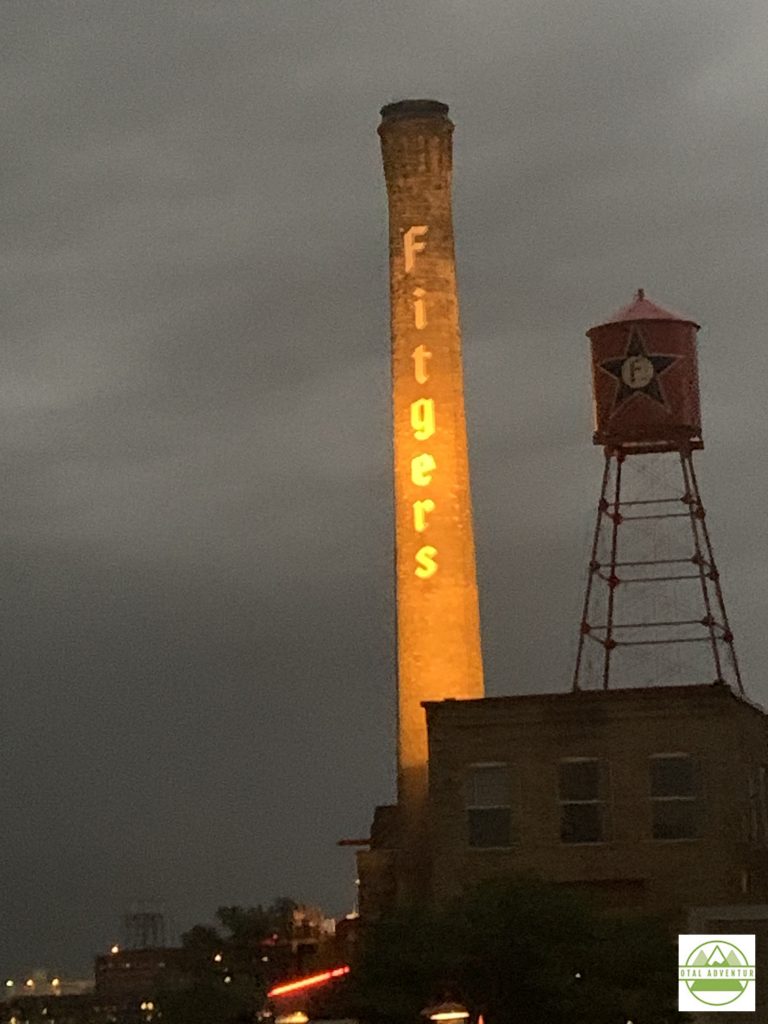 The Beer Is Pretty Good.
I stopped for lunch in Virginia,Minnesota, heart of the Iron Range.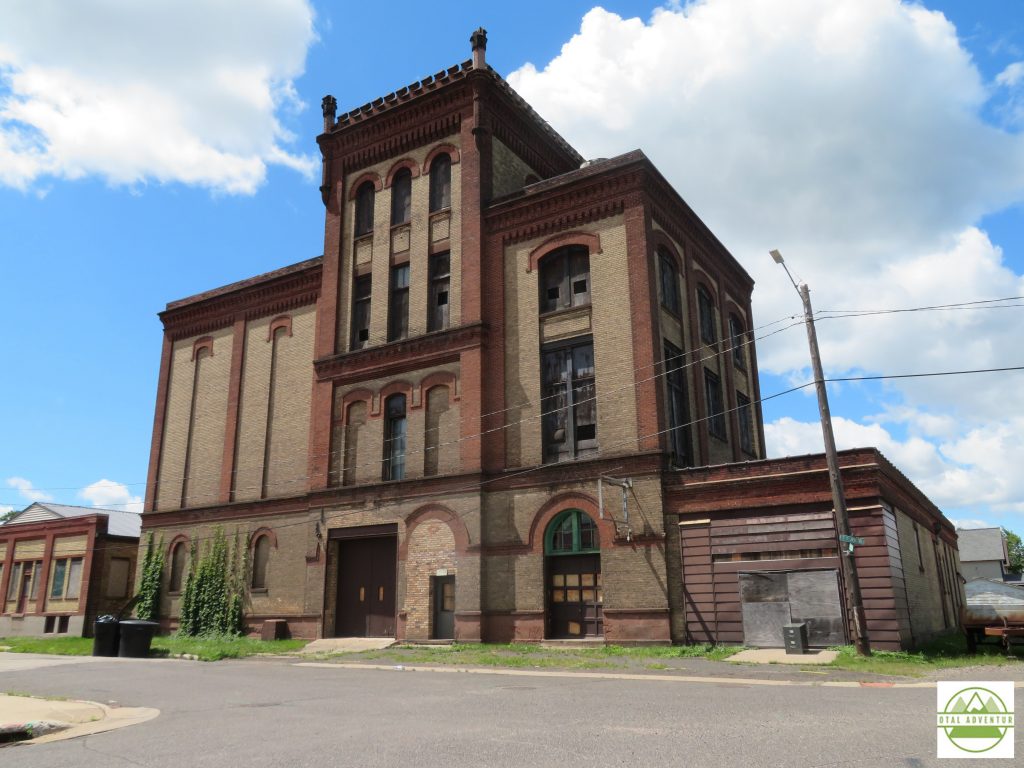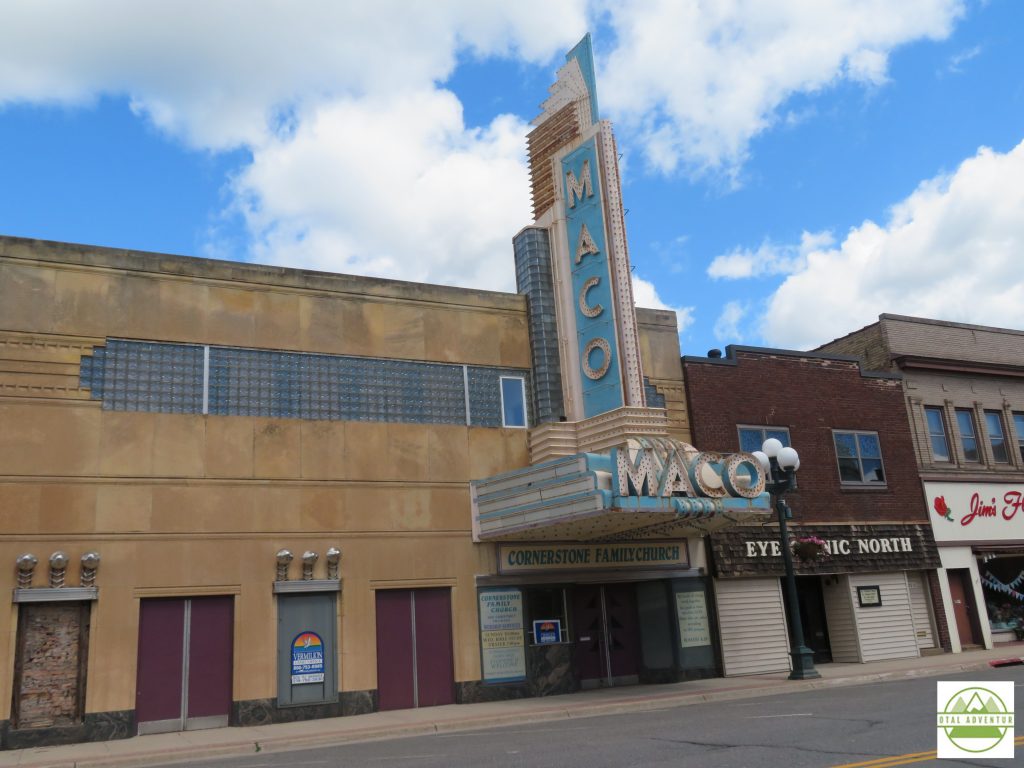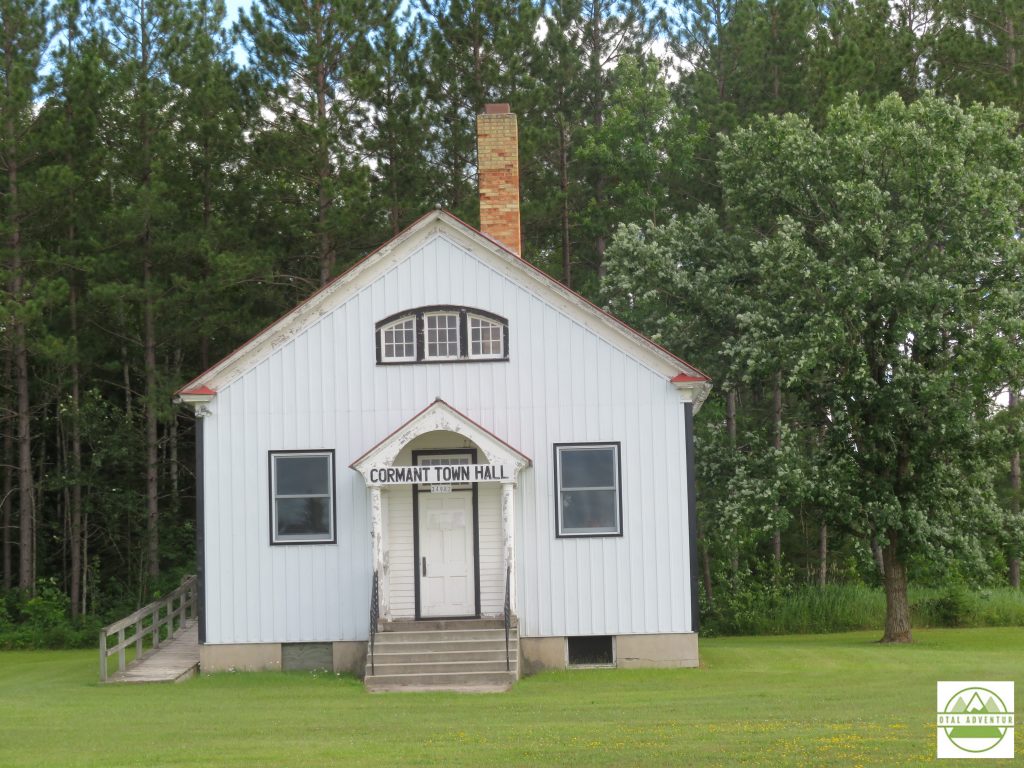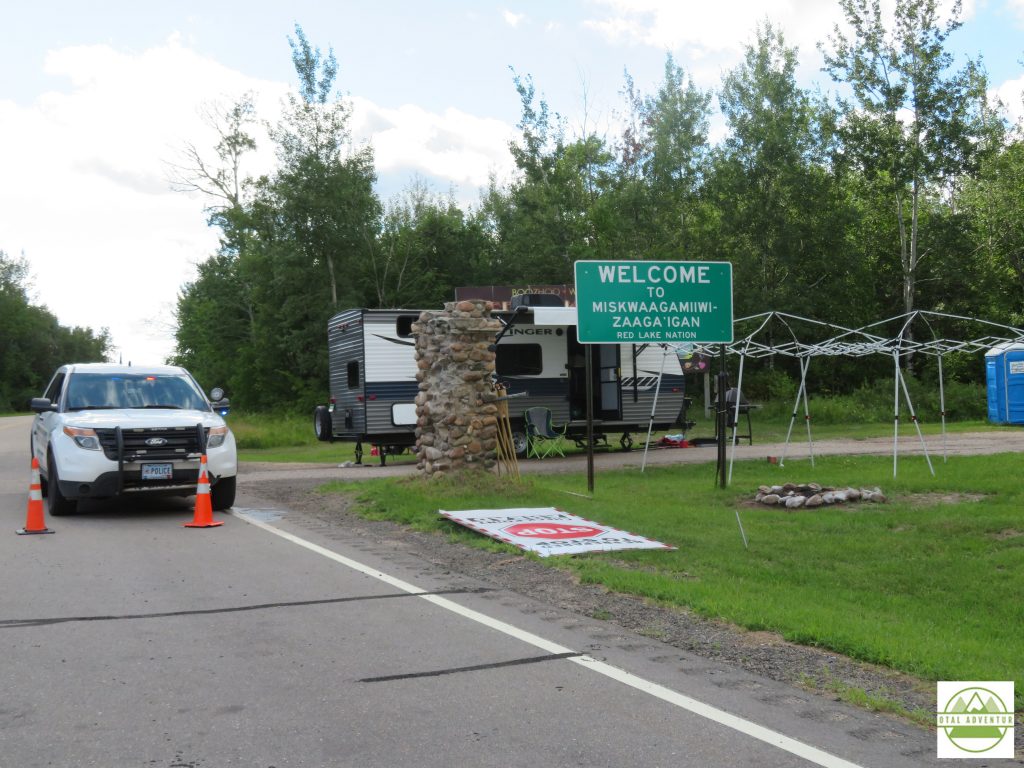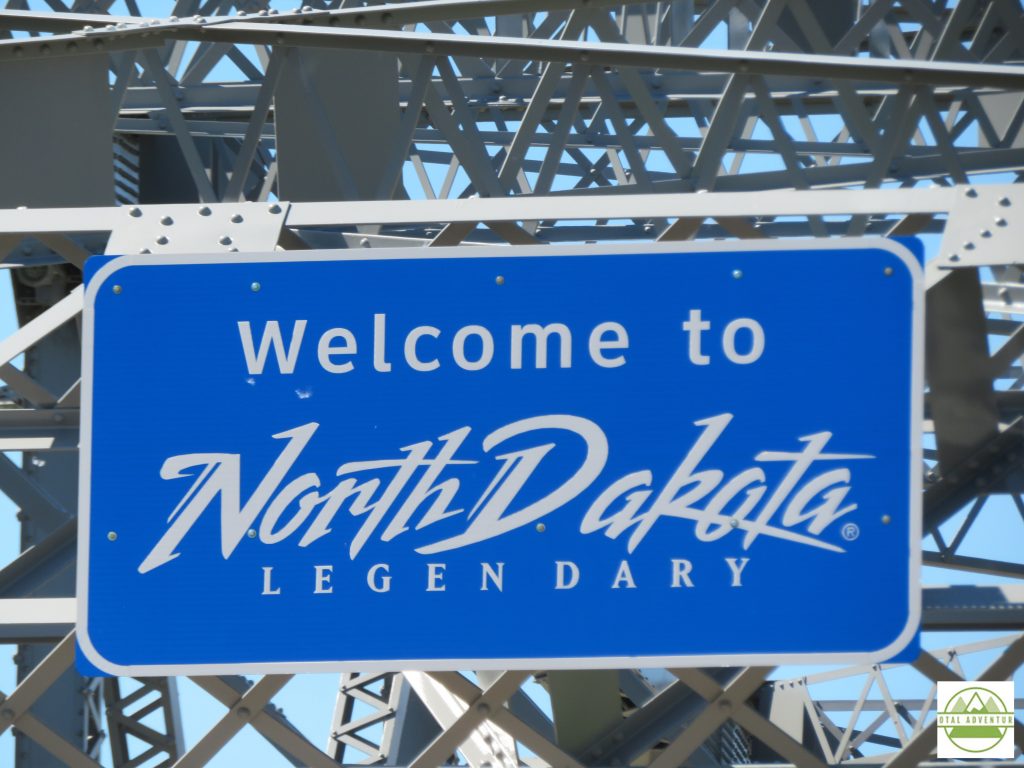 On Monday morning, July 20th, I crossed the Red River into North Dakota, my 47th State ! The Center of North America ! After an excellent Vietnamese lunch in Grand Forks, I headed out into the farmlands.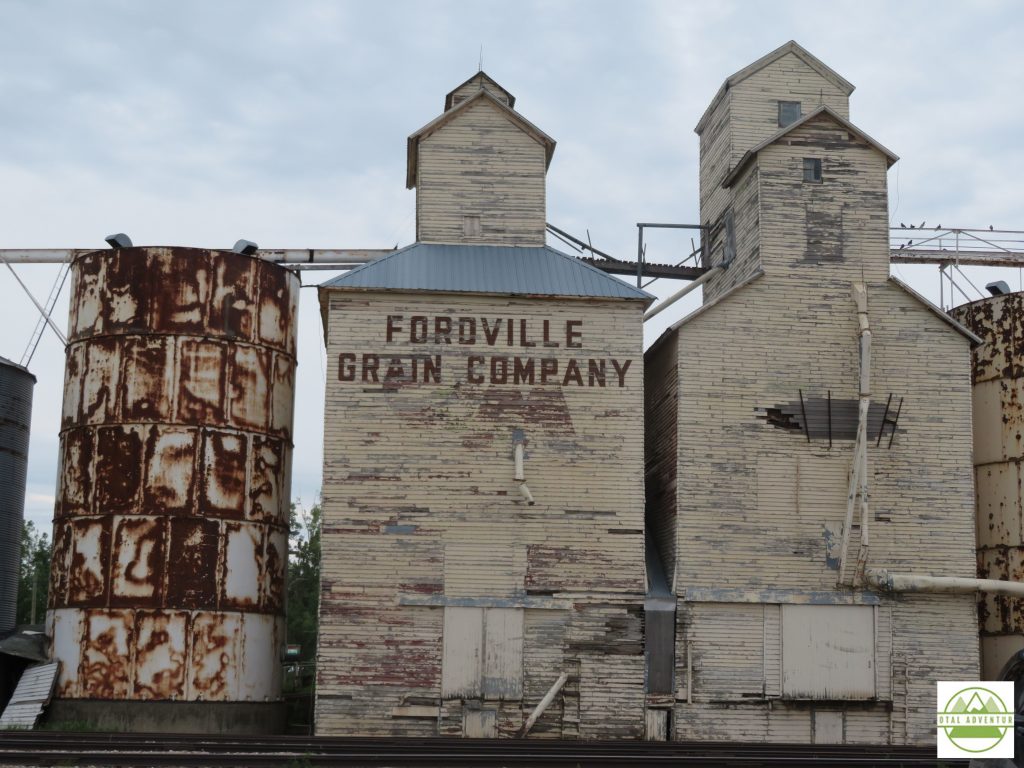 Miles and miles of soy and beans. Some corn, but this far north there's only one crop a year. And wheat more than anything.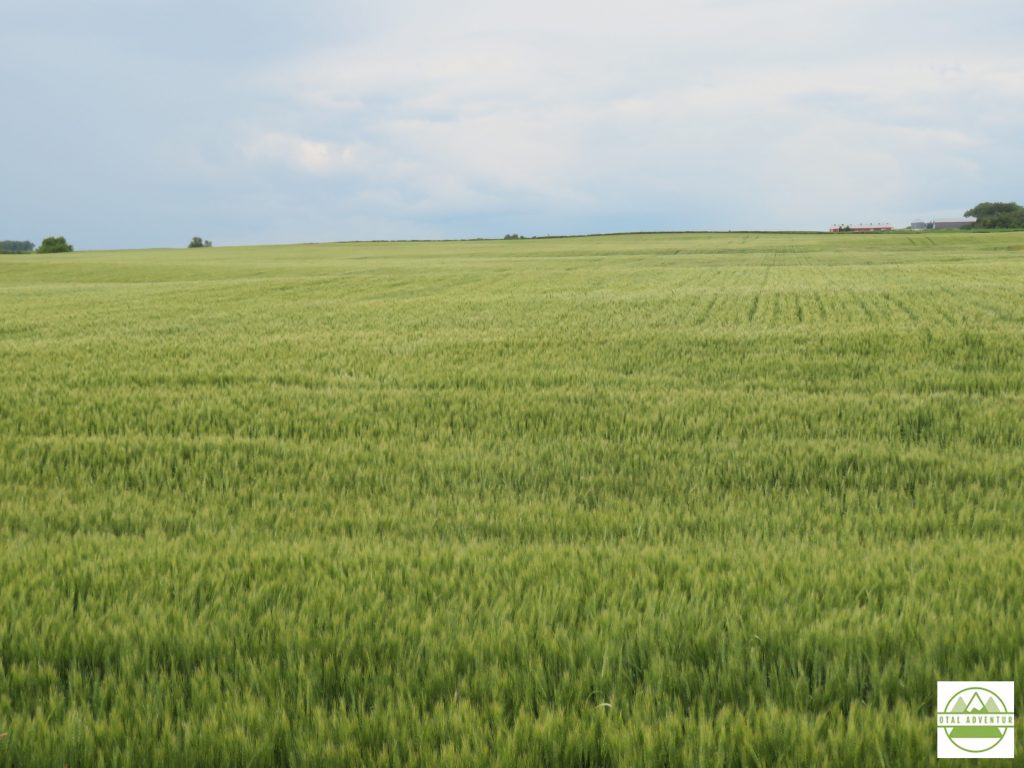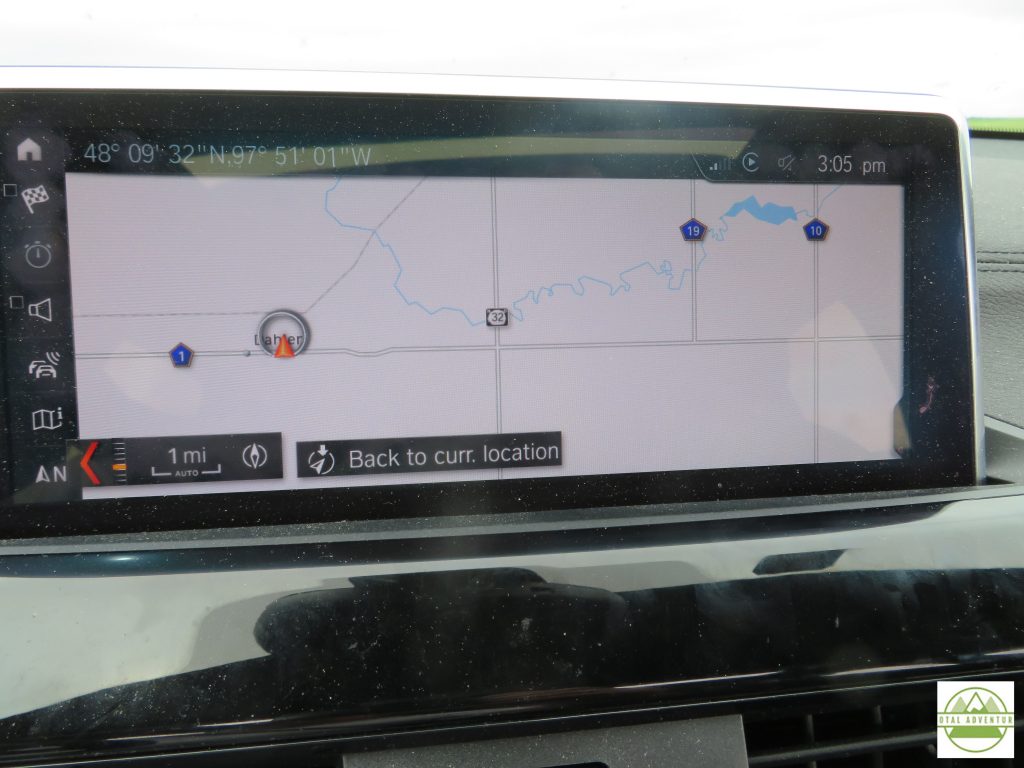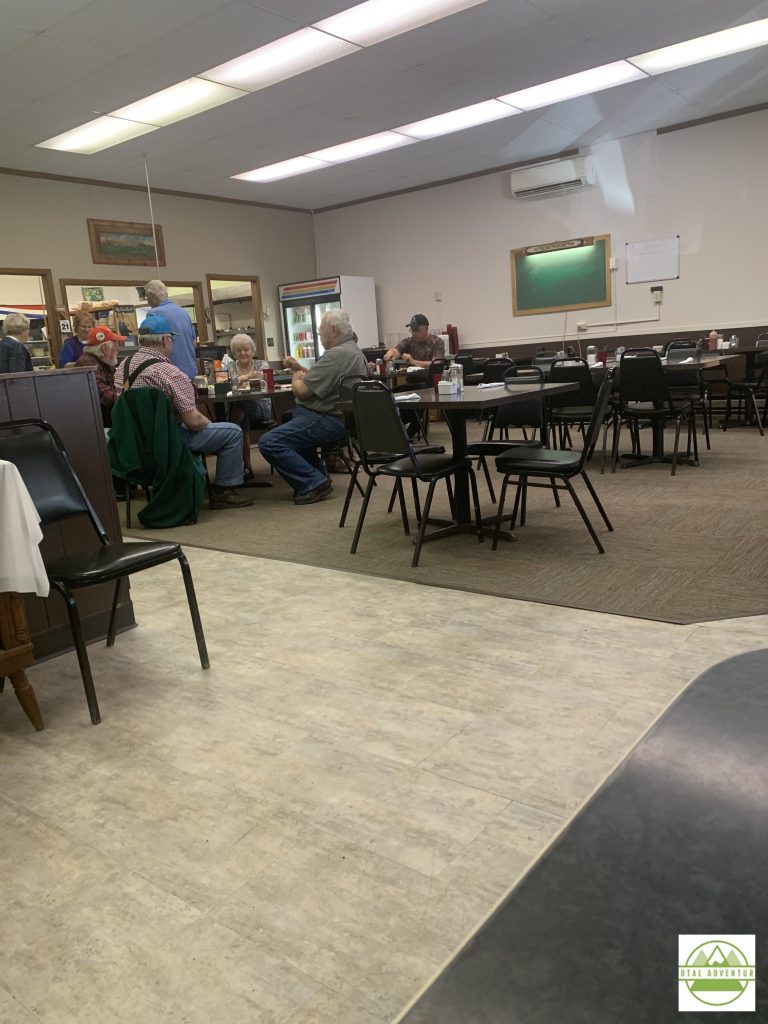 I stayed at a hunting and fishing lodge at Devil's Lake for the night. In the morning I stopped in Esmond and breakfasted at the Esmond Cafe. I ate inside for the first time on the trip. Not one mask in sight, except mine. Everyone very friendly and for most, the first time meeting someone from Miami or New York. COVID was almost nonexistent in North Dakota then, but later the state was devastated, with about 15 % of the population sickened and one in 500 of the population killed.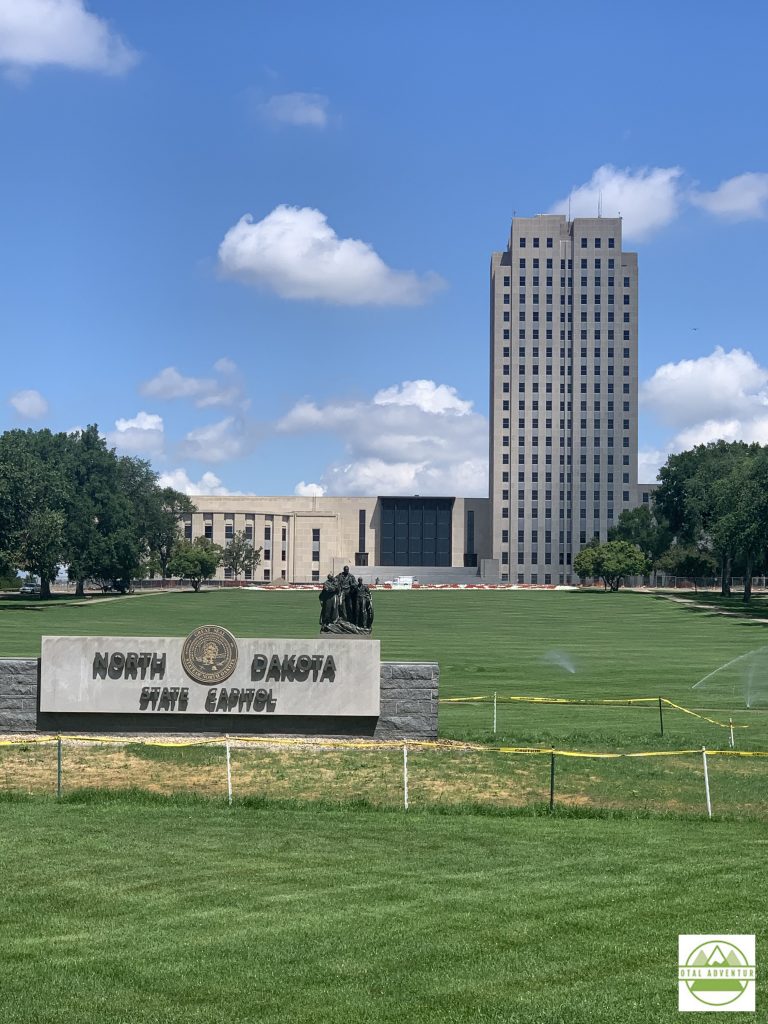 I stopped for lunch in Bismarck ,the capitol. That building is the tallest in North Dakota.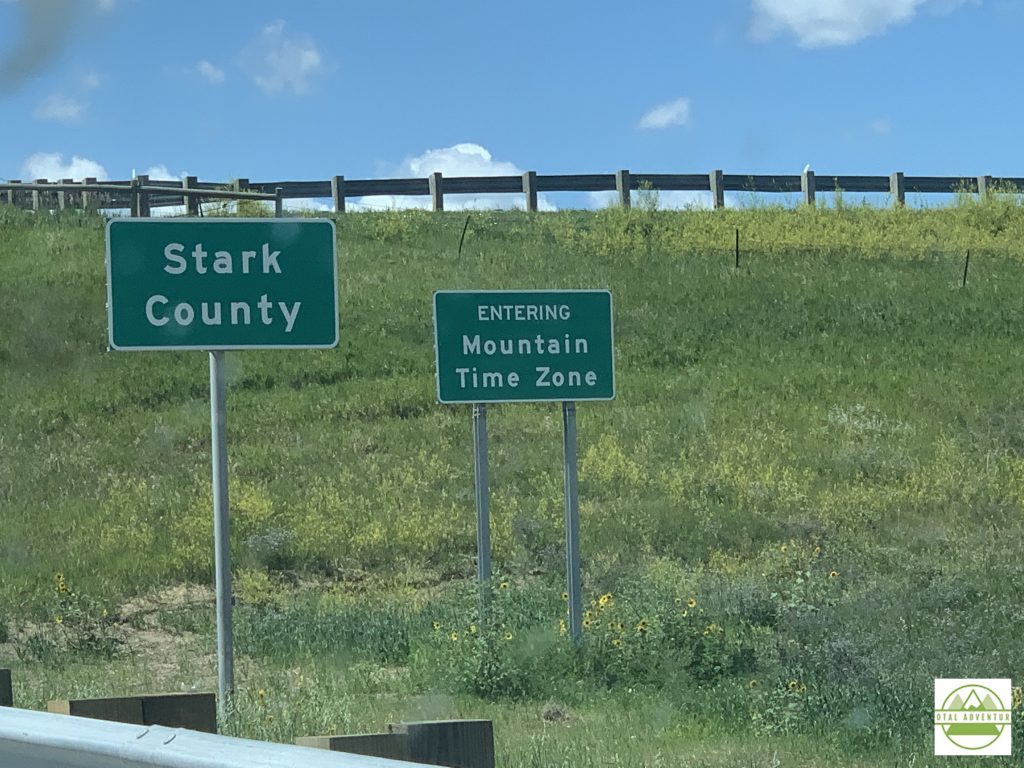 In Dickinson I was in the real West. Changed the clock back for the second time in 3 days.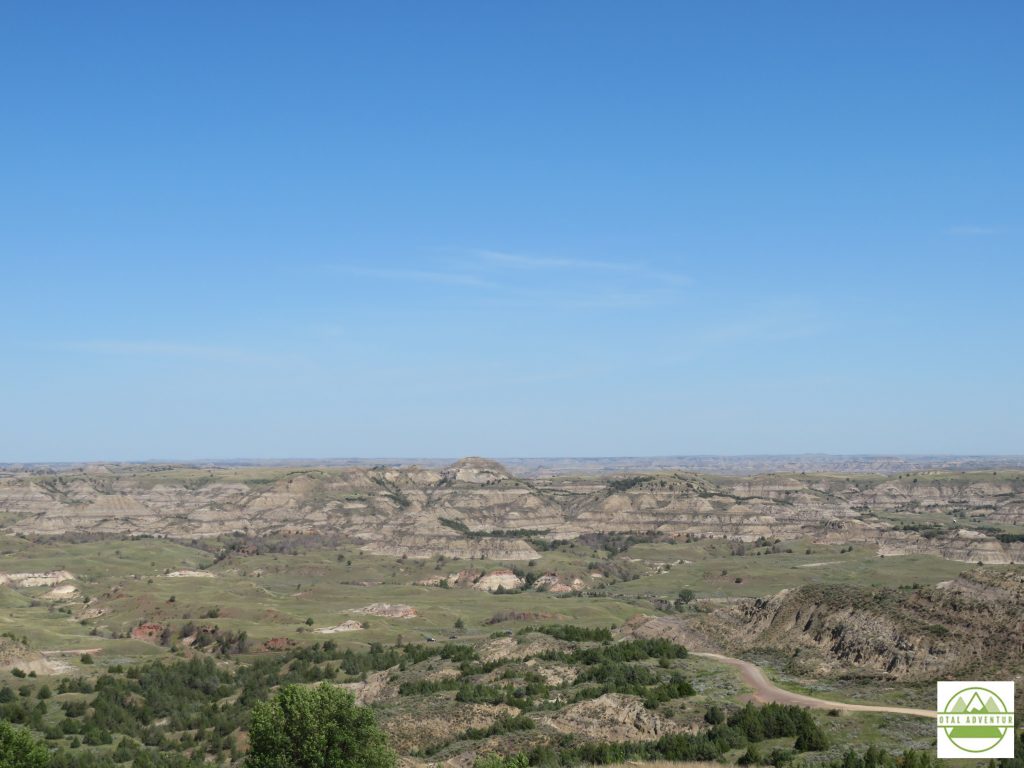 Theodore Roosevelt National Park is a real introduction to a western landscape. Green gives way to brown, flatlands give way to Bad Lands.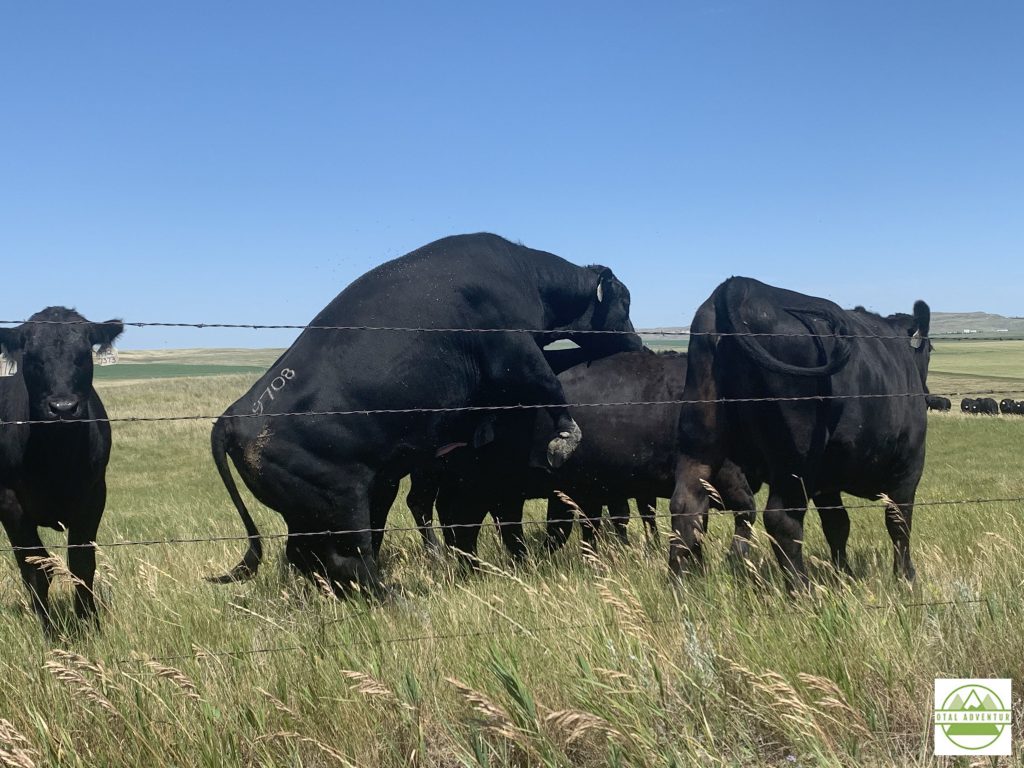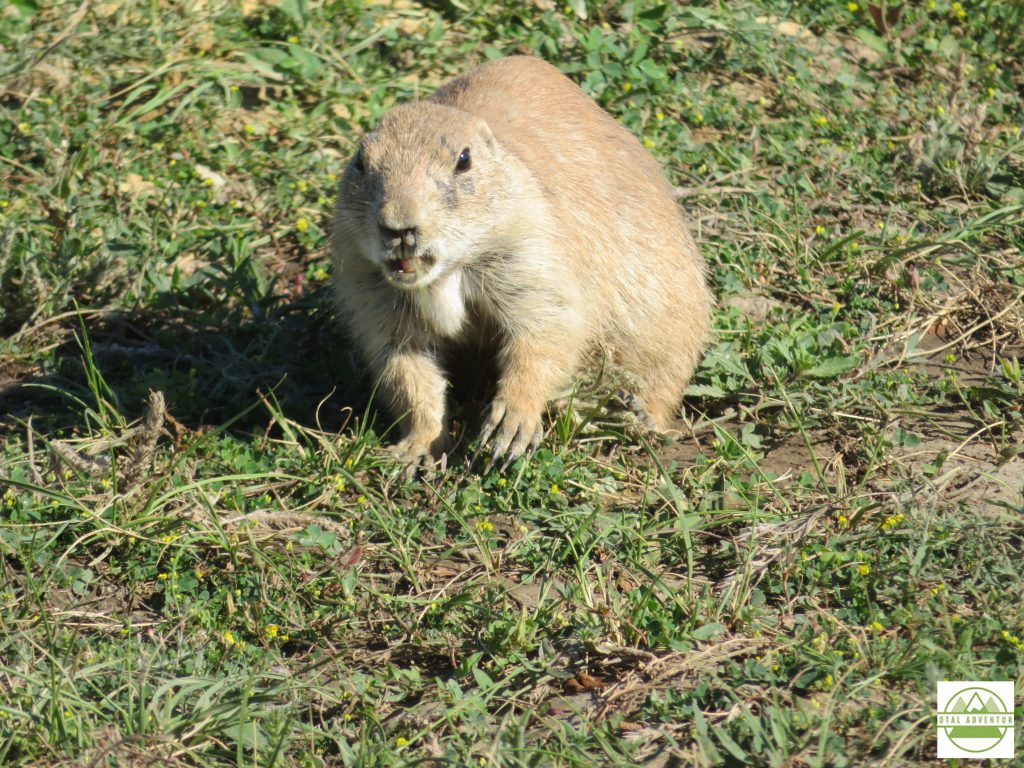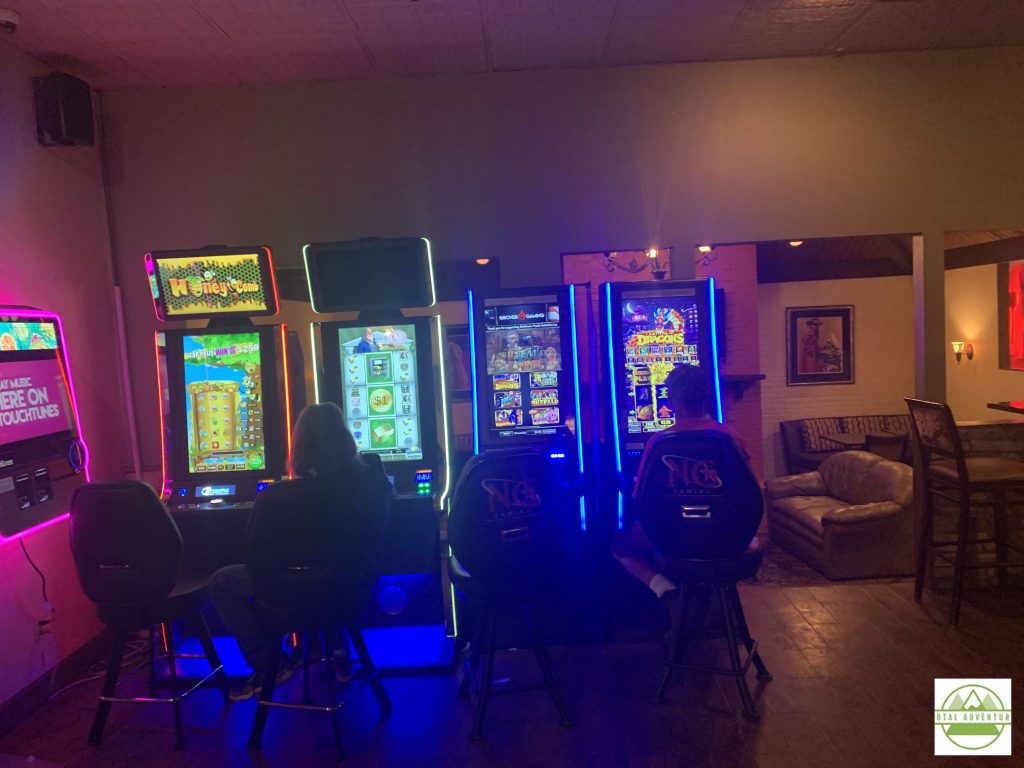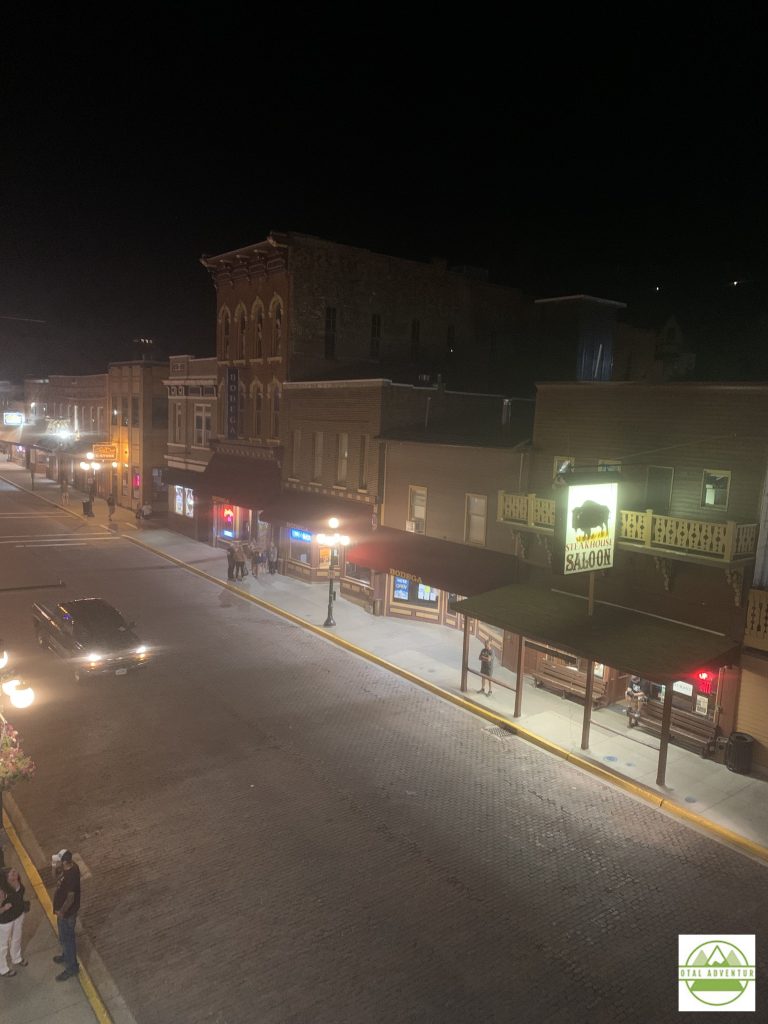 South of the Park, on US 85, I entered South Dakota , my 48th State ! Spent 2 nights in Deadwood, which was kind of dead, not because of COVID, which people there did not think existed, but because the drinking and gambling town shuts down at 9. Not quite Vegas !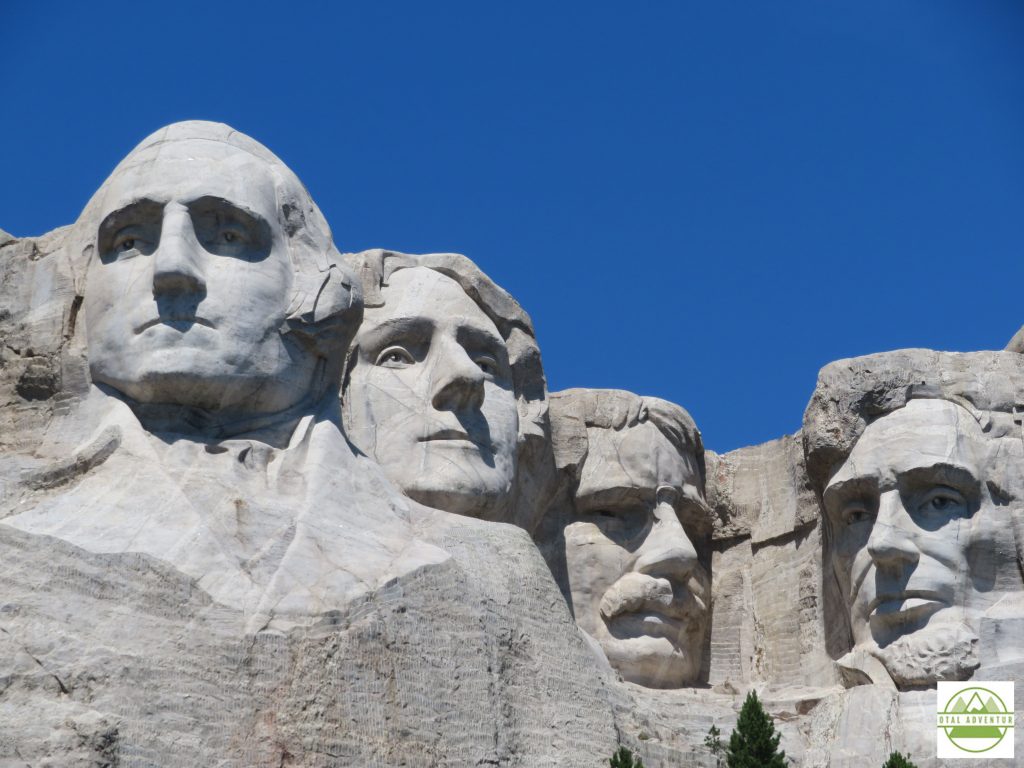 No words needed to describe Mt.Rushmore. And now – it was time to ride on into Wyoming….
On the morning of Friday,July 24th I left Deadwood South Dakota and within an hour had entered Wyoming on SD 34/ WY 24 . The first stop was Devil's Tower.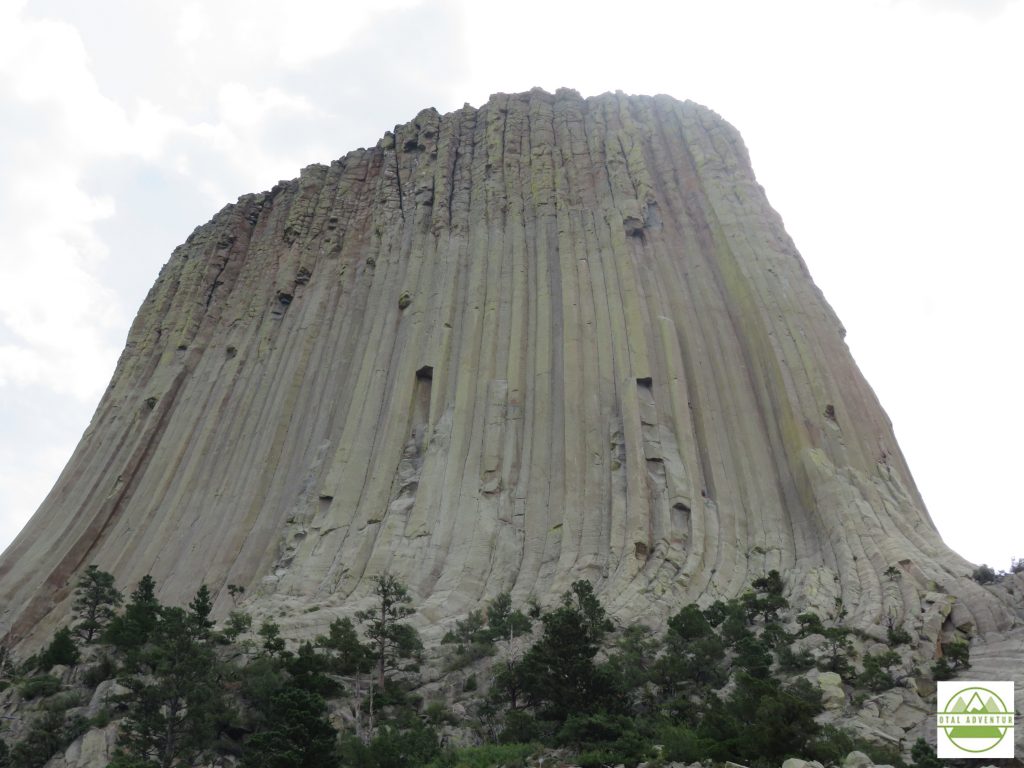 Rising straight out of flat farmland,Devil's Tower is 867 feet and formed in a short time due to volcanic upthrust. It is very geologically different than the Black Hills over 100 miles away, or the Rockies , more than 200. You can experience it in the video above.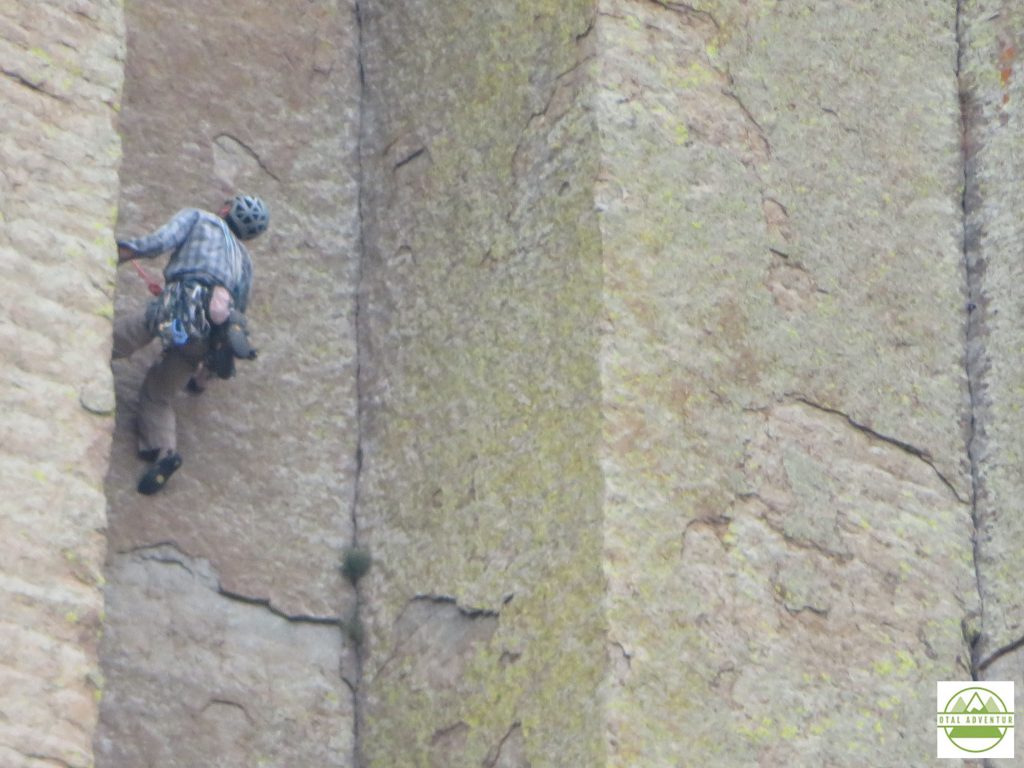 By mid afternoon I settled into Sheridan, at the foot of the Big Horn National Forest. As usual I dined alone on the hotel porch rather than in a lively restaurant .COVID life on the road. Everything closed by 8 anyway.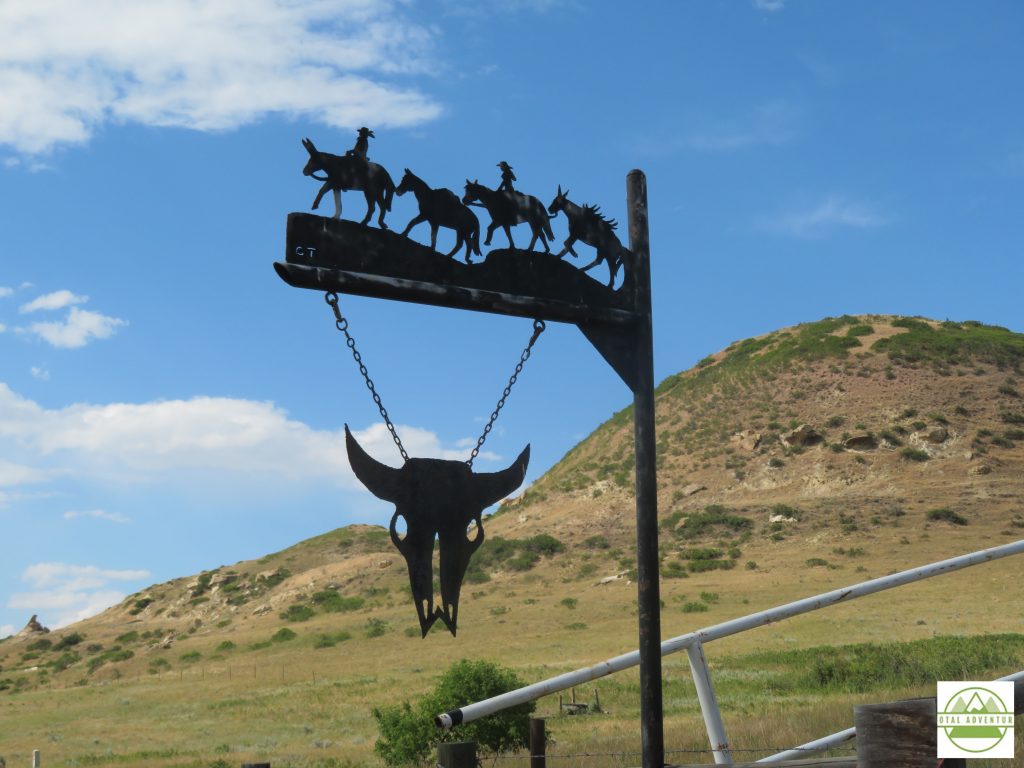 Big Horn National Park offers hundreds of square miles of hiking, climbing, glacier trekking and ATV trailing. Since it's not a National Park, it's not well known except locally. I was the only Florida plate, most were from Wyoming and Montana.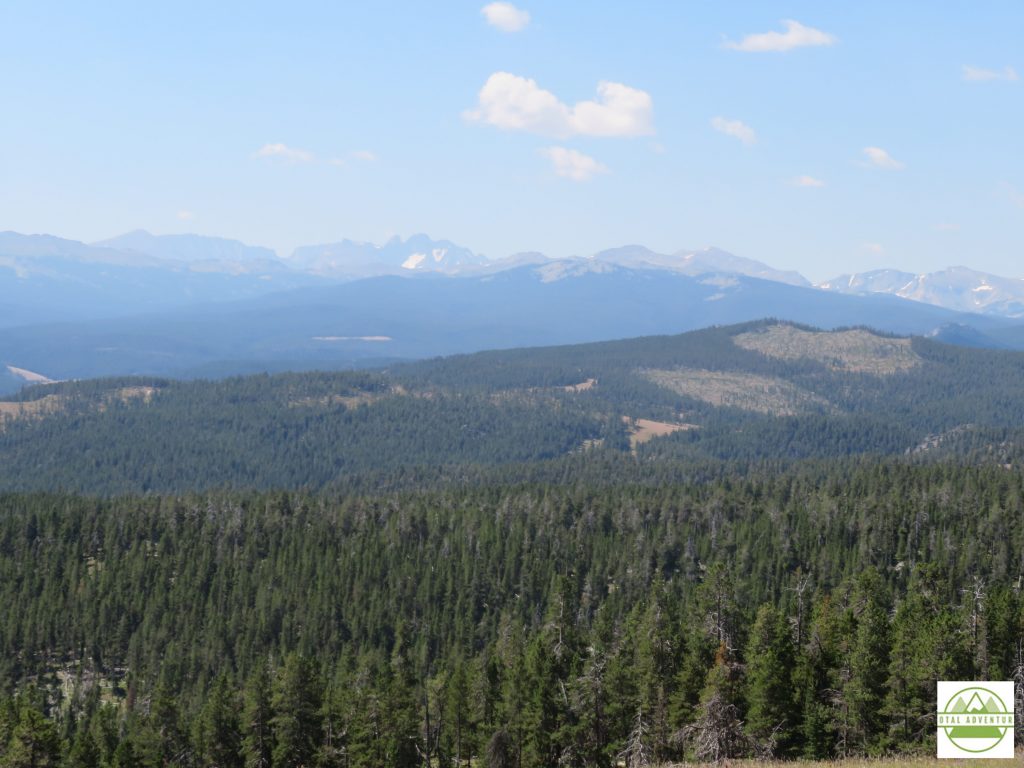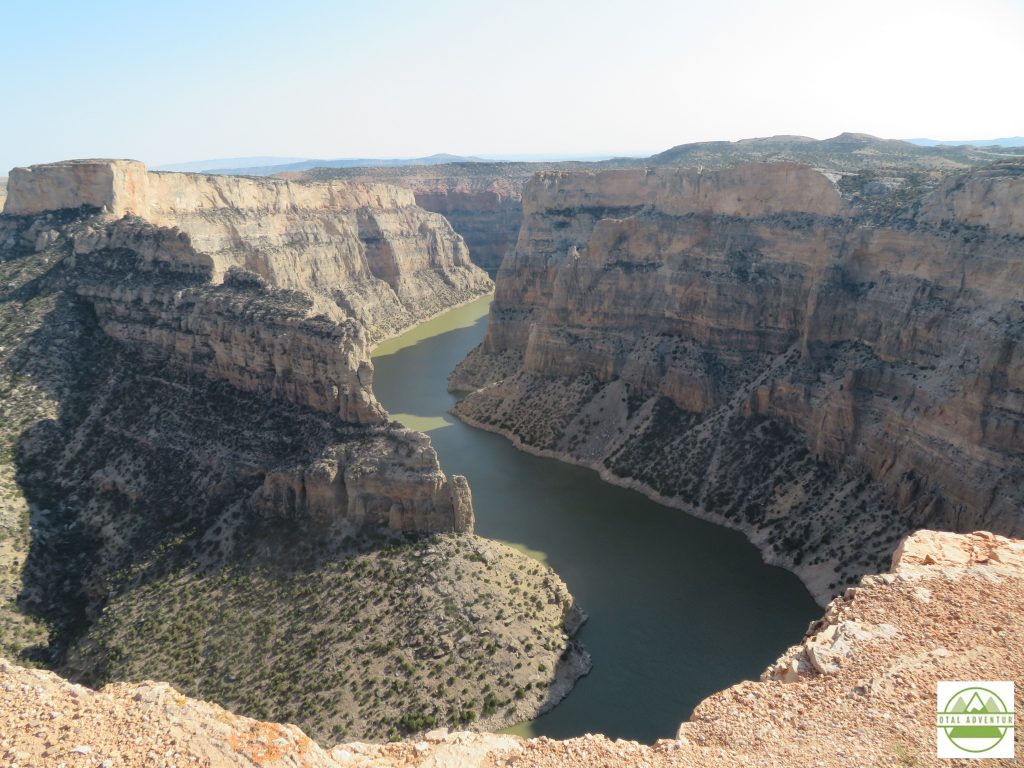 Dropping down a few thousand feet from the Big Horn Range, TotalAdventure explored the Snake River Canyon , traversing the Wyoming Montana border. The canyon had been dry with a seasonal stream until a dam was built in the 1930s.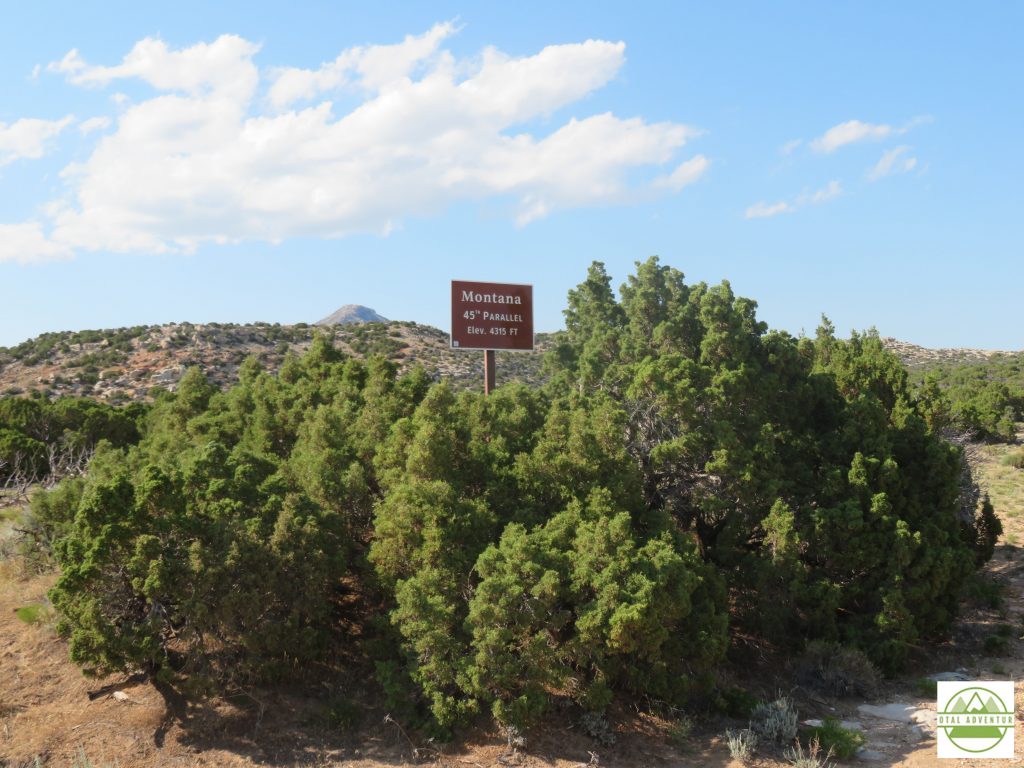 I then entered my 49th state, Montana ! Just one more to go – Oklahoma, but won't be there until the return trip East in September.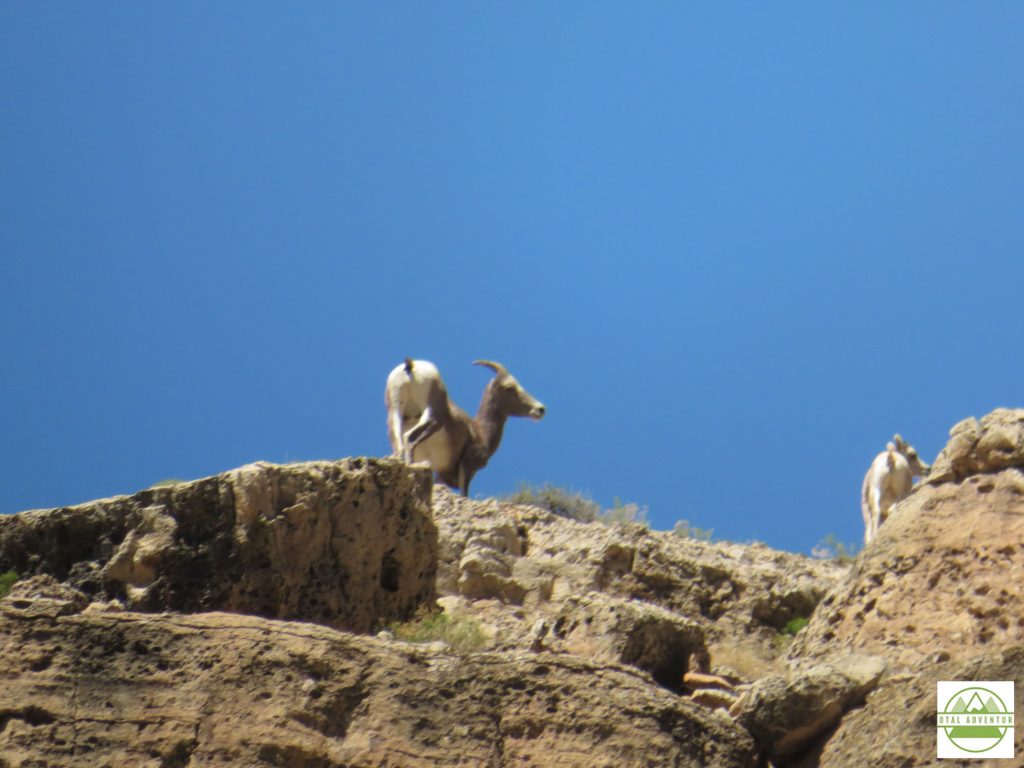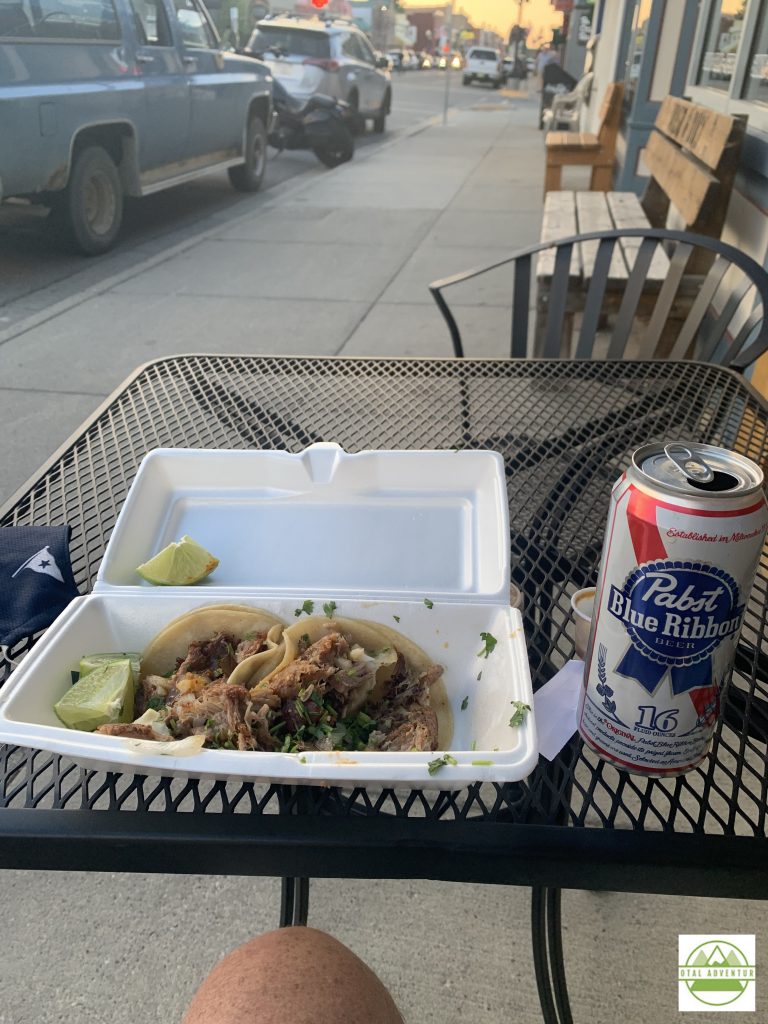 Before Yellowstone, I overnighted in Billings and Red Lodge Montana. In Billings I enjoyed a big Montana steak, but when I arrived at my hotel in Red Lodge after a day in Snake River, about 7:30 to discover that due to COVID my hotel restaurant was closed and the few restaurants still open in town would be closing at 8. This New York/Miami traveler is not used to small town hours but had to adjust on this trip or face night time starvation. I was the last one served from the line at a Mexican cantina and scored a PBR from the bar/casino across the street. The bars closed at 9 !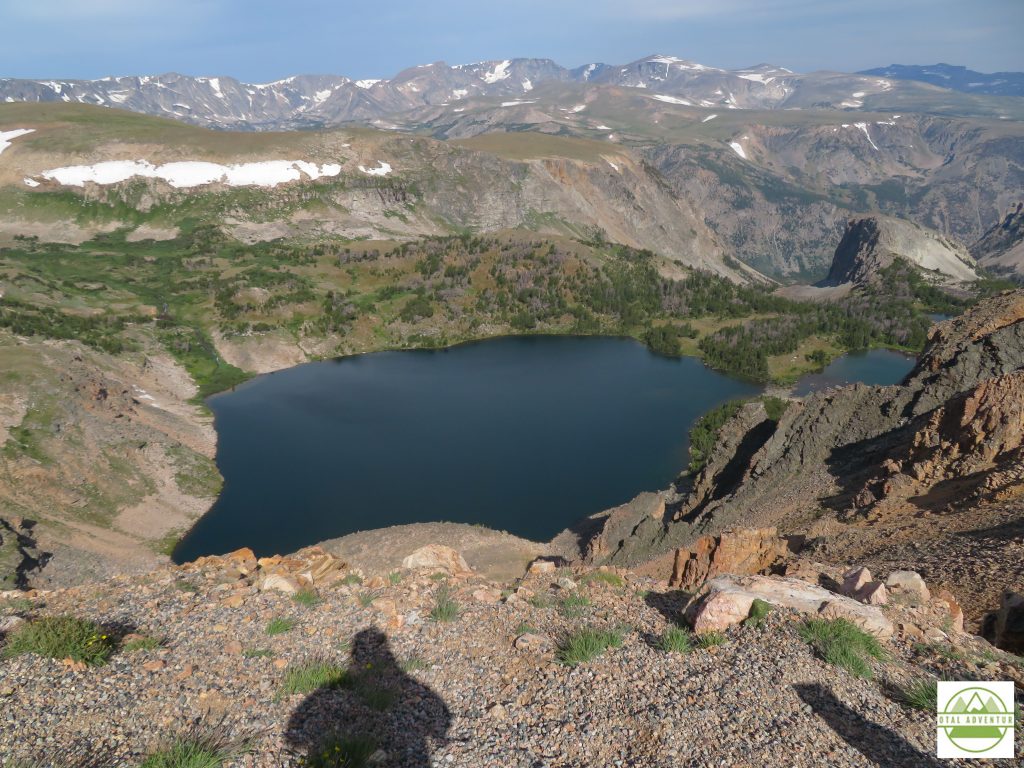 From Red Lodge to Yellowstone the winding ,high altitude Beartooth Highway crisscrossed several times between Wyoming and Montana.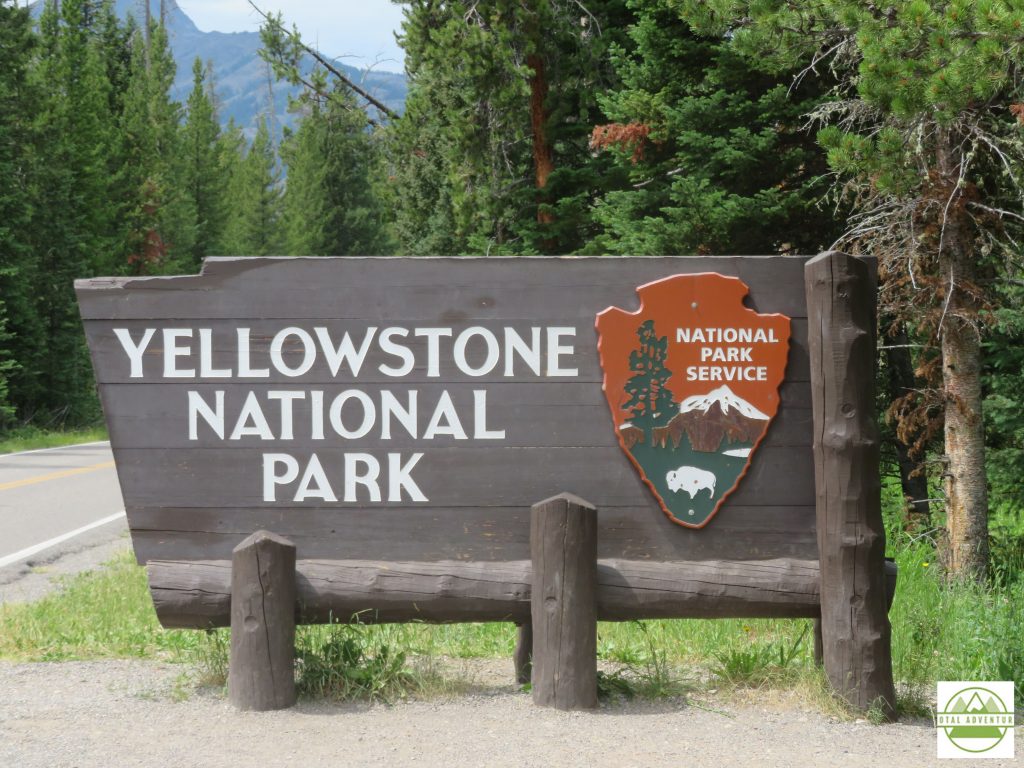 The Summer of 2020 was probably one of the best to explore Yellowstone. Though crowds were sizable , they were all American crowds, as most foreigners, not even Canadians, could visit in the COVID summer. The notorious traffic jams did not appear.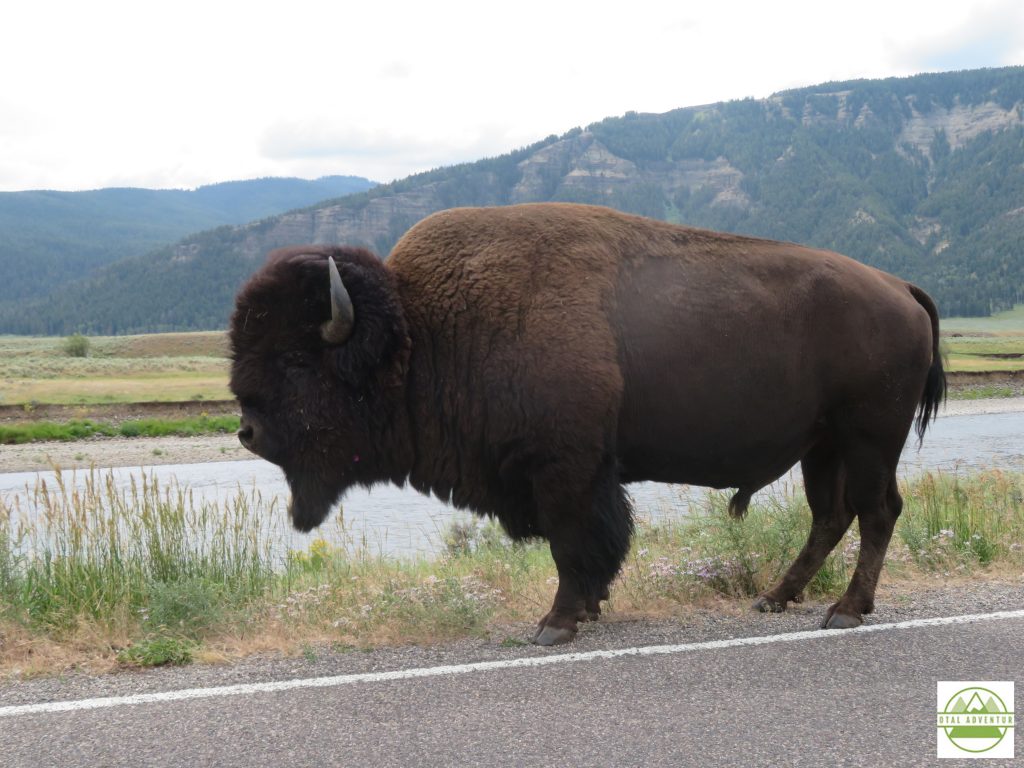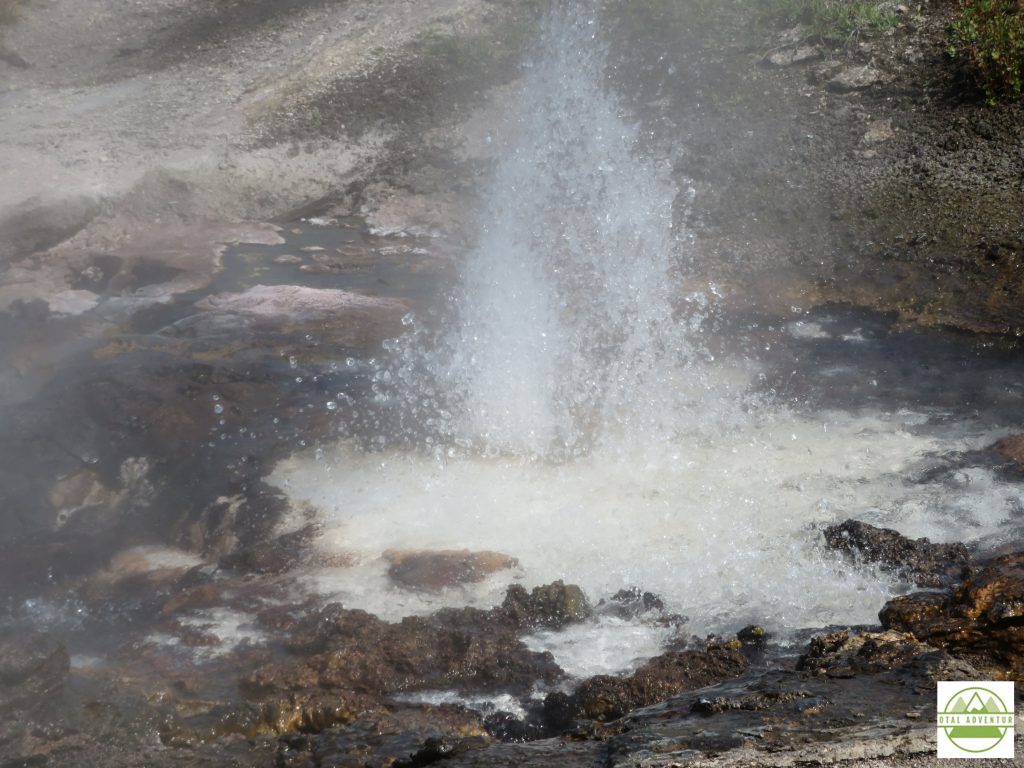 Yellowstone sits atop a super volcano. When it does finally blow – anytime between the next 10 minutes to 10,000 years – the park will become a 50 mile wide lake of boiling red lava and will cause global cooling for years to come.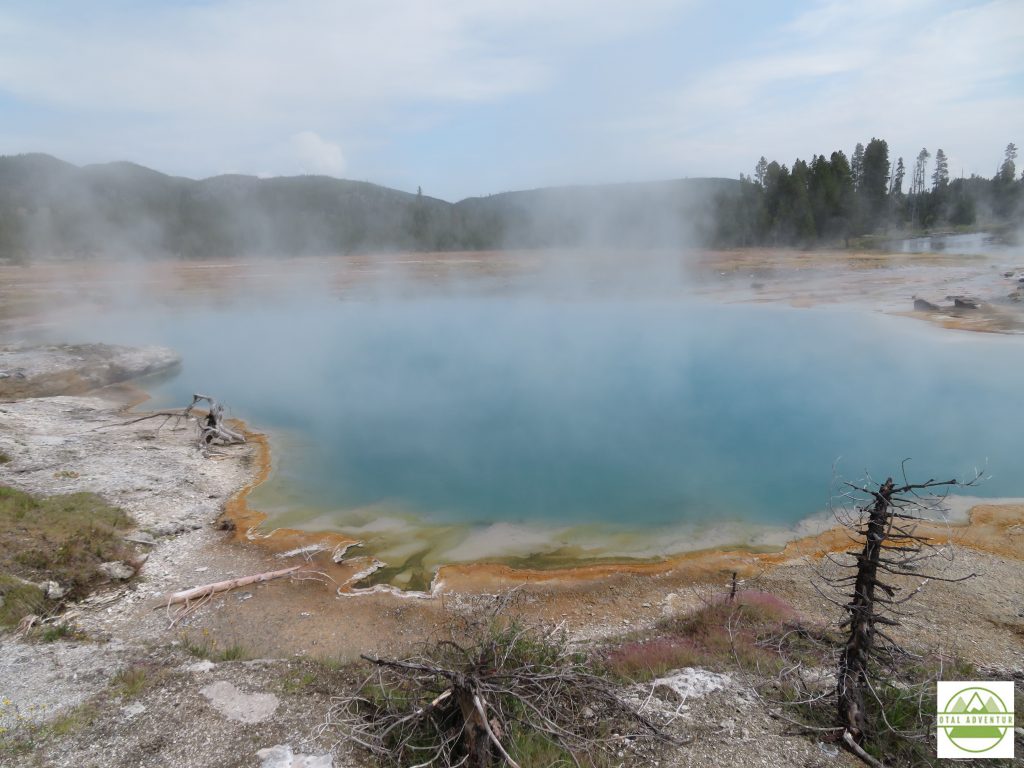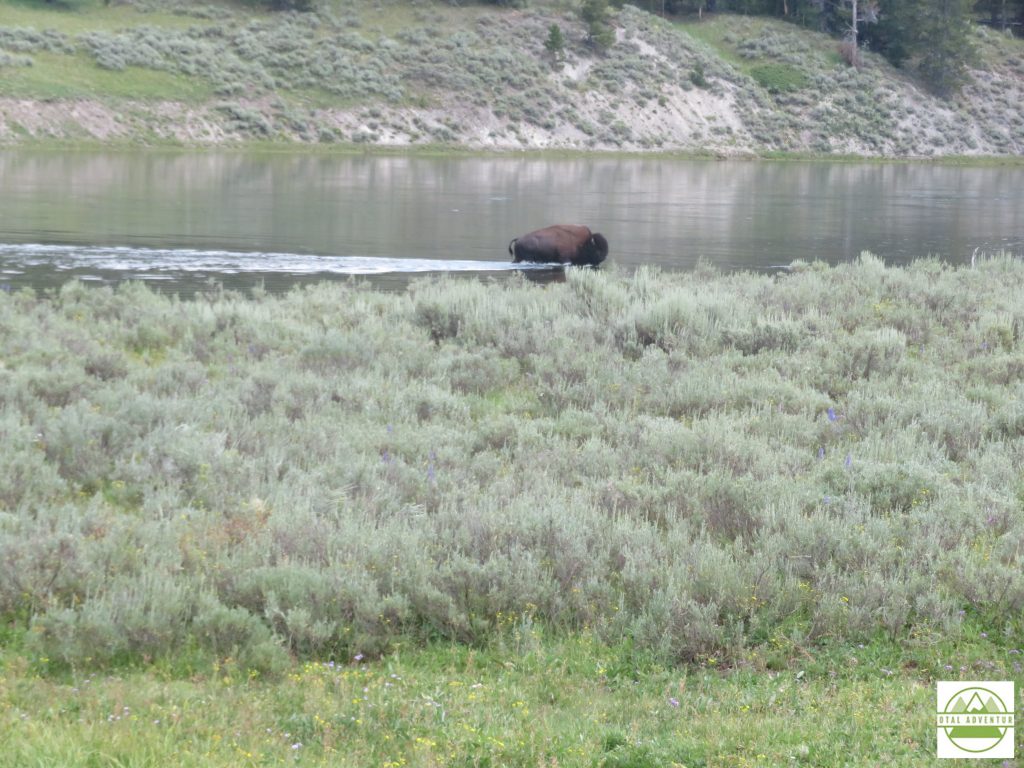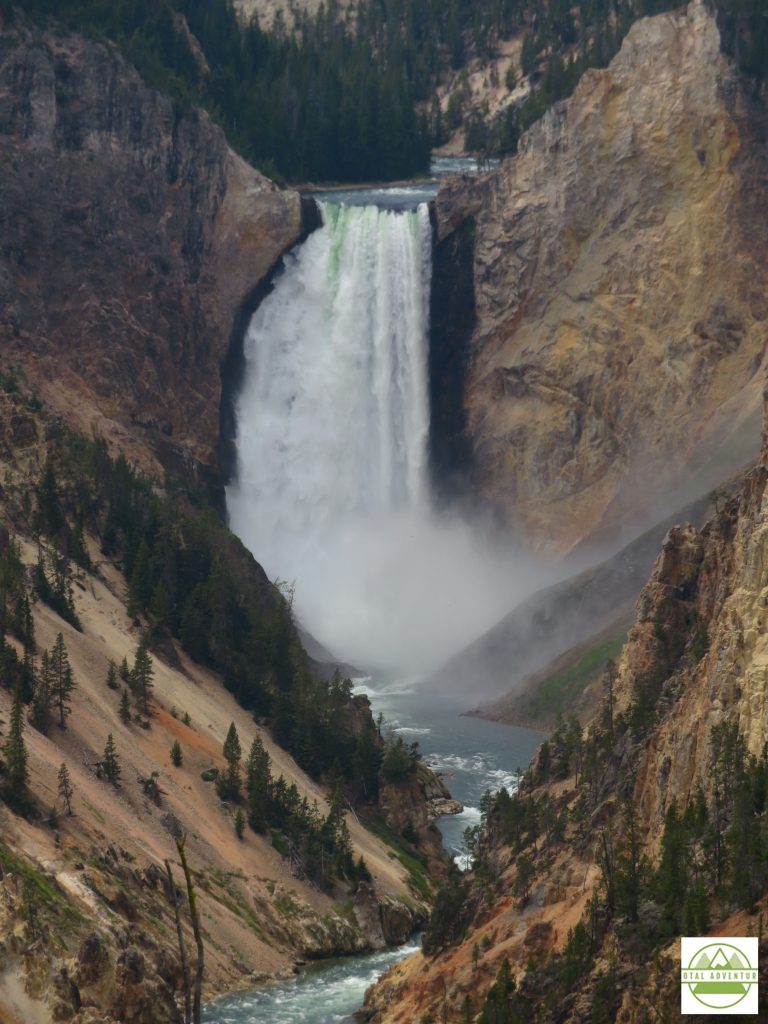 The falls look even more incredible in the video above. Be sure to watch it all.
After a day and a half in Yellowstone ( many people stay a week or more) it was time to head north into Montana. Passing Big Sky on a beautiful highway with a legal speed limit of 80 mph I arrived in Butte around sunset. I would stay there 2 nights, to explore the old mining city , to catch up on work ,do laundry and get the extremely dusty X2 washed.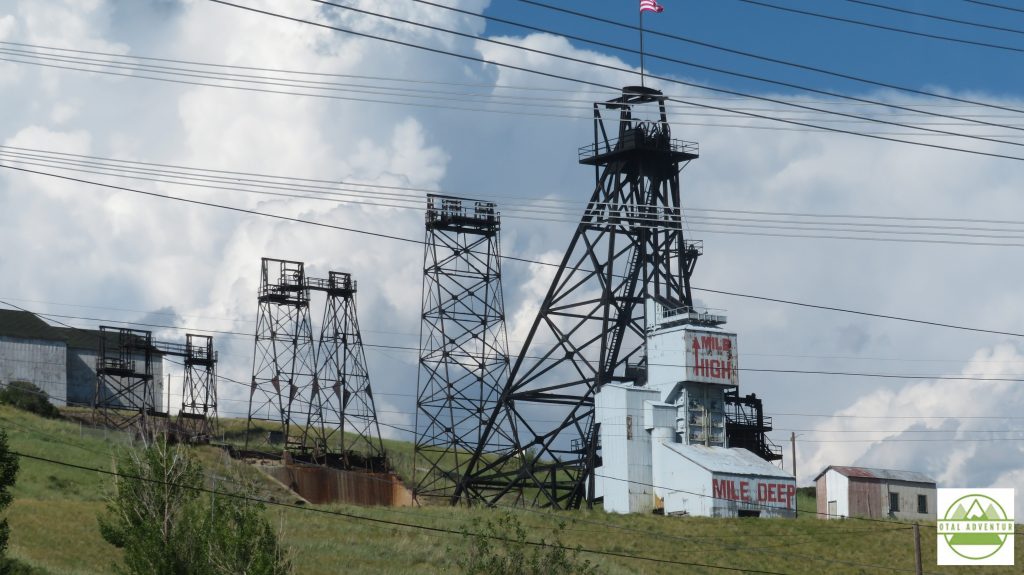 Gold Copper and silver were mined here. Butte was known as the "Richest Hill On Earth." Miners came from all over the world. Copper is still mined, but there's not much left. The old city is quiet but not quite abandoned.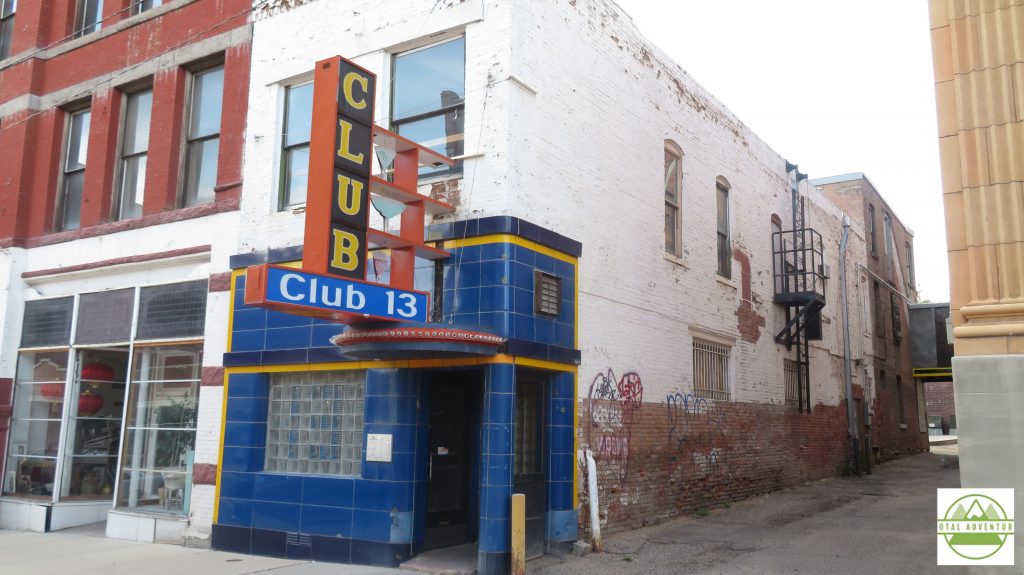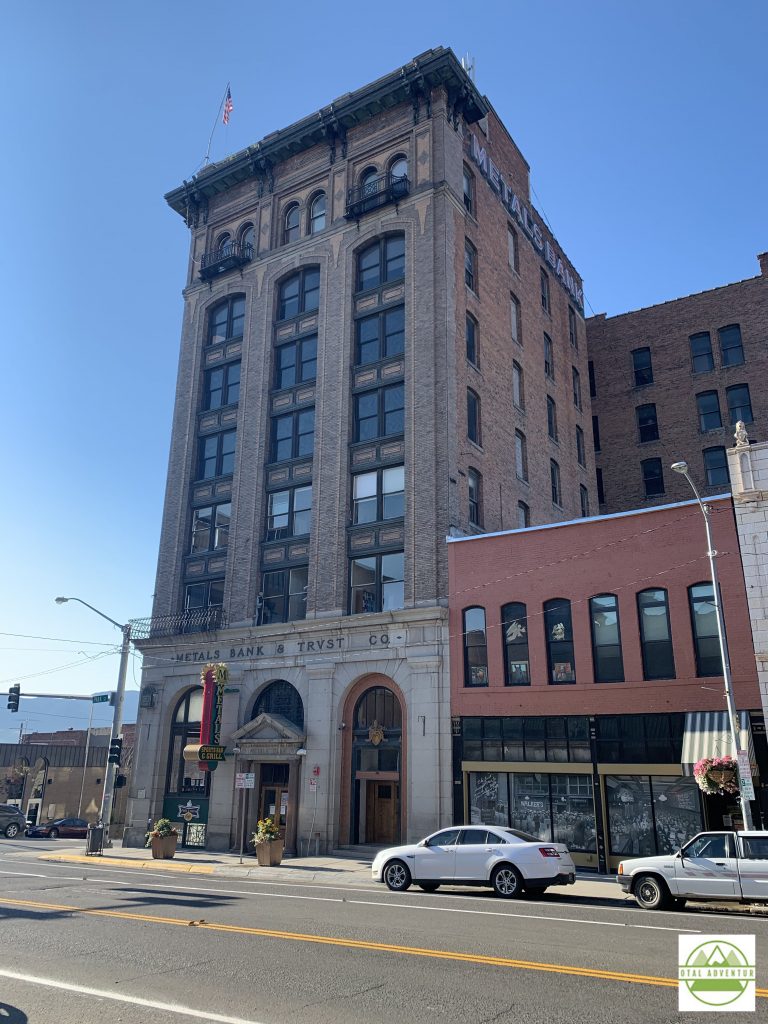 From Butte , a few more hours to the Northwest and I arrived in Whitefish ,gateway to Glacier National Park. Whitefish was full of California 'refugees",many who had arrived in private jets ,escaping mask and lockdown restrictions in their home state.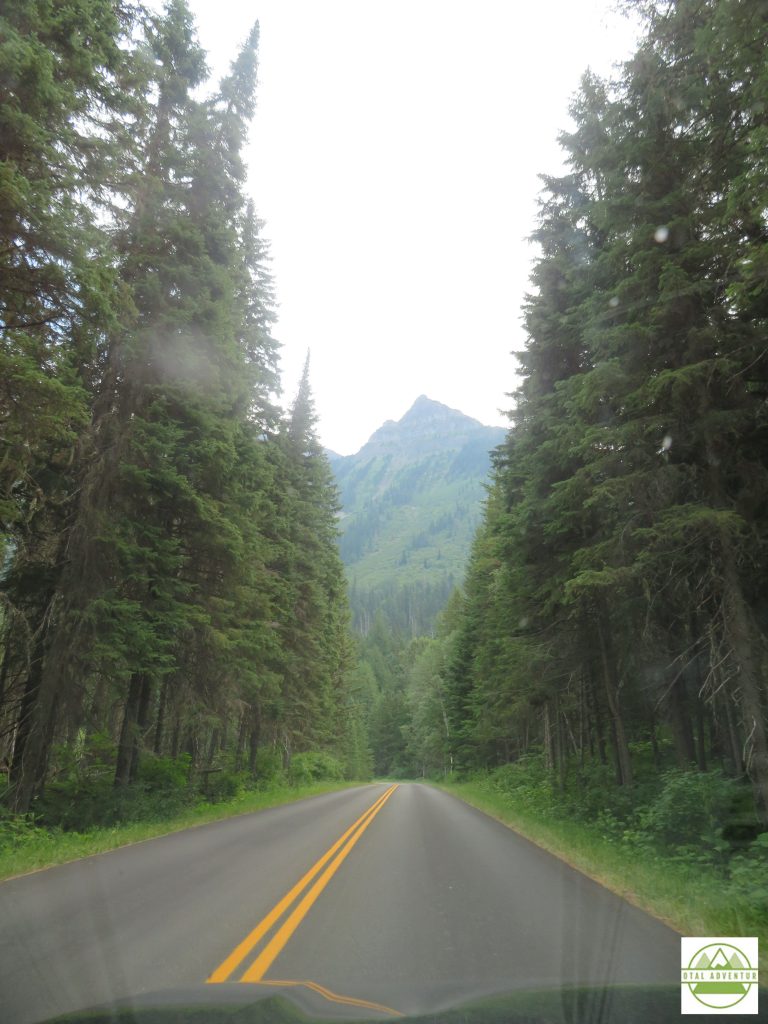 In Glacier , on the first day of August, I swam over a mile in 2 lakes and walked in the snow.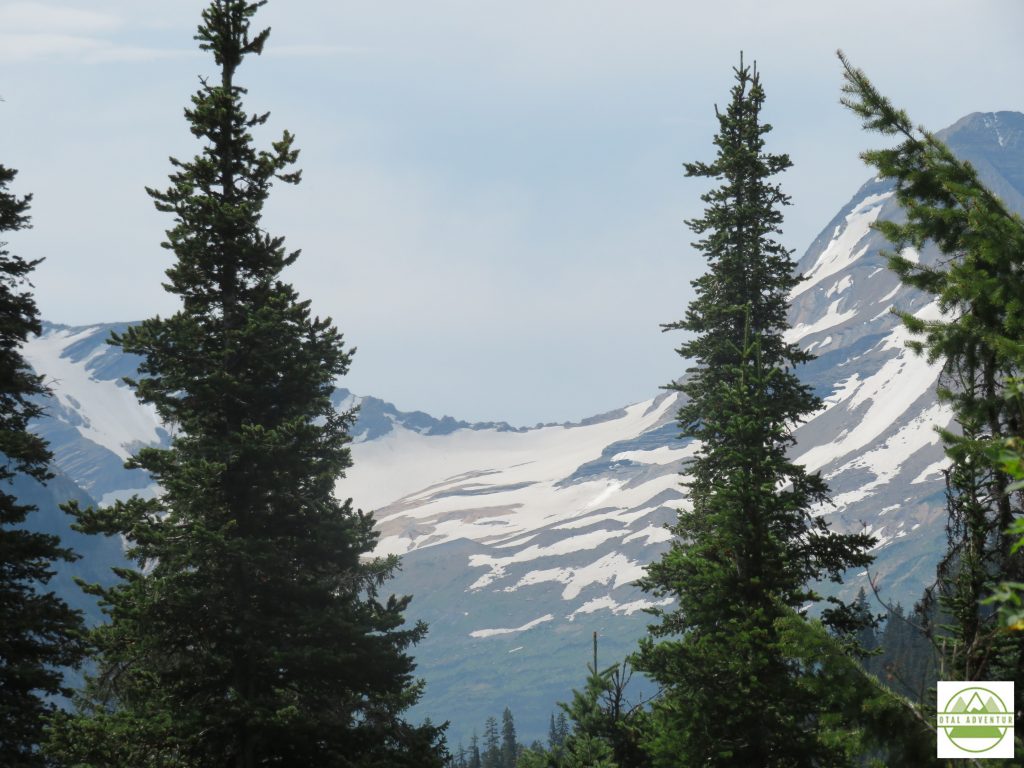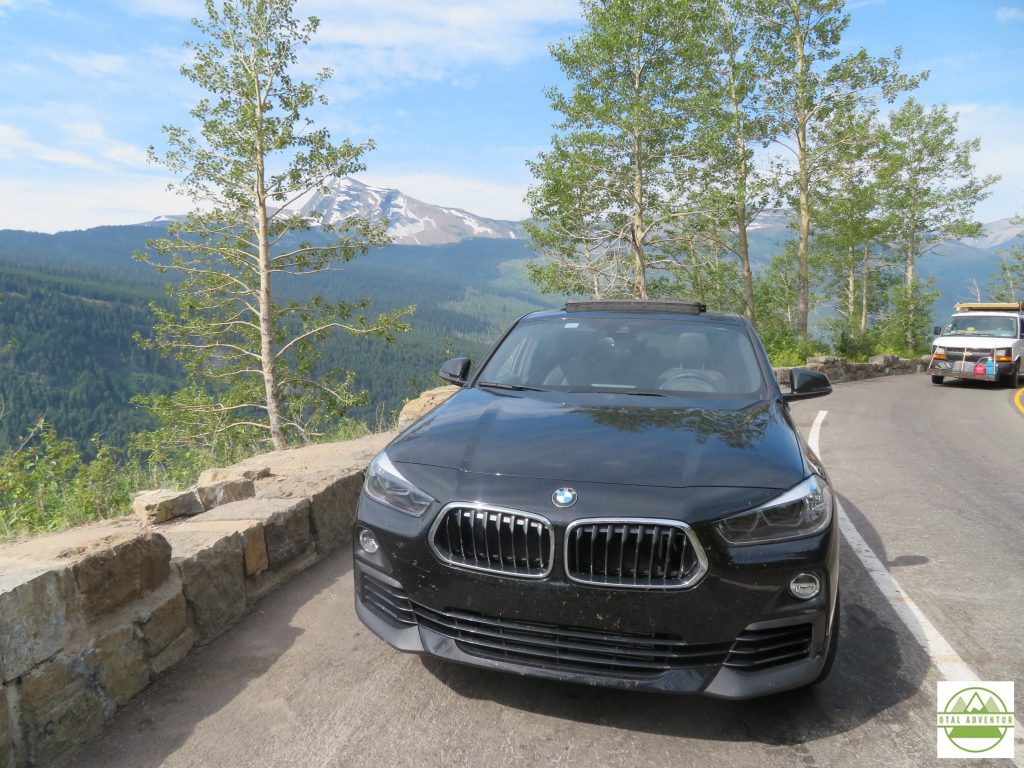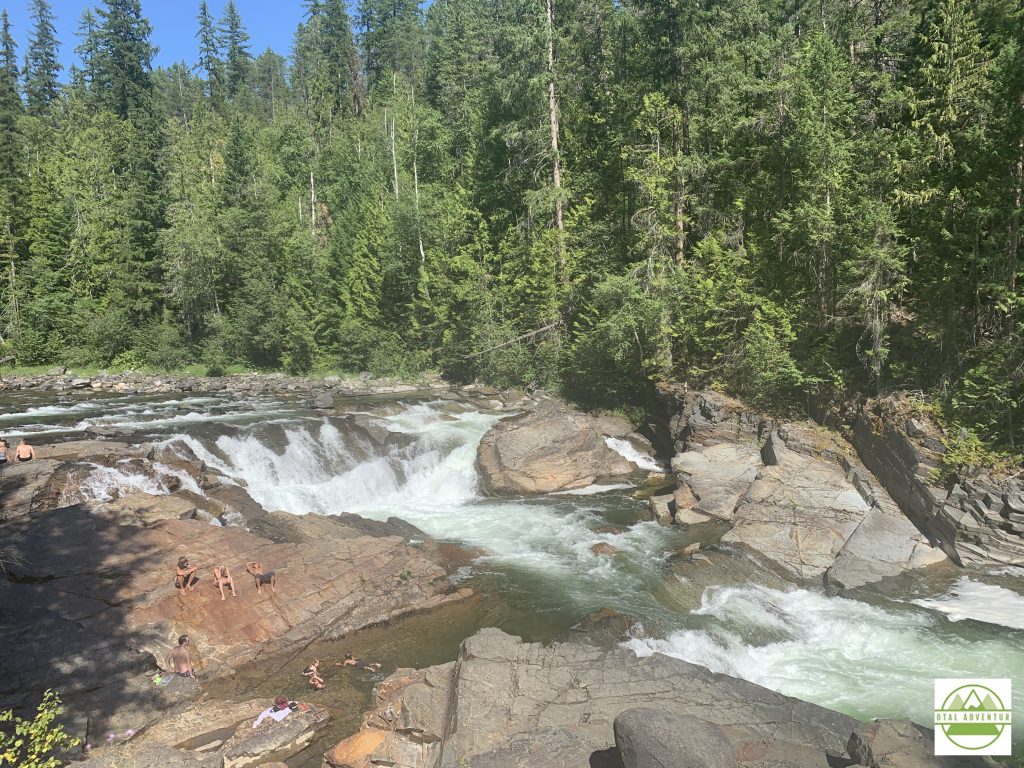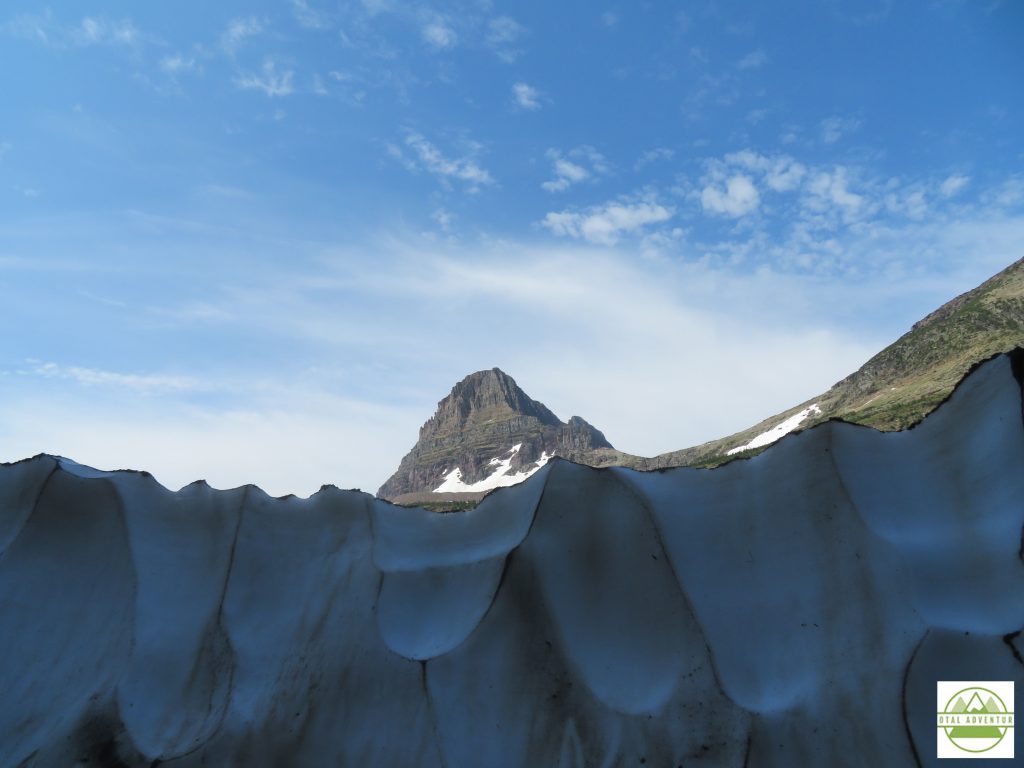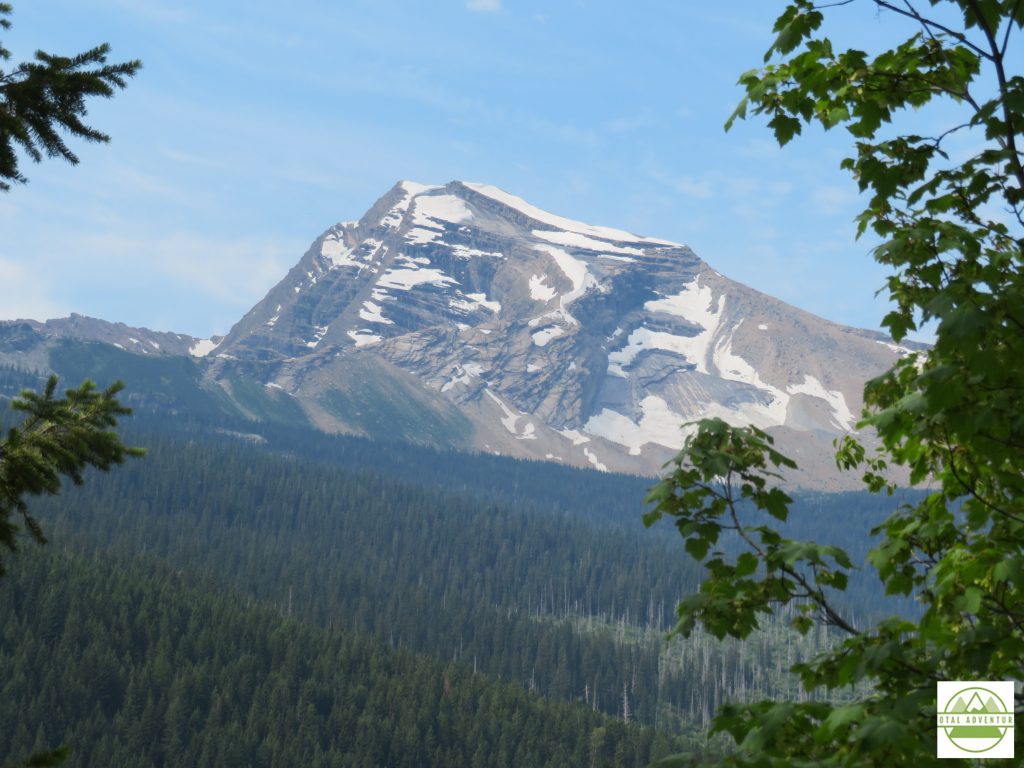 On the morning of August 2nd, I left Whitefish for a day of mostly dirt roads from Montana into Idaho. I missed my westward turn and would up at the Canadian border. When I originally thought of this cross country trip,years ago, I had always meant for it to include Canada. Winnipeg, Saskatoon, and Banff would have been on the itinerary. But in March 2020, the Canadian government had shut the borders to all but commercial traffic, due ,of course to disease spread.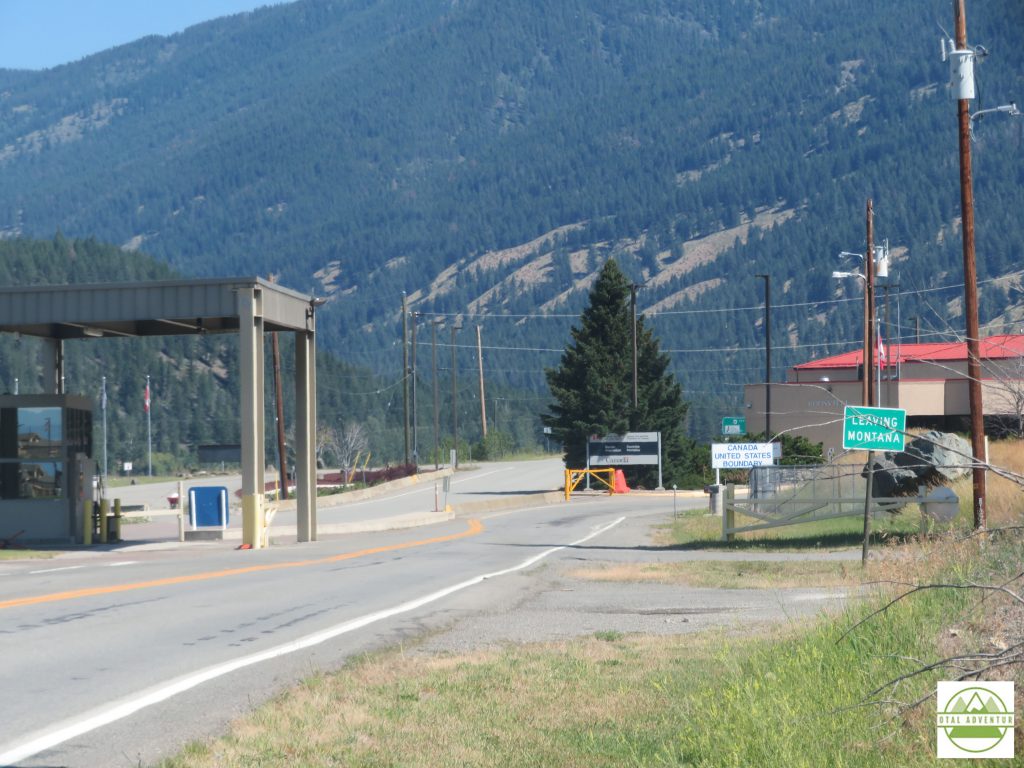 All I could do was look into this closed off , beautiful land – in this case the easternmost corner of British Columbia ,near Alberta. The next several hours was on windy isolated dirt roads – into the town of Yaak .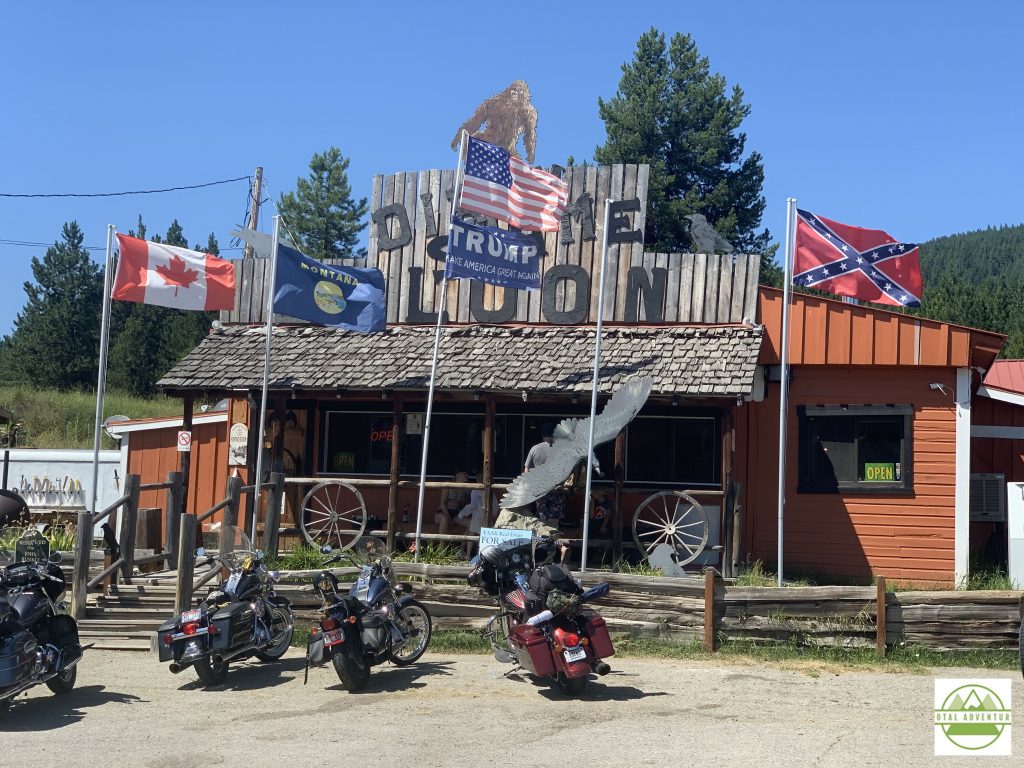 I walked inside the bar, which of course was all bikers . Had a friendly beer and they were amazed I was all the way from Miami. No photos were permitted, probably for very good reasons.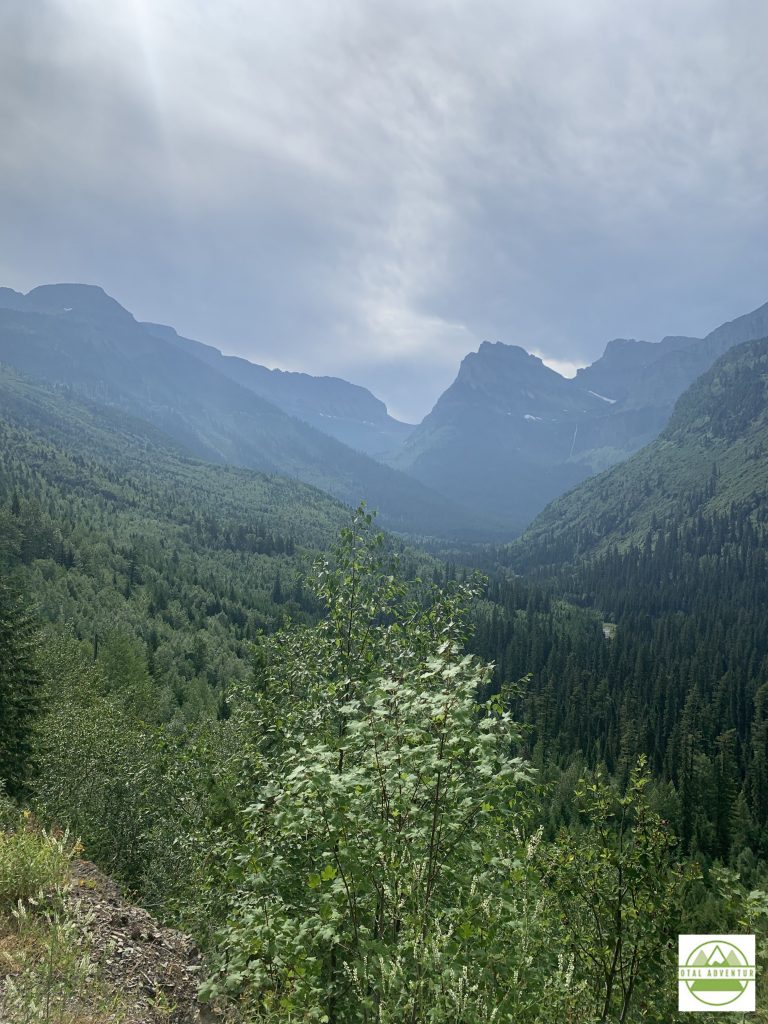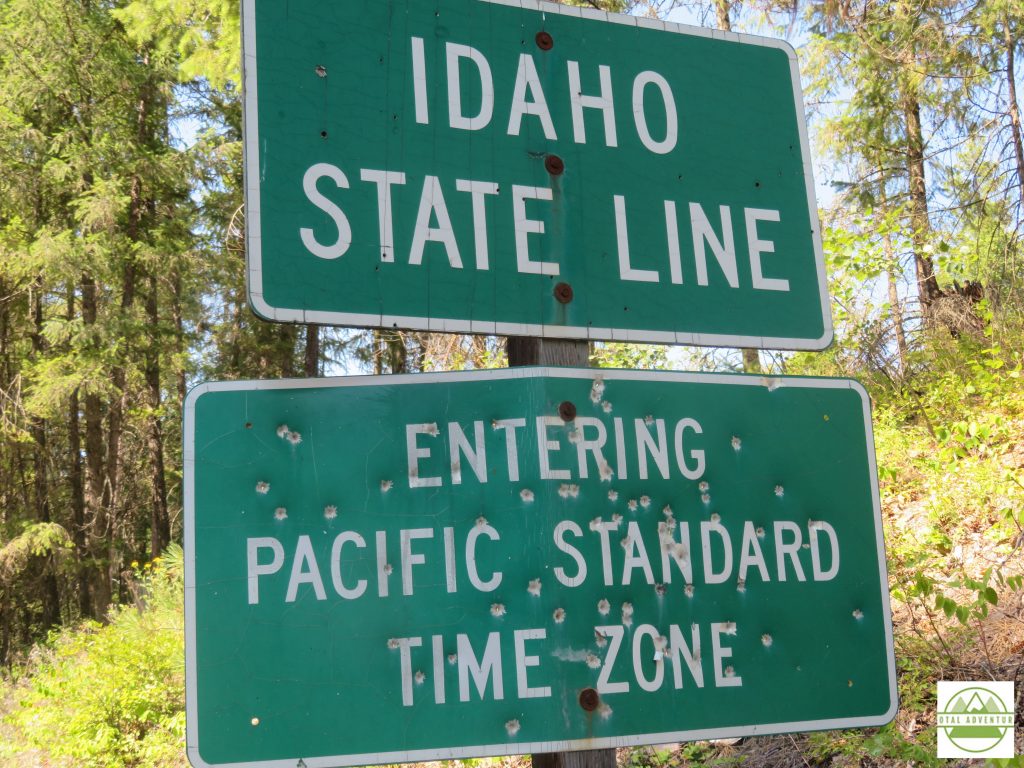 I spent the night in touristy Couer d'Alene, Idaho, another town where restaurants closed at 8 and I had to order pizza by 9 before that closed too. Changed clocks back for the last time. The next day – through Washington State, past Spokane – to Portland ,Oregon – almost completely cross country !
On August 3rd I drove 400 miles from Couer d'Alene Idaho to Portland, Oregon, transversing eastern Washington State ,then along the Columbia river as the desert emerges into green forest. Portland is home to my Son, his Fiancée and soon, my Grandson.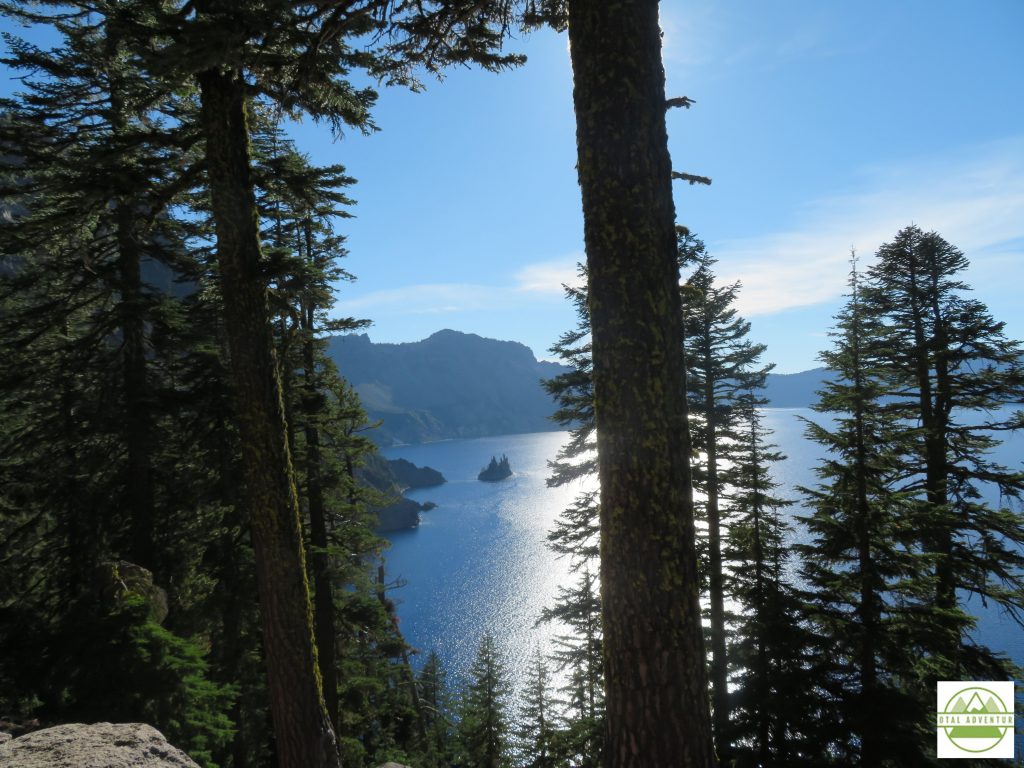 I stayed in beautiful downtown Portland in an AirBnb very close to my son's. The Rose City was on war footing as nightly street battles erupted between extreme left and extreme right factions along with police and federal agents.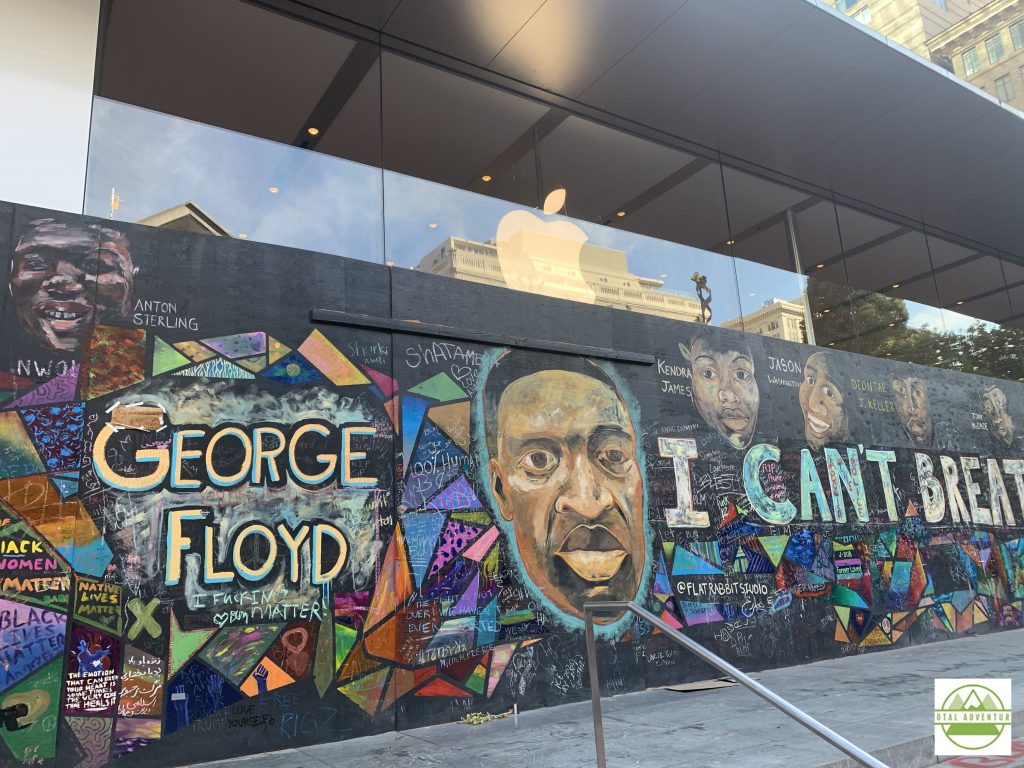 The Apple Store destroyed, with the senseless destruction uploaded via Apple devices. However Fox News dogwhistles on "Antifa " were largely to spread panic and give undercover law enforcement free rein . TotalAdventure does best to stay neutral in these extremist political times. We are about bringing the world together, not ripping it apart.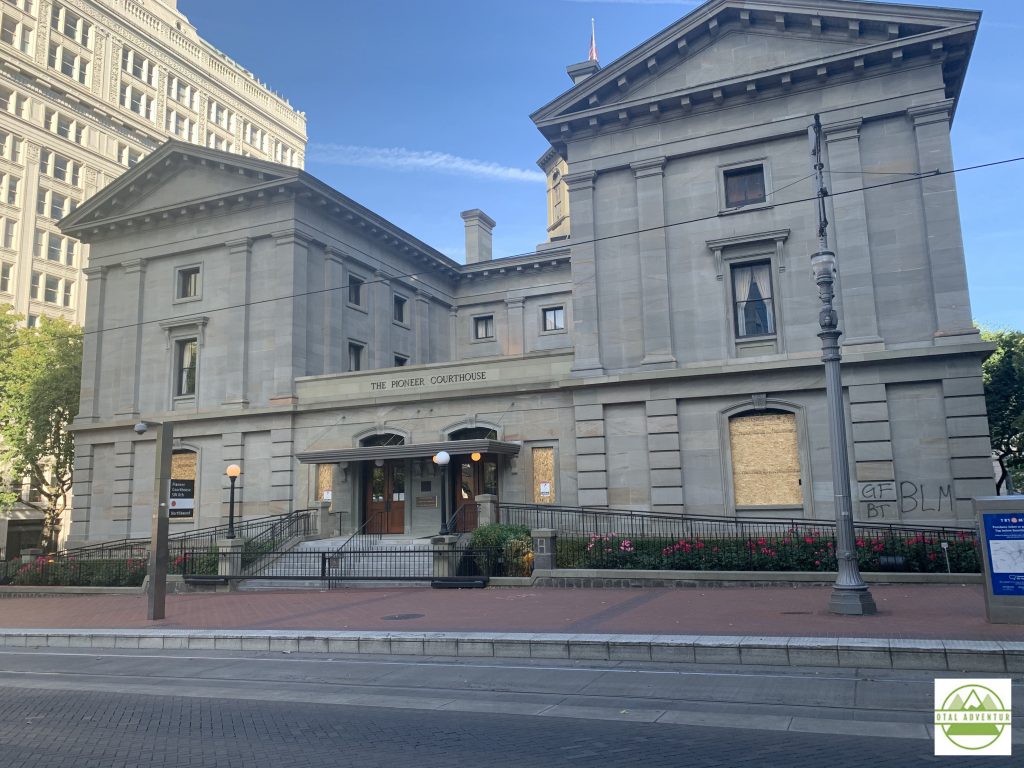 Burned and Bashed – The Federal Courthouse.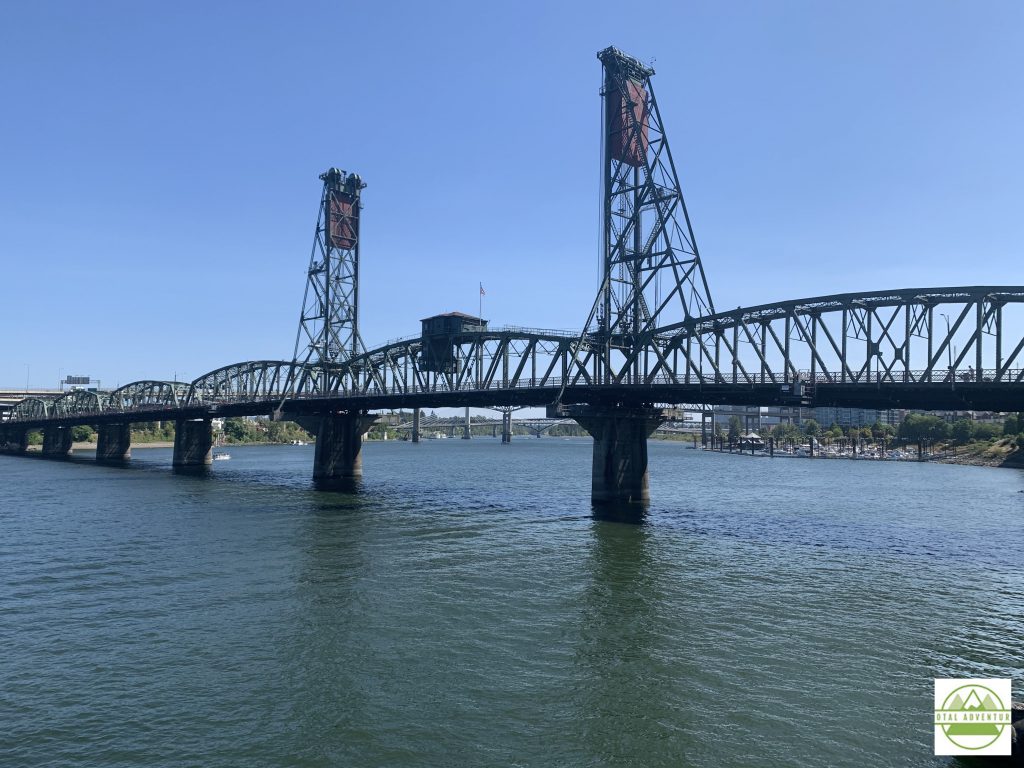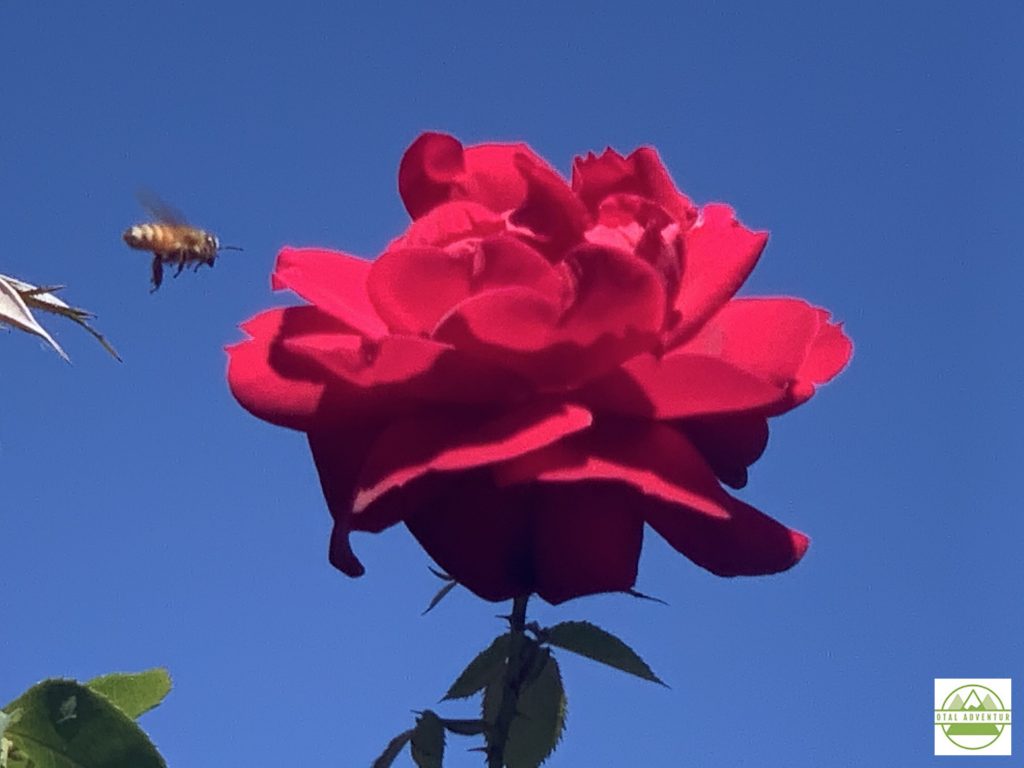 In a three week break from the road ( TotalAdventure and family business) we managed to take beautiful trips within the state.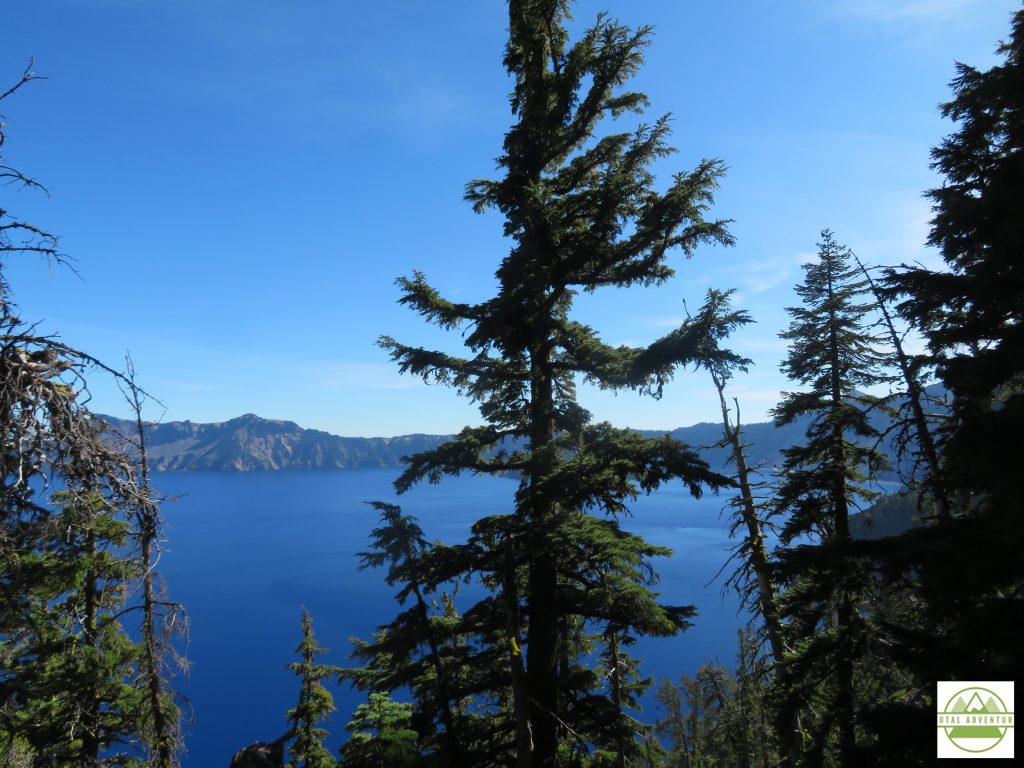 Crater Lake was created in one day 7000 years ago when the mountain blew its' top. Thousands of years of precipitation, mainly melted snow, have filled the crater with water almost 2000 feet deep. There is one swimming area, reachable by a path that descends 800 feet from the rim.. . See the video where we jump off a 35 foot cliff.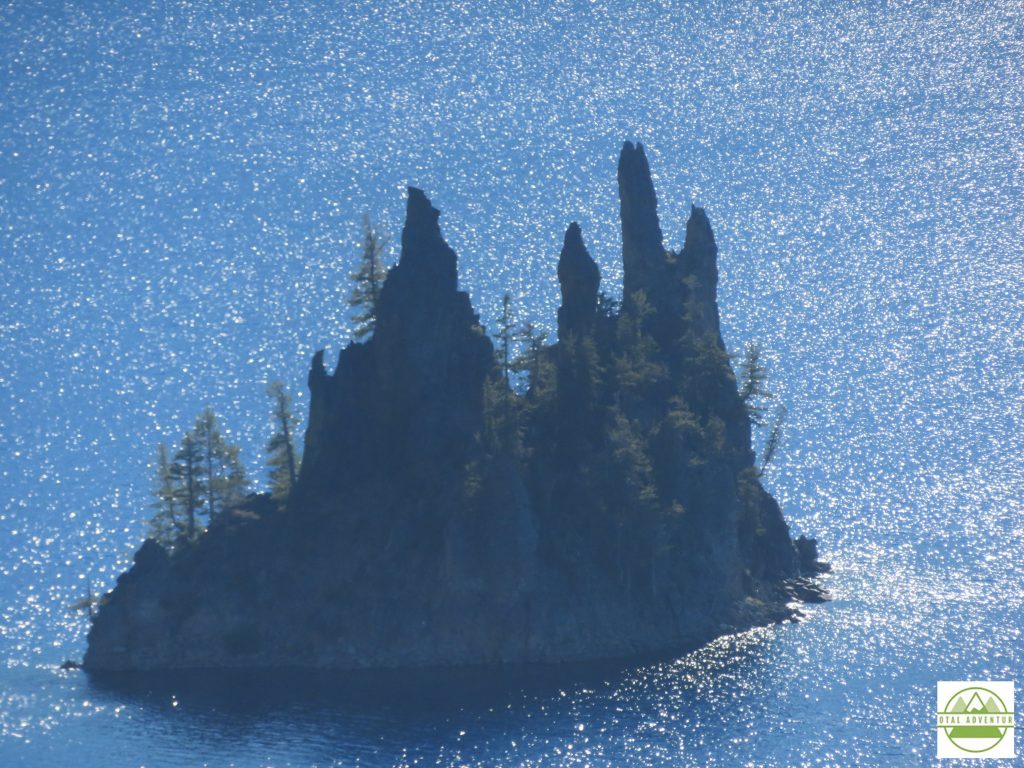 Portland is two hours from the Pacific Ocean. The X2 had finally made it coast to coast !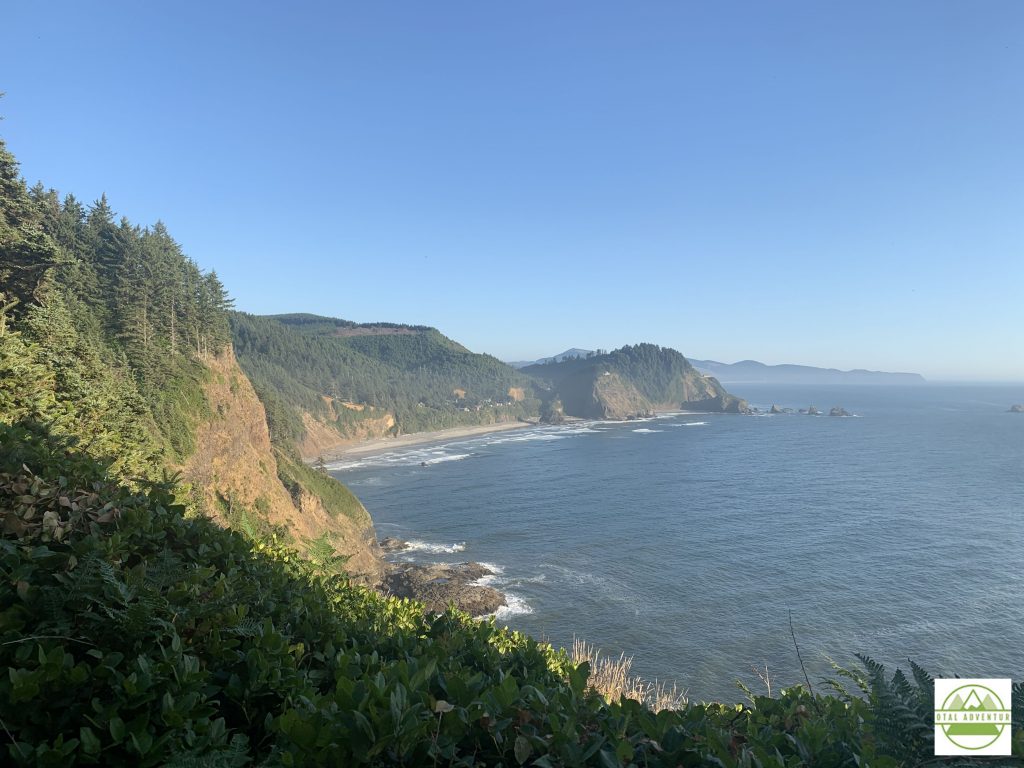 In Portland it was 96 degrees, in Tillamook the air was 74 and the ocean ,an icy low 50s. If TotalAdventure is unable to swim, that means the water is only swimmable in a wetsuit.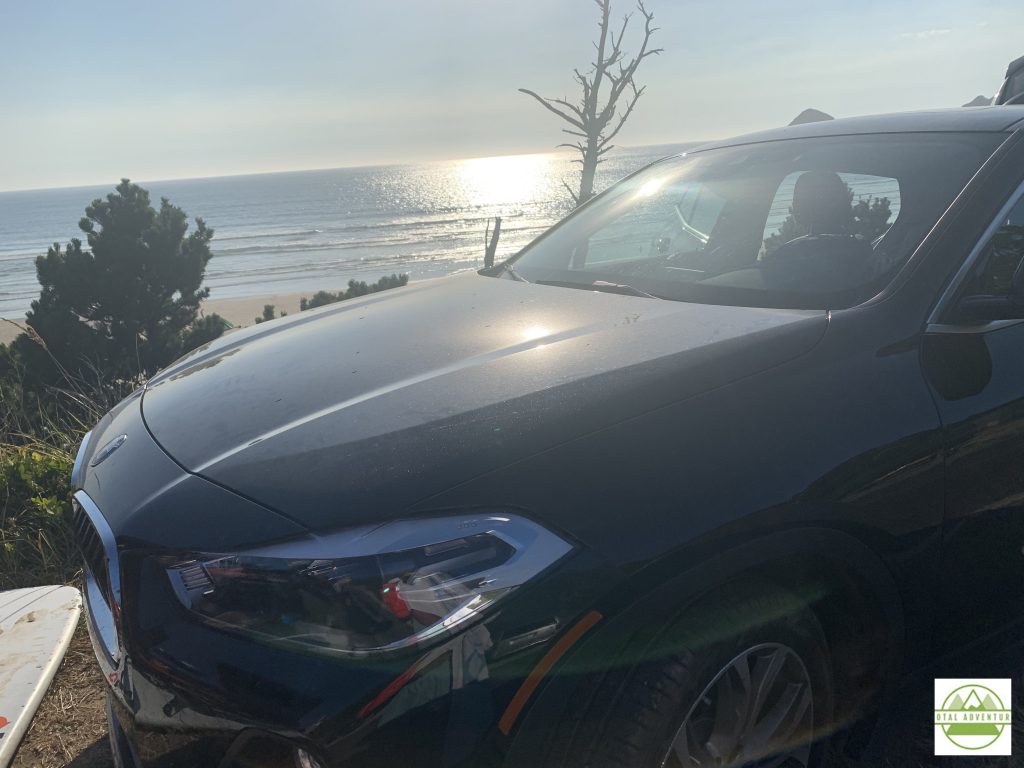 In Montana the X2 had reached 10000 miles, at the tender age of 3 months on the road. In Portland BMW performed the first free maintenance and took care of a few very minor repairs, as well changing oil.
On August 19th, it was time to explore California !
On Thursday August 20th, after lunch with my son and future daughter in law, I left Portland Oregon and headed south on the the I-5 ,then US 101 before arriving in California's northernmost town, Crescent City for the evening.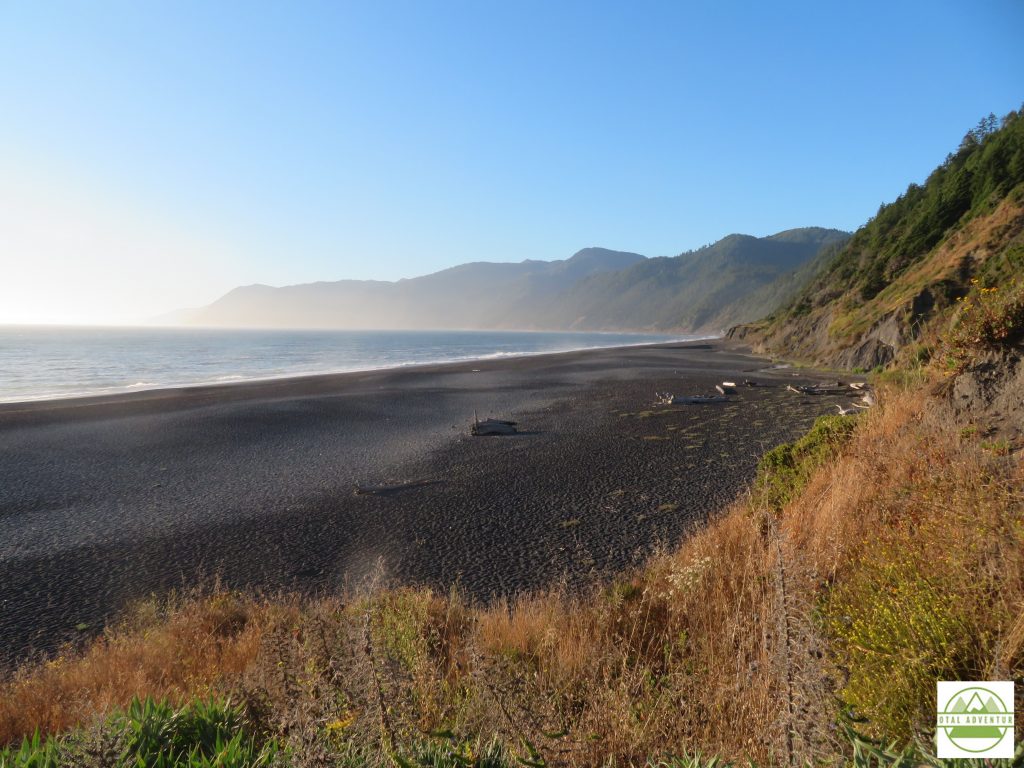 Crescent City is a big fishing port . The water is slightly warmer than nearby Oregon, in the high 50s, so I was able to swim. I had had a delicious seafood soup breakfast before heading to Humboldt County.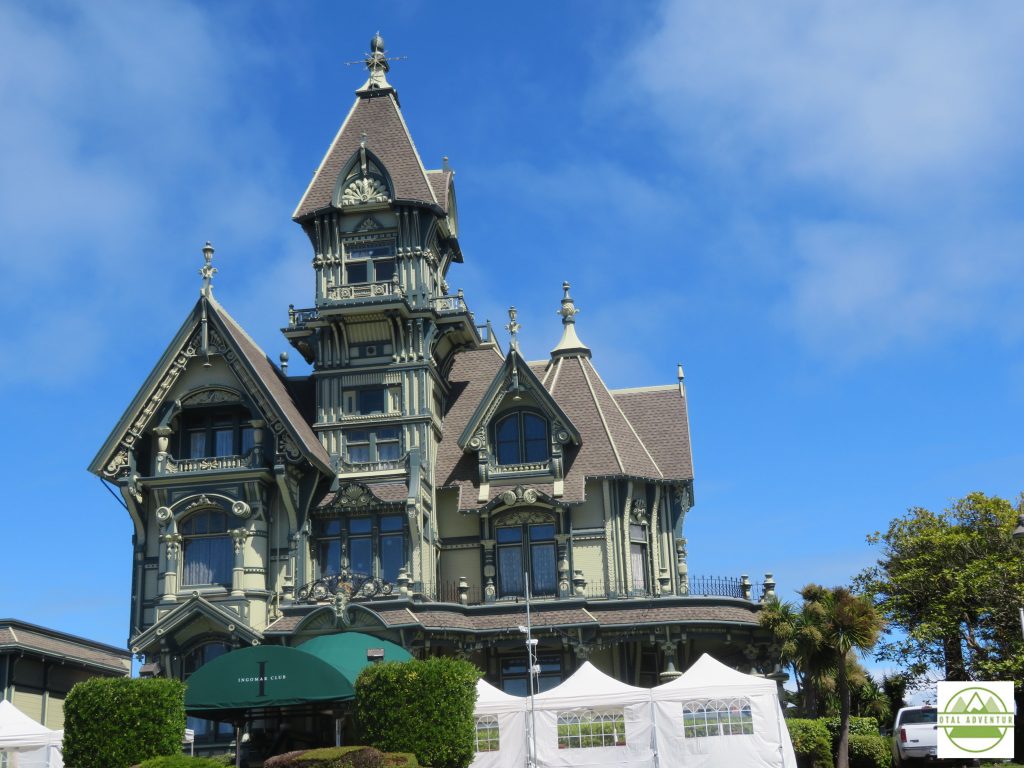 Eureka, the county seat, is a funky old town reminiscent of 1960s San Francisco. Most Californians have never visited Humboldt , one of the most remote end unspoiled coastlines in the Lower 48.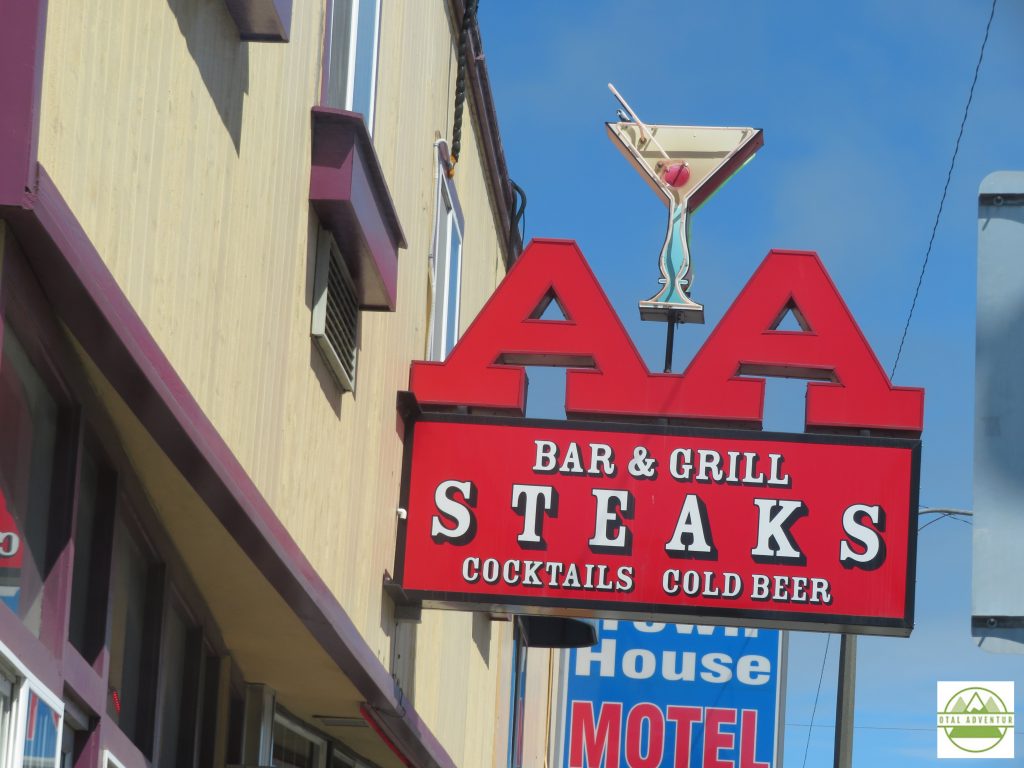 I was privileged to spend a night in Shelter Cove, an isolated community at the end of a long and windy road that raises and lowers up to 3000 feet before arriving at sea level.It's very hard to find a room there.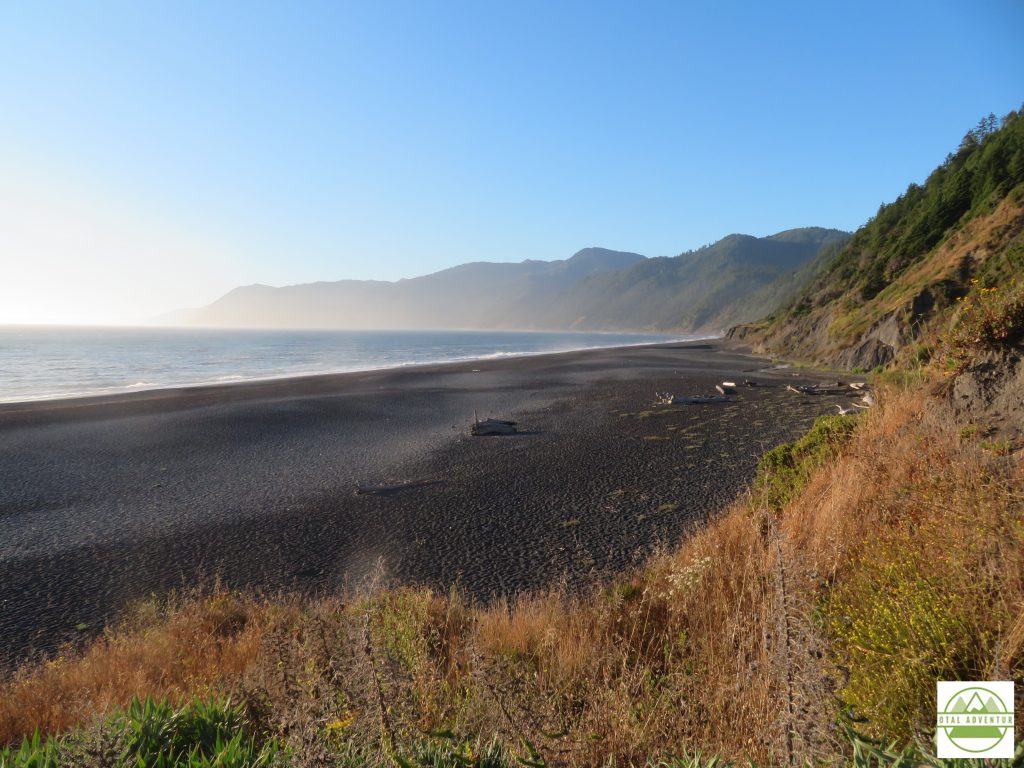 Incredible black sand beaches with very dangerous surf. The Cove of Shelter Cove is where all water activity takes place. Please see the video at the top of the page. The summer weather is pleasant, about 70 and sunny in the afternoons, but the winter can bring up to 100 inches of rain from December to March.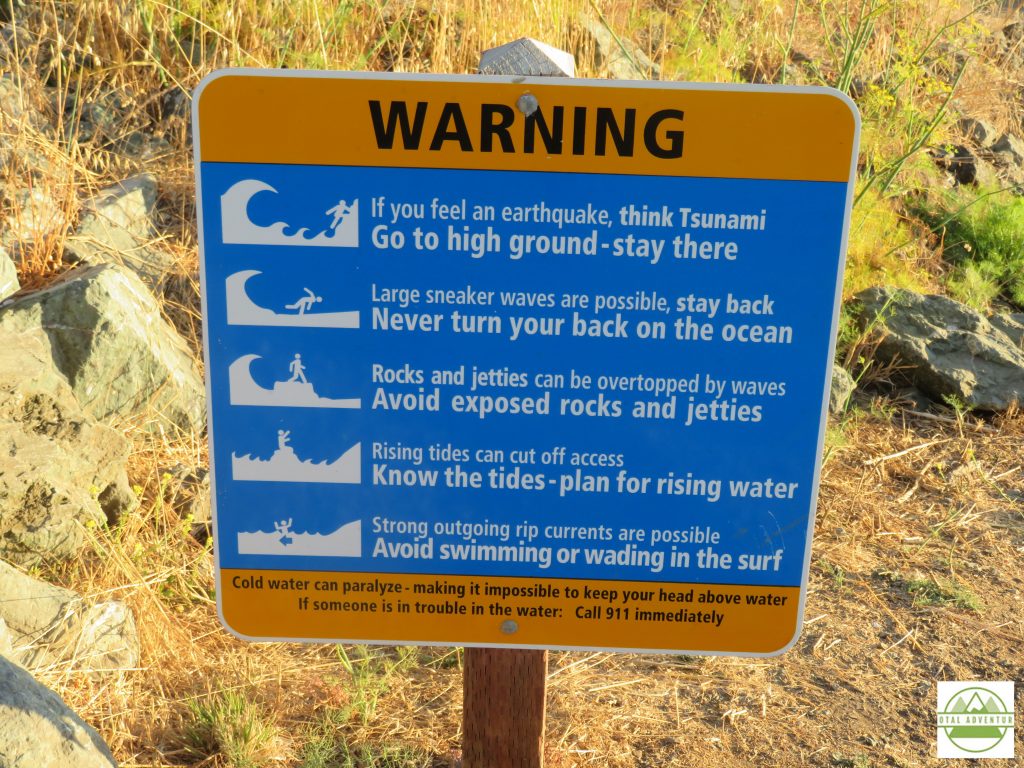 Northern Humboldt is home to huge legal marijuana farms supplying the California marketplace. One can smell it while driving by the tents used for growing and drying.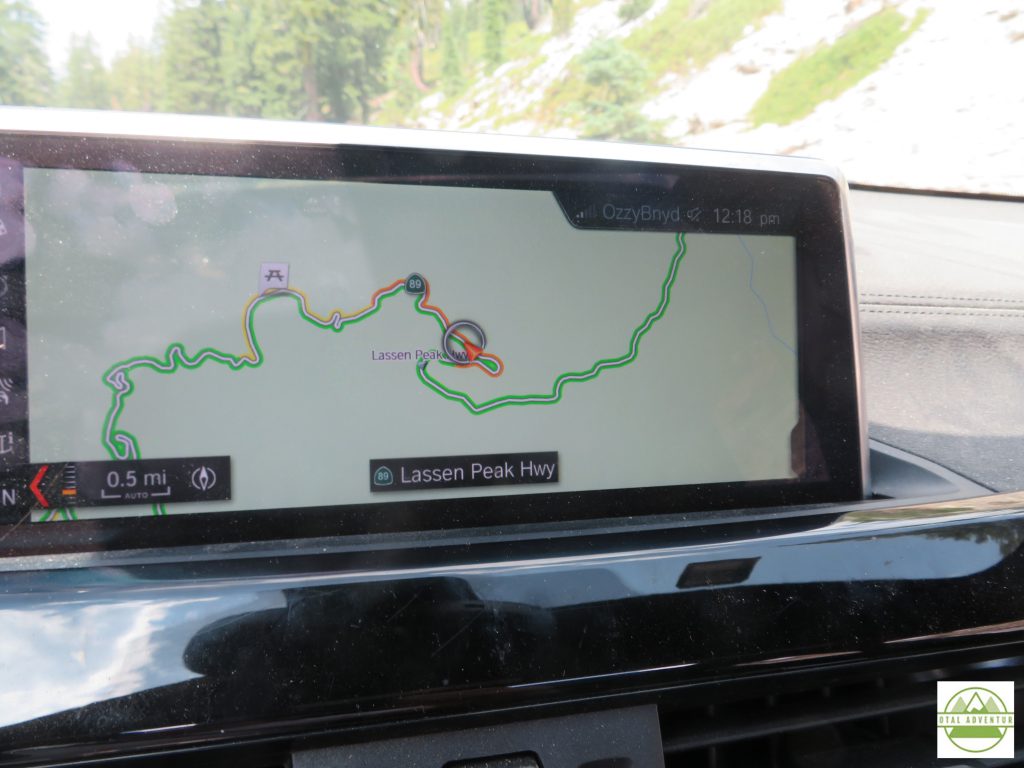 After Humboldt it was off to volcanic Lassen National Park. See the video. Night was spent in Reno Nevada – not in the COVID restricted casino but in a huge luxurious suite at $ 90 a night.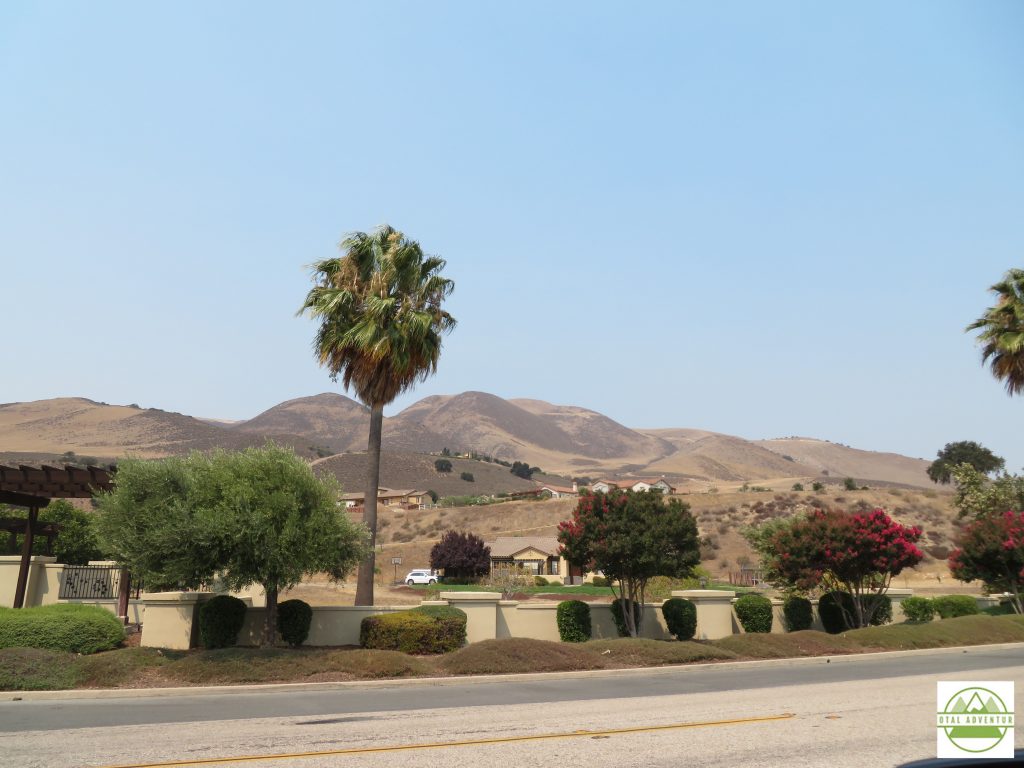 2 nights in Tahoe, 2 nights in cold smoky San Francisco and a night in Carmel are all highlighted in the video. The plan was to drive down Big Sur, but again ,closed because of massive fires. I wound up at the farm home of a friend in Ojai. Finally was getting towards Southern California.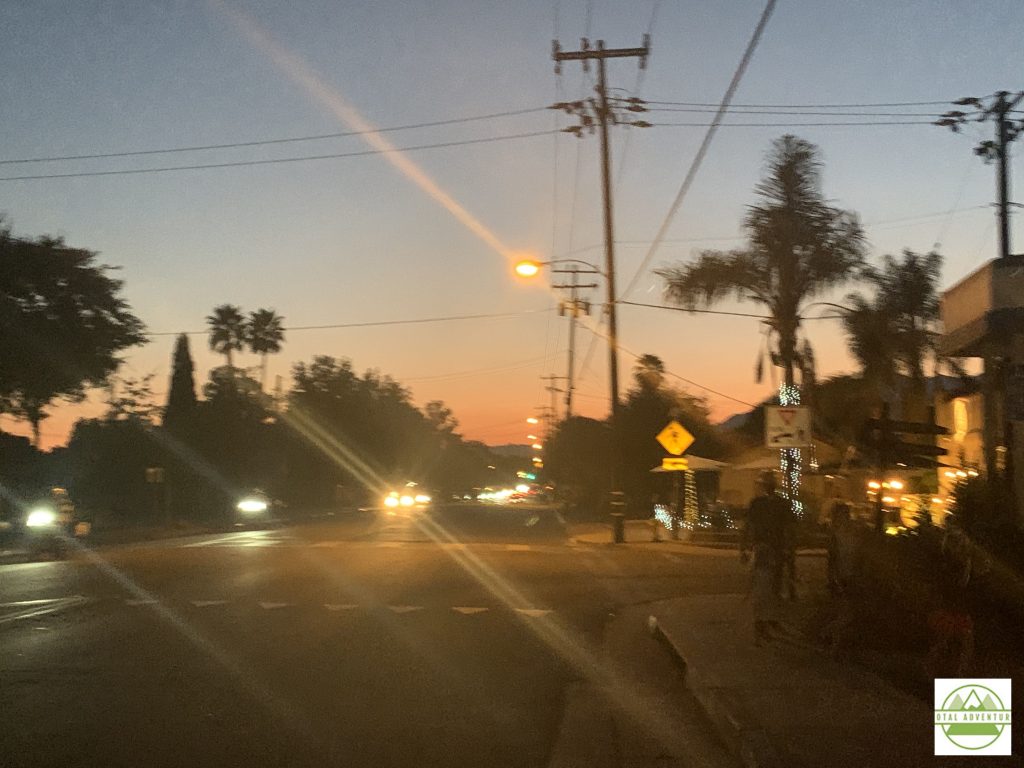 TotalAdventure has always been interested in living part time in Los Angeles. A week in an AirBnb as I did in Santa Monica this time, and last year, a week in Beverly Hills.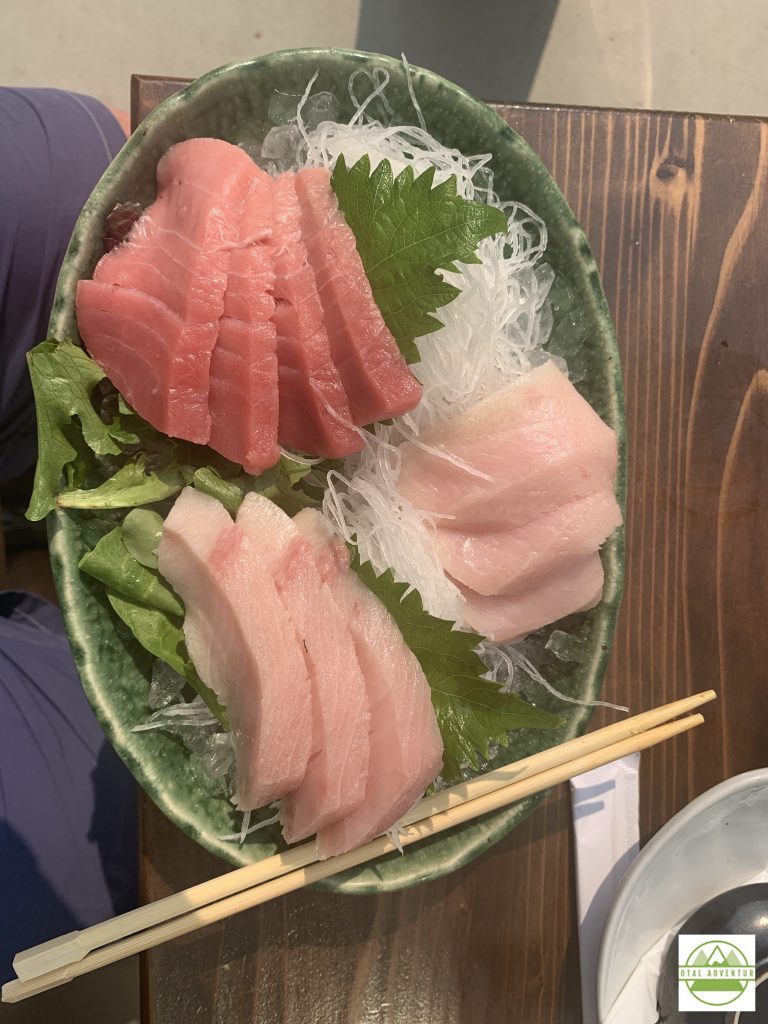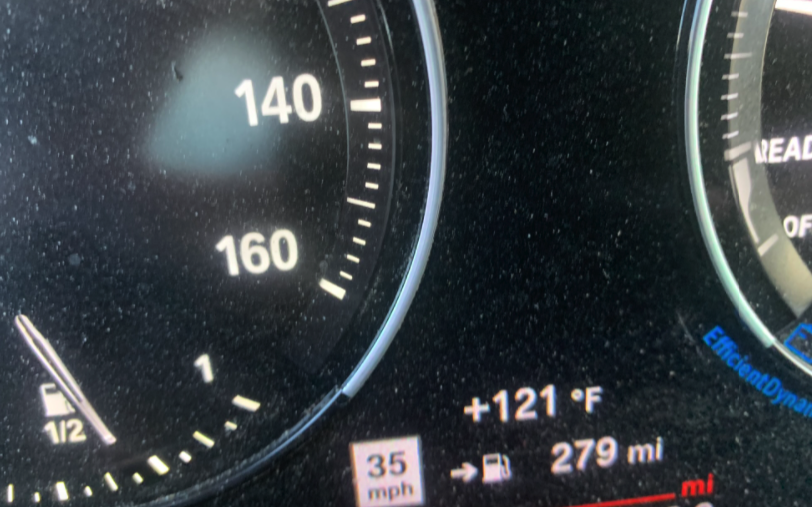 Although Santa Monica stayed cool, never going over 90, Las Angeles County experienced its' hottest day in history on September 6th. We drove to Van Nuys to experience it – 121 degrees ! Also the hottest temperature ever recorded west of any mountain range in California.
On September 10th – it was time to head back to the East.
On the morning of September 10th, I awoke for an early morning dip in the Pacific before heading Eastbound the the Atlantic. Pulling out of my AirBnb Santa Monica garage I was soon eastbound on the 10 and then north on 15 to Las Vegas. Most of this TransContinental Adventure has been off interstates, but they will be used into Utah and again in Texas, Oklahoma and Florida.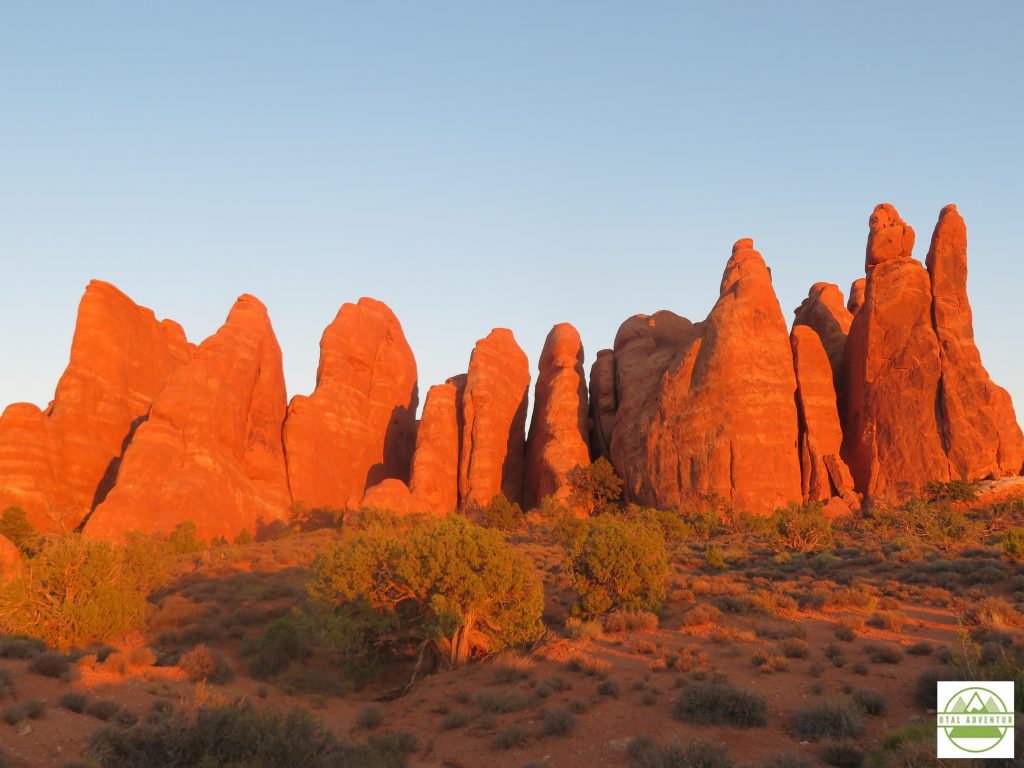 Fires raged in the San Gabriel Mountains to the north, sending thick smoke down to I-10. Some of the smoke from all the California and Oregon fires spread all the way to the East Coast ,dimming sunrises in New Jersey. This southern smoke band would follow me. I managed to always be a day ahead of it, until Colorado where I changed my itinerary because of it.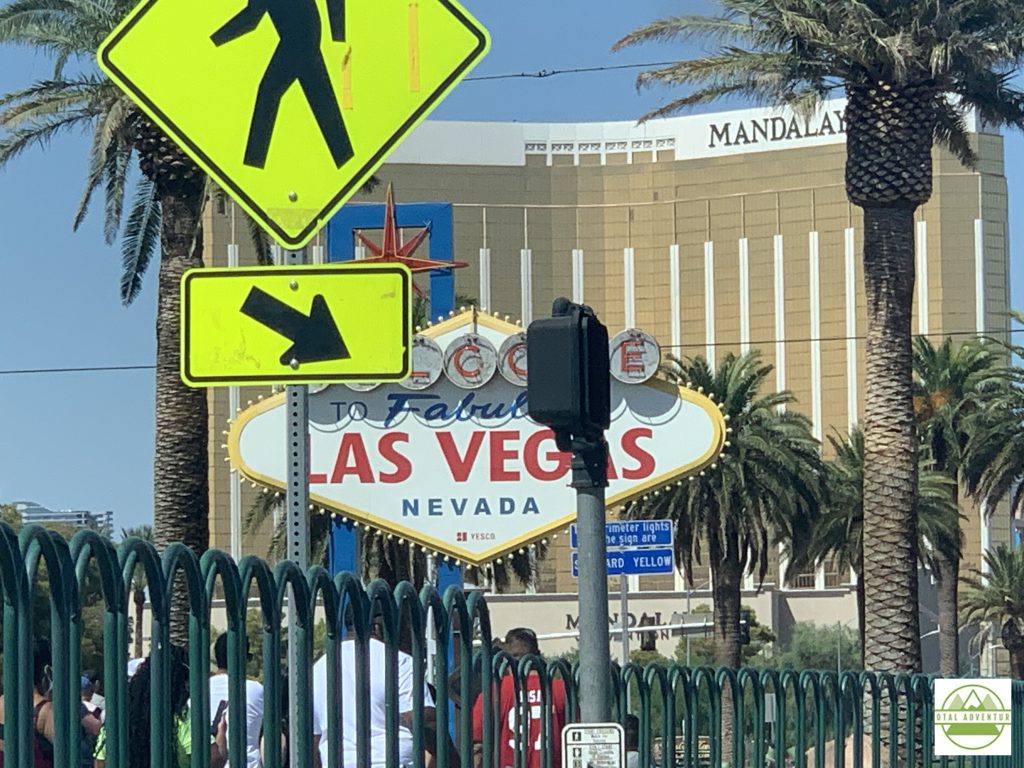 Normally I would spend a night in Las Vegas, but the wide open fun loving town is a bit clamped down for the moment due to COVID. In the video you can experience a very quick trip up the Strip. I did stop for some video poker at an empty slot hall in Mesquite, Nevada and walked out $ 30 richer. From there it was about 40 miles across extreme Northwest Arizona to St.George Utah where I would spend the night. Changed from Pacific to Mountain Time.

The next morning I was up with the sun and off to Zion National Park. It was an introduction to the the incredible Utah geology. On the way I visited Hilldale, on the Arizona border. Hilldale is the town known for the highest number of polygamous families adhering to the original Book of Mormon. I saw groups of wives out shopping together dressed in 1800s style farm dresses and driving pickups.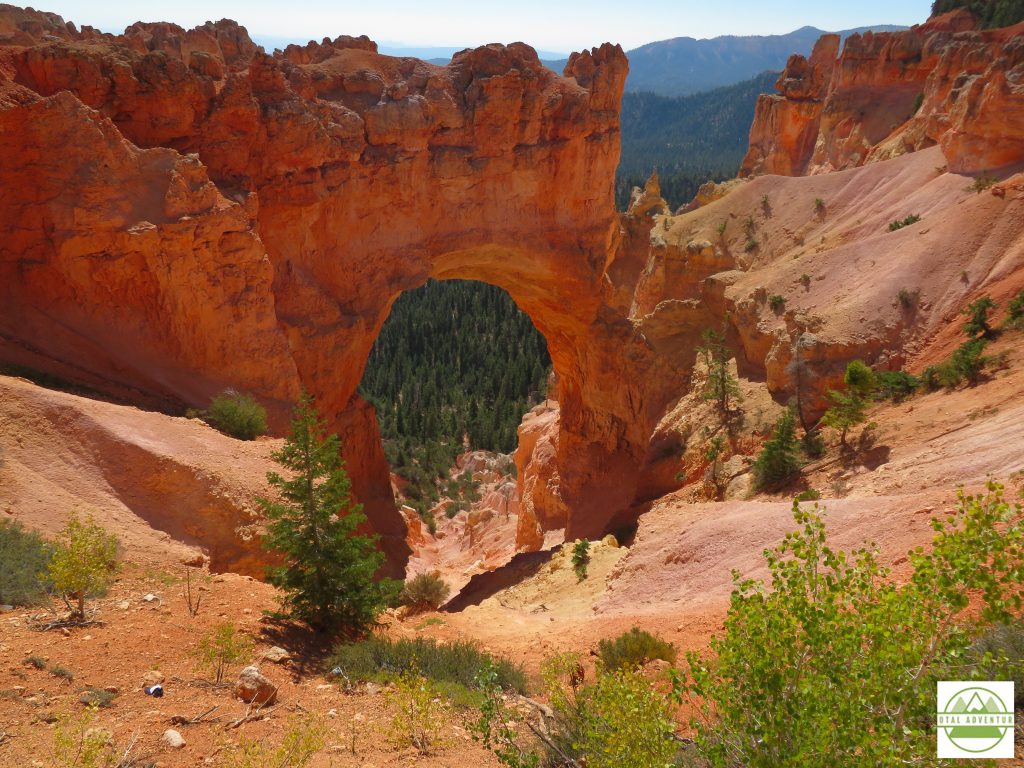 Bryce Canyon National Park was the next stop. Now the temperature changed drastically according to elevation. St.George had been expecting a high of 100 degrees and this evening near Bryce the temperature slipped to 32 – I was glad to have a gas fireplace in my cabin for the night.
In the morning I continued through Bryce and then headed Northeast to Teasdale where I would explore Capitol Reef National Park with an old childhood friend I grew up with in Germany. We took a 6 mile hike up a canyon.You can see all the national parks in the video at the top of the page.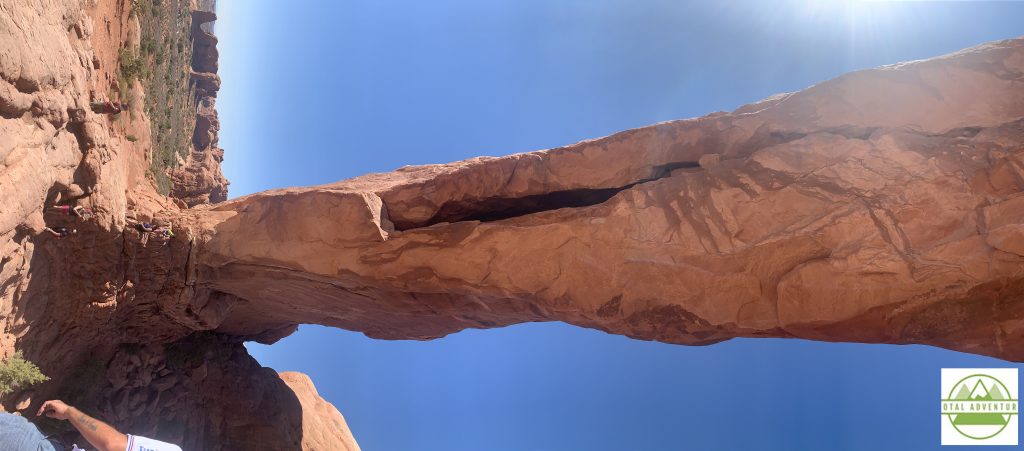 The final two nights were in Moab – home to Arches National Park and Canyonlands National park. In Canyonlands the X2 did amazingly well on rugged roads, in spite of the warning signs.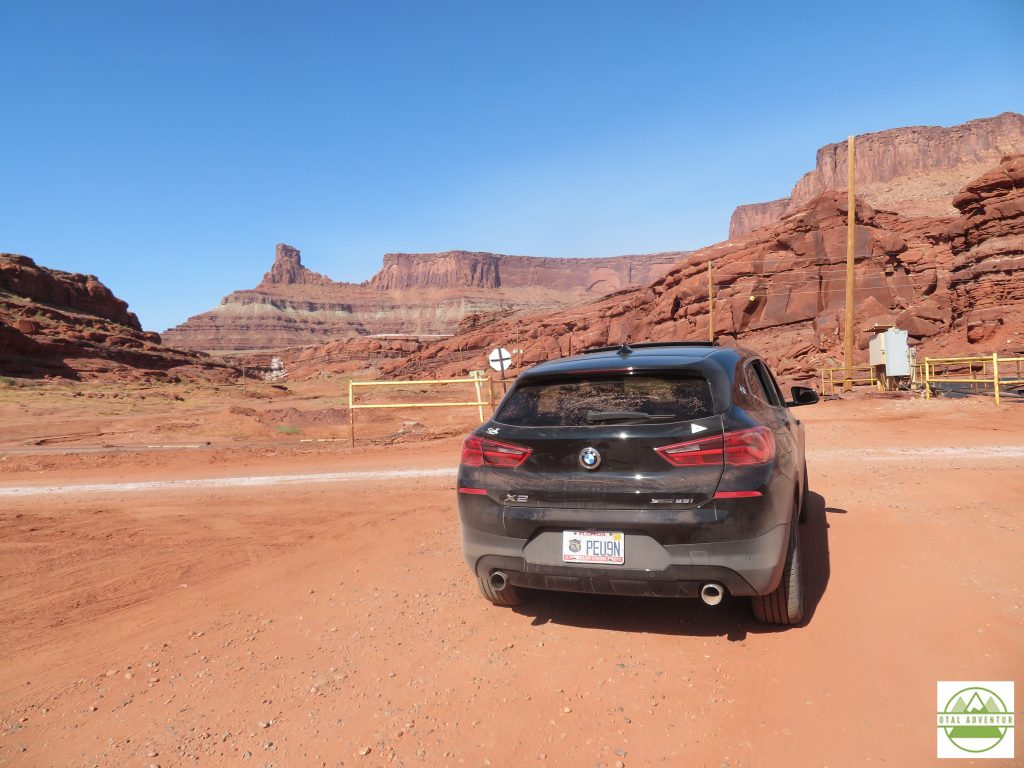 Finally I turned around where a spring had flooded a section of road turning it to muck. Without 4WD,I did not want to risk spending $1000 to be towed !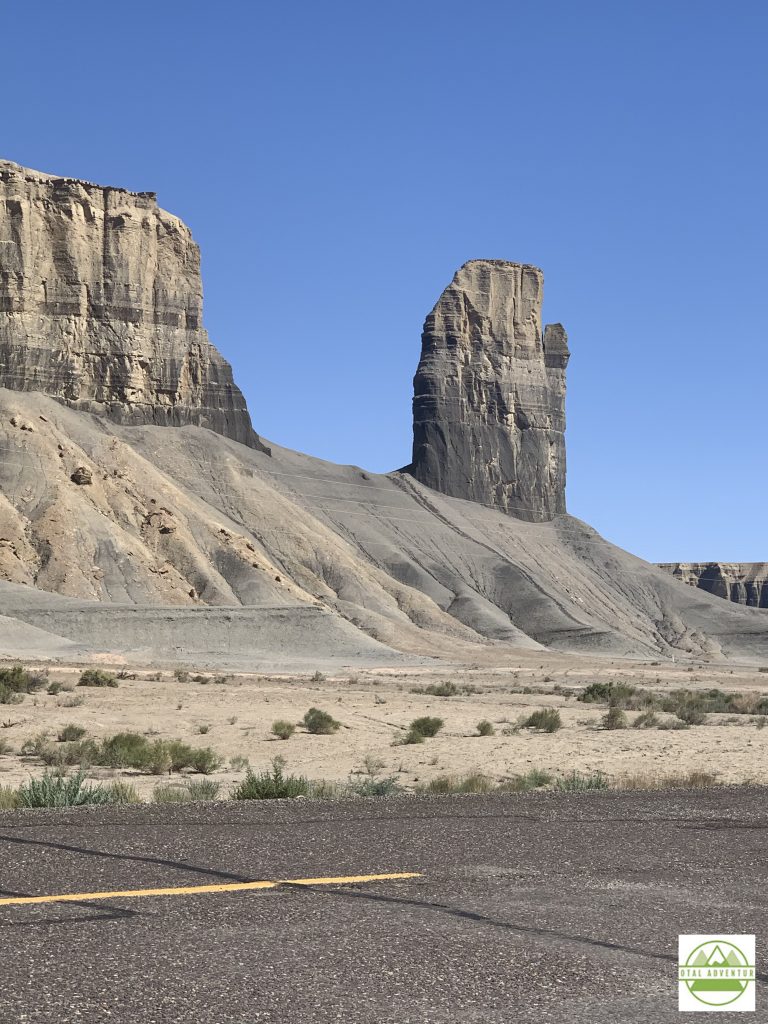 Crossing from Utah into Colorado, the smoke from California finally caught up, turning skies from bright Western blue to greyish white and encasing mountains in haze – diminishing prospects for photo and video acquisition.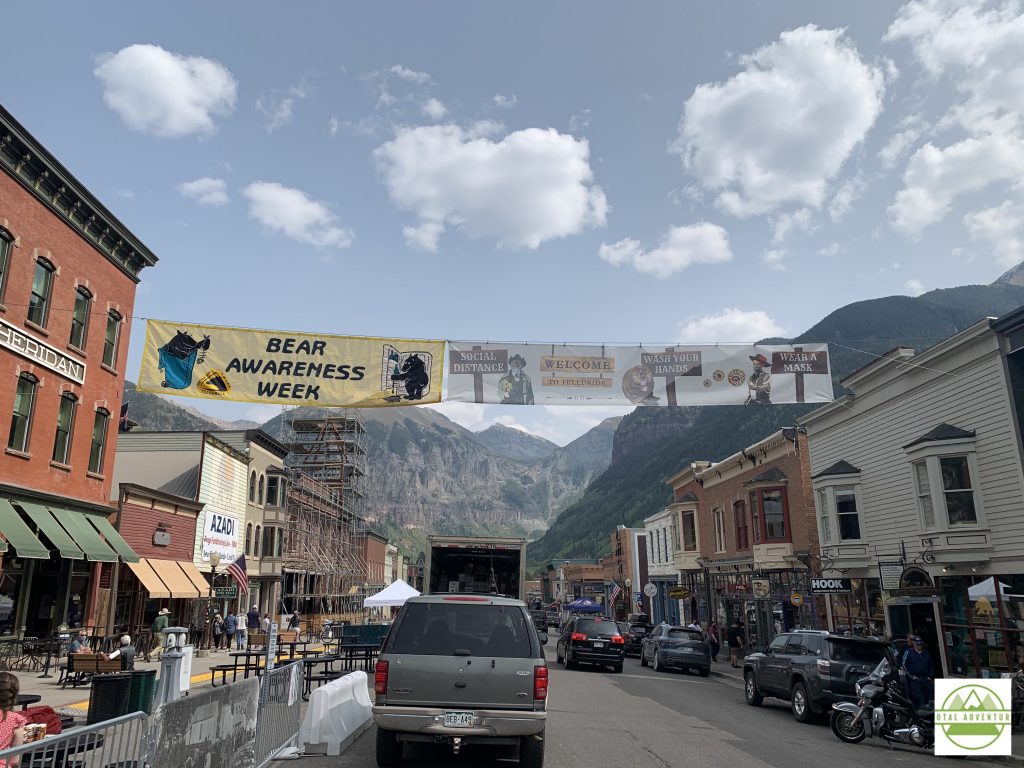 Highway 50 climbed rapidly higher into the Rockies and by lunchtime I had reached Telluride, for the first time in 30 years. The big changes are to be expected. What was once a laid back Wild West type town with great skiing with a few bars up and down the main drag was now clogged with tourists even in off season September – looking for parking and lining up for $ 6 lattes. Tourism was higher than in the summer when people had been more cautious of COVID.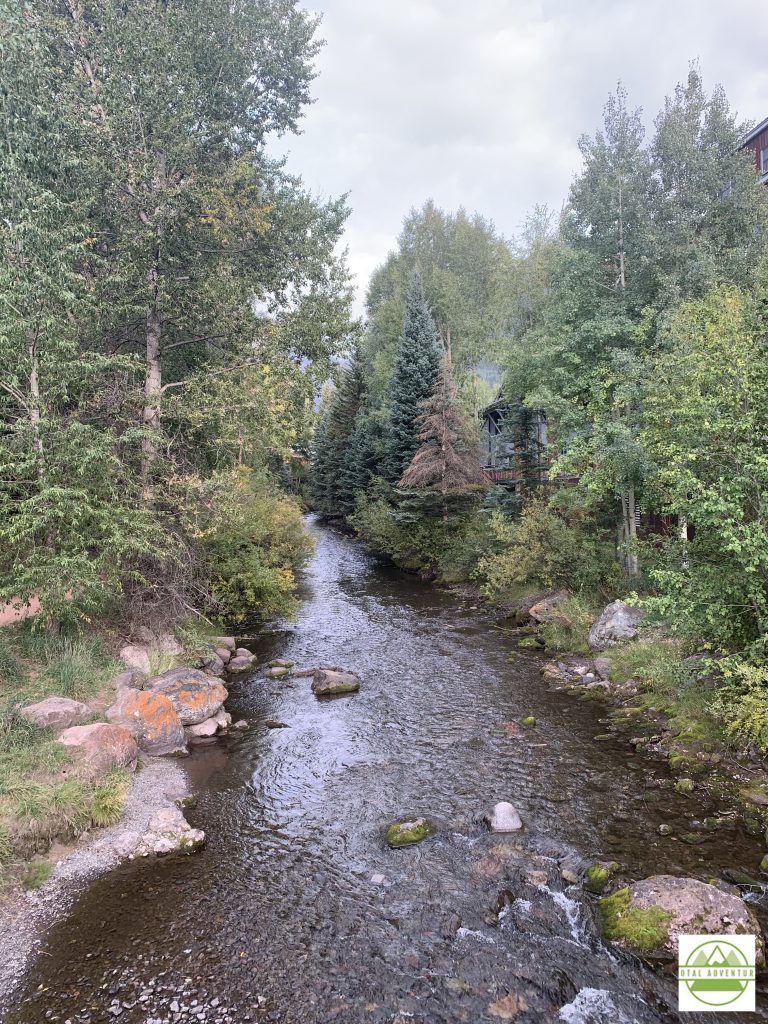 The second night in Colorado was spent at the home of an old friend from the East. His wife is an Olympic ski champion.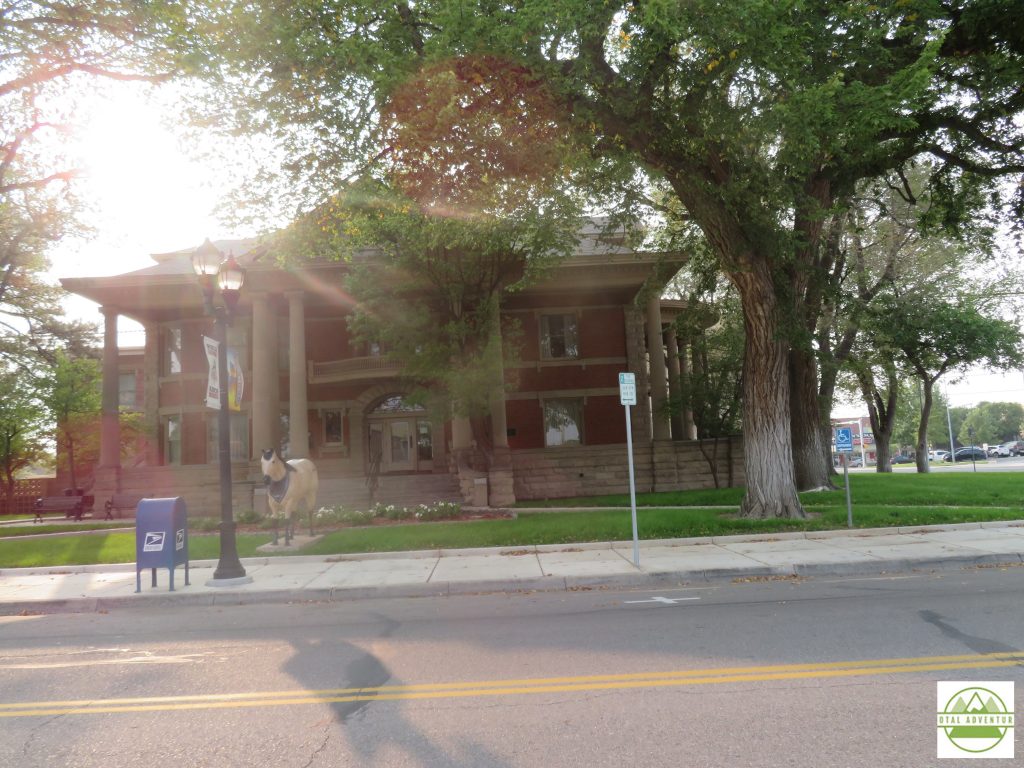 On Friday September 18th the X2 crossed the Continental Divide. For the next 1000 miles I would be tracking the Arkansas River from its' glacial small steam origins to the wide river flowing into the Mississippi.
Spent the night in Syracuse,Kansas . The next morning , driving across table top flat land and crossing from Mountain Time to Central Time, I entered my 50th State – Oklahoma !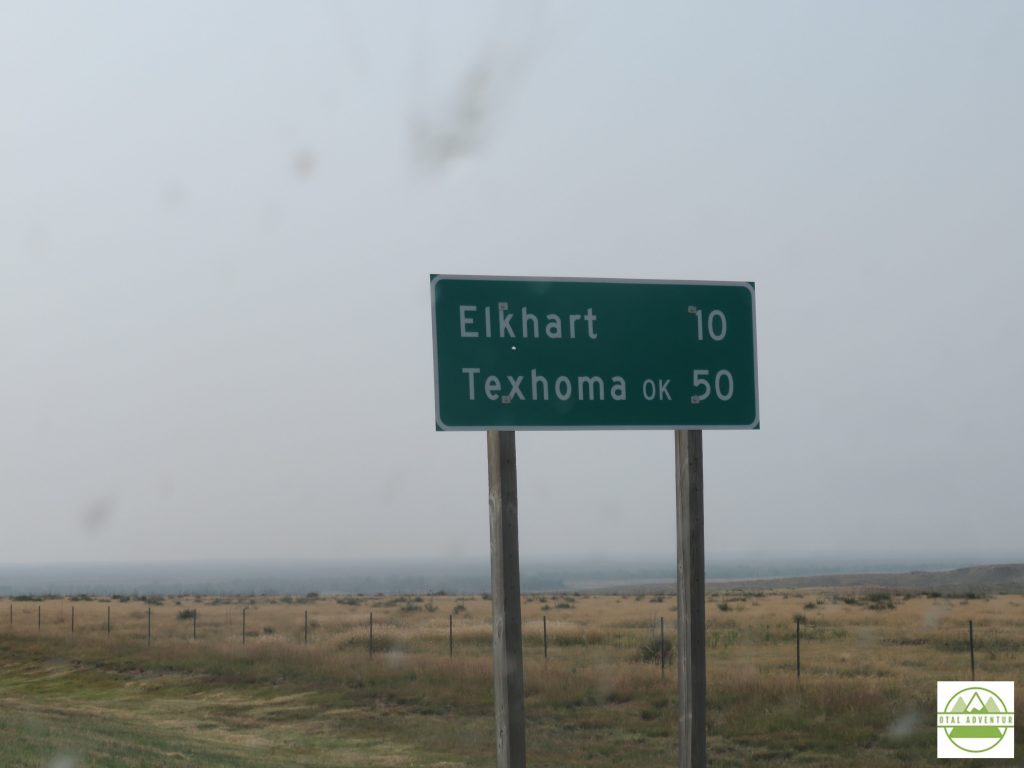 I stopped for lunch in the Panhandle town of Guymon and then went on to the Texas Panhandle.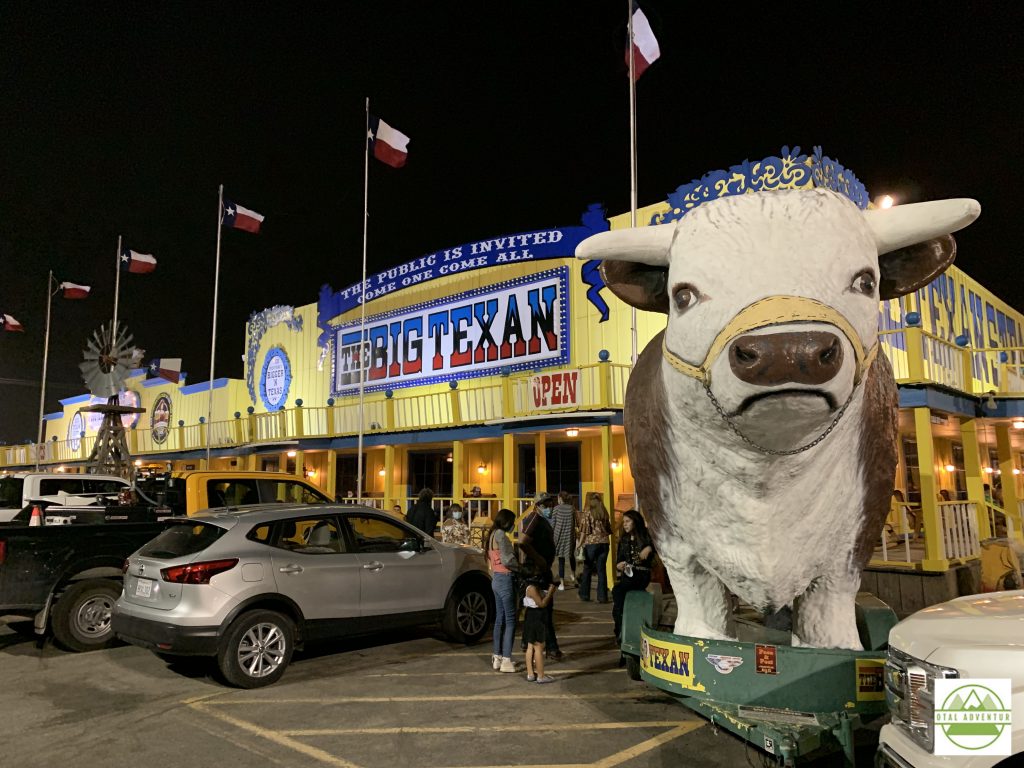 Stopping in Amarillo for the night, I stayed next door to the Big Texan. In one of my very few indoor meals of the trip, I dined on Rocky Mountain oysters and delicious Texas T-Bone that was about 20 ounces. The 72 oz steak is free if eaten in an hour. That's 4 1/2 pounds, 2 kilos of meat. It comes with salad and baked potato which also must be consumed. If not finished in one hour the price is $ 72.
I-40 Eastbound the next morning. Back into Oklahoma. At Oklahoma city, the California smoke finally ended and the skies were clear once again, over the rolling Southern Plains.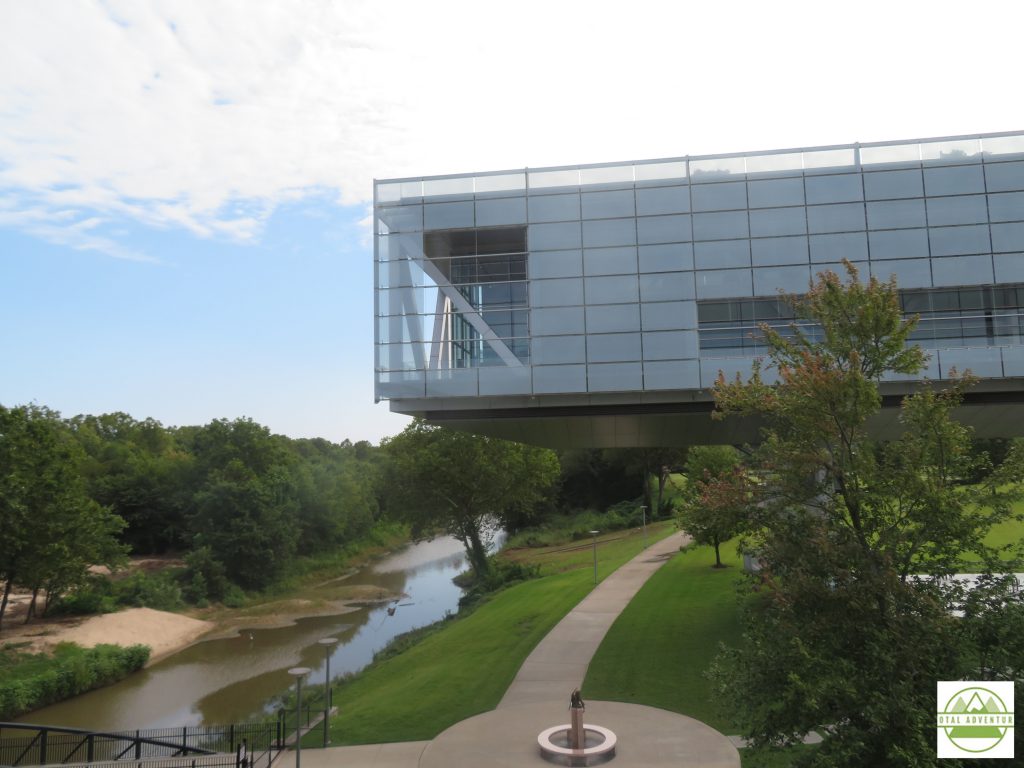 Spent Sunday night in quiet Little Rock and toured the Capitol city the next morning. The Clinton Library , on the Arkansas River is an architectural masterpiece but closed by COVID.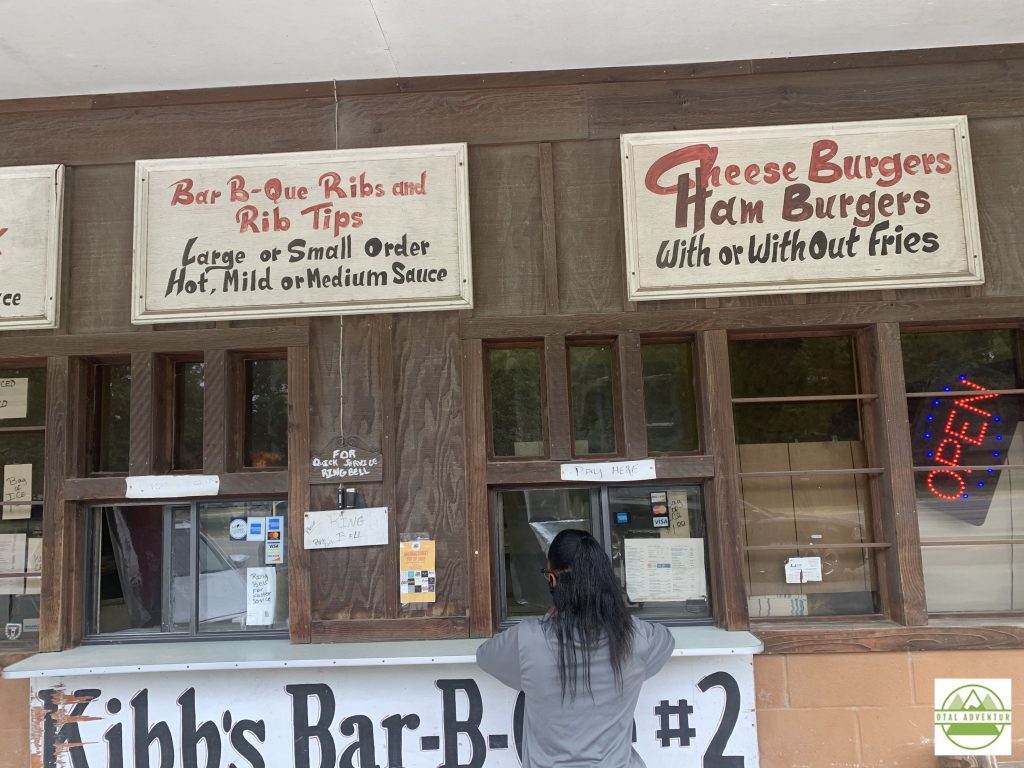 In Stuttgart I stopped for perhaps the best BBQ I've ever had with chopped ribs in a sauce that tasted like plums, coffee and super hot spice ! I bought a gallon jug to take home, which I carefully rationed over the next month.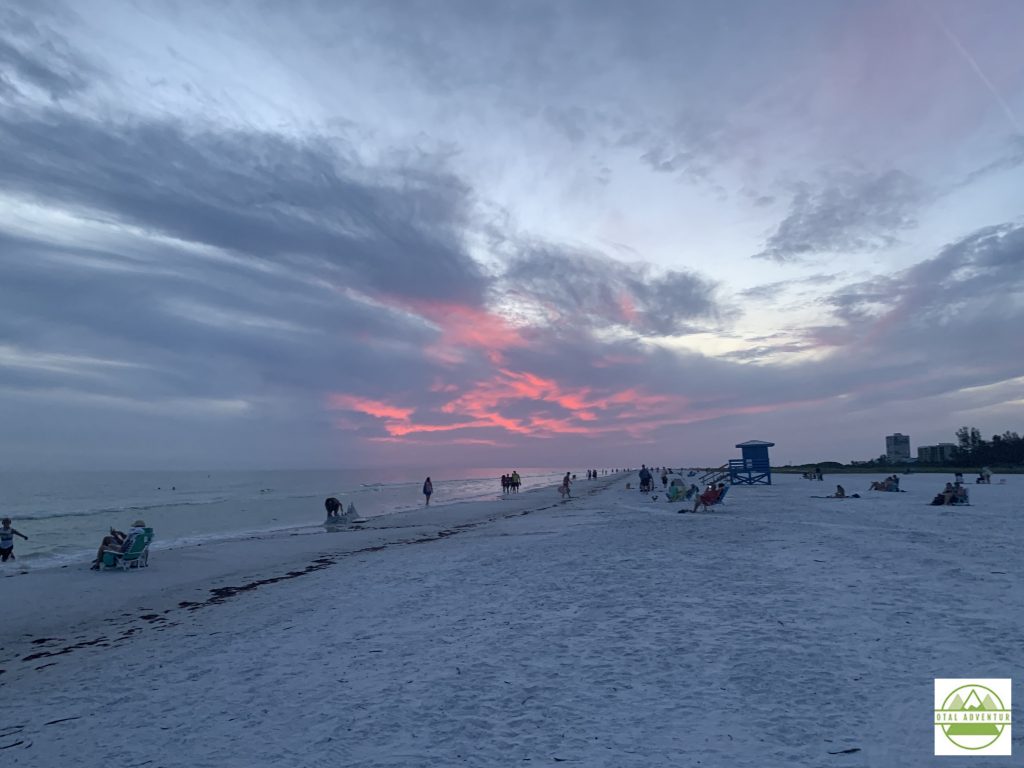 From Arkansas into Mississippi I began a straight run back to Miami. Overnighting in Hattiesburg and then through Mobile Alabama to Panama City Florida for a swim in the Gulf of Mexico. Across the beautiful Panhandle . Though TotalAdventure has been located in Miami for over 18 years, I have never been to the Panhandle. Overnighted in Perry and then to Sarasota, a surprisingly young and thriving town on the Gulf of Mexico.
Back to Miami for a dive into the Atlantic Ocean. Watch the video above !