Archive for the
'South America'

Category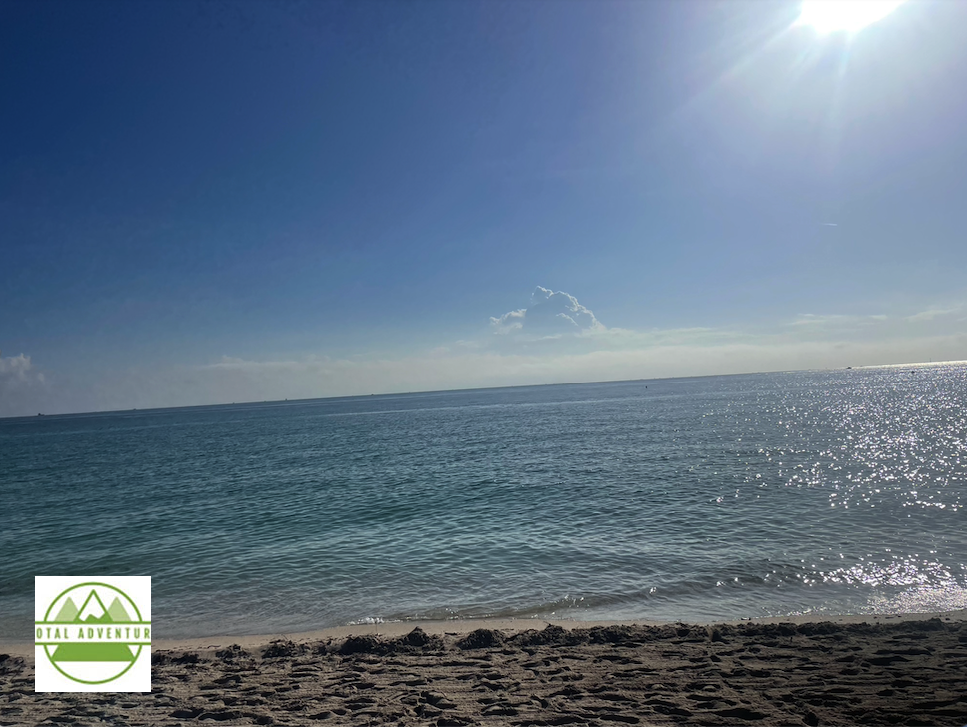 11000 KM South To Antarctica ! See the video above !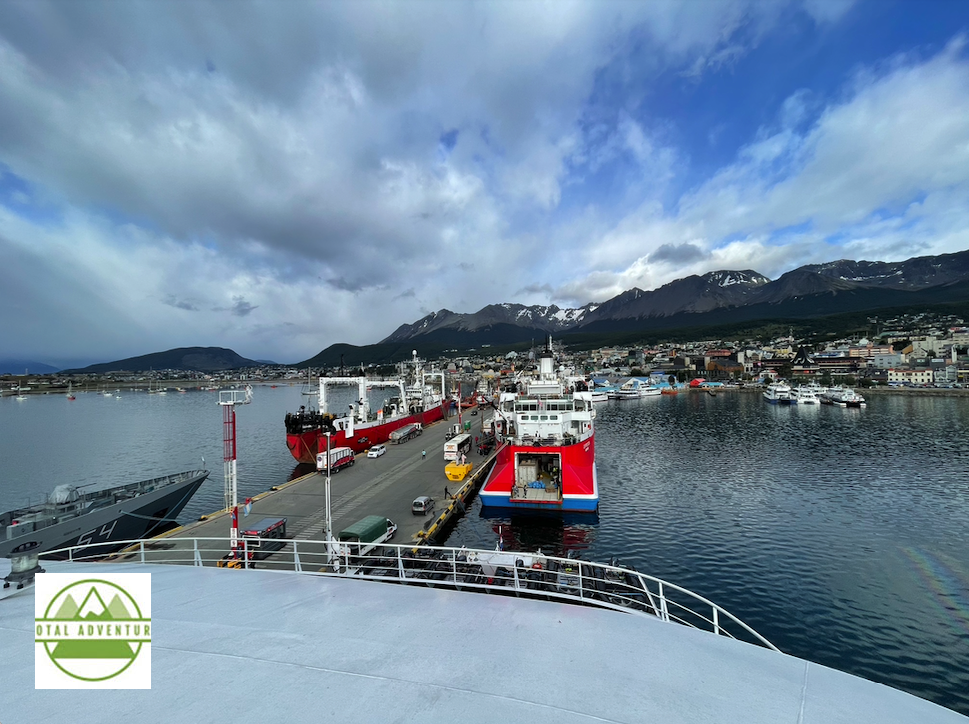 On November 29,2022 TotalAdventure and a colleague boarded an Aerolineas jet for Buenos Aires arriving in Ezezia that evening. The next morning , from Aeroparque, we boarded a smaller jet for the 4 hour flight to Ushuaia. Please see the Ushuaia article above, if you have not already.
Above is the dock at Ushuaia, where our ship, the MV Hondius departed to and arrived from, Antarctica.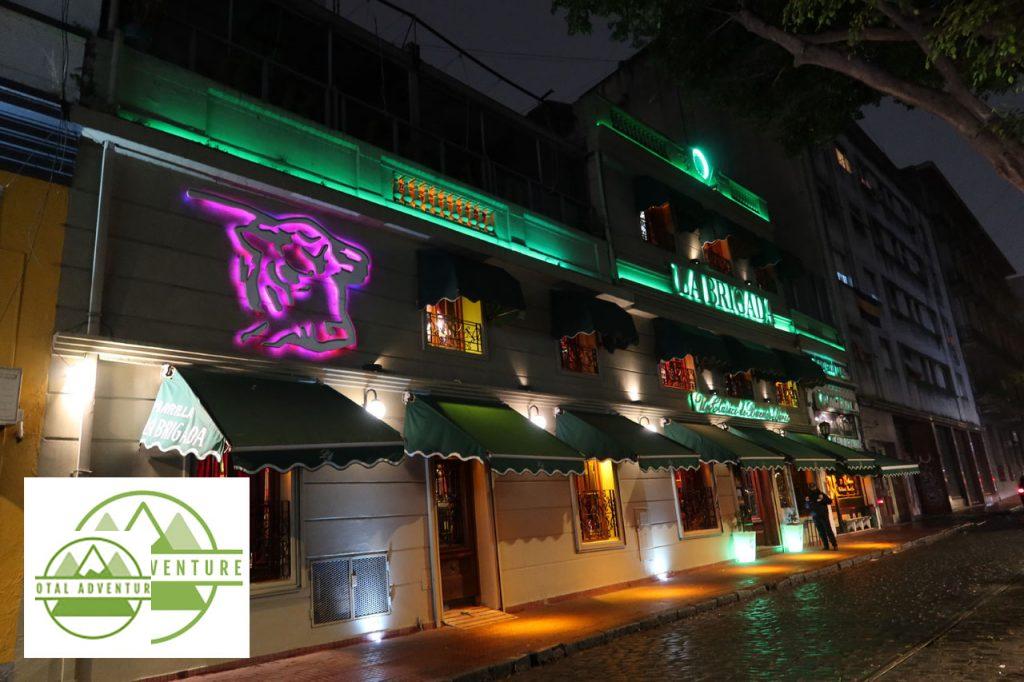 Buenos Aires By Night.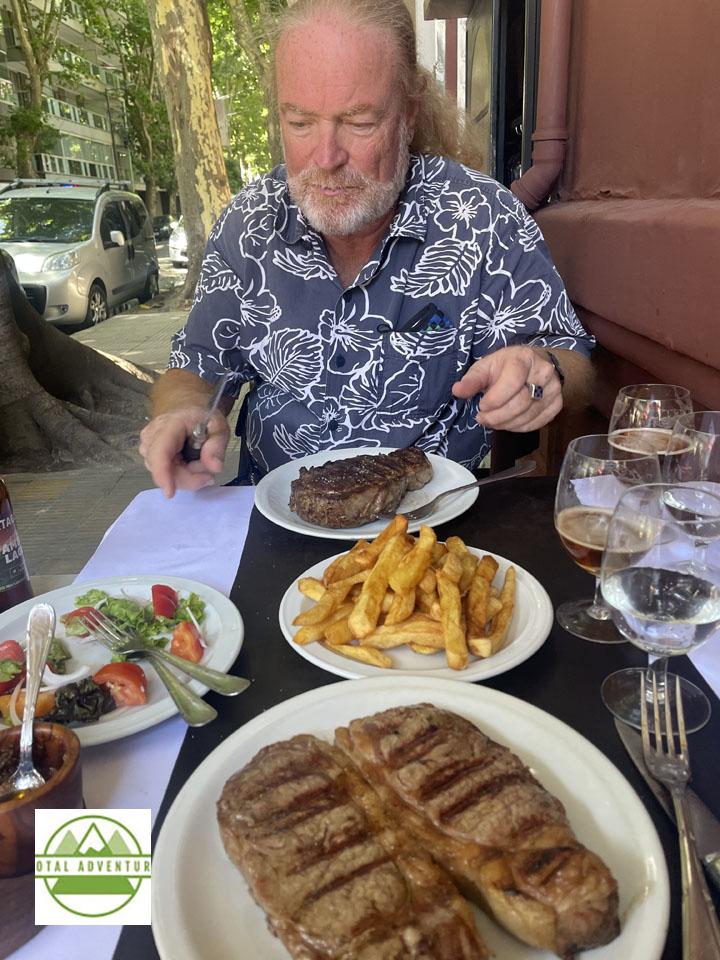 Dining At The World's Top Rated Steakhouse – Don Julio ! The 95 degree summer weather was welcome on our return from Antarctica.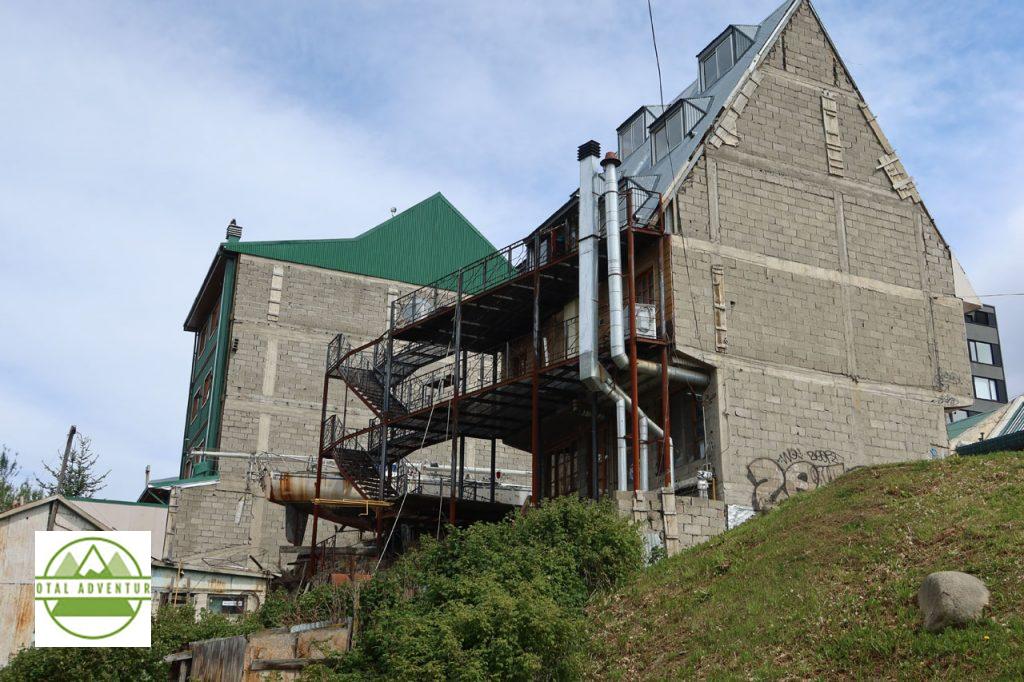 Ushuaia – Time to board the ship to cross the Drake ! Read on in the series below !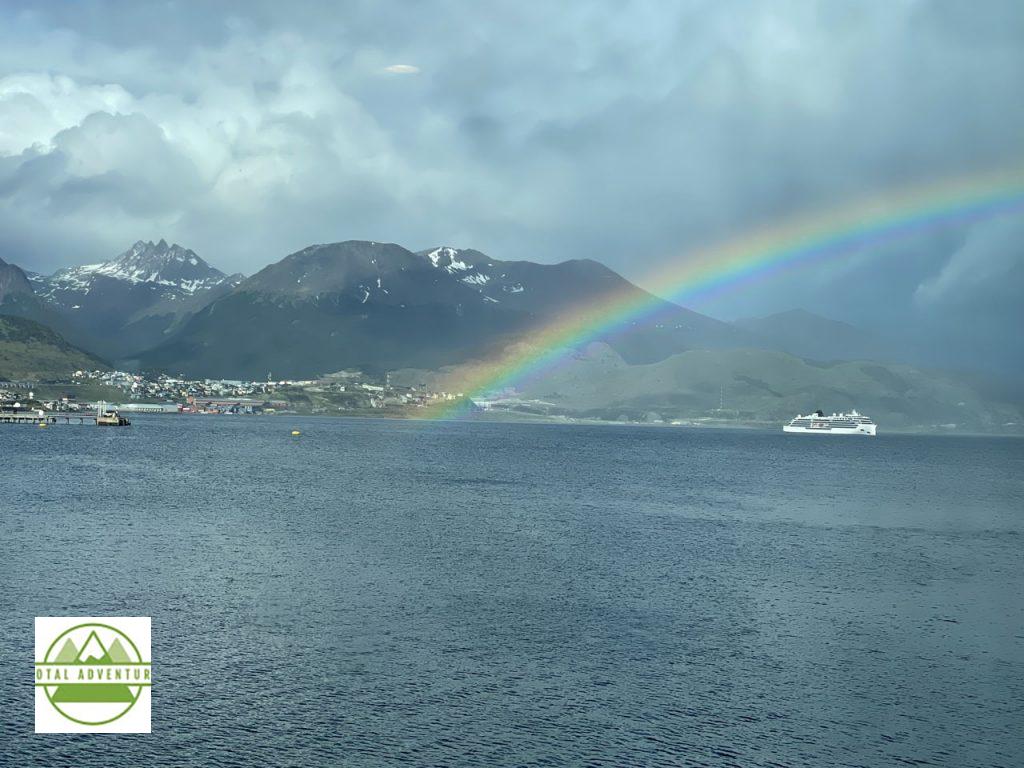 Good Fortune Ahead From Ushuaia Across The Drake !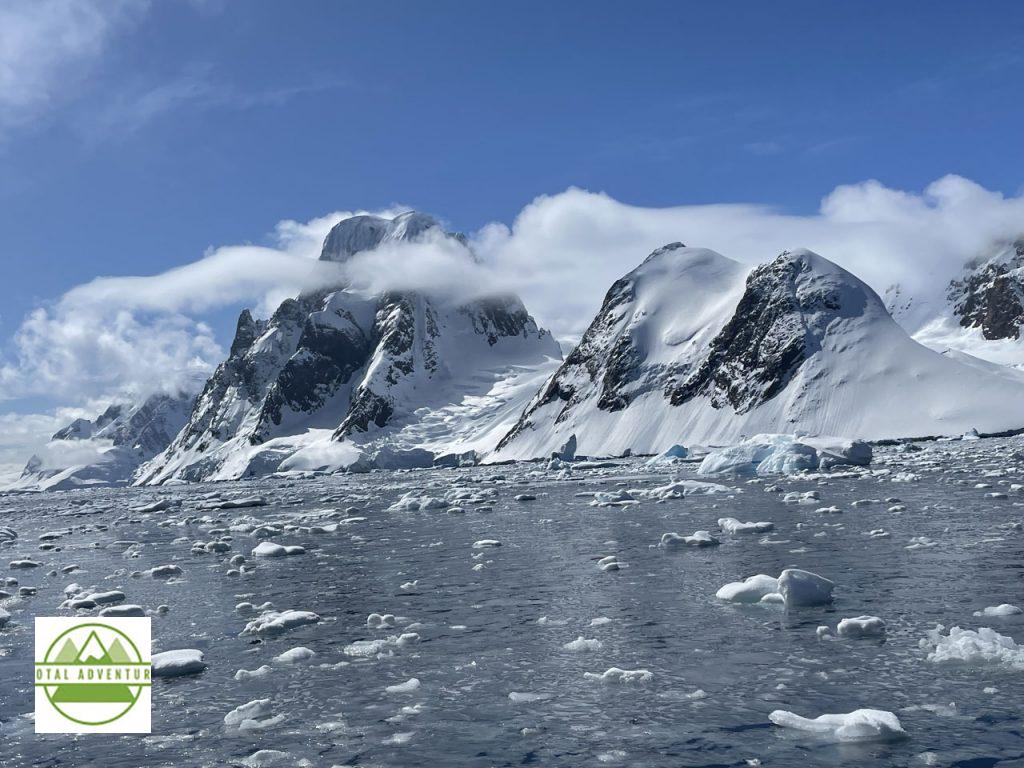 A Long Way From Miami !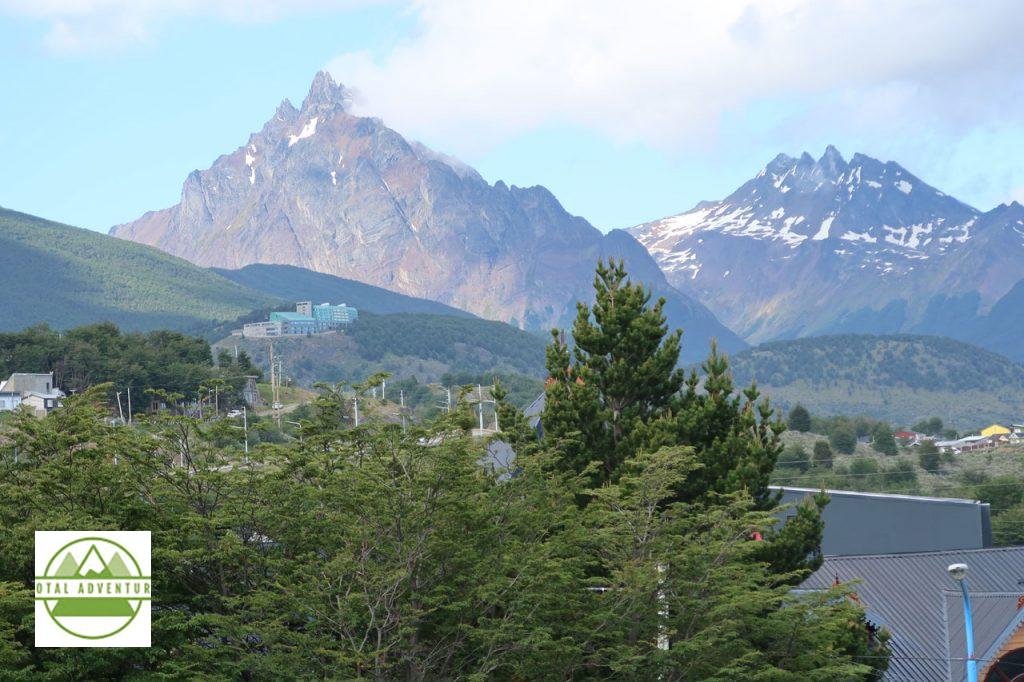 TotalAdventure Is Currently En Route To Antarctica. We arrived here on Wednesday , November 30th after flying from Miami through Buenos Aries.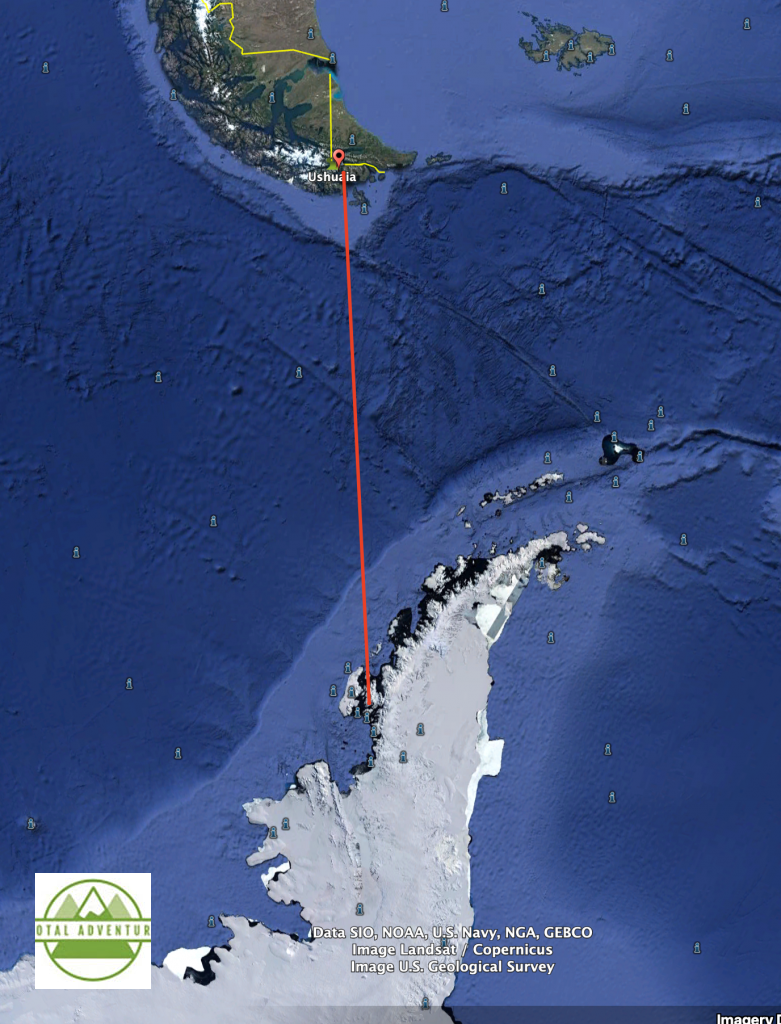 It is 600 Miles Across And Will Take 2 Days.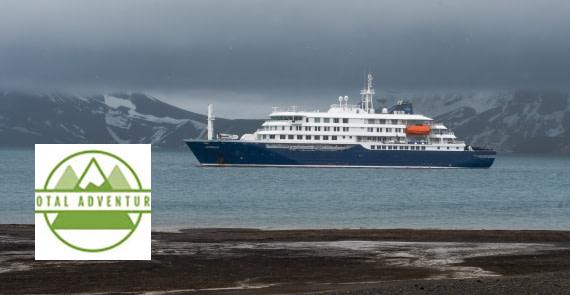 The MV Hondius Is An Icebreaker Class 6 Polar Ship. Built in 2019,It carries 112 Passengers. You can track our voyage HERE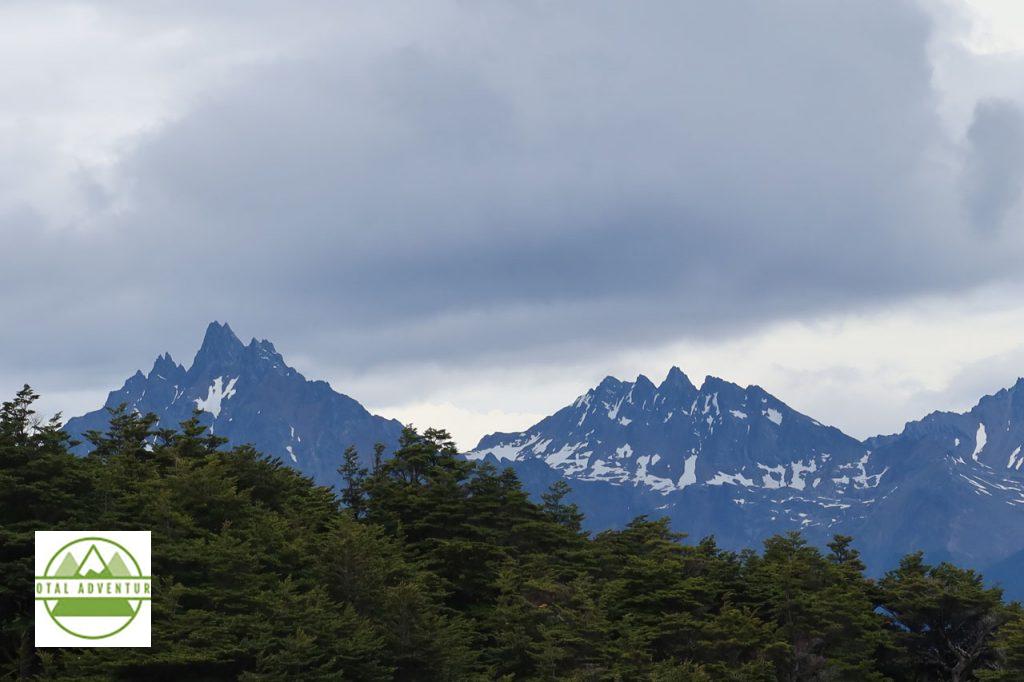 Glaciar Martial. At ehe end of the 12000 mile Rockies and Andes chain that begins in Alaska.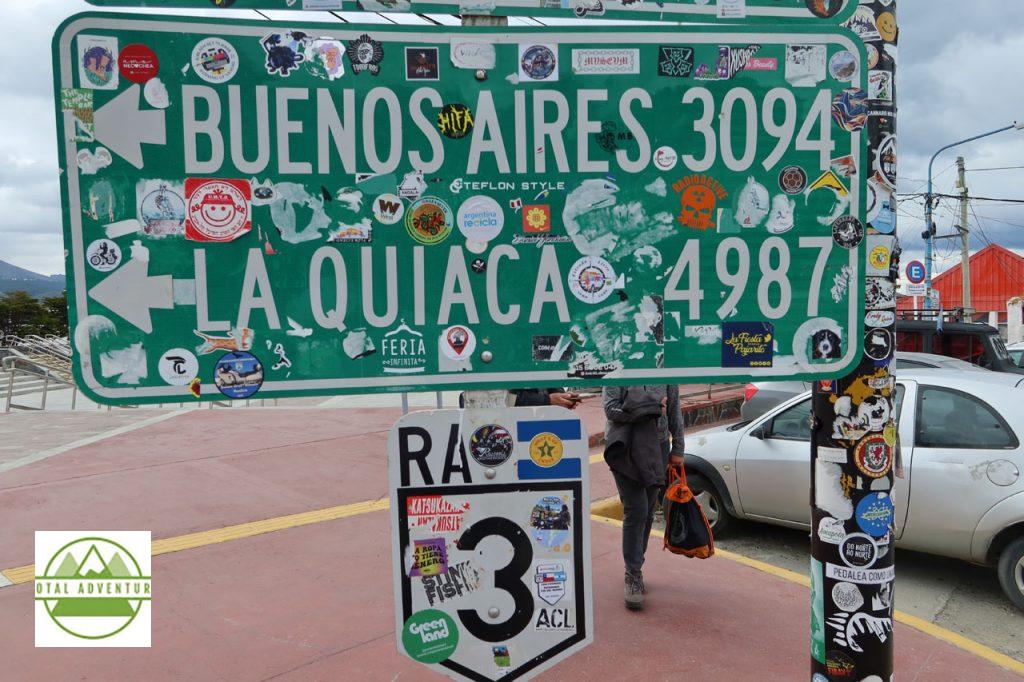 Argentina is 5000 km North To South. A long beautiful drive.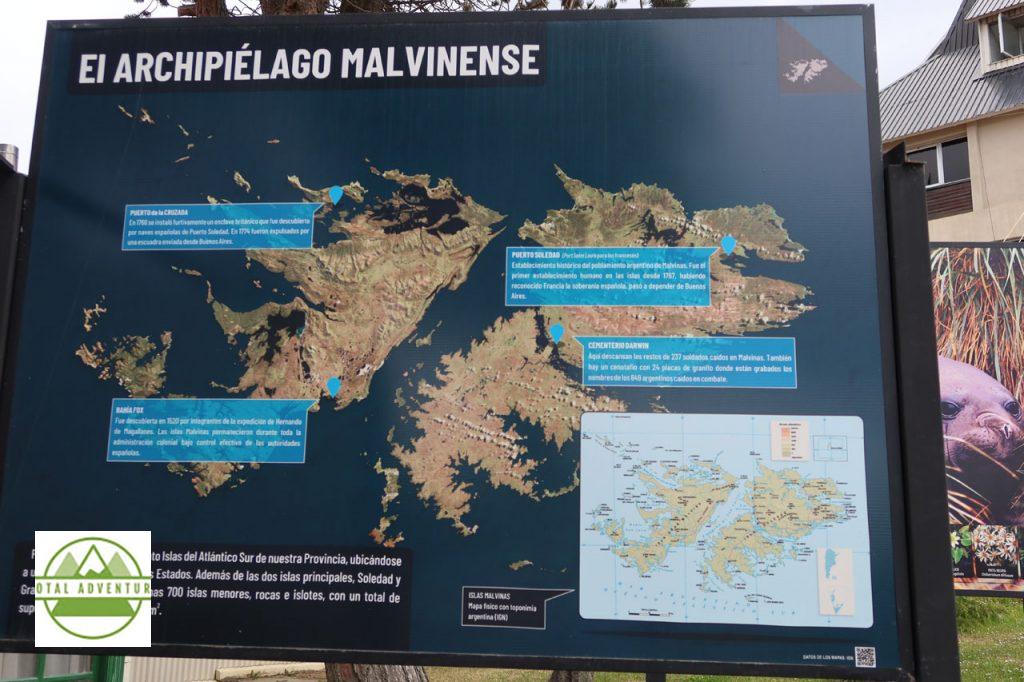 The Malvinas Are An Important Situation Here.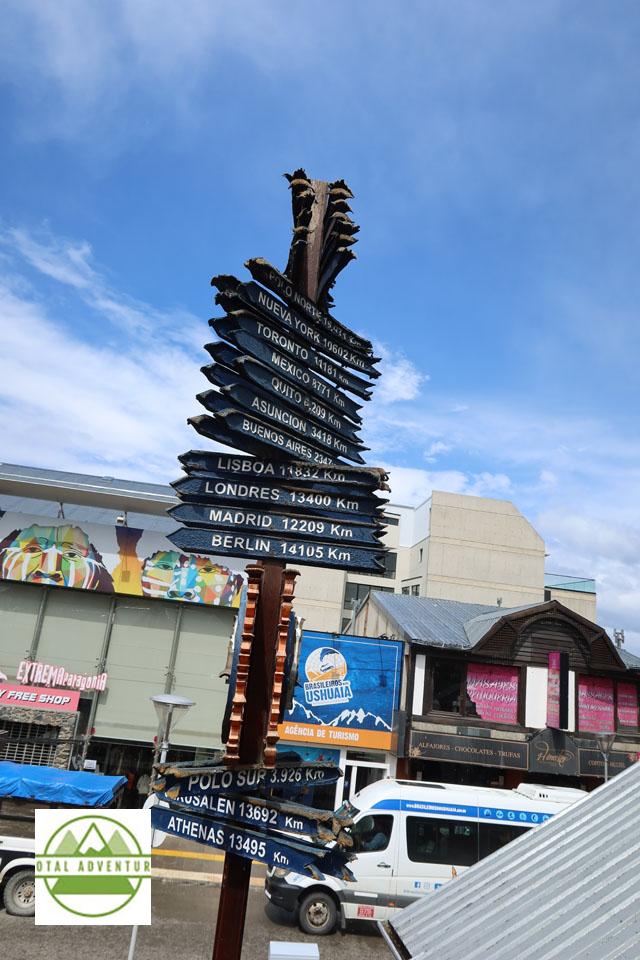 Ushuaia Is Far From Everywhere !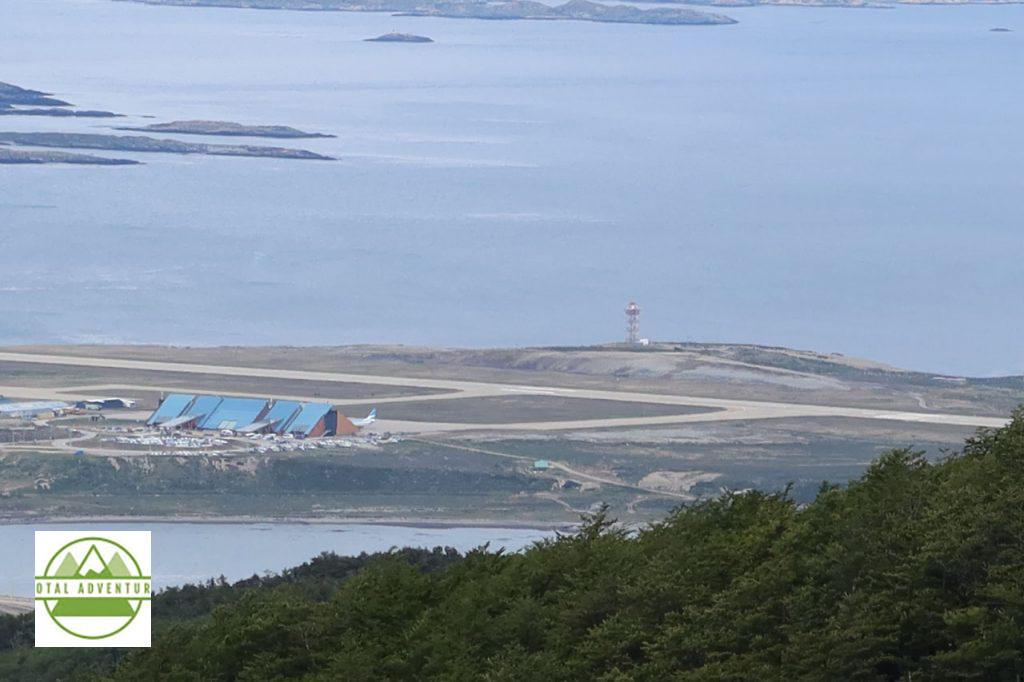 Southernmost Commercial Airport In The World.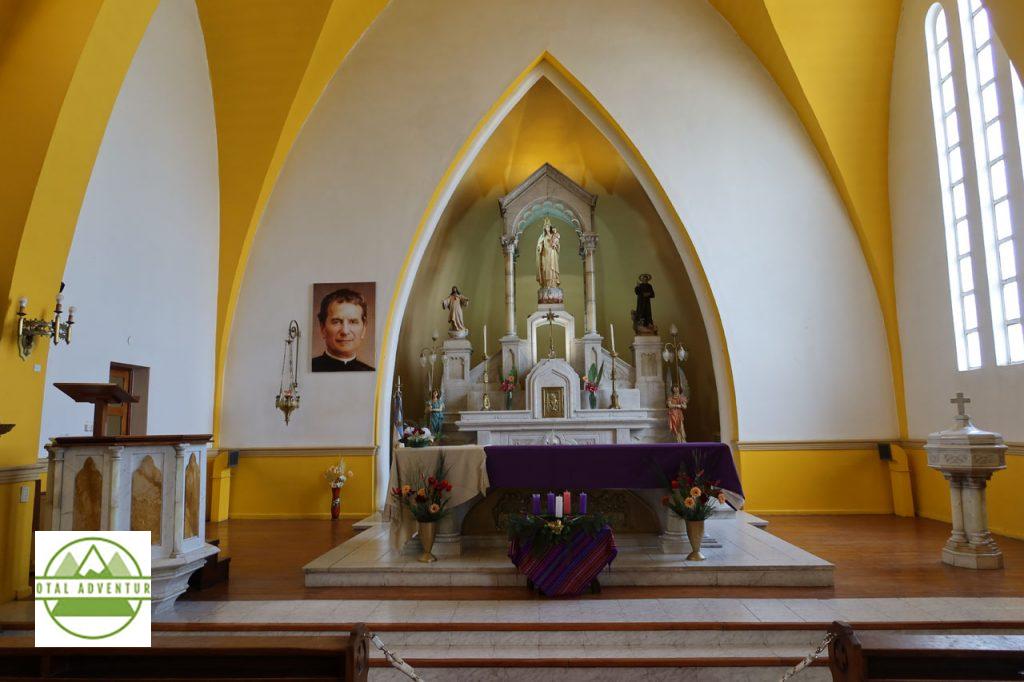 Don Bosco Cathedral.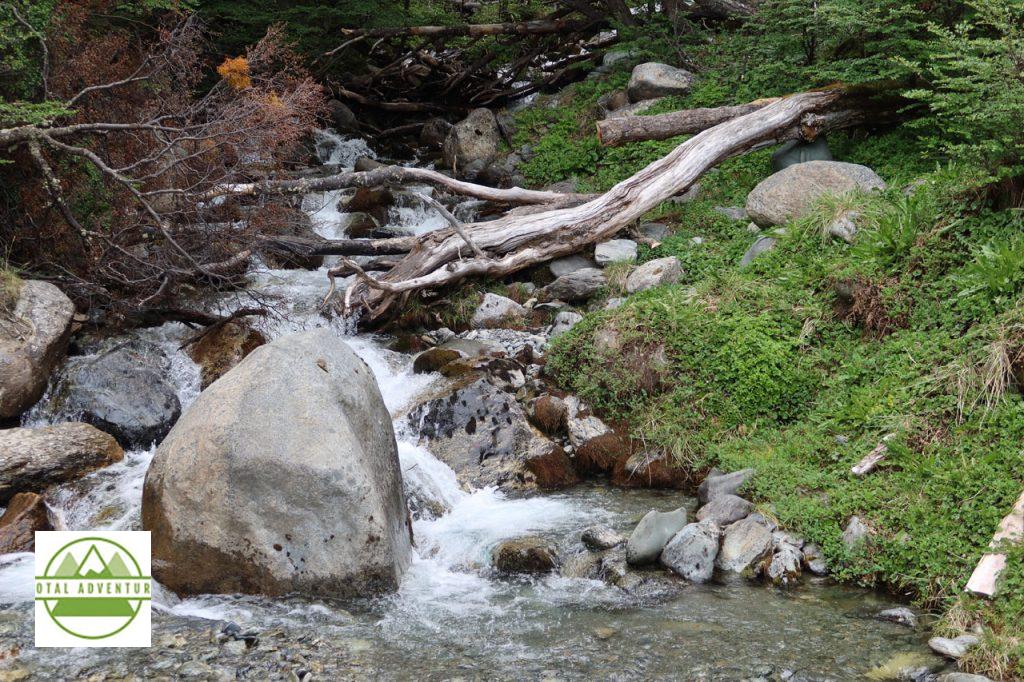 Glacial Stream.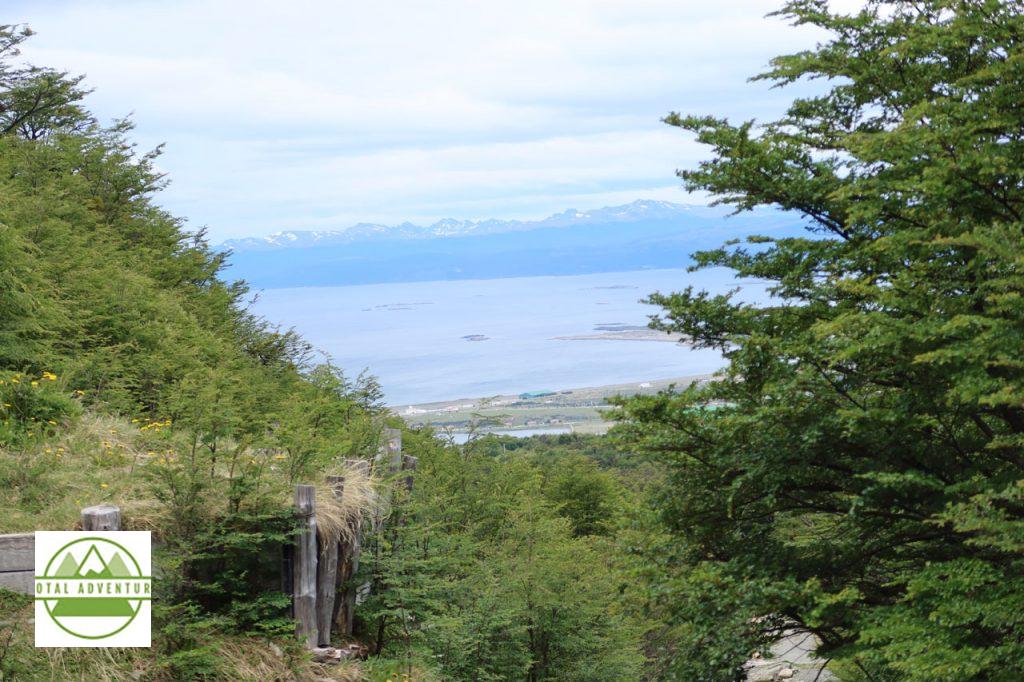 Looking South TO Chile. TotalAdventure will depart tomorrow afternoon throught the Beagle Channel and past Cape Horn.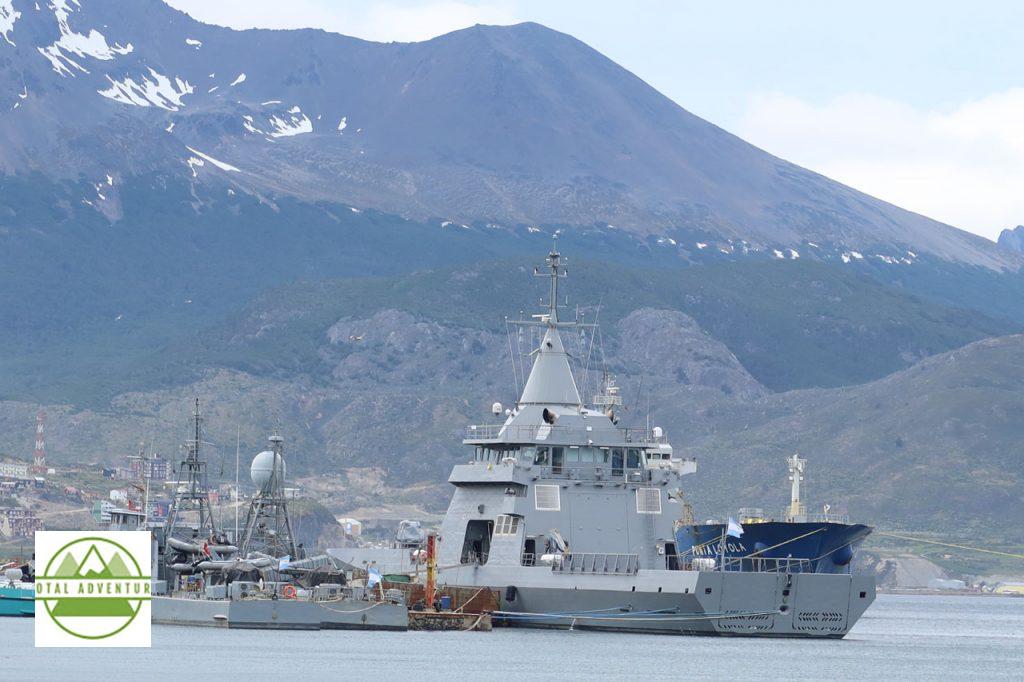 TotalAdventure returns to Ushuaia Argentina on December 13 . We are extremely unlikely to have any internet or cellular contact while on the expedition, but perhaps a sporadic link. TotalAdventure looks forward to sharing the adventure with everyone !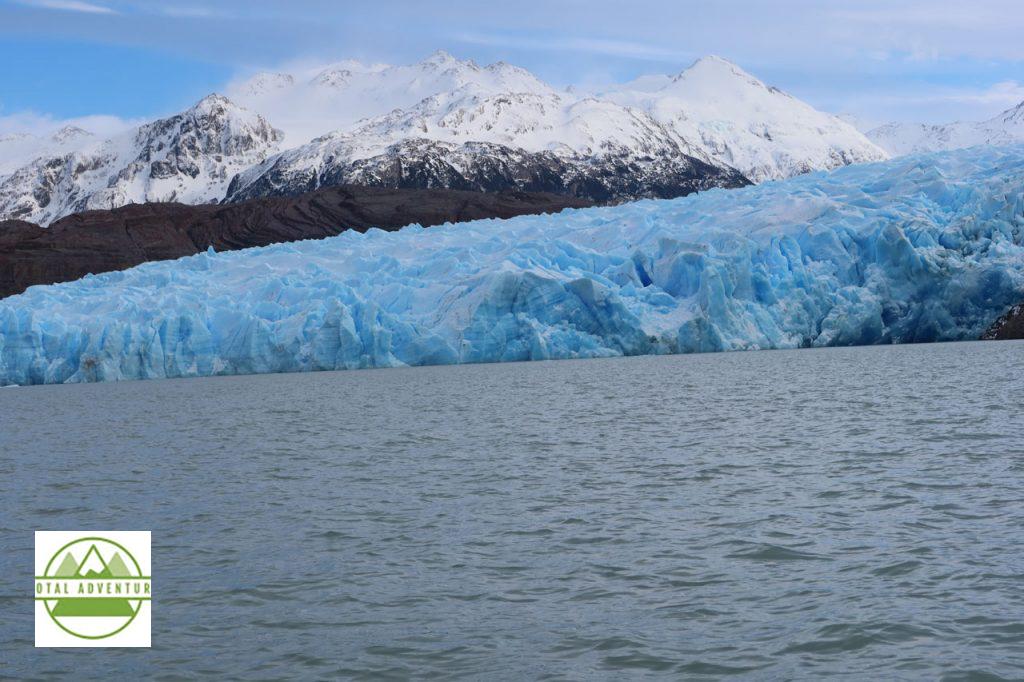 This article is the first of a two part story – where TotalAdventure explores the southernmost reaches of the inhabited world. TotalAdventure was invited by the Adventure Travel Trade Association and SERNATUR ( Chile Ministry of Tourism) to joining two expeditions – one in Torres del Paine National Park – more detail in the next article and another engaging in other activities on Estancias and in the vast preserves of nature. SERNATUR paid for air travel and other essentials. The trips I joined were run by Chile Nativo. Besides exploring the incredible nature of the region – we met with 25 companies chosen to work with us to sell their packages on TotalAdventure. 32 other buyers , along with press , were invited to promote the pristine unspoiled remote areas of Chilean Patagonia , the Strait of Magellan – the Gateway To The Antarctic.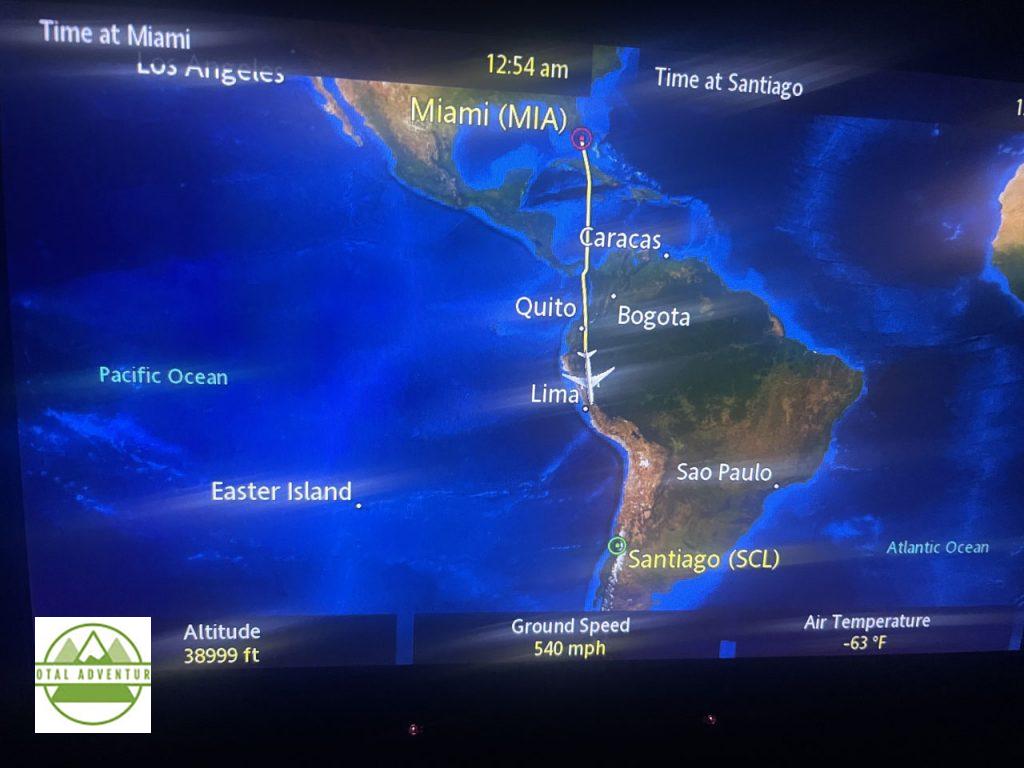 TotalAdventure has been commuting to the Southern Cone this year. First, 8 hours to Santiago. Then another 4 hours down to Puerto Natales.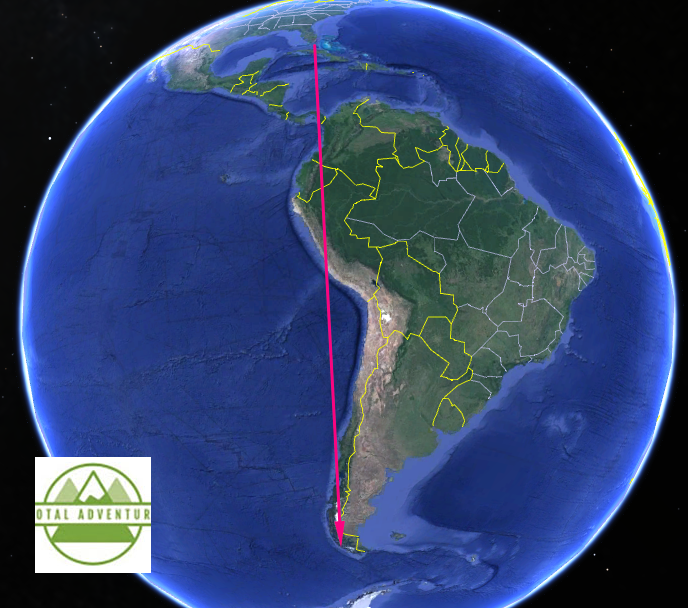 To El Fin Del Mundo – The End Of The World.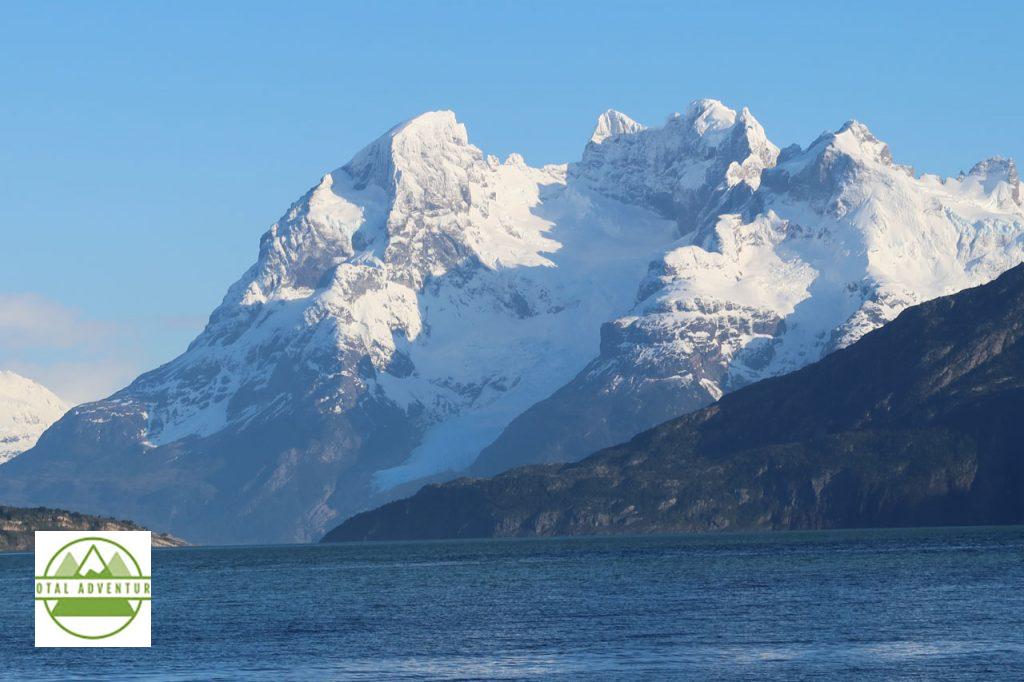 From Summer To Winter.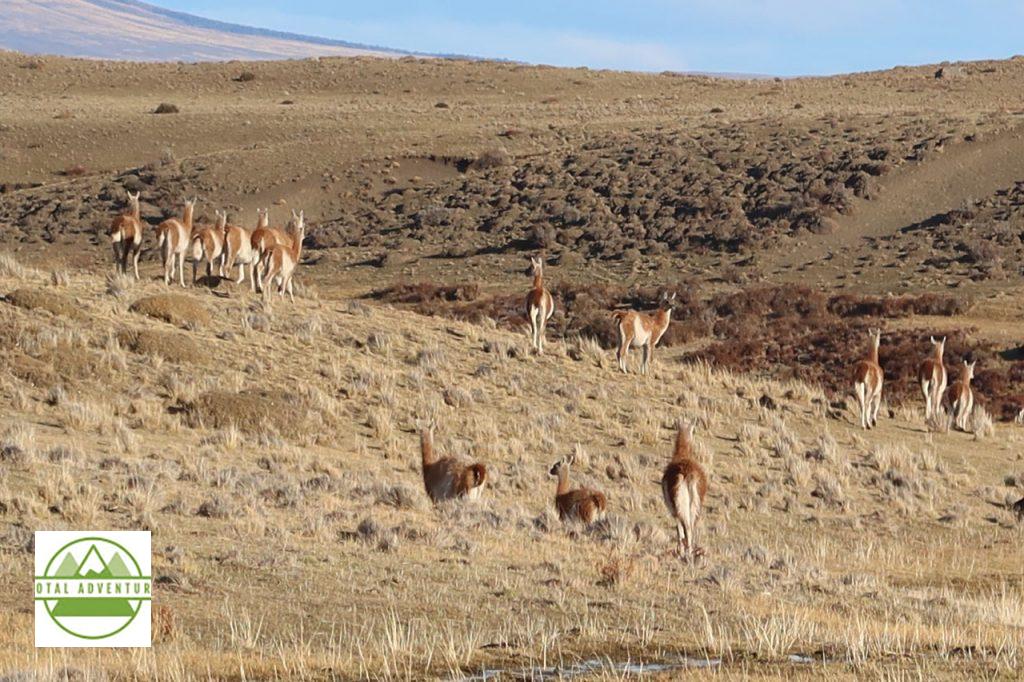 Where The Guanacos Roam.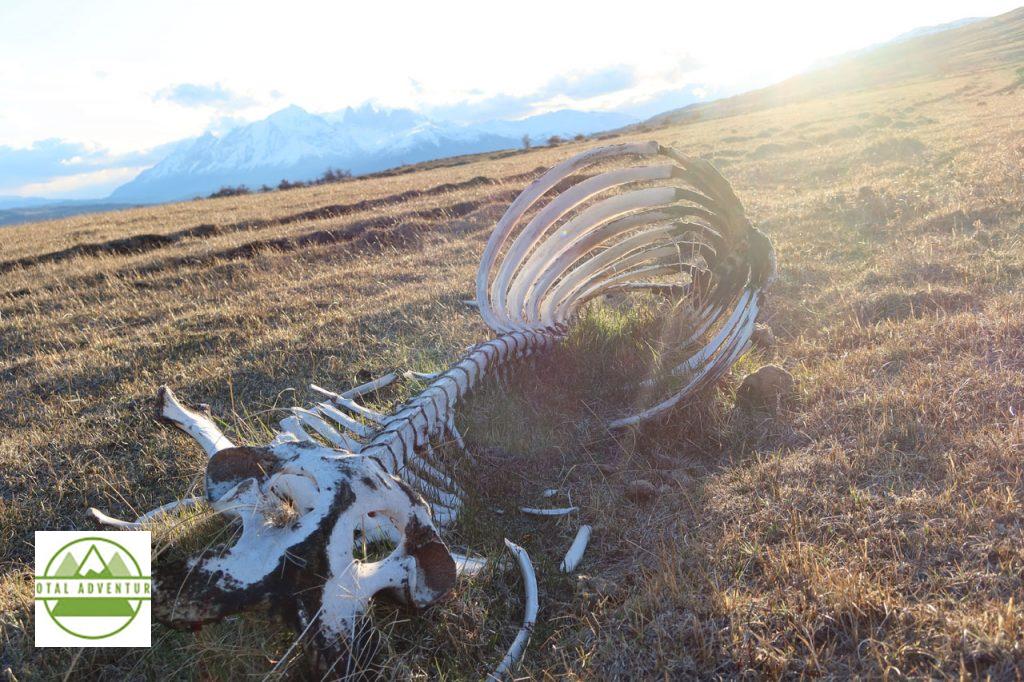 Stripped Clean By Pumas.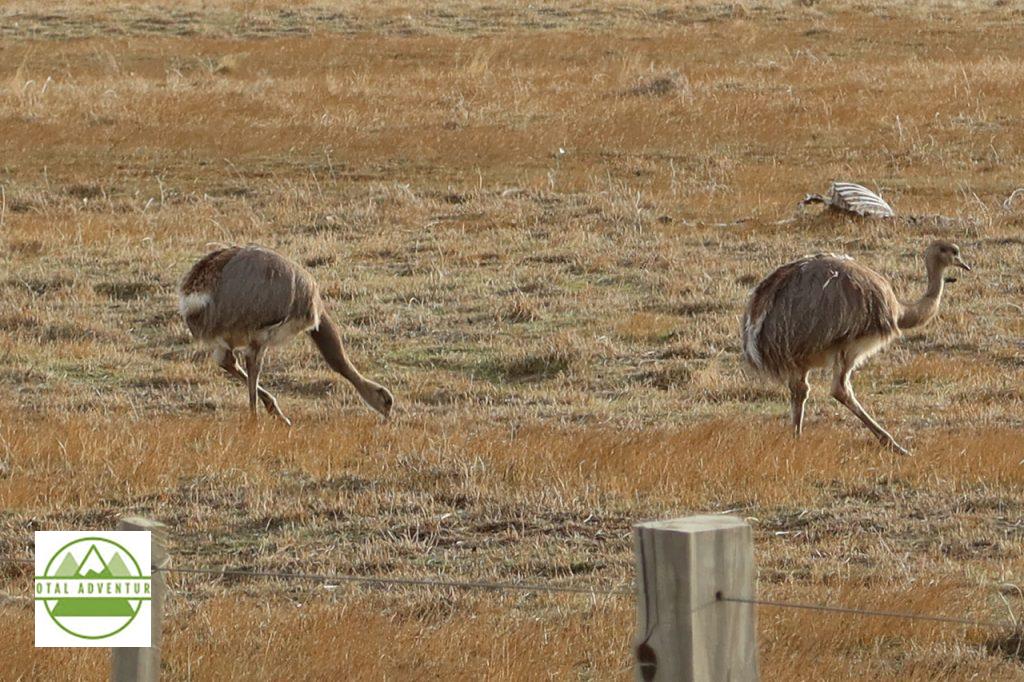 Rheas, A Smaller Version Of The South African Ostrich.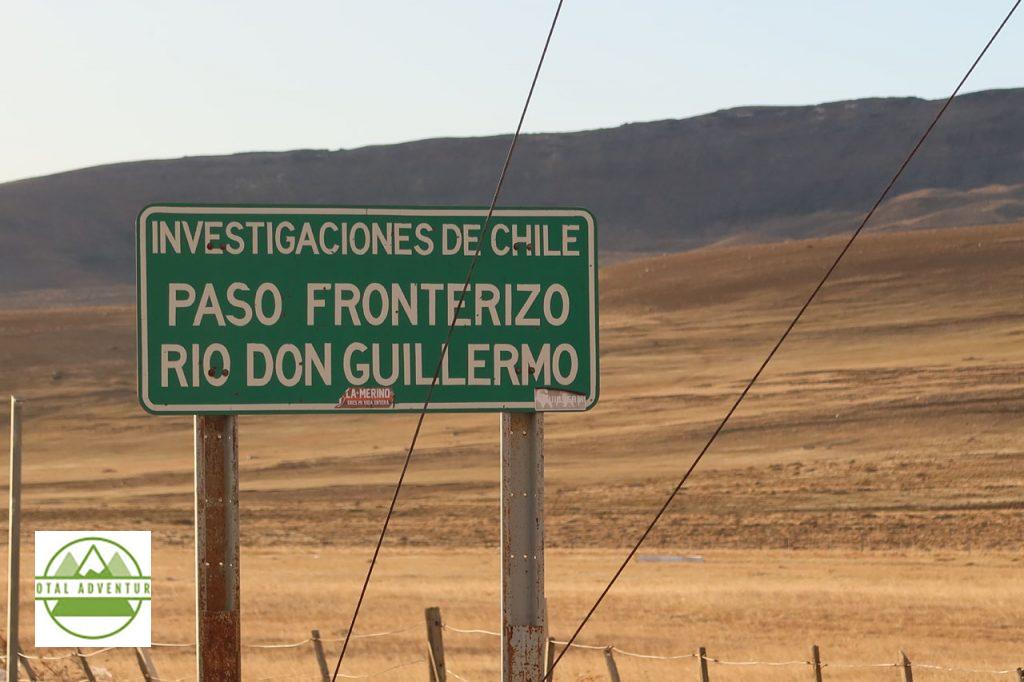 Argentina Border. In order to drive to other parts of Chile, one must drive over 1600 km through Argentina. Chile is almost all islands or impassable glaciers and forest from Puerto Natales to Puerto Montt. Relations between the two competing Latin giants are cordial ,but not always friendly.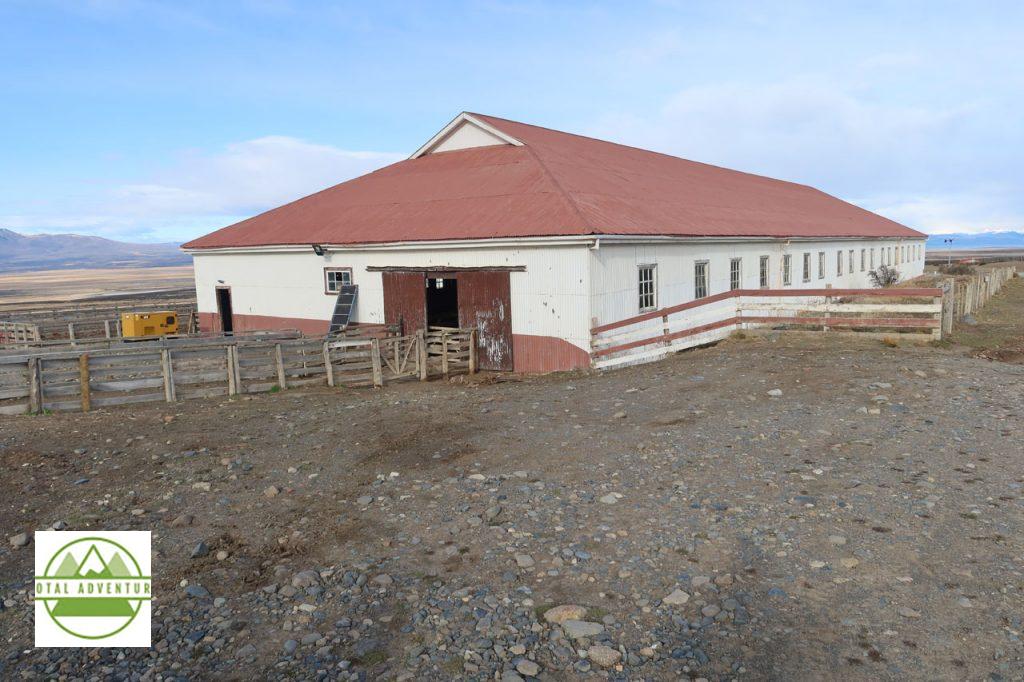 We spent the day at Estancia Cerro Guido, very near the Argentine border crossing at Río Don Guillermo. The Estancia has huge herds of sheep, and allows visitors to experience daily life on the Patagonian steppes.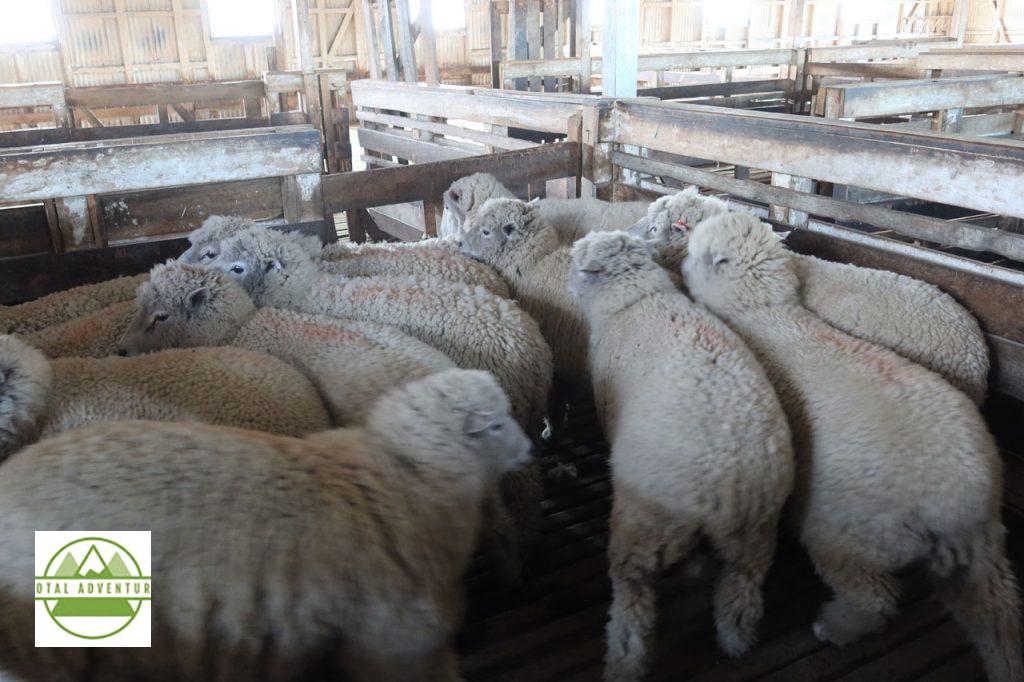 The sheep are very wooly by winter's end.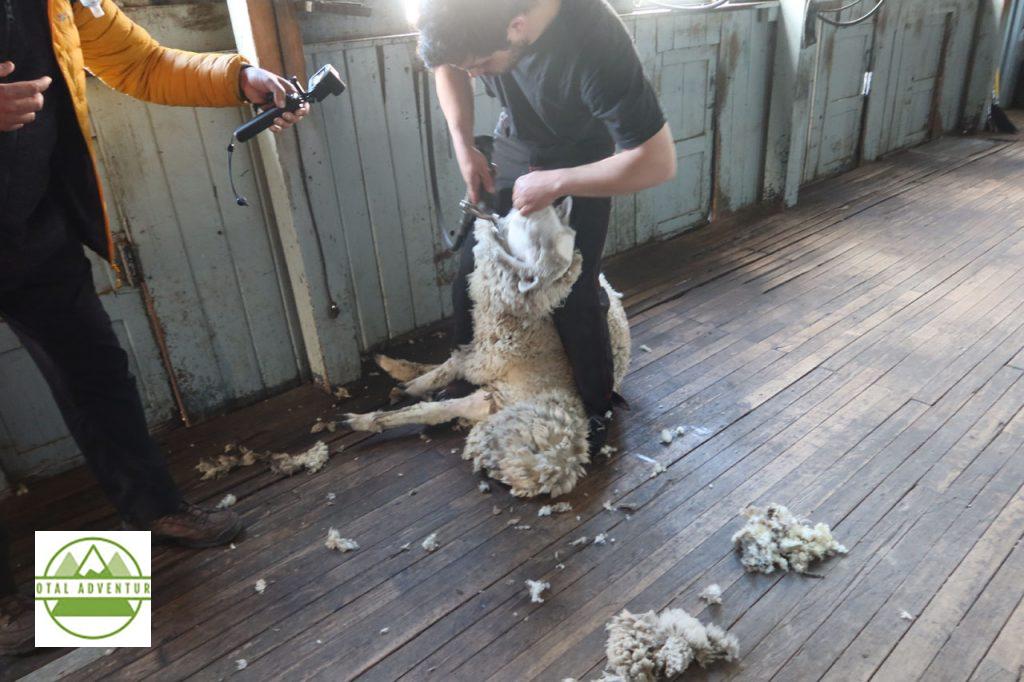 It's time for a haircut. While the ewe is mildly annoyed, there is no pain. It can be dangerous for the wool to get too thick and heavy. In freezing rain and heavy snow, the animals can't move and can die of cold. This past winter ( May to October) was the coldest and snowiest in many years – the Estancia had to rescue some herds .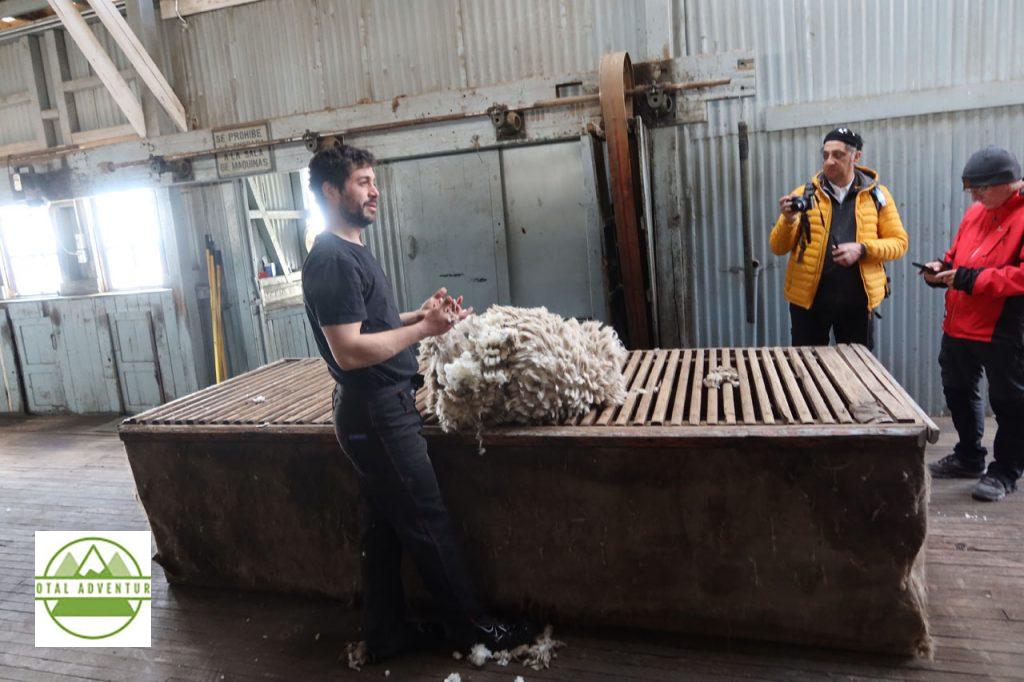 The wool is shipped all over the world to be made into high quality sweaters, dresses, socks and hats.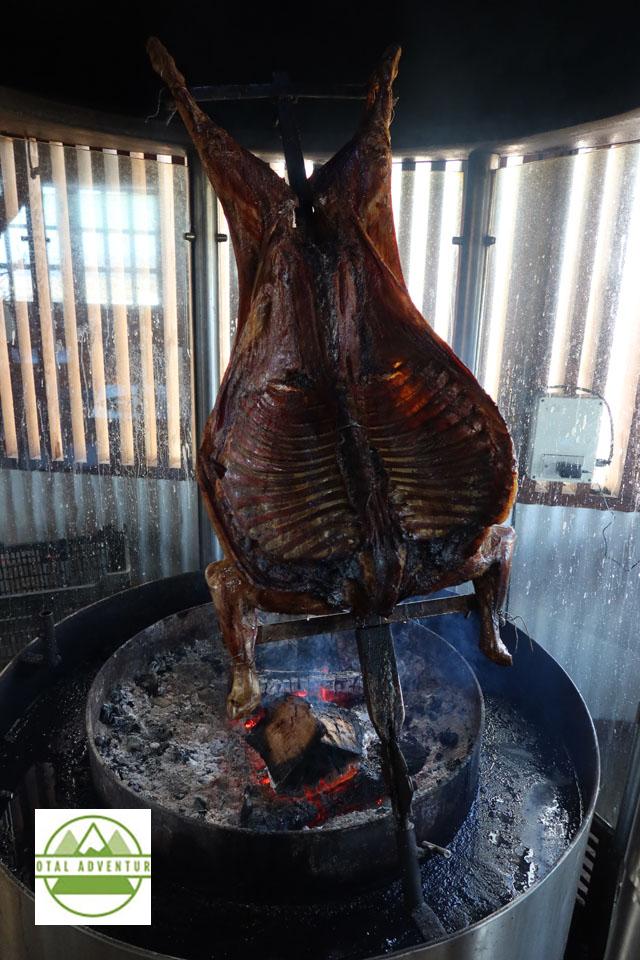 Lunch at Estancia Cerro Guido. Parilla del Cordero. ( Lamb ) A guest might enjoy this daily.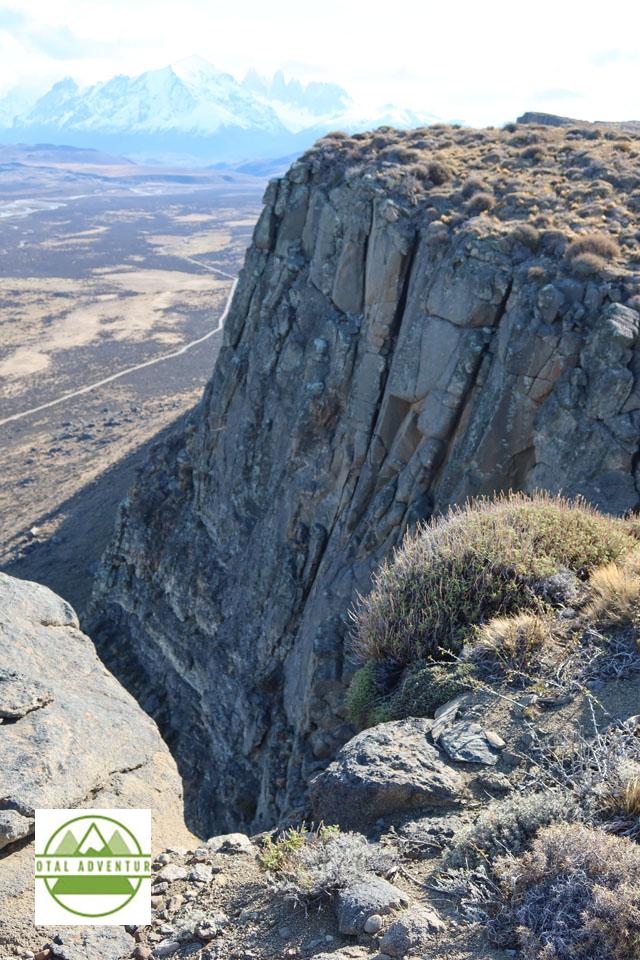 View From On High – Towards Torres Del Paine.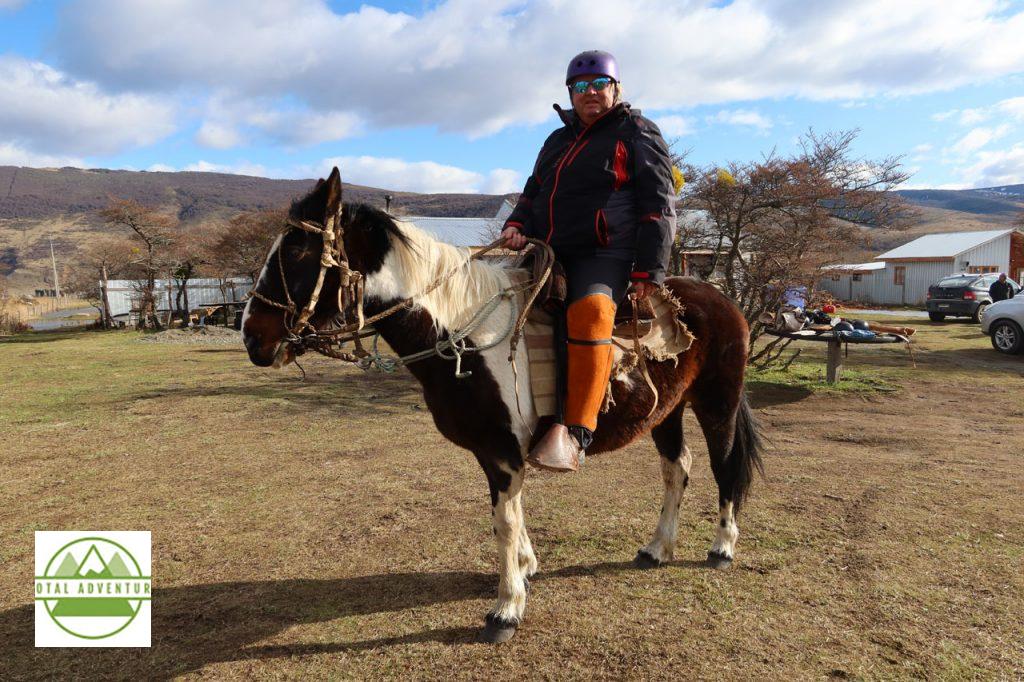 The next day, outside of Puerto Natales we rode horses up Cerro Dorotea. The outfit was not totally my choice. The horses were well tempered and responsive to more experienced riders, such as myself.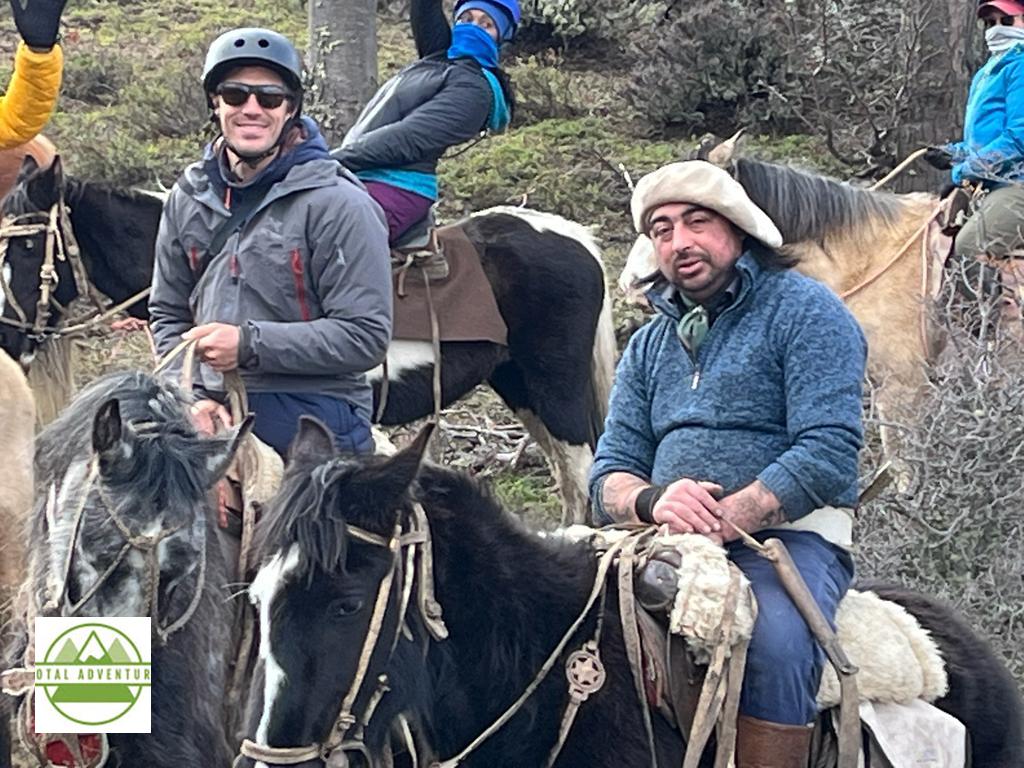 Led by Guachos – Born In The Saddle !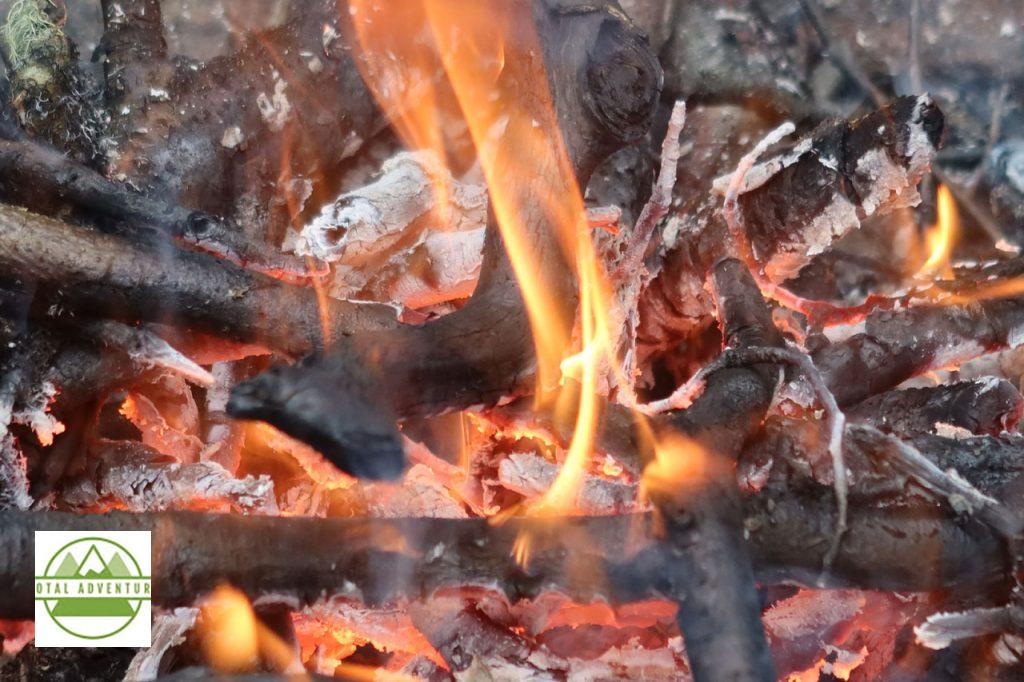 A warm fire at the mountaintop. It was sleeting at the top.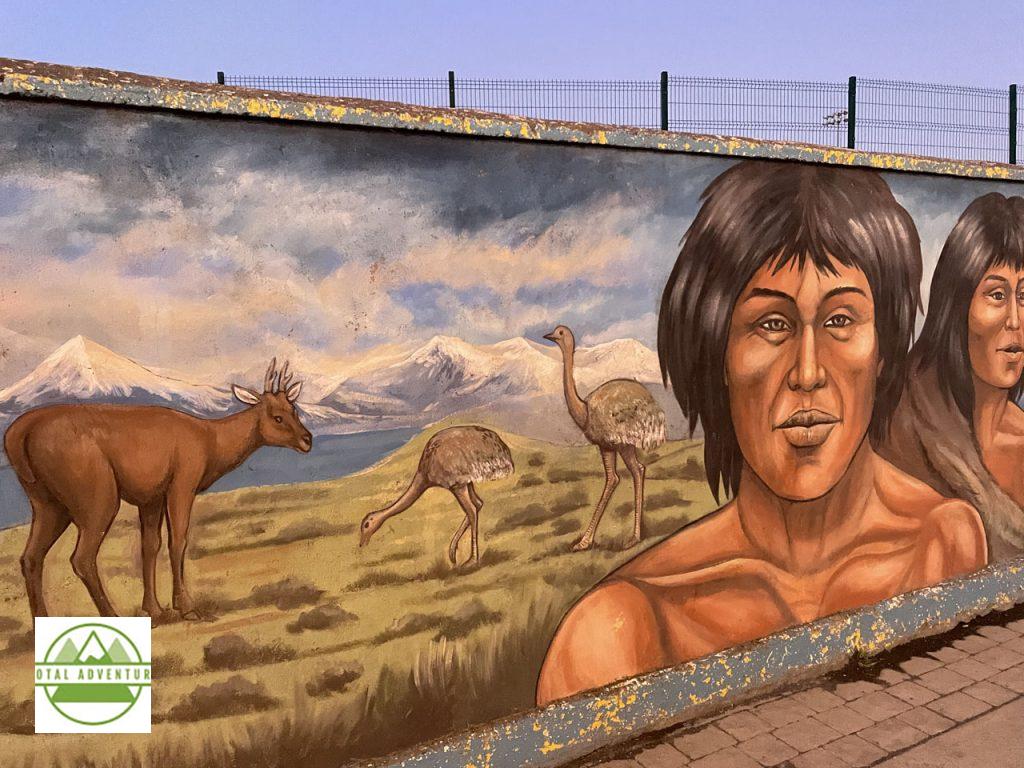 Patagonia Before The European Settlers.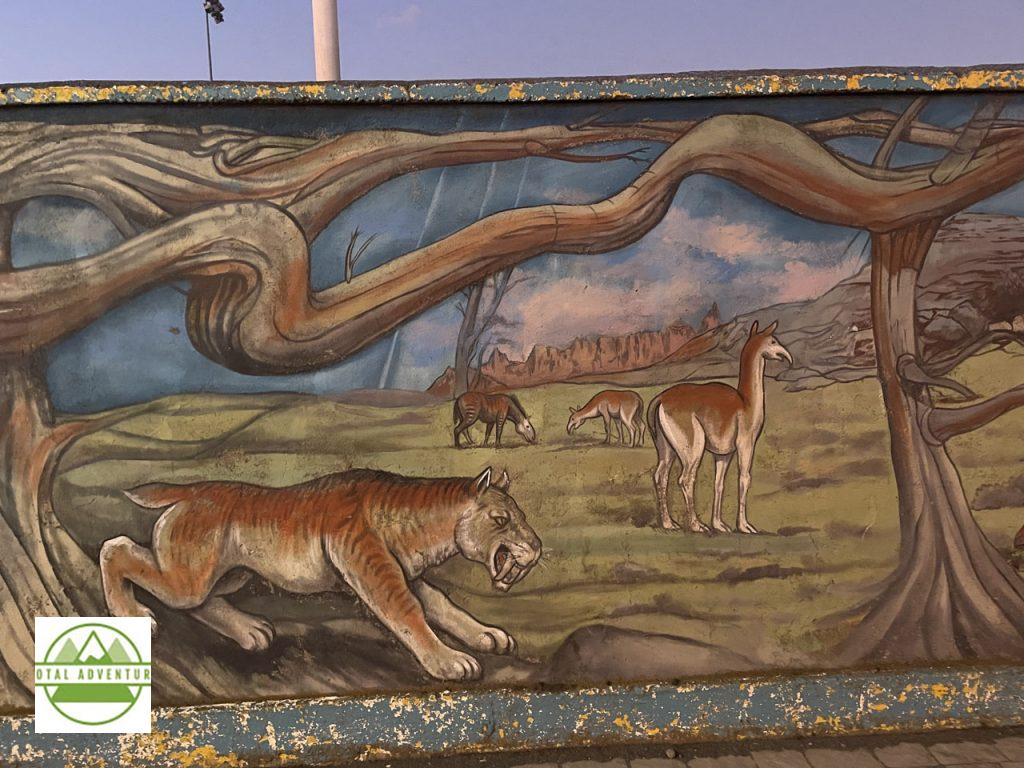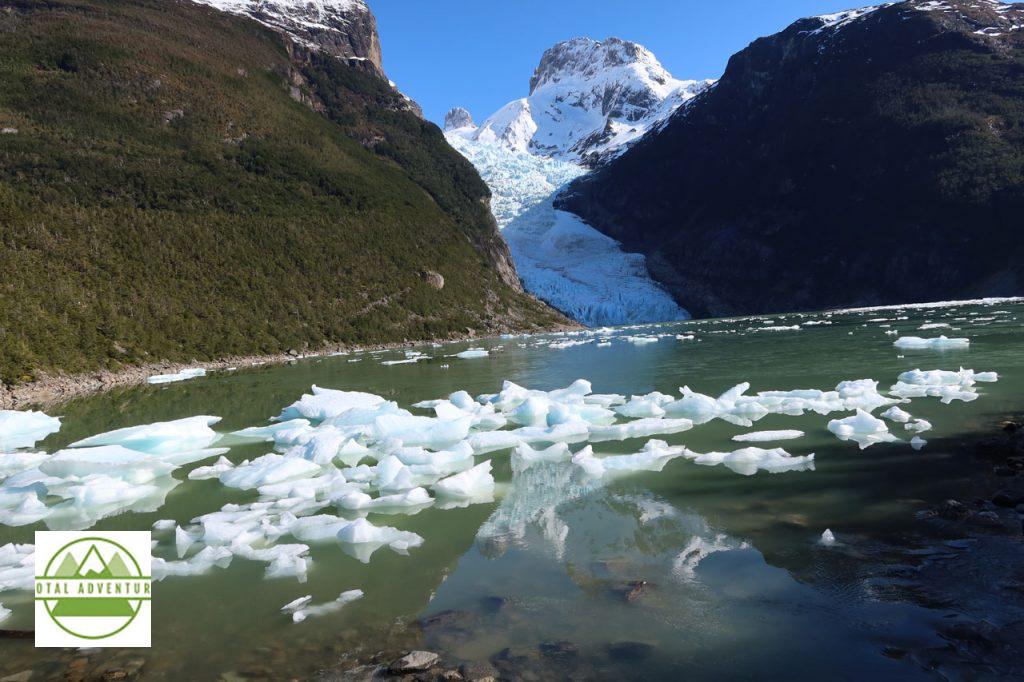 On the final day, before sales meetings began, we boarded a cruiser for an expedition through Fjord Ultima Esperanza to Glaciar Balmaceda, about 50 km from Puerto Natales.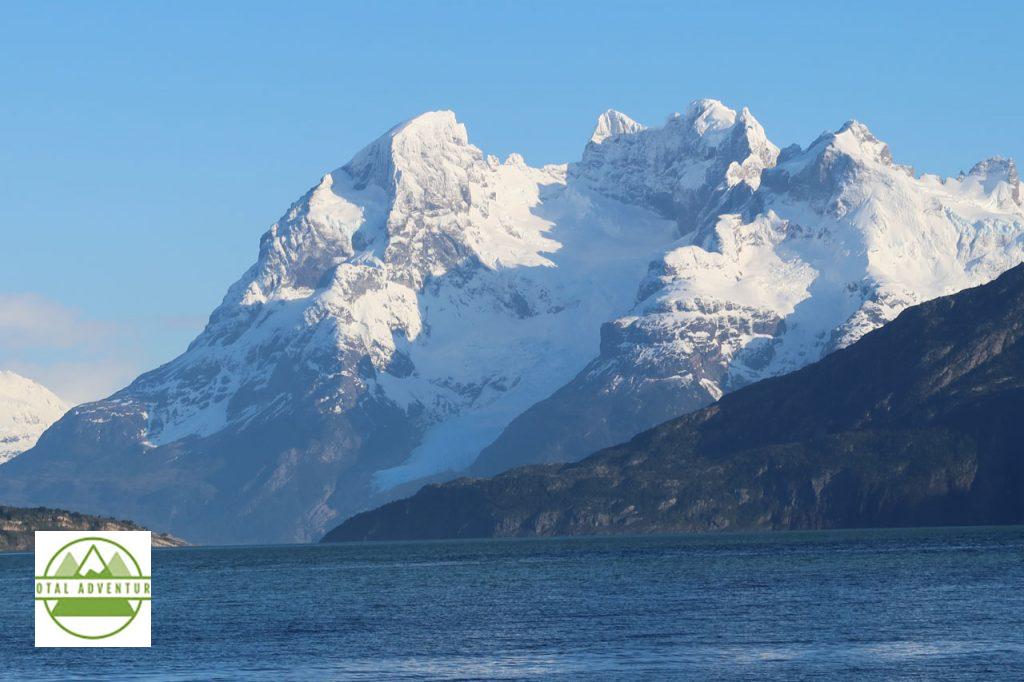 The saltwater fjord extends a long way from the Pacific.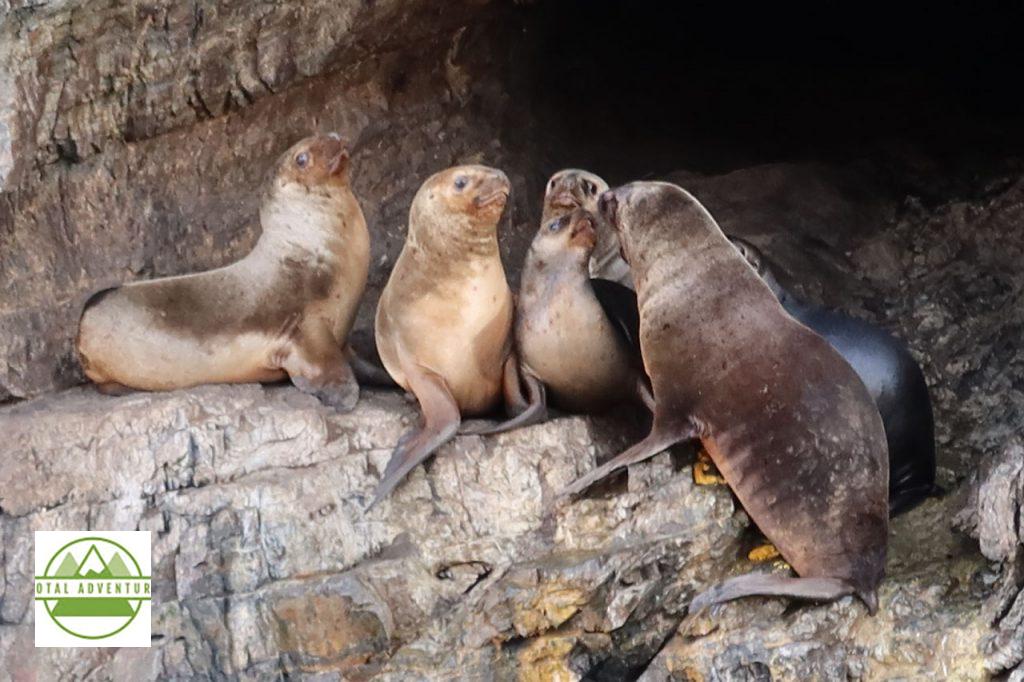 Seals live in caves along the cliffs.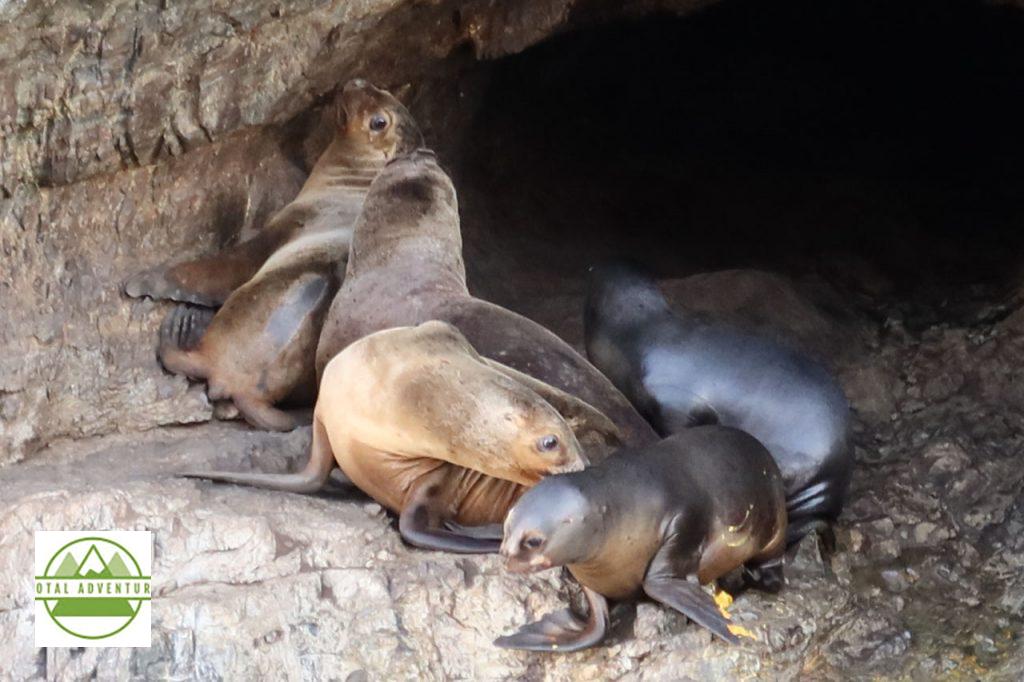 Mother And Pup.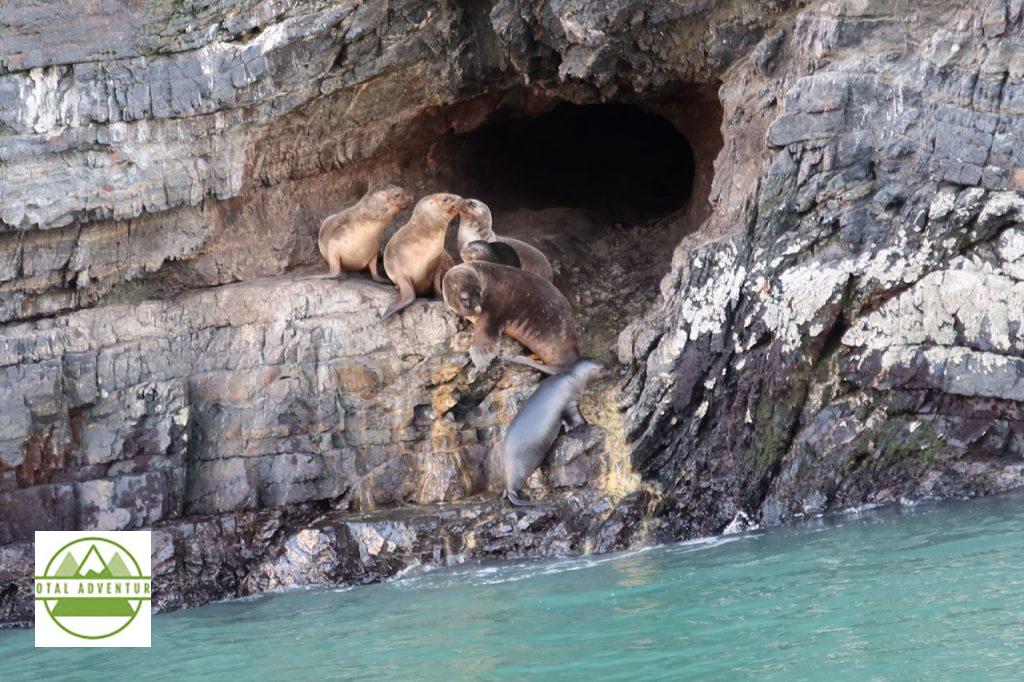 The days are spent fishing and getting some late winter sunshine.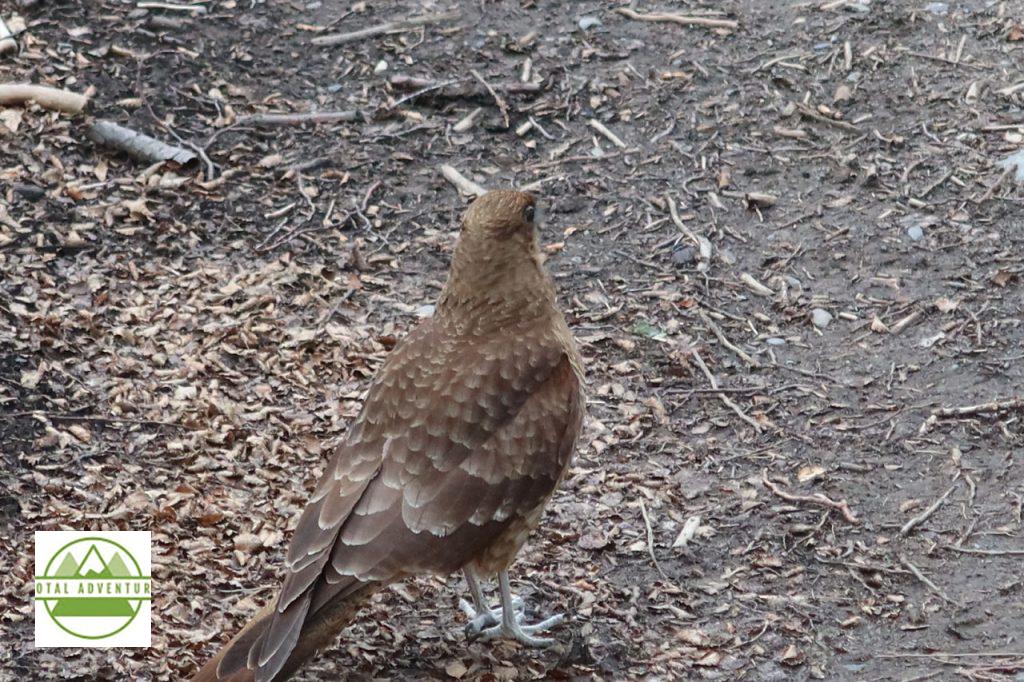 A low flying bird . The caracara ? Ornithologists please let us know..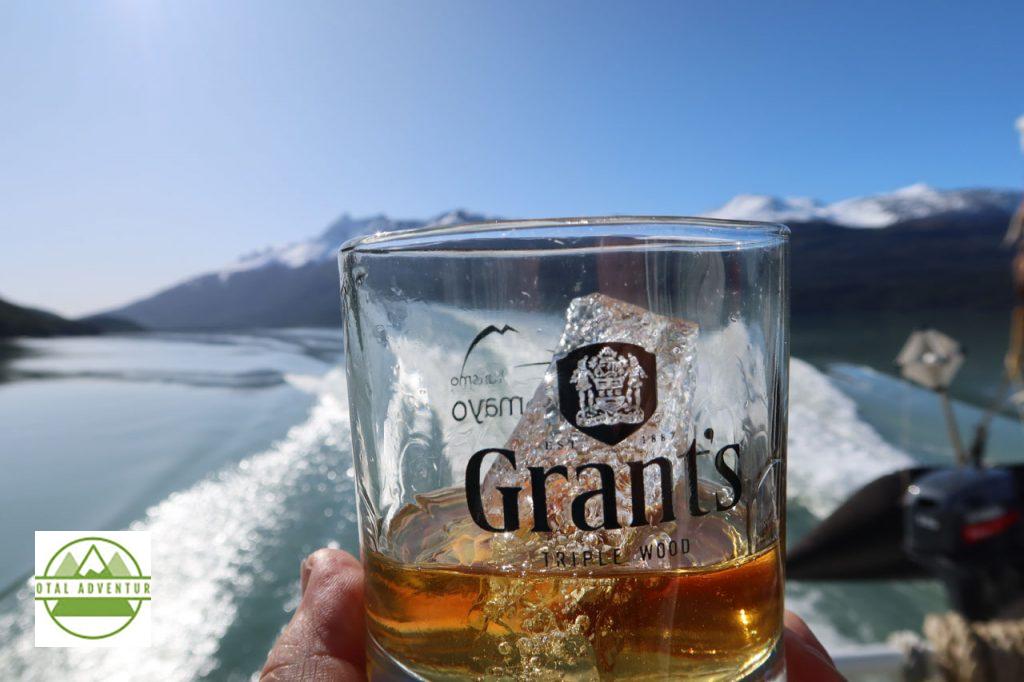 I'll Have A Grant's . On 3000 Year Old Glacier Rocks Please.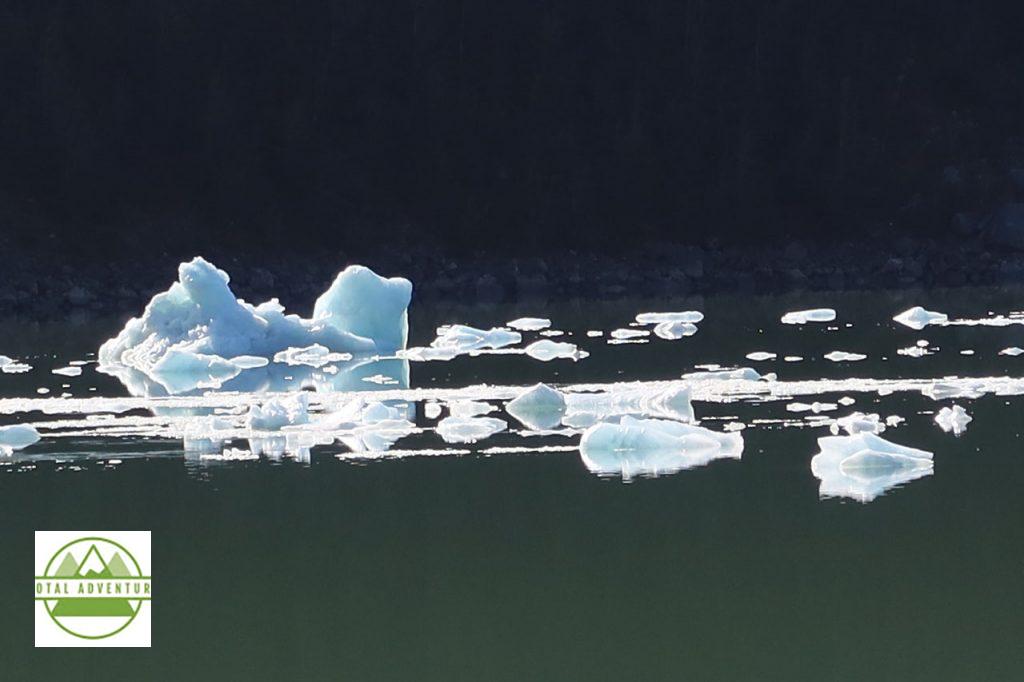 Abstract Nature.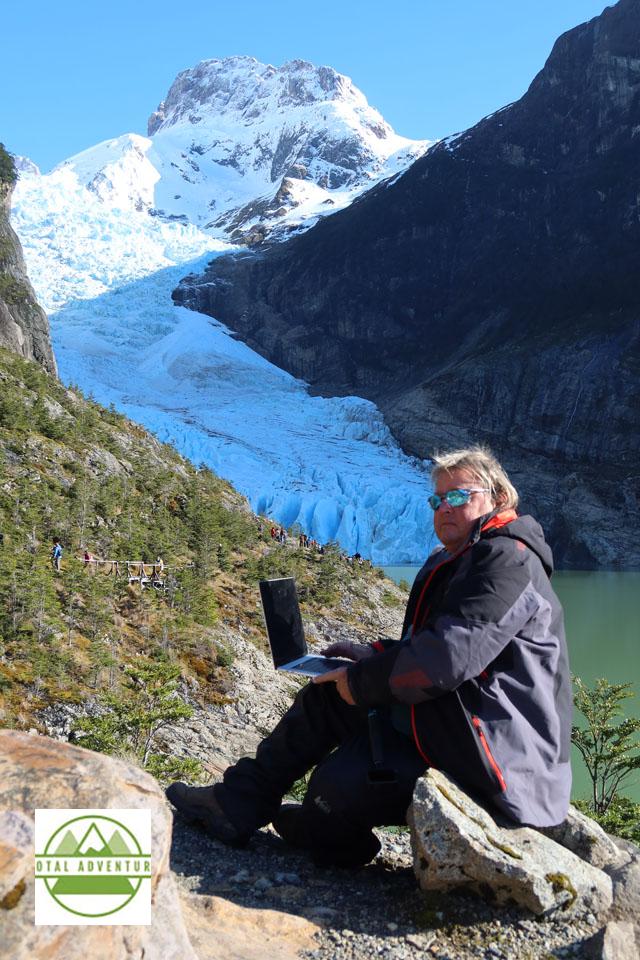 The Explorer At Work.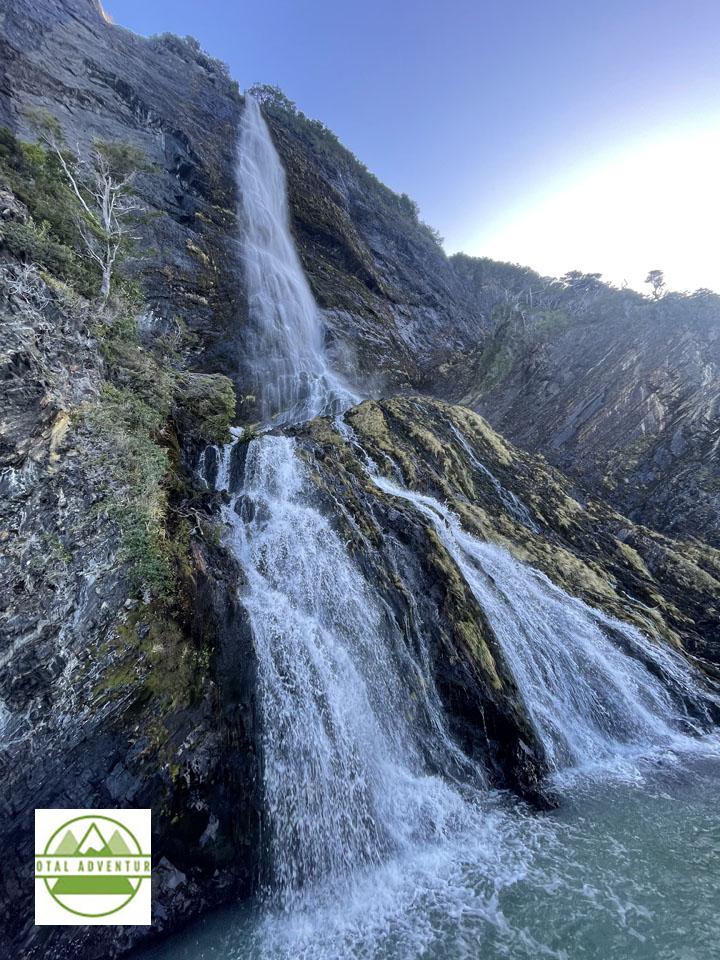 Glacial Waters spilling into the fjord.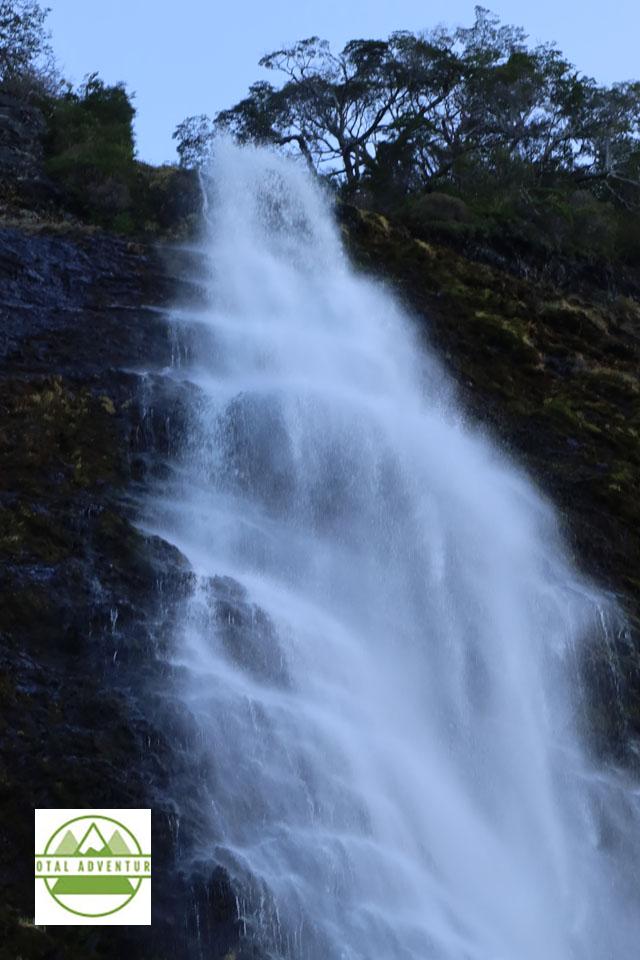 Purest Water Anywhere !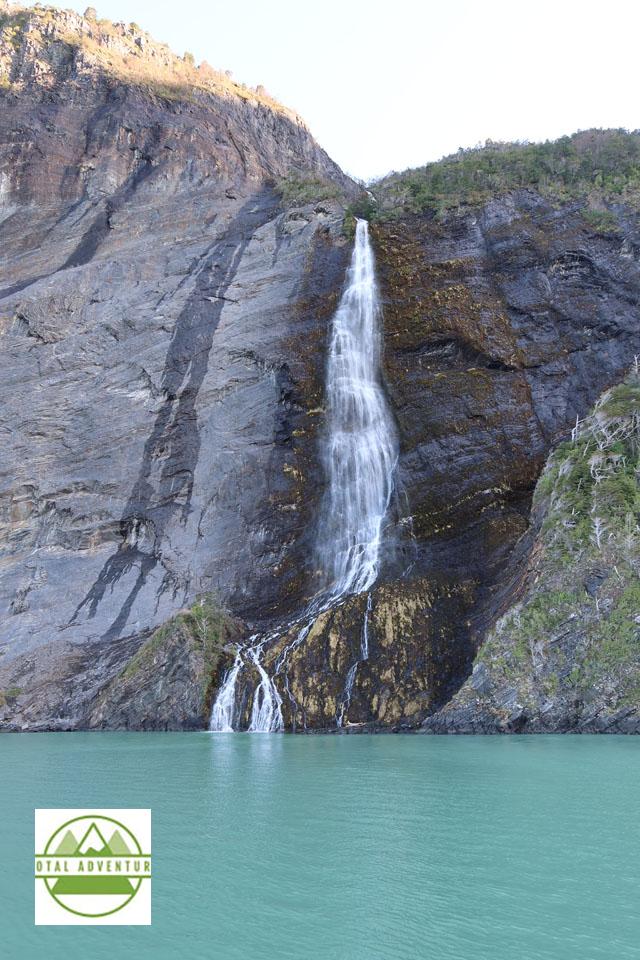 Down From Glaciar Balmaceda.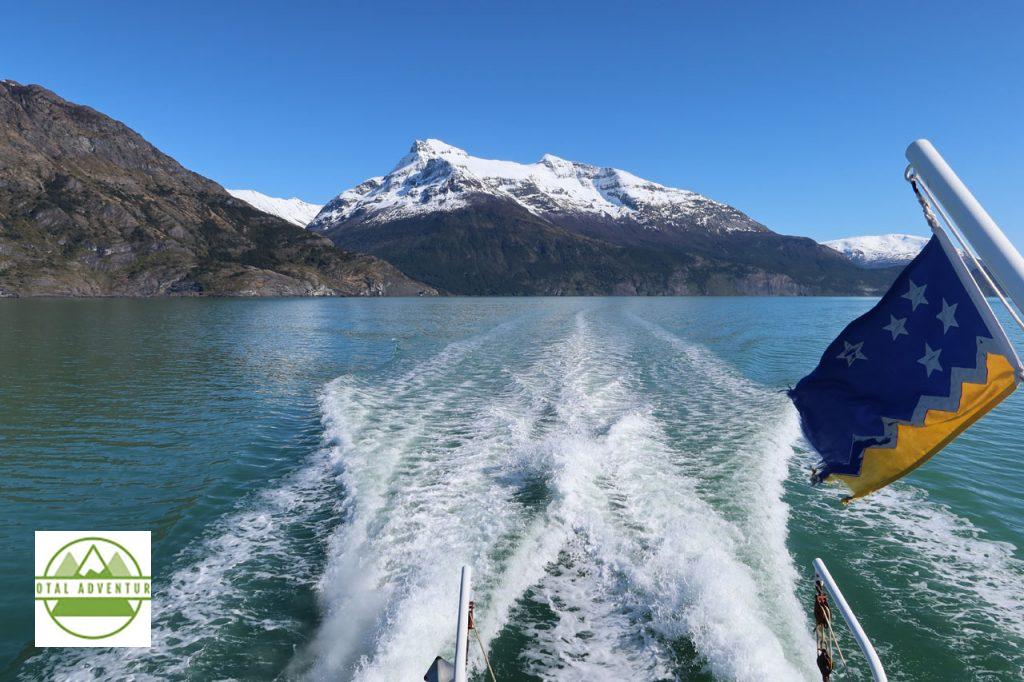 Bandera de Patagonia.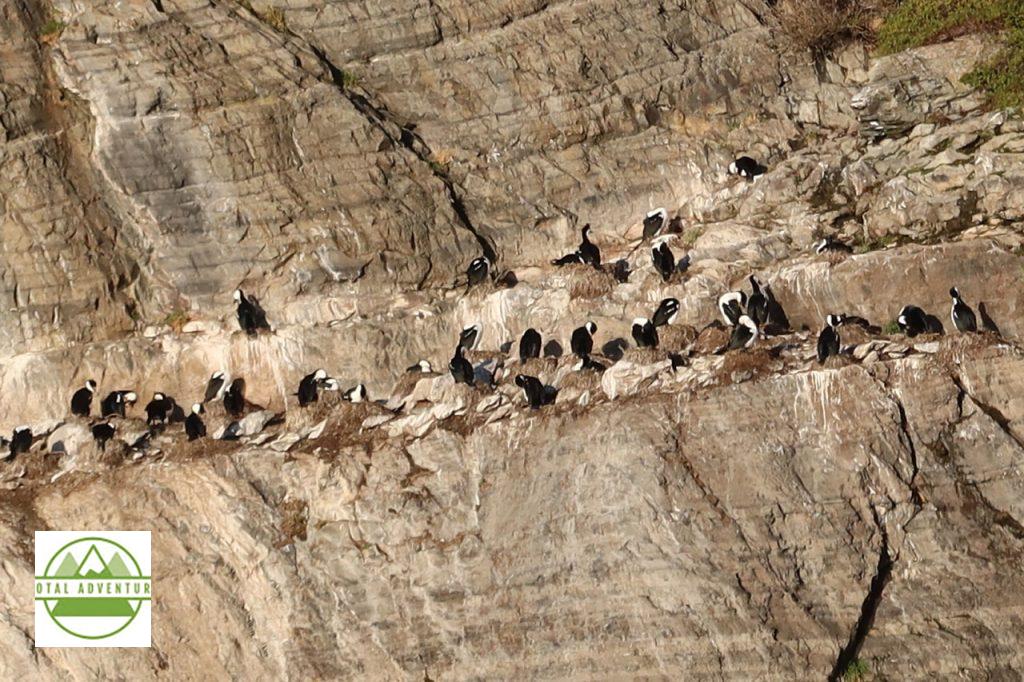 Magellanic Penguins Live On The Cliffs – Safe From Seals.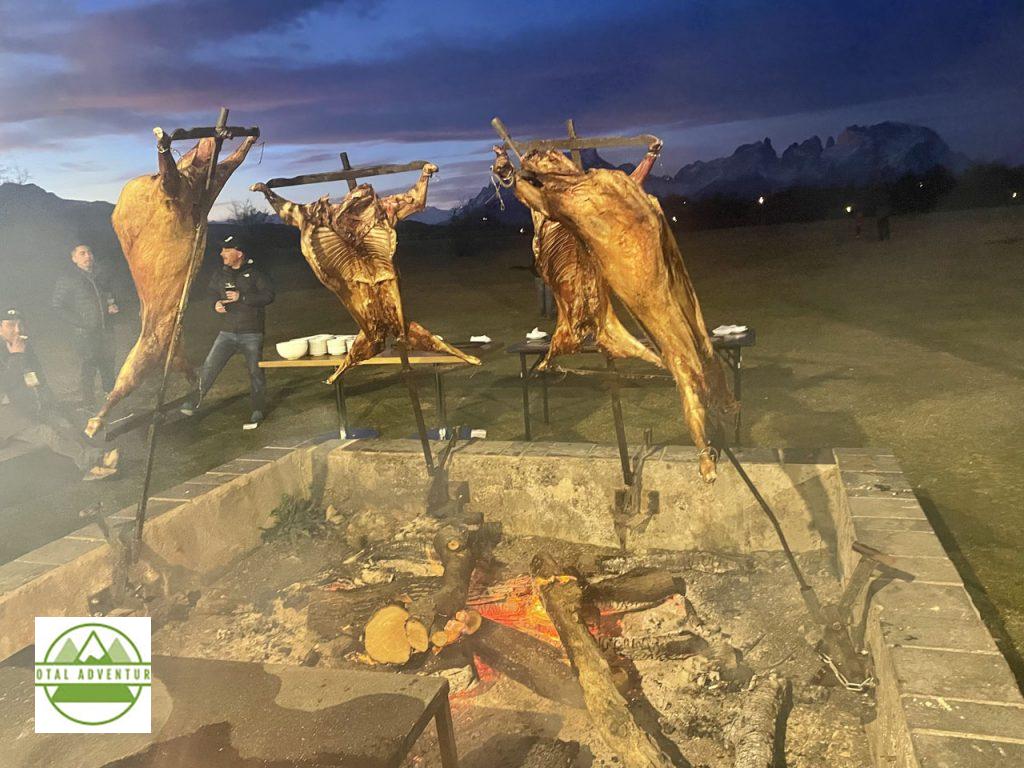 Outdoors Adventures Concluded – At the Hotel Rio Serrano we were greeted with an incredible Parillada de Cordero. The next two days were spent meeting with 25 local adventure providers – all of whom we hope sell adventures on TotalAdventure Chile Nativo already is !.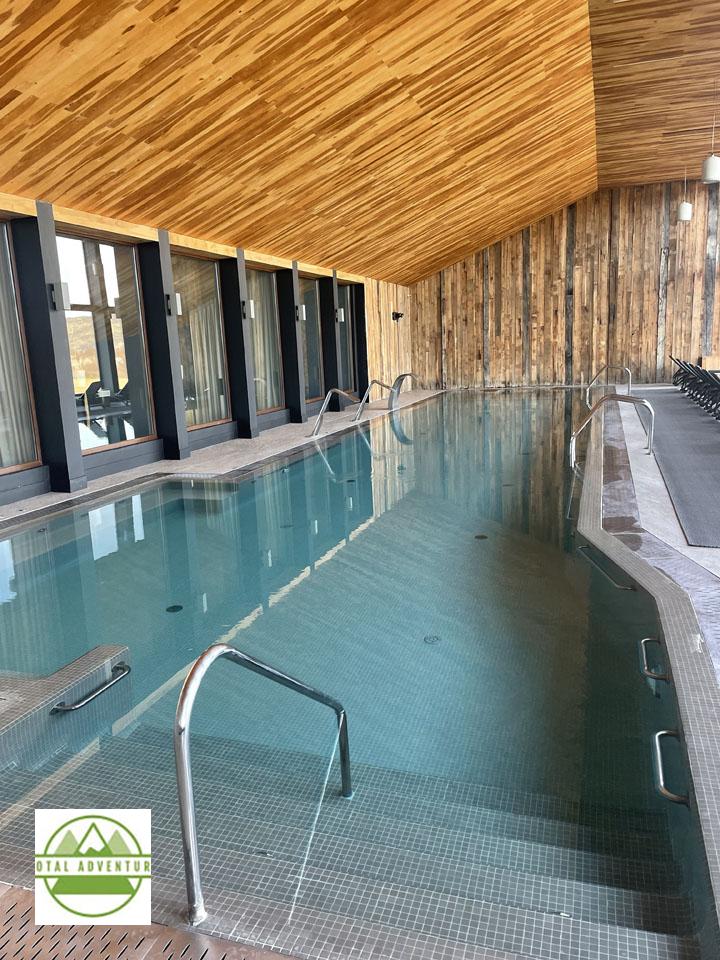 Beautiful warm pool, with nearby saunas, whirlpools and gym to warm up after a day on the glaciers !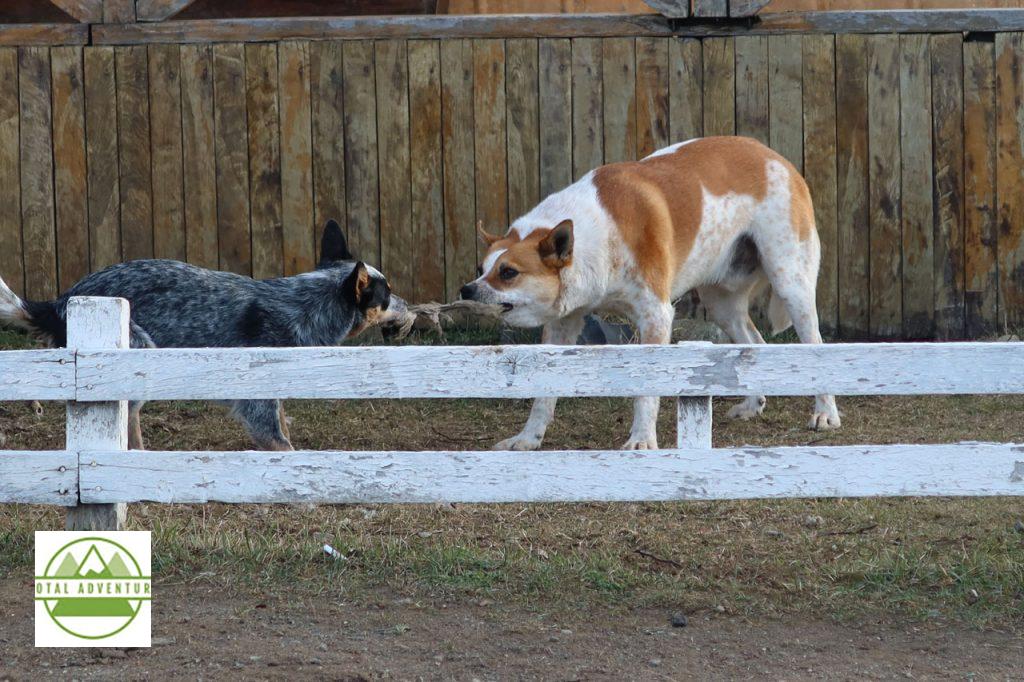 All too soon, the adventures came to a close and it was time to head to the airport. Observed outside at a roadside cafe – two sheepdogs entertaining themselves.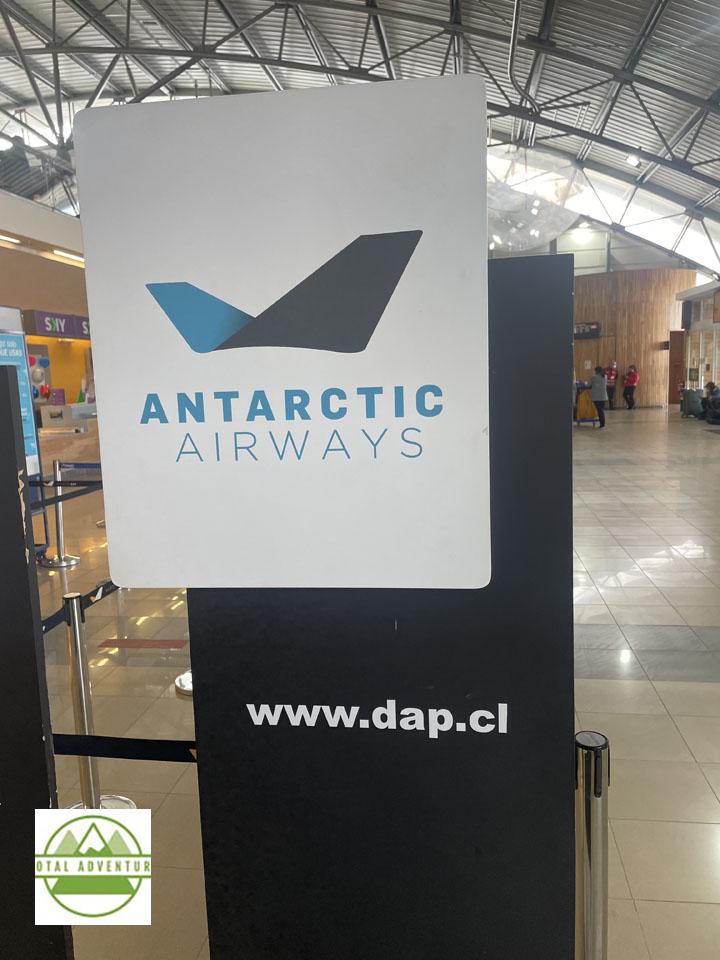 From Punta Arenas it's a 4 1/2 hour flight to Santiago, where I had a 7 hour layover, so went into the city to have dinner with a friend. After a connecting flight through Bogotá on Avianca, I was back in Miami the next afternoon. Punta Arenas is the second most southerly commercial airport in the world – with actual flights to Antarctica – about 800 mies south.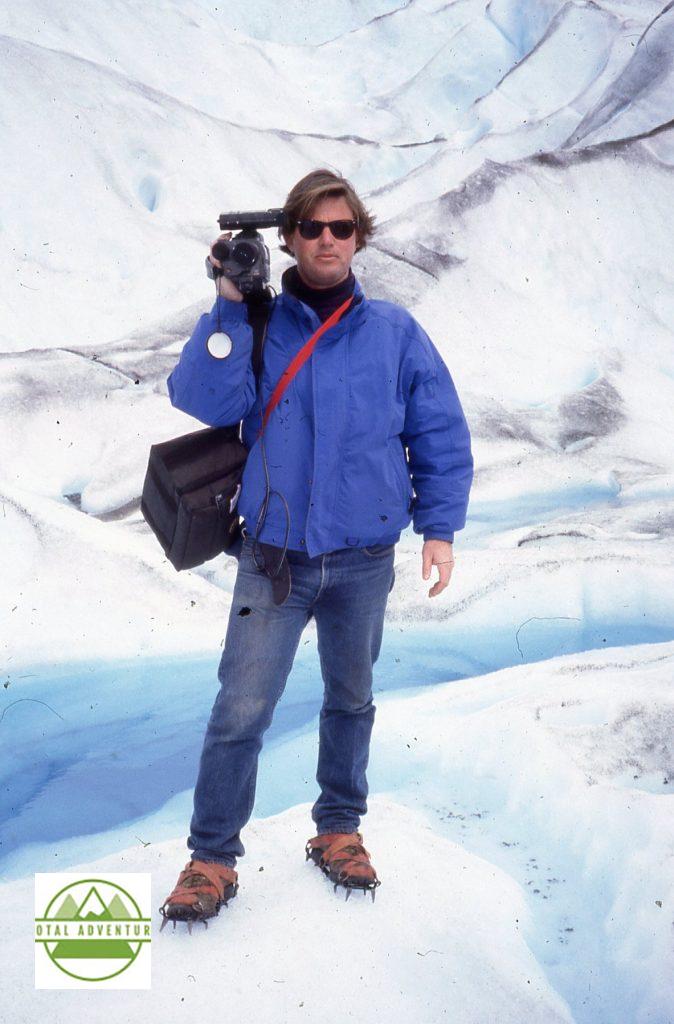 I first came to the Far South of Patagonia in February, 1991. I drove to Puerto Natales from Rio Gallegos, Argentina. I was one of 5 cars to cross the border that day. This photo is on Glaciar Moreno in El Calfate, Argentina. 31 years later, I am happy to report that the nature has not been changed much – due to strict and well planned conservation and sustainable tourism. Of course there are many more hotels, restaurants and tour companies catering to adventurous travelers from all over the world. Also technology is far more advanced. That's a Sony Hi-8 video camera – considered quite advanced for the time with 480 lines . I had a custom made battery belt that powered it all day. To edit, I had to rent a $ 200 per hour studio in New York. Now I shoot on a GoPro 10 with up to 5300 lines and edit on my MacBook Pro. It was great to be back – stay tuned for TotalAdventure's return to Tierra del Fuego and onwards to Antarctica next month – December 2022 !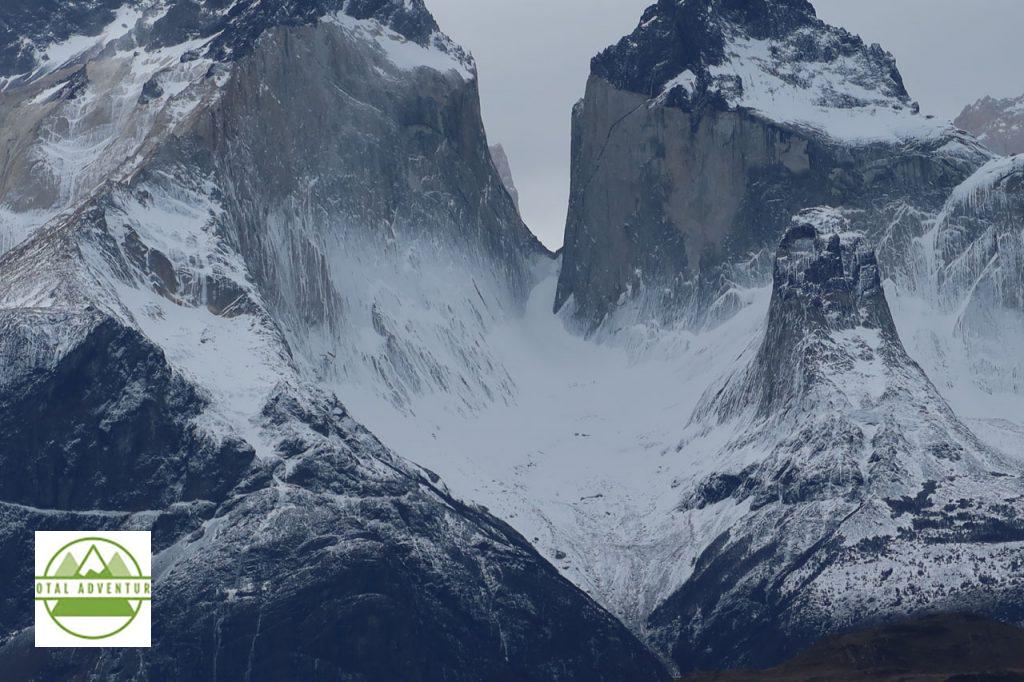 In Late July TotalAdventure was invited to take part in AdventureNEXT Patagonia by the Adventure Travel Trade Association and SERNATUR – the marketing section of the Chile Ministry of Tourism. 32 Adventure Travel marketers were invited from all over the world to experience far-off, far South Chilean Patagonia.
12 of us were chosen to participate on the rugged World Famous – "W Trek" an extensive 4 day hike through Torres del Paine National Park. The trip was with Chile Nativo.
The adventure began the night of Labor Day . 8 hours on the LATAM flight bought us from a humid 90 ( 32C) degree night in Miami to a bright late winter morning in Santiago. There, it was 38 (3C) degrees.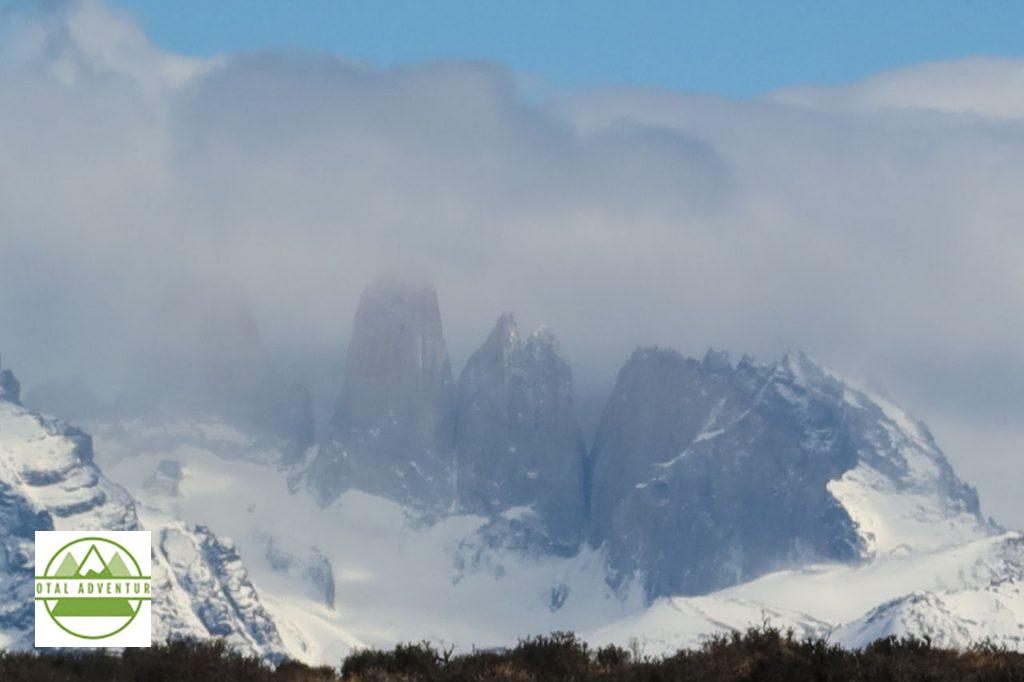 4 hours more on Sky Air bought us to Puerto Natales. Latitude 52 South . As we go off the plane it was snowing, with fresh snow on the ground and 0 C 32F. After a night relaxing and dining at Hotel Lago Grey , we we boarded a ferry to take us about 15 km to Grey Glacier at the other end of the lake.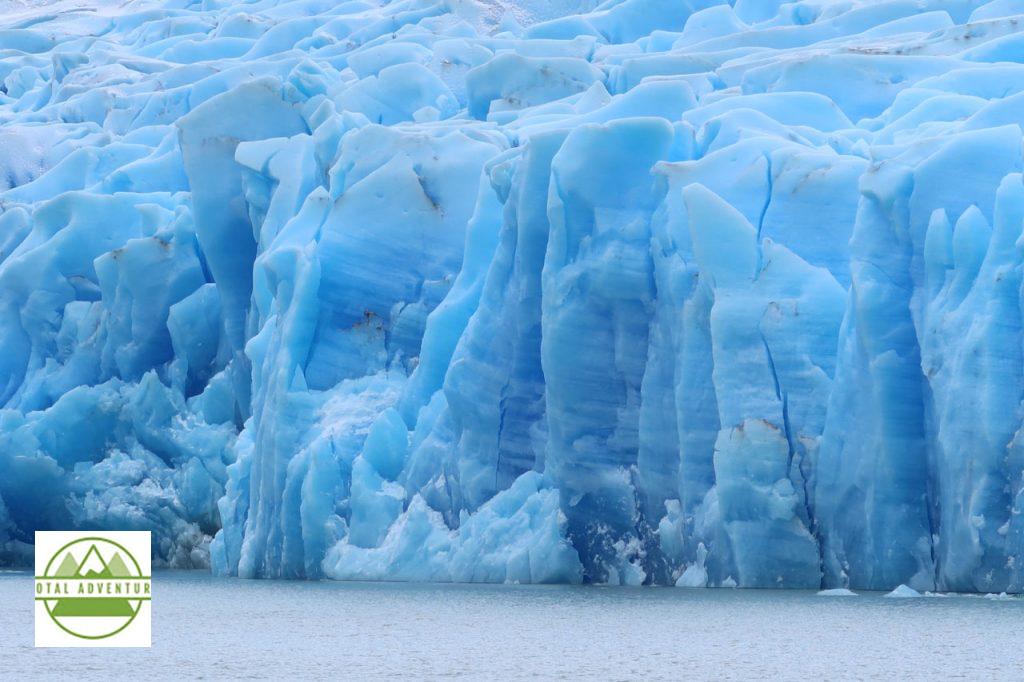 Grey Glacier is a tongue of the Patagonian Ice Sheet – the world's third largest after nearby Antarctica and Greenland.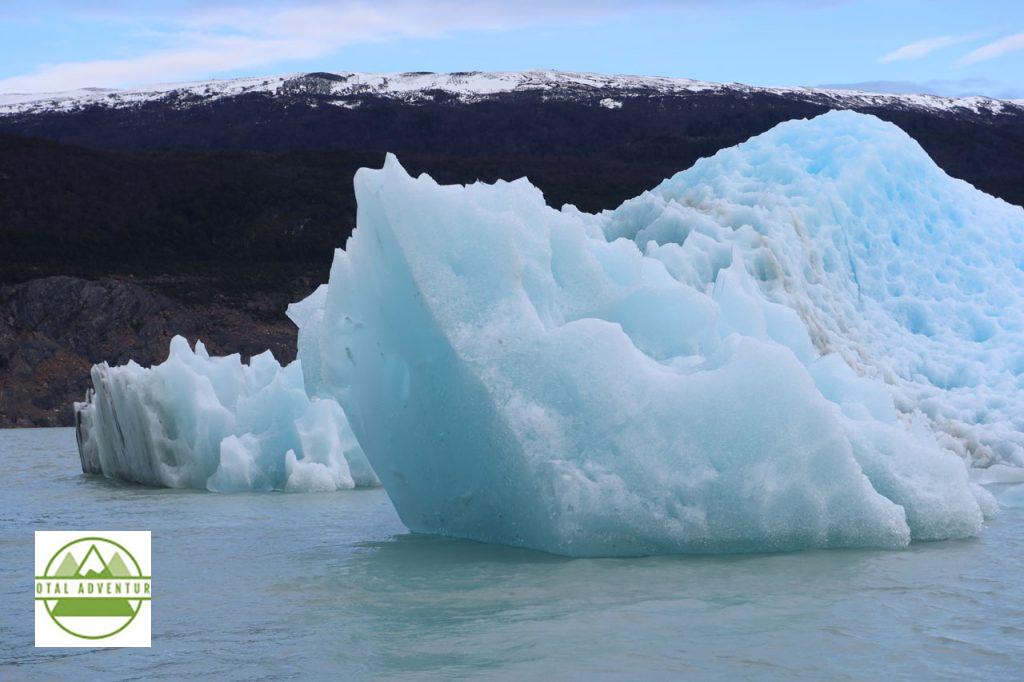 The lake it melts and calves into is a constant 2 C – a person will die in just a few minutes if they fall in – losing consciousness after 2 minutes.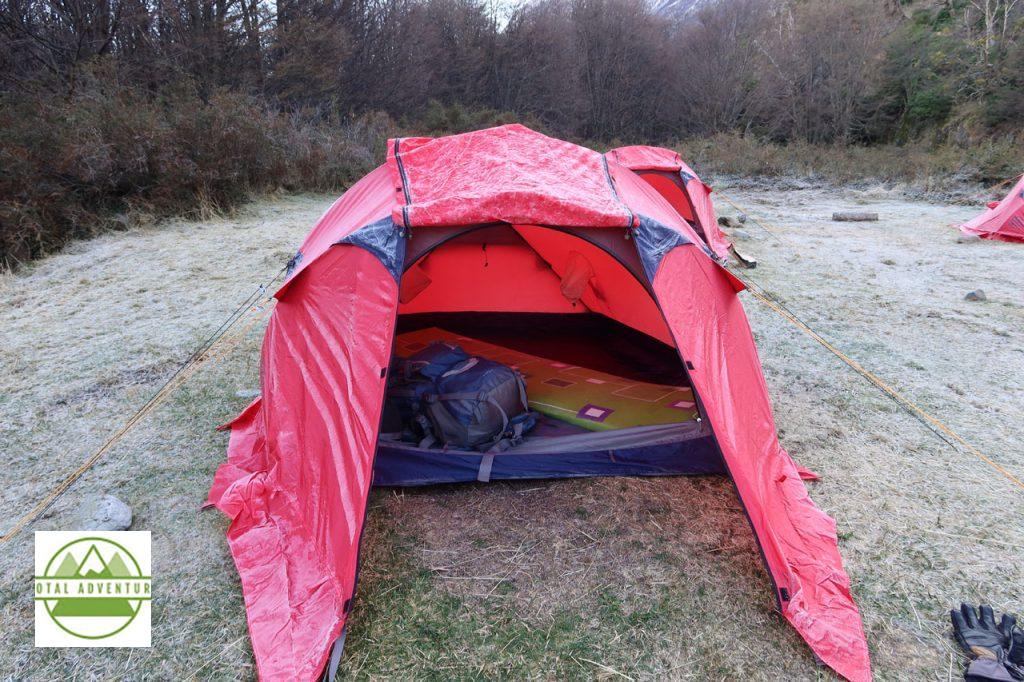 After we left the ferry ( see video) our Group dropped off our things at camp. The tents were already set up. It was super-cold – note the frost signifying subfreezing temperatures at mid day.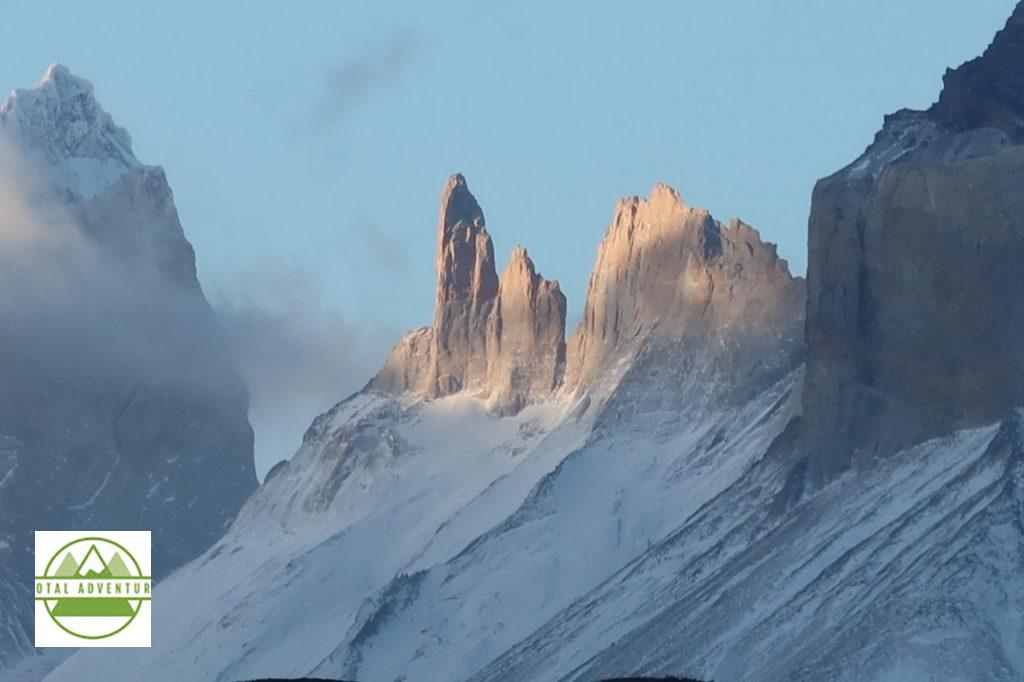 Above us and about 20 km distant, are the Torres del Paine. 9800 feet 3015m high, formed by magma ejecting upwards from under the Earth. Many think these mountains and rock formations are the end of the Andes. They are not ! This is the Paine Mountain Range, formed just 1 million years ago, not 64 million like the Andes.
A glacial tongue/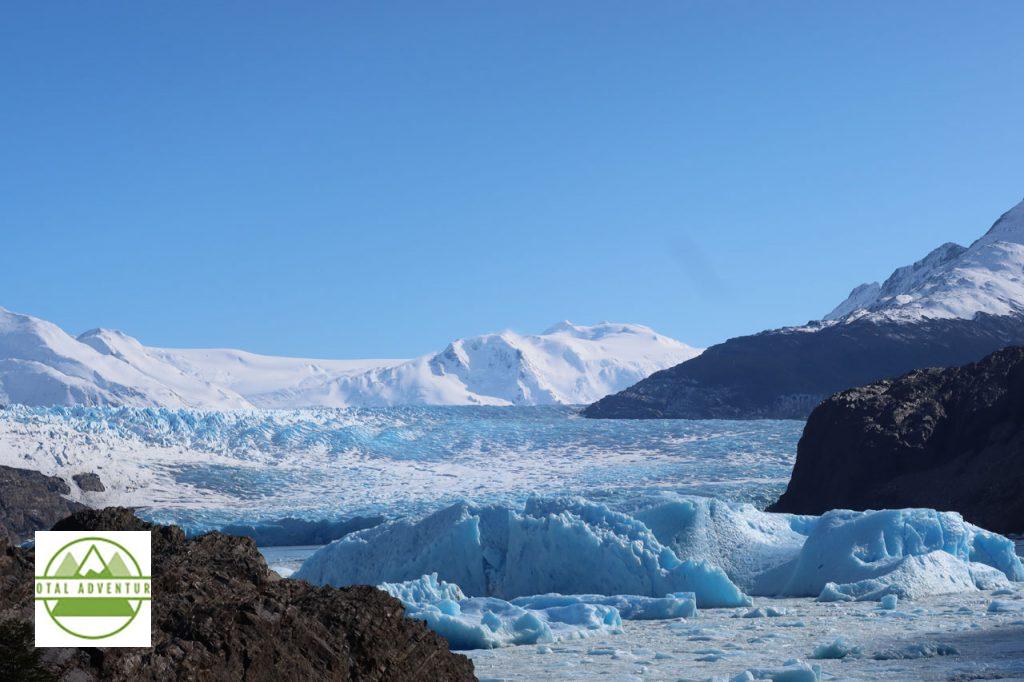 We ate our excellent lunch, packed by Hotel Lago Grey on top of a rock escarpment overlooking the glacier.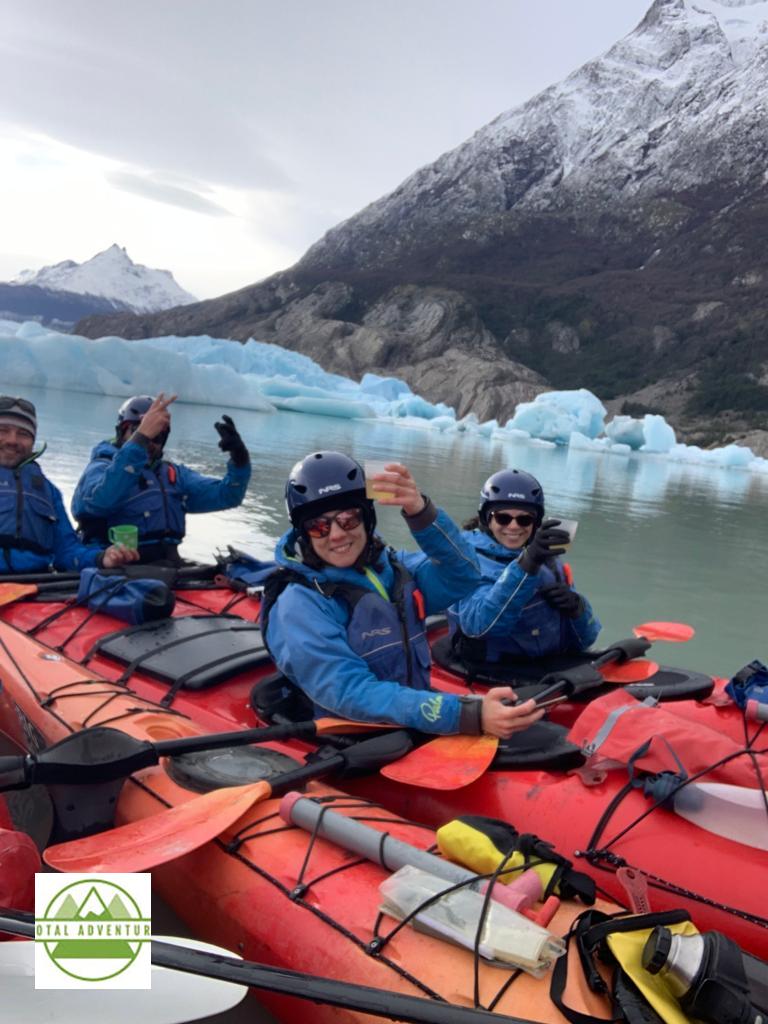 After lunch it was time to kayak. Everyone got suited up and went off exploring the icebergs. Big Foot Patagonia runs the excursions with all equipment. Credit: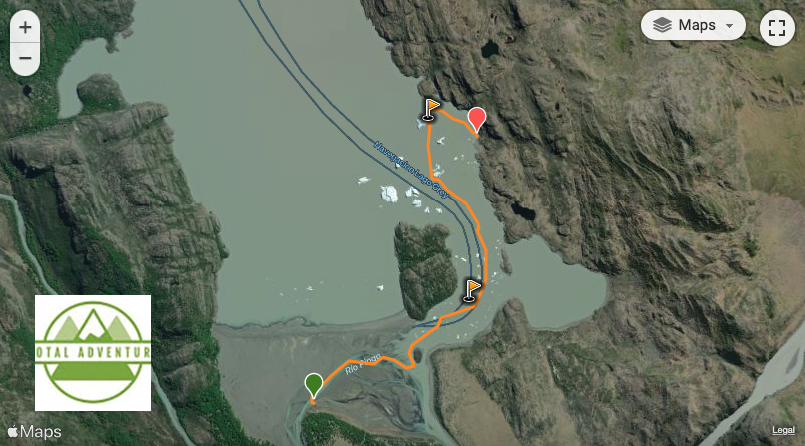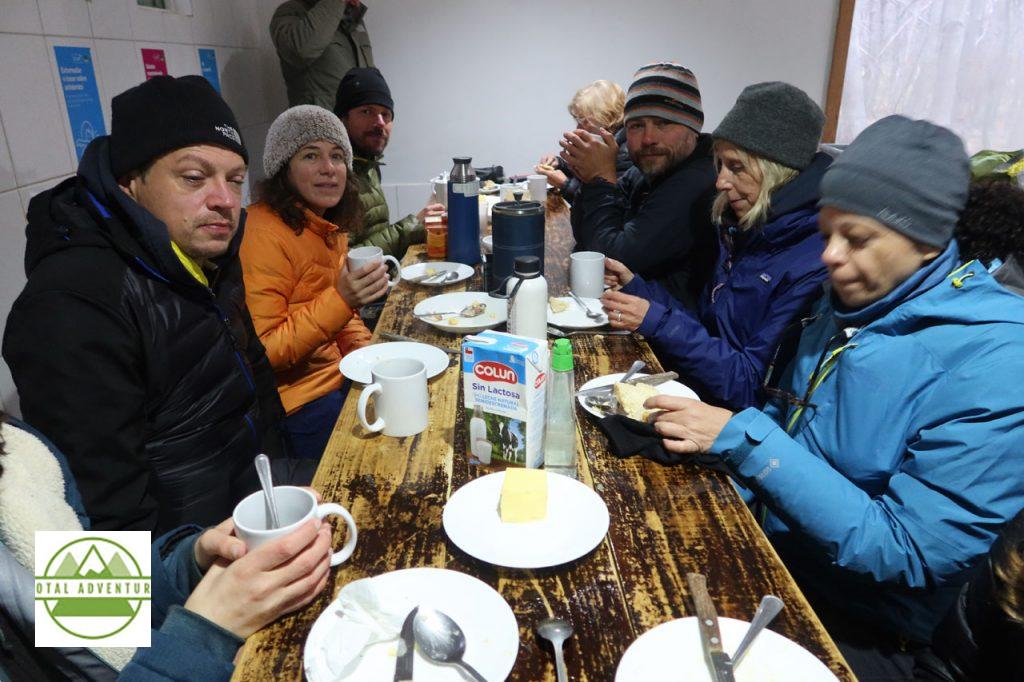 We endured a very chilly night in the tents. Even with down sleeping bags it was cold. We had a hearty breakfast in the morning inside the camp shelter. The sun does not rise until almost 9 AM in September , so it was still like night.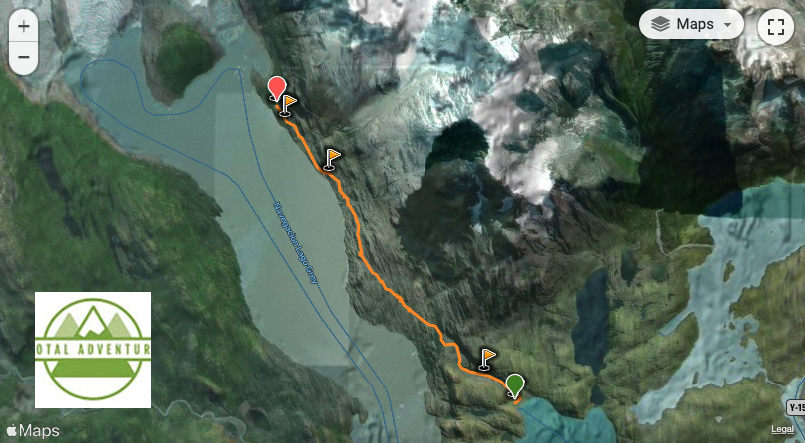 Thursday, September 9th, began with a 5 hour trek across Glaciar Grey. Followed afterwards by a 12 km hike to the next camp.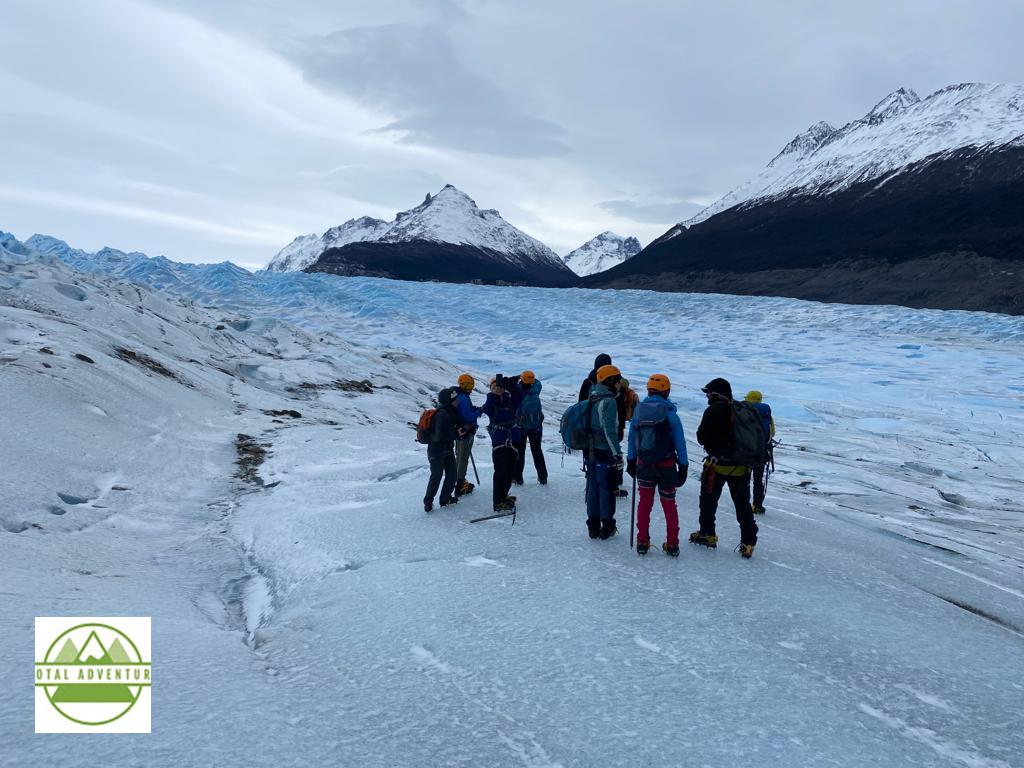 Under the guidance of Big Foot Patagonia. Credit: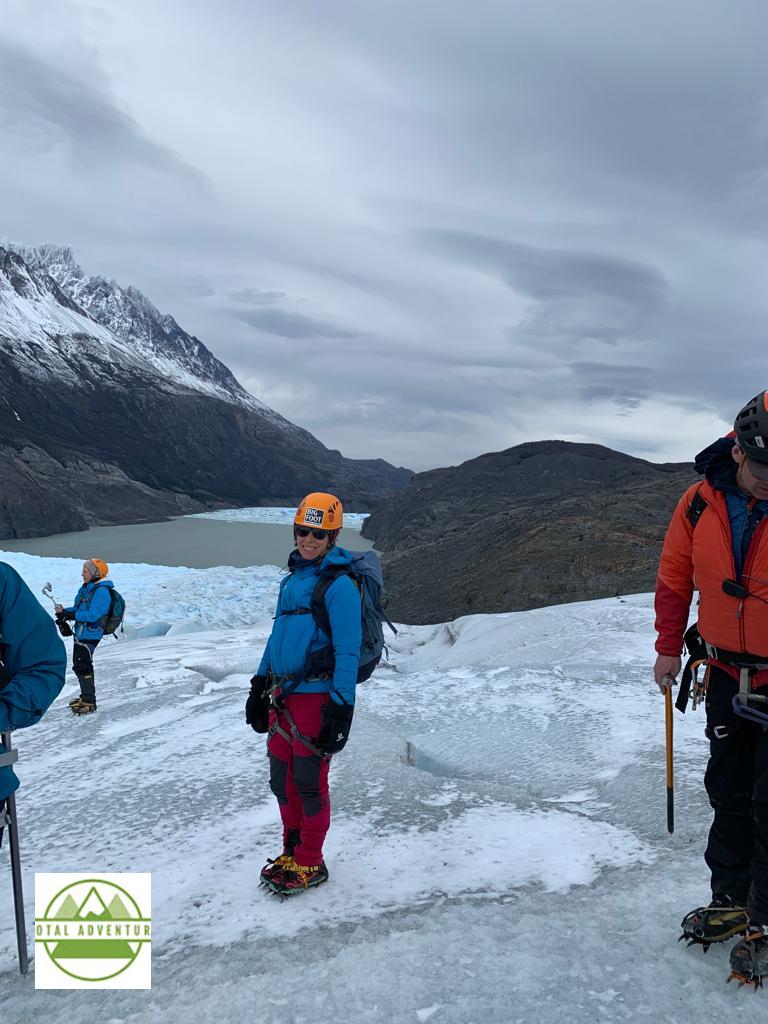 It is a long rocky uphill hike just to get to the glacier. Credit :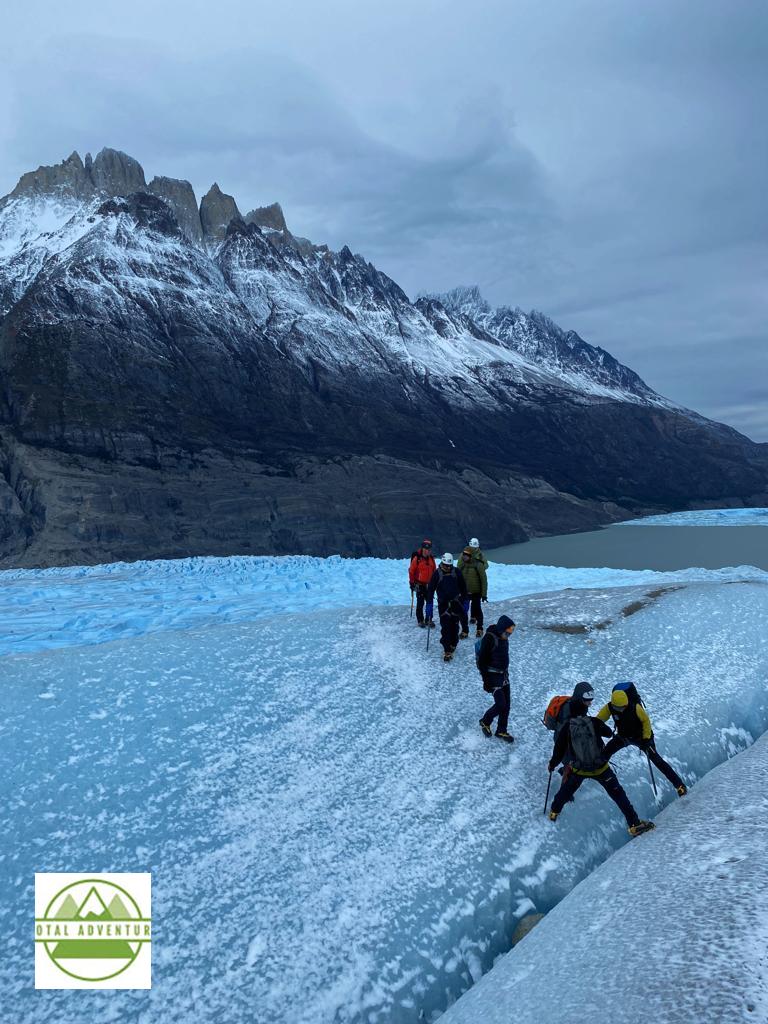 Across the crevasse . Credit :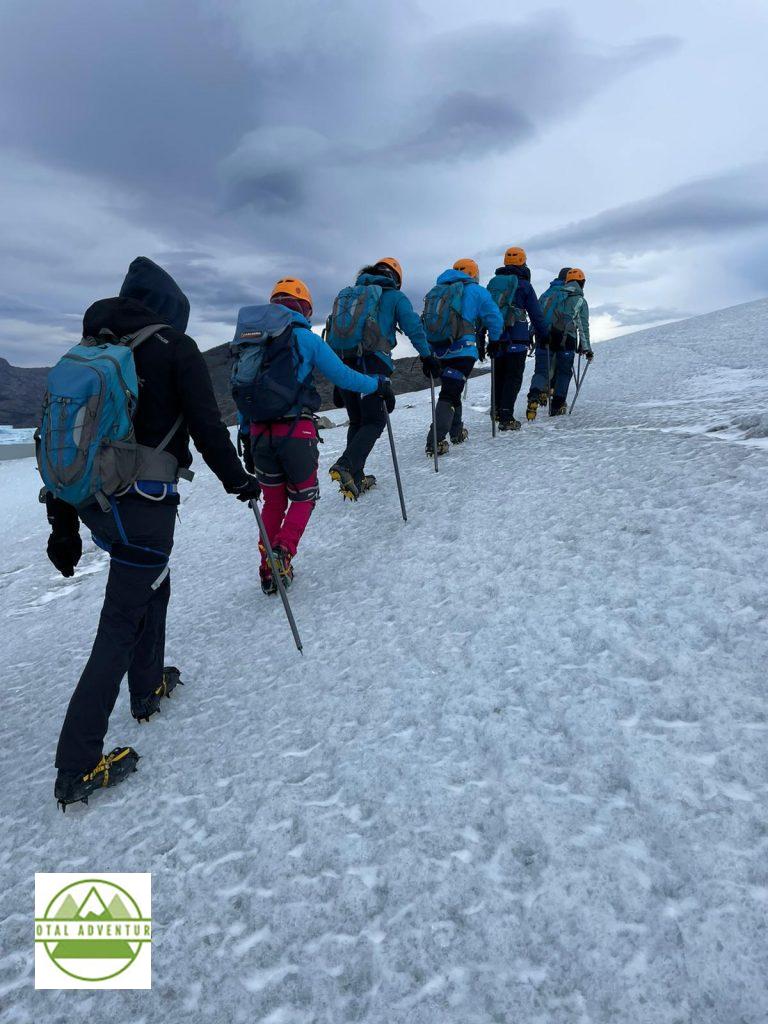 After getting off the ice, it was time to hike to the next camp. The group did not arrive till evening and then it was off to sleep.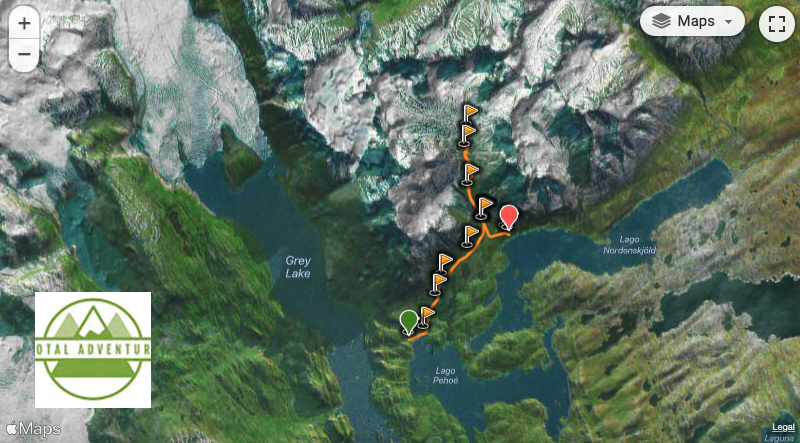 The third day was truly magnificent. The skies were mostly clear, with warmer temperatures.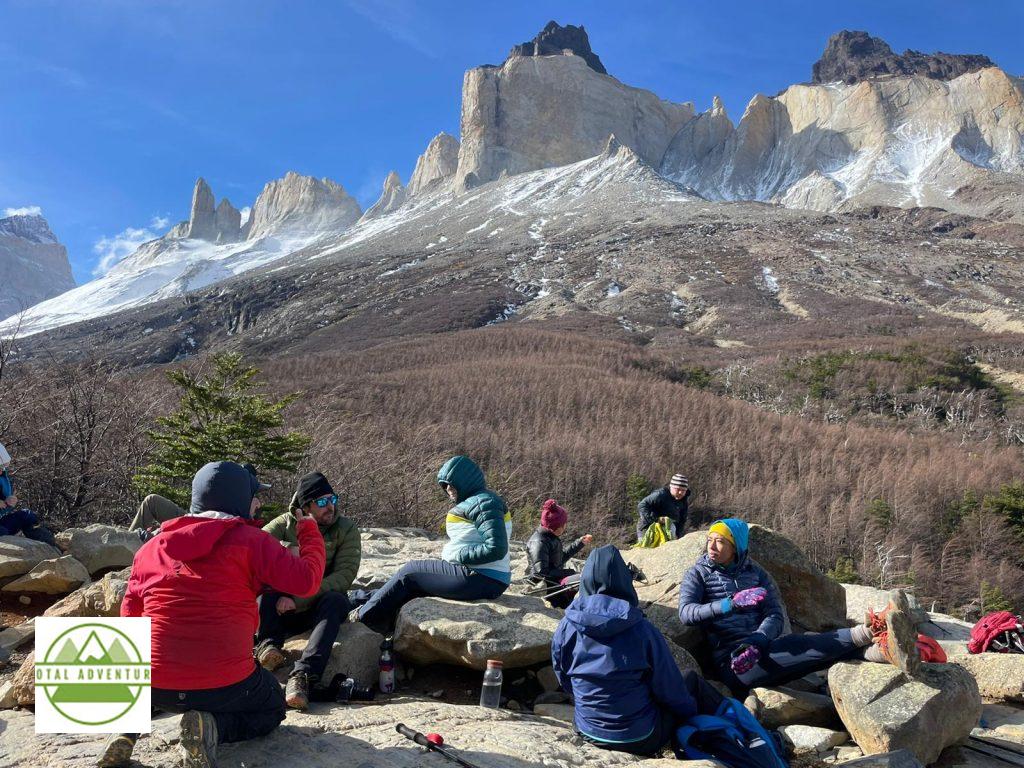 At The Foot Of Cuernos del Paine. Credit :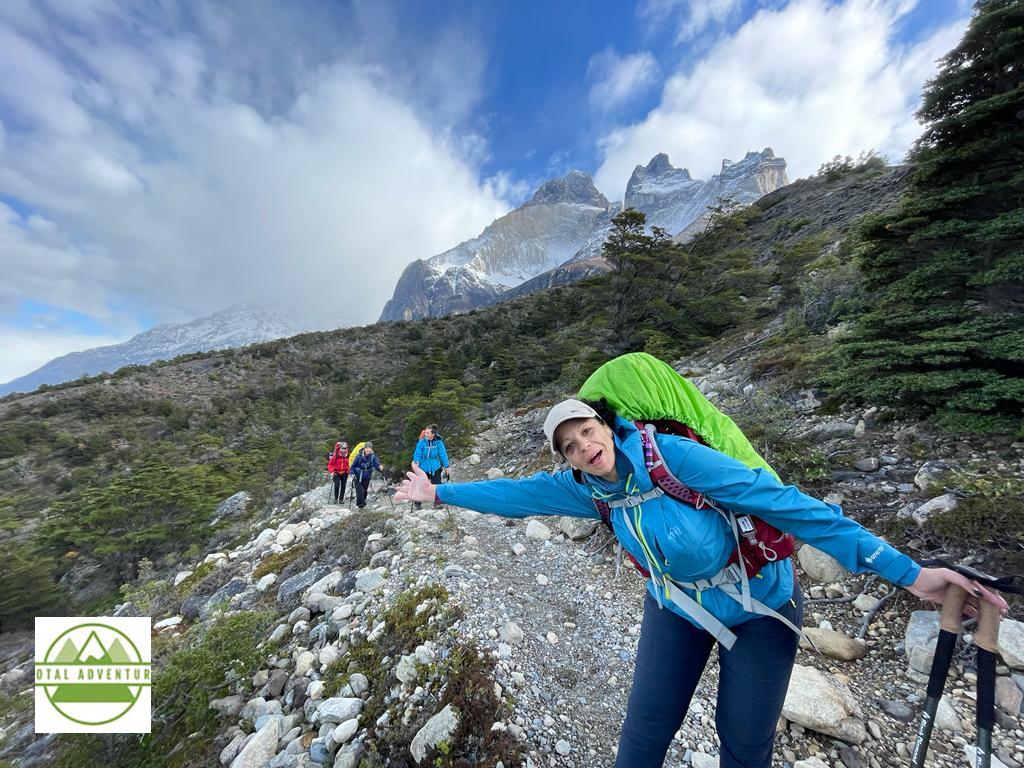 Onwards & Upwards ! Credit :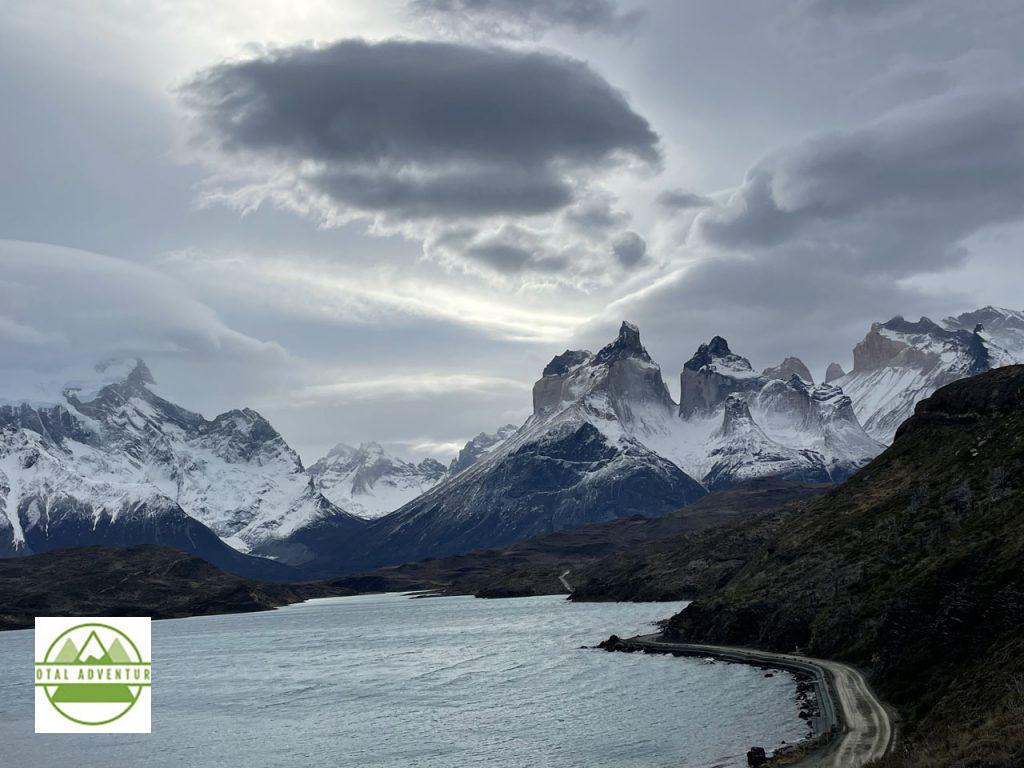 Los Torres From Lago Pehoe.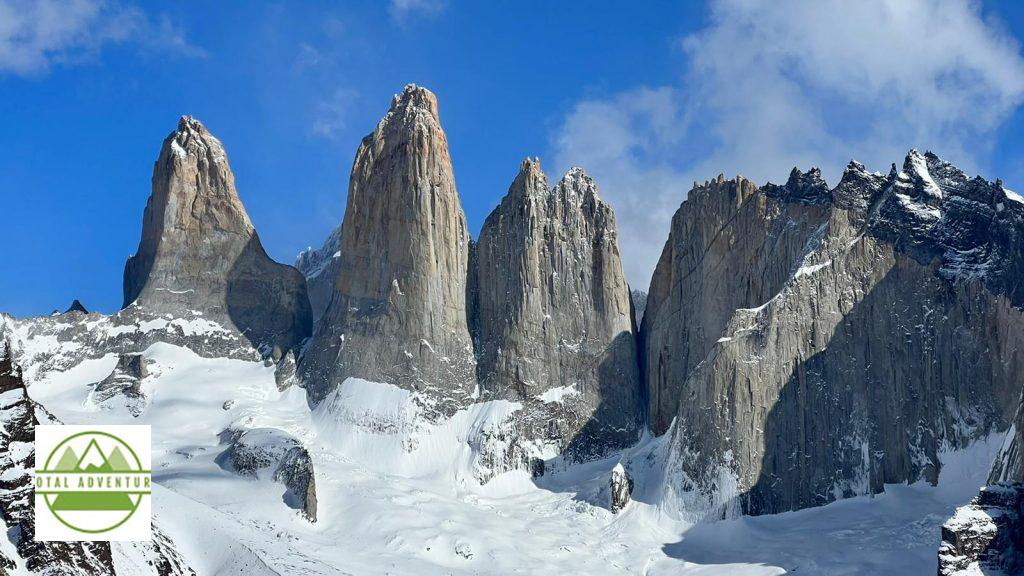 Los Torres From The Lookout Point, after an 18 km hike.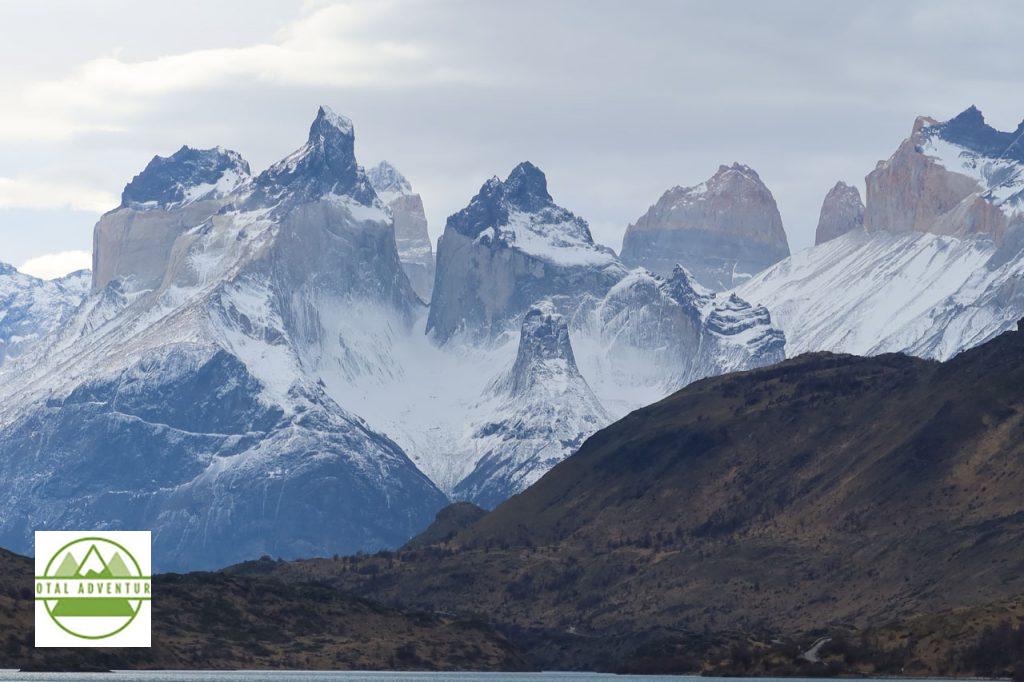 Imagine Skiing Through The Chute – could be done with a hang glider for the cliff down below. The tallest of the Cuernos del Paine was only recently climbed for the first time ever. The rock is soft and chalky – making it very dangerous to hammer in pitons.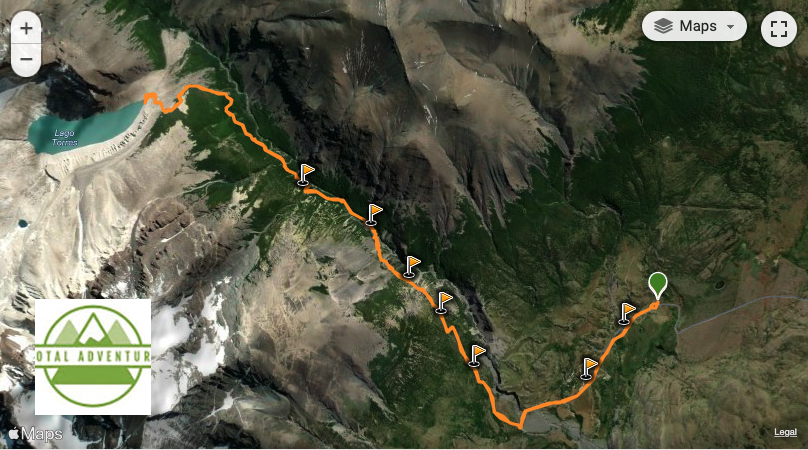 Te final day led to a luxurious hotel – welcome after camping out.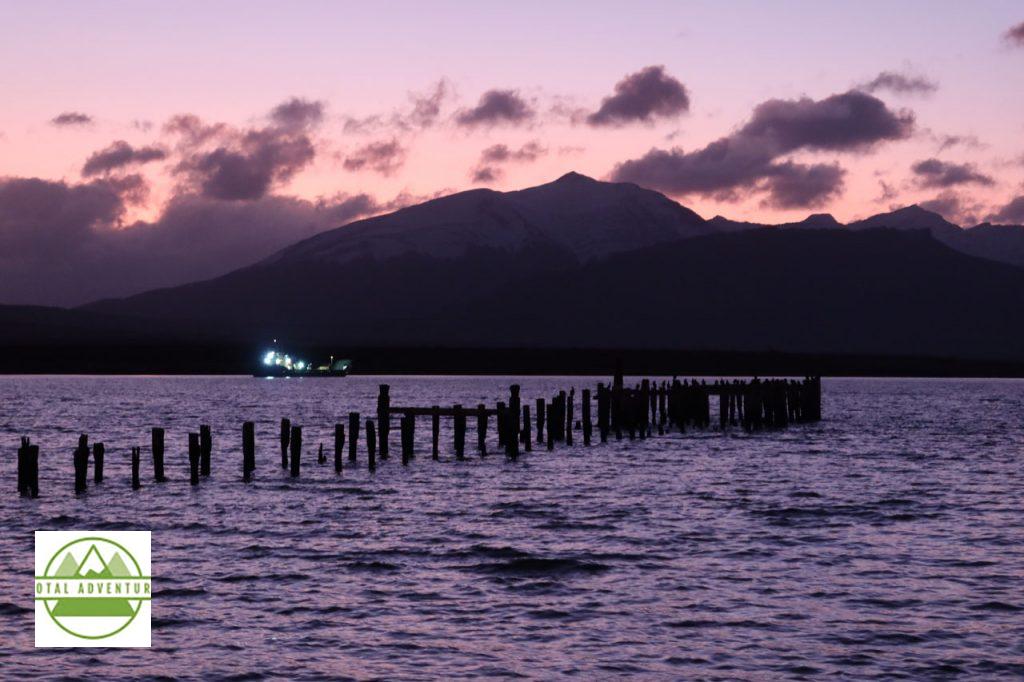 Sunset In Puerto Natales. There For A Night Before Exploring The Fjords.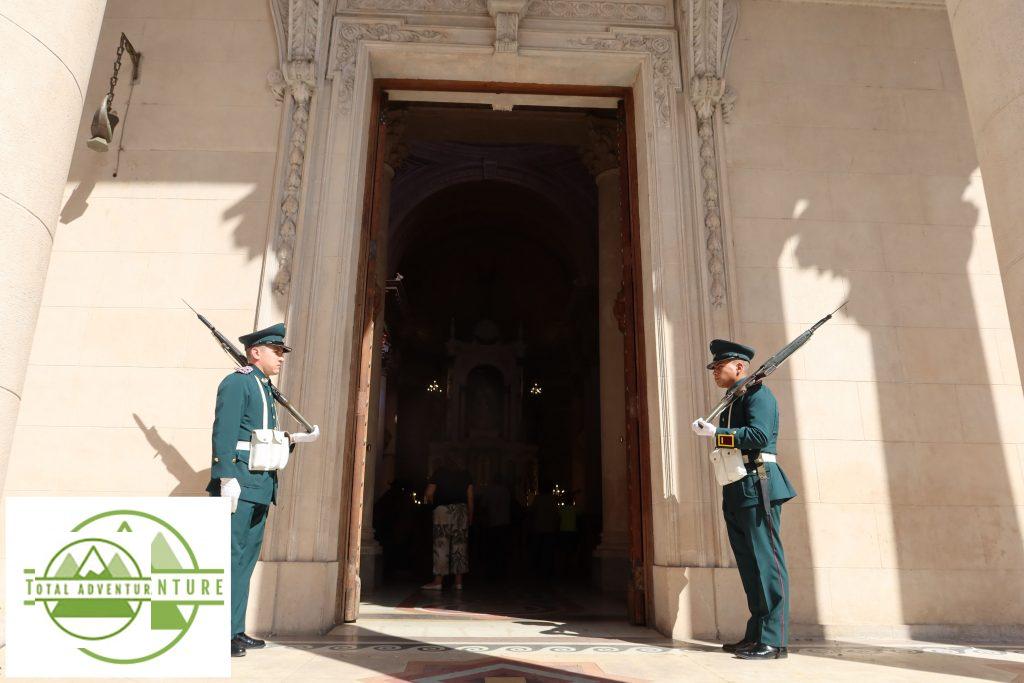 On July 23rd, 2022, TotalAdventure flew North from Buenos Aires to Asunción Paraguay.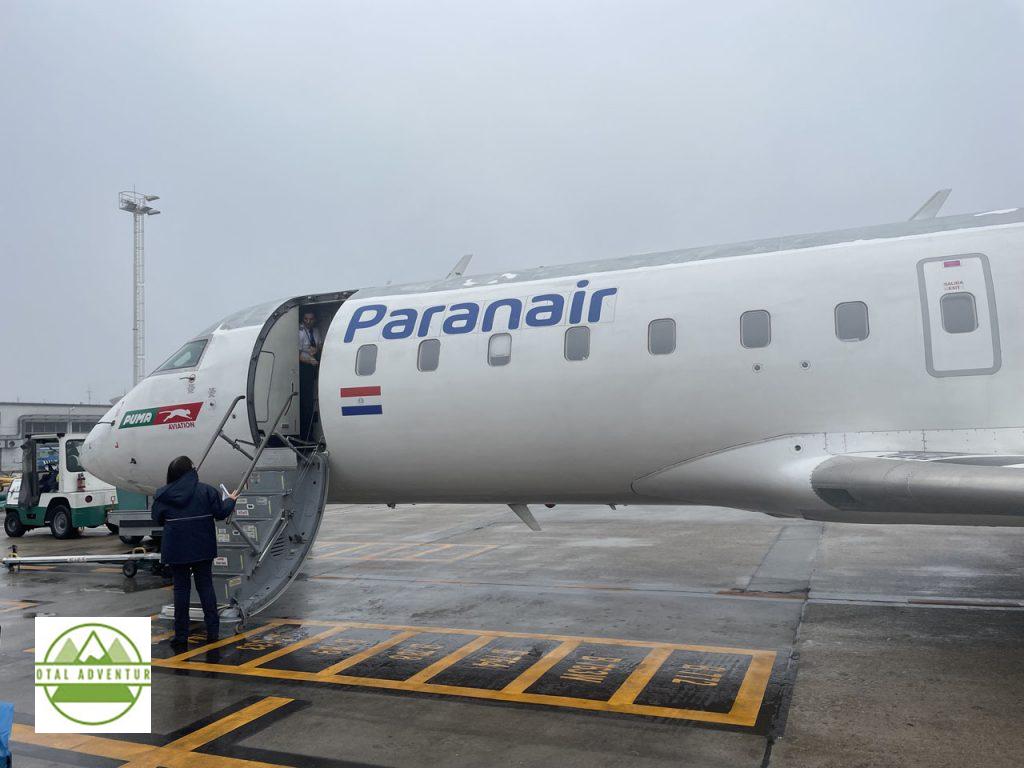 The small regional jet was only half full.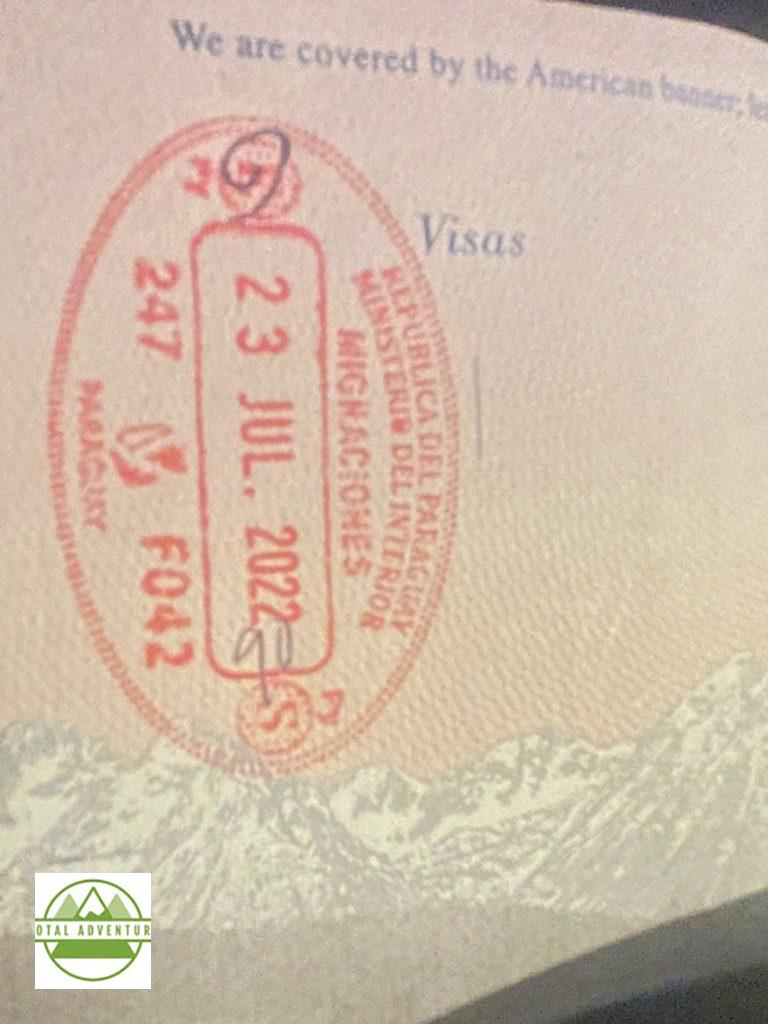 With this stamp I have now explored every country on the South American continent. All 13 of them. It's my 97th country overall.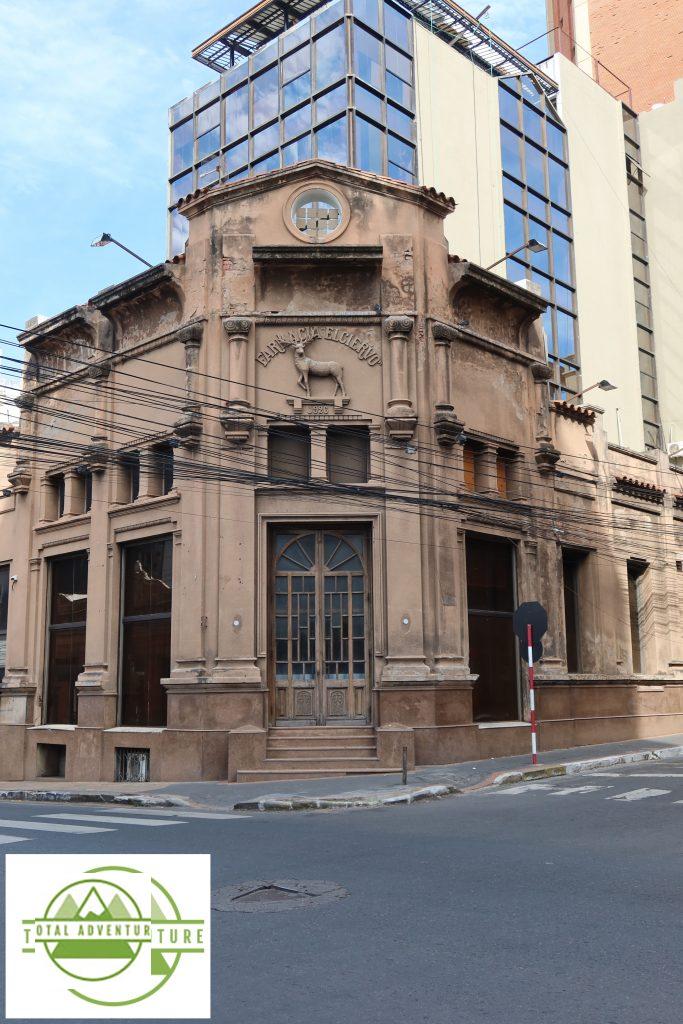 Asunción is a quiet capital, similar to an Argentine Pampas town, with a population of about 500,000.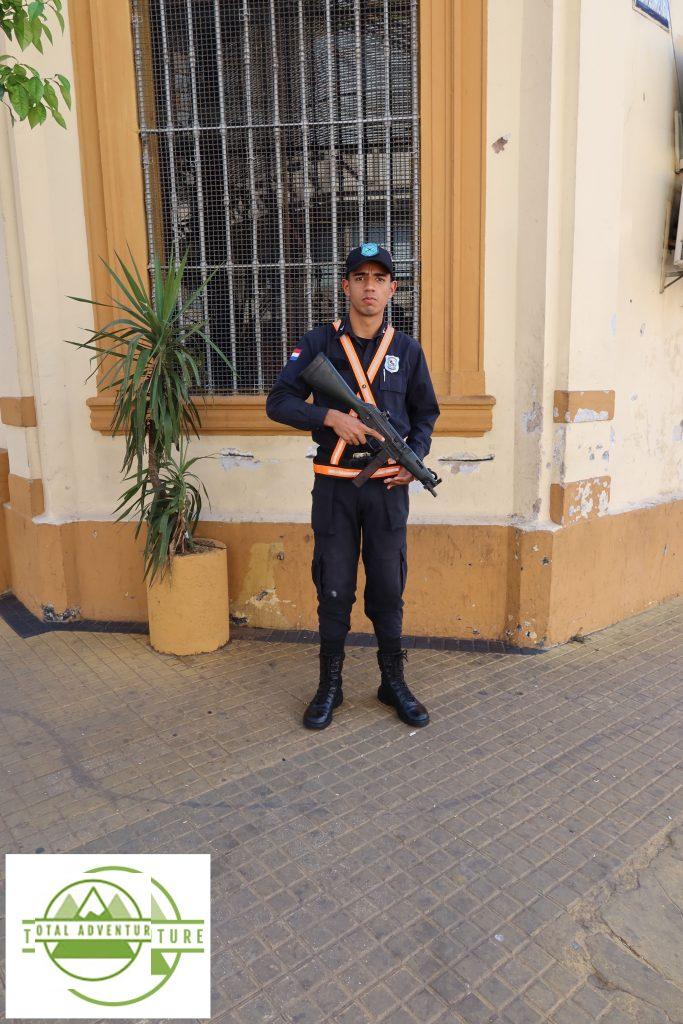 The city ,just across the Paraguay River from Argentina, is well patrolled.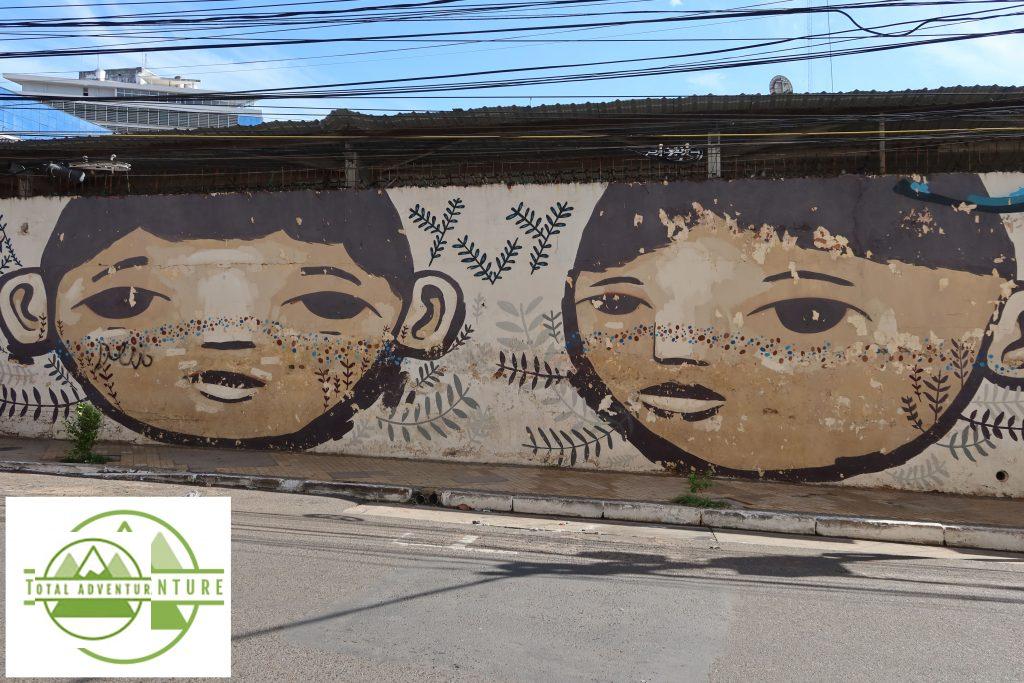 Guarani, the language of the native peoples, is widely spoken by almost everyone, no matter their heritage, alongside Spanish. German is spoken by the Mennonite communities in the northern part of the country. The currency, also known as the Guarani ,is strong, and the prices much higher than Argentina.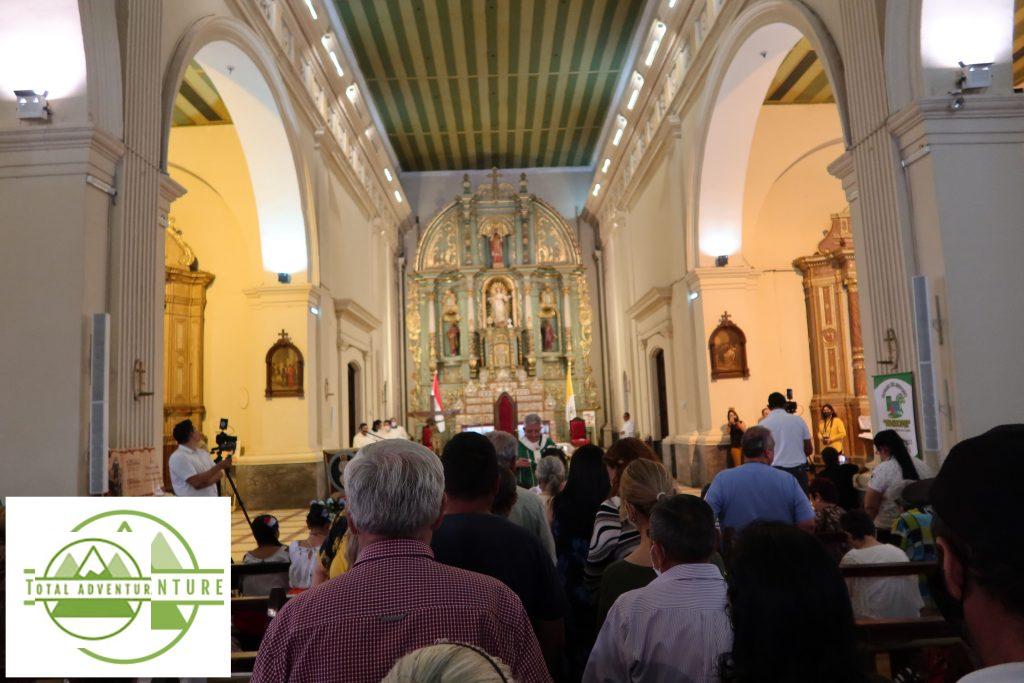 Sunday Mass, where I received Communion for the first time since the pandemic.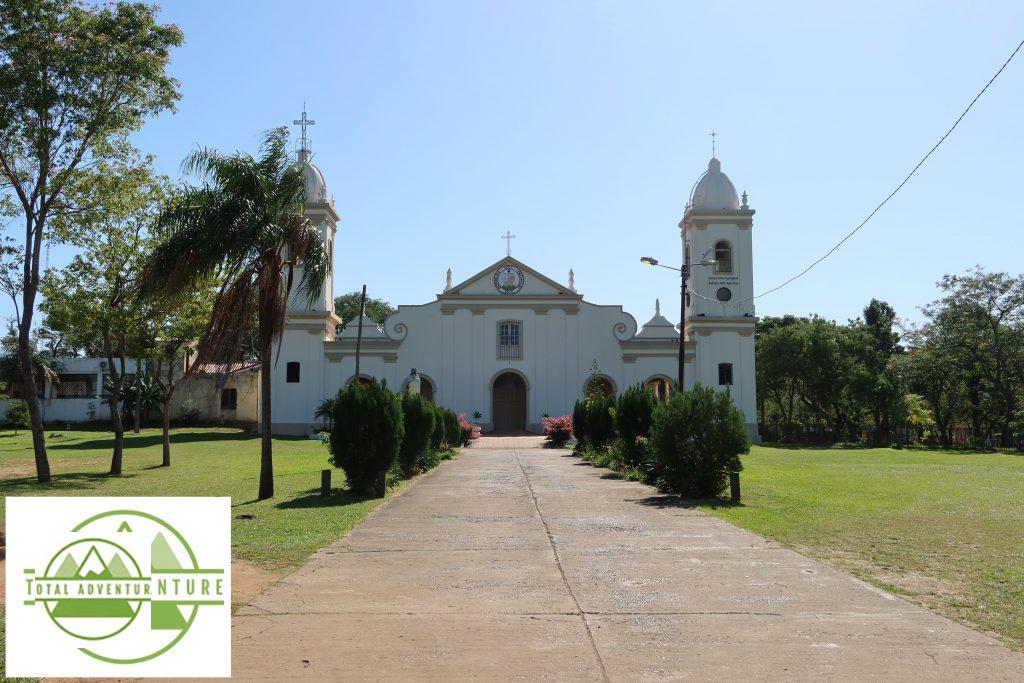 The countryside outside Asunción is home to many Jesuit Missions, built in the 1600s.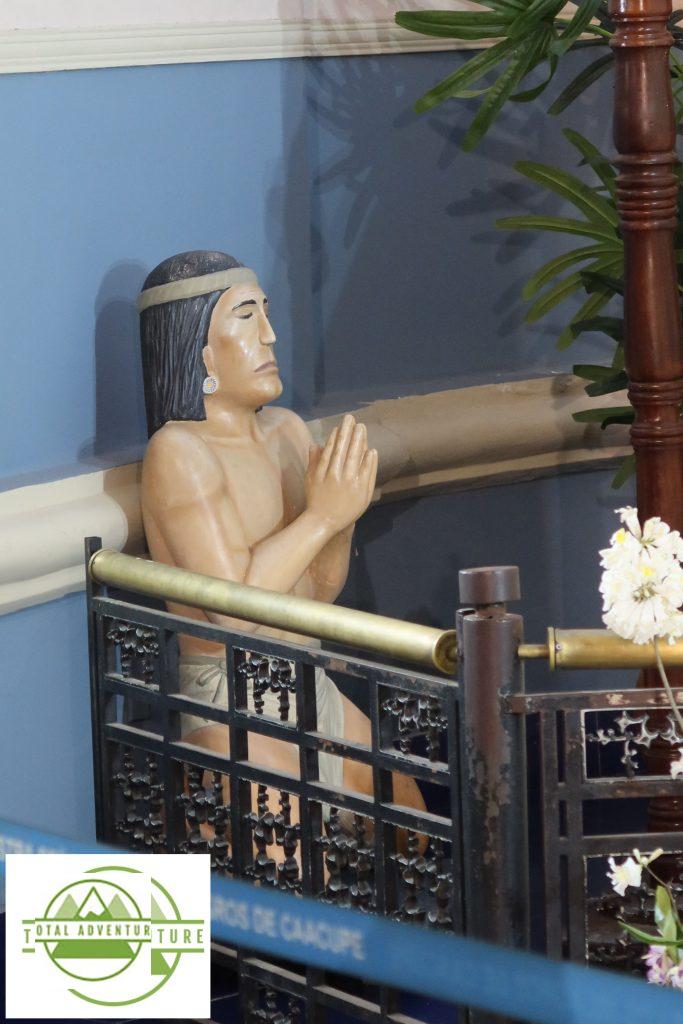 Native Peoples were converted , but with not much of a choice. American style televangelists are now making inroads against the Catholic Church.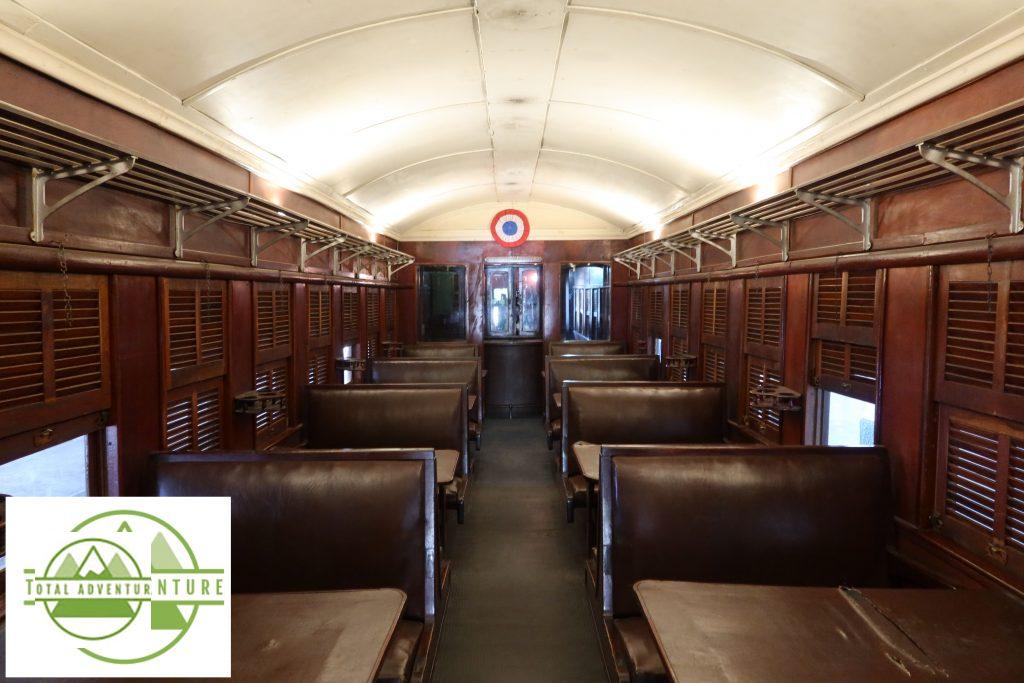 Inside an old dining car. One of a few sights in Asunción. The railroad is no longer.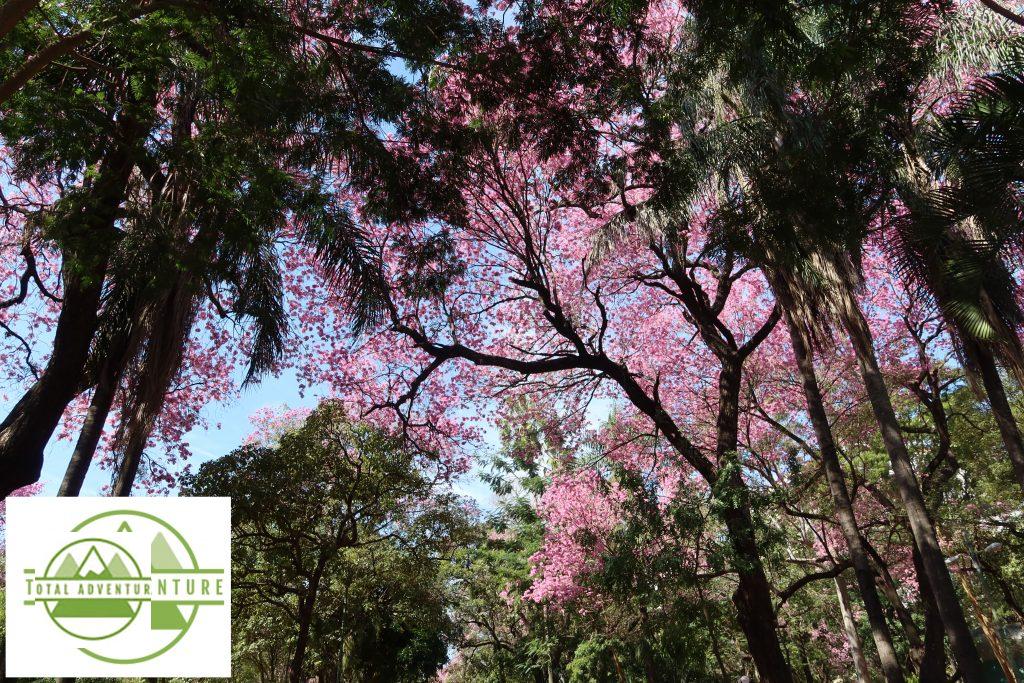 Though July is mid winter, the temperatures were quite hot, about 90 F 32C during the day and about 63 F 17C at night. At 25 south latitude, same as Miami in the northern latitudes.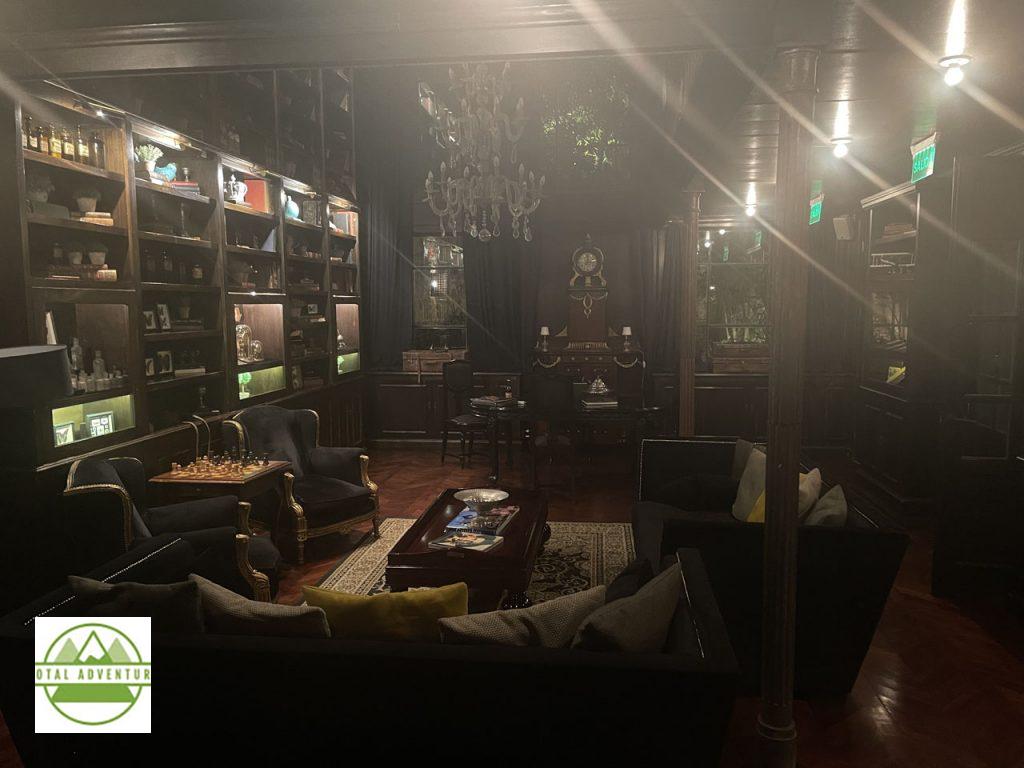 The salon at the very beautiful Hotel Factoria.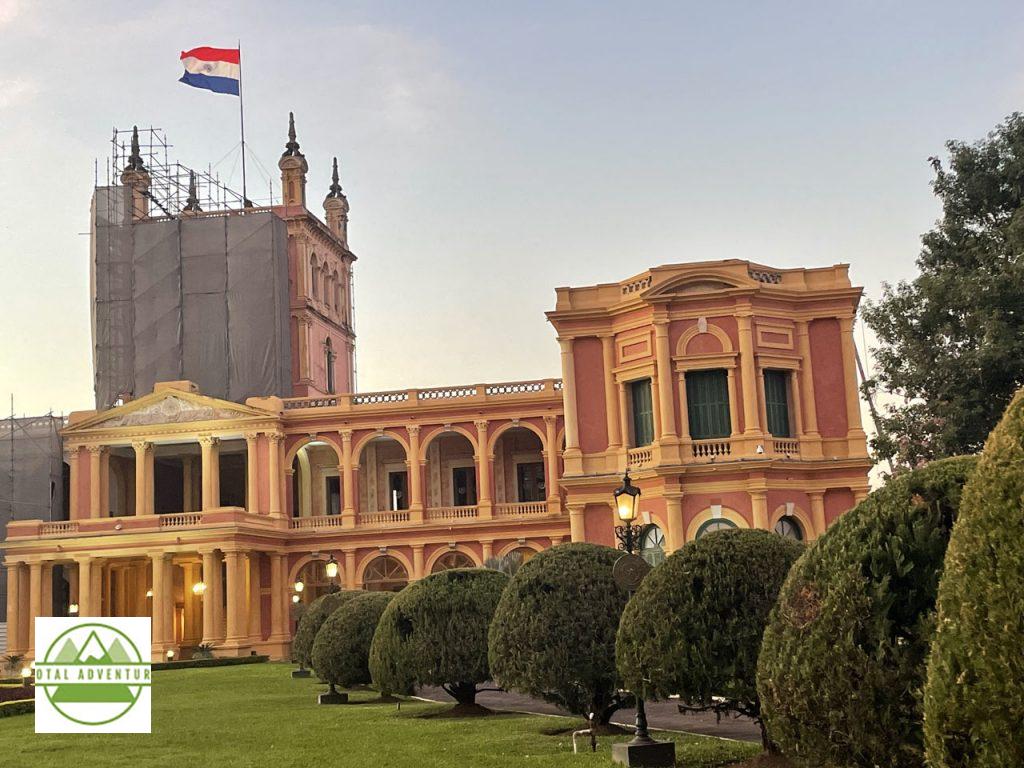 The National Capital.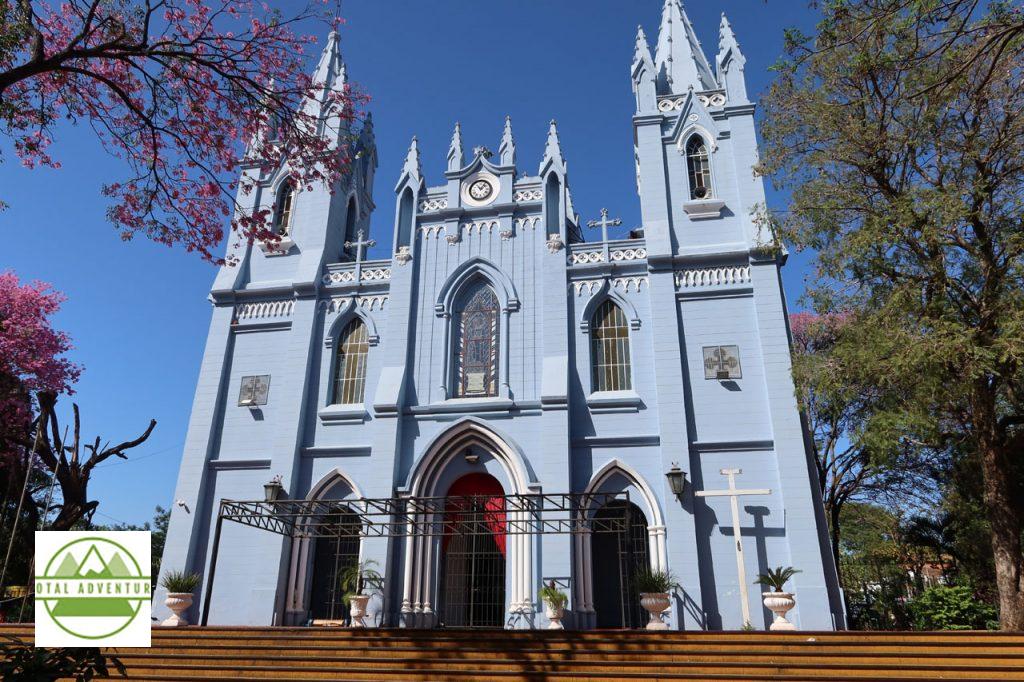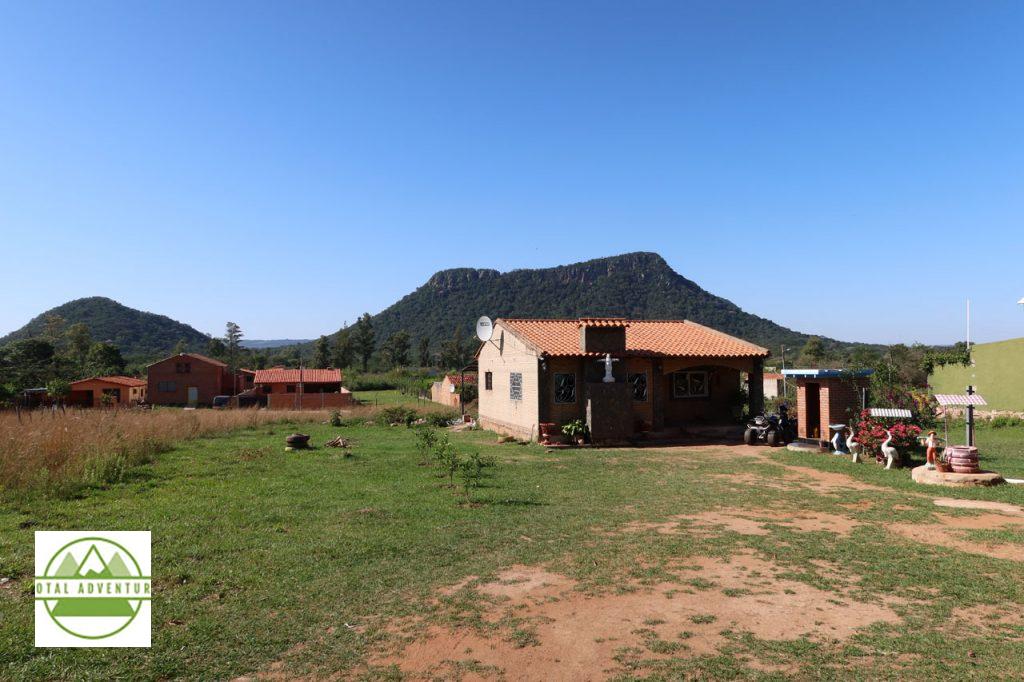 Chacos Farmhouse.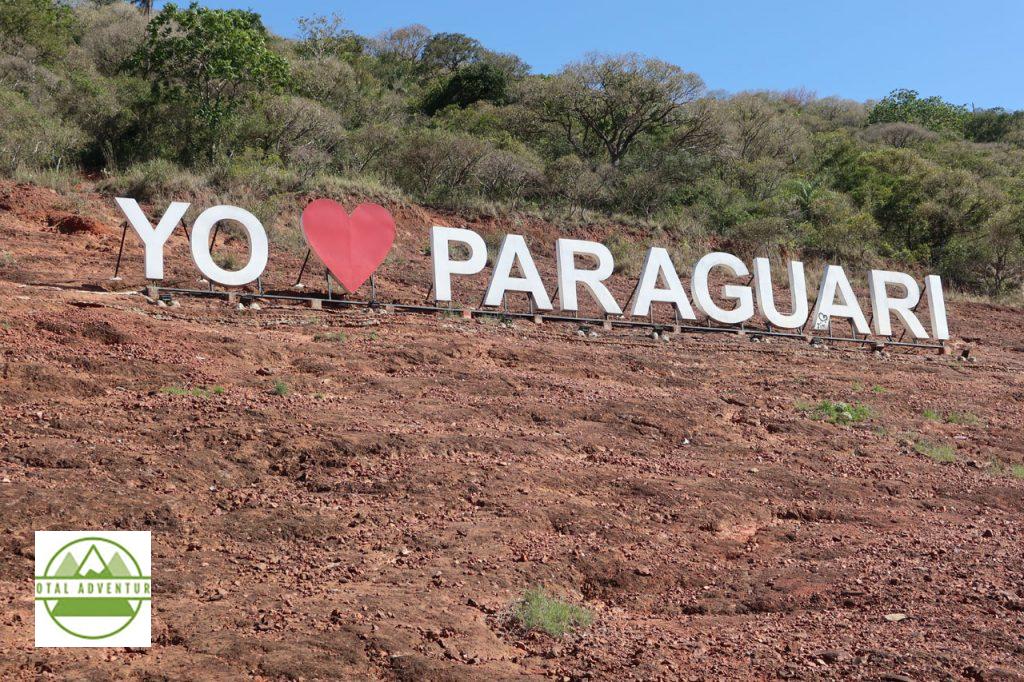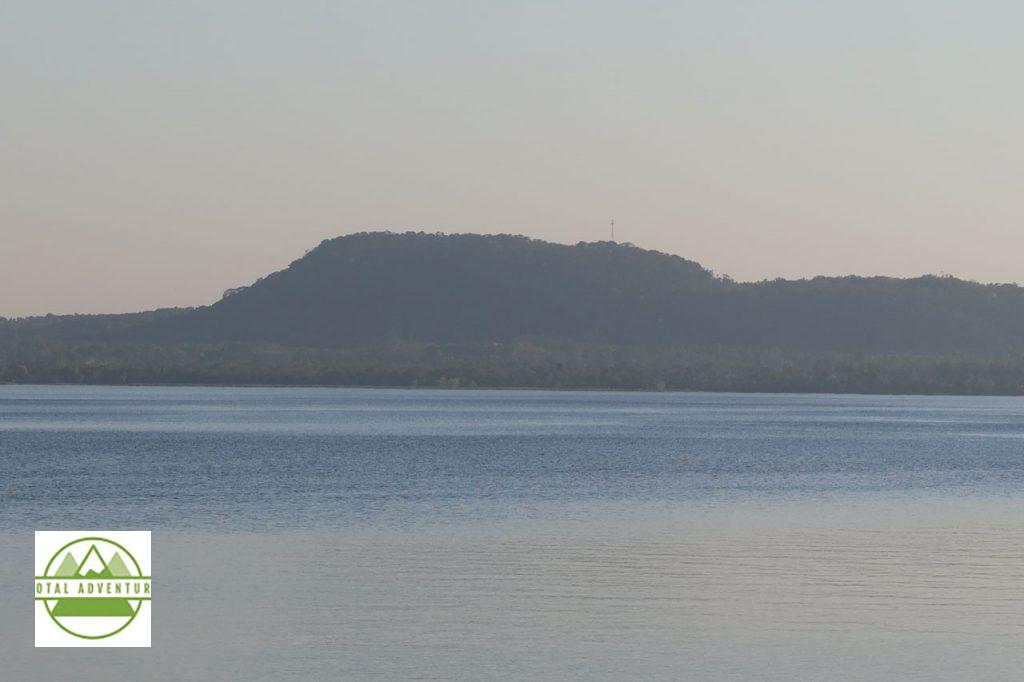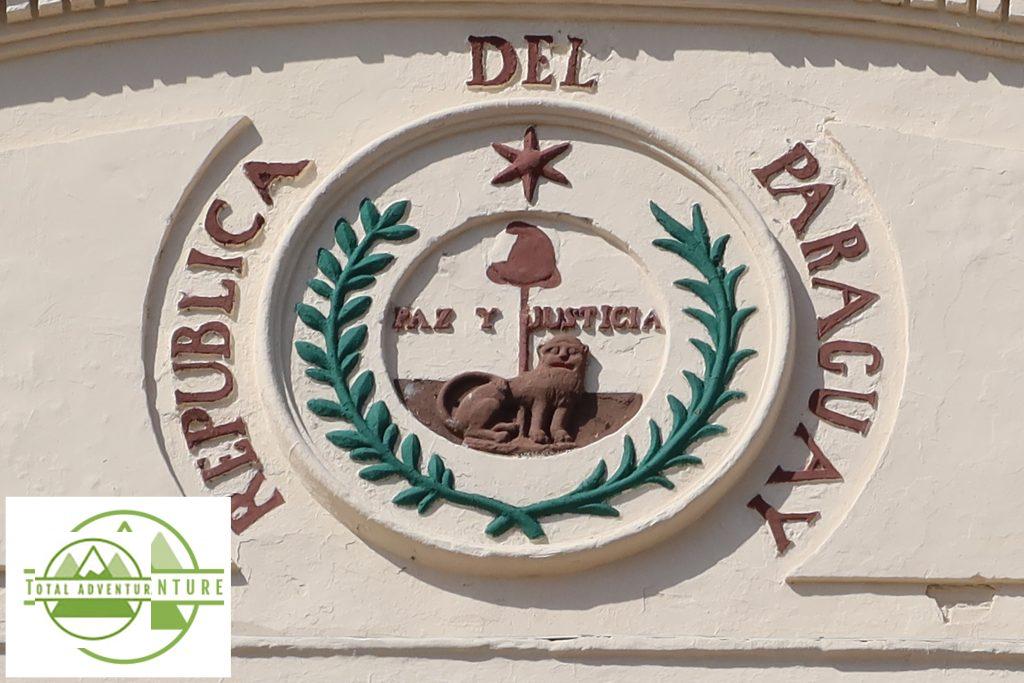 After 3 days, it was time to return to Miami.To truly explore Paraguay one might hire a car to visit the Gran Chaco, a harsh dry zone towards Bolivia. The main attraction is Iguazu Falls along the tri-border with Argentina and Brazil.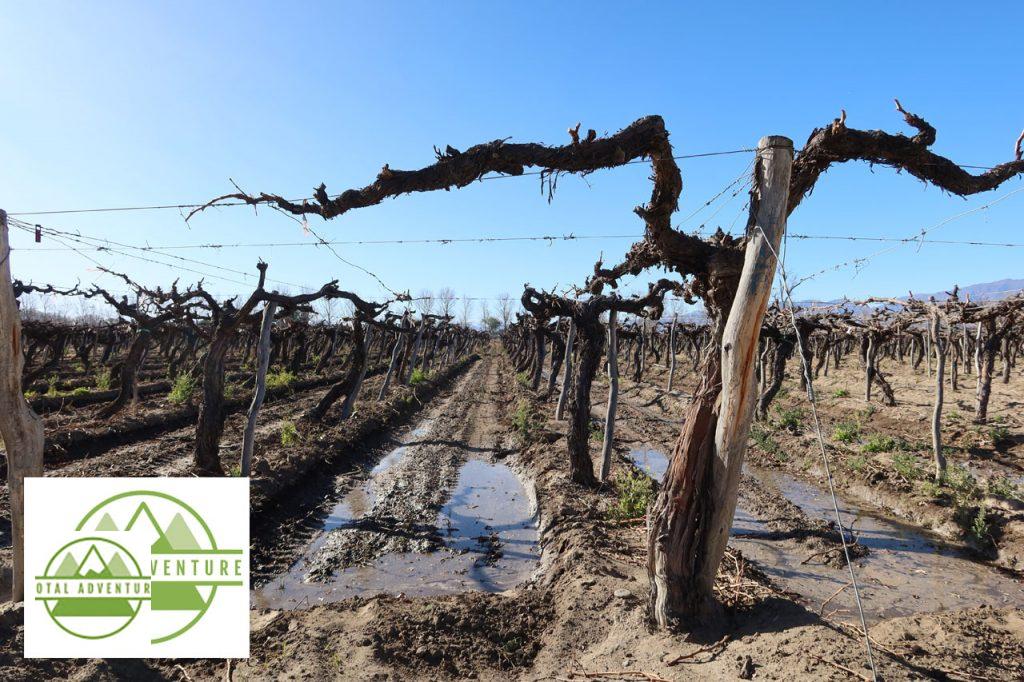 This past July,2022 I flew from the sultry tropics of Miami to the cool windy streets of Buenos Aires and on up to Salta, where I met a very good friend from São Paulo. Above are winter vineyards – resting from the warm months of producing amazing Malbec.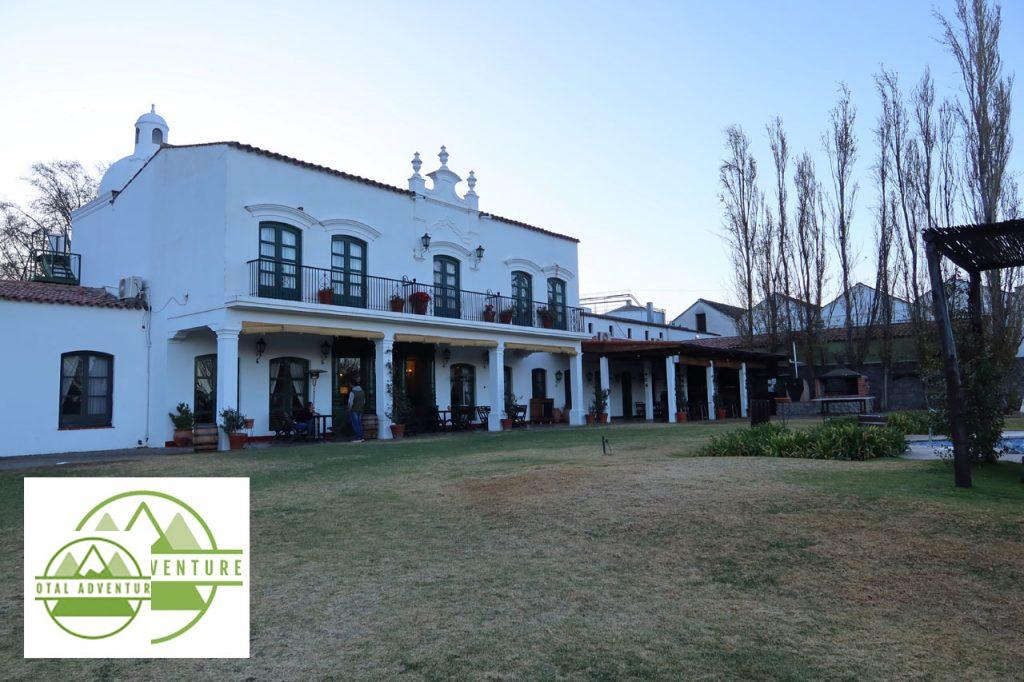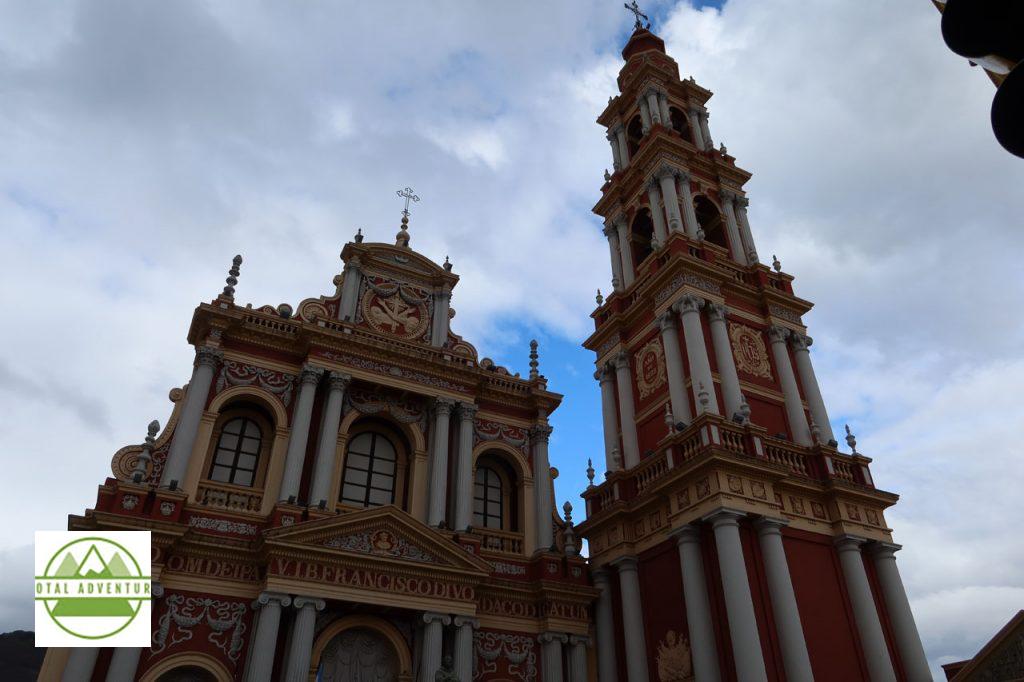 We met in Salta and spent the night there. As it was winter vacation, the city was packed with tourists from colder parts of Argentina, though it was pretty cold there on the day of arrival.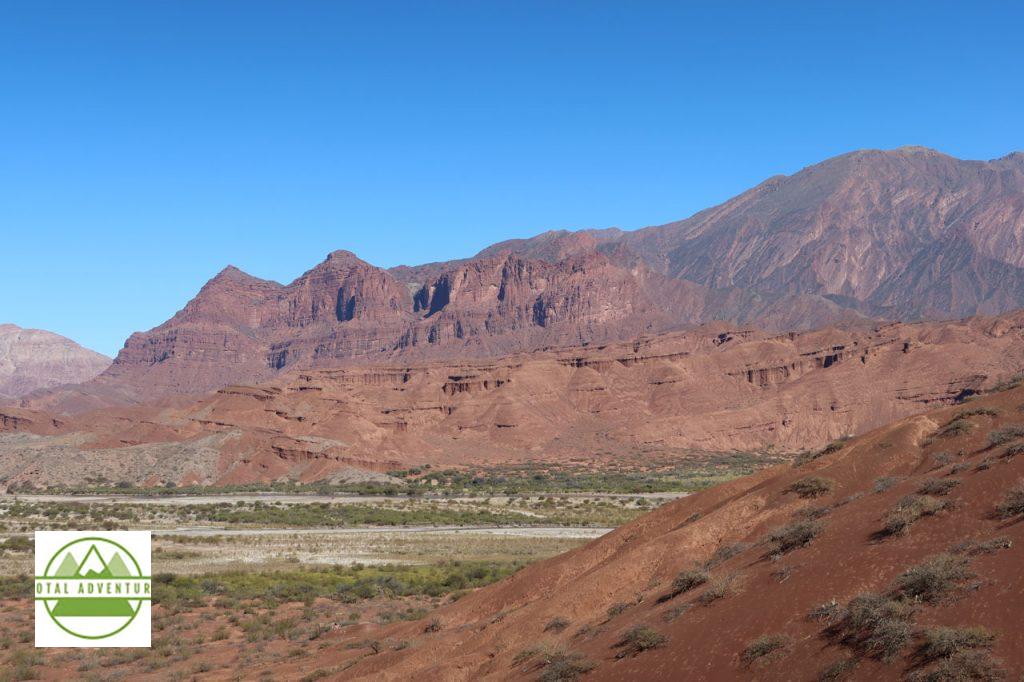 The High Desert. Just over the Andes from the Chilean Atacama, it's a very dry part of the world. See the video above for the real experience.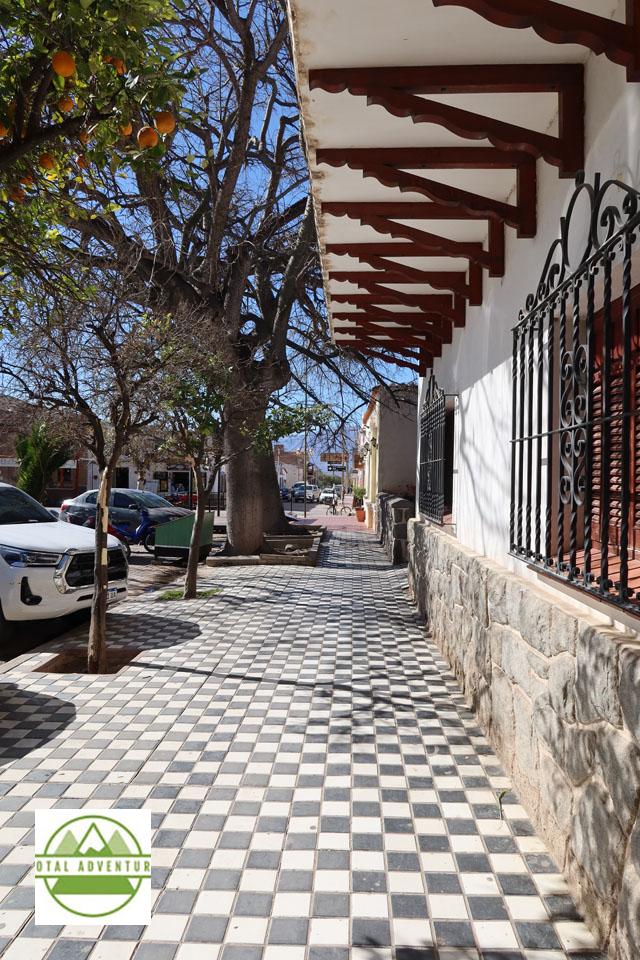 Downtown Cafayate.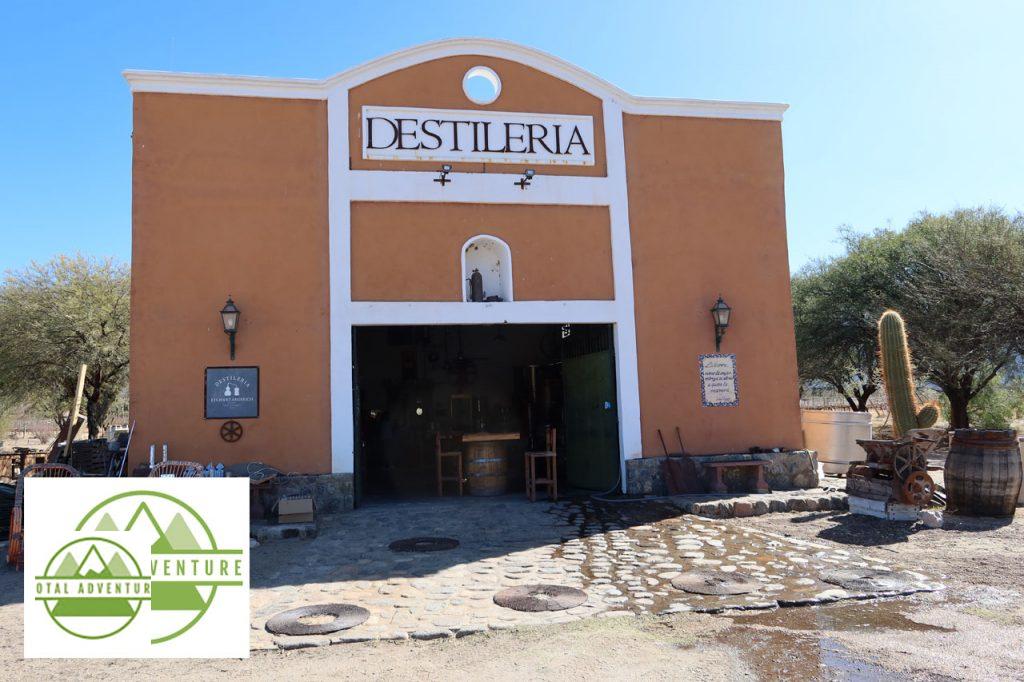 In addition to excellent Malbec, grappa is produced by fermenting whole grapes.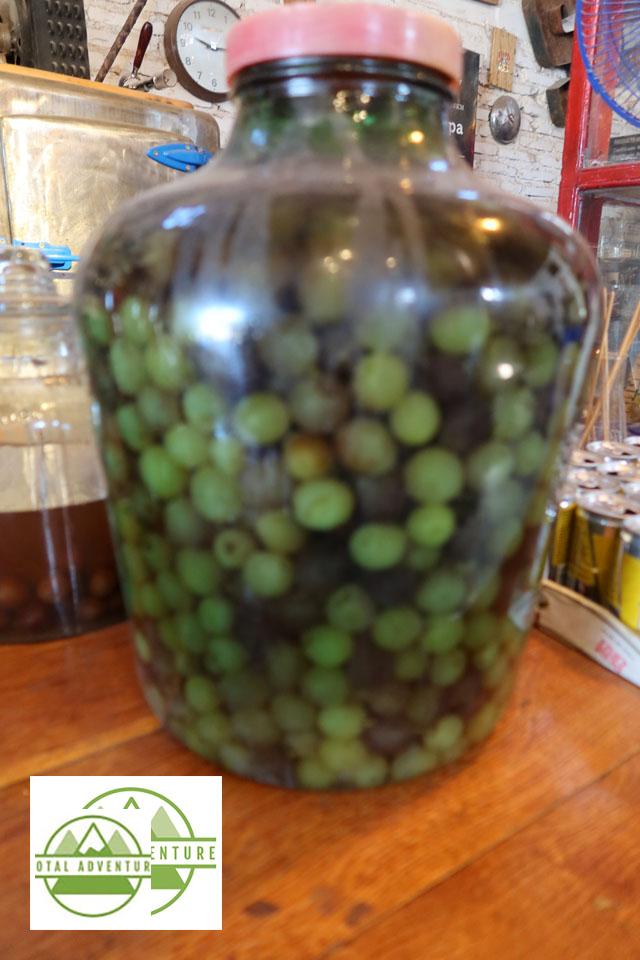 I dipped a ladle in the jar to sample. Real firewater !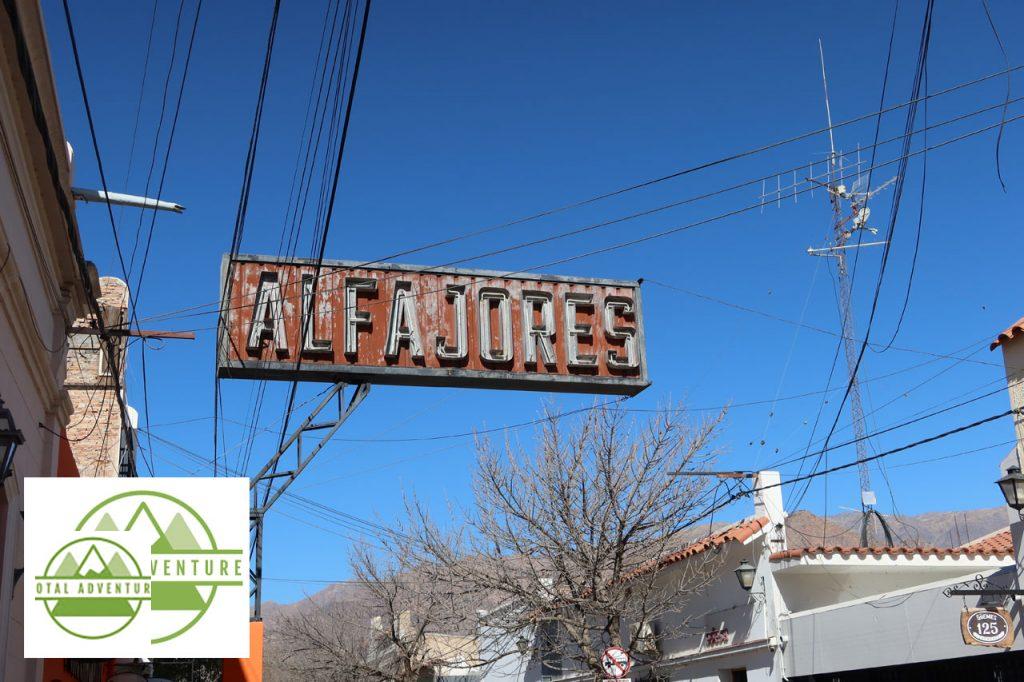 Cafayate Town.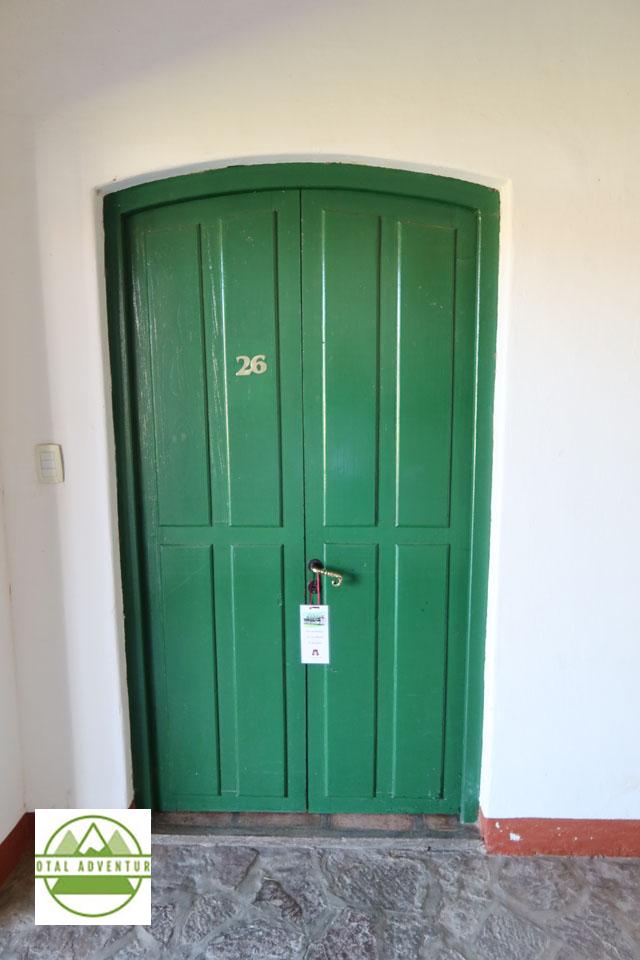 Then back to relax at Estancia Patios de Cafayate. Our room was palatial – see it in the video above. Because of the strong dollar – it cost less than when I was here in 2008.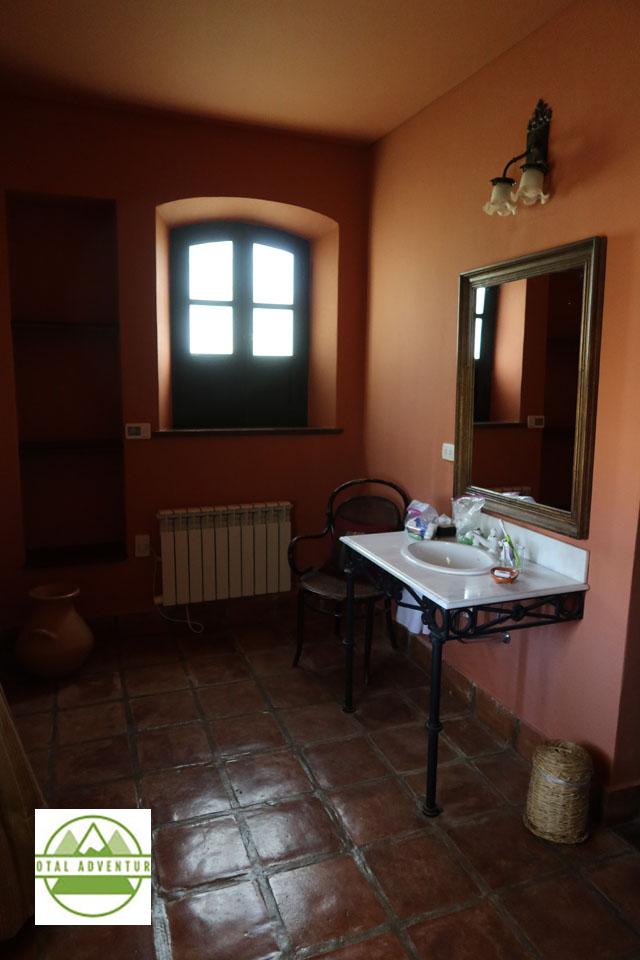 The washrooms are as big as an average New York apartment. With a whirlpool tub to relax after a couple hours on horseback.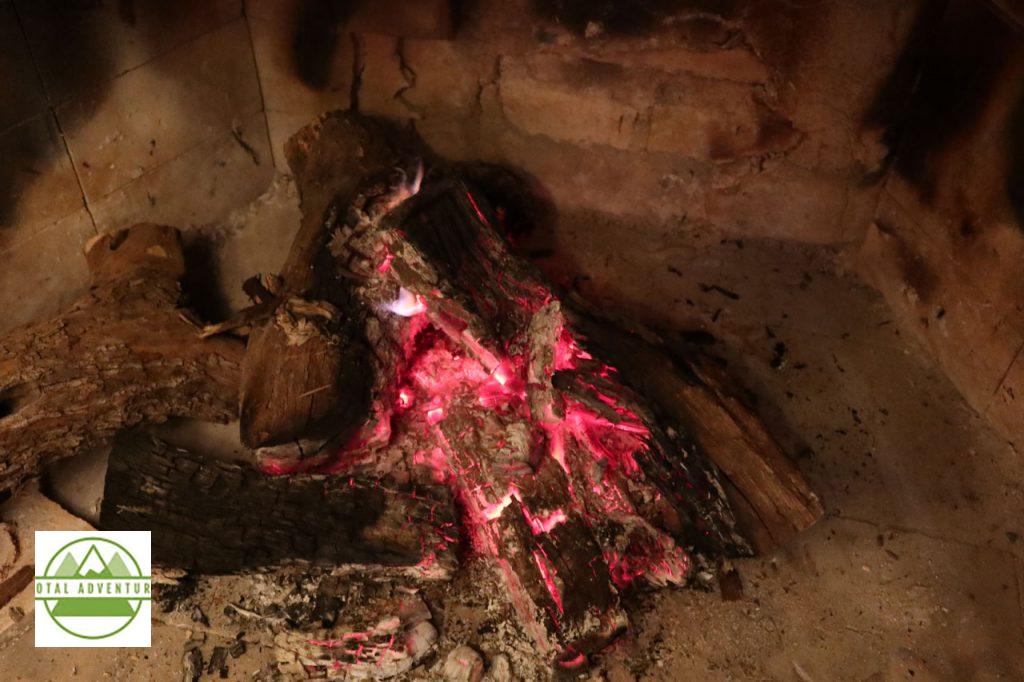 A warm evening fire – set during wine tasting.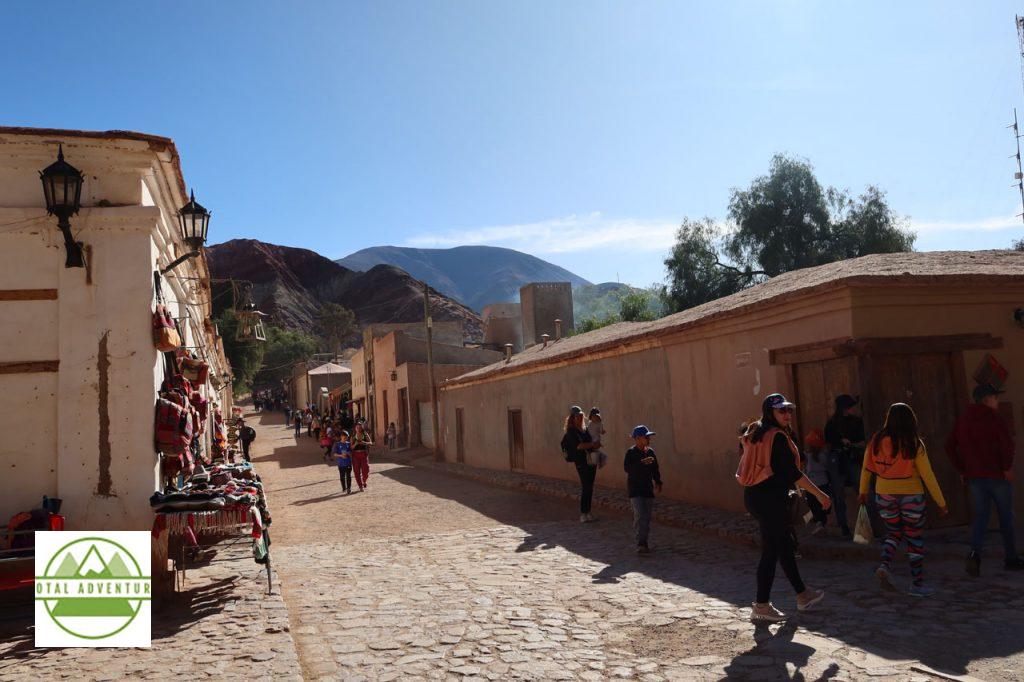 Before returning to Buenos Aires, we drove North to Punamarca in Jujuy Province. High desert at 2500 meters, but hot sunshine with temperatures near 25 C.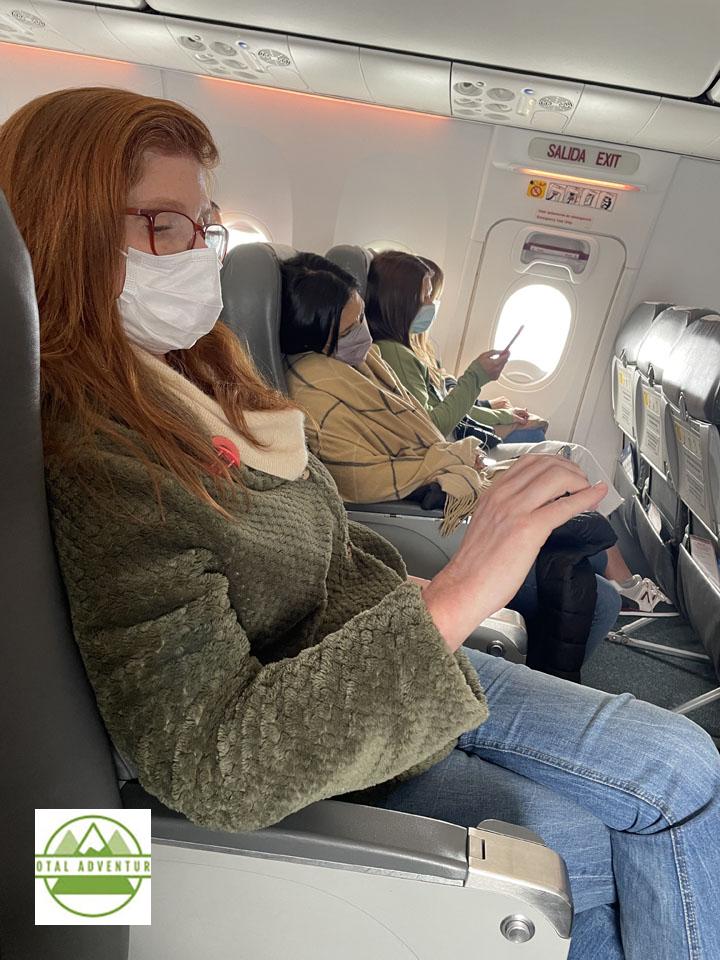 Flying South To Aeroparque Buenos Aires.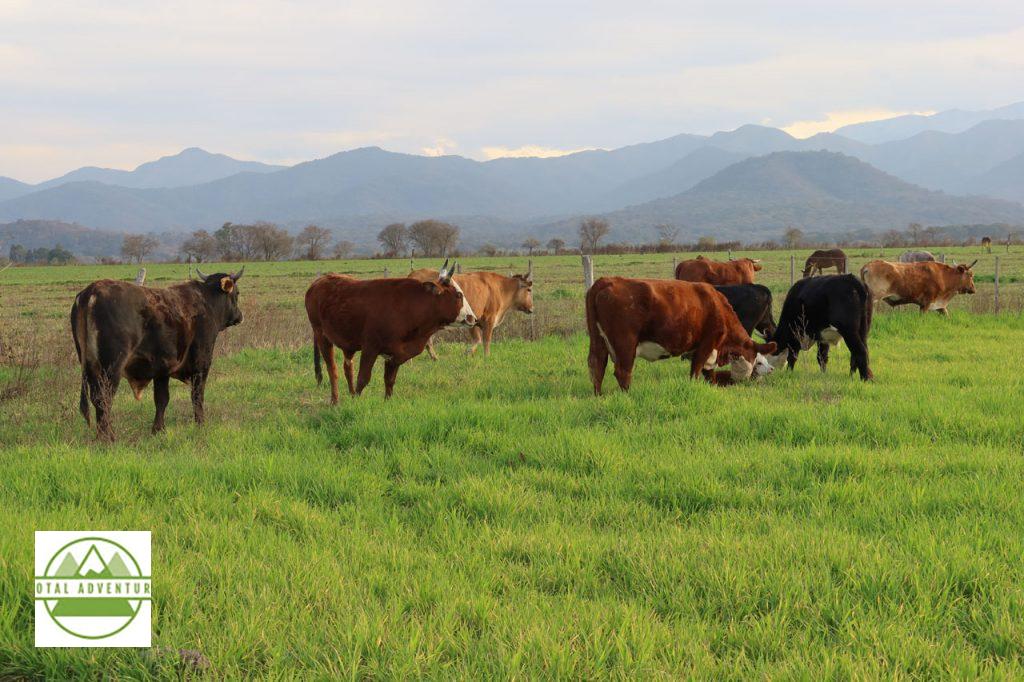 A classic Argentina scene . Soon to be on the dinner plates of the best steak houses in the world.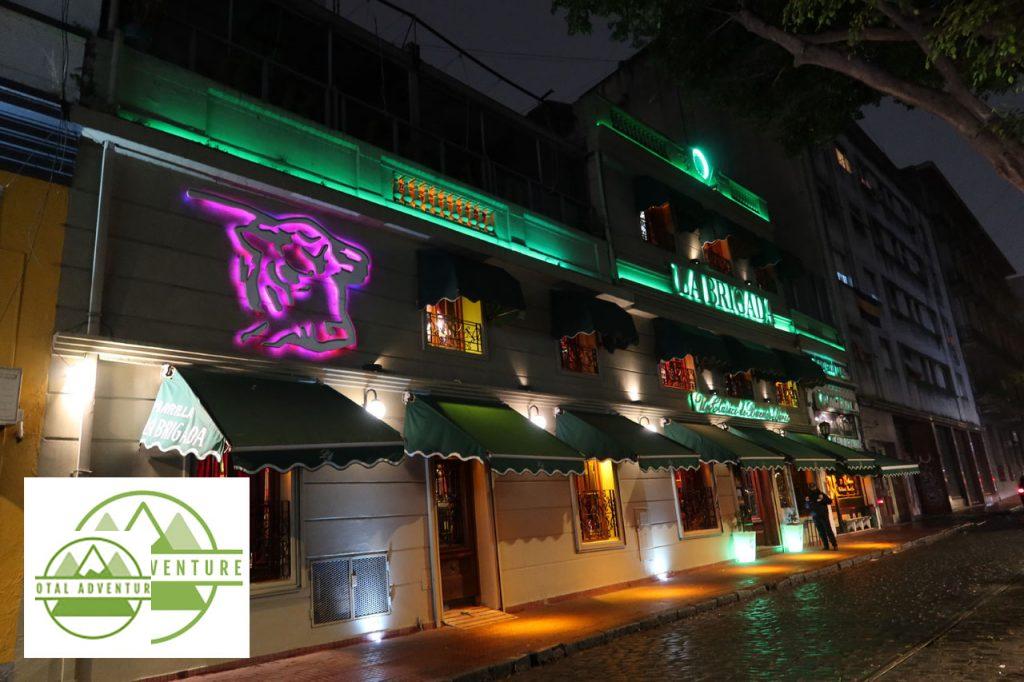 For Example, La Brigada in San Telmo , Buenos Aires.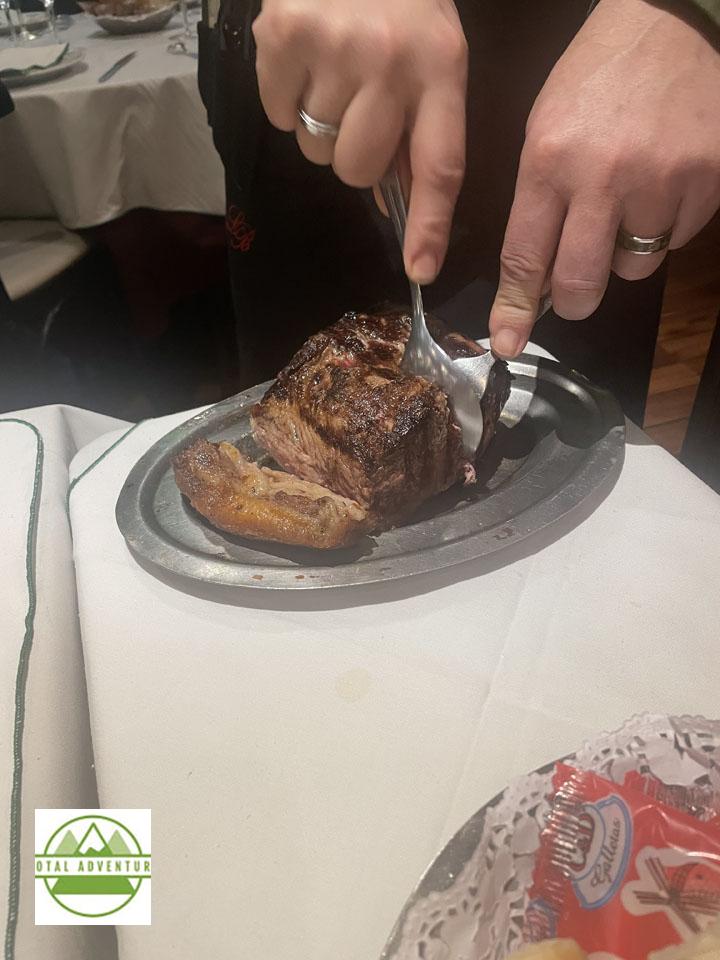 Where the Bife de Chorizo is so tender you can cut it with a spoon.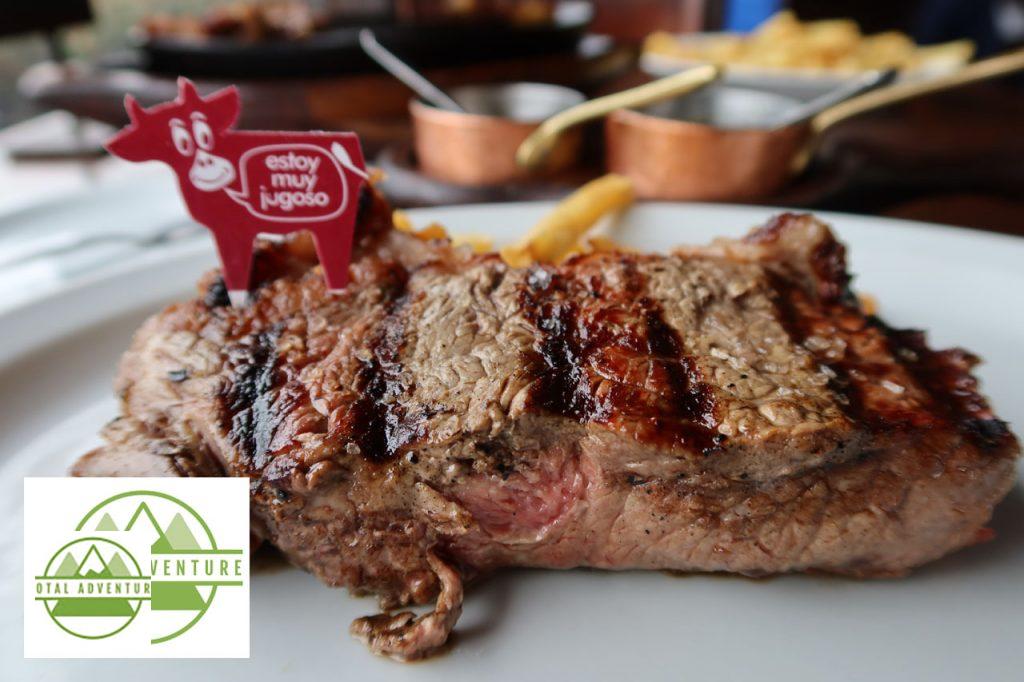 La Cabaña.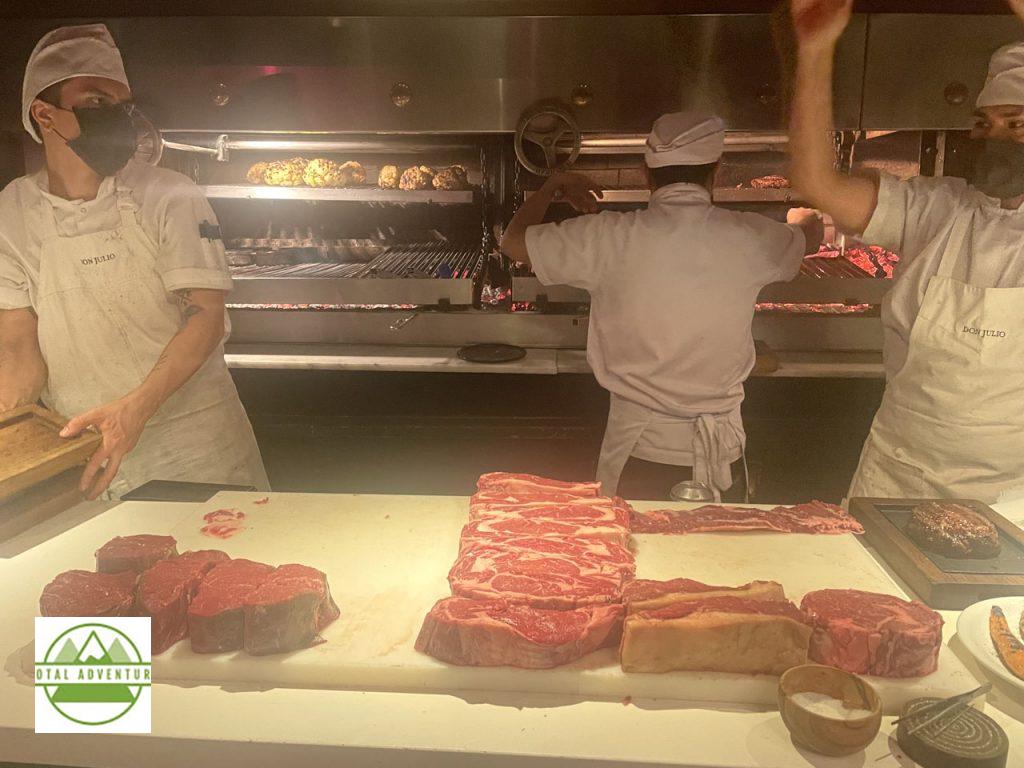 And Don Julio – considered now the Best In The World.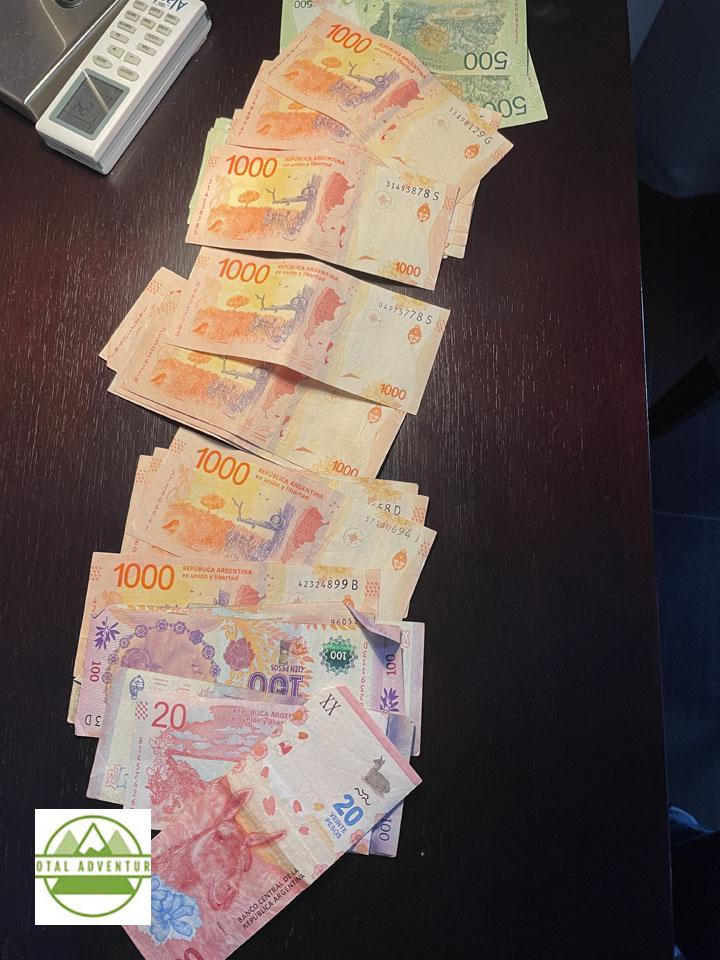 The Dollar is King in Argentina. When I arrived the rate was 260 pesos to the dollar on the Blue Market. ( Official rate was 135) When I left 12 days later it was 340 – a 40% increase in value. The above steak dinners were as low as $ 15 to 20 ( not Don Julio) and taxi rides are about $ 2. The peso has since stabilized, but now is a great time to visit Argentina. You need to pay in cash – credit cards are charged at the official rate.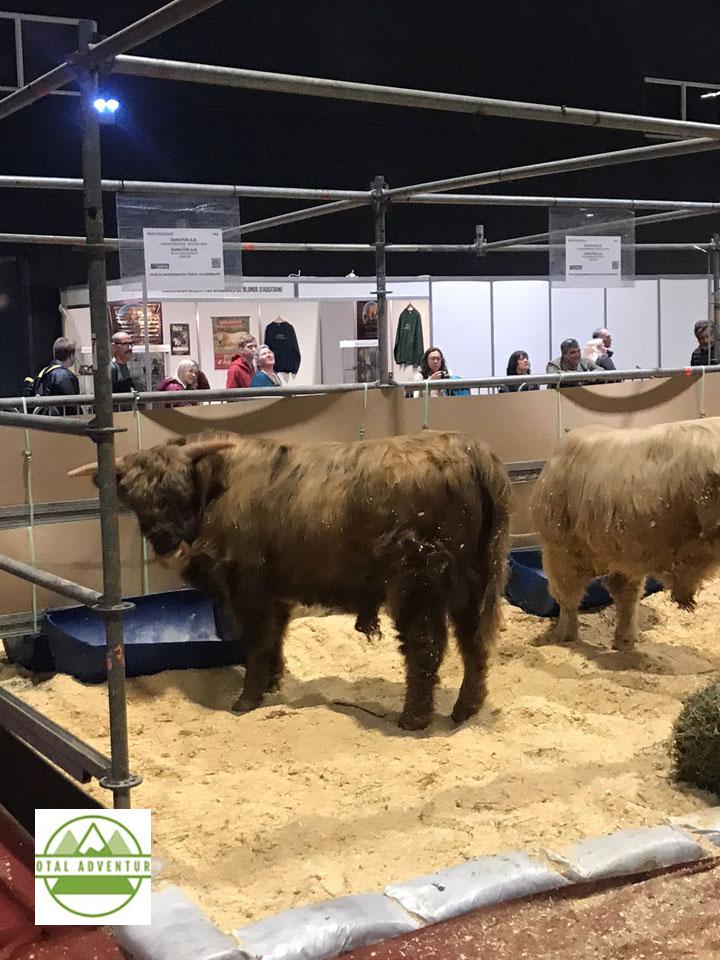 At La Rural – Annual Cattle Show in Buenos Aires. Photo – Daniele Puharre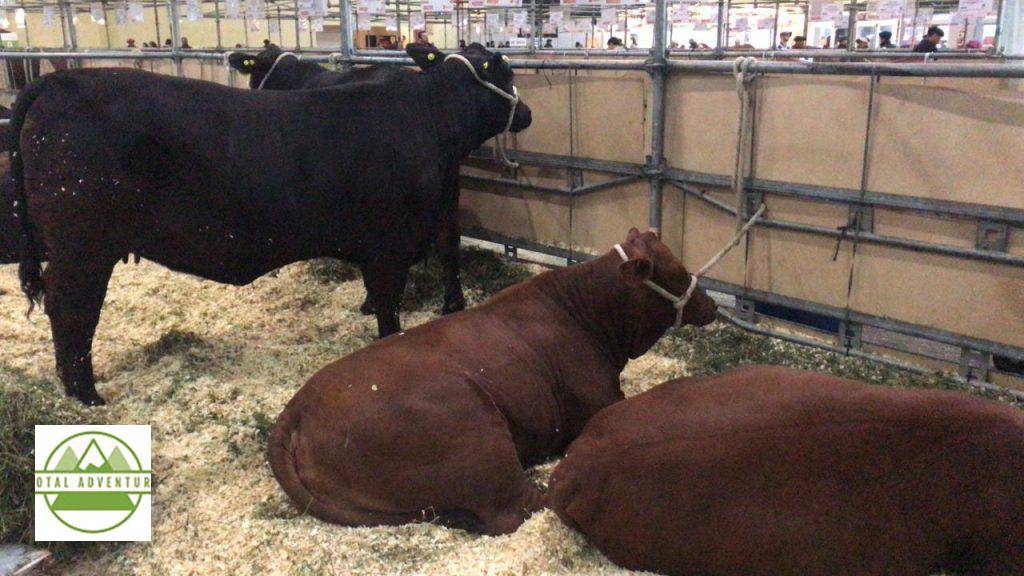 La Rural. Photo – Daniele Puharre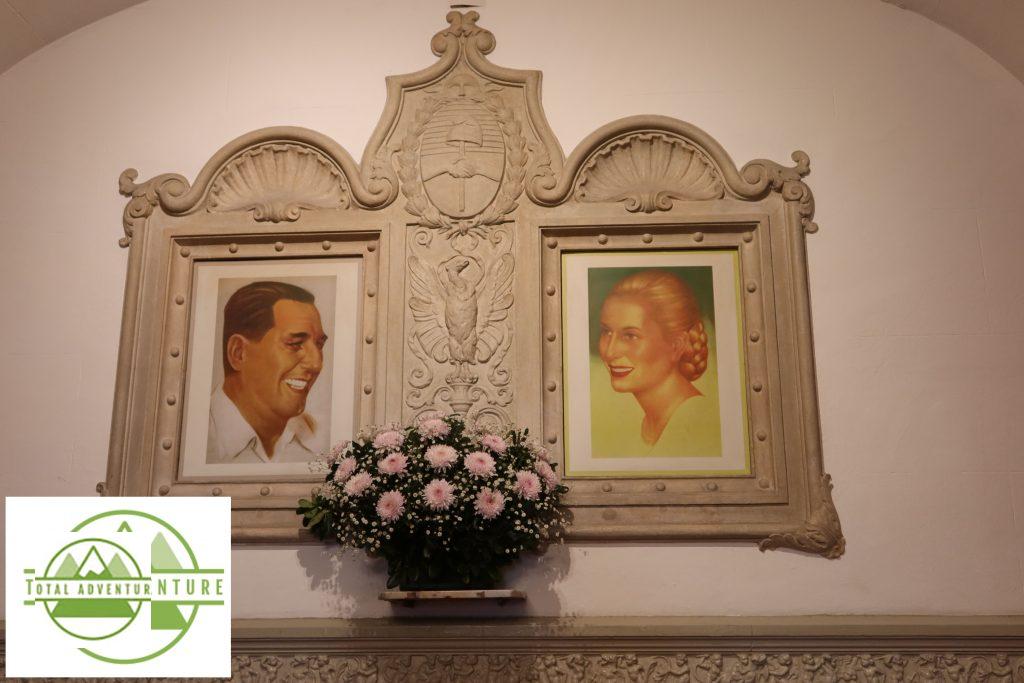 We also visited the Evita Peron Museum. I have Argentine friends on both sides of the political divide, so I will not take sides here. However we still live in a world of personality cults and unrivaled power by one ( or two) person – this has no place in a democracy.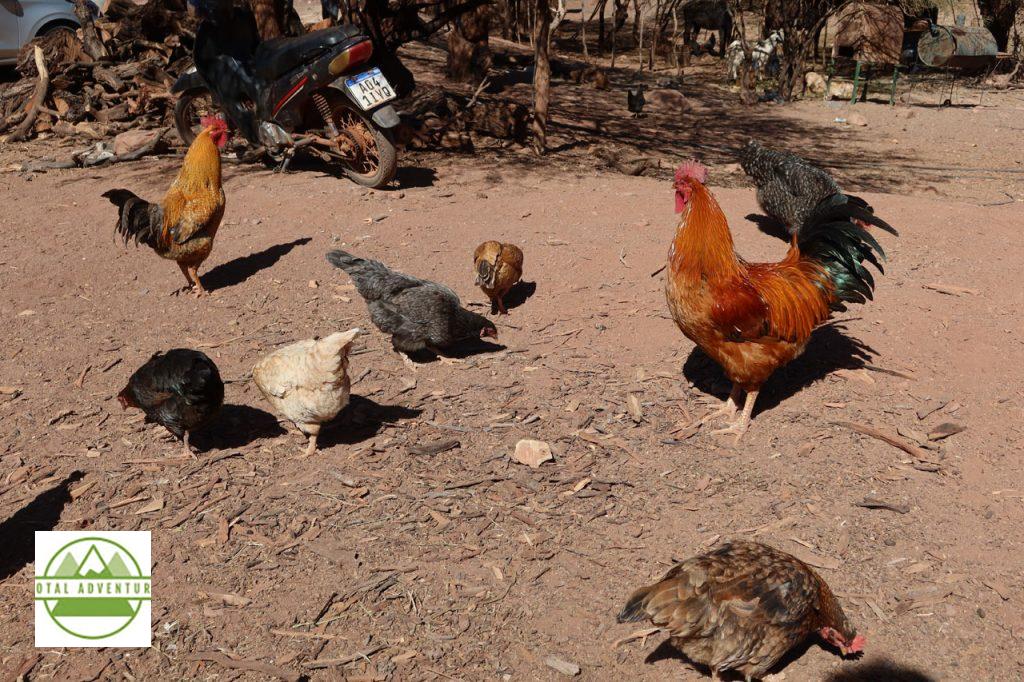 Roadside in Salta Province.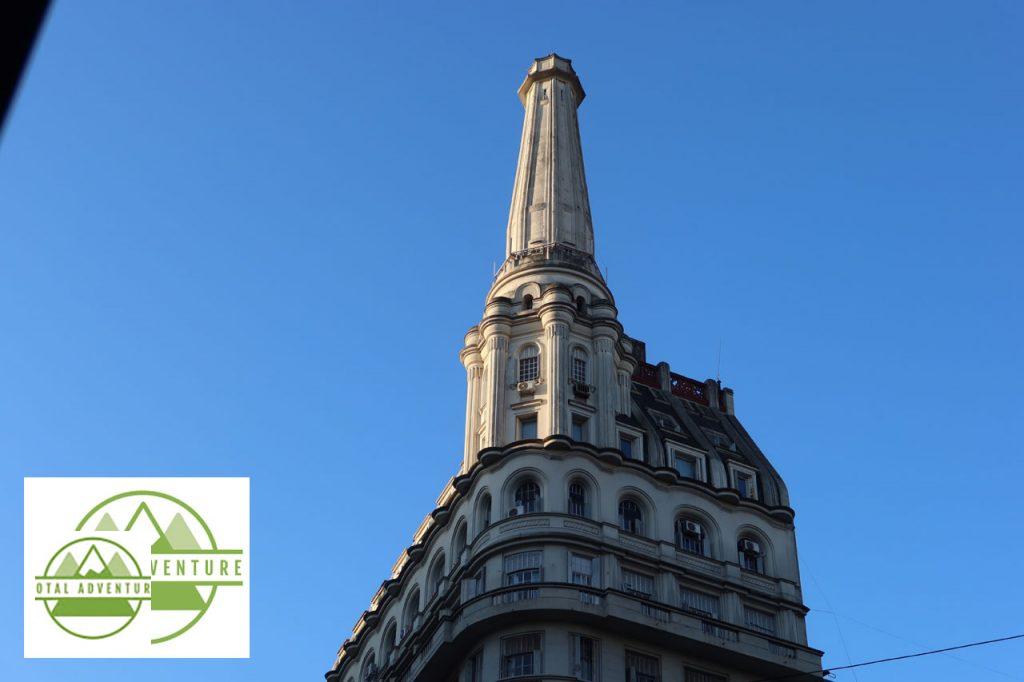 Incredible Apartment or Office !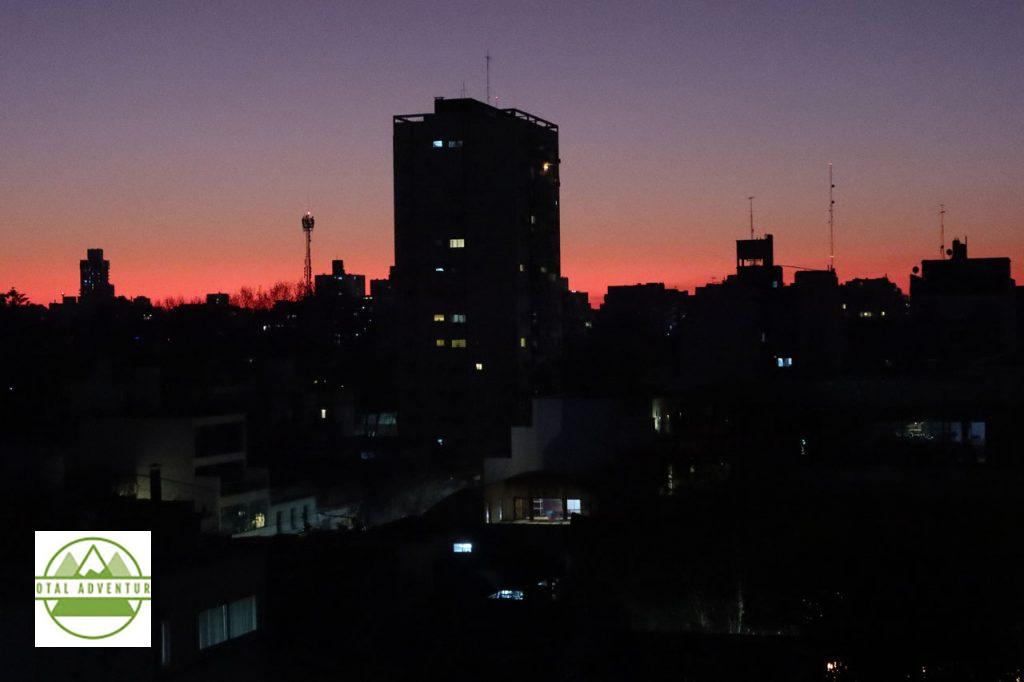 A Beautiful Last Evening Before Heading Up To Paraguay.
Click To See And Book Adventures In Argentina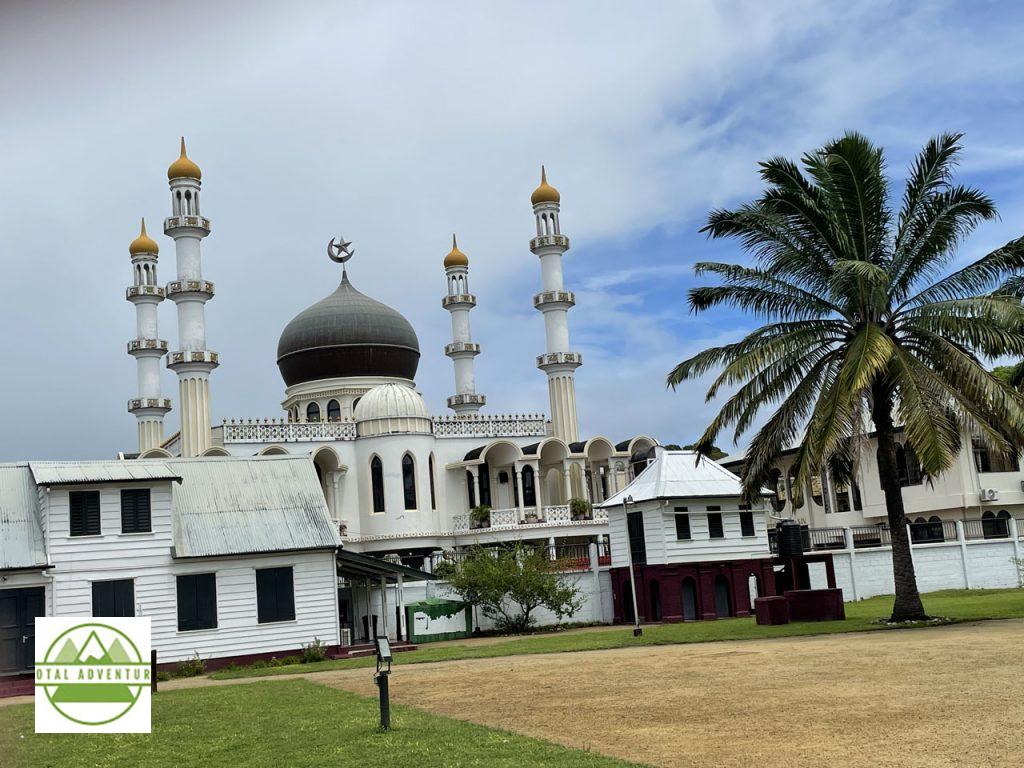 TotalAdventure had hoped to come from Georgetown Guyana via land and ferry across the Corentyne River. However the ferry , only recently running again after COVID shutdown had broken down and would not be repaired for weeks. The only way to go was to fly.
Be Sure To Watch The Video Above – To Experience Suriname !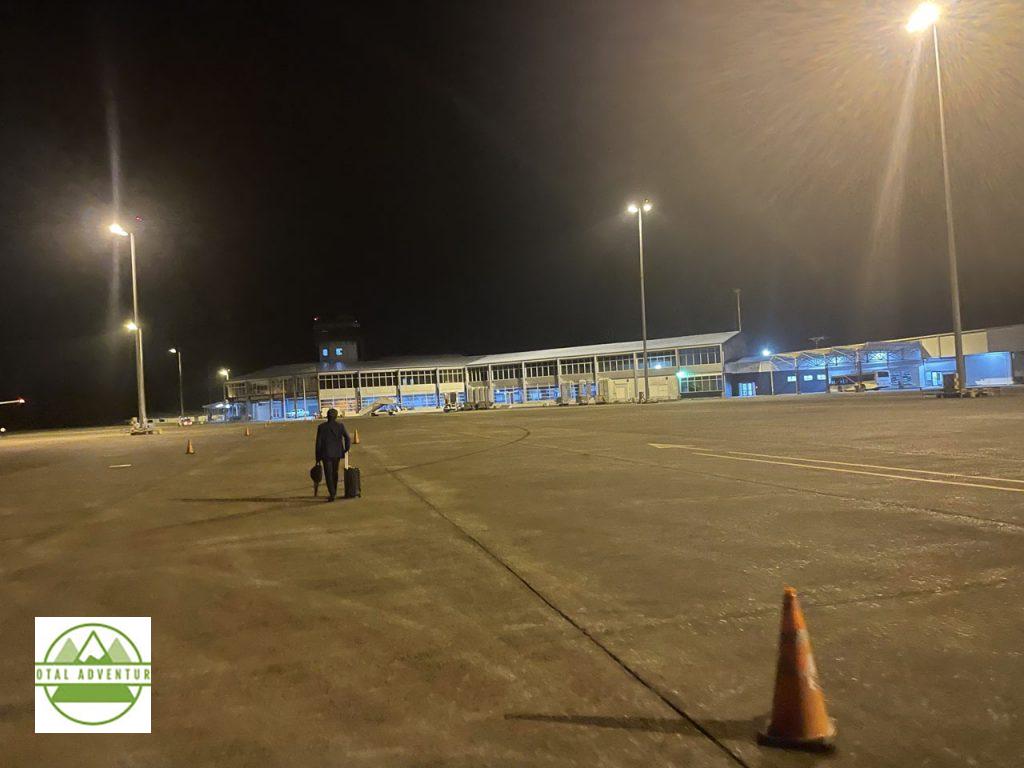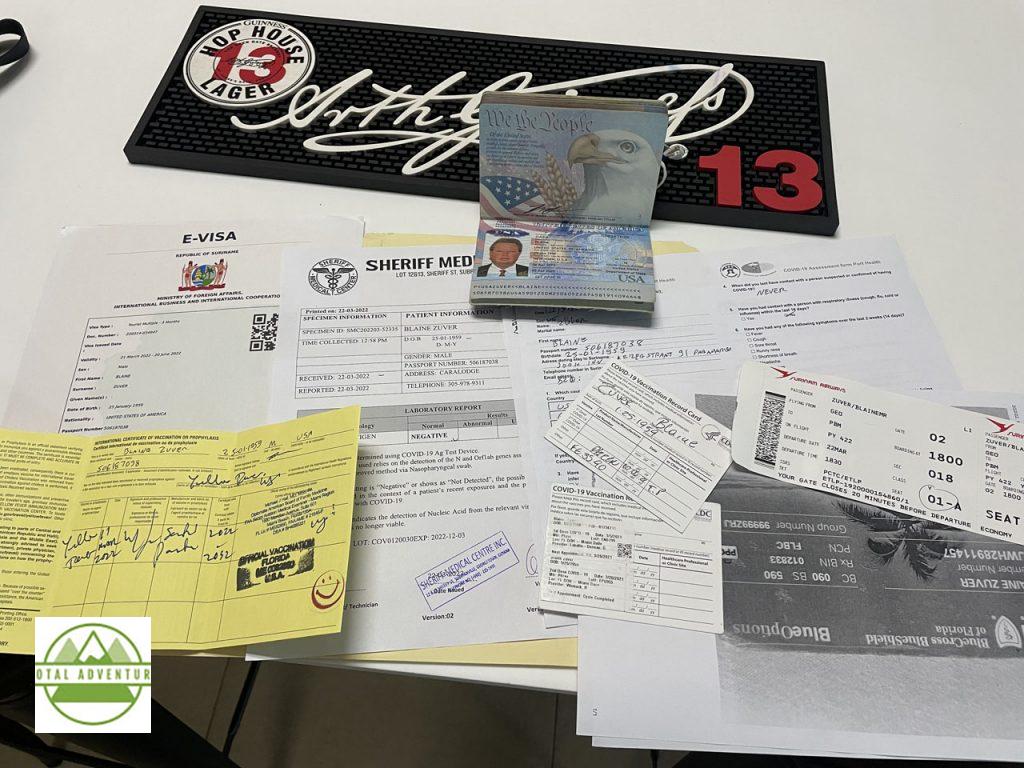 To enter Suriname, I needed my passport, E-Visa, Yellow Fever book, Covid Vaccination, Antigen test ( taken that day) Port Declaration of Health, Proof of Health Insurance and a landing card, with name and phone number of hotel. Never has TotalAdventure had to show so many documents, not even Russia or Turkmenistan.

Finally I received the stamp and it was off to Paramaribo.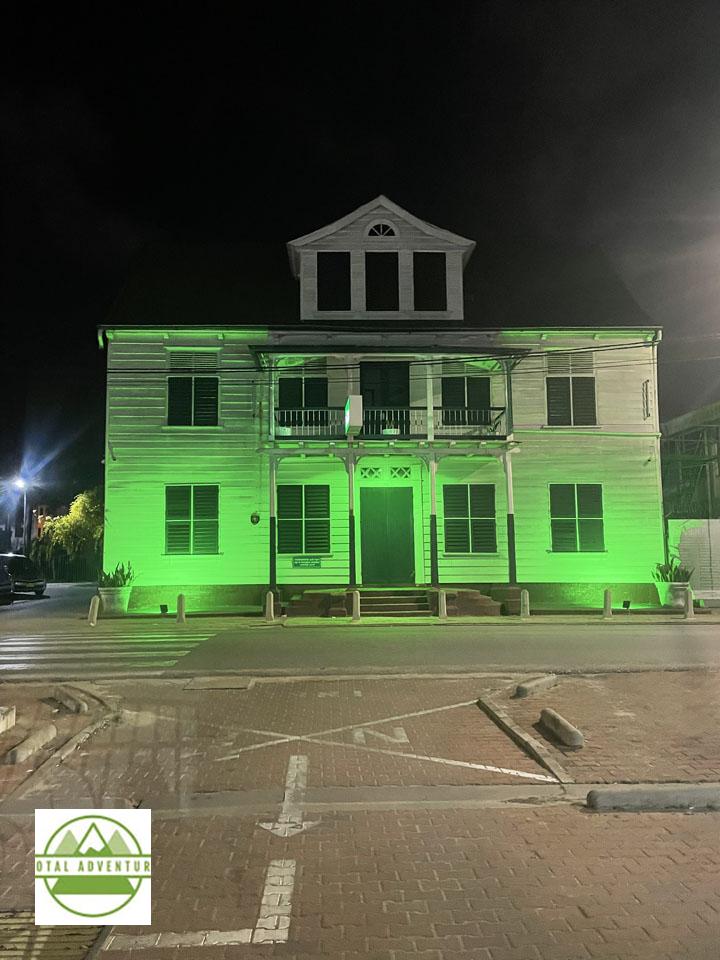 Across from my hotel on Keizerstraat. The city is mostly made up of colonial era buildings 100 to 200 years old, but have never been maintained. Built to Dutch specifications, the Equatorial heat and humidity are corrosive to the wooden structures.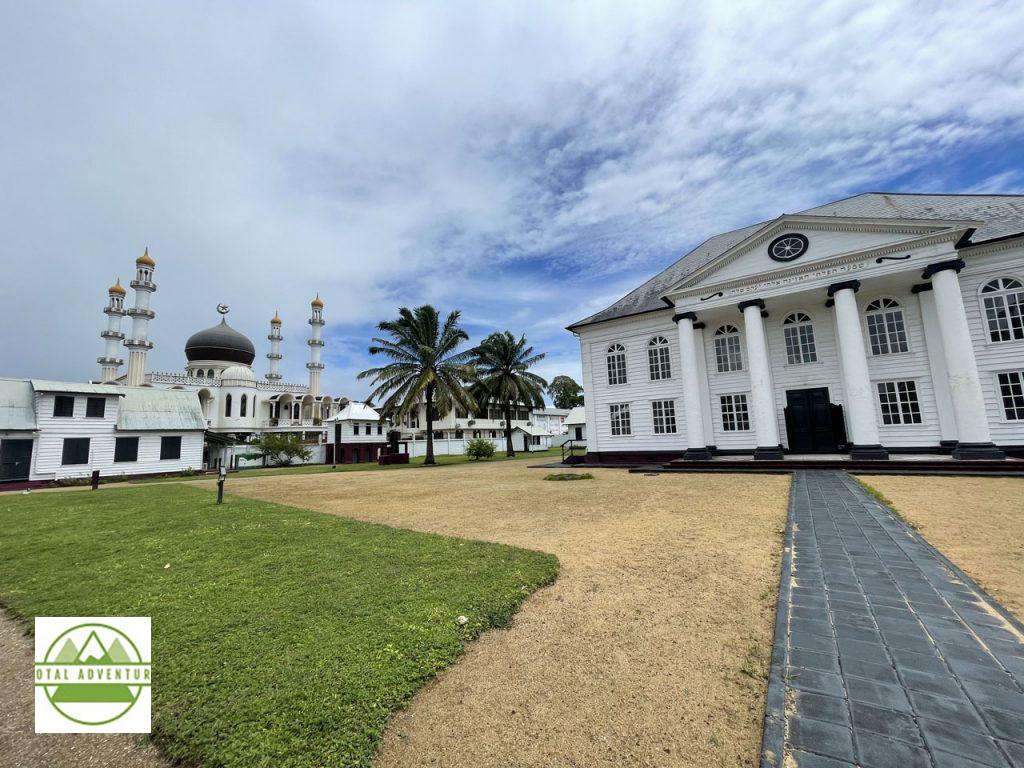 The Dutch bought in colonists and settlers from their worldwide territories Indonesian, southern African, Caribbean islanders and West African slaves all added to the mix. 13 different languages and dialects are spoken in Paramaribo, many more in the jungles.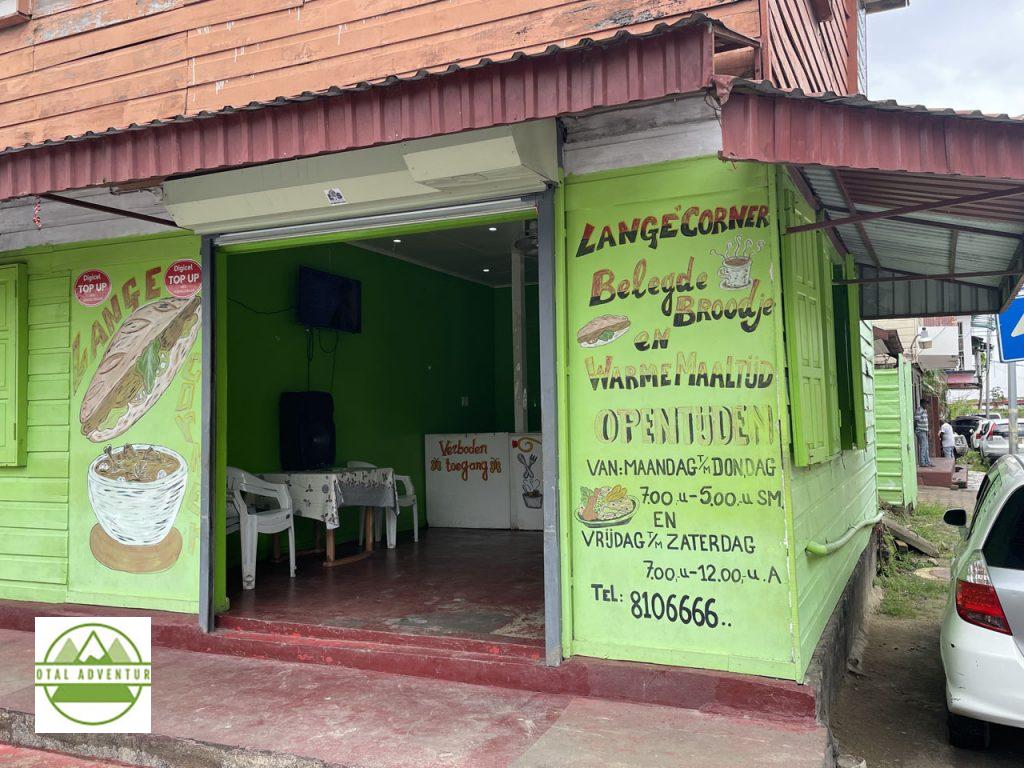 There is a true diversity of food everywhere. Dutch/French/Caribbean combo here.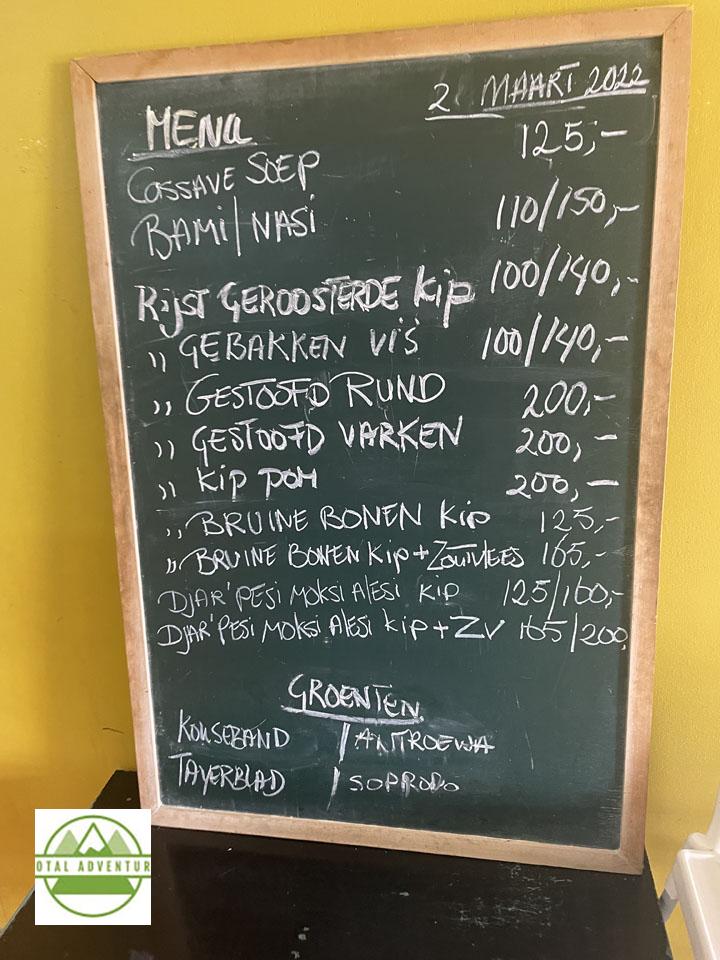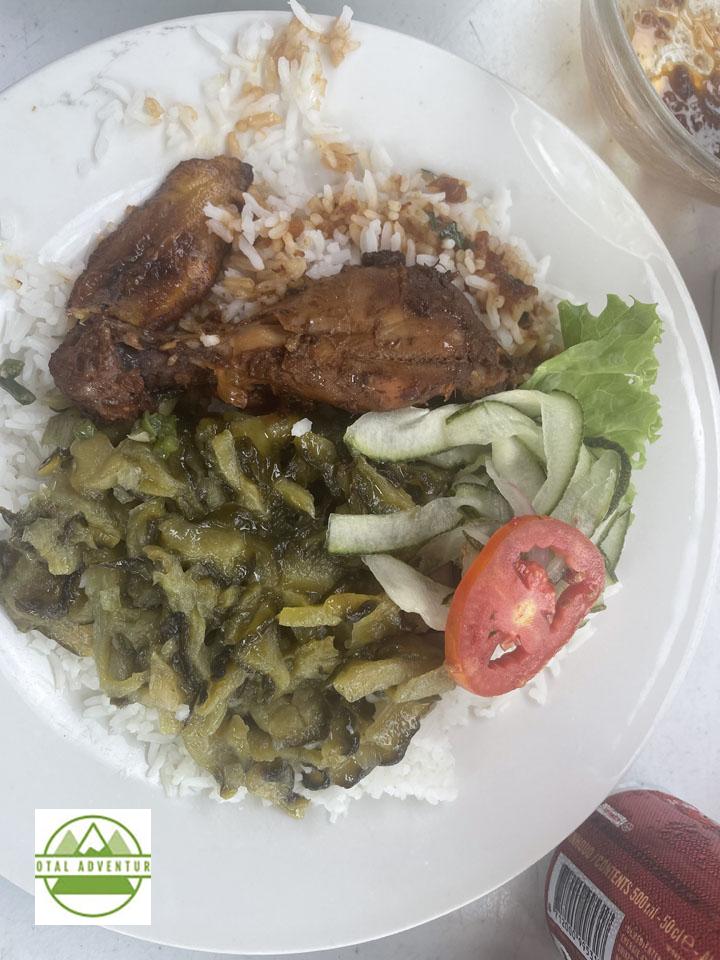 Indian chicken roti with West African style vegetables.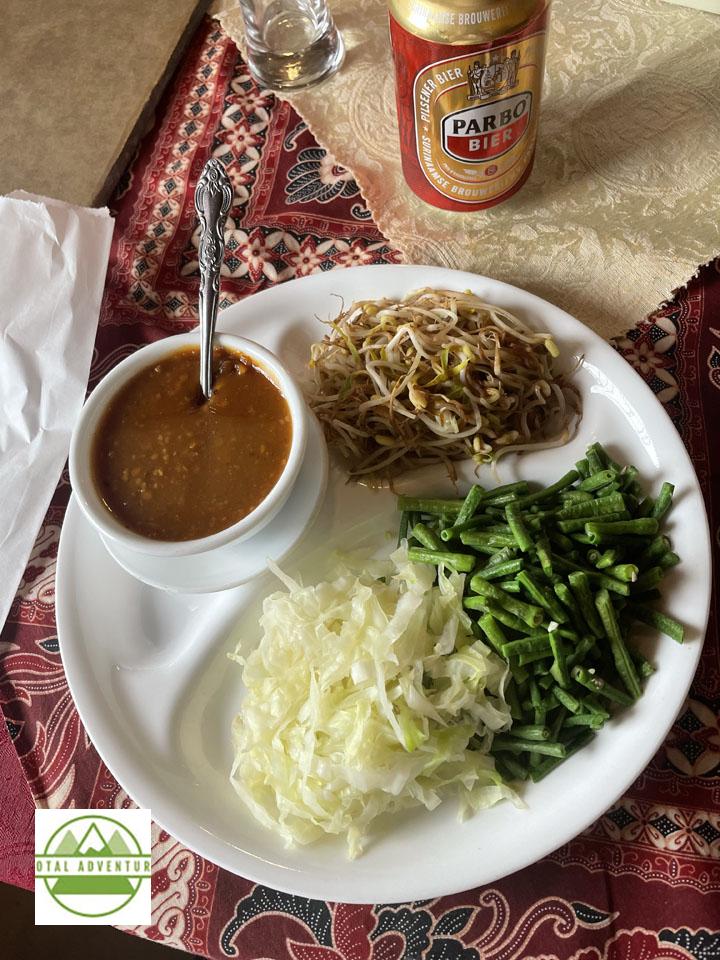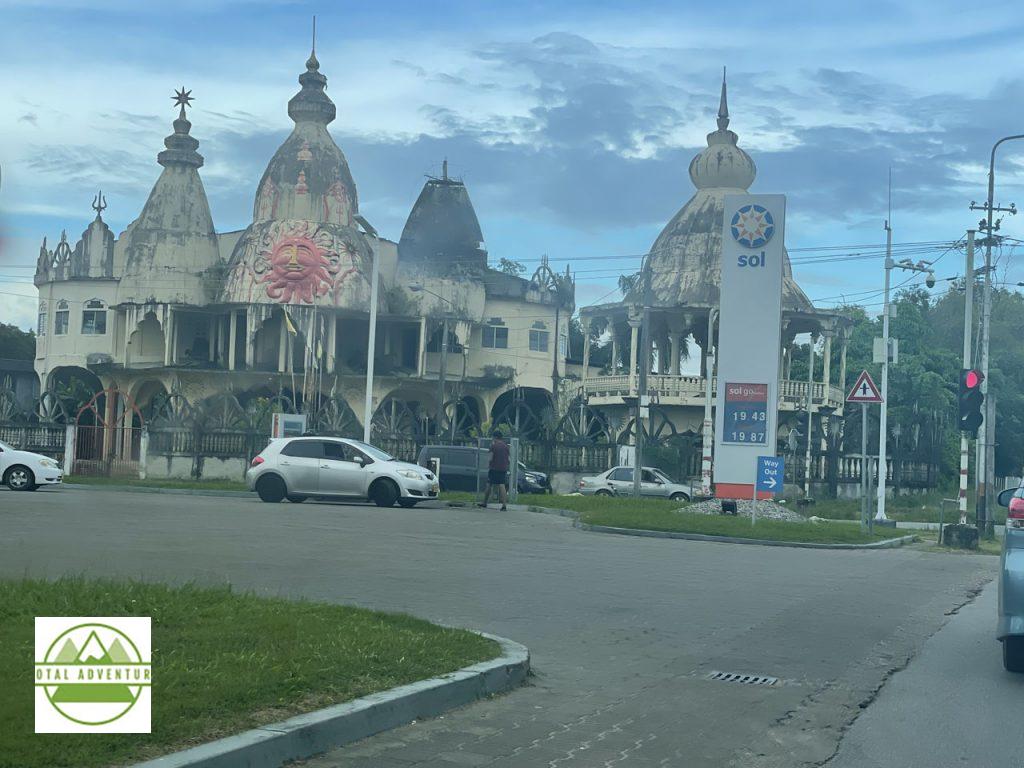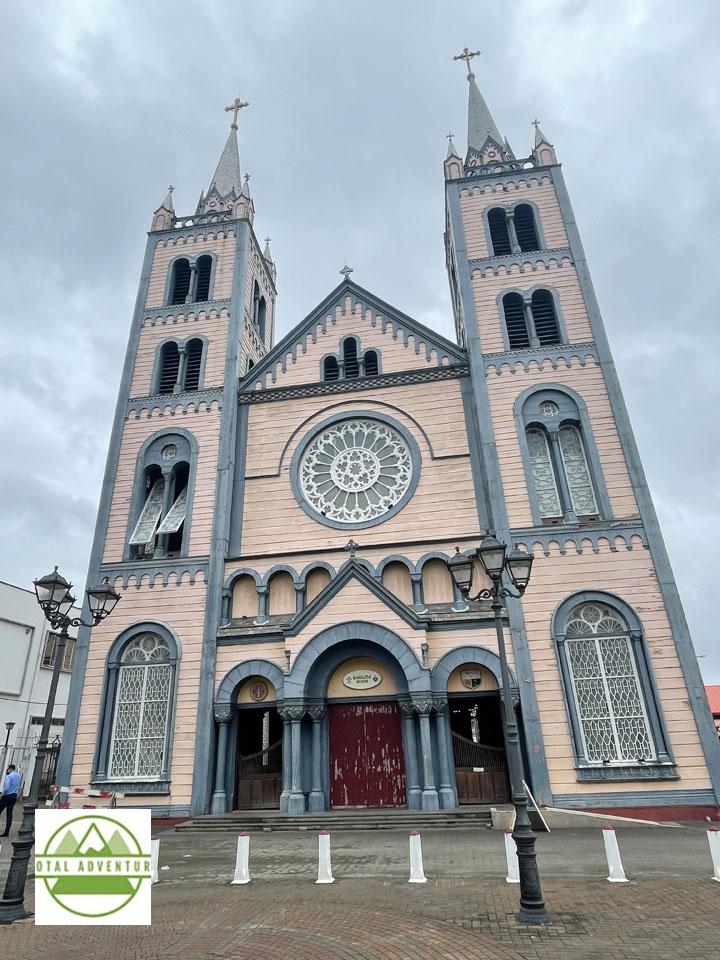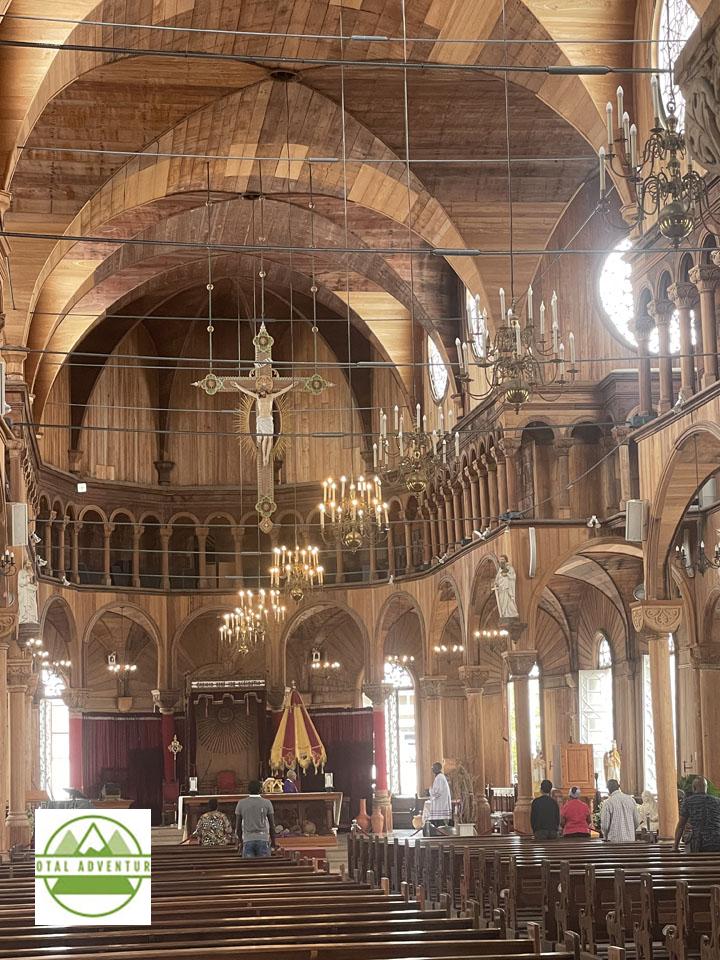 All Wooden Interior of Church.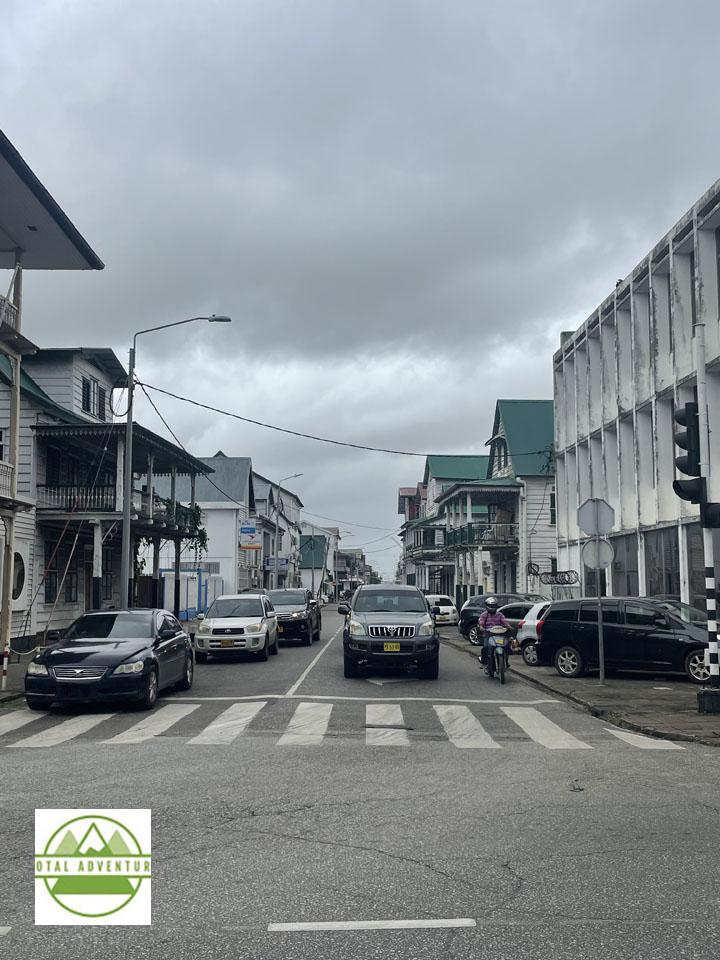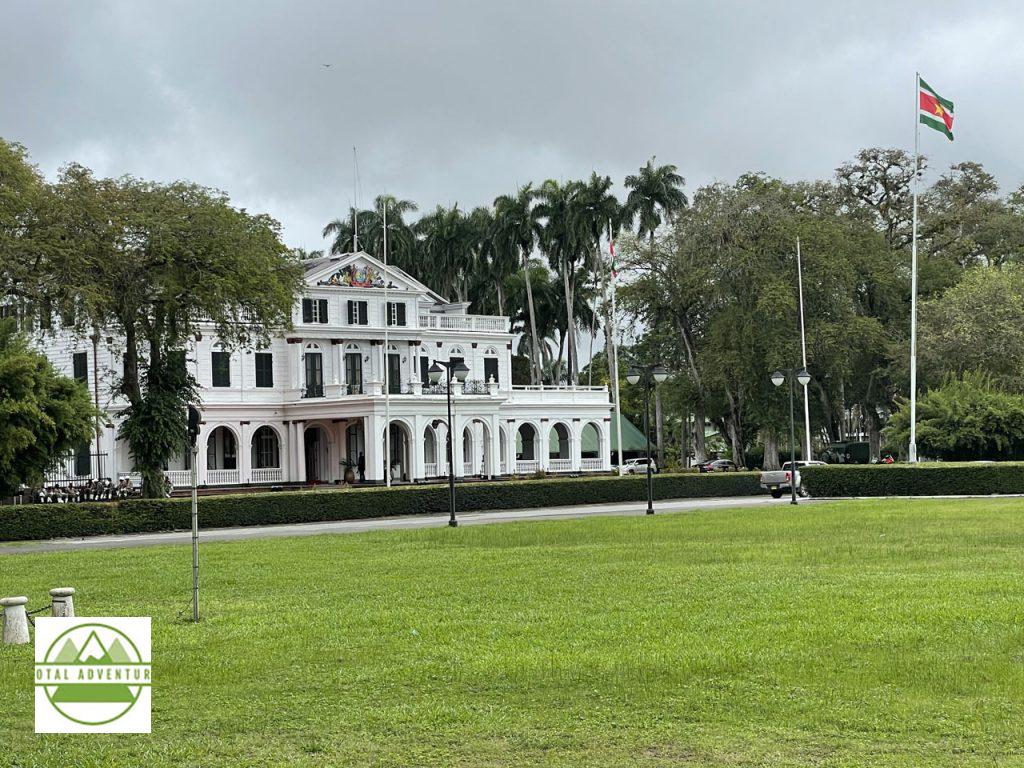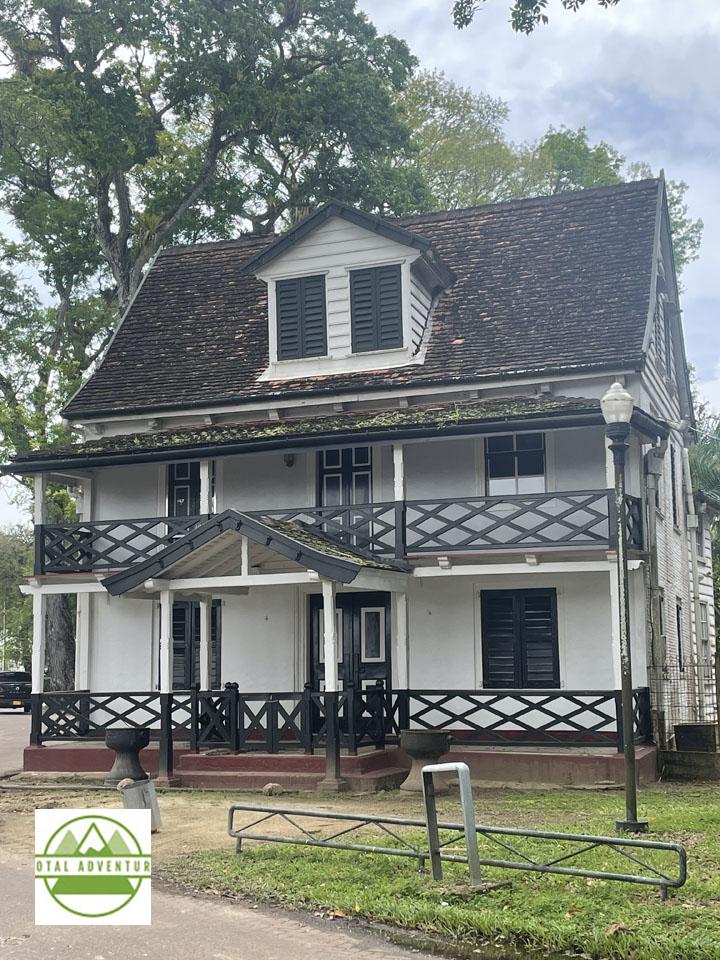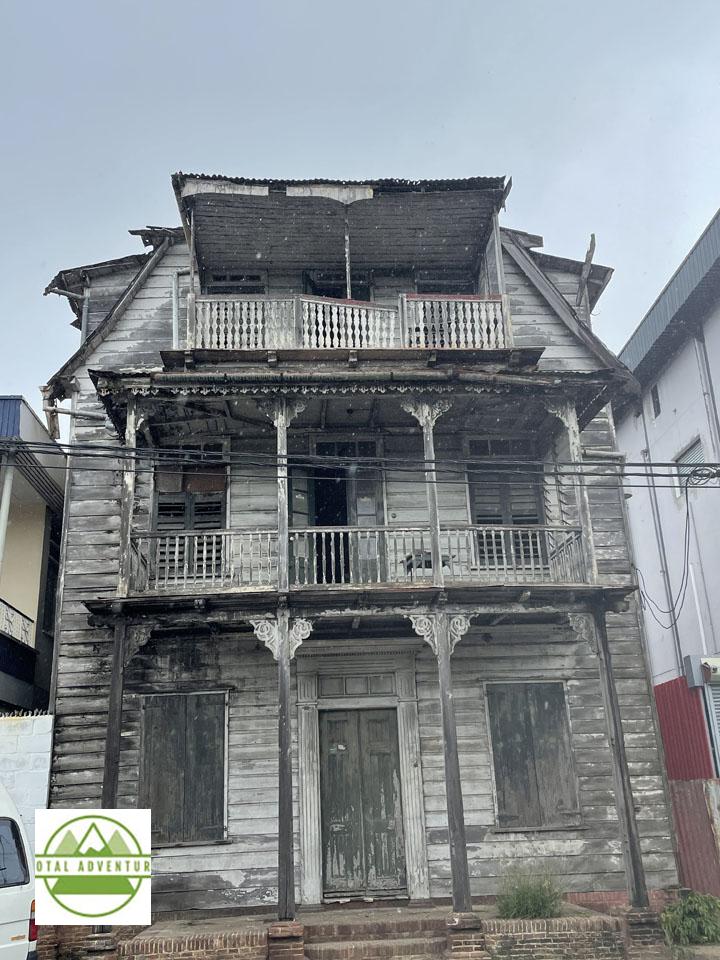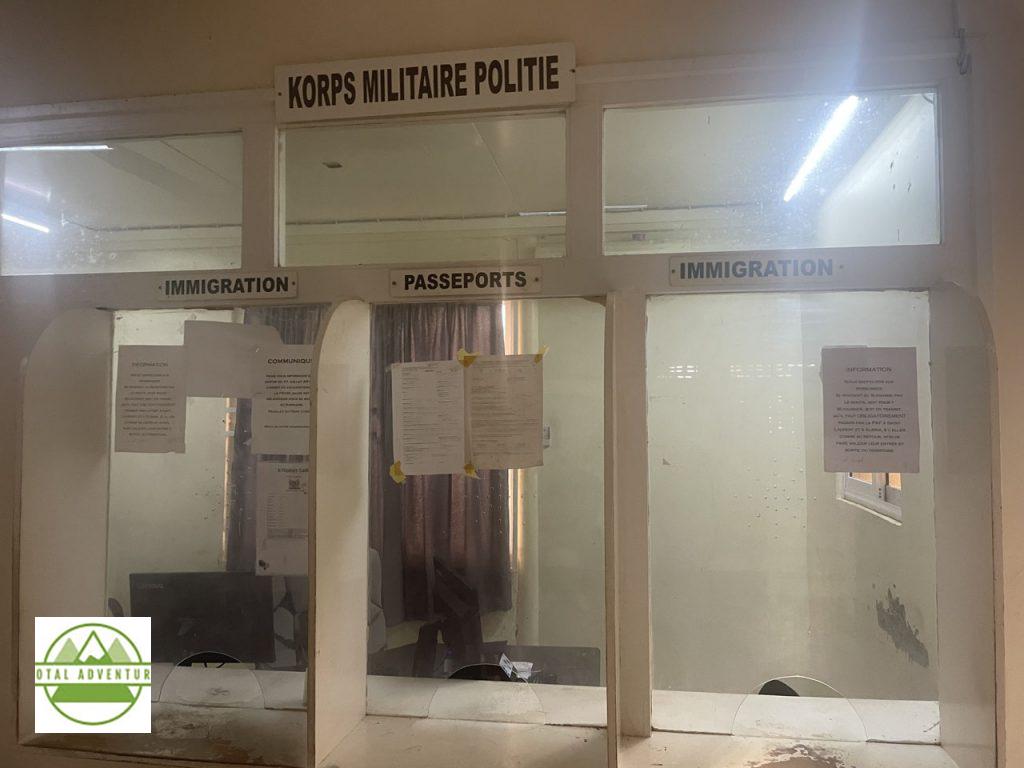 An early morning ride from Paramaribo got me to the border town of Albina by 9AM. Jungle and small villages all the way. Suriname is the most forested country in the world. Many less documents were required for exit.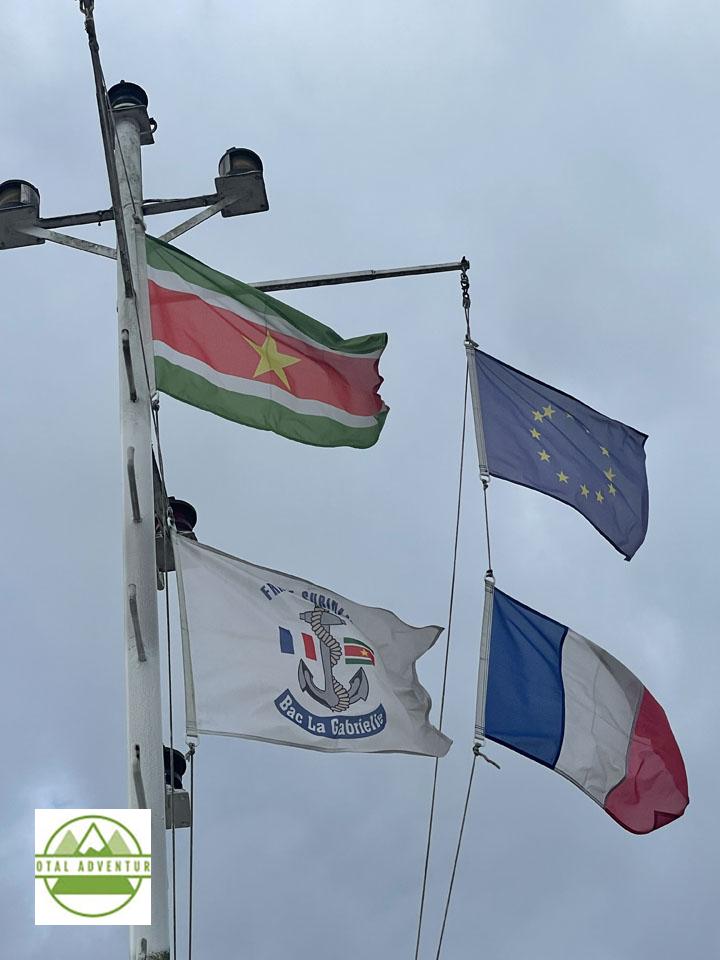 The ferry from Suriname to France takes about 20 minutes and costs 3.40 Euro. There is no direct flight from Cayenne to the US – one can go to Paris and fly from there , or island hop through French islands to Miami. Consequently I will return to Suriname after Cayenne.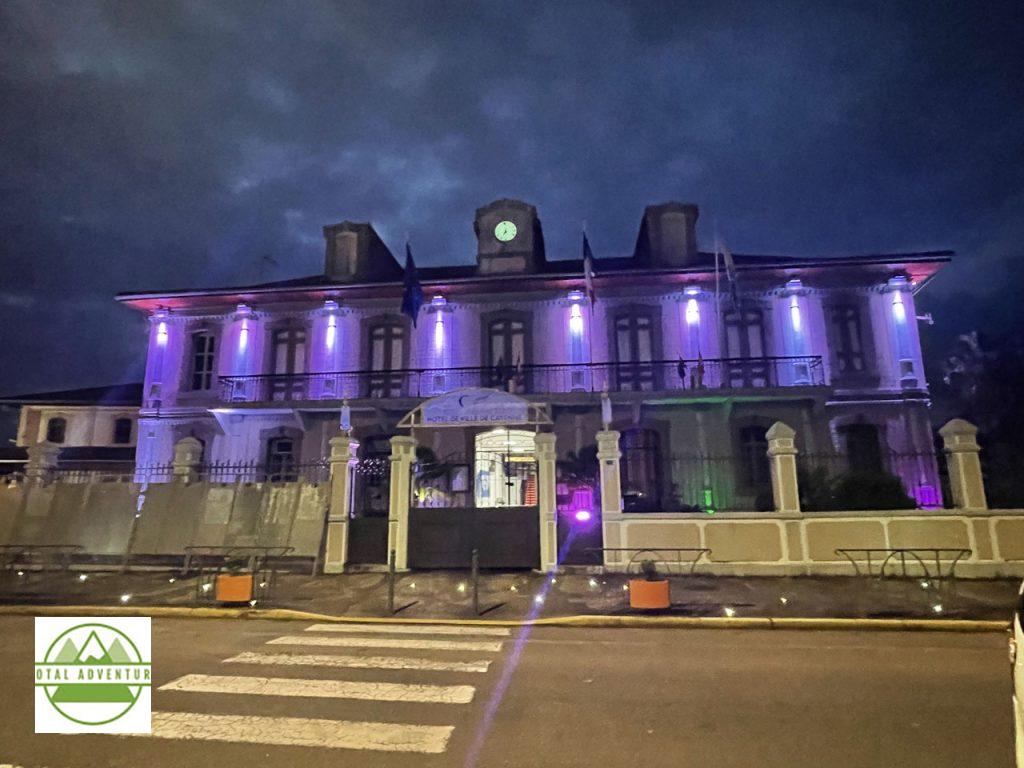 TotalAdventure crossed the Maroni River from Suriname to French Guyana on the morning of March 25. Before dawn, my driver, supplied by the French Embassy, picked me up in Paramaribo and we drove east to Albina , where I went through exit formalities , then boarded the ferry to St.Laurent du Maroni, notorious as the maritime entry point for convicts banished to Devil's Island and the mainland prison camps.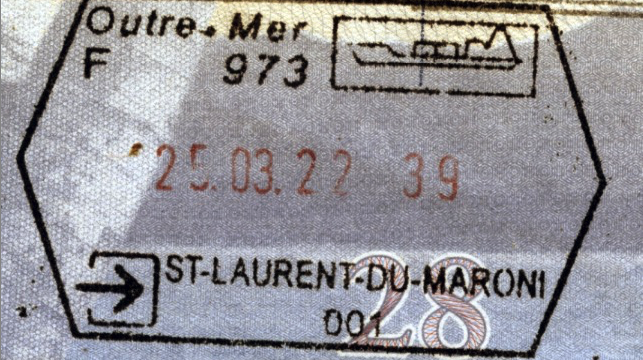 Watch the amazing video above. Cayenne and Devil's Island !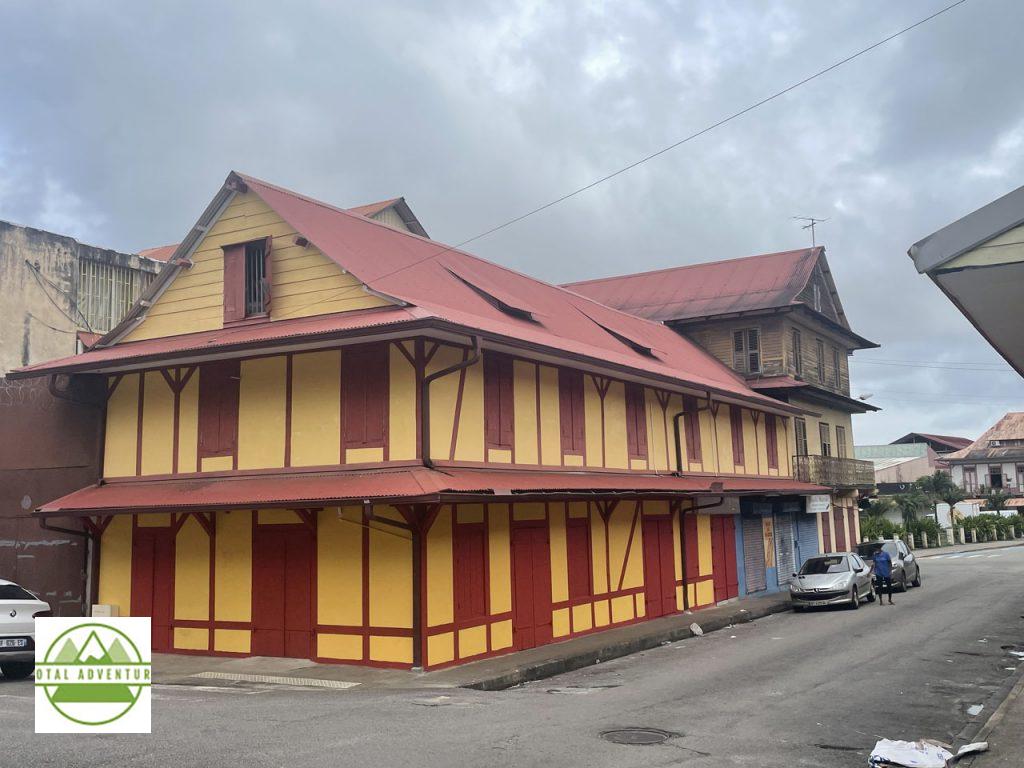 After flagging down a driver for the 2.5 hour 100 Euro ride to Cayenne I relaxed with a cafe au lait and watched the jungle scenery fly by. The city is mainly old wooden buildings and is very low and swampy. There is a huge shopping mall with a Carrefour superstore. I stayed at the wonderful Hotel Ker Albert. We don't normally post links to hotels, except where they are very helpful in achieving our mission.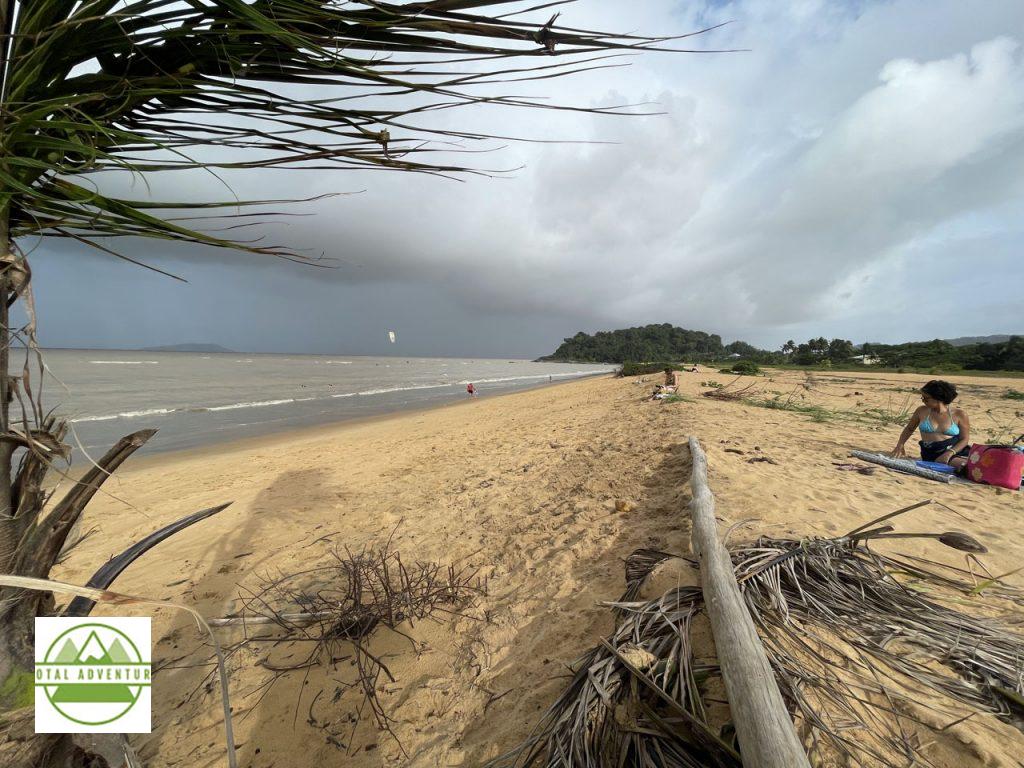 The beach above is one of the only beaches in the Guyanas that is swimmable. but one would not fly there just to go to it. The water has almost no salt, as there is river runoff from every river between the Orinoco and the Amazon. It is very muddy and black underneath. Constant trade winds make for good kiteboarding.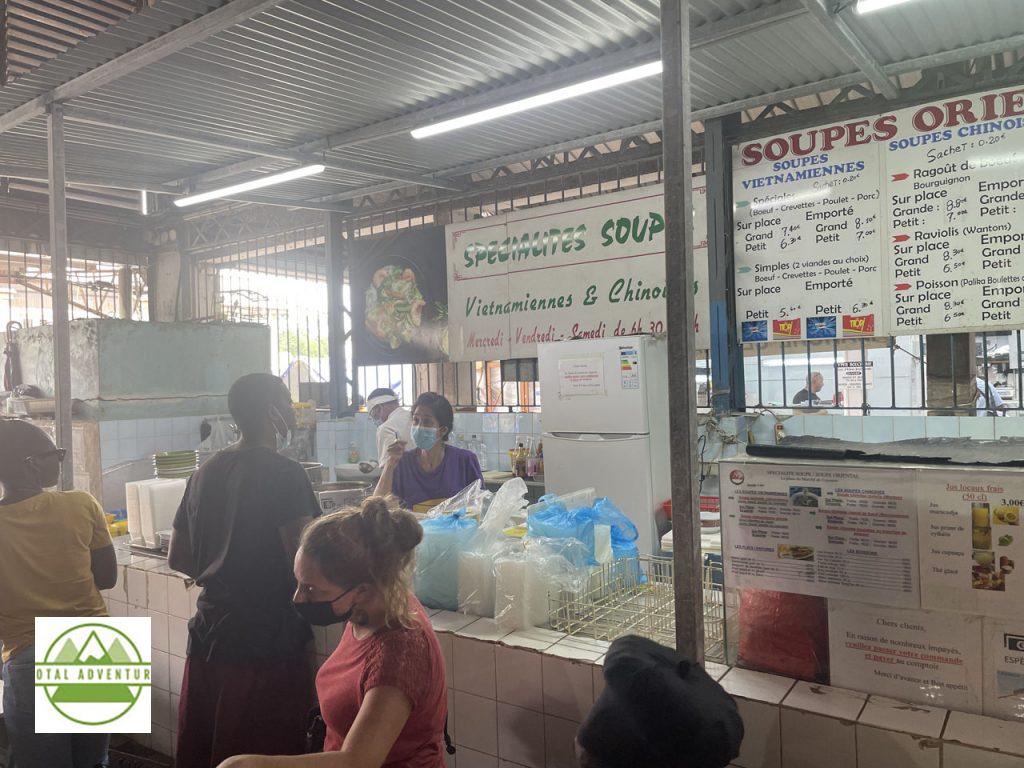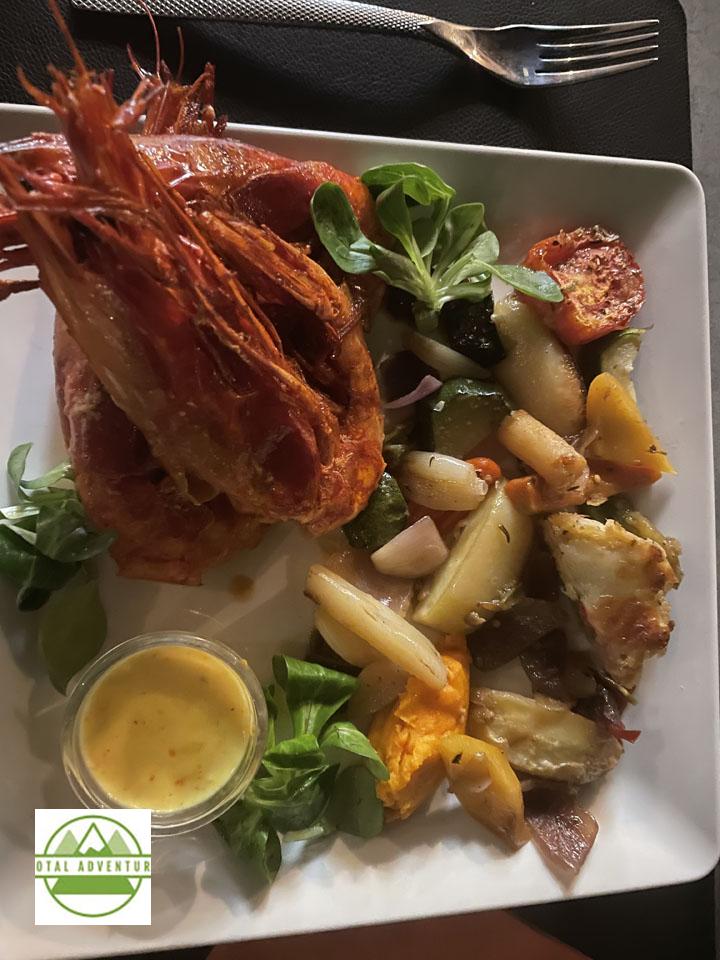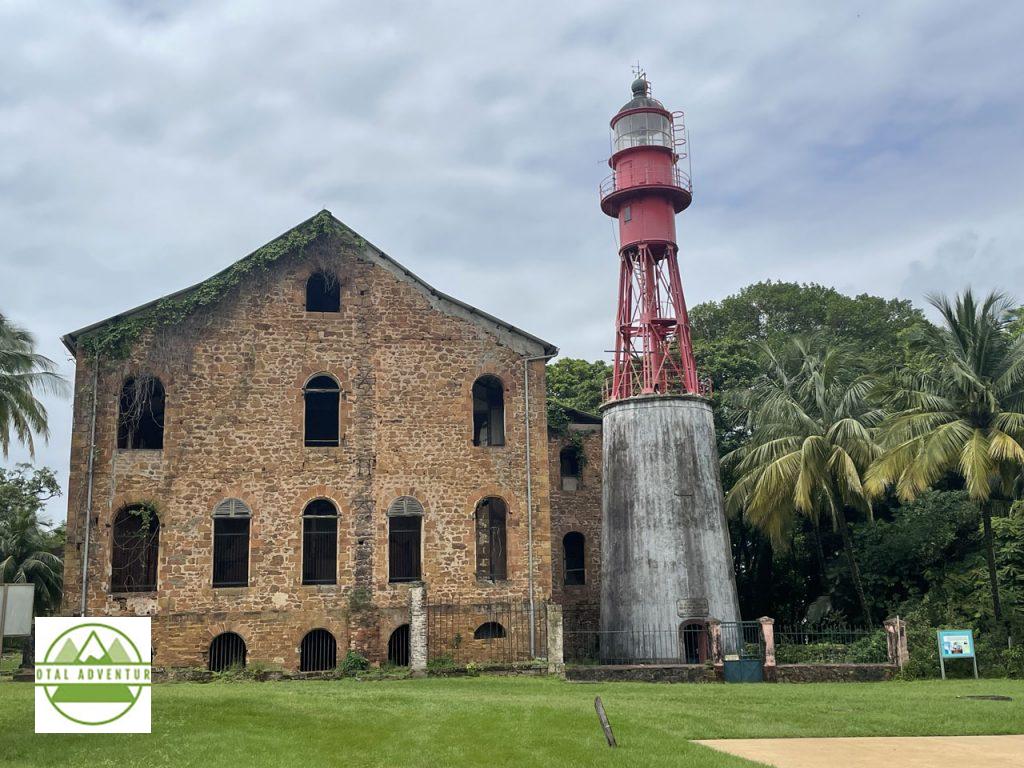 The main reason I came to Guyane de France was to explore Devil's Island. France banished its' criminals – murderers and rapists, but also chronic petty criminals to a living hell from which few ever returned to mainland France. For good measure, I rewatched Papillon just before the journey.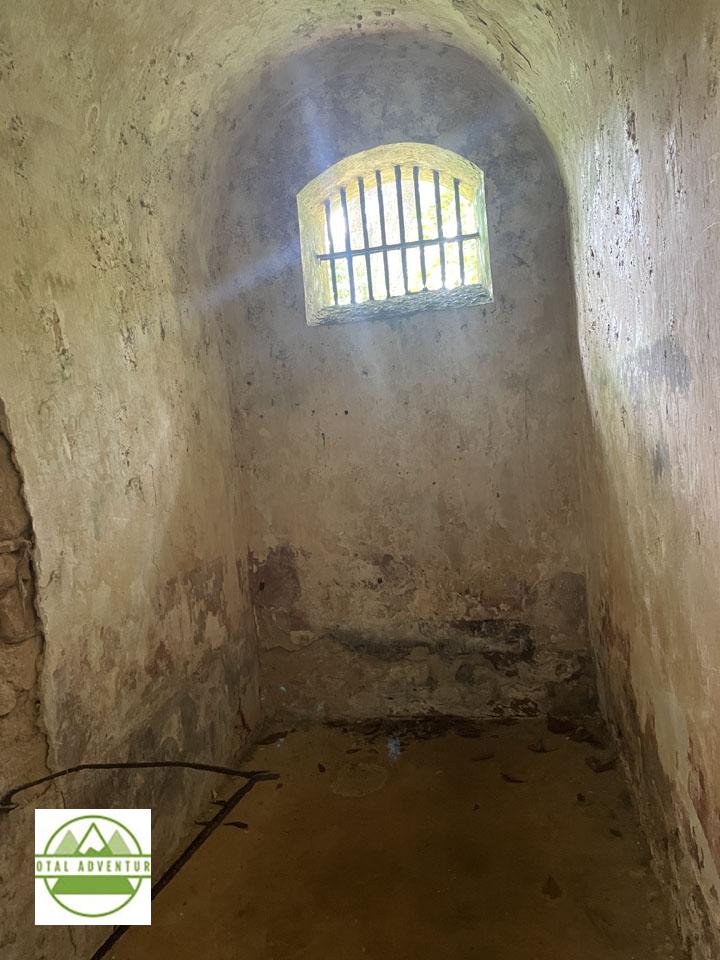 The Iles du Salut – Royale, St. Josepsh and Diable – 10 miles from the mainland via shark infested rip current waters were for the incorrigibles, a prison away from the prison camps. Here is a cell for someone condemned to the guillotine. The bar was to secure a prisoner to his bed at night.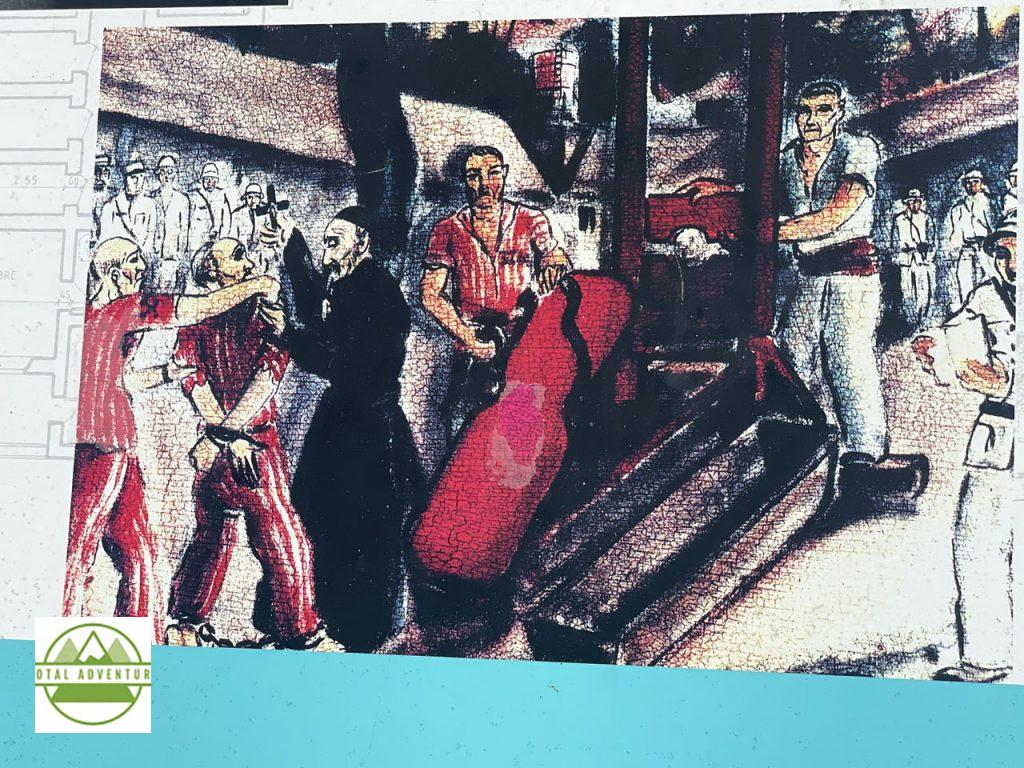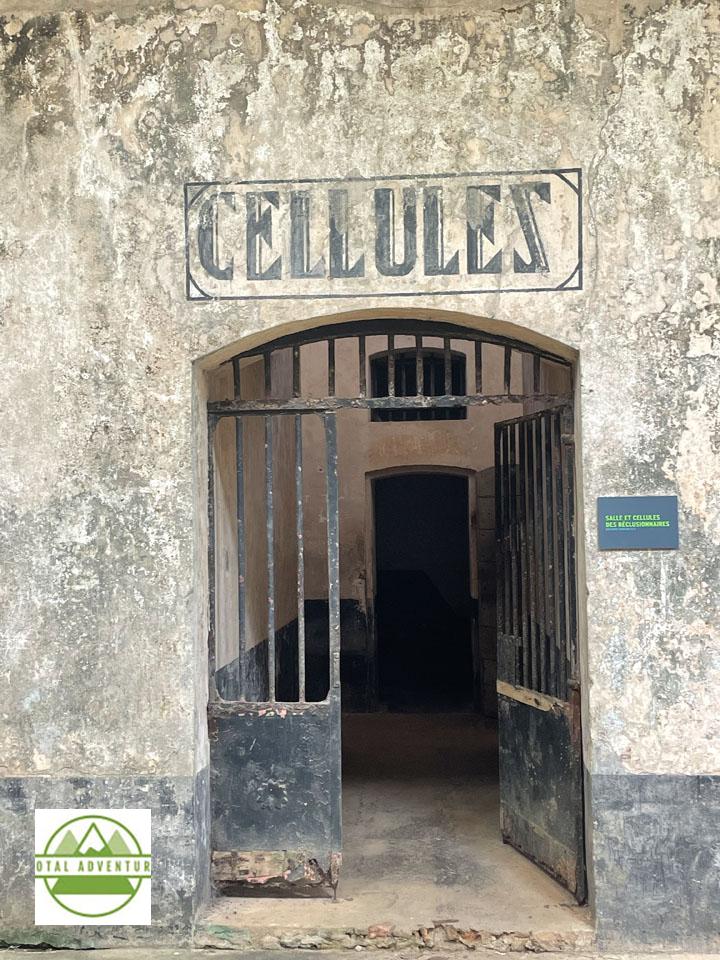 The solitary cells were the end of the line. Total seclusion in darkness and silence for up to five years. For attempted escape, the punishment was 2 years first offense , five years for the second – to be served in addition to the original sentence.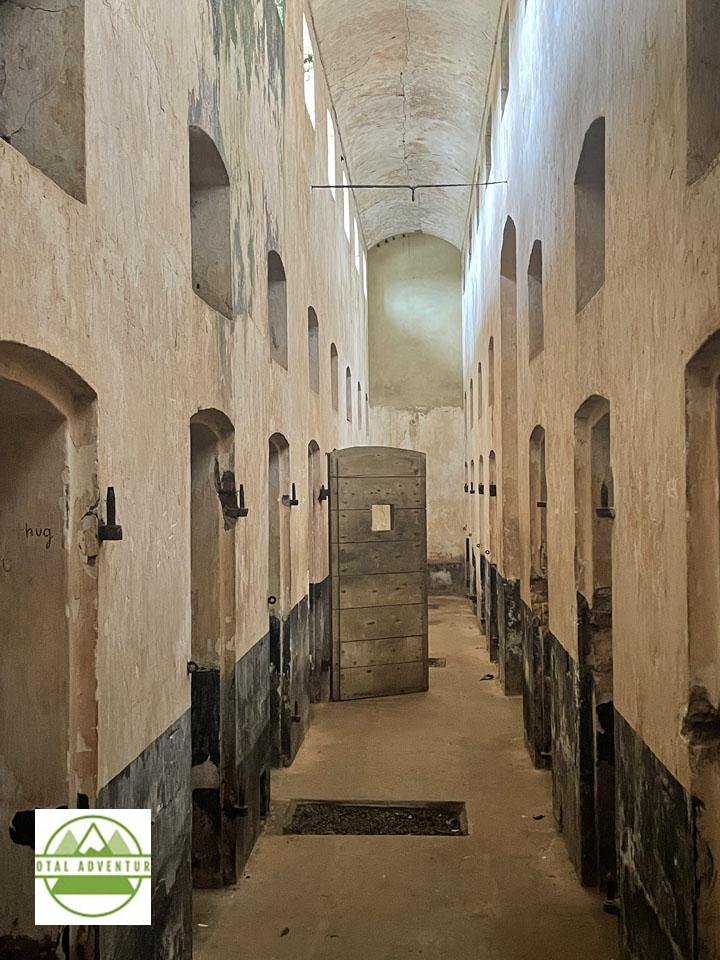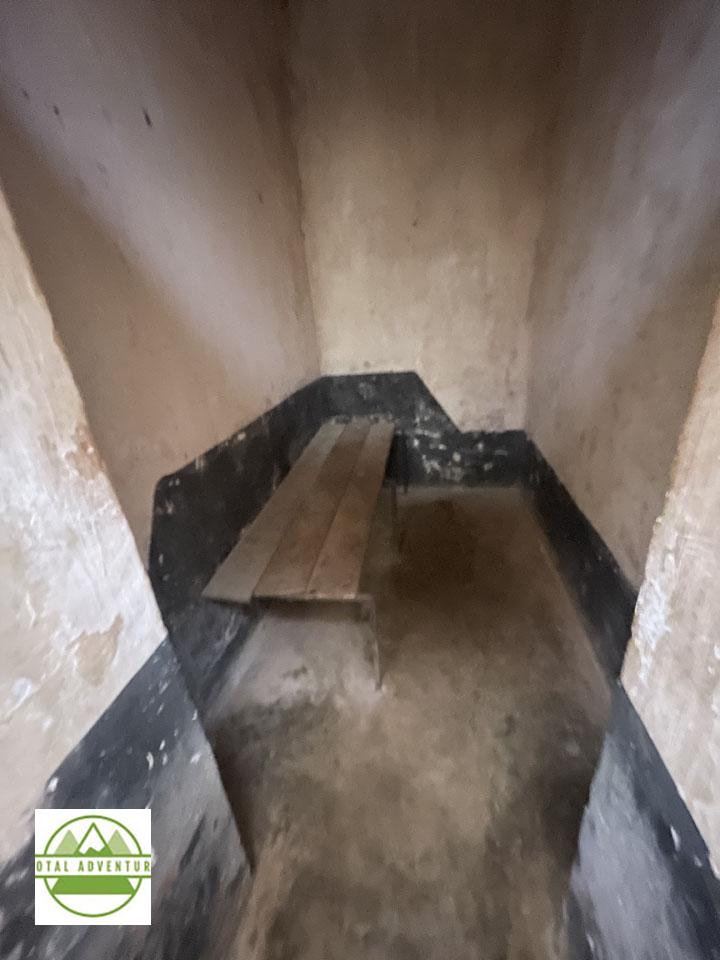 Three slats of wood for a bed. No lying or sitting for 15 hours of the day – only standing or pacing. Food was a soup or gruel with a minimum amount of calories to sustain life – reduced by half for violations. No talking, no reading material. Many went mad.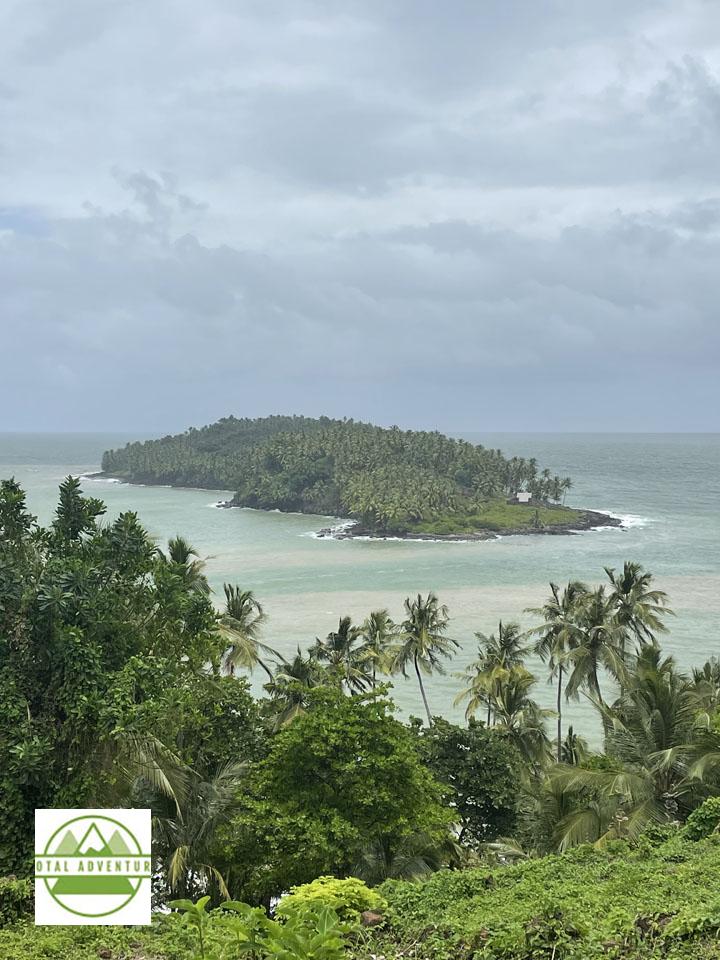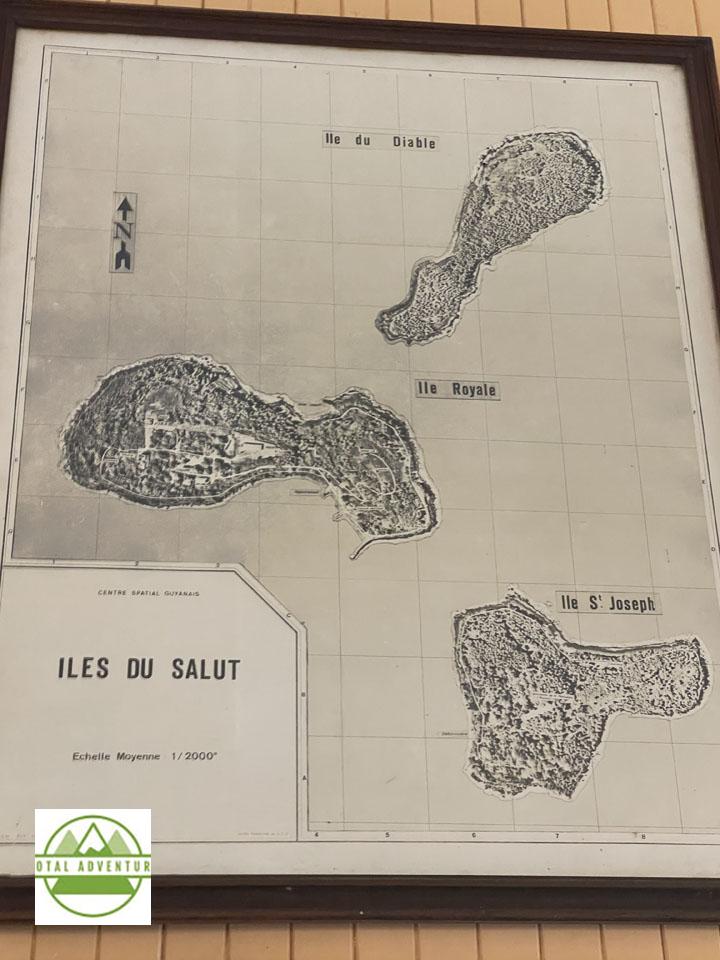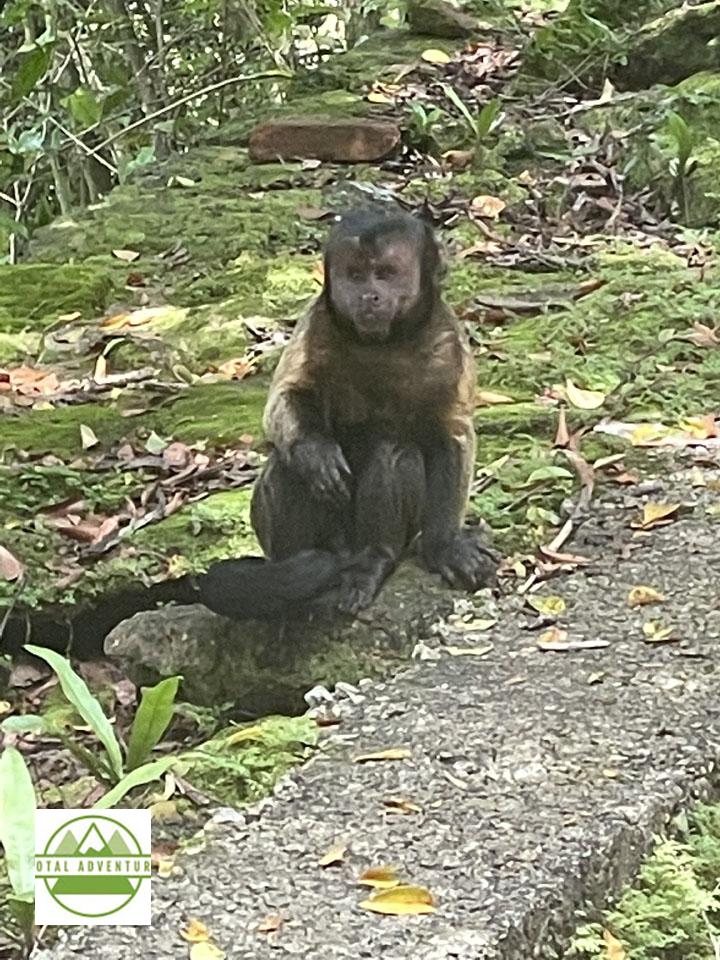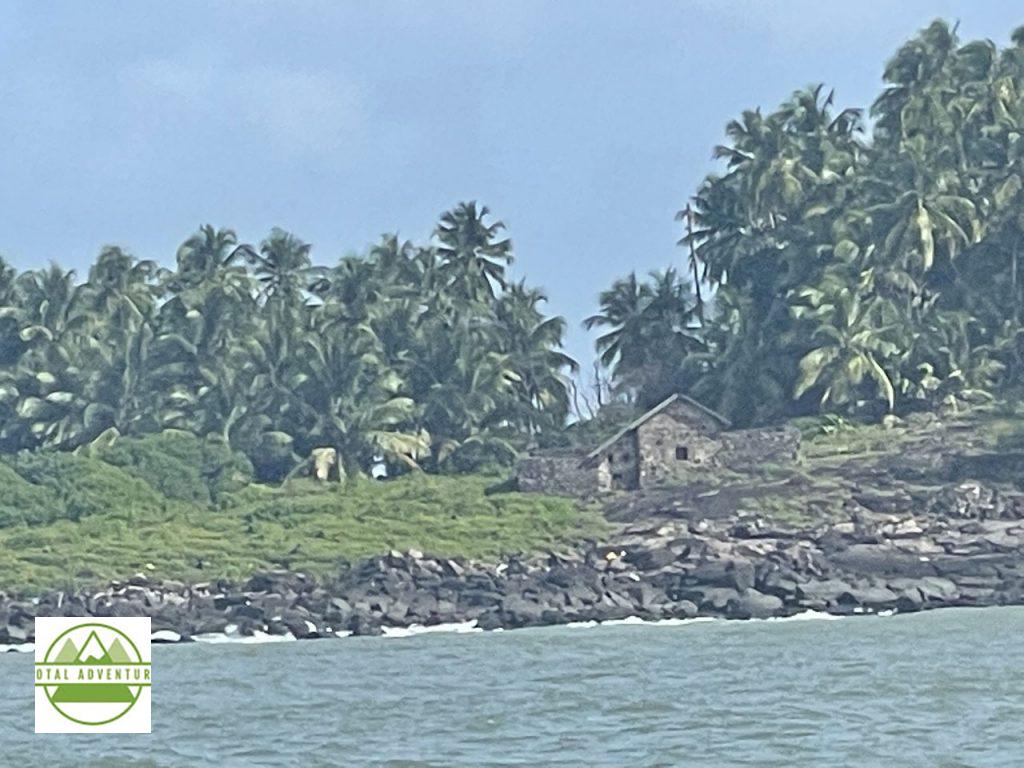 From the islands we returned via catamaran, with jolly French vacationers to Korou – site of the European Space Program. Then back to Cayenne for the evening. TotalAdventure then rose at 4:30 AM, took the van to St. Laurent for a mandatory covid test for both Suriname and the USA. Having missed the ferry, I crossed the Moroni by motorized pirogue to Albina where my Suriname driver was waiting. Back to Paramaribo for a delicious lunch and a 1 AM flight back to Miami.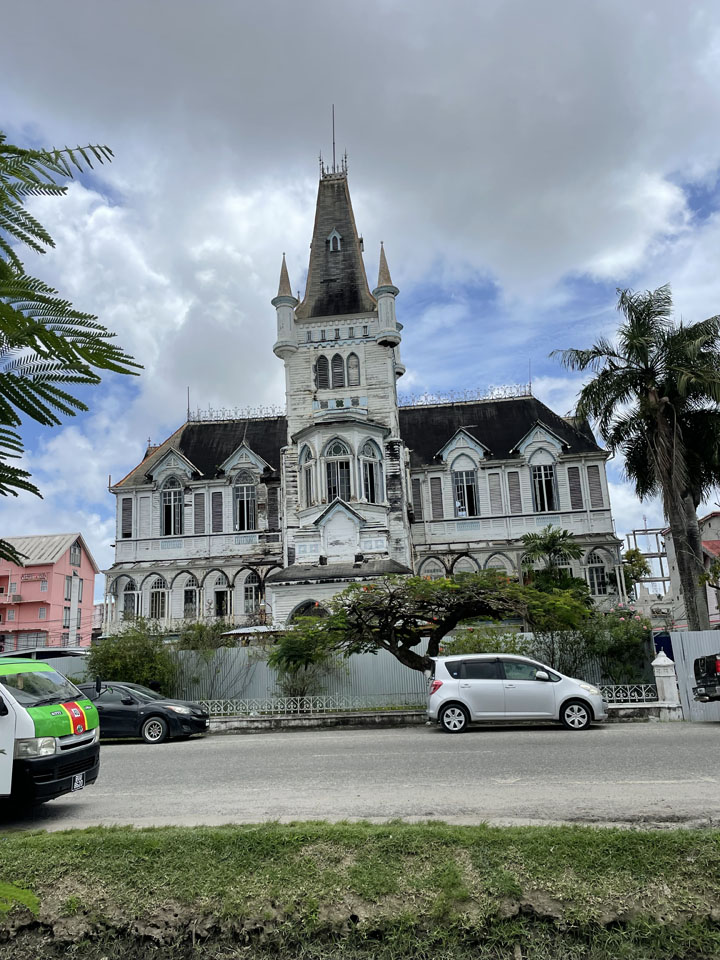 On Friday Night , March 18th, TotalAdventure arrived in my 94th country. Only 4 hours from Miami – and so refreshingly different ! After a late night arrival and early morning swim in the hotel pool, iW as ready to explore the city.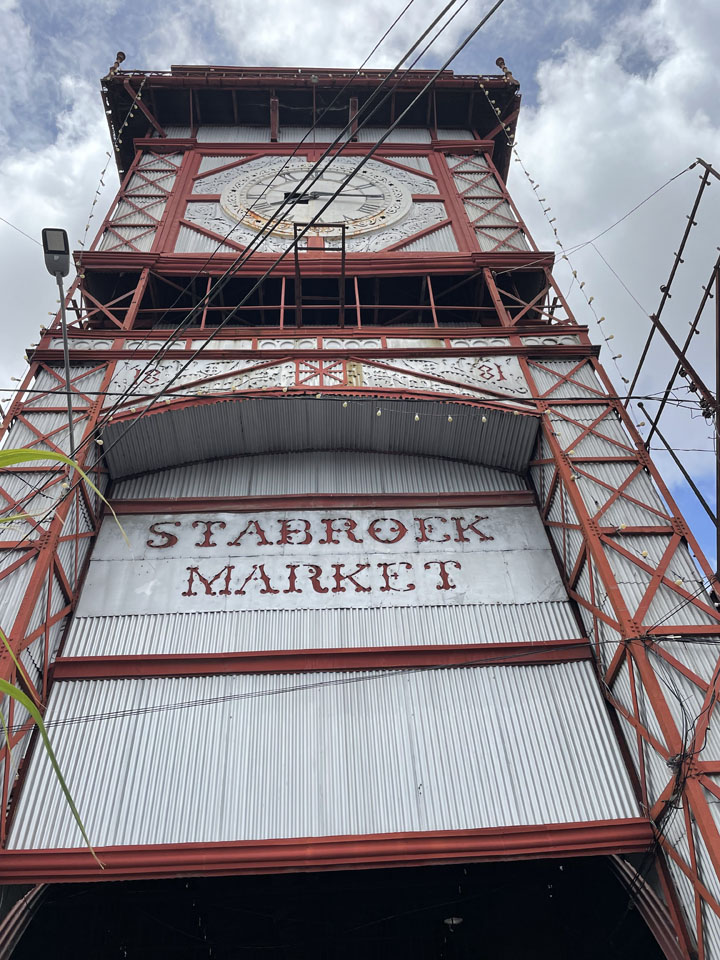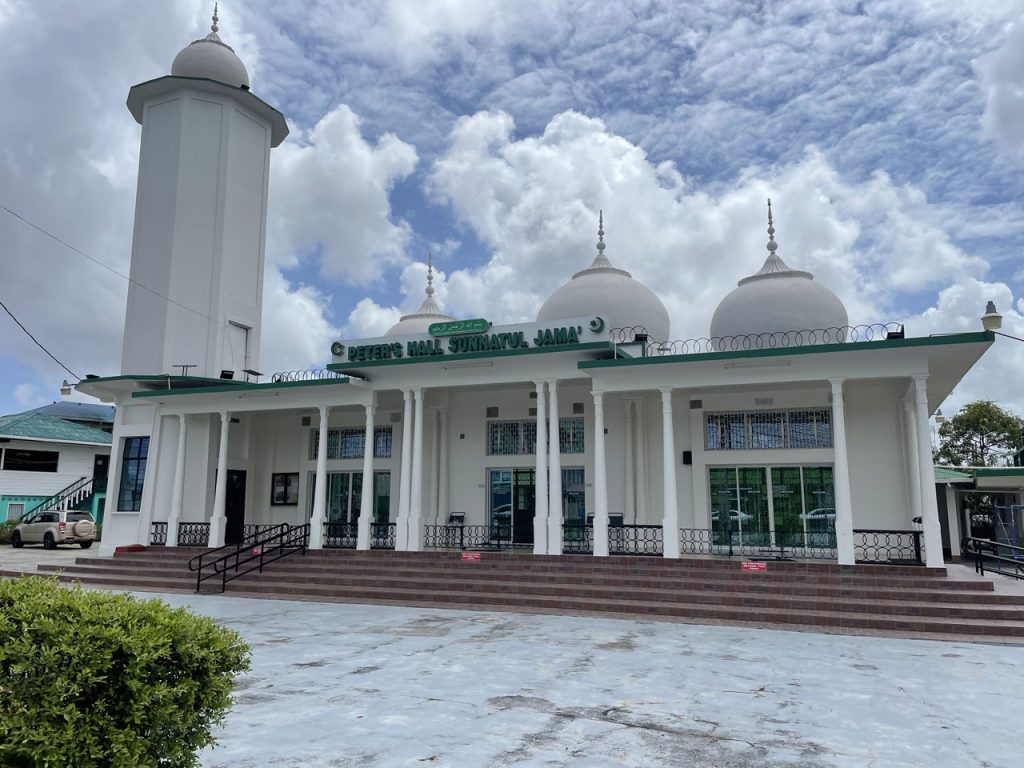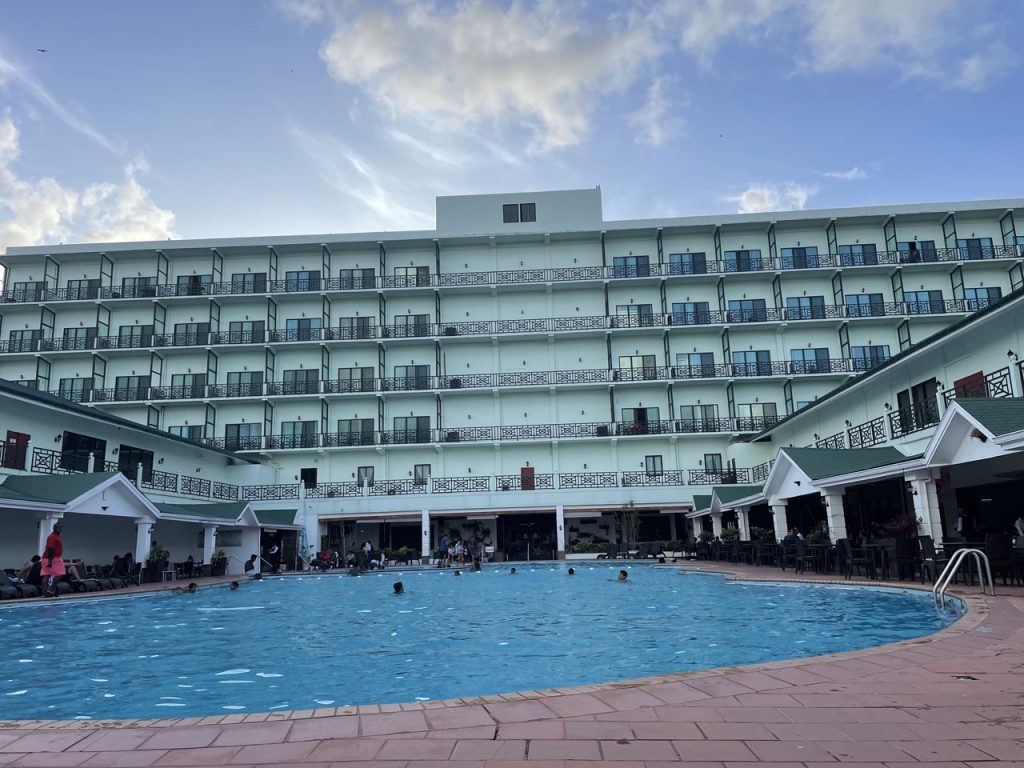 We will be adding to this preliminary post later. Also had an amazing plane trip t Kaituer Falls yesterday !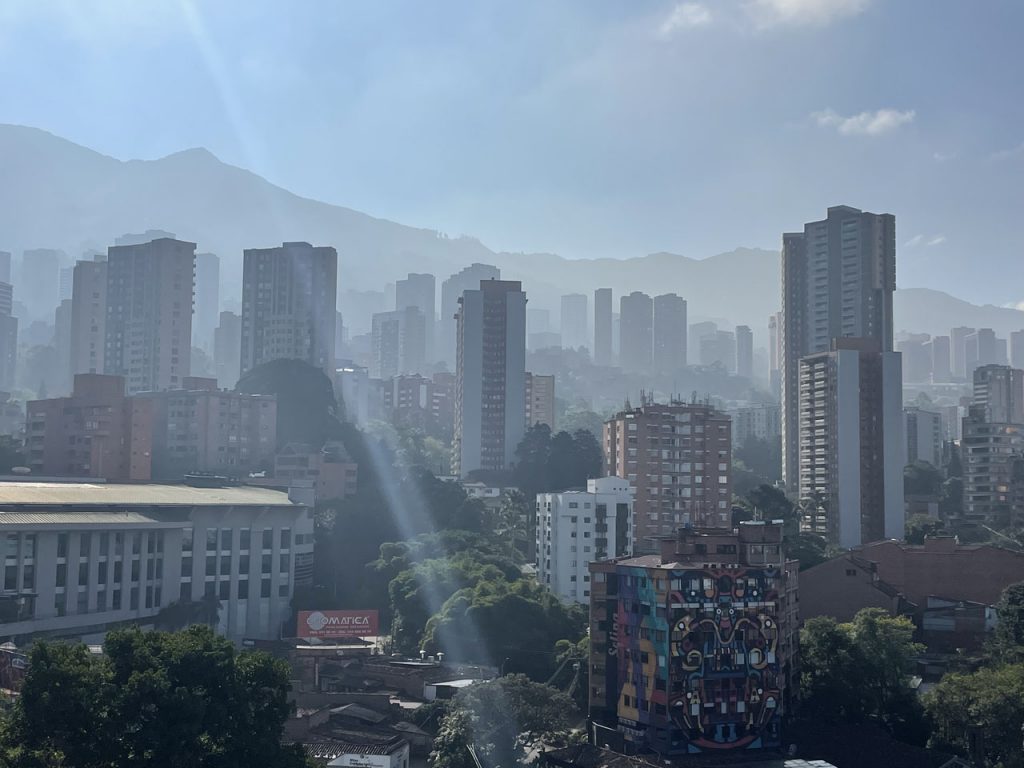 On the morning of January 22, 2022 , TotalAdventure left US territory for the first time in almost 2 years on a 3.5 hour flight from Miami to Medellín .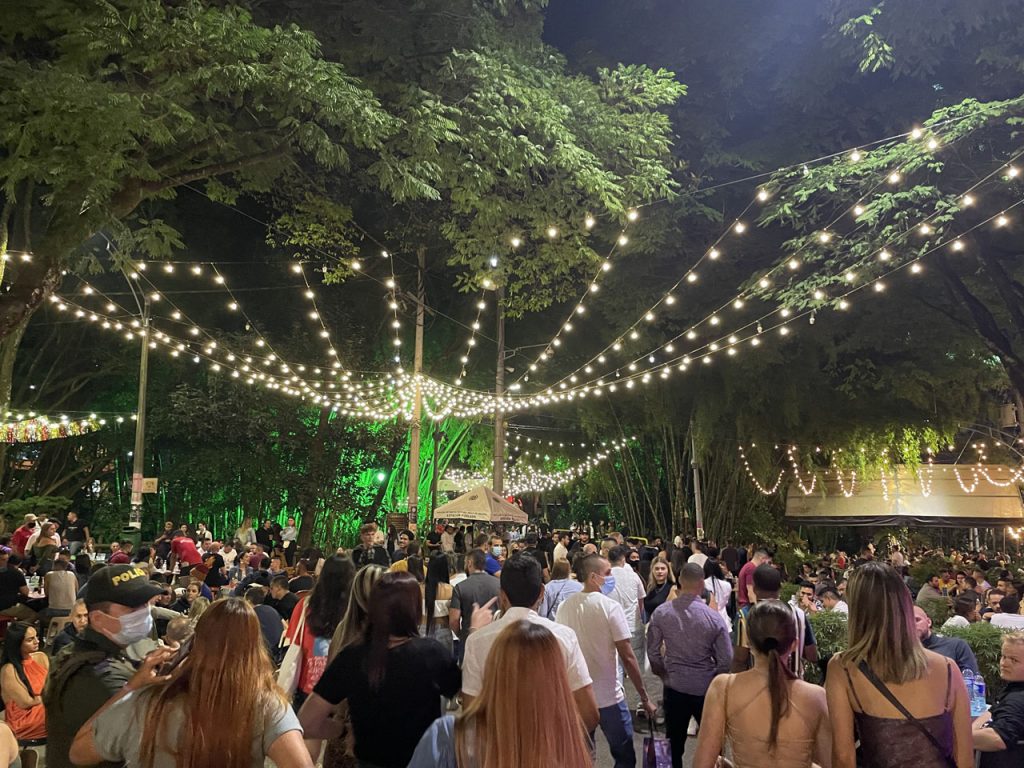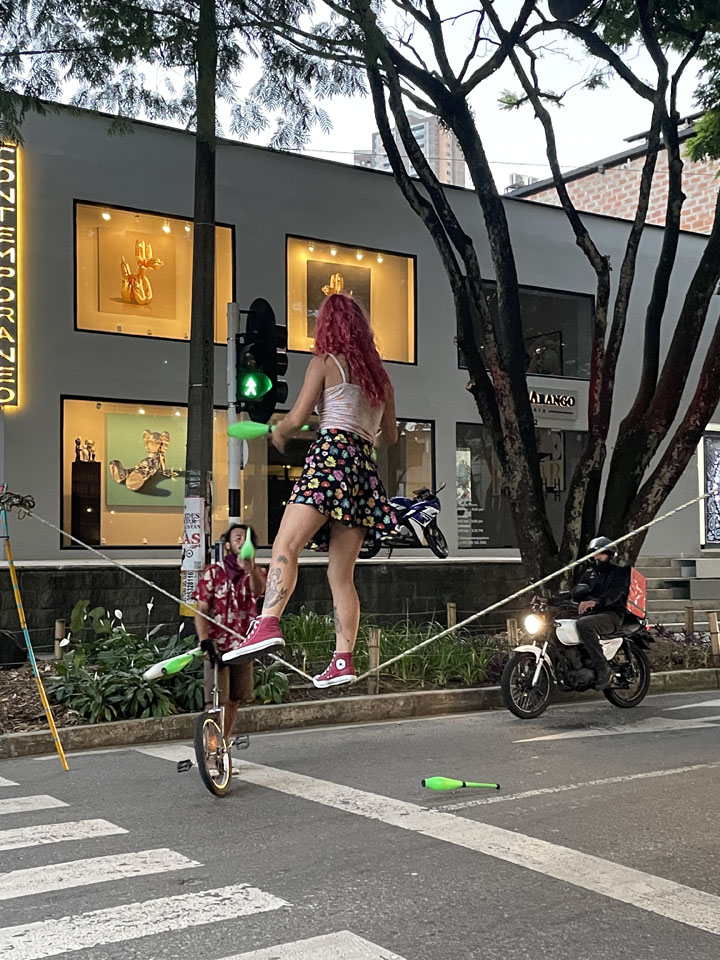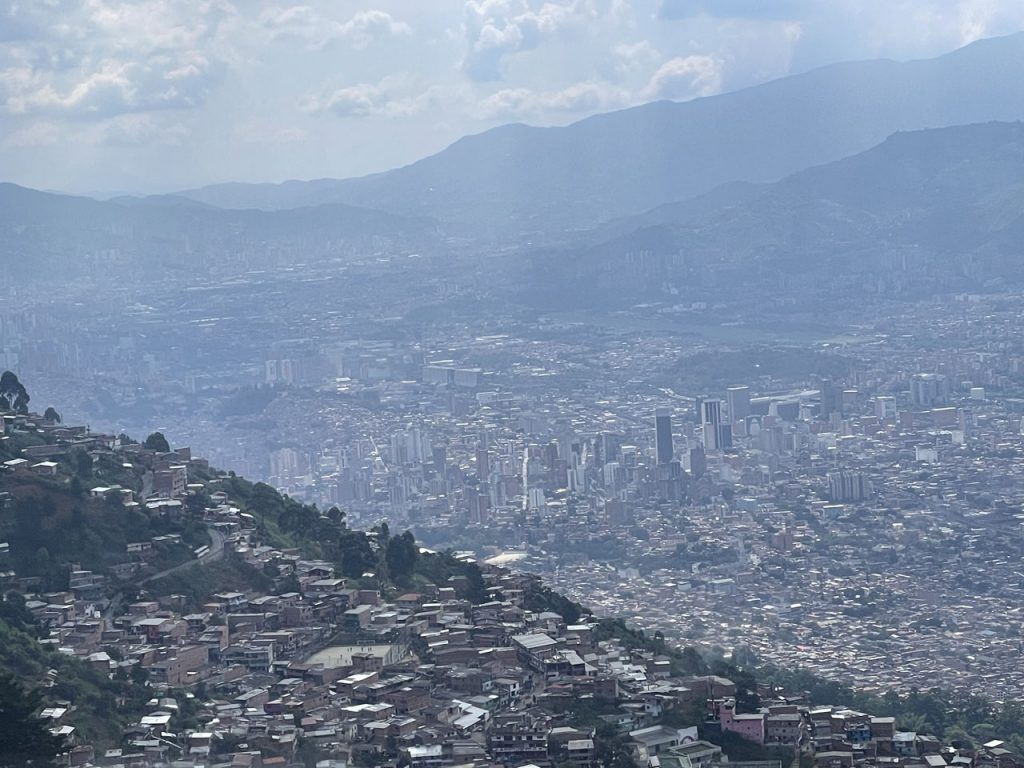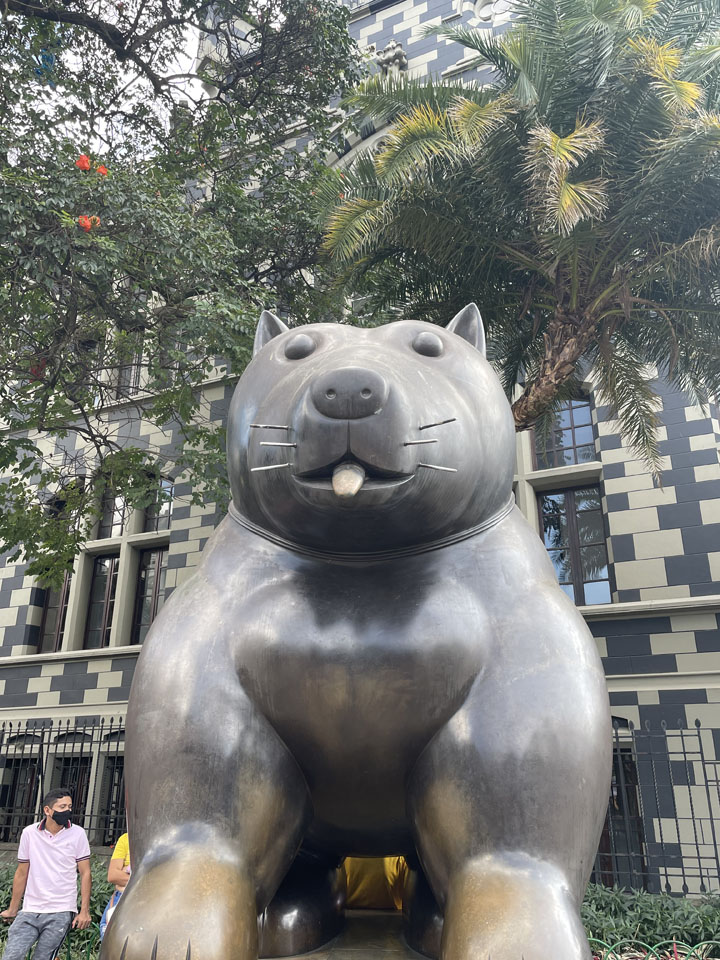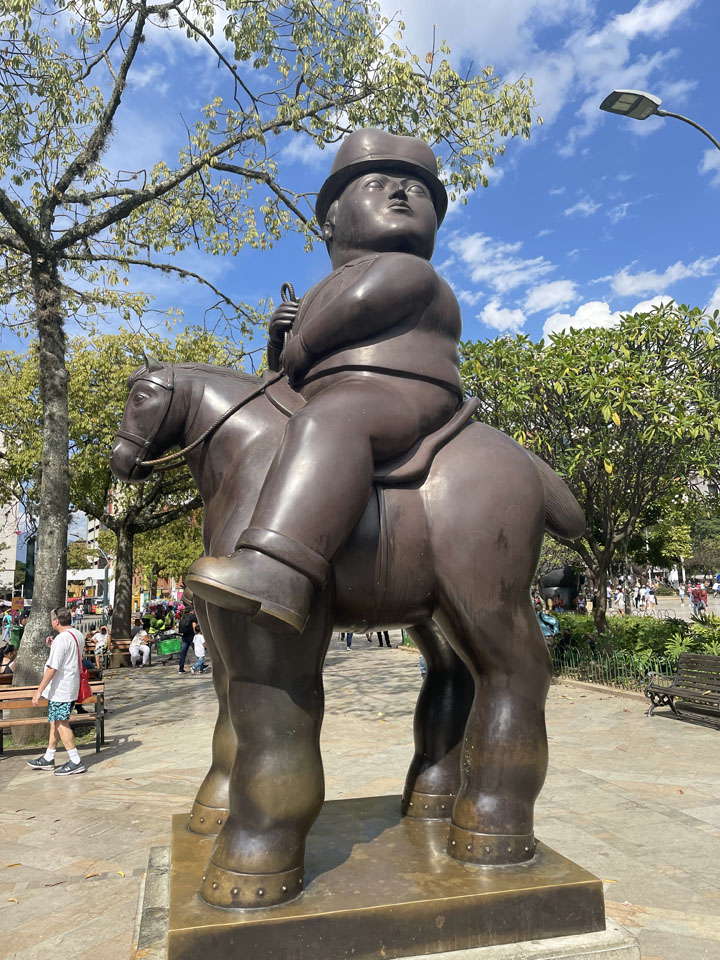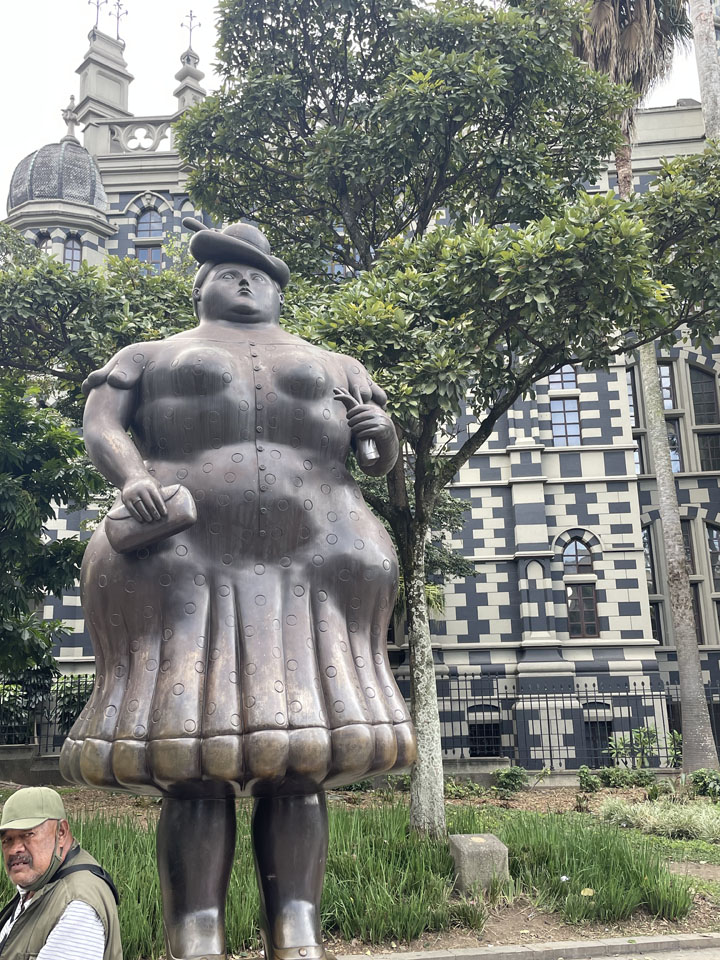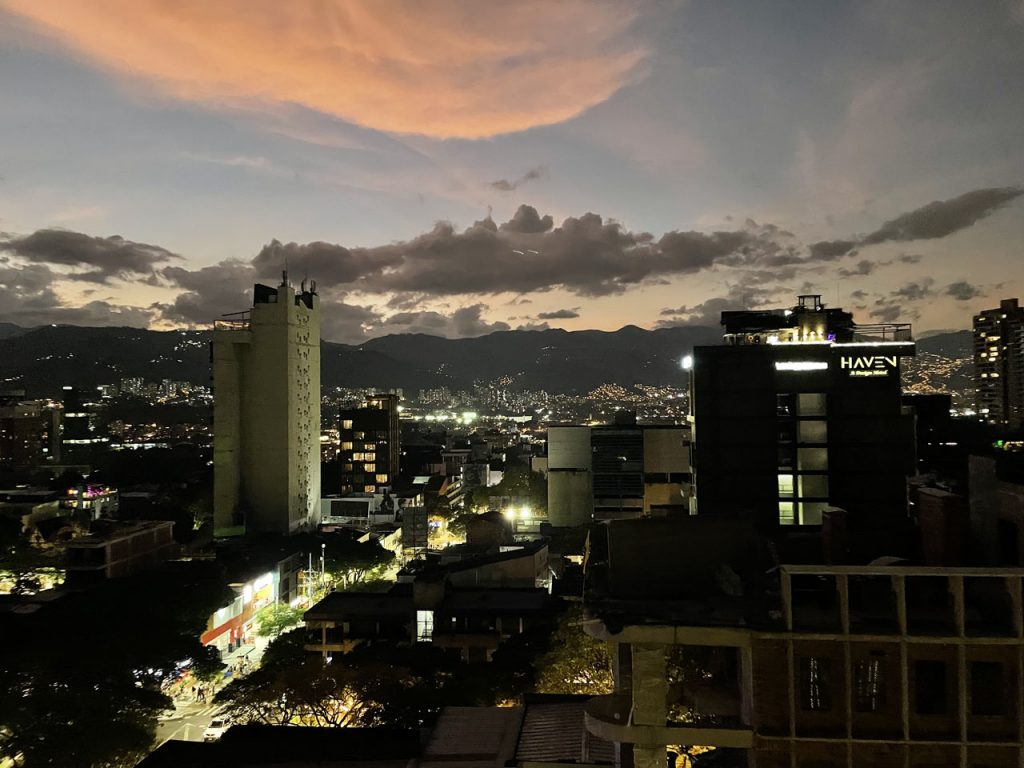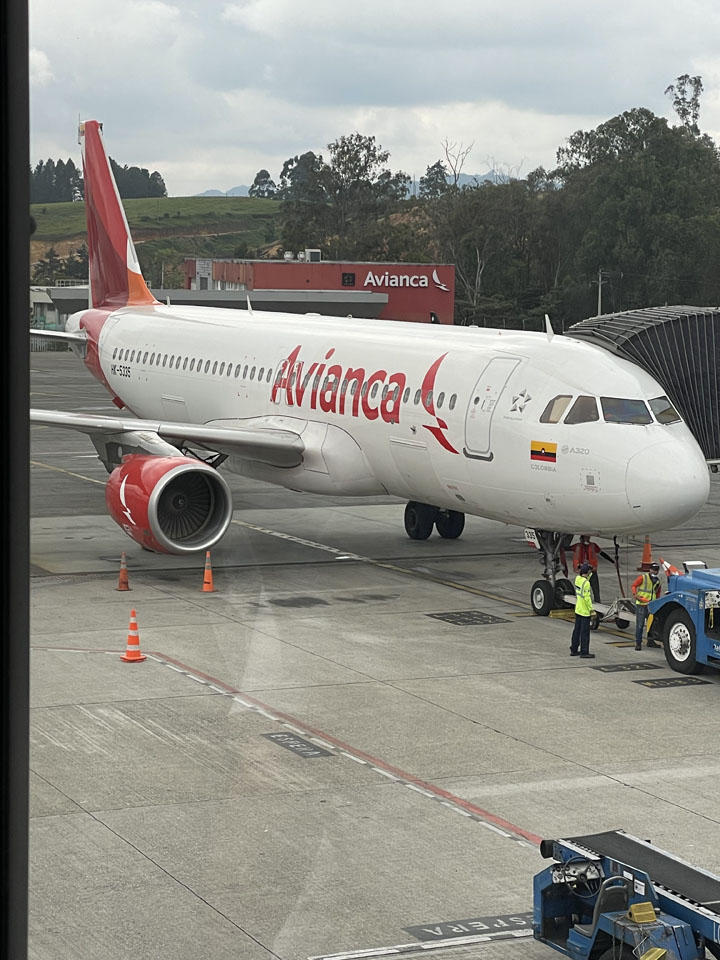 After a great weekend – it's time to head south to Cali and the Colombian Pacific.