Archive for the
'Pacific'

Category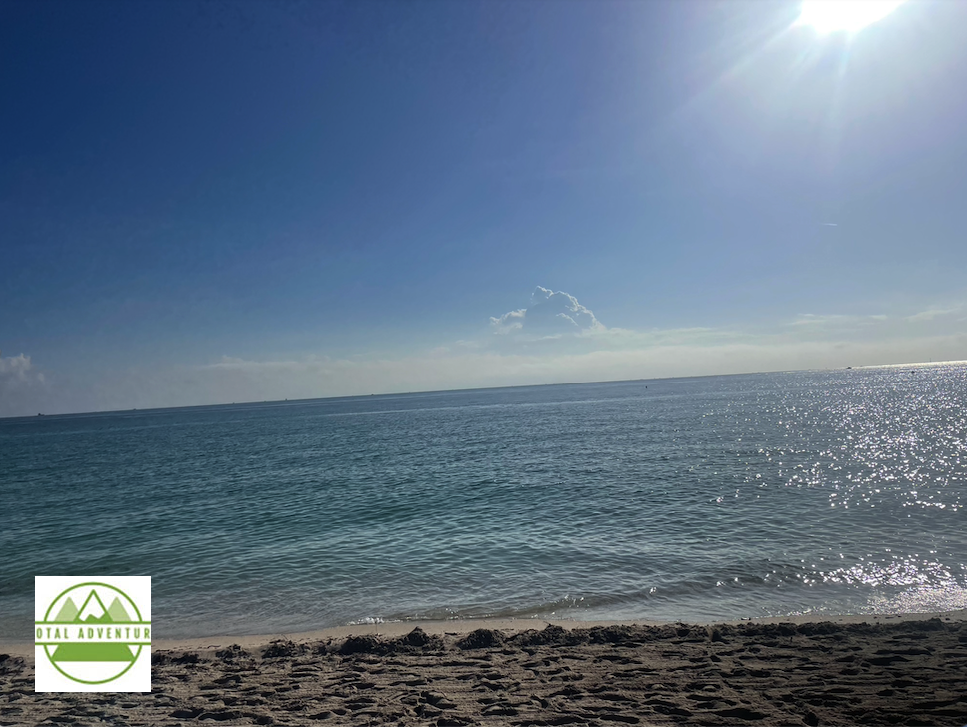 11000 KM South To Antarctica ! See the video above !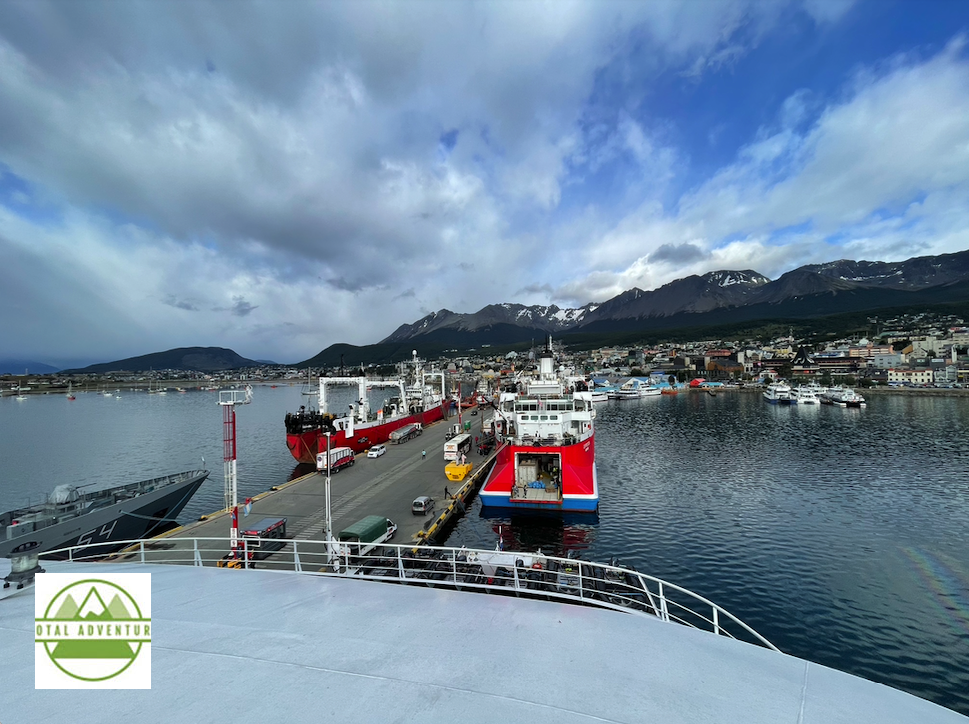 On November 29,2022 TotalAdventure and a colleague boarded an Aerolineas jet for Buenos Aires arriving in Ezezia that evening. The next morning , from Aeroparque, we boarded a smaller jet for the 4 hour flight to Ushuaia. Please see the Ushuaia article above, if you have not already.
Above is the dock at Ushuaia, where our ship, the MV Hondius departed to and arrived from, Antarctica.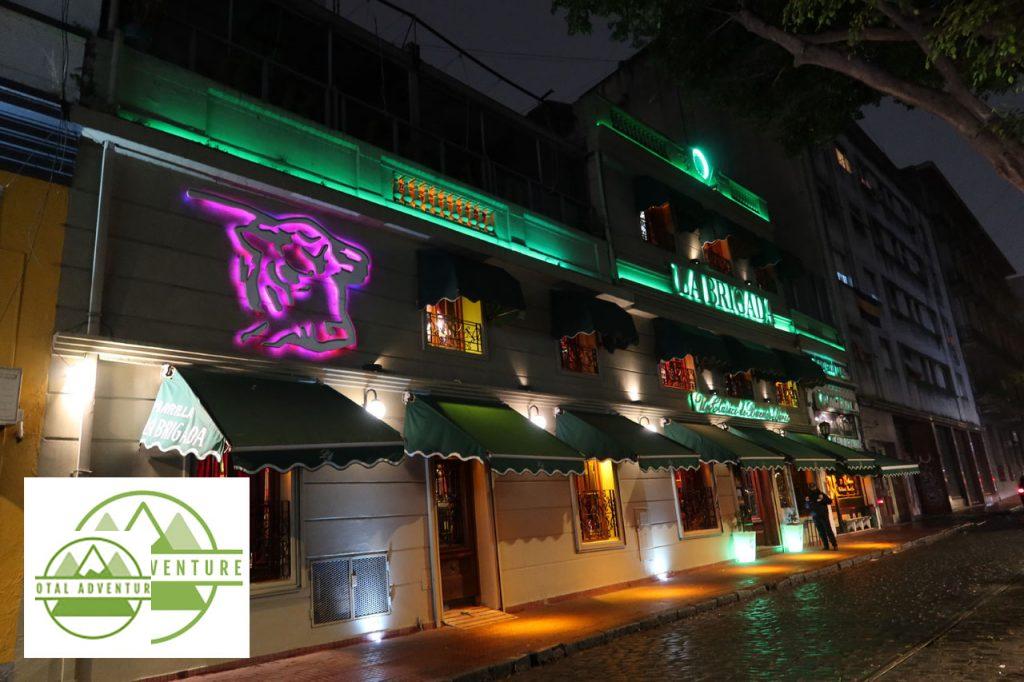 Buenos Aires By Night.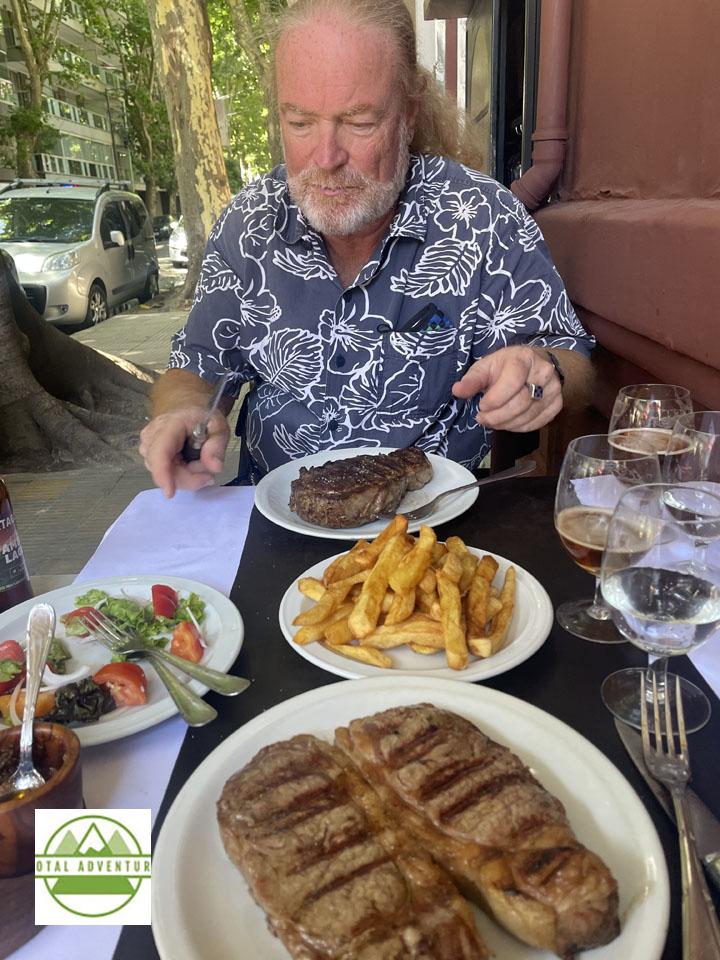 Dining At The World's Top Rated Steakhouse – Don Julio ! The 95 degree summer weather was welcome on our return from Antarctica.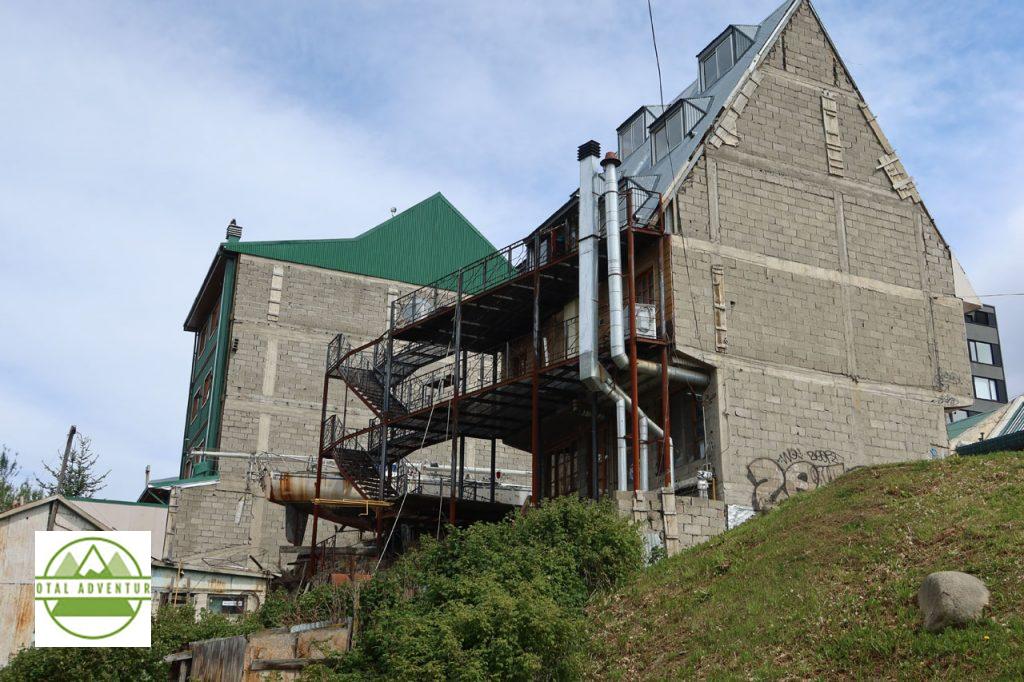 Ushuaia – Time to board the ship to cross the Drake ! Read on in the series below !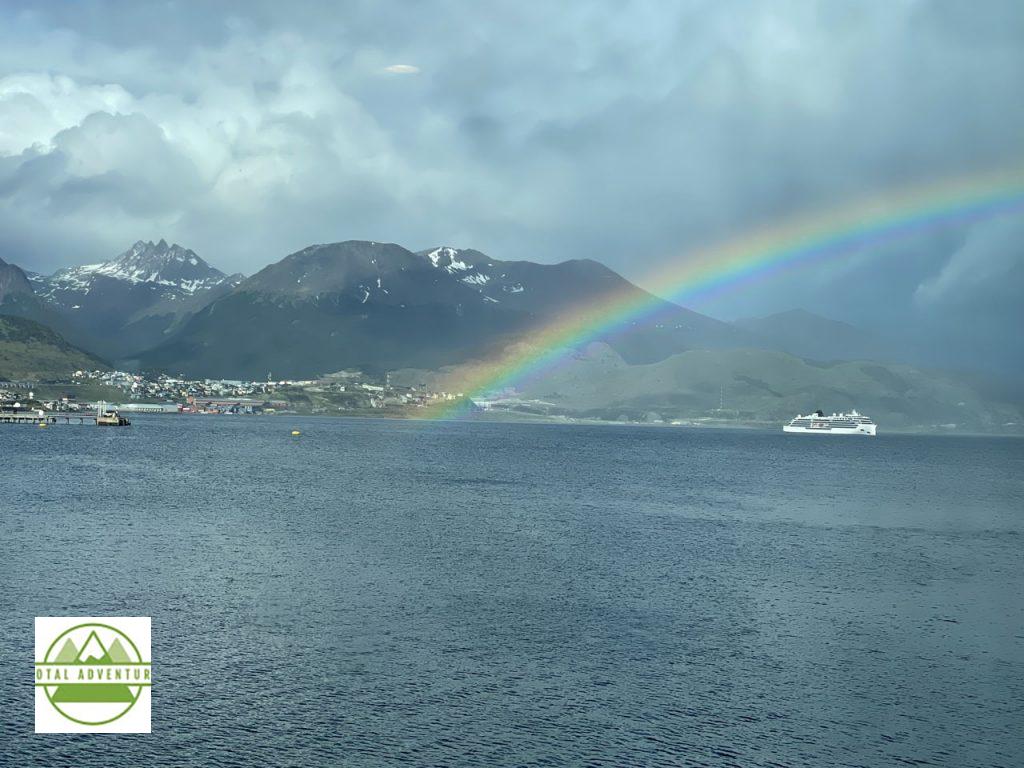 Good Fortune Ahead From Ushuaia Across The Drake !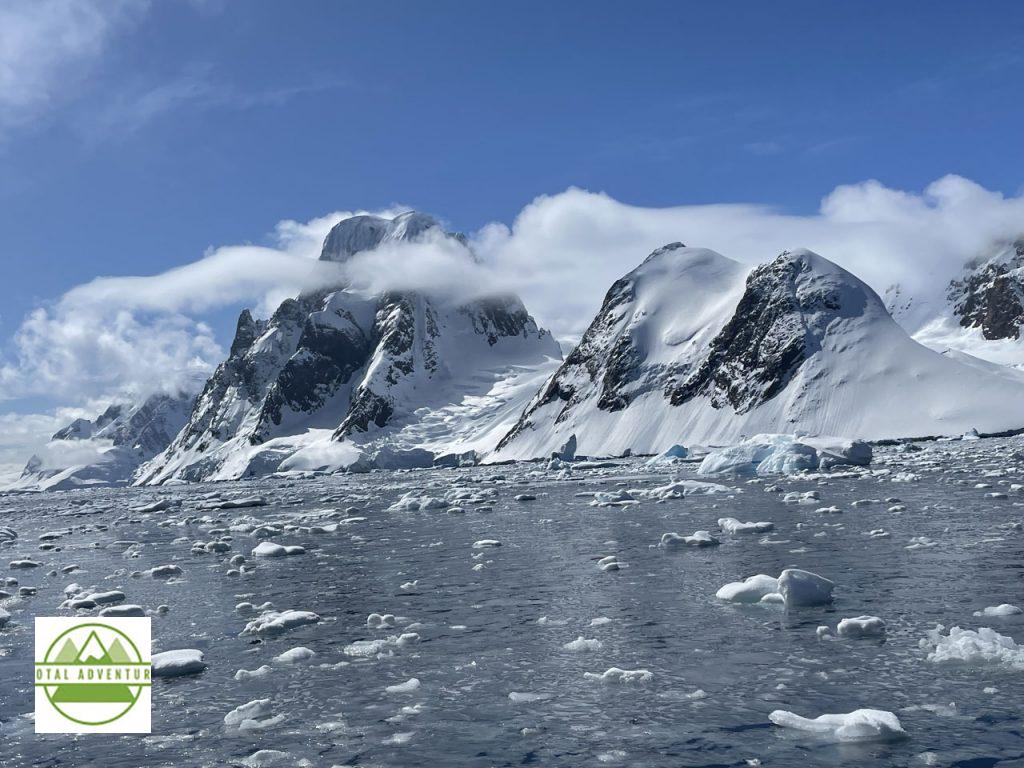 A Long Way From Miami !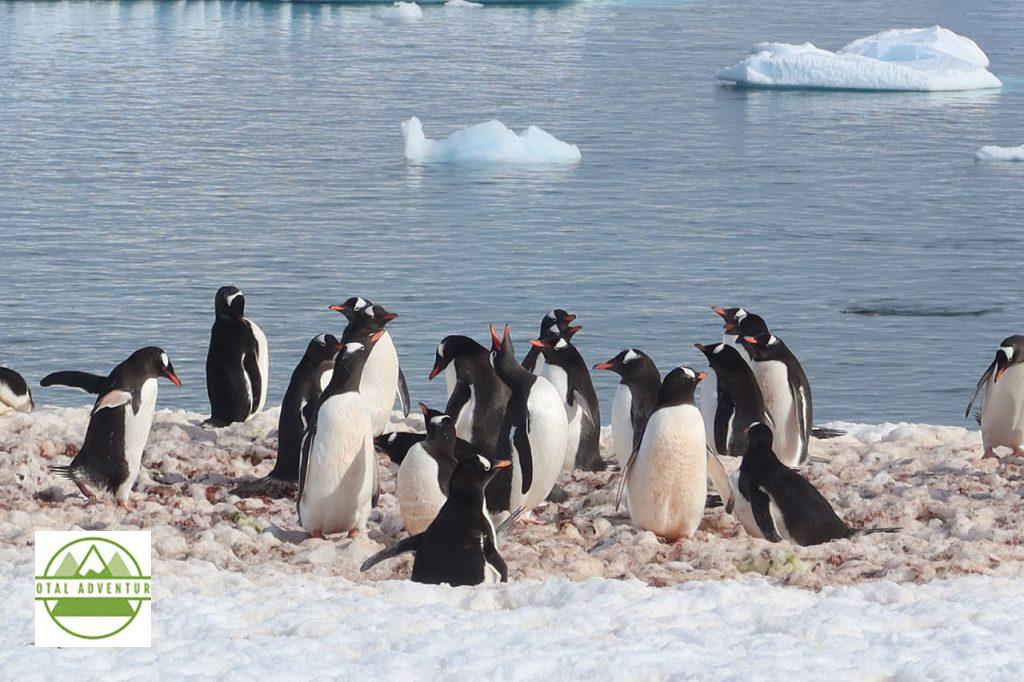 Animal and plant life in Antarctica is almost entirely along the coastlines and ice shelves. Inland there are no food sources. The frigid, yet nutritious, ice filled seas provide fish, who in turn feed seals ,penguins and other birds. Unfortunately, but naturally necessary, penguins also feed seals. Because of the extreme cold of the nearly 9 month winter, stretching from April to November, the penguin colonies of the Peninsula are not as large as those further North, in South Georgia and Argentina.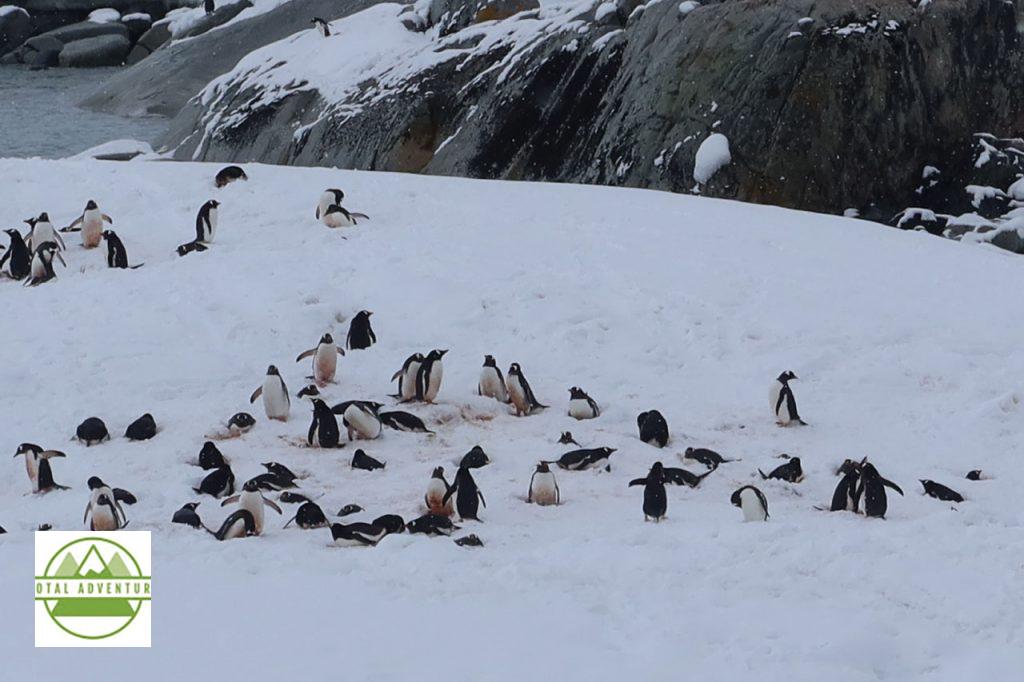 Penguins are quite social – not only with each other – but also with their human visitors. Here they are setting up nests with small rocks.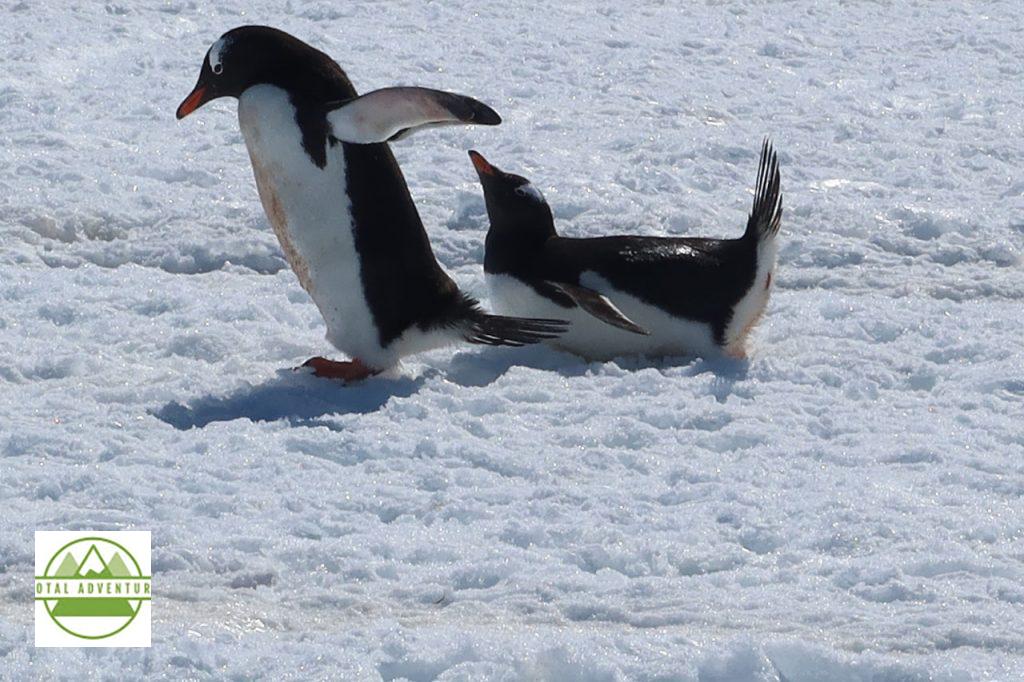 Walking, running and sledding are ways to get through the snow.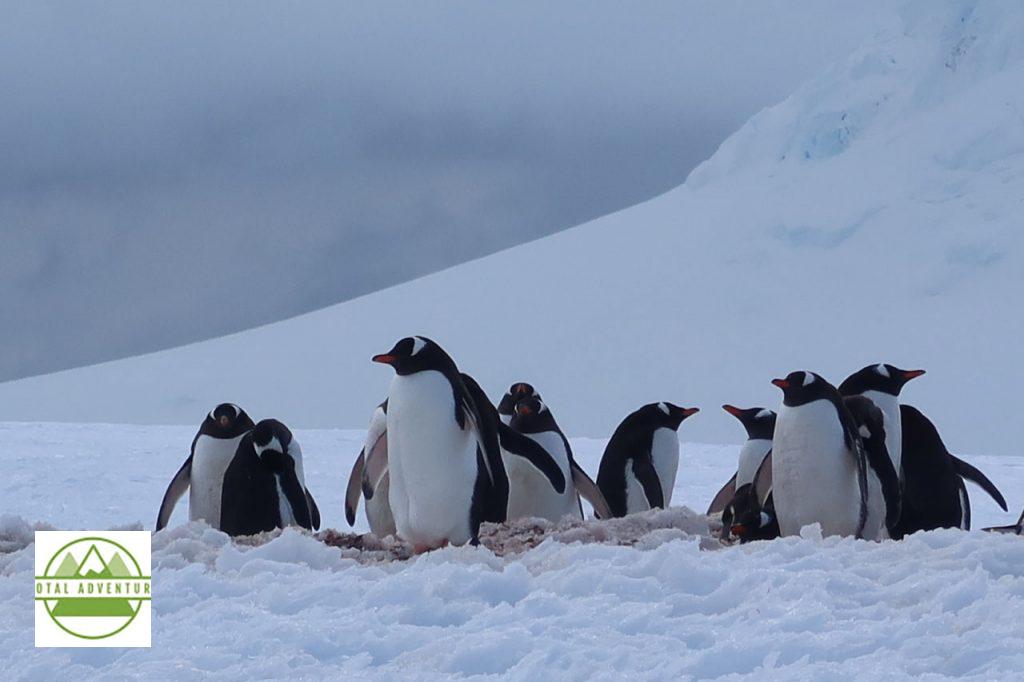 Primarily we observed Gentoo Penguins, with occasional Chinstraps. They are less than one meter tall. Larger Emprorers live in South Georgia.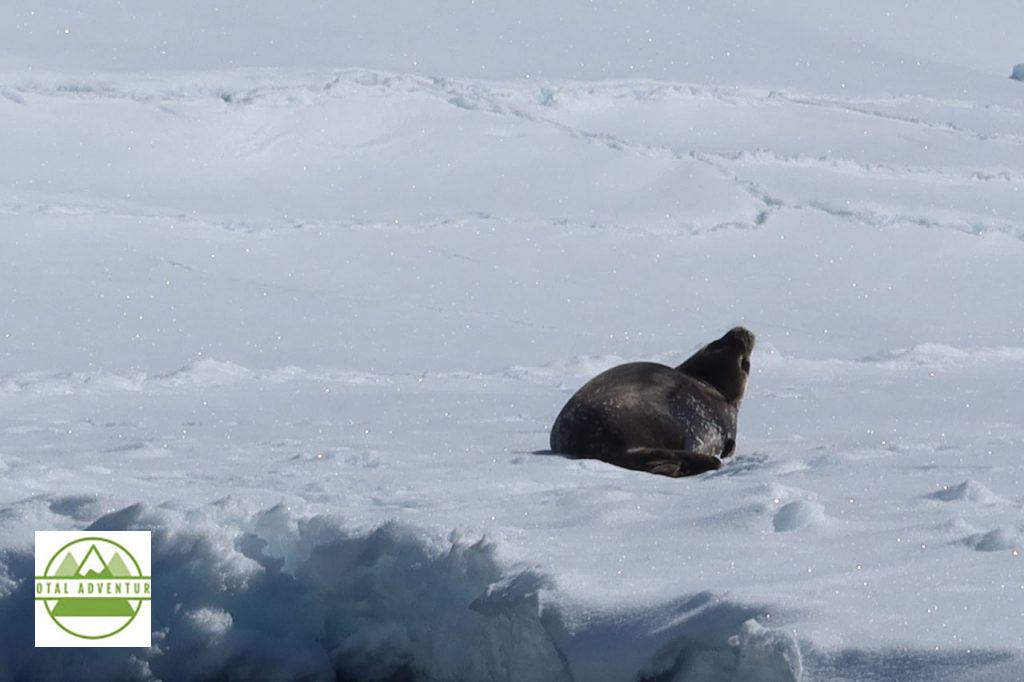 Leopard seals are a constant and deadly threat.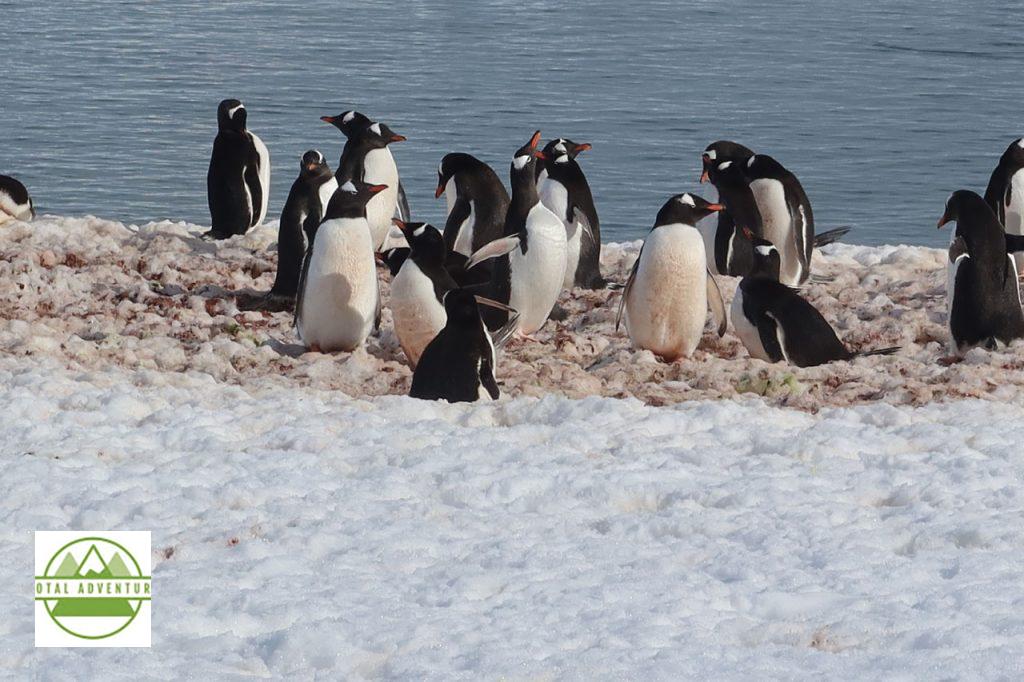 The red snow is from regurgitated and defecated fish. Overall the smell is fishy . Exploring passengers must sanitize their boots upon return to the ship to prevent cross continental contamination. No longer are non native animals, such as dogs and horses, permitted on the Antarctic continent.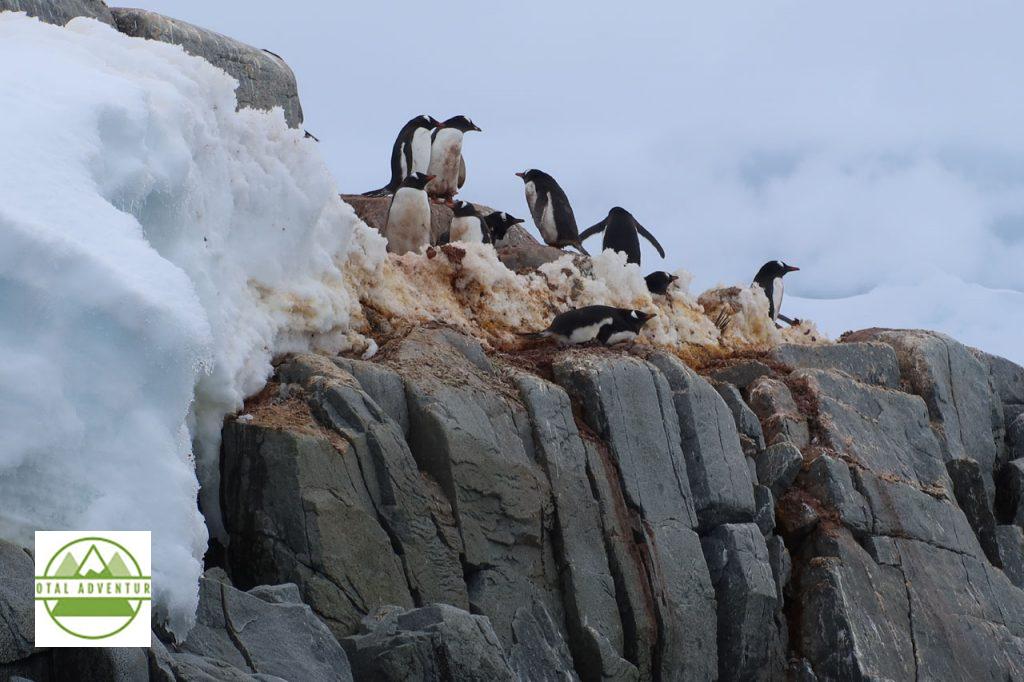 Getting ready to dive in for dinner.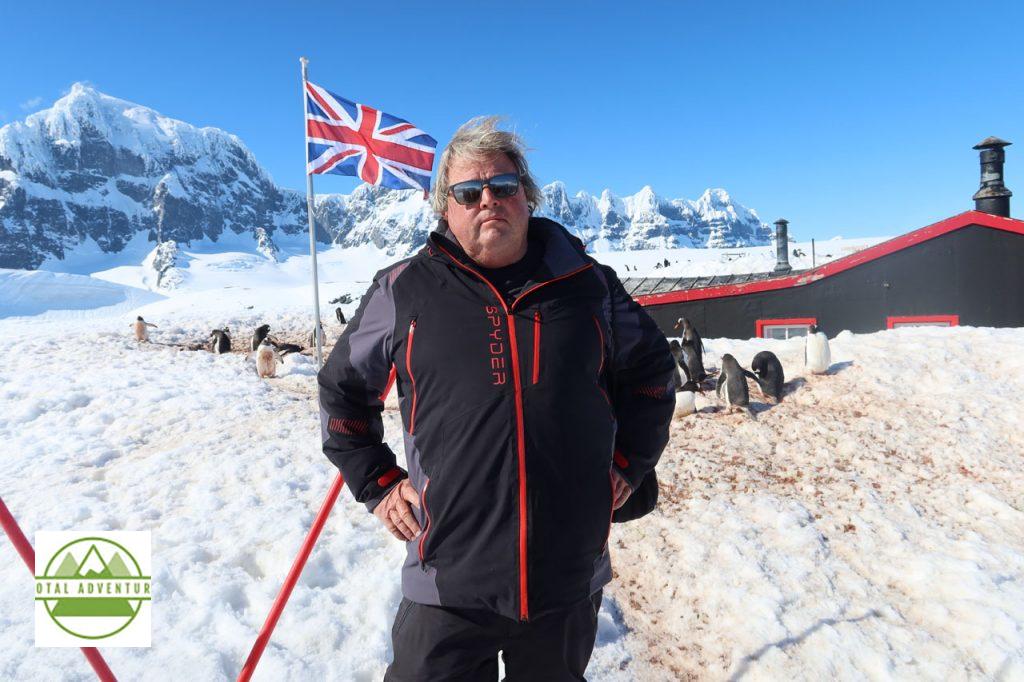 TotalAdventure with Gentoo Penguins at Port Lockroy.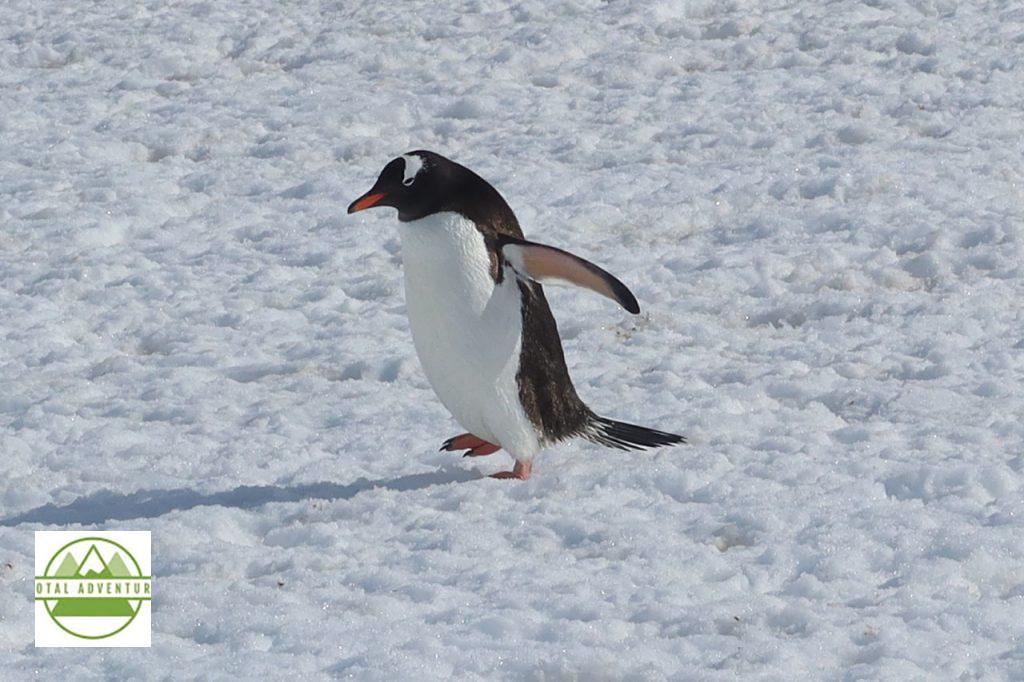 Gentoo On A Mission. They Are Busy Birds.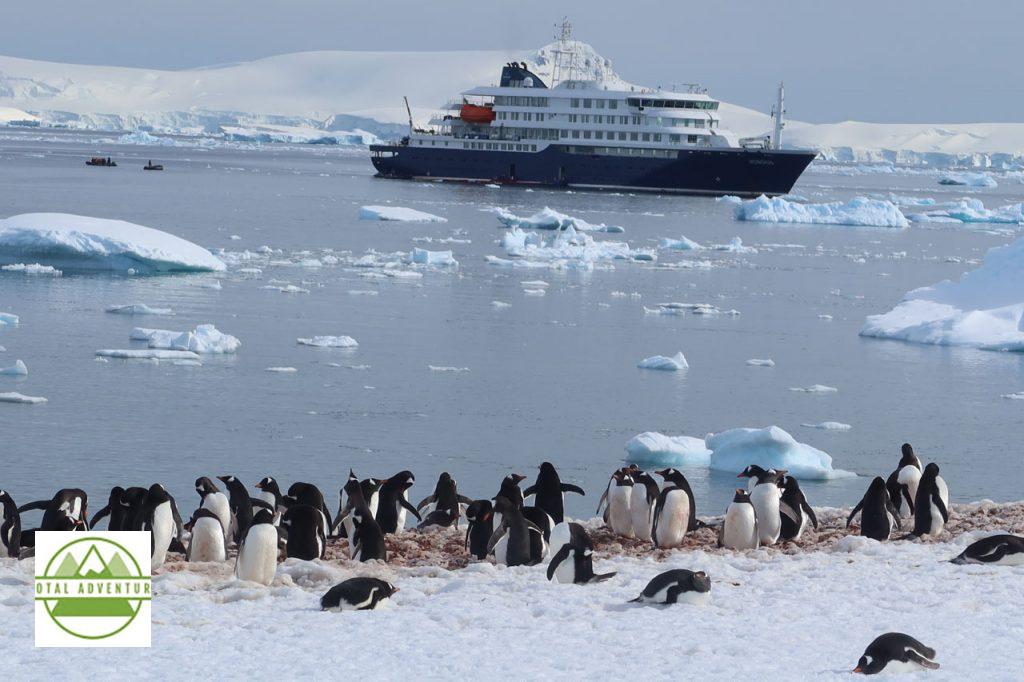 With MV Hondius Just Offshore.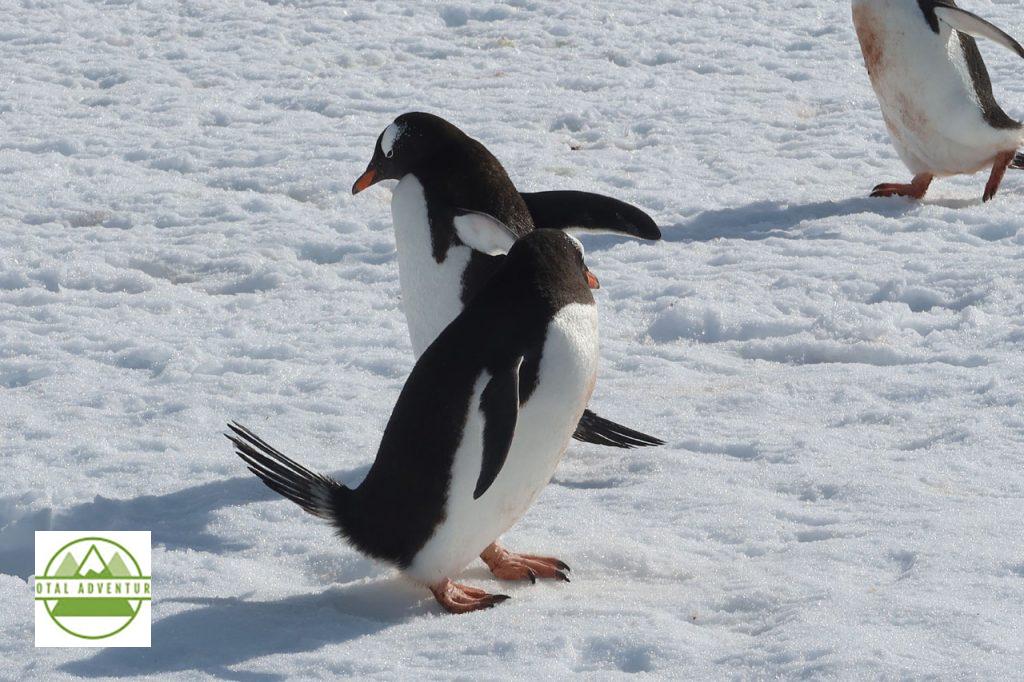 Be sure to watch the video above to see the penguins in action !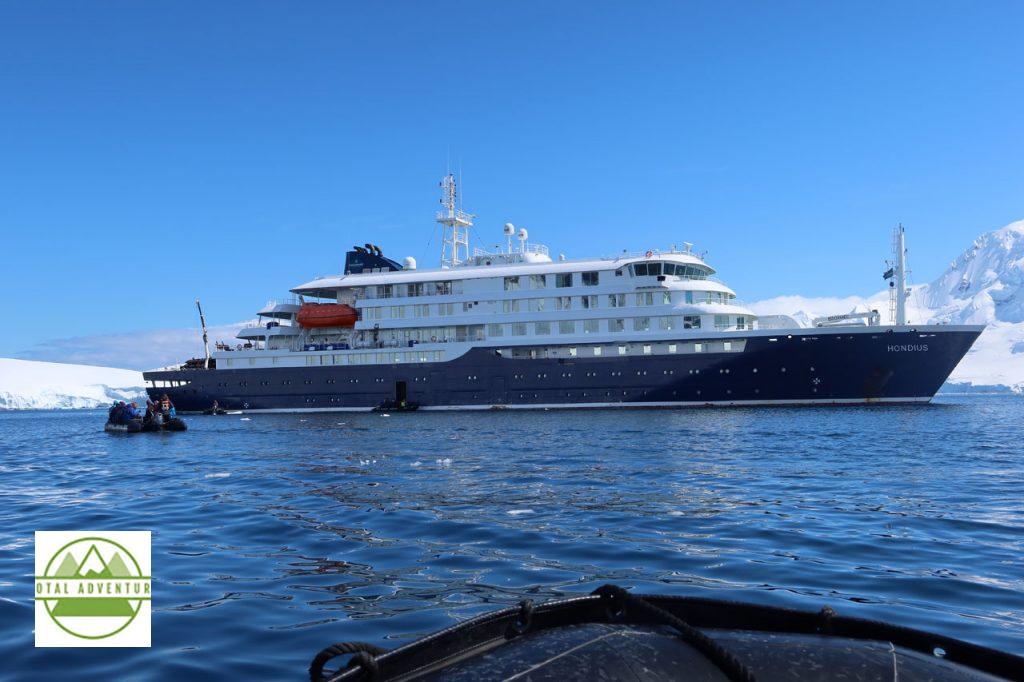 Hondius is the first-registered Polar Class 6 vessel in the world, meeting the latest and highest Lloyd's Register standards for ice-strengthened cruise ships. Surpassing the requirements of the Polar Code adopted by the International Maritime Organization (IMO), Hondius represents the most flexible, advanced, innovative touring vessel in the polar regions, thoroughly optimized for exploratory voyages that provide you the utmost first-hand contact with the Arctic and Antarctica. ( Credit : Oceanwide Expeditions ) Length 107.6 Meters . Can Accommodate 170 Passengers In 80 Cabins. Only 4 years old – launched in 2019.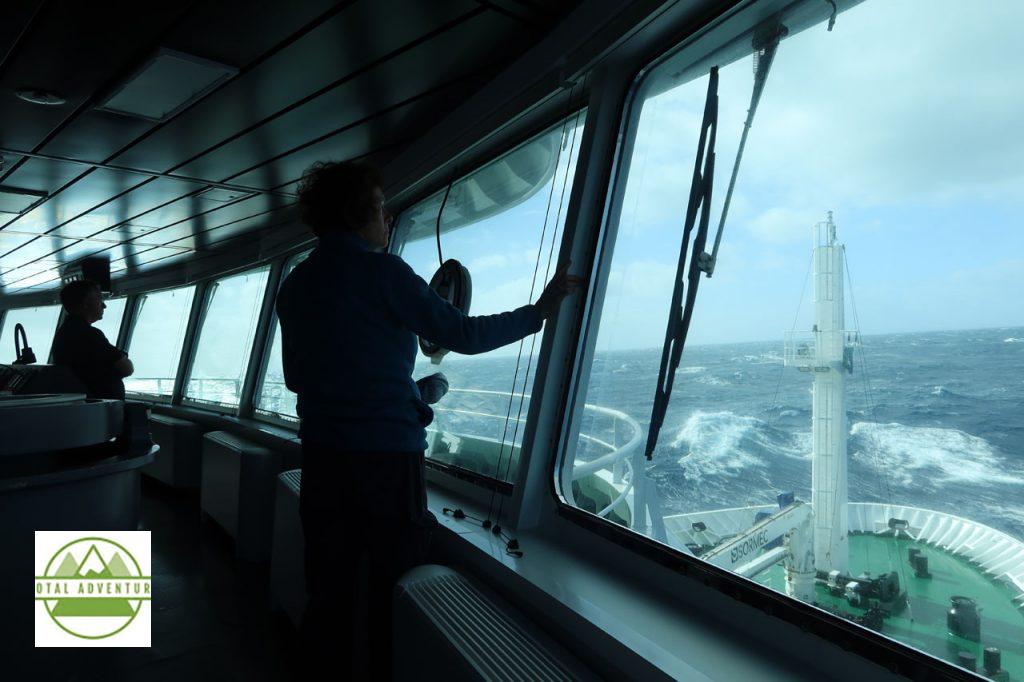 Observing Five Meter Waves From The Bridge,As We Cross The Drake Passage.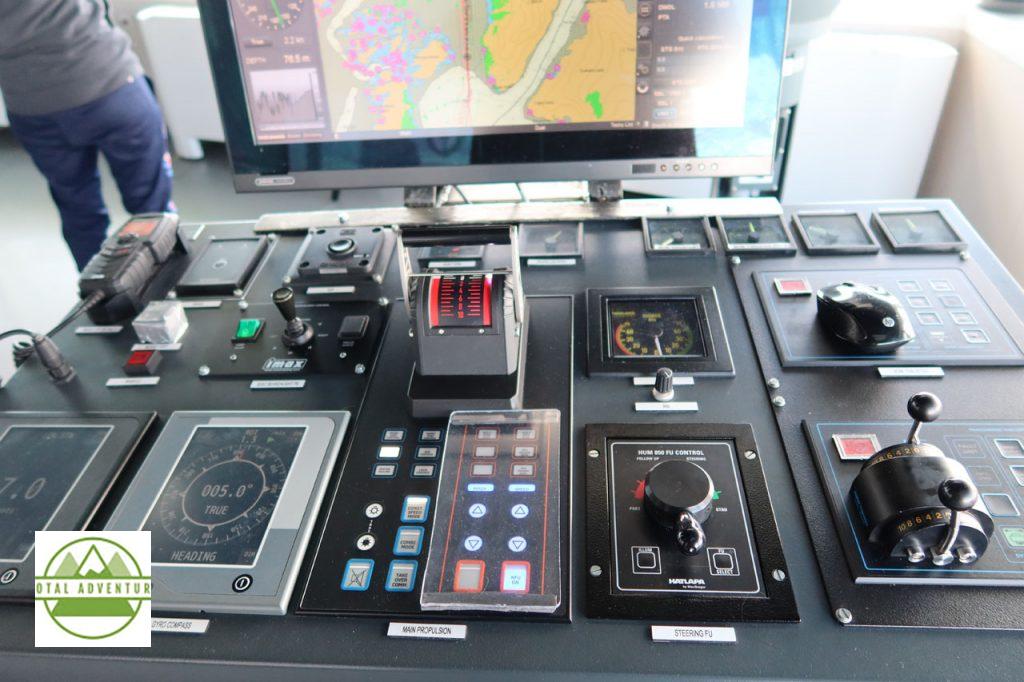 Top Of The Line Navigation – Ensures safe and speedy passage through the Drake and into ice filled Antarctic waters. Antarctic season is from November to April and Arctic season from May to September.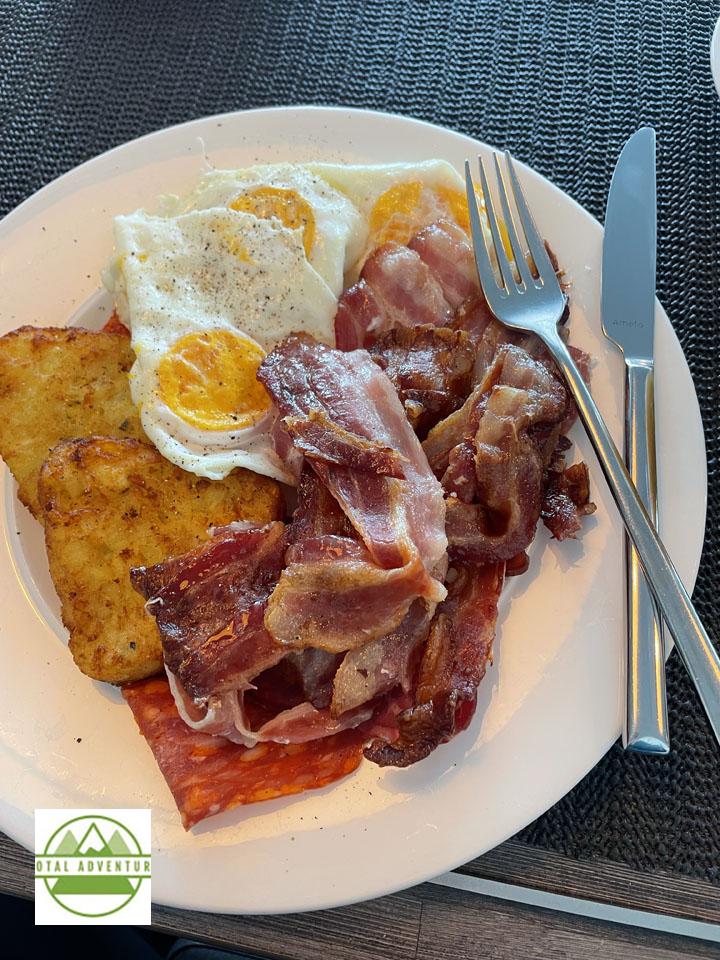 Hearty meals 3 times a day keep explorers energetic and alert for landings on the icy continent.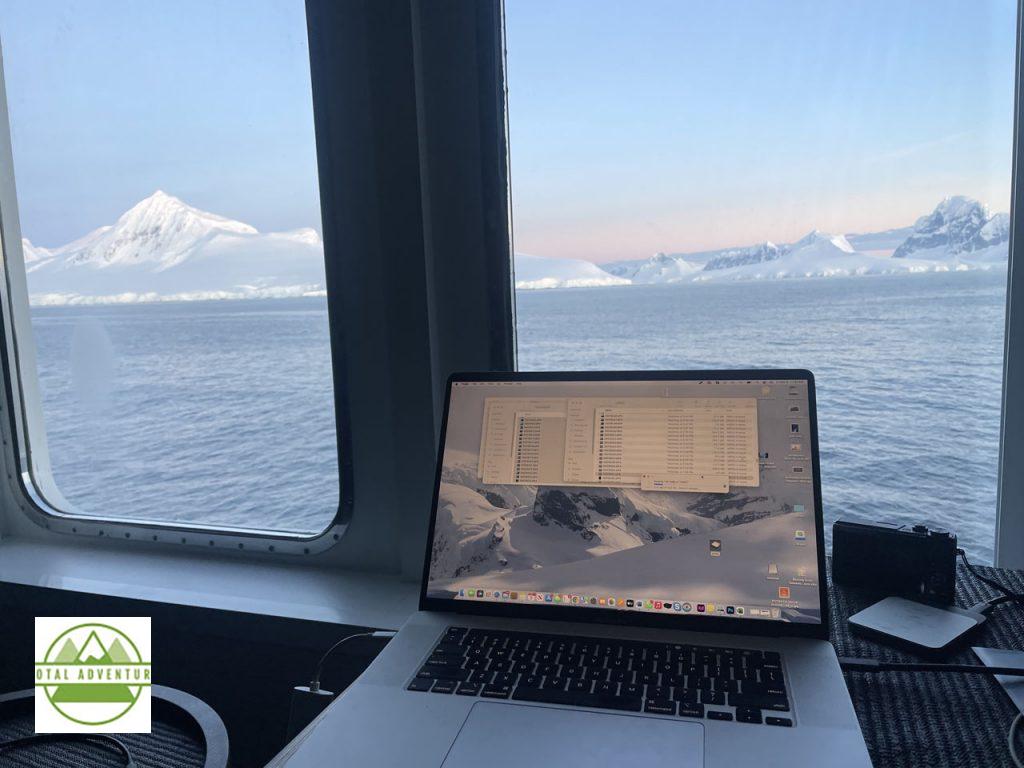 TotalAdventure's Antarctic office. Satellite Wifi is extremely expensive and slow- even the ship staff suggest just unplugging. Some passengers used satellite phones and text devices to stay in touch with family. TotalAdventure used the MacBook Pro to review the day's GoPro video and still photos. It was great to leave the rest of the world behind for 10 days – nothing much had changed by our return to Ushuaia.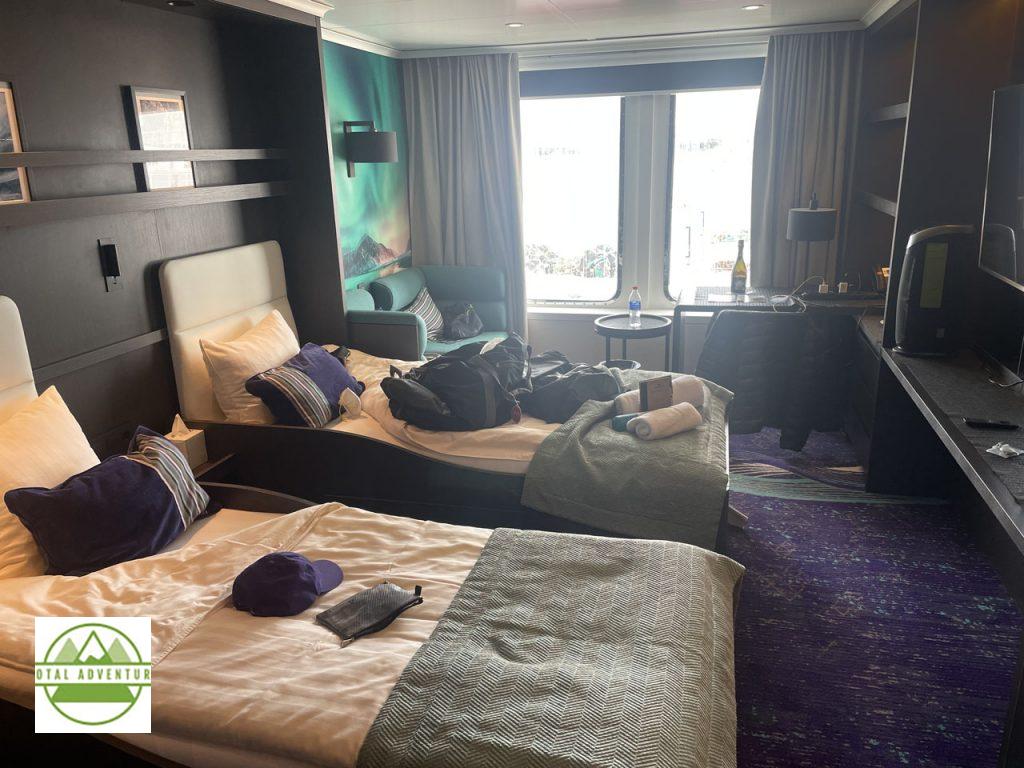 Our extremely comfortable cabin on Deck 6. Housekeeping service daily, consistent hot water in shower and very quiet. Large screen with movies and constant update on navigation, daily schedule. The Hondius is an exploration ship, not a cruise ship. No casino ,no disco, though there is a bar in the lounge.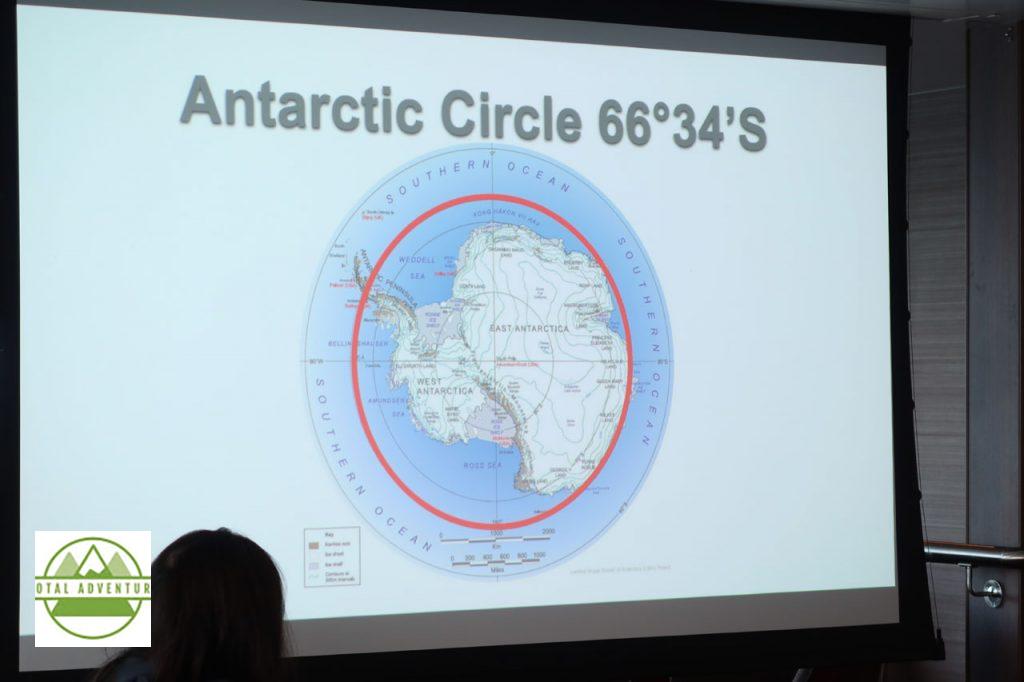 On this voyage we went within 100km of the Circle. The Antarctic Peninsula is the only part of the continent where one can embark upon the actual shoreline – the rest of the coast is surrounded by ice shelves extending many kilometers out.

The Midnight Sun From Deck 8.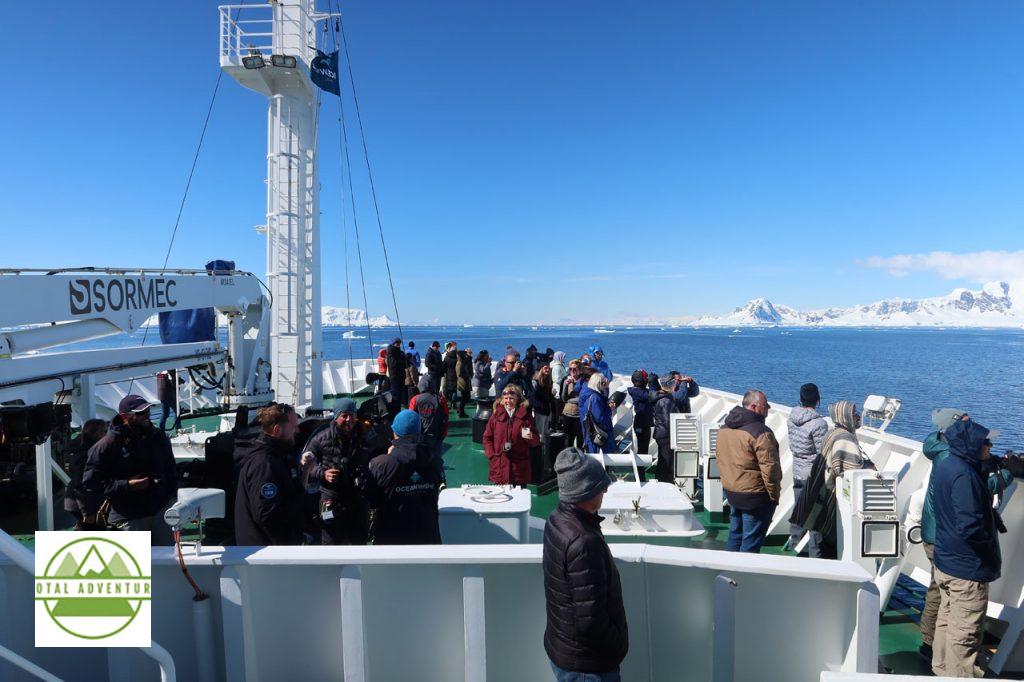 On the bow after lunch, en route to the afternoon landing.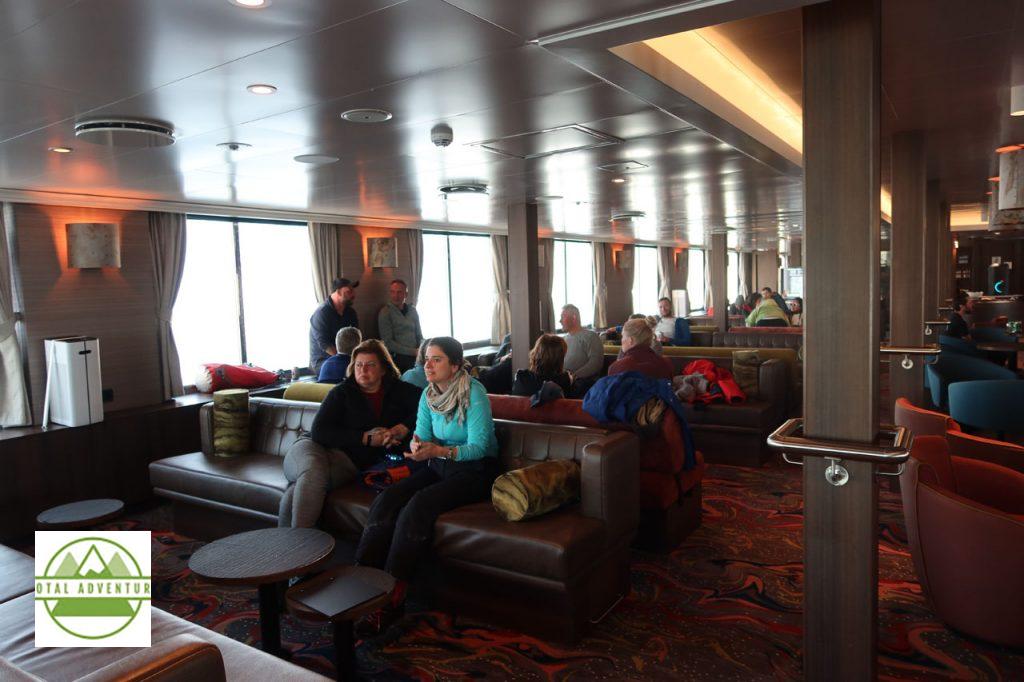 The Hondius Lounge – for lectures, a drink at the bar, card playing, and watching the icebergs float by.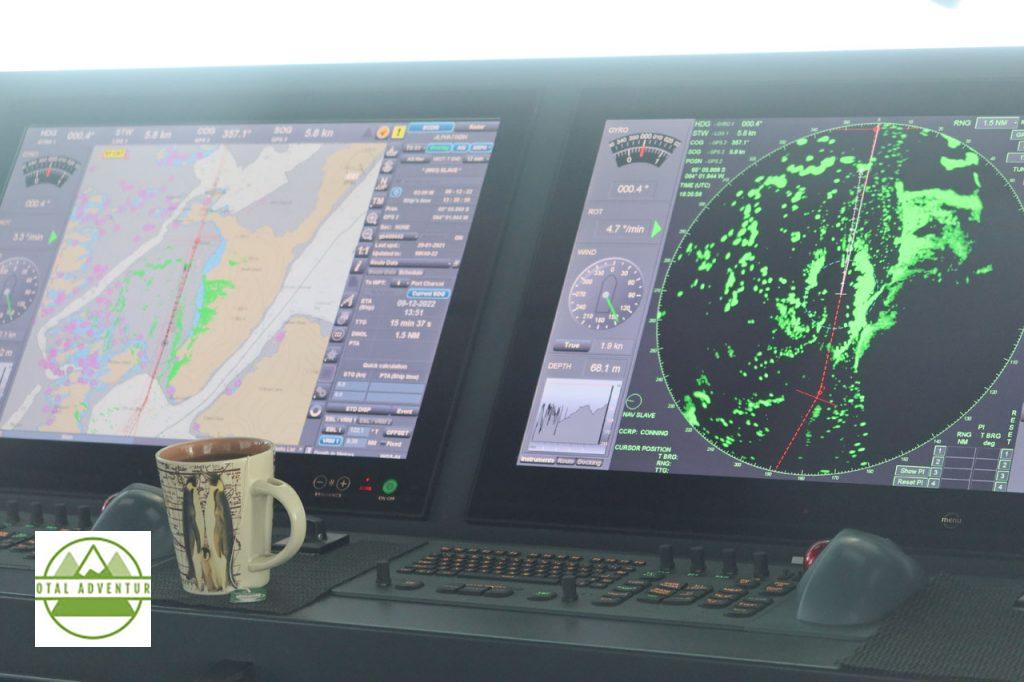 For the most part we experienced great early summer weather. Temperatures from – 4 to +6 ,most of the time right around Zero . ( C) There were some light snow accumulations on the ship overnight twice.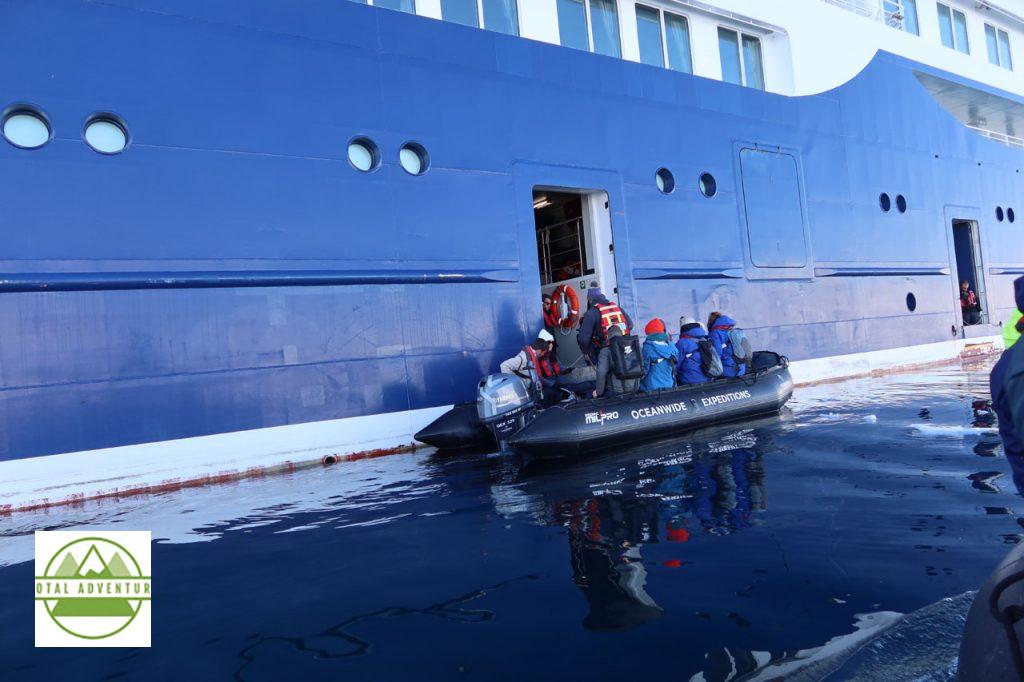 Landings are by motorized Zodiac. We had a total of 8 landings in 4 days, with only one destination change due to ice conditions.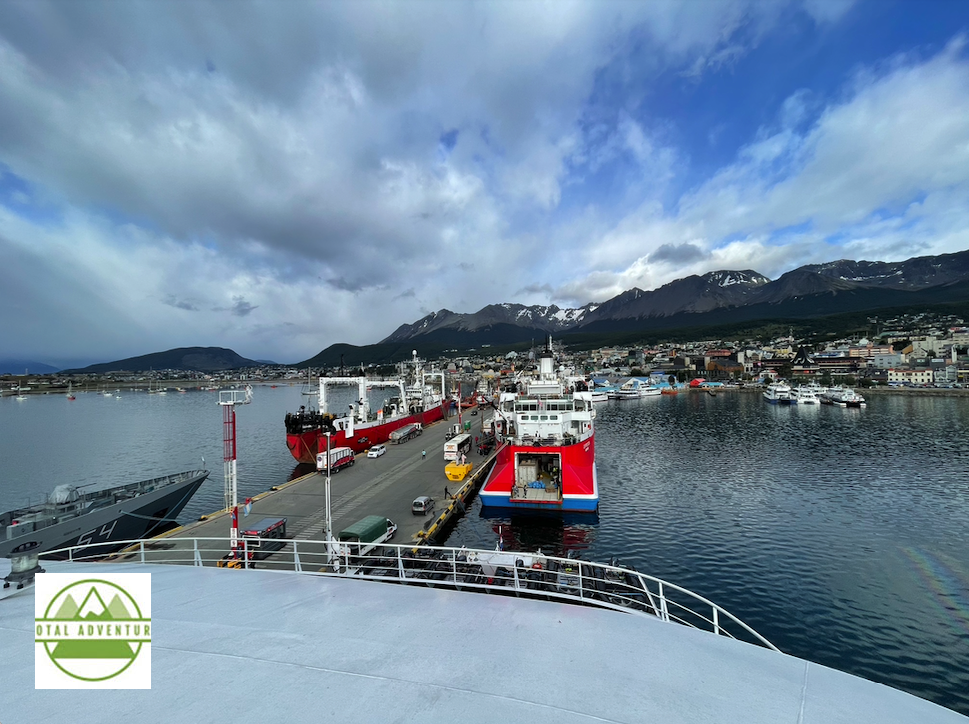 From the Stern- Return To Ushuaia – Base Port For The Southern Summer.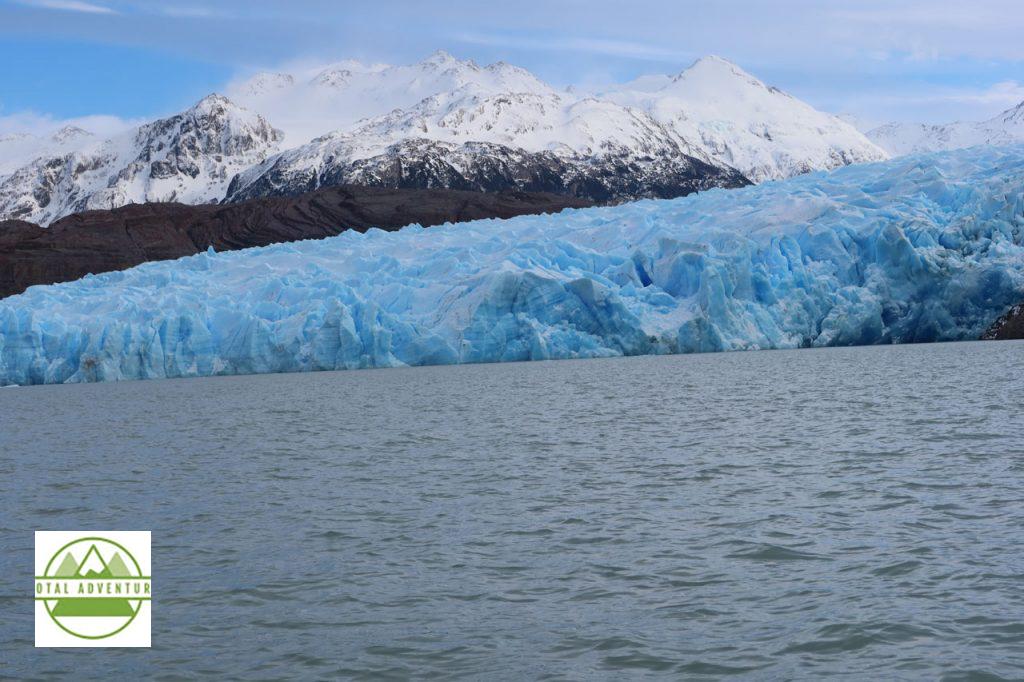 This article is the first of a two part story – where TotalAdventure explores the southernmost reaches of the inhabited world. TotalAdventure was invited by the Adventure Travel Trade Association and SERNATUR ( Chile Ministry of Tourism) to joining two expeditions – one in Torres del Paine National Park – more detail in the next article and another engaging in other activities on Estancias and in the vast preserves of nature. SERNATUR paid for air travel and other essentials. The trips I joined were run by Chile Nativo. Besides exploring the incredible nature of the region – we met with 25 companies chosen to work with us to sell their packages on TotalAdventure. 32 other buyers , along with press , were invited to promote the pristine unspoiled remote areas of Chilean Patagonia , the Strait of Magellan – the Gateway To The Antarctic.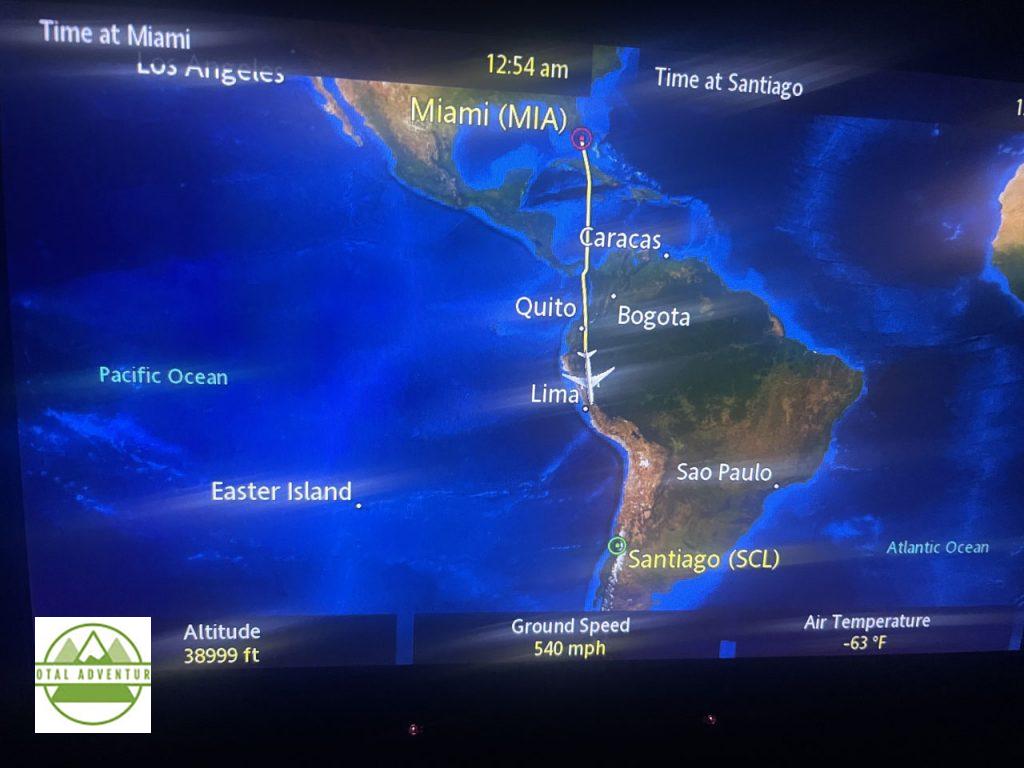 TotalAdventure has been commuting to the Southern Cone this year. First, 8 hours to Santiago. Then another 4 hours down to Puerto Natales.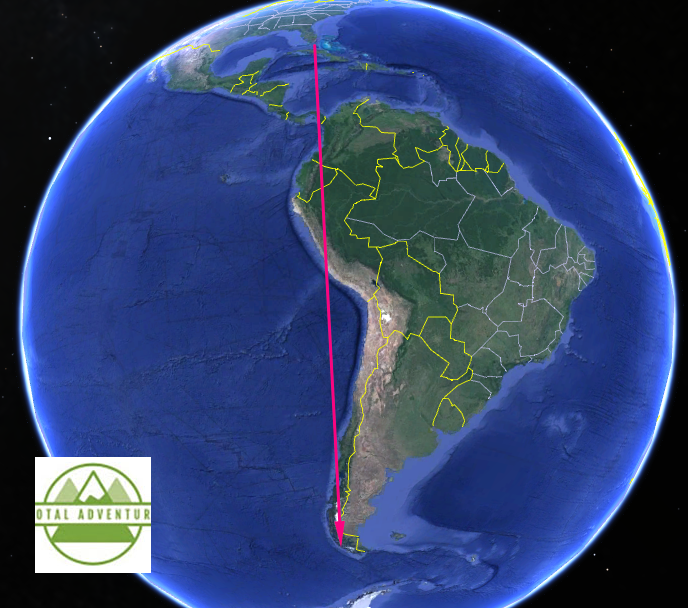 To El Fin Del Mundo – The End Of The World.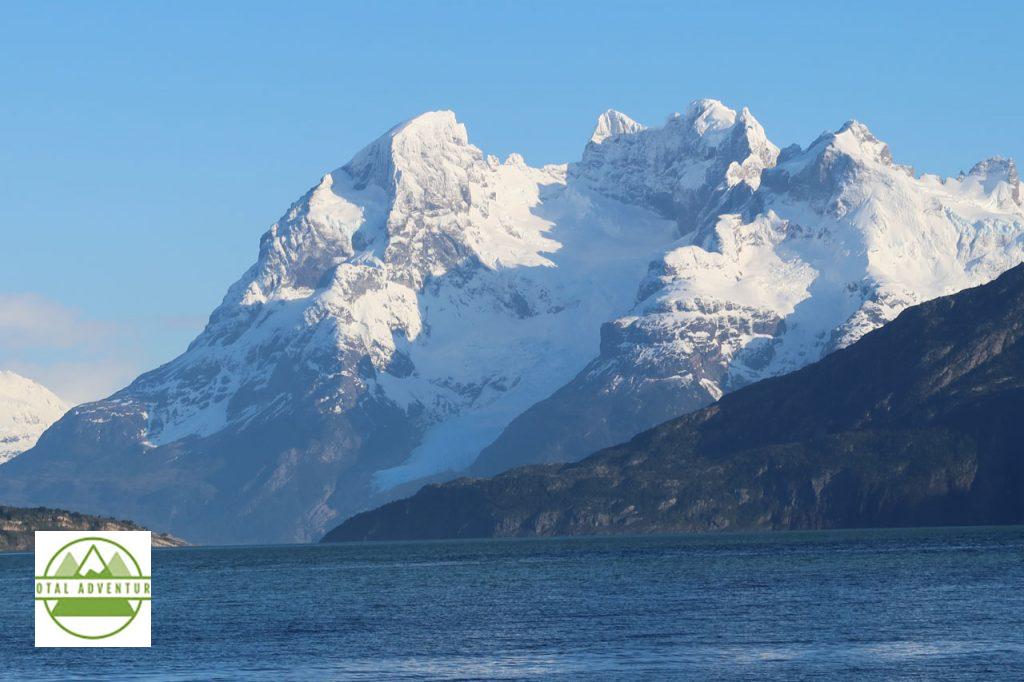 From Summer To Winter.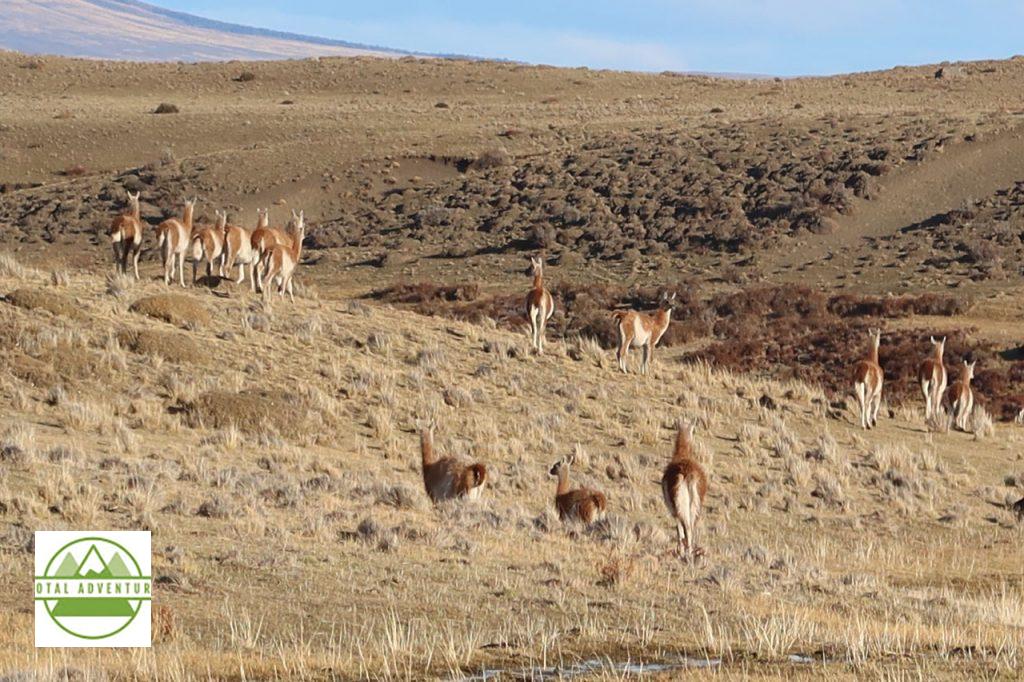 Where The Guanacos Roam.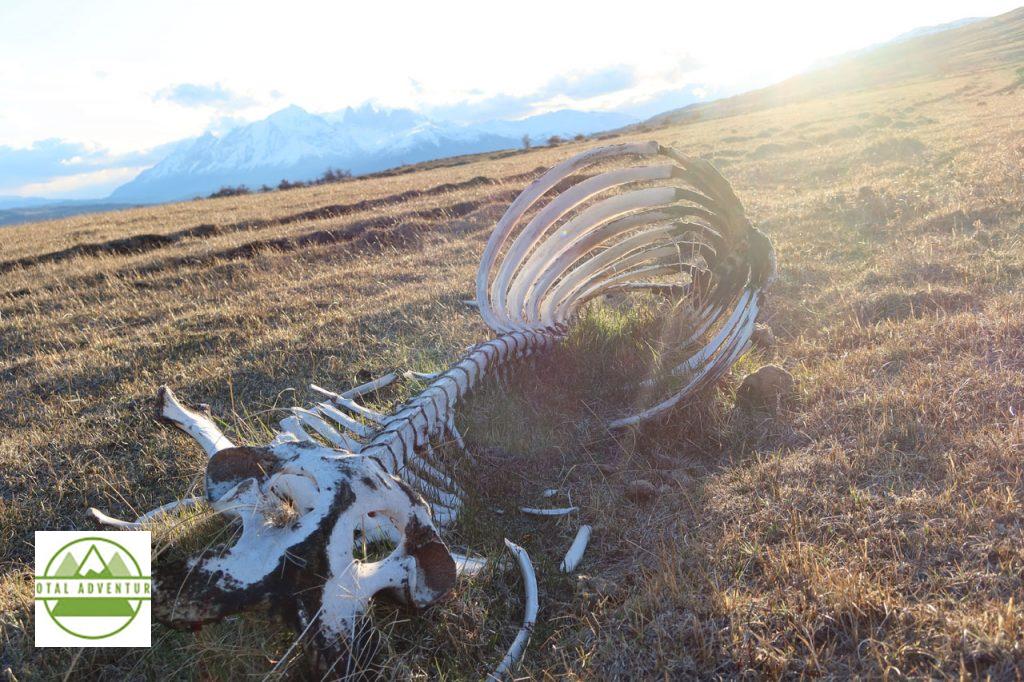 Stripped Clean By Pumas.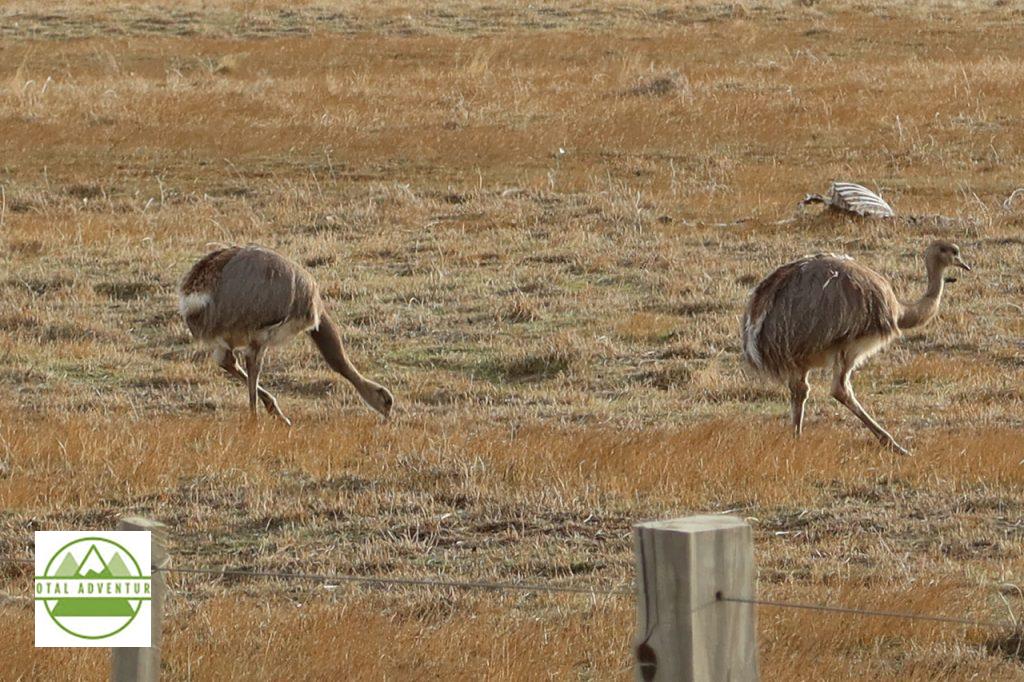 Rheas, A Smaller Version Of The South African Ostrich.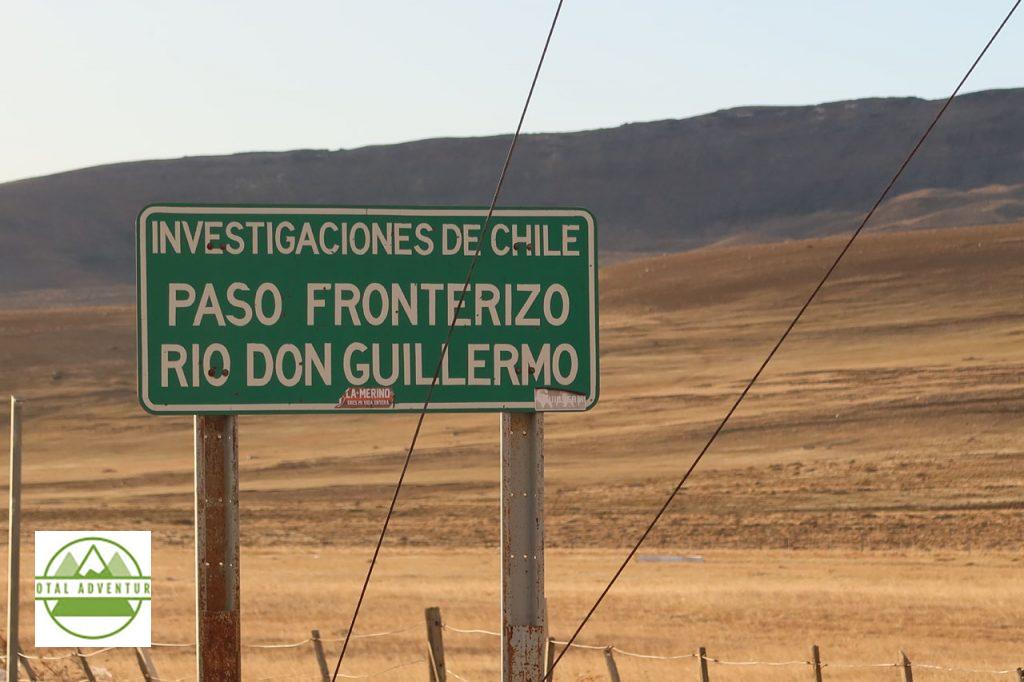 Argentina Border. In order to drive to other parts of Chile, one must drive over 1600 km through Argentina. Chile is almost all islands or impassable glaciers and forest from Puerto Natales to Puerto Montt. Relations between the two competing Latin giants are cordial ,but not always friendly.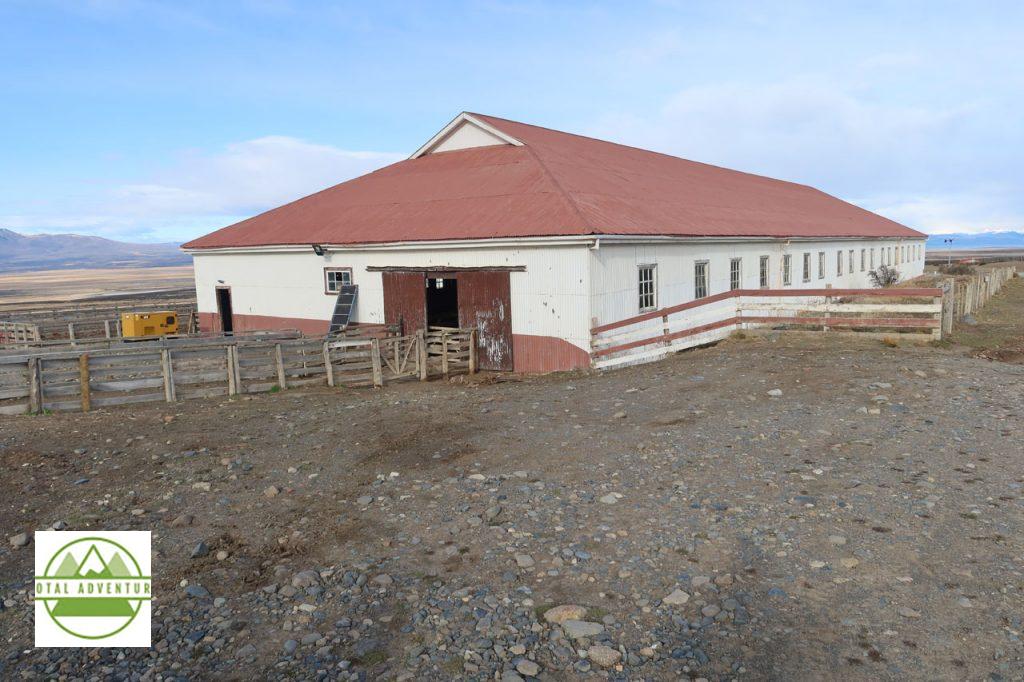 We spent the day at Estancia Cerro Guido, very near the Argentine border crossing at Río Don Guillermo. The Estancia has huge herds of sheep, and allows visitors to experience daily life on the Patagonian steppes.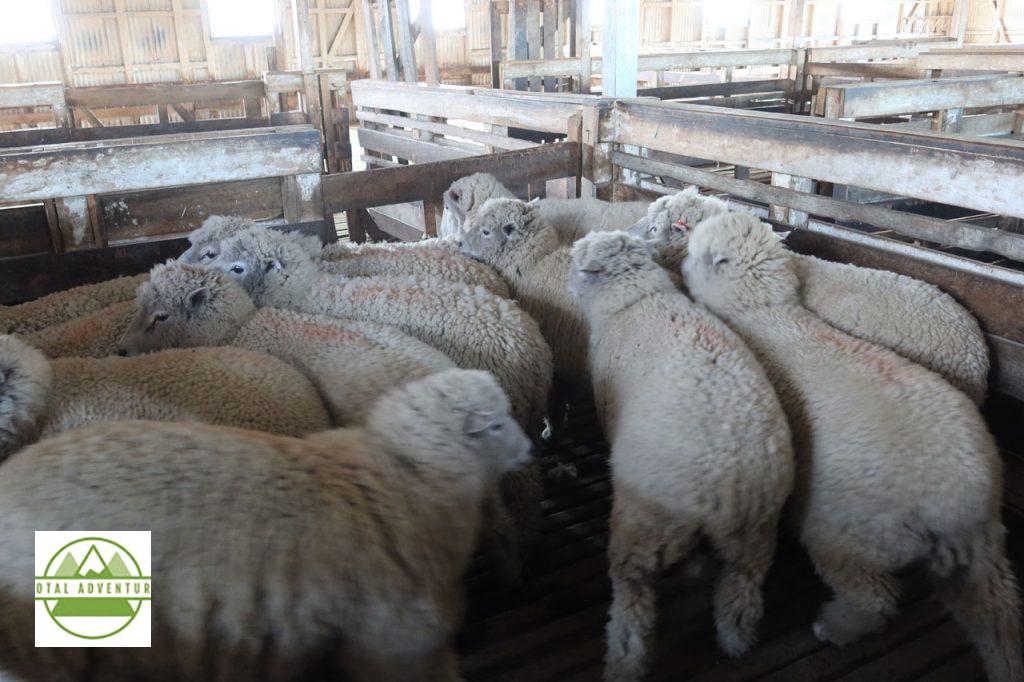 The sheep are very wooly by winter's end.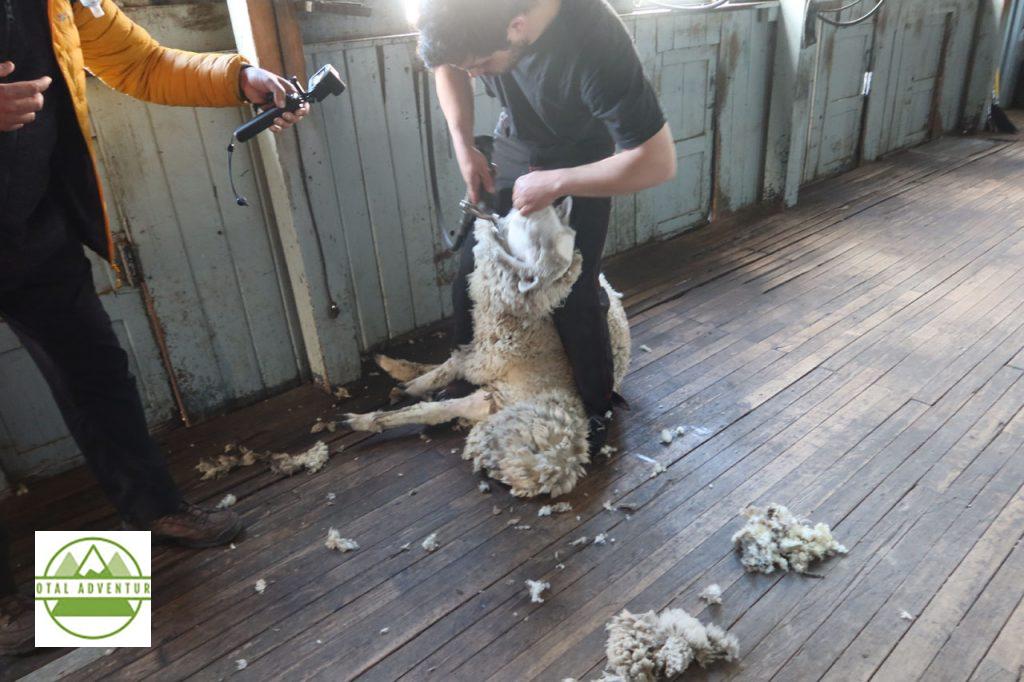 It's time for a haircut. While the ewe is mildly annoyed, there is no pain. It can be dangerous for the wool to get too thick and heavy. In freezing rain and heavy snow, the animals can't move and can die of cold. This past winter ( May to October) was the coldest and snowiest in many years – the Estancia had to rescue some herds .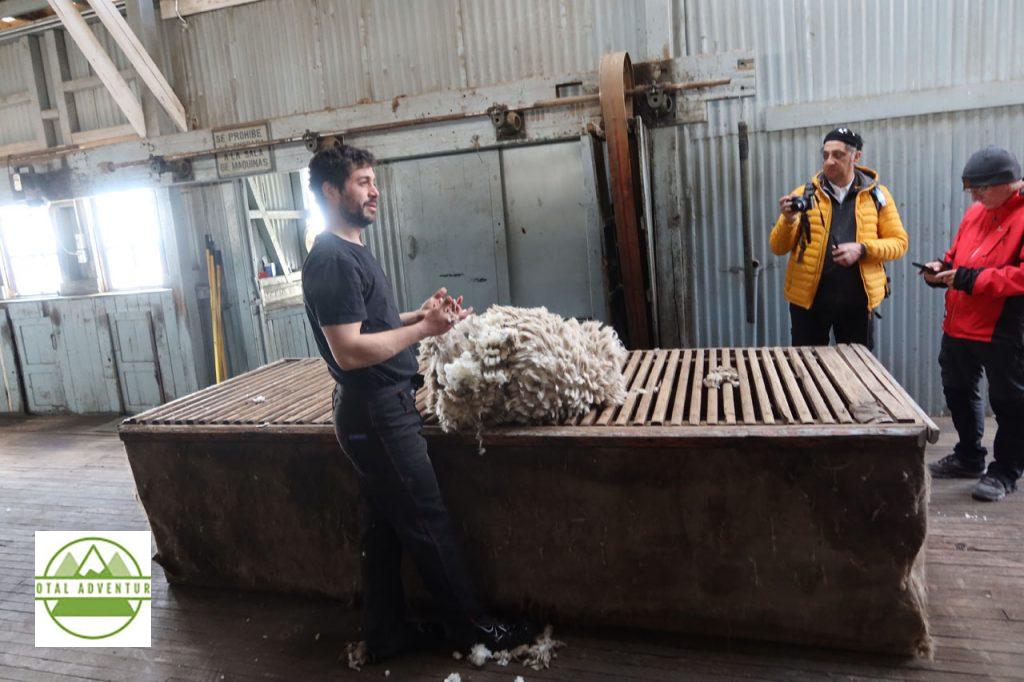 The wool is shipped all over the world to be made into high quality sweaters, dresses, socks and hats.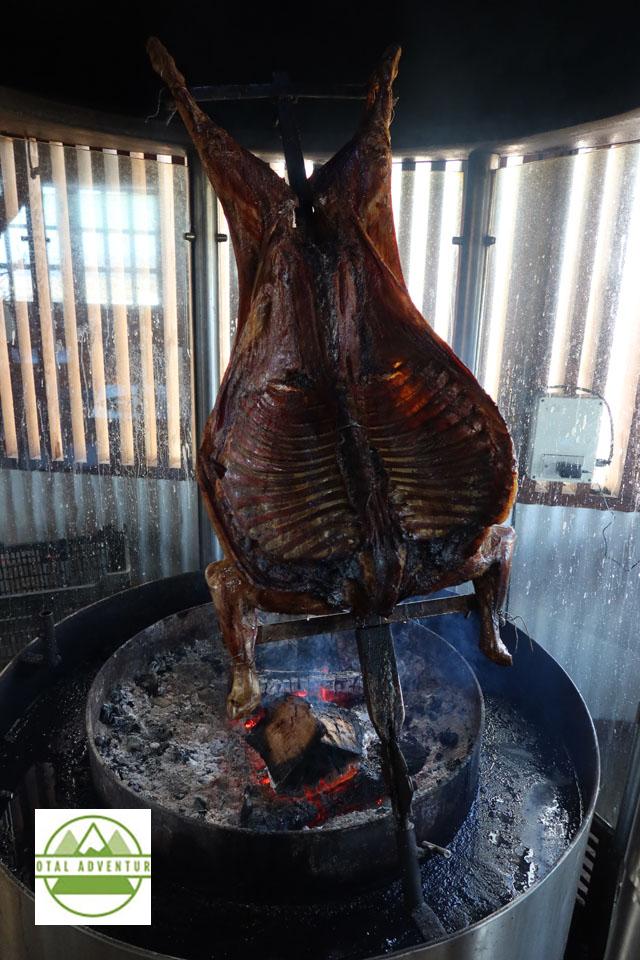 Lunch at Estancia Cerro Guido. Parilla del Cordero. ( Lamb ) A guest might enjoy this daily.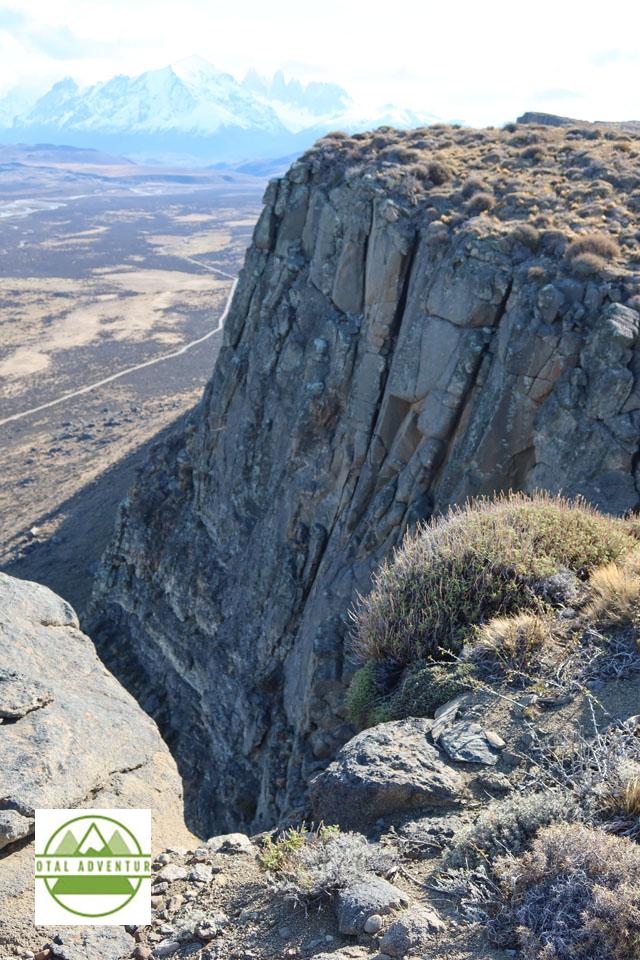 View From On High – Towards Torres Del Paine.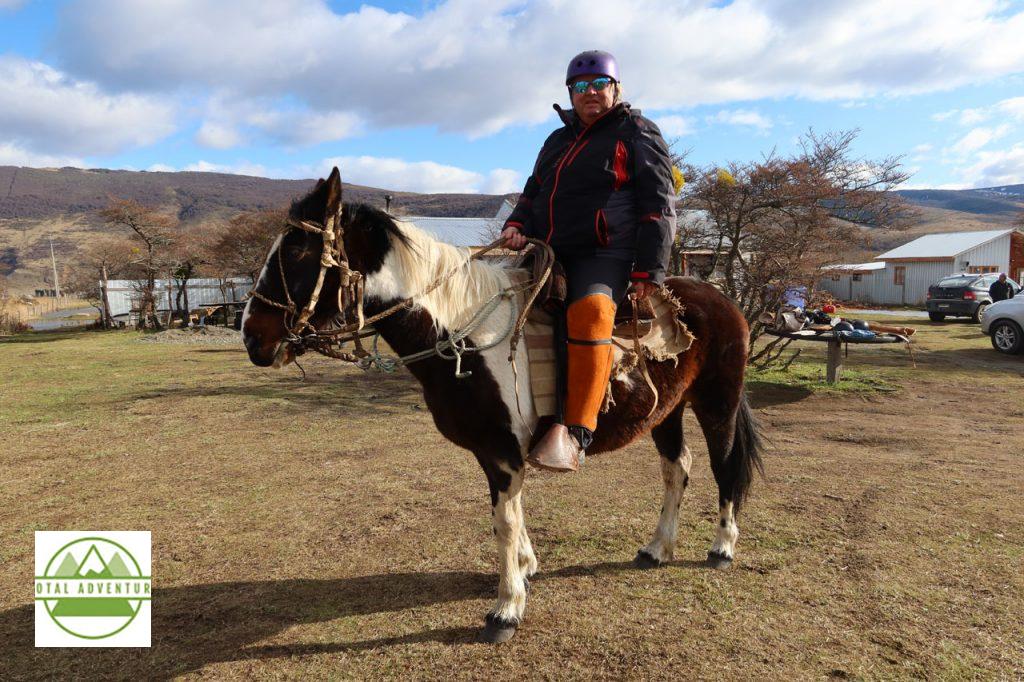 The next day, outside of Puerto Natales we rode horses up Cerro Dorotea. The outfit was not totally my choice. The horses were well tempered and responsive to more experienced riders, such as myself.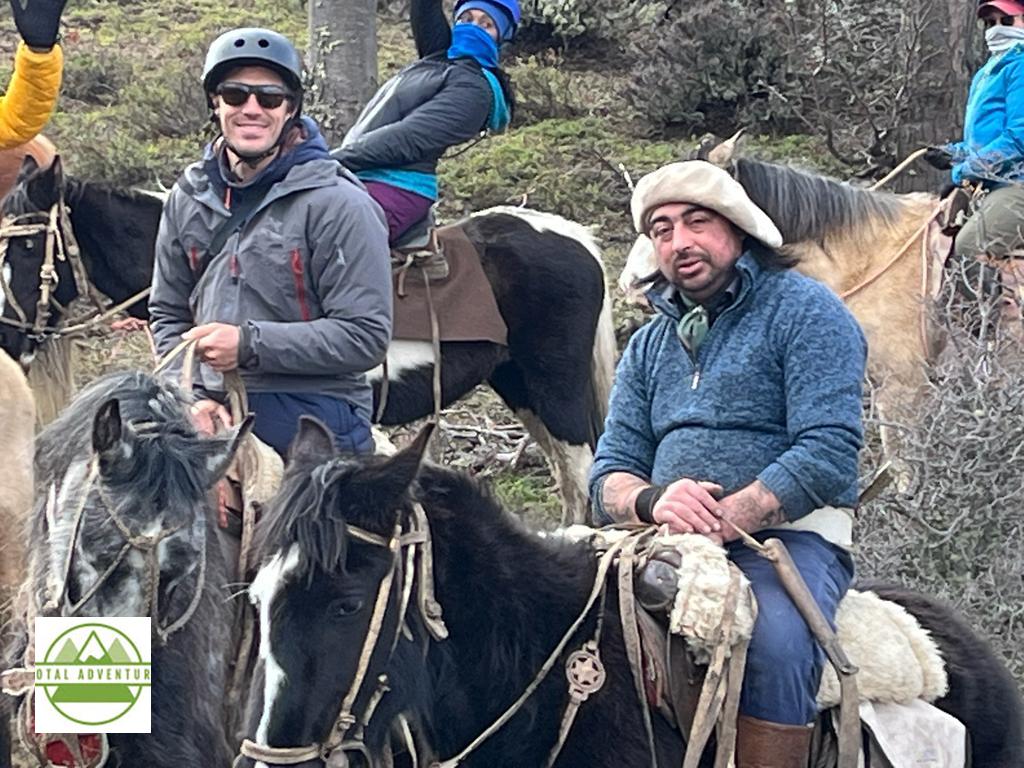 Led by Guachos – Born In The Saddle !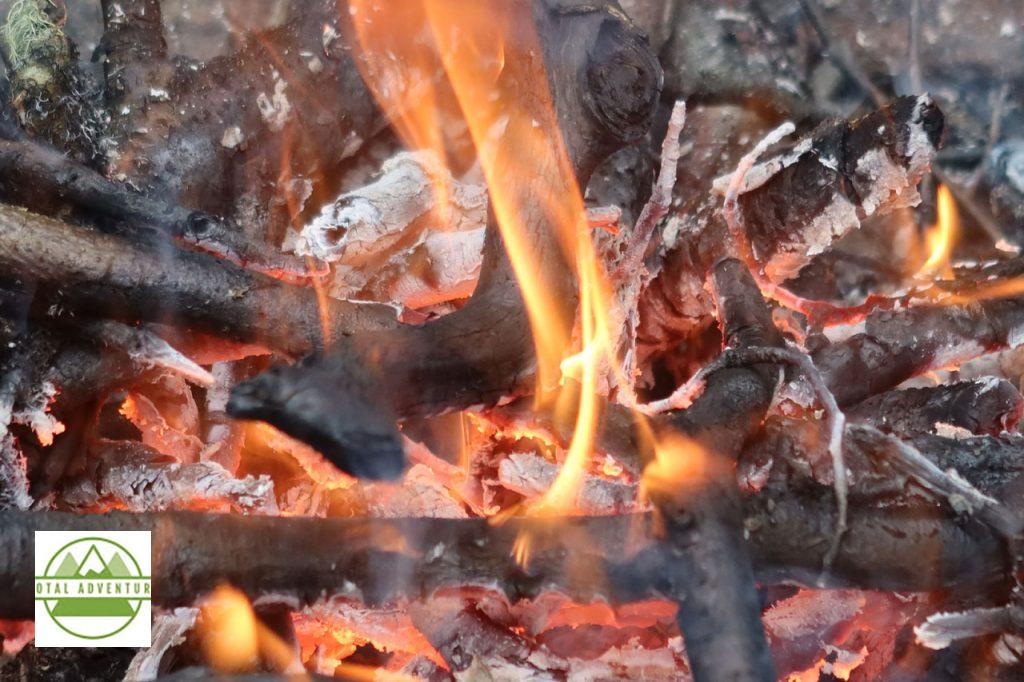 A warm fire at the mountaintop. It was sleeting at the top.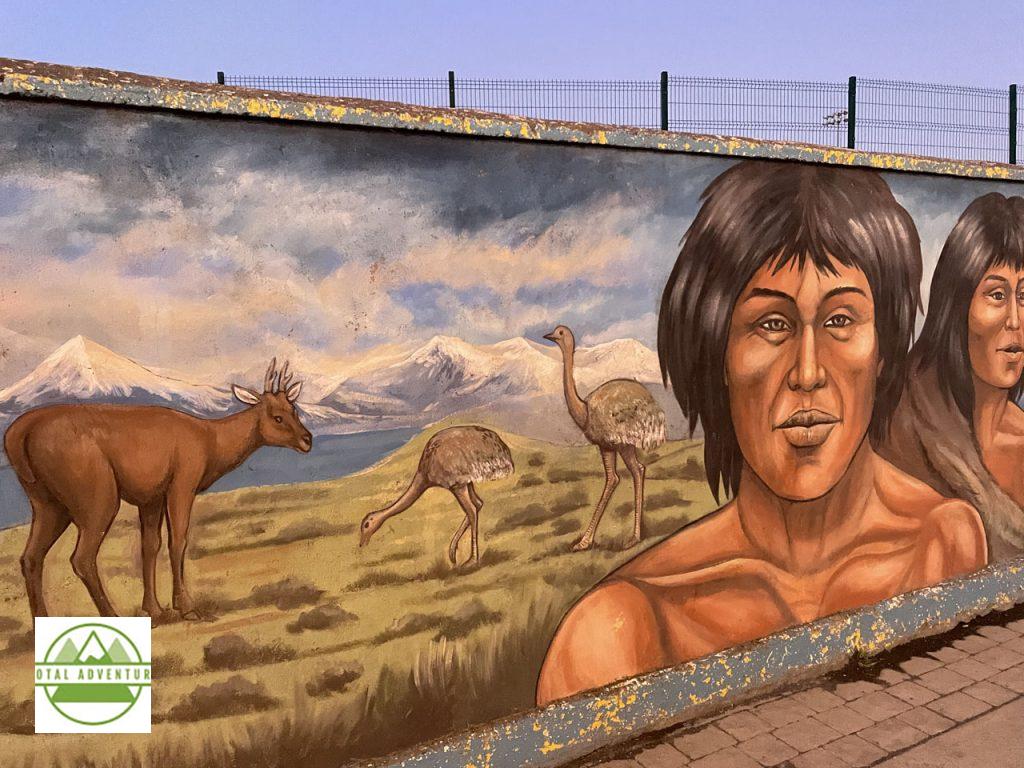 Patagonia Before The European Settlers.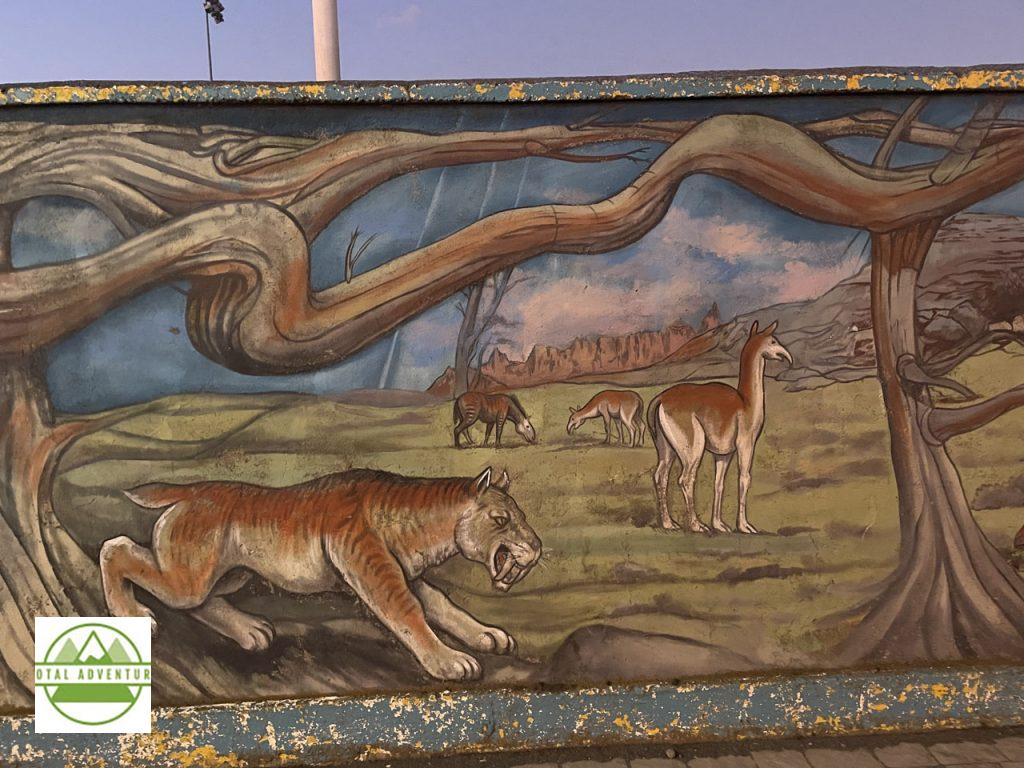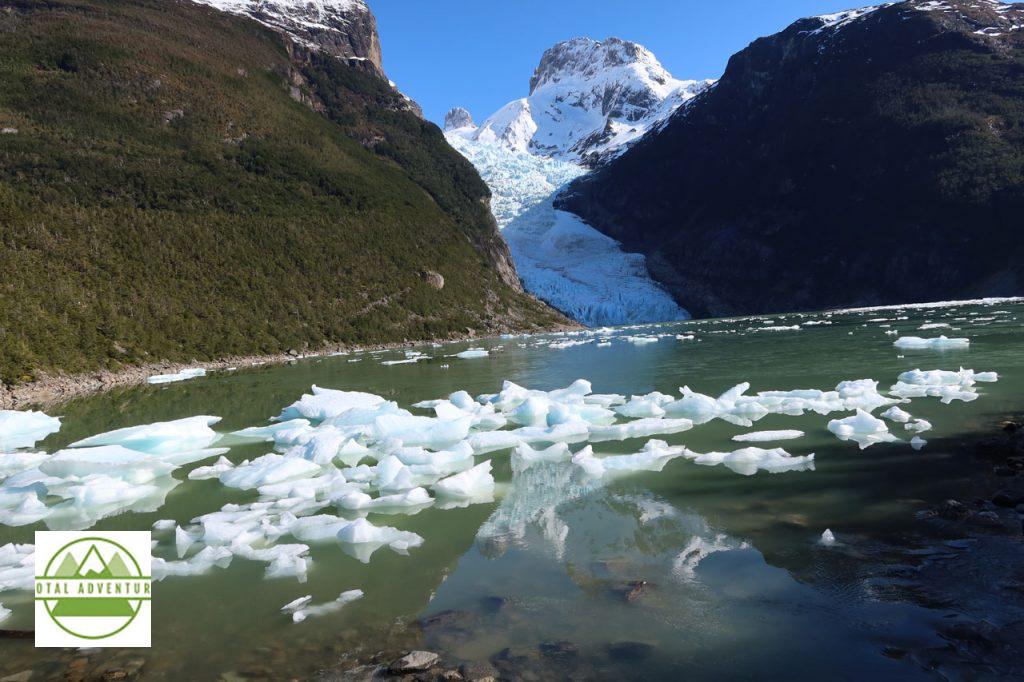 On the final day, before sales meetings began, we boarded a cruiser for an expedition through Fjord Ultima Esperanza to Glaciar Balmaceda, about 50 km from Puerto Natales.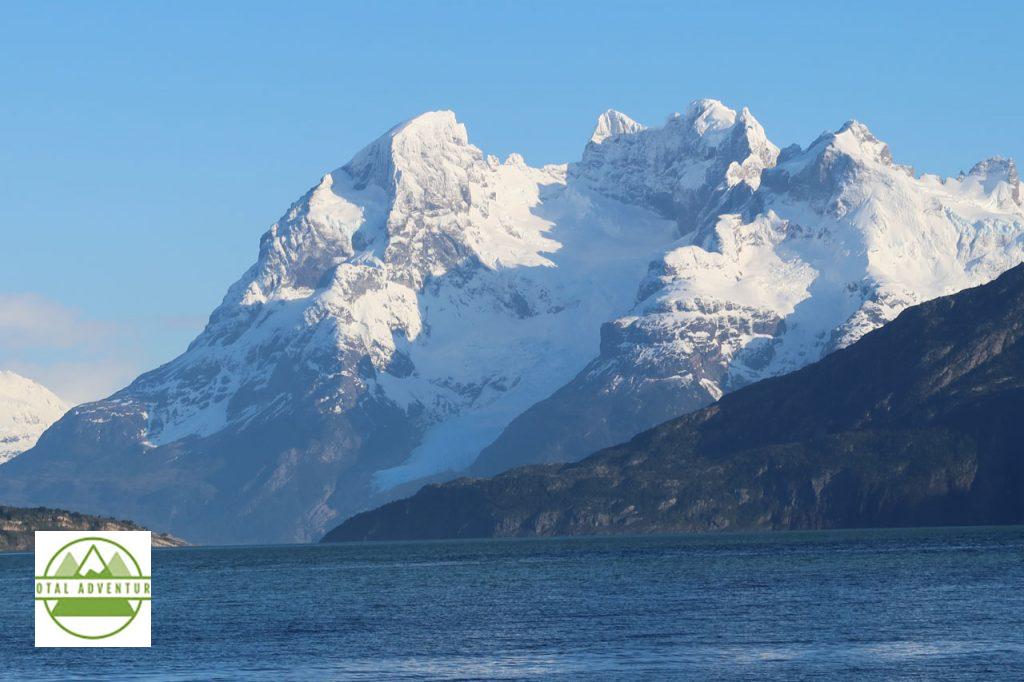 The saltwater fjord extends a long way from the Pacific.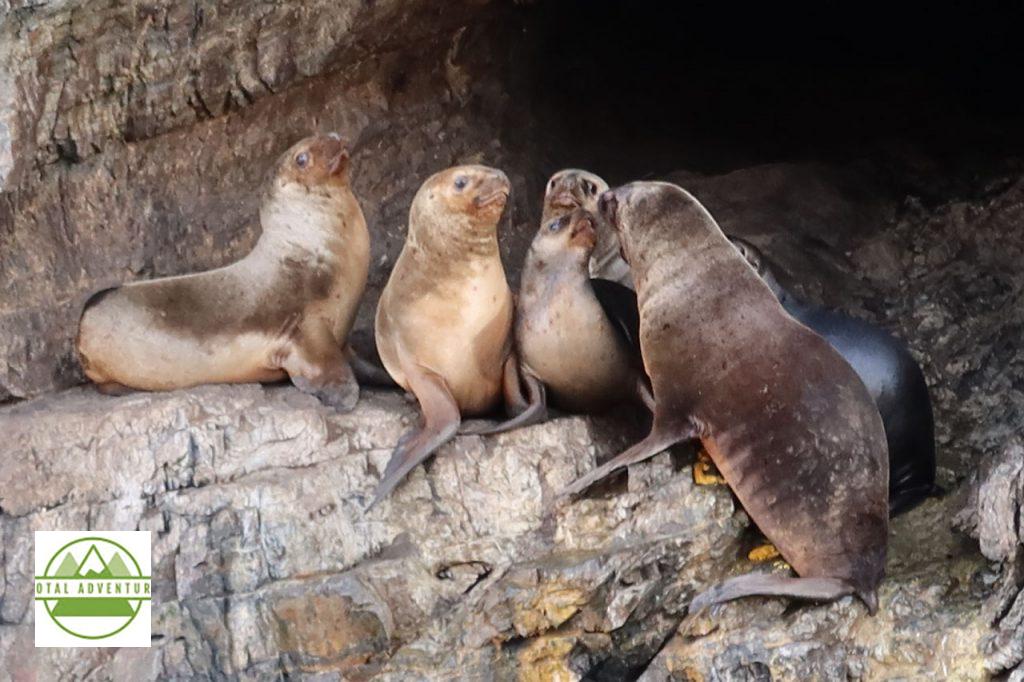 Seals live in caves along the cliffs.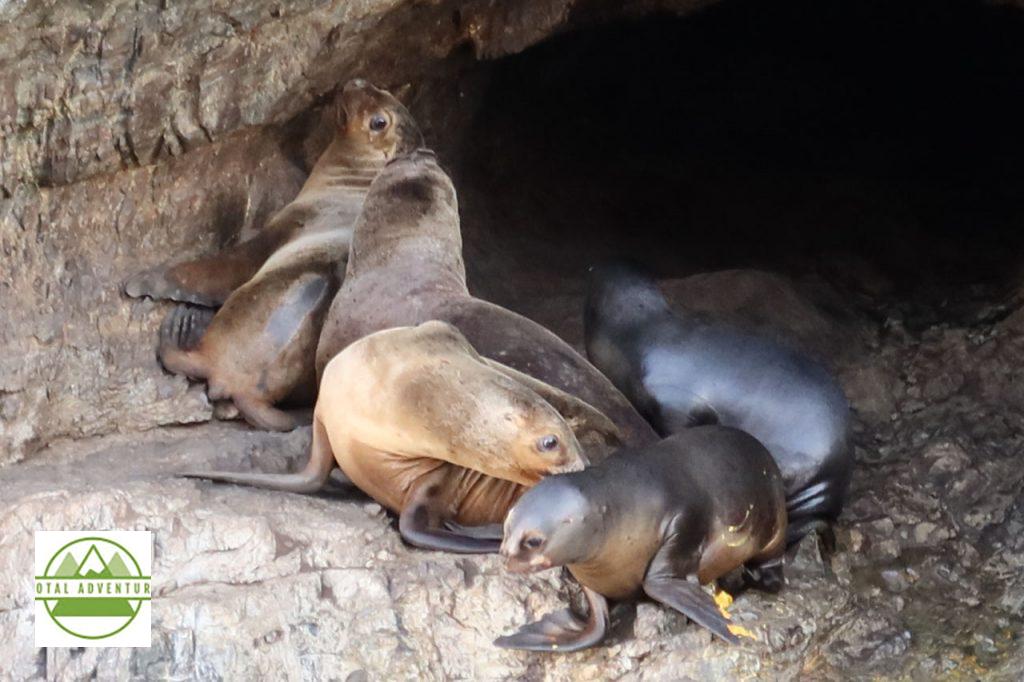 Mother And Pup.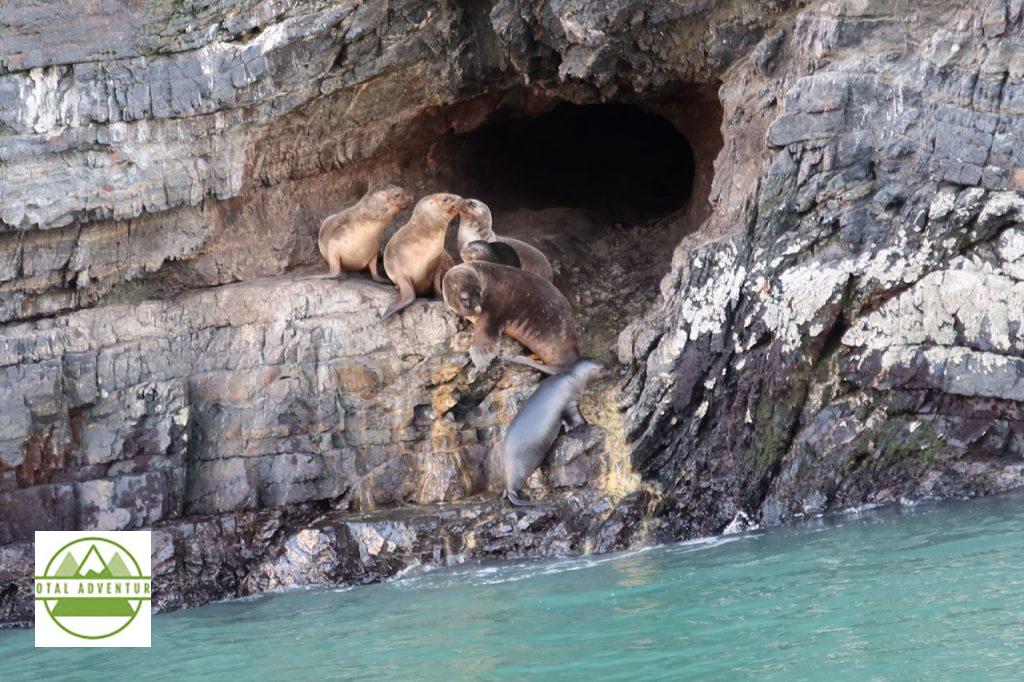 The days are spent fishing and getting some late winter sunshine.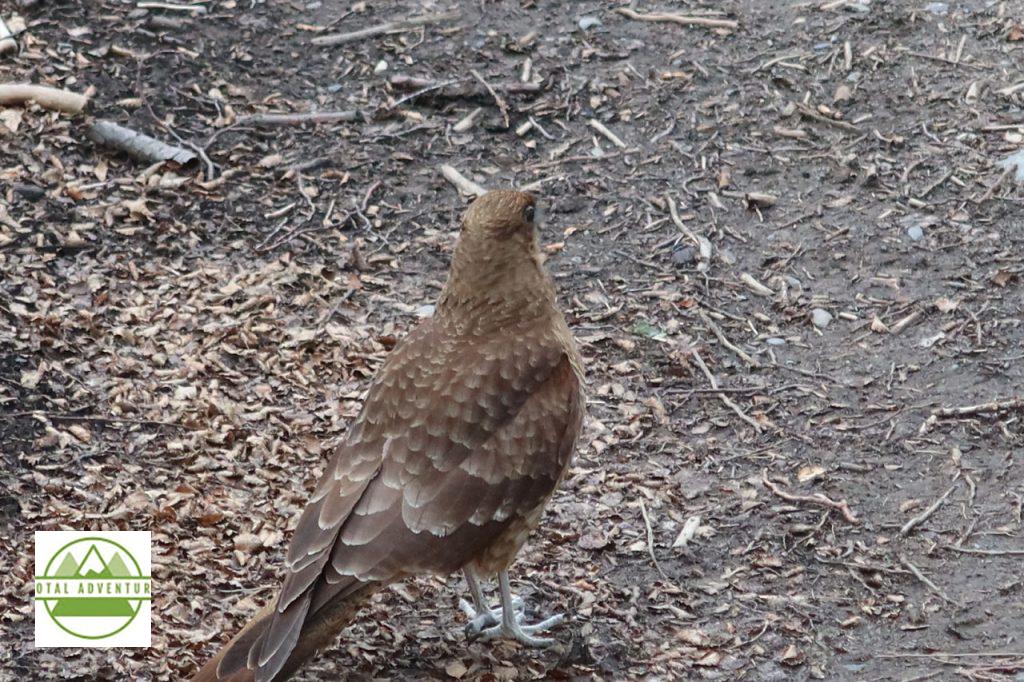 A low flying bird . The caracara ? Ornithologists please let us know..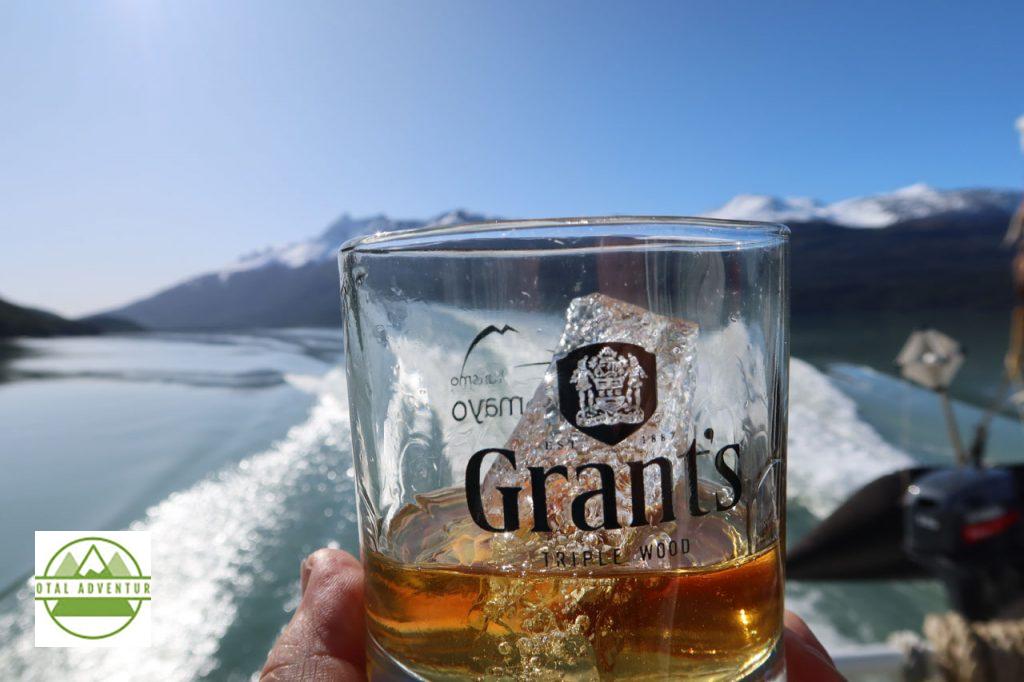 I'll Have A Grant's . On 3000 Year Old Glacier Rocks Please.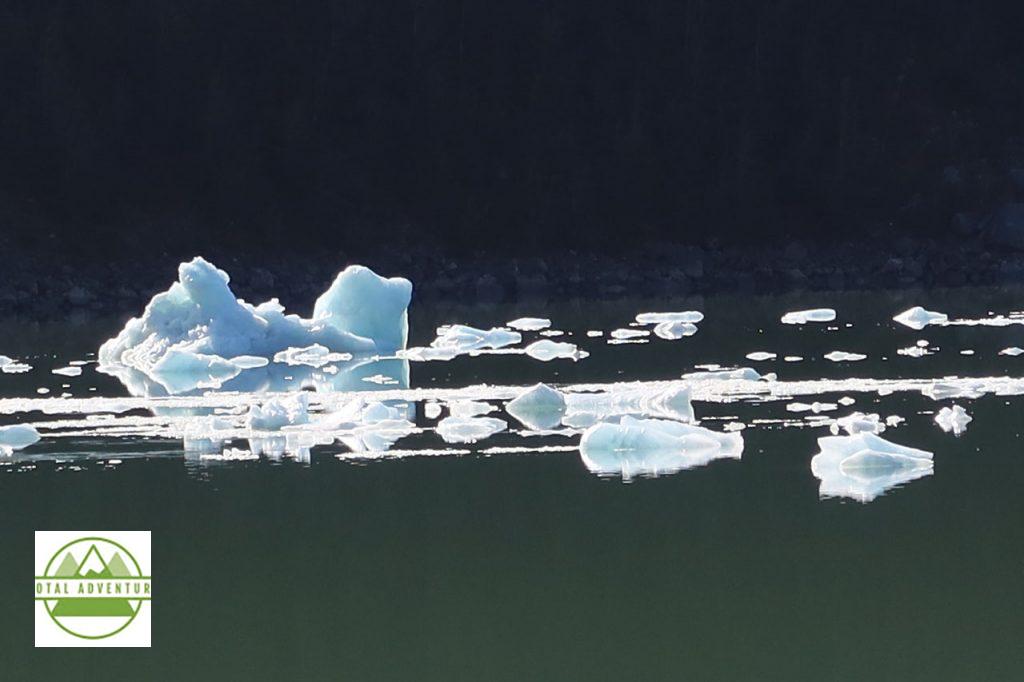 Abstract Nature.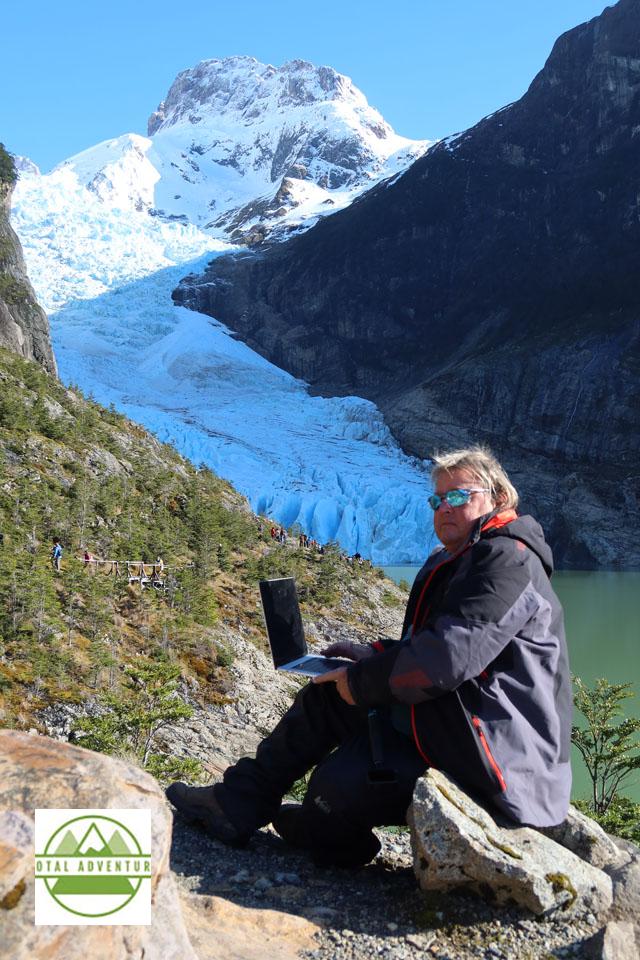 The Explorer At Work.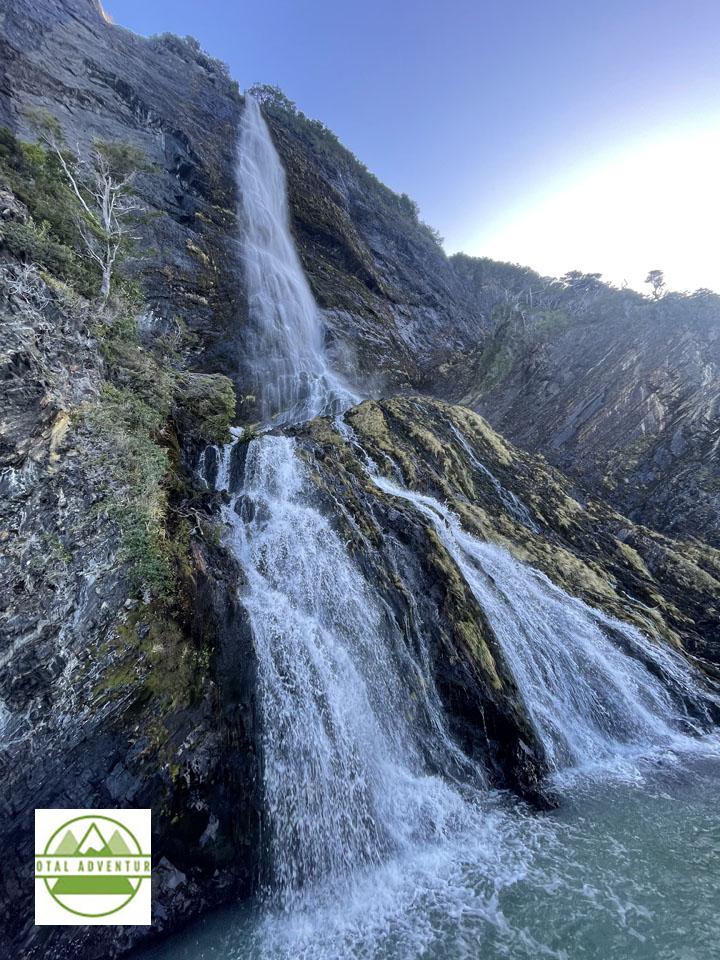 Glacial Waters spilling into the fjord.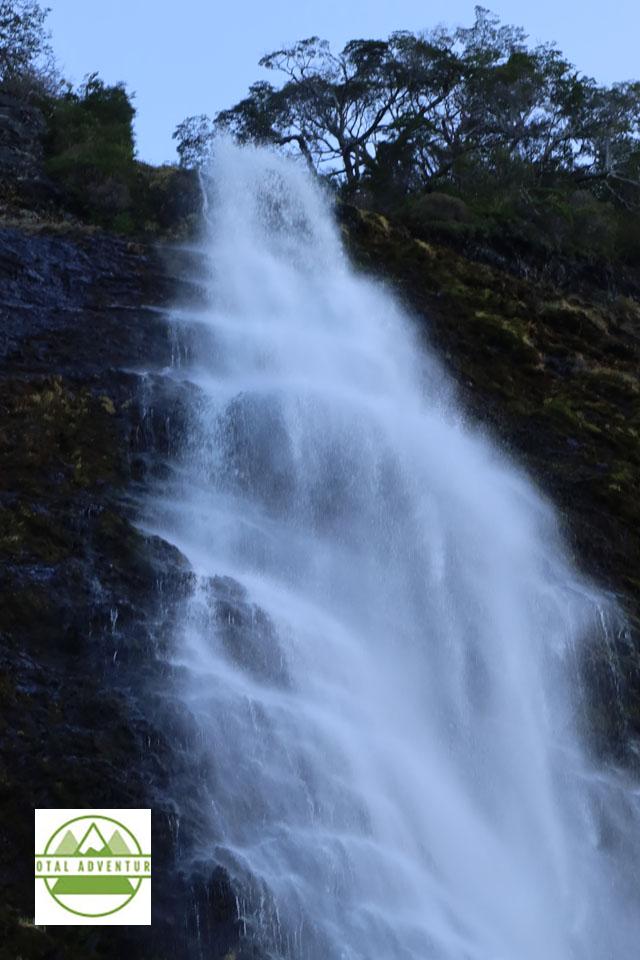 Purest Water Anywhere !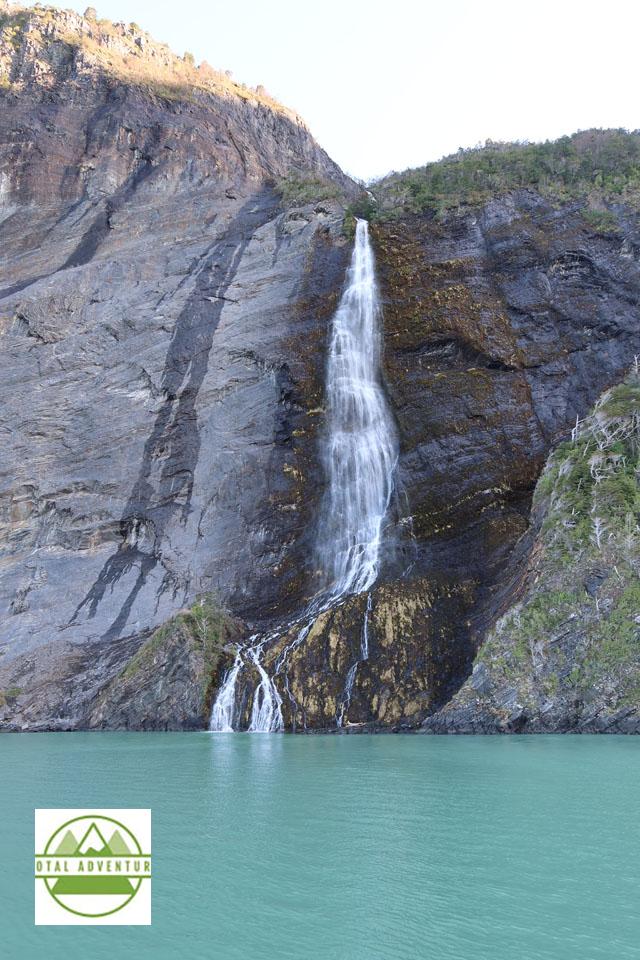 Down From Glaciar Balmaceda.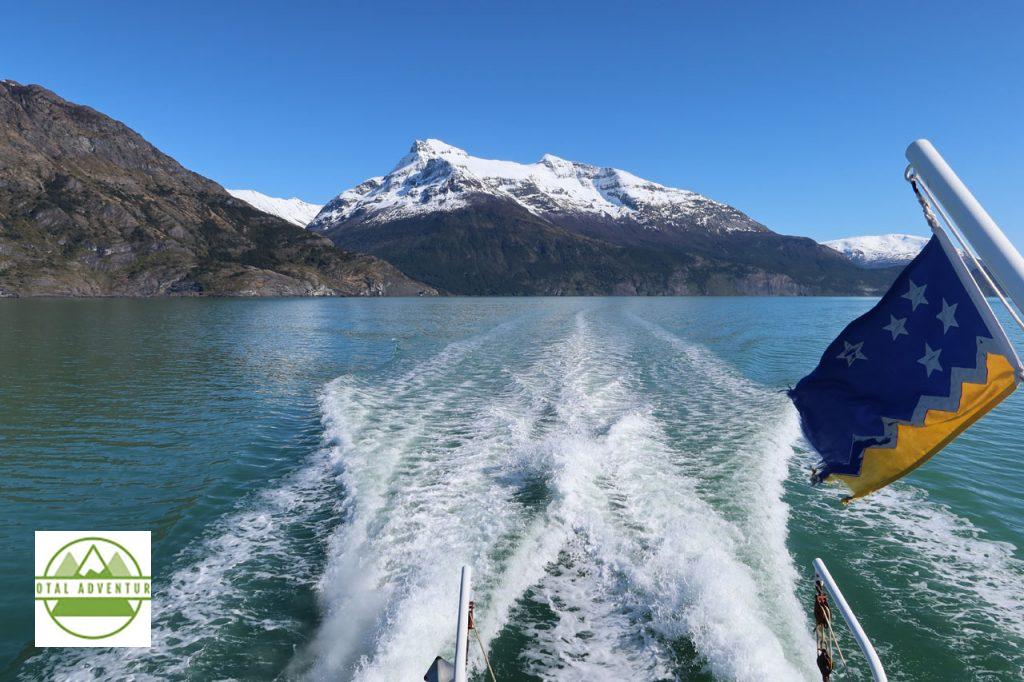 Bandera de Patagonia.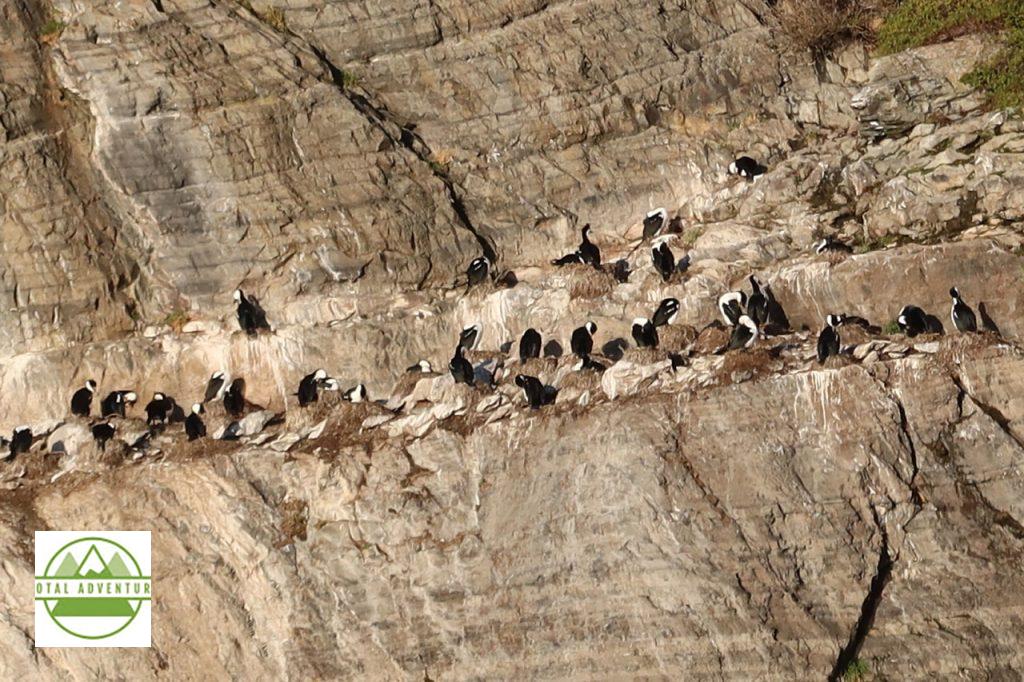 Magellanic Penguins Live On The Cliffs – Safe From Seals.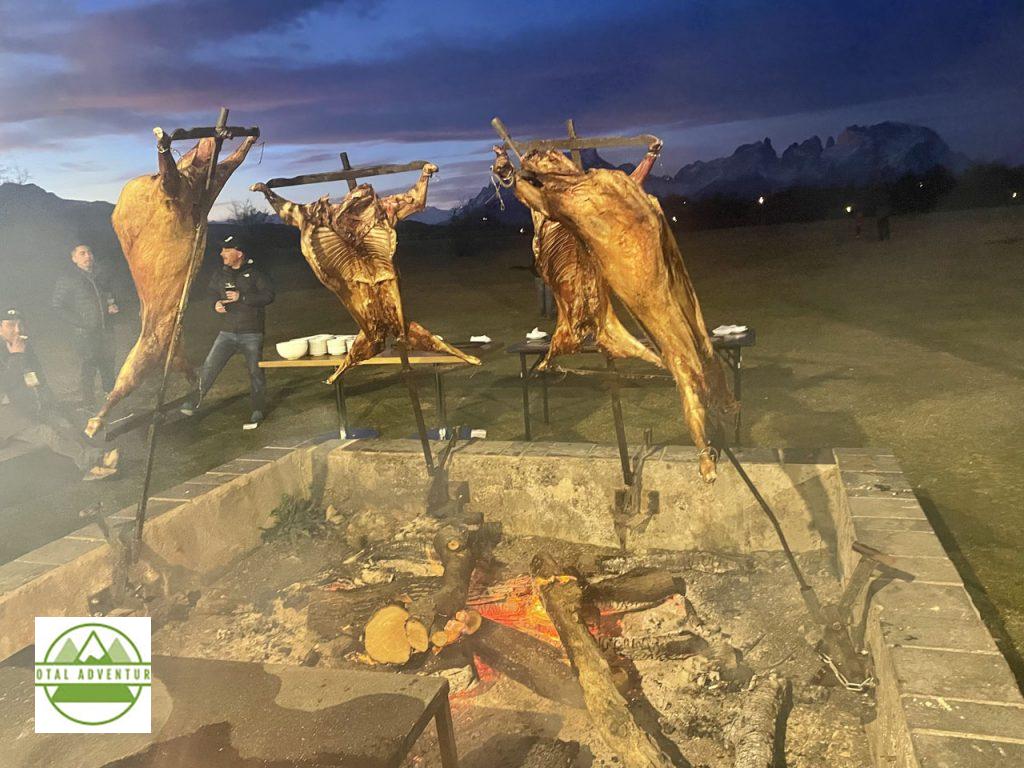 Outdoors Adventures Concluded – At the Hotel Rio Serrano we were greeted with an incredible Parillada de Cordero. The next two days were spent meeting with 25 local adventure providers – all of whom we hope sell adventures on TotalAdventure Chile Nativo already is !.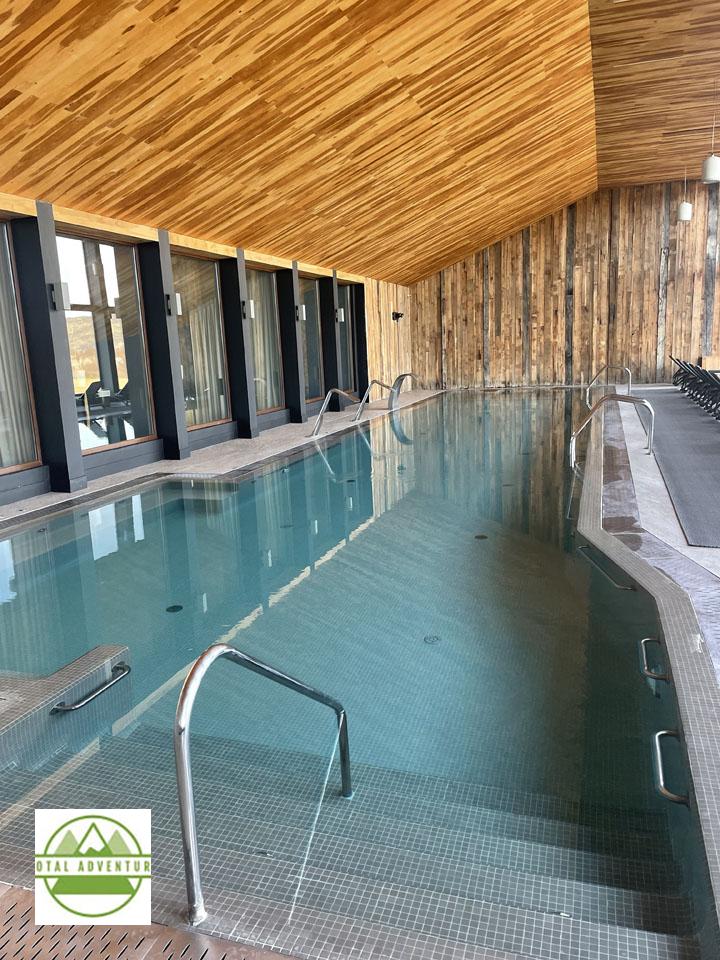 Beautiful warm pool, with nearby saunas, whirlpools and gym to warm up after a day on the glaciers !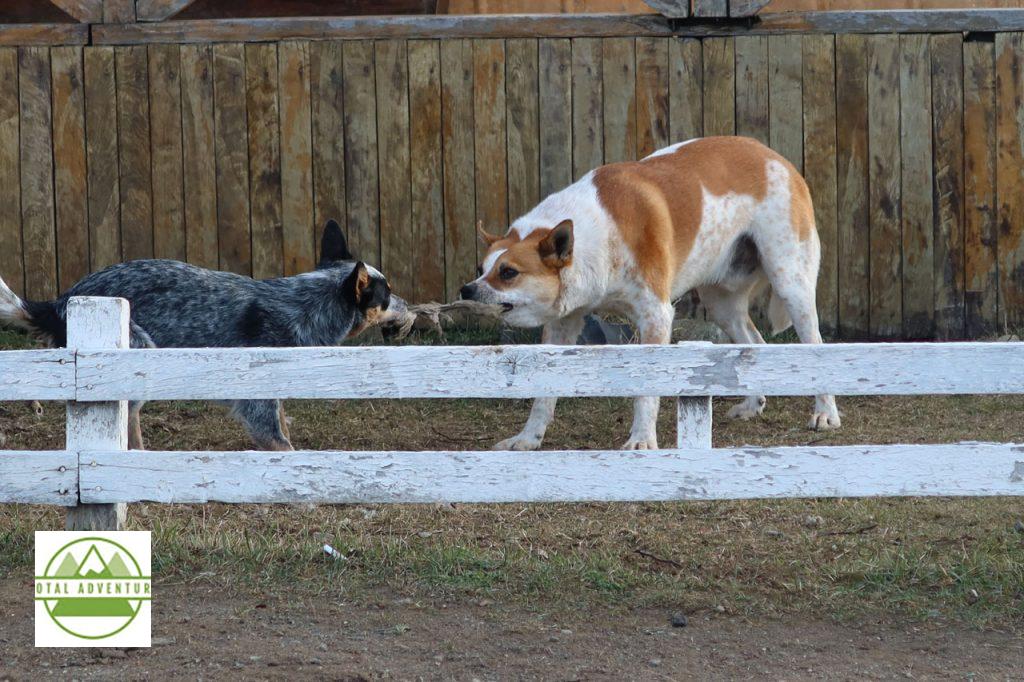 All too soon, the adventures came to a close and it was time to head to the airport. Observed outside at a roadside cafe – two sheepdogs entertaining themselves.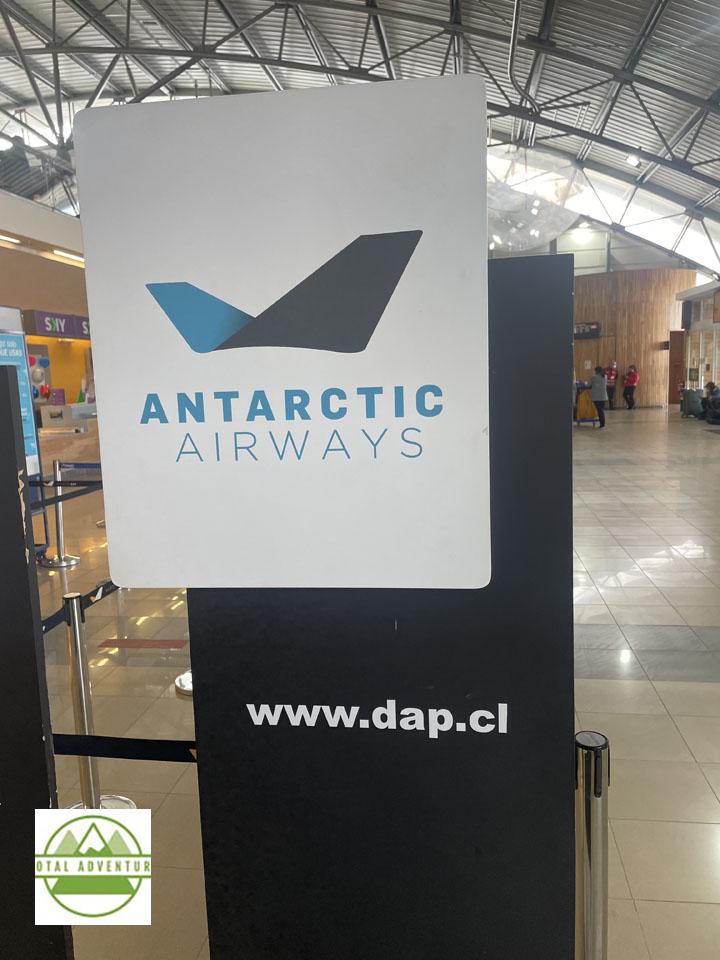 From Punta Arenas it's a 4 1/2 hour flight to Santiago, where I had a 7 hour layover, so went into the city to have dinner with a friend. After a connecting flight through Bogotá on Avianca, I was back in Miami the next afternoon. Punta Arenas is the second most southerly commercial airport in the world – with actual flights to Antarctica – about 800 mies south.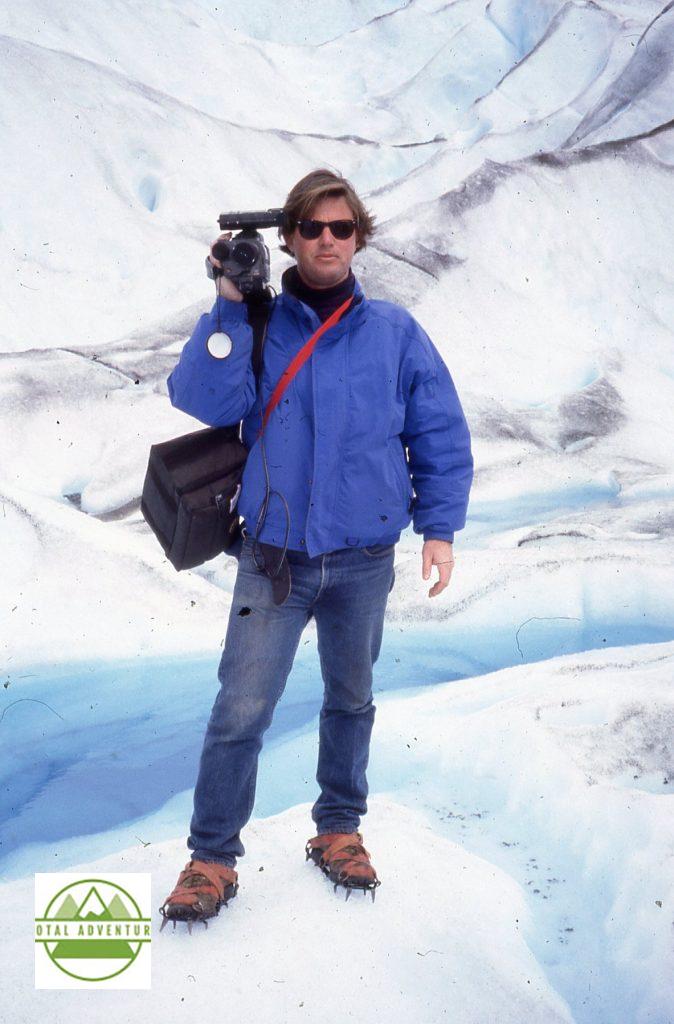 I first came to the Far South of Patagonia in February, 1991. I drove to Puerto Natales from Rio Gallegos, Argentina. I was one of 5 cars to cross the border that day. This photo is on Glaciar Moreno in El Calfate, Argentina. 31 years later, I am happy to report that the nature has not been changed much – due to strict and well planned conservation and sustainable tourism. Of course there are many more hotels, restaurants and tour companies catering to adventurous travelers from all over the world. Also technology is far more advanced. That's a Sony Hi-8 video camera – considered quite advanced for the time with 480 lines . I had a custom made battery belt that powered it all day. To edit, I had to rent a $ 200 per hour studio in New York. Now I shoot on a GoPro 10 with up to 5300 lines and edit on my MacBook Pro. It was great to be back – stay tuned for TotalAdventure's return to Tierra del Fuego and onwards to Antarctica next month – December 2022 !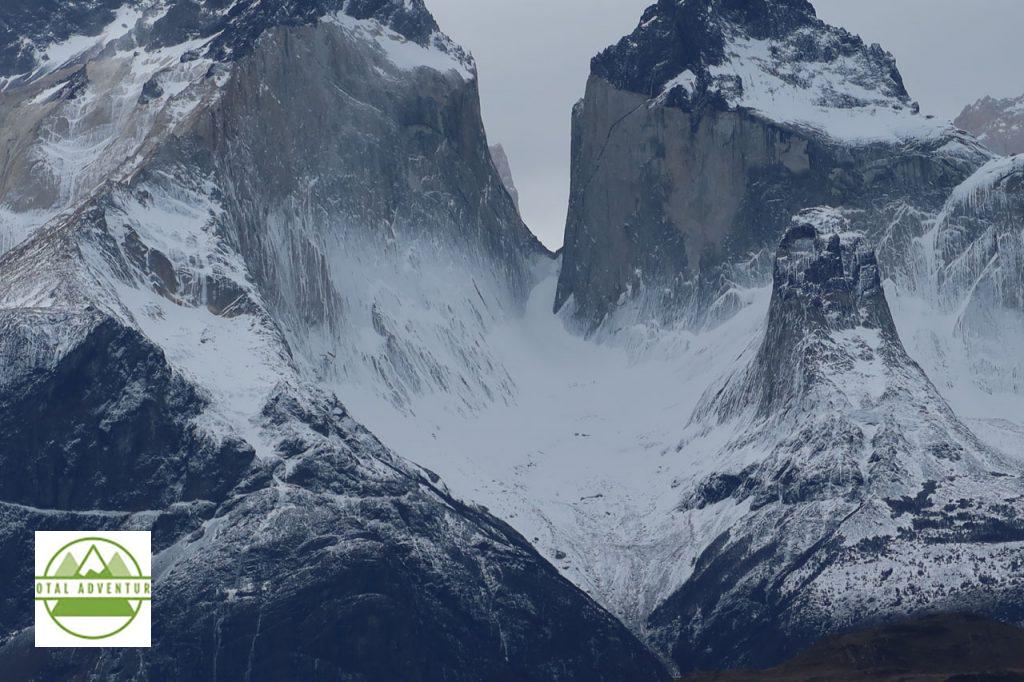 In Late July TotalAdventure was invited to take part in AdventureNEXT Patagonia by the Adventure Travel Trade Association and SERNATUR – the marketing section of the Chile Ministry of Tourism. 32 Adventure Travel marketers were invited from all over the world to experience far-off, far South Chilean Patagonia.
12 of us were chosen to participate on the rugged World Famous – "W Trek" an extensive 4 day hike through Torres del Paine National Park. The trip was with Chile Nativo.
The adventure began the night of Labor Day . 8 hours on the LATAM flight bought us from a humid 90 ( 32C) degree night in Miami to a bright late winter morning in Santiago. There, it was 38 (3C) degrees.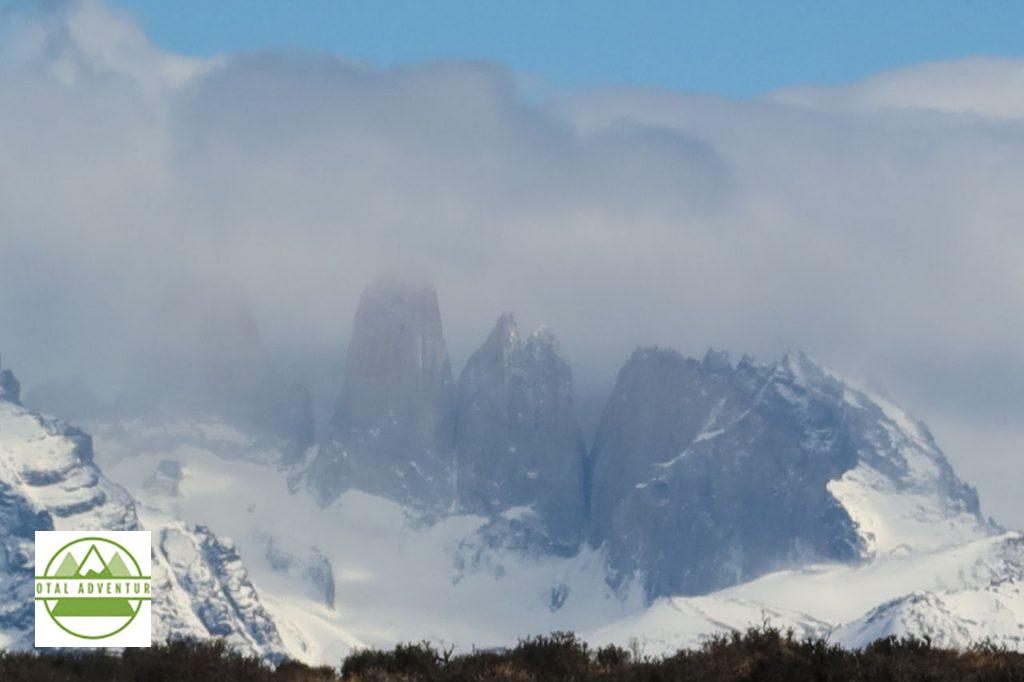 4 hours more on Sky Air bought us to Puerto Natales. Latitude 52 South . As we go off the plane it was snowing, with fresh snow on the ground and 0 C 32F. After a night relaxing and dining at Hotel Lago Grey , we we boarded a ferry to take us about 15 km to Grey Glacier at the other end of the lake.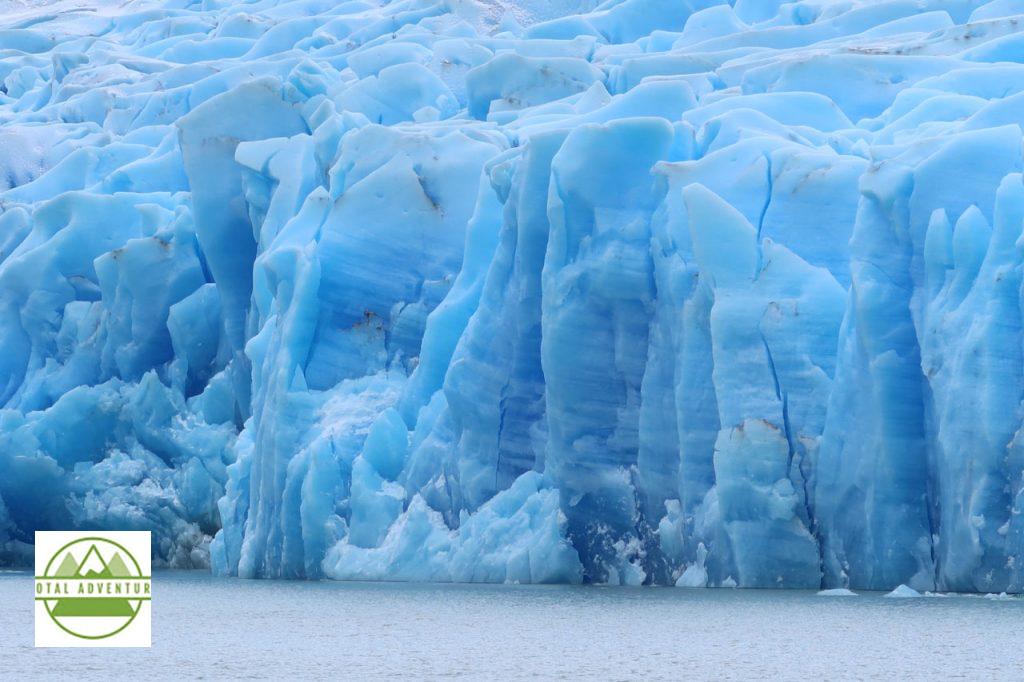 Grey Glacier is a tongue of the Patagonian Ice Sheet – the world's third largest after nearby Antarctica and Greenland.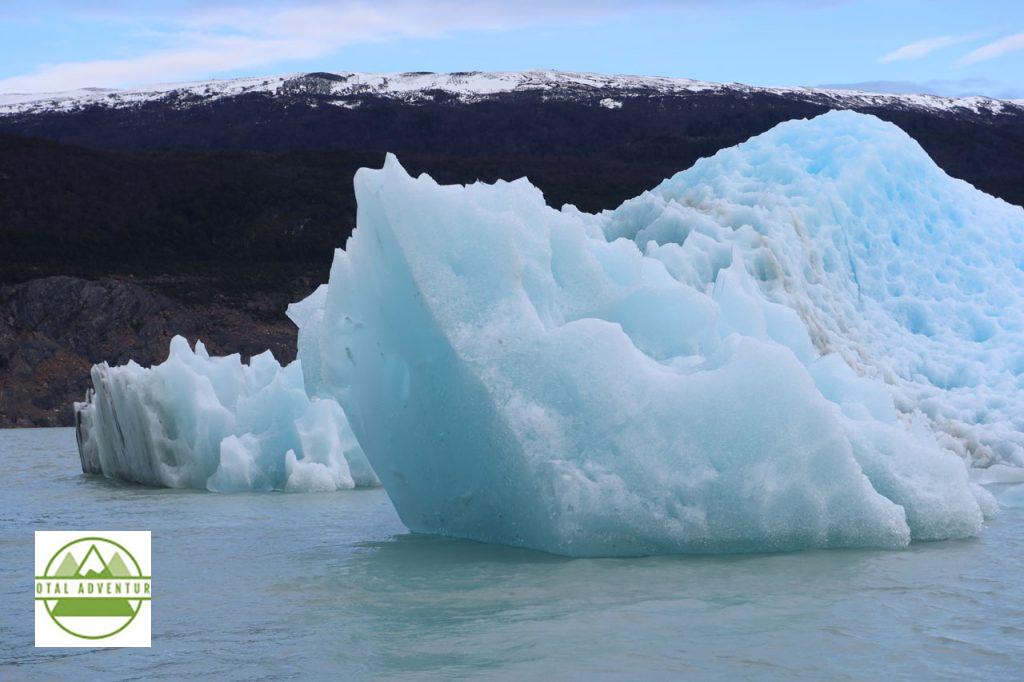 The lake it melts and calves into is a constant 2 C – a person will die in just a few minutes if they fall in – losing consciousness after 2 minutes.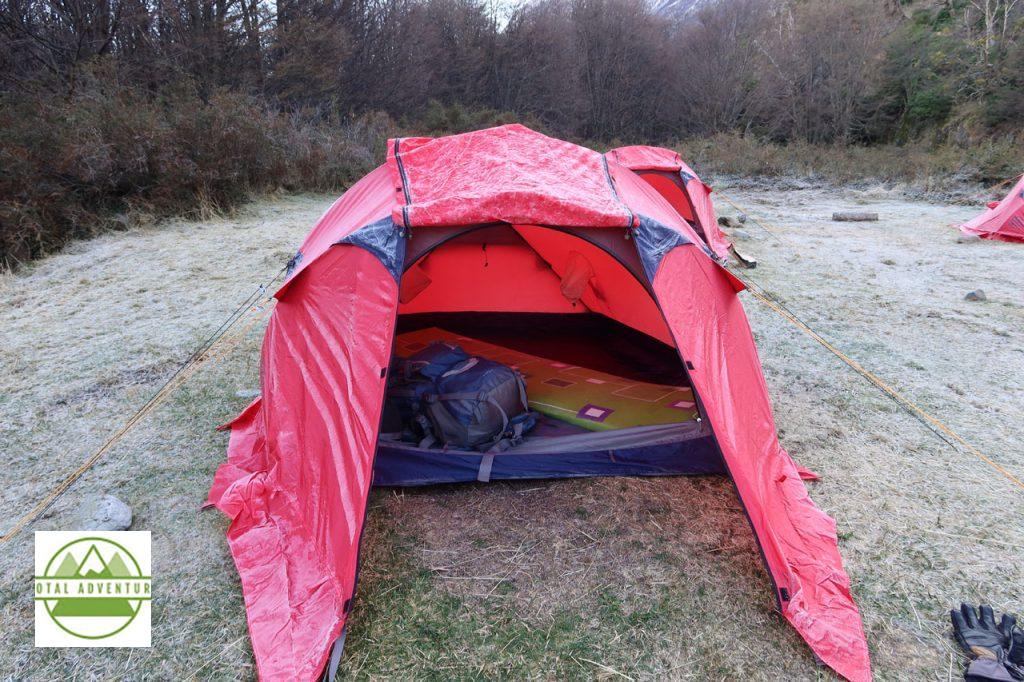 After we left the ferry ( see video) our Group dropped off our things at camp. The tents were already set up. It was super-cold – note the frost signifying subfreezing temperatures at mid day.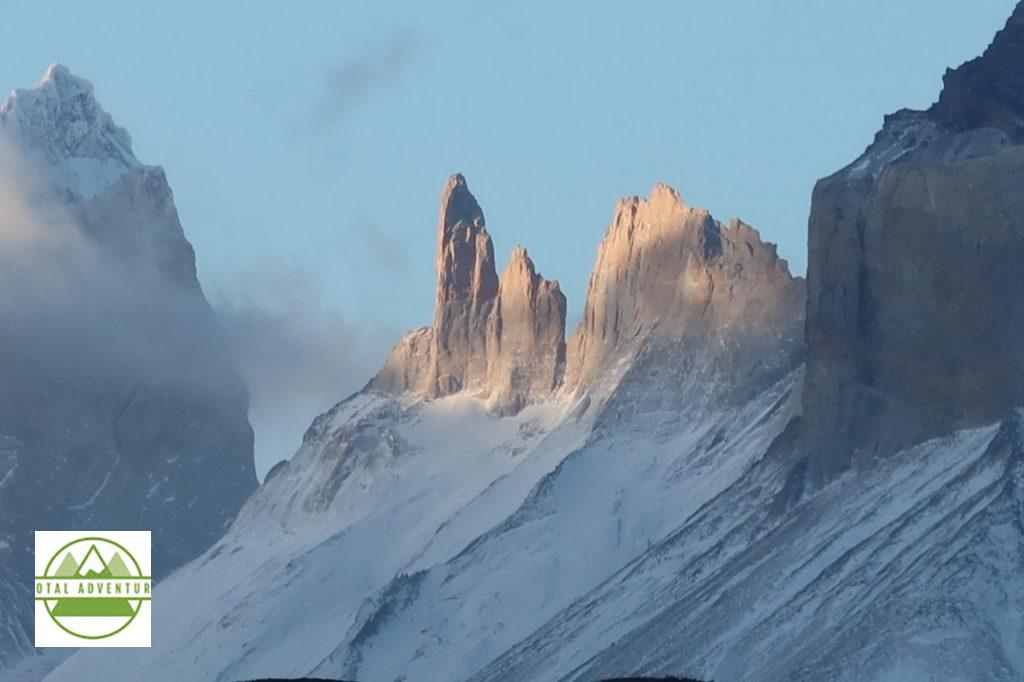 Above us and about 20 km distant, are the Torres del Paine. 9800 feet 3015m high, formed by magma ejecting upwards from under the Earth. Many think these mountains and rock formations are the end of the Andes. They are not ! This is the Paine Mountain Range, formed just 1 million years ago, not 64 million like the Andes.
A glacial tongue/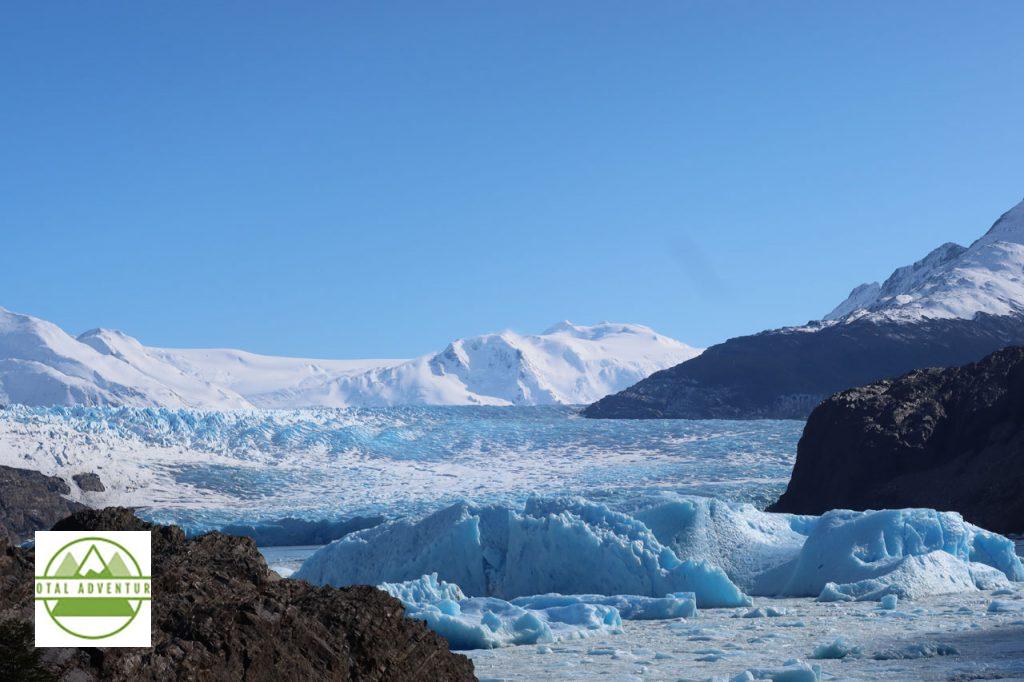 We ate our excellent lunch, packed by Hotel Lago Grey on top of a rock escarpment overlooking the glacier.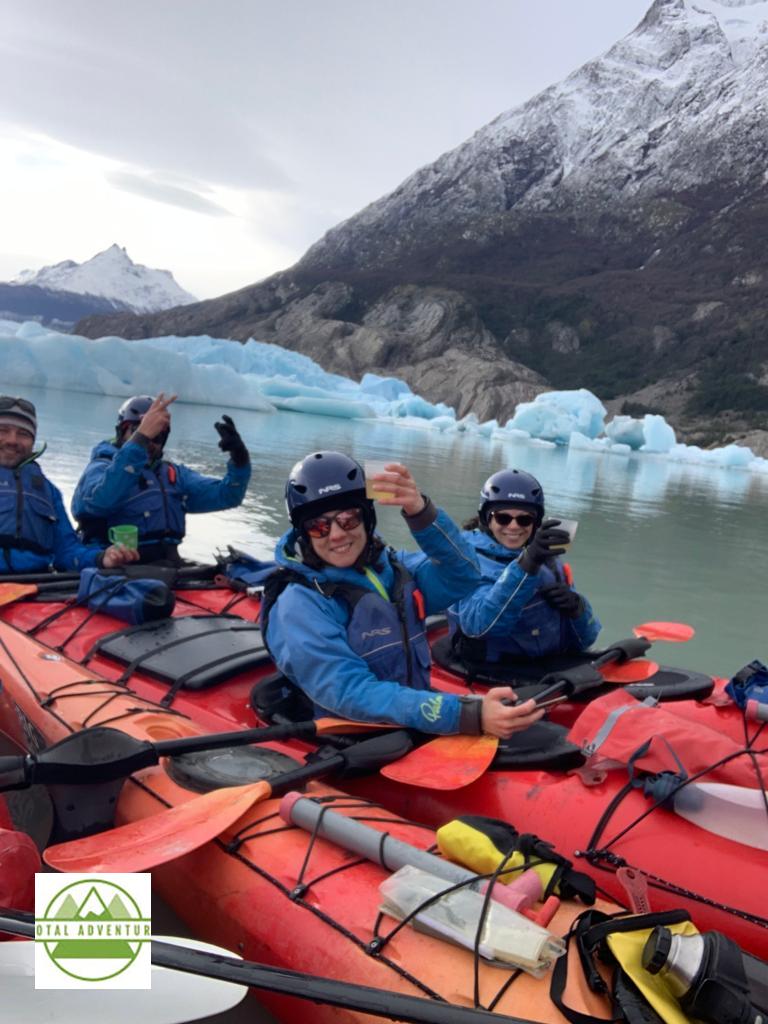 After lunch it was time to kayak. Everyone got suited up and went off exploring the icebergs. Big Foot Patagonia runs the excursions with all equipment. Credit: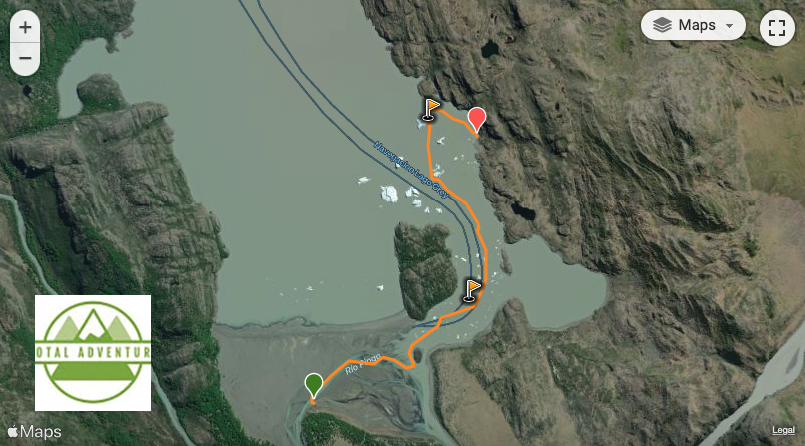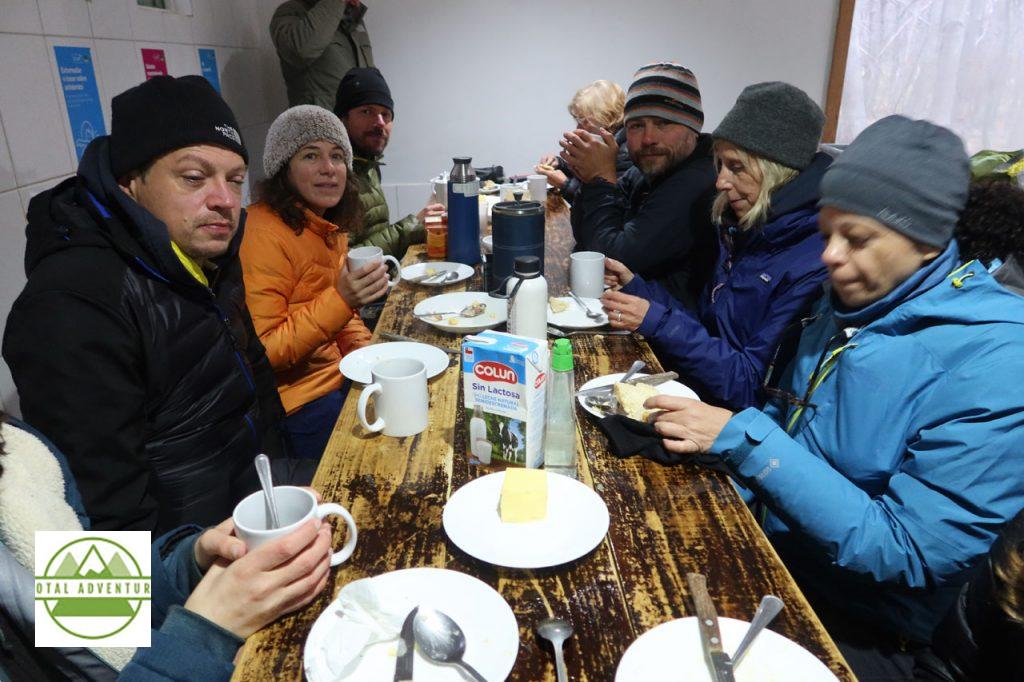 We endured a very chilly night in the tents. Even with down sleeping bags it was cold. We had a hearty breakfast in the morning inside the camp shelter. The sun does not rise until almost 9 AM in September , so it was still like night.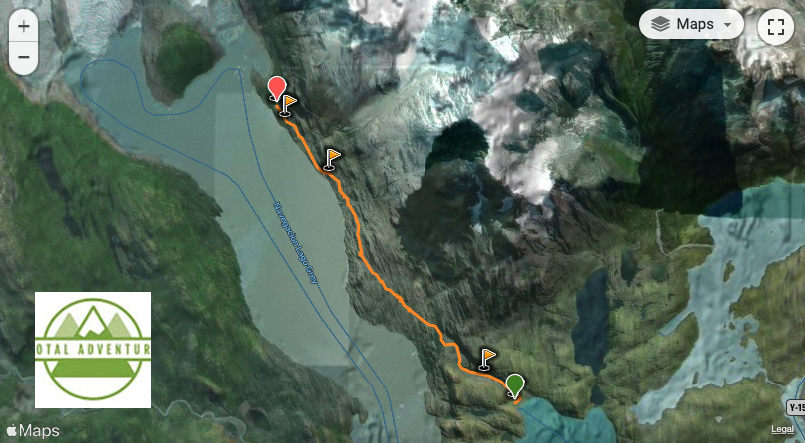 Thursday, September 9th, began with a 5 hour trek across Glaciar Grey. Followed afterwards by a 12 km hike to the next camp.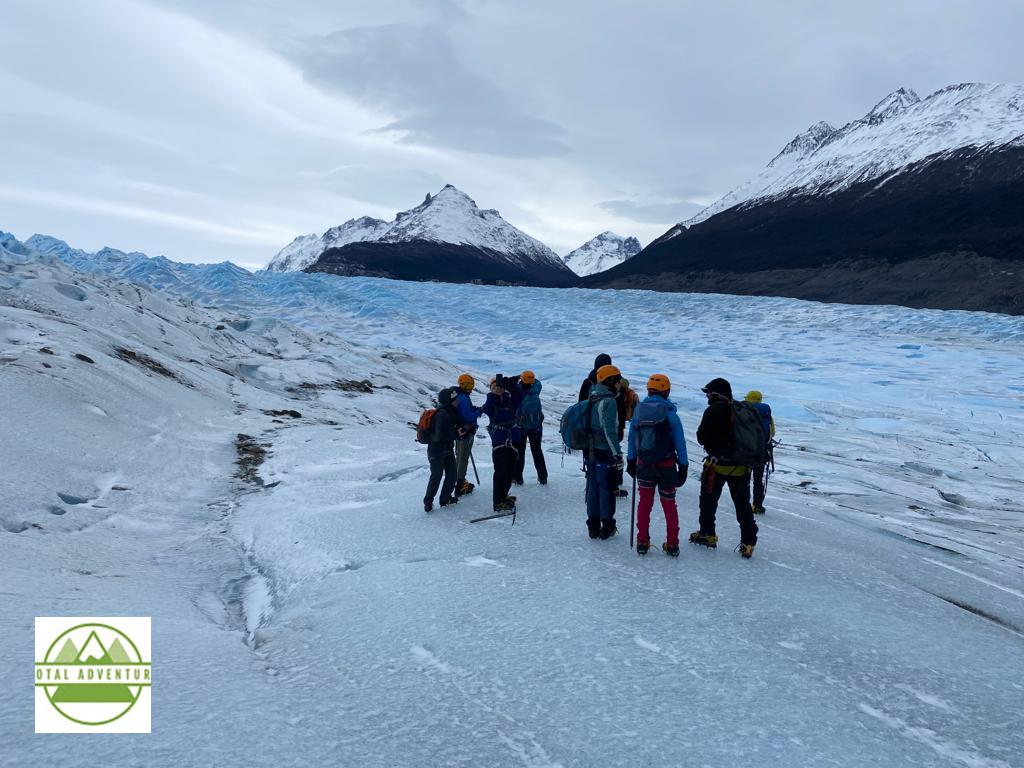 Under the guidance of Big Foot Patagonia. Credit: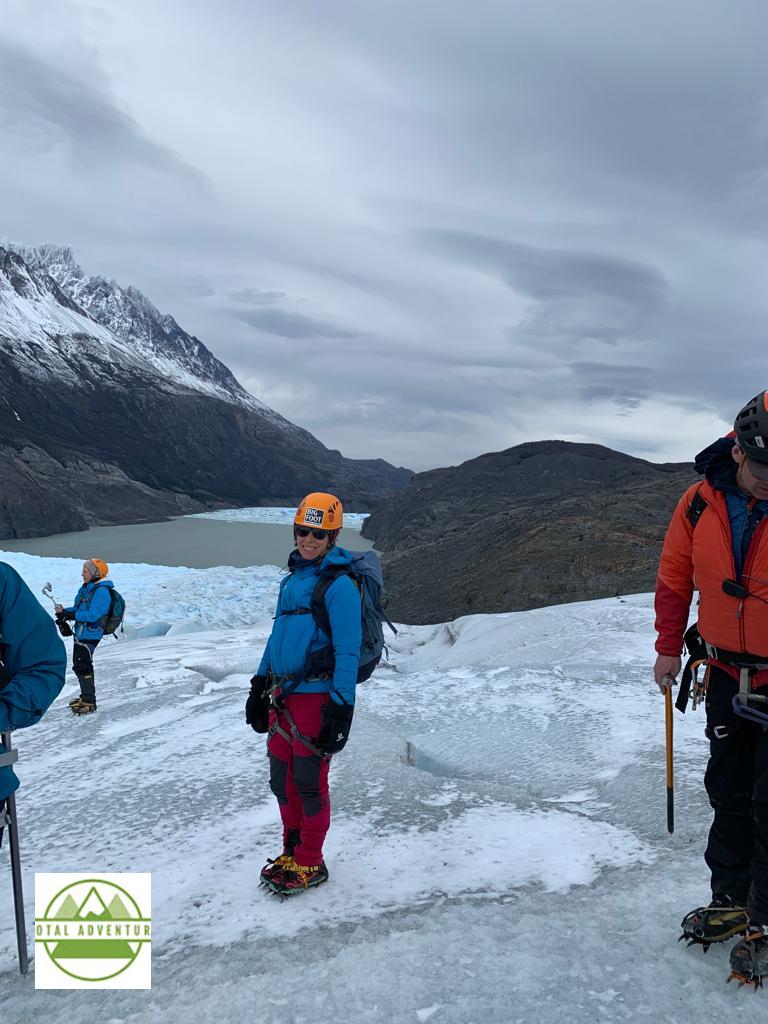 It is a long rocky uphill hike just to get to the glacier. Credit :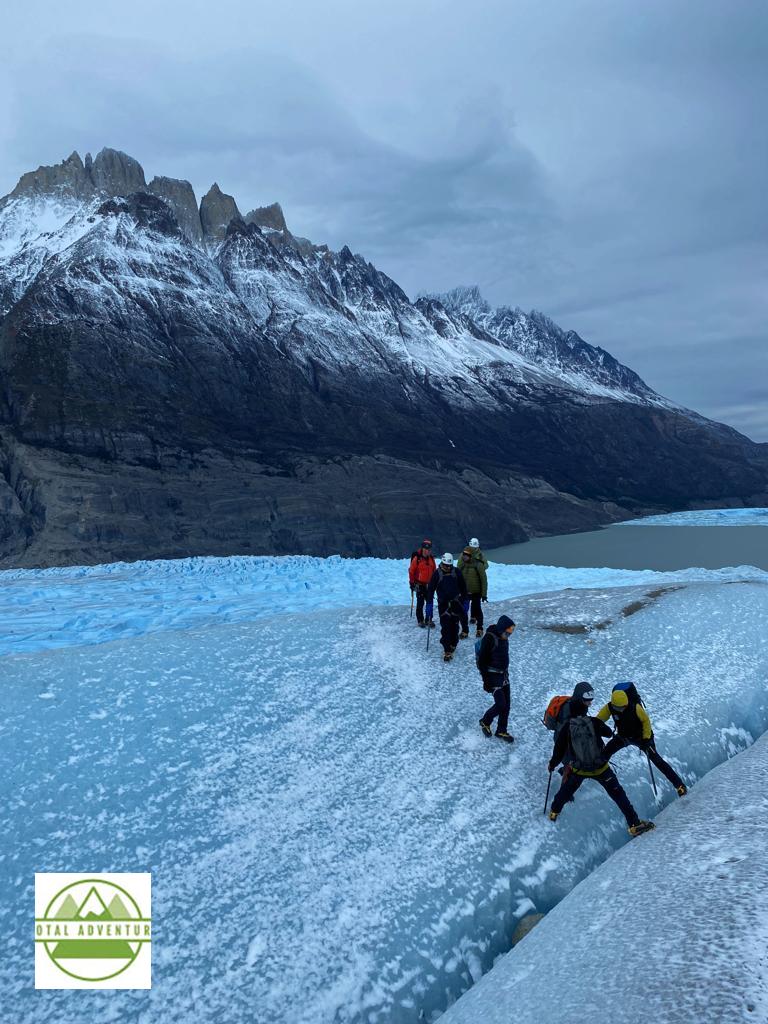 Across the crevasse . Credit :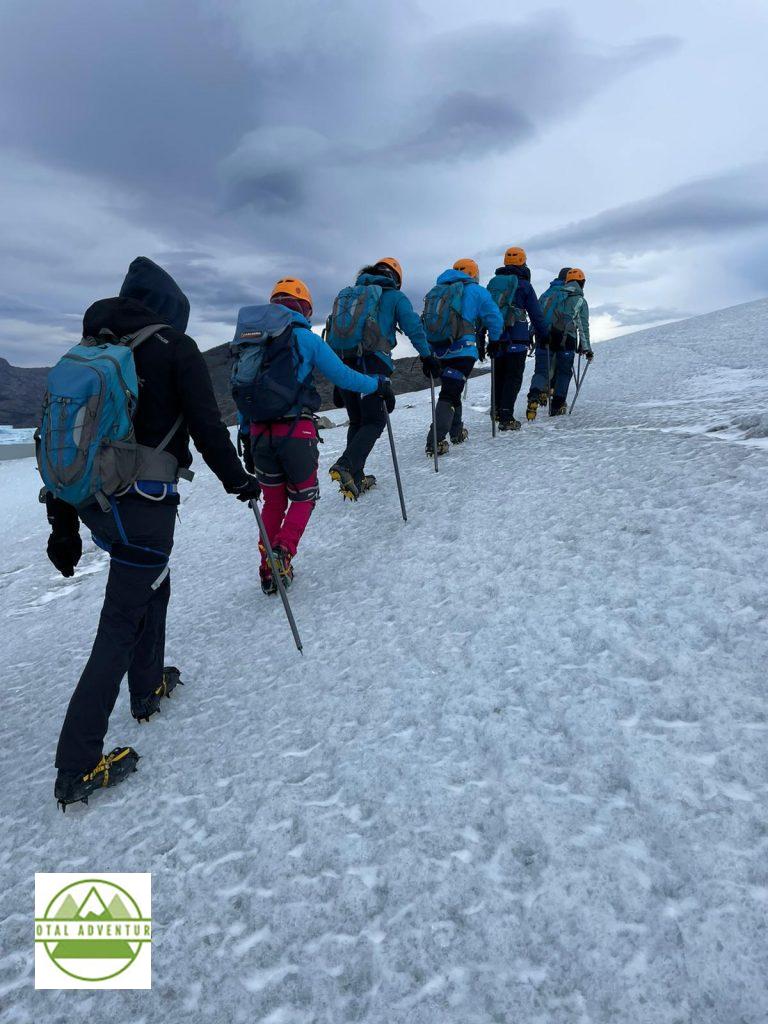 After getting off the ice, it was time to hike to the next camp. The group did not arrive till evening and then it was off to sleep.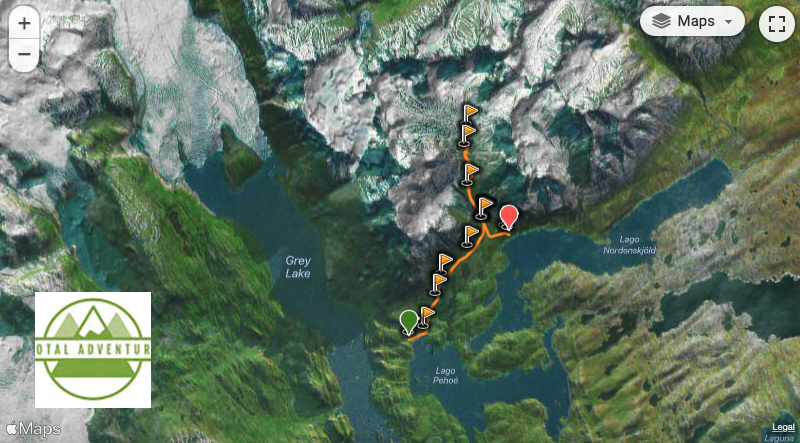 The third day was truly magnificent. The skies were mostly clear, with warmer temperatures.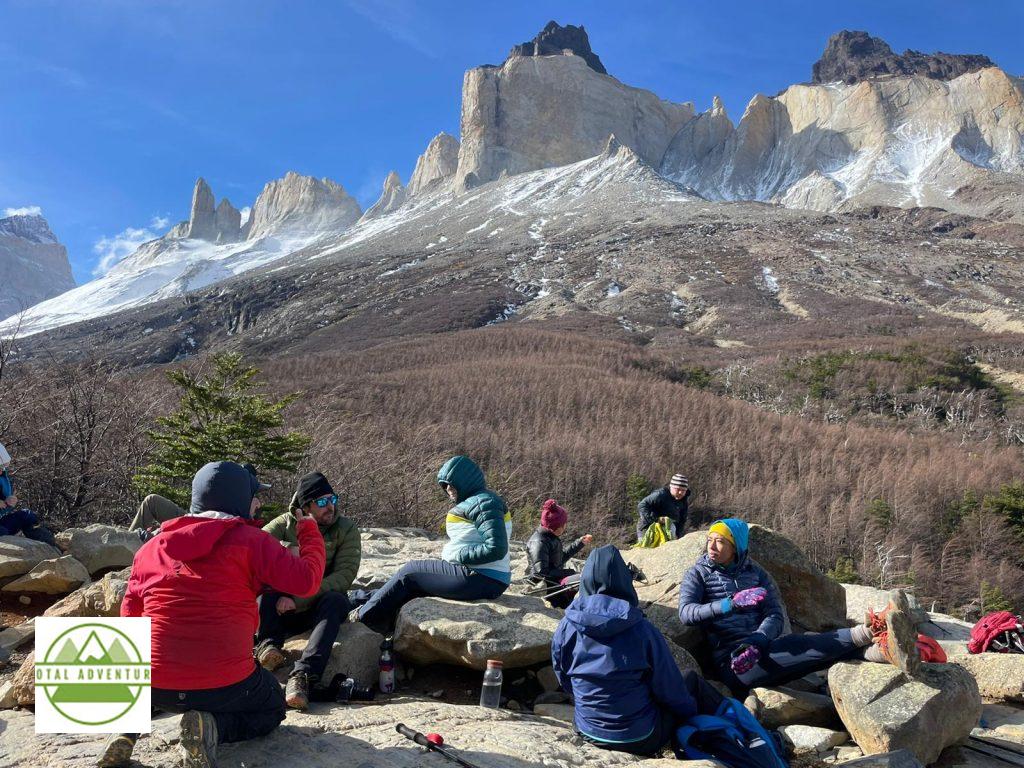 At The Foot Of Cuernos del Paine. Credit :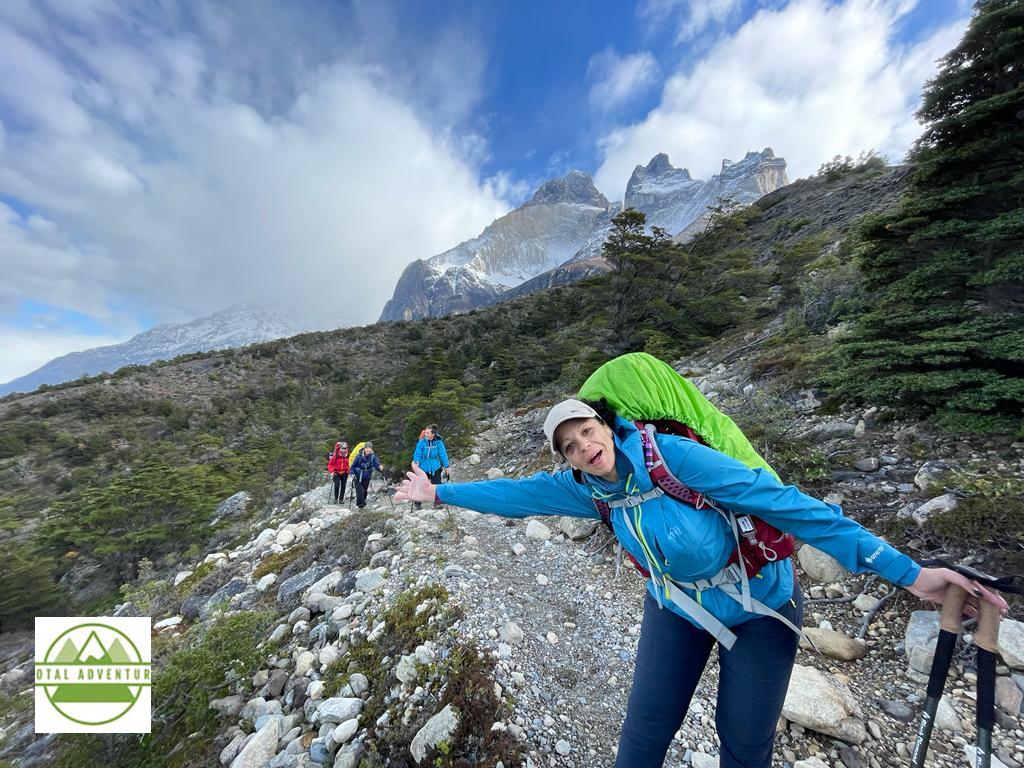 Onwards & Upwards ! Credit :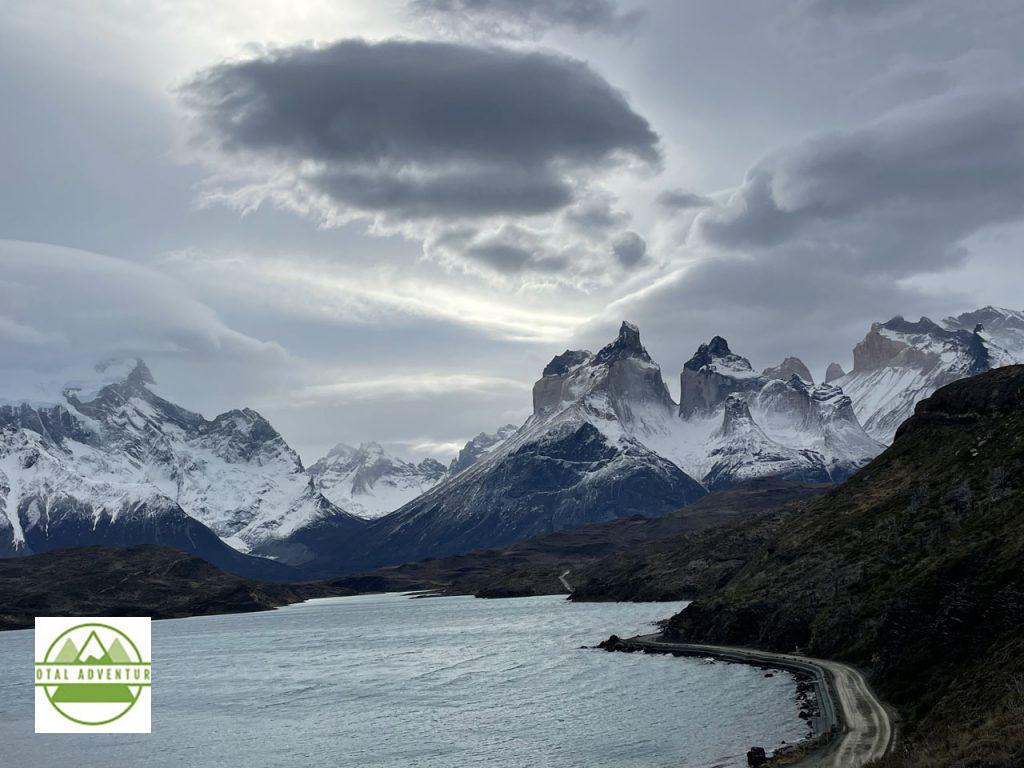 Los Torres From Lago Pehoe.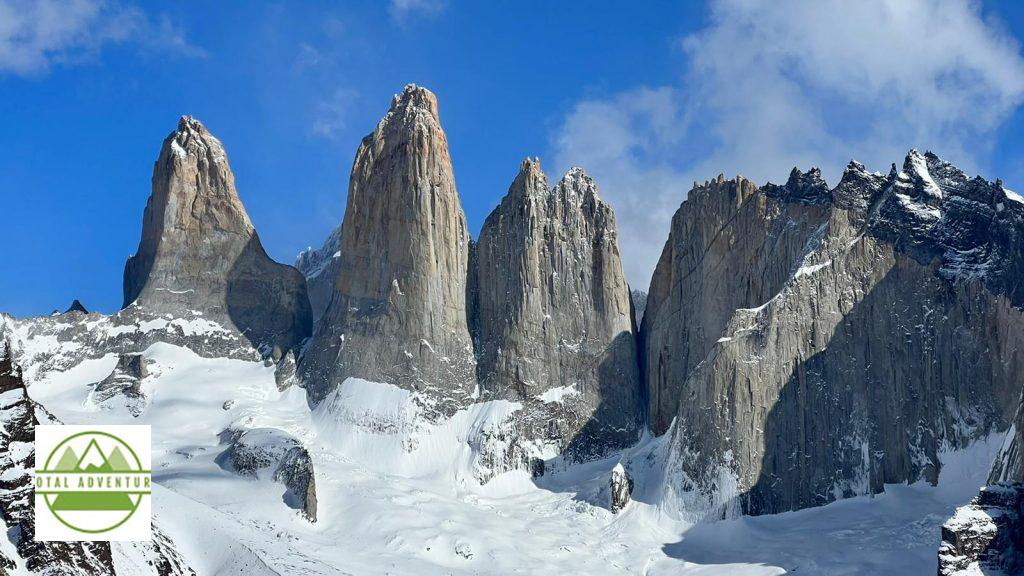 Los Torres From The Lookout Point, after an 18 km hike.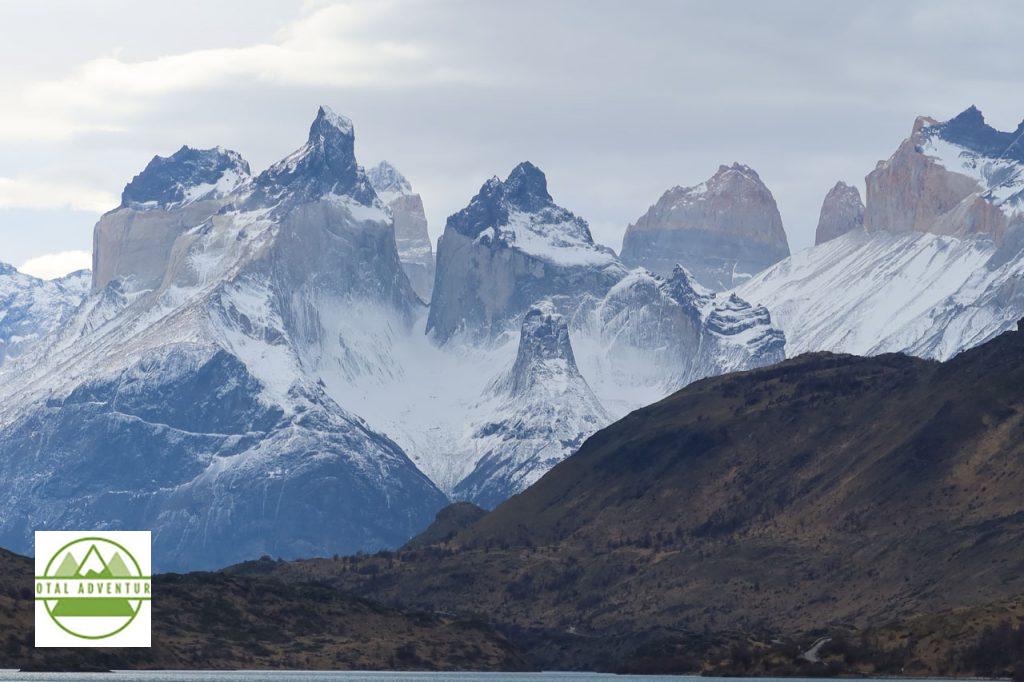 Imagine Skiing Through The Chute – could be done with a hang glider for the cliff down below. The tallest of the Cuernos del Paine was only recently climbed for the first time ever. The rock is soft and chalky – making it very dangerous to hammer in pitons.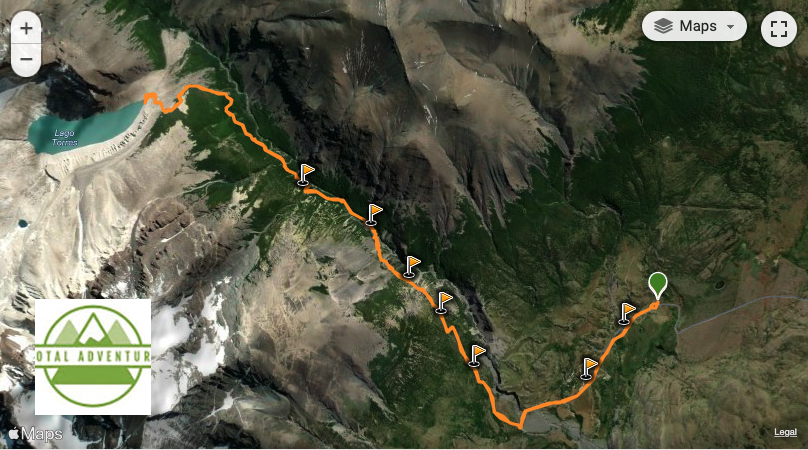 Te final day led to a luxurious hotel – welcome after camping out.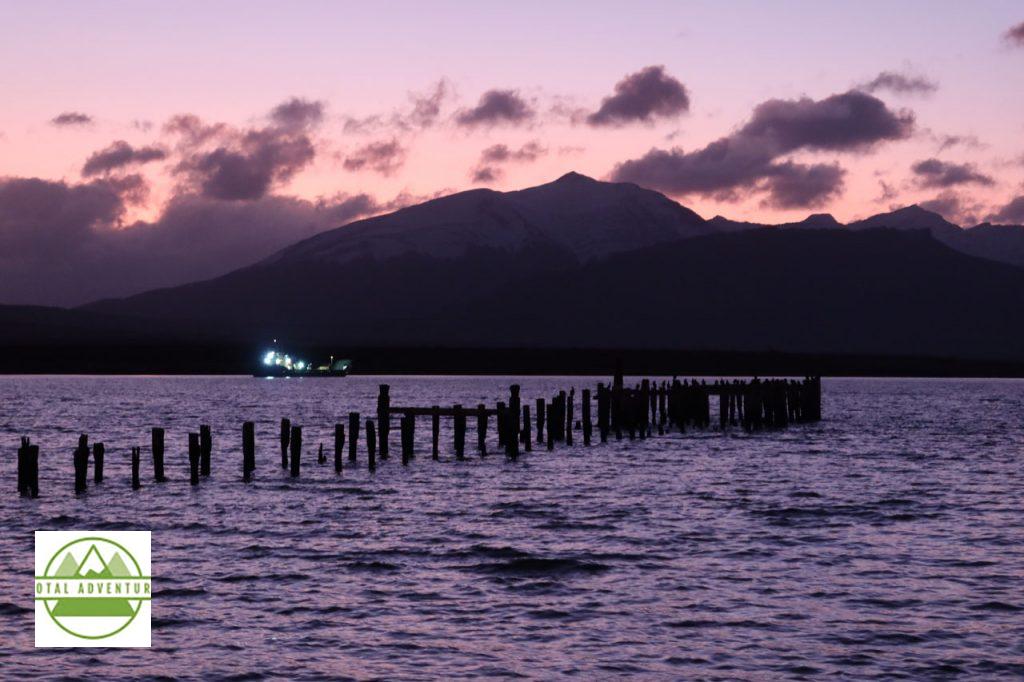 Sunset In Puerto Natales. There For A Night Before Exploring The Fjords.

Columbia's shoreline in the Pacific Ocean runs hundreds of miles from Panama to Ecuador, yet is only accessible by two roads. The coastline consists of sheer cliffs overgrown with dense jungle. It's hardly a place for vacationers – the third rainiest place on Earth with over 300 inches per year.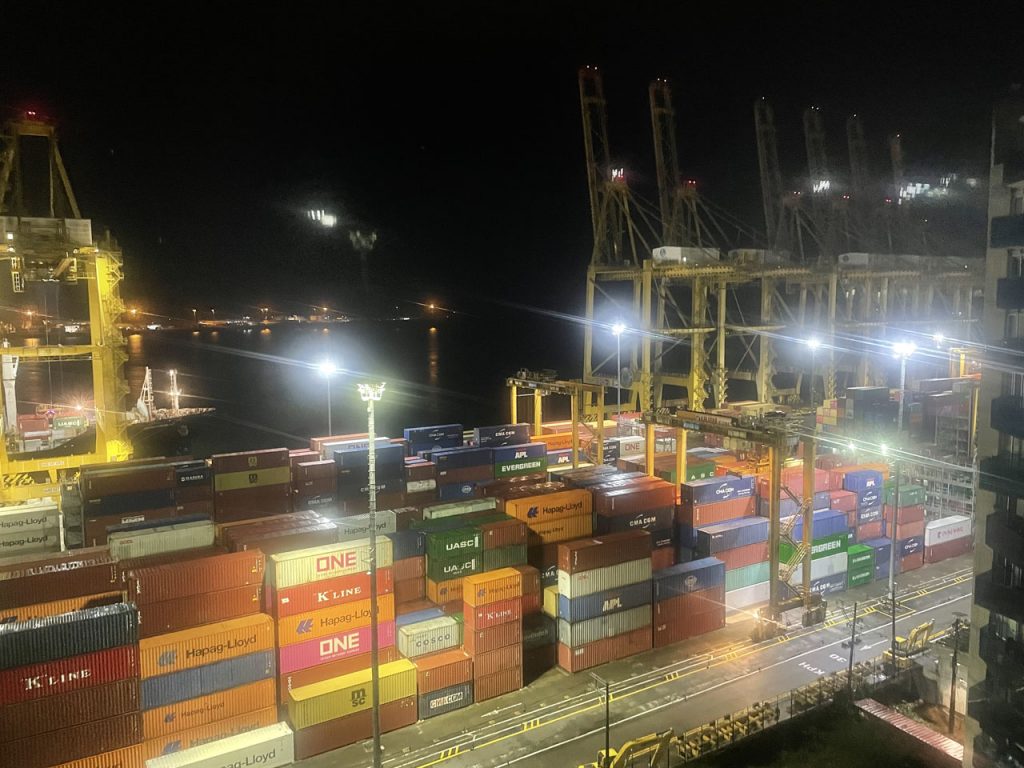 An overnight in the desolate and rainy port of Buenaventura, in the District of Choco, in order to catch a ferry to a coastal ecolodge the next morning.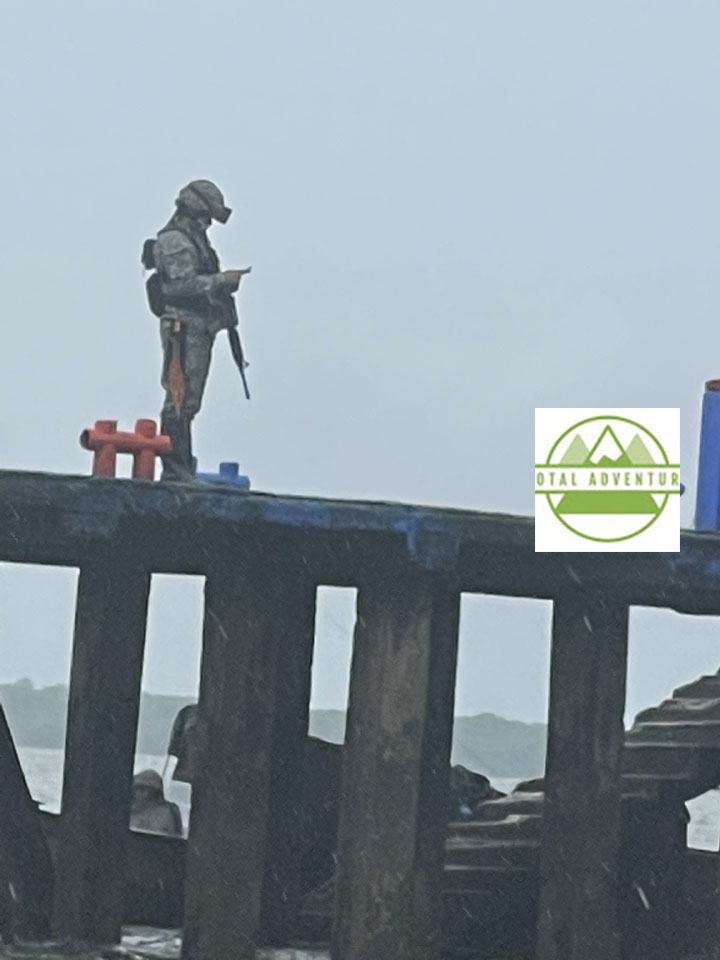 Narco Armies ,smuggling cocaine to American drug consumers, operate heavily in the region. Therefore it is heavily militarized. Here, a soldier standing guard at a fishing village checks his phone,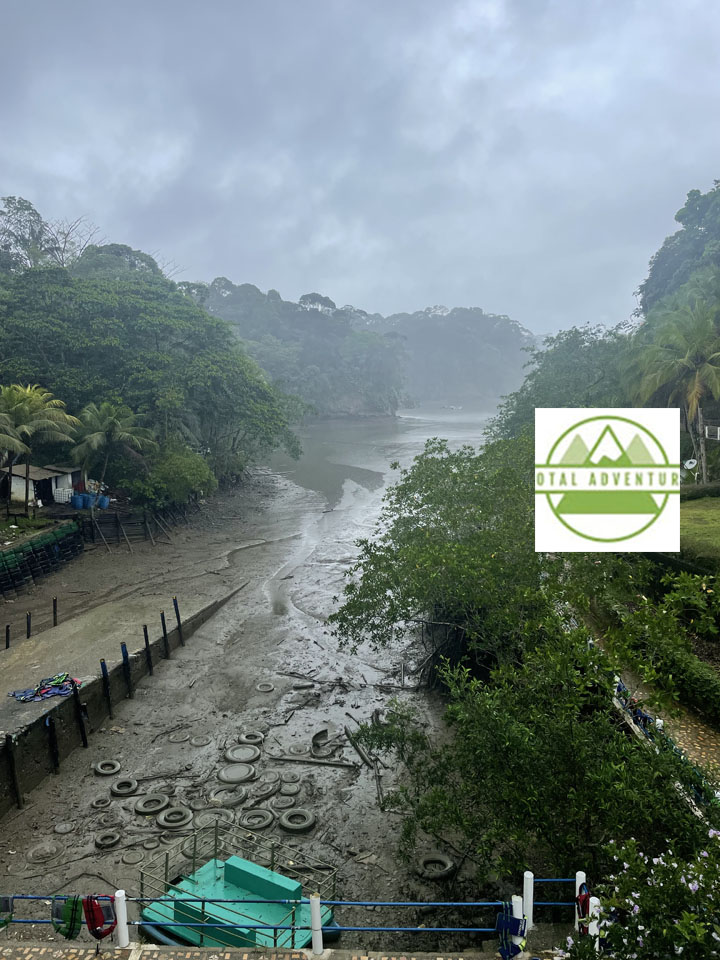 Low tide from my room. Tides are about 8 to 12 feet in the zone.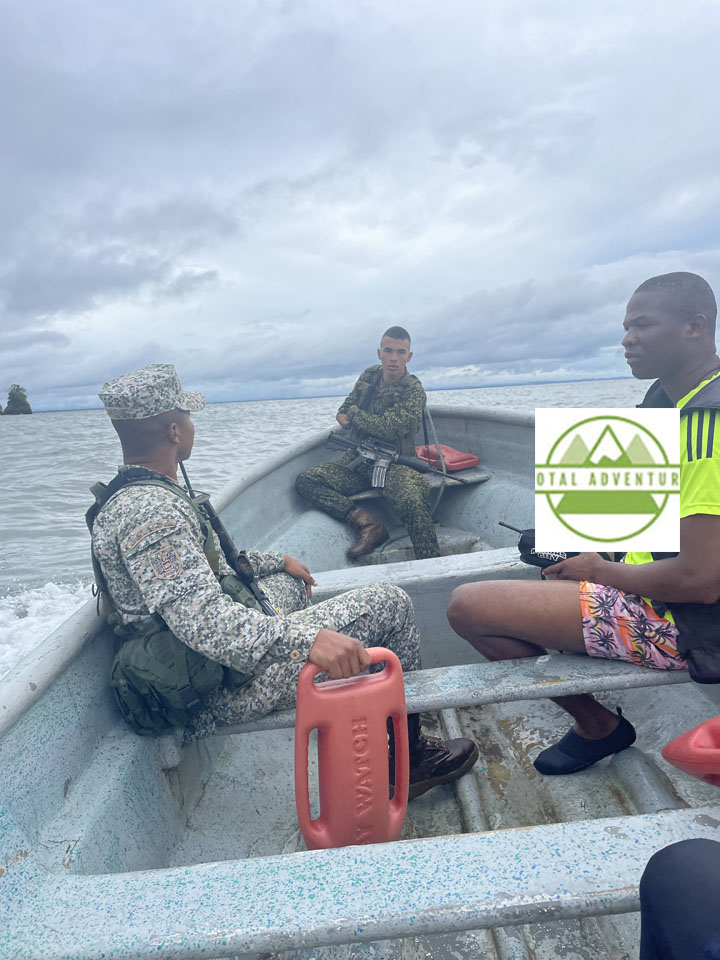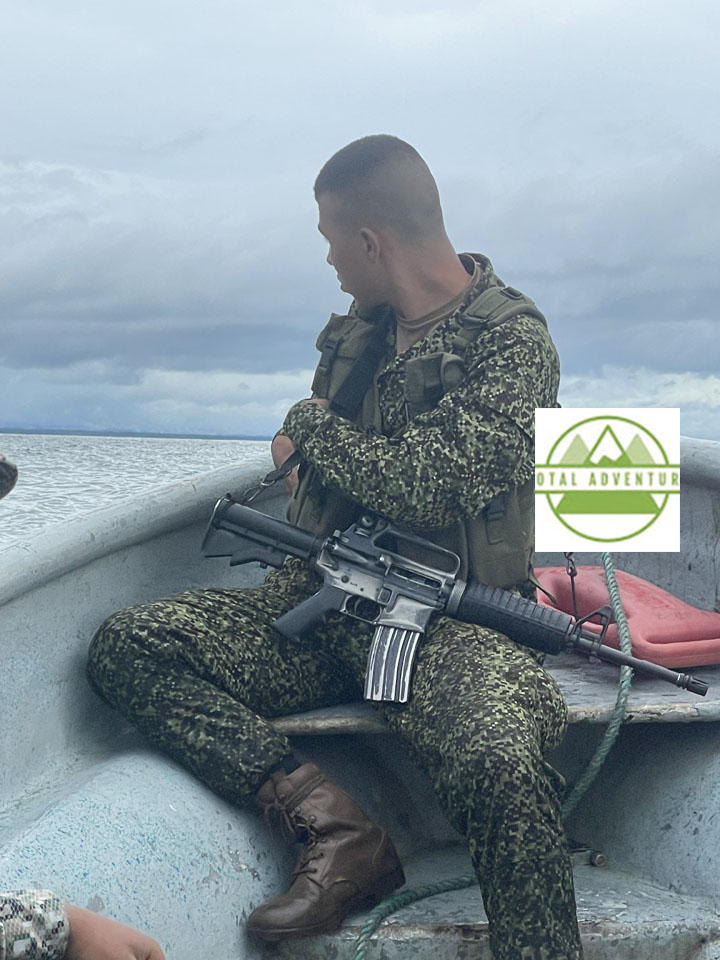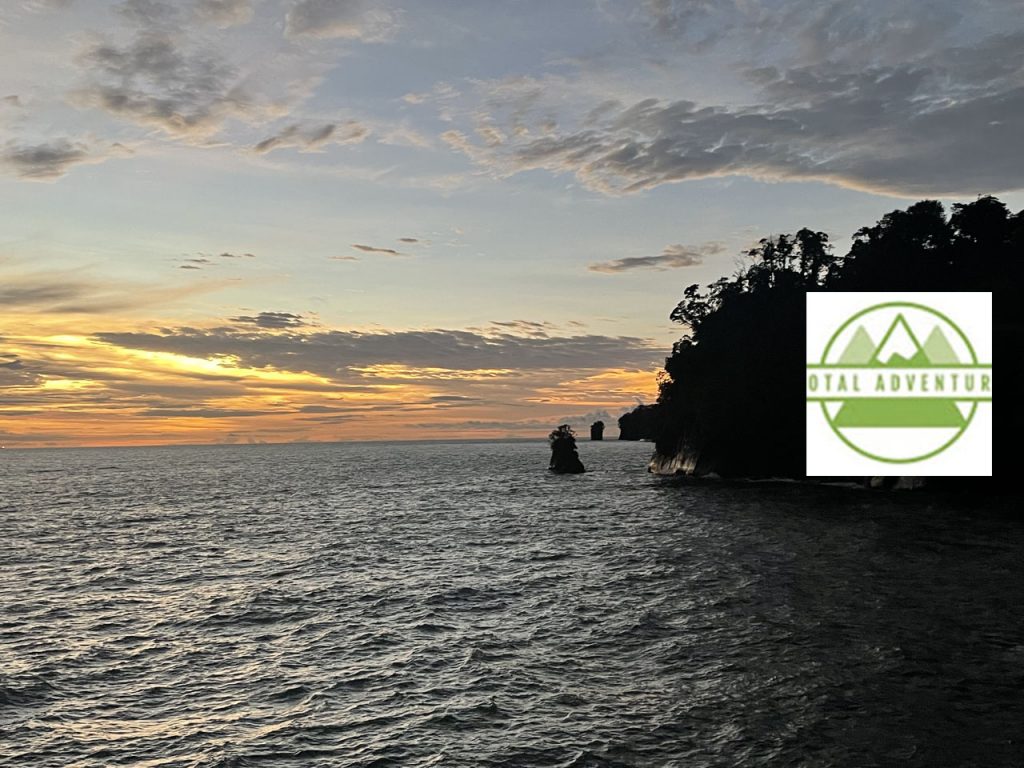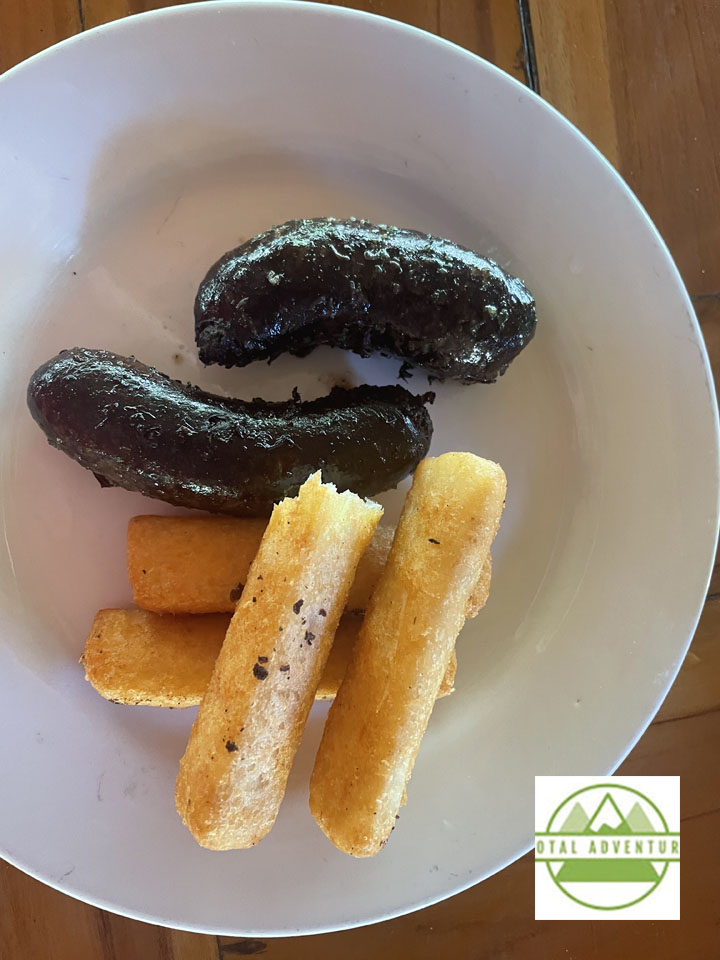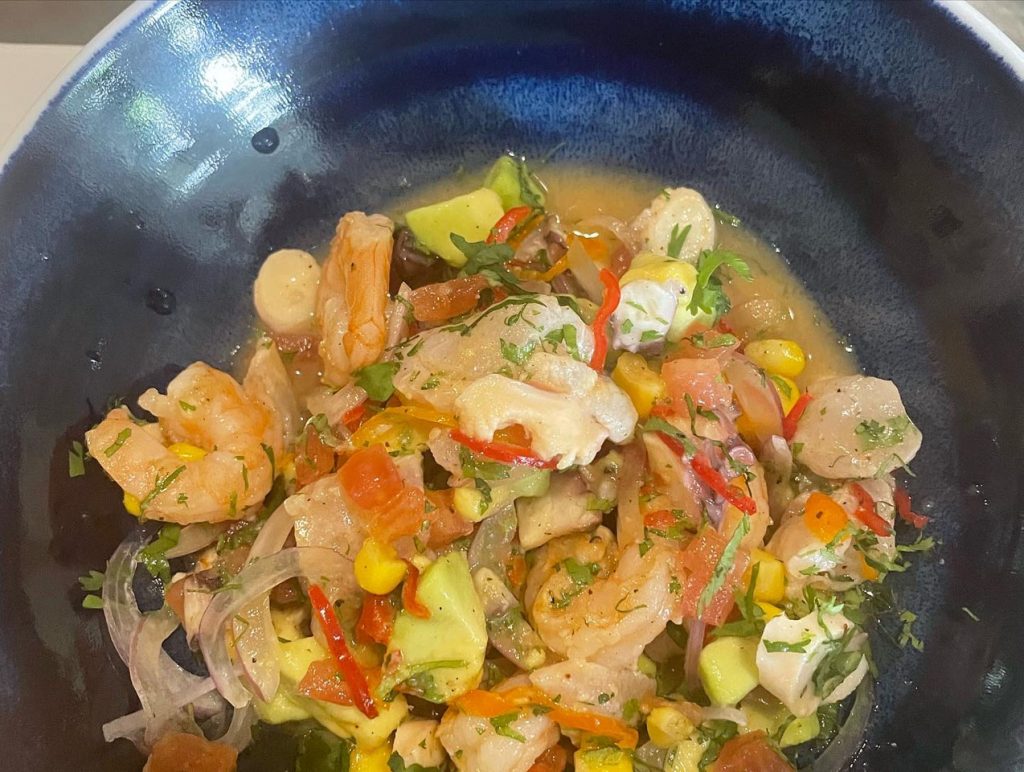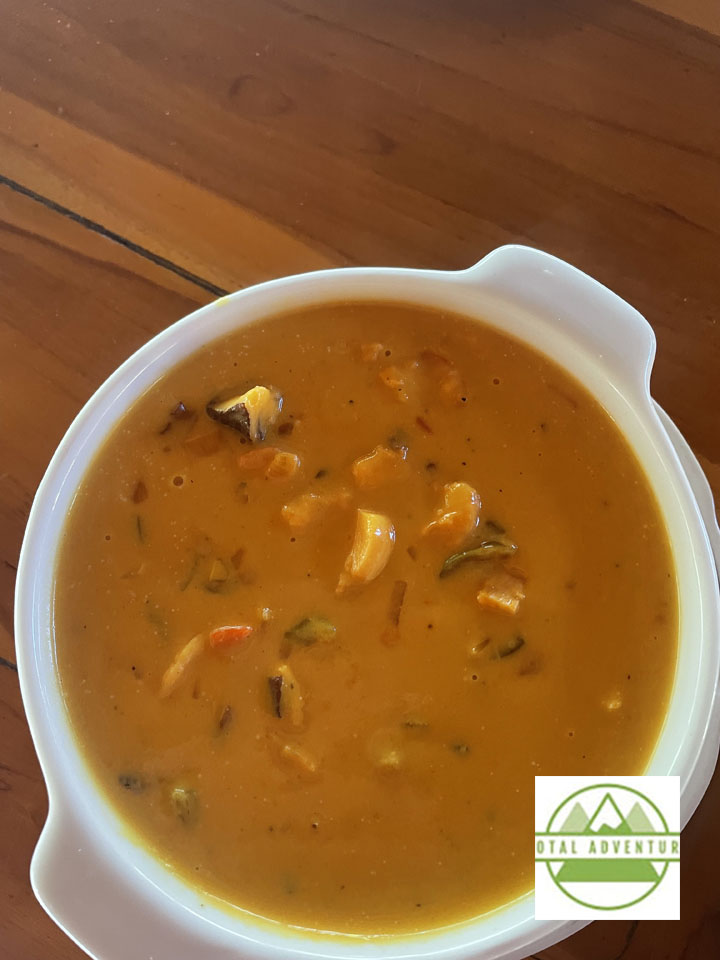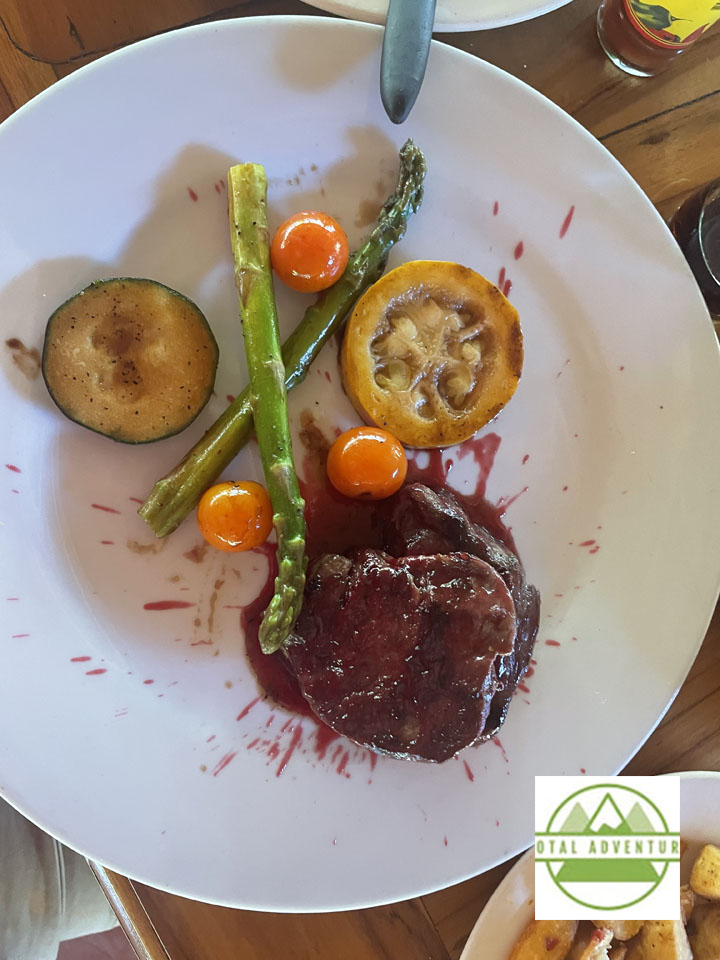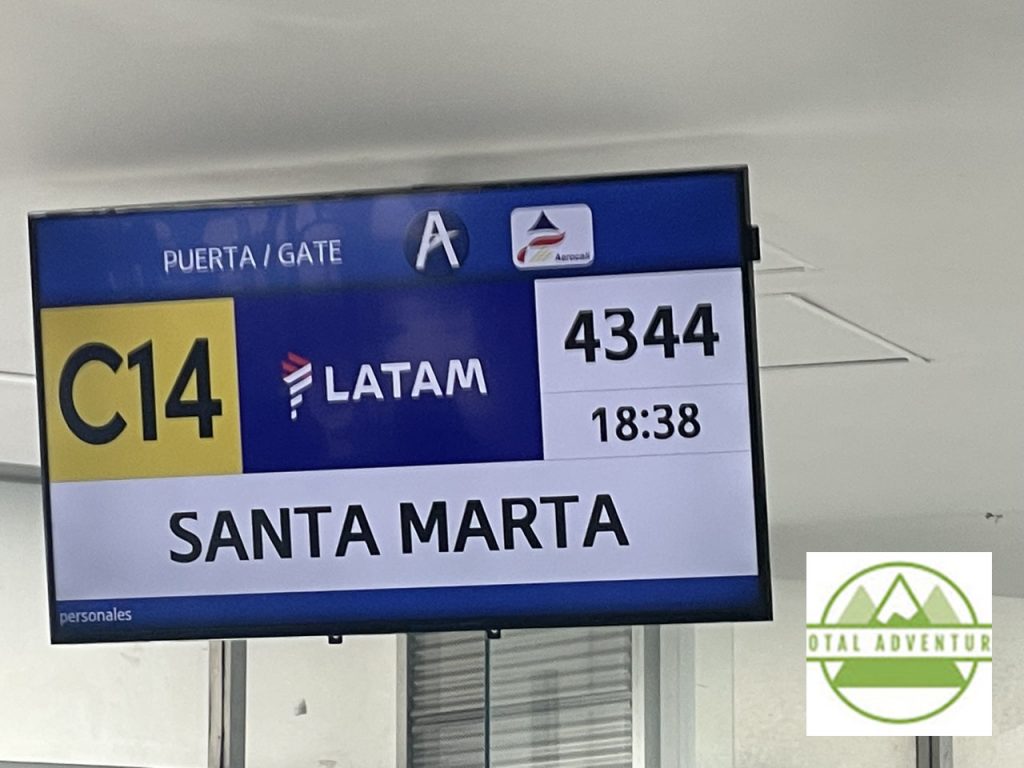 It's not easy being an adventurous spirit but living confined to the city, so today, October 8th, 2021, I am starting my 3 days snorkelling-intensive trip in the Galapagos Islands with a tailored-made itinerary.
I visit the islands as much as I can, but each new occasion makes me feel like I'm a privileged alien who is on a mission to discover an entirely new world, not ruled under the normal laws of biology.
This time, I have coordinated my hotel stays, meals, and snorkelling tours with Andean Travel Company. The rest of the adventure is up to me, so here we go!
Yesterday I arrived and took the afternoon at leisure to explore Santa Cruz island's amazing white coral beaches where flocks of iguanas defiantly stare at you and block the way. The world's only marine iguana is endemic to these islands.
I'm staying in a hostel in the middle of the bustling, colourful town of Puerto Ayora, one of the three urban centres of the archipelago. I would very much prefer this whole place to be inhabited, but people have been driven to these islands by the promise of economic success for decades now.
I was picked up by my guide and we walked a couple of blocks towards the dock. We embarked on a speedboat to Seymour Island.
I was provided all the necessary equipment and went directly to business (after listening to the guide's directions). My very first sight was a group of whitetip reef sharks cruising between the low basaltic cliffs below me. I did not expect that my first animal observation would be this quick and thrilling!.
Colourful fish such as the king angelfish, boxfish, and parrotfish swam around, and I got lost in thought admiring them. A strange sound brought me back to reality. It was as if small missiles were being shot… It was the sound of blue-footed boobies and pelicans plunge-diving at enormous speeds to catch fish!
These daily snorkelling tours provide lunch, and I'm grateful for that, as it is a very energy-intensive activity.
In my second swim of the day, I spotted one of my favourite marine animals, the black-botched ray. It looked so elegant with its perfectly aerodynamic platform and majestic in its cyclic underwater flight. I also hoped to see a scalloped hammerhead shark, but they are difficult to find, so let's see what happens tomorrow.
Today, October 9th, 2021, I'm heading to one of Galapagos' most iconic landmarks. Pinnacle Rock on Bartolomé Island. Located northeast of Santa Cruz island, 2 hours away in a boat, this is an immense spearheaded obelisk rising from the ocean. We disembarked on the appropriately named Golden Beach, and from there I started swimming into a shallow cove full of precious coral formations and reef fish.
During my time inside the cove, however, my mind was obsessed with swimming around the massive Pinnacle Rock itself. We got there in due time, along with the rest of the group and the guide. (No matter how good of a swimmer you are, when snorkelling always stay close to your group!)
At the underwater intersection where the sea bottom becomes a cliff, I found spectacular lava formations, where reef and Tiger sharks were accommodated inside natural galleries. Swimming ahead, I found medium-sized sea lions who adventured so close to my face that I actually got a bit scared. I tried to make as much eye contact as possible with them, and it's a tender sensation that I will never forget.
To finish off this day perfectly, we spotted the endangered Galapagos penguin standing on some rocks above the water. An Antarctic bird in these warm waters is certainly an unexpected sight, but they are one of the best examples of the unique animal adaptations happening on these islands.
Day 3! I cannot believe that today is the last of my snorkelling trip. We navigated northwest to Santa Fé Island. The area destined for snorkelling was well-protected from open sea currents, so my first thought was that this might be a smart choice for beginners. These calm, shallower waters, however, delivered generously.
Fluorescent blue chin parrotfishes, yellowtail surgeonfishes, and pufferfishes swam around the turquoise waters, and sea lions made me close company again. I really felt as if these boys knew that I was on a mission, and decided to escort me to the right place. To the open waters where the scalloped hammerhead sharks finally decided to reveal themselves. What an amazing creature, a perfect example of the ambitious effects of evolution. Its distinctive, enormous head works as a sensor that has yet to be explained by science. I couldn't have asked for a better ending to this trip.
Thank you, Galapagos! May we be able to do enough to preserve your treasures!
In the Summer Of 1993 when Perestroika was in full bloom , with Russia and the United States in full economic cooperation, most attention was focused on the traditional Moscow St. Petersburg realm, with some forays into oil-rich ,newly independent Kazakhstan.
The above video, "Russia's Wild East " focuses on business opportunities in the Russian Far East. Alaska Airlines was the bridge for US investors and explorer to travel there. At the time, Russia, emerging from the breakup of the Soviet Union needed to make an immediate move into a market economy . Americans were there to help. The Peace Corps , normally sending young people to Africa, recruited older ,experienced businesspeople as advisors to Russian companies. We interview some of them here, along with younger entrepreneurs , lawyers and other pioneers. We even visit the nascent Vladivostok Stock Exchange.
The video, produced in the analog age, was formatted for television, so there is a few seconds of black before the program starts .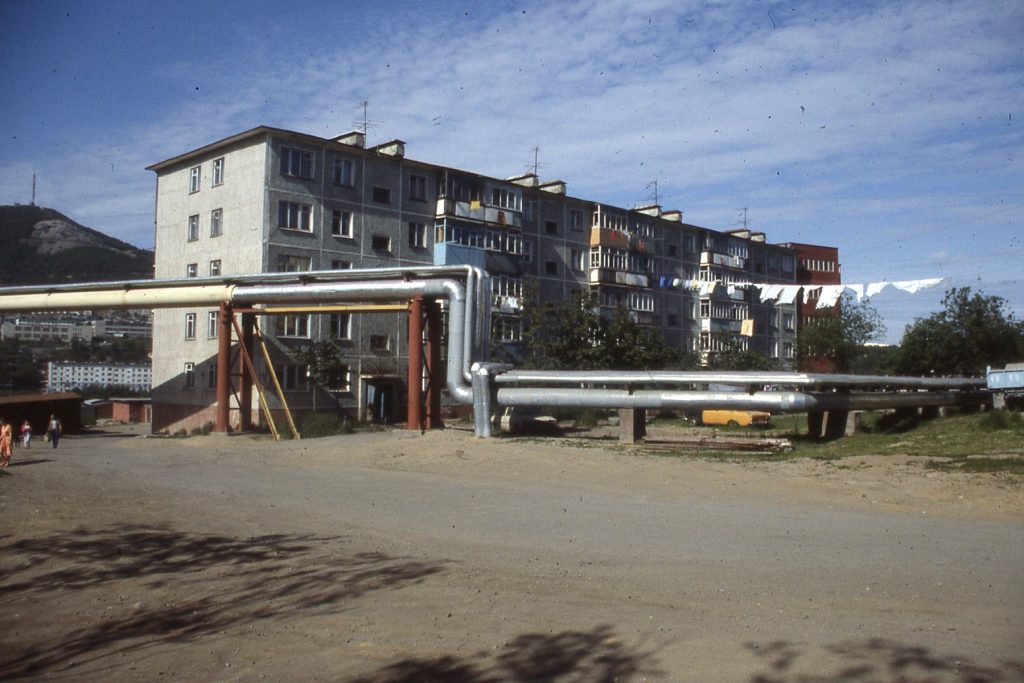 11 time zones to the East – the diplomatically long frozen Bering Strait crossing had thawed. Alaska Airlines began twice weekly flights to Vladivostok, Khabarovsk and Yakutsk, with first stops in Magadan.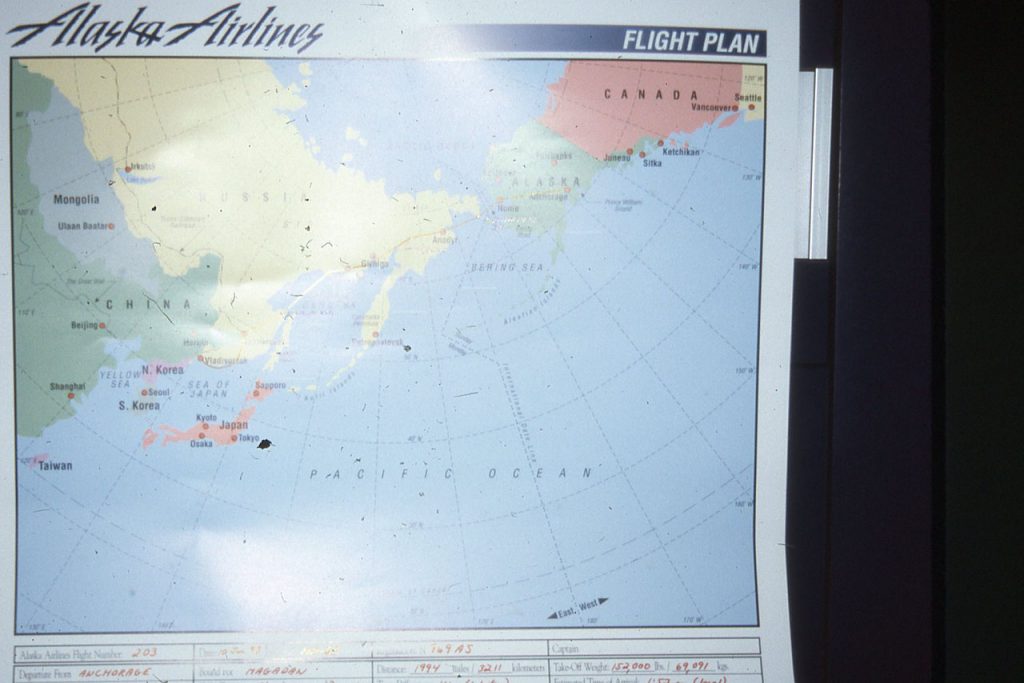 The focus of the trip was to explore the Russian Far East for cross strait opportunities for American business who were opening up the market economy on Russia. Rehabilitating old Soviet companies and factories, bringing in new products and services for sale and train the former communists in the nuances of a market -for-profit economy. In addition, we were to discover the incredible natural wonderland, especially in Kamchatka.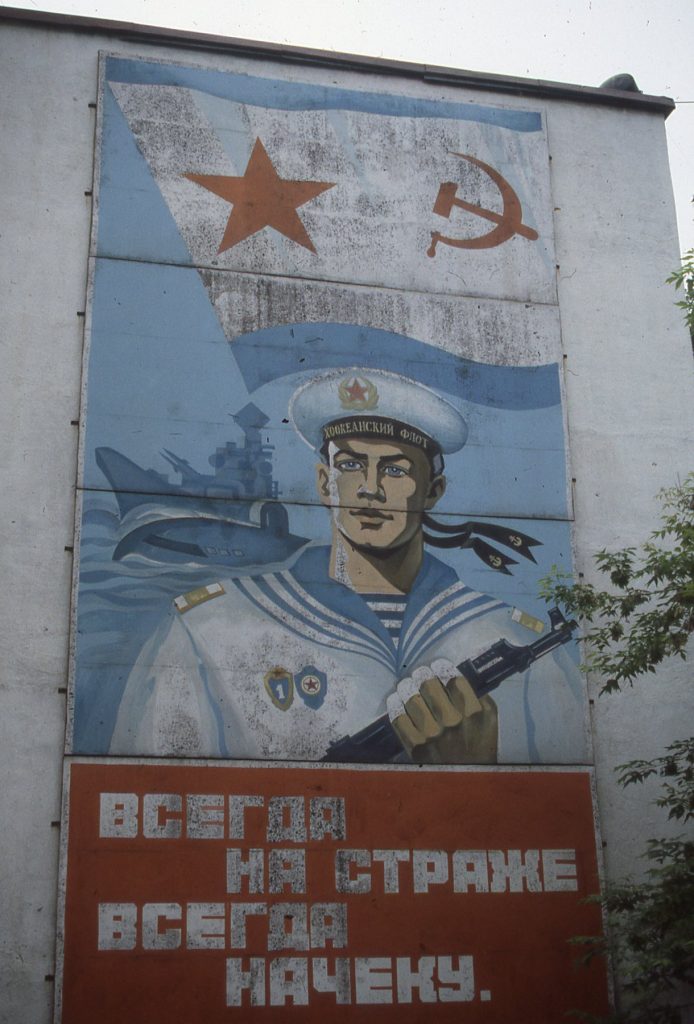 My coproducer Yuriko Gamo and I met in Seattle. She flew in from San Francisco and I from New York. We spent a day there interviewing the Alaska Airlines marketing team at their headquarters. It was a big investment for them to open up the Russian Far East. We then boarded our four-hour flight up to Anchorage. Alaska Airlines paid for our flights from Seattle to Anchorage and on to Vladivostok round trip. In Russia we took two internal flights on Aeroflot on its ancient Soviet fleet.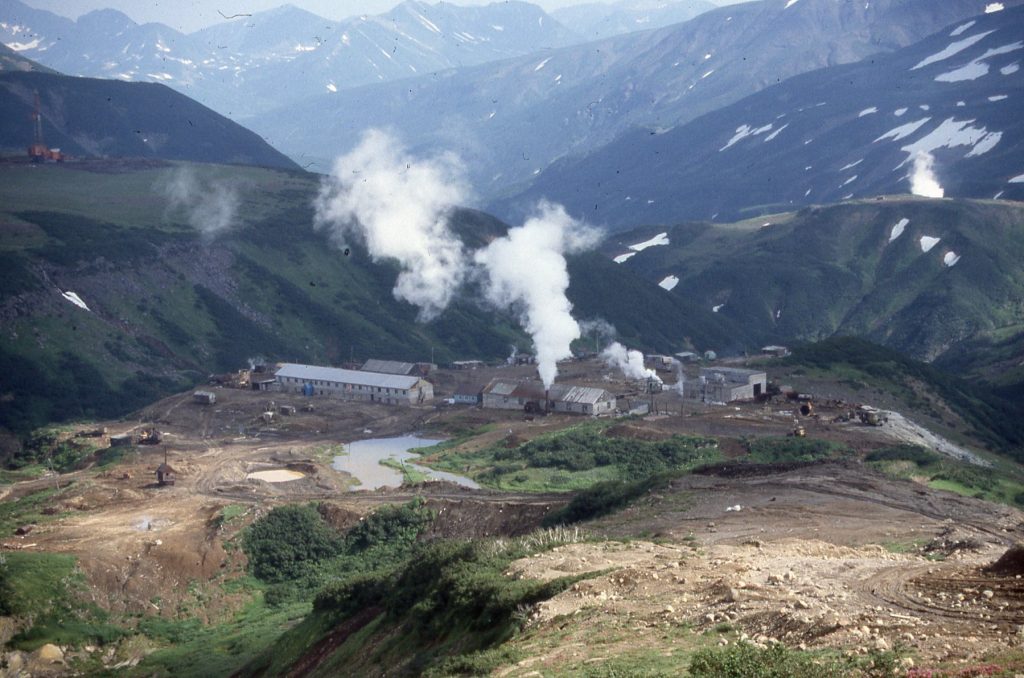 We landed at 10 PM on a sunny Alaska night in early July. It never got completely dark there, some twilight around 2 AM. We had 2 days until our Russia departure so went down to Homer where we swam in the far North Pacific and visited villages where Russian was still spoken from times before "Seward's Folly.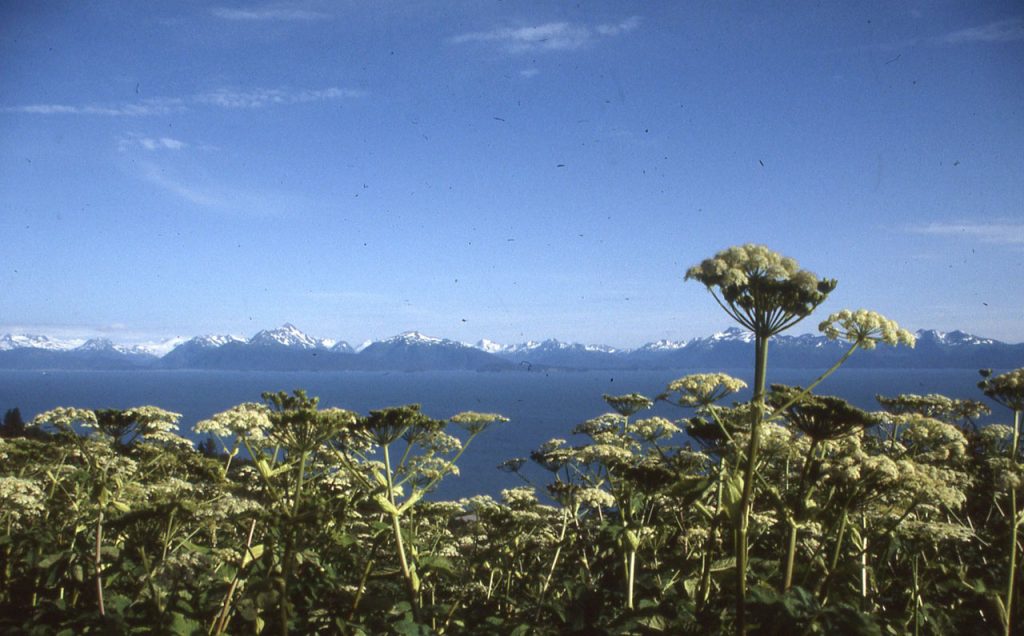 At 1 PM on Saturday July 10th We departed ANC for a beautiful flight, first seeing Mt.McKinley in the distance, then swampy Tundra. The Bering sea, Chukotka, in Russia and then leading at the Arctic port of Magadan. On landing, our pilot said welcome to Magadan Russia – where it is 1 PM – tomorrow. While we had a 4-hour flight, with a four-hour time change backwards, we crossed the International Date Line. It was 1 PM Sunday, July 11. In Magadan we entered a primitive Soviet cinderblock terminal to have our visa booklets and passports stamped – then back on the plane to Vladivostok – 4 hours to the south.
Arriving in Vladivostok , my co-producer and I were greeted by Dimitry Motovilov. We stayed at his sunny, comfortable apartment in a pleasant Soviet flatblock. He was our guide for our several days there .
A journalist by background he went on to teach journalism at the local university and is currently the Media Assistant of the US Consulate in Vladivostok.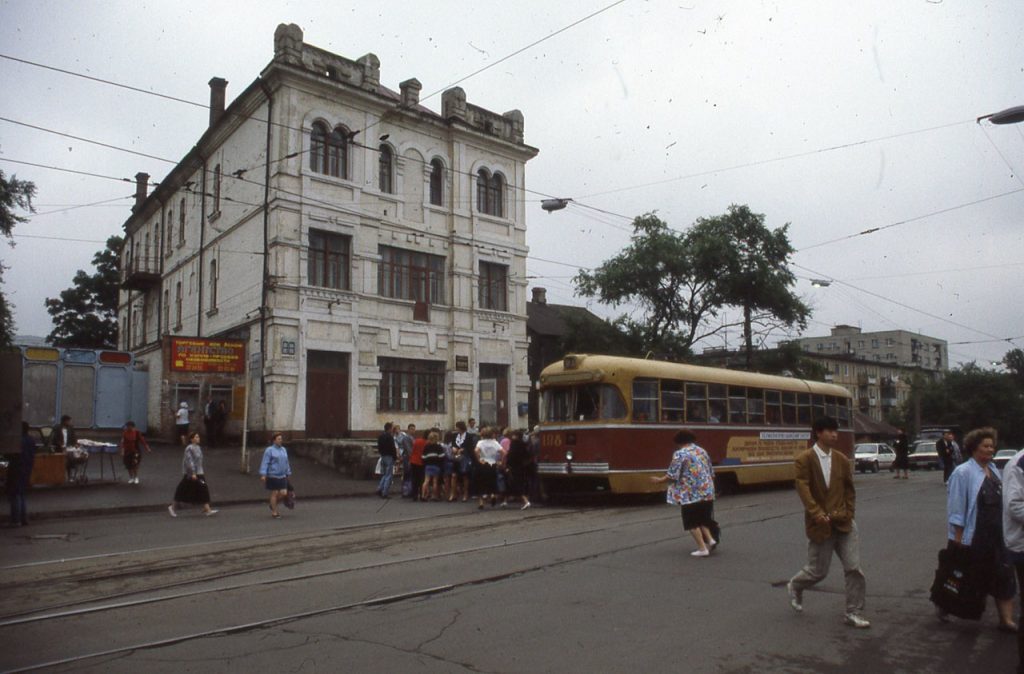 The US Consulate ( not pictured above) was invaluable in setting up the Peace Corps program, and along with Dmitry, set up interviews with businesspeople, factory supervisors, shipyard owners, and the stock exchange. They are the go-to for American businesses in the region, including the US oil companies drilling in Sakhalin. In an uninformed ,shortsighted move, outgoing Secretary of State Pompeo temporarily ceased operations at the Consulate. It is hoped that newly appointed Secretary of State Blinken can quickly restore the very important American outpost – rather than having to rely on Moscow embassy ,6000 miles away.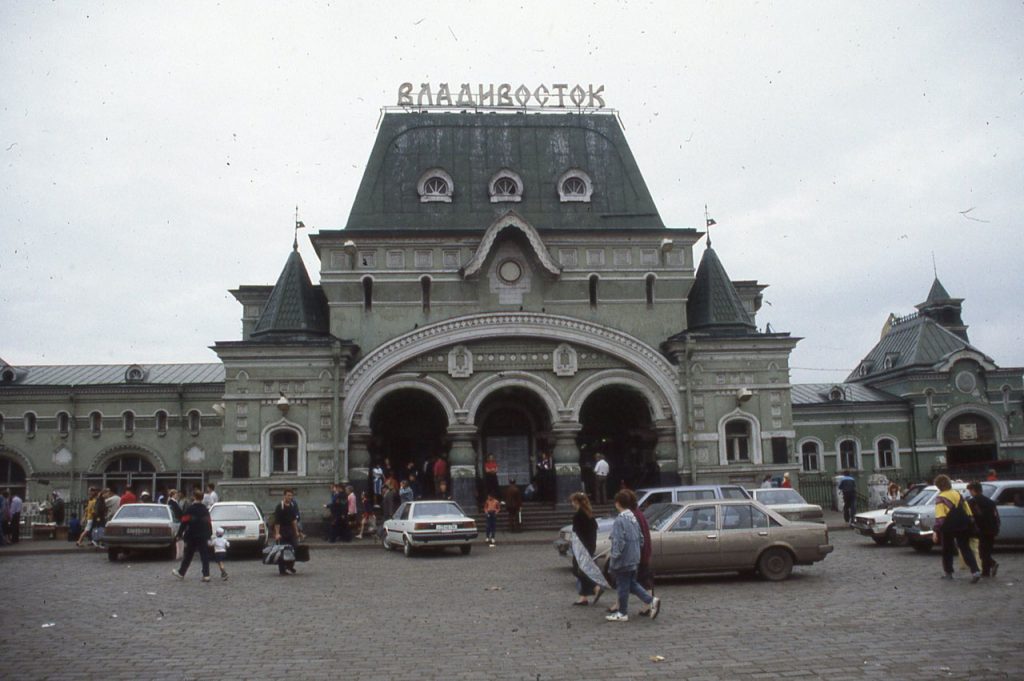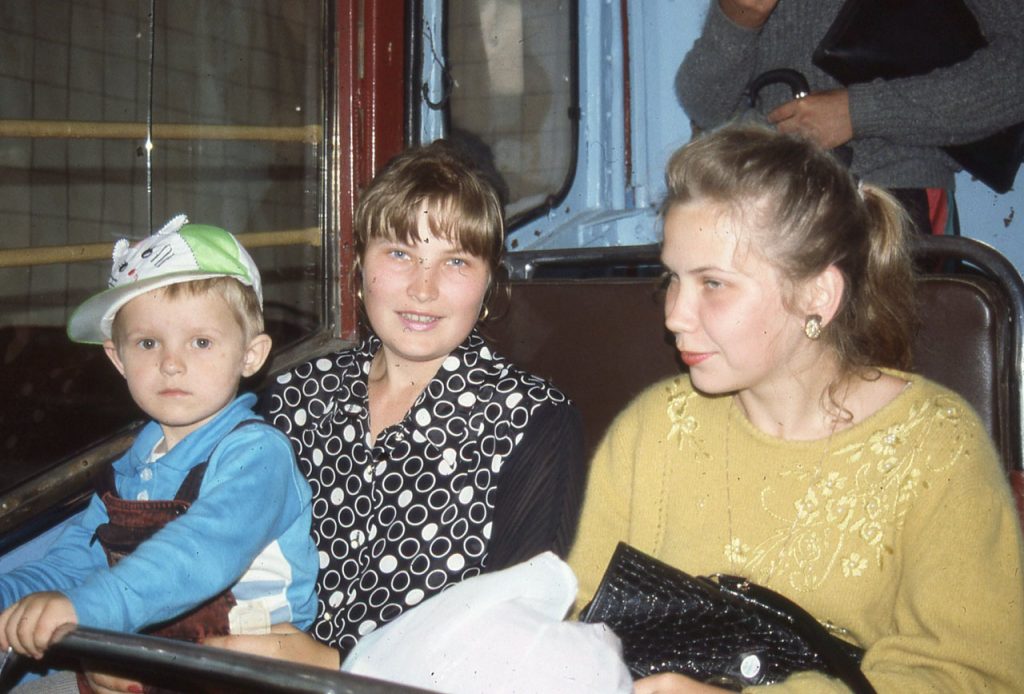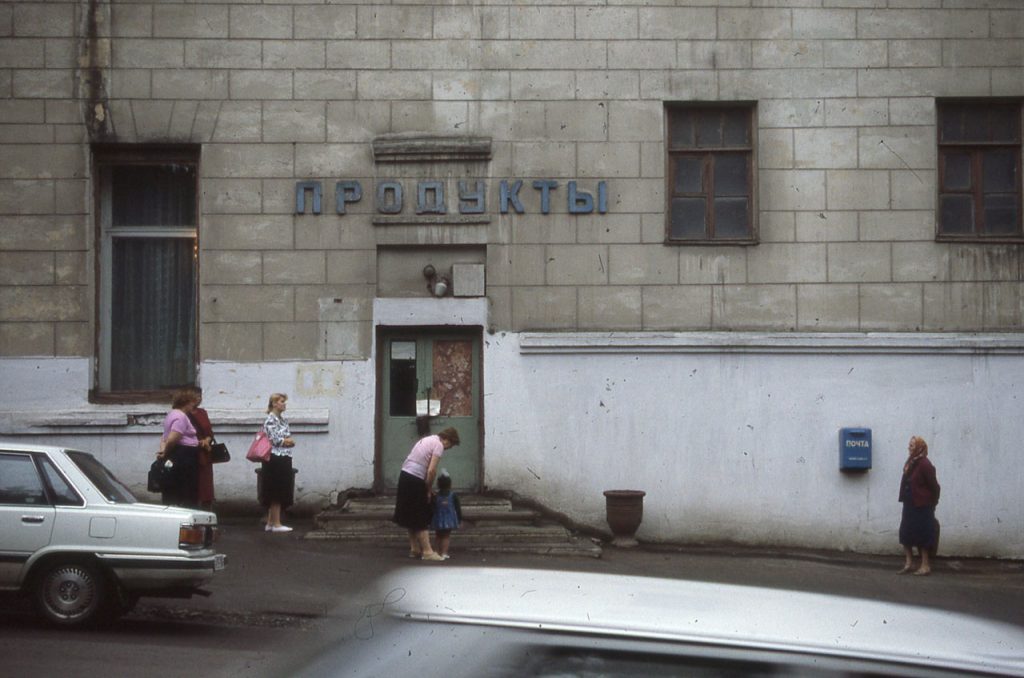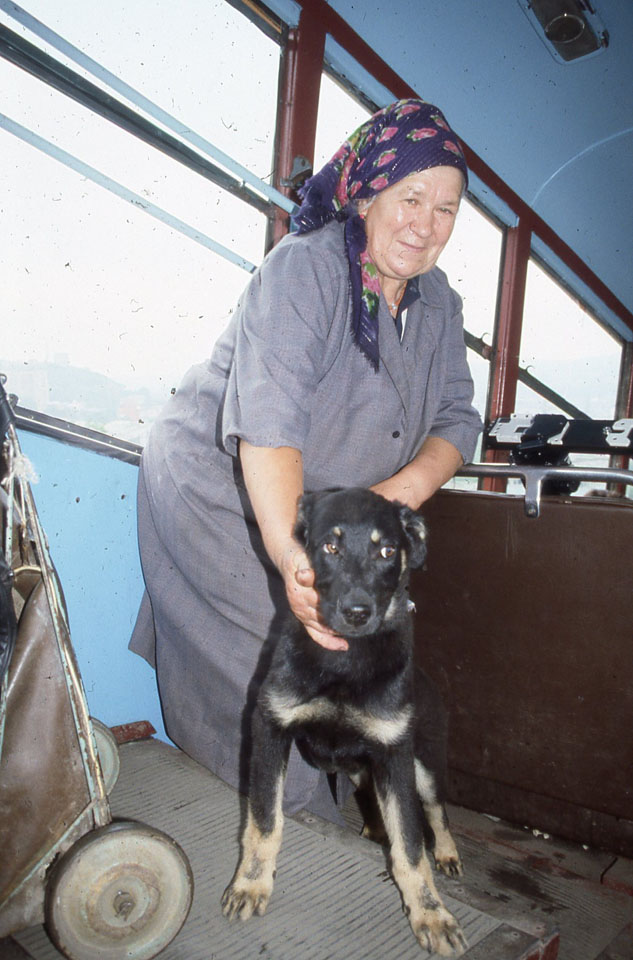 From Vladivostok station we took an overnight train ride on the Trans Siberian to Khabarovsk. A sleeper compartment was about 1000 rubles – $ 5.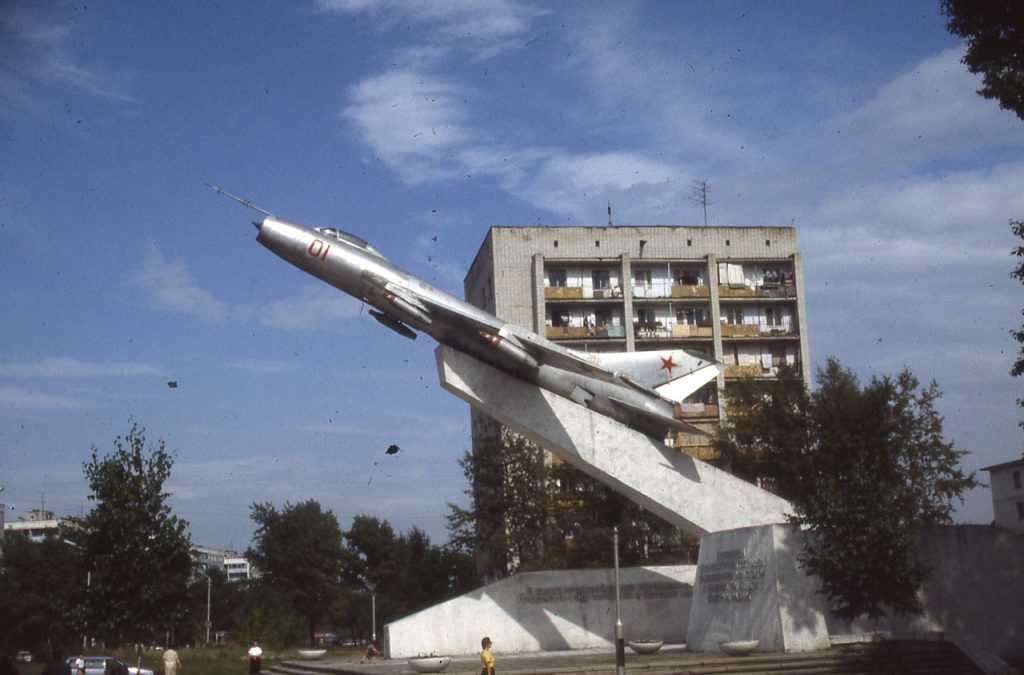 Khabarovsk is the main gateway to Northeast China. Chinese markets sprang up all over the outskirts of the city for Russians to buy much needed consumer goods. The main currency in the markets was dollars- not rubles or yuan.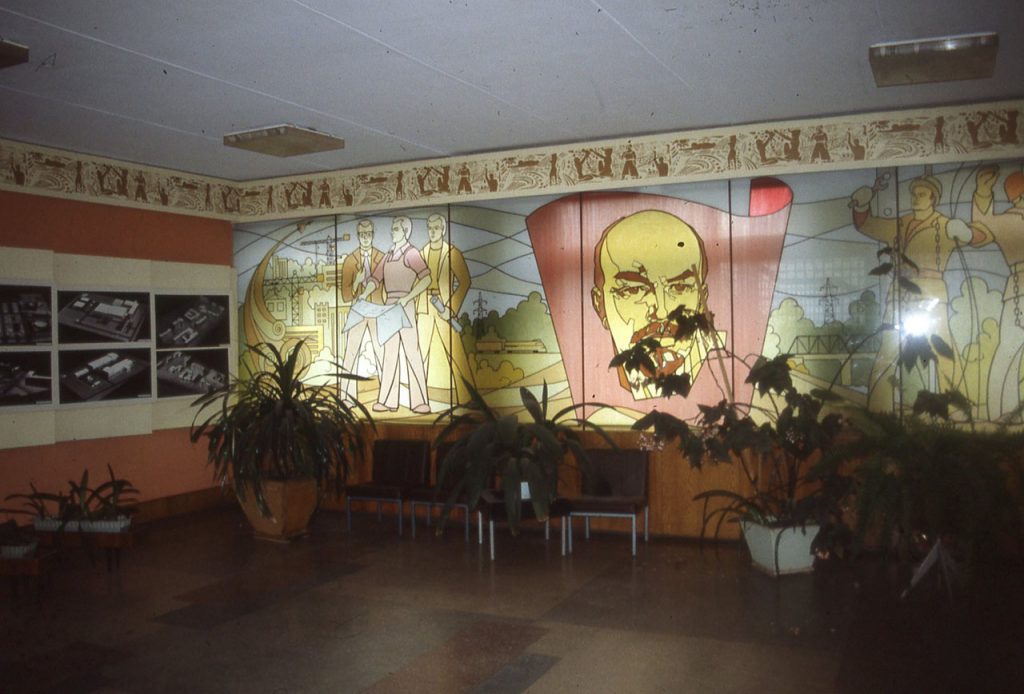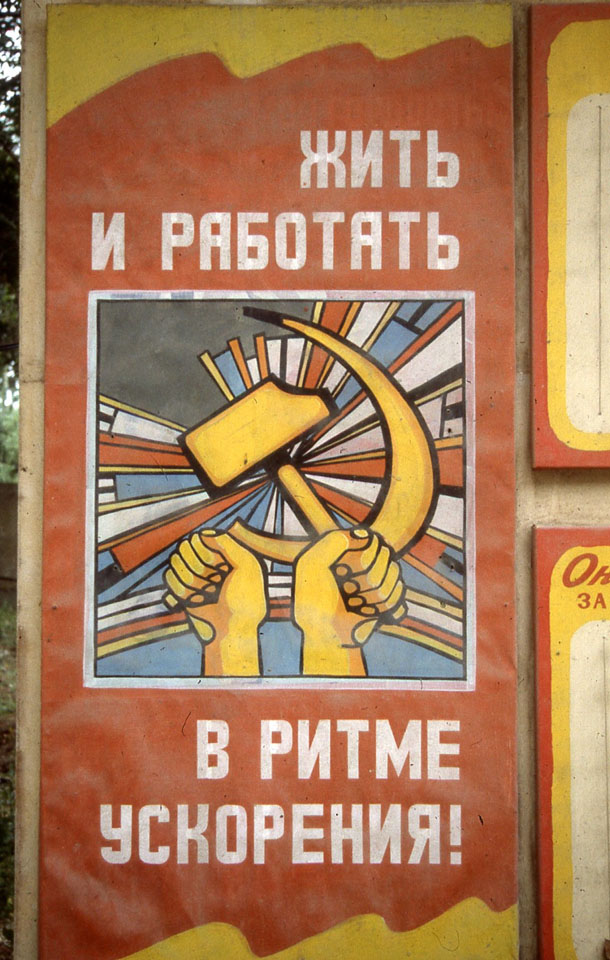 We visited ancient, dusty factories to try to determine how they could be converted to a modern day business model. Please view the video "Russia's Wild East " above.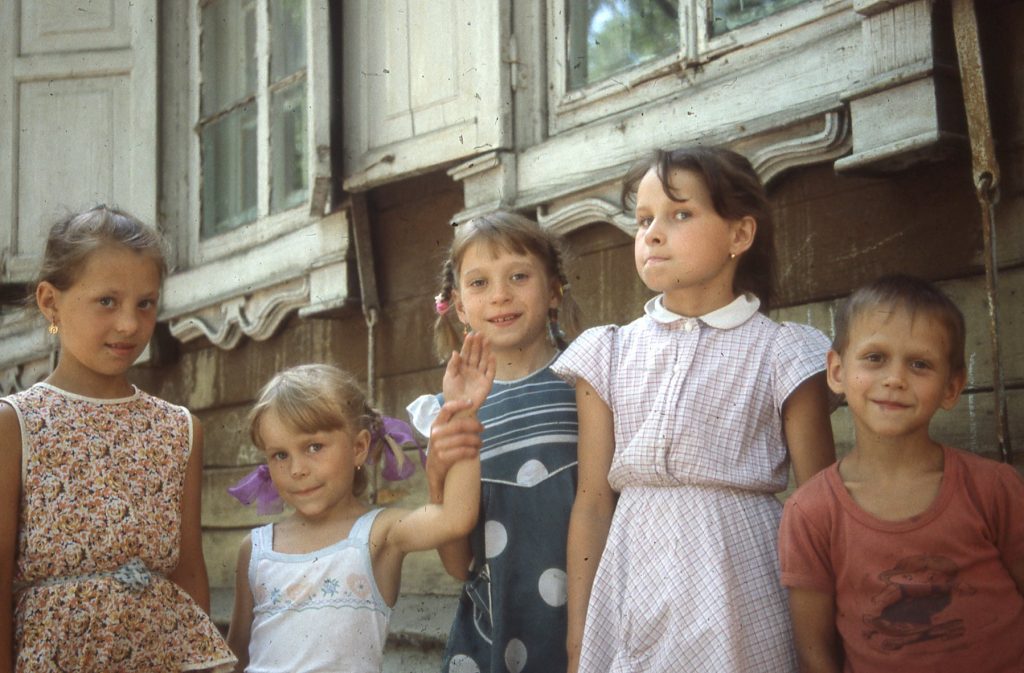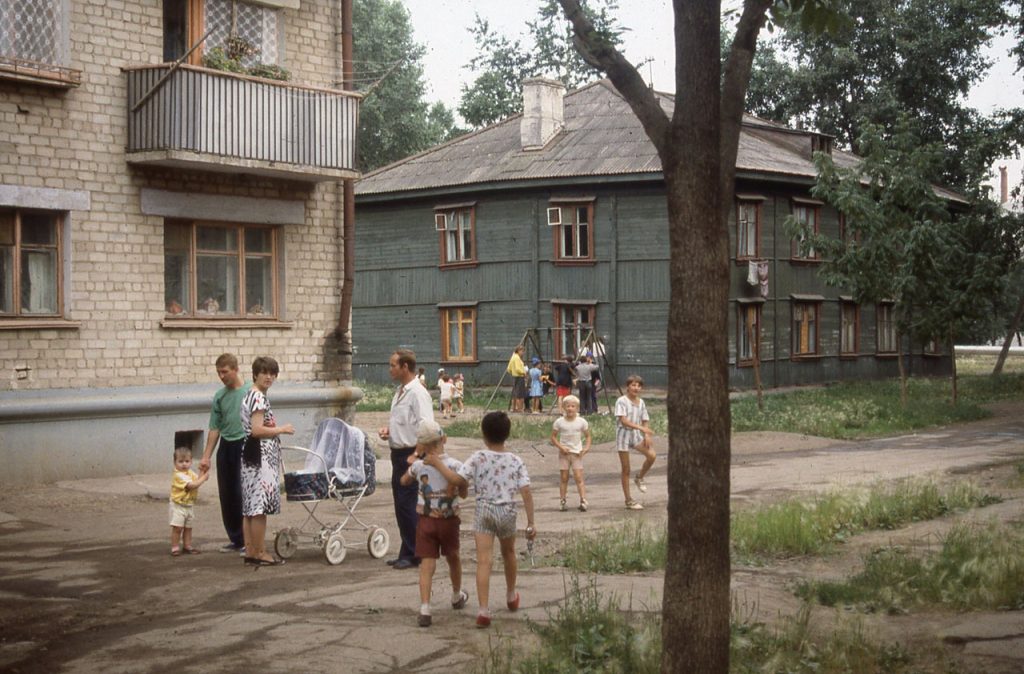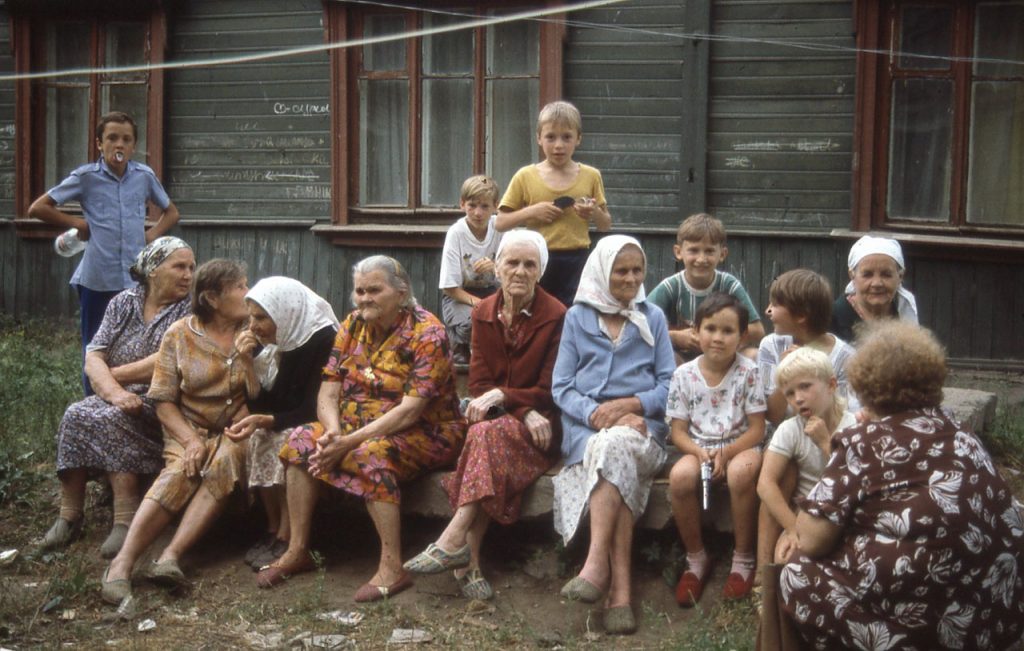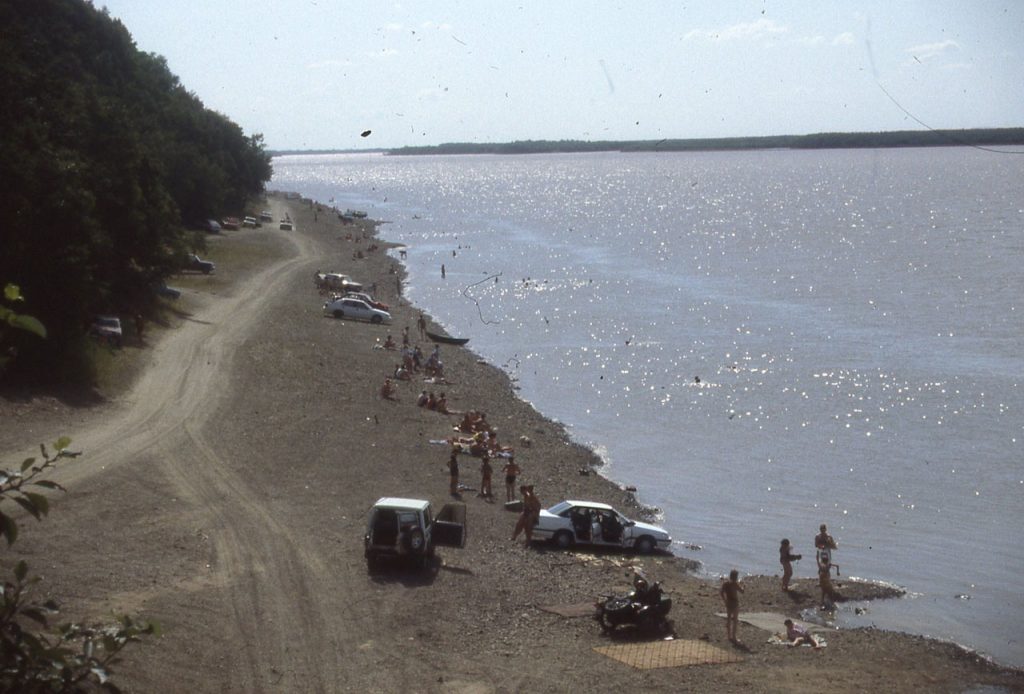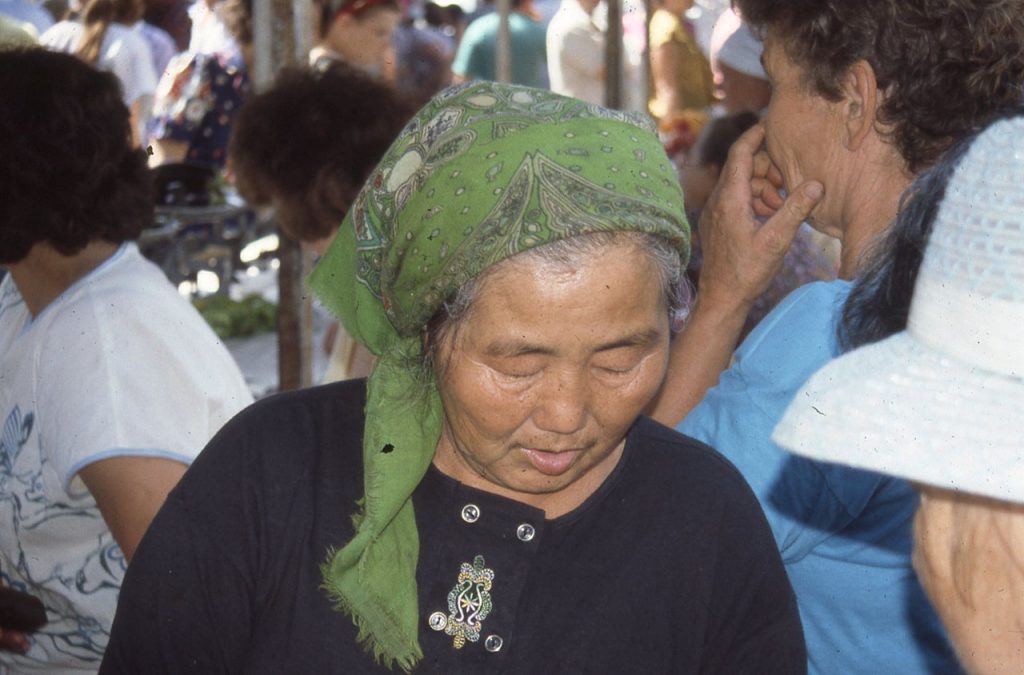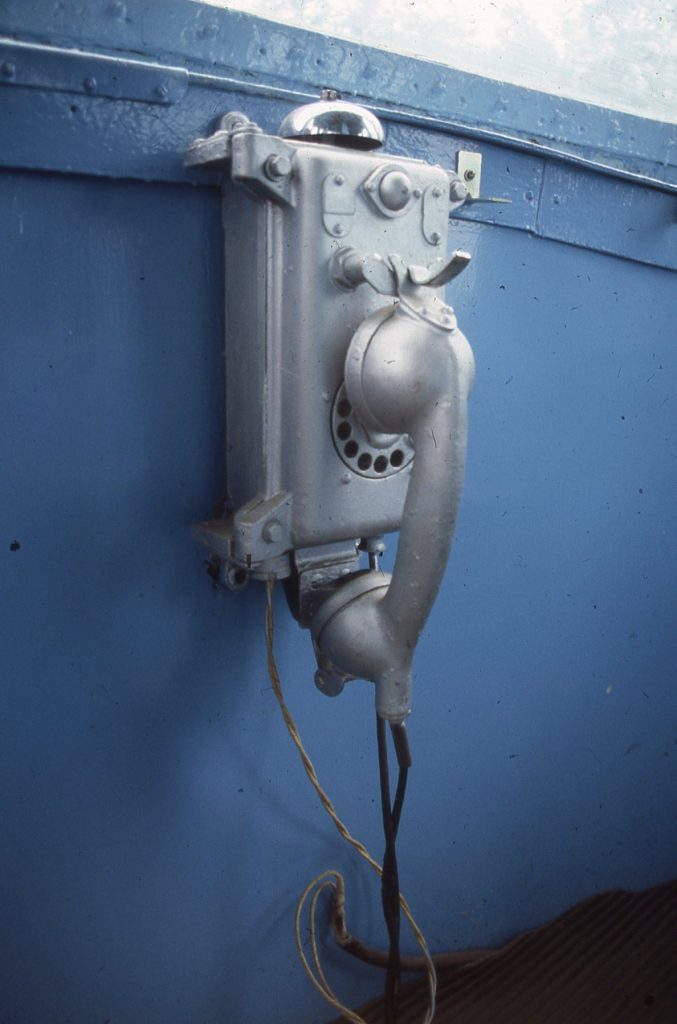 In our rare calls to the US we did not use this phone. We had to speak on satellite pay phones at $ 12 a minute. Needless to say , we did not engage in idle chat about the weather.
The Khabarovsk weather by the way, was beautiful – hot and dry, nearly 100 degrees along the Amur River, a nice contrast to cool foggy Vladivostok. Khabarovsk, on the edge of Siberia sees -50 in winter.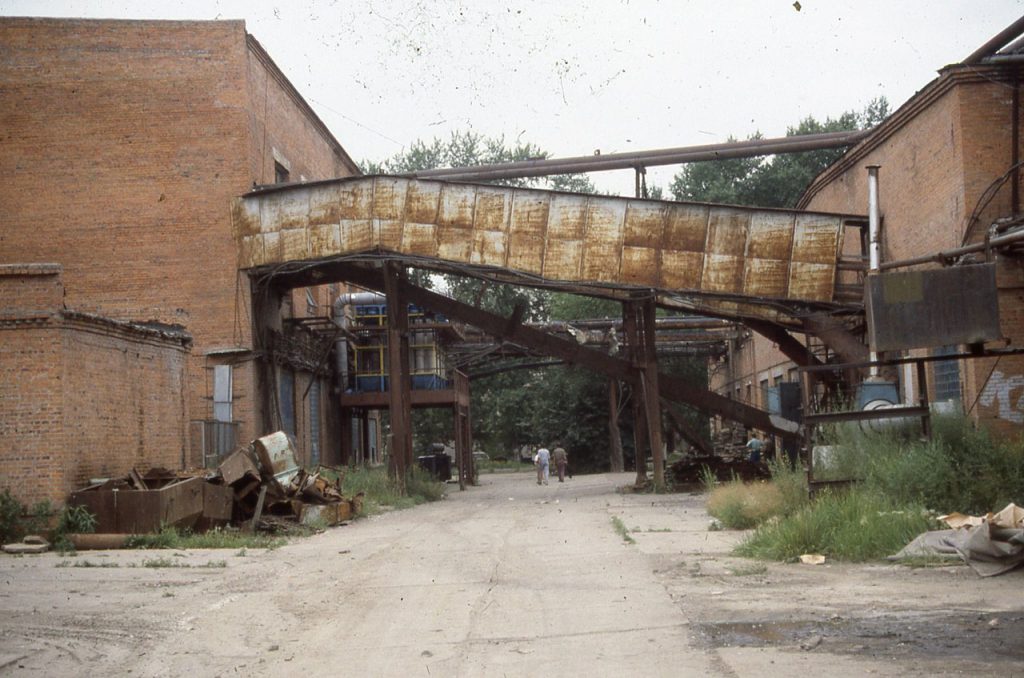 From Khabarovsk, we flew on an ancient Aeroflot TU-34 to Petropavlovsk, only city on the California sized Kamchatka Peninsula. Kamchatka is the most volcanically active area in the world, with 16 active volcanoes.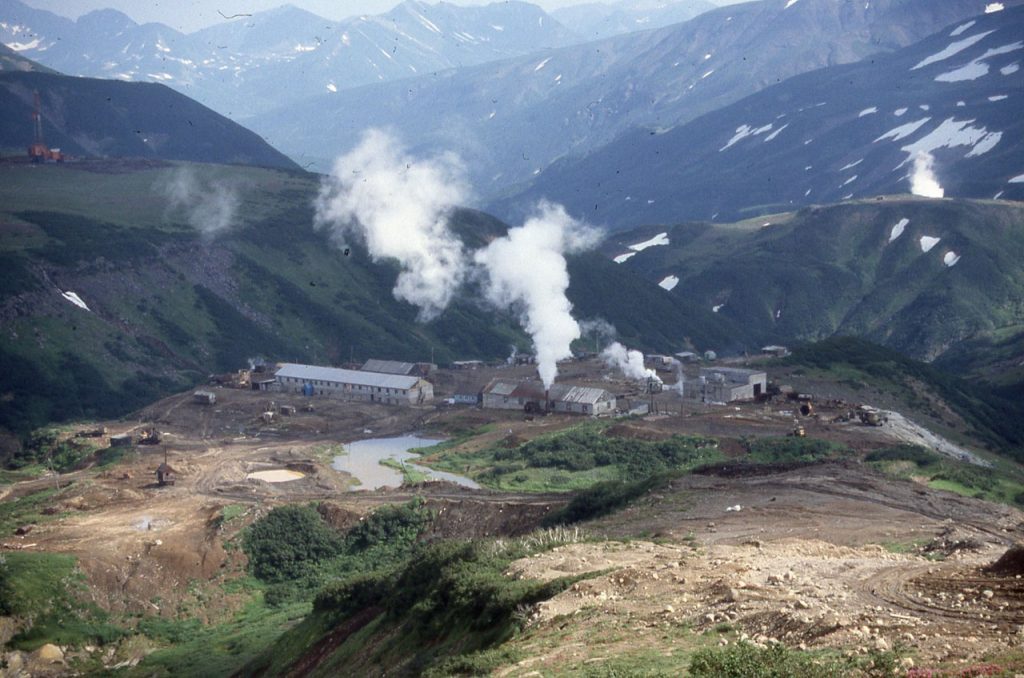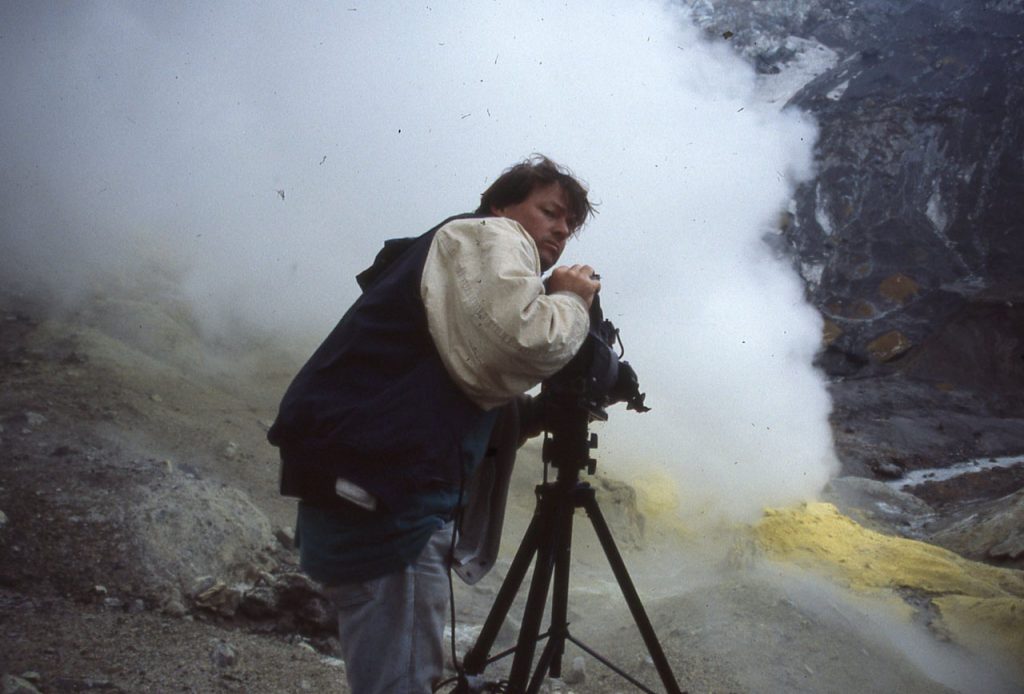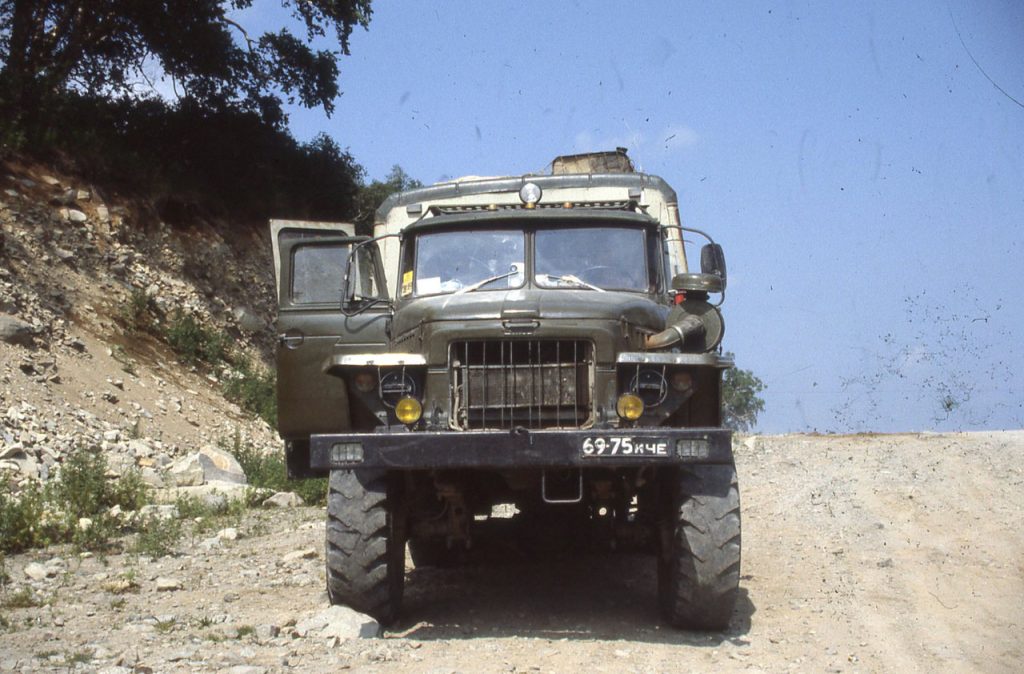 We drove the full 80 miles on Kamchatka's only road to a geothermal plant high in the mountains. We slept in dormitories there. After a long hike to the volcanoes, it was great to have a hot shower from the unlimited supply of hot water pumped up from the earth. One could take a shower lasting millions of years and the hot water would never run out.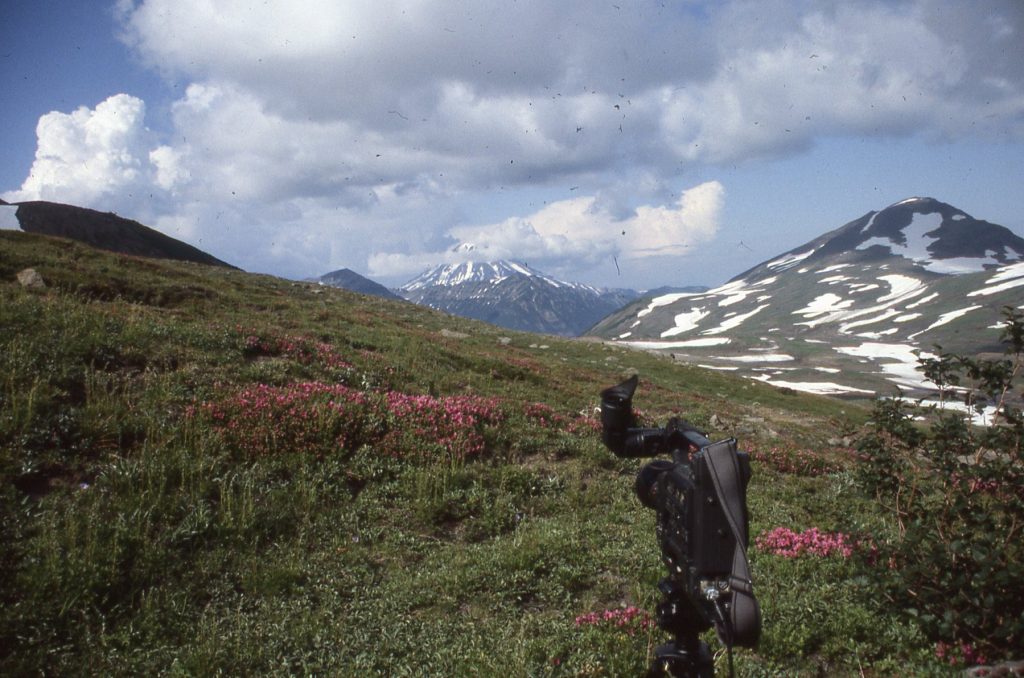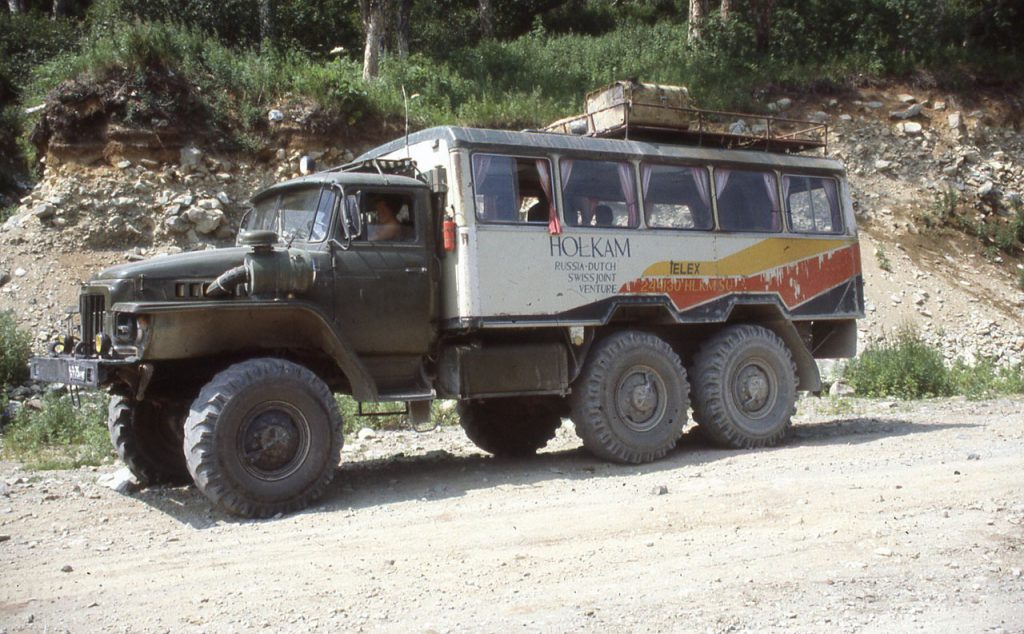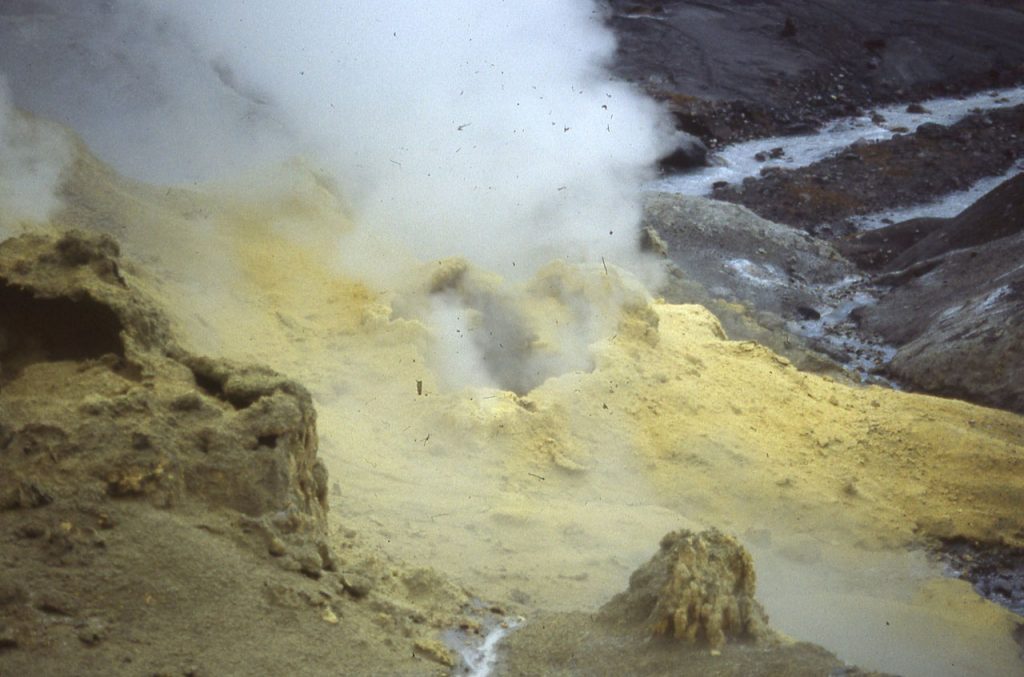 Kamchatka is one of the most adventurous and hard to get to places in the world. This coming summer of 2021 , Yakutia Air plans to start weekly (return ) flights from Anchorage to Petropavlovsk. TotalAdventure welcomes Kamchatka providers to upload trips immediately. We welcome providers from all over the Russian Far East and Siberia.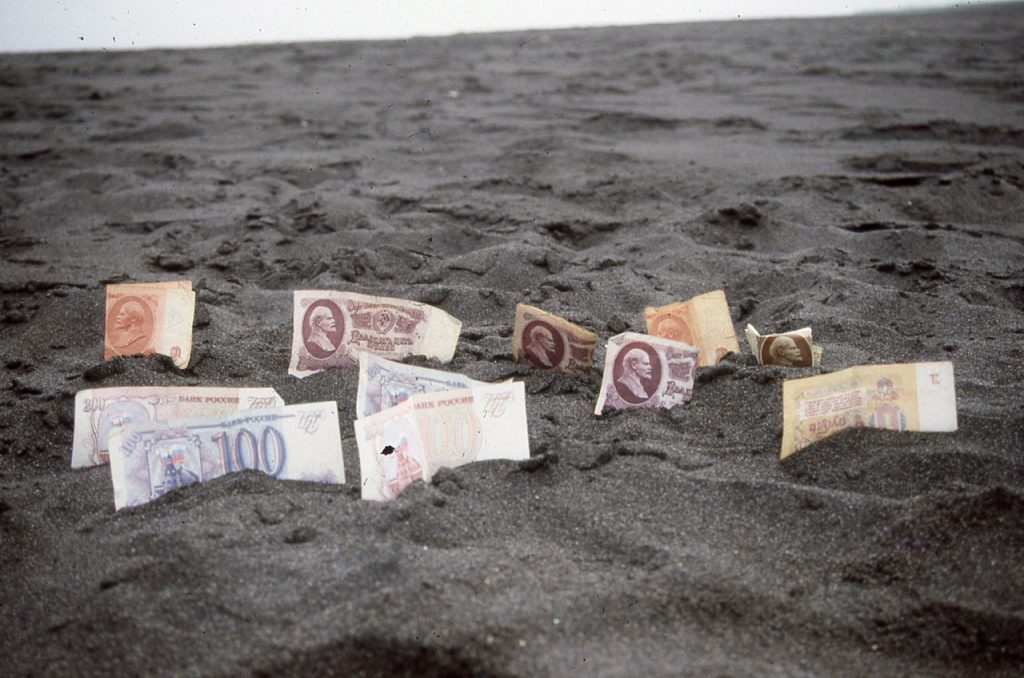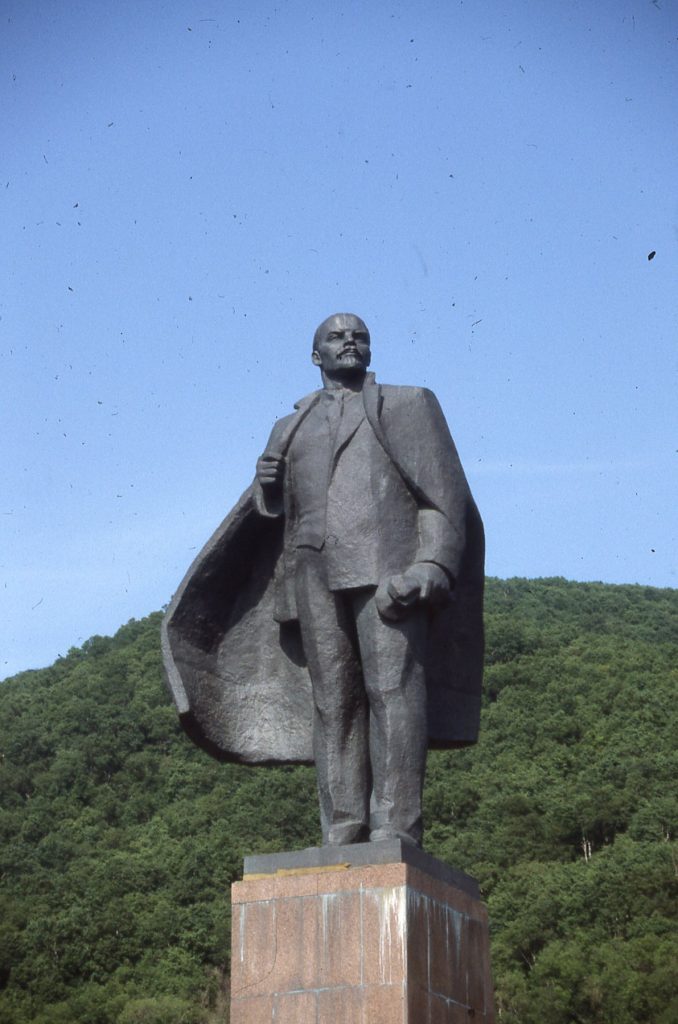 Vietnam Voyage Is A 23 minute excursion from Saigon to DaNang  by air, from DaNang to Hue by train and then from Hue to Hanoi by air. TotalAdventure explores the main sites of the 4 historic cities with culinary adventures ,such as cobra snake in Hanoi.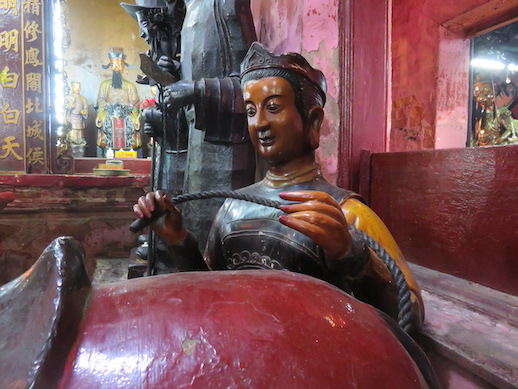 In Part 2 of our USA series, TotalAdventure explores Southern California, though we did foray for a short while into Mexico.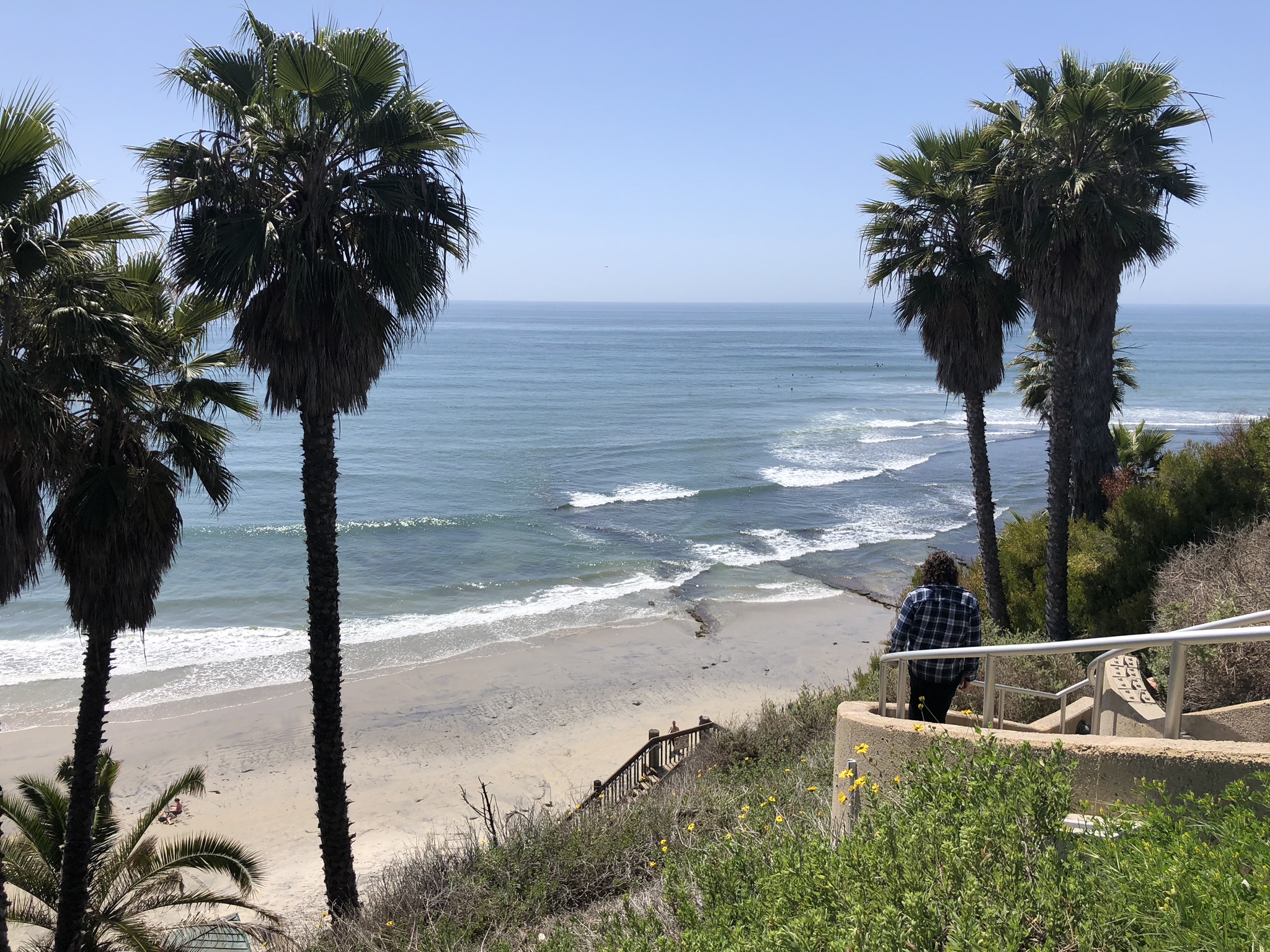 A younger member of the TotalAdventure Team will be starting college in 2019 and had come West to explore some college campuses in Southern California. Spectacular beaches are always nearby. Pictured above is Swami's  – a world famous surf break in Encinitas.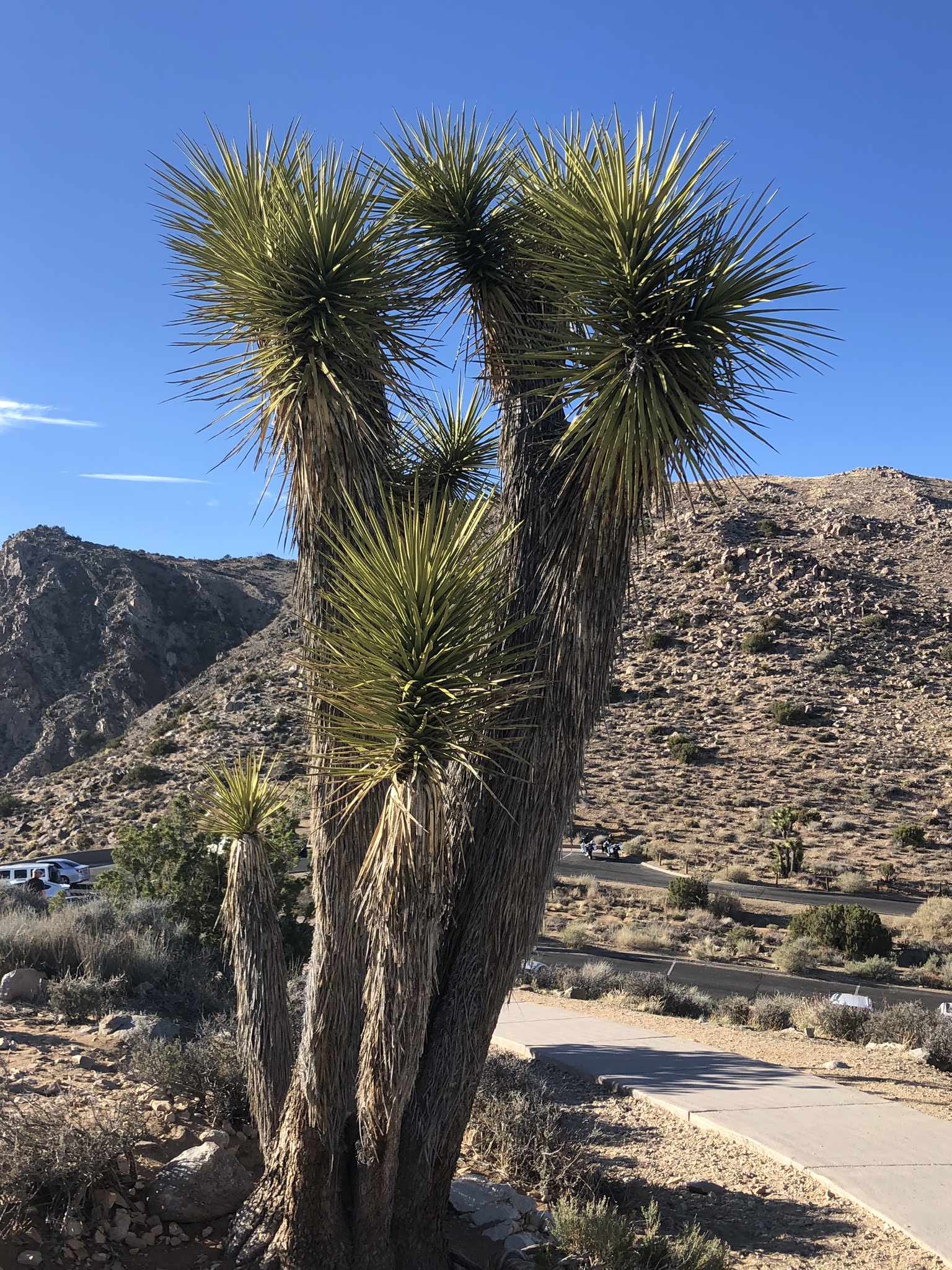 In the High Desert of the Mojave Desert – Joshua Tree National Park.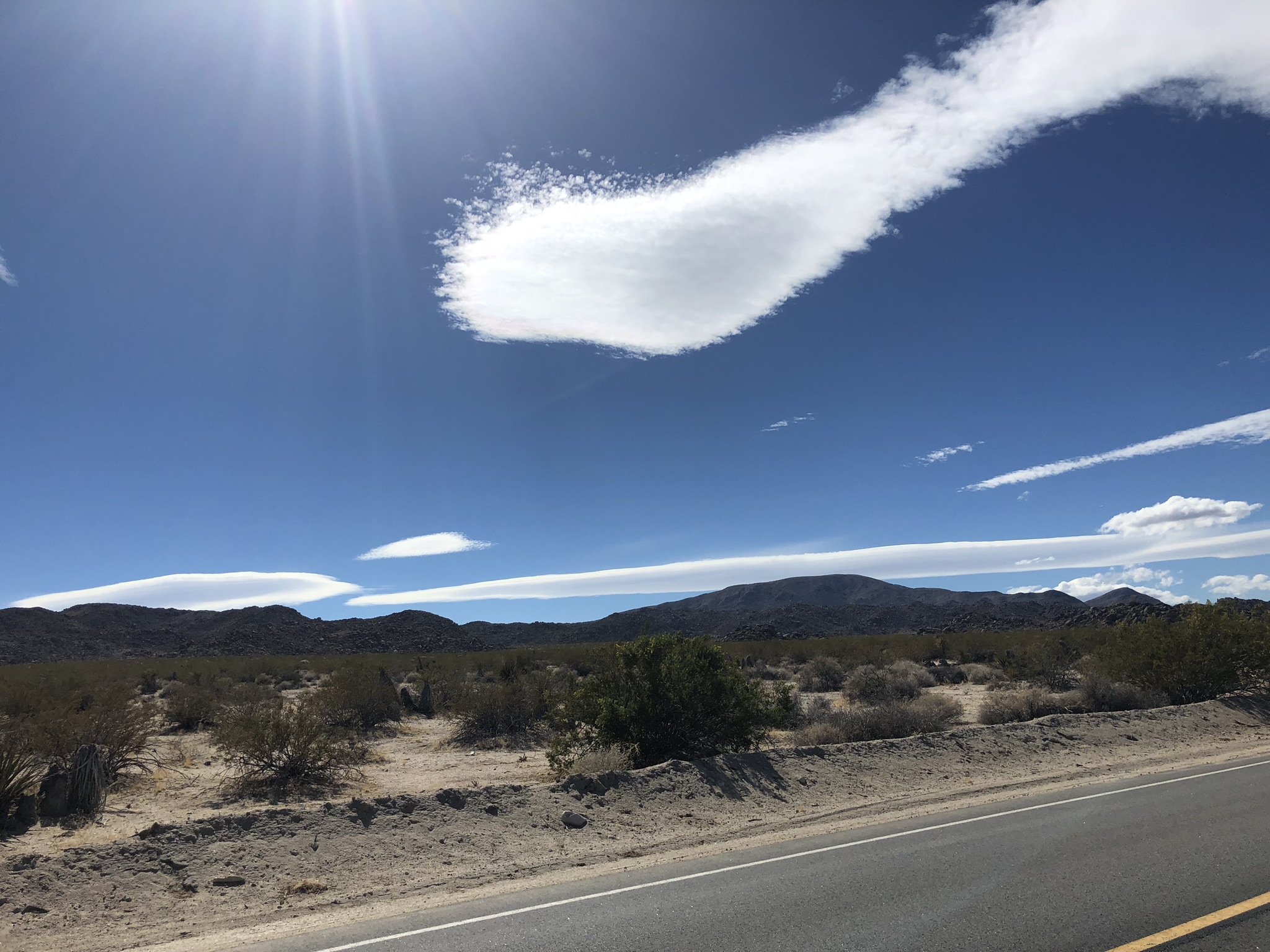 Somewhere East of Indio – I-10.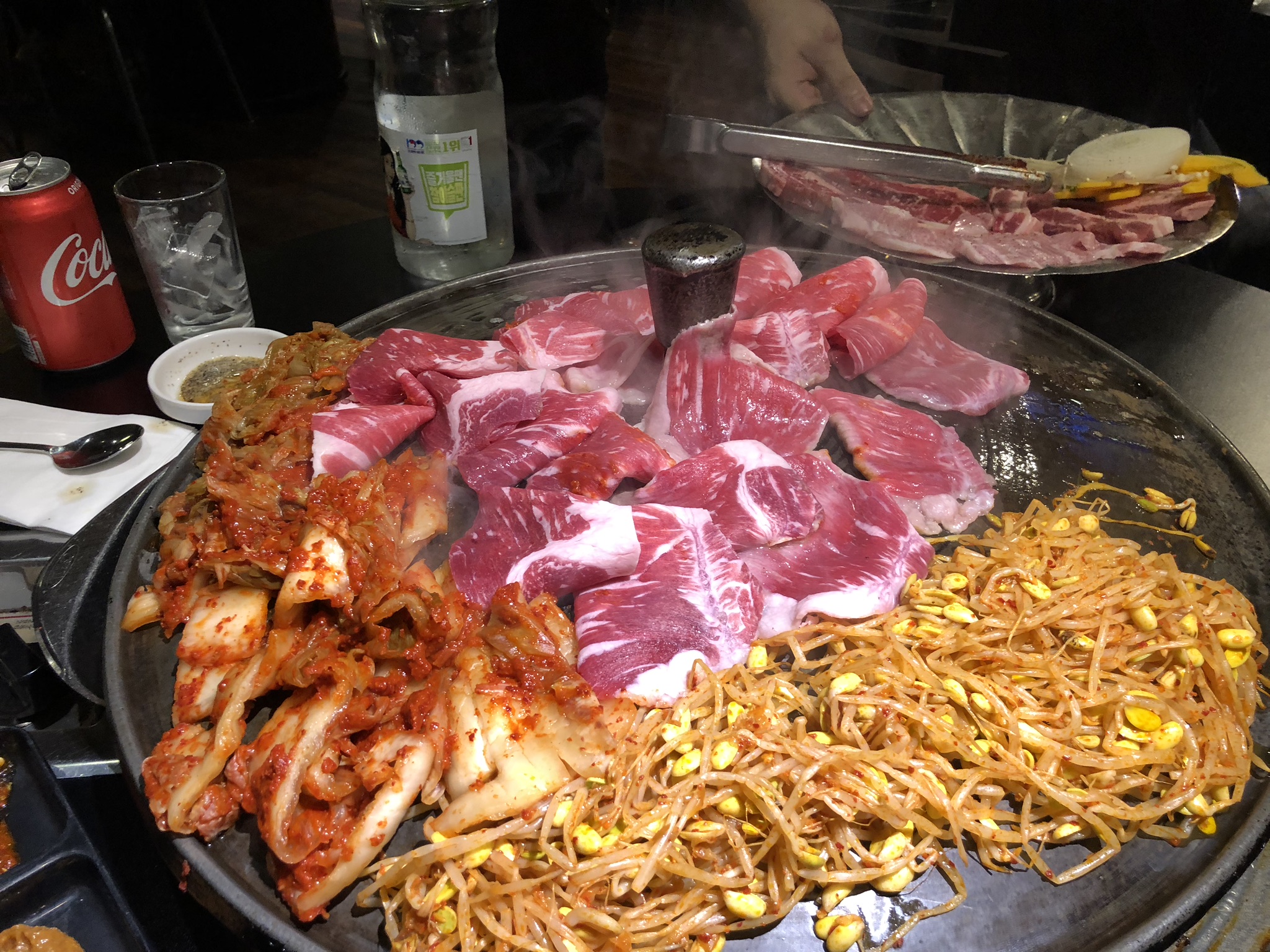 Korean Dinner in Koreatown – Los Angeles.Kimchi, Pork and Beef, Along With Soju – a Korean Firewater.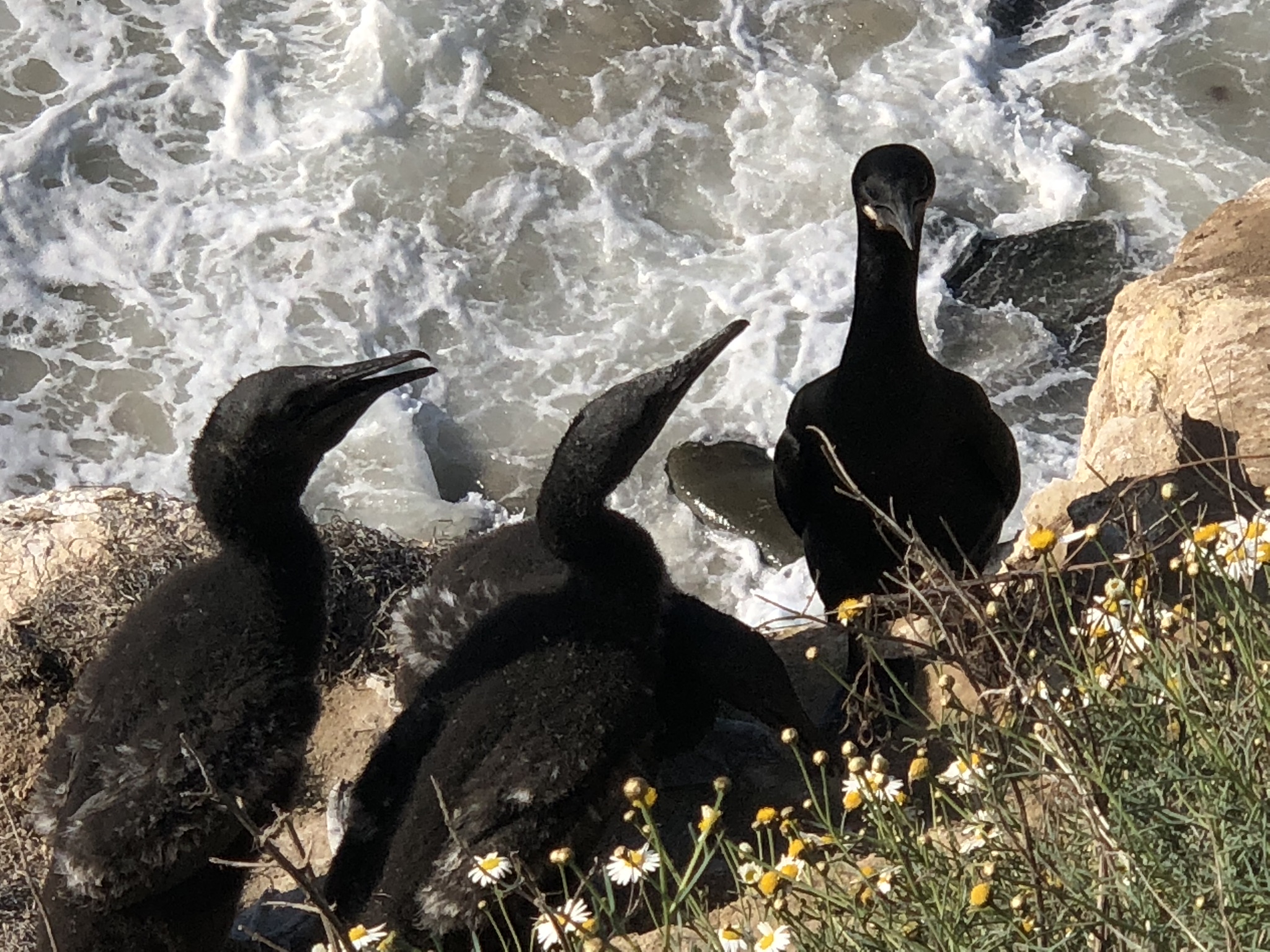 Black Pacific Pelicans, Soon Learning To Fly.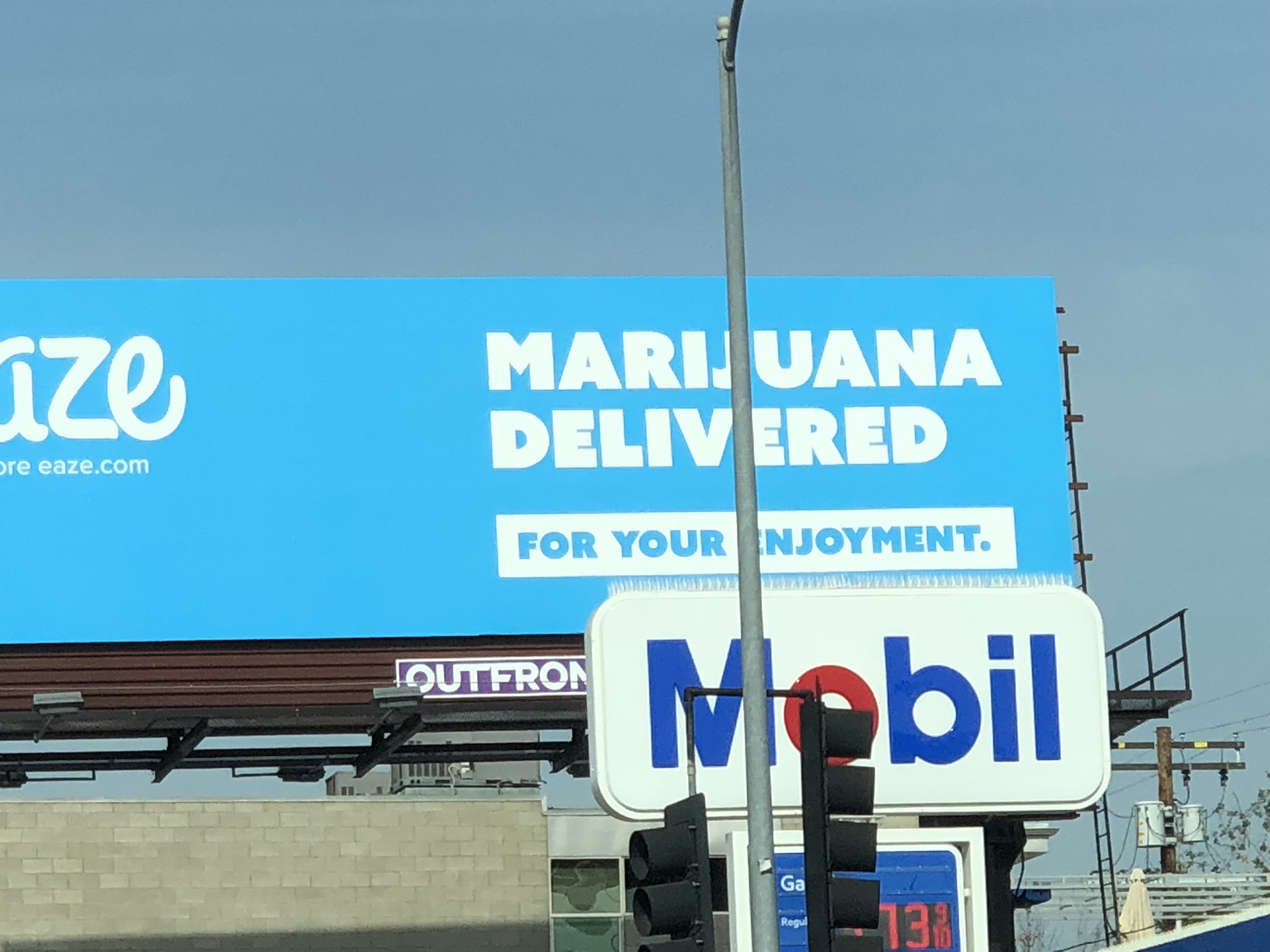 The Lazy Can Now Be Lazier – LOL.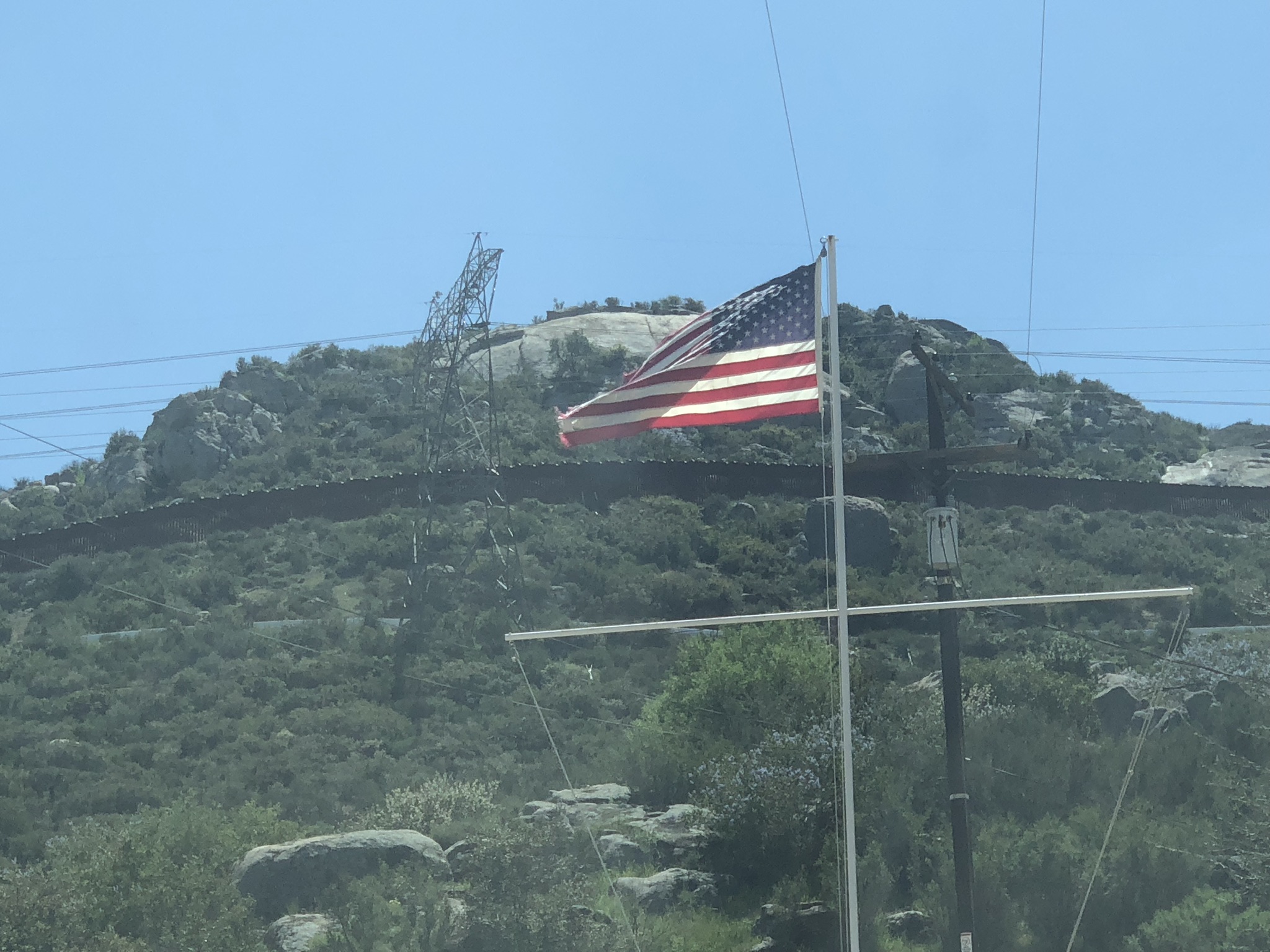 CA 94 runs along the southern border of California. Note the border fence about 3/4 the way up the mountain. Now imagine installing a 25 foot high cement wall to replace it. Many geographically challenged people in favor of the wall  think that the border is a flat desert for 2000 miles. Not the case. The mountains are much higher in New Mexico and West Texas. Note the power lines crossing the border as much of the Southwest USA and Northwest Mexico share a power grid.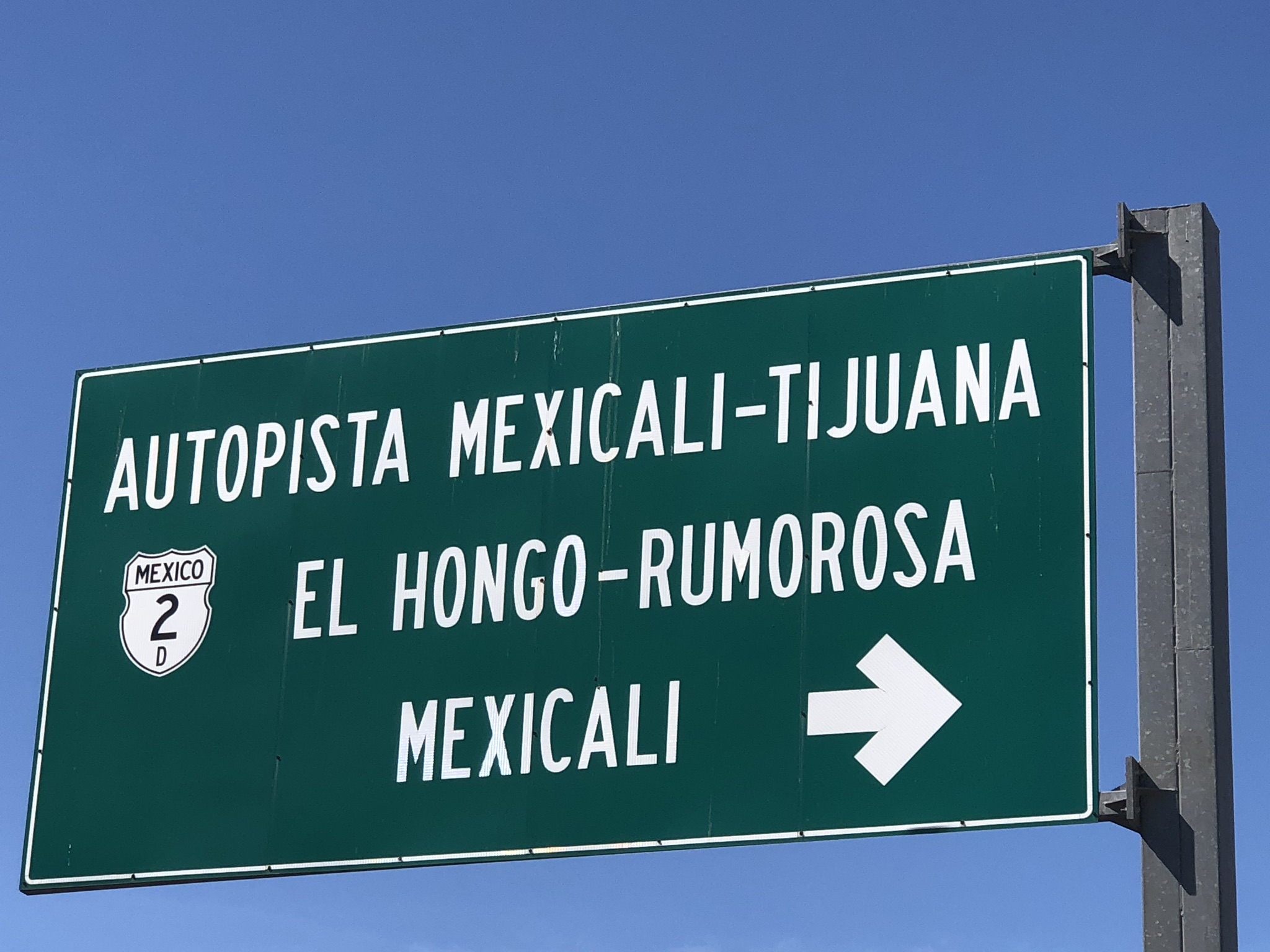 Running parallel to 1-10 and 1-8 on the other side of the border is Highway 2, rolling 3400 km from Tijuana to Matamoros.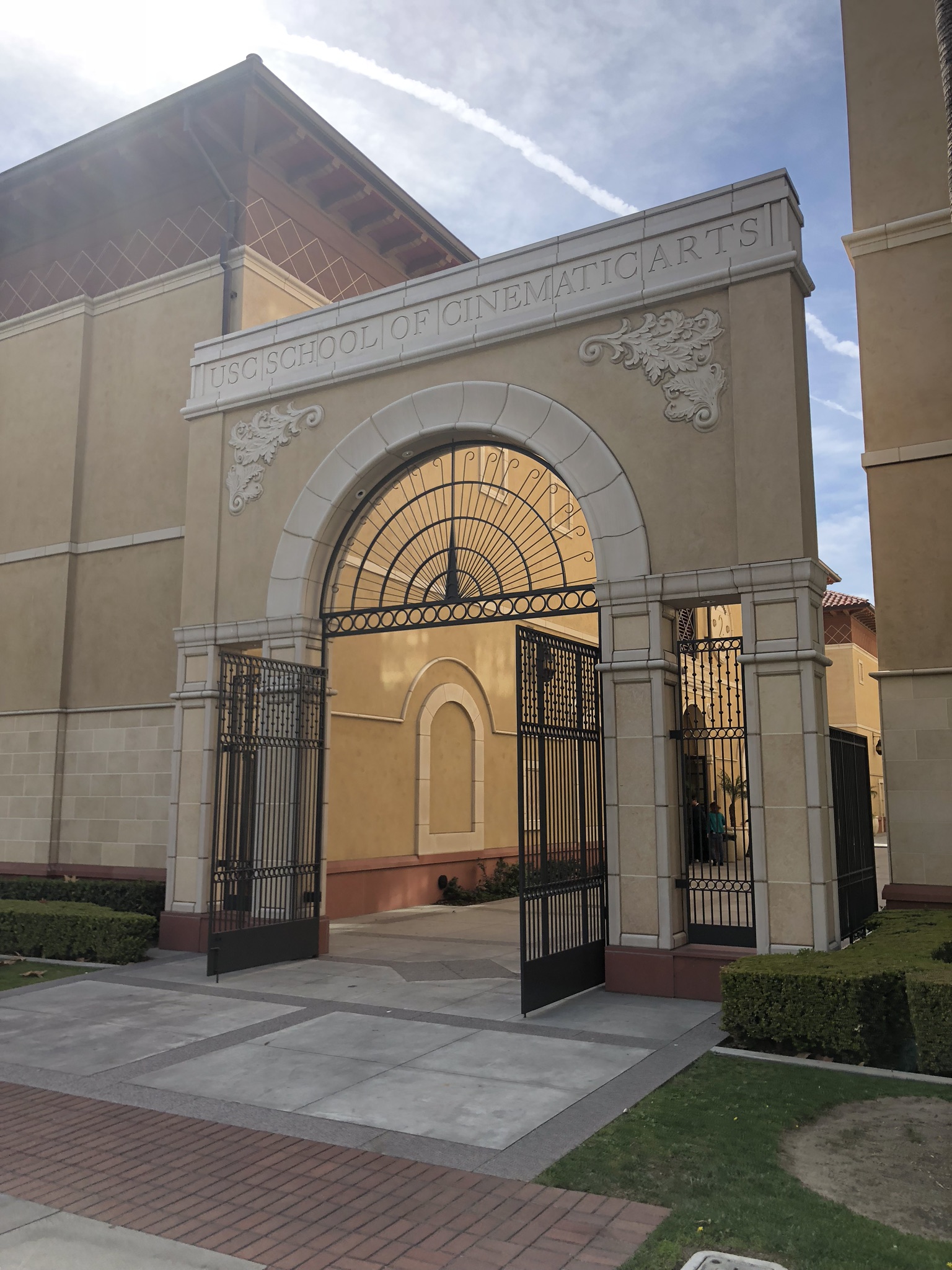 USC Film School – in Los Angeles – Modeled after Paramount Studios.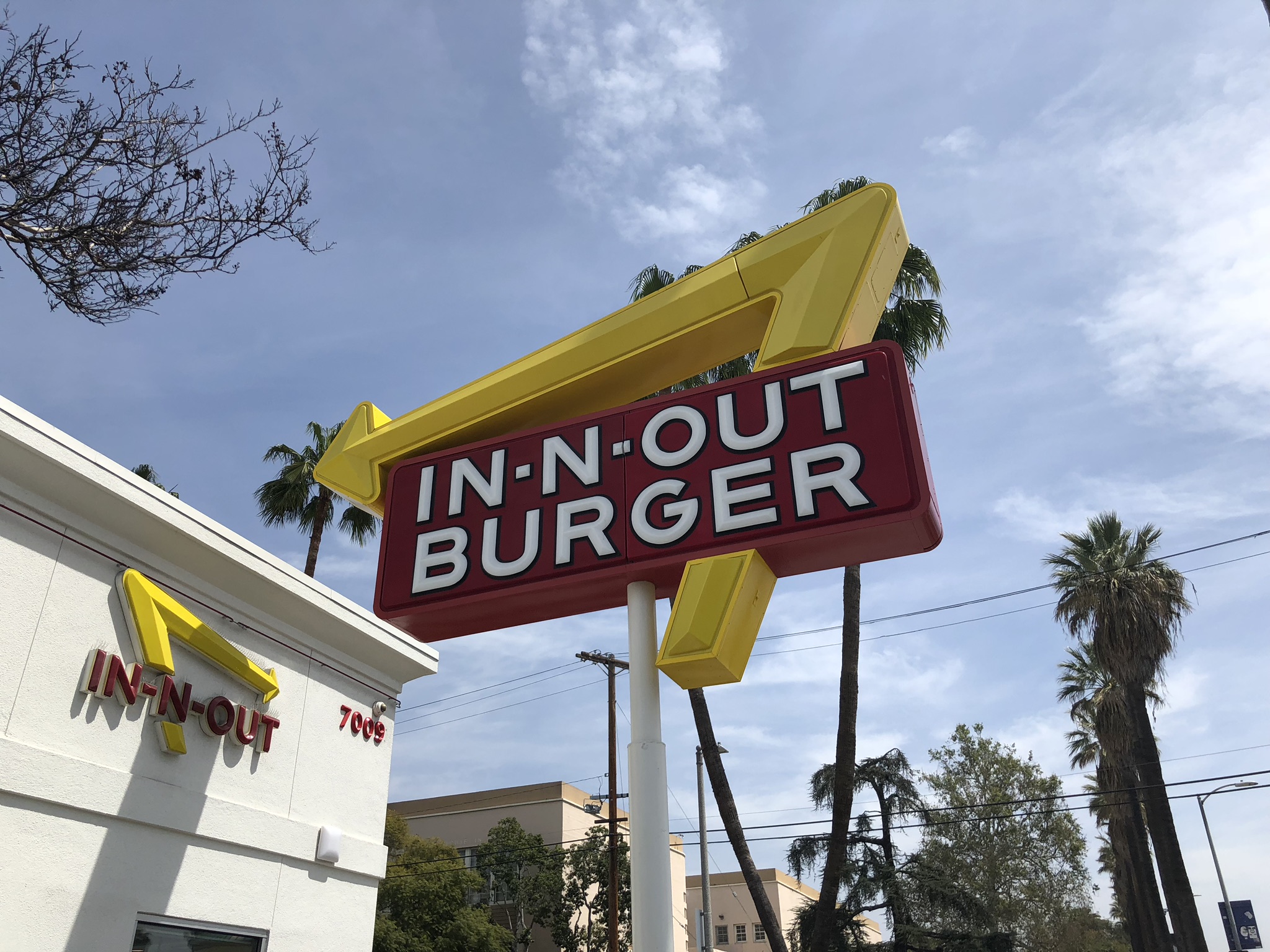 A California Cultural and Culinary Icon.