Archive for the
'Far Far Away'

Category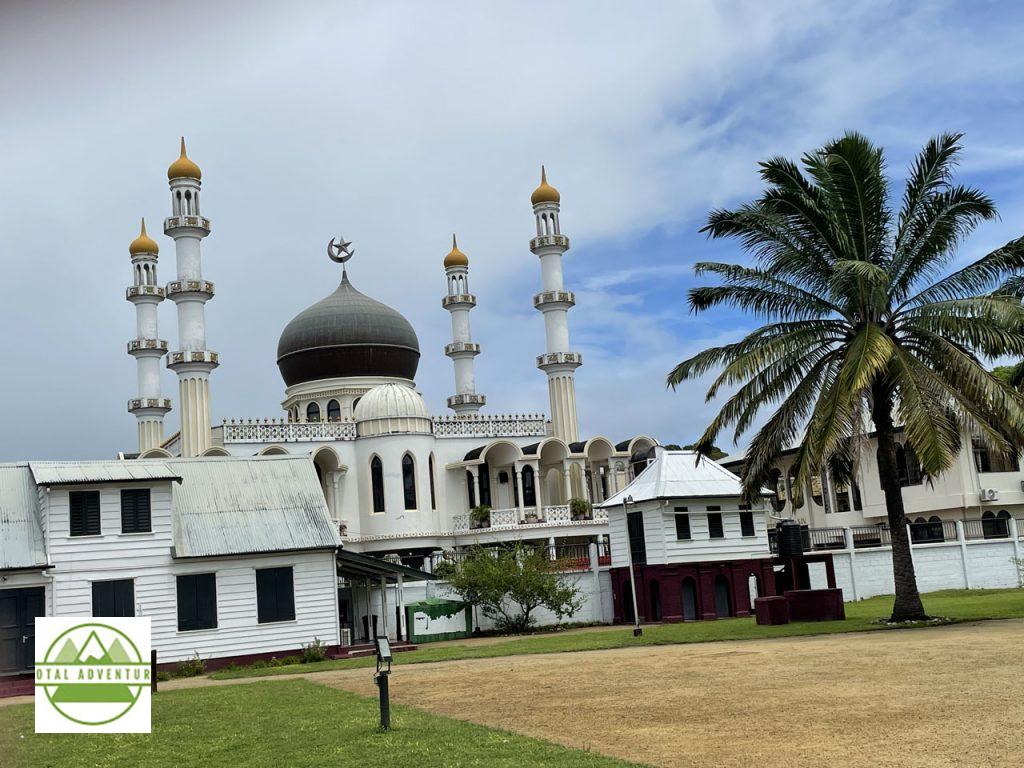 TotalAdventure had hoped to come from Georgetown Guyana via land and ferry across the Corentyne River. However the ferry , only recently running again after COVID shutdown had broken down and would not be repaired for weeks. The only way to go was to fly.
Be Sure To Watch The Video Above – To Experience Suriname !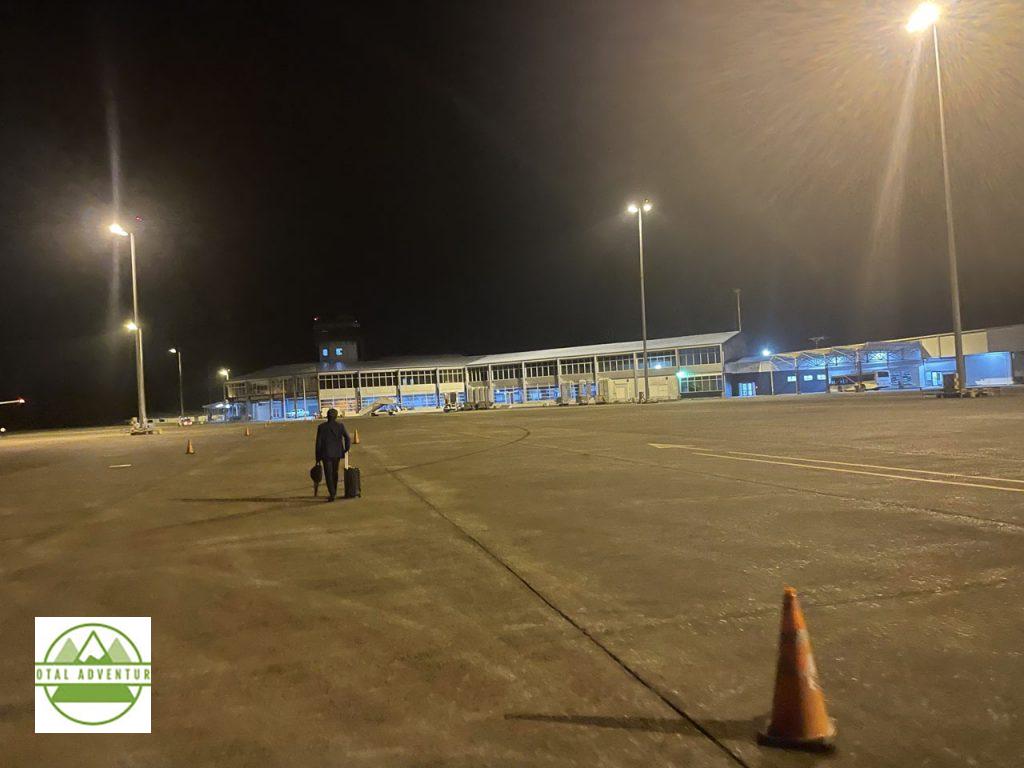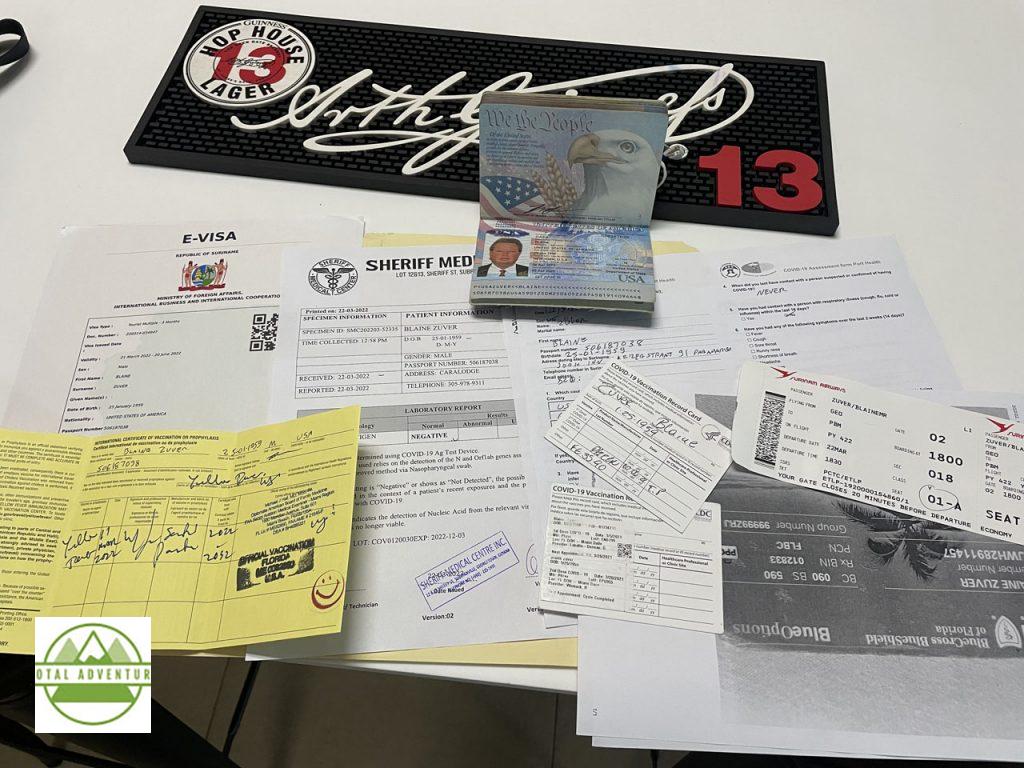 To enter Suriname, I needed my passport, E-Visa, Yellow Fever book, Covid Vaccination, Antigen test ( taken that day) Port Declaration of Health, Proof of Health Insurance and a landing card, with name and phone number of hotel. Never has TotalAdventure had to show so many documents, not even Russia or Turkmenistan.

Finally I received the stamp and it was off to Paramaribo.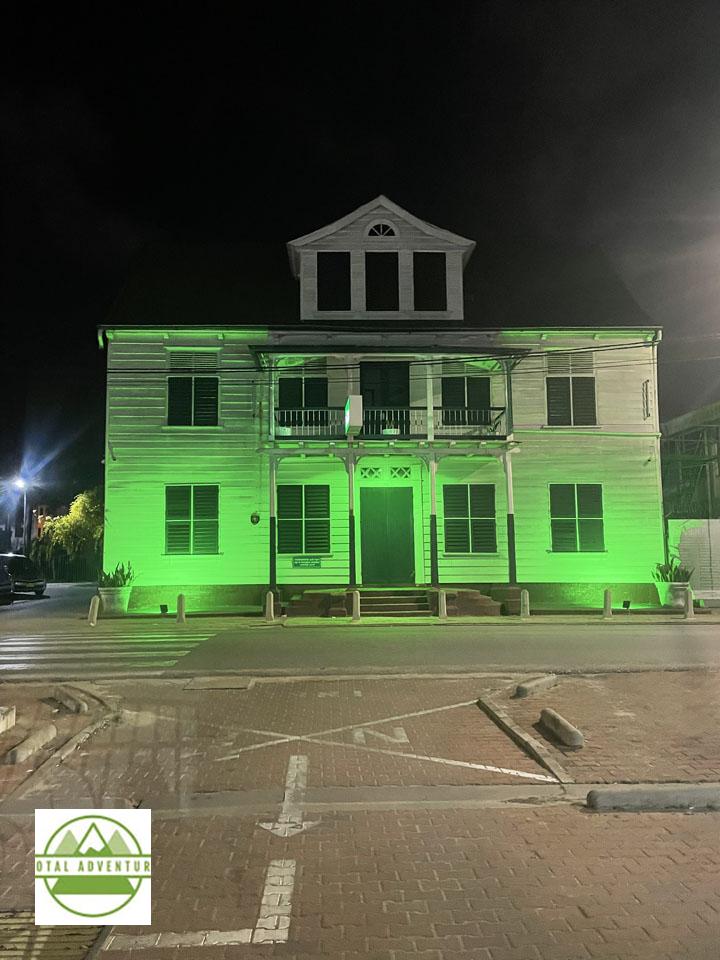 Across from my hotel on Keizerstraat. The city is mostly made up of colonial era buildings 100 to 200 years old, but have never been maintained. Built to Dutch specifications, the Equatorial heat and humidity are corrosive to the wooden structures.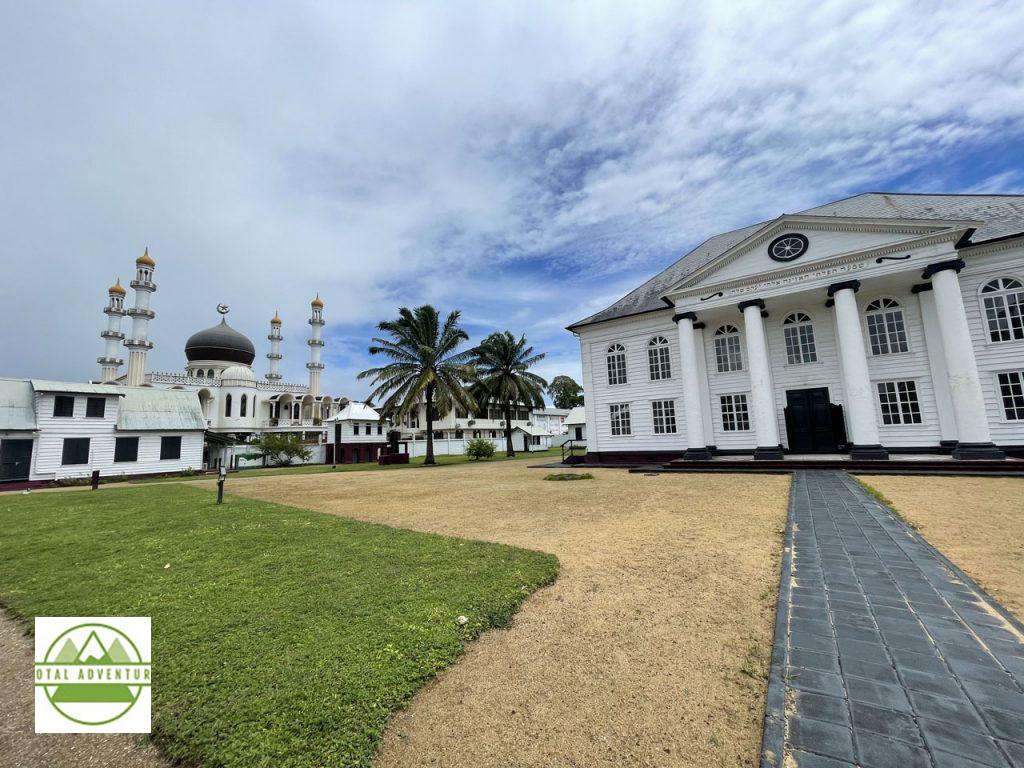 The Dutch bought in colonists and settlers from their worldwide territories Indonesian, southern African, Caribbean islanders and West African slaves all added to the mix. 13 different languages and dialects are spoken in Paramaribo, many more in the jungles.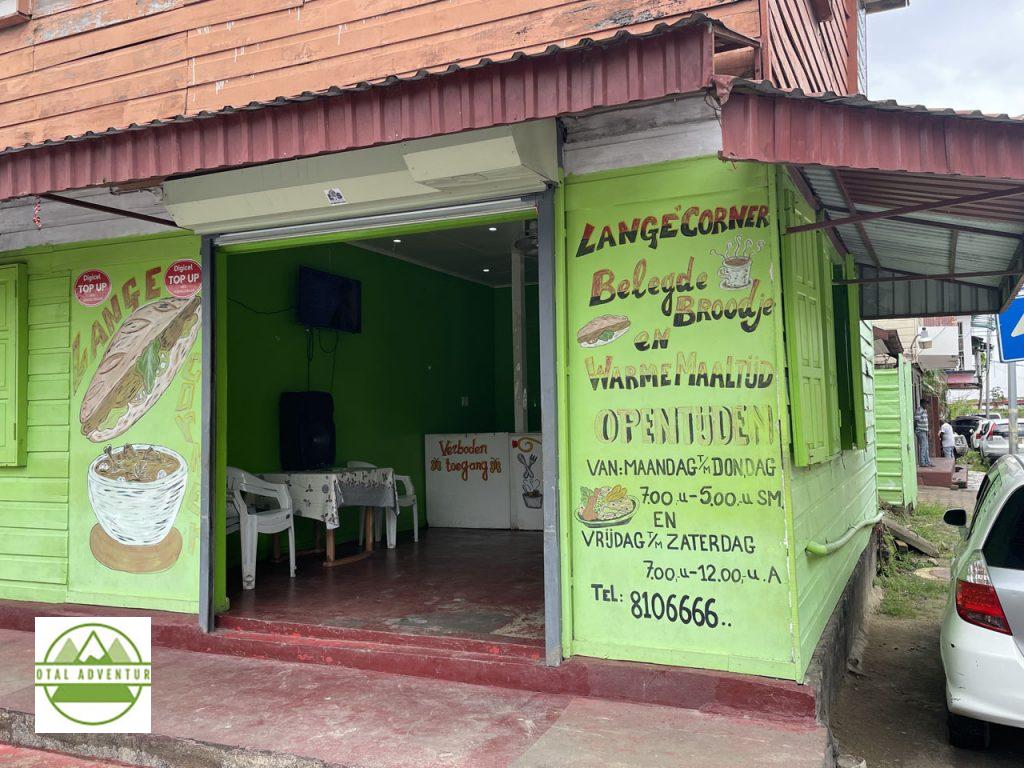 There is a true diversity of food everywhere. Dutch/French/Caribbean combo here.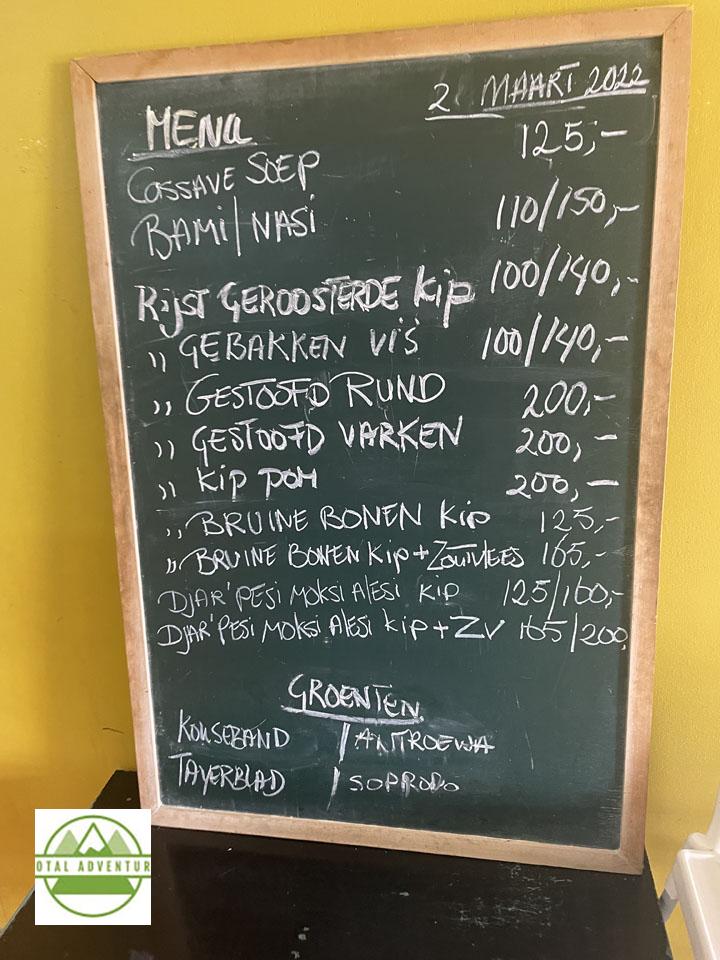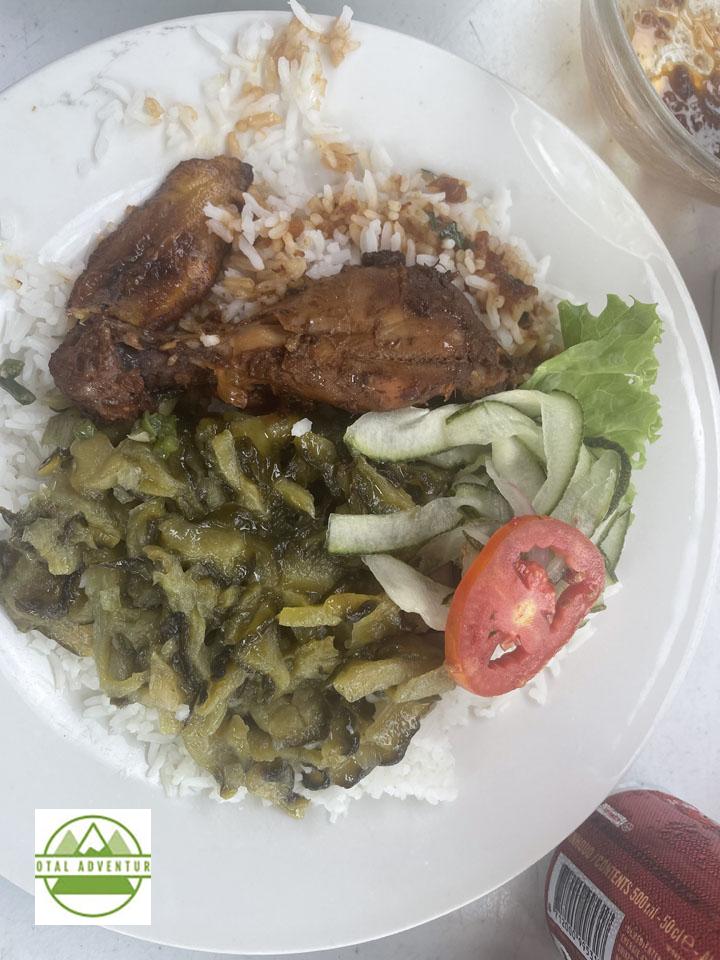 Indian chicken roti with West African style vegetables.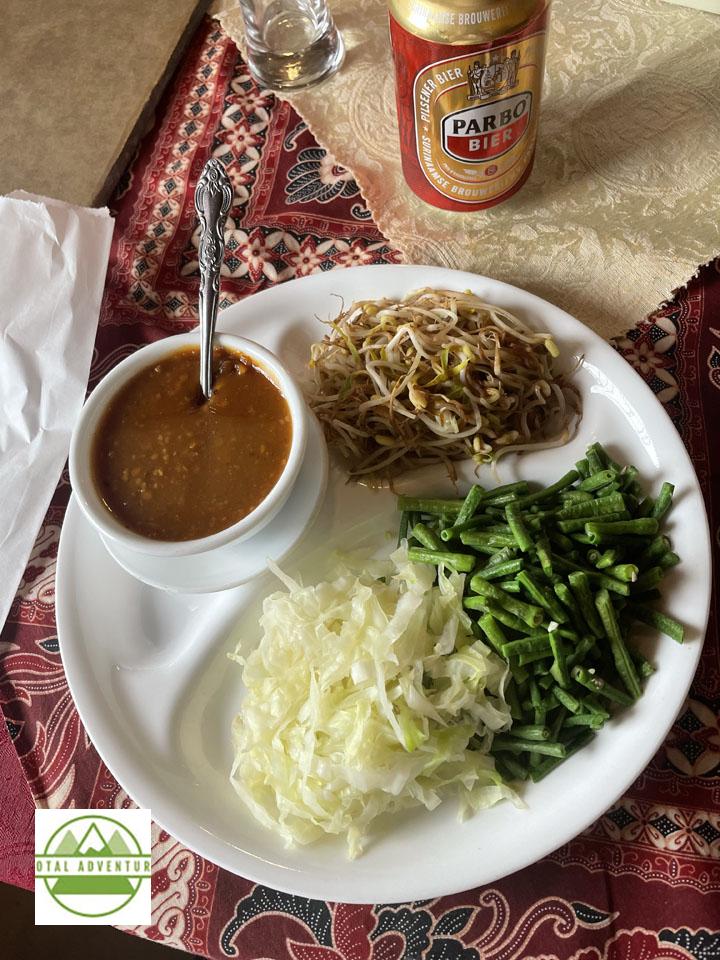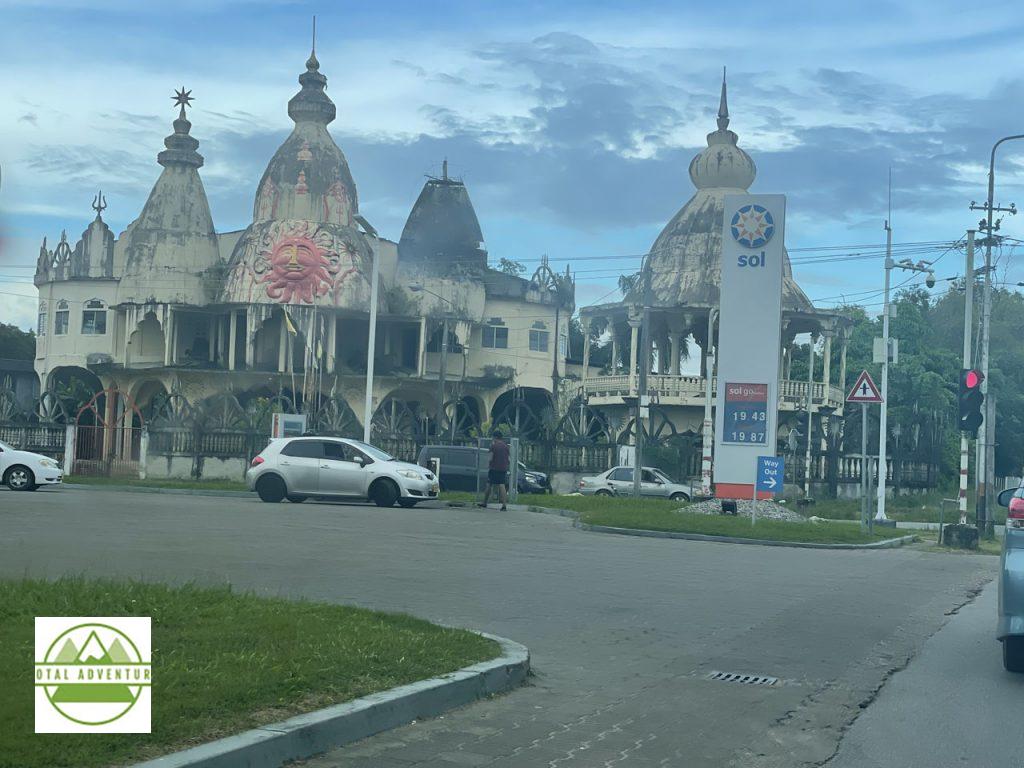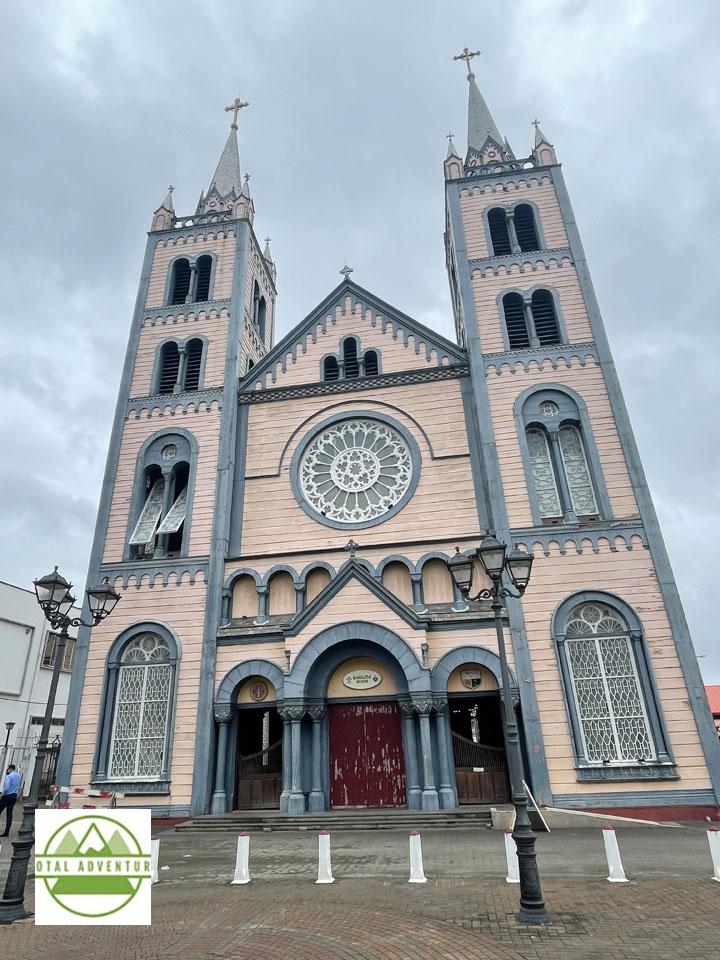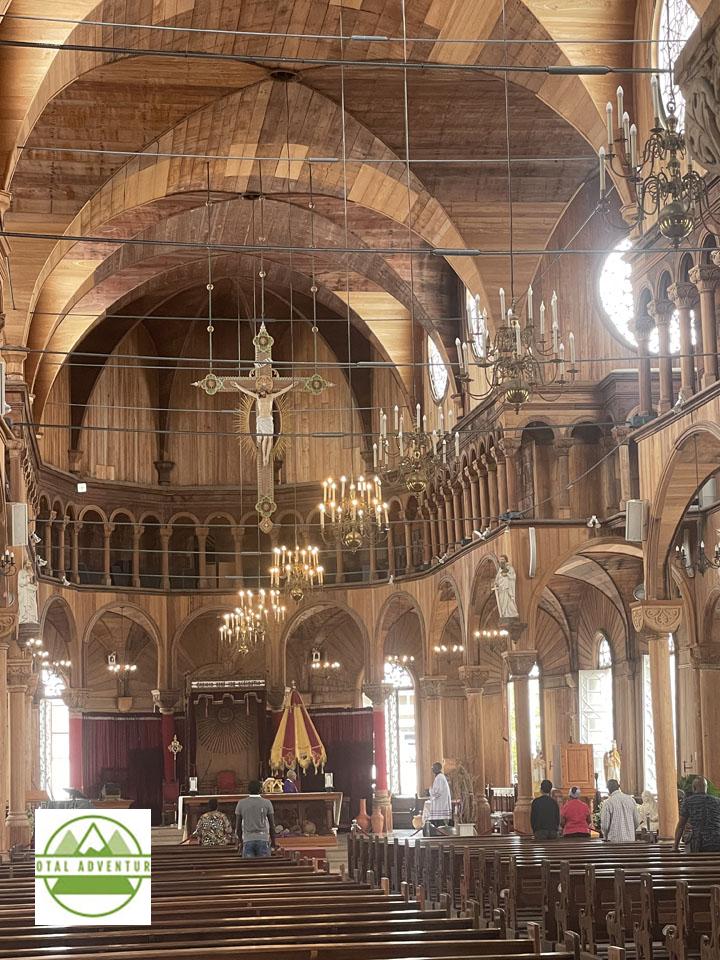 All Wooden Interior of Church.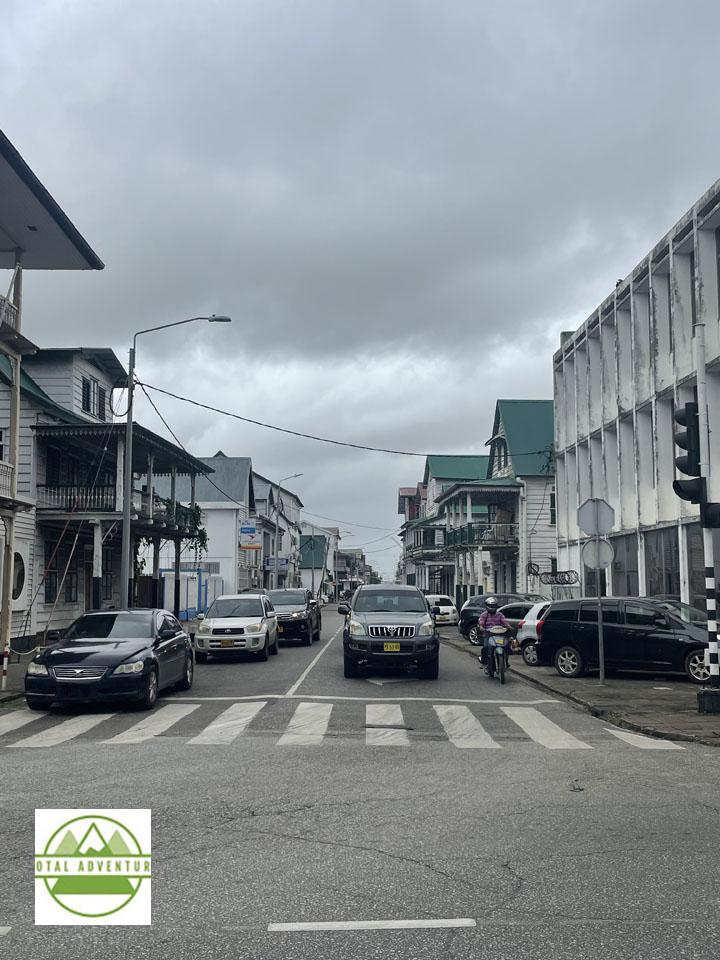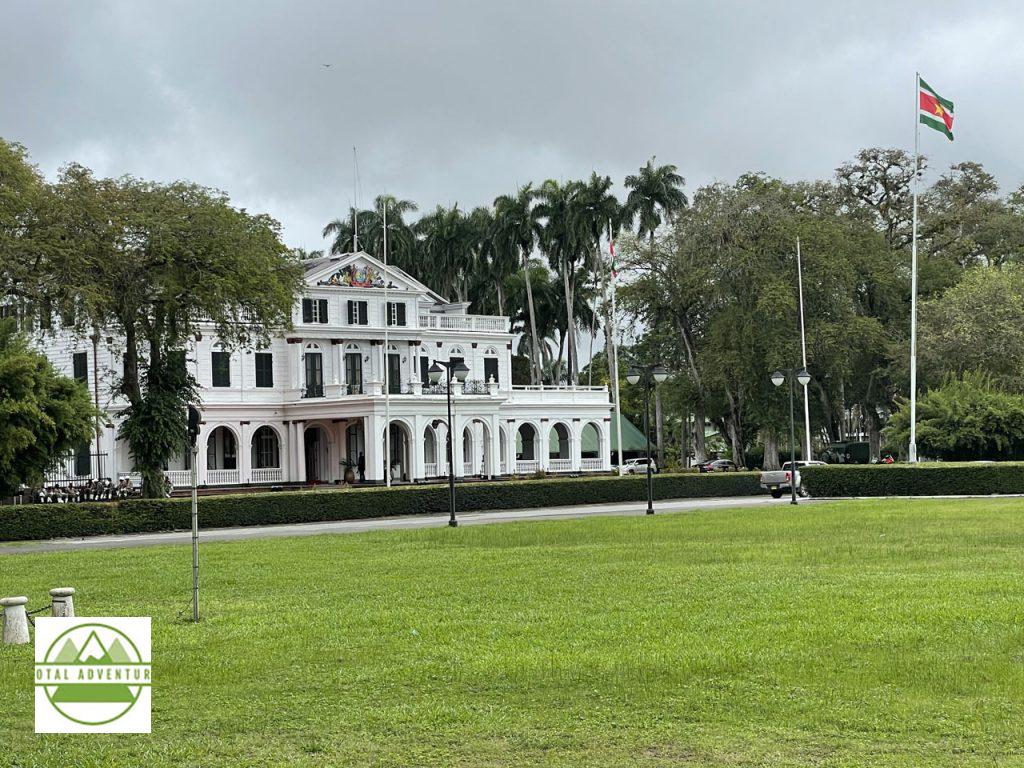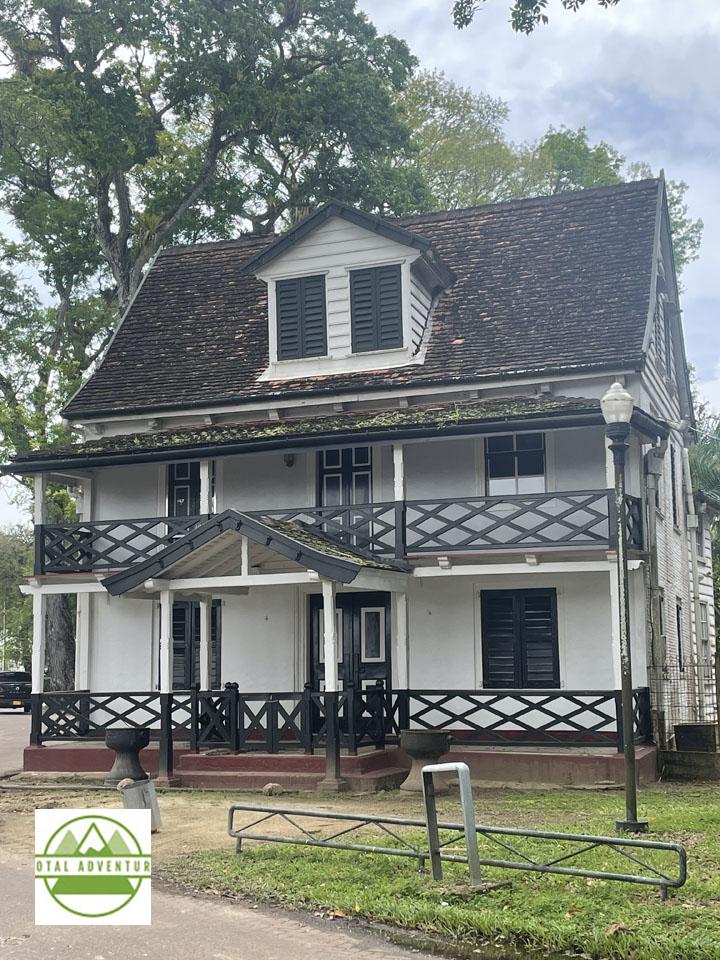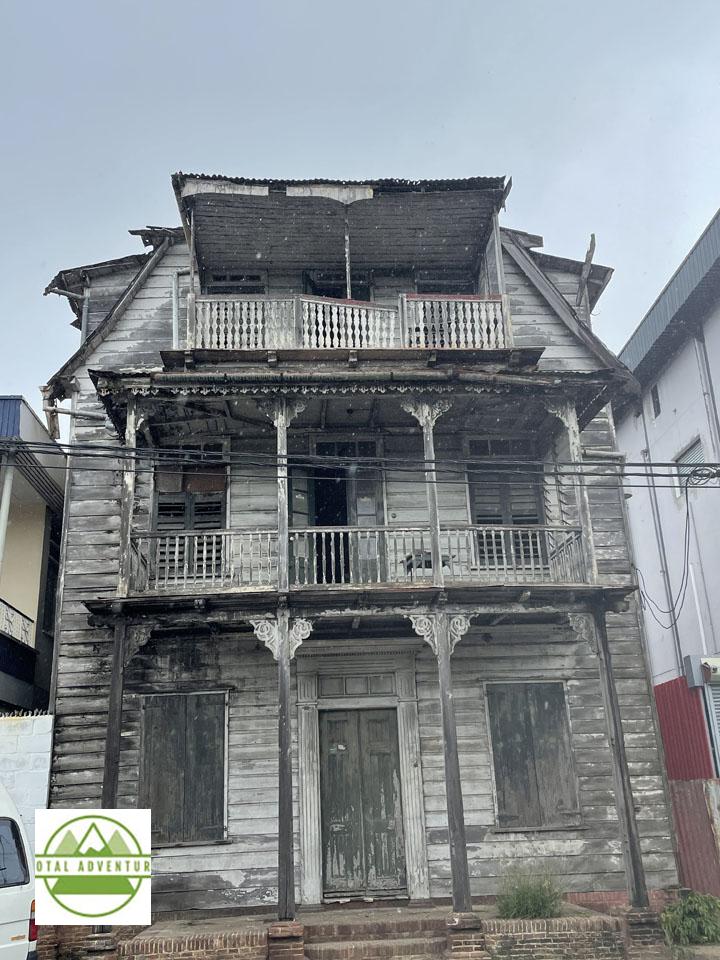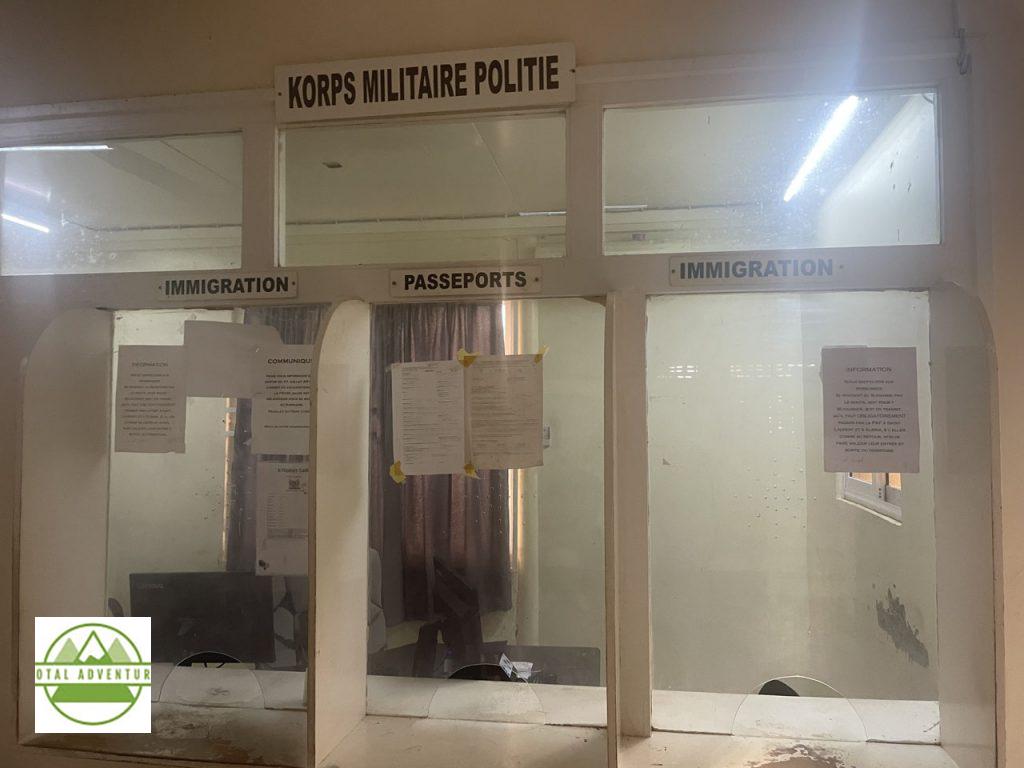 An early morning ride from Paramaribo got me to the border town of Albina by 9AM. Jungle and small villages all the way. Suriname is the most forested country in the world. Many less documents were required for exit.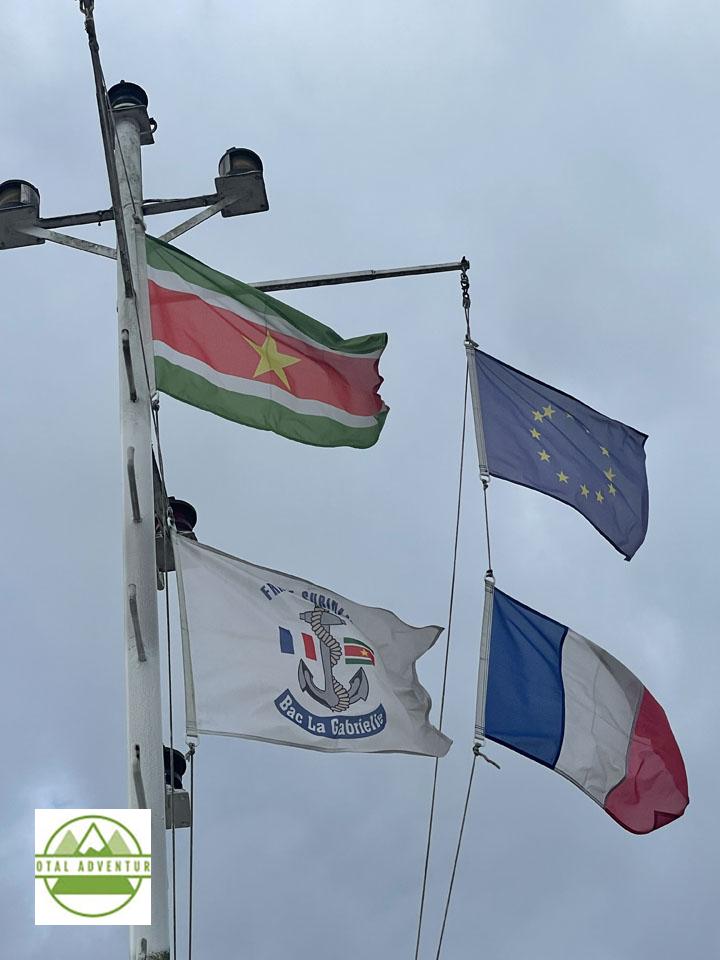 The ferry from Suriname to France takes about 20 minutes and costs 3.40 Euro. There is no direct flight from Cayenne to the US – one can go to Paris and fly from there , or island hop through French islands to Miami. Consequently I will return to Suriname after Cayenne.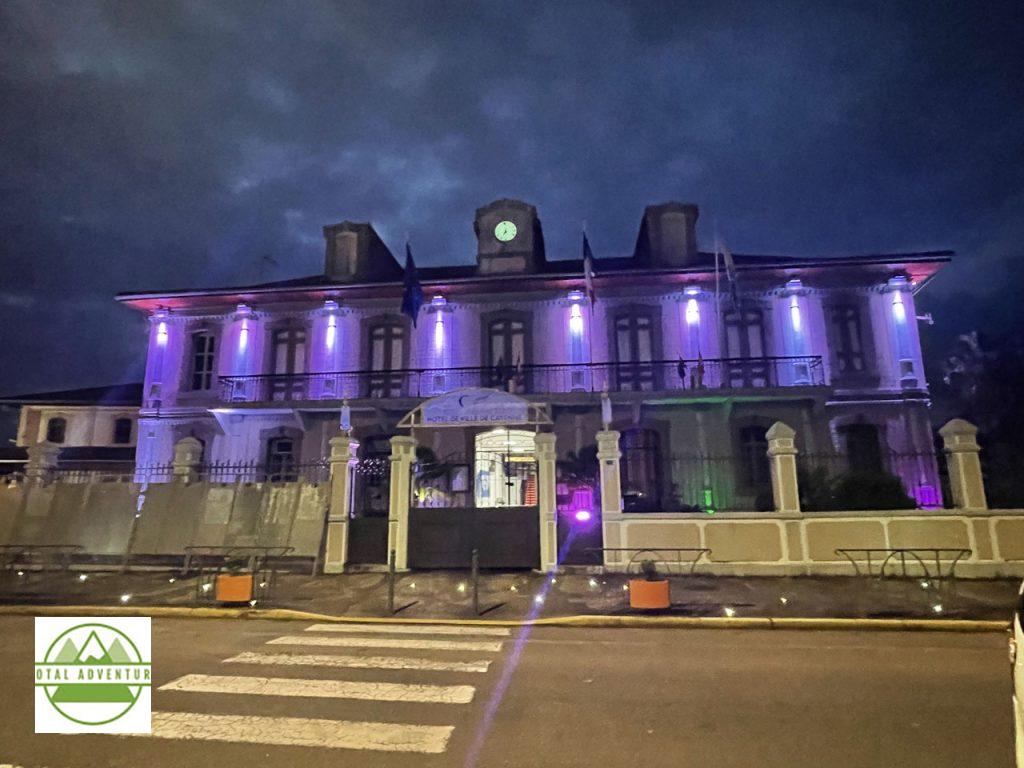 TotalAdventure crossed the Maroni River from Suriname to French Guyana on the morning of March 25. Before dawn, my driver, supplied by the French Embassy, picked me up in Paramaribo and we drove east to Albina , where I went through exit formalities , then boarded the ferry to St.Laurent du Maroni, notorious as the maritime entry point for convicts banished to Devil's Island and the mainland prison camps.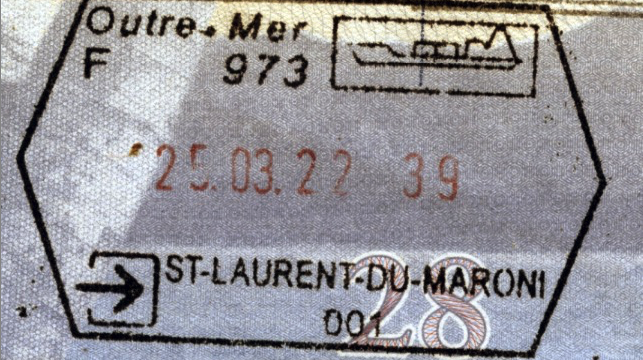 Watch the amazing video above. Cayenne and Devil's Island !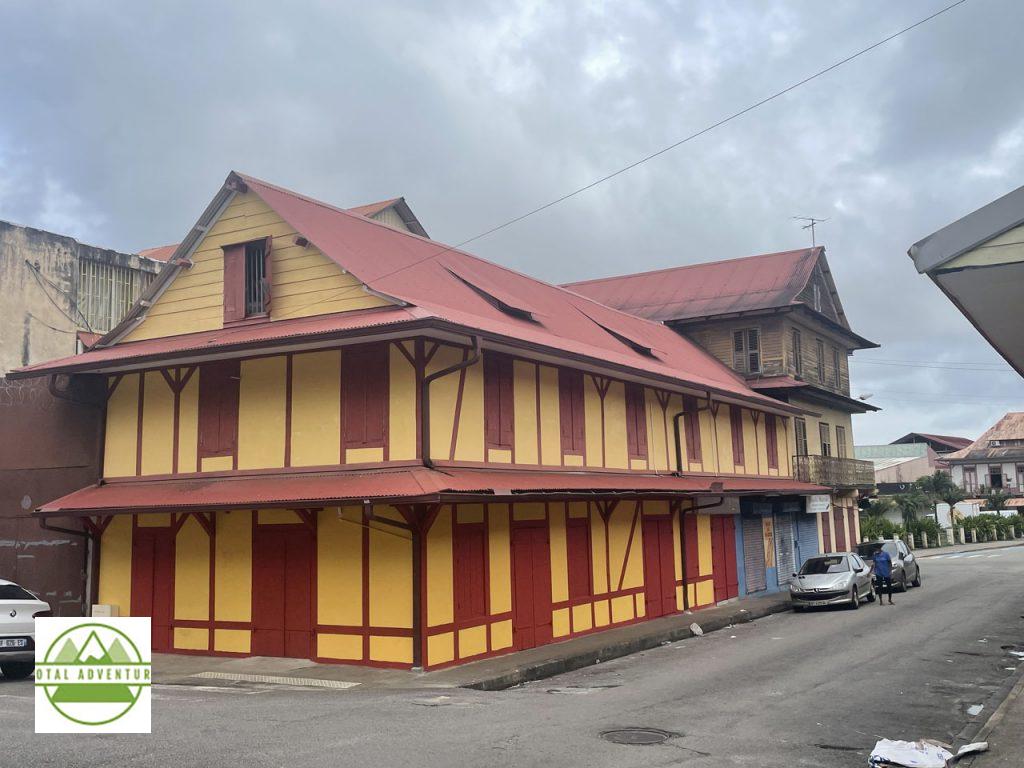 After flagging down a driver for the 2.5 hour 100 Euro ride to Cayenne I relaxed with a cafe au lait and watched the jungle scenery fly by. The city is mainly old wooden buildings and is very low and swampy. There is a huge shopping mall with a Carrefour superstore. I stayed at the wonderful Hotel Ker Albert. We don't normally post links to hotels, except where they are very helpful in achieving our mission.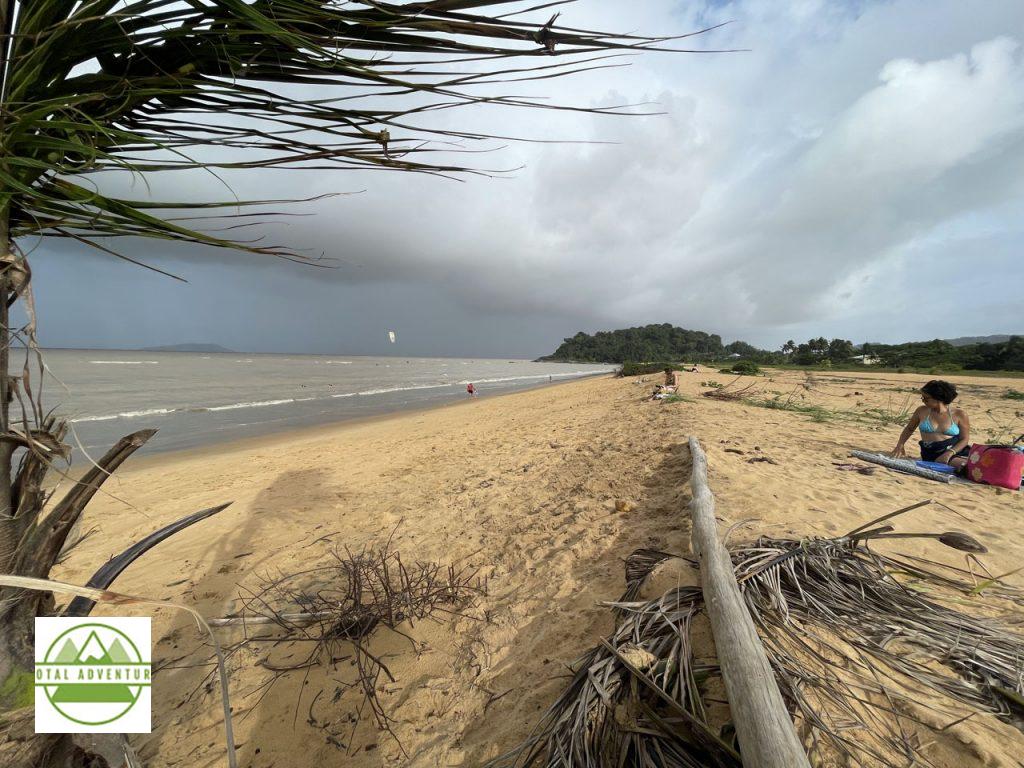 The beach above is one of the only beaches in the Guyanas that is swimmable. but one would not fly there just to go to it. The water has almost no salt, as there is river runoff from every river between the Orinoco and the Amazon. It is very muddy and black underneath. Constant trade winds make for good kiteboarding.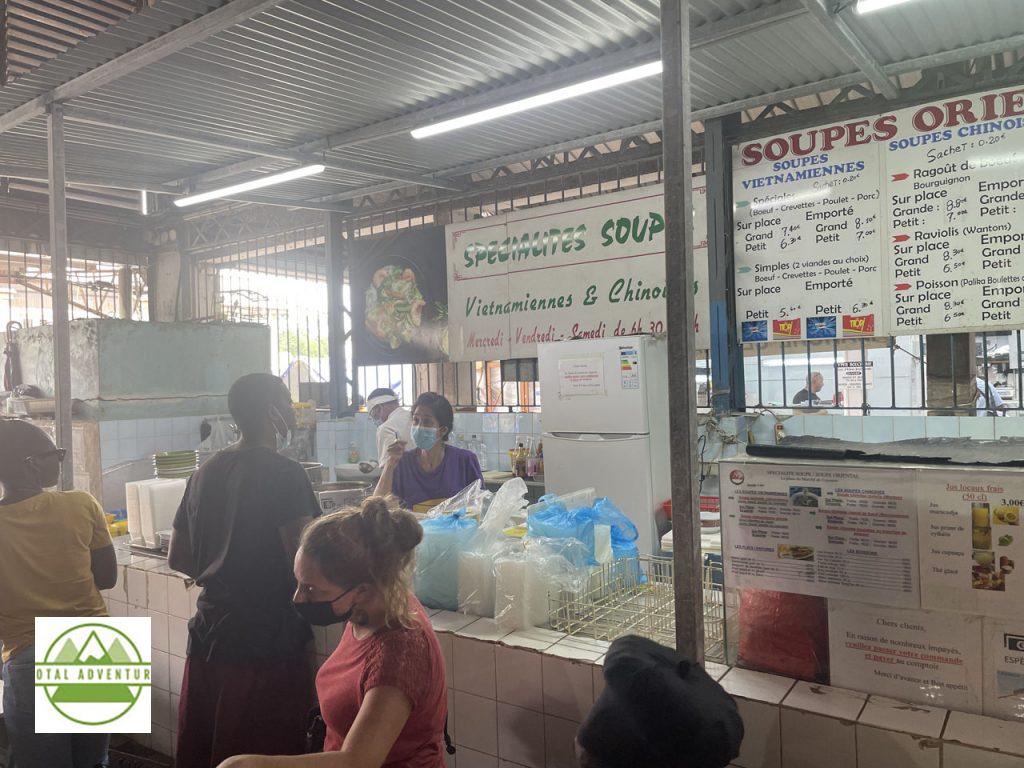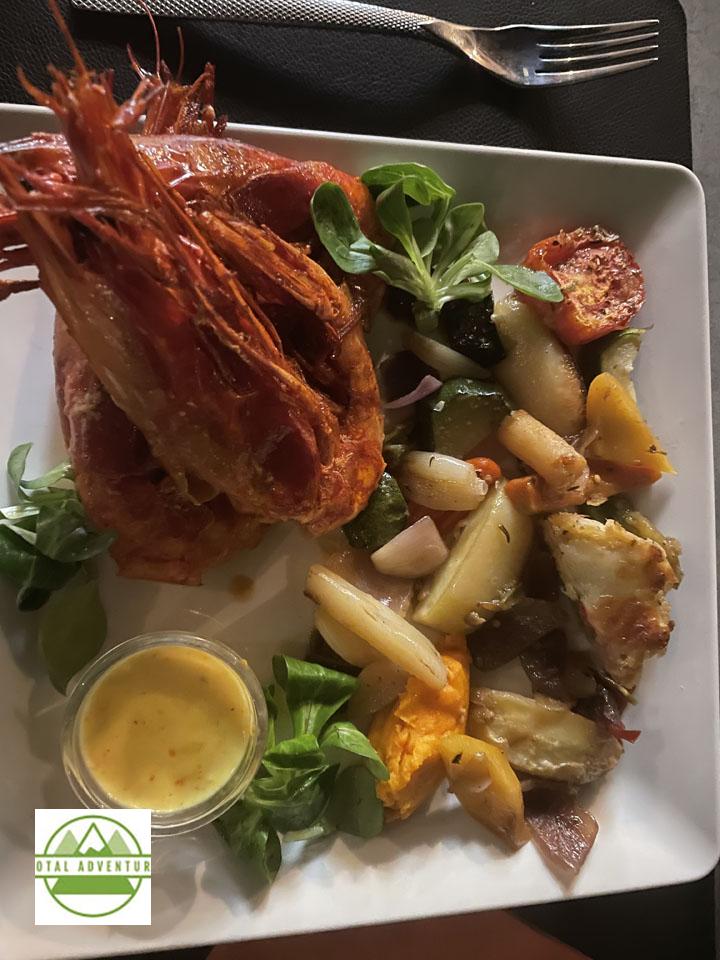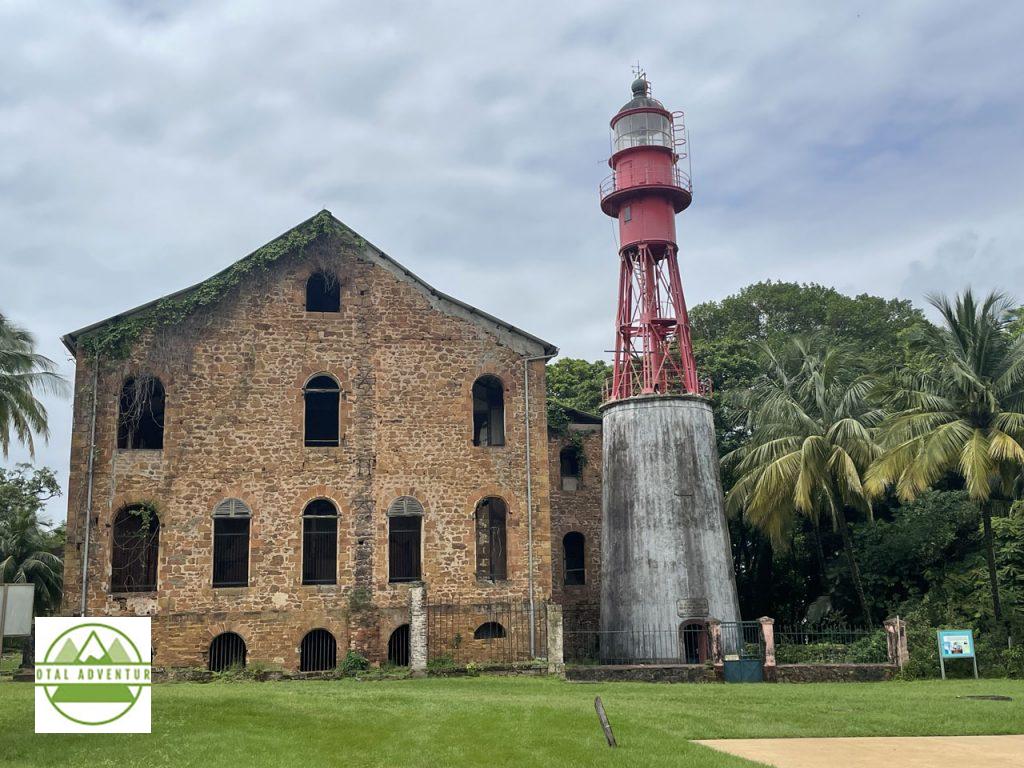 The main reason I came to Guyane de France was to explore Devil's Island. France banished its' criminals – murderers and rapists, but also chronic petty criminals to a living hell from which few ever returned to mainland France. For good measure, I rewatched Papillon just before the journey.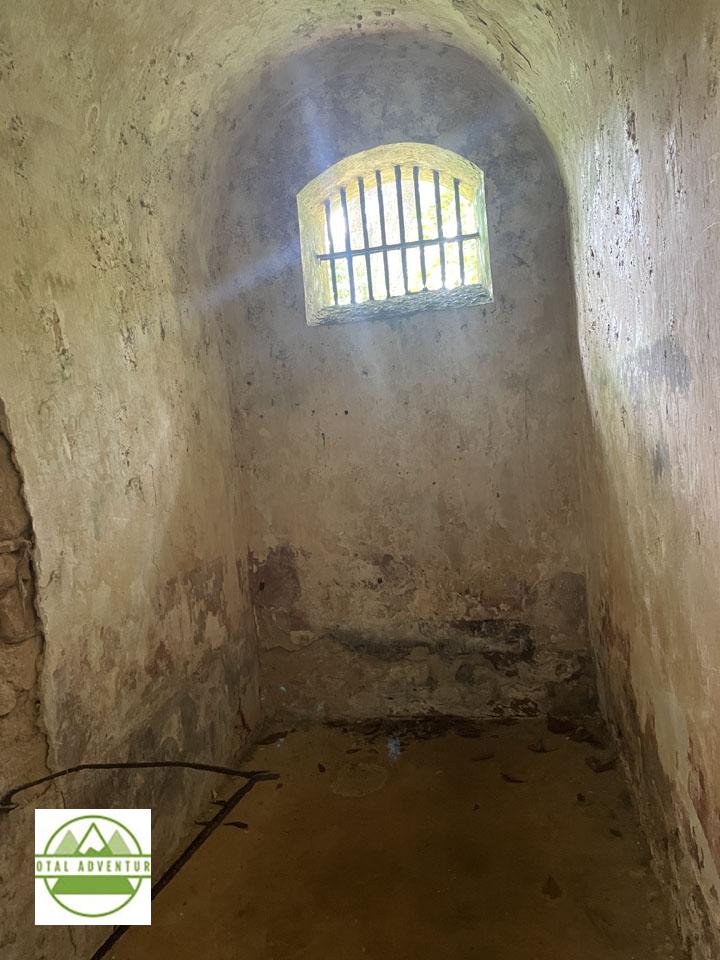 The Iles du Salut – Royale, St. Josepsh and Diable – 10 miles from the mainland via shark infested rip current waters were for the incorrigibles, a prison away from the prison camps. Here is a cell for someone condemned to the guillotine. The bar was to secure a prisoner to his bed at night.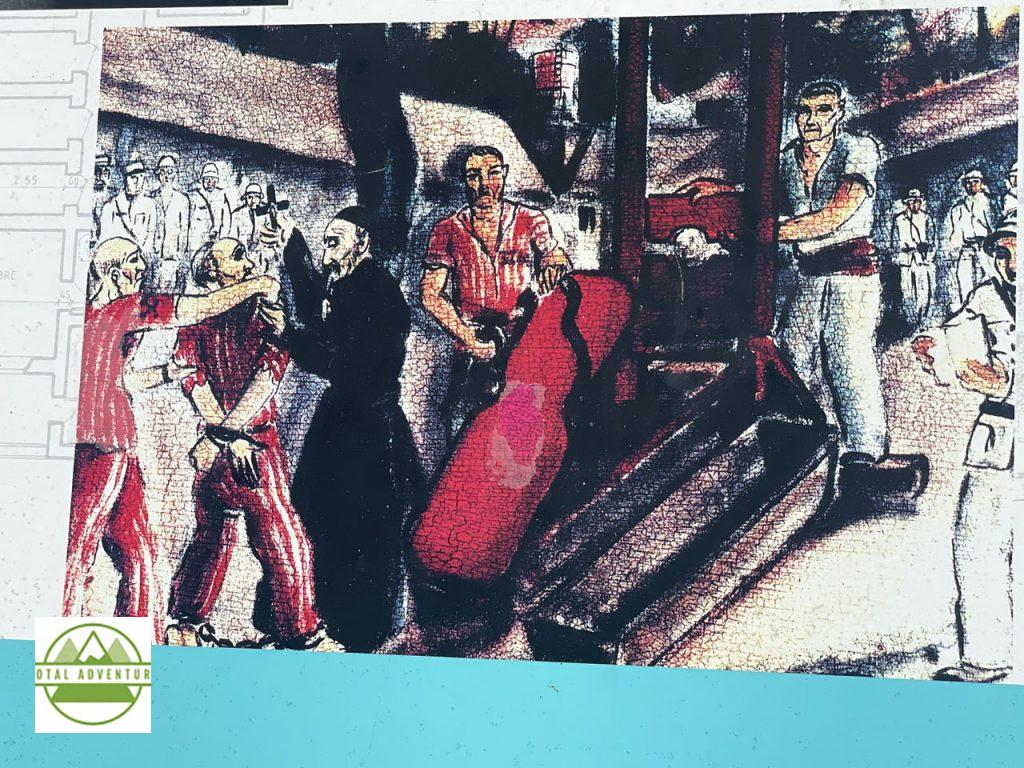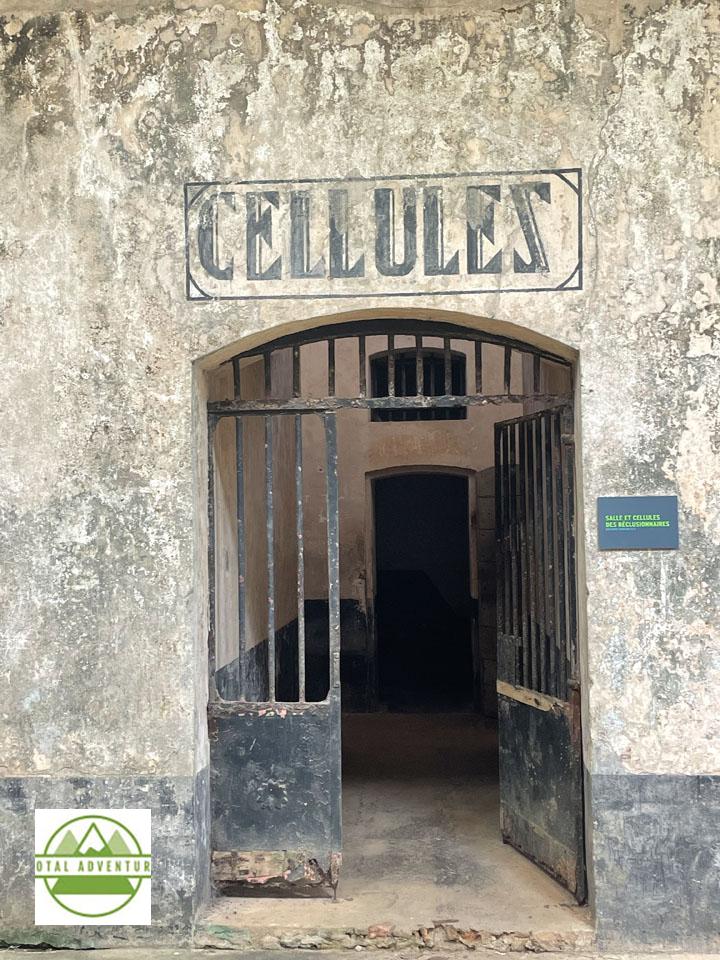 The solitary cells were the end of the line. Total seclusion in darkness and silence for up to five years. For attempted escape, the punishment was 2 years first offense , five years for the second – to be served in addition to the original sentence.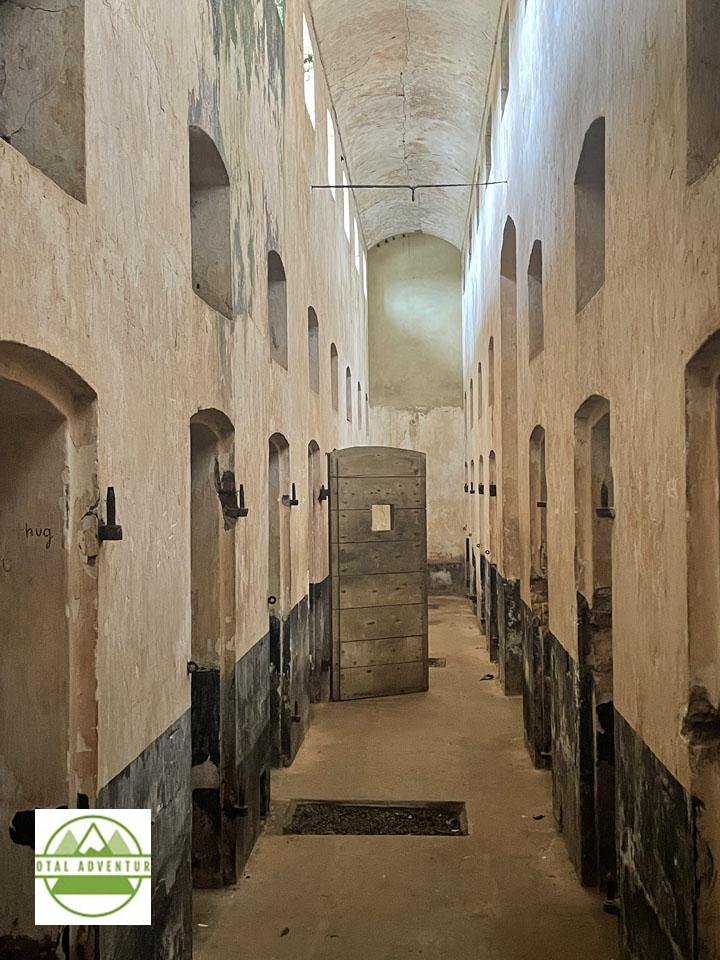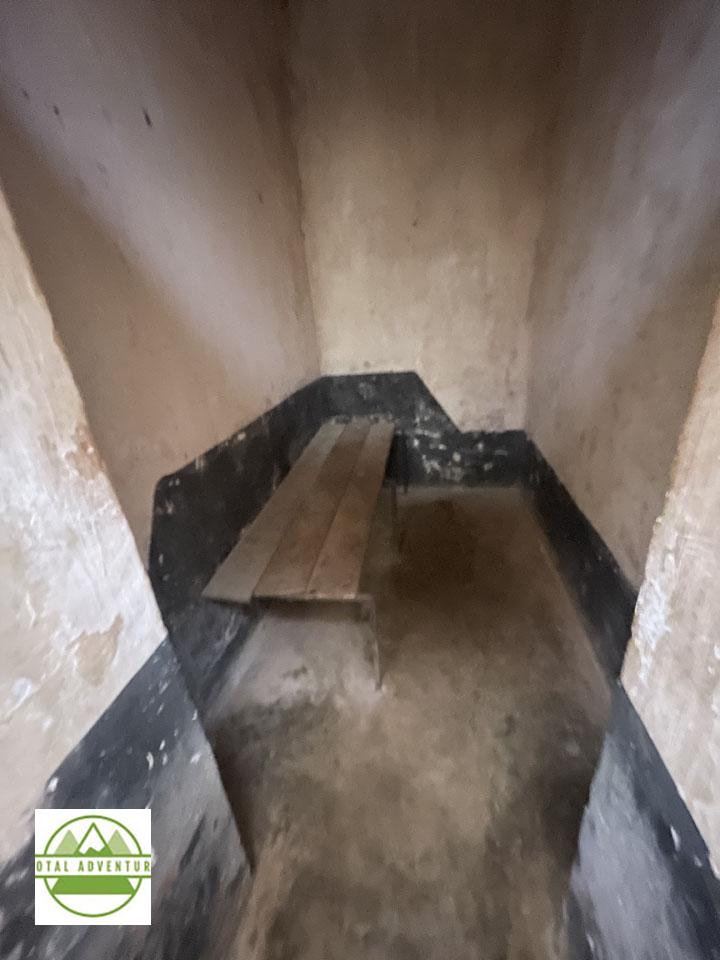 Three slats of wood for a bed. No lying or sitting for 15 hours of the day – only standing or pacing. Food was a soup or gruel with a minimum amount of calories to sustain life – reduced by half for violations. No talking, no reading material. Many went mad.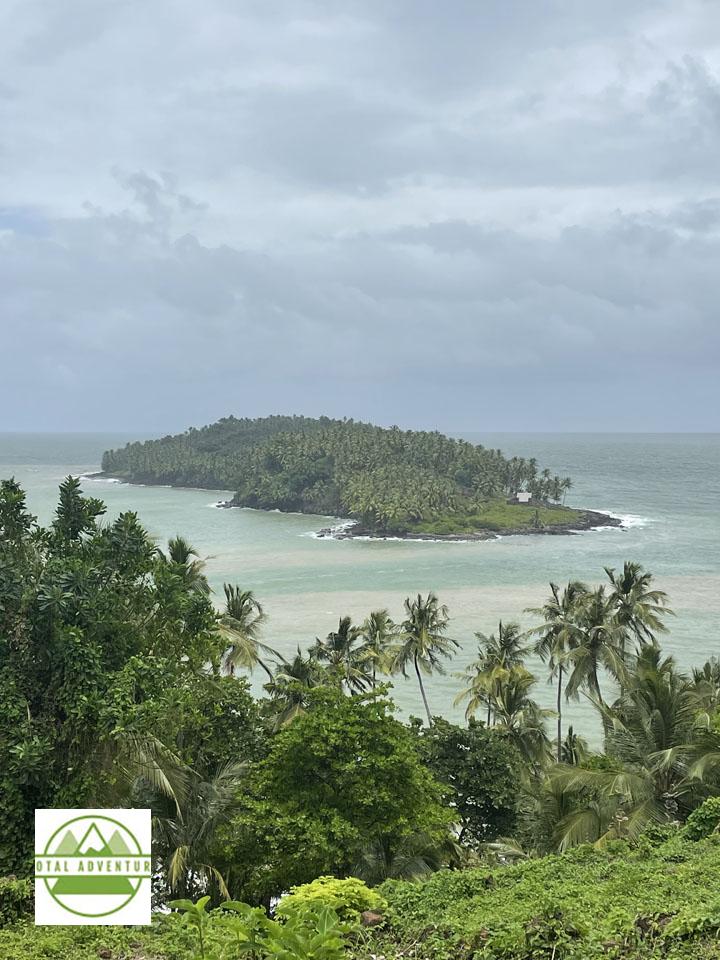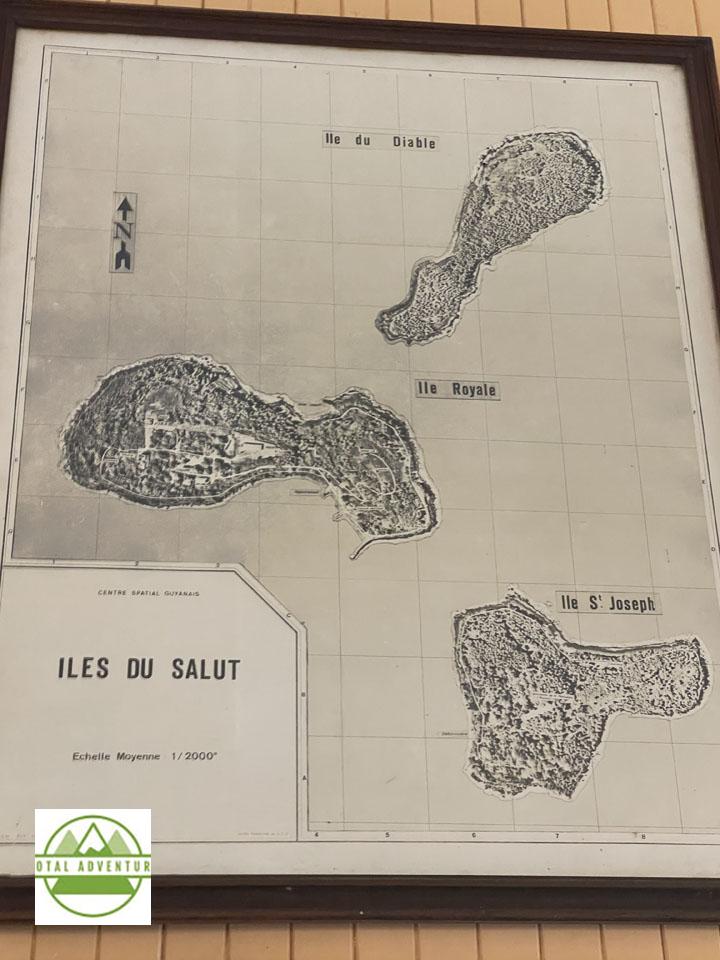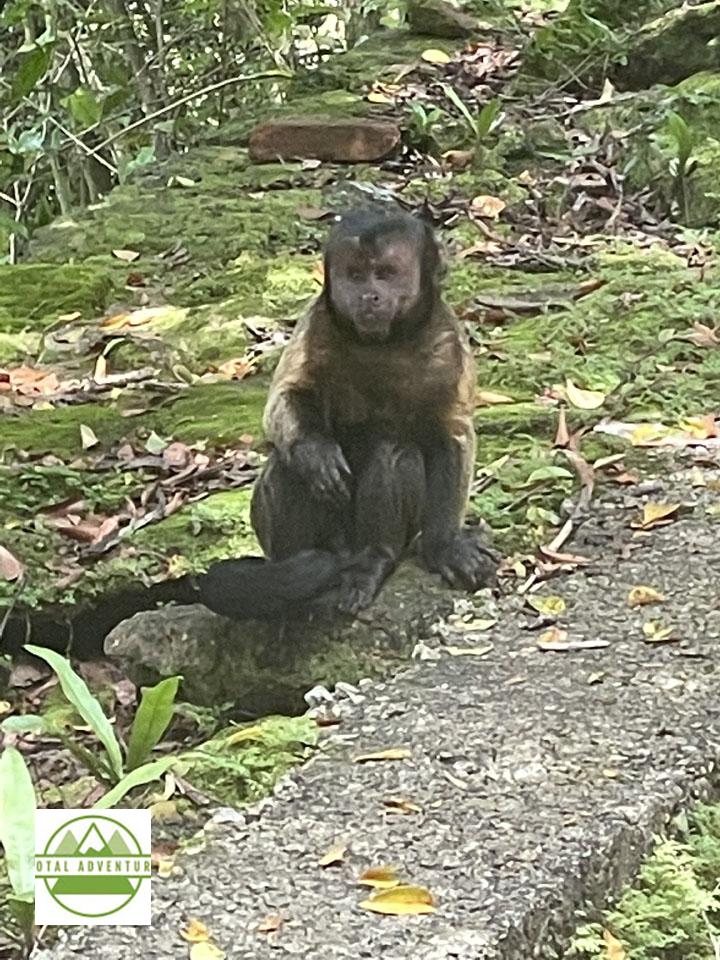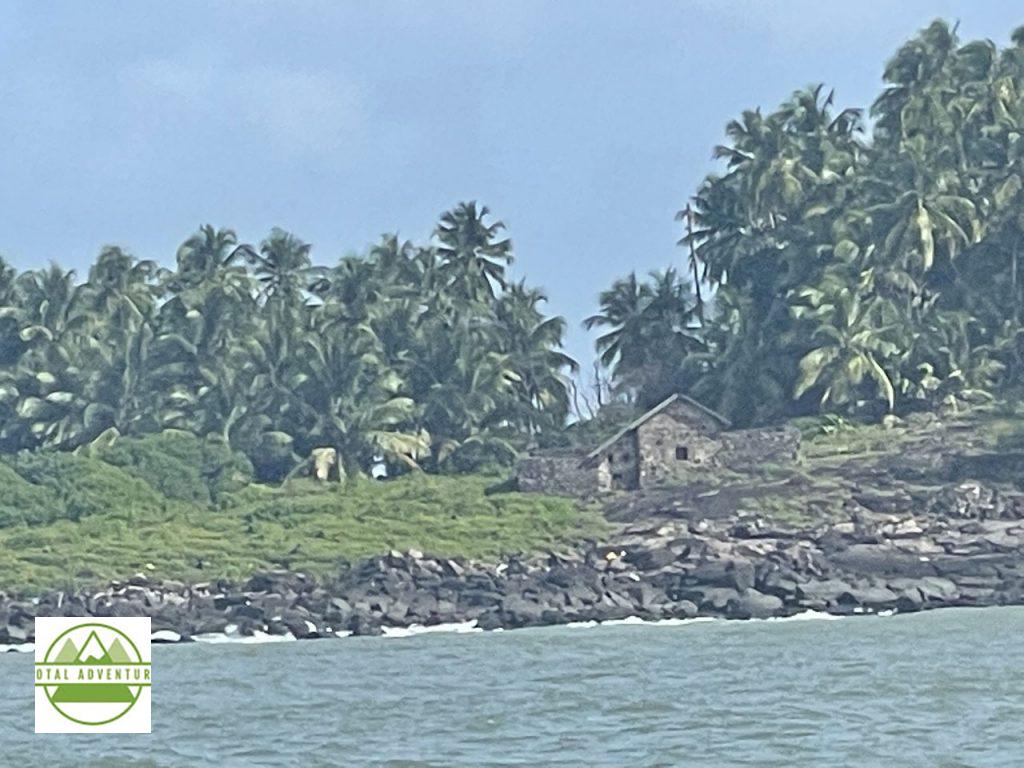 From the islands we returned via catamaran, with jolly French vacationers to Korou – site of the European Space Program. Then back to Cayenne for the evening. TotalAdventure then rose at 4:30 AM, took the van to St. Laurent for a mandatory covid test for both Suriname and the USA. Having missed the ferry, I crossed the Moroni by motorized pirogue to Albina where my Suriname driver was waiting. Back to Paramaribo for a delicious lunch and a 1 AM flight back to Miami.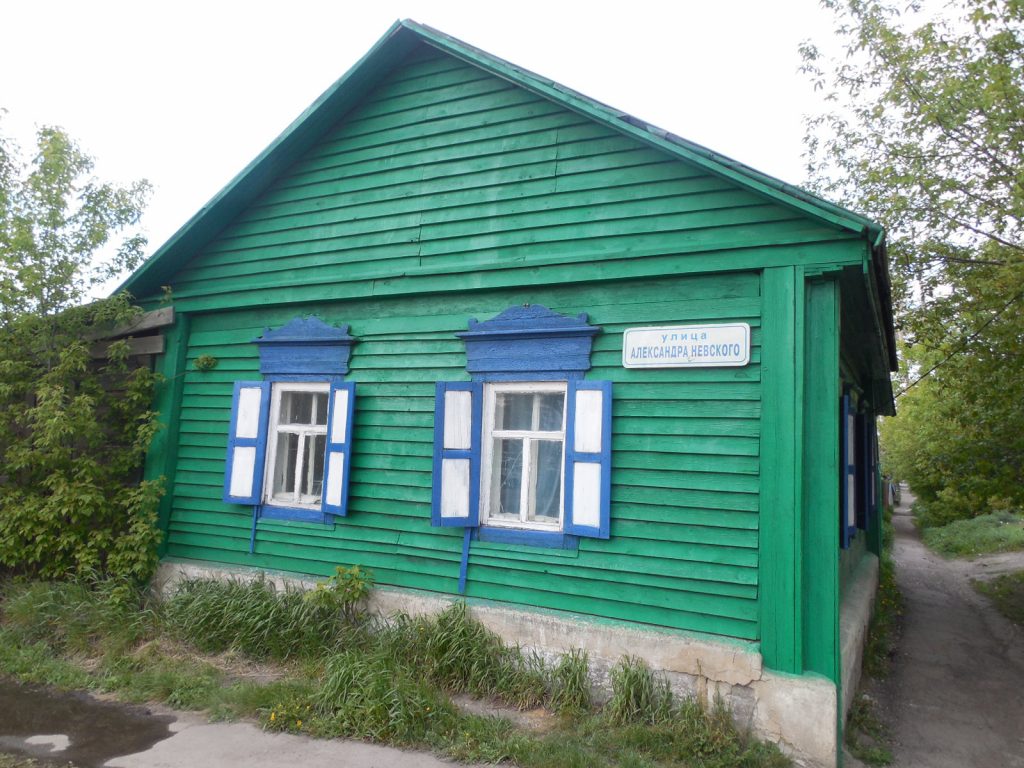 TotalAdventure has promoted adventure tourism all over the world, as a way for people to get to know each other's cultures , without divisive politicians getting in the way. Indeed the last several years have been tough with the " War on Travel" first instigated from the USA , then COVID restrictions , literally shutting down the whole world. Just as things were looking up, war began.. Until 3 weeks ago, TotalAdventure offered about 25 amazing trips , many in Siberia, Altai and even in Kamchatka. For obvious reasons they are temporarily not on offer. In addition, transport to the starting points is quite difficult , if not impossible. Governments themselves do not suffer, but the wonderful people whose lives depend on tourism , along with their families, will suffer greatly. With the cessation of hostilities we hope to offer these incredible voyages again soon. From TotalAdventure's 1993 trip to the Russian Far East – vestiges of a more hopeful time – Please read and watch the video here at Russia's Wild East.
It's not easy being an adventurous spirit but living confined to the city, so today, October 8th, 2021, I am starting my 3 days snorkelling-intensive trip in the Galapagos Islands with a tailored-made itinerary.
I visit the islands as much as I can, but each new occasion makes me feel like I'm a privileged alien who is on a mission to discover an entirely new world, not ruled under the normal laws of biology.
This time, I have coordinated my hotel stays, meals, and snorkelling tours with Andean Travel Company. The rest of the adventure is up to me, so here we go!
Yesterday I arrived and took the afternoon at leisure to explore Santa Cruz island's amazing white coral beaches where flocks of iguanas defiantly stare at you and block the way. The world's only marine iguana is endemic to these islands.
I'm staying in a hostel in the middle of the bustling, colourful town of Puerto Ayora, one of the three urban centres of the archipelago. I would very much prefer this whole place to be inhabited, but people have been driven to these islands by the promise of economic success for decades now.
I was picked up by my guide and we walked a couple of blocks towards the dock. We embarked on a speedboat to Seymour Island.
I was provided all the necessary equipment and went directly to business (after listening to the guide's directions). My very first sight was a group of whitetip reef sharks cruising between the low basaltic cliffs below me. I did not expect that my first animal observation would be this quick and thrilling!.
Colourful fish such as the king angelfish, boxfish, and parrotfish swam around, and I got lost in thought admiring them. A strange sound brought me back to reality. It was as if small missiles were being shot… It was the sound of blue-footed boobies and pelicans plunge-diving at enormous speeds to catch fish!
These daily snorkelling tours provide lunch, and I'm grateful for that, as it is a very energy-intensive activity.
In my second swim of the day, I spotted one of my favourite marine animals, the black-botched ray. It looked so elegant with its perfectly aerodynamic platform and majestic in its cyclic underwater flight. I also hoped to see a scalloped hammerhead shark, but they are difficult to find, so let's see what happens tomorrow.
Today, October 9th, 2021, I'm heading to one of Galapagos' most iconic landmarks. Pinnacle Rock on Bartolomé Island. Located northeast of Santa Cruz island, 2 hours away in a boat, this is an immense spearheaded obelisk rising from the ocean. We disembarked on the appropriately named Golden Beach, and from there I started swimming into a shallow cove full of precious coral formations and reef fish.
During my time inside the cove, however, my mind was obsessed with swimming around the massive Pinnacle Rock itself. We got there in due time, along with the rest of the group and the guide. (No matter how good of a swimmer you are, when snorkelling always stay close to your group!)
At the underwater intersection where the sea bottom becomes a cliff, I found spectacular lava formations, where reef and Tiger sharks were accommodated inside natural galleries. Swimming ahead, I found medium-sized sea lions who adventured so close to my face that I actually got a bit scared. I tried to make as much eye contact as possible with them, and it's a tender sensation that I will never forget.
To finish off this day perfectly, we spotted the endangered Galapagos penguin standing on some rocks above the water. An Antarctic bird in these warm waters is certainly an unexpected sight, but they are one of the best examples of the unique animal adaptations happening on these islands.
Day 3! I cannot believe that today is the last of my snorkelling trip. We navigated northwest to Santa Fé Island. The area destined for snorkelling was well-protected from open sea currents, so my first thought was that this might be a smart choice for beginners. These calm, shallower waters, however, delivered generously.
Fluorescent blue chin parrotfishes, yellowtail surgeonfishes, and pufferfishes swam around the turquoise waters, and sea lions made me close company again. I really felt as if these boys knew that I was on a mission, and decided to escort me to the right place. To the open waters where the scalloped hammerhead sharks finally decided to reveal themselves. What an amazing creature, a perfect example of the ambitious effects of evolution. Its distinctive, enormous head works as a sensor that has yet to be explained by science. I couldn't have asked for a better ending to this trip.
Thank you, Galapagos! May we be able to do enough to preserve your treasures!
The Highway From Asmara To Massawa Drops Over 8000 ( 2500m) Feet In Just 100 Kilometers. We left early morning temperatures not far above freezing arriving to close to 90 ( 32C) on the coast.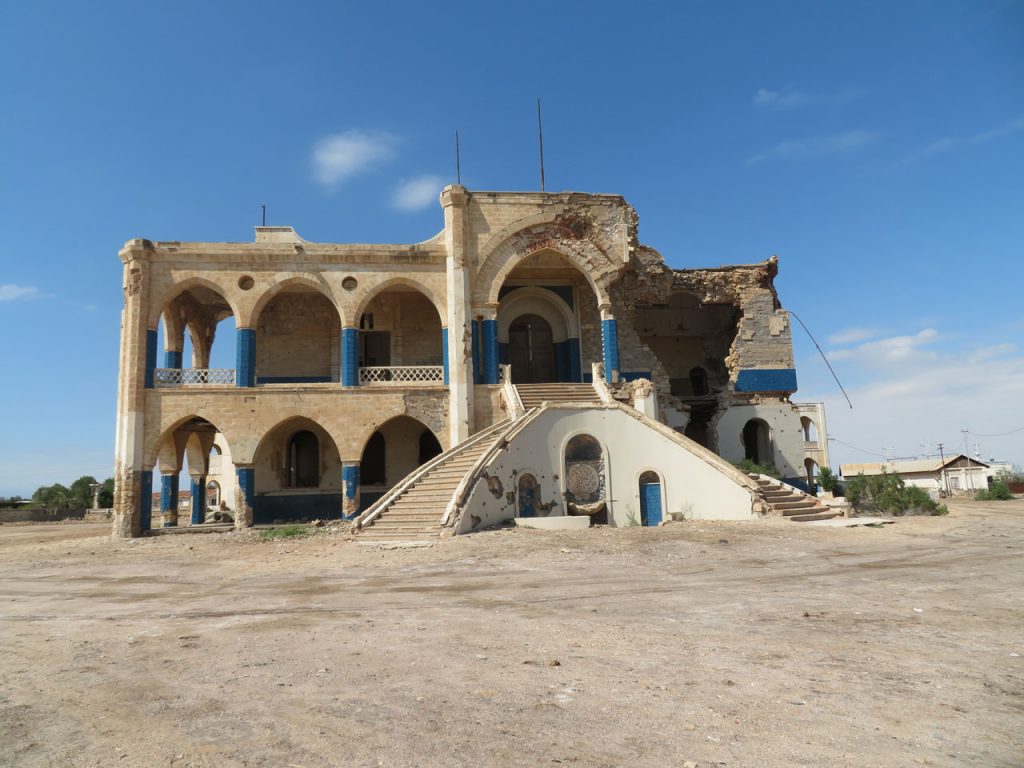 At the entrance to the city is the Palace of Emperor Haile Selassie. Though he was murdered by the Communist Derge in 1975, his palace continued to be used by officials until it was bombed by the Ethiopian Air Force in 1991, when Eritrea began its' War of Independence. To this day, it is still in ruins, like much of Massawa , in contrast to well preserved Asmara.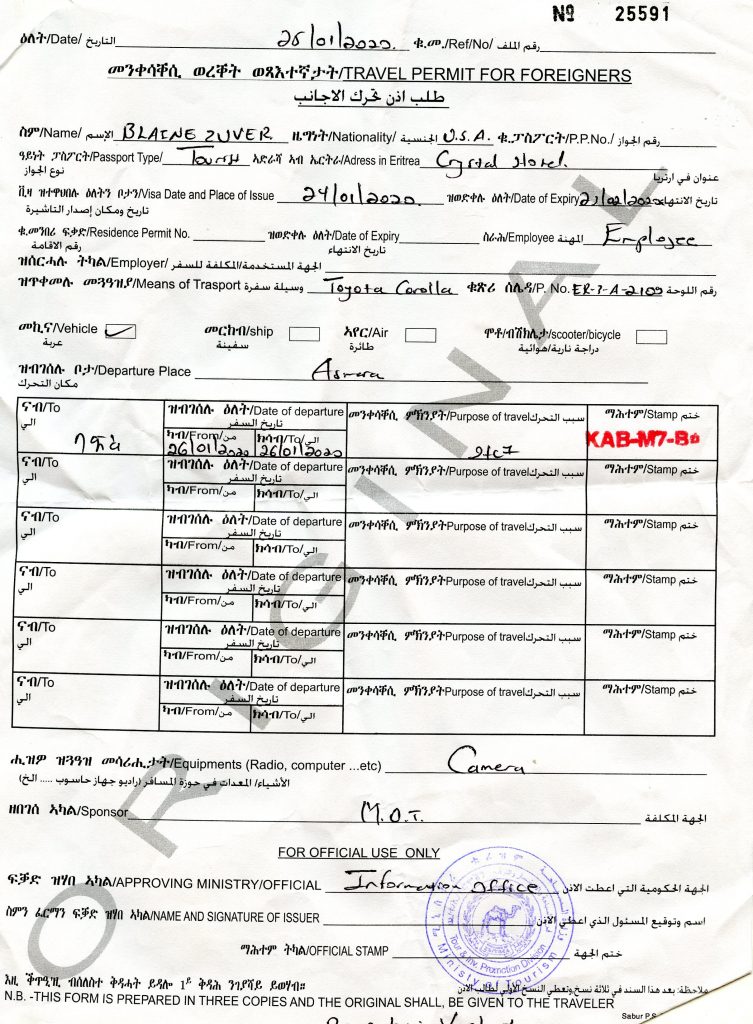 The visa to enter Eritrea is only good for Asmara itself. To travel anywhere else in the county , an interior Travel Permit is required. This took about 2 hours to acquire the day before. One must arrange transport as well. The driver's name and the car's license number are listed on the permit . TotalAdventure passport number deleted for security purposes.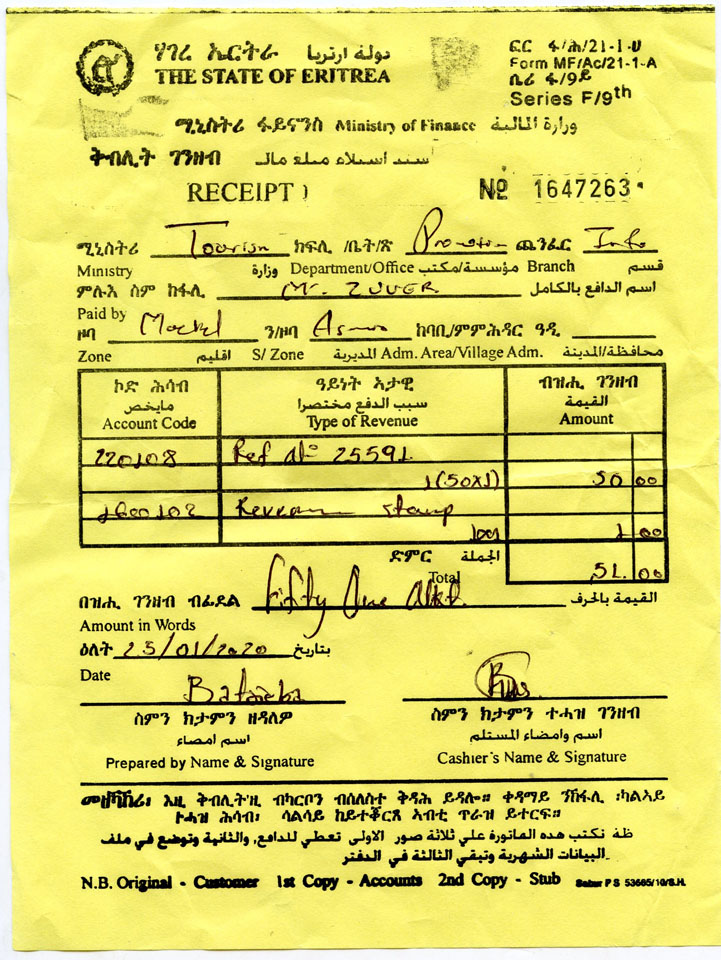 One must carry the receipt as well, to prove that the 51 Nafka ( $3 ) fee was paid.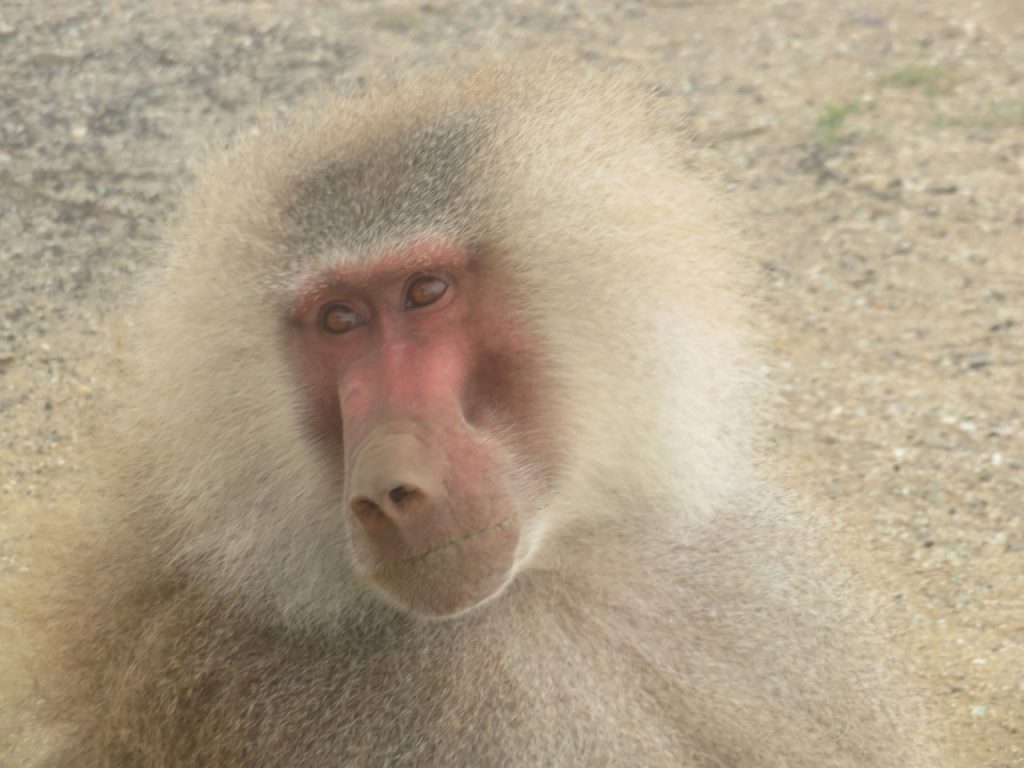 Along the highway there may be toll collectors.Baboons demand bananas in order to allow cars to pass without harassment.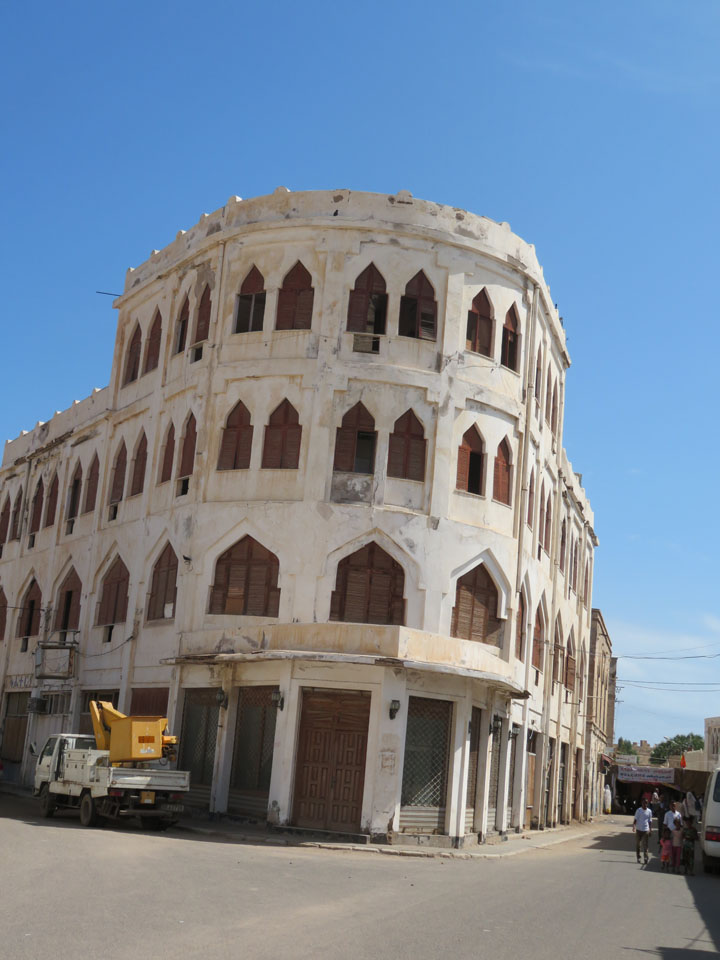 Massawa architecture is more Ottoman than Italian.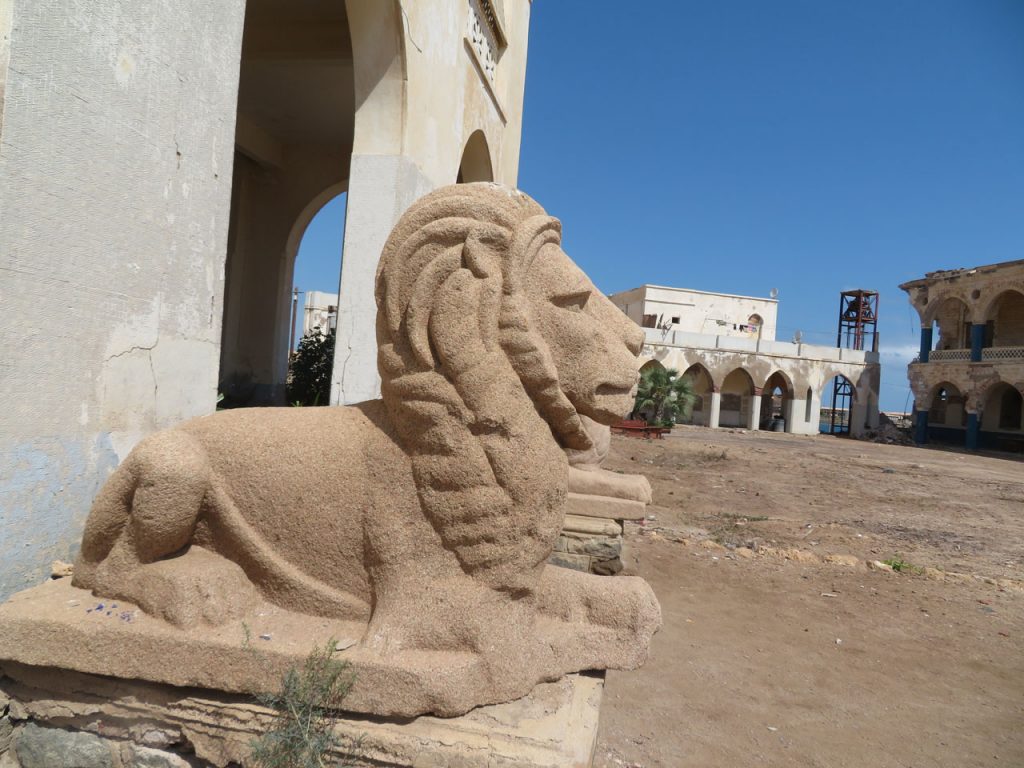 Statuary Of The Lion King.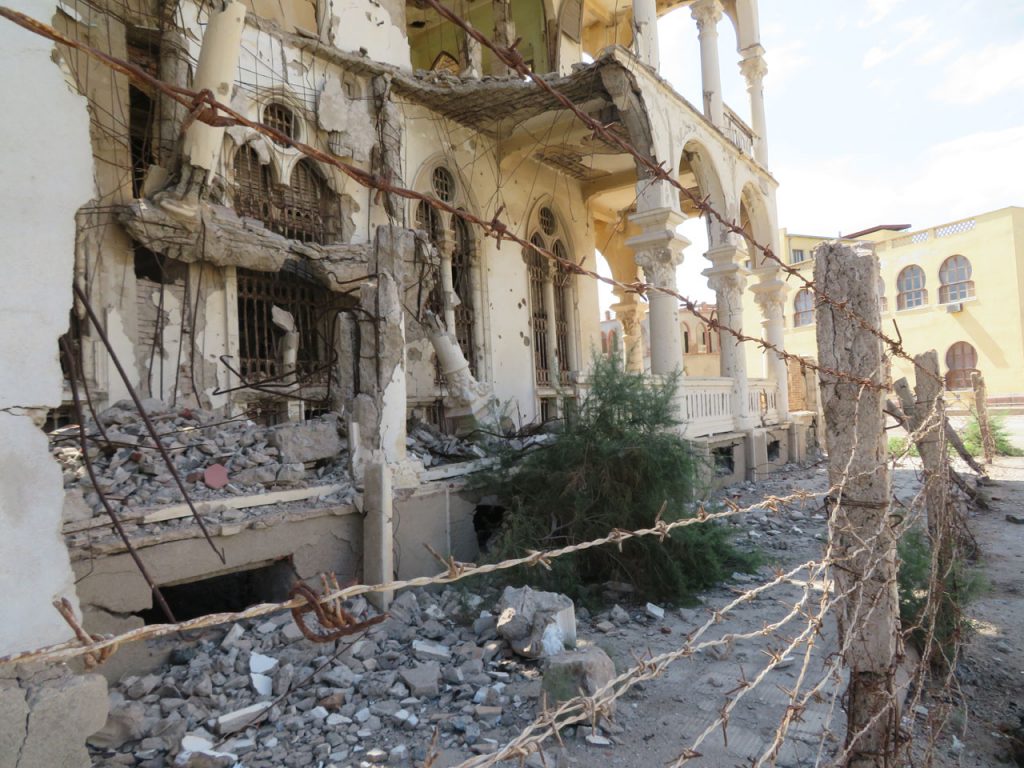 Barbed wire – possible live bombs inside of another palace.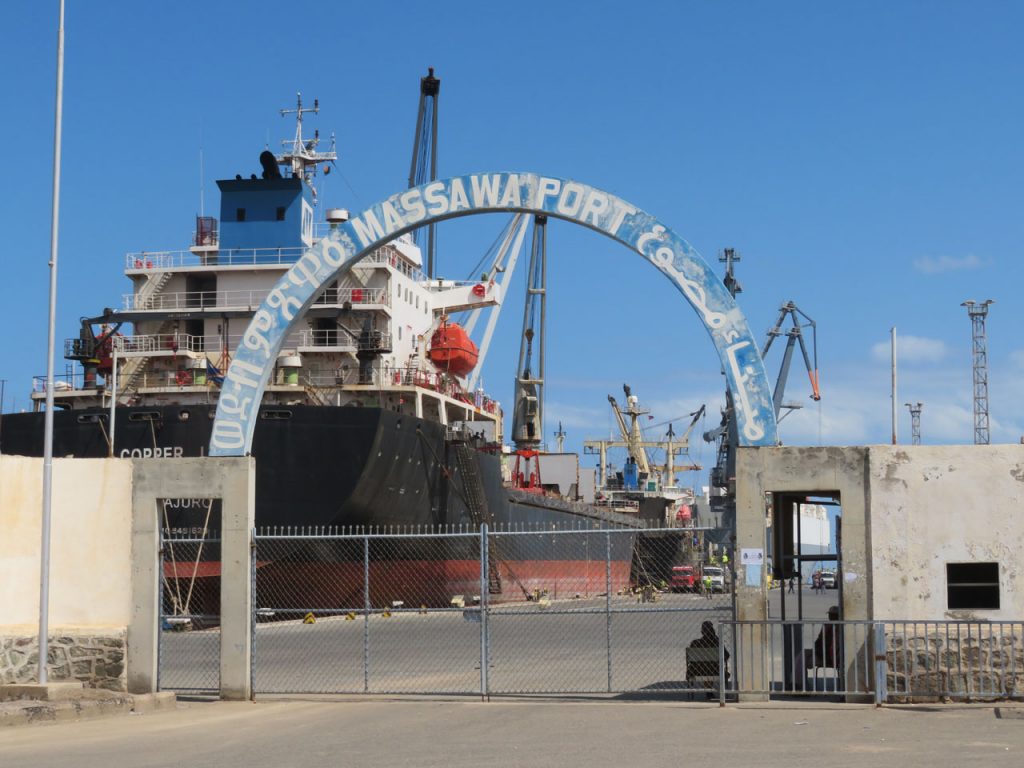 The port on the Red Sea – almost all ships from China.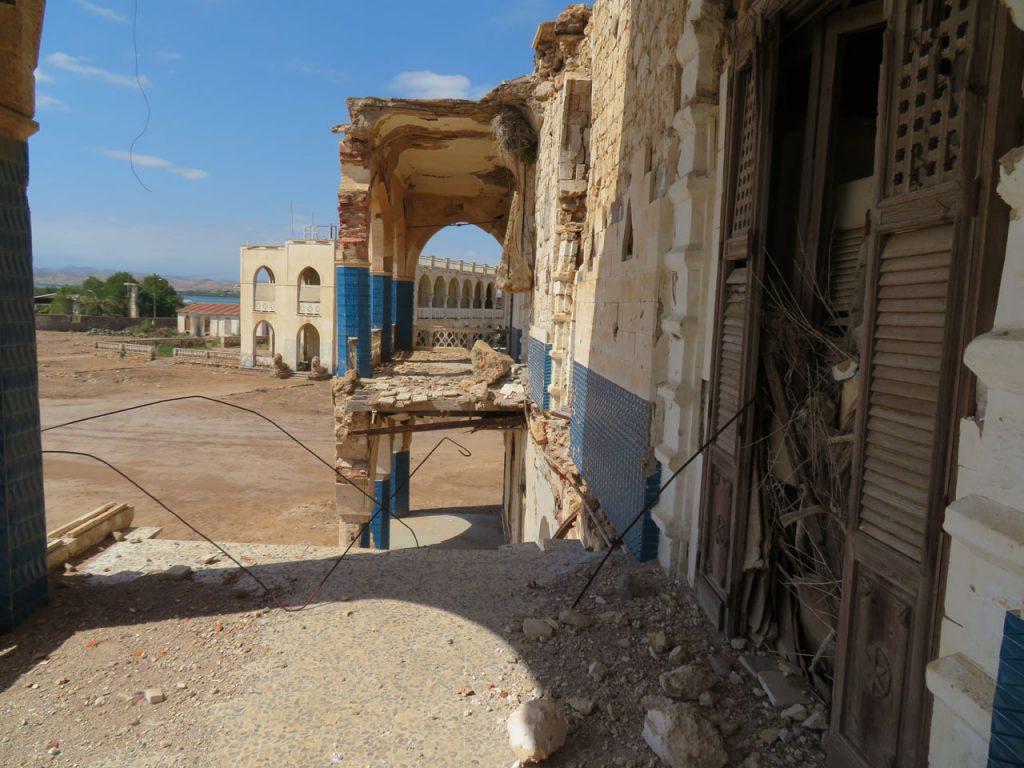 On Haile Sellasie's Porch.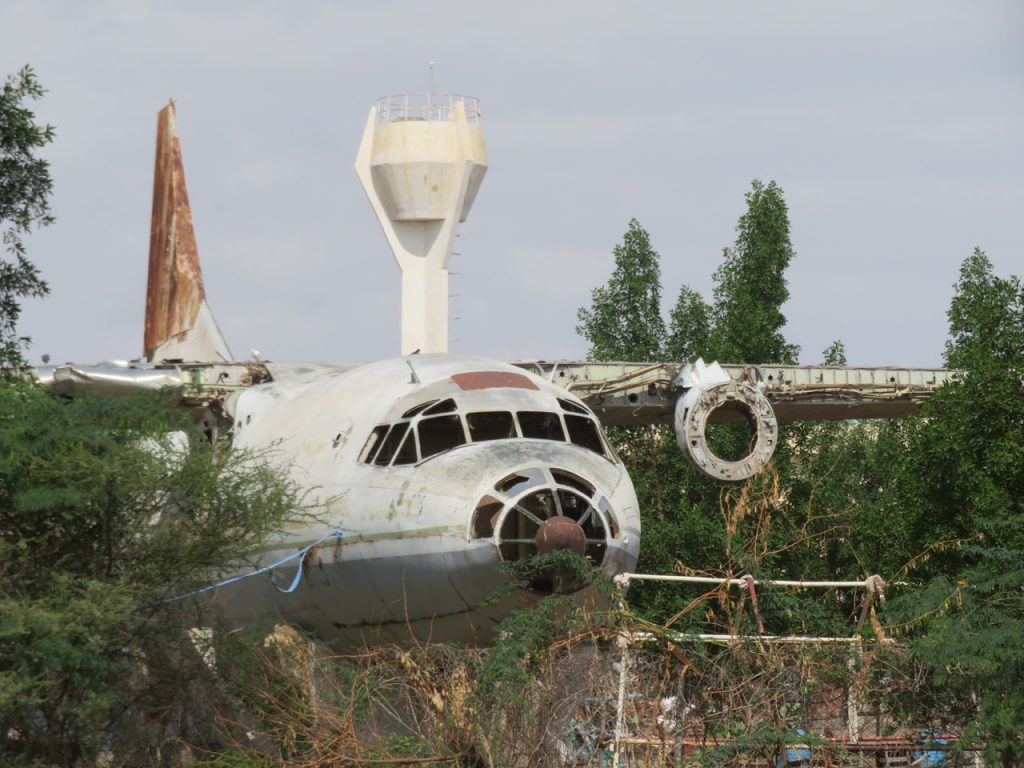 L – 1011 TO Nowhere.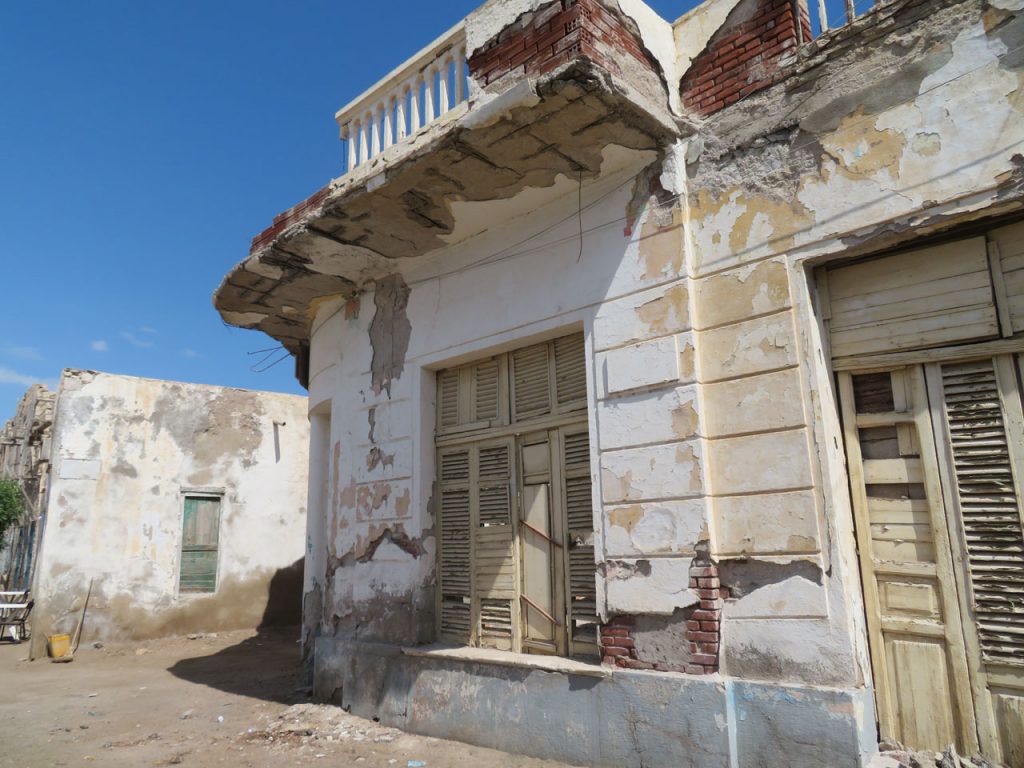 Wartime damage un repaired after 30 years. But people live here.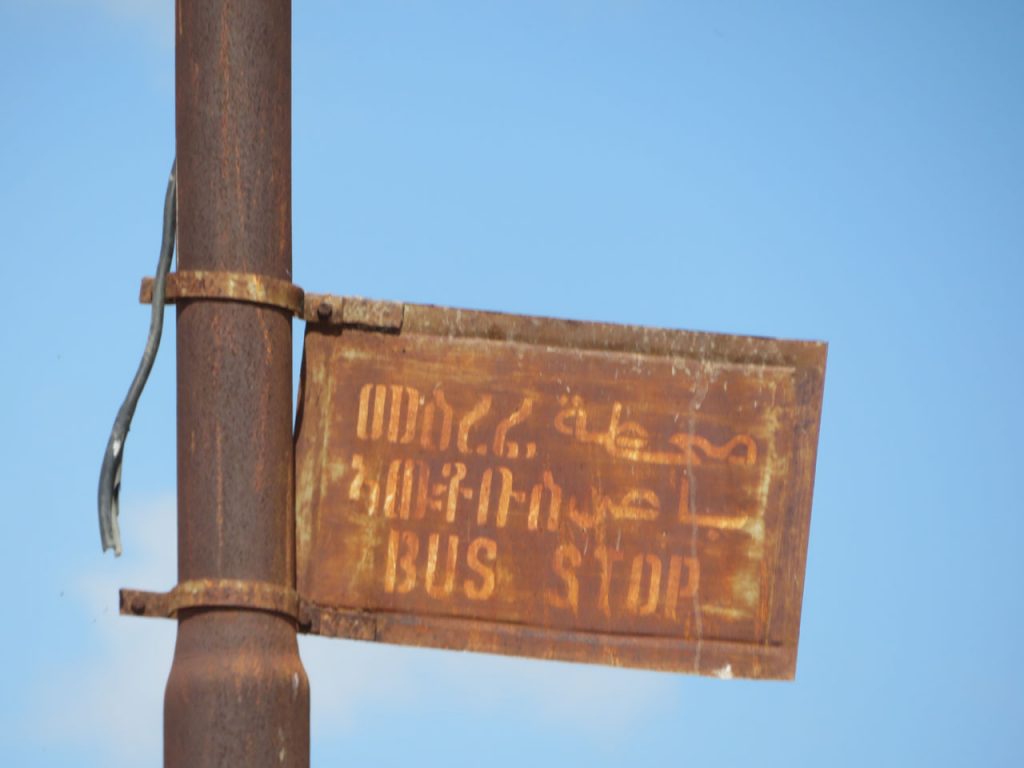 Its' been a long wait for the bus – about 45 years.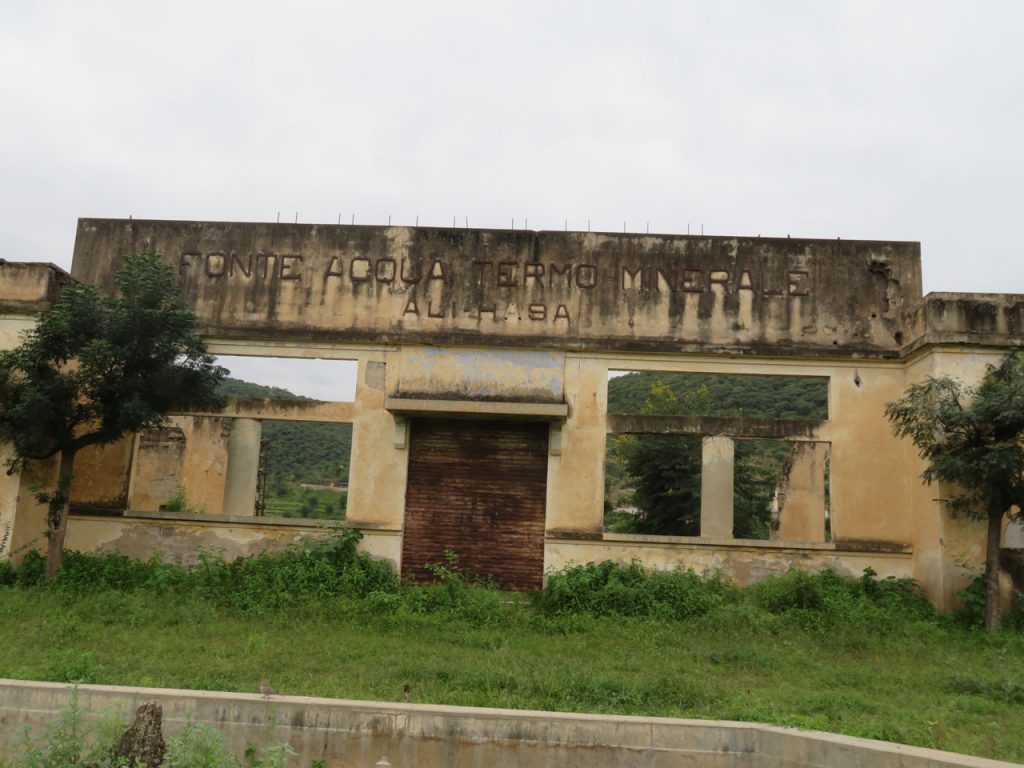 Bottled water plant , shuttered in the 60s.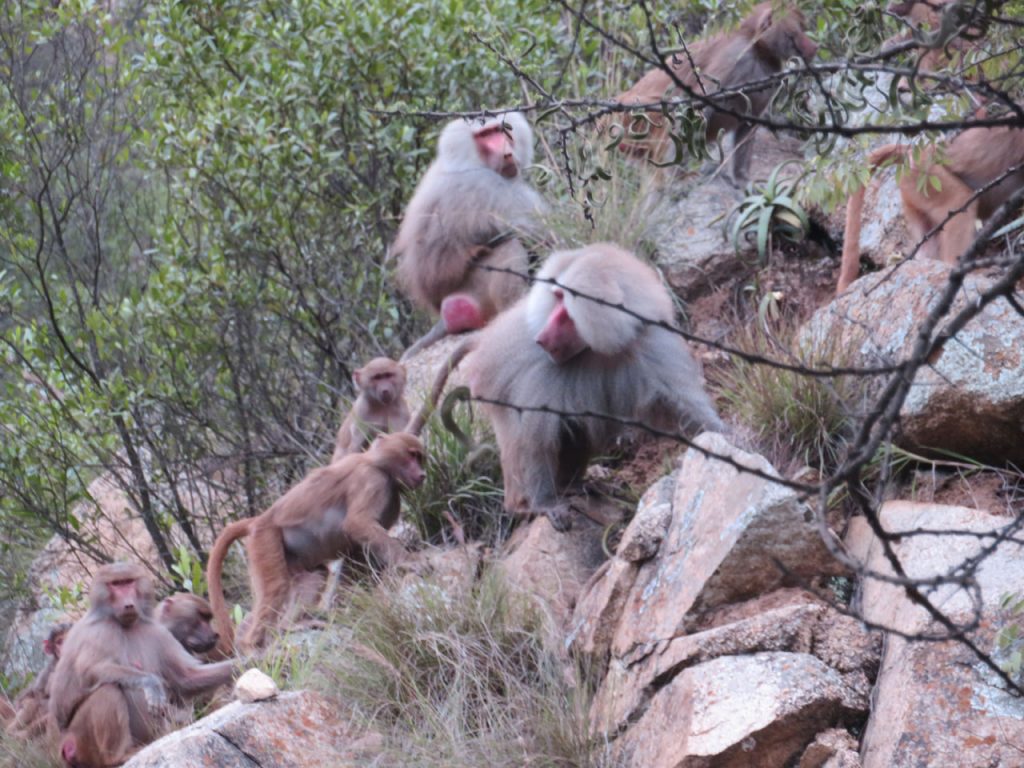 Mothers and Children.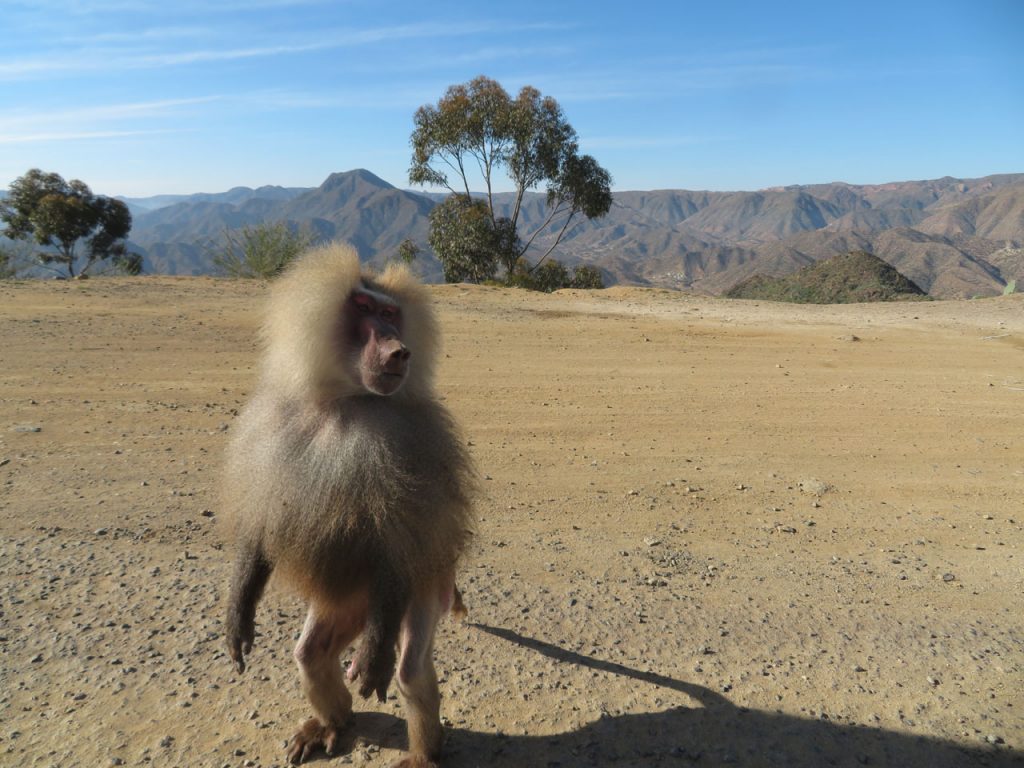 General of the Troop.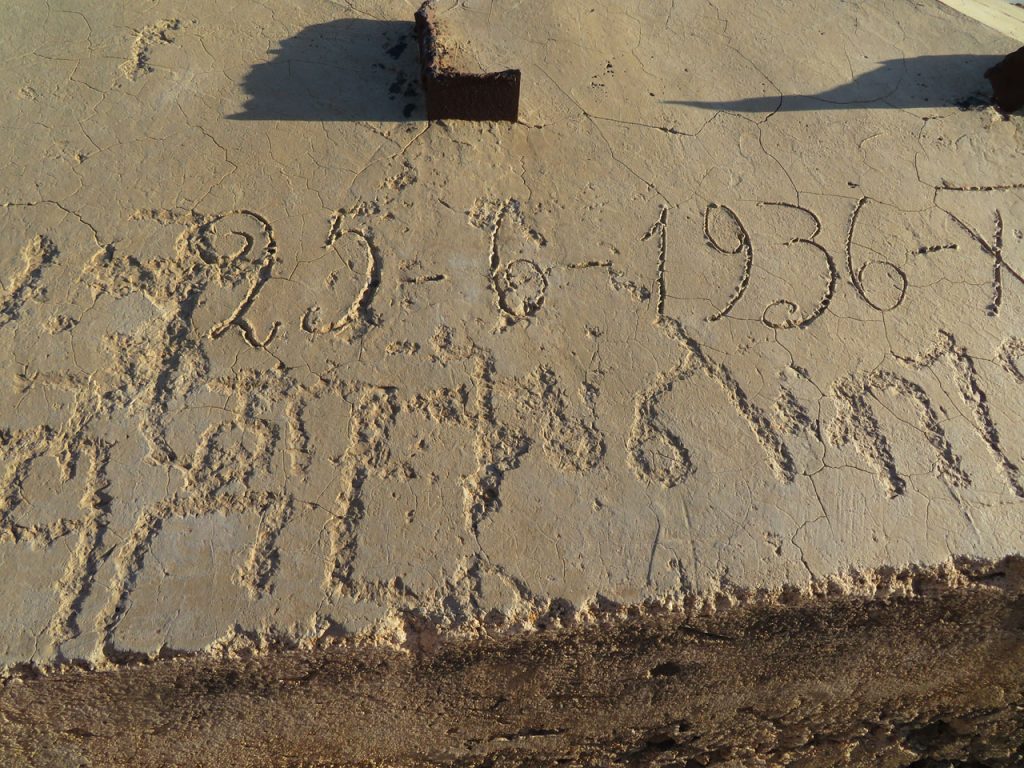 1930's Graffiti.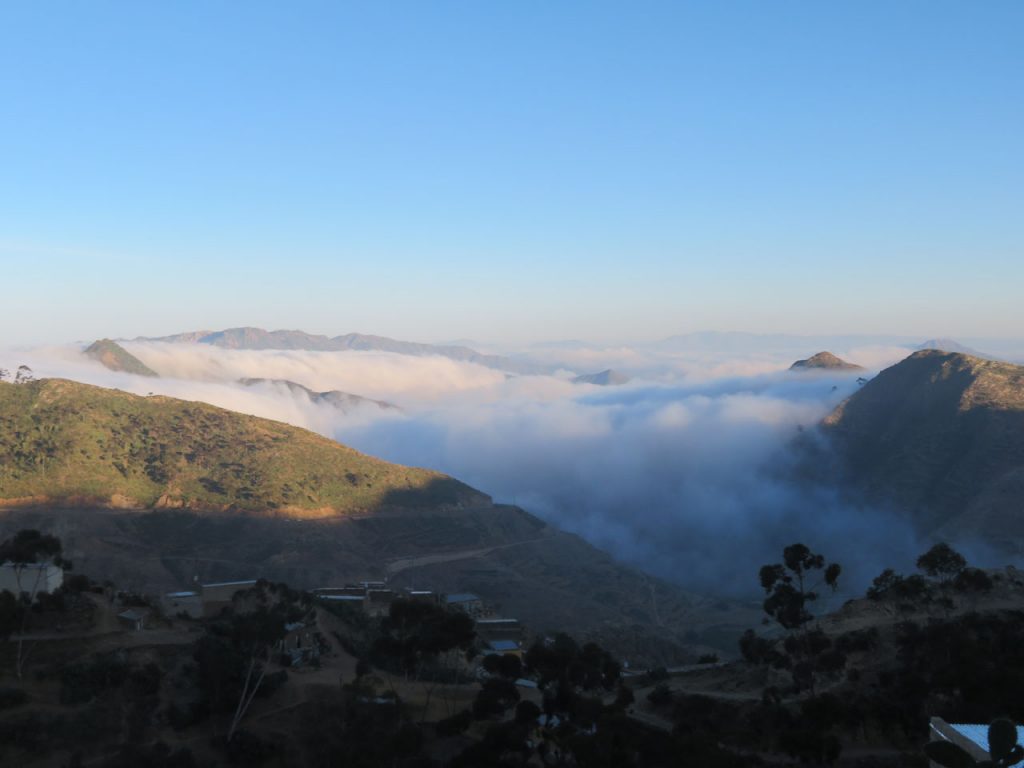 Returning to Asmara – high above the clouds.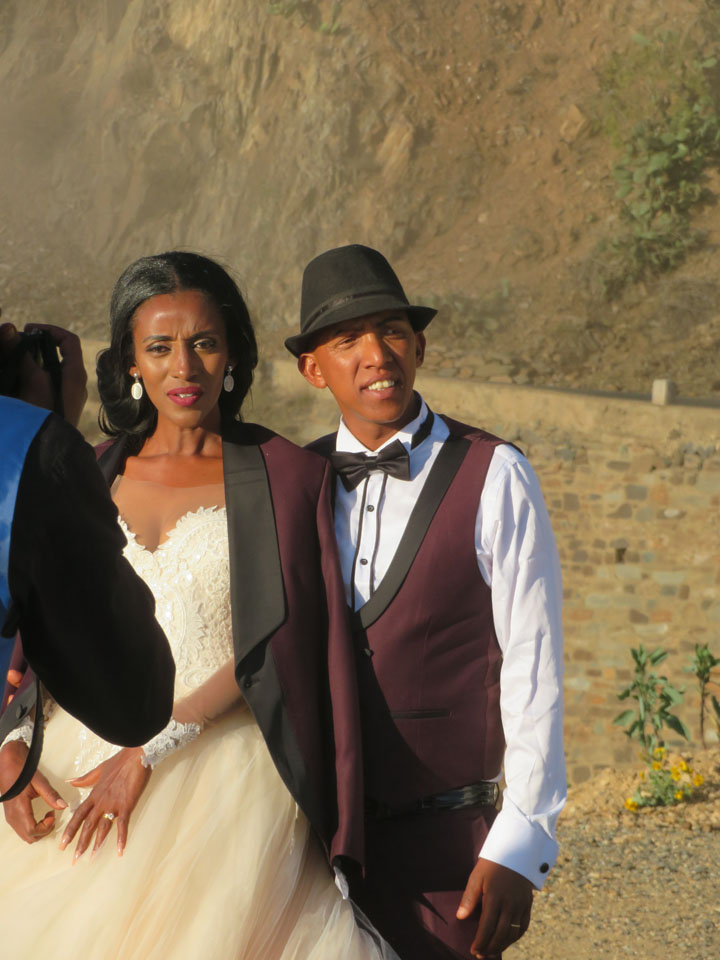 The New Generation Of Eritrea !
From Adigrat, Ethiopia , it is only 77 miles ( 120. km) to Asmara, Ethiopia. However, the border has been closed since it formed at independence in 1991, other than a brief period in 2019. Instead of 77 miles, I flew nearly 800 miles on 2 flights, from Mekele to Addis Ababa and then from Addis to Asmara, including a lengthy walk from.the domestic terminal to the international terminal.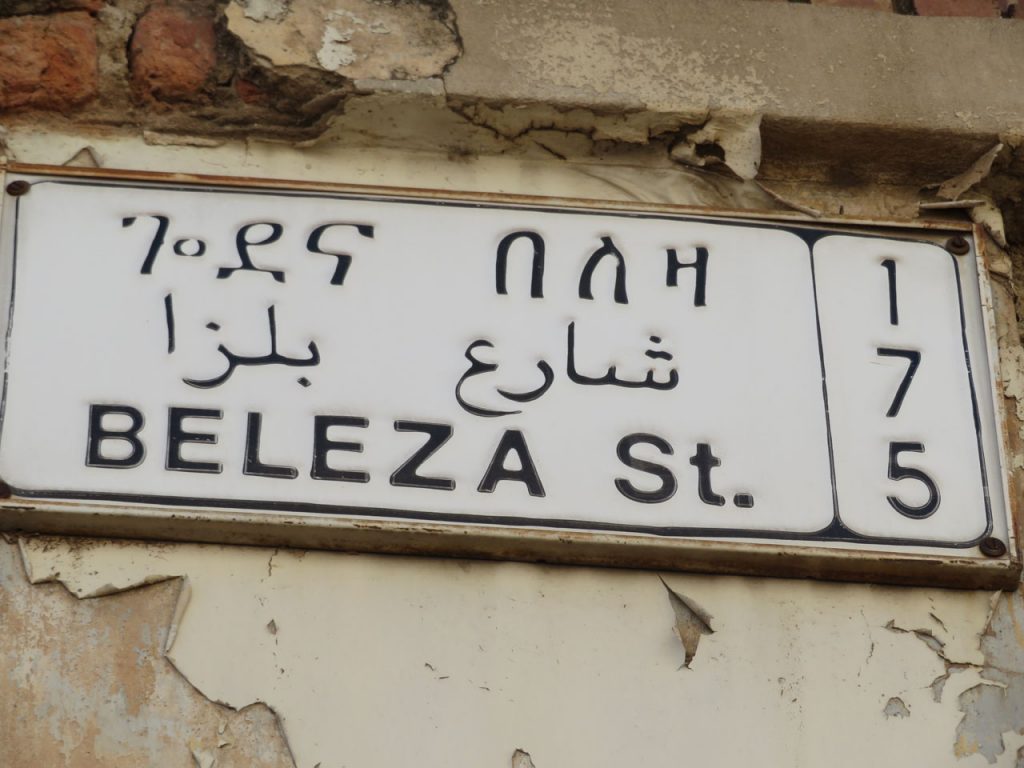 There are 4 major languages in Eritrea – Tigrina, Arabic,I talian and English, and 9 local languages.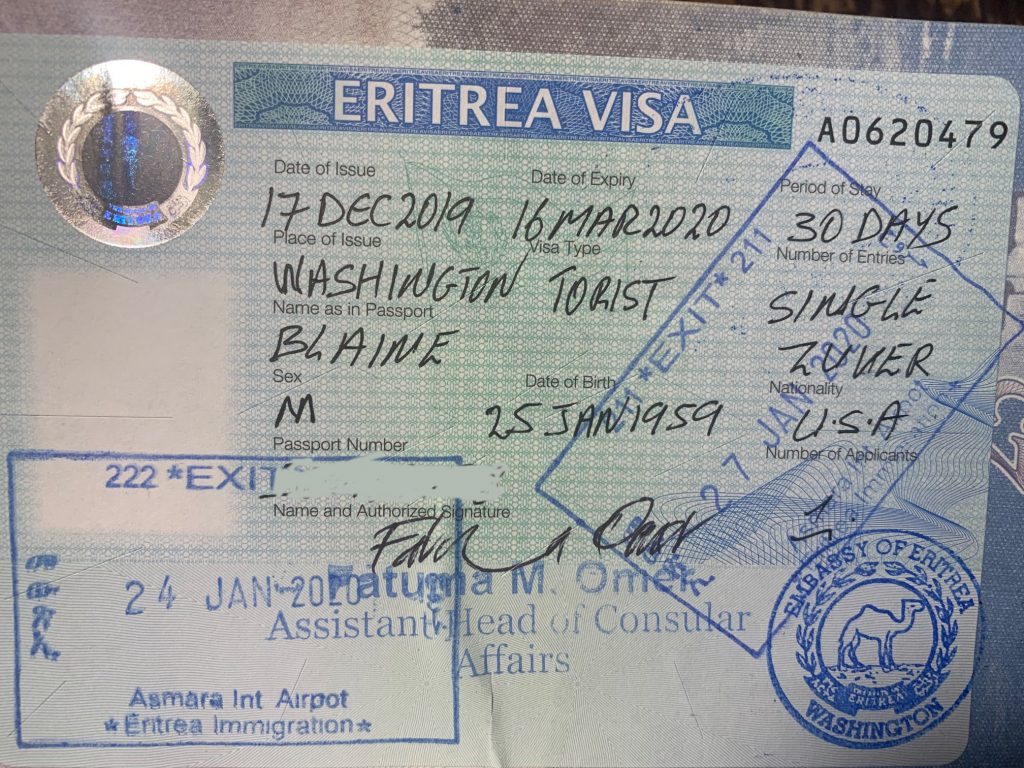 Arrival In Asmara was relatively smooth. Getting the visa is not easy – I actually had an agency in Washington DC handle it, whereas I normally get them on my own. Asmara Airport has flights to Addis Ababa,Dubai,Khartoum, and Mecca.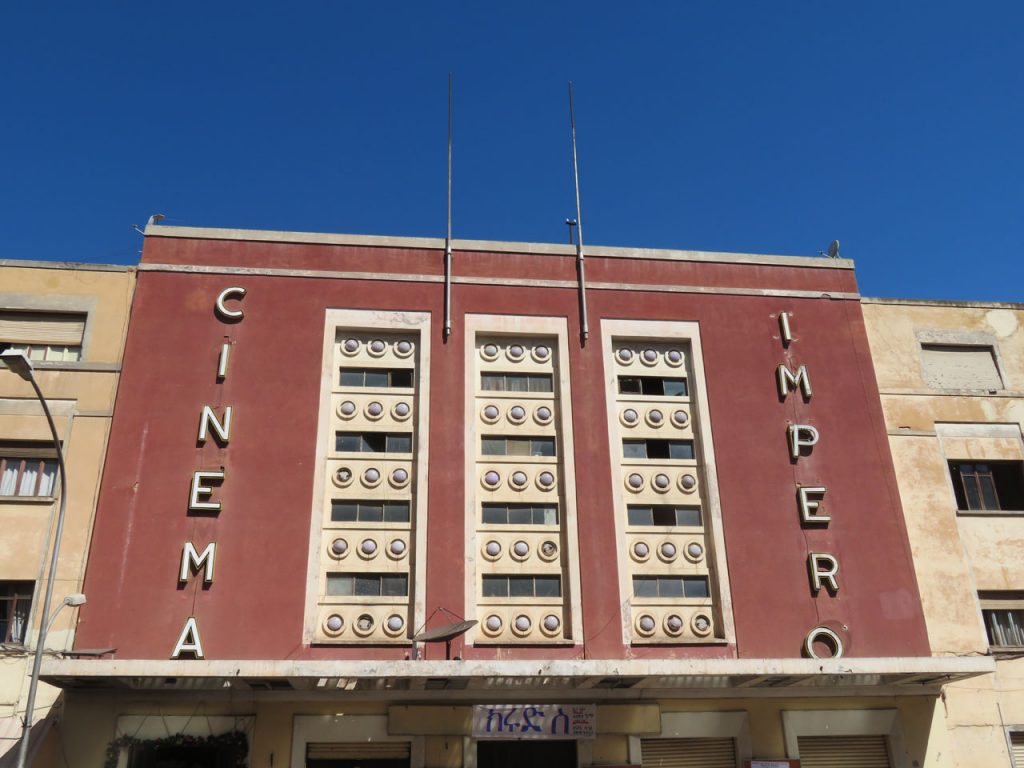 Asmara is perhaps the best preserved Art Deco city in the world. It is a 1930s Mussolini era time capsule.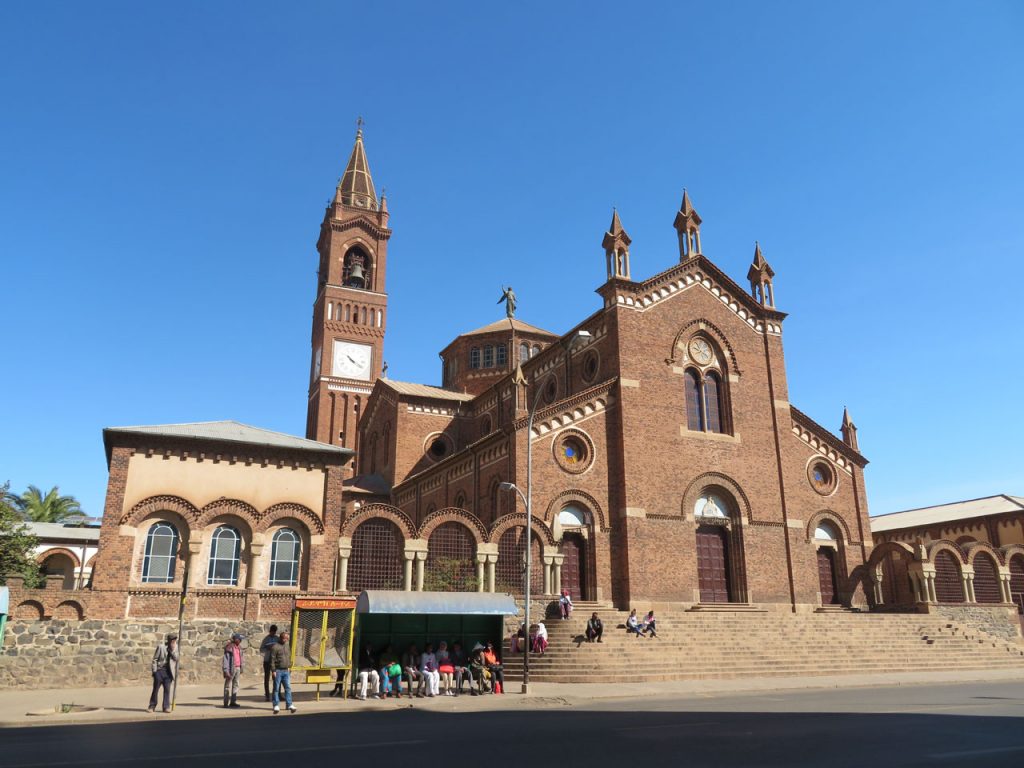 Ave Maria Roman Catholic Cathedral.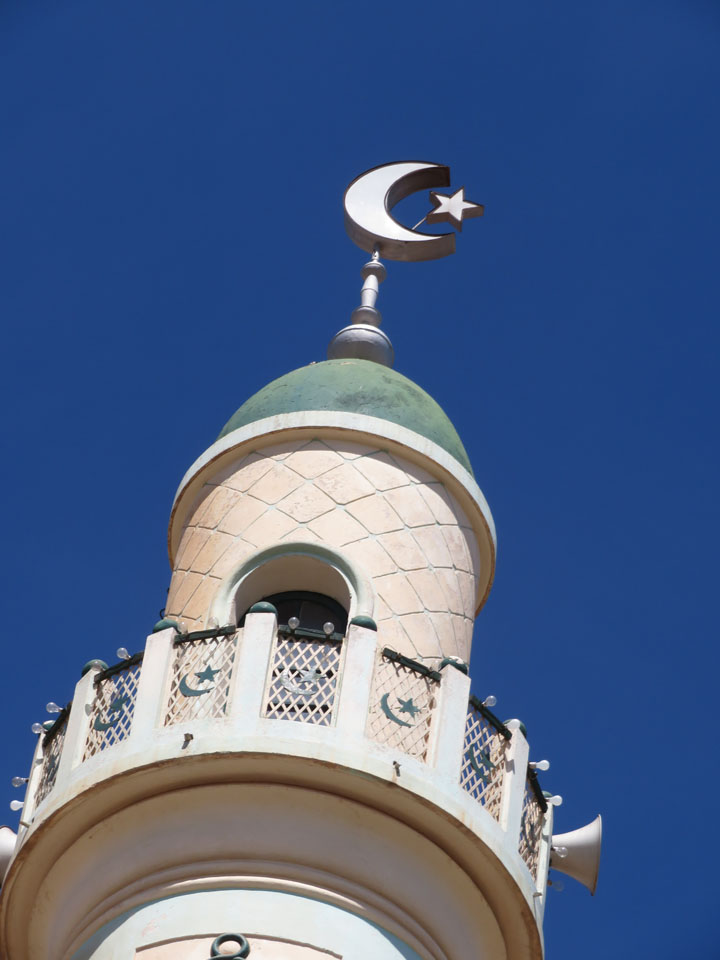 Grand Mosque.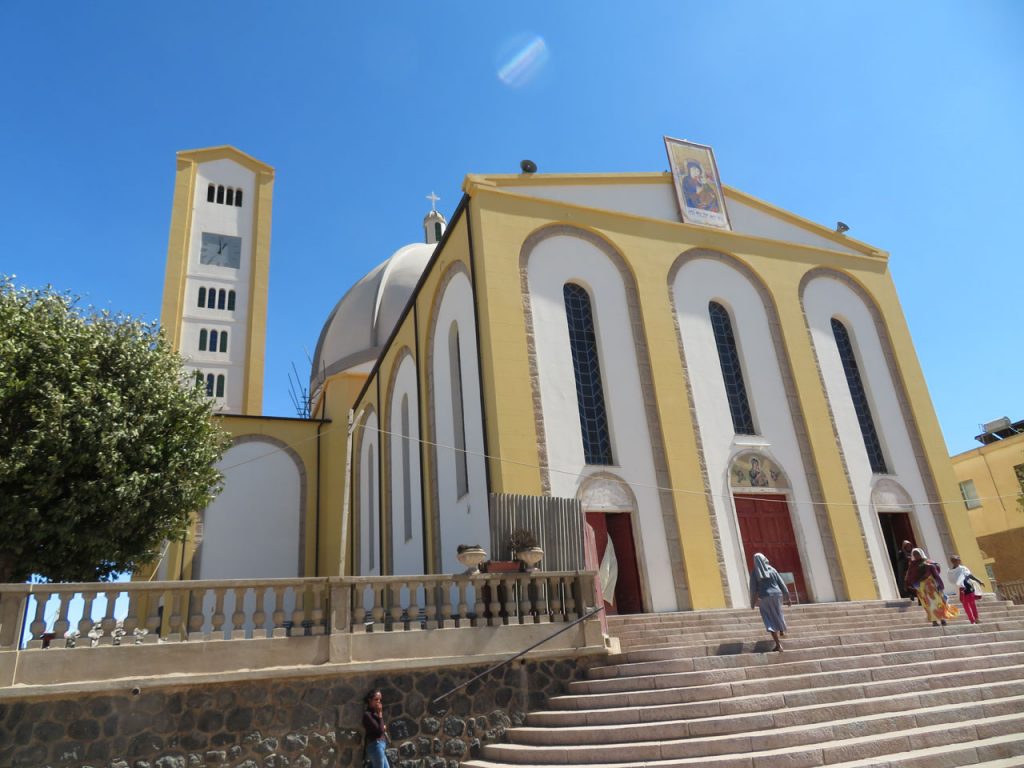 Eastern Rite Catholic Church.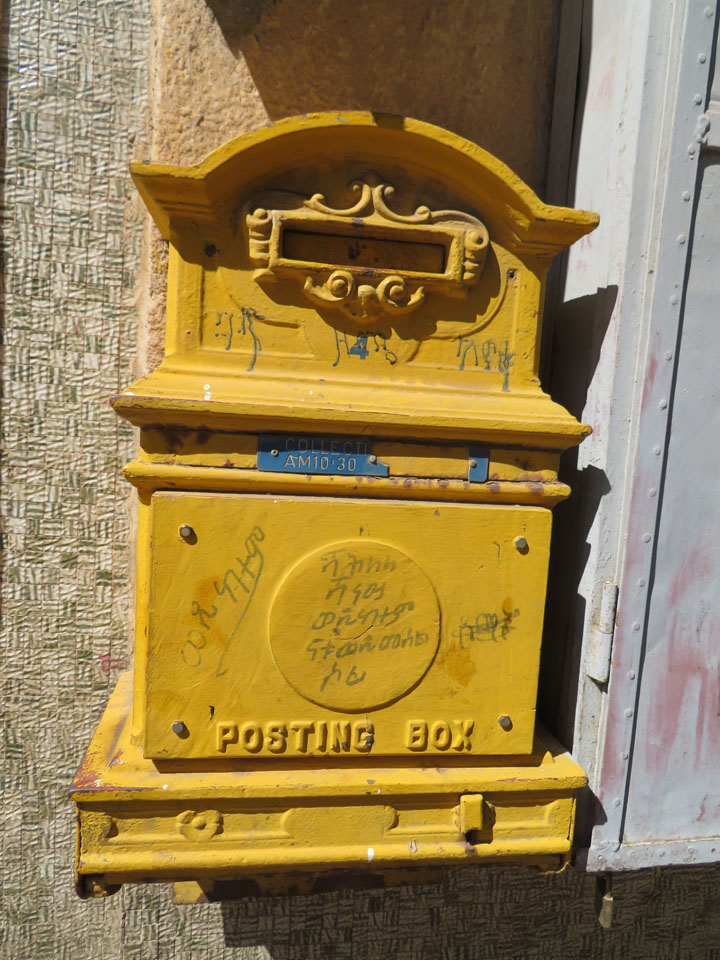 Snail mail is still used as internet is extremely slow. TotalAdventure could not even access What'sApp.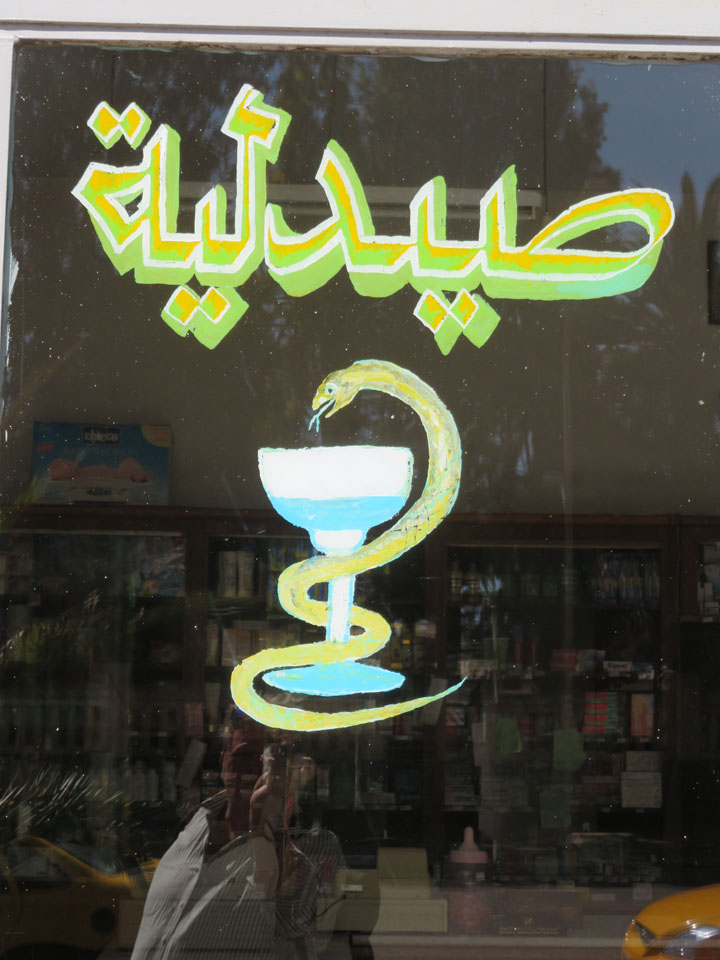 An Apothecary.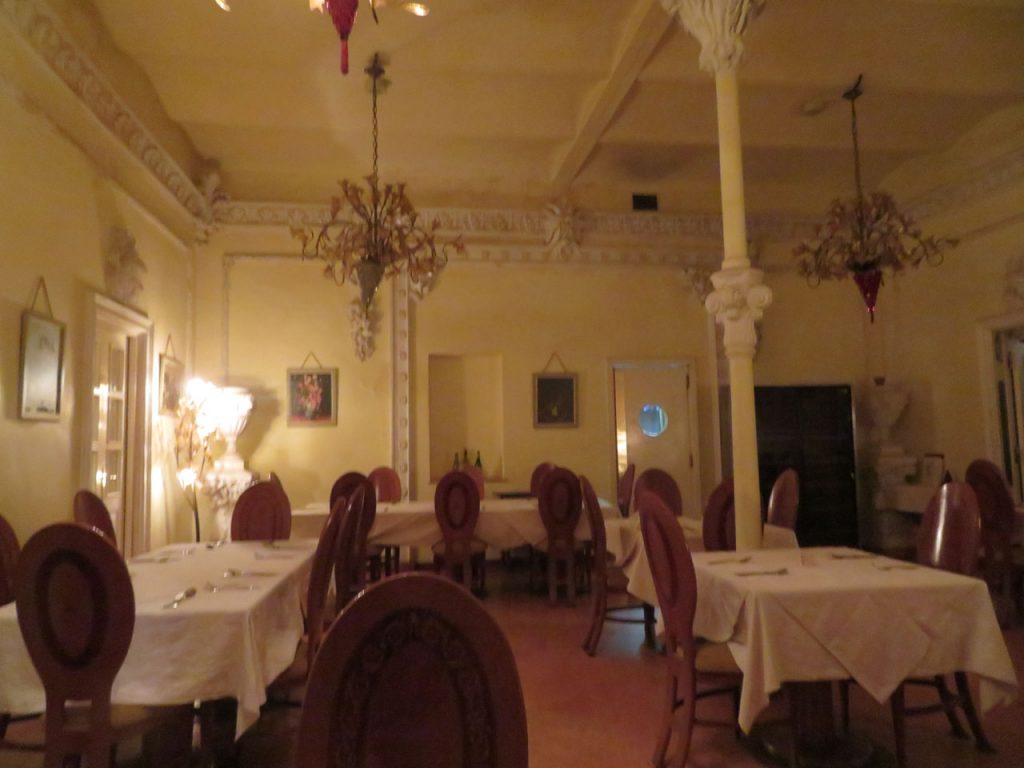 Dining At Hotel Italia. I was the only customer, but had a great pasta and soup meal with beer for about $ 5 – 75 Nafka.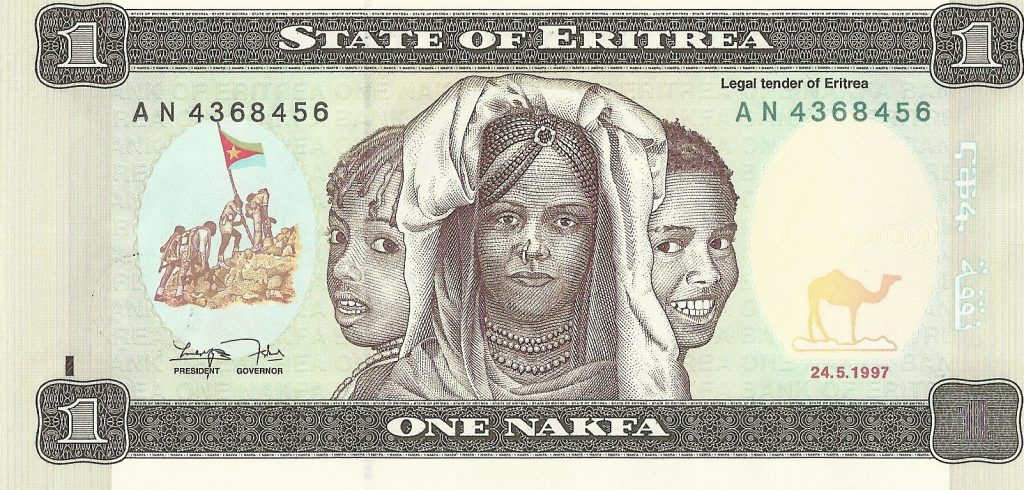 15 Nafka = 1 USD.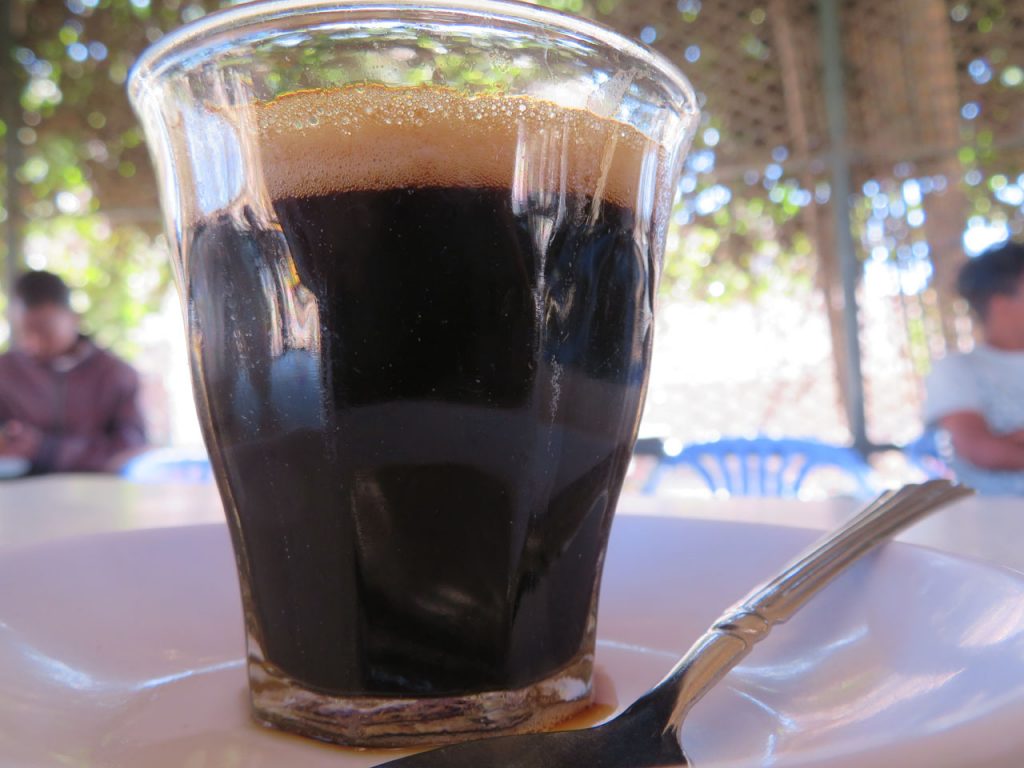 Perhaps The Best Coffee In The World. East African Beans, Italian Style.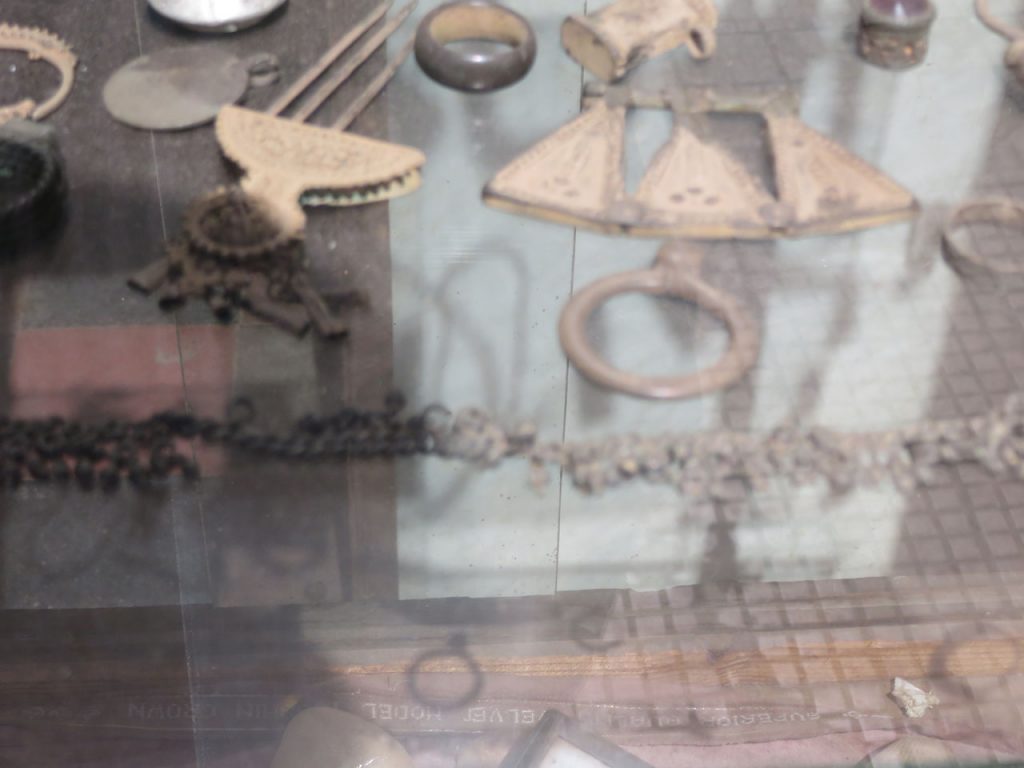 Ancient Jewelry For Sale.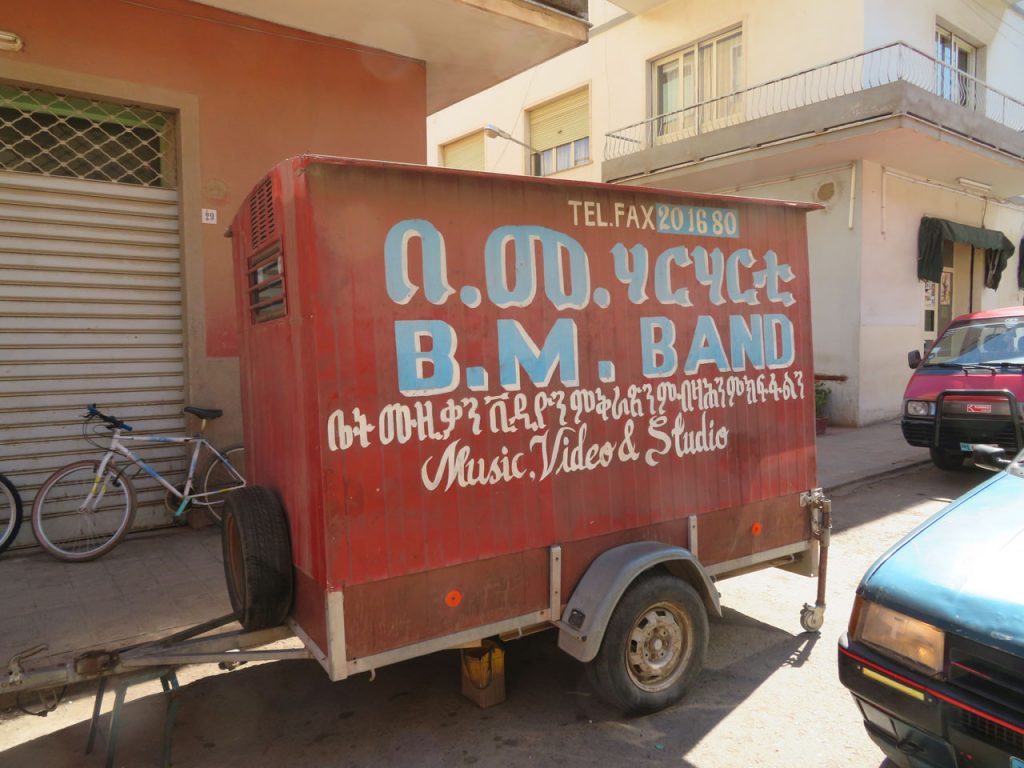 Getting Ready For Saturday Night.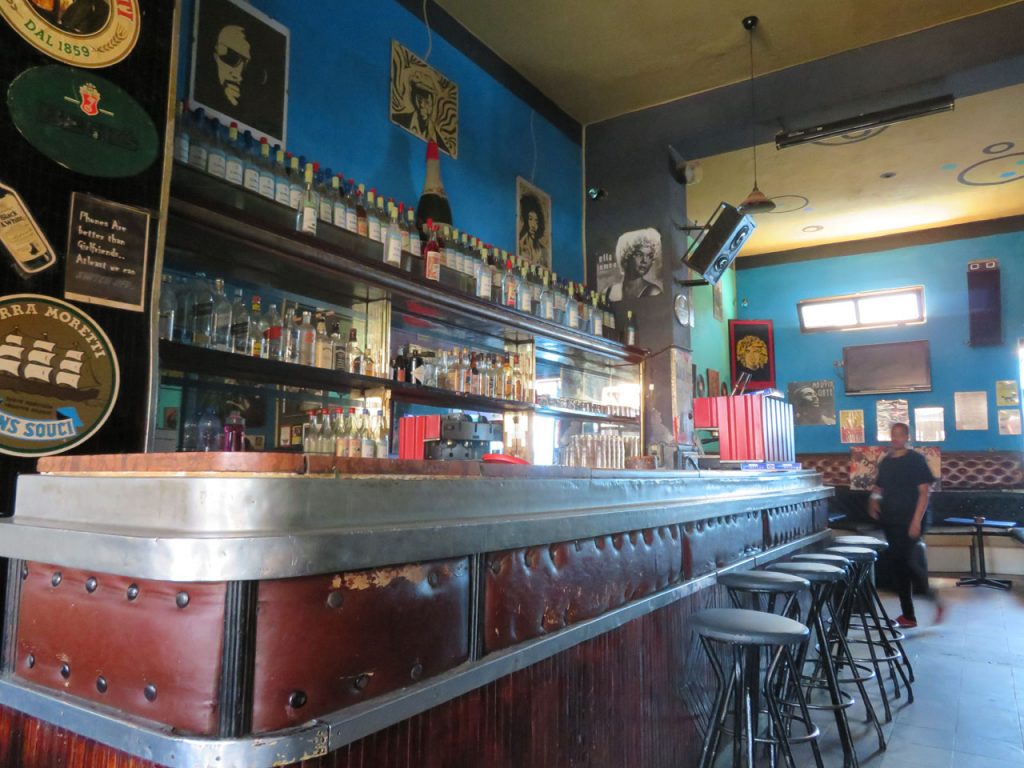 The city has a. lively nightlife. This picture was taken on a Saturday morning.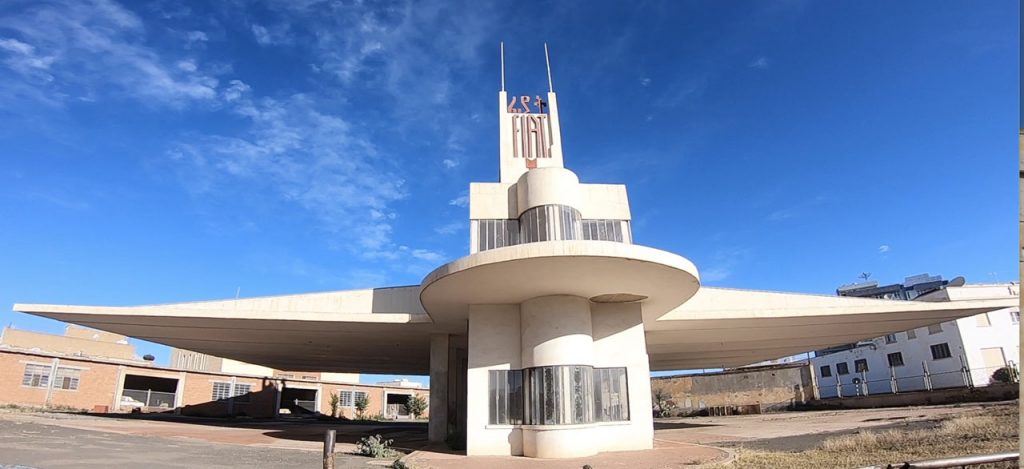 Perhaps The Most Art Deco Building In The World After The Chrysler Building In New. York. Fiat Dealership That Closed In The 1960s Due To War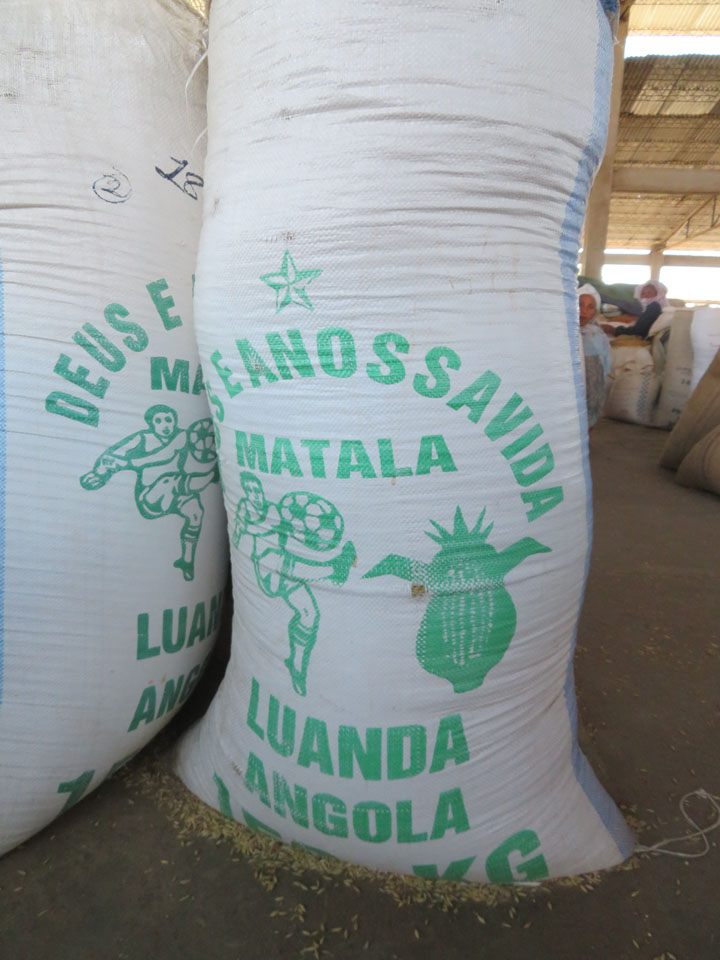 Imported Angolan Grain.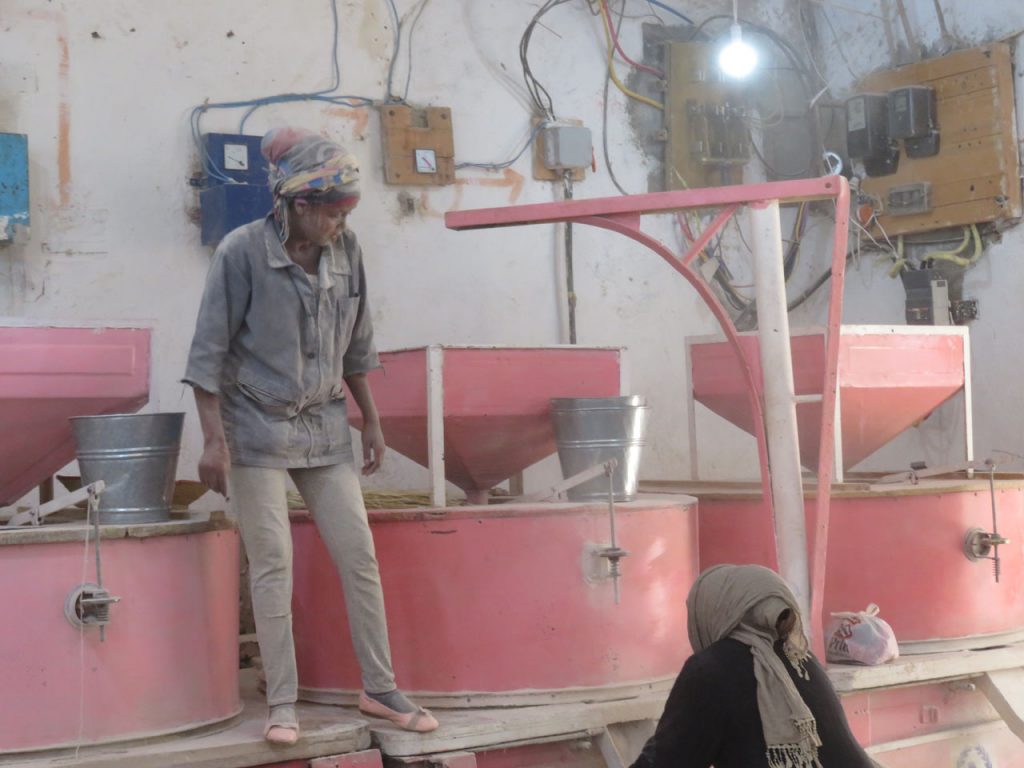 At the flour mill.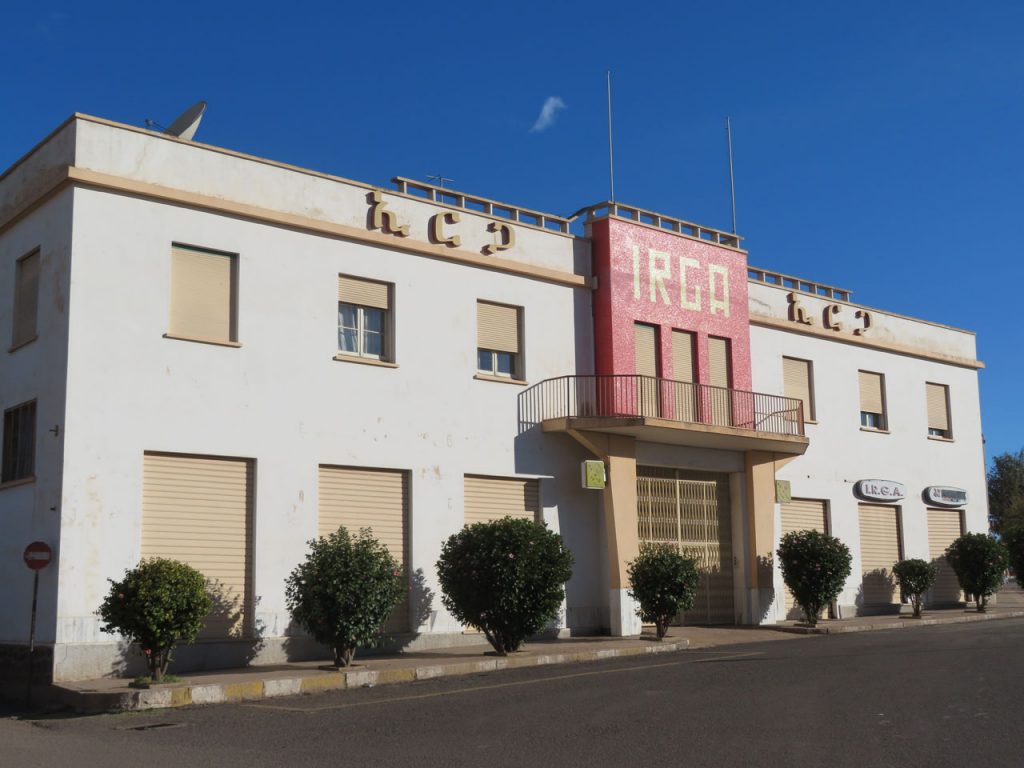 Extreme Deco.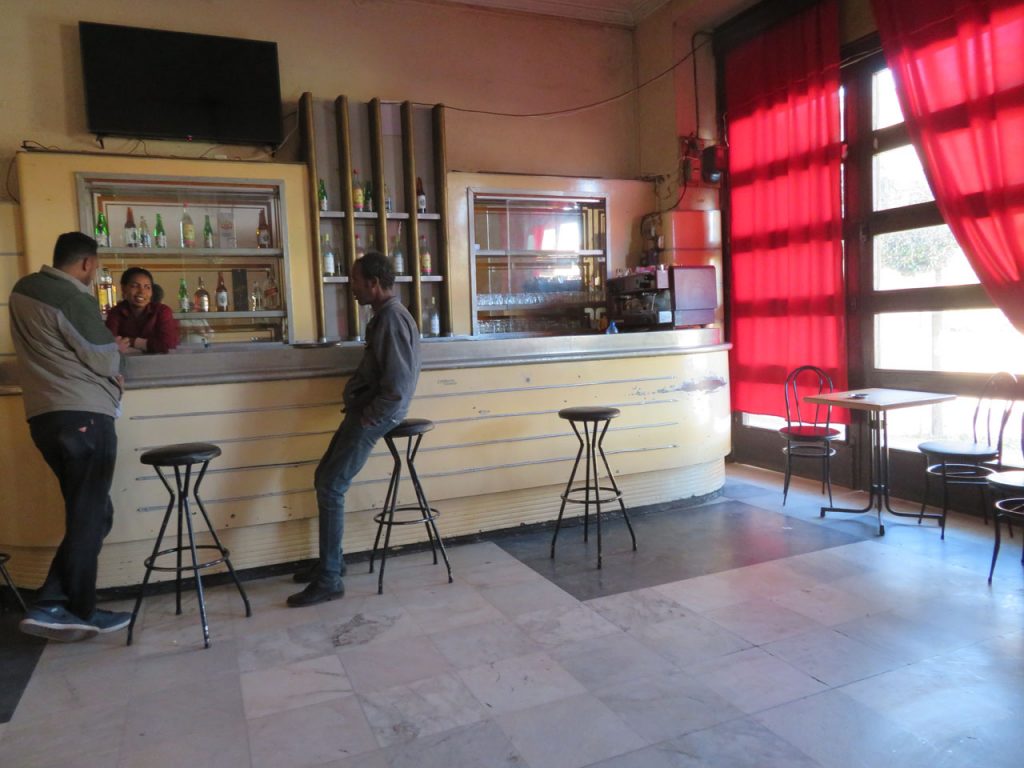 TotalAdventure saw most of Asmara in a day. It is a fascinating place with few foreign visitors, the majority of them Italian.
The Simian Mountains In Northern Amhara State Were Formed By Extreme Volcanoes About 40 Million Years Ago. They Tower West Of The Rift Valley, Which Runs Almost The Whole Length Of Africa.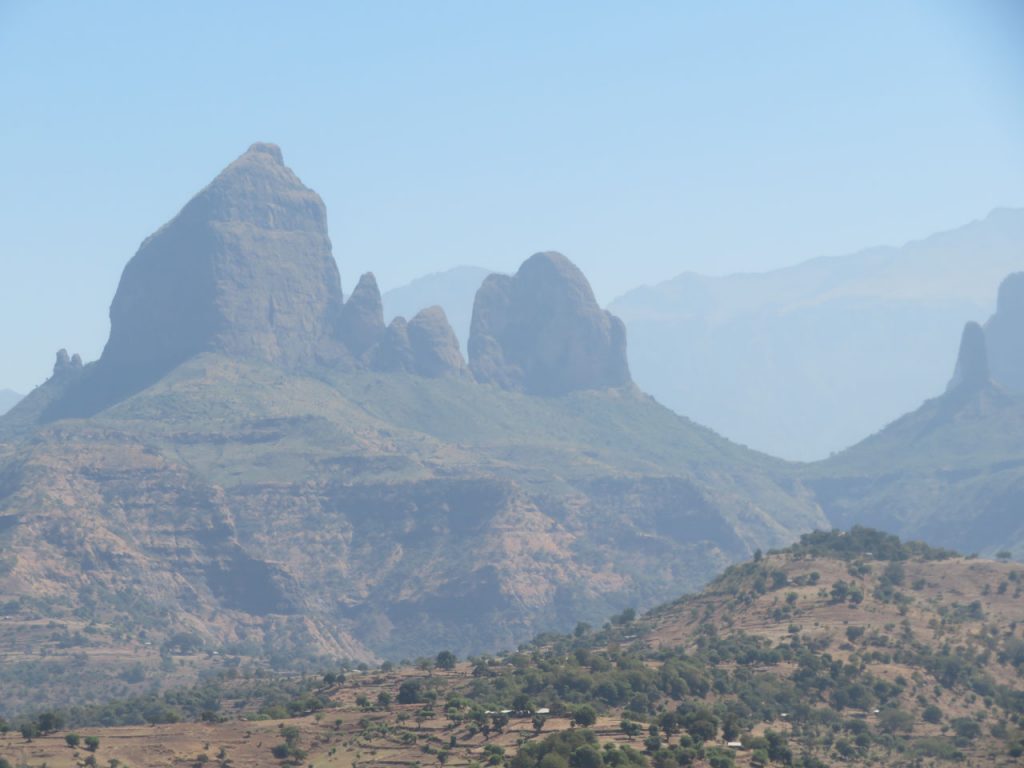 The Highest Mountain Is 15000 Feet ( 4550 m) . Snow is known to fall in the wet season. TotalAdventure experienced below freezing temperatures in the early mornings.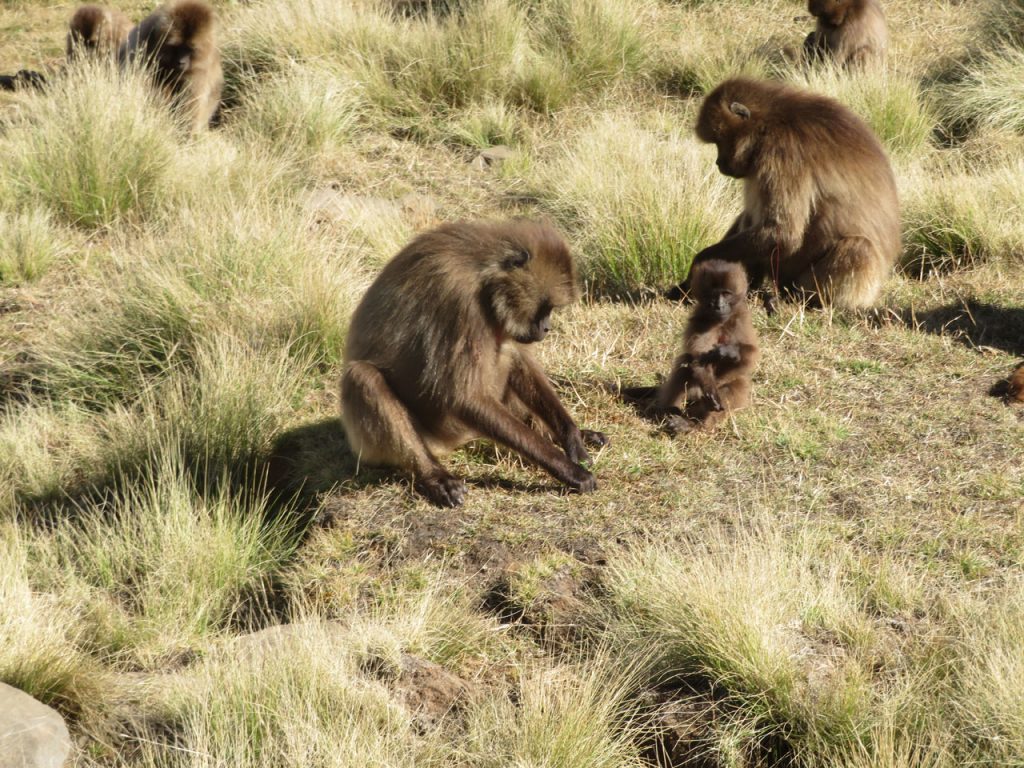 A Gelada Monkey Family Forages For Dinner. Snacks from tourists are strictly forbidden.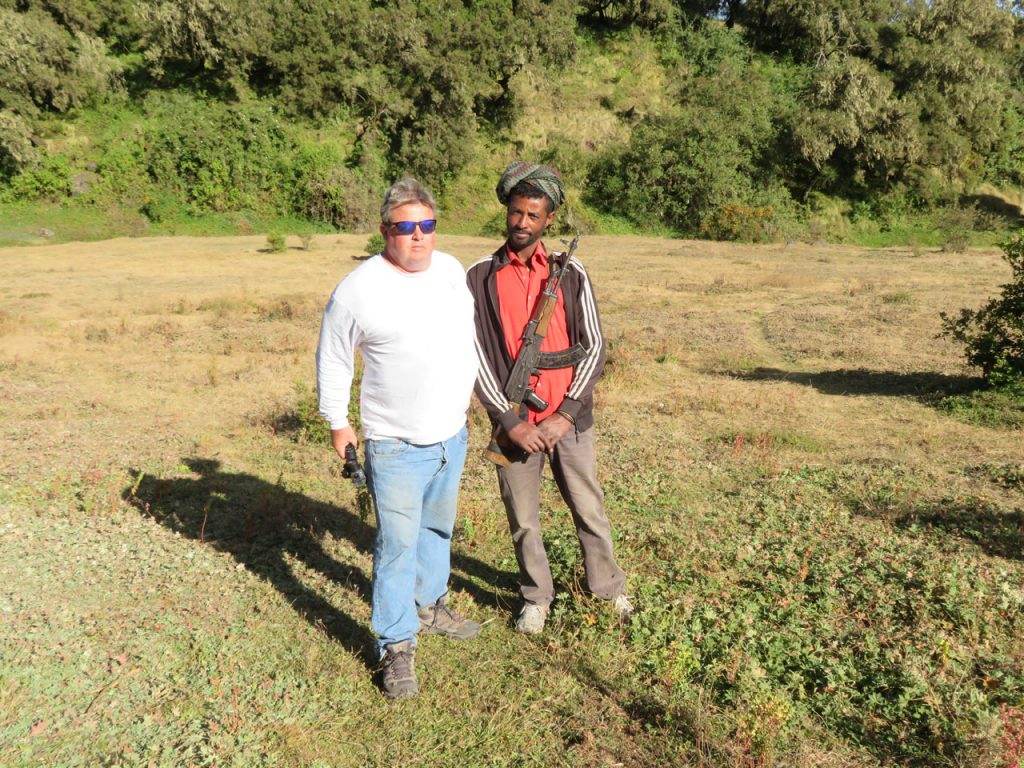 A Guard With An AK-47 Is Mandatory , To Guard Against Hyenas In Simian Mountains National Park. Hyena jaws are so strong they can snap a femur like a small chicken bone.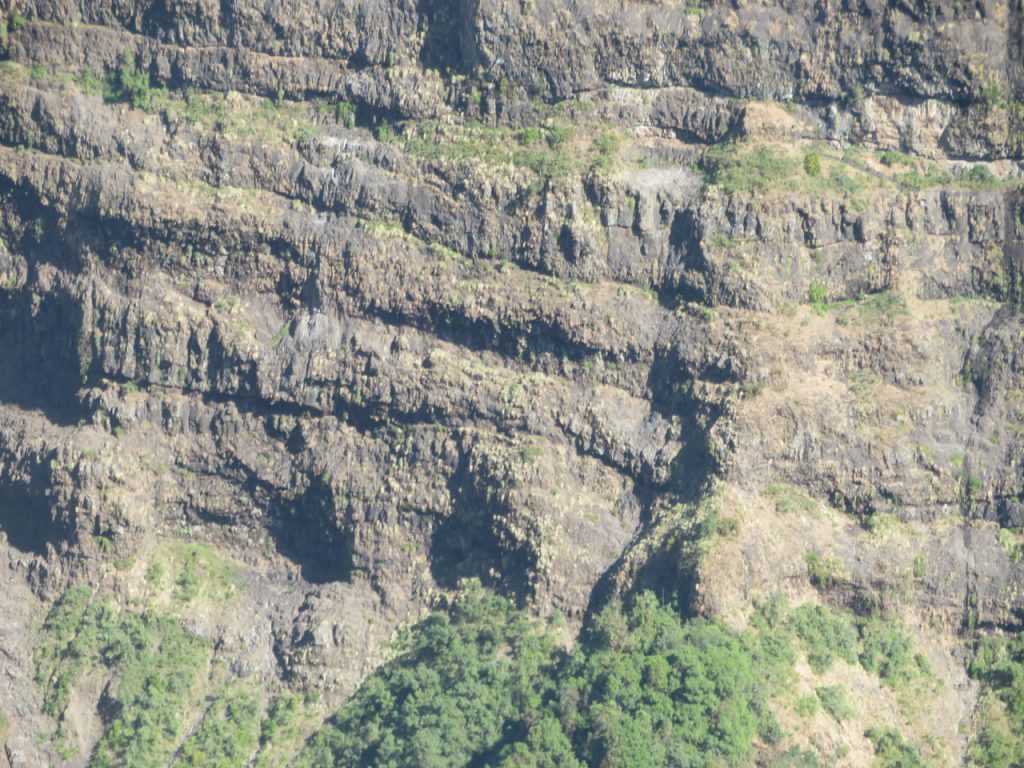 GeladaMonkeys sleep on the cliffs at night, in order to be inaccessible to hyenas.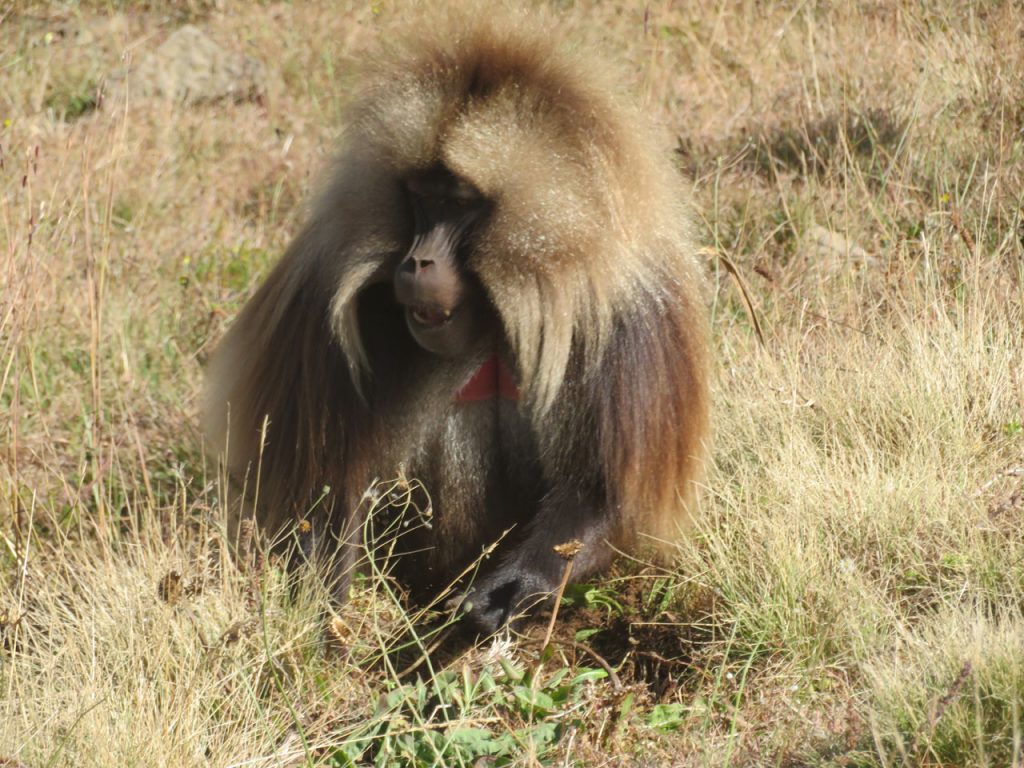 A Father is unfazed by his human cousins. They are 5 times as strong !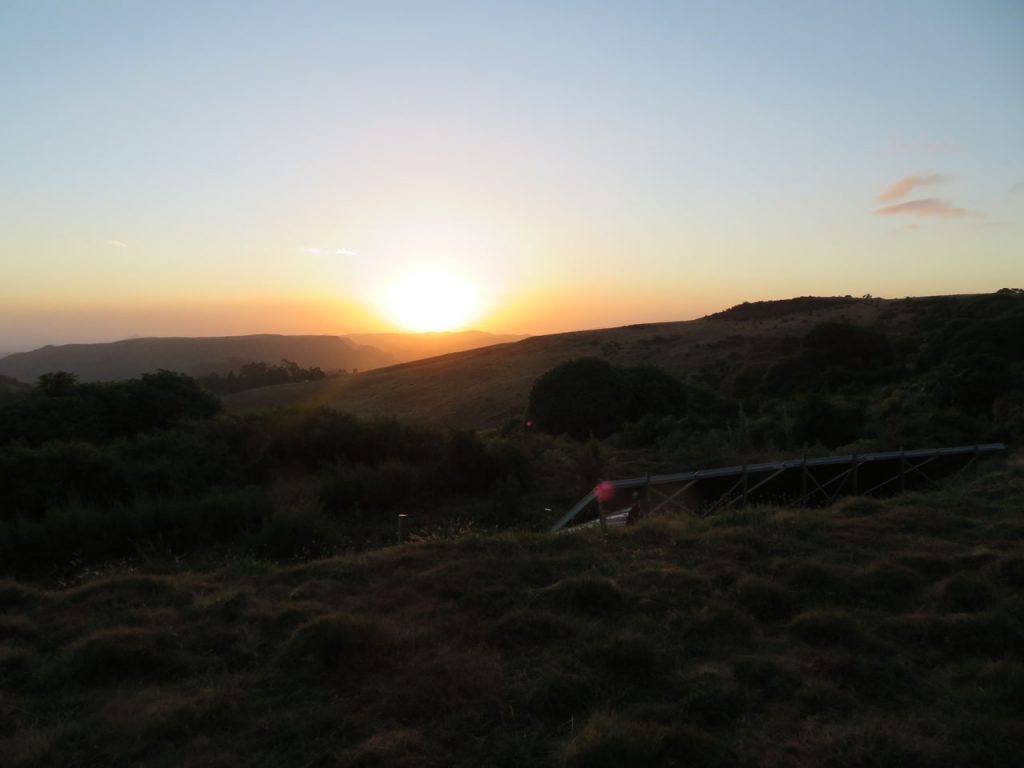 Sunset From 11,000 Feet ( 3384 m) at the Simian Mountain Lodge.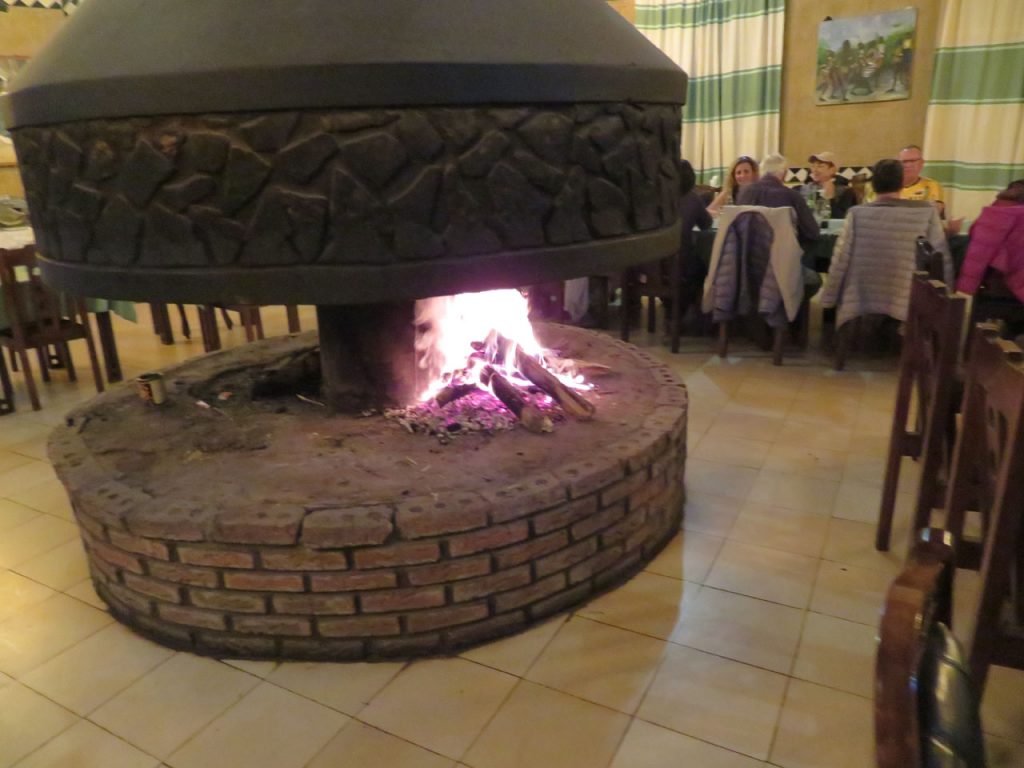 A Fireplace Keeps The Dining Room Warm. Outside it was 26 F ( -4 C)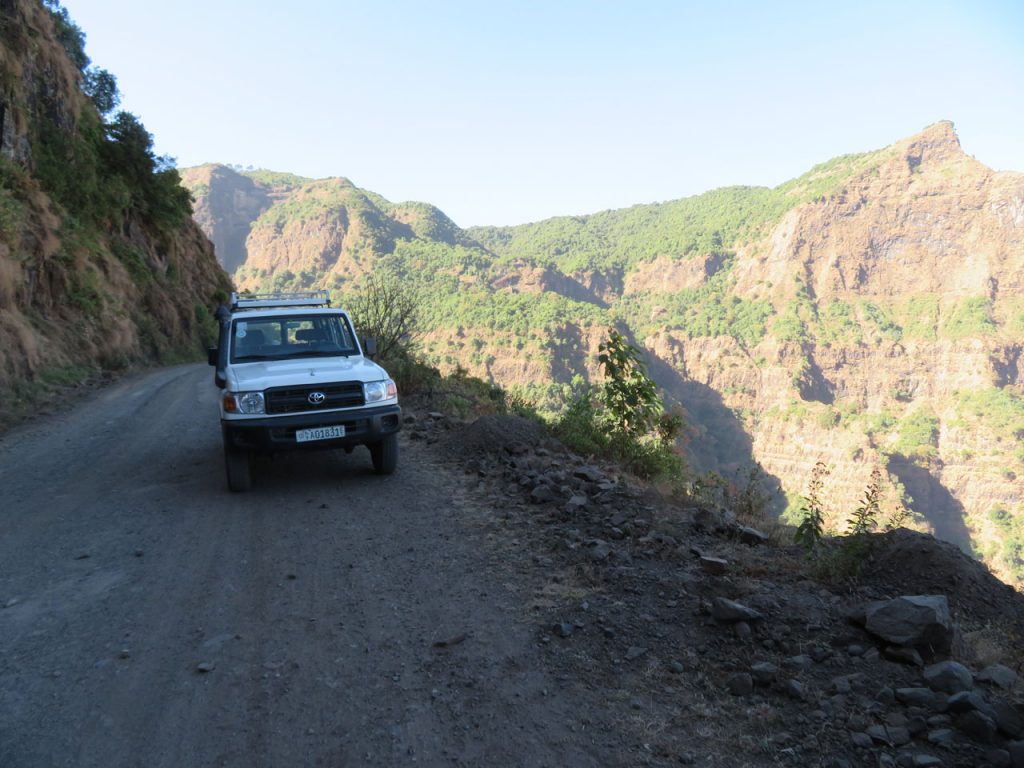 Our drive out of the mountain range. Drivers must be careful, with 3000 ft. cliffs on every curve.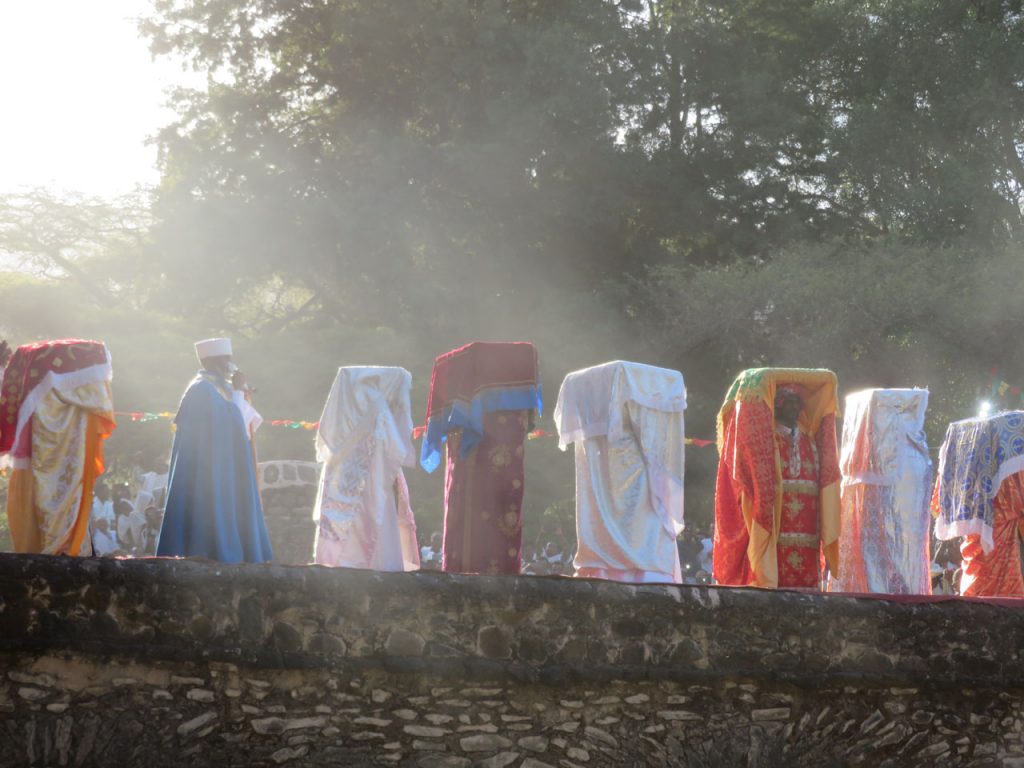 Priests Enact The Carrying of Boxes Which Carried The Ark Of The Covenant From Jerusalem To Axum, Ethiopia.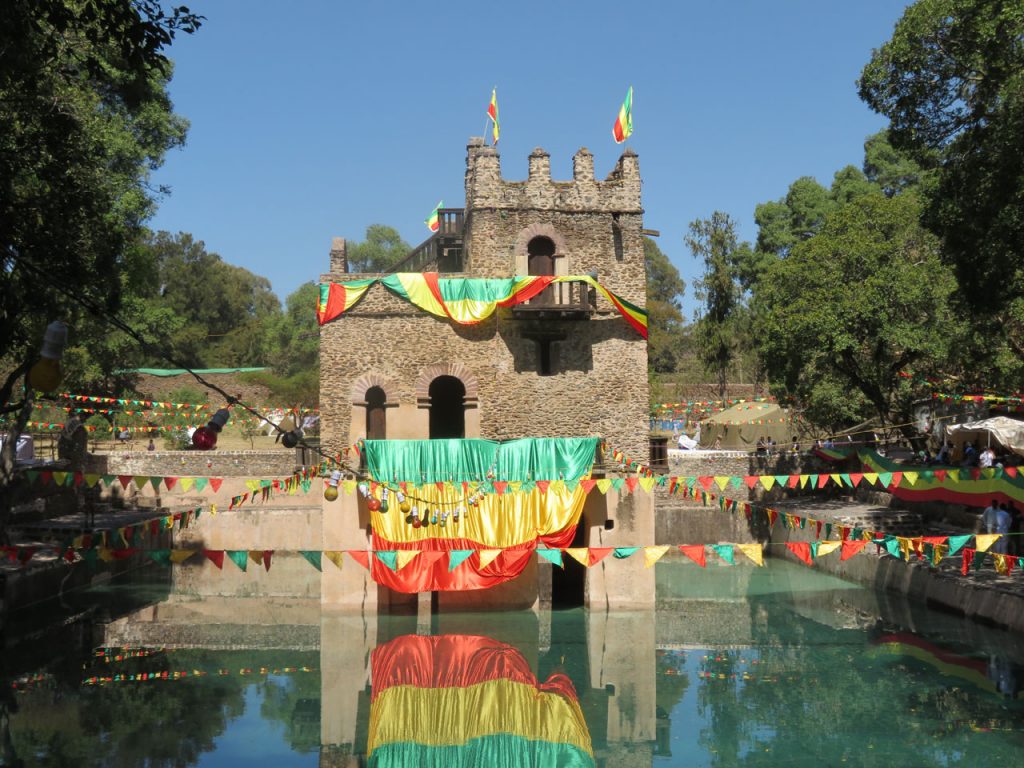 TotalAdventure, a Catholic, went to Ethiopia to explore the origins of Christianity. Dismayed by the ever increasing commercialization of Christmas throughput the world, to the point where religion is barely mentioned ,we decided to go where Christmas is not commercial at all, but a joyous occasion celebrating the arrival of Christ on Earth. Like much of the Christian Orthodox world, Christmas is on January 7th and Epiphany 12 days later on January 19th. Because this year,2020 is a Leap Year Timkat was on January 20th. In the West Epiphany is celebrated as the arrival of the 3 Kings, one from Ethiopia. In Ethiopia Timkat celebrates the Baptism of Jesus Christ. In Gondar's Emperor Fasilides Baths. After many hours of prayer and singing, male participants will dive in , re enacting the Baptism.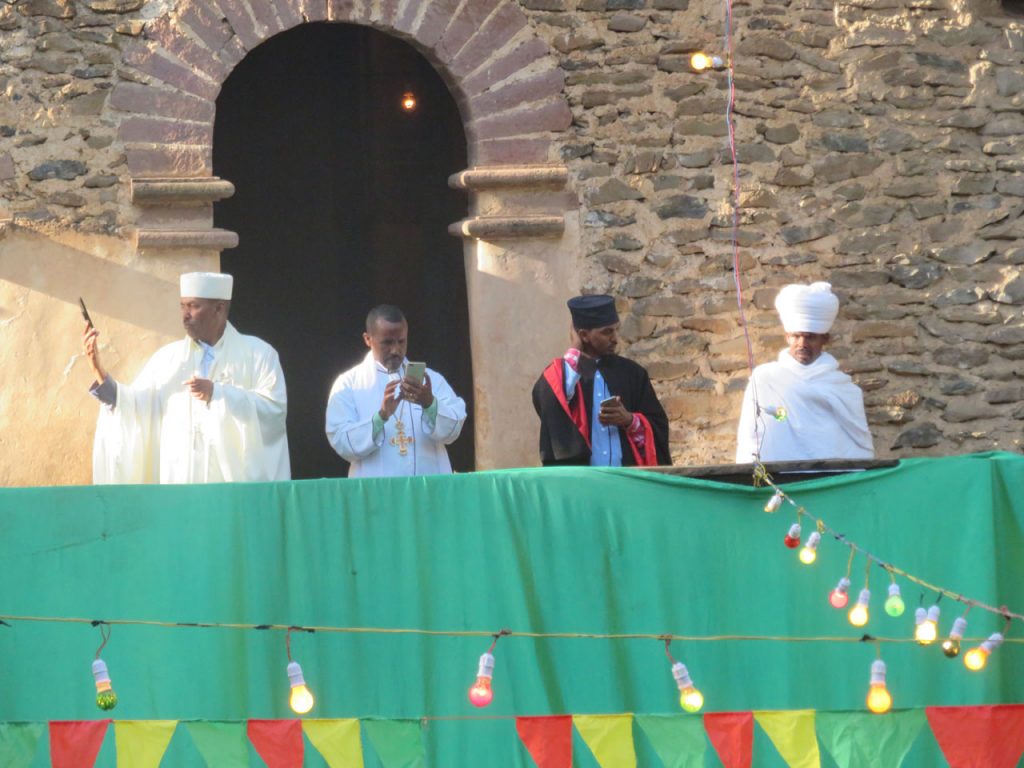 Christianity arrived in Ethiopia by the 4th Century. Traditions and mystical celebrations changed little by the time Ethiopia was effectively cut off from Europe and the Holy Land by the 12th Century. The ceremonies we see here, especially in the video above, are the closest to Original Christianity.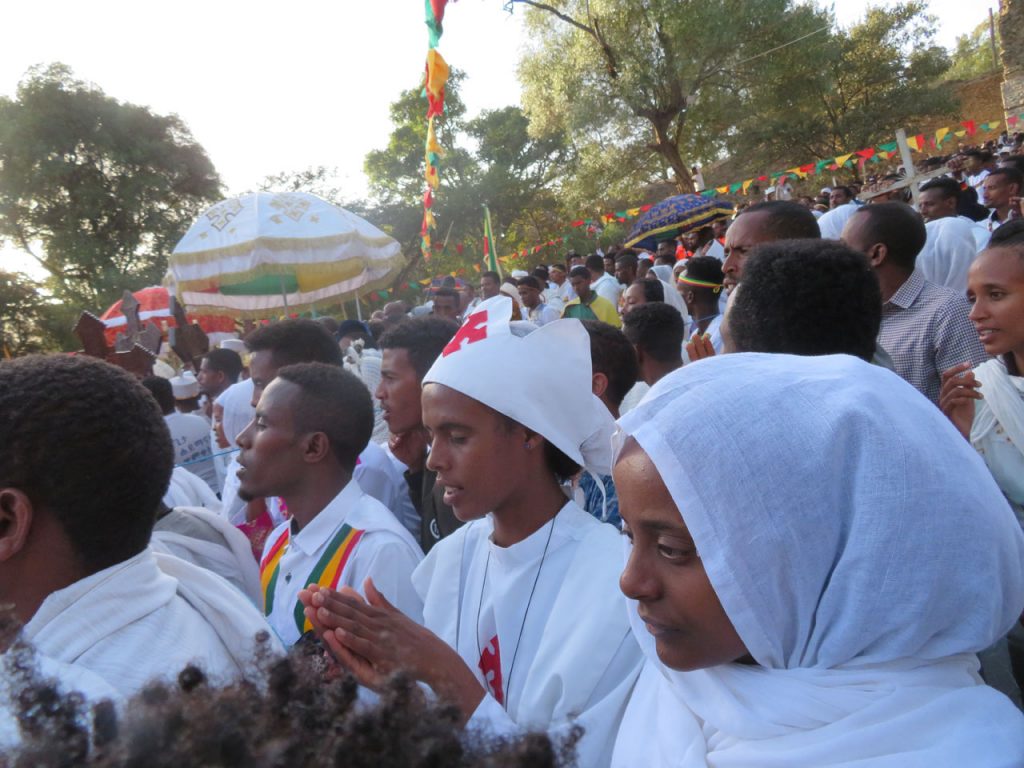 As darkness falls on Timkat Eve, the momentum builds, with prayer, chanting and singing.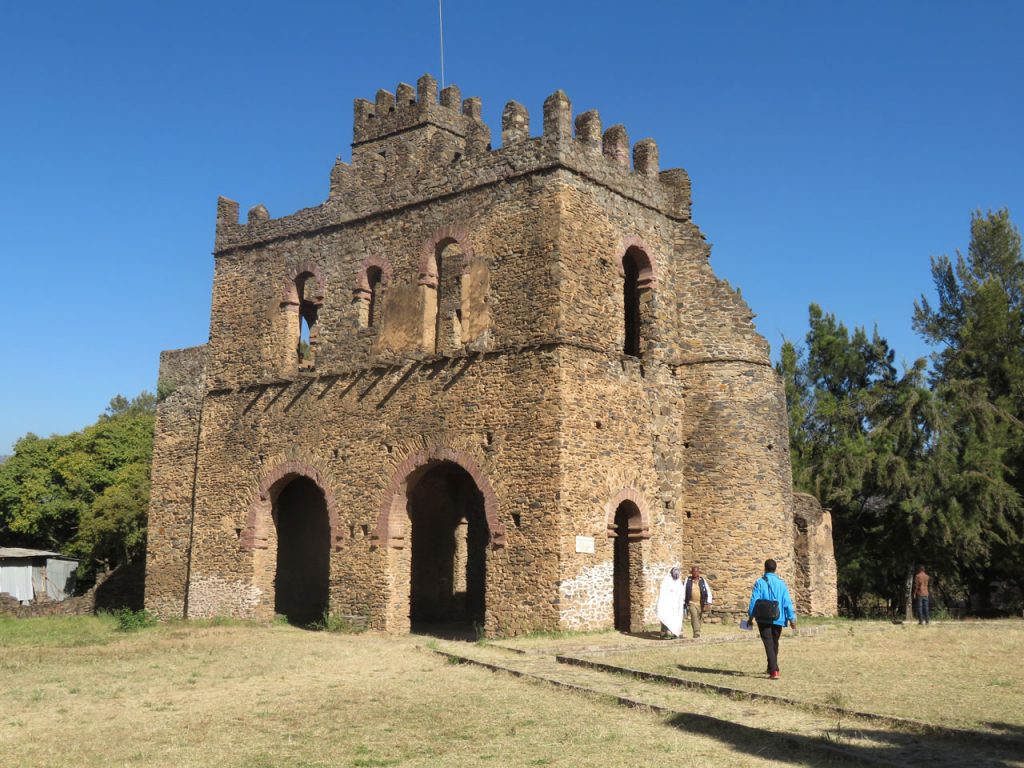 Another palace of Gondar.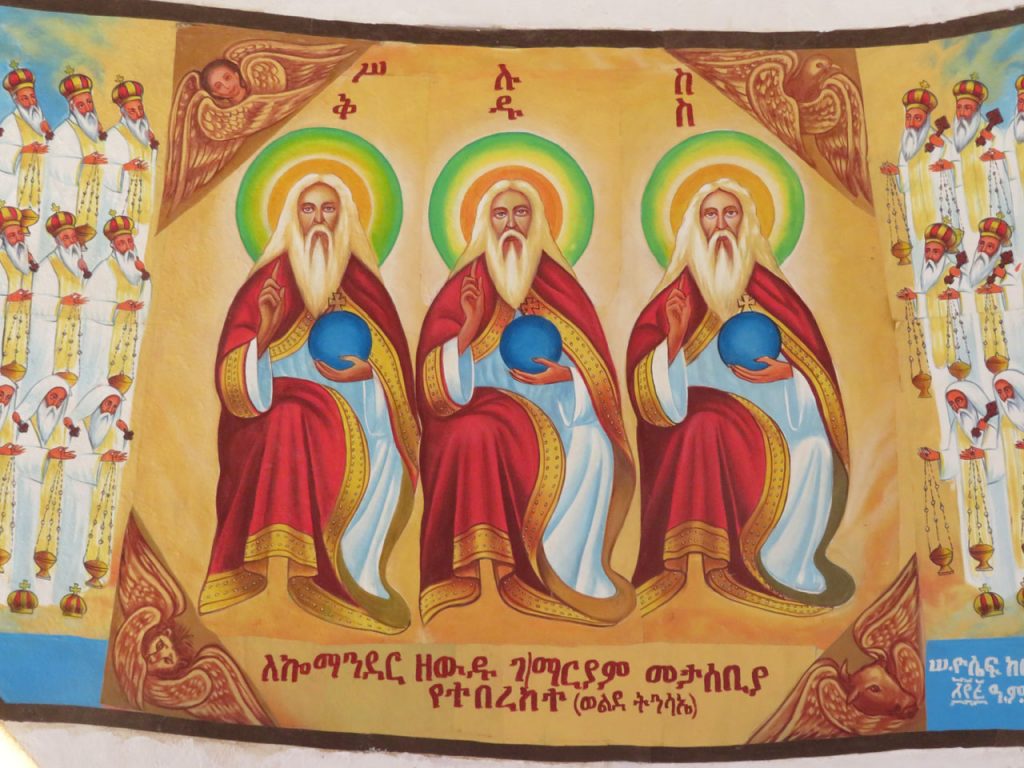 The Three Kings.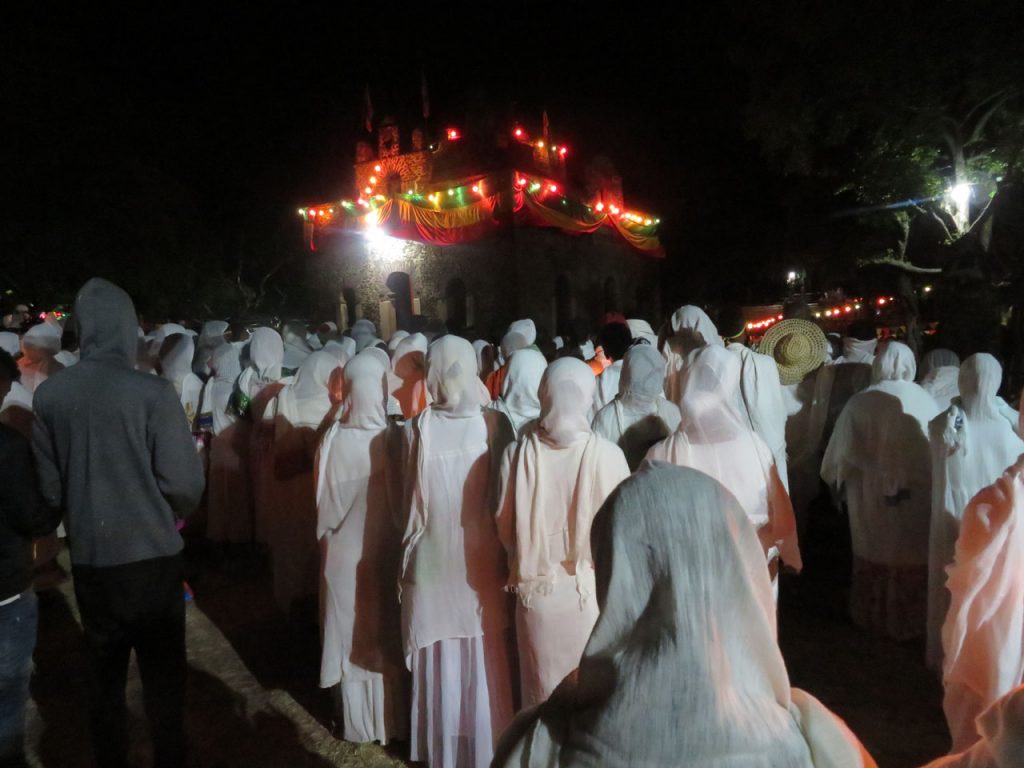 TotalAdventure returned to the Fasilides compound by 5 AM. The Faithful were fervently at prayer.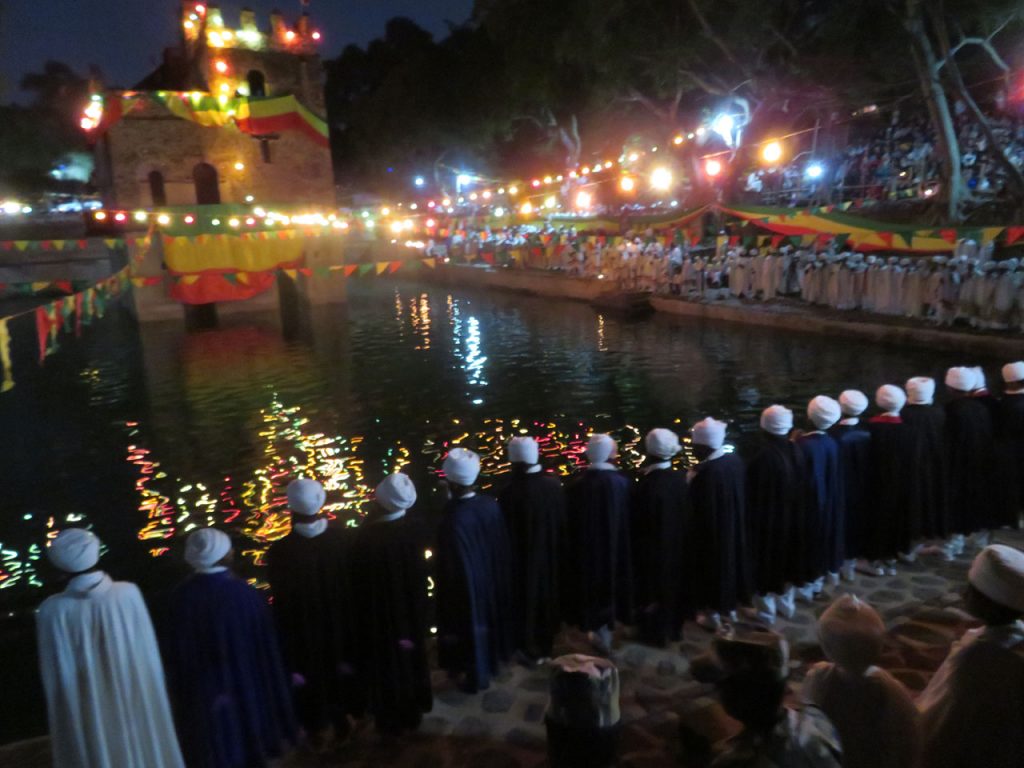 Monks Sing Around The Baths as they have all night.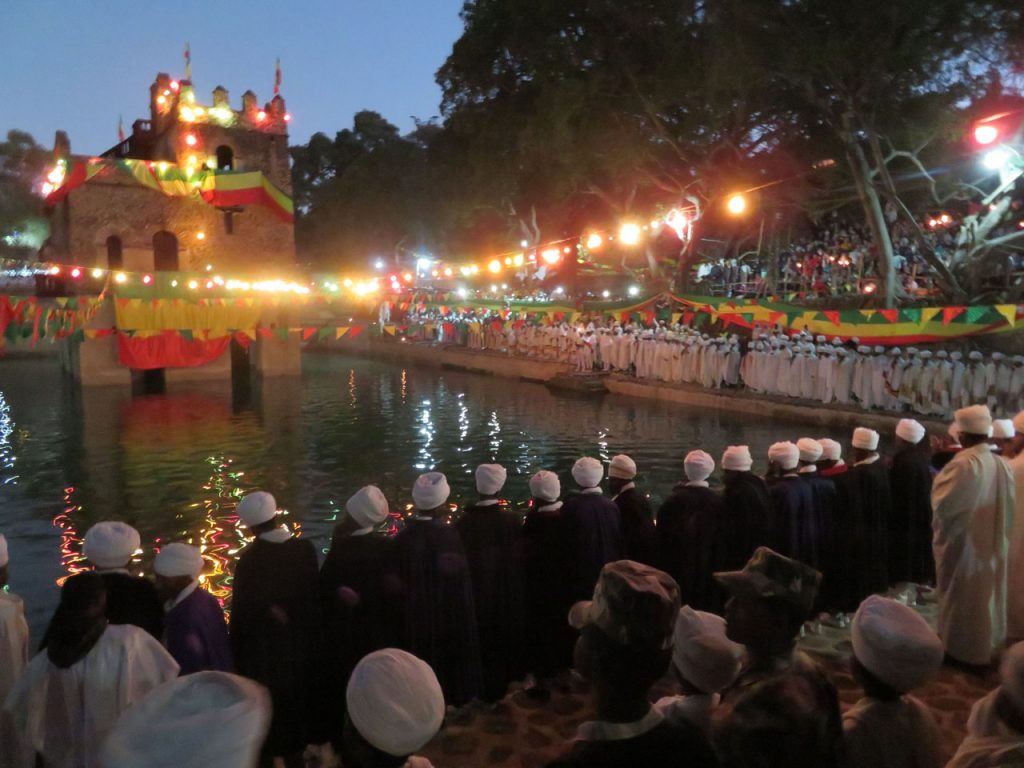 Dawn Approaches.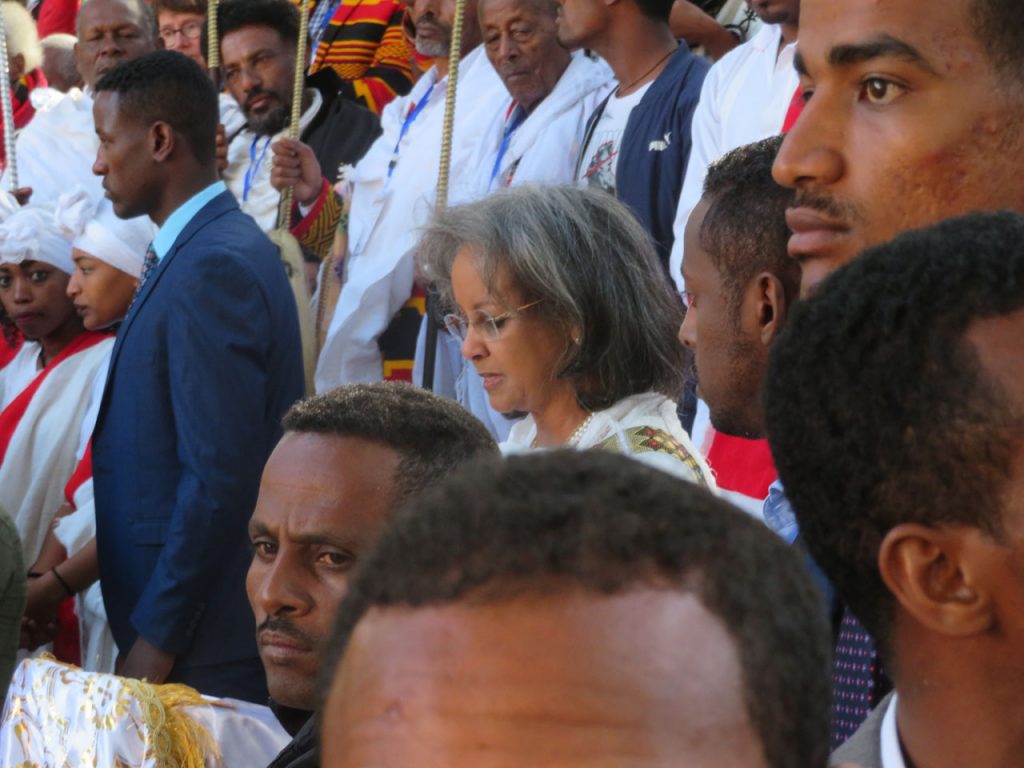 Sahle-Work Zewde, the President of Ethiopia, Came From Addis Ababa To Take Part In The Ceremonies.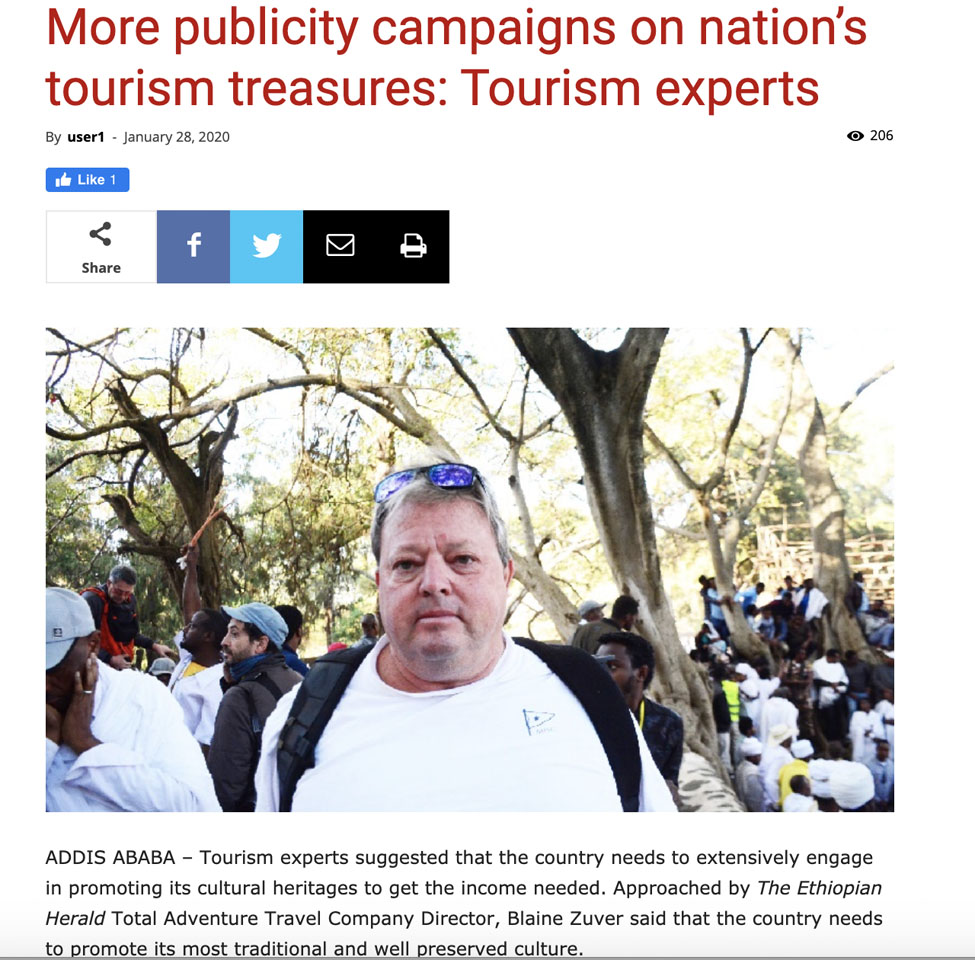 Blaine Zuver, Director of TotalAdventure, Is Interviewed For the Ethiopia Herald. Story Here.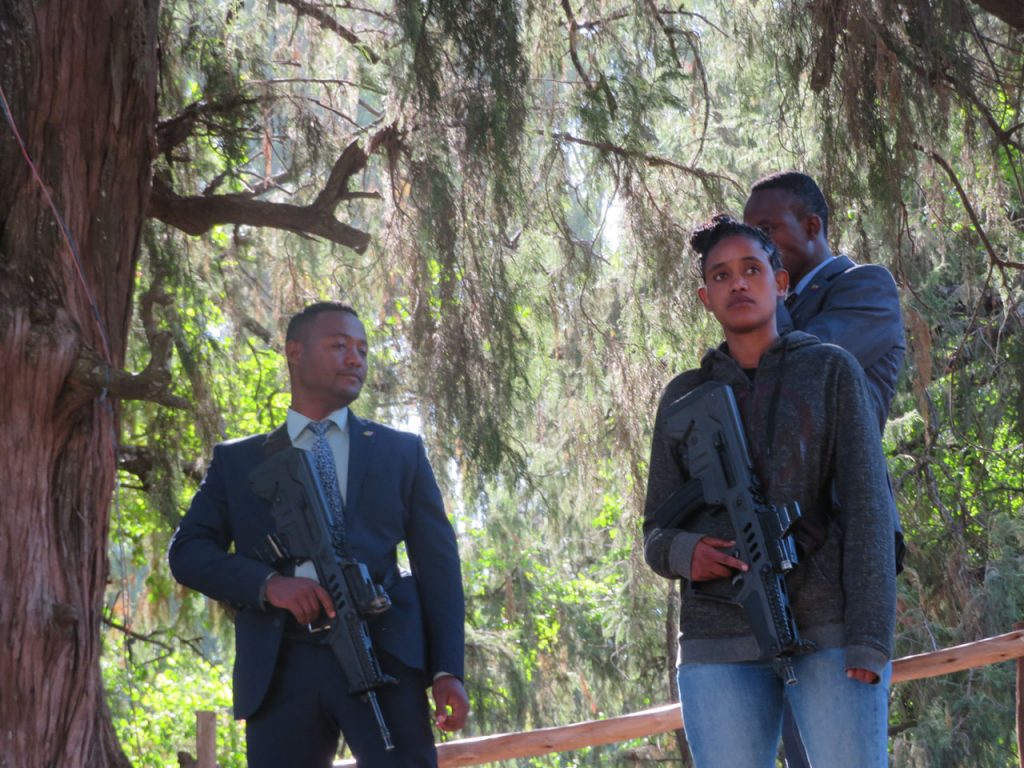 Part of The President's Security Unit. Many soldiers were on patrol as well.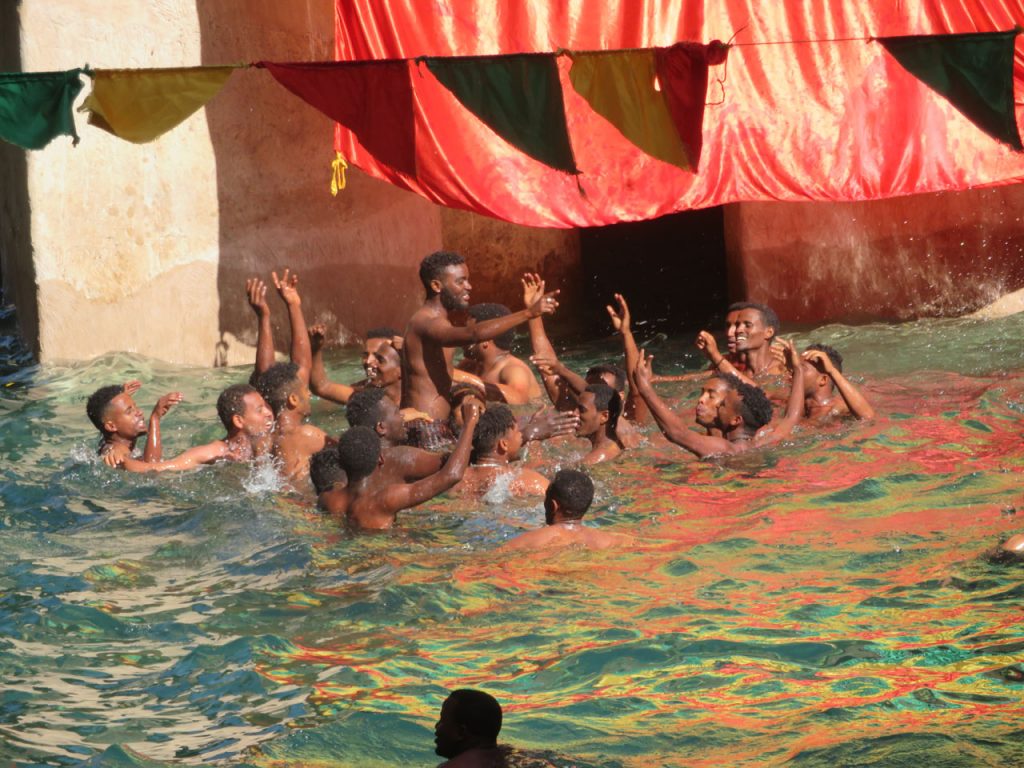 At last , after sunrise, the clarions blow and joyful adherents of The Lord re enact The Baptism.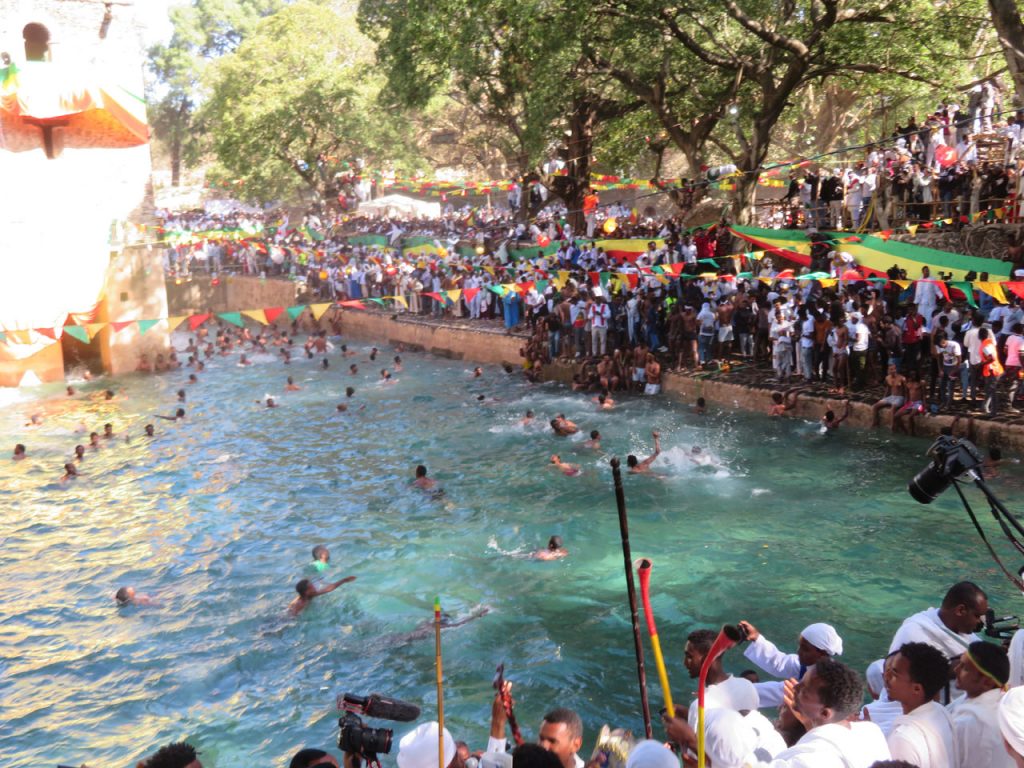 Timkat 2012 ! (2020) The Ethiopian Calendar is 8 Years Behind The Western Calendar.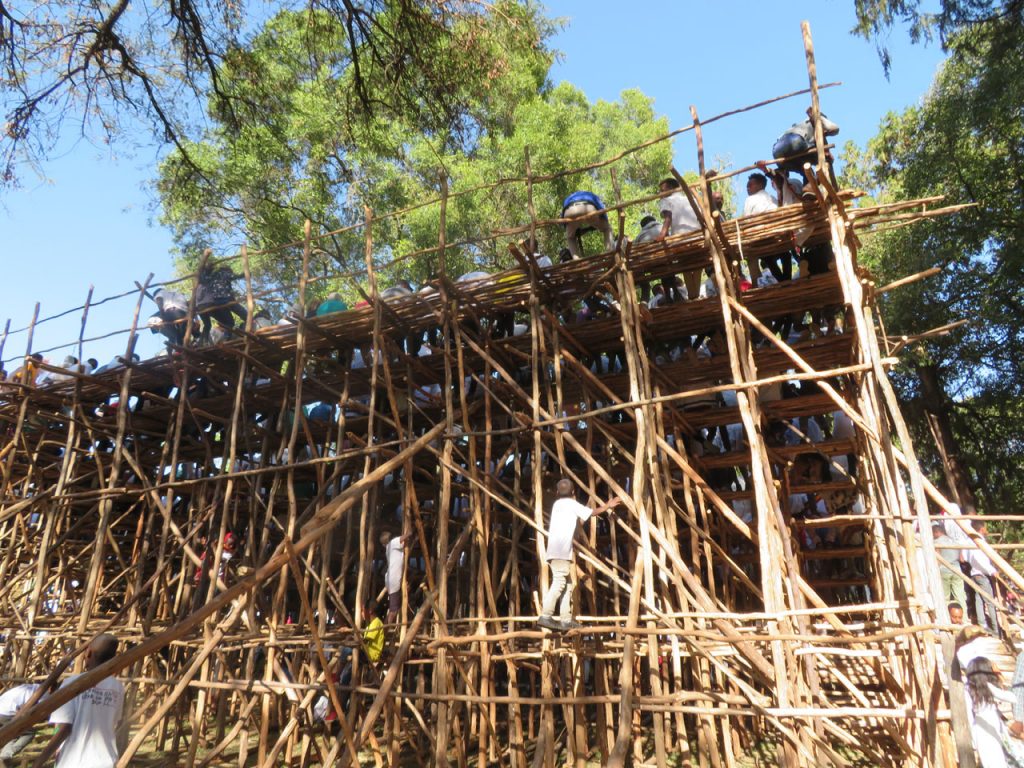 A Very Unfortunate Incident Occurred At Timkat. Bamboo bleachers are constructed each year so the crowds can get a view above the walls surrounding the Holy Pool. They are built to accommodate perhaps 200 or 300 people.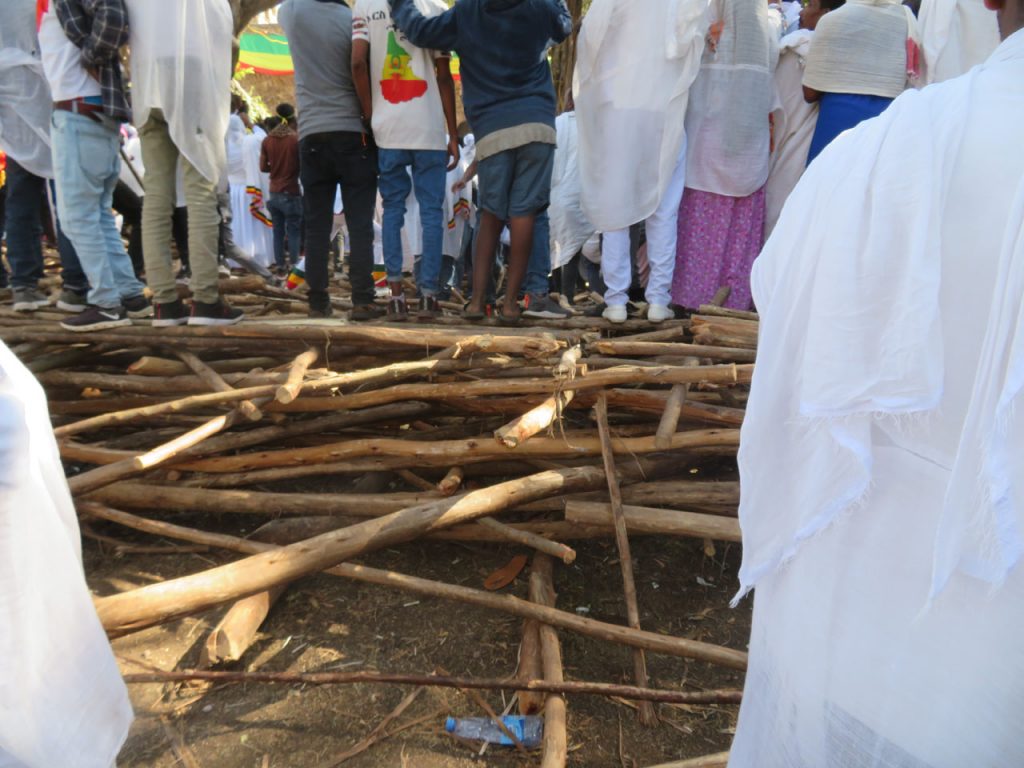 Just before sunrise the overloaded structure collapsed. Ten people were killed. More than 200 went to the hospital, some paralyzed for life. The ceremony was disrupted for about an hour, then went on.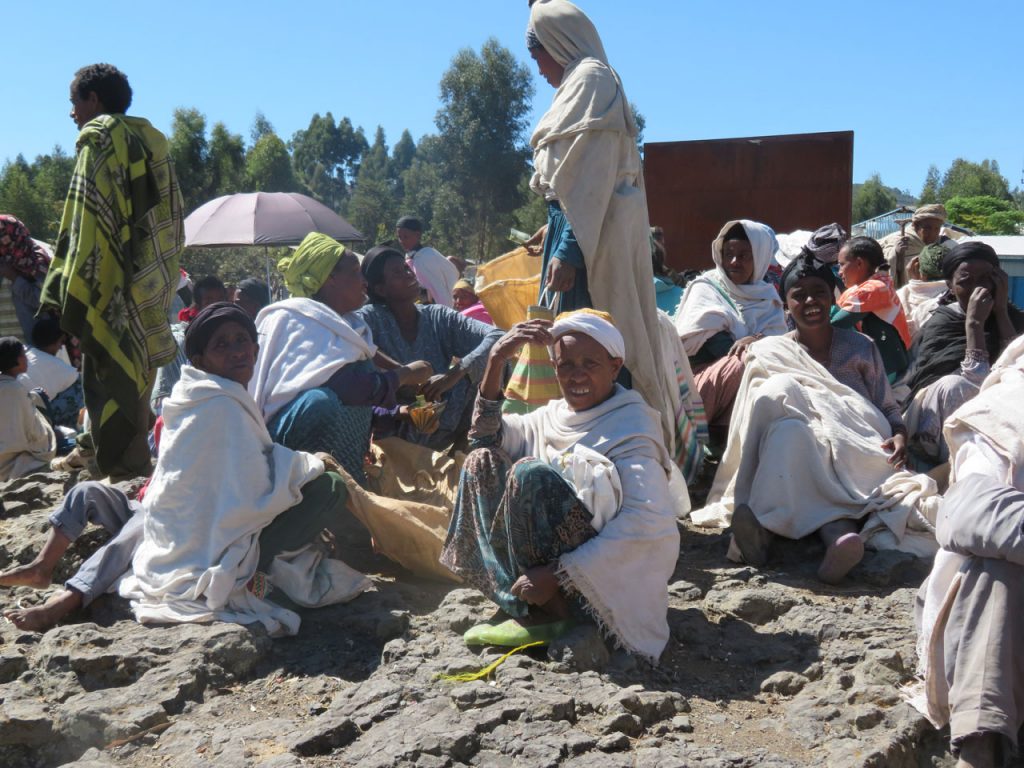 As Timkat approaches, the entire country gets into celebration mode. We leave Lalibela on. Saturday – 2 days before. Roadside markets are busting, as people stock up on food for the large family feasts after a 24 hour fast.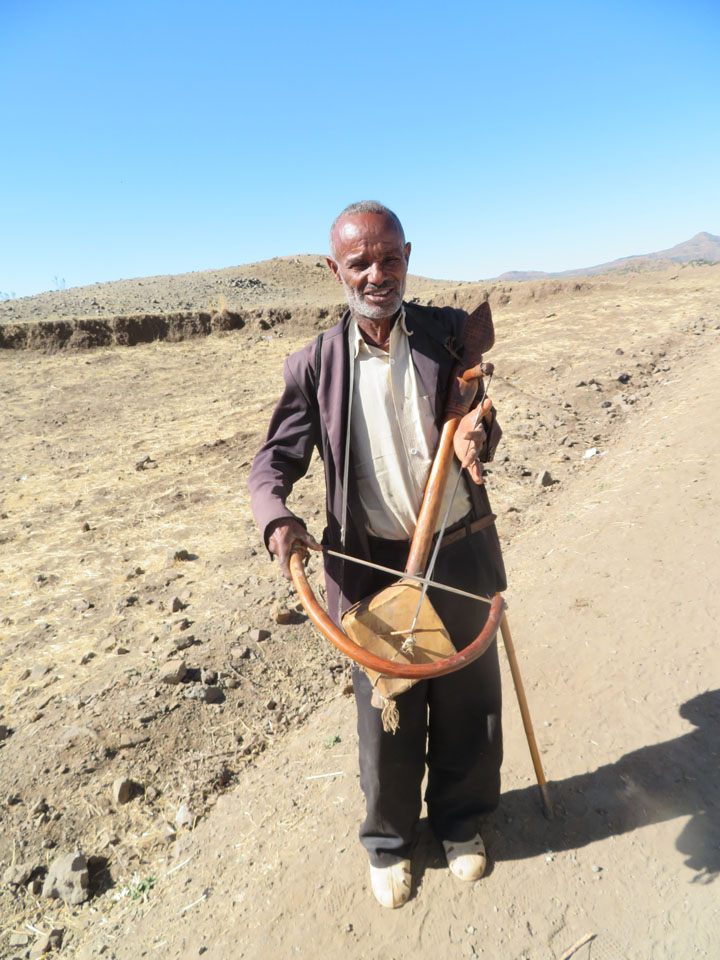 A music man in the Highlands playing his masinko. Watch him play on the video above.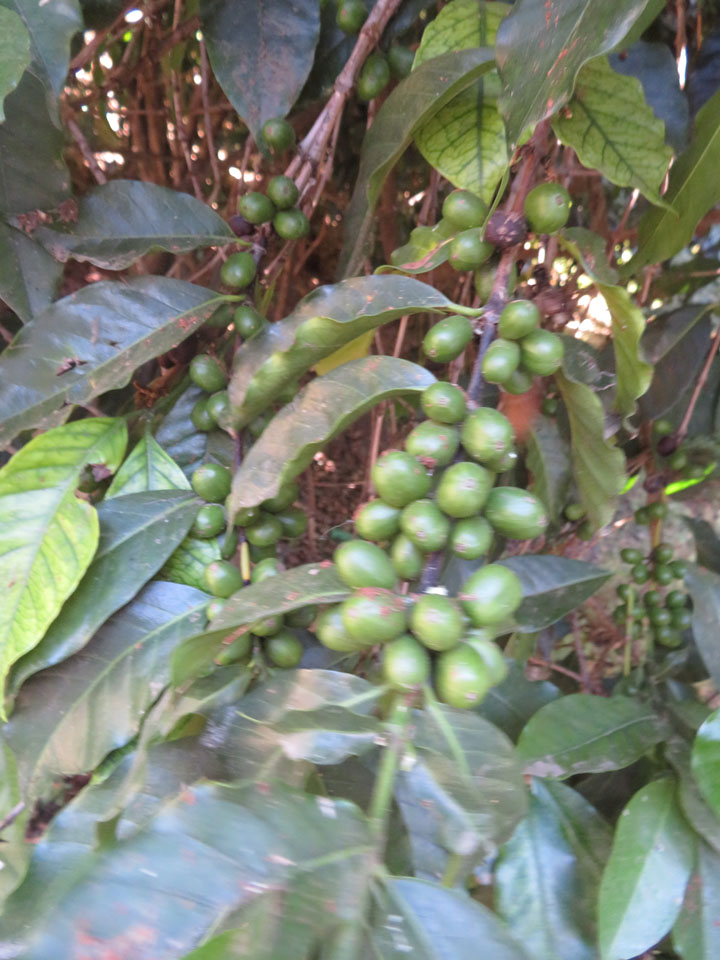 Coffee beans growing on the side of the road. Ethiopian Coffee is amongst the best in the world !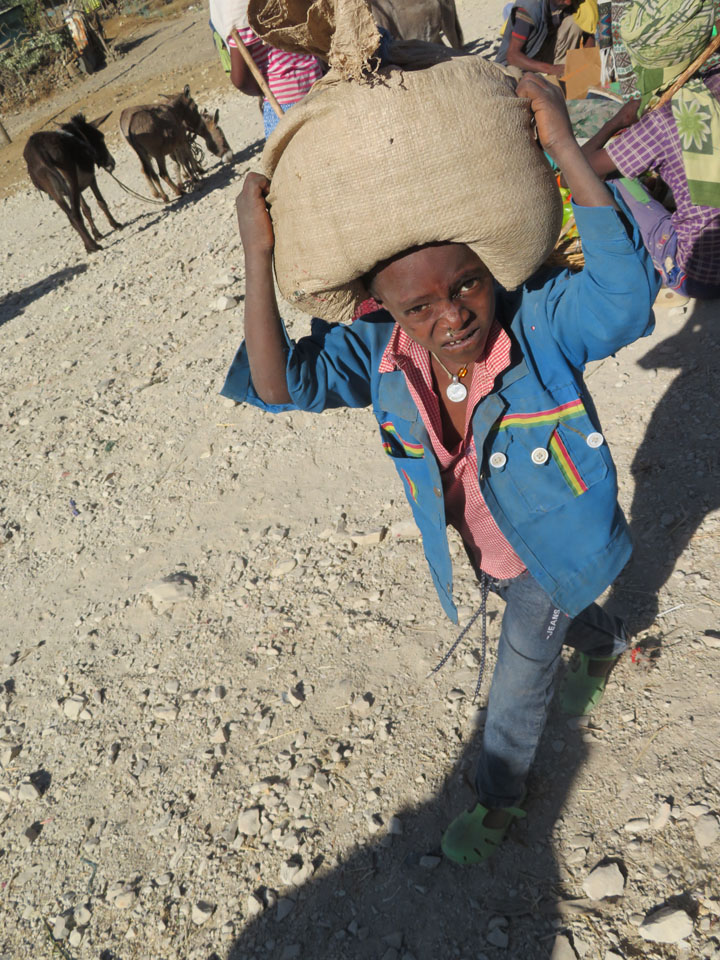 A boy brings coffee to market. Rural children work for their families, but not for others as far as we could tell. It's a necessity that armchair moralists of the West may not understand.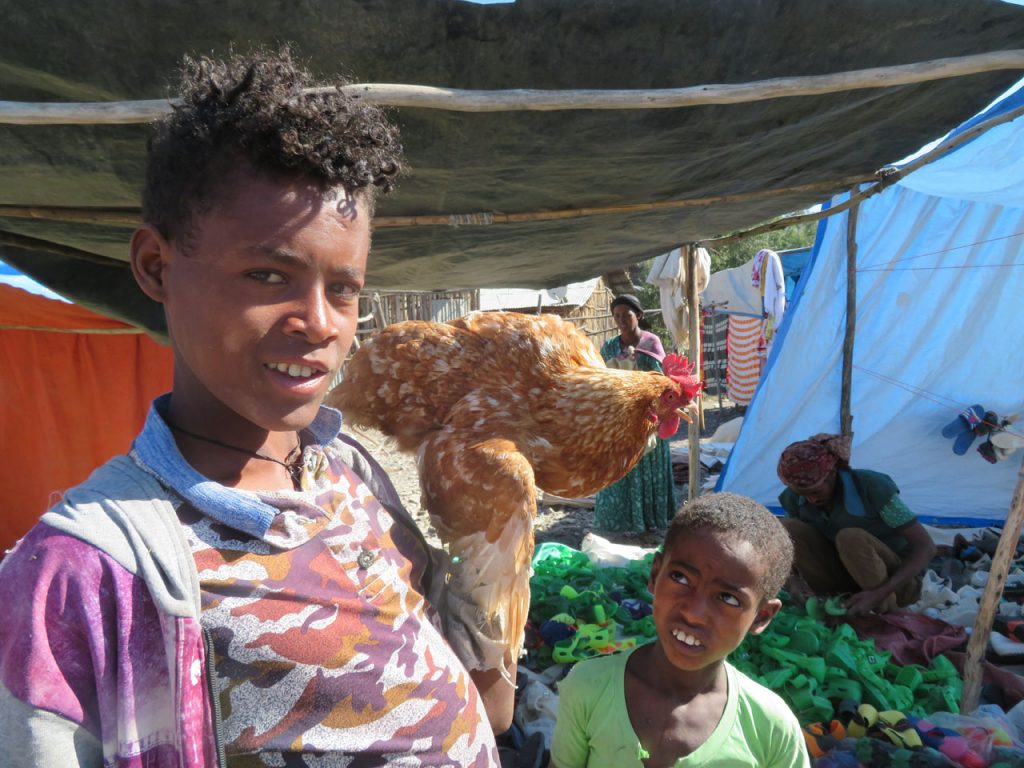 All food is very fresh.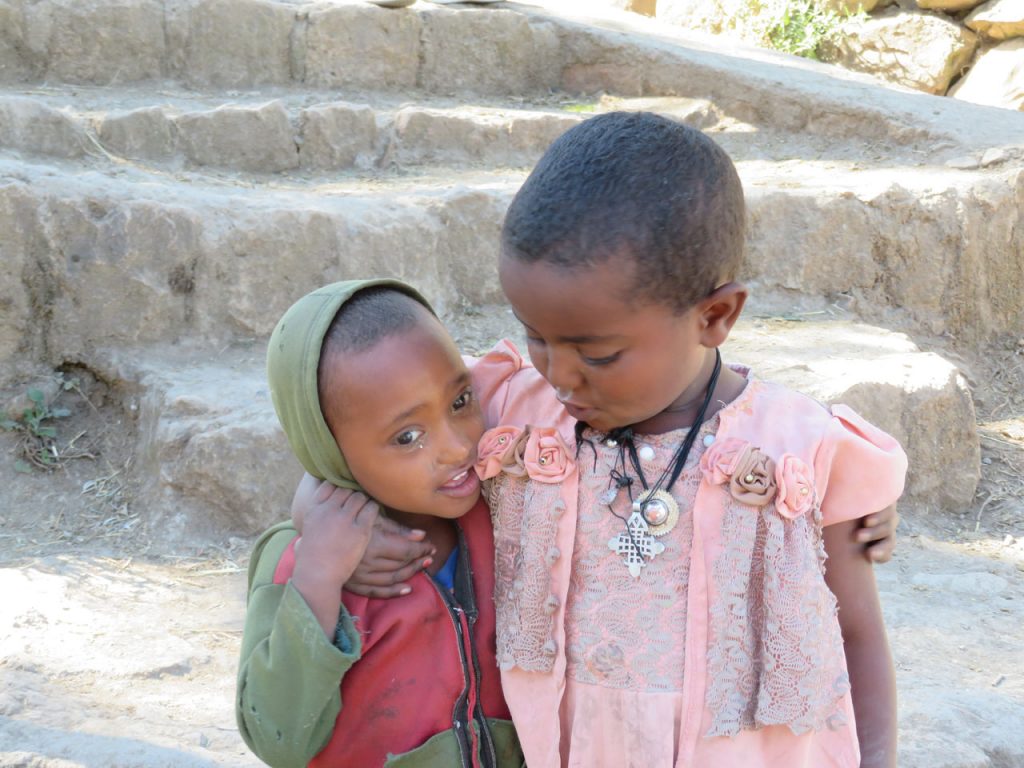 Two sisters off to market.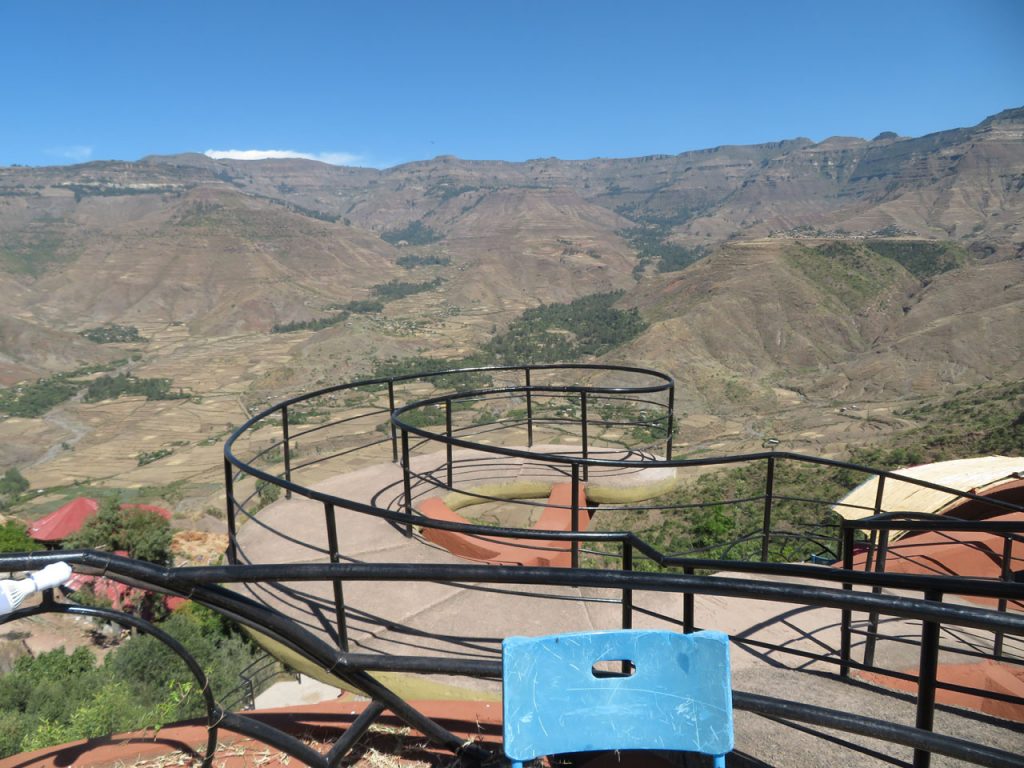 Restaurant Mountain Vista.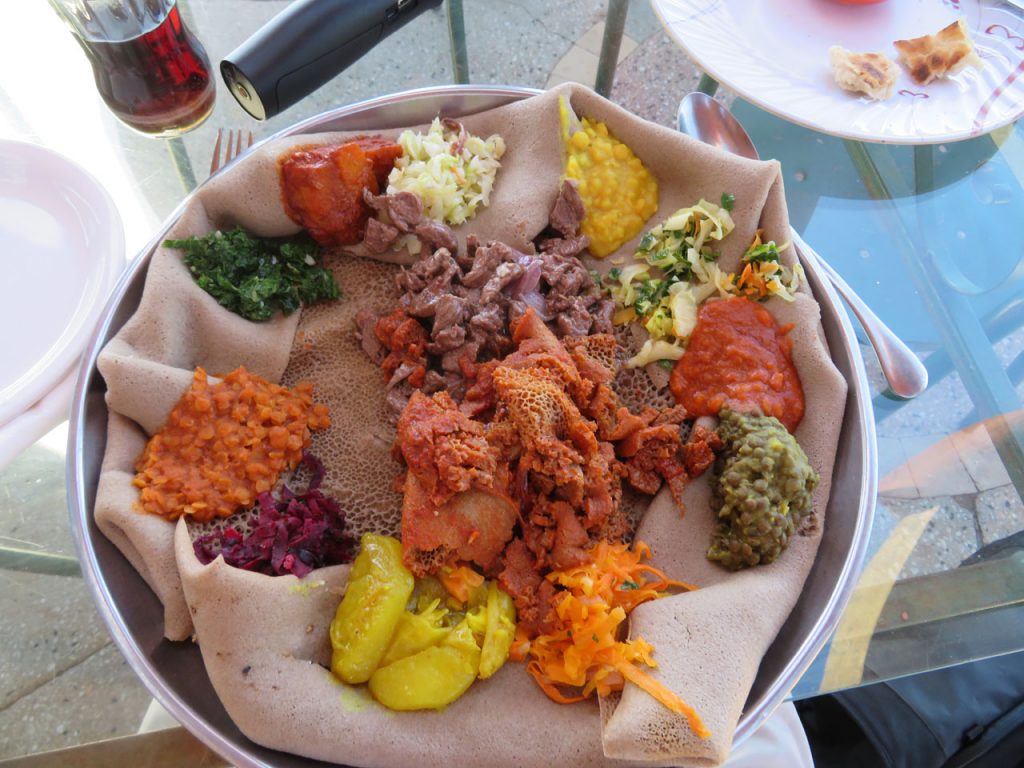 A colorful Injera lunch.Various meats and vegetables, mostly cold.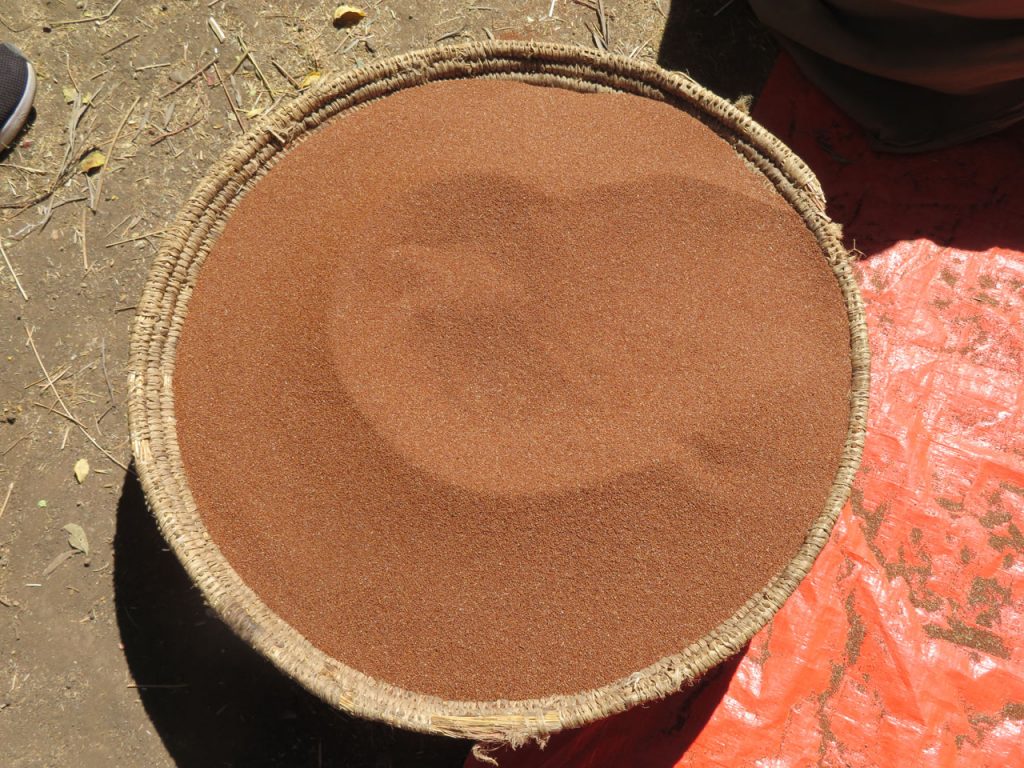 Injera "flour"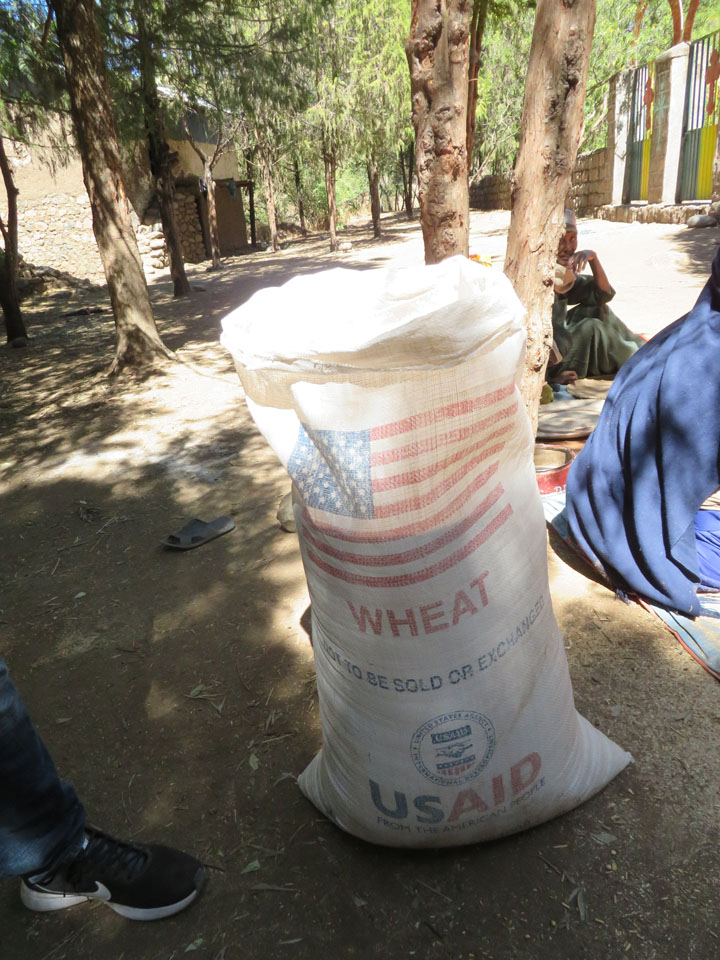 United States help is much appreciated. With 109 million people in a mostly desert country , extra supplies are needed.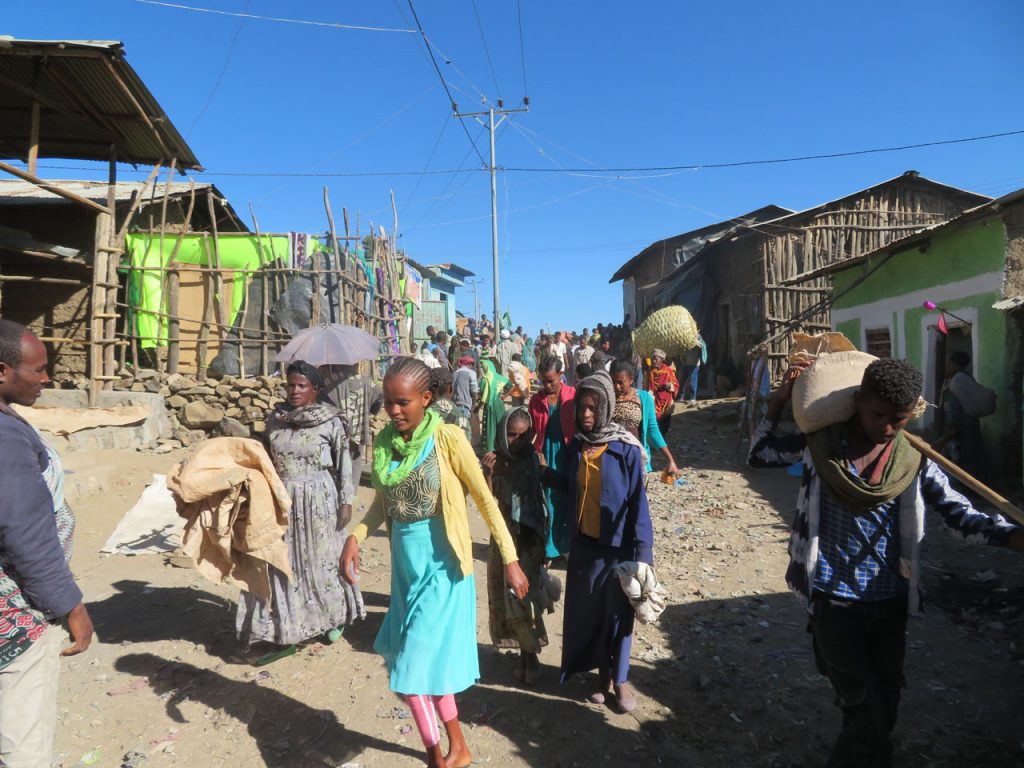 A cold Saturday morning, everyone on the way to buy and sell.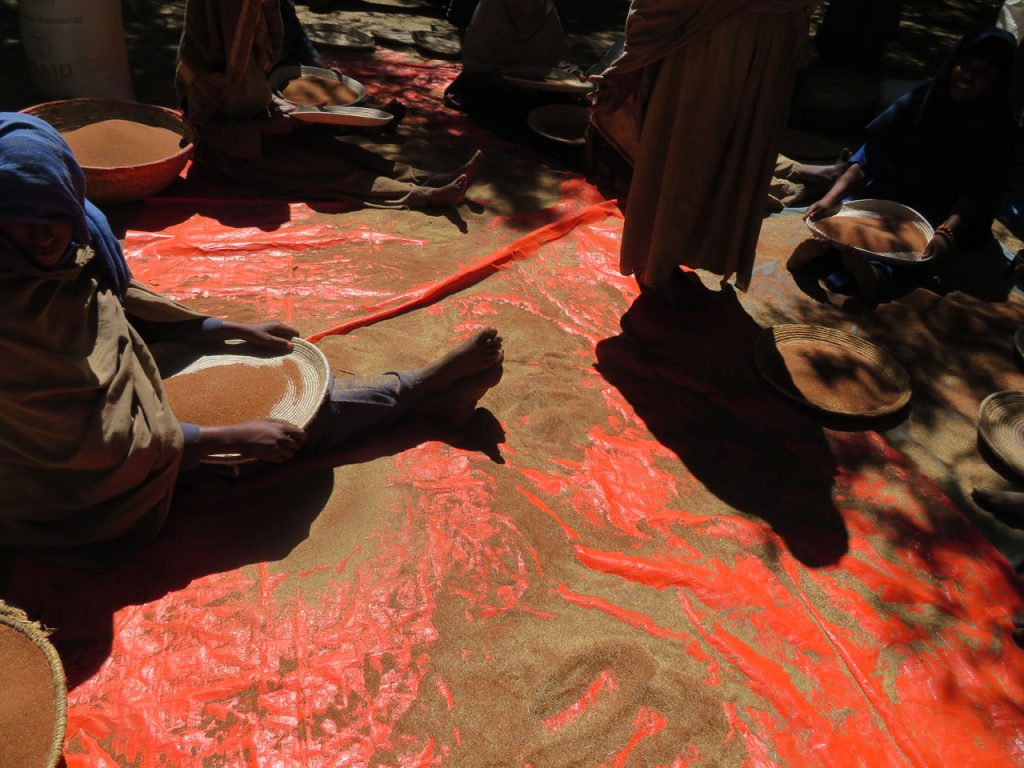 Drying grain.
Spices are abundant.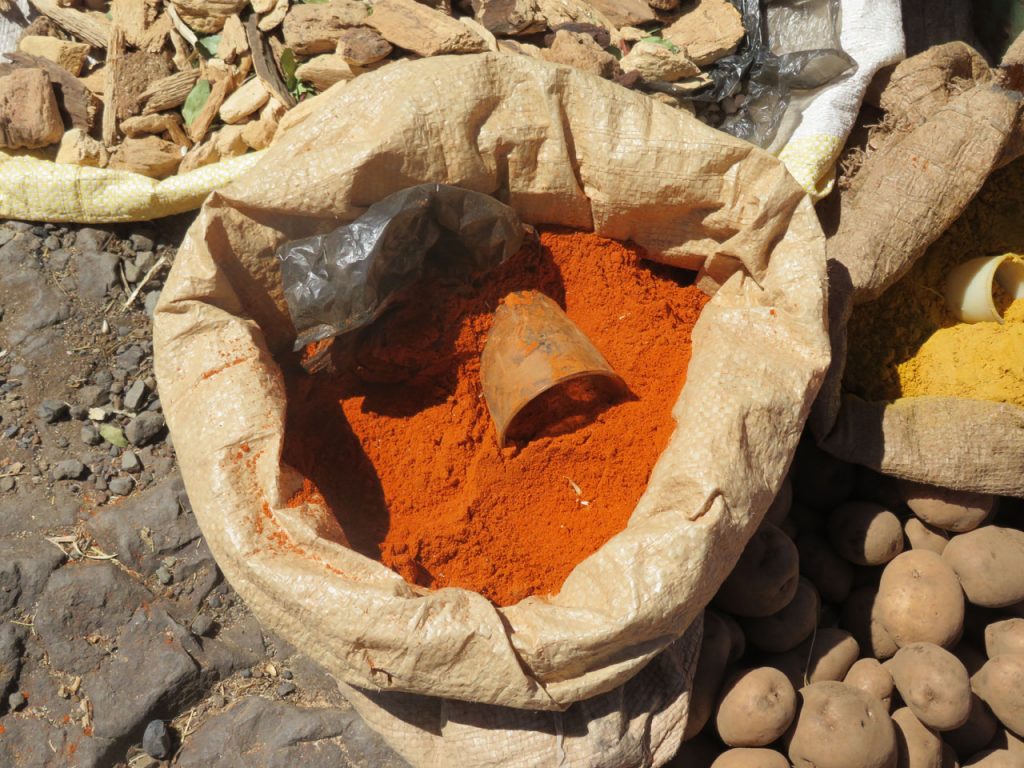 Spices Are Abundant.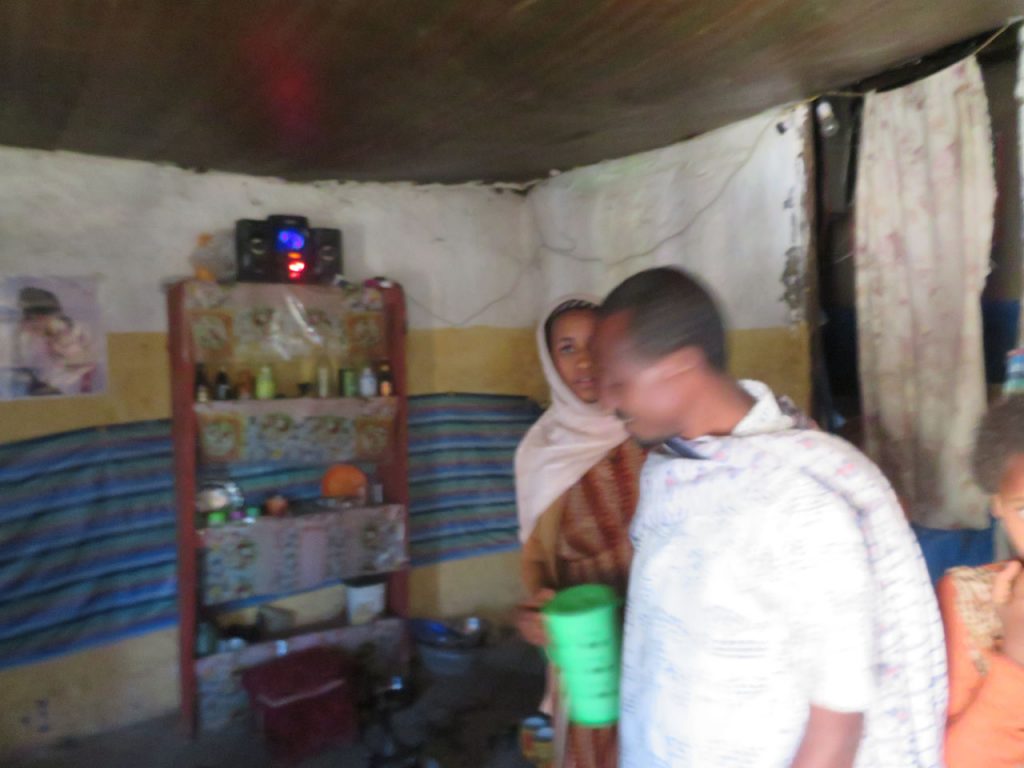 Inside a market bar. TotalAdventure was obliged to try some of the local firewater – made from fermented fruit that still had seeds floating in it. Powerful ! Though it was only 9 AM, music was blasting.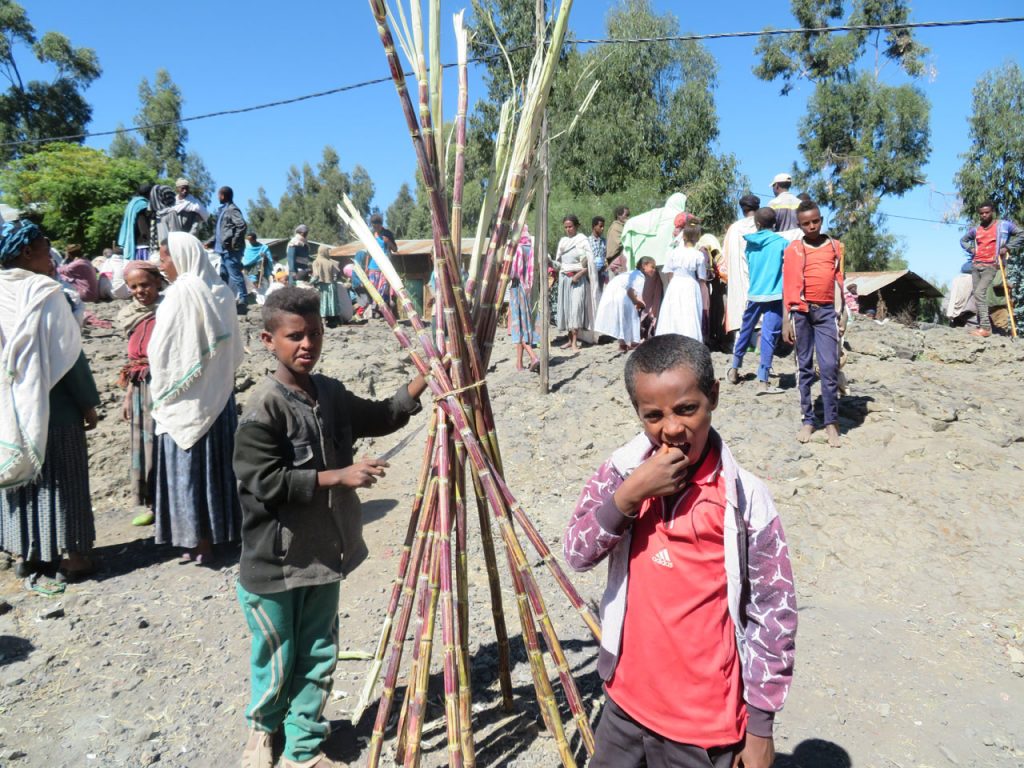 Bamboo for sale.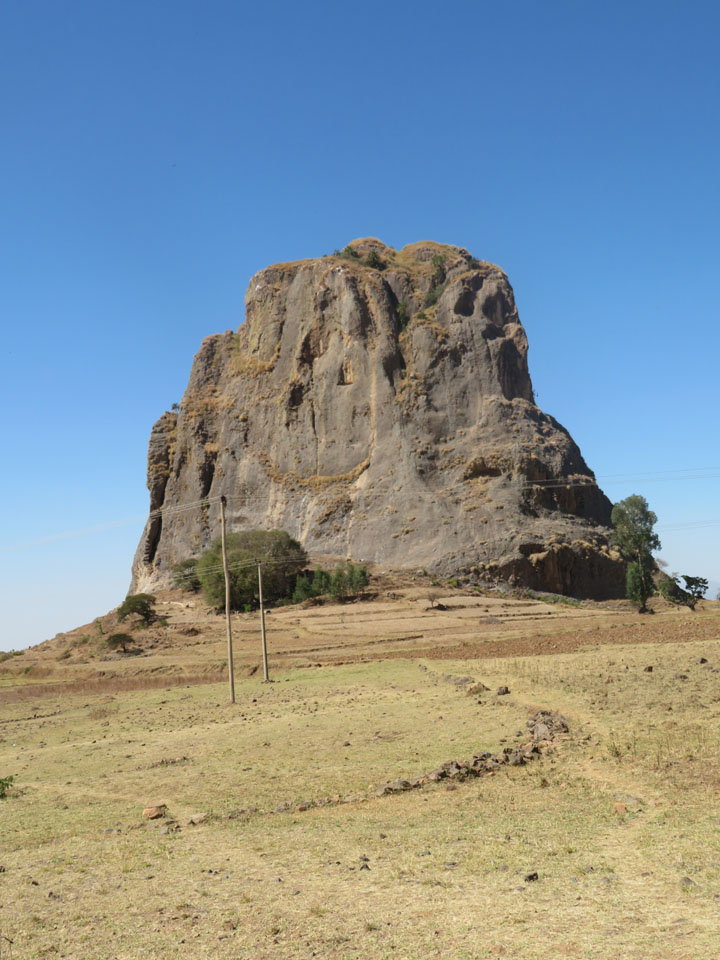 Approaching Gondar.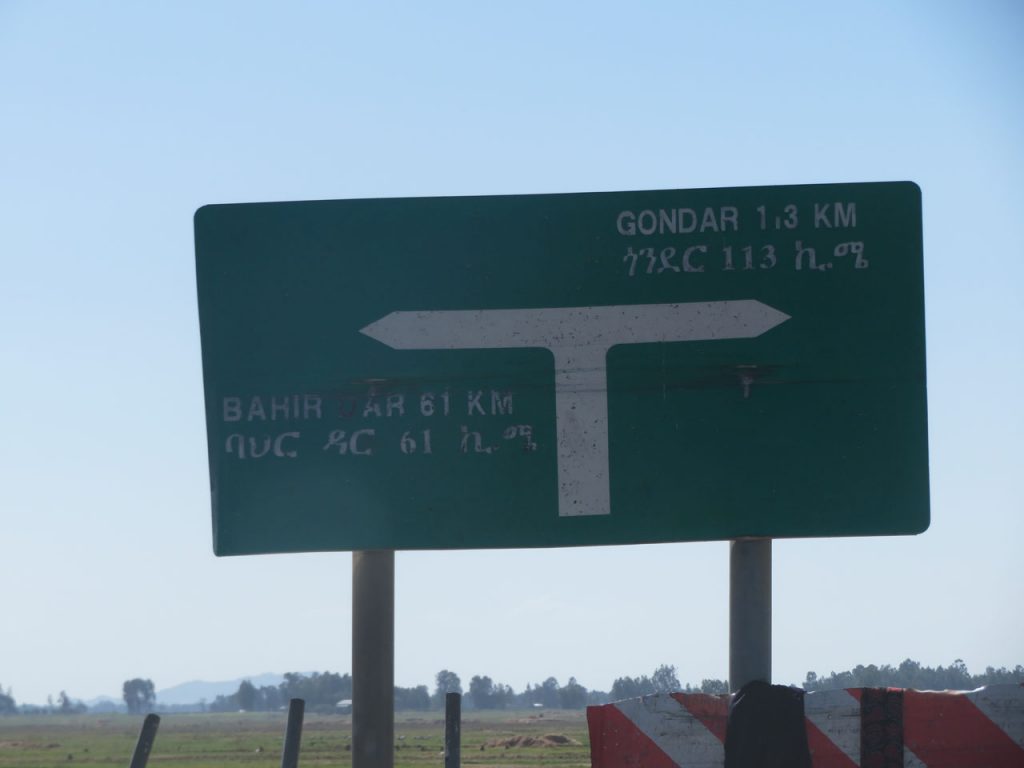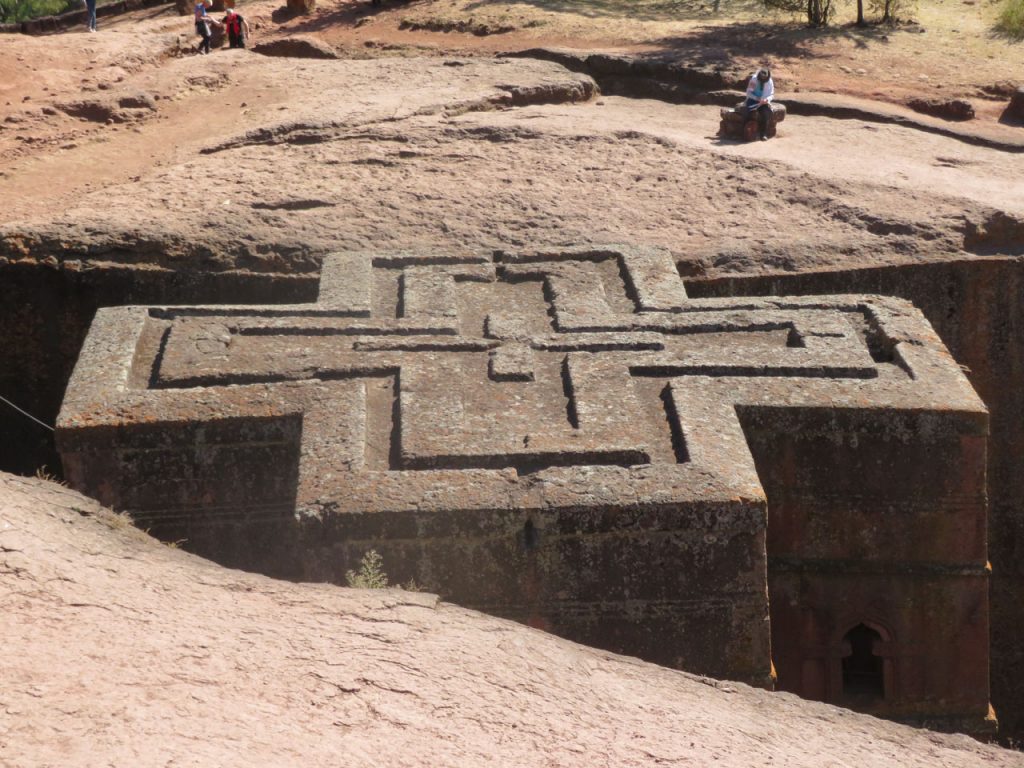 In The Twelfth Century King Lalibela Decreed A Holy City Known As New Jerusalem – To Be Built From Solid Rock. Above Is Beti Gyorgis – St.George ,One Of Eleven Churches Carved From The Earth.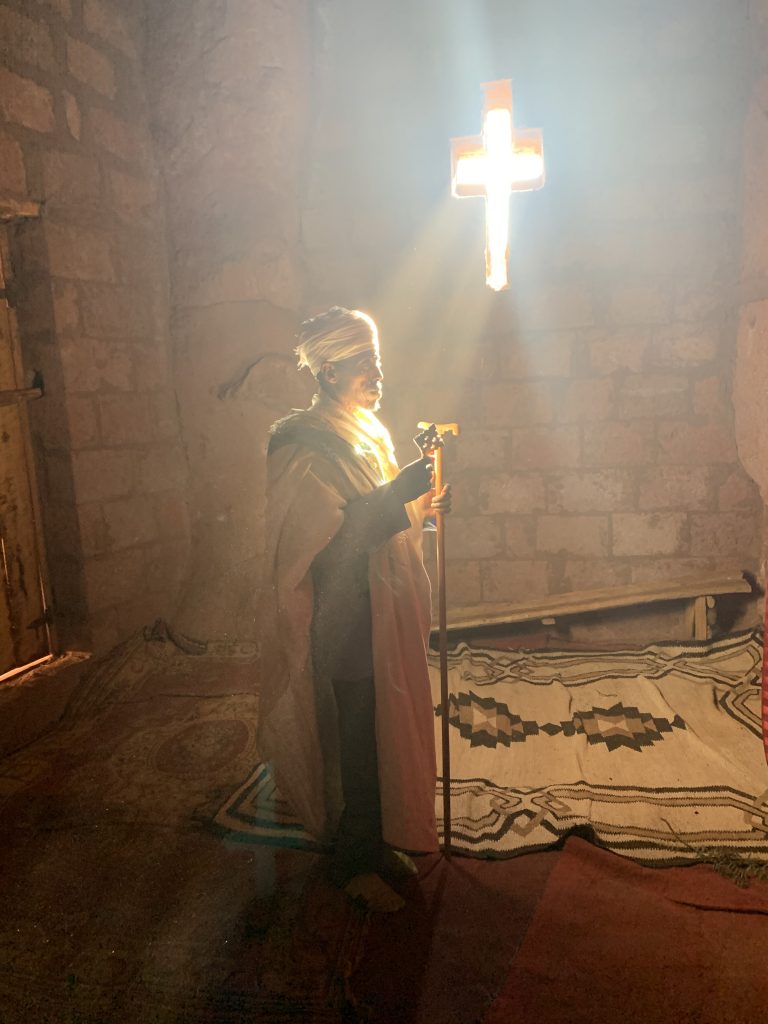 The Light of Jesus Shines Upon A Monk.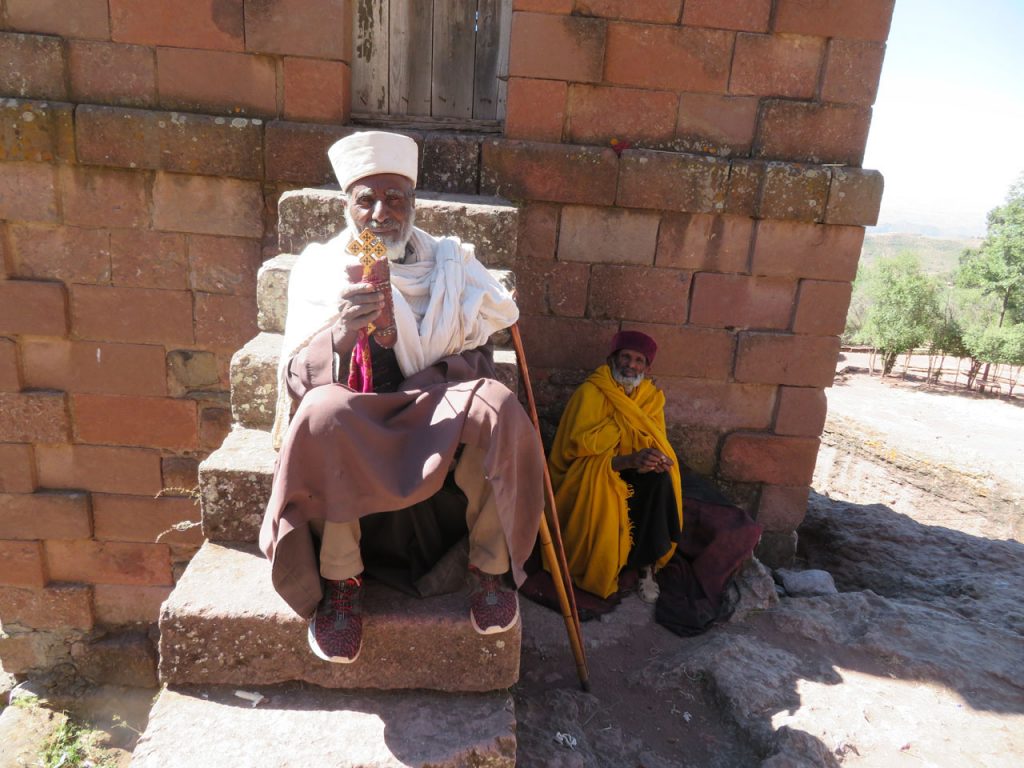 Days Spent In Prayer Unchanged From The Fourth Century.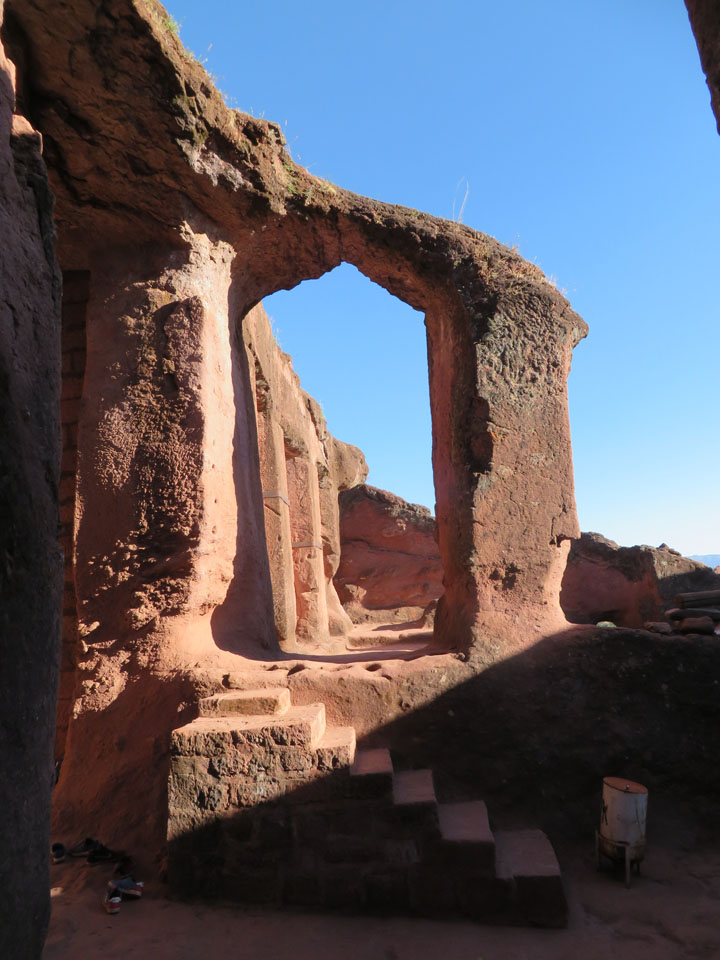 Very Little Restoration Has Taken Place. Due To The Arid Climate And Solid Rock Construction, Lalibela Remains Much Intact.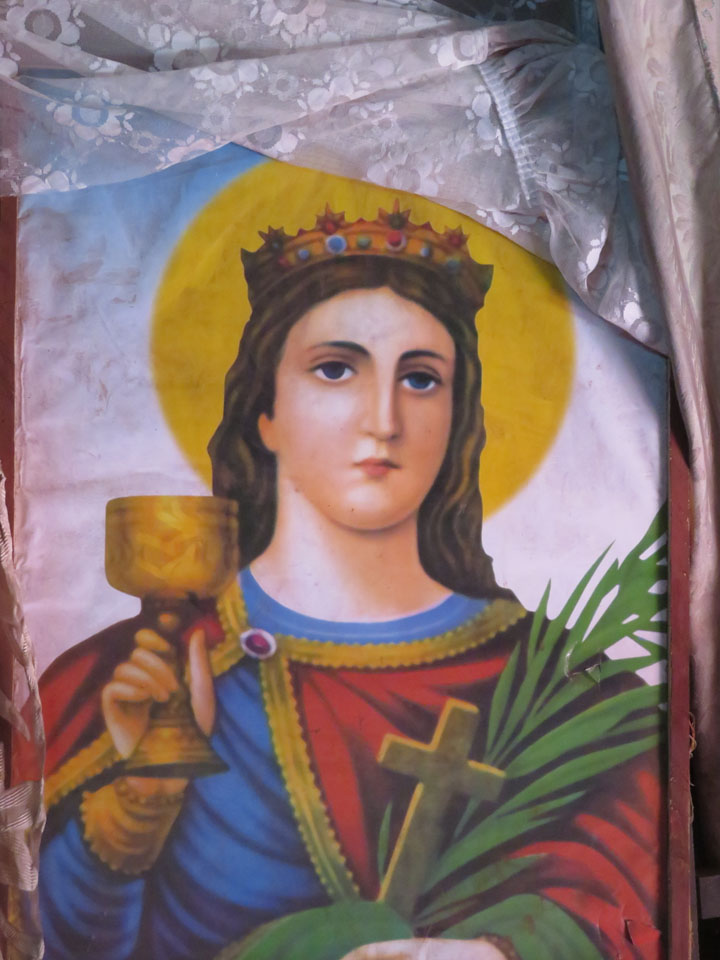 Envy Of The Crusaders Who Sought Ethiopia, But Couldn't Find It.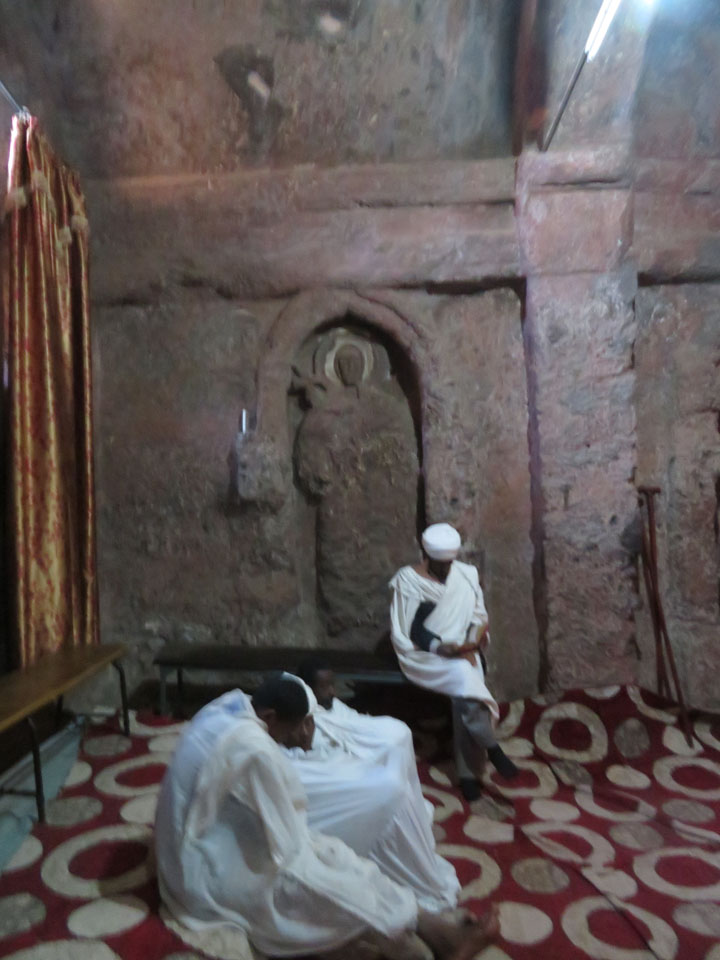 There Are 2 Masses Per Day, At Dawn And At Noon,Each For Two Hours. No Eating Or Drinking Is Permitted Beforehand ,Not Even Water.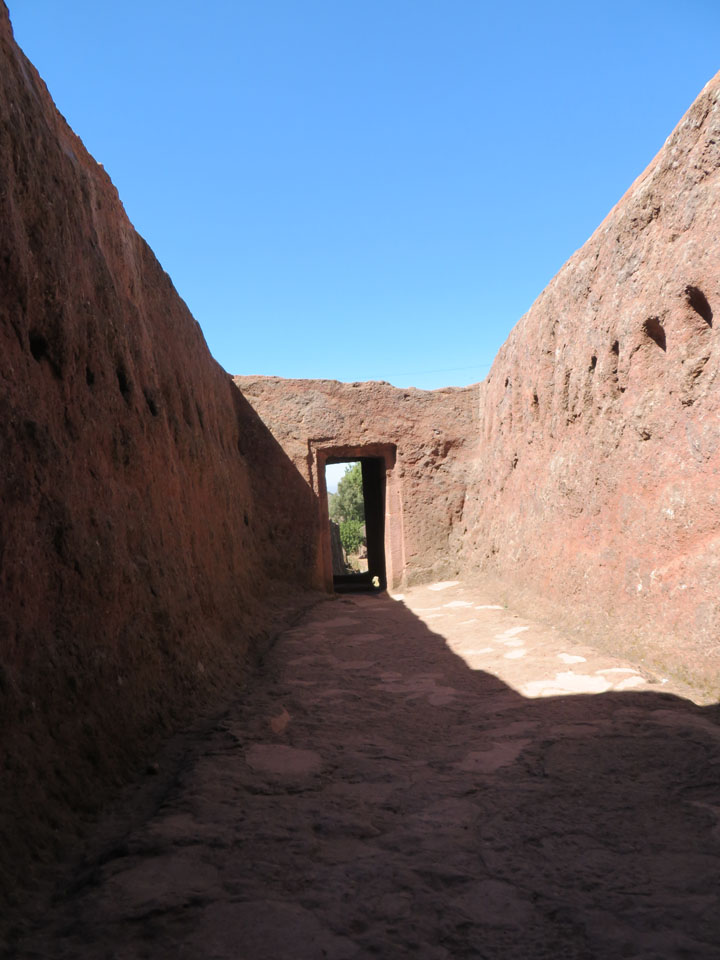 While Ethiopia is being "Discovered " there are few crowds.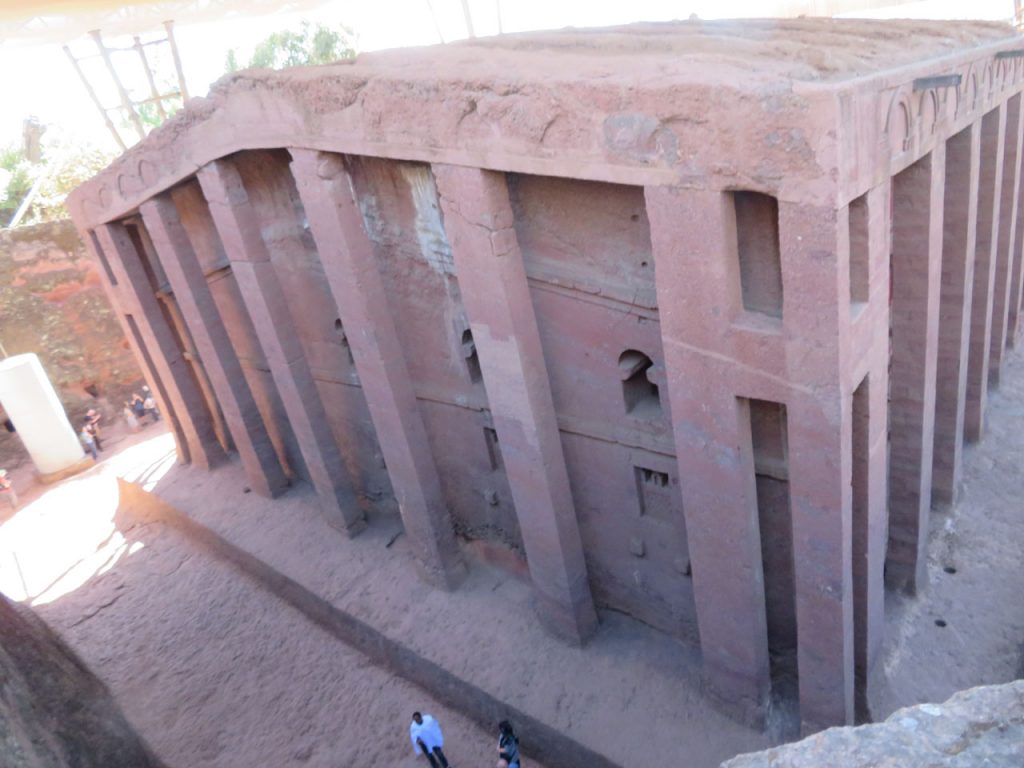 Rock Church From Above.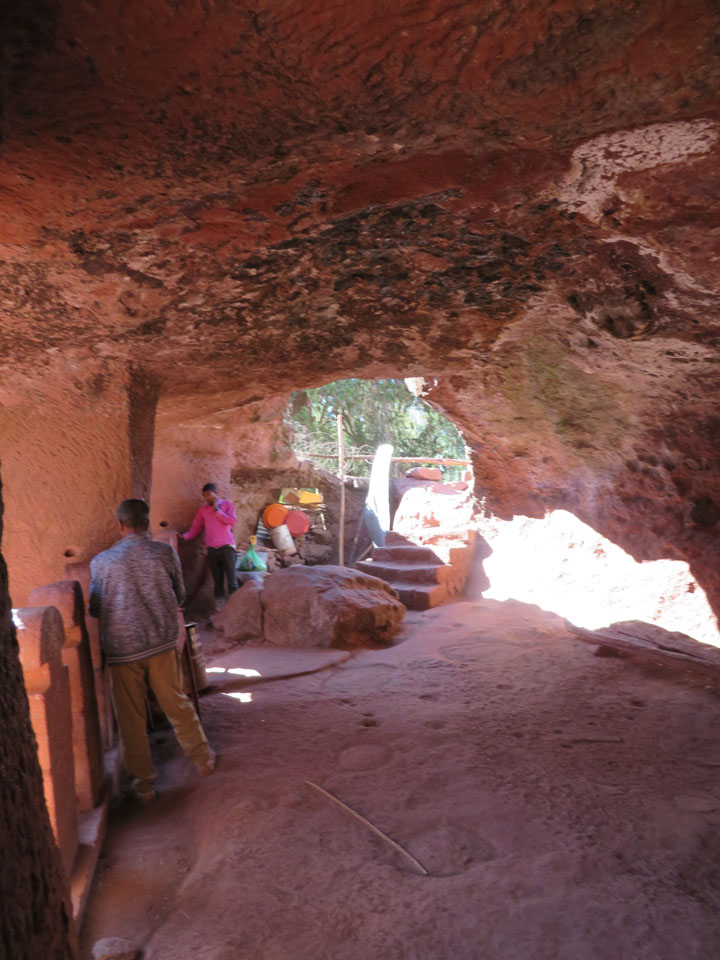 An Approach To Church.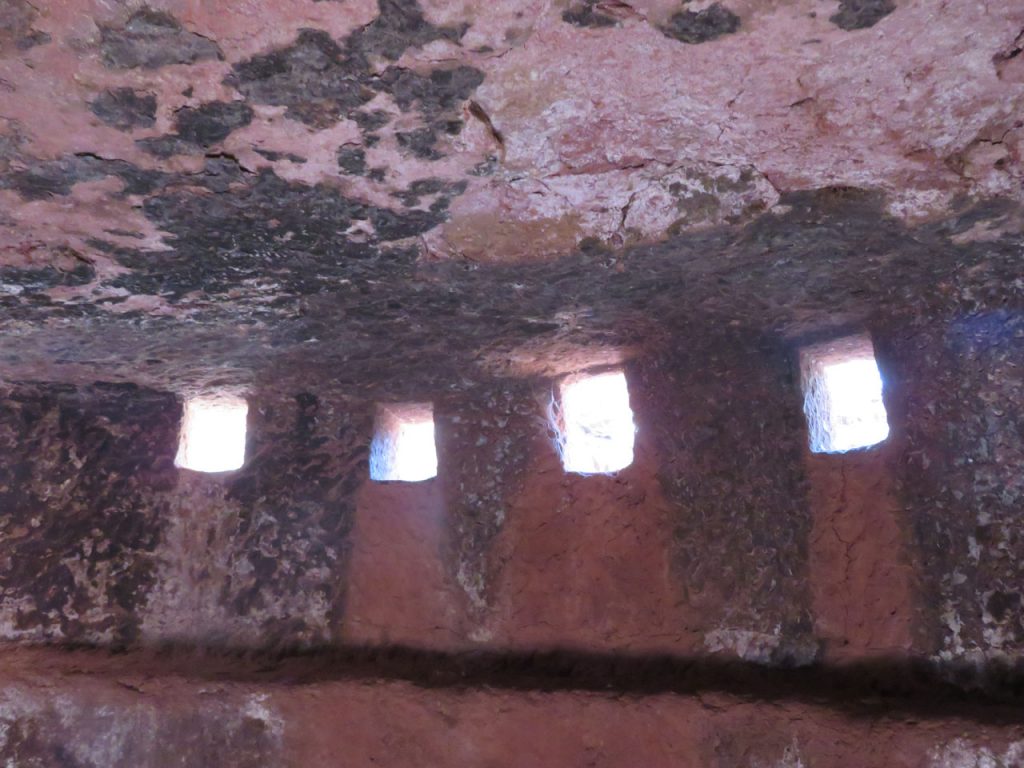 Circular Compound.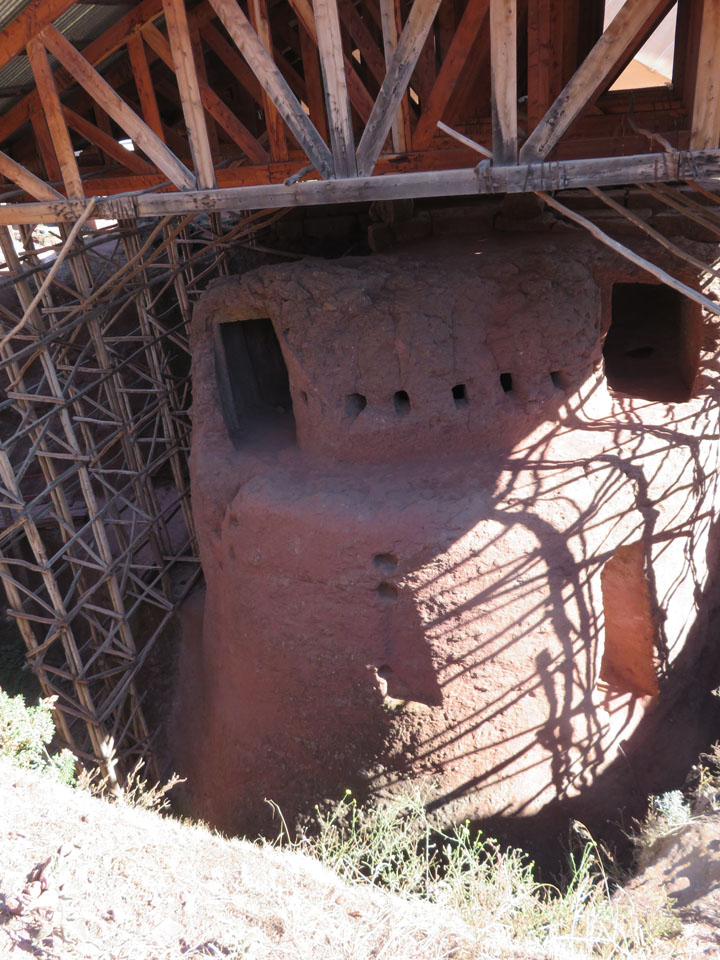 Exterior of Compound.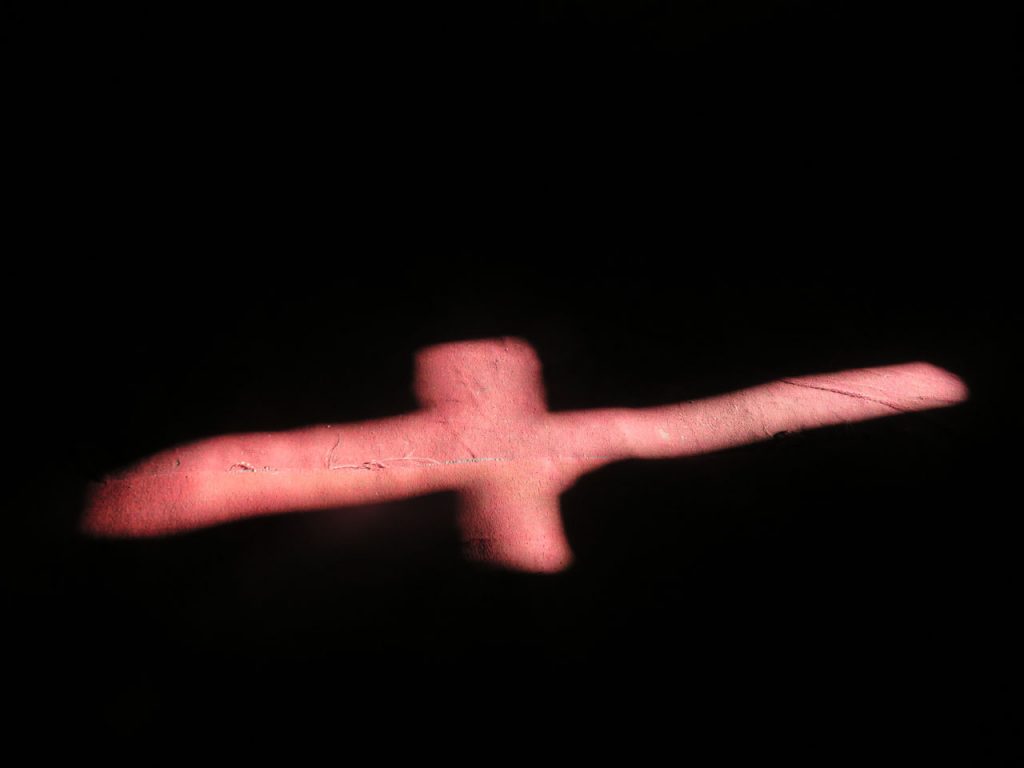 Light Of Jesus.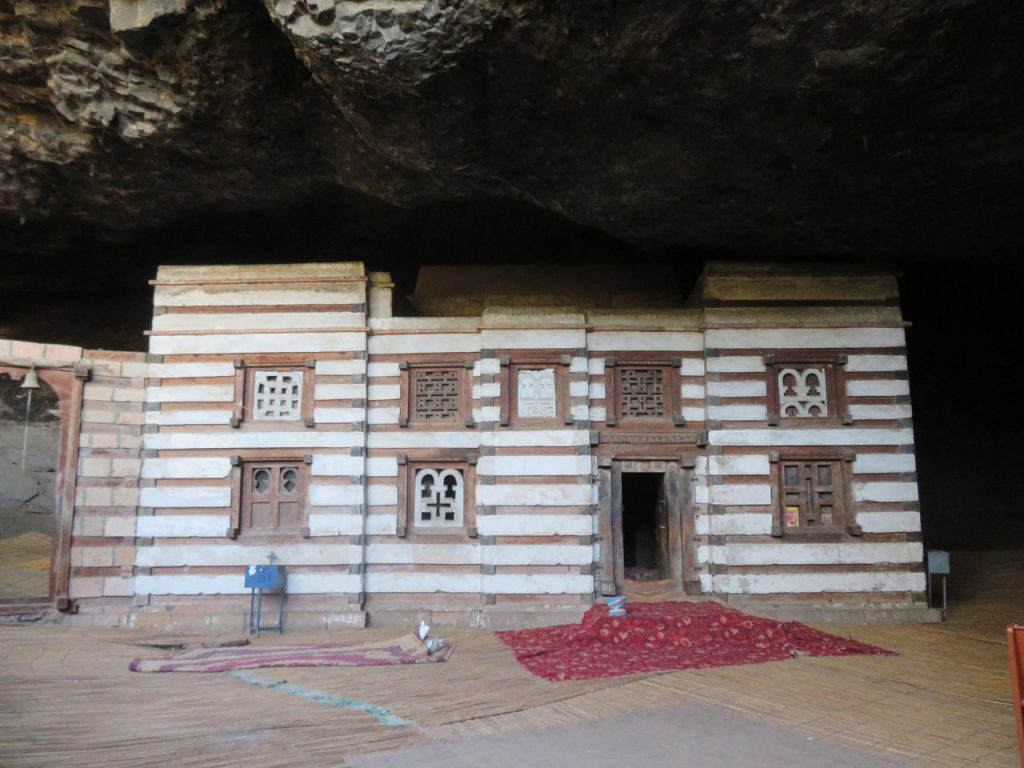 Outside Lalibela- A Church Built In A Cave.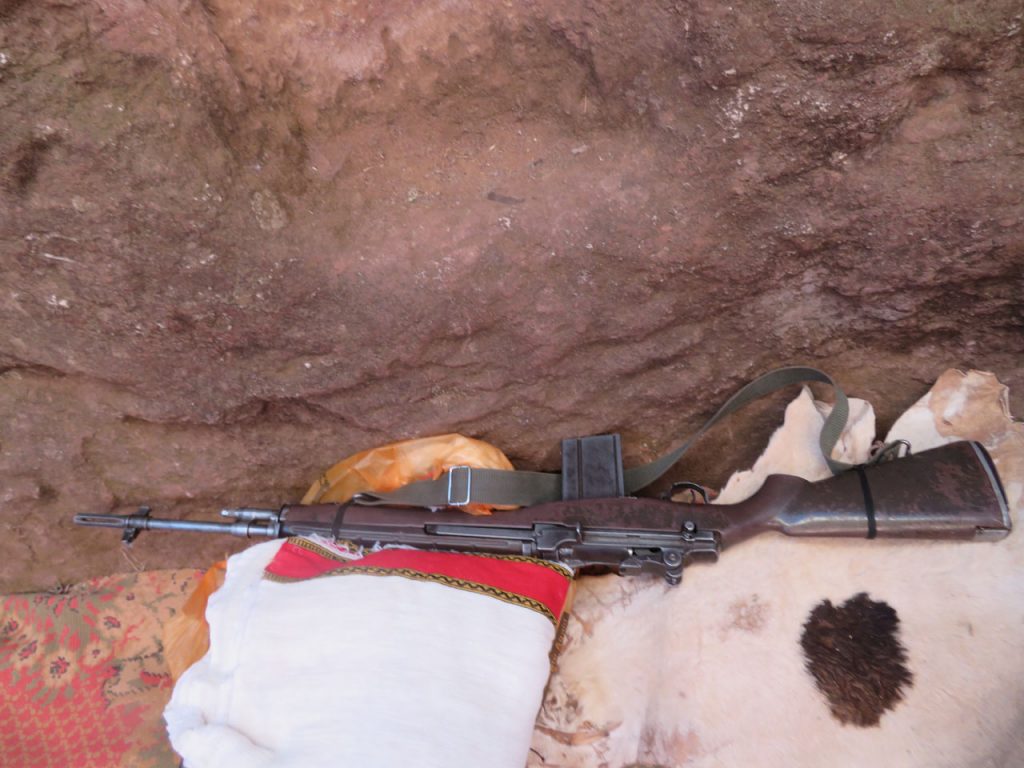 Guard's Rifle.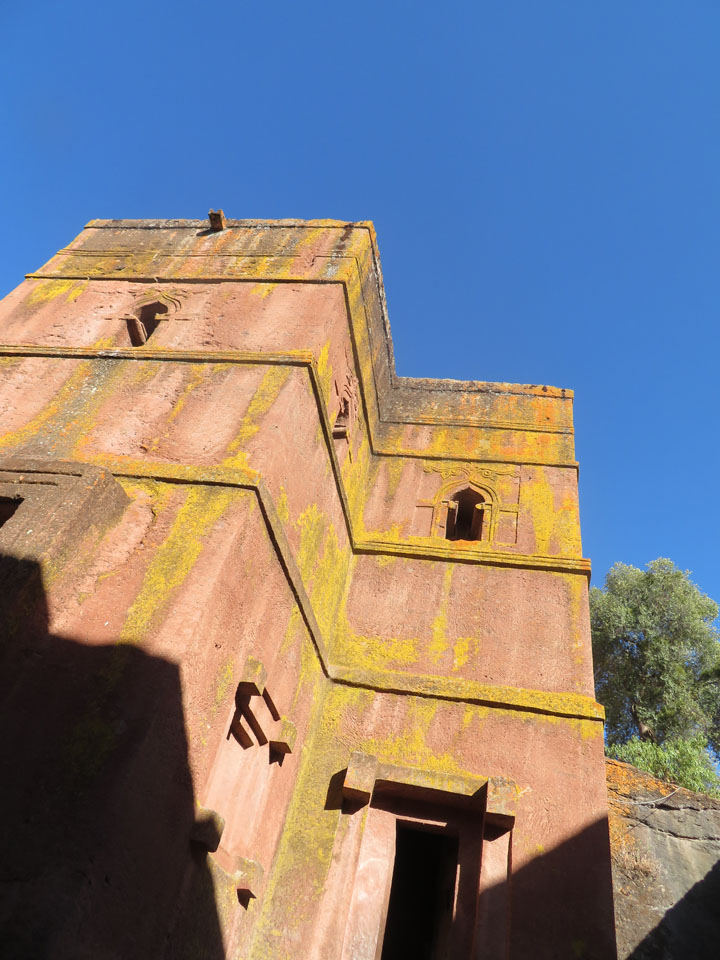 St.George From Below.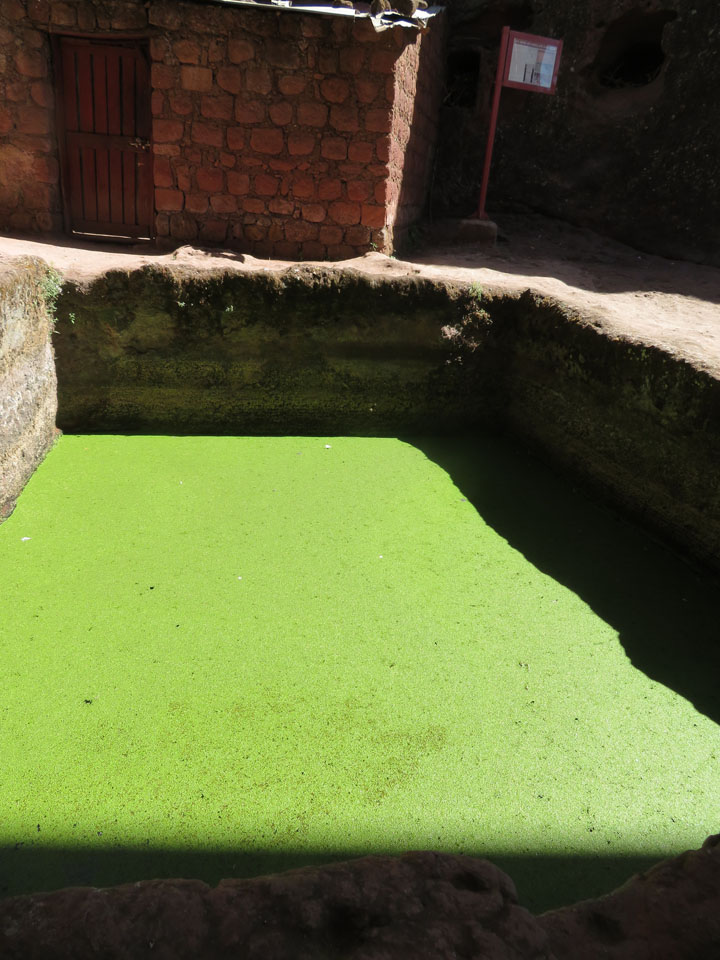 Holy Waters – A Bit Stagnant.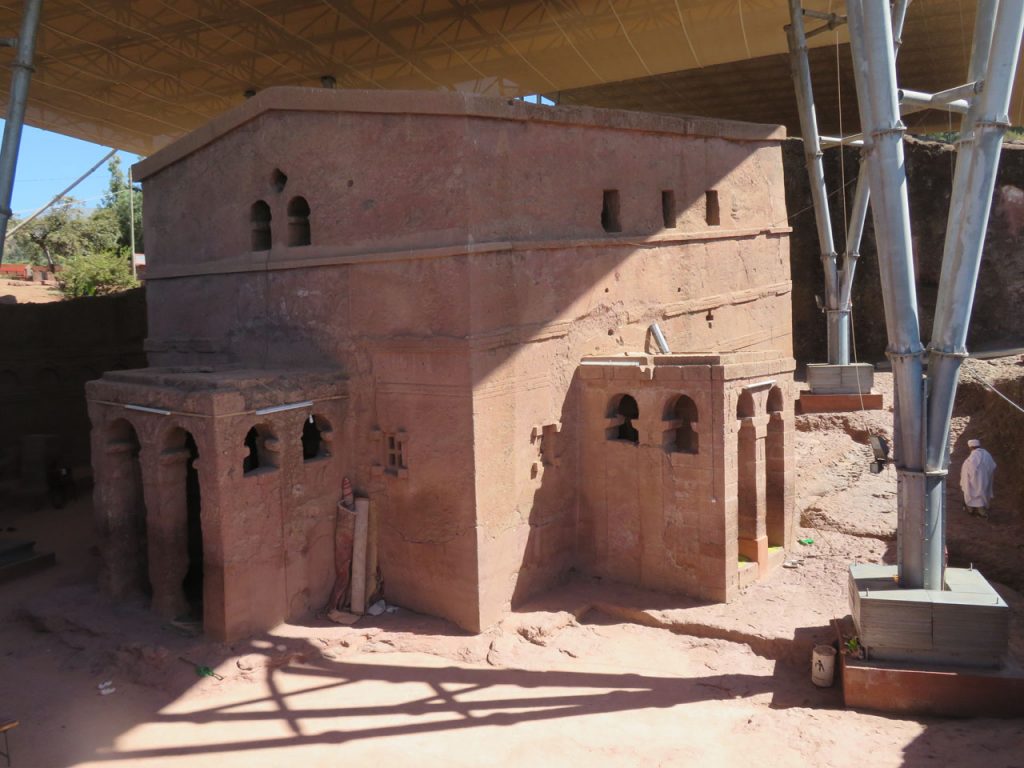 No Assembly – Just Carving !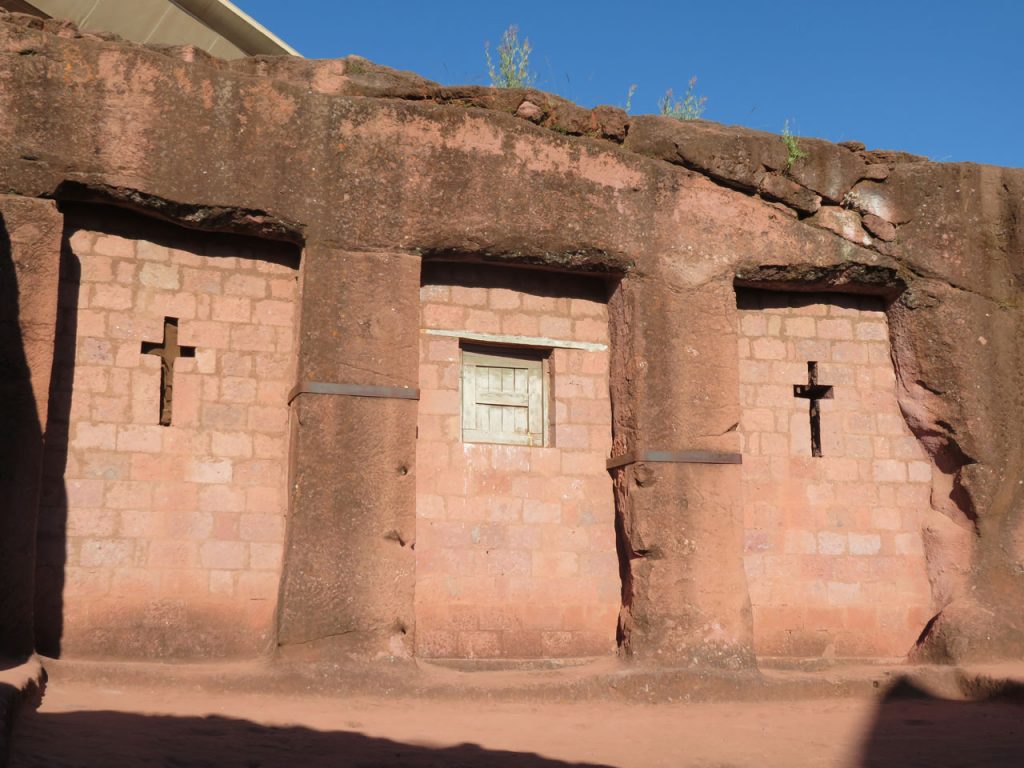 Church Exterior.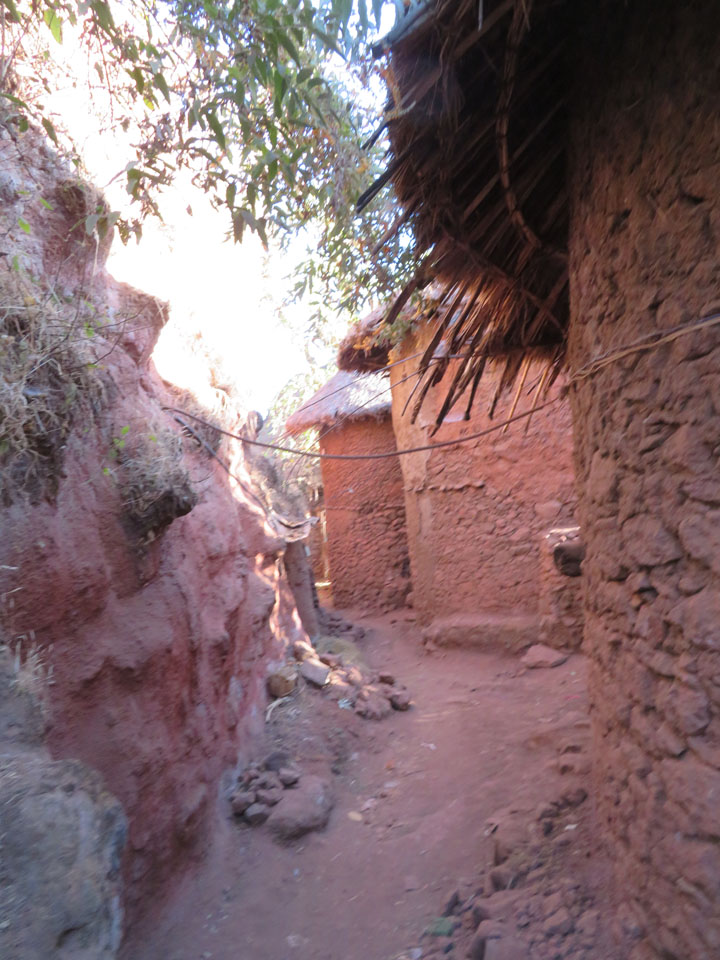 Lalibela Houses. Only Recently Did The Town Receive Electricity.