Archive for the
'Diving'

Category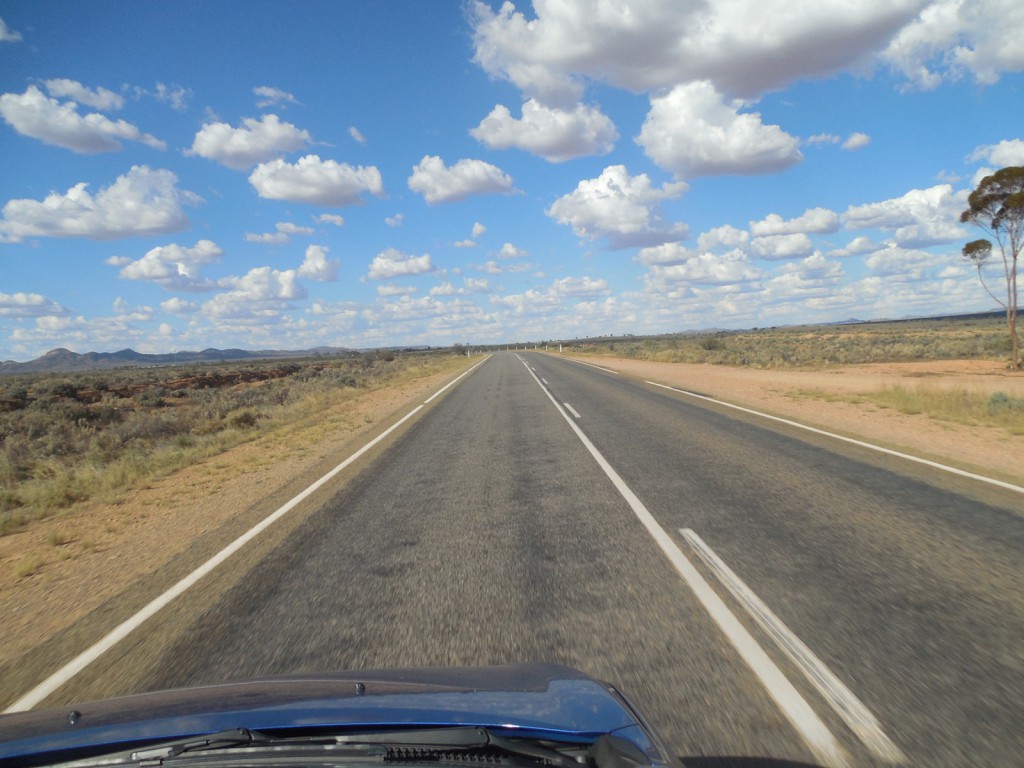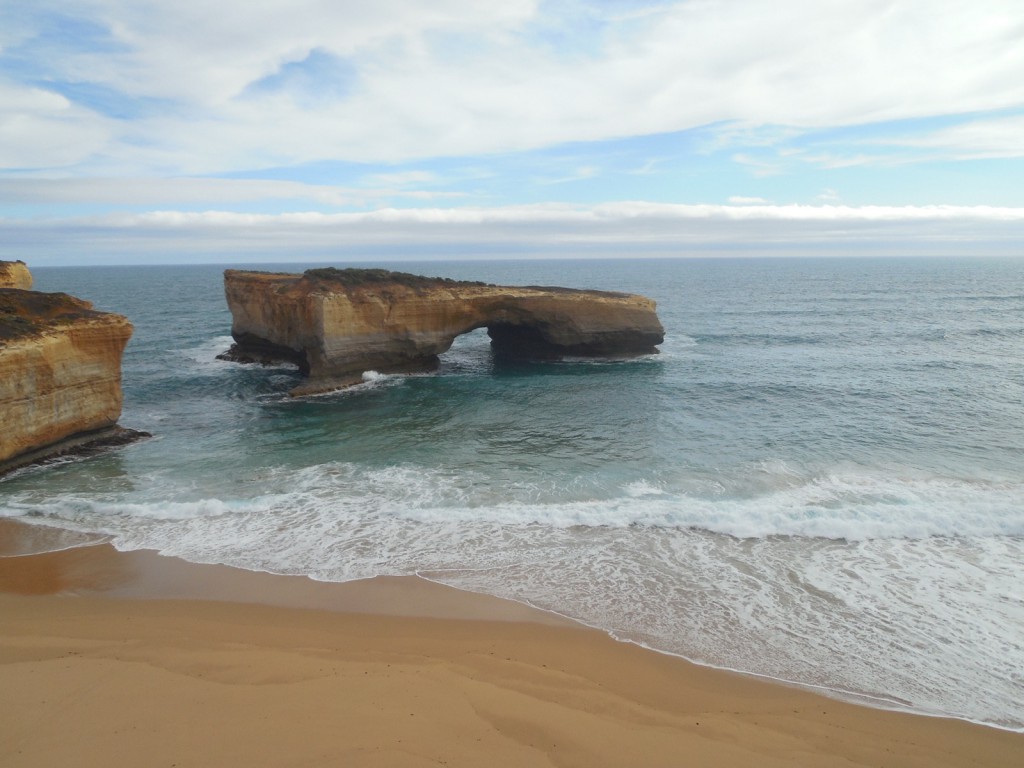 A recap of ArcticTropic's Australian Adventure last February. We are soon relaunching as totaladventure.travel and are currently in testing phase.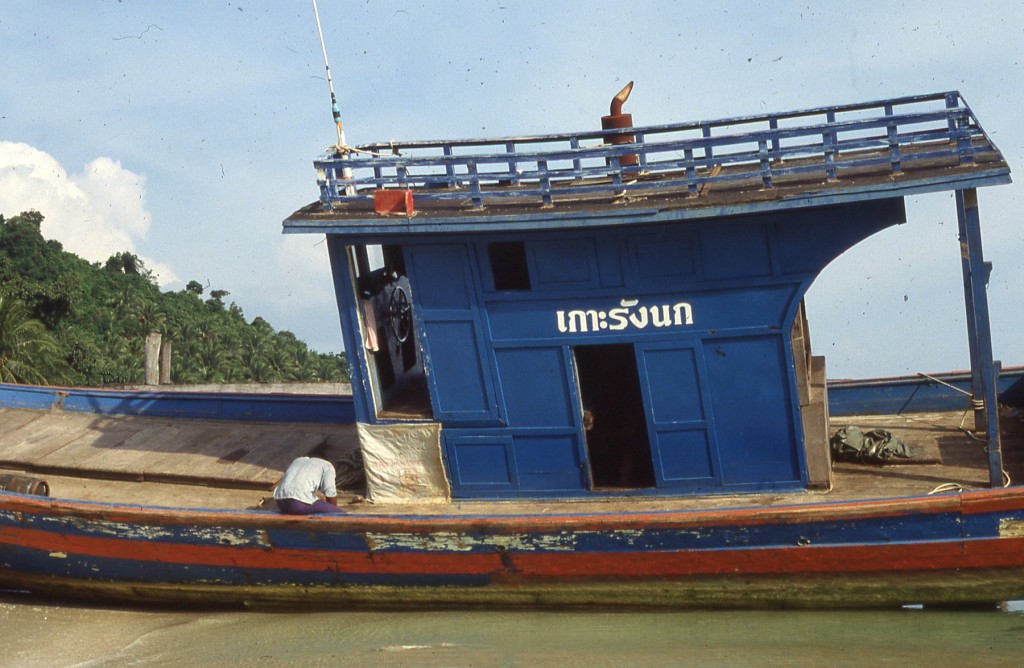 ArcticTropic recently came across a cache of slides from 1988 and scanned them. South Thailand is now Asia's jetset playground , but 25 years ago was still a sleepy paradise. However fishing boats still bring in fresh ingredients for delicious seafood curry.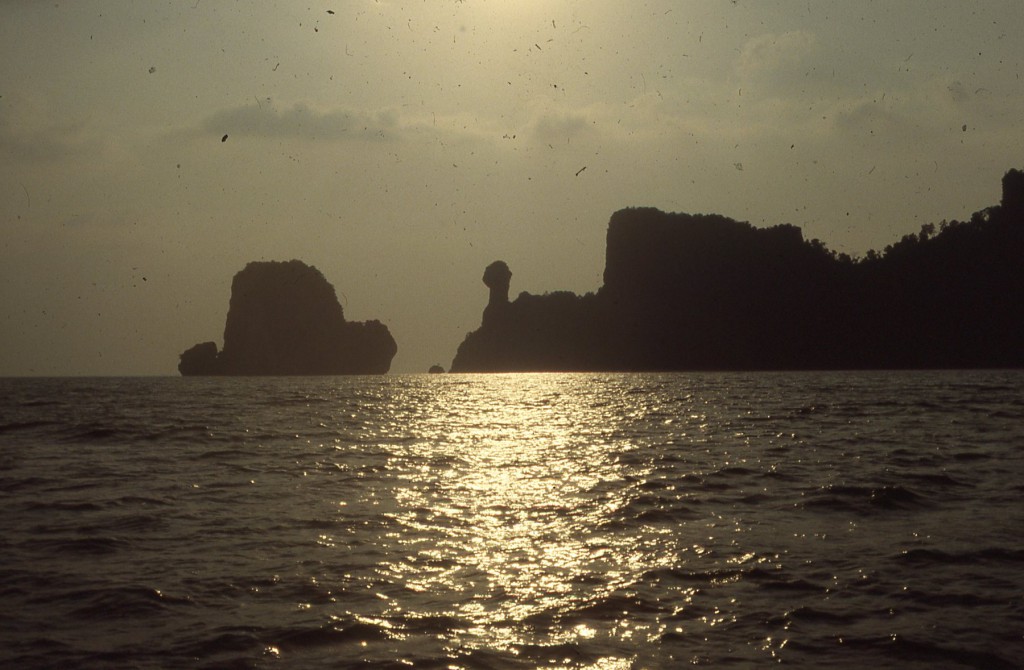 Ko Phi Phi Lae, the uninhabited Phi Phi islet,great for diving.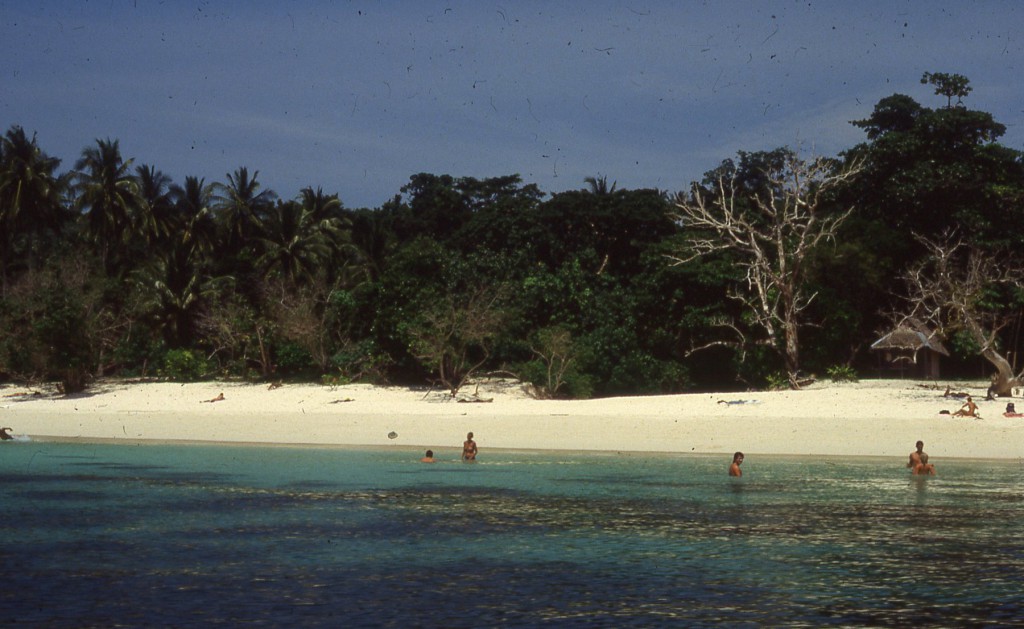 Beach on Ko Phi Phi Don – the bungalows were 50 Baht ( US $ 2 ) per night. Electricity was available from a generator for a couple hours each night, just enough to recharge my video camera batteries. When I returned in 1995, the same beach had been paved over with a multistory modern hotel – which was in turn swept away by the 2004 Tsunami. Apparently everything has been rebuilt since then.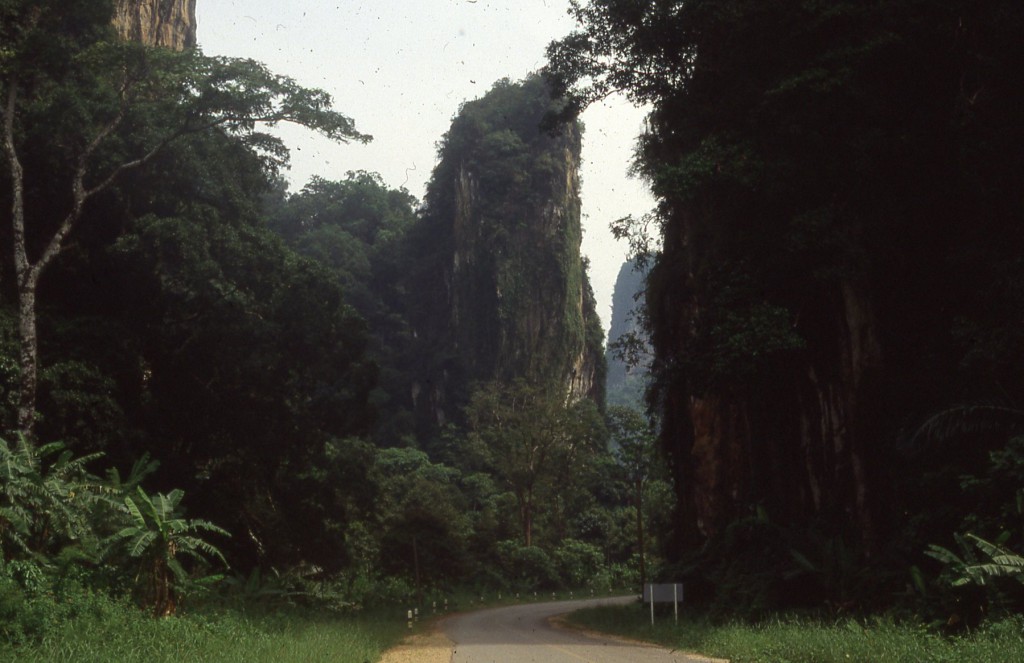 A winding road though the limestone mountains near Krabi. Southern Burma is just now opening up to the outside world and will offer scenes similar to these.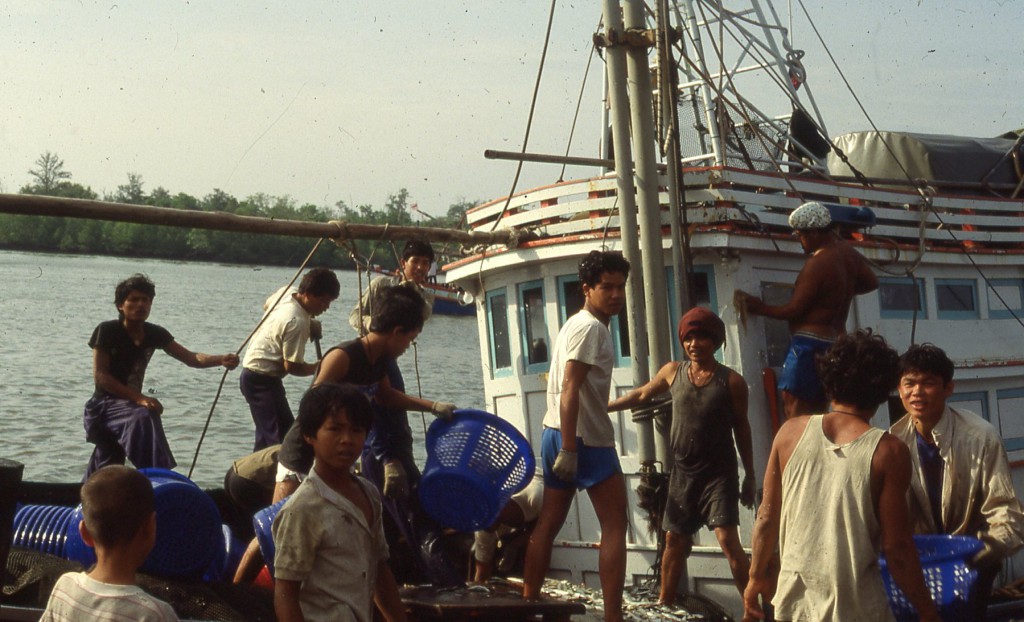 Fisherman with the morning's catch.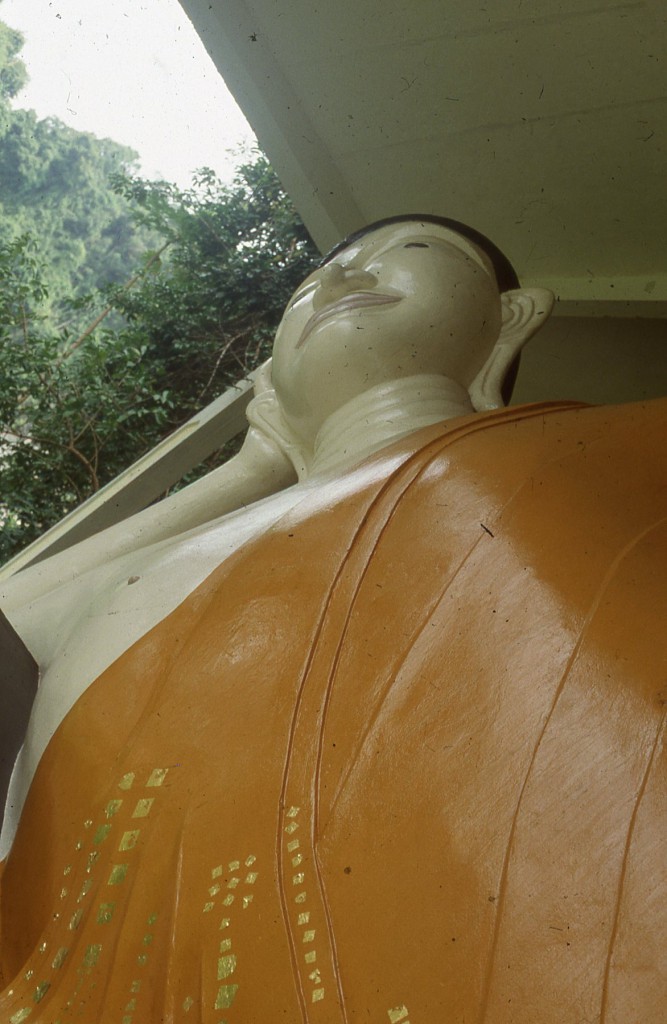 Lord Buddha gazes into the jungle.
FOR ADVENTURES IN THAI LAND, CLICK HERE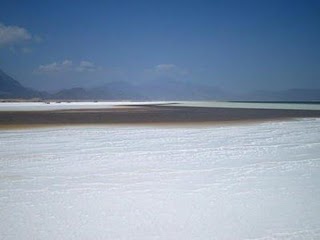 Eritrea, located on the Red Sea has turned it's entire 837 mile coast into an environmentally protected zone. One can dive in the clearest waters of the world. One of the benefits of isolation is the lack of overdevelopment and blighted reefs so common in other parts of the world.The Dahlik Archipelago is just off the coast. ArcticTropic links to two Eritrean destinations an invites other providers to join us in marketing themselves to our high – intensity adventurers..
The Philippines have a lot to offer beyond the beach resorts developed for Hong Kong tourists. Just 2 hours out of Hong Kong one can be in the most remote volcanic mountain jungles, with primitive tribesmen and unihabited islands with beaches accessible only by sailboat.
FOR ADVENTURES IN THE PHILINES, CLICK HERE
Here I am in very sunny and warm LA on a quick stop over from NJ before I  start a trip that has been over ten years in the making.
The blue outline of Catalina floats in the distance as I sit here with my mind going over all my equipment and things I may need in the next three weeks in the middle of nowhere.
The idea for trip all started in 1993 I first visited Indonesia. I was staying at a wonderful wargung (a type of inn/bed and breakfast Bali syle) called Murni's. At breakfast there was only one other guest and she happened to be from CA. She had very recently moved to Java to work with the World Bank and was happy to fill me in on the sights and things to do in Ubud, Bali. Over the next 4 years my job took me to Indonesia at least twice a year and Bali became a second home full of good friends and miraculous times. We all shared a love of exploration, local culture and diving.
It was are shared love of diving more and more remote areas that spurred us on to plan this trip.
We at first planned this trip in 1999. The plan was to fly in to Ambon and take a boat south to the very remote Banda sea. Unfortunately 2 days before our schedualed departure Ambon was torn apart but religious riots after a century of peace. The town was up in flames and the Captain told us that it would be impossible to have the boat go into the harbour. So on the fly we organized another boat and all met in Bali and island hopped for diving to the east to Timor. Although wonderful it was not the remote unexplored areas we had our hearts set on.
So now we are onto round 2. This time everything seems to be in place. We have a wonderful live aboard – The Blue Kiro – waiting for us in Ambon. The plan is to board her on Oct. 29th and go south into the Banda Sea. I am not sure how much communication I will have but I will update when I can. I am now off to Singapore for a layover, then a flight to Bali and a quick day and half stop to see my friends and a bit of pampering in Ubud then finally onto Ambon.
Now I have to pull myself away from the beautiful view of Catalina and go finish the last minute details! Cheers!
Maria
Driving across the Seven Mile Bridge on a beautiful November day. ArcticTropic is the Gateway to Florida Adventure.