Fight Hysteria – Travel !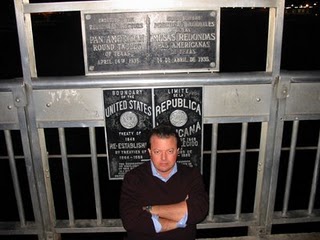 The last two weeks have seen some of the worst media and government generated fear mongering since SARS- even from the US Vice President. The travel industry has been severely affected – especially airlines – just recovering from last year's astronomical fuel prices.
In Mexico most adventure travel companies are small operations that depend very much on having full bookings all season. One or two cancellations could put them out of business – denying future adventurers from the same incredible experiences – climbing volcanoes, rafting in Veracruz State, whale watching in Baja, exploring newly discovered Maya ruins in Chiapas or fishing for Marlin in the Sea of Cortez .
Thankfully the US did not give in to total paranoia and close the border . ( That's me above at the Laredo crossing a couple of years ago.) One of the explanations for flu fatalities in Mexico is that there is ready access to antibiotics without prescription -which are then used for the most minor colds. Consequently they don't work when they are really needed.
Now is one of the best times to book flights to Mexico. Last week June departures from New York or Miami to Mexico City were as low as $190 RT ! Book now – by June the flu will be long forgotten !
ArcticTropic links to over 40 Mexican adventure destinations and packages. Click HERE to visit and book.