Archive for the
'Forest'

Category
On June 16th TotalAdventure flew from Los Angeles to Fairbanks Alaska, to join with our Northern Producer,Martin Z. for a 500 mile drive up the Dalton Highway to Deadhorse – at Prudhoe Bay. WATCH THE VIDEO ABOVE.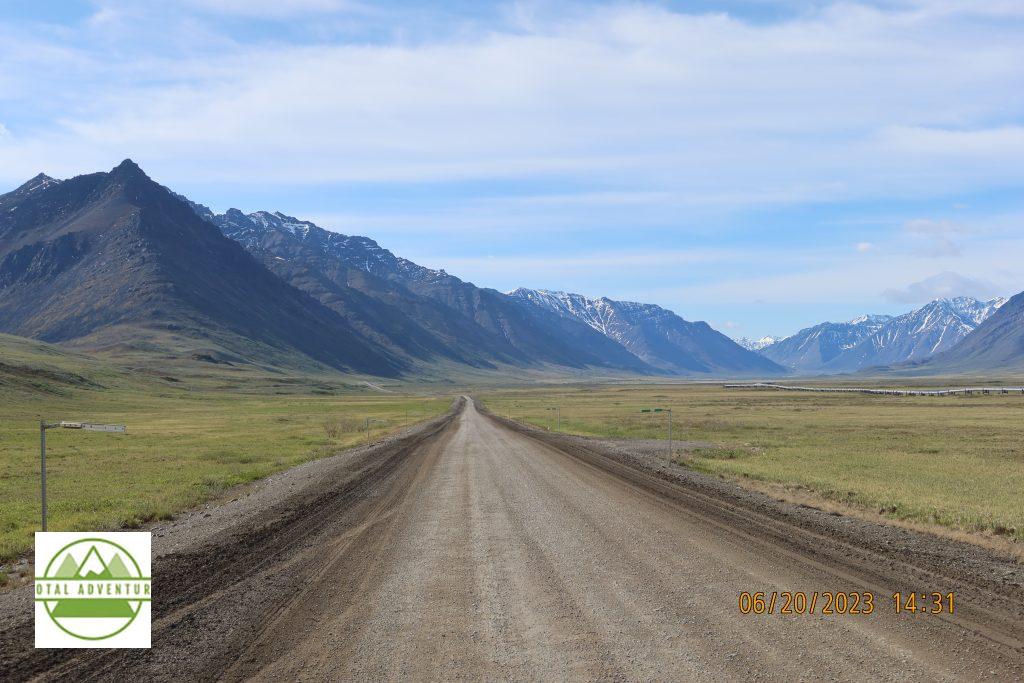 In the 500 Miles between Fairbanks and Deadhorse there is only one stop with lodging, food and fuel – at Coldfoot Camp. There are otherwise only scattered scientific and work camps ( road and pipeline workers ). There are no rest stops ,billboards, McDonald's, gas stations , nothing but beautiful unspoiled Arctic nature.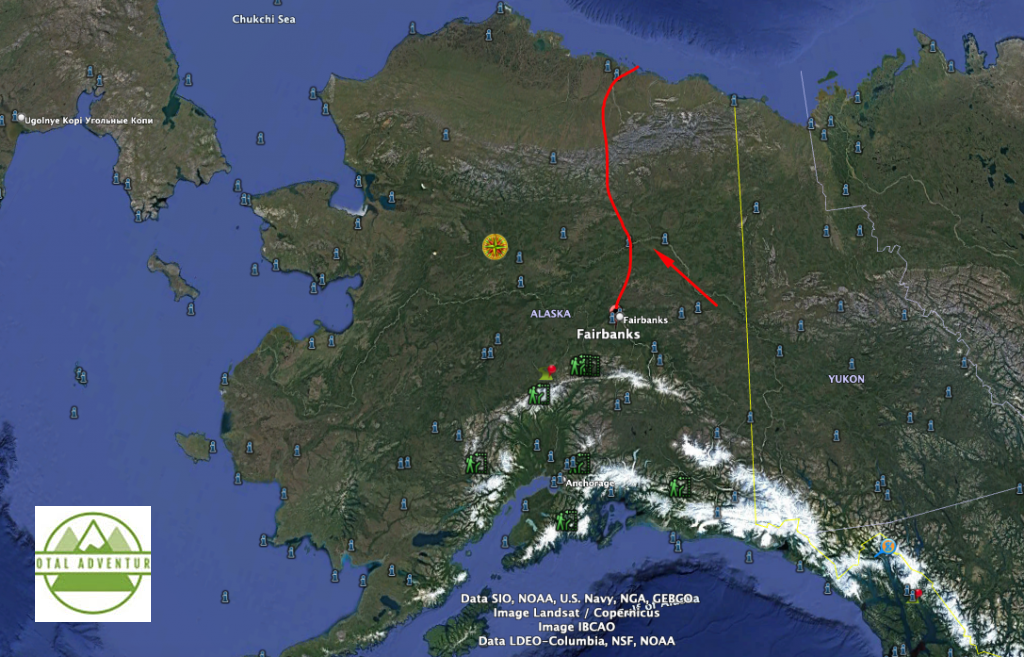 The informal road started after the War (2) but became a formal paved and gravel road with the building of the Alyeska Oil Pipeline in the 1970s. From the top in Deadhorse, at Prudhoe Bay, one can drive 12000 miles to the other end of the planet in Ushuaia, Tierra del Fuego, Argentina, where TotalAdventure was only 6 months before , in Southern Summer, before boarding the ship to Antarctica.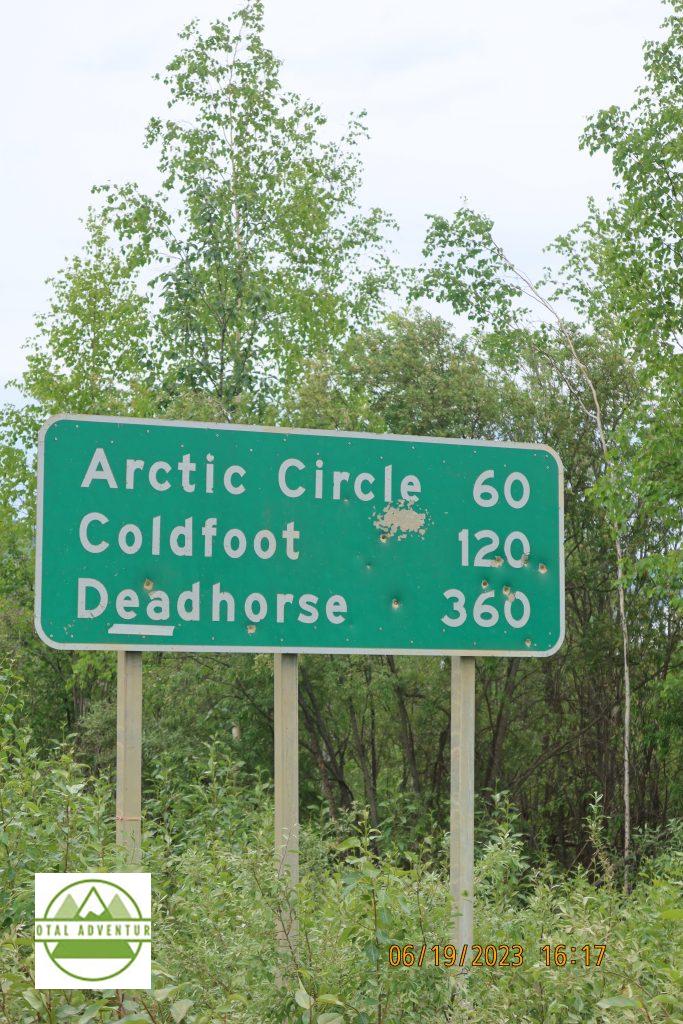 About 140 miles north of Fairbanks. The summertime forest is verdant and full of mosquitos. The sign makes for good target practice.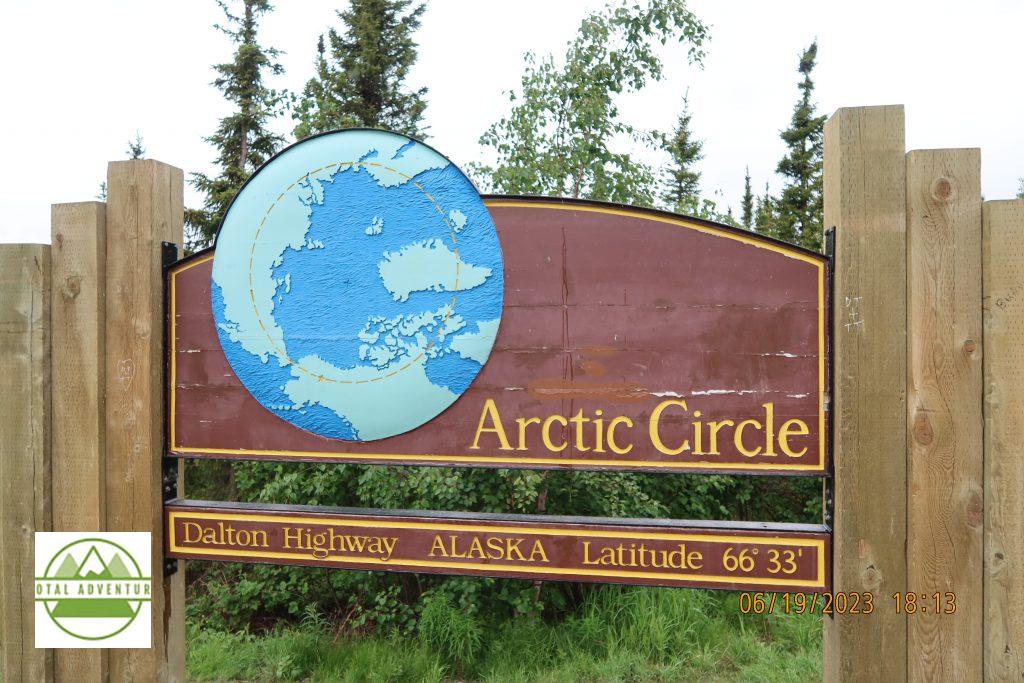 TotalAdventure crosses the Arctic Circle on land for the first time. In the air, we have flown over the North Pole countless times. On this day, June 19, the sun will dip below the horizon for 2 minutes. On June 21 it will not set at all. Note there all tall trees at this latitude. In Antarctica trees do not exist in a true polar climate. SEE THE VIDEO ABOVE.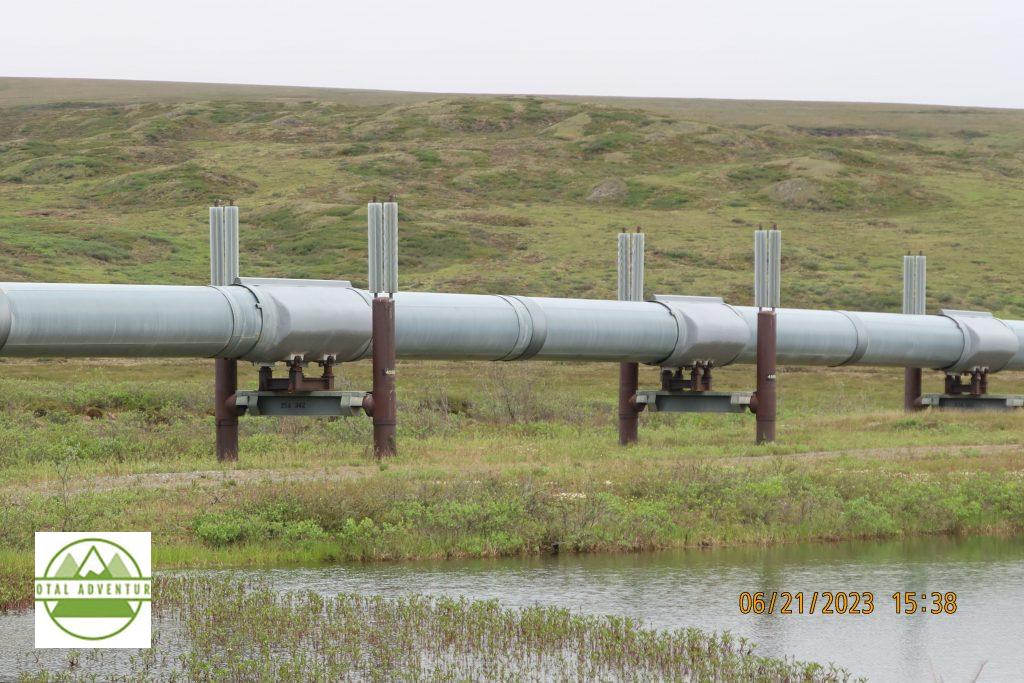 The pipeline runs nearly 1000 miles from Prudhoe Bay to Valdez. The oil supplies mainly the US West Coast, Alaska and sometimes Japan.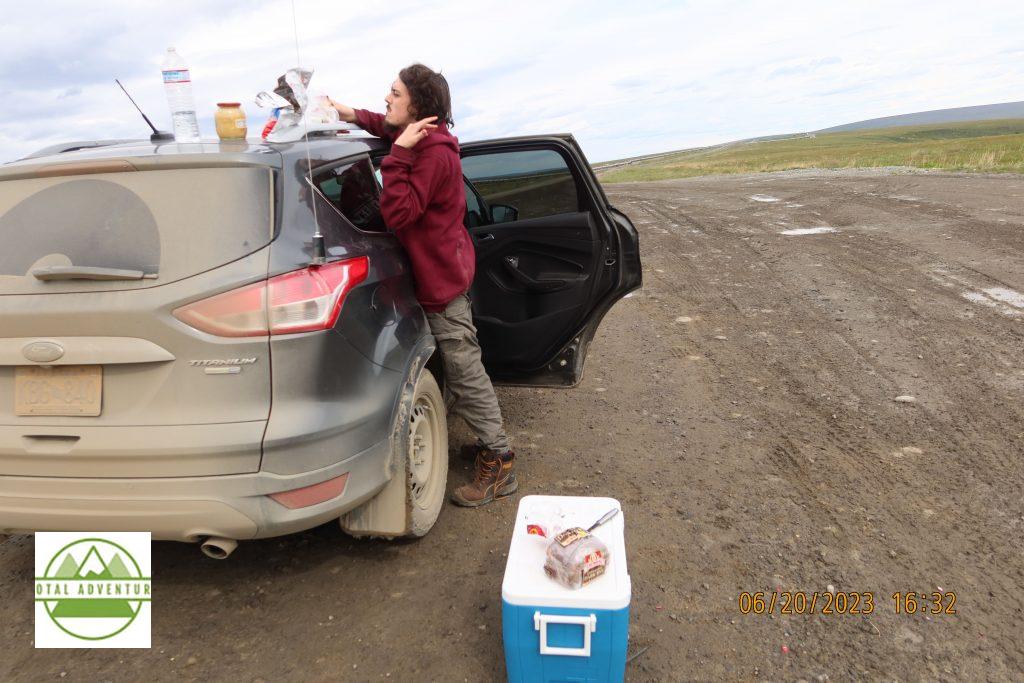 Lunchtime. We bought all our own food , as there are no rest stop food courts along the way. Sandwiches for lunch and fresh local smoked salmon for dinner.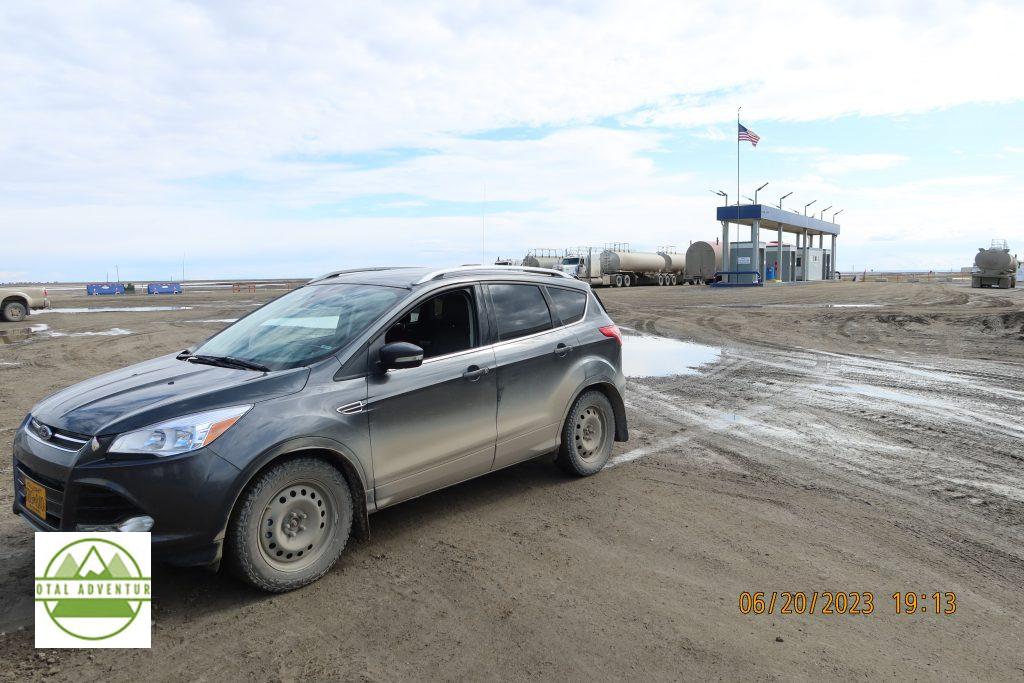 Our car – A 4 wheel drive Ford Escape rented from North Alaska Tours. It comes equipped with a CB radio as cell service is only available in Coldfoot and Deadhorse, not on the road itself. Behind the car is the Deadhorse gas station – at $7.19 a gallon it's 30 cents cheaper than Coldfoot. Though the fuel comes directly from under the ground, it has to travel thousands of miles to be refined and trucked back again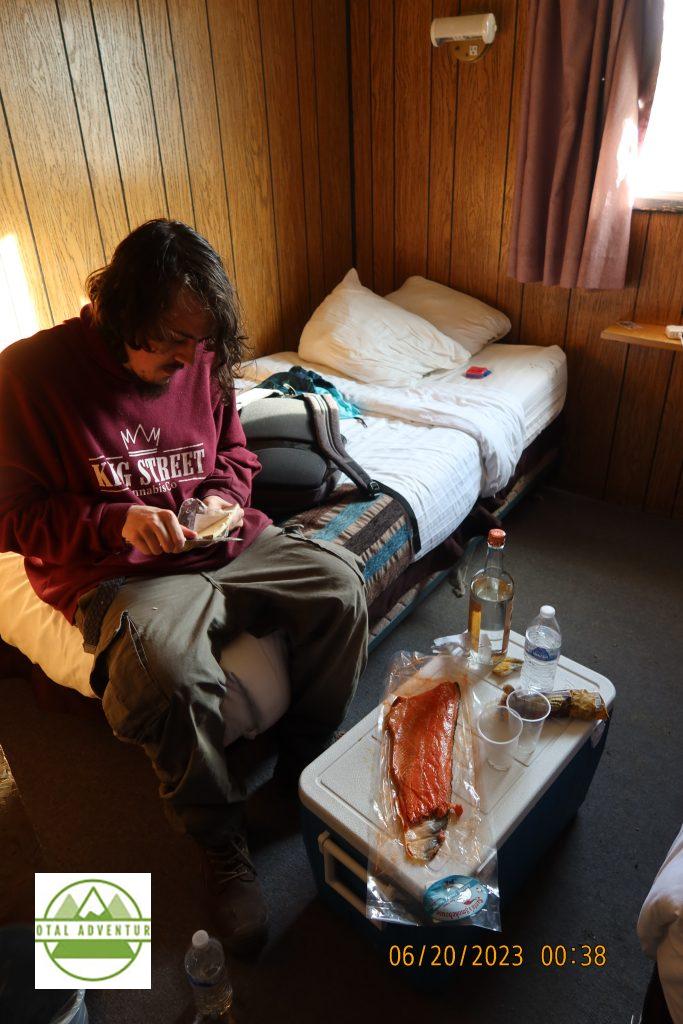 Dinner in Coldfoot. Salmon, cheese, sausage and spirits. Drinking in private is legal in "damp " zones of Alaska. Some areas are completely dry.,including the secure zone at Prudhoe Bay.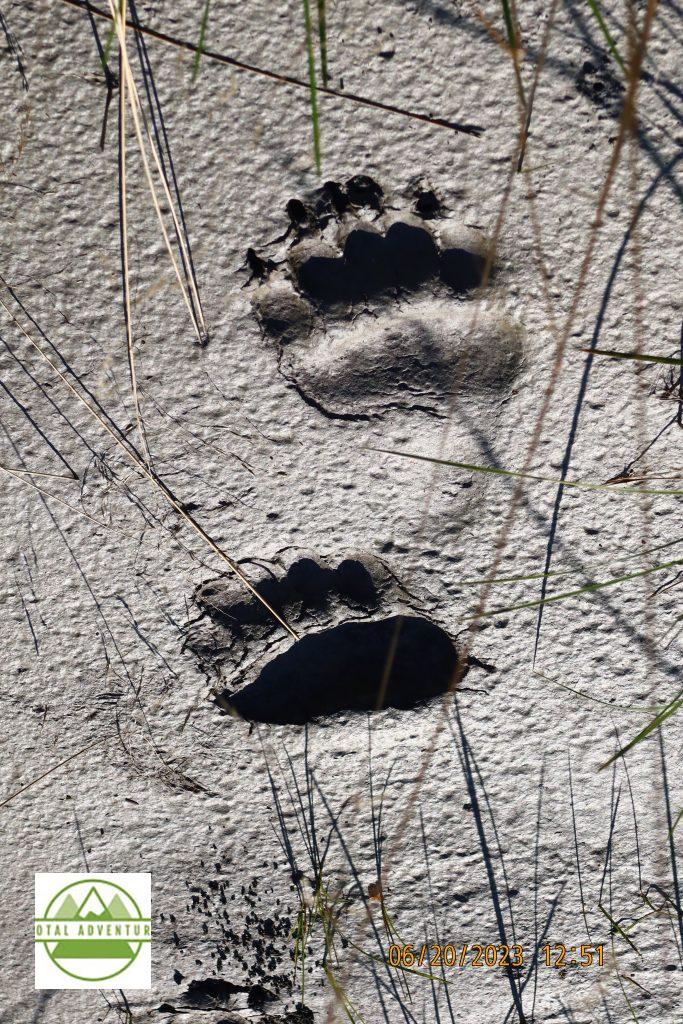 Tracks of a young bear in what appears to be very soft sand – evidently not quicksand.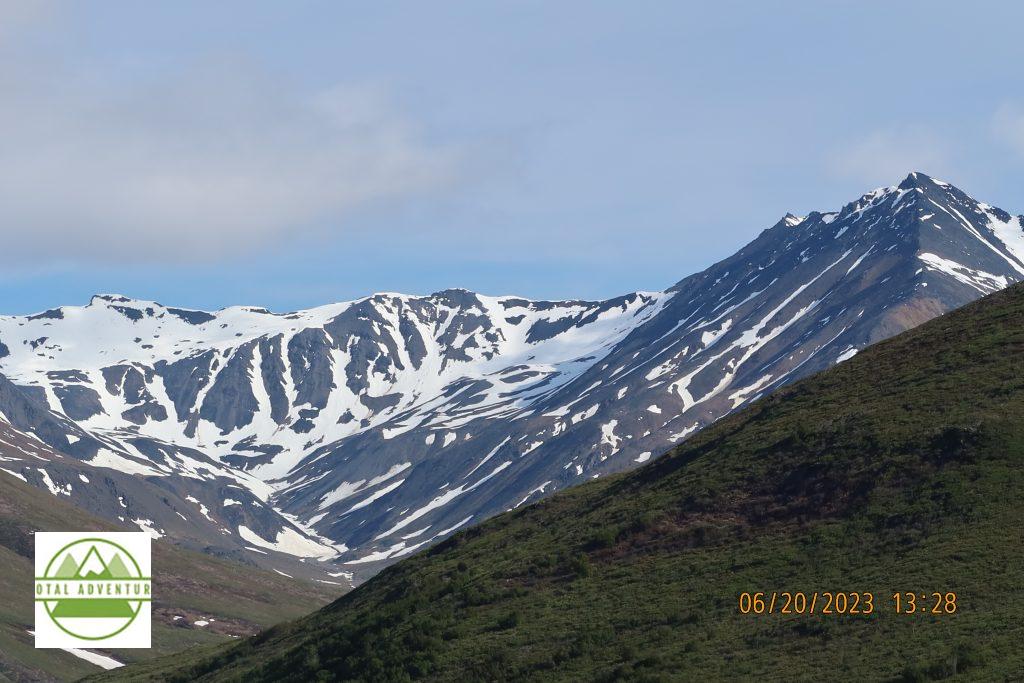 Entering the Brooks Range – separate from the Rockies to the South – about 5500 feet and still a fair amount of snow in June.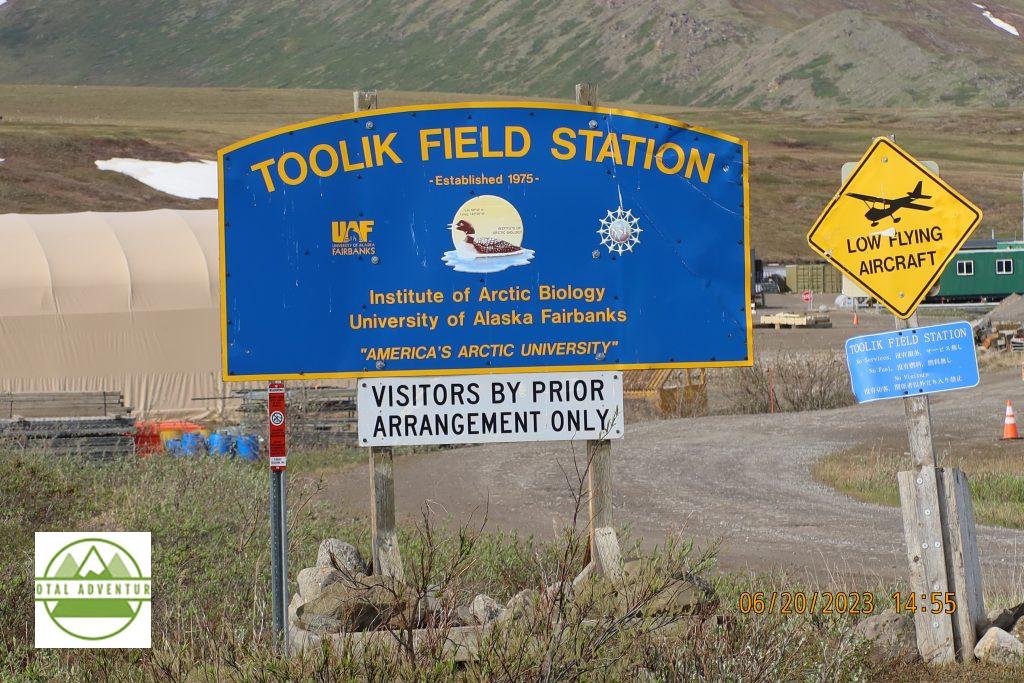 Scientific station at Toolik.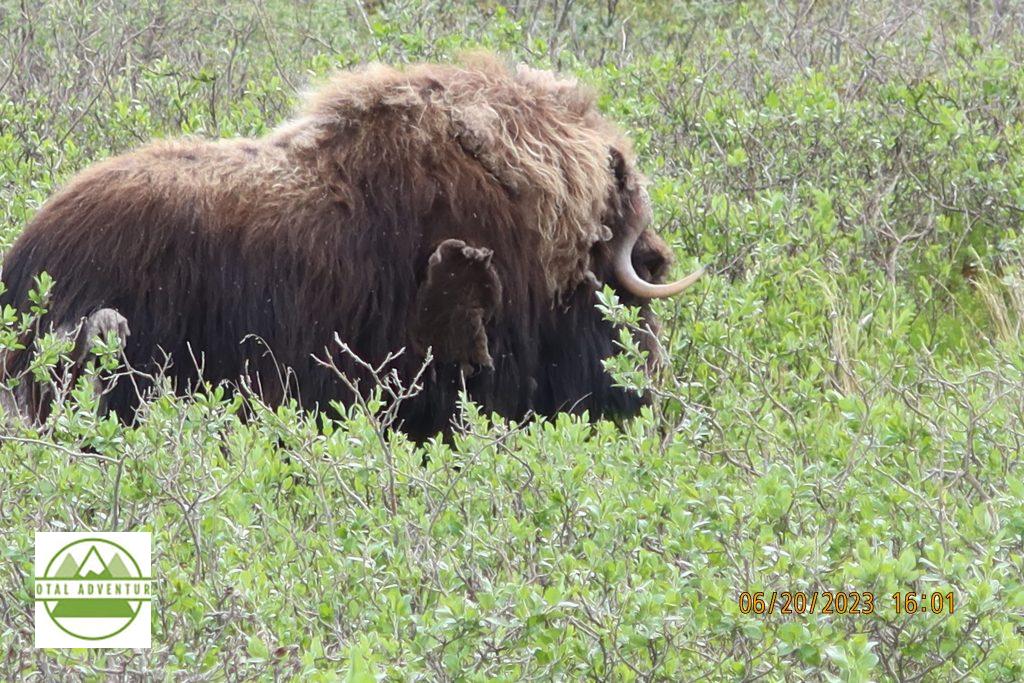 Musk Ox. A smaller member of the Buffalo family . Some of the best meat I have ever tasted – but did not have it this time. One would have to know a licensed hunter in season.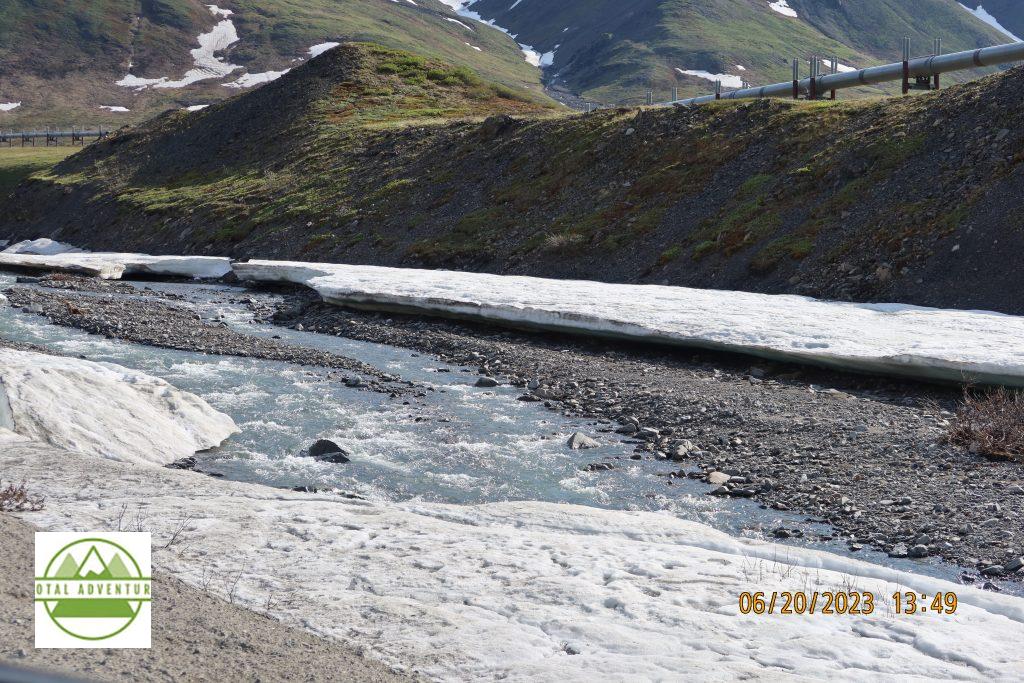 A river having just thawed out on the first day of summer. SEE THE VIDEO ABOVE.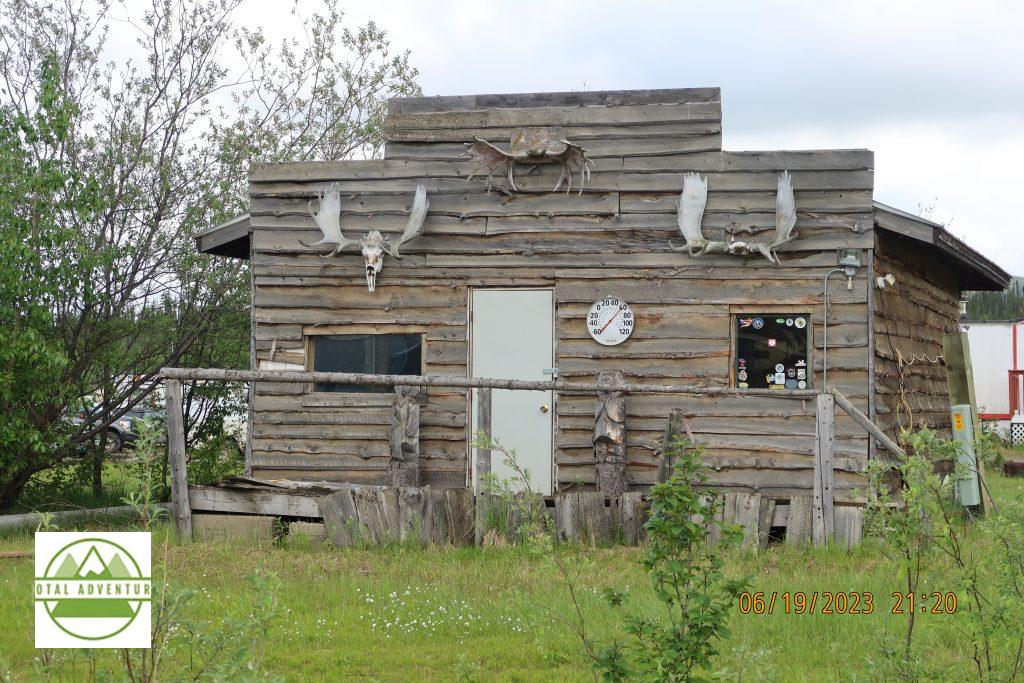 A lodge at Coldfoot Camp.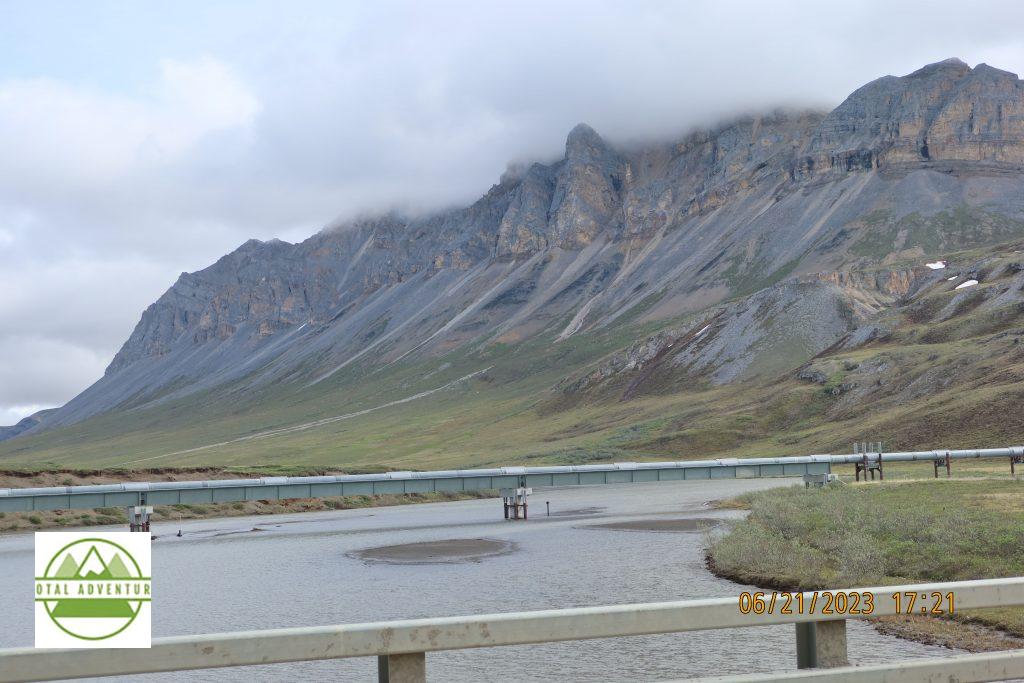 Crossing a river near the Brooks Range.

Dalton Highway Panorama.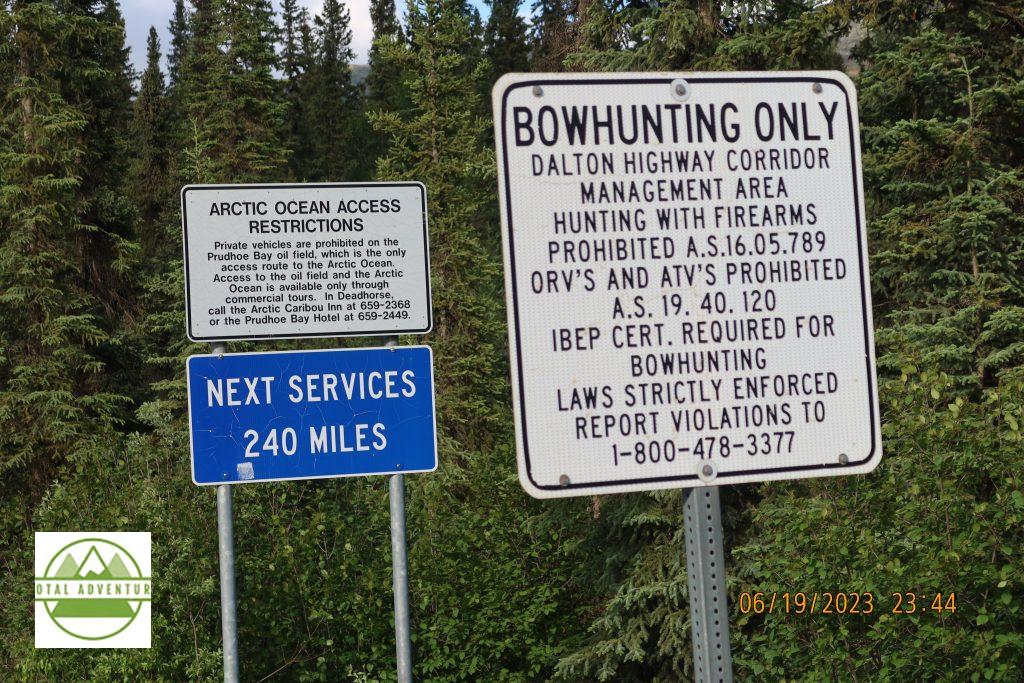 Leaving Coldfoot Camp Northbound.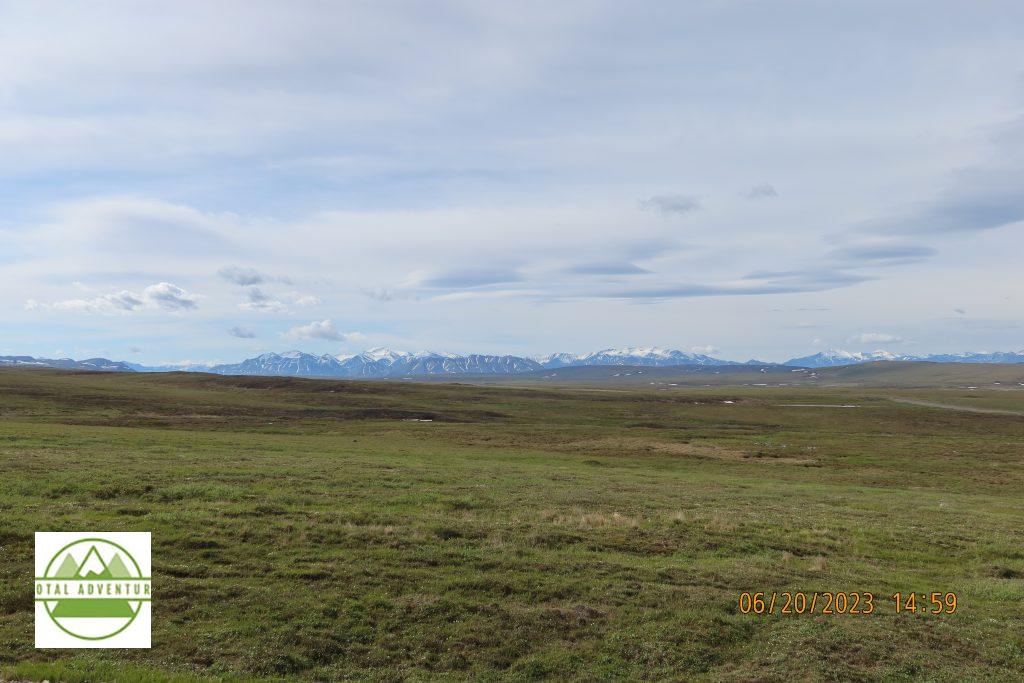 Leaving the Brooks Range for the North Slope.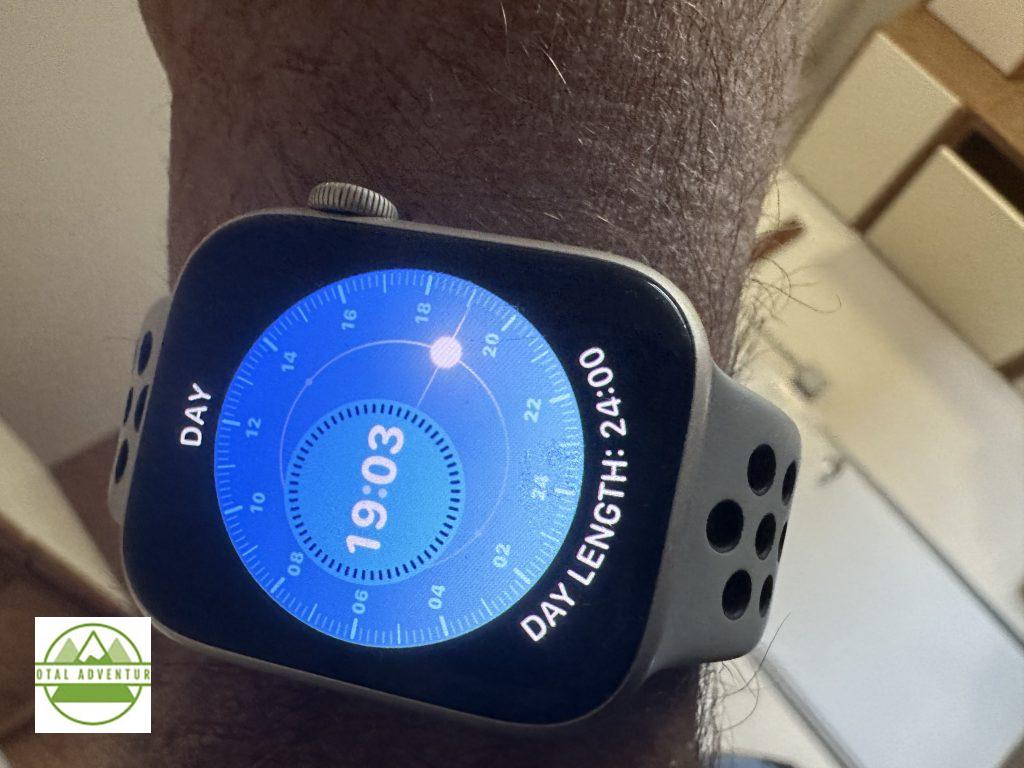 The sun rises on May 15th and doesn't set till July 29th. We were there at the exact solstice at 0658 AKDT on 21-6 . ( 1058 EDT)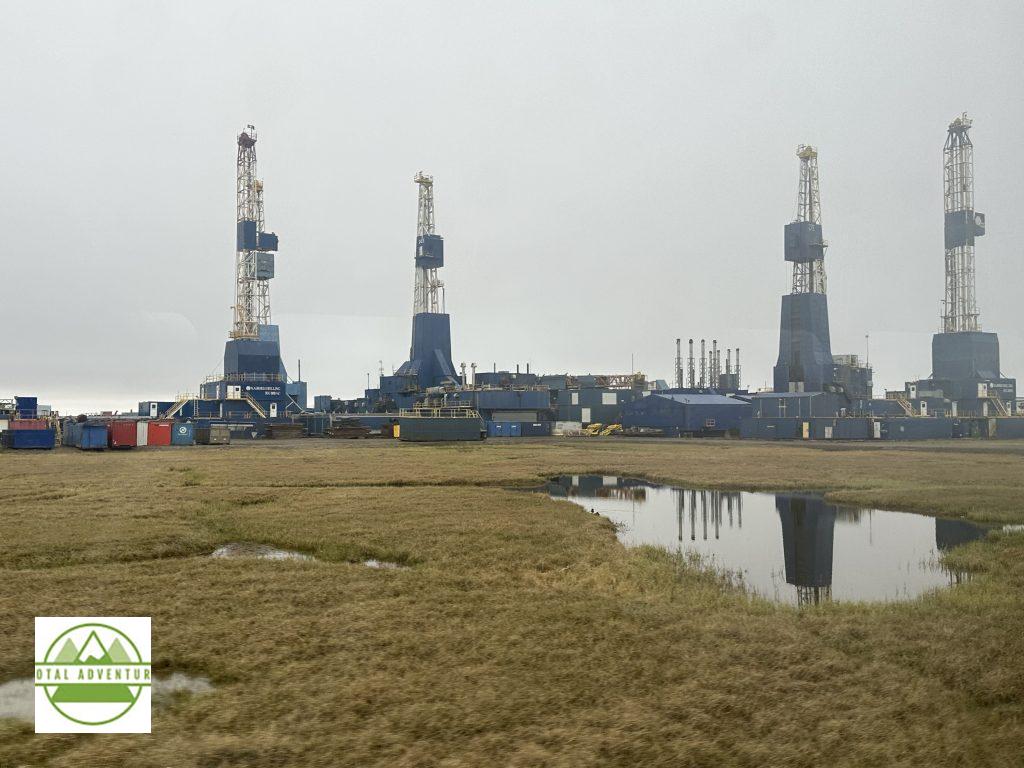 Prudhoe Bay is a town of 3000 people with no permanent residents. Workers are there 2 weeks and one week off. 7 days a week,12 hours a day. 0600 to 1800 and 1800 to 0600. Most live in Texas or Oklahoma and are flown back there between shifts, although a a few live in Anchorage and Fairbanks. Average salary is $ 150,000 a year, with many making much more. Right now 300,000 barrels a day are pumped. In the 1970s there were over 2 million barrels pumped a day. The machinery of the wells in encased in concrete to prevent freezing in 60 below temperatures in the winter.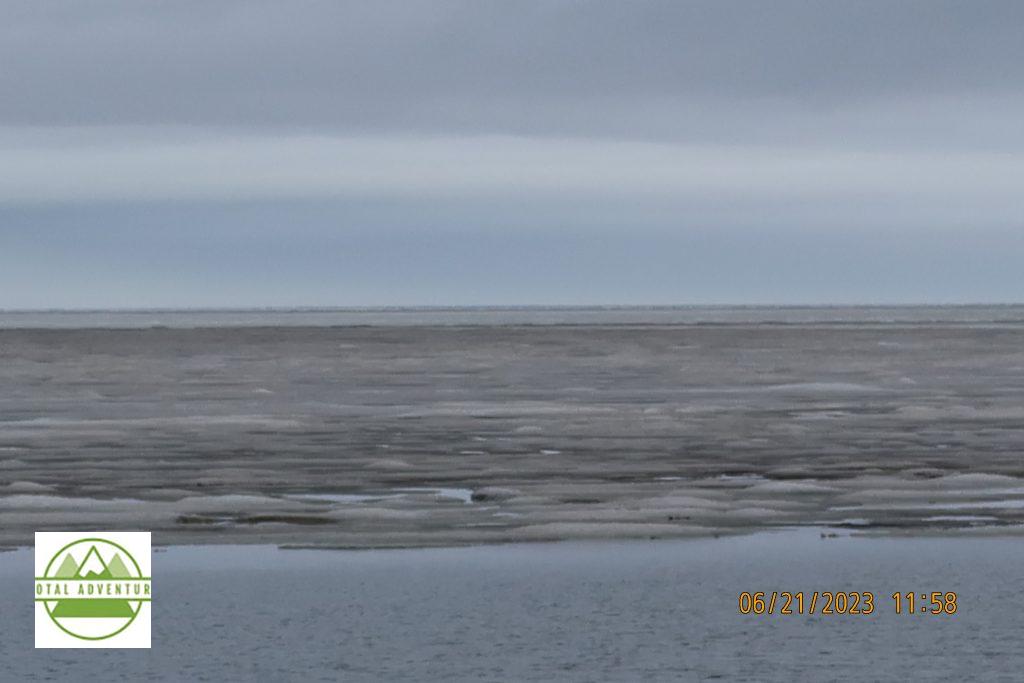 At last , the Arctic Ocean. On the first day of summer, the ice has melted along the edges ,but is still a solid sheet further out. We swam in the 32 degree water ( 0C ) The air was 37 ( 2.5) TotalAdventure has now swam in all 4 Oceans ! Saltwater freezes at 28 F, -2.8 C. SEE THE VIDEO ABOVE FOR THE SWIMMING !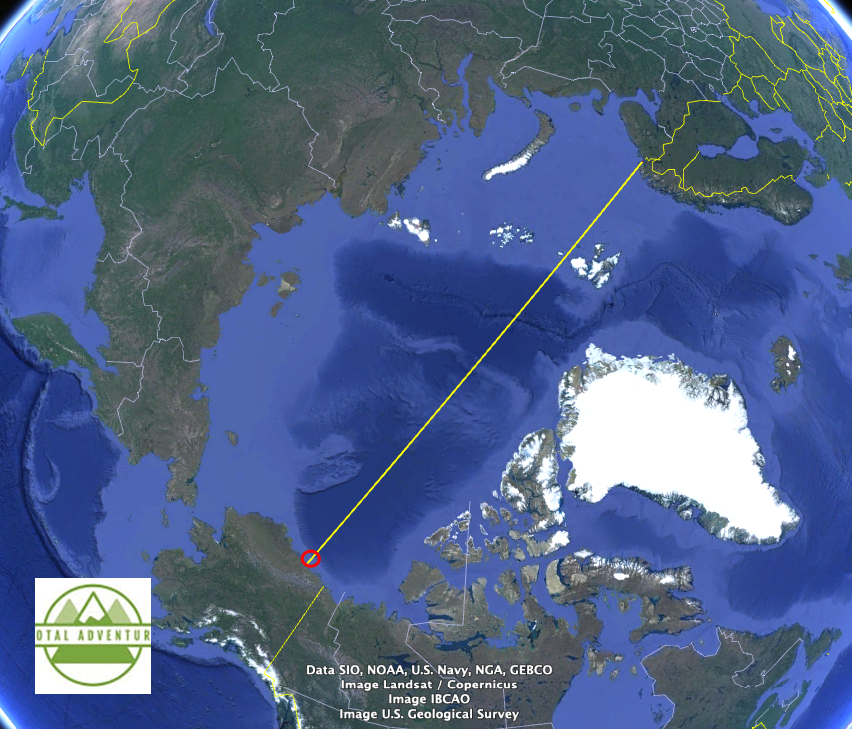 2700 miles across is the Norway/Karelia Russia border. Chukotka Krai , Russia is 650 miles West and Yukon Territory ,Canada is about 120 miles East. The North Pole is 20 degrees or 1200 Nautical Miles.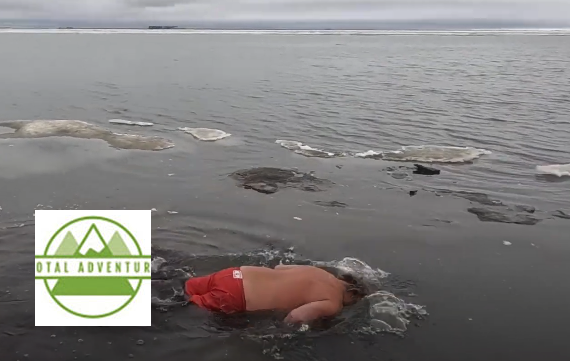 Swimming Amongst the Arctic Ocean Ice Floes in Zero Centigrade.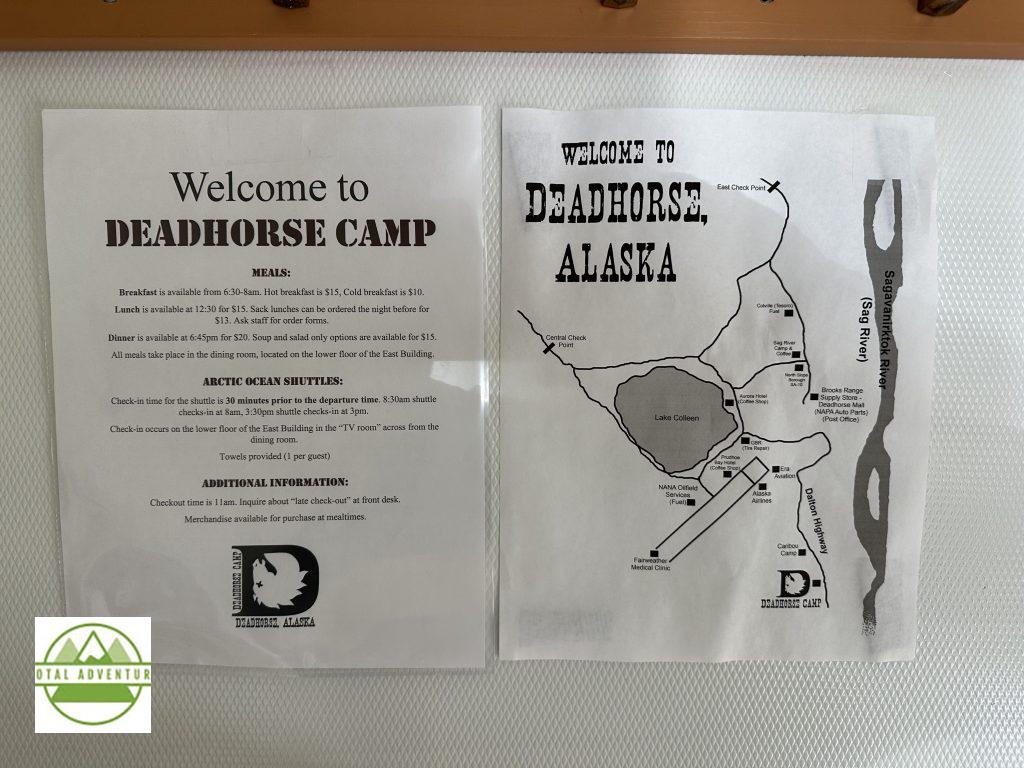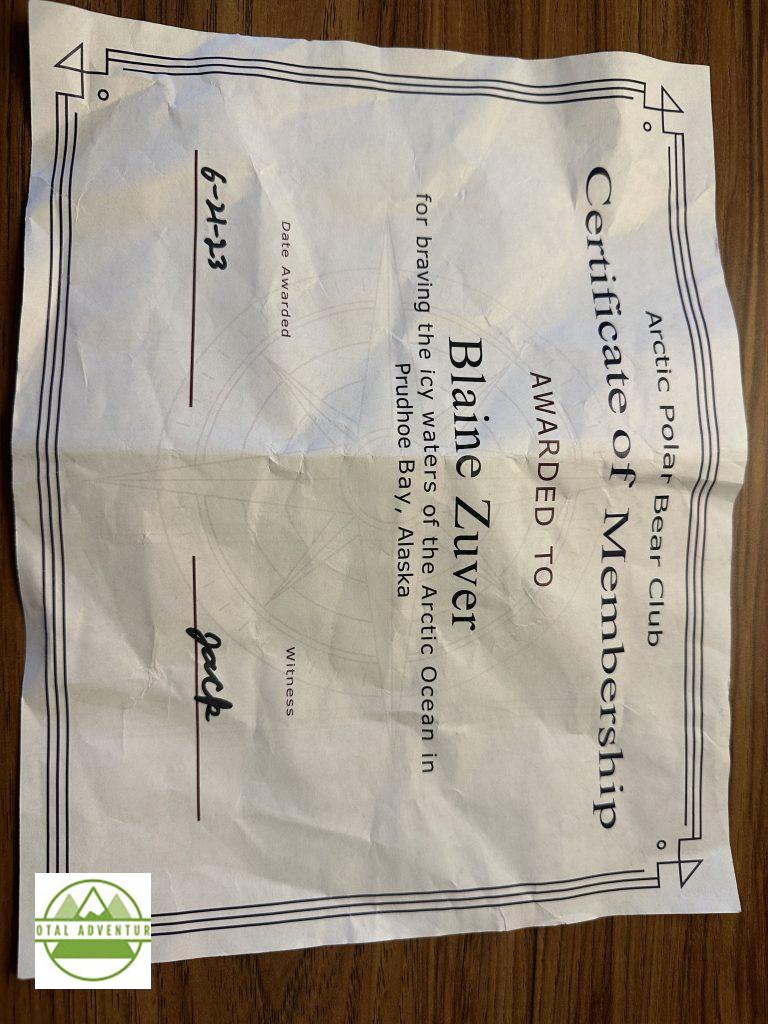 Official Certificate.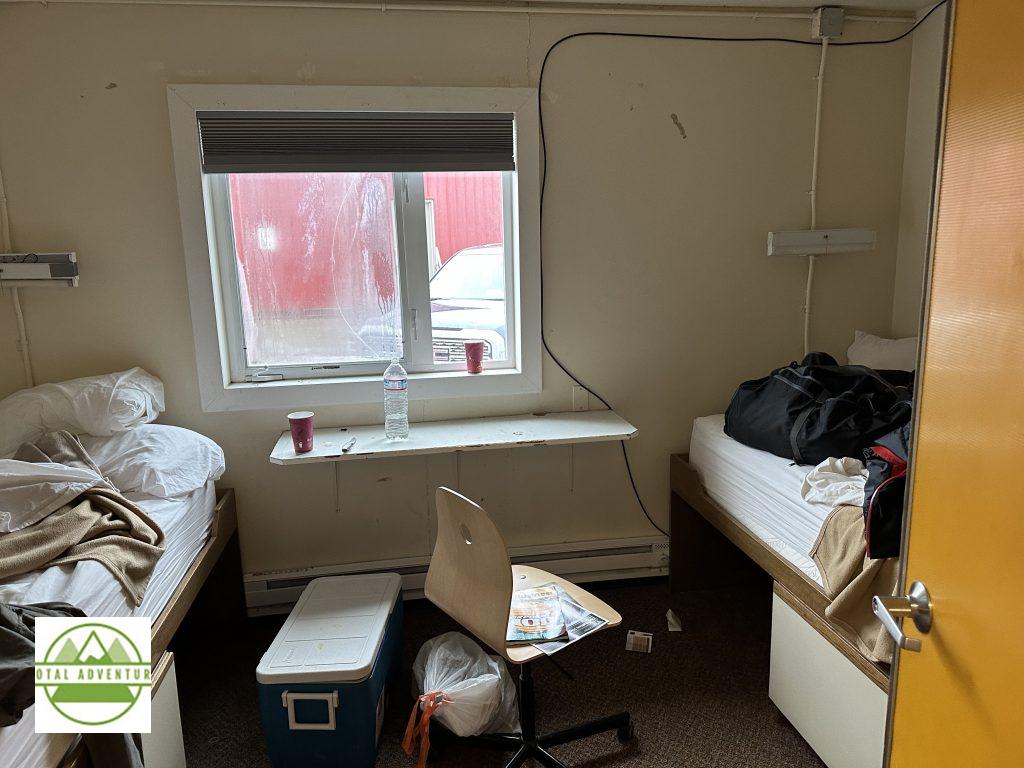 $ 219 a night room at Deadhorse. Comfortable beds, very hot shower down the hall and laundry ! The very hot shower was great after the swim.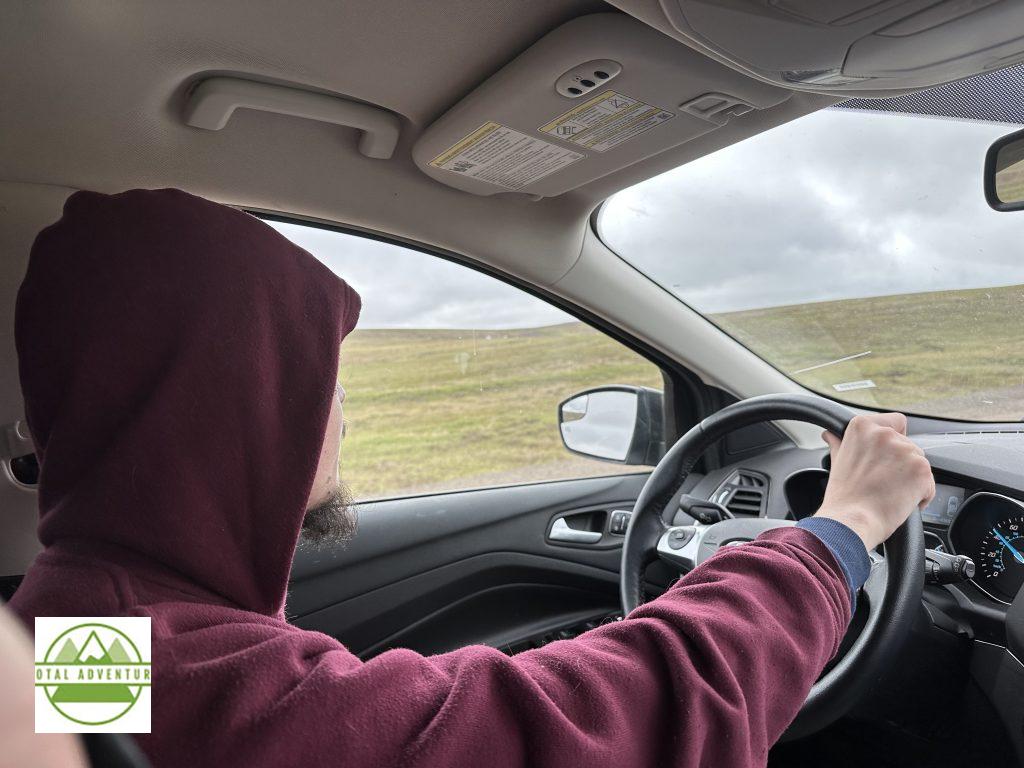 Returning South On The Dalton. Though the land looks green and marshy during the eight week melt season, it is actually a desert. There is only 5 inches of precipitation annually, most of that in the form of snow, though we had a cold rain for a few hours. When the snow melts ,it has no where to go because of permafrost below and the weak sun can't evaporate it.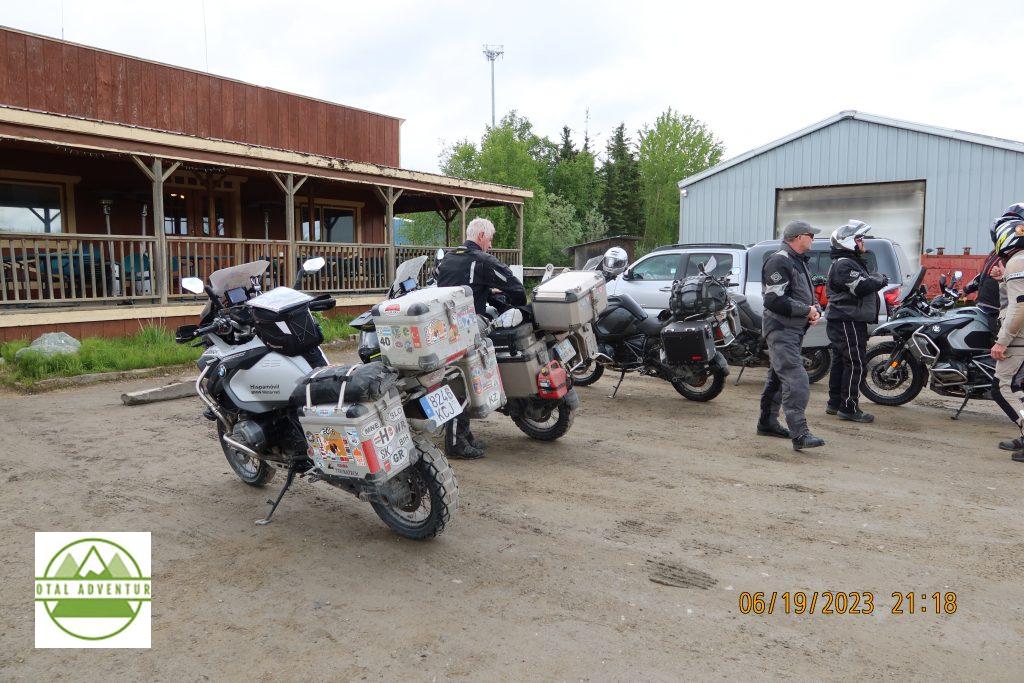 Spanish motorcycle crew at Coldfoot – they have come all the way from Tierra del Fuego.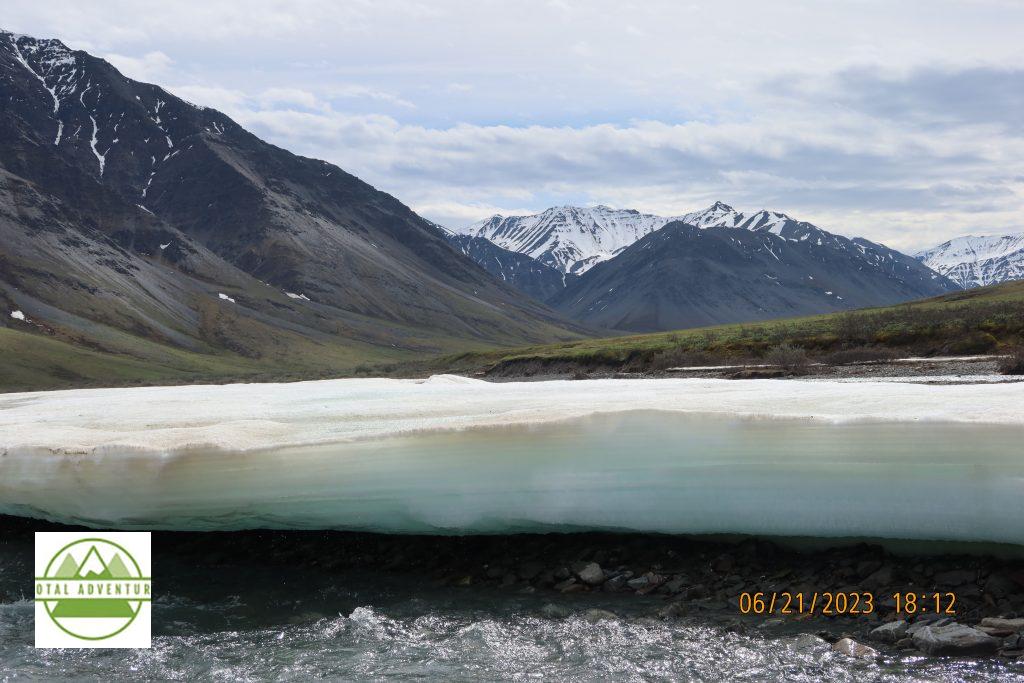 Icy River !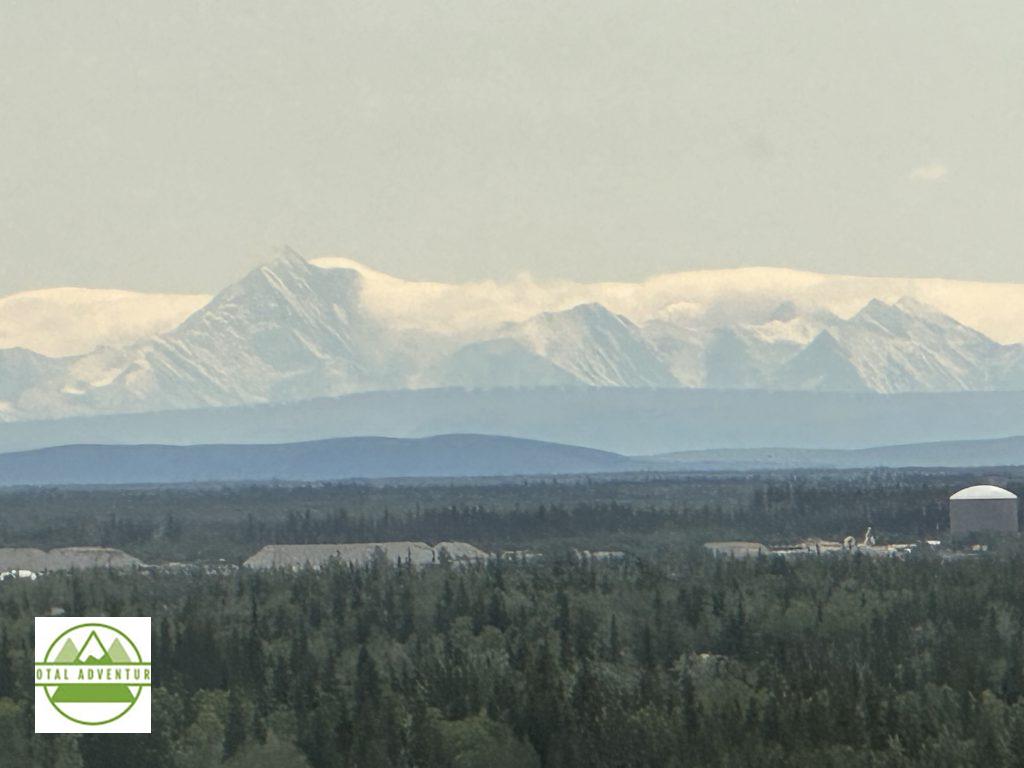 Back In Fairbanks At Last . 1020 miles round trip and now, in 80 degree weather we viewed Mt. Denali ( McKinley) from over 130 miles away. The 20,000 foot mountain is eternally snow covered.TotalAdventure flew to McKinley Base Cap twice in 2016.
WATCH THE VIDEO ABOVE FOR THE WHOLE EXPERIENCE !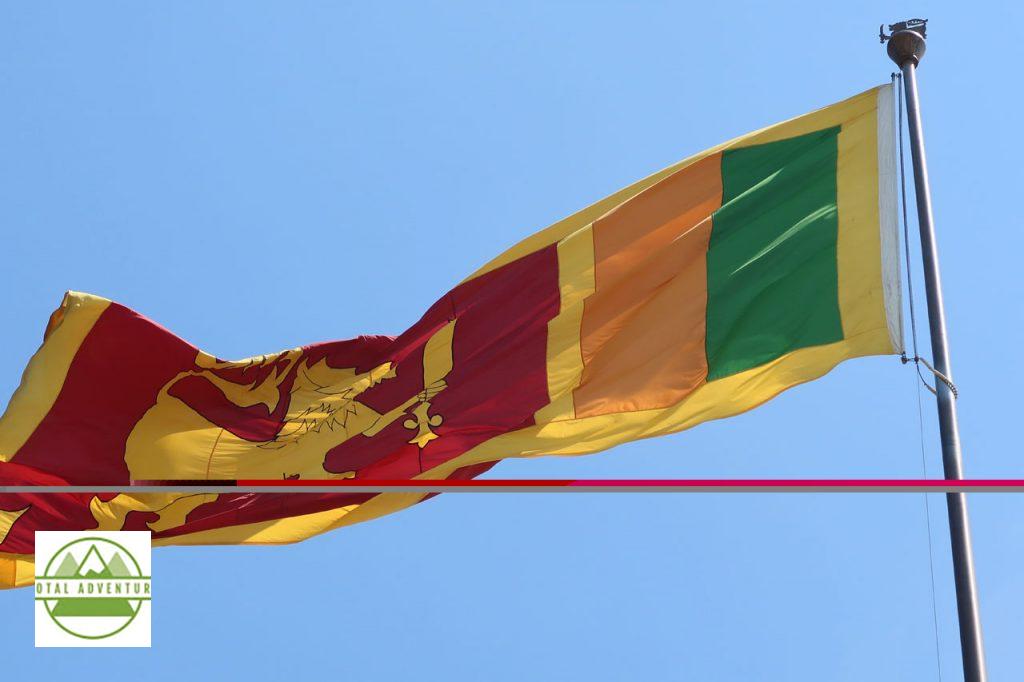 TotalAdventure arrived in Colombo in the early morning hours of March 2,2023. It had been nearly three years since the first attempt to travel to Sri Lanka had been made, The Pandemic made travel in 2020 impossible, until late in the year when a two week quarantine was imposed – a traveller would have to spend two weeks in a government approved hotel and then be tested. Upon release, travel within the country was still restricted and many temples and other public places remained closed. In mid 2021 the quarantine was dropped and TotalAdventure booked the flights and obtained the visa. Three days before departure the quarantine was reimposed and so TotalAdventure cancelled. In early 2022 TA once again booked – only to be stopped on a false positive of a required covid test. Now – with the world once again open ( more or less) I flew from Miami to Qatar and then on to Colombo.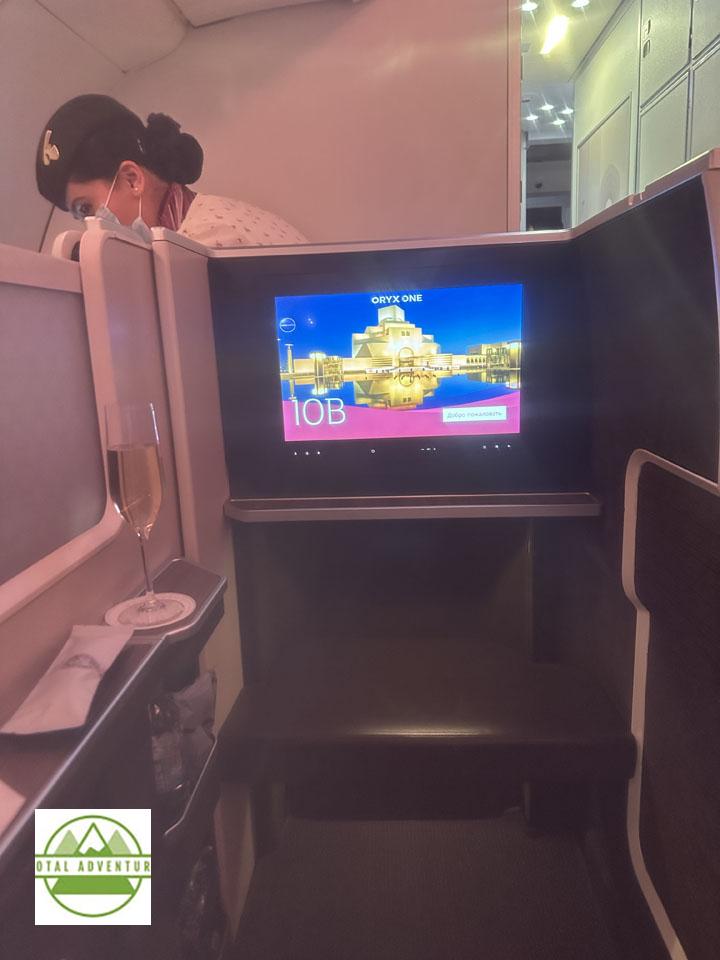 The Business Class upgrade was very welcome for the 5 hour DOH-CMB leg, after 15 hours in coach from Miami.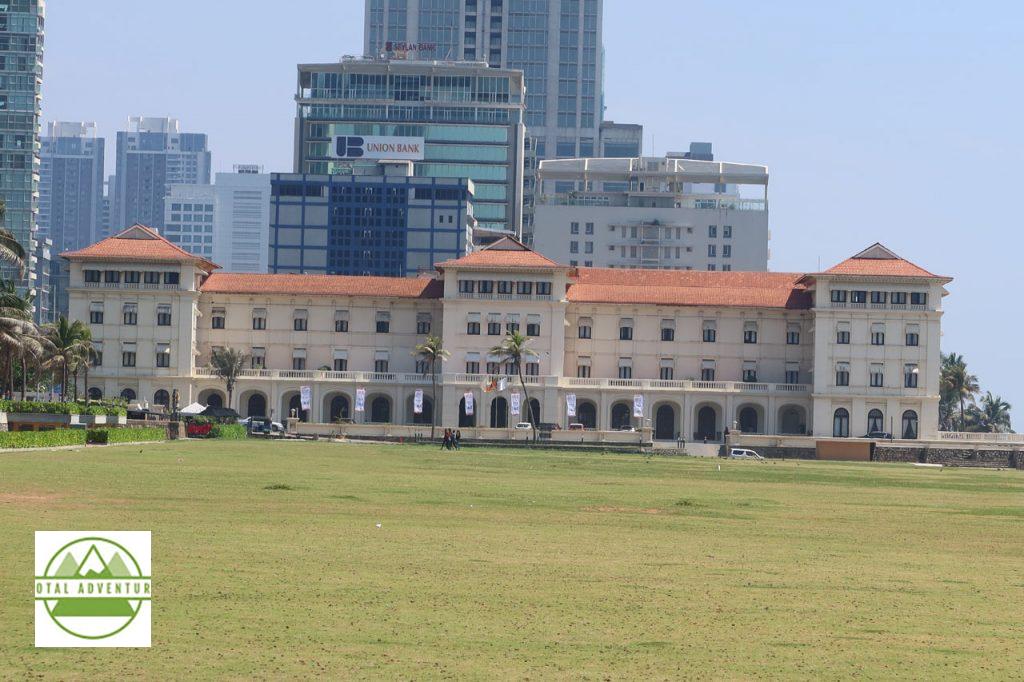 Colombo is a mix of Colonial buildings of the British Raj, modern high rises and temples dating back centuries.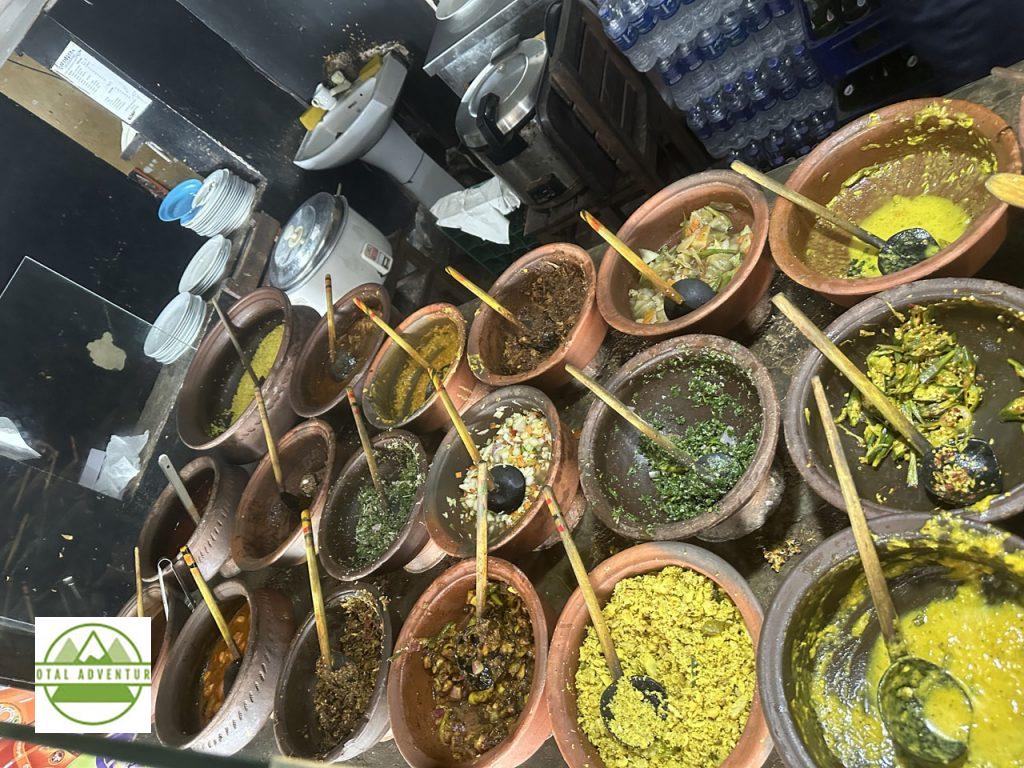 The food is amazing. Go to local places like the Curry House. Stay away from tourist locations that have bland imitations and western dishes.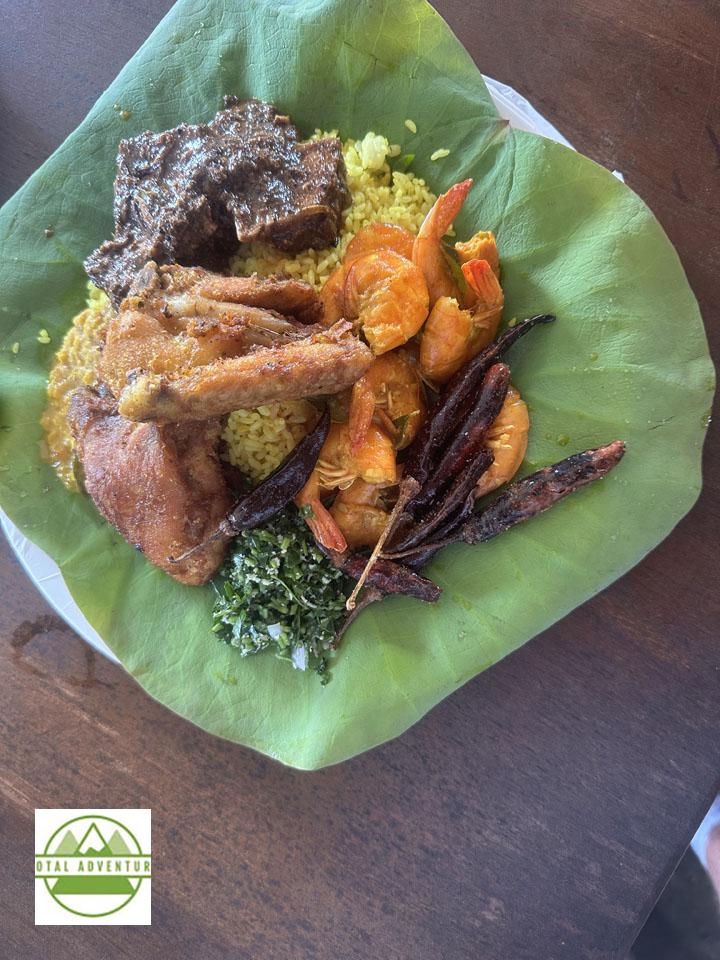 My lunch was very spicy, varied and delicious -everything fresh. Sri Lanka is not as vegetarian as India. The food is eaten by hand . This dish was about $ 3.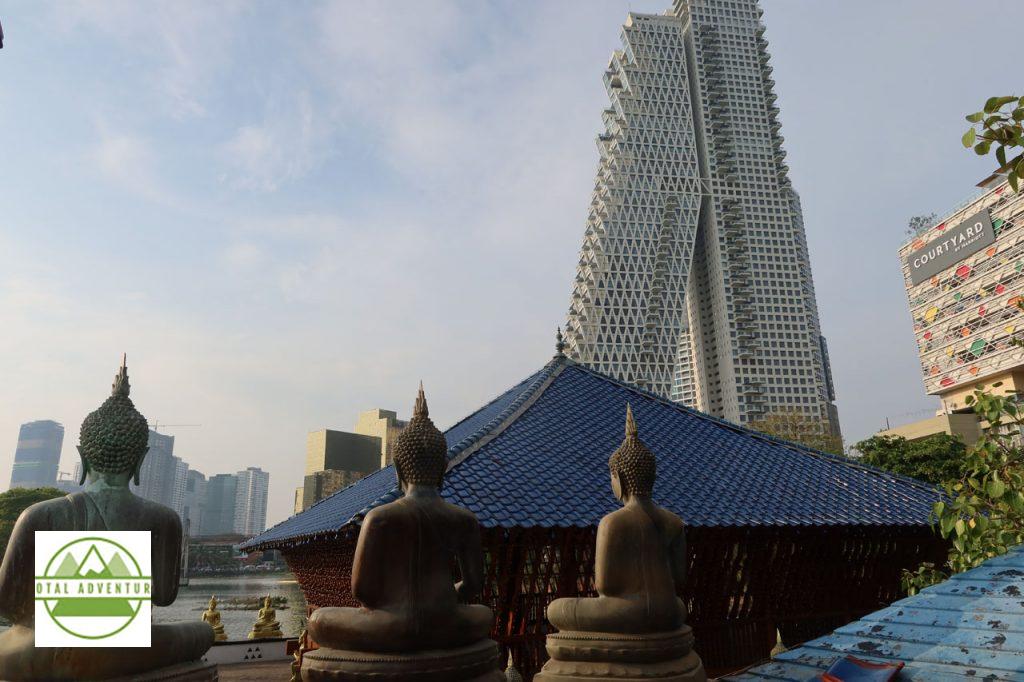 Traditional with modern – the bizarre building in the background is reminiscent of Pyongyang.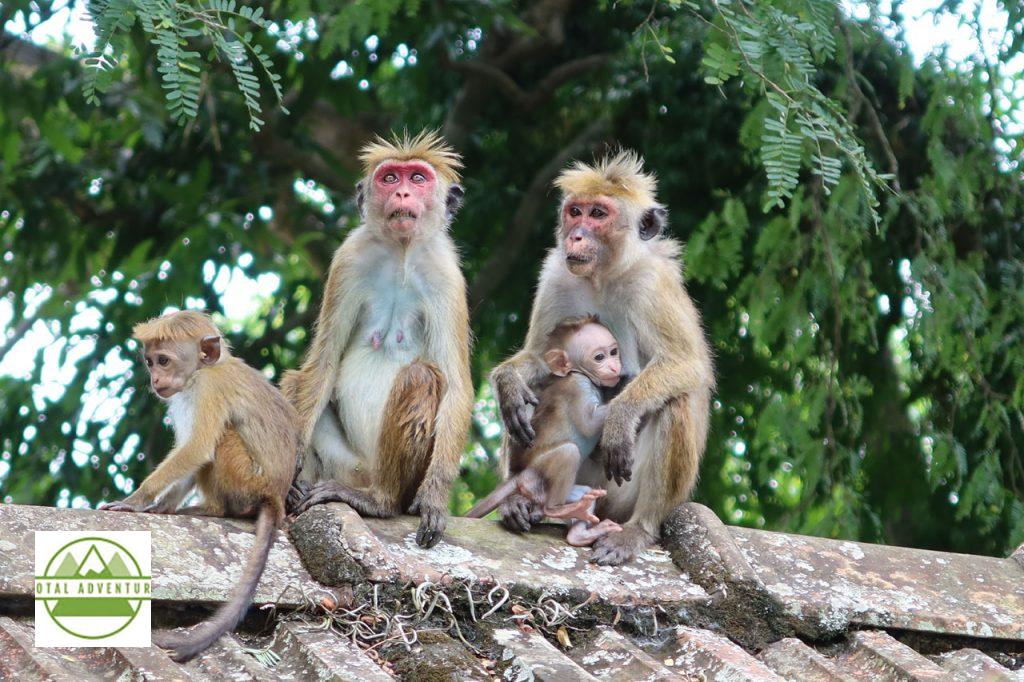 After a day and a half in Colombo, it was time to head in-country. The 4 hour train ride from Colombo to Kandy cost 350 rupees – about $ 1. On top of a country station lives a monkey family – obviously influenced by 1980s. punk fashion.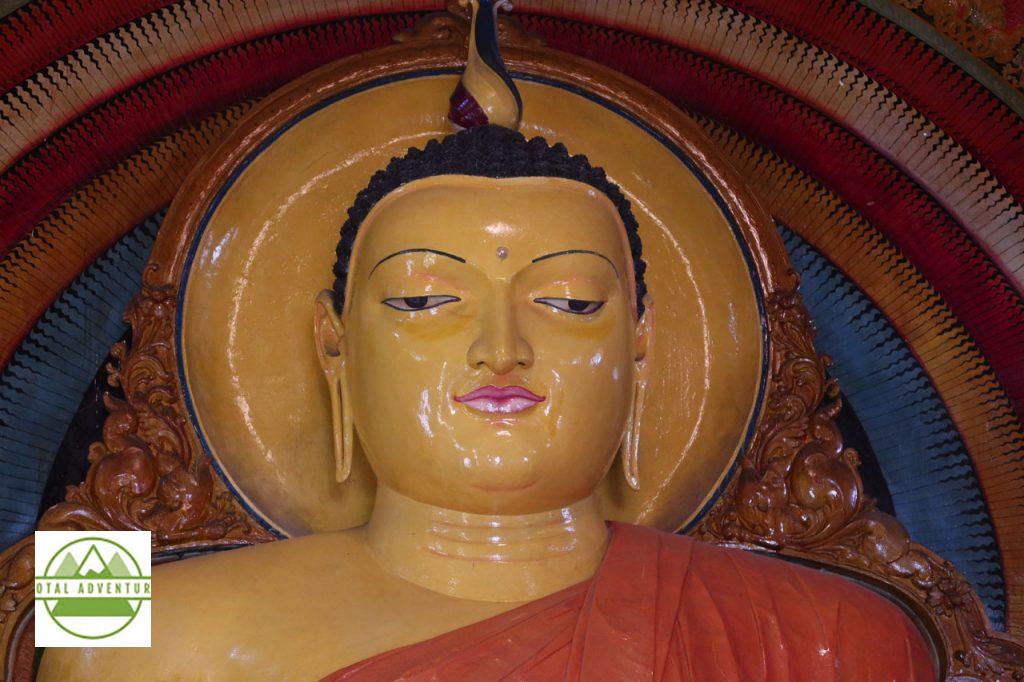 Kandy is home to the Temple of the Tooth – Lord Buddha's Tooth !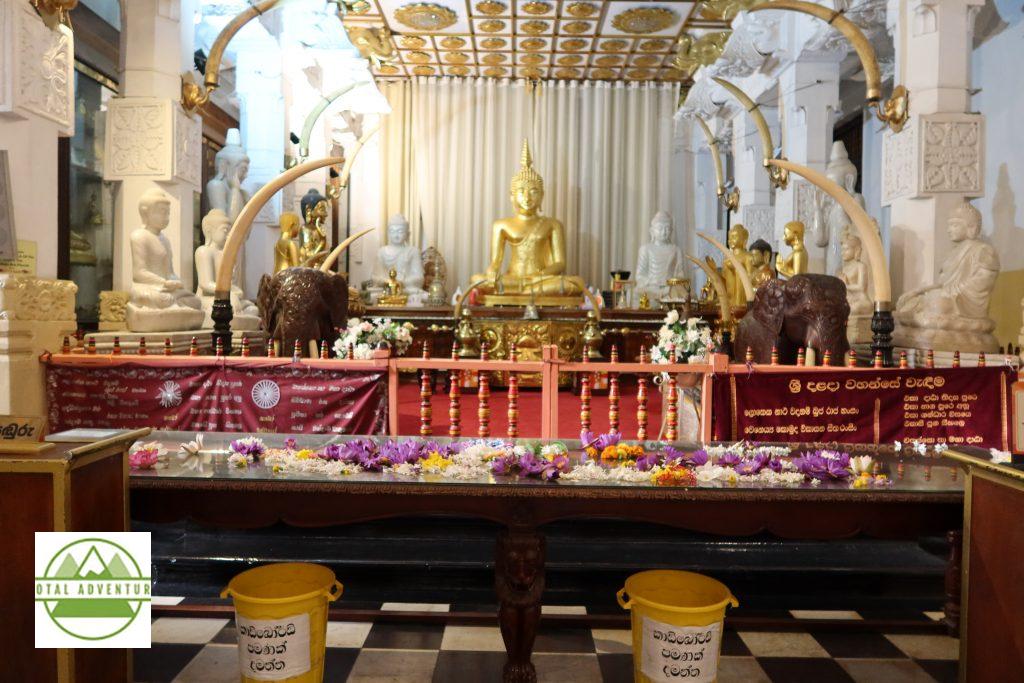 Like The Ark of the Covenant in Ethiopia, one cannot view the actual Tooth, but just have faith that they are very close to it. It sits in a gold box in a vault behind the altar.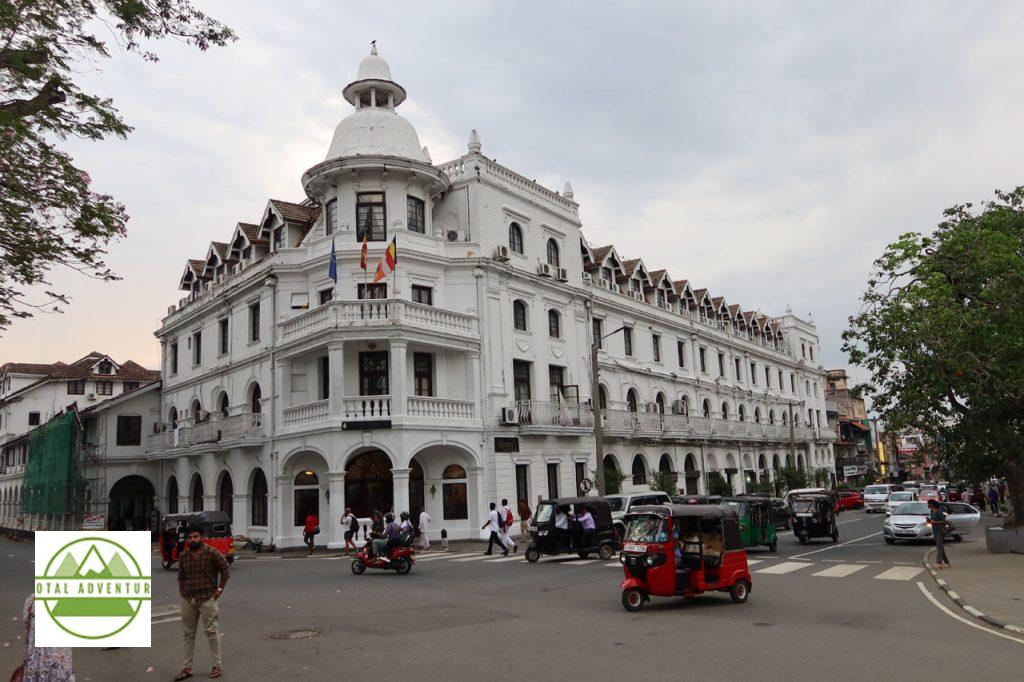 TotalAdventure stayed at the Queen Hotel – a charming relic of the Empire. Inside, little has changed – slowly moving fans, British food like mutton chops, cool gin and tonics at the bar.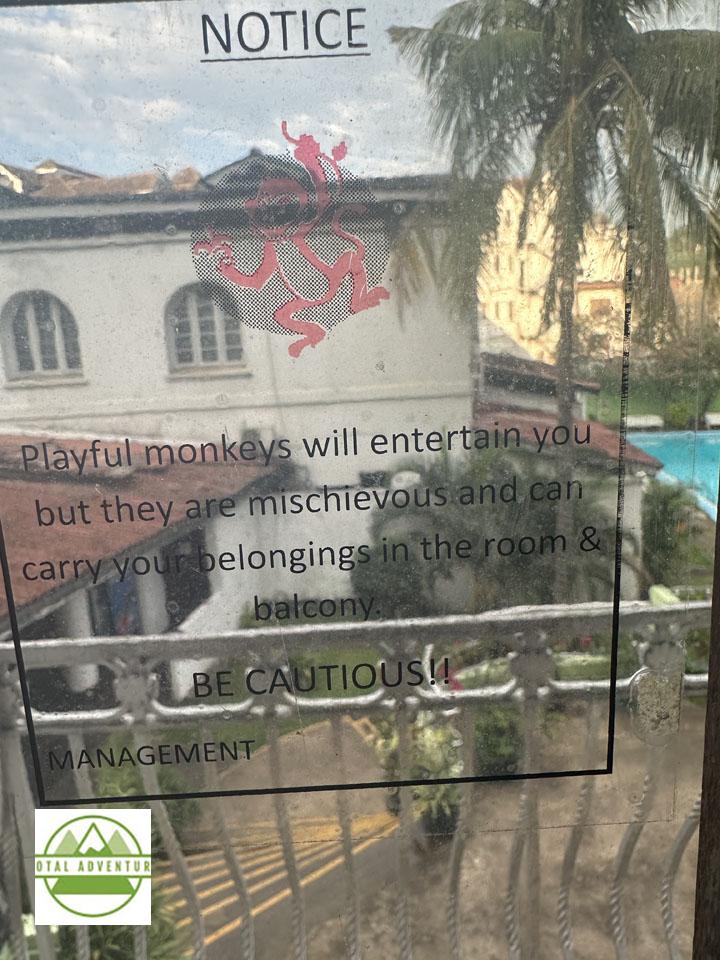 Hotel Message – keep balcony doors closed, lest mischievous monkeys come in and steal your belongings – they love cameras and jewelry.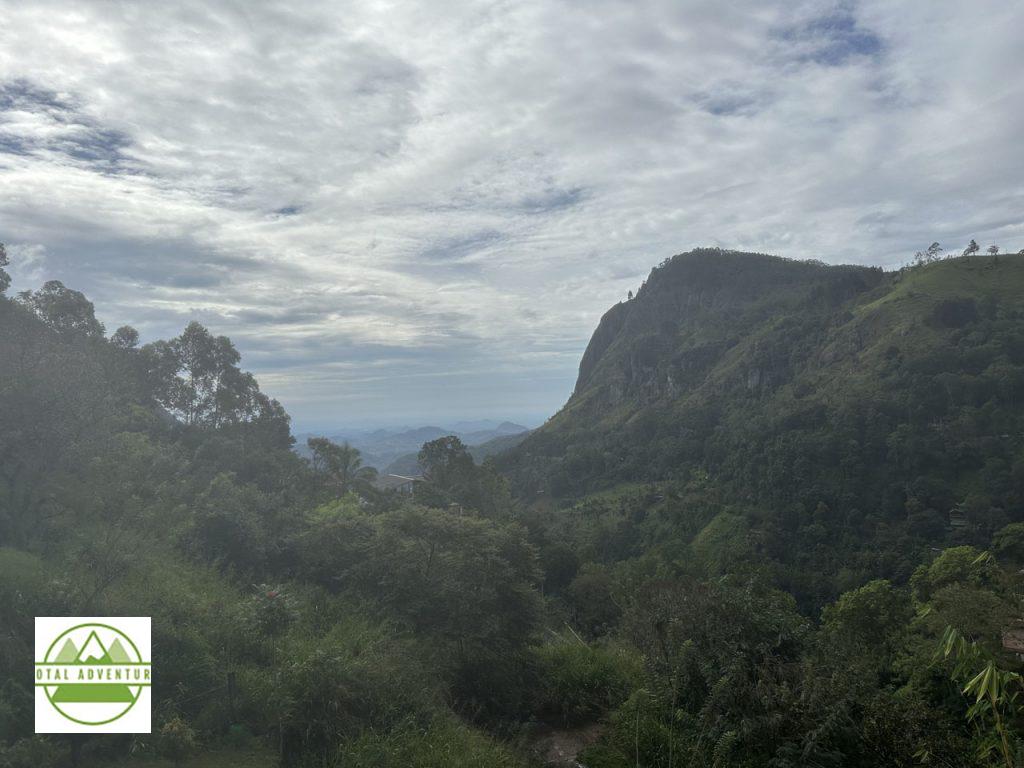 After a long and colorful train ride – standing room only for 7 hours,TotalAdventure arrived in Ella The train goes as high as 8000 feet, 2500m – where we viewed the high, cool misty tea plantations that stretch for hundreds of kilometers. . You can see the journey in the VIDEO at the beginning of this article. The town of Ella , at about 1900m, is warmer than the mountaintops but much cooler than sea level. 75/25 in day and 61/16 at night. The countryside is exotically amazing, while the town caters to tourists and their money.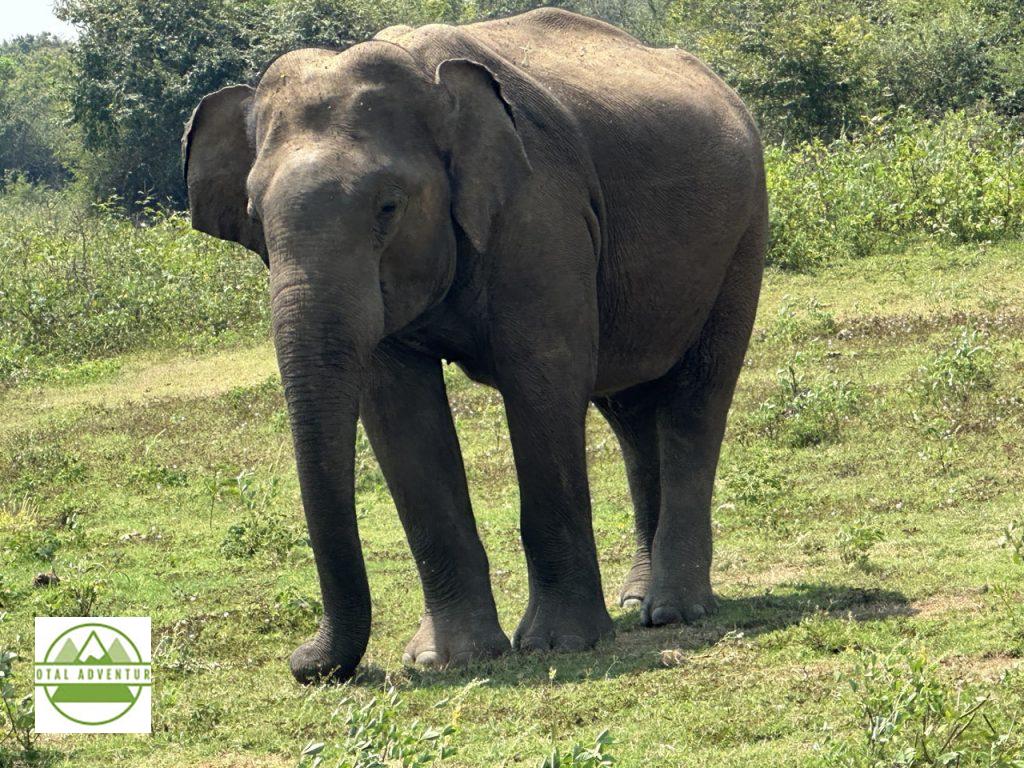 From Ella TotalAdventure hired a car for the ride to Udawalawe National Park – home to several large elephant herds. Elephants are well protected in Sri Lanka – there is very little poaching. However elephant rides are still permitted in some tourist areas – Do not engage in this cruel practice ! The magnificent creatures suffer greatly – as strong as they are ,their backs are not built for carrying heavy loads. Since they naturally refuse this activity – they are beaten into submission to force them.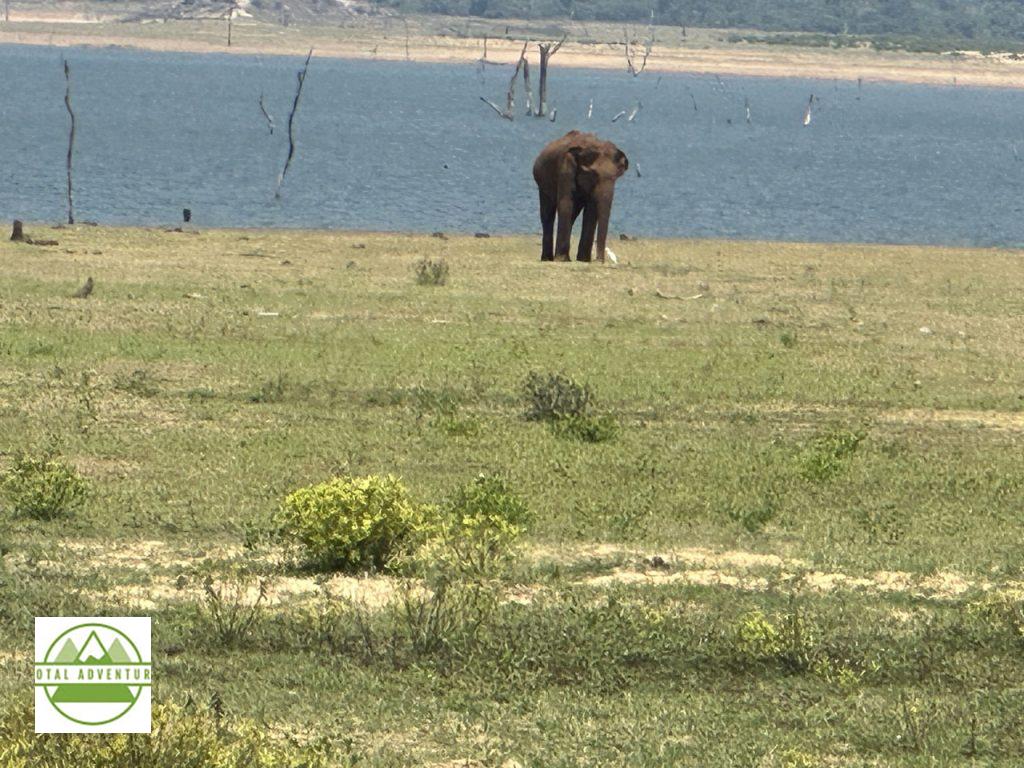 At the watering hole. A great place for a swim on a hot day – which is every day of the year in Southern Sri Lanka.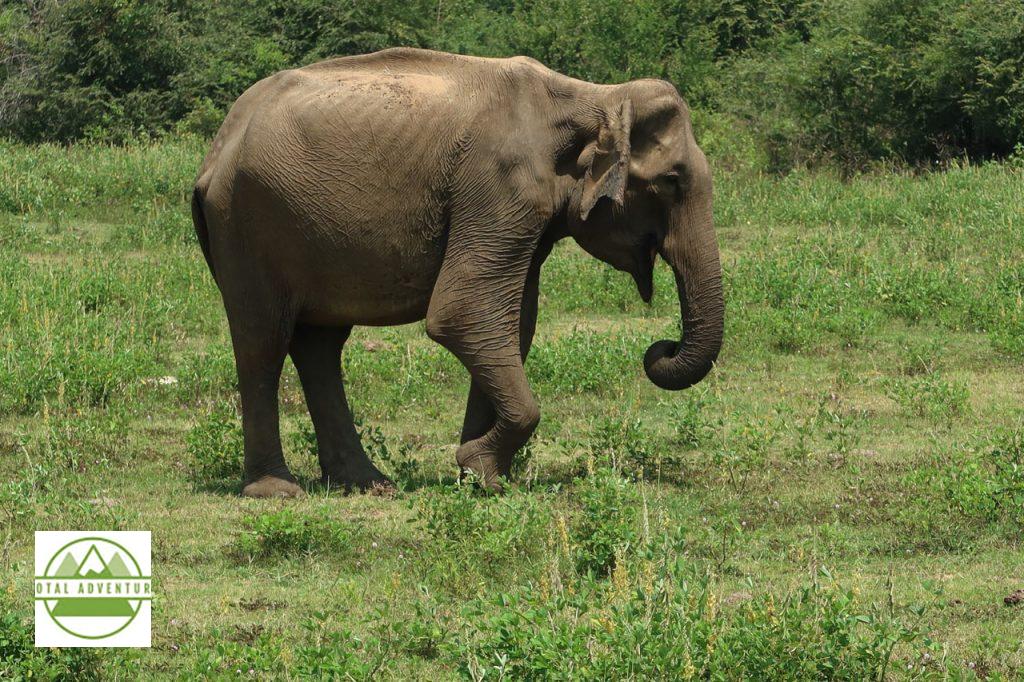 Highly intelligent sentient beings. The Hindu Elephant God Ganesh is the God of Wisdom.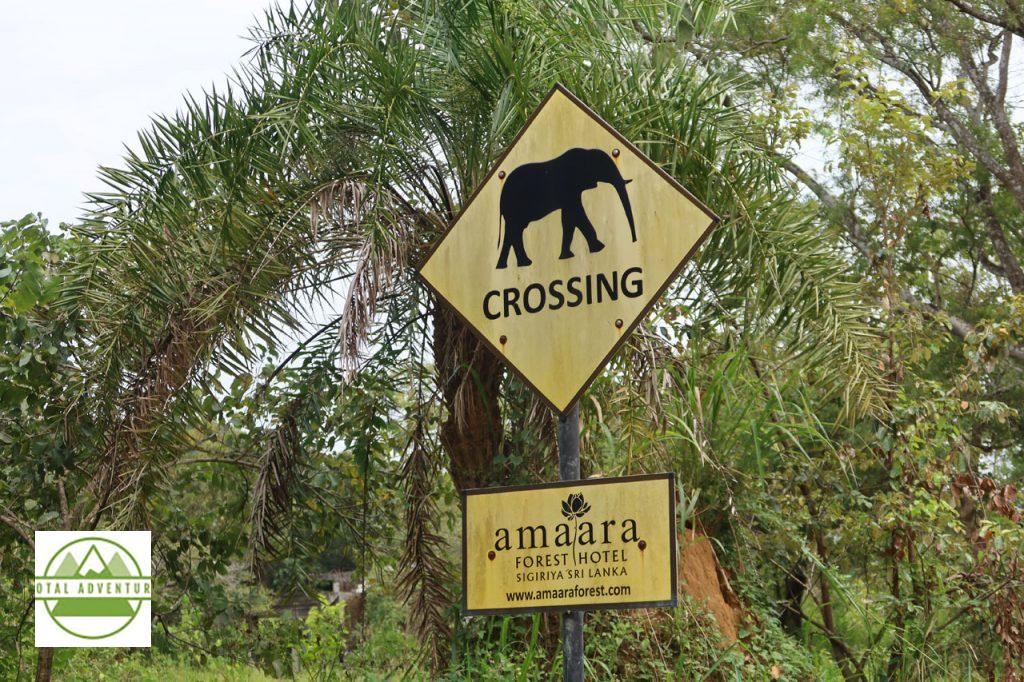 Besides the National Parks – elephants live in the wild in many forests throughout Sri Lanka.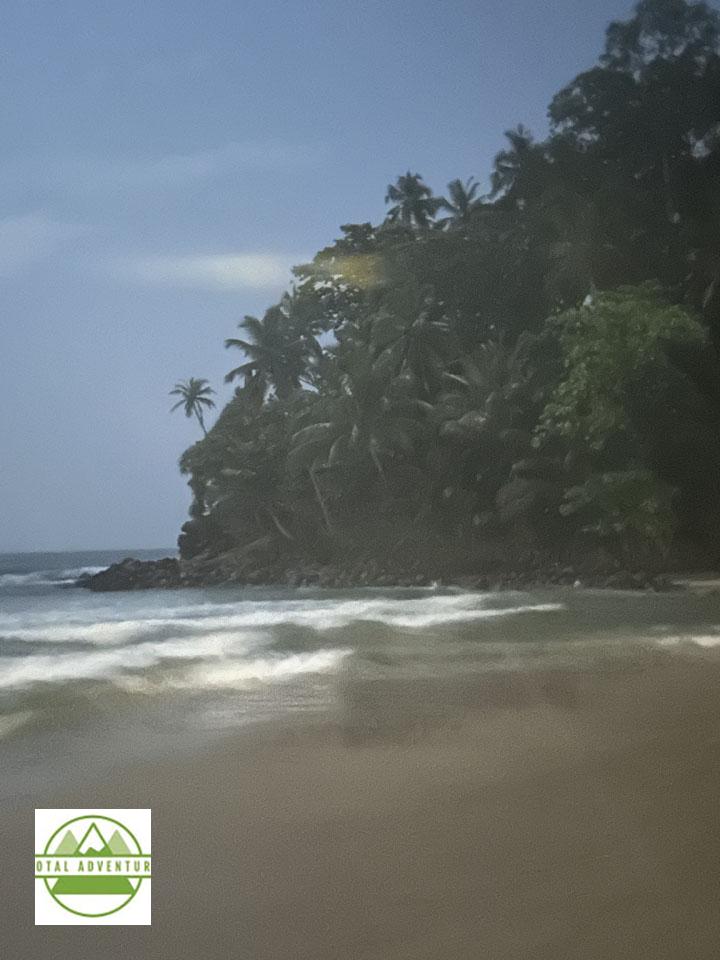 From Udawalawe the driver took me to the tranquil Indian Ocean village of Talalla. Monday,March 6th was a Full Moon – and in Sri Lanka every Full Moon Day is a Holiday ! The surfing here is fairly good ,though onshore winds make for some afternoon chop. The hotel was quite nice as you will see in the VIDEO.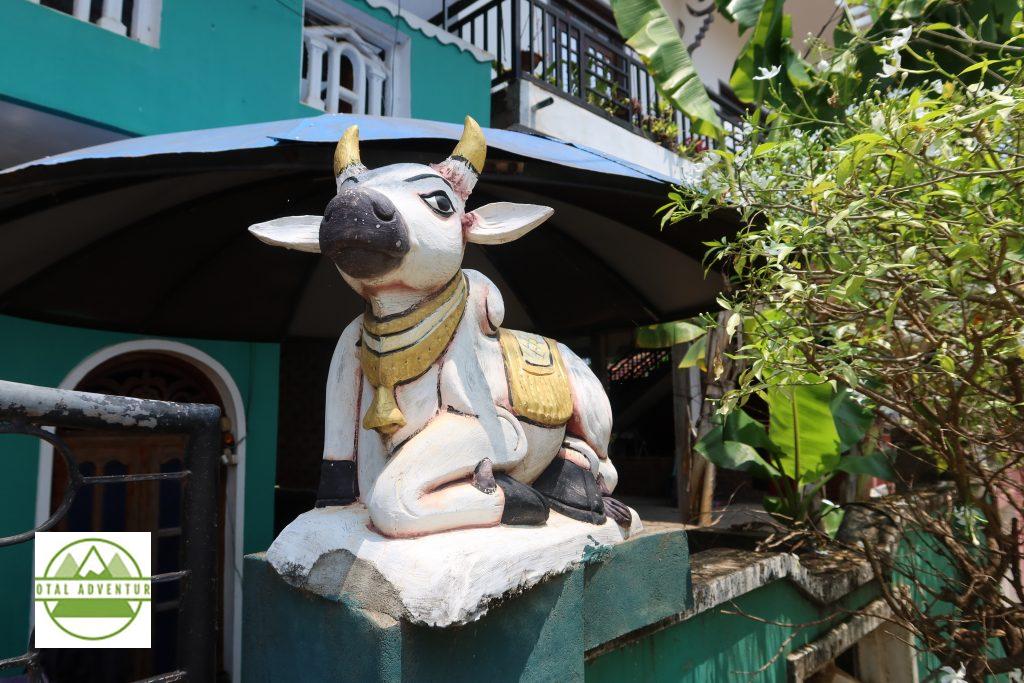 As wave conditions were not optimal, and not much to see while snorkeling, TotalAdventure moved on to Batticaloa on the East Coast the next day. Finally, a town with no Westerners ! Above, Nandi the Bull.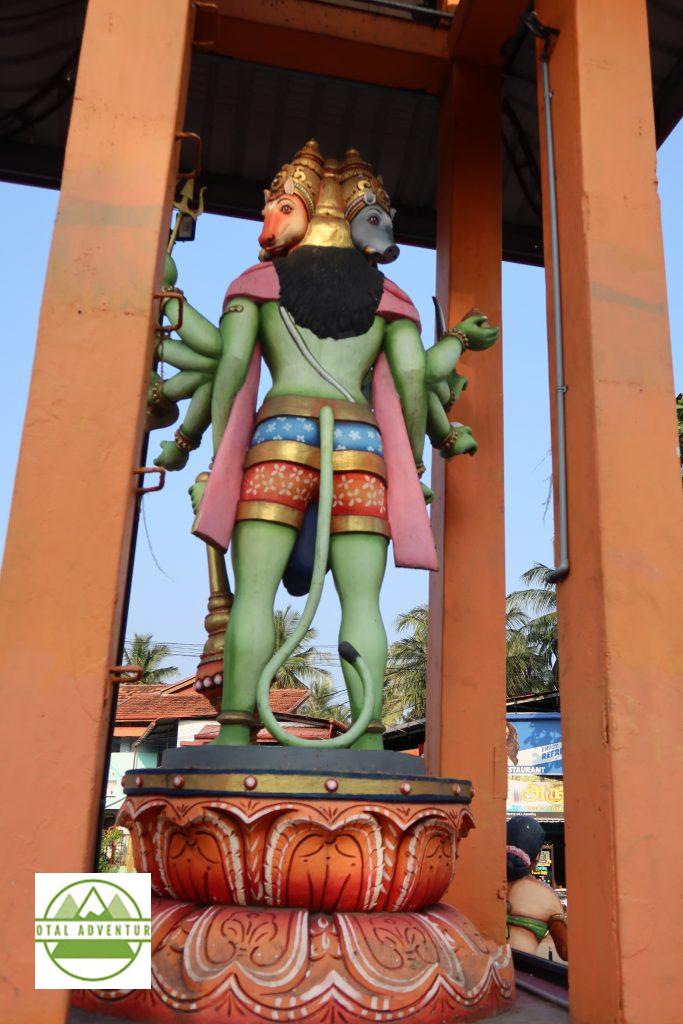 Whereas the South and West are more Buddhist , the East and North is more Hindu. There is also a large Muslim community.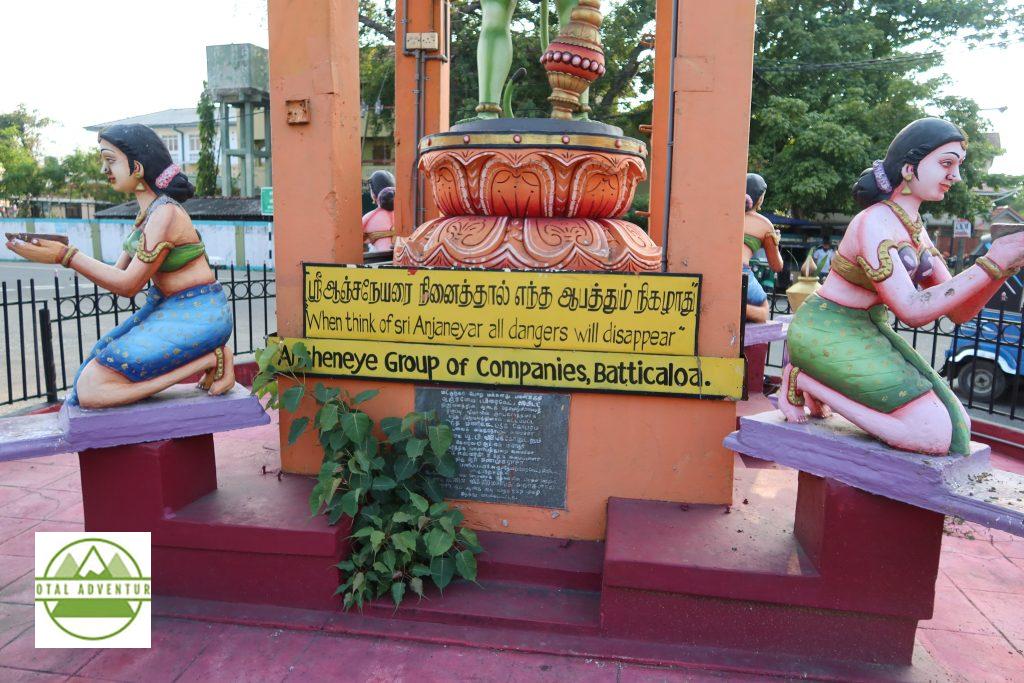 Commerce and Holiness Come Together.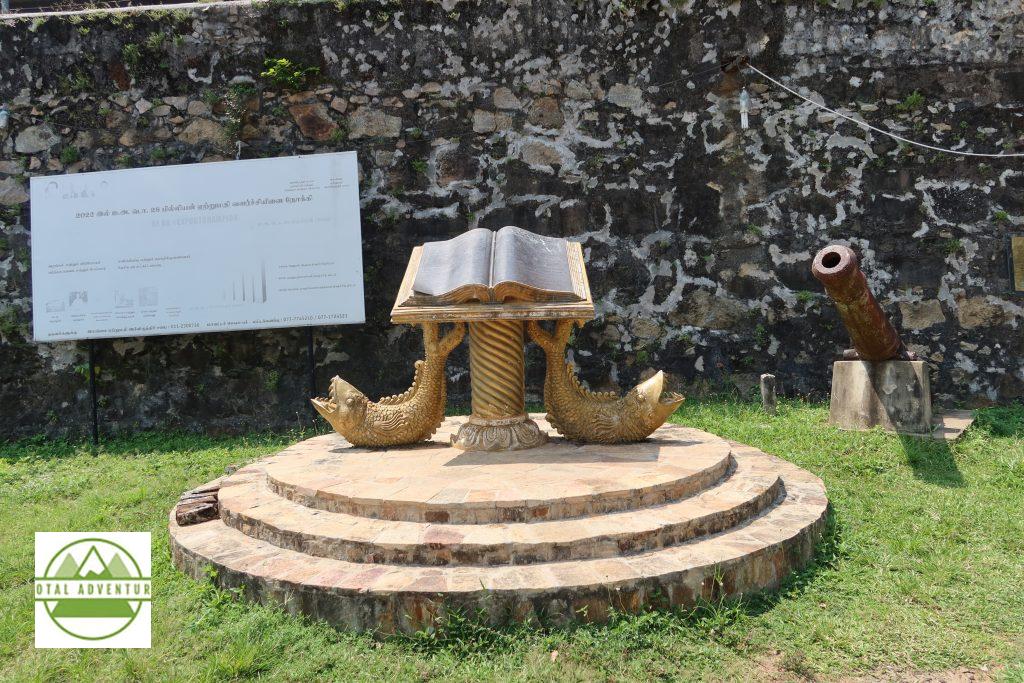 Batticaloa is home to the Laughing Fish, or Singing Fish who reside in Batticaloa Lagoon, seen in the VIDEO. In reality, they probably croak, which can be heard in some tropical bottom feeders.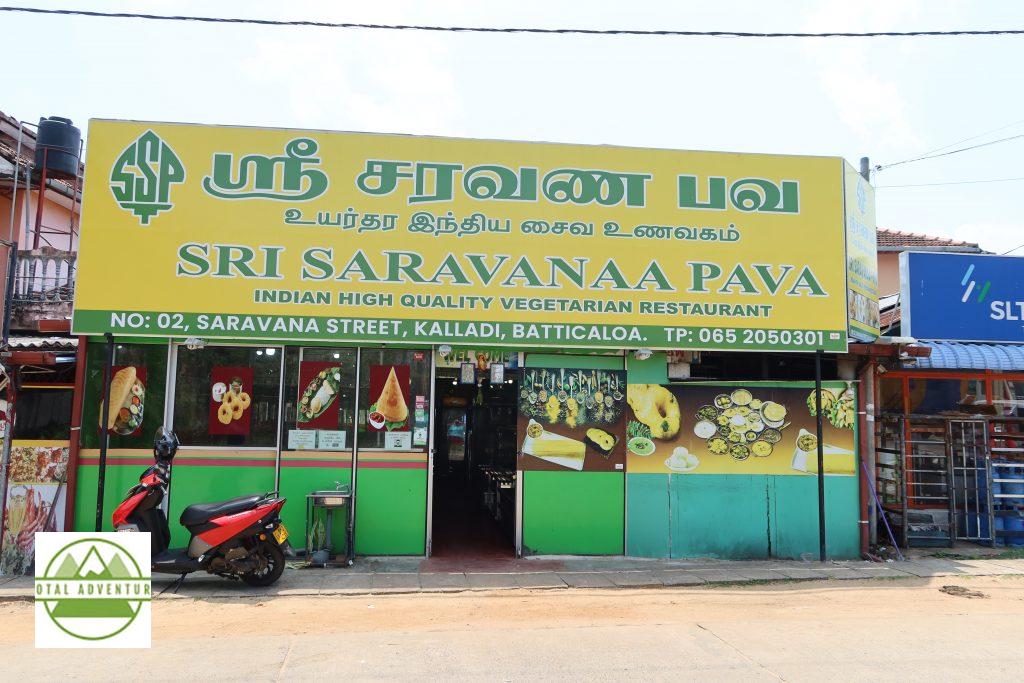 A delicious place even for carnivores like myself. Food is flavorful and filling ,unlike Western oriented vegan food – more bland and unvaried. The hotel was very comfortable, with a beautiful pool. There were giant ballrooms, hundreds, of rooms and a huge restaurant. I was one of 5 people there.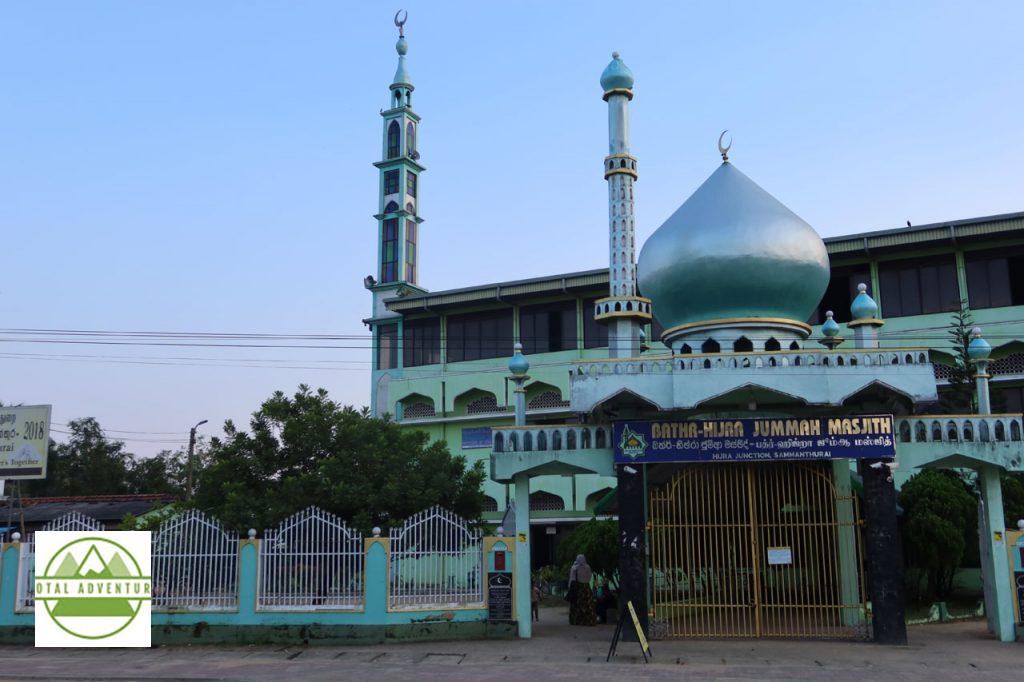 On the way to Trincomalee there were several beautiful mosques. TotalAdventure did visit one in Batticaloa that you can see in the VIDEO. Sri Lanka is 70% Buddhist, 13 % Hindu, 10% Islamic and 7% Catholic.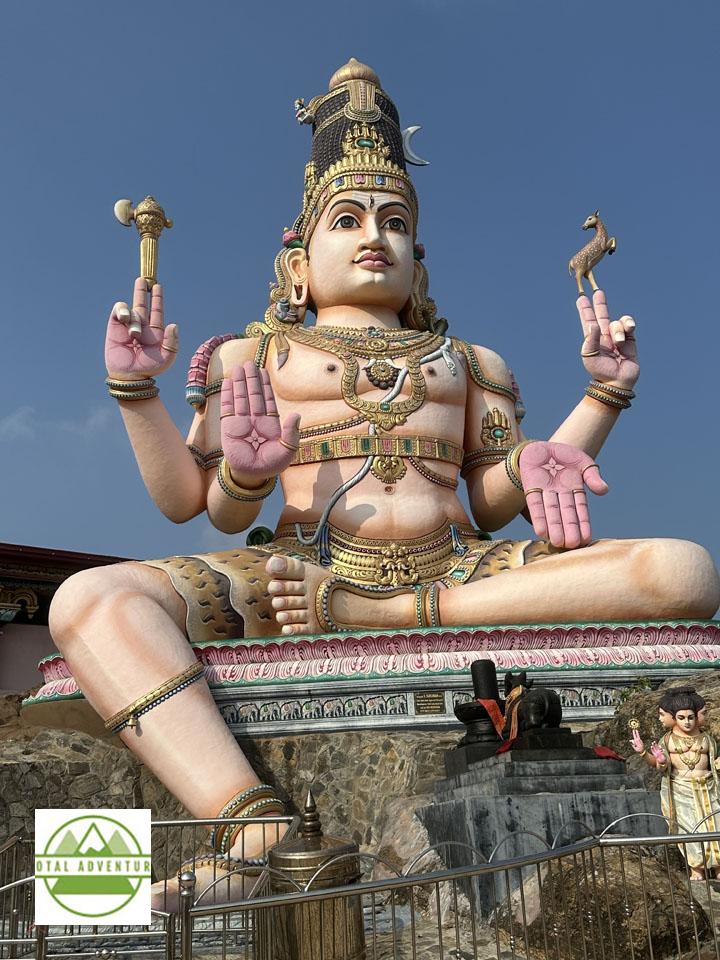 TotalAdventure went further up the coast to Trincomalee – where Lord Rama sits high on the cliffs looking out into the Indian Ocean at Thirukoneswaram Kovil .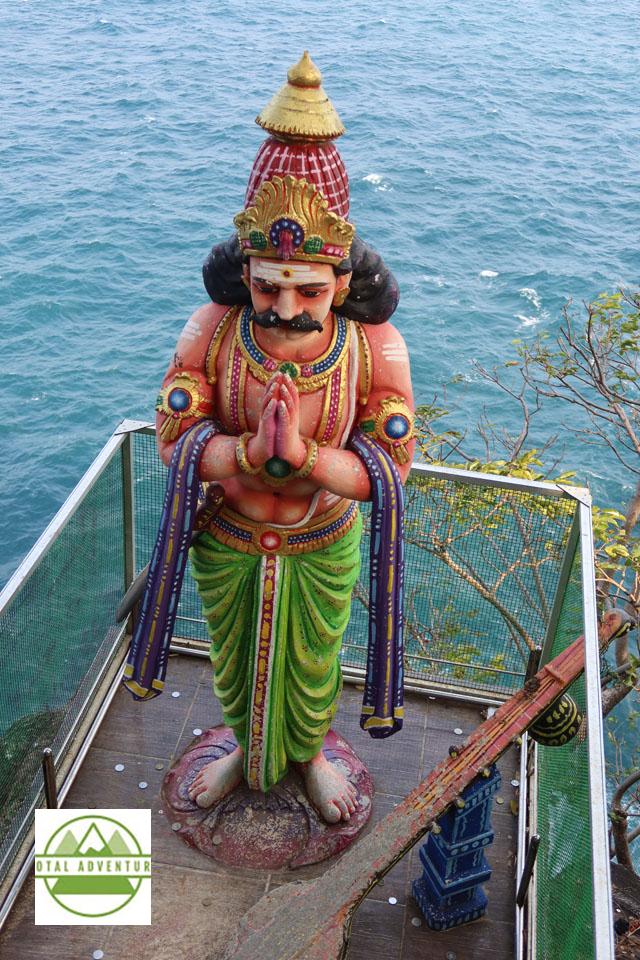 Ravanna prays from atop the cliffs.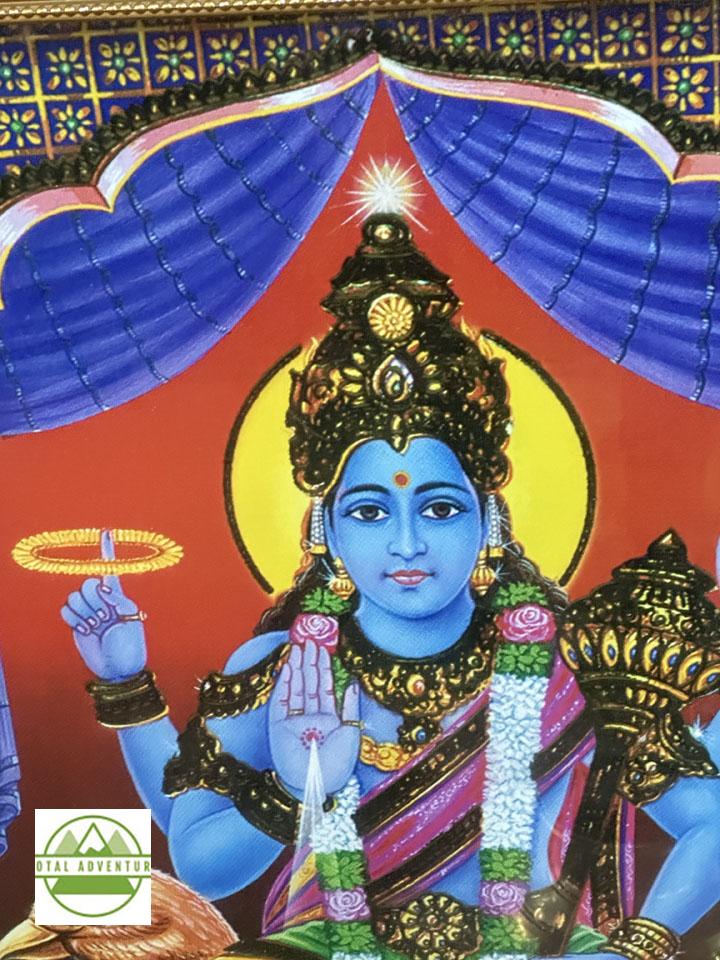 All Powerful Kali – Goddess of War.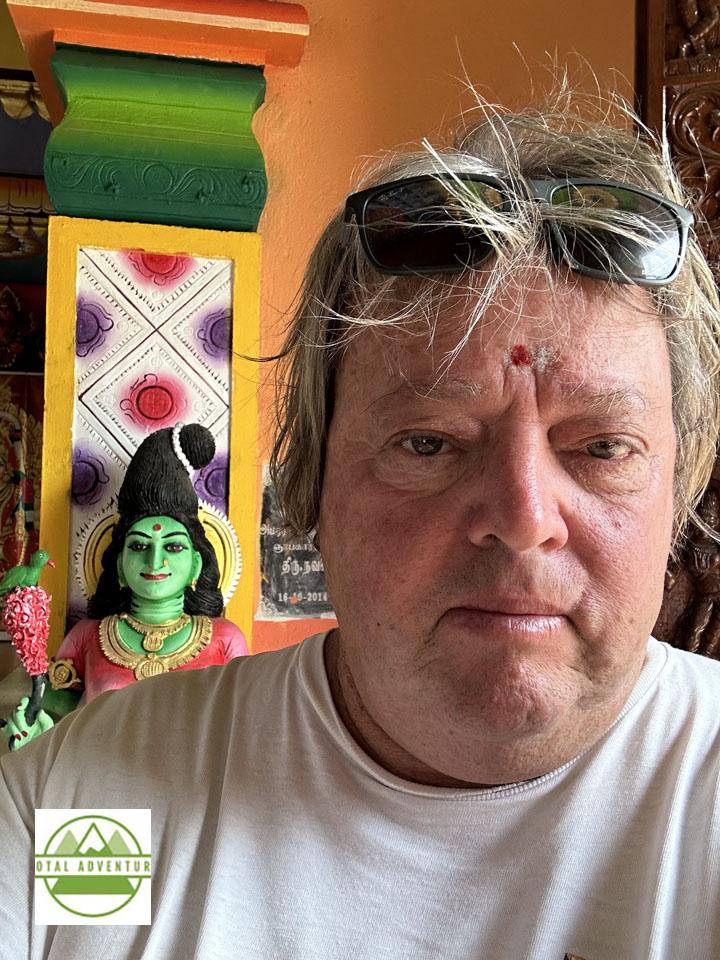 TotalAdventure Becomes Holi.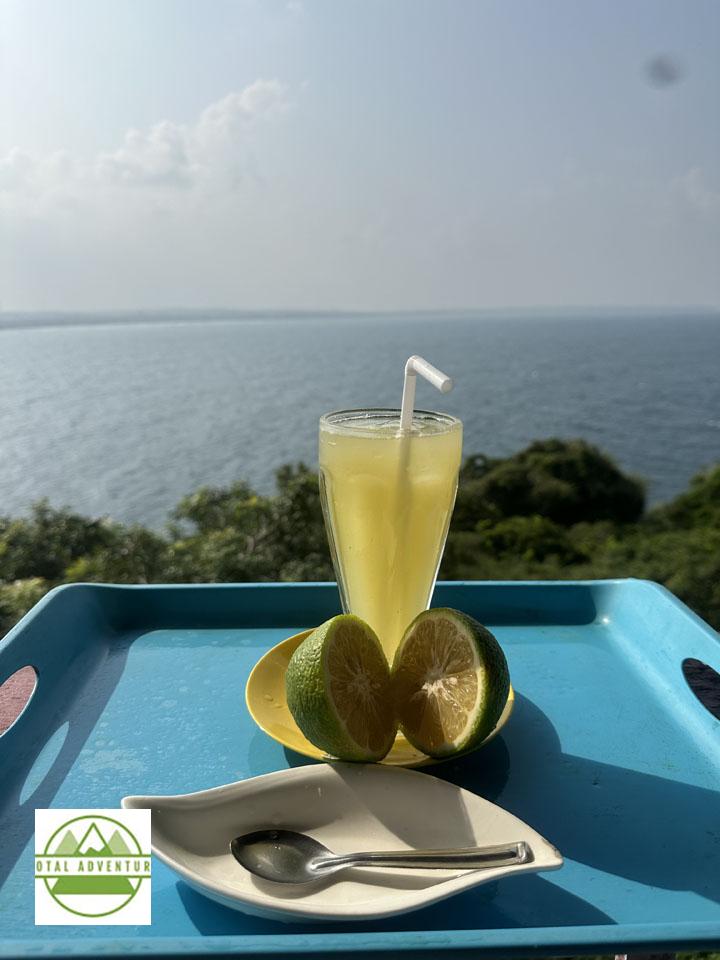 A clifftop treat of healthy refreshing juice. About 75 cents.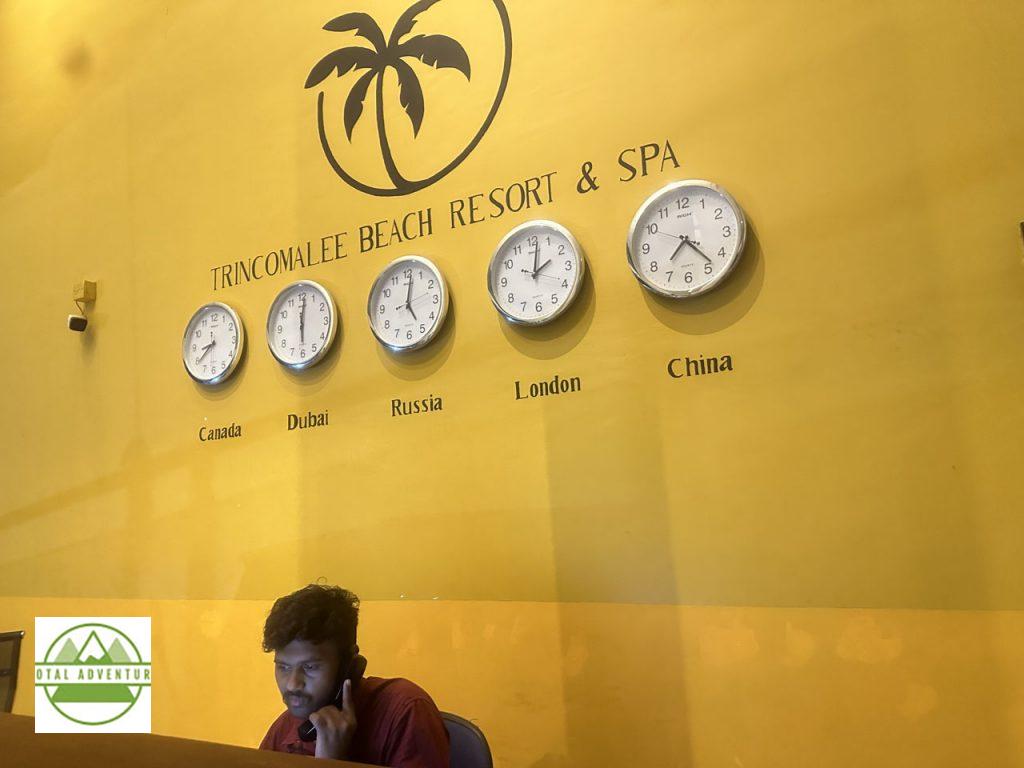 Many world times – none of them right. Sri Lanka i in a half hour time zone.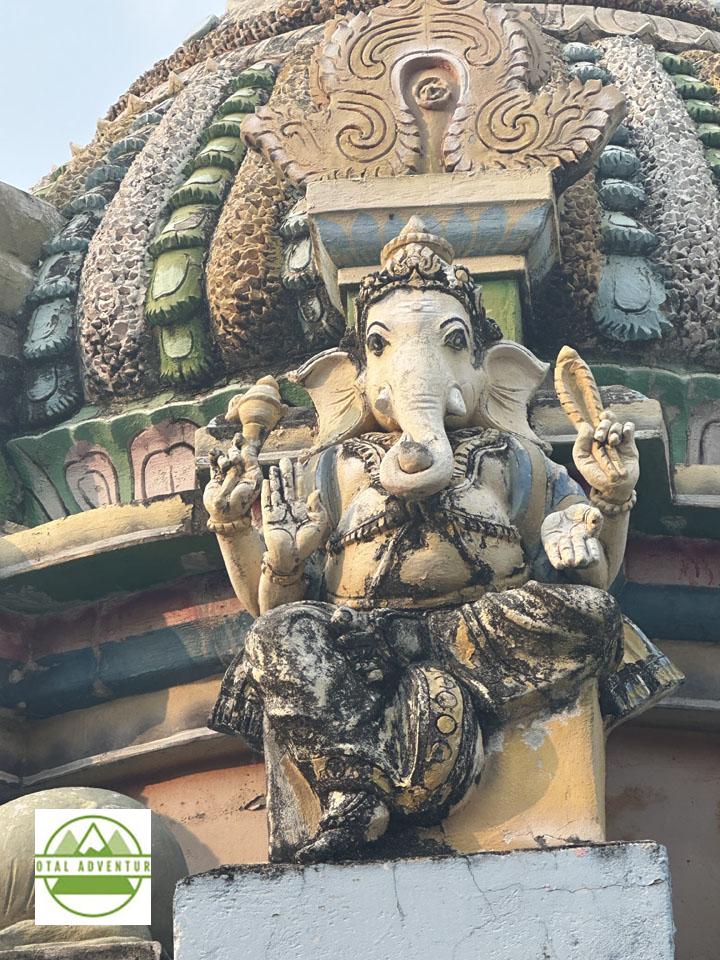 Wise Ganesh.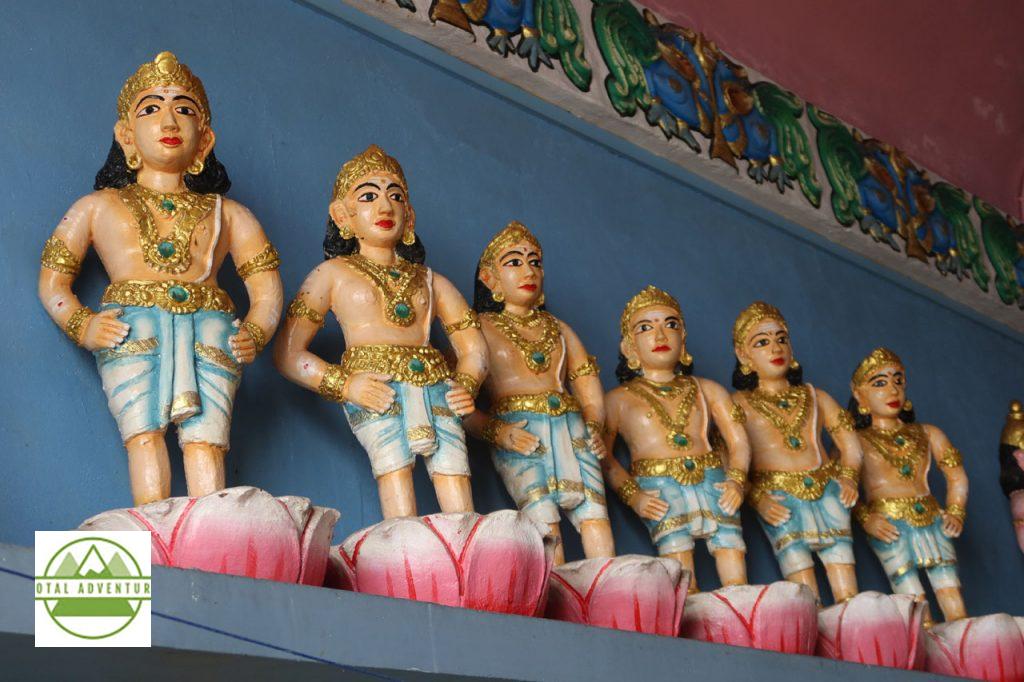 In A Seaside Temple.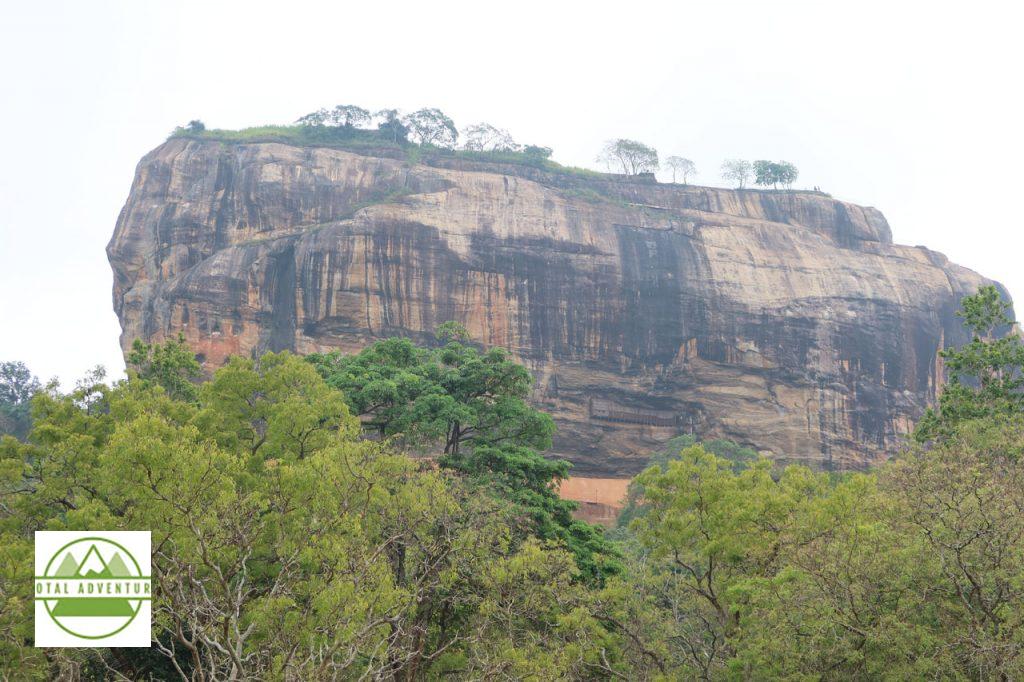 The final destination before returning to Colombo was Sirigiya Rock Fortress. According to TripAdvisor :
There's a reason UNESCO ranks Sigiriya as the 8th Wonder of the World.. Sigiriya is a stunning ruins of a castle build atop a tall rock mountain. An engineering marvel, water was piped from the pools at the base of the rock mountain, all the way up to the castle.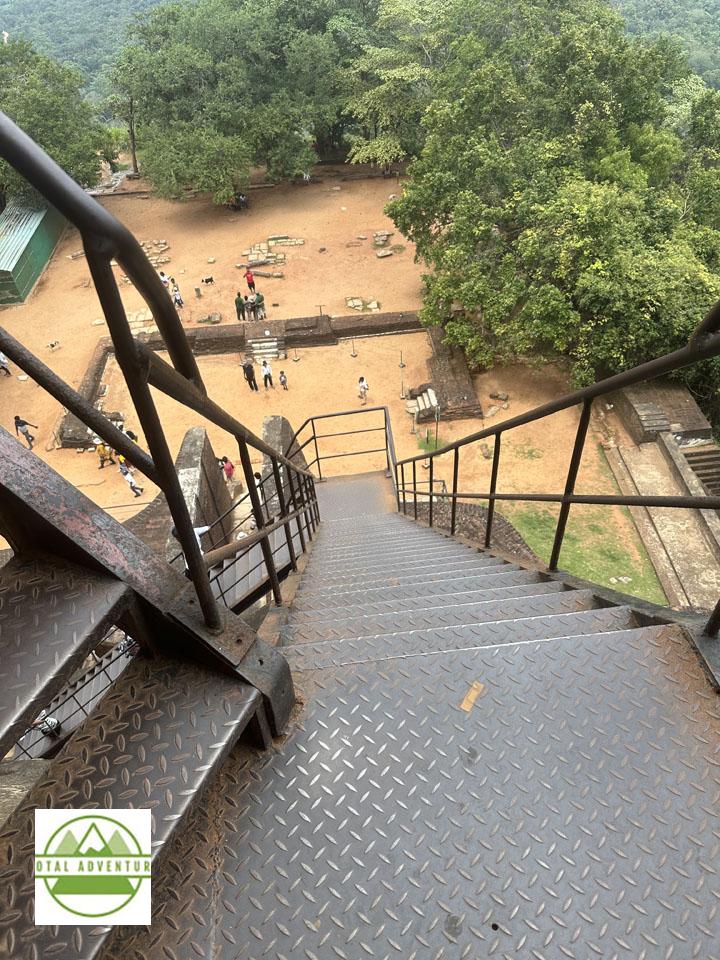 200 Meters or 625 feet doesn't sound like a lot, but it's half an Empire State Building at a 60 degree angle.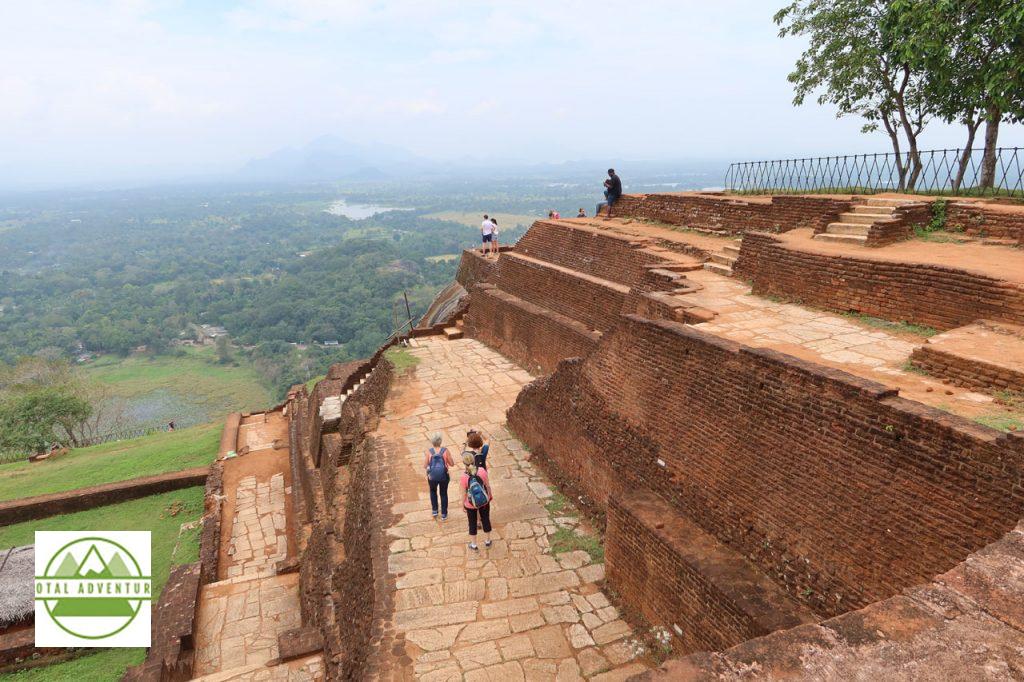 Ancient City high above the jungled plains.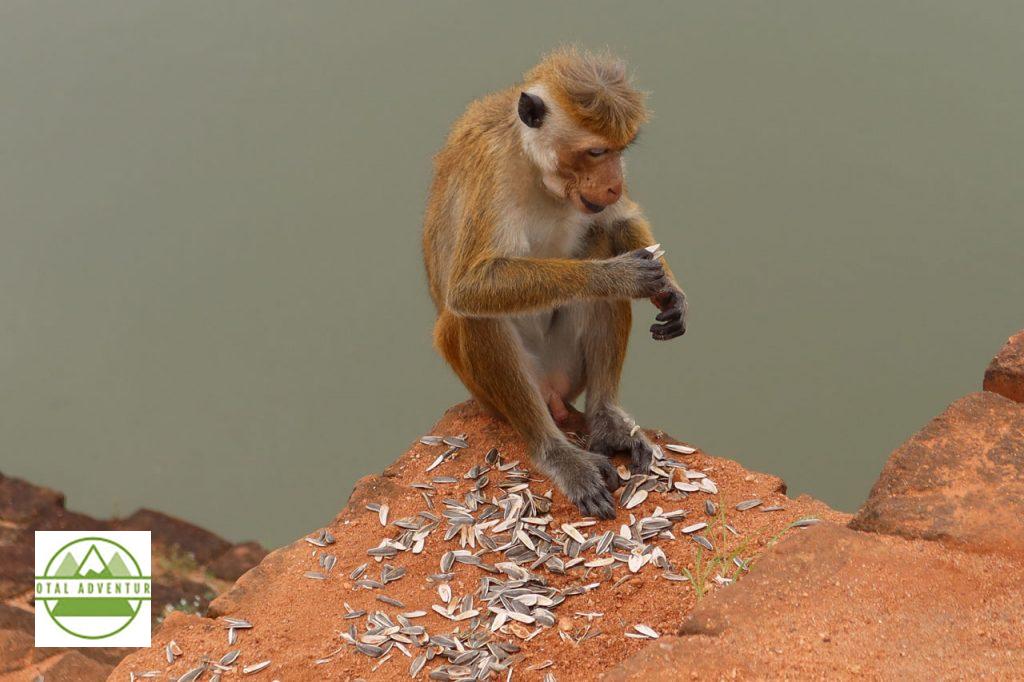 It's lunchtime above the pond on the fortress top.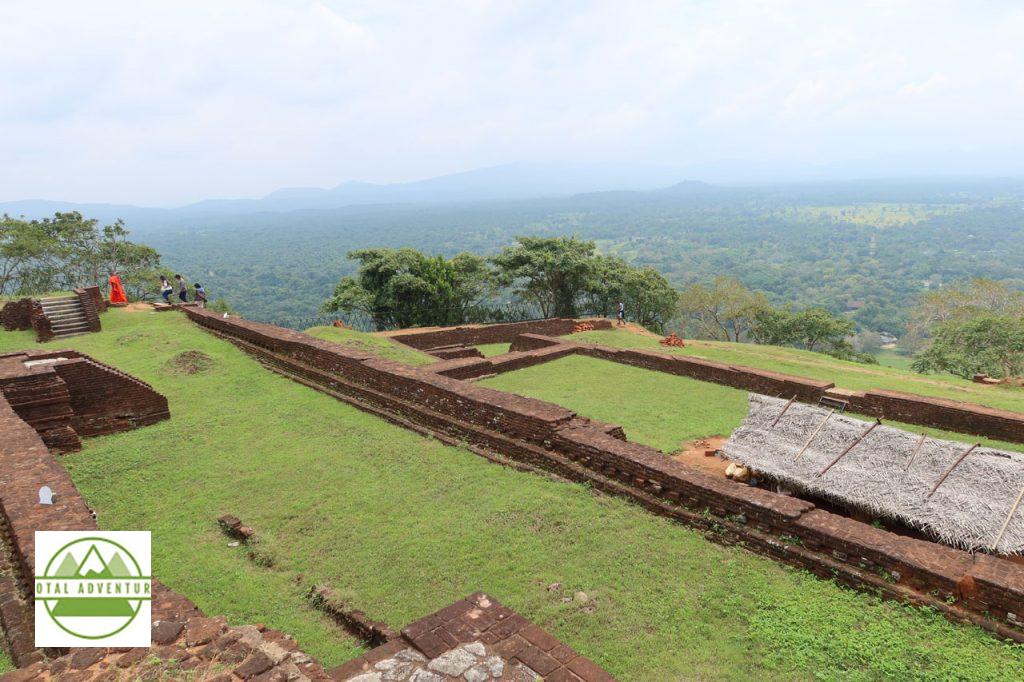 Some similarities with Mexico and Central America.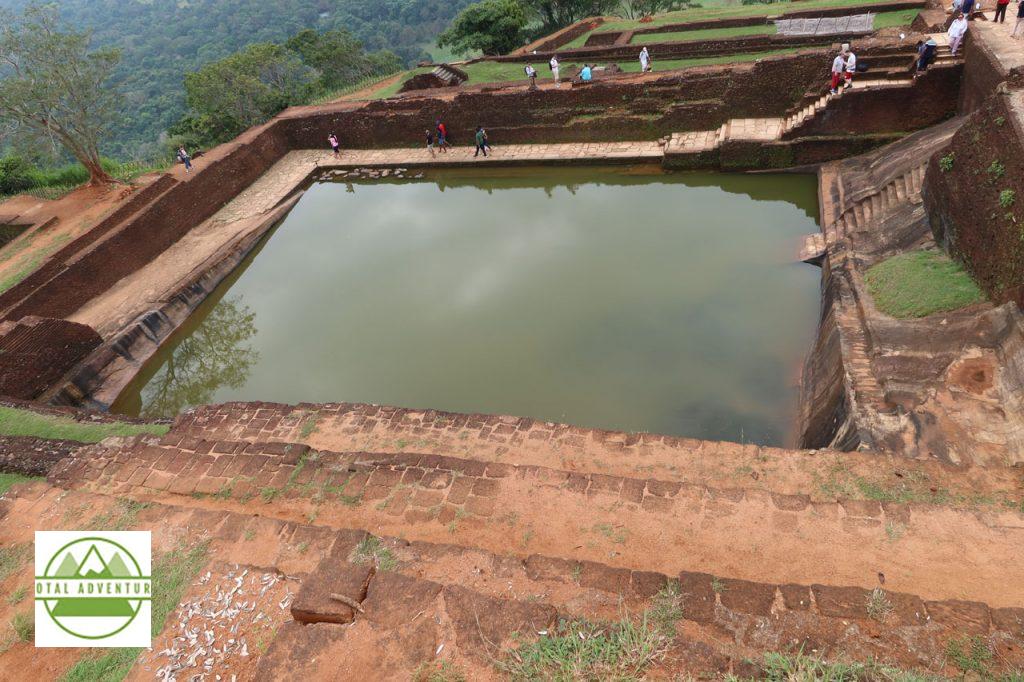 An ancient swimming pool ?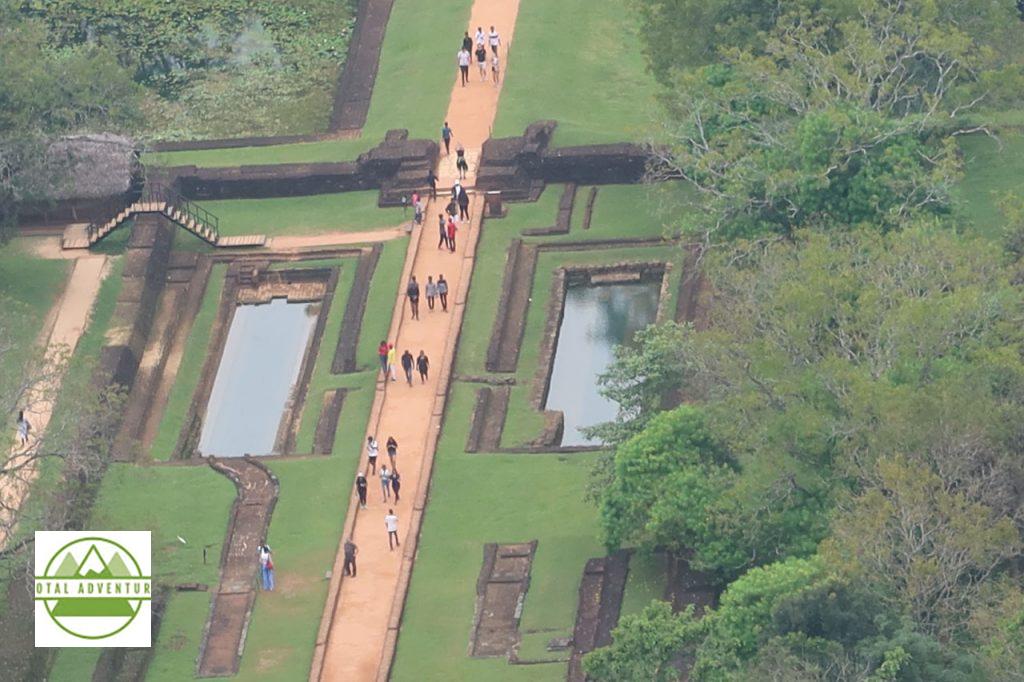 200 Meters Below. The climb up was great practice for climbing the stairs of the Himalayas in Nepal , right after Sri Lanka. What I thought would take hours only took about 45 minutes.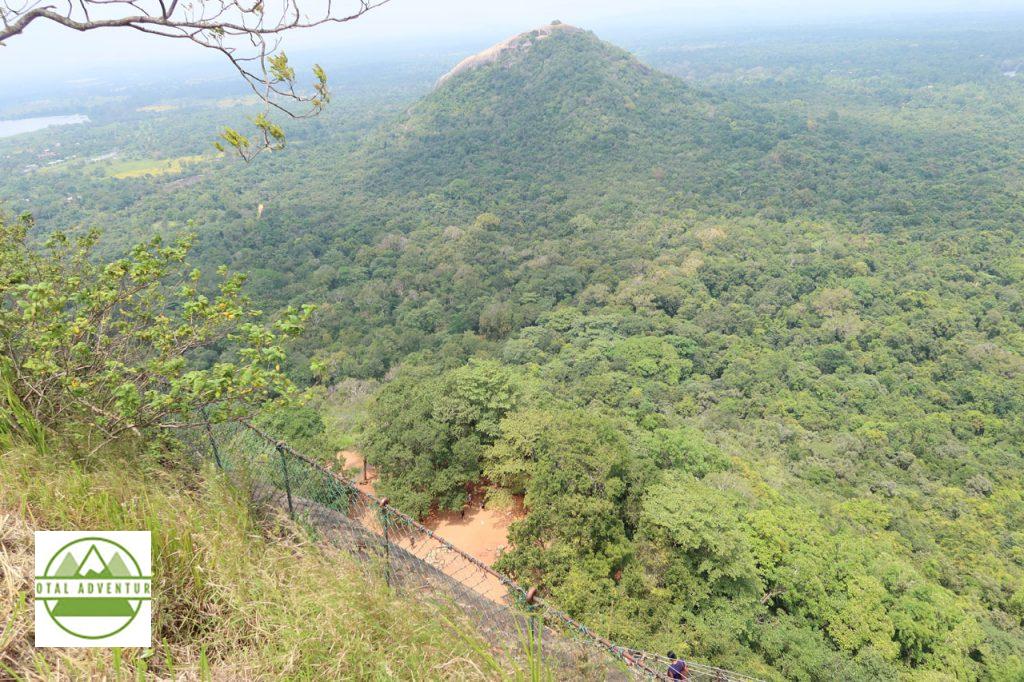 The dry (relatively ) jungles spread out below.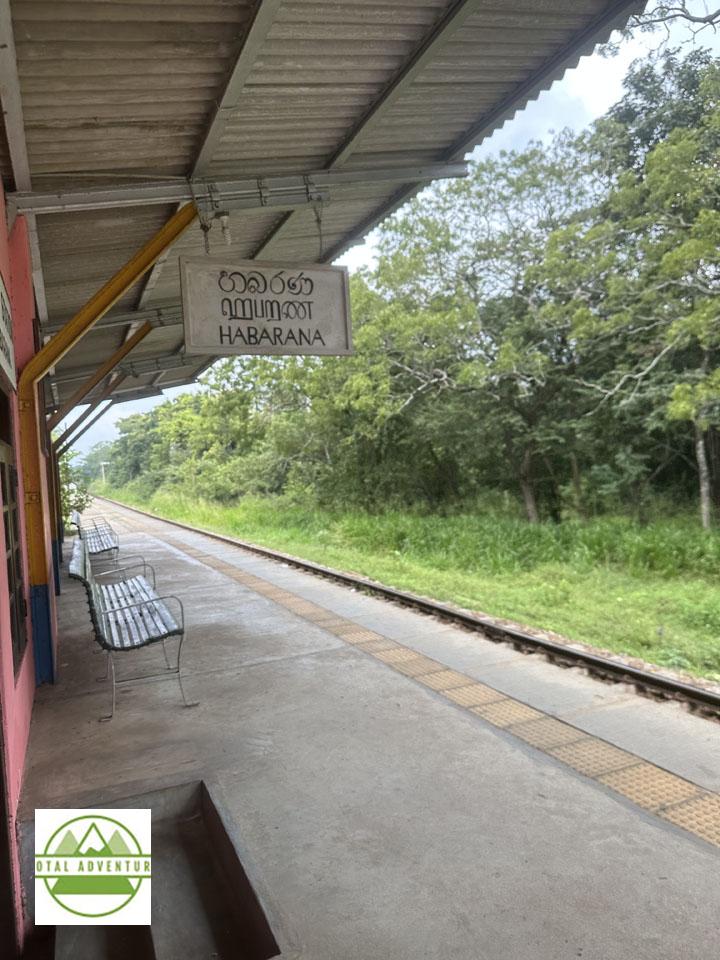 TotalAdventure had hoped for one last train ride – to Colombo. Alas , the train engineer for the Trincomalee to Colombo run was sick that Sunday, so once again I had to hire a car – $ 80 as opposed to $ 2.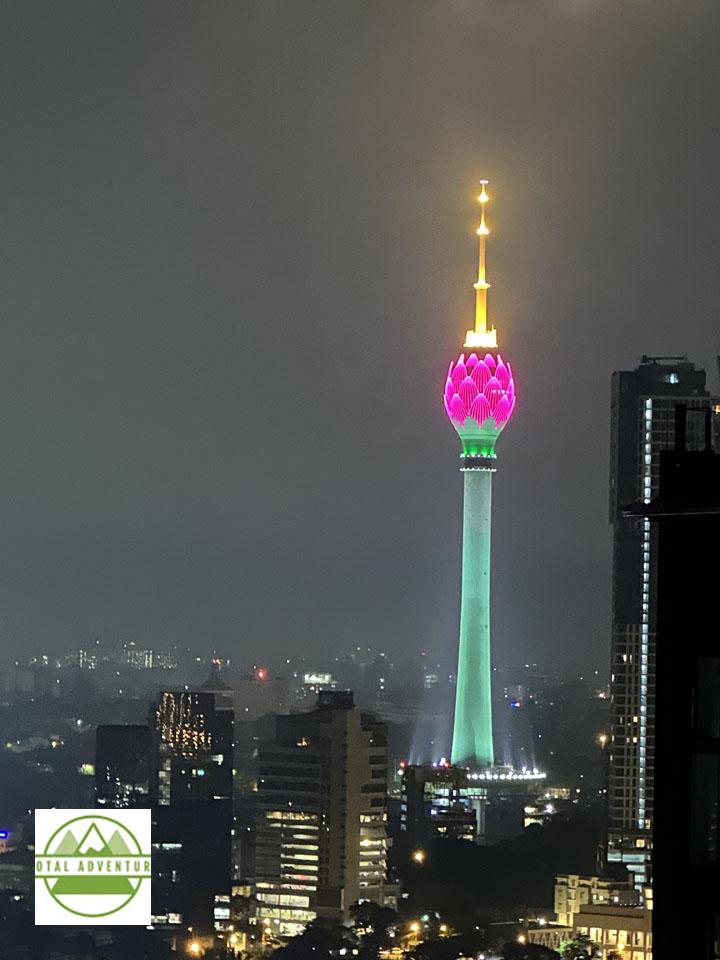 A Final Night In Colombo – And It Was Off To Nepal In The Morning ! Mini – Shanghai Tower.
On the morning of Friday,July 24th I left Deadwood South Dakota and within an hour had entered Wyoming on SD 34/ WY 24 . The first stop was Devil's Tower.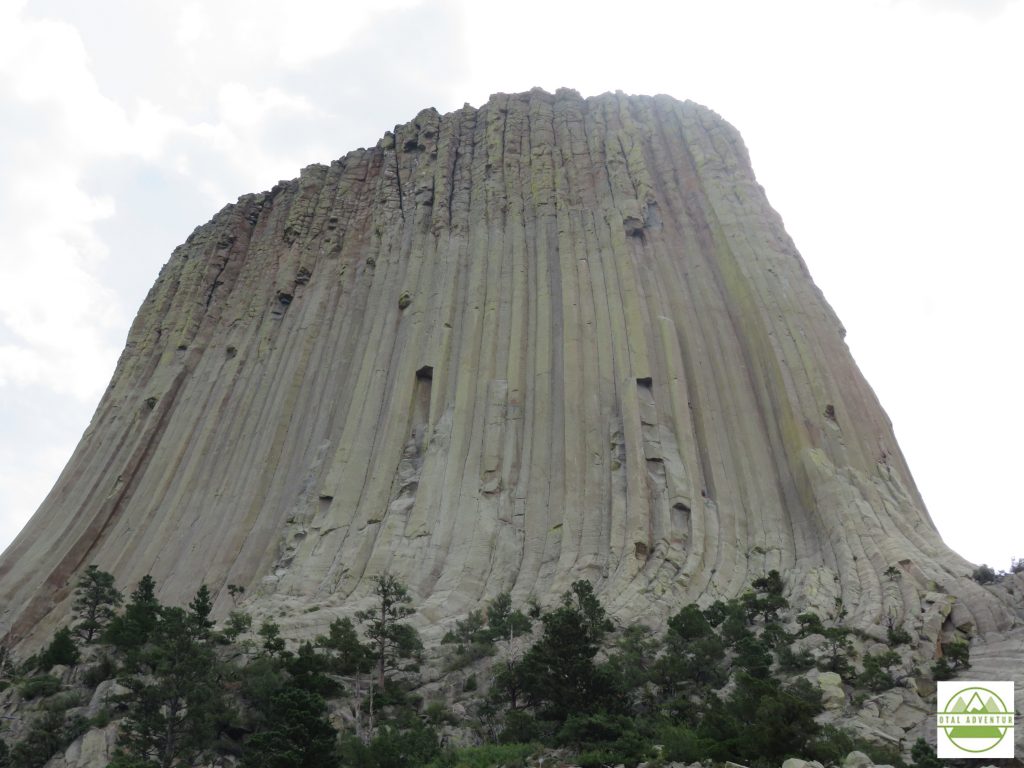 Rising straight out of flat farmland,Devil's Tower is 867 feet and formed in a short time due to volcanic upthrust. It is very geologically different than the Black Hills over 100 miles away, or the Rockies , more than 200. You can experience it in the video above.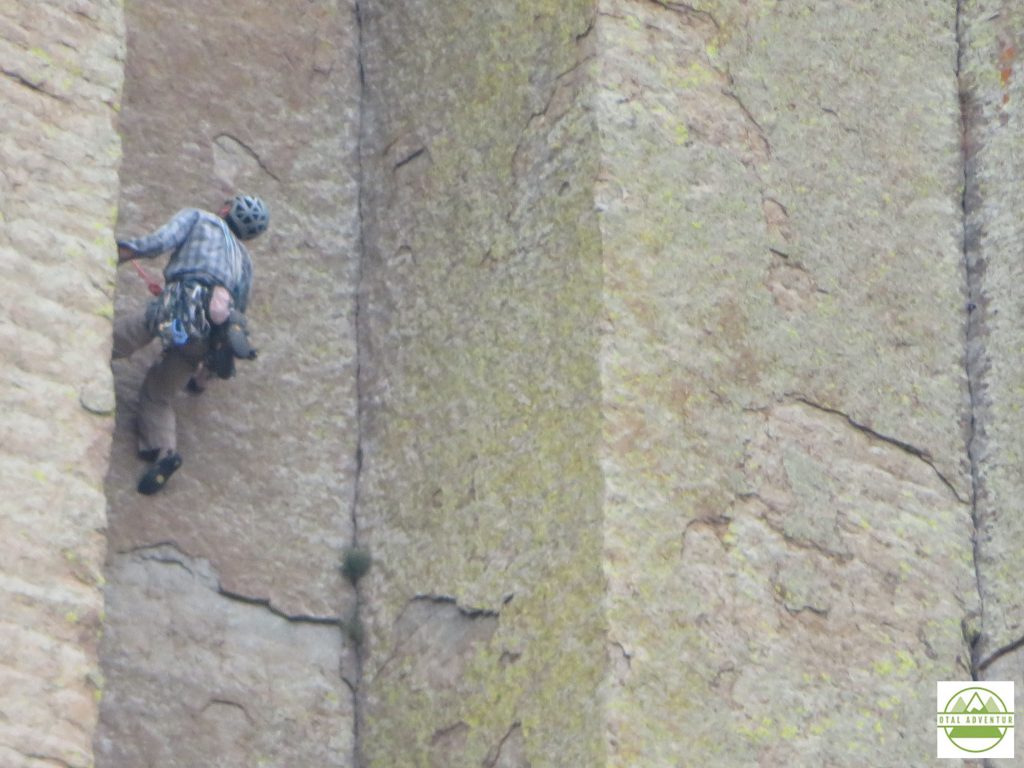 By mid afternoon I settled into Sheridan, at the foot of the Big Horn National Forest. As usual I dined alone on the hotel porch rather than in a lively restaurant .COVID life on the road. Everything closed by 8 anyway.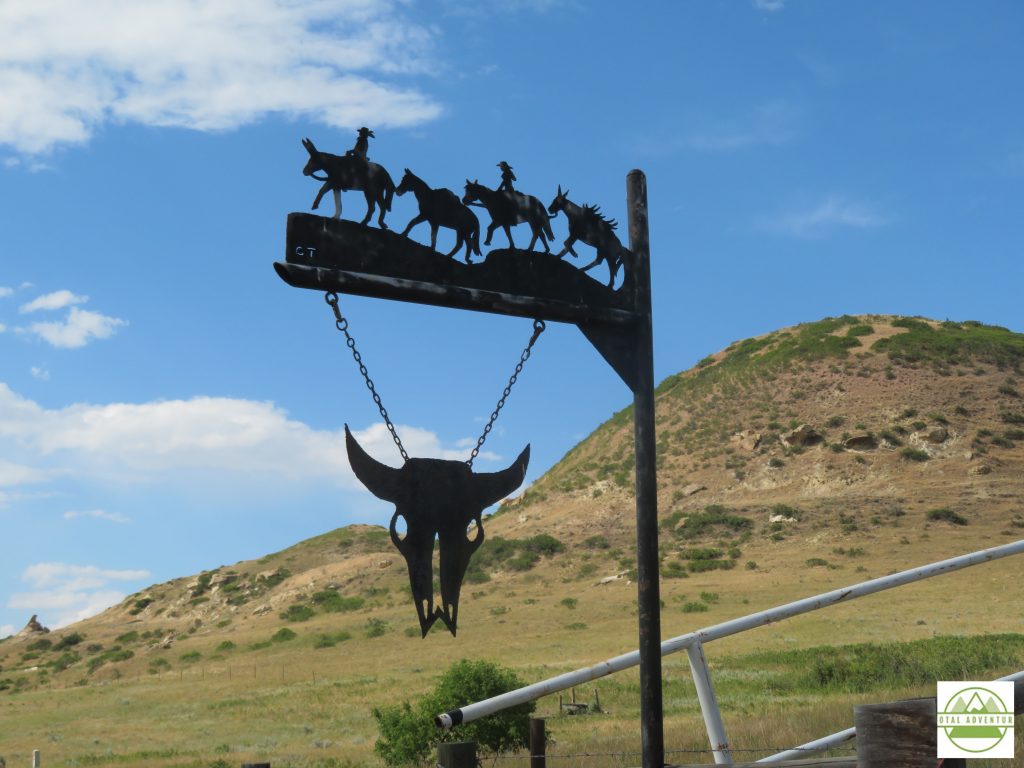 Big Horn National Park offers hundreds of square miles of hiking, climbing, glacier trekking and ATV trailing. Since it's not a National Park, it's not well known except locally. I was the only Florida plate, most were from Wyoming and Montana.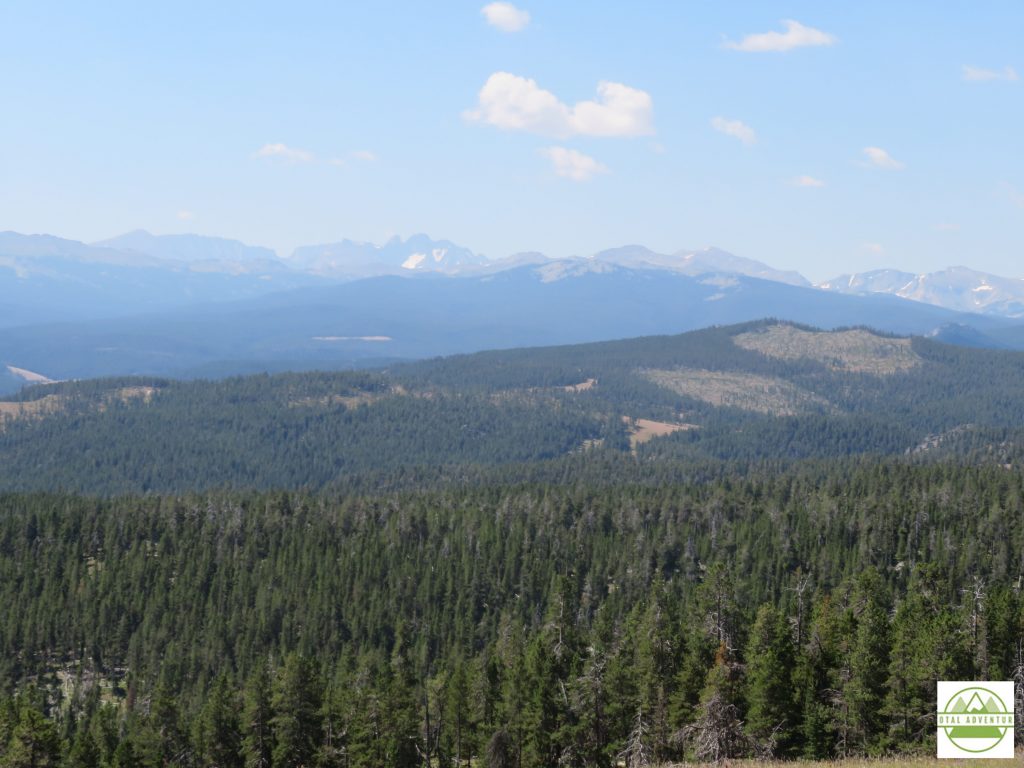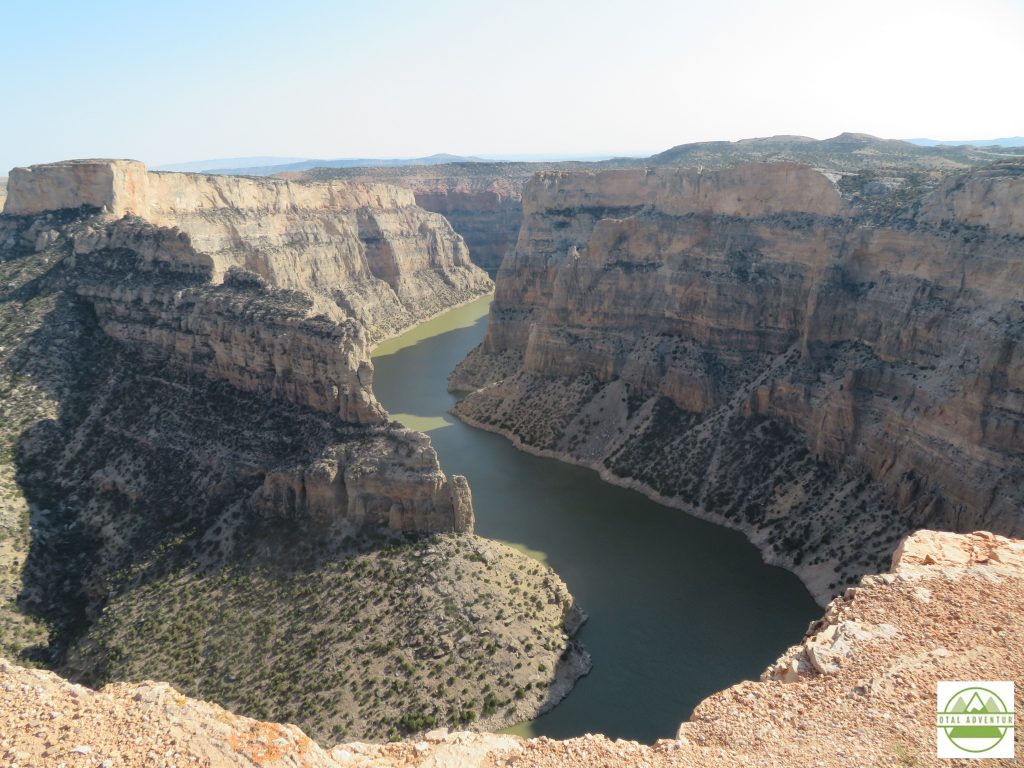 Dropping down a few thousand feet from the Big Horn Range, TotalAdventure explored the Snake River Canyon , traversing the Wyoming Montana border. The canyon had been dry with a seasonal stream until a dam was built in the 1930s.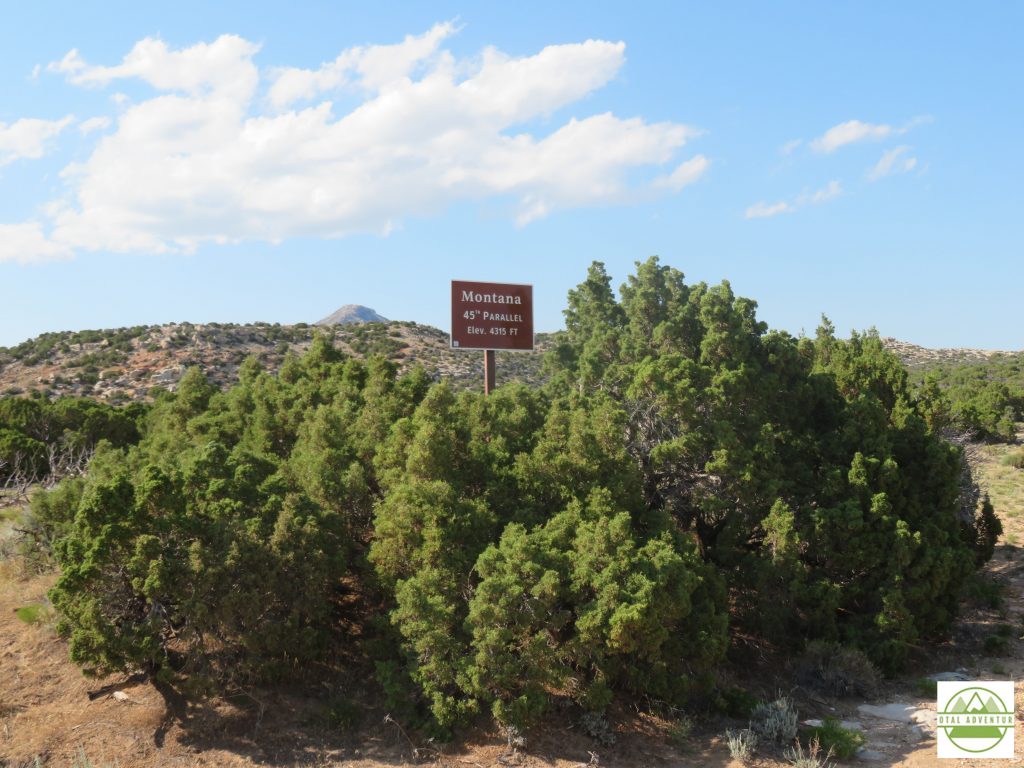 I then entered my 49th state, Montana ! Just one more to go – Oklahoma, but won't be there until the return trip East in September.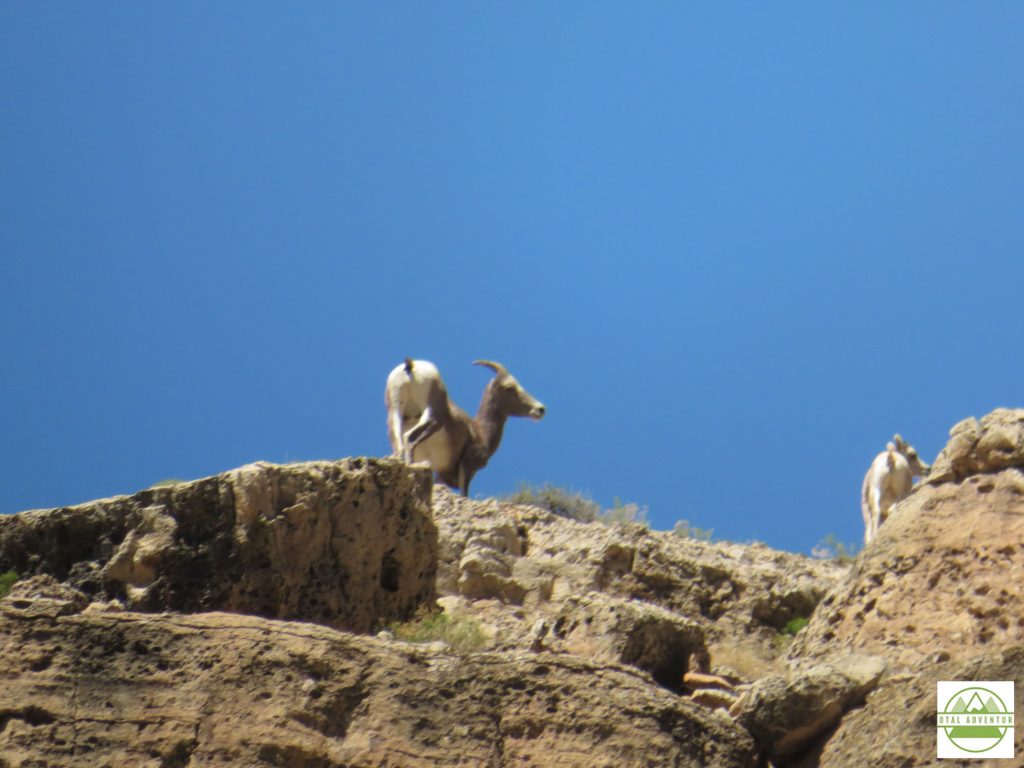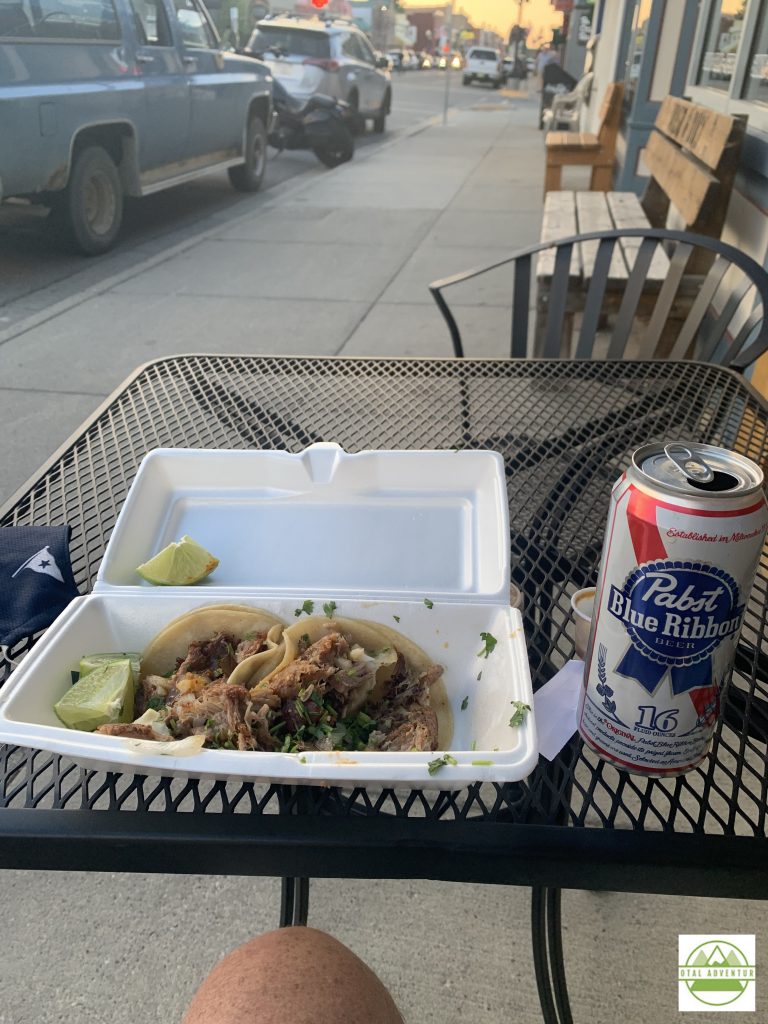 Before Yellowstone, I overnighted in Billings and Red Lodge Montana. In Billings I enjoyed a big Montana steak, but when I arrived at my hotel in Red Lodge after a day in Snake River, about 7:30 to discover that due to COVID my hotel restaurant was closed and the few restaurants still open in town would be closing at 8. This New York/Miami traveler is not used to small town hours but had to adjust on this trip or face night time starvation. I was the last one served from the line at a Mexican cantina and scored a PBR from the bar/casino across the street. The bars closed at 9 !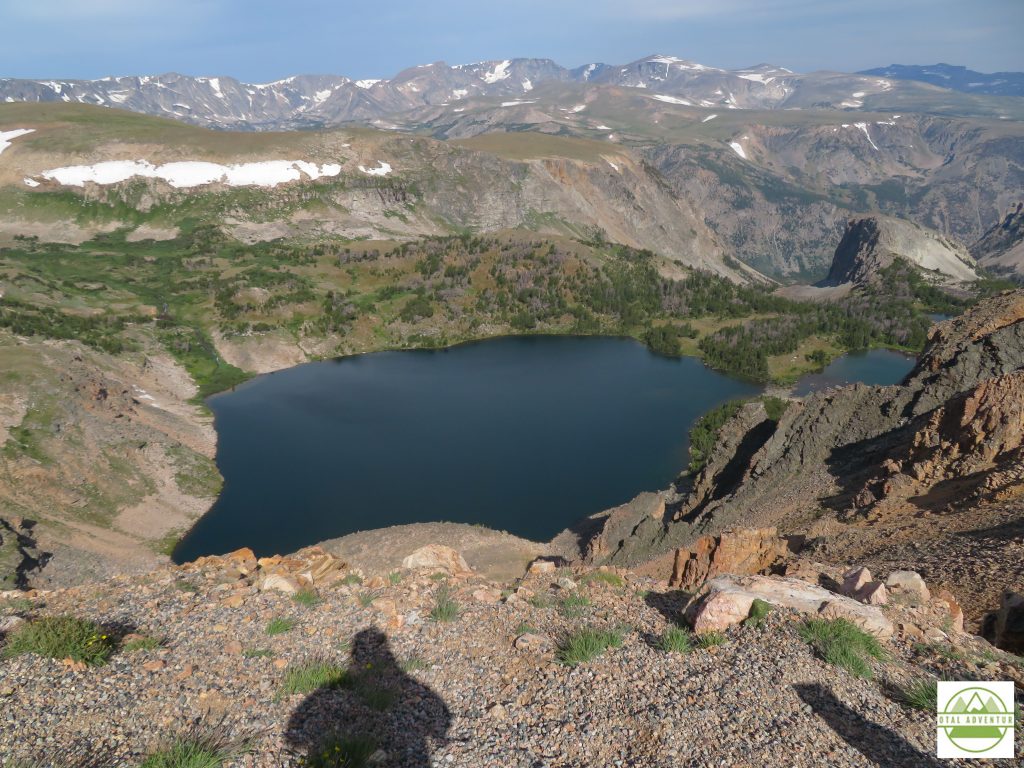 From Red Lodge to Yellowstone the winding ,high altitude Beartooth Highway crisscrossed several times between Wyoming and Montana.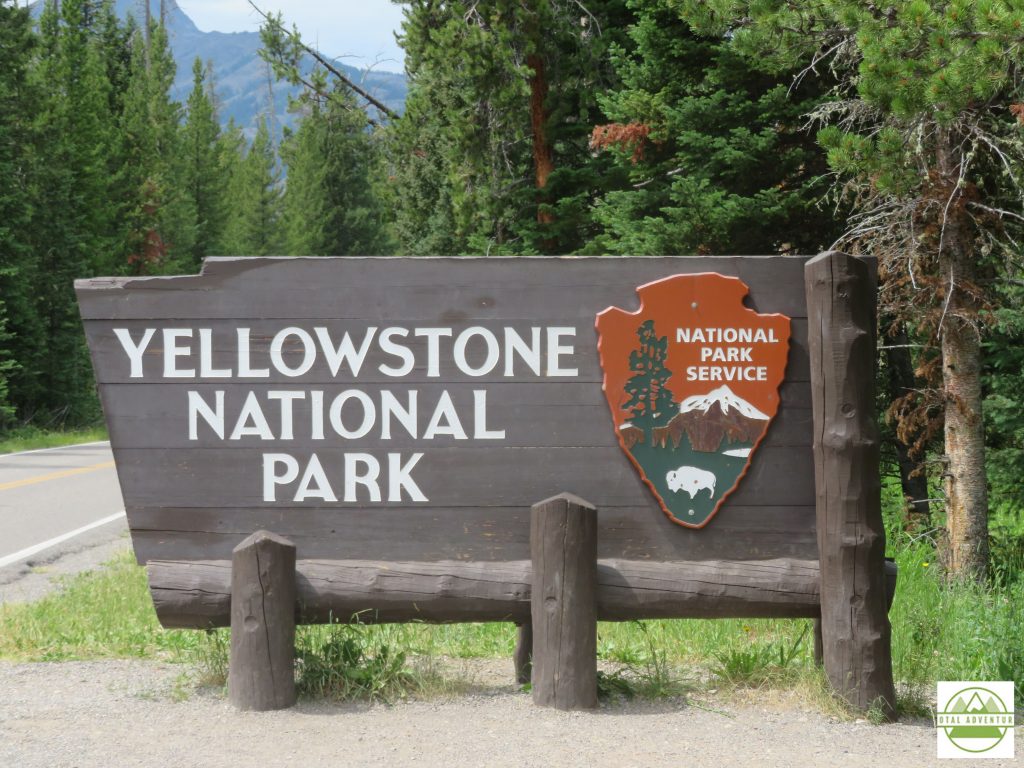 The Summer of 2020 was probably one of the best to explore Yellowstone. Though crowds were sizable , they were all American crowds, as most foreigners, not even Canadians, could visit in the COVID summer. The notorious traffic jams did not appear.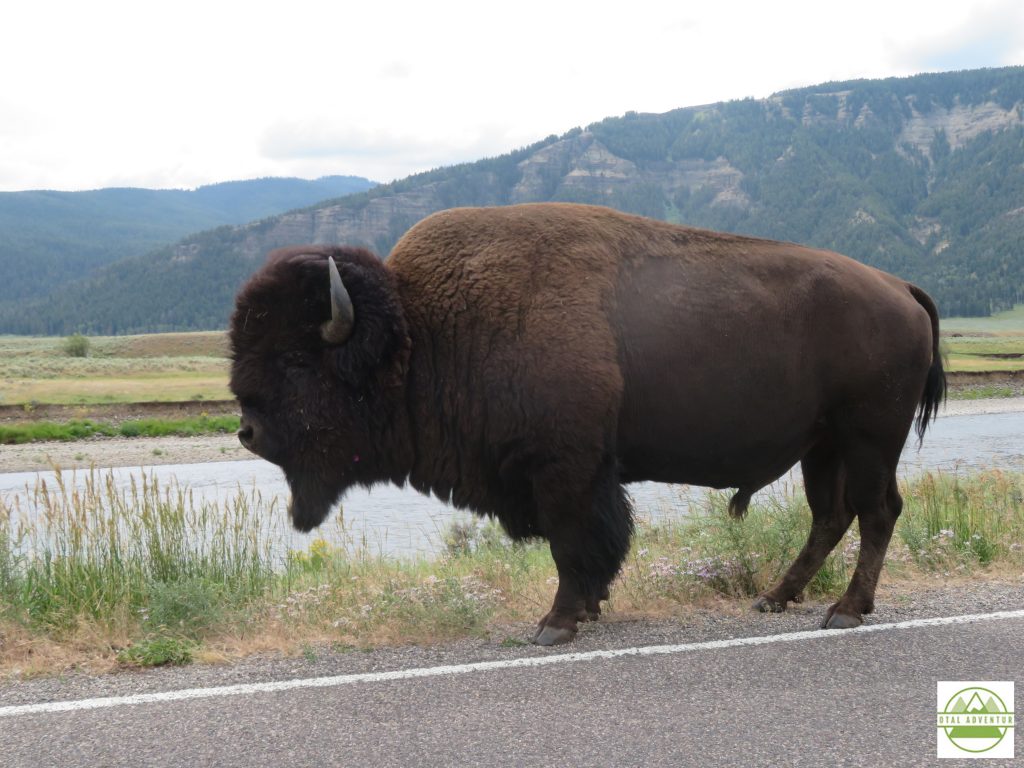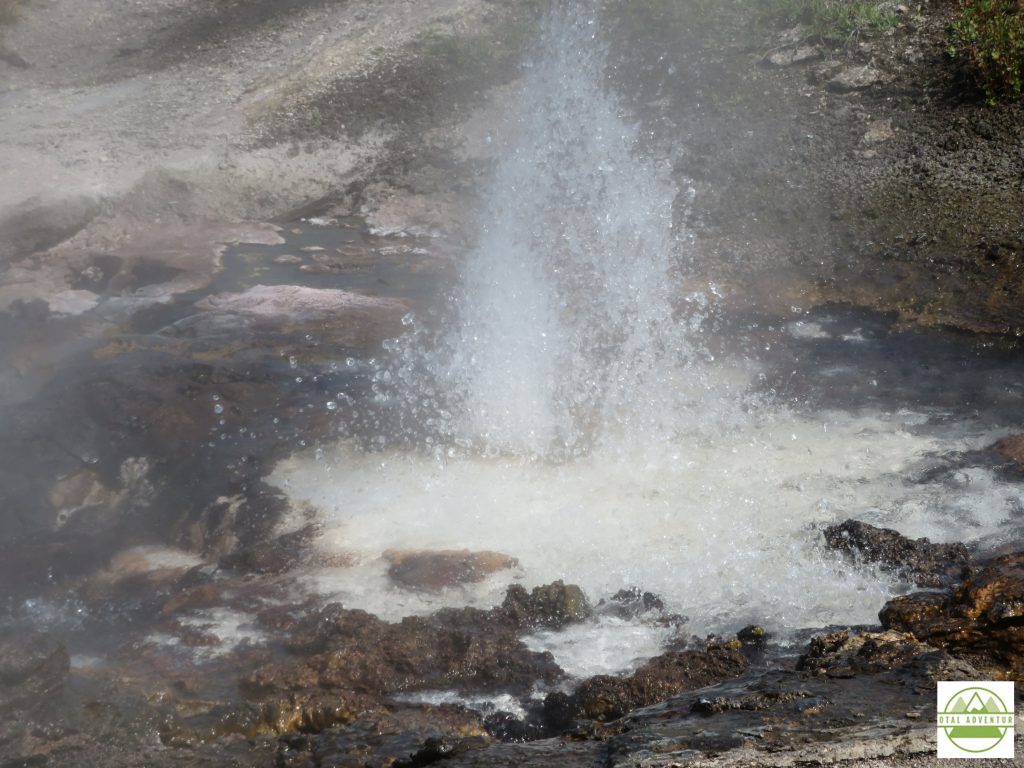 Yellowstone sits atop a super volcano. When it does finally blow – anytime between the next 10 minutes to 10,000 years – the park will become a 50 mile wide lake of boiling red lava and will cause global cooling for years to come.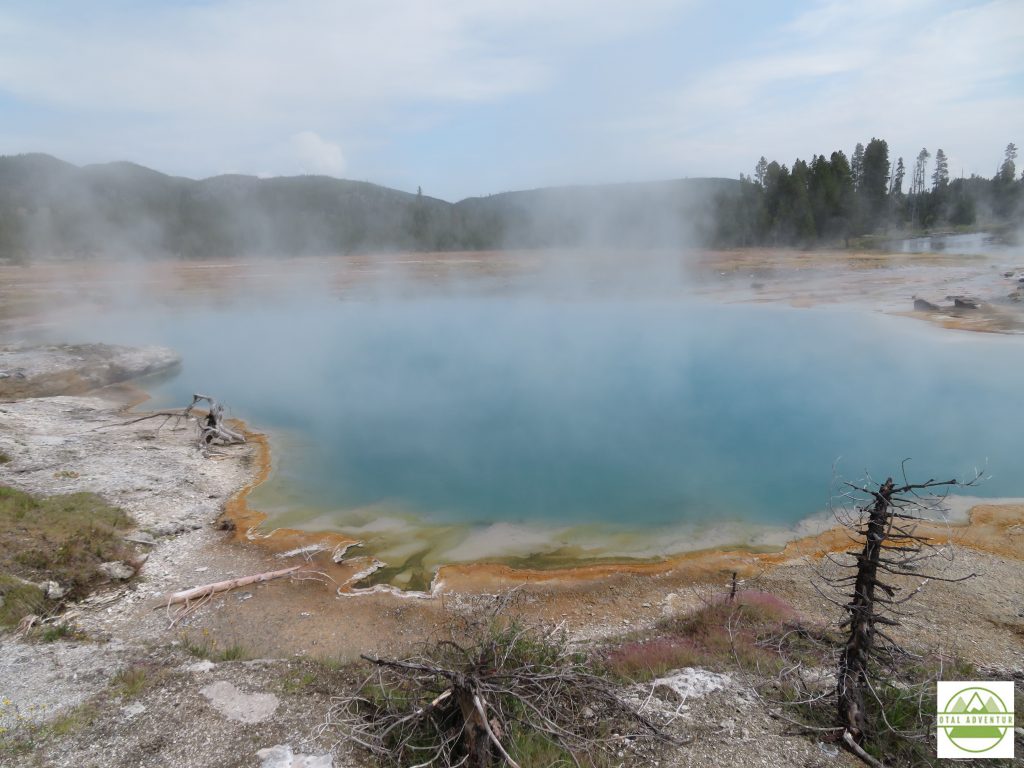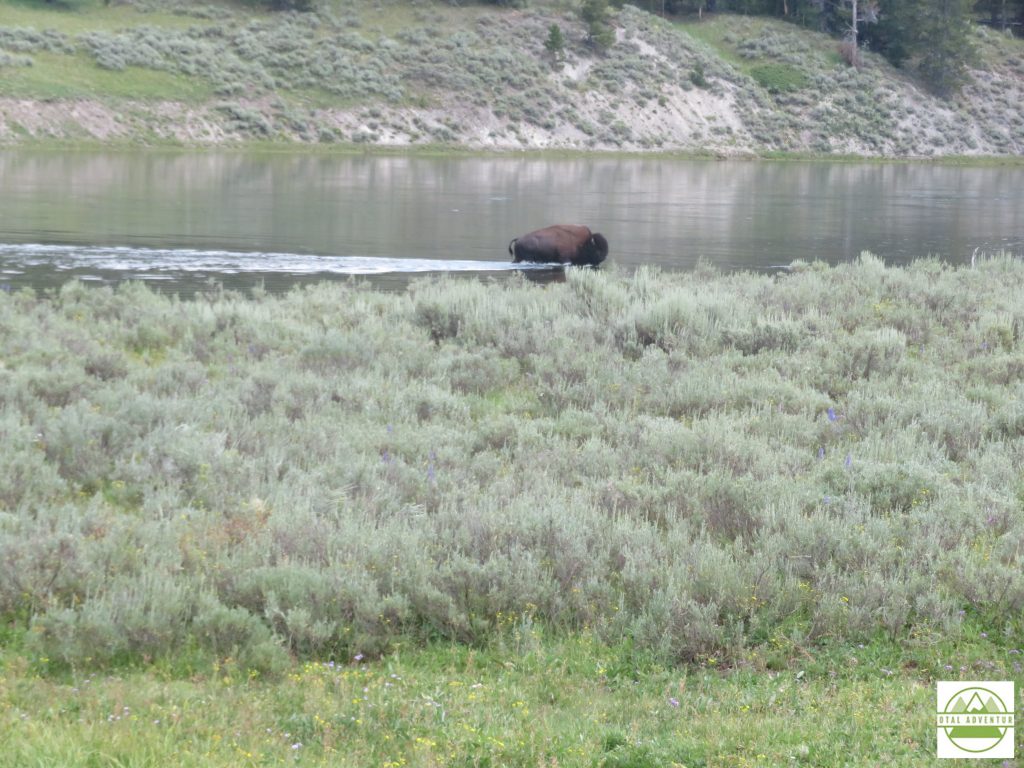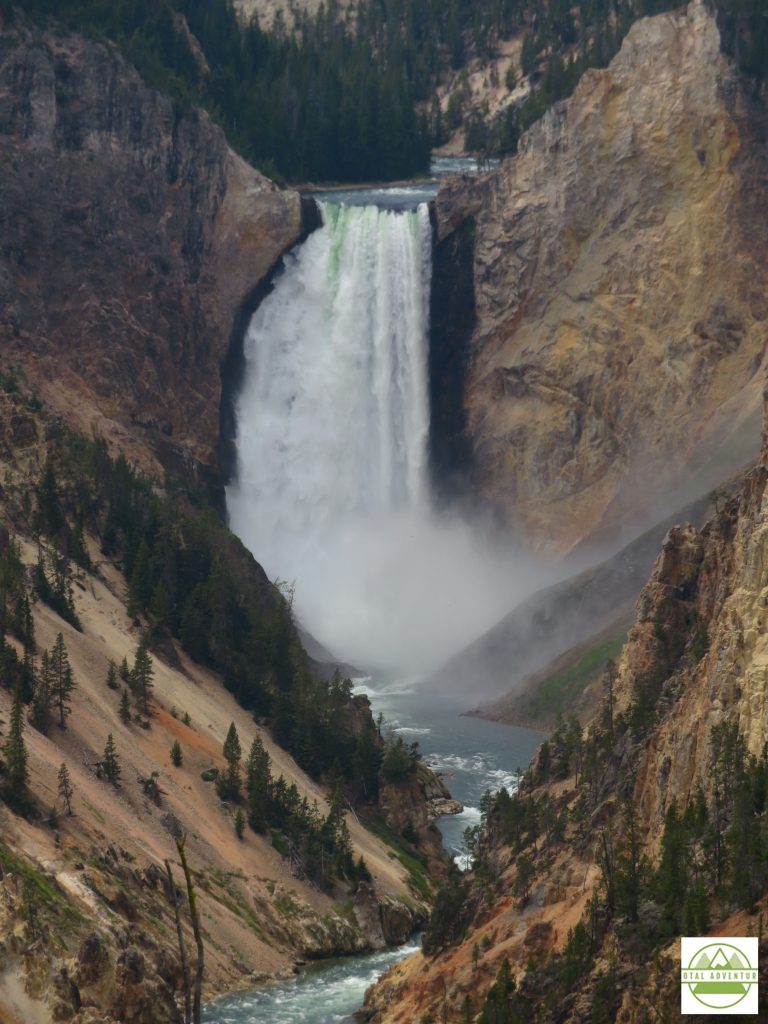 The falls look even more incredible in the video above. Be sure to watch it all.
After a day and a half in Yellowstone ( many people stay a week or more) it was time to head north into Montana. Passing Big Sky on a beautiful highway with a legal speed limit of 80 mph I arrived in Butte around sunset. I would stay there 2 nights, to explore the old mining city , to catch up on work ,do laundry and get the extremely dusty X2 washed.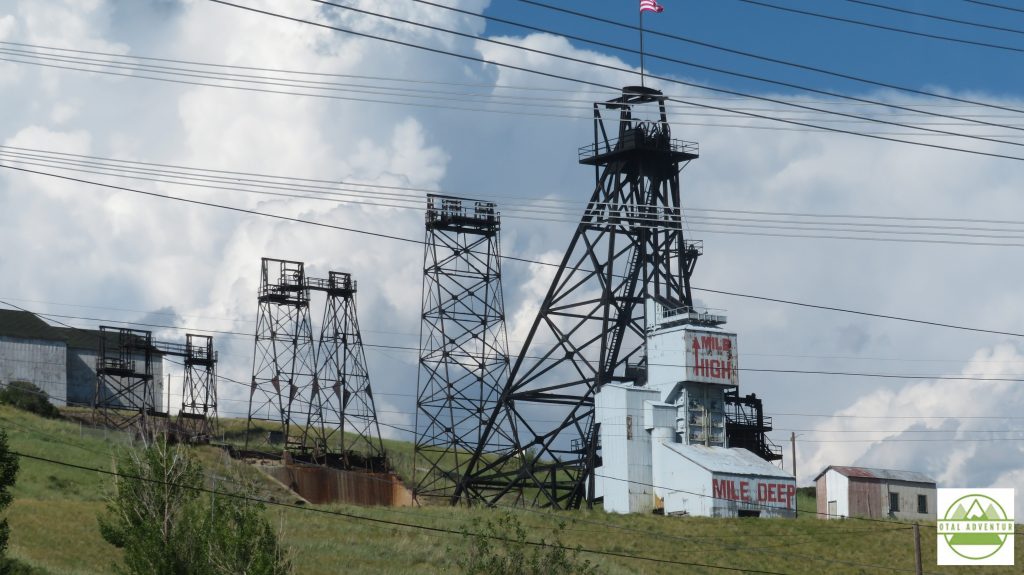 Gold Copper and silver were mined here. Butte was known as the "Richest Hill On Earth." Miners came from all over the world. Copper is still mined, but there's not much left. The old city is quiet but not quite abandoned.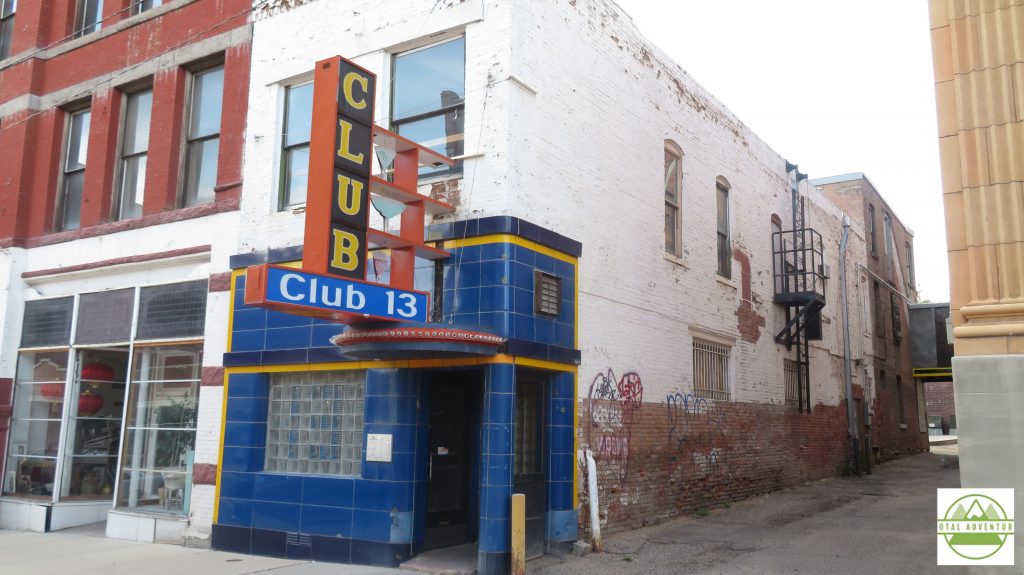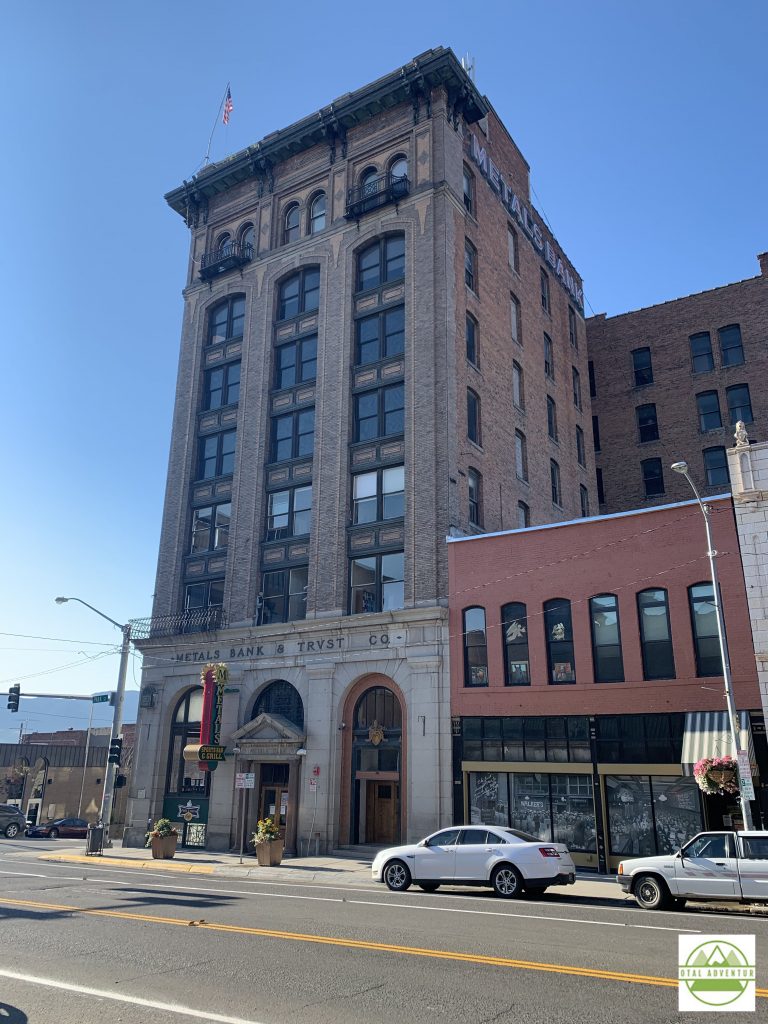 From Butte , a few more hours to the Northwest and I arrived in Whitefish ,gateway to Glacier National Park. Whitefish was full of California 'refugees",many who had arrived in private jets ,escaping mask and lockdown restrictions in their home state.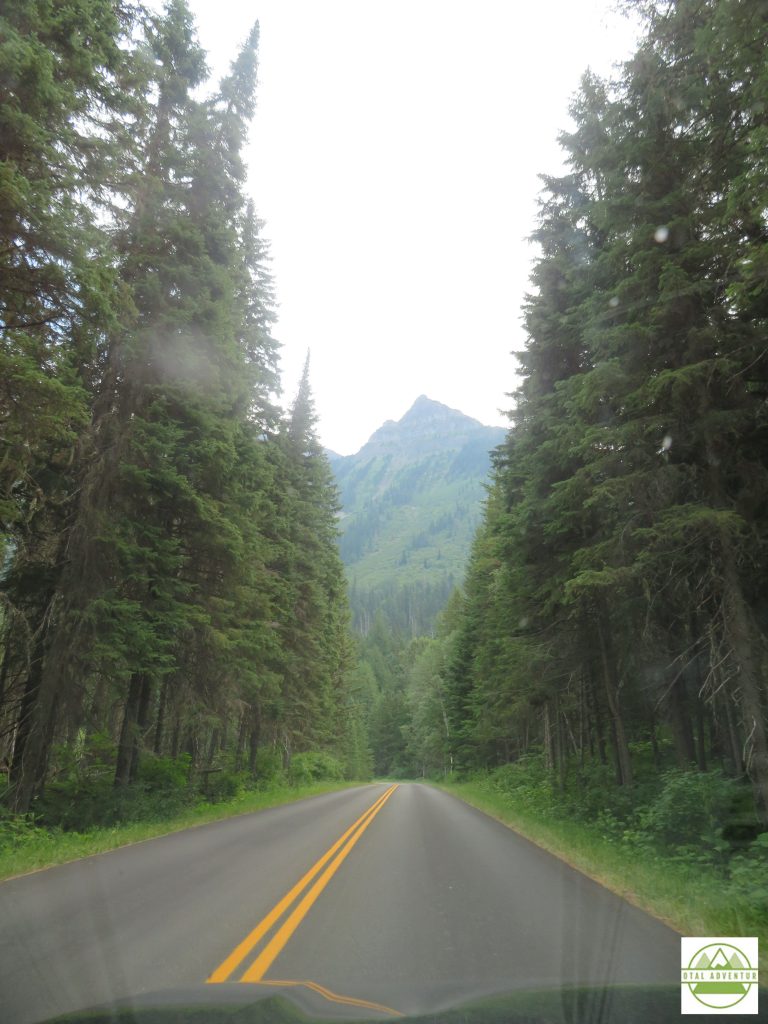 In Glacier , on the first day of August, I swam over a mile in 2 lakes and walked in the snow.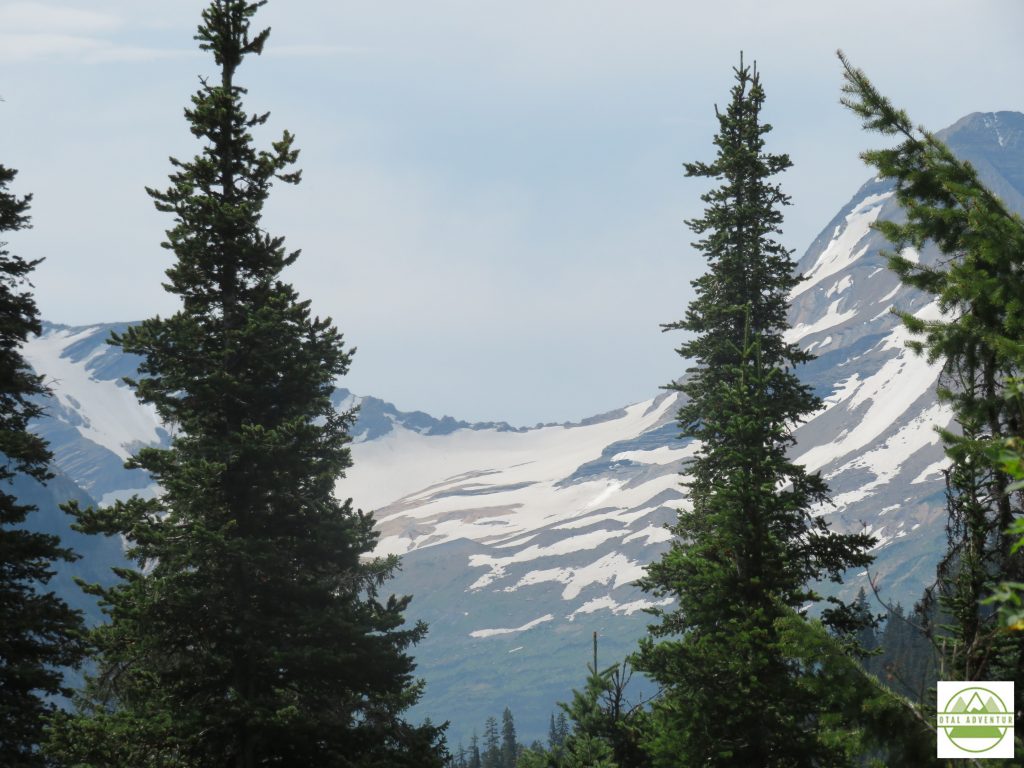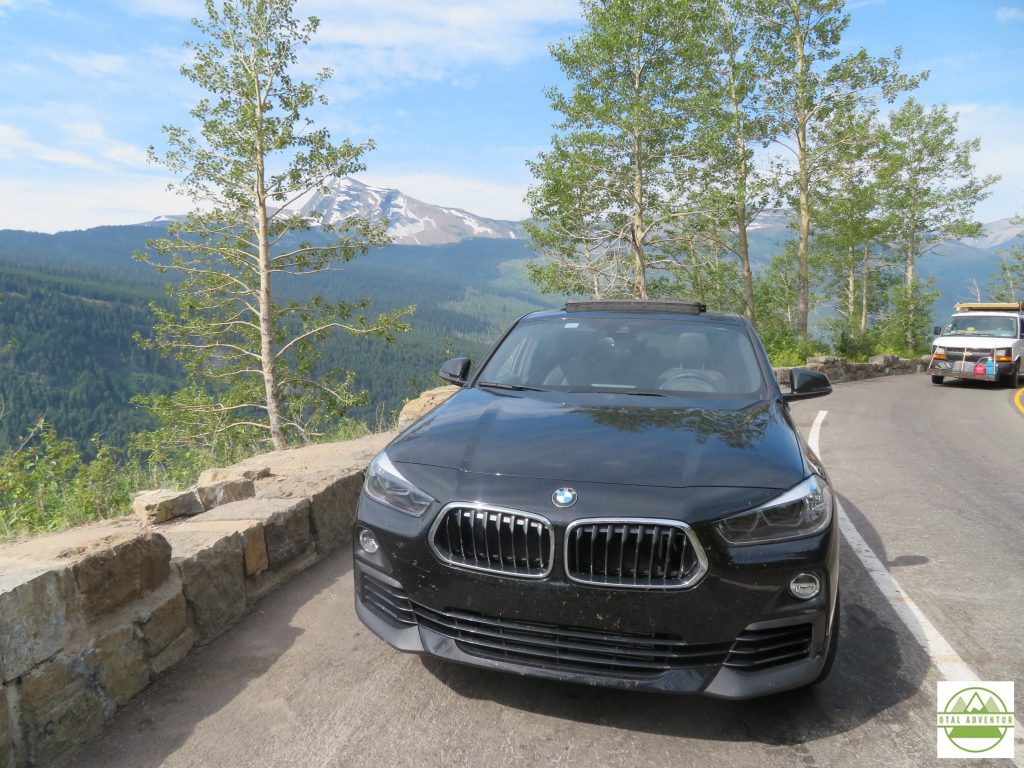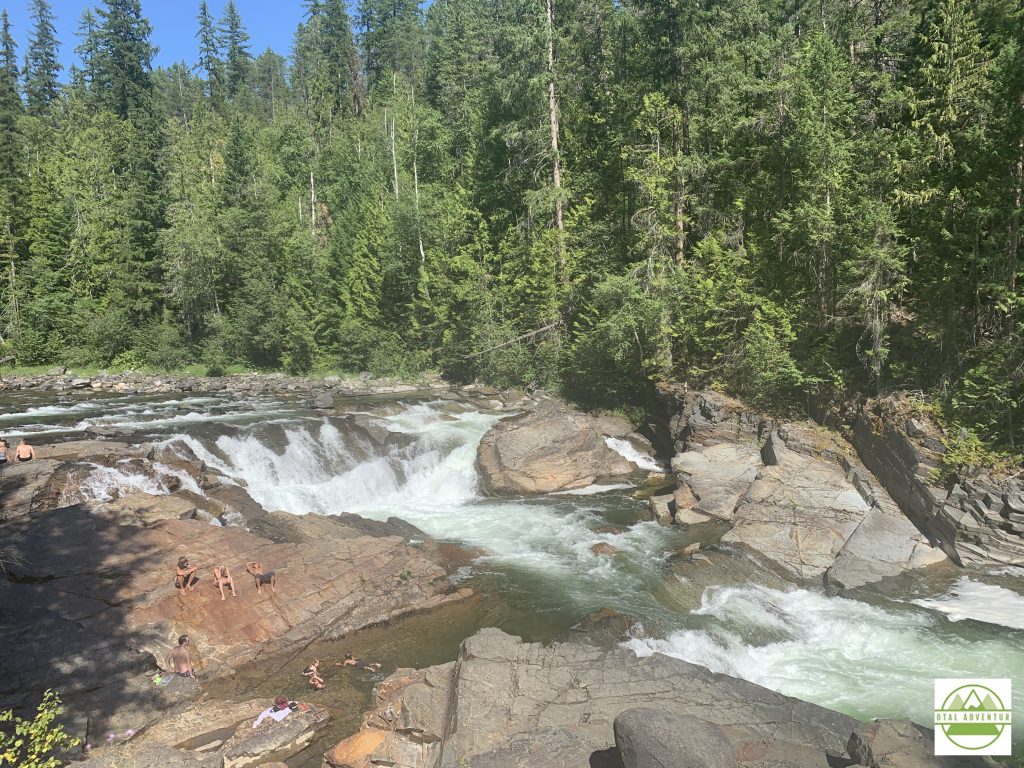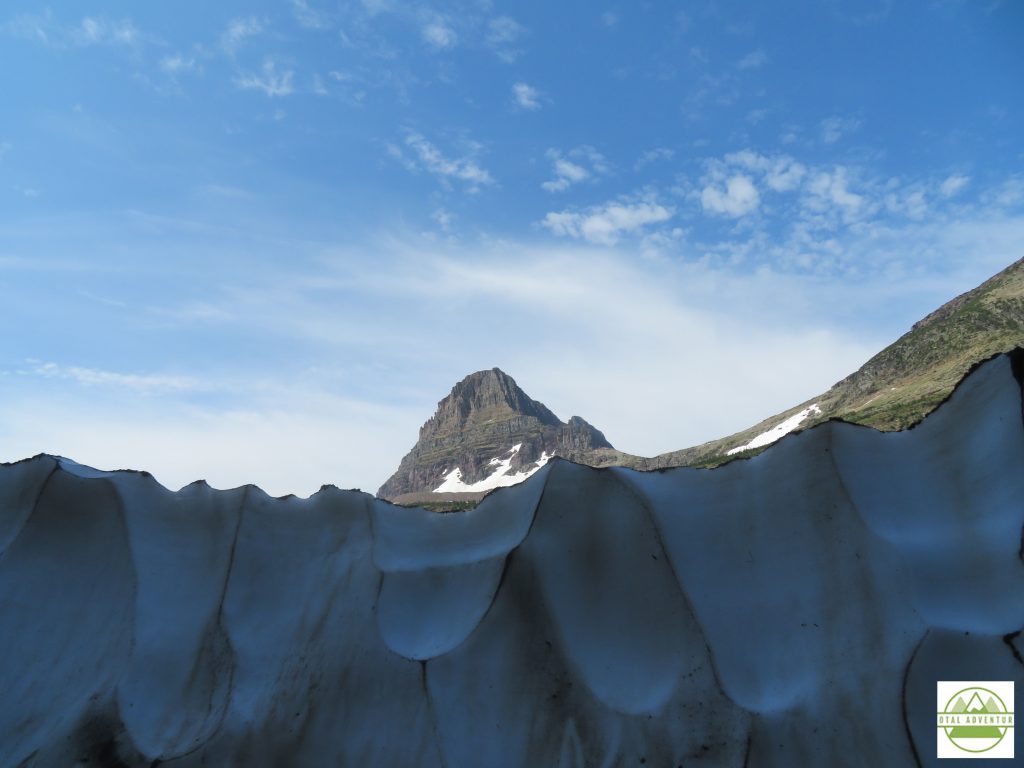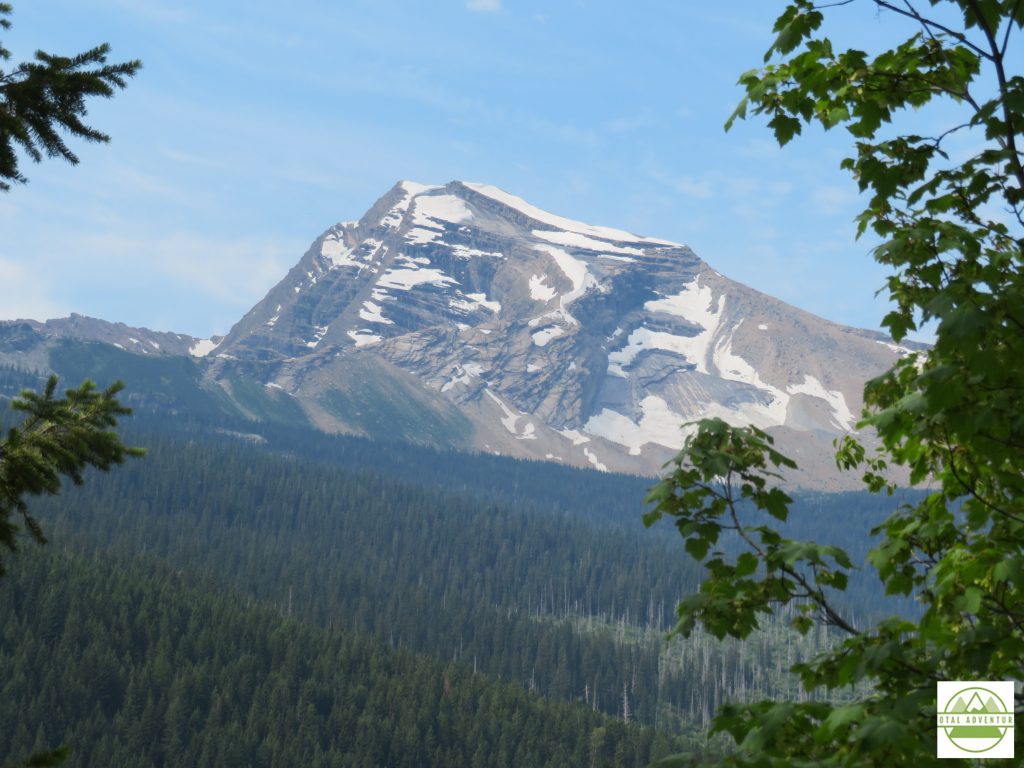 On the morning of August 2nd, I left Whitefish for a day of mostly dirt roads from Montana into Idaho. I missed my westward turn and would up at the Canadian border. When I originally thought of this cross country trip,years ago, I had always meant for it to include Canada. Winnipeg, Saskatoon, and Banff would have been on the itinerary. But in March 2020, the Canadian government had shut the borders to all but commercial traffic, due ,of course to disease spread.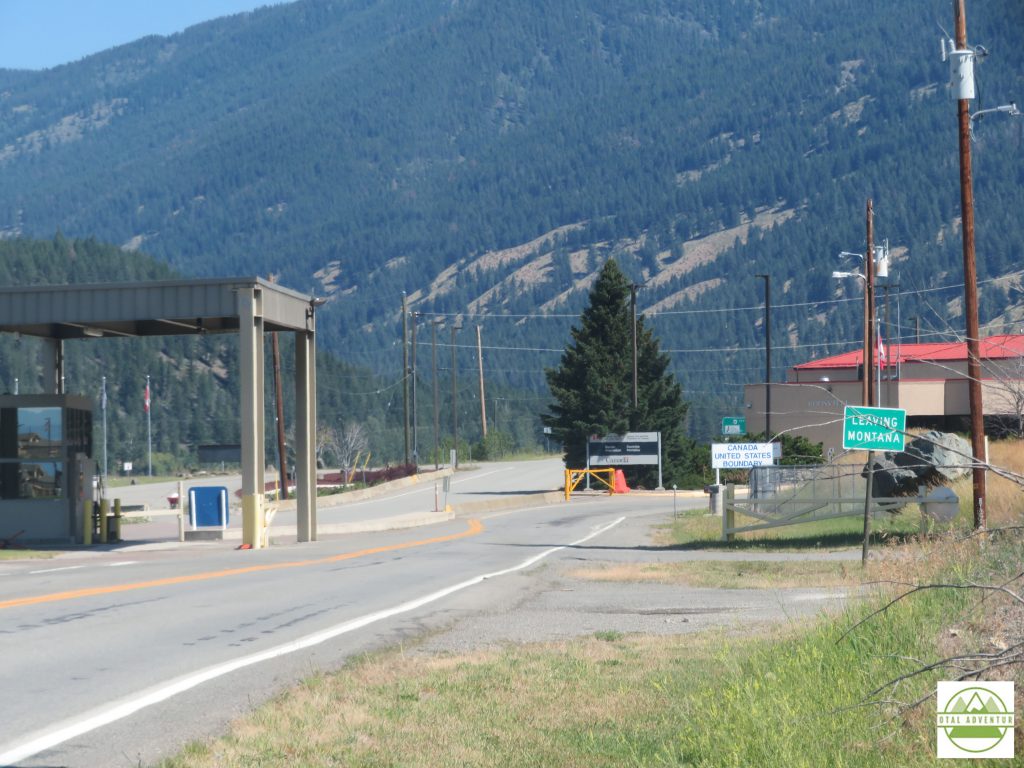 All I could do was look into this closed off , beautiful land – in this case the easternmost corner of British Columbia ,near Alberta. The next several hours was on windy isolated dirt roads – into the town of Yaak .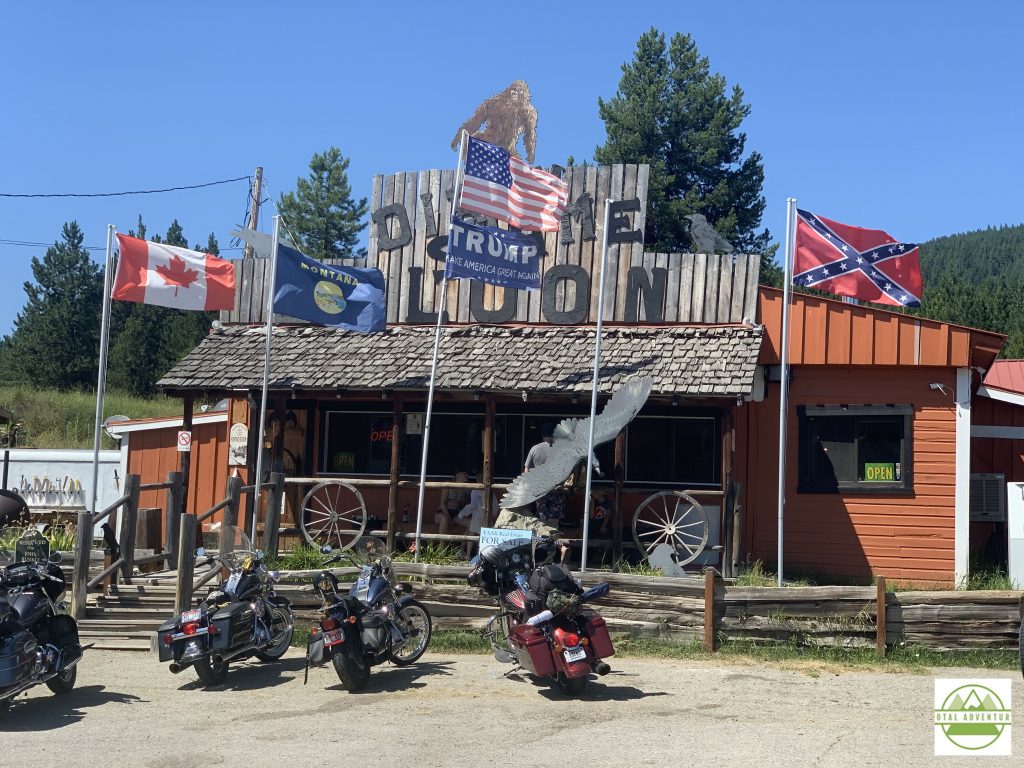 I walked inside the bar, which of course was all bikers . Had a friendly beer and they were amazed I was all the way from Miami. No photos were permitted, probably for very good reasons.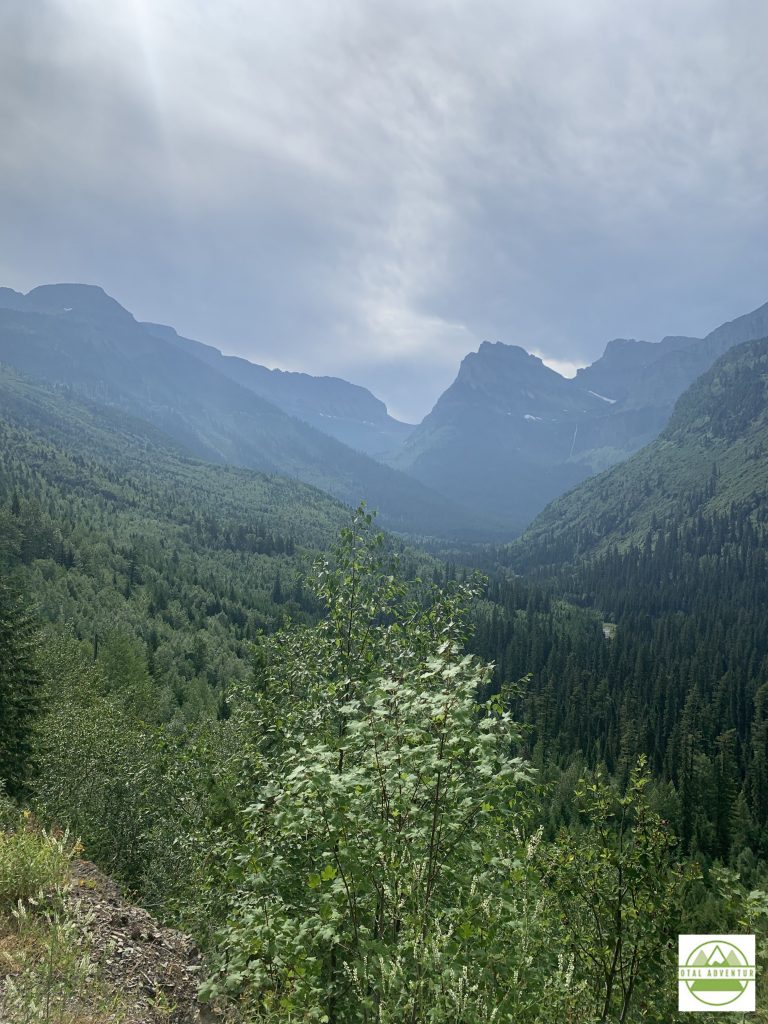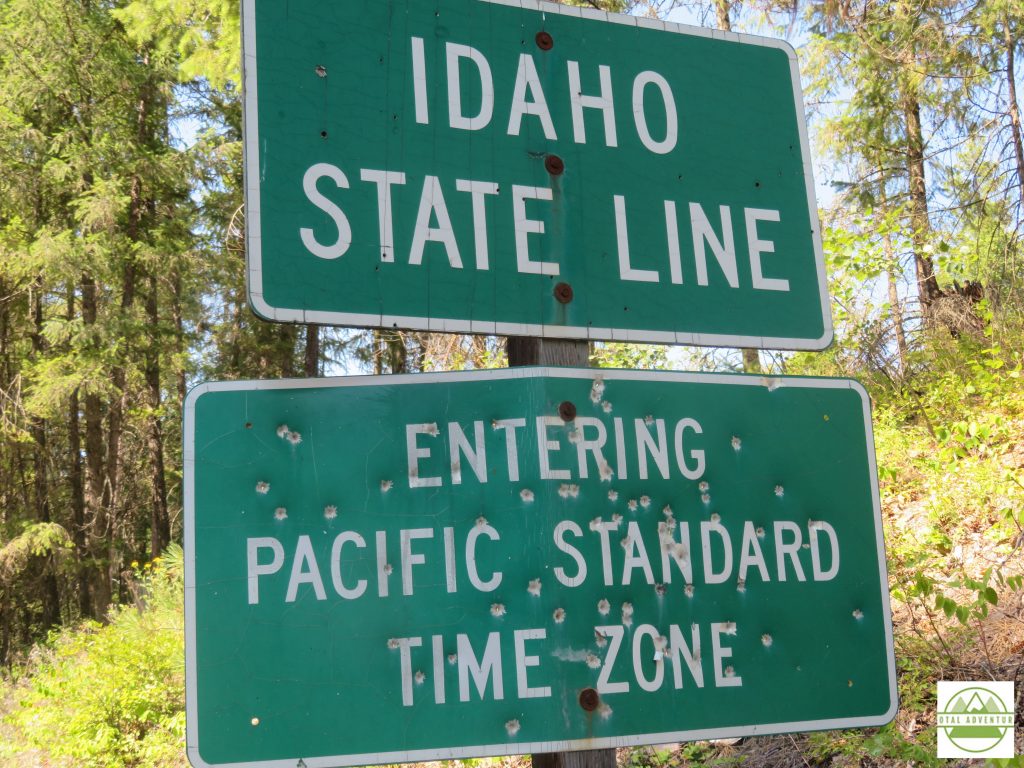 I spent the night in touristy Couer d'Alene, Idaho, another town where restaurants closed at 8 and I had to order pizza by 9 before that closed too. Changed clocks back for the last time. The next day – through Washington State, past Spokane – to Portland ,Oregon – almost completely cross country !
On Thursday August 20th, after lunch with my son and future daughter in law, I left Portland Oregon and headed south on the the I-5 ,then US 101 before arriving in California's northernmost town, Crescent City for the evening.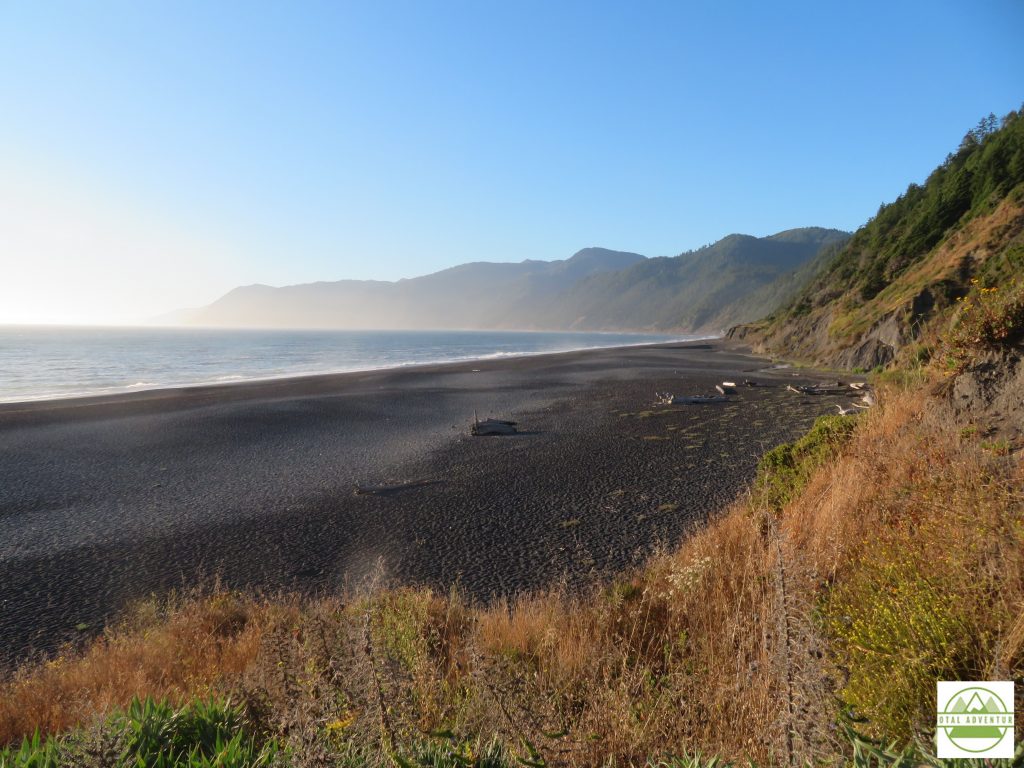 Crescent City is a big fishing port . The water is slightly warmer than nearby Oregon, in the high 50s, so I was able to swim. I had had a delicious seafood soup breakfast before heading to Humboldt County.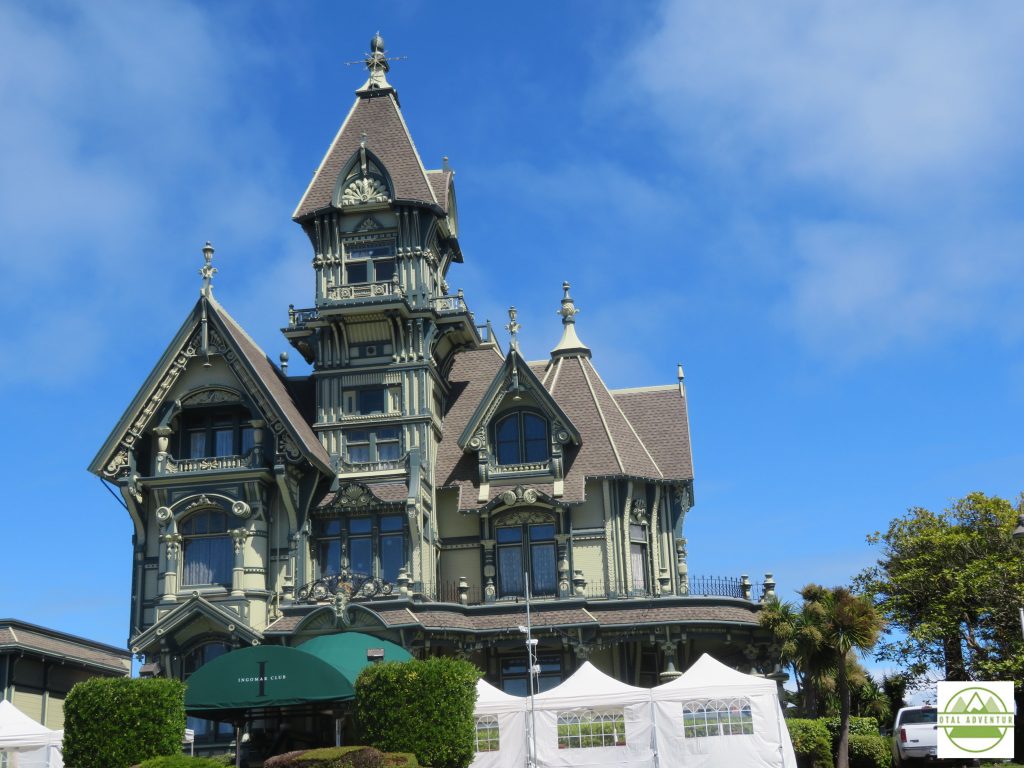 Eureka, the county seat, is a funky old town reminiscent of 1960s San Francisco. Most Californians have never visited Humboldt , one of the most remote end unspoiled coastlines in the Lower 48.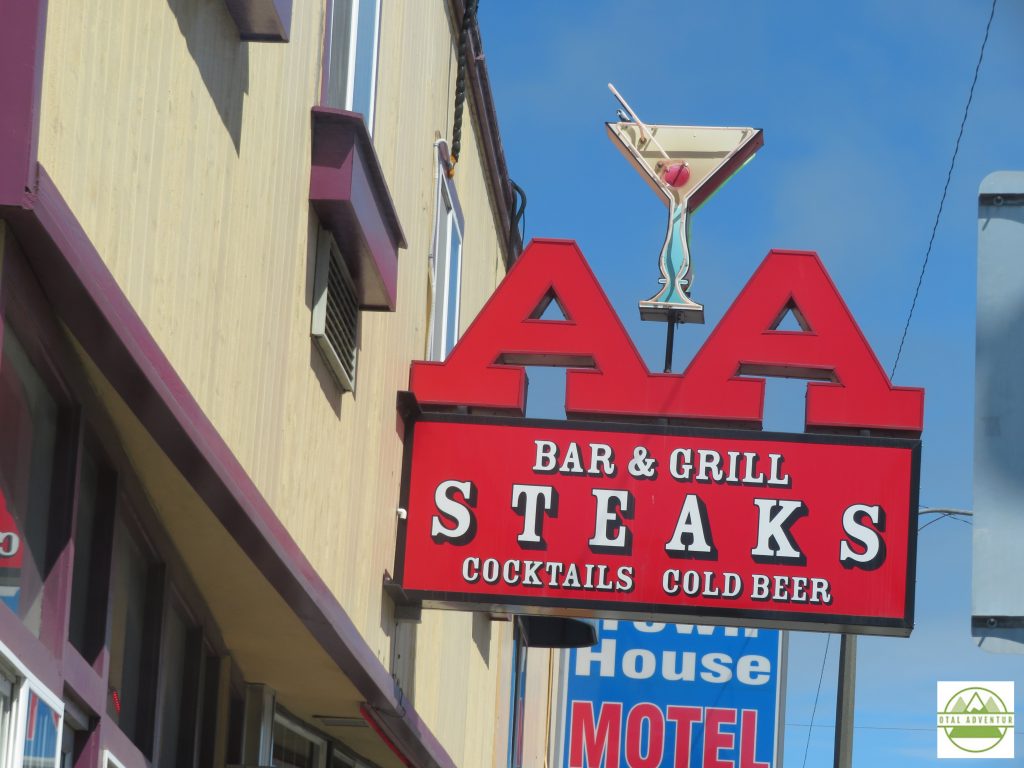 I was privileged to spend a night in Shelter Cove, an isolated community at the end of a long and windy road that raises and lowers up to 3000 feet before arriving at sea level.It's very hard to find a room there.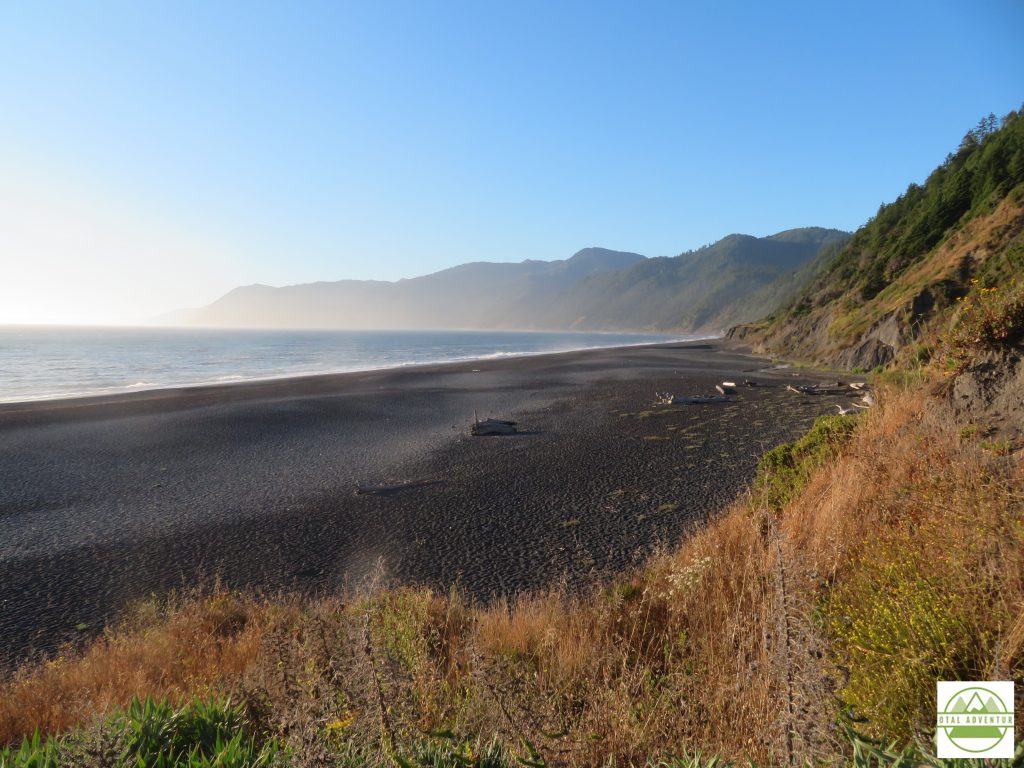 Incredible black sand beaches with very dangerous surf. The Cove of Shelter Cove is where all water activity takes place. Please see the video at the top of the page. The summer weather is pleasant, about 70 and sunny in the afternoons, but the winter can bring up to 100 inches of rain from December to March.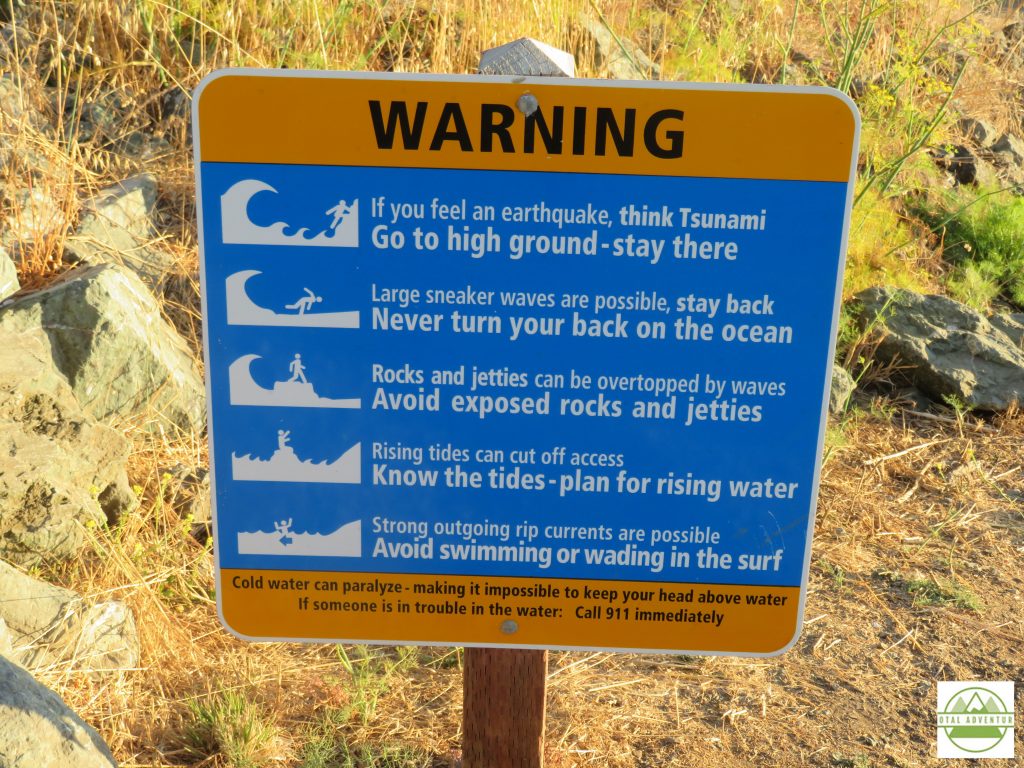 Northern Humboldt is home to huge legal marijuana farms supplying the California marketplace. One can smell it while driving by the tents used for growing and drying.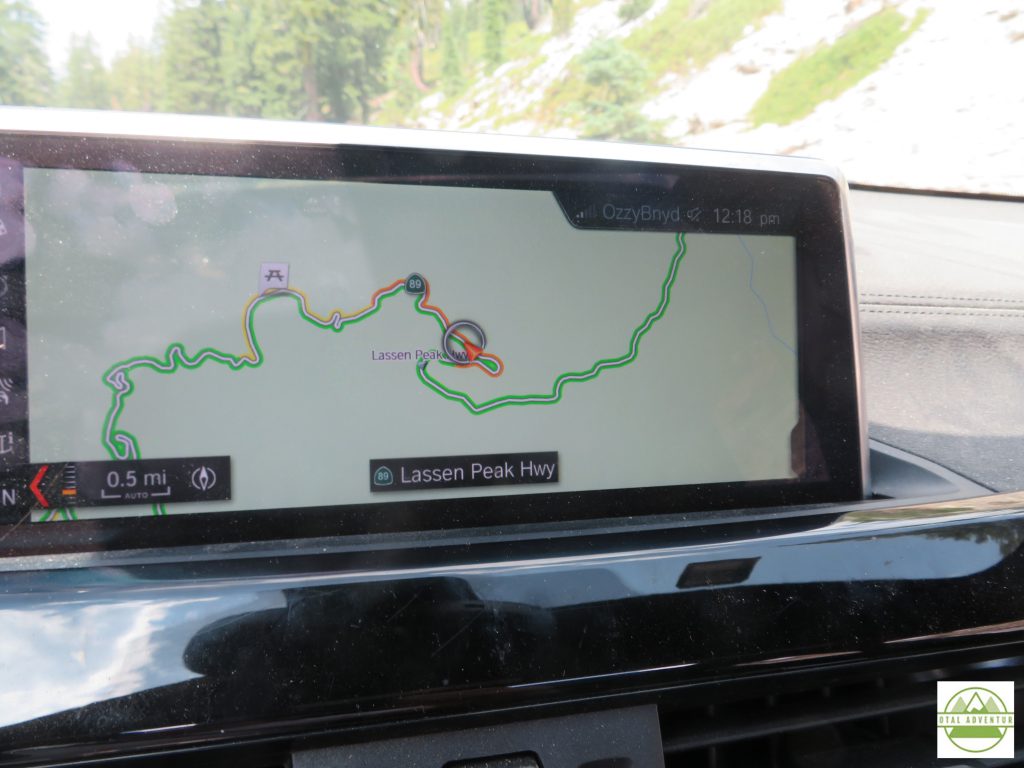 After Humboldt it was off to volcanic Lassen National Park. See the video. Night was spent in Reno Nevada – not in the COVID restricted casino but in a huge luxurious suite at $ 90 a night.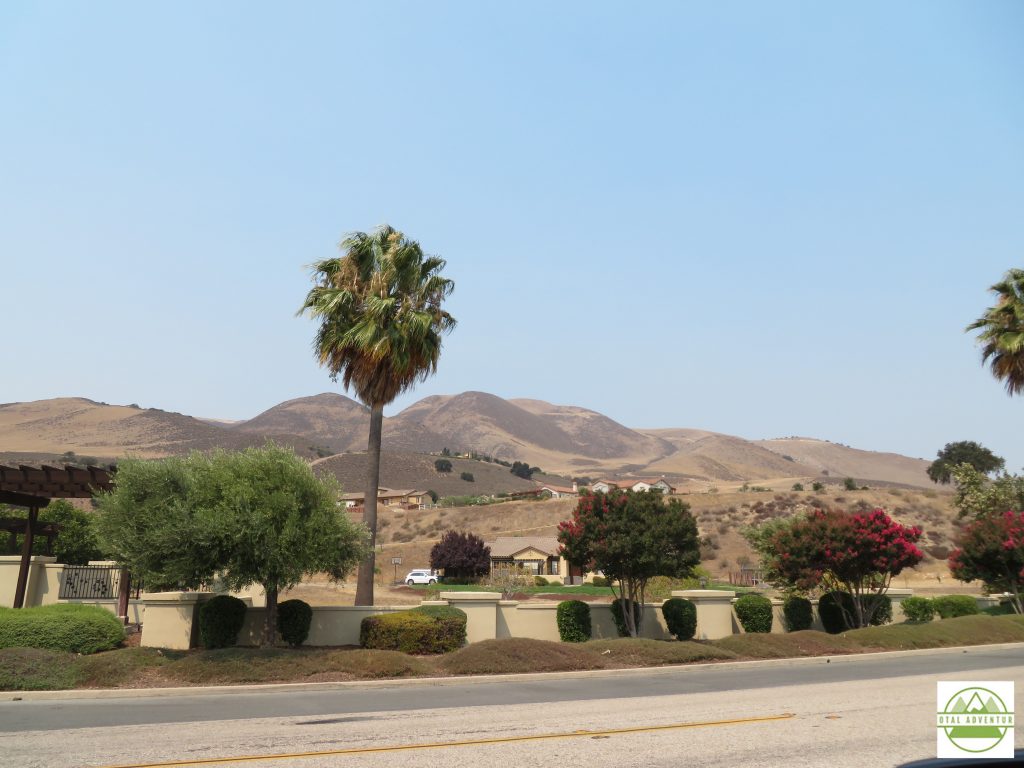 2 nights in Tahoe, 2 nights in cold smoky San Francisco and a night in Carmel are all highlighted in the video. The plan was to drive down Big Sur, but again ,closed because of massive fires. I wound up at the farm home of a friend in Ojai. Finally was getting towards Southern California.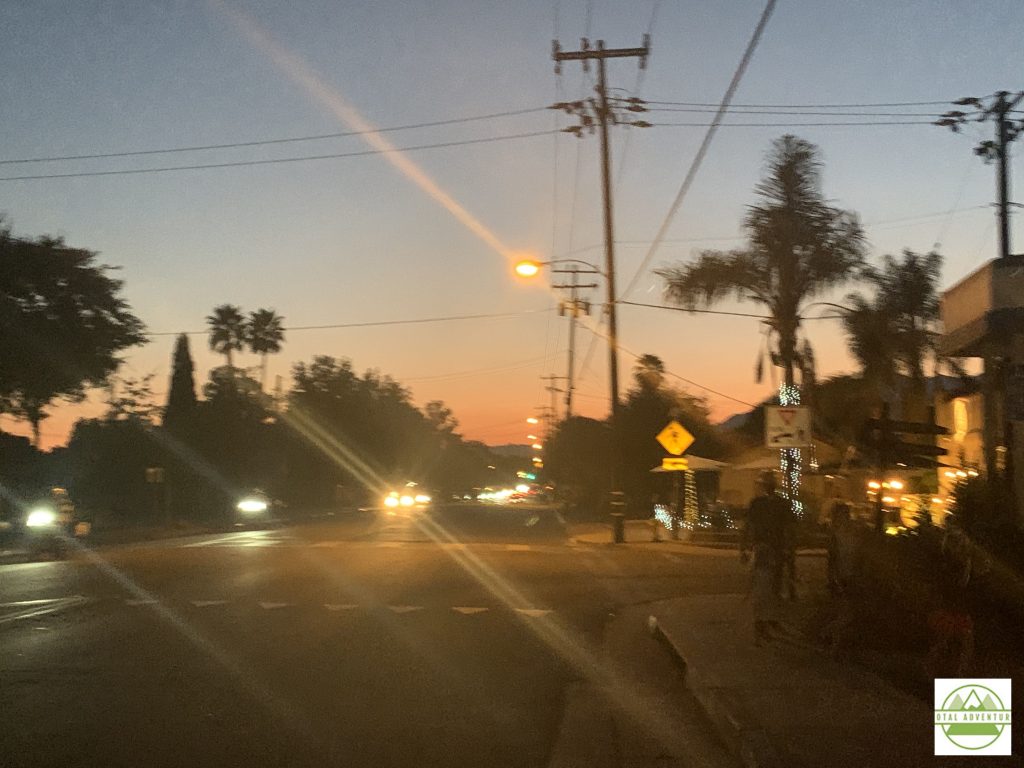 TotalAdventure has always been interested in living part time in Los Angeles. A week in an AirBnb as I did in Santa Monica this time, and last year, a week in Beverly Hills.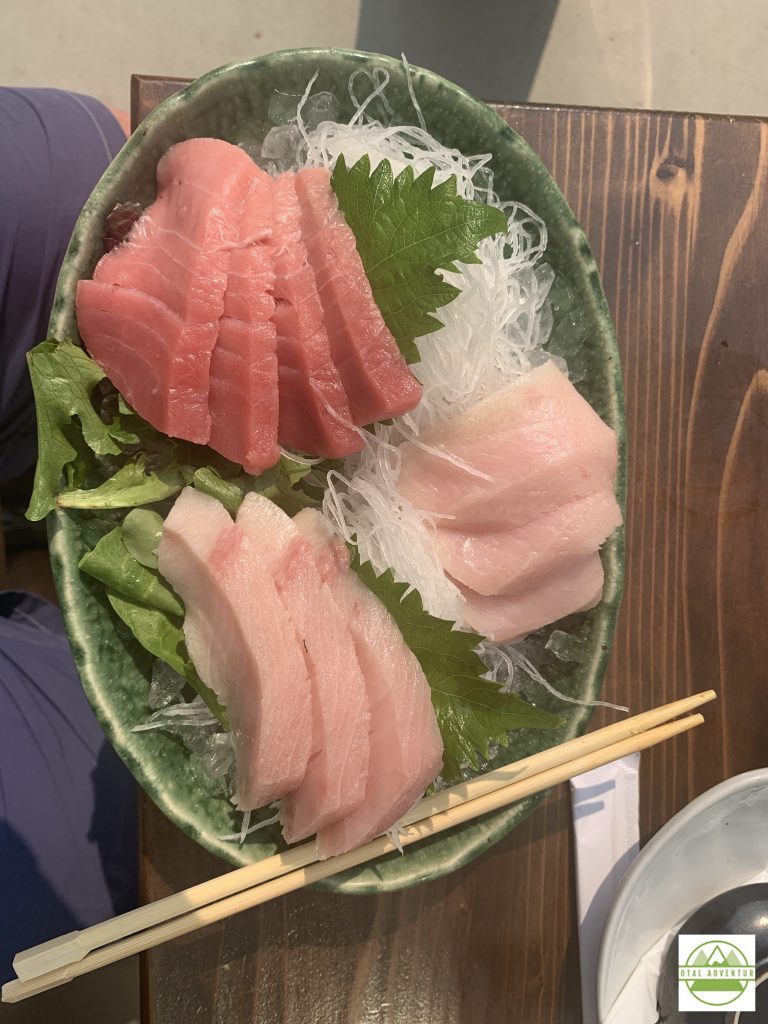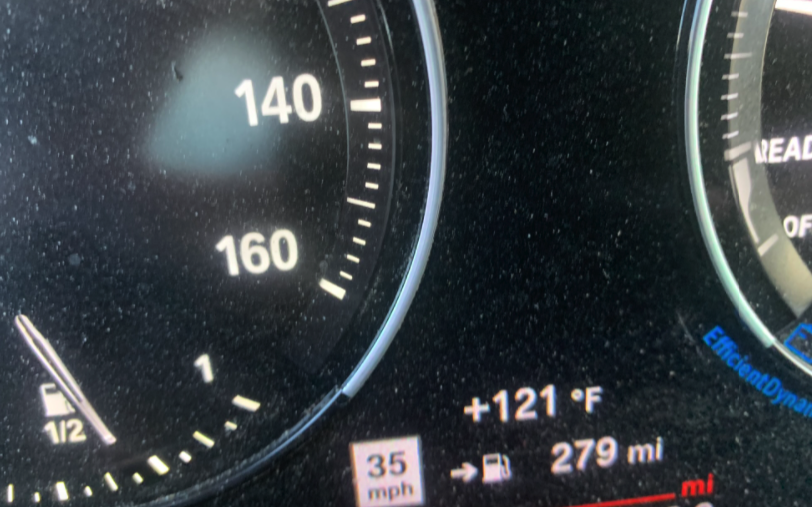 Although Santa Monica stayed cool, never going over 90, Las Angeles County experienced its' hottest day in history on September 6th. We drove to Van Nuys to experience it – 121 degrees ! Also the hottest temperature ever recorded west of any mountain range in California.
On September 10th – it was time to head back to the East.
On the morning of September 10th, I awoke for an early morning dip in the Pacific before heading Eastbound the the Atlantic. Pulling out of my AirBnb Santa Monica garage I was soon eastbound on the 10 and then north on 15 to Las Vegas. Most of this TransContinental Adventure has been off interstates, but they will be used into Utah and again in Texas, Oklahoma and Florida.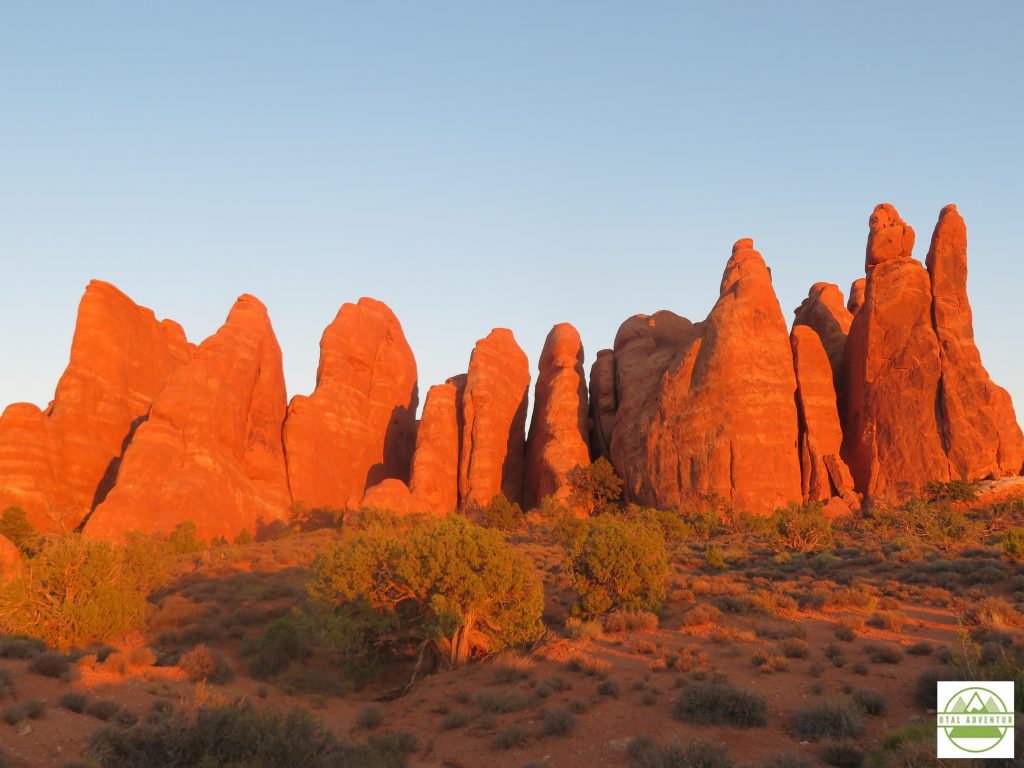 Fires raged in the San Gabriel Mountains to the north, sending thick smoke down to I-10. Some of the smoke from all the California and Oregon fires spread all the way to the East Coast ,dimming sunrises in New Jersey. This southern smoke band would follow me. I managed to always be a day ahead of it, until Colorado where I changed my itinerary because of it.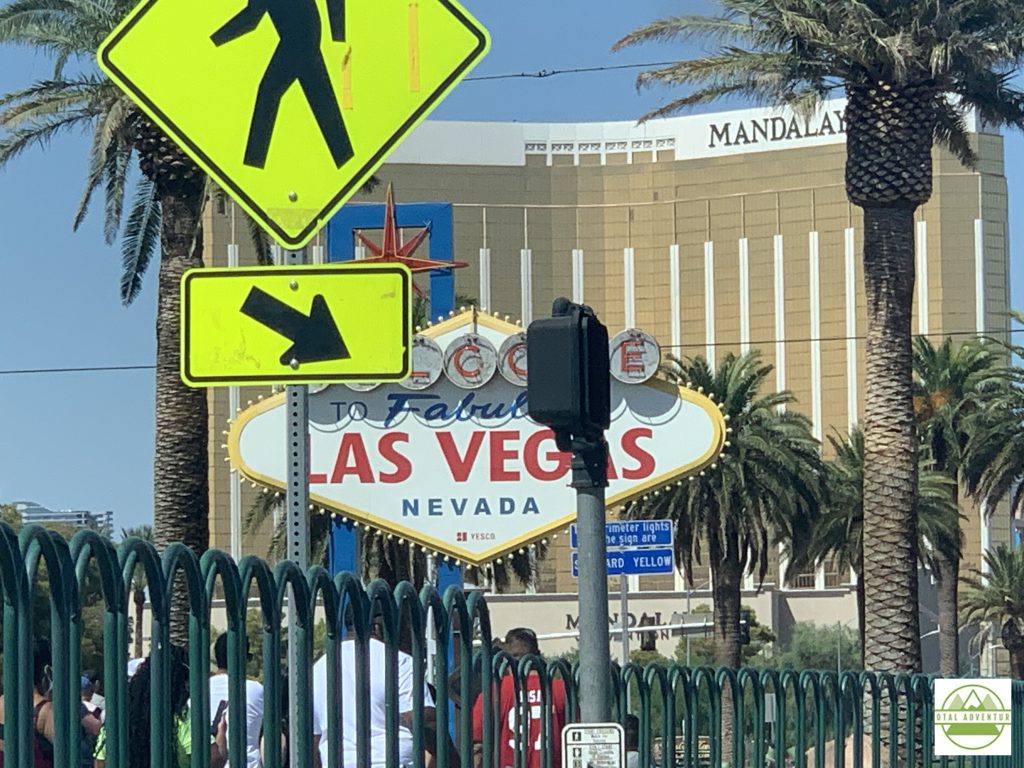 Normally I would spend a night in Las Vegas, but the wide open fun loving town is a bit clamped down for the moment due to COVID. In the video you can experience a very quick trip up the Strip. I did stop for some video poker at an empty slot hall in Mesquite, Nevada and walked out $ 30 richer. From there it was about 40 miles across extreme Northwest Arizona to St.George Utah where I would spend the night. Changed from Pacific to Mountain Time.

The next morning I was up with the sun and off to Zion National Park. It was an introduction to the the incredible Utah geology. On the way I visited Hilldale, on the Arizona border. Hilldale is the town known for the highest number of polygamous families adhering to the original Book of Mormon. I saw groups of wives out shopping together dressed in 1800s style farm dresses and driving pickups.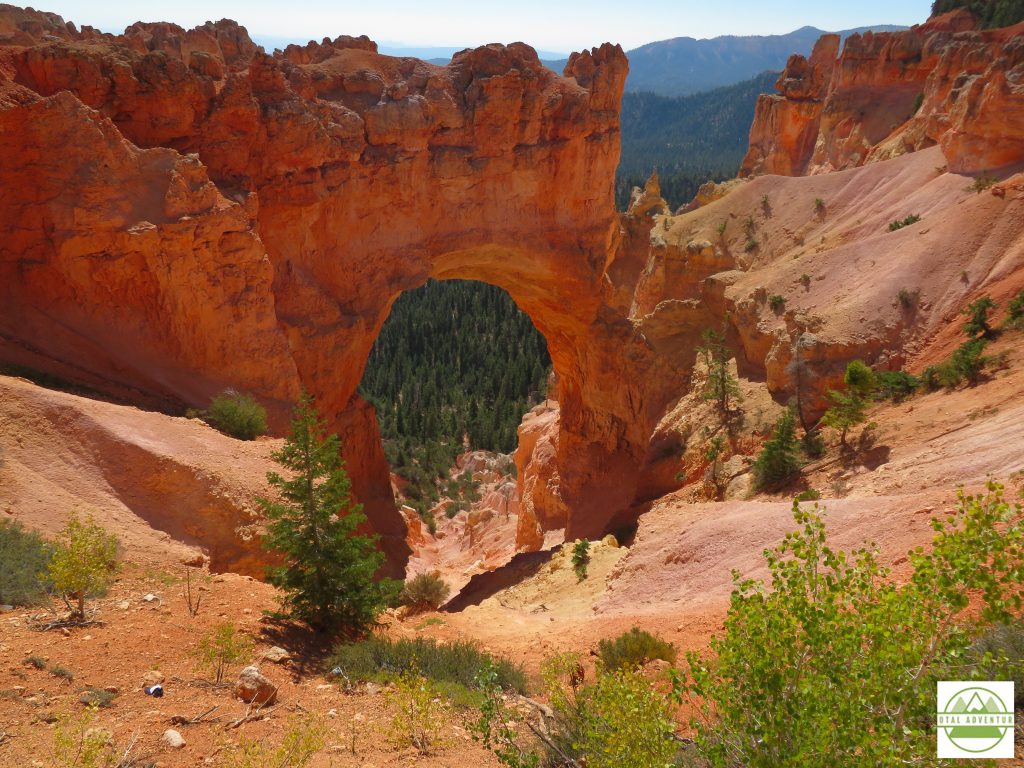 Bryce Canyon National Park was the next stop. Now the temperature changed drastically according to elevation. St.George had been expecting a high of 100 degrees and this evening near Bryce the temperature slipped to 32 – I was glad to have a gas fireplace in my cabin for the night.
In the morning I continued through Bryce and then headed Northeast to Teasdale where I would explore Capitol Reef National Park with an old childhood friend I grew up with in Germany. We took a 6 mile hike up a canyon.You can see all the national parks in the video at the top of the page.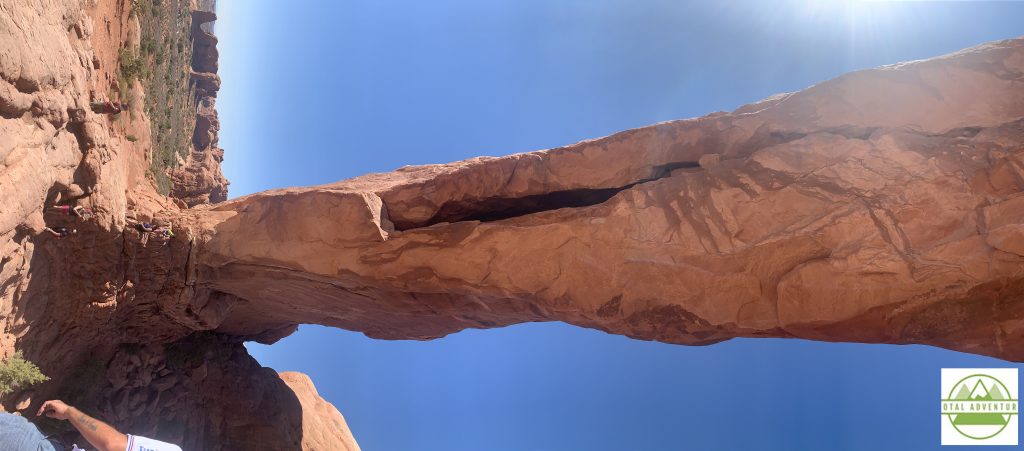 The final two nights were in Moab – home to Arches National Park and Canyonlands National park. In Canyonlands the X2 did amazingly well on rugged roads, in spite of the warning signs.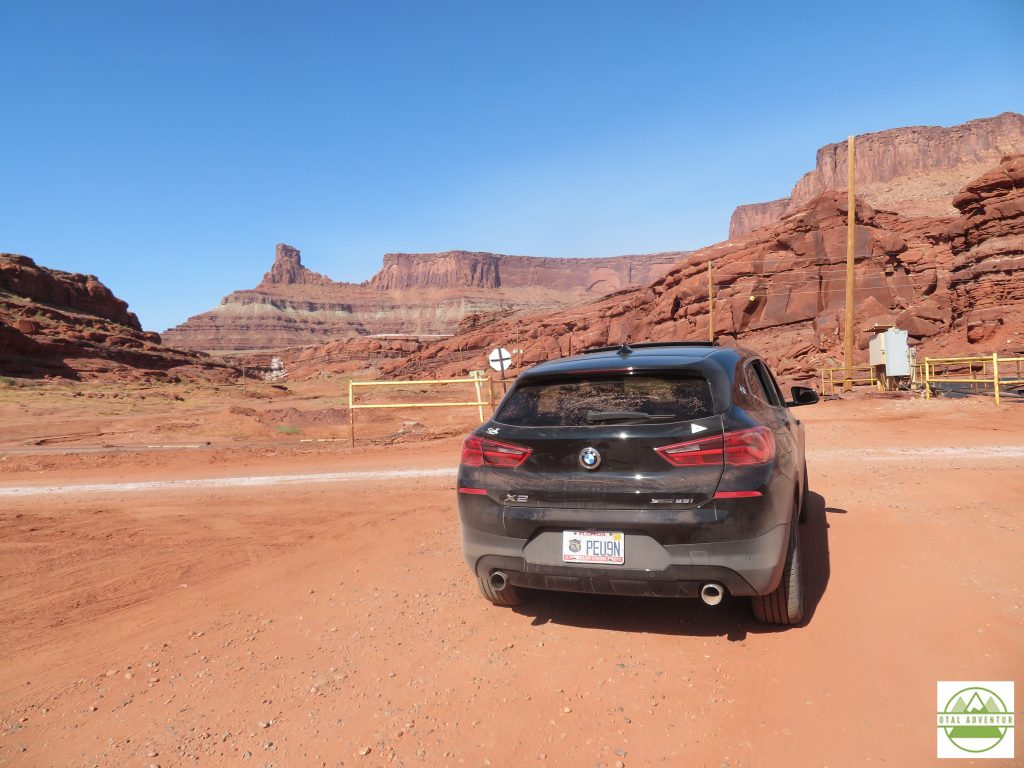 Finally I turned around where a spring had flooded a section of road turning it to muck. Without 4WD,I did not want to risk spending $1000 to be towed !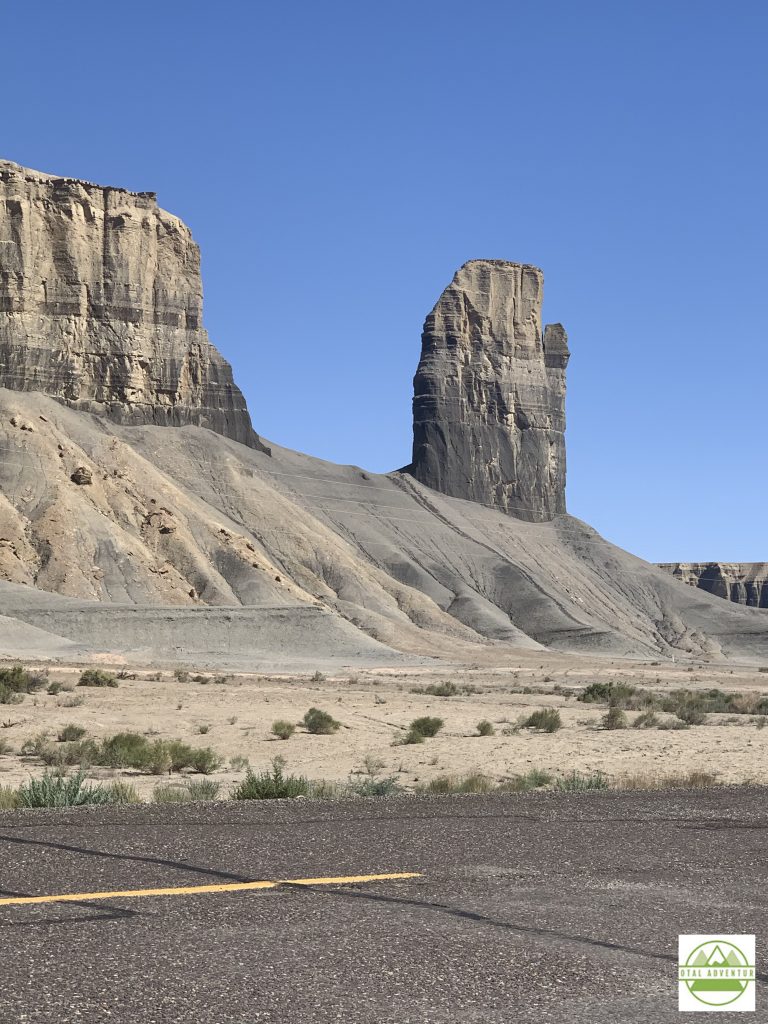 Crossing from Utah into Colorado, the smoke from California finally caught up, turning skies from bright Western blue to greyish white and encasing mountains in haze – diminishing prospects for photo and video acquisition.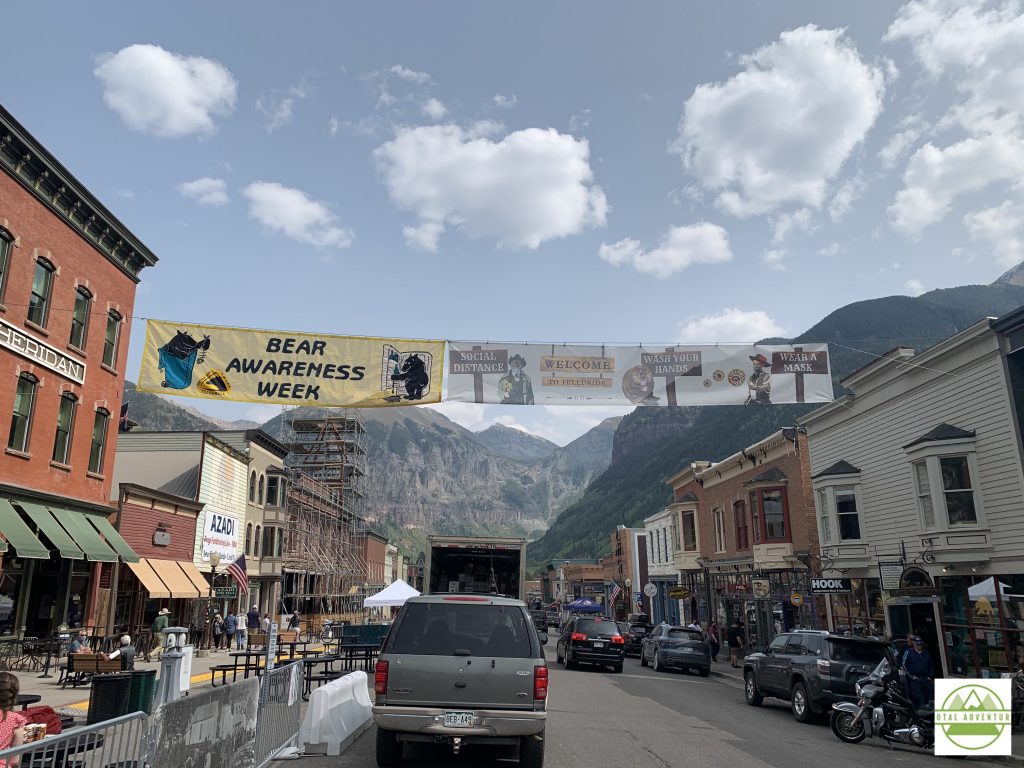 Highway 50 climbed rapidly higher into the Rockies and by lunchtime I had reached Telluride, for the first time in 30 years. The big changes are to be expected. What was once a laid back Wild West type town with great skiing with a few bars up and down the main drag was now clogged with tourists even in off season September – looking for parking and lining up for $ 6 lattes. Tourism was higher than in the summer when people had been more cautious of COVID.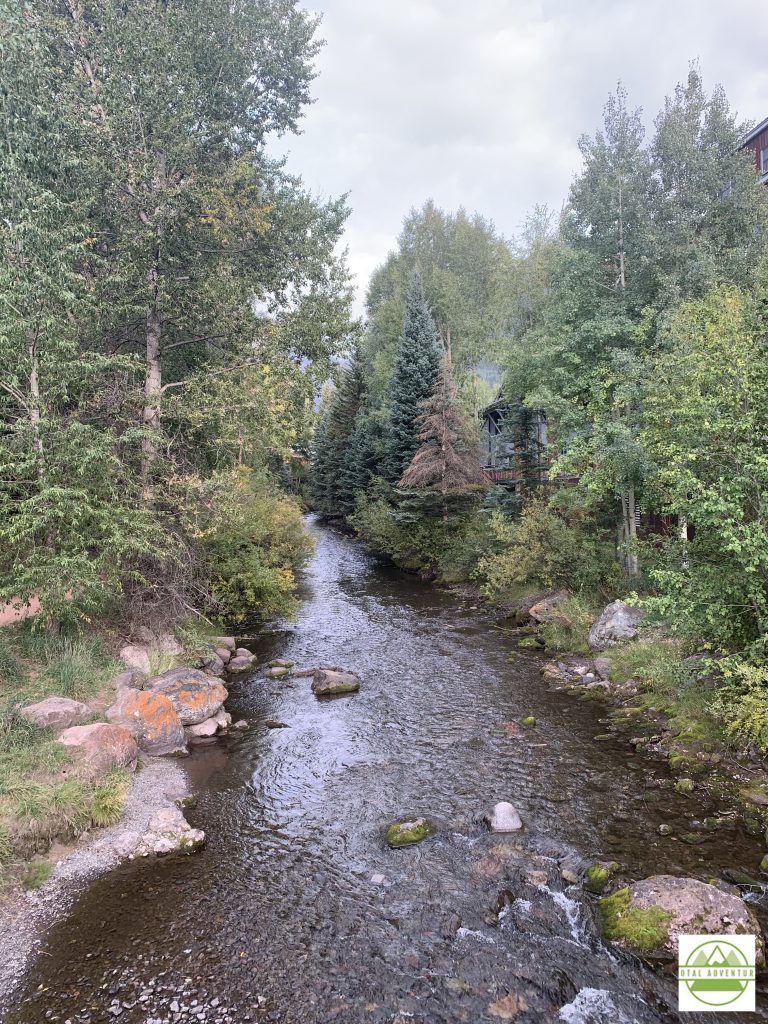 The second night in Colorado was spent at the home of an old friend from the East. His wife is an Olympic ski champion.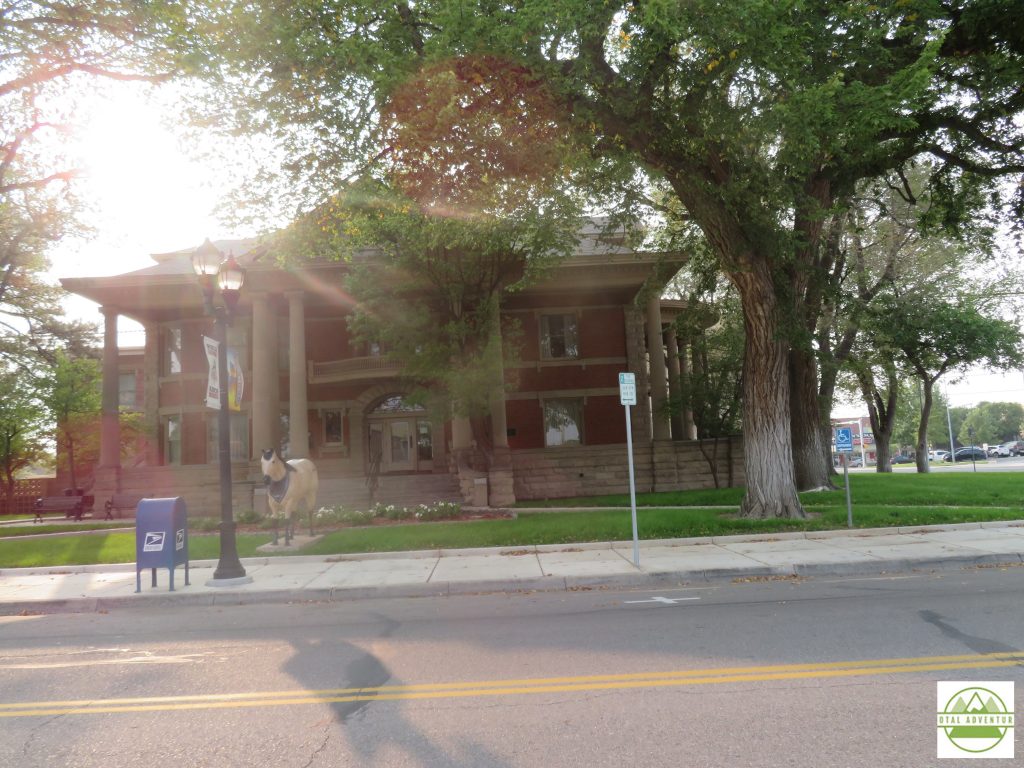 On Friday September 18th the X2 crossed the Continental Divide. For the next 1000 miles I would be tracking the Arkansas River from its' glacial small steam origins to the wide river flowing into the Mississippi.
Spent the night in Syracuse,Kansas . The next morning , driving across table top flat land and crossing from Mountain Time to Central Time, I entered my 50th State – Oklahoma !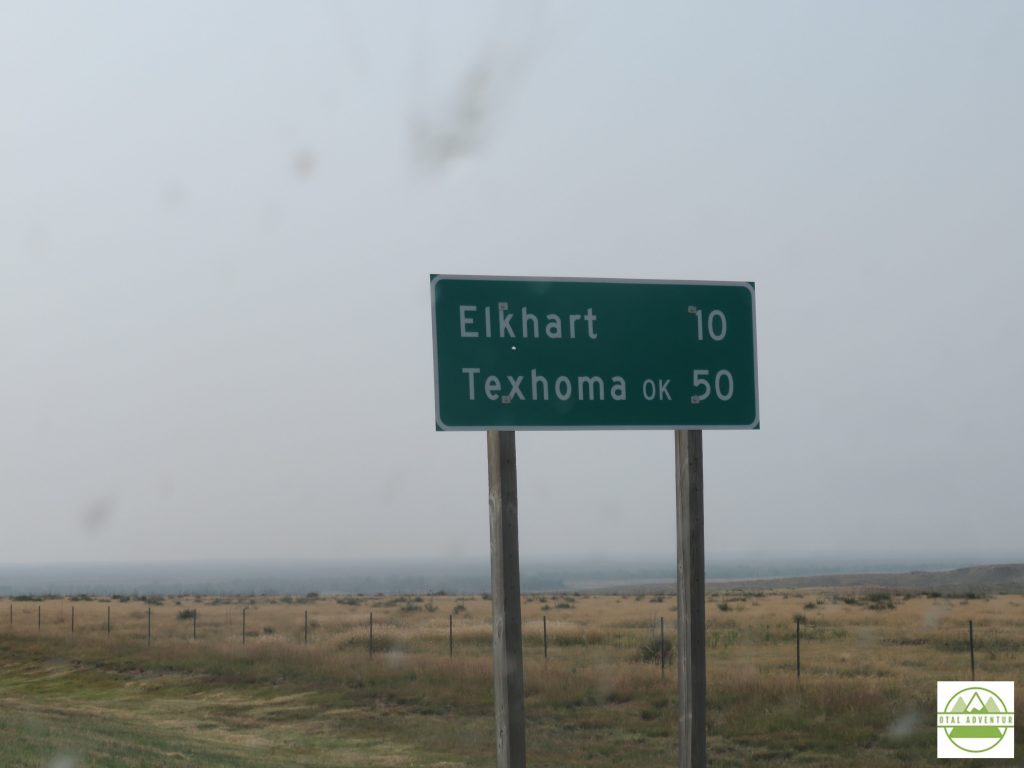 I stopped for lunch in the Panhandle town of Guymon and then went on to the Texas Panhandle.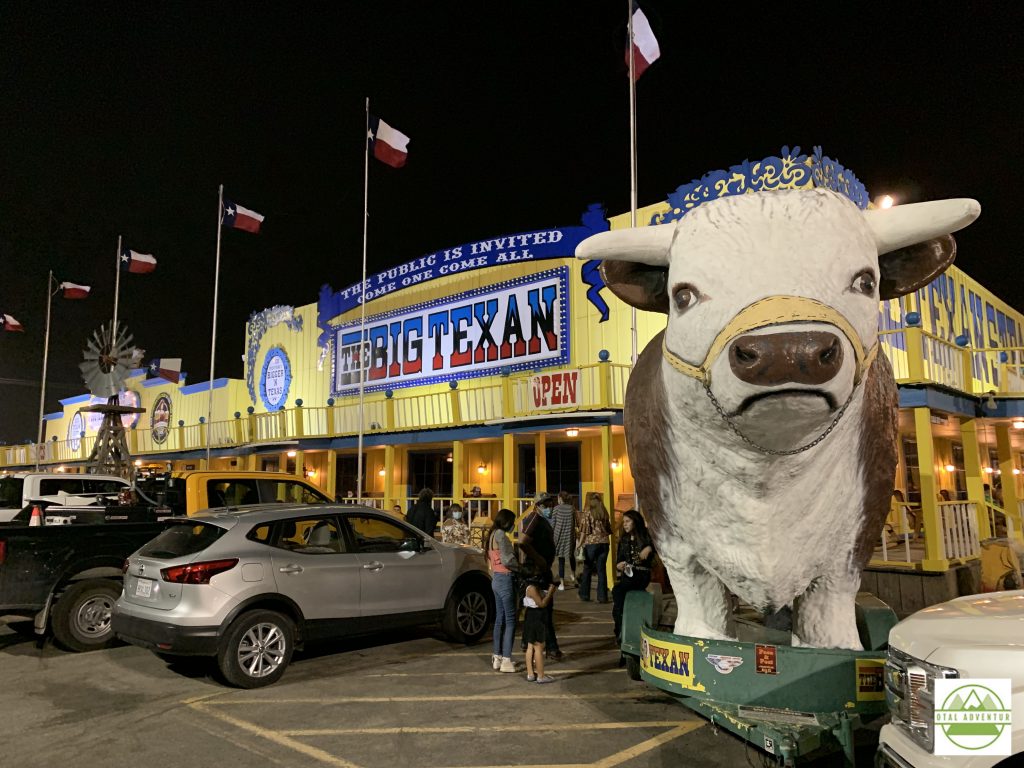 Stopping in Amarillo for the night, I stayed next door to the Big Texan. In one of my very few indoor meals of the trip, I dined on Rocky Mountain oysters and delicious Texas T-Bone that was about 20 ounces. The 72 oz steak is free if eaten in an hour. That's 4 1/2 pounds, 2 kilos of meat. It comes with salad and baked potato which also must be consumed. If not finished in one hour the price is $ 72.
I-40 Eastbound the next morning. Back into Oklahoma. At Oklahoma city, the California smoke finally ended and the skies were clear once again, over the rolling Southern Plains.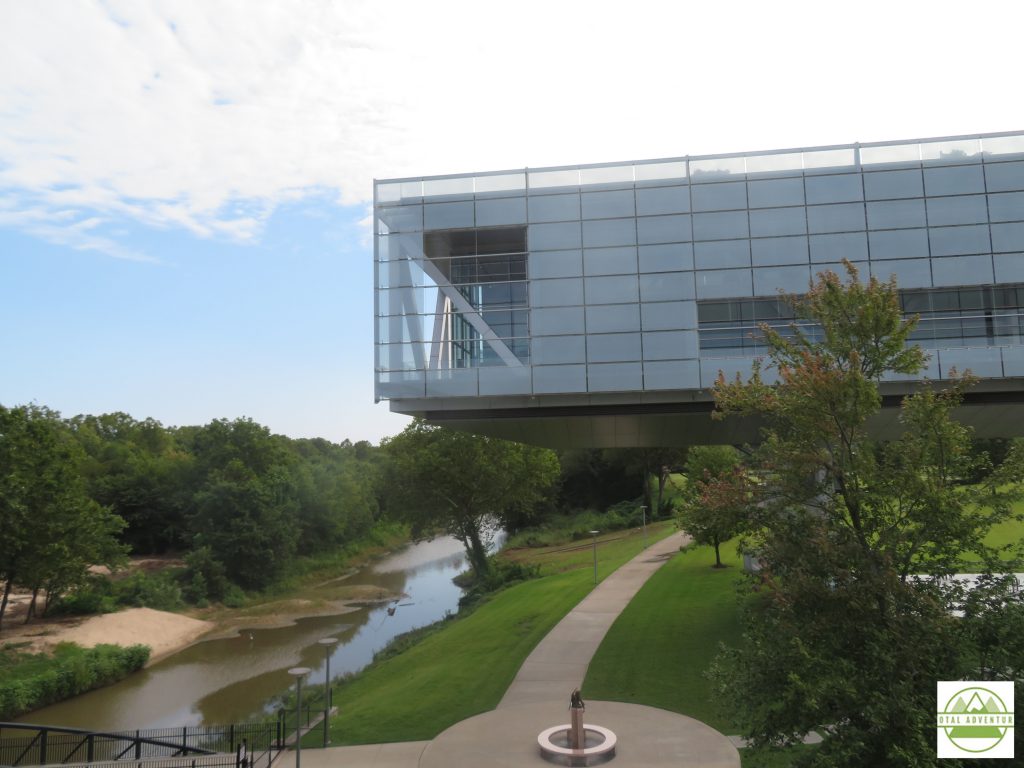 Spent Sunday night in quiet Little Rock and toured the Capitol city the next morning. The Clinton Library , on the Arkansas River is an architectural masterpiece but closed by COVID.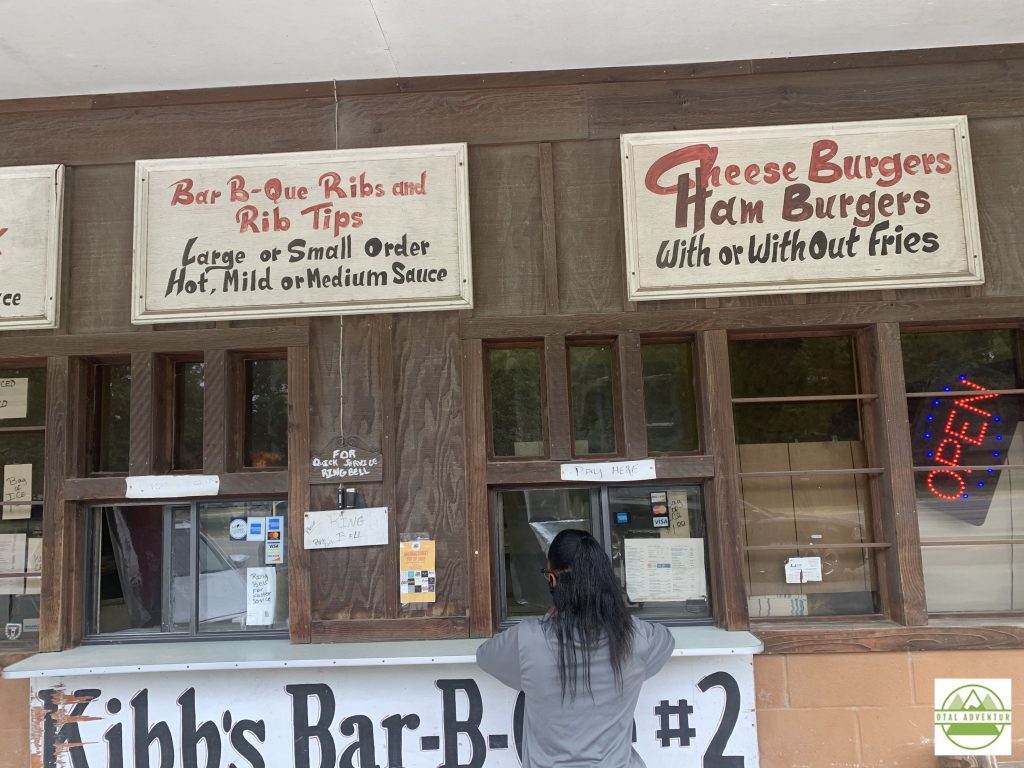 In Stuttgart I stopped for perhaps the best BBQ I've ever had with chopped ribs in a sauce that tasted like plums, coffee and super hot spice ! I bought a gallon jug to take home, which I carefully rationed over the next month.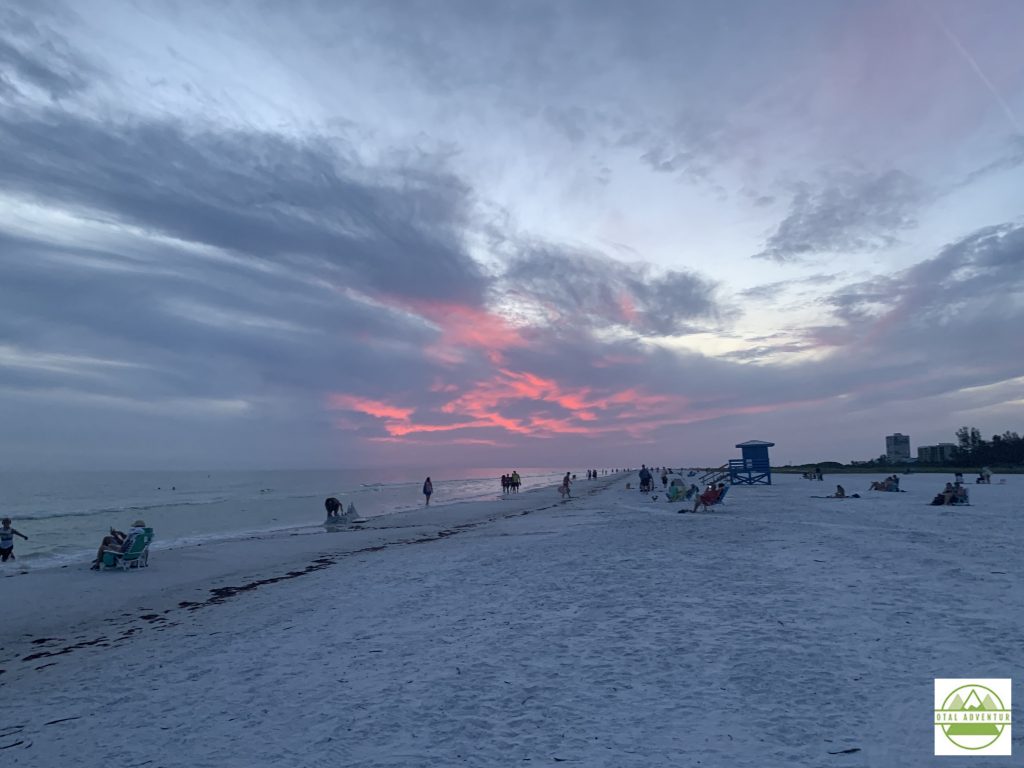 From Arkansas into Mississippi I began a straight run back to Miami. Overnighting in Hattiesburg and then through Mobile Alabama to Panama City Florida for a swim in the Gulf of Mexico. Across the beautiful Panhandle . Though TotalAdventure has been located in Miami for over 18 years, I have never been to the Panhandle. Overnighted in Perry and then to Sarasota, a surprisingly young and thriving town on the Gulf of Mexico.
Back to Miami for a dive into the Atlantic Ocean. Watch the video above !
A glimpse of Douala
I arrived at Douala airport (one of the two biggest cities in Cameroon) late in the evening August 10th, 2019. I was warned before arriving that I would very quickly and easily make friends. This was lucky for me because the very first person I met on the airplane was crucial to my making it safely to my destination. In Cameroon, people tend to be very kind and inviting. Perfect strangers helped me fill out paperwork, navigate the airport and safely find my driver.
Once I was in the car, the ride to the volunteer house was about an hour and a half. The city of Douala was such a culture shock- it was almost indescribable. Unfortunately, it was after midnight, so I could not see much, but what I did see was SO different. The city was nothing like my experience of a US city. The infrastructure from roads to buildings were seemingly dilapidated and old. Many markets and shops were simple tents or just products (like bed frames) laying on the side of the street.
Yet, much of the city was still very much awake at 1AM. There were clubs and bars full of people and loud music. The most mouthwatering smell of grilling chicken permeated the air everywhere we went.
Older cars and bikes were driving all over the road in a strictly Cameroonian way of driving. The traffic was another major culture shock. Laws that would be enforced in the US seemed more like suggestions here. Red lights don't necessarily mean stop- they mean look before you go. Many roads were not divided into lanes, and the ones that were were completely ignored. Cars weaves around each other sometimes squeezing four side by side. Bikes, pedestrians, and cars shared the road equally.
Perhaps the scariest part is when we were stopped at two roadblocks- one leaving Douala and one entering Limbe- by police. They just wanted to check our identification, but they were holding very threatening machine guns and were not very friendly. The stretch between the cities was very natural and forested, but too dark to see anything.
Limbe
I woke up to the sounds of an animal orchestra outside of the research house. Combined with the sounds of all the primate species at Limbe wildlife center were the screeches of all the neighborhood chickens, cats, dogs, pigs, horses, and other unidentified animals.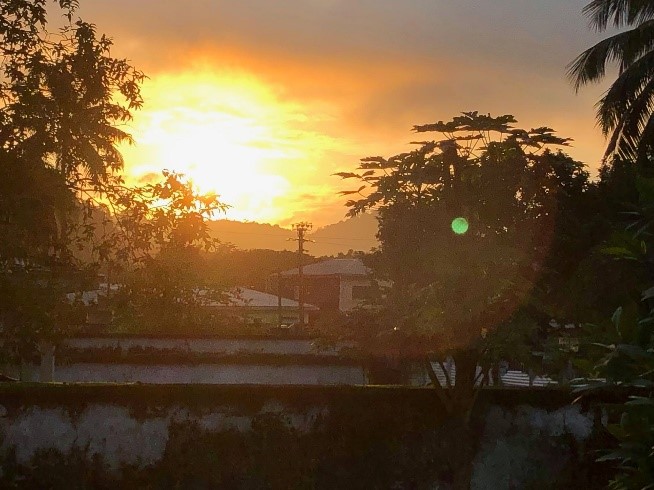 Limbe wildlife center is a major attraction of Limbe and the reason why I am here. The LWC is a wildlife education and conservation center. The animals kept here were orphaned as a result of bushmeat hunting or the pet trade. This is a huge issue in Cameroon and throughout Africa. Animals are often killed for meat, and the infants are kept as pets or trophies in horrible living conditions. They are rescued and brought the LWC for rehabilitation and to live with members of their own species. I am lucky enough to be spending 3 weeks volunteering at this sanctuary.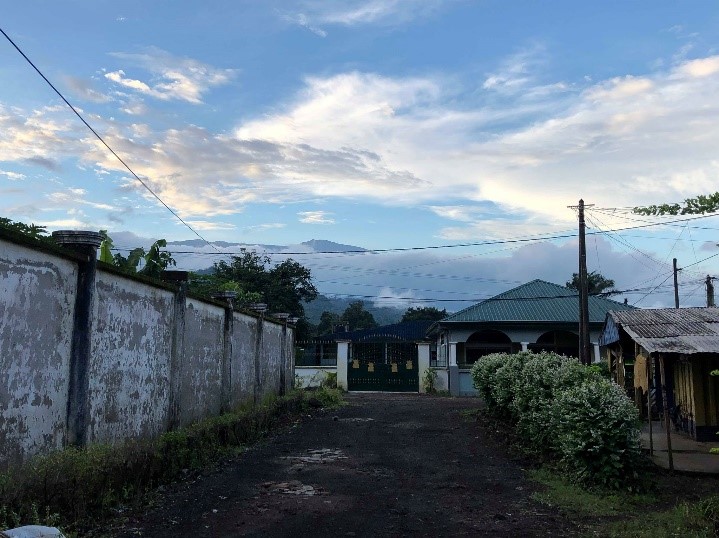 One of my first stops in Limbe was the local market "old market". The most efficient way to get there is by motorbike. This was a totally new experience to me- clinging to the back of a bike in weaving traffic. The market was much like stores in Douala where tents or small wooden shelters cover the fruits and vegetables spread on burlap sacks on the ground. There were probably 20 or so shops at the market with a wide variety of African produce. Many merchants will help you find what you're looking for, and you're almost guaranteed to go home with a free sample of some new or unique produce.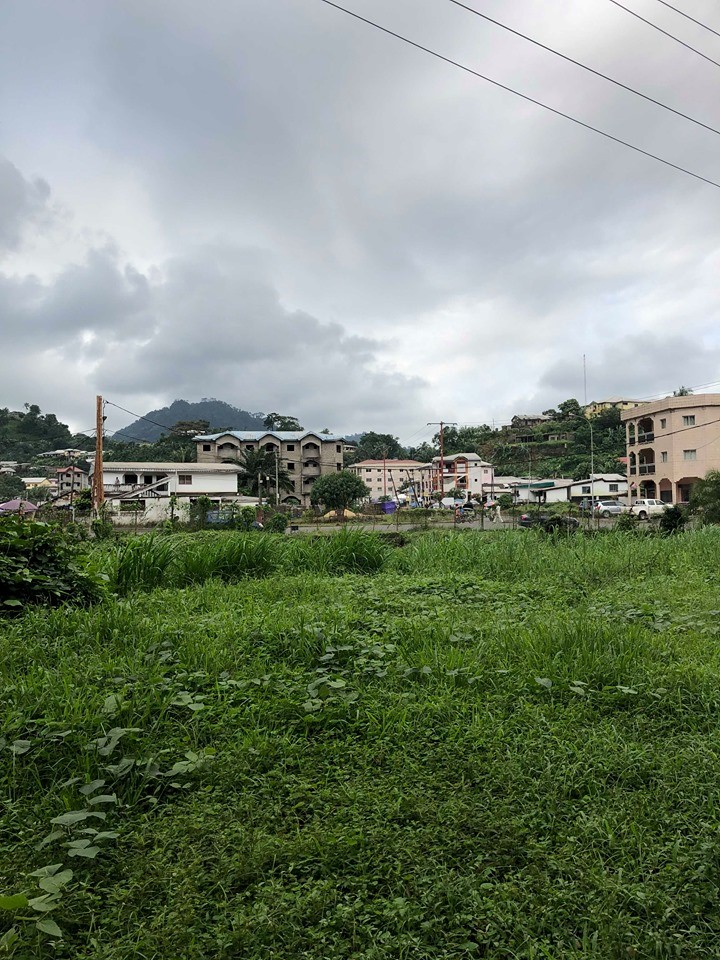 Just a few blocks from the market is mars bar- a European themed restaurant and bar on Down Beach. Down beach is a black sand beach that stretches along the coast of Limbe. It is not very good for swimming because of the amount of litter, but it is popular for the fishing culture and economy of Limbe. The beautiful Mountain View and the sunset over the ocean also make it well worth the visit.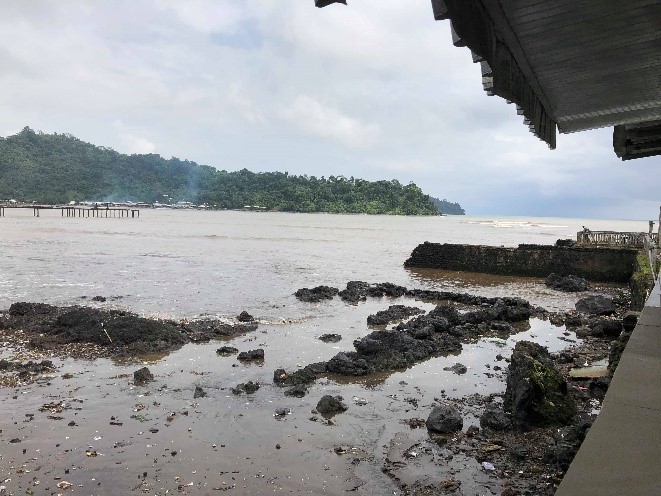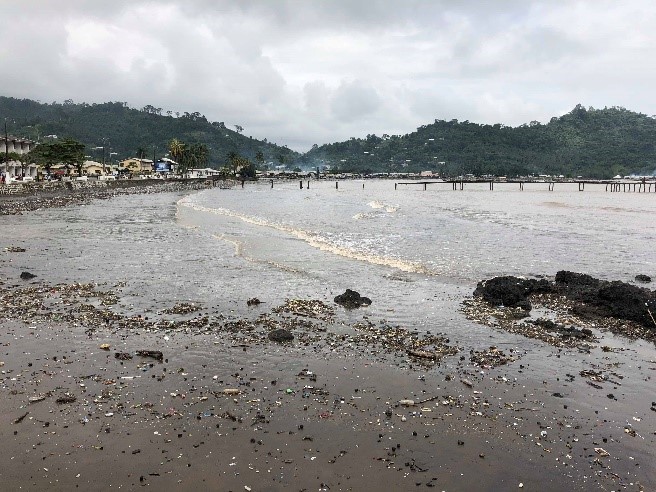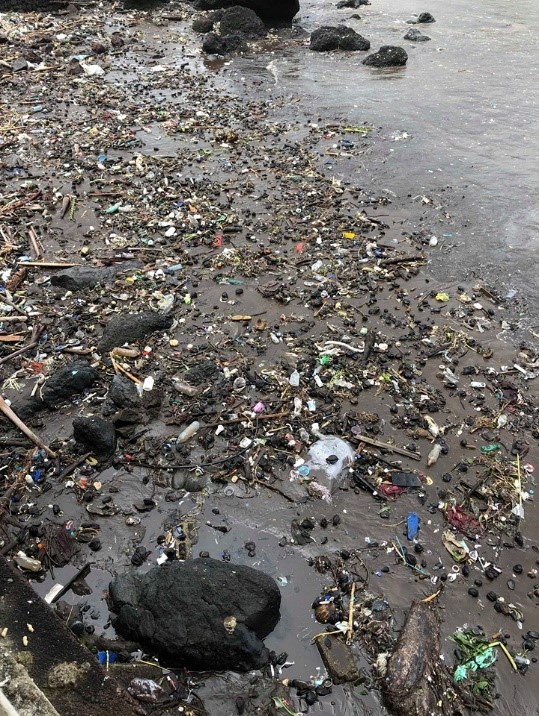 Finally, another worthwhile attraction is the Limbe botanical garden. The garden is home to many beautiful (and some edible) plants. There is also a "naturalistic" amphitheater, a nearly 200-year-old cemetery, and plenty of beautiful views. While you are there, be sure to check out Hot Spot, a restaurant within the garden that has delicious burgers, and sometimes even cheeseburgers- which are extremely rare in Limbe.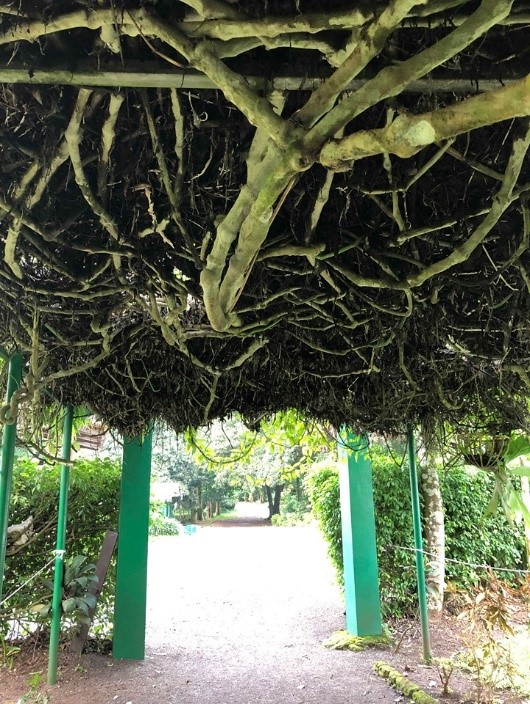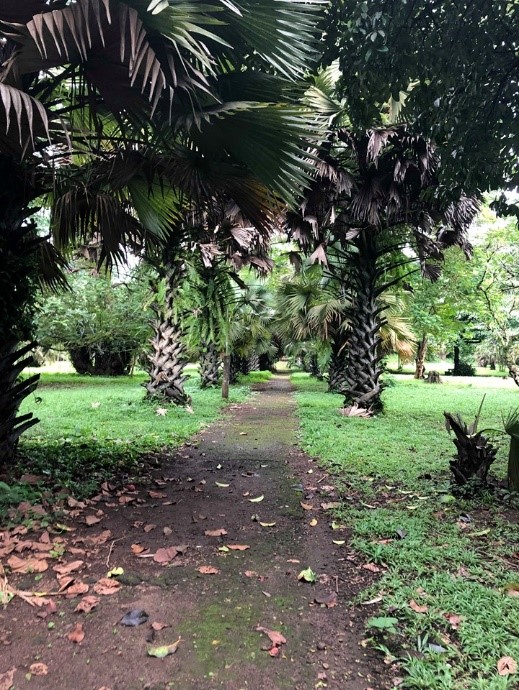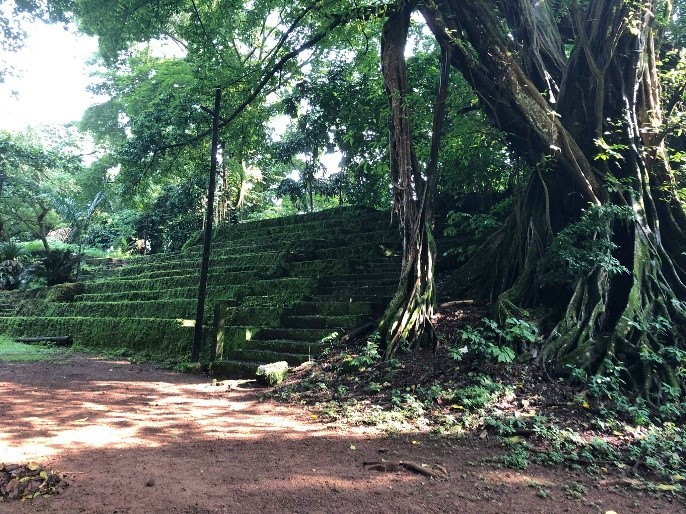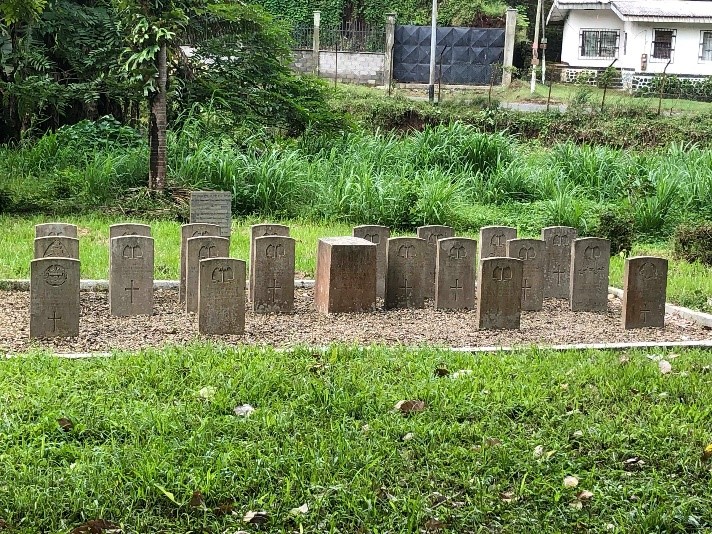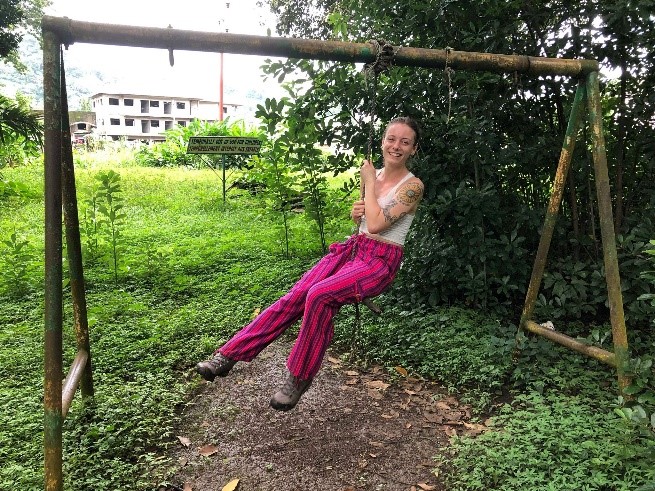 Overall, the breathtaking nature, incredibly sweet and welcoming people, and the laid-back lifestyle of Limbe made it one of my all-time favorite destinations.
TotalAdventure does not currently . have adventures in Cameroon, but we invite Cameroon companies to apply. For another exotic area in Africa, check out our trip to Ethiopia. https://totaladventure.travel/trips/203383
In the summer of 2019, I was offered the amazing opportunity to volunteer at a Cameroonian primate sanctuary as an animal care giver. During one of my days off from the sanctuary, a fellow volunteer (Tesse) and I took a tour with local guide Thompy Ekonde. He showed us around "Mangrove Forest" just outside of Bimbia. The road there was long, winding, and treacherous with huge rocks, ditches, and falling logs. Many times we had to pull over to calculate exactly how to place the car. Upon arriving at the forest, we trekked through the trees for about two hours as Thompy showed us some of the breathtaking native African flora.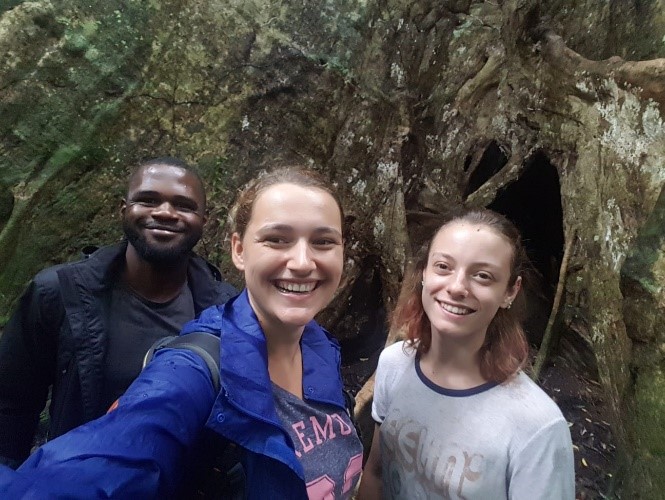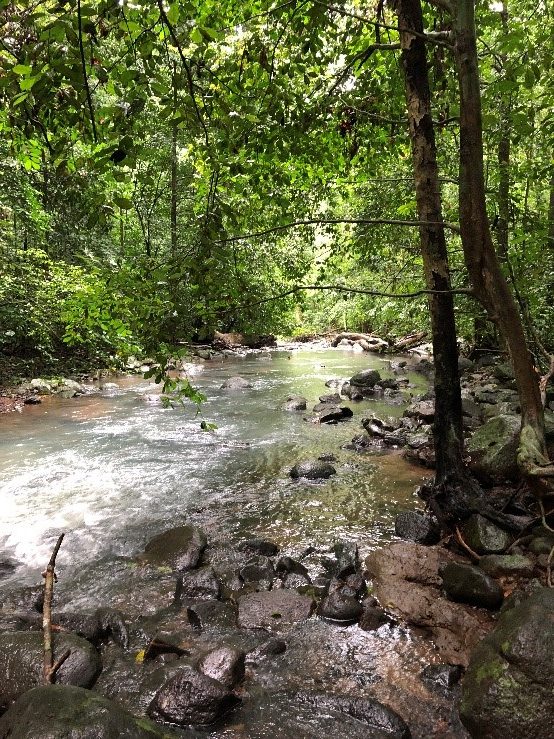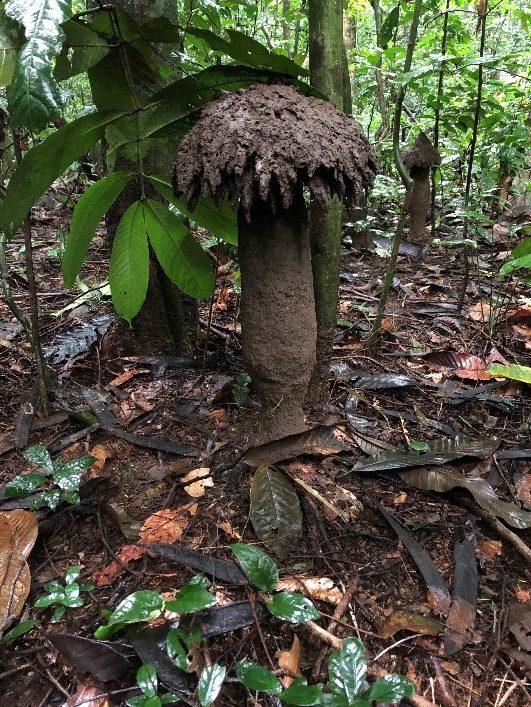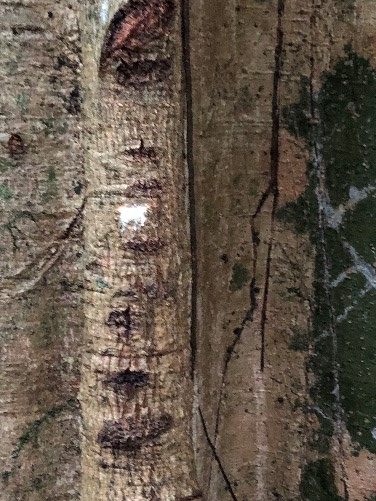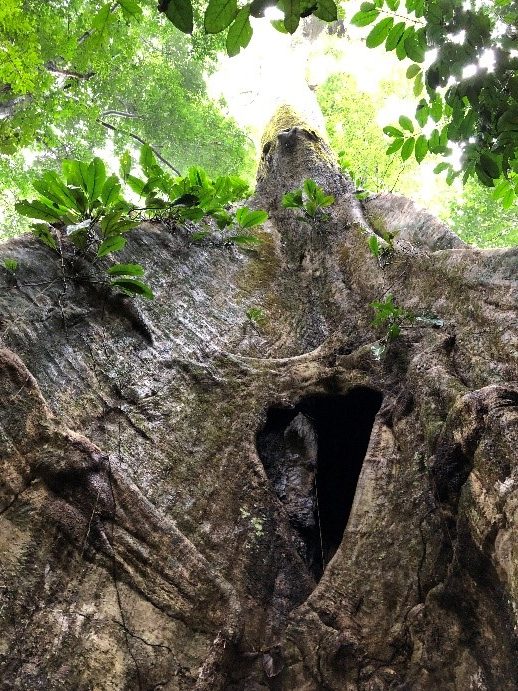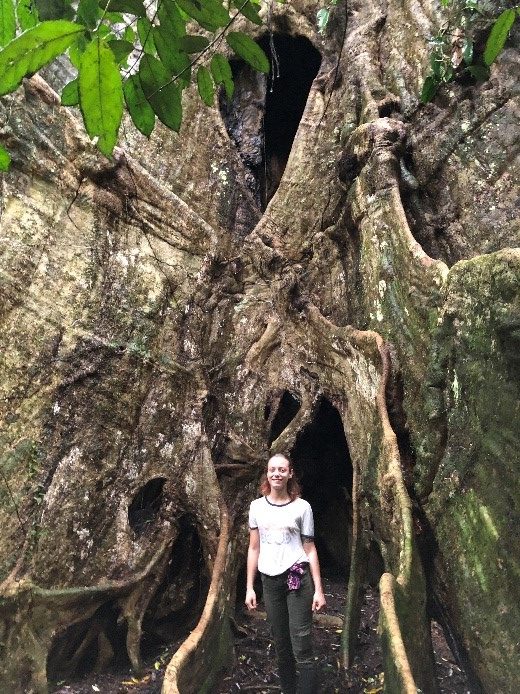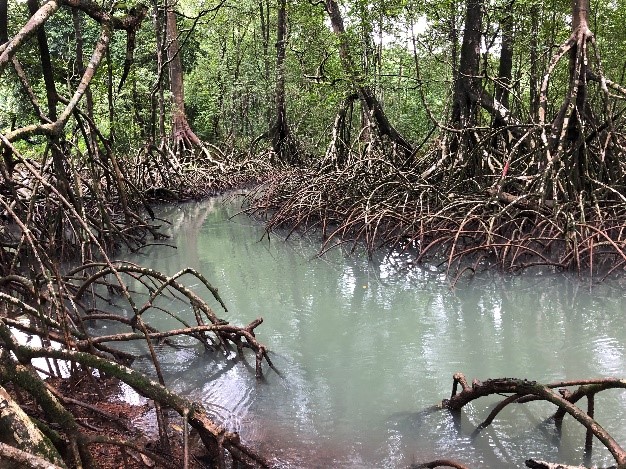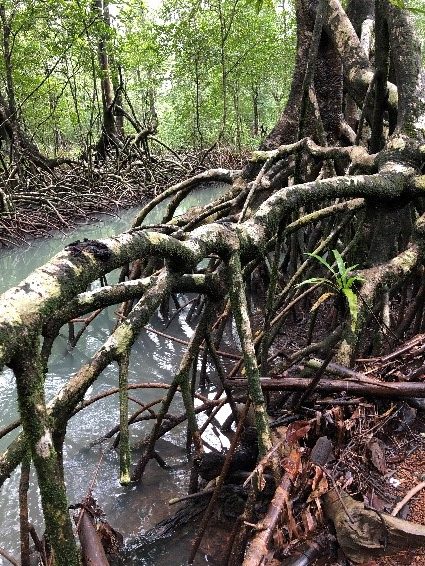 TotalAdventure does not currently . have adventures in Cameroon, but we invite Cameroon companies to apply. For another exotic area in Africa, check out our trip to Ethiopia. https://totaladventure.travel/trips/203383
Just a few hours from the Peace Pagoda, nestled in the Catskill mountains, is Kaaterskills falls trail head. This is a free two mile trail in New York that offers beautiful waterfall views.
Final edit of Go-Pro footage of ArcticTropic's exploratory voyage across Russia in early Summer 2014. Five days in Moscow , then to Irkutsk,Lake Baikal and Ulan Ude , before crossing into Mongolia.
For Adventures in Russia, CLICK HERE
From Europe,to Asia back to North America, British Columbia was the last stop on ArcticTropic's Round The World Adventure. After a long flight from Tokyo,via Manila , we settled into Vancouver to readjust to North American life, then ventured North of the city.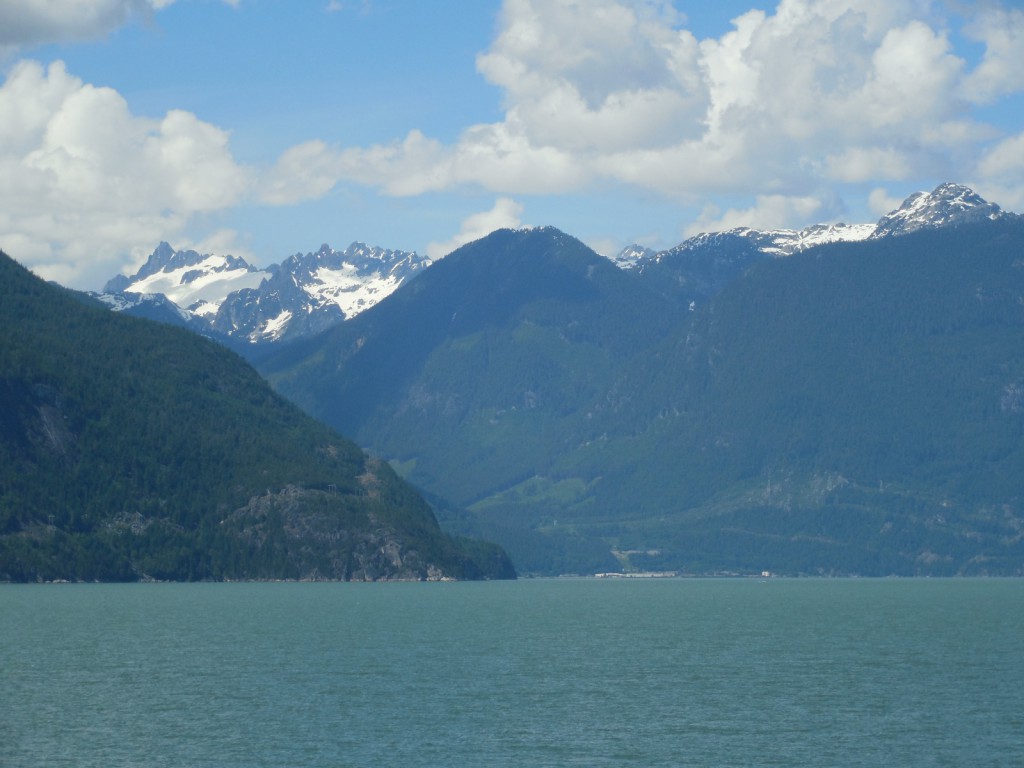 Fjords begin just out of Vancouver and stretch thousands of miles up into Alaska.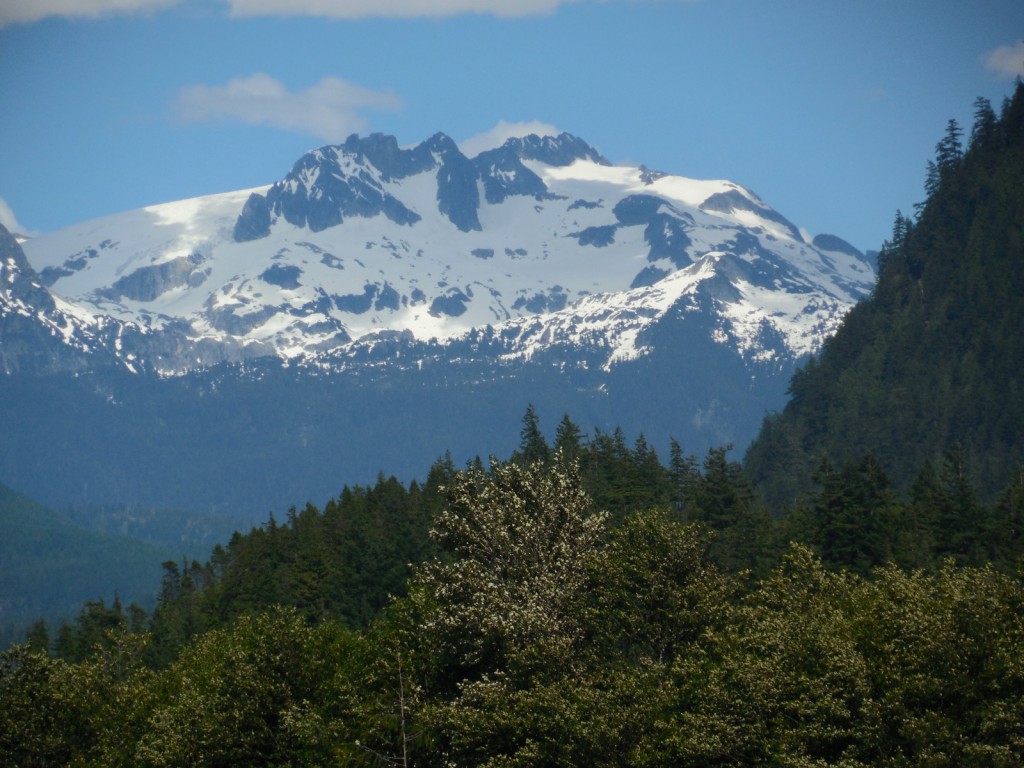 Glaciers overlook the Pacific.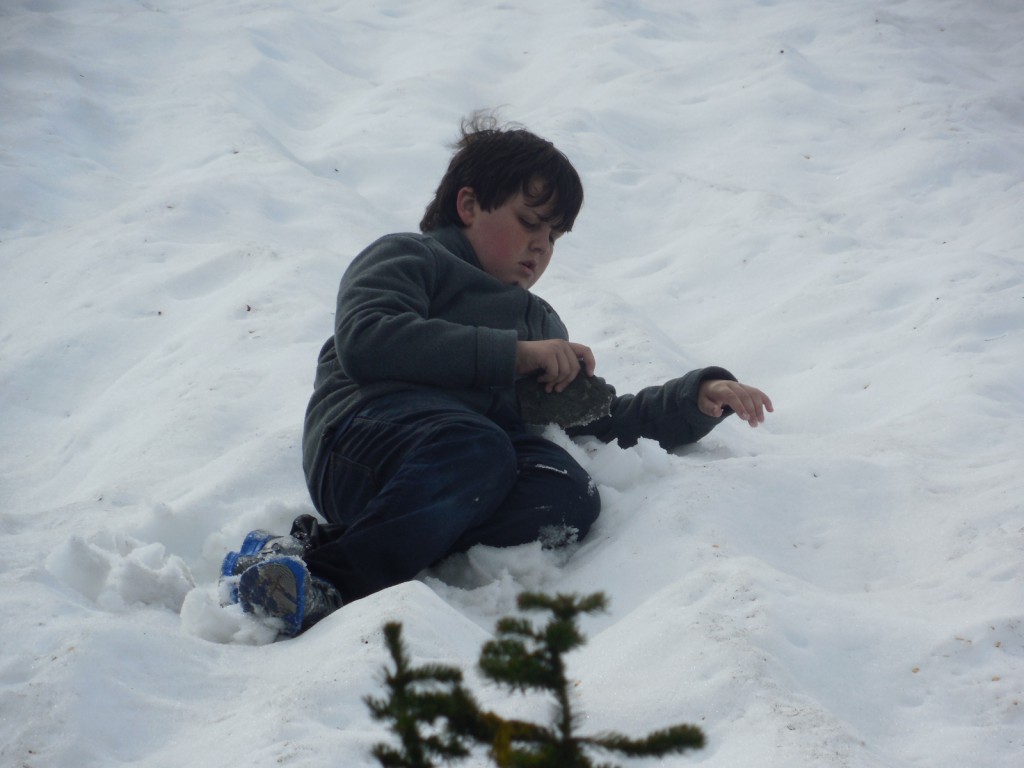 A young Miamian enjoys the summer snow.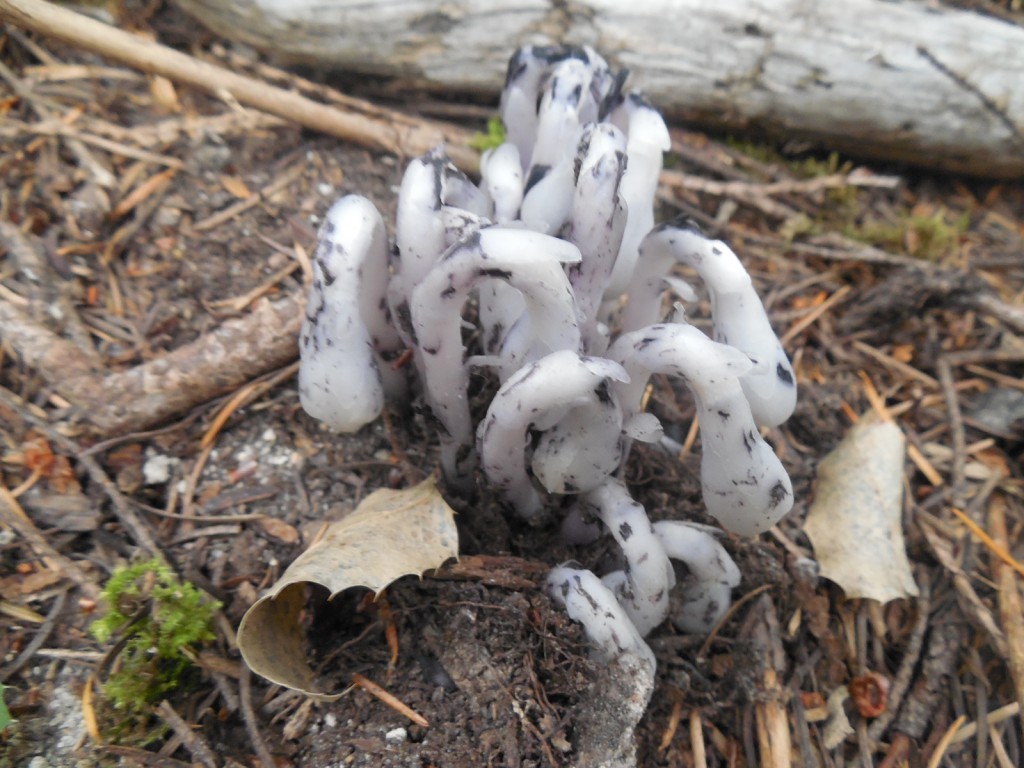 Mysterious life forms in the rainforest.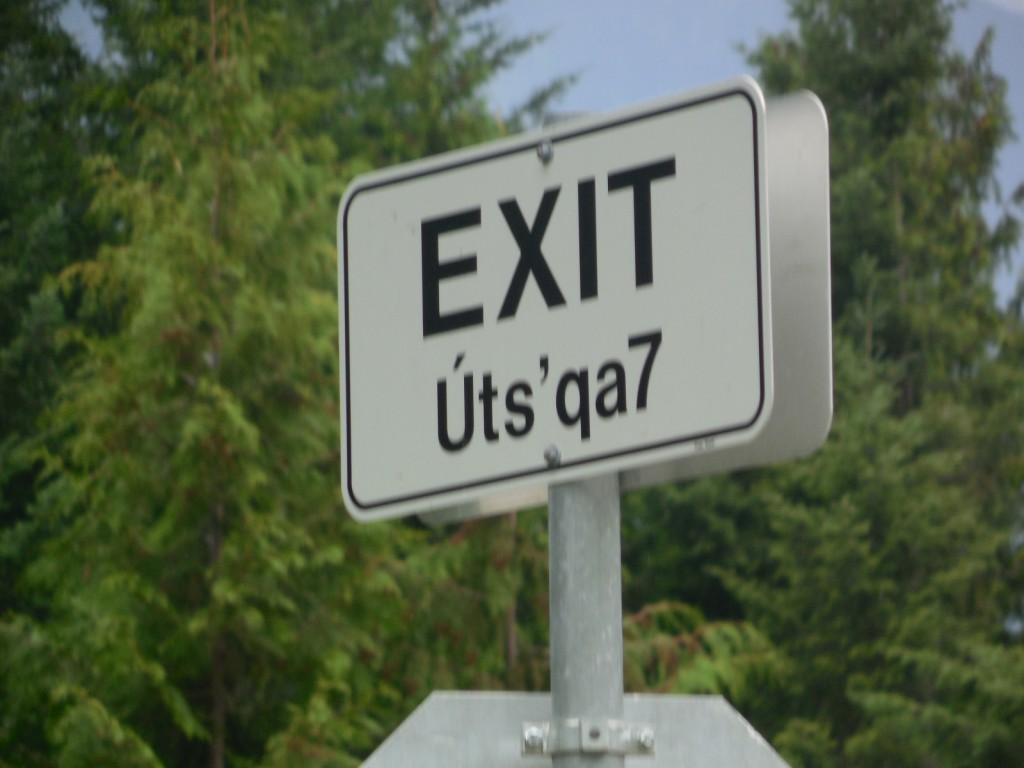 Road signs in First People's Native Language of Tsihqot'in.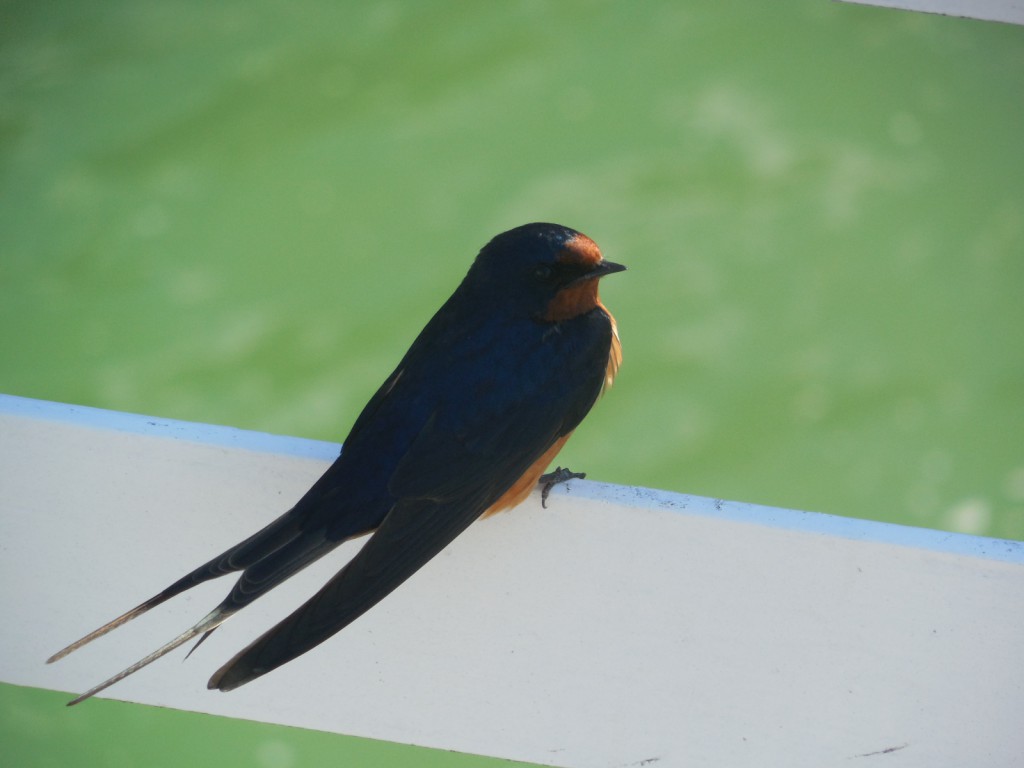 Enjoying the northern sunshine.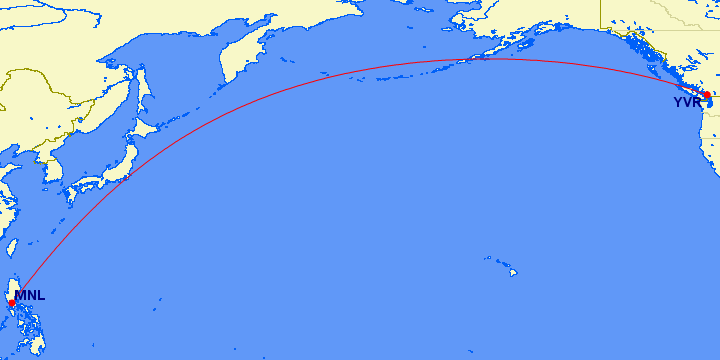 Back across the Date Line.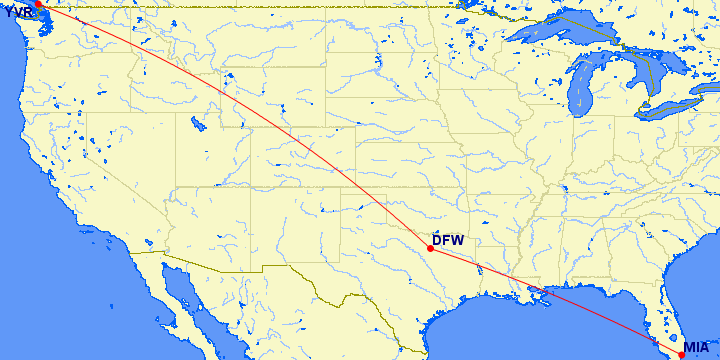 And finally – Home !
For adventures in Canada, CLICK HERE