Silk Way Rally – Tatarstan to Turkmenistan
Tags:

Posted in: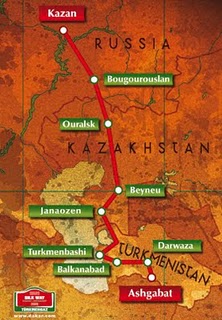 From September 5 th to 14th , the Paris based Dakar Rally will stage a 4500 km off road race from Kazan to Ashkabat.
The world famous Paris -Dakar Rally – which began every New Year's Eve from 1978 to 2008 in the Place Concorde, finishing in Dakar ,Senegal about three weeks later, was discontinued this year because of terrorist threats. It relocated to Chile and Argentina during Southern Summer and the Silk Way Rally will be the adventure for Northern Summer. ArcticTropic will have periodic updates and perhaps will particpate in the race in 2010.