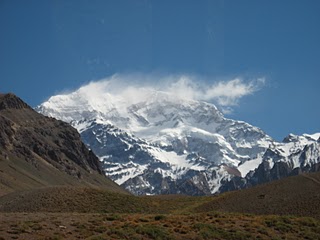 Cerro Aconcagua – 6,962 metres – 22,841 ft is highest mountain in the Americas, Highest in the Southern Hemisphere, Highest outside the Himalayas. It is 15 Km East of the Argentina – Chile border.
The bus from Santiago to Mendoza took almost 8 hours due to customs holdups and road work. I'll be flying back tomorrow , since I have meetings in Santiago before flying up to Miami tomorrow night. The bus ride ranks amongst the world's most beautiful !
Mendoza has been 24/7 nonstop – meetings till 9 PM and then dinners that begin at 11 and end at 2. I will catch up on ArcticTropic Blog – keep posted !
FOR ADVENTURES IN ARGENTINA, CLICK HERE