Posts Tagged
'Puerto Madryn'
Tags:

Posted in: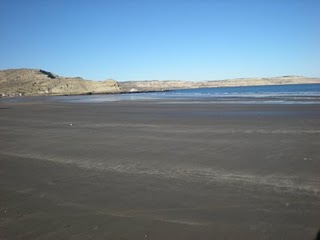 I left Buenos Aires at 3 a.m. this morning, arriving in Trelew well before sunrise. I slept through the entire hour and a half flight and missed the pilot's weather announcement, so you can imagine my shock when I stepped off the plane and onto the tarmac into the biting, 30-degree Farenheit air. It literally took my breath away.
The drive to the hotel wasn't very sightly, one very long meadow until Puerto Medryn. The sun started peaking out over the meadow around 7:30 a.m. with an effect that made the horizon look like it was on fire. I came to learn that in the winter, the sun rises at 9 a.m. and sets at 6 p.m.
After a much needed nap, we drove to Puerto Piramides, about a two hour car ride, and stopped at two beaches along the way to watch the whales come very close to the shore.
Today was the start of whale season. The whales that spend the year swimming the frigid waters of Antarctica come into the bay at Puerto Piramides to mate; a year later the whales come back to give birth and by the third years' trip, they return with their young to release them into the wild.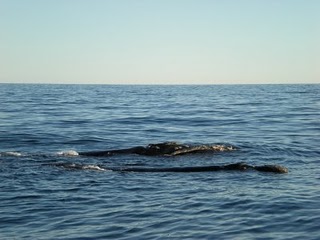 After a delicious lunch of milanesa, we geared up with some very bulky and annoying life jackets and jumped onto a small boat, ready to venture out into the bay and get up-close and personal with the arriving whales. Mind you, even with my arctic gear of tights, thermal socks, ski pants, tank top, t-shirt, long sleeve shirt, thermal shirt, ski jacket and sneakers, it was still pretty chilly.
During our aquatic search for the whales, we met Cormorants (penguin look-alikes that fly and are able to dive up to 240 feet below the waters' surface), sea lions and seals.
Just when we were beginning to think that a whale encounter wouldn't happen, we spotted them! A mother Southern Right Whale and her baby. We all bonded and the whales put on a spectacular show of acrobatics as the baby rolled over several times to show us its belly.
It truly was an unforgettable experience.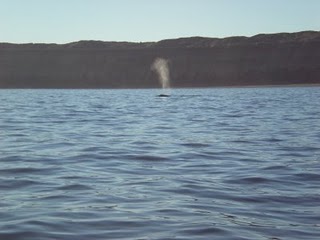 For more from Agustina Prigoshin, read her blog at www.agustinaprigoshin.com
FOR ADVENTURES IN CHILE, CLICK HERE