Posts labeled with Country
' Indonesia'
A word from a sponsor …………
All Points East has been offering exciting small group and family adventure holidays to South East Asia for over 10 years.  Whilst we recognise there are 'must see places,' we also realise that the modern day traveller has a desire to uncover each country's best kept secrets – off the beaten track.
With exciting itineraries to Thailand, Laos, Cambodia, Vietnam, Yunnan, Malaysia, Borneo and Sri Lanka, All Points East has a proven philosophy – to provide small group tours that ensure genuine interaction with local people.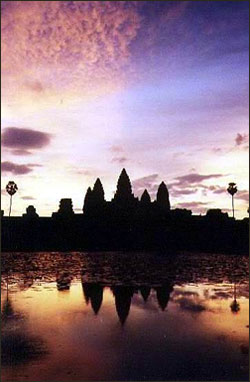 Winners of the 2010 Tourism Authority of Thailand Green Award, we have a commitment to local communities and to ensuring that our tours have respect for the people and places we visit.
As much as possible we stay in smaller, locally run hotels and guest houses, eat in local restaurants and use local style transport.  Guides and agencies used are considered friends rather than business contacts.  In keeping with our commitment to the communities we visit, our group sizes are usually a maximum of 10, very occasionally 12.
If this style of travel is for you and you want to get to know the real South East Asia, we would love to show it to you.
Here I am in very sunny and warm LA on a quick stop over from NJ before I  start a trip that has been over ten years in the making.
The blue outline of Catalina floats in the distance as I sit here with my mind going over all my equipment and things I may need in the next three weeks in the middle of nowhere.
The idea for trip all started in 1993 I first visited Indonesia. I was staying at a wonderful wargung (a type of inn/bed and breakfast Bali syle) called Murni's. At breakfast there was only one other guest and she happened to be from CA. She had very recently moved to Java to work with the World Bank and was happy to fill me in on the sights and things to do in Ubud, Bali. Over the next 4 years my job took me to Indonesia at least twice a year and Bali became a second home full of good friends and miraculous times. We all shared a love of exploration, local culture and diving.
It was are shared love of diving more and more remote areas that spurred us on to plan this trip.
We at first planned this trip in 1999. The plan was to fly in to Ambon and take a boat south to the very remote Banda sea. Unfortunately 2 days before our schedualed departure Ambon was torn apart but religious riots after a century of peace. The town was up in flames and the Captain told us that it would be impossible to have the boat go into the harbour. So on the fly we organized another boat and all met in Bali and island hopped for diving to the east to Timor. Although wonderful it was not the remote unexplored areas we had our hearts set on.
So now we are onto round 2. This time everything seems to be in place. We have a wonderful live aboard – The Blue Kiro – waiting for us in Ambon. The plan is to board her on Oct. 29th and go south into the Banda Sea. I am not sure how much communication I will have but I will update when I can. I am now off to Singapore for a layover, then a flight to Bali and a quick day and half stop to see my friends and a bit of pampering in Ubud then finally onto Ambon.
Now I have to pull myself away from the beautiful view of Catalina and go finish the last minute details! Cheers!
Maria
Here's some footage I shot a few years back – inside the steamy caldera of a Sumatran volcano!