Archive for the
'Food'

Category
When most people think of Michigan, they think of Detroit,city of cars and now, urban wasteland. The Upper Peninsula is a very different land that most Michiganders have never been to, and very reminiscent of nearby Canada. People even add " eh" to the end of every sentence.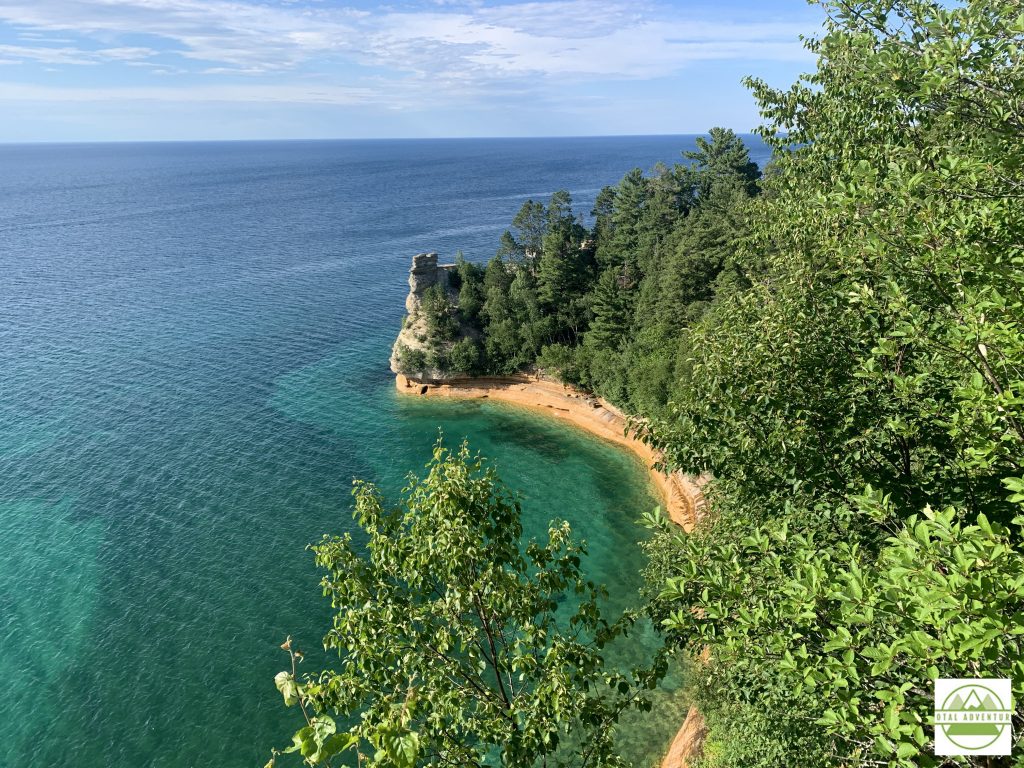 On Wednesday, July 15 I departed Whitehall and drove through the only major rainstorm I encountered in 3 months and spent the night in in Sault Ste. Marie, normally a bustling border town, now a ghost town because of the almost total border shutdown.In July instead of 2500 cars per hour crossing, it was 50 trucks, as commercial traffic was permitted.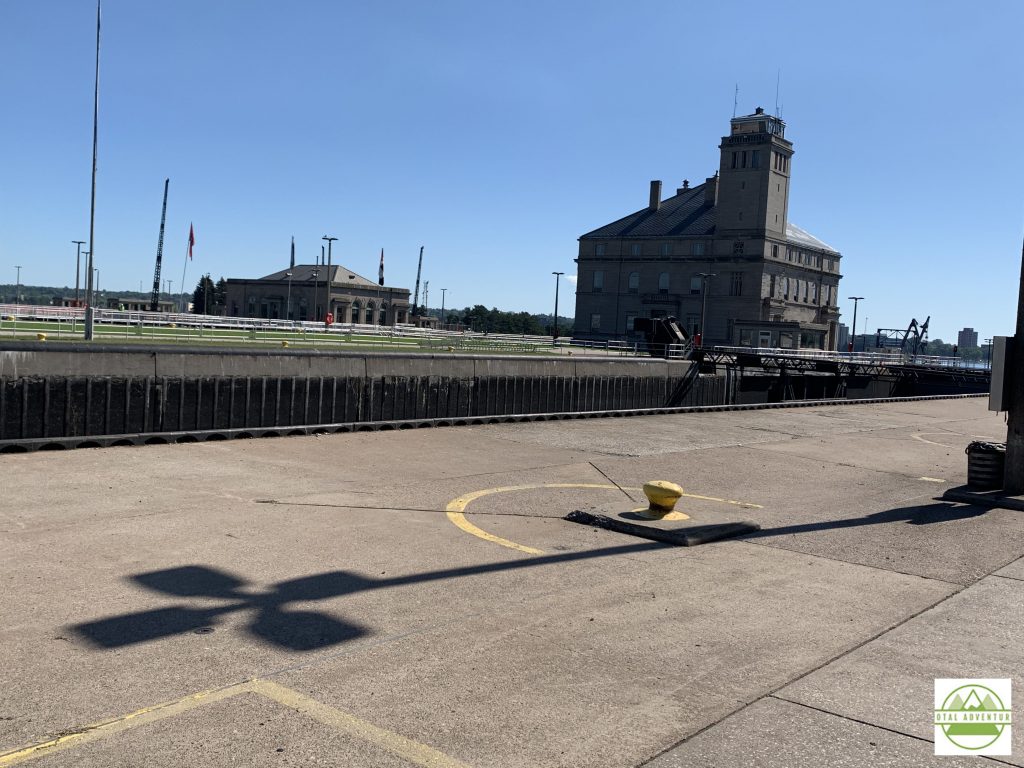 It was about 4 hours to Pictured Rocks National Lakeshore. I parked and took a 4 mile hike through the woods ( each way) to Lake Superior.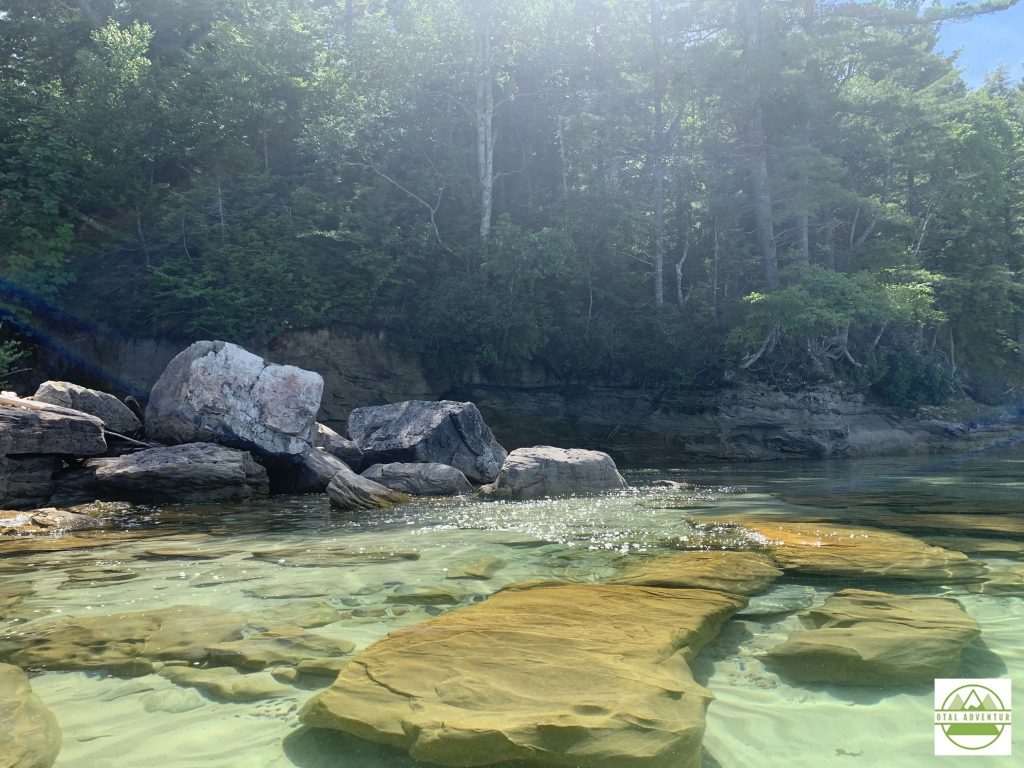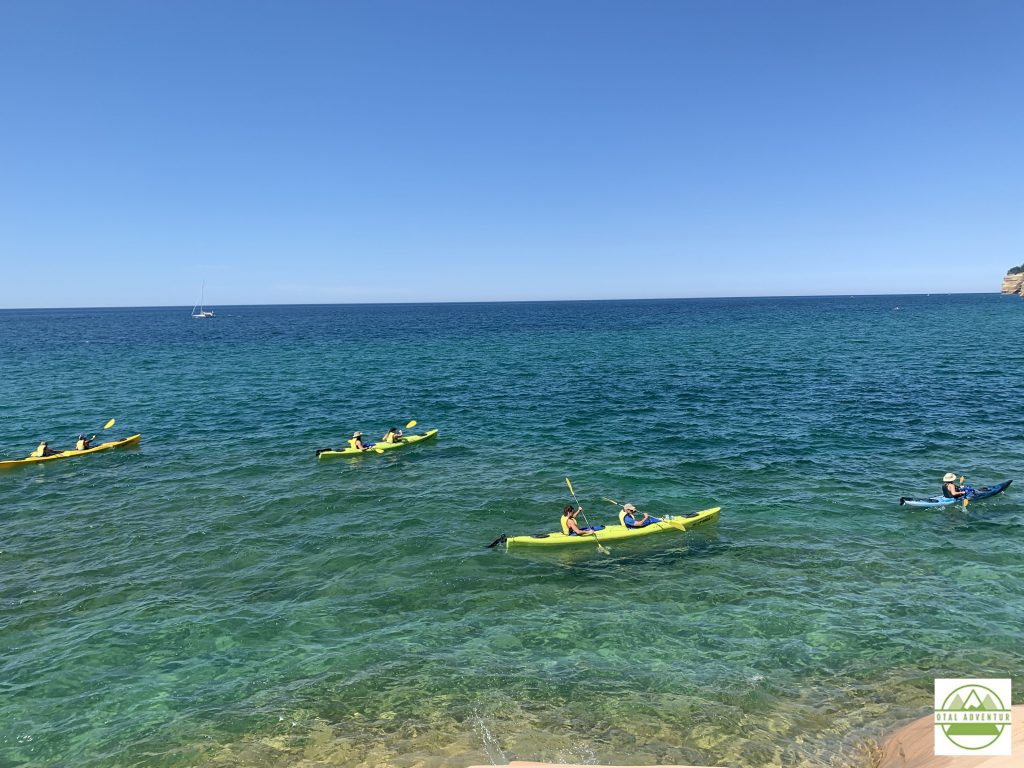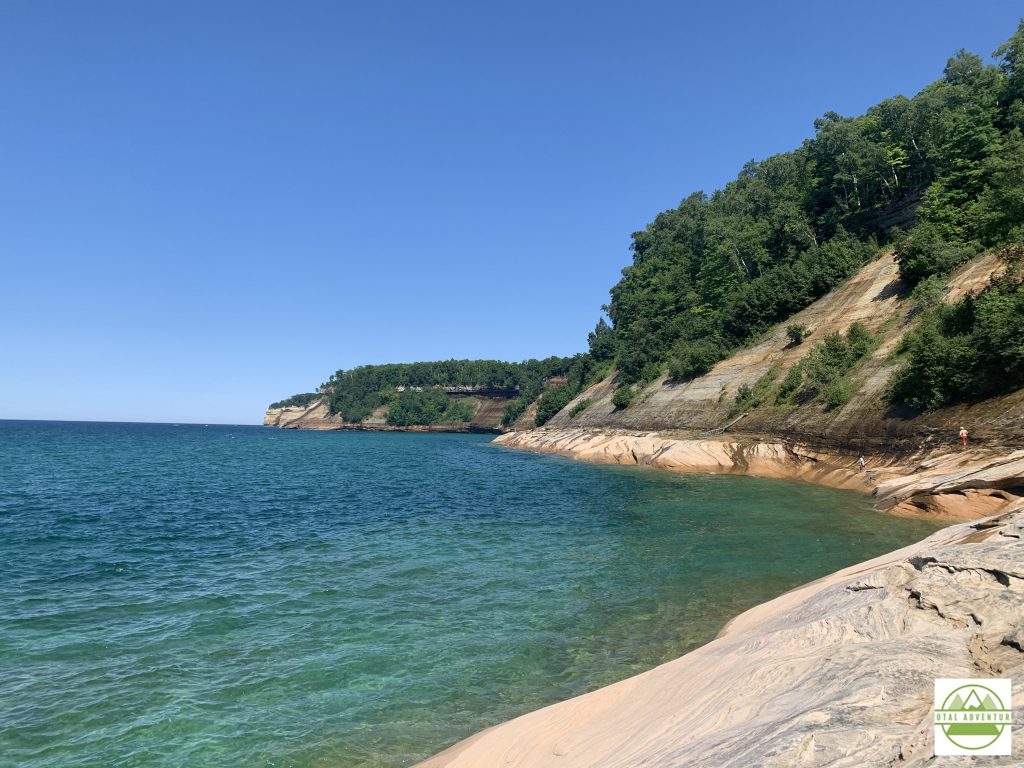 For Full Effect, Watch The Video Above.!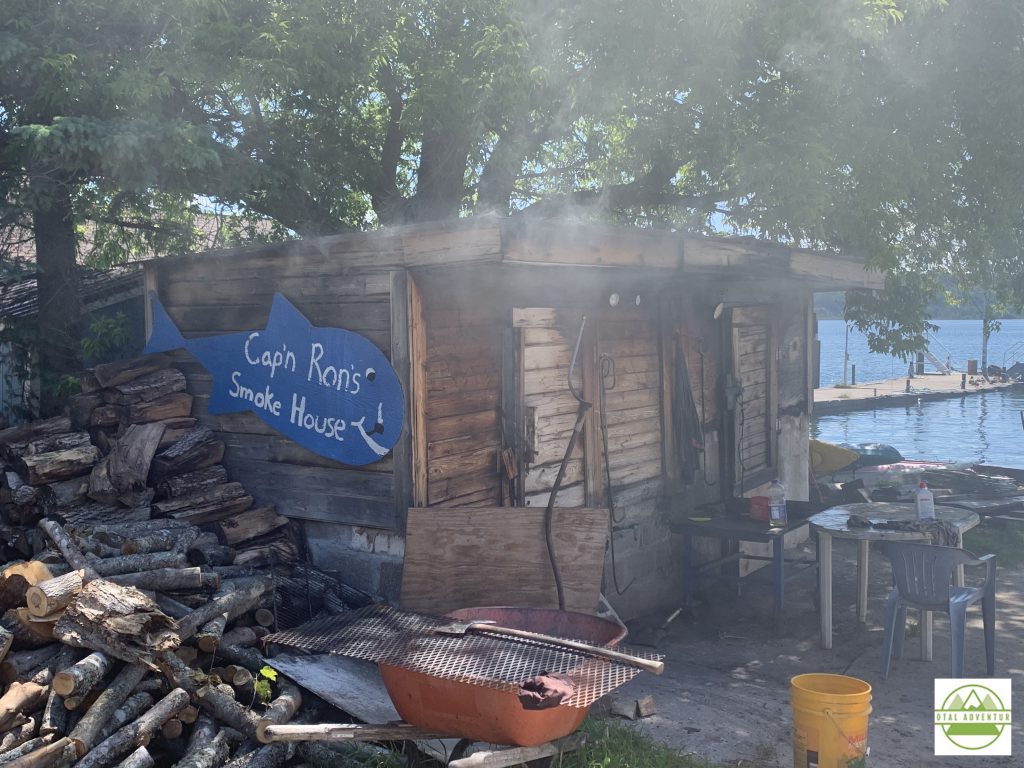 For lunch and dinner I dined on delicious lake fish ,fresh smoked. Much healthier than burgers and not a slave to the early Midwestern clock.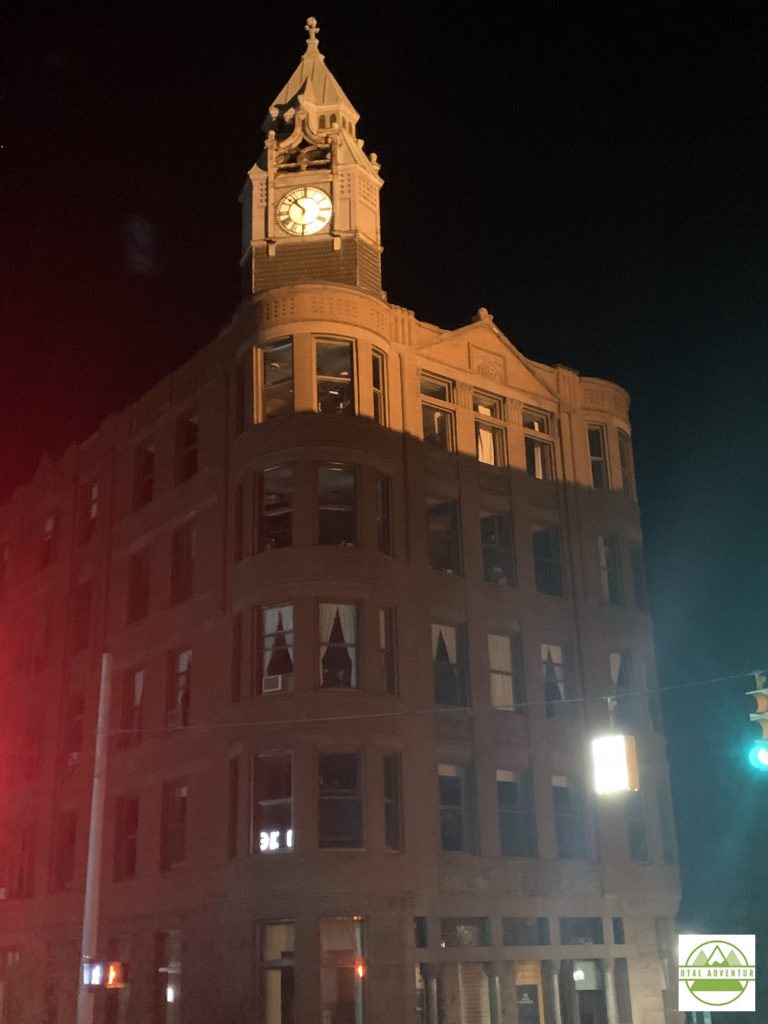 Saturday morning, July 18th I departed Marquette and drove the rest of the vast Peninsula. Crossed into Central Daylight Time The iPhone changed instantly, but the X2 had to be set manually.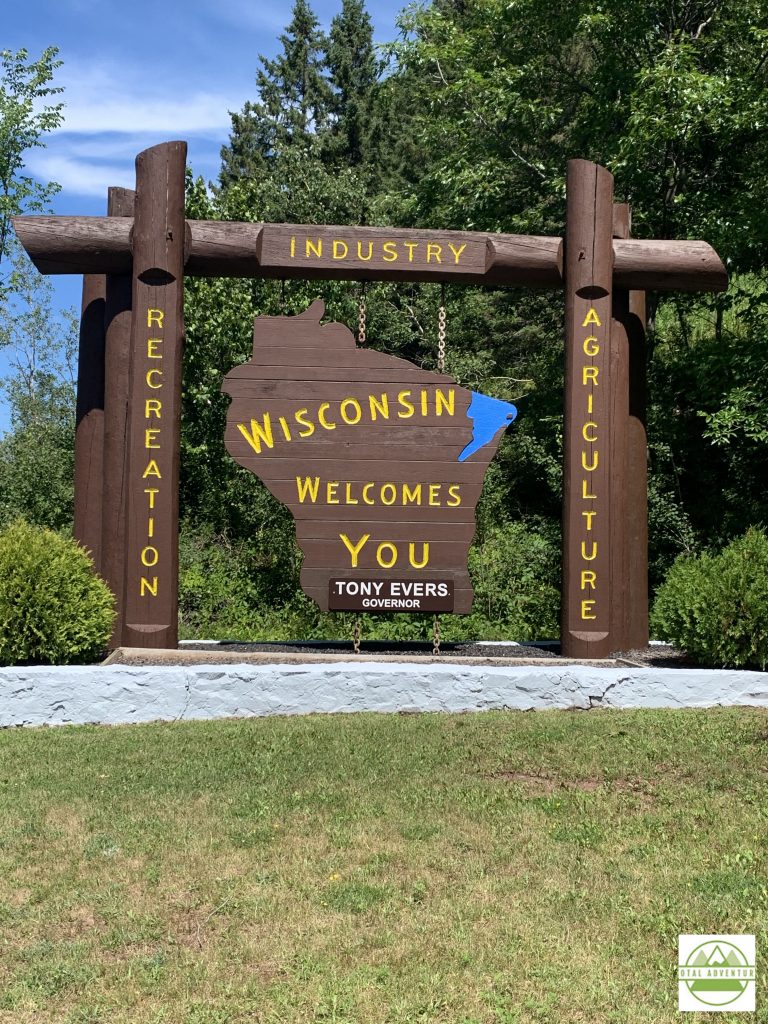 Around Noon,I entered Wisconsin, my 45th State – the first of 2 new states that day. Mostly I stuck to the Lake Superior shoreline. Though it was a beautiful summer day, outdoor eating is not a thing in Wisconsin ,so I had my only McDonald's meal of the trip. And then – it was on to Minnesota.
On the morning of Friday,July 24th I left Deadwood South Dakota and within an hour had entered Wyoming on SD 34/ WY 24 . The first stop was Devil's Tower.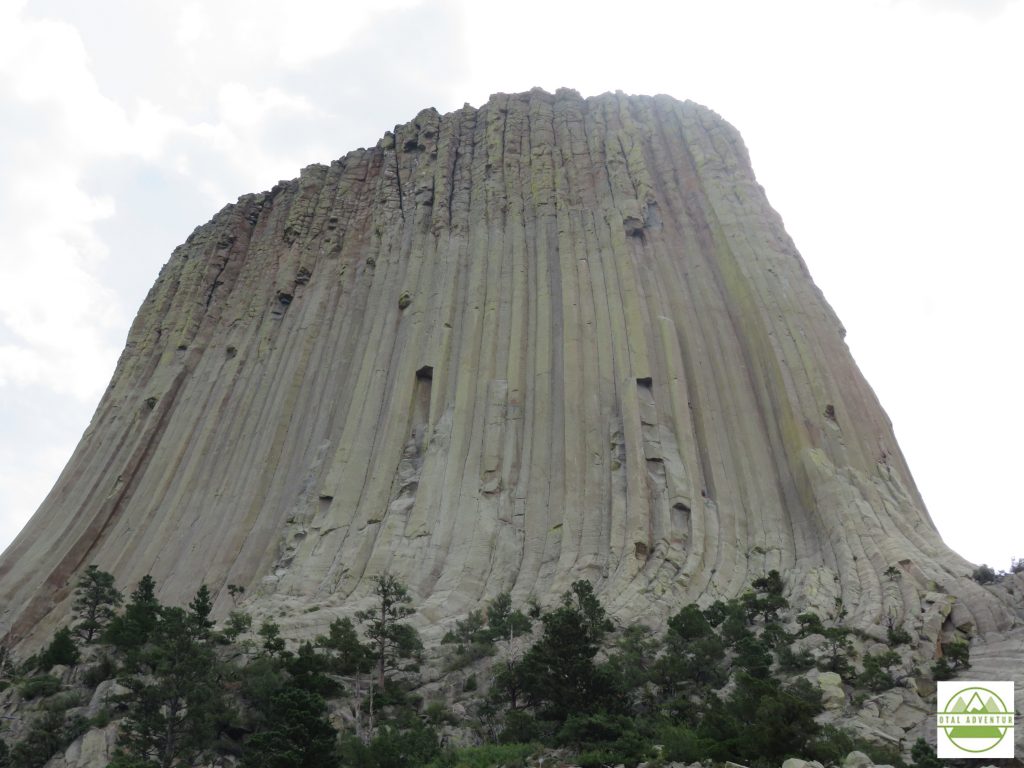 Rising straight out of flat farmland,Devil's Tower is 867 feet and formed in a short time due to volcanic upthrust. It is very geologically different than the Black Hills over 100 miles away, or the Rockies , more than 200. You can experience it in the video above.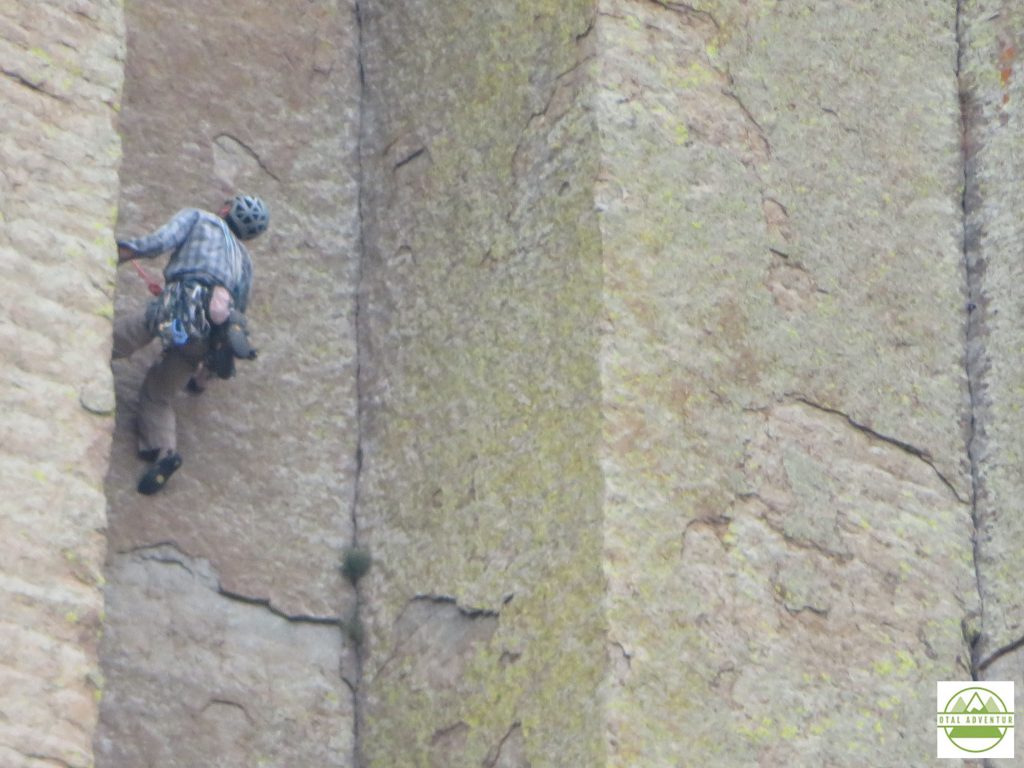 By mid afternoon I settled into Sheridan, at the foot of the Big Horn National Forest. As usual I dined alone on the hotel porch rather than in a lively restaurant .COVID life on the road. Everything closed by 8 anyway.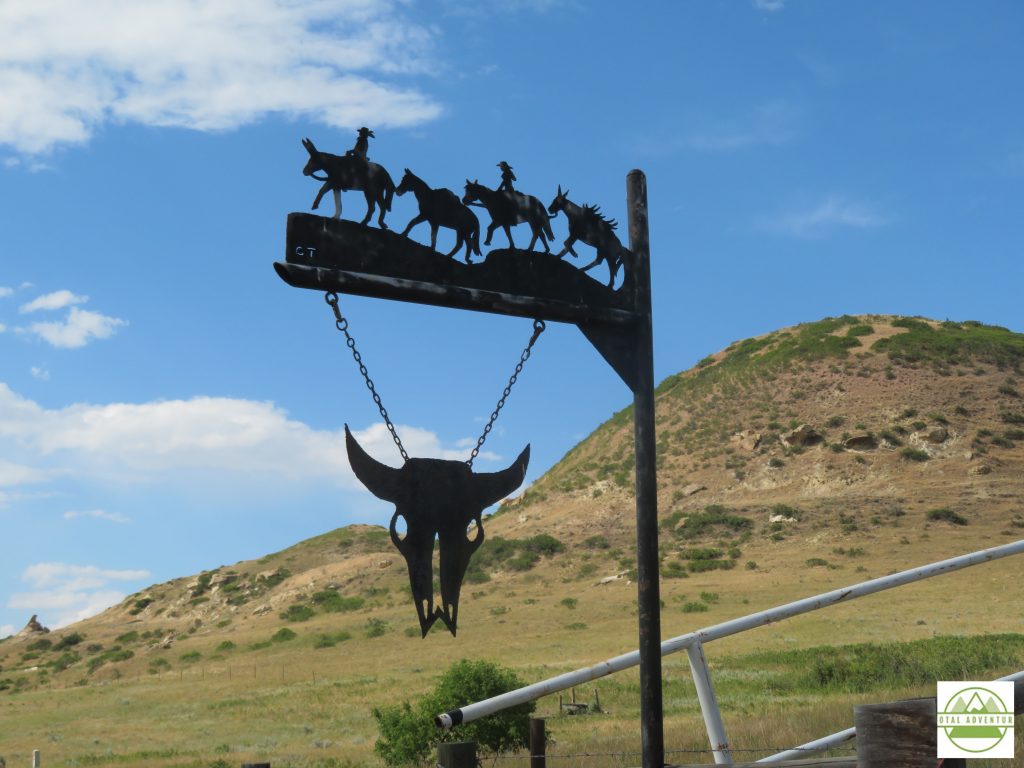 Big Horn National Park offers hundreds of square miles of hiking, climbing, glacier trekking and ATV trailing. Since it's not a National Park, it's not well known except locally. I was the only Florida plate, most were from Wyoming and Montana.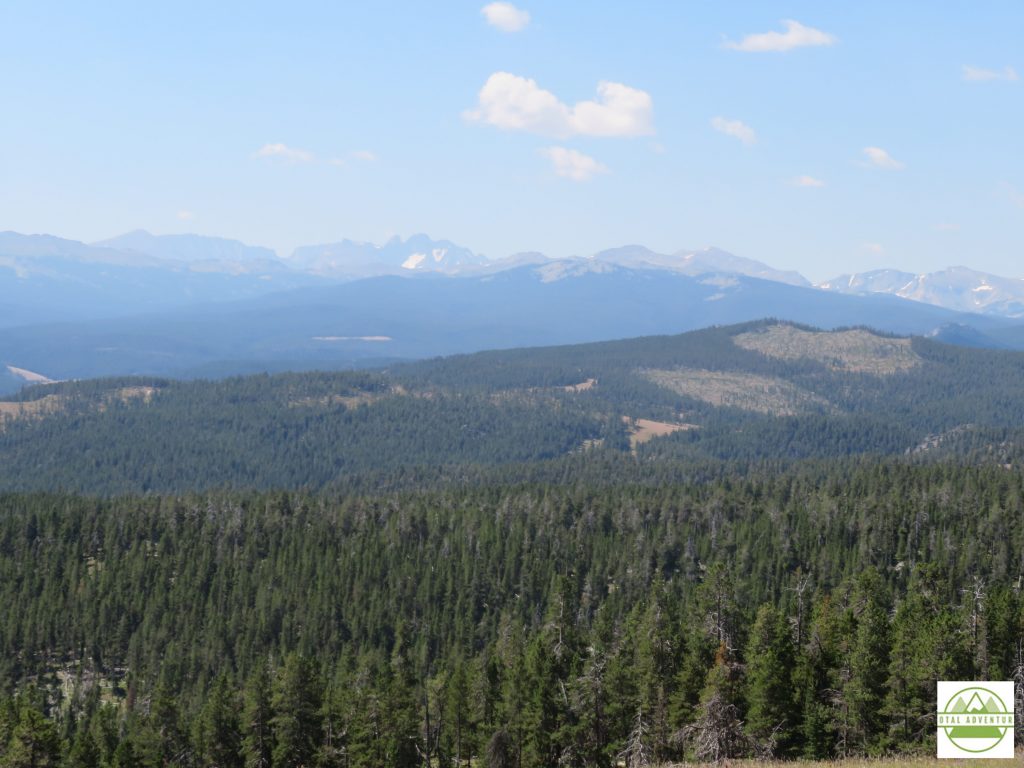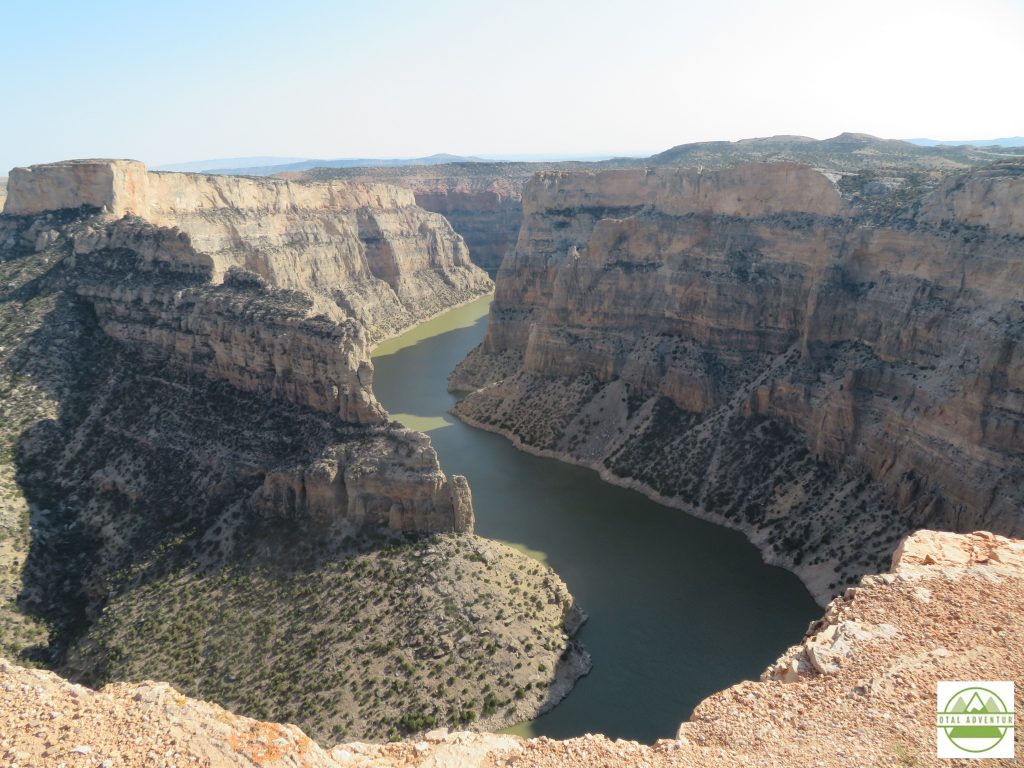 Dropping down a few thousand feet from the Big Horn Range, TotalAdventure explored the Snake River Canyon , traversing the Wyoming Montana border. The canyon had been dry with a seasonal stream until a dam was built in the 1930s.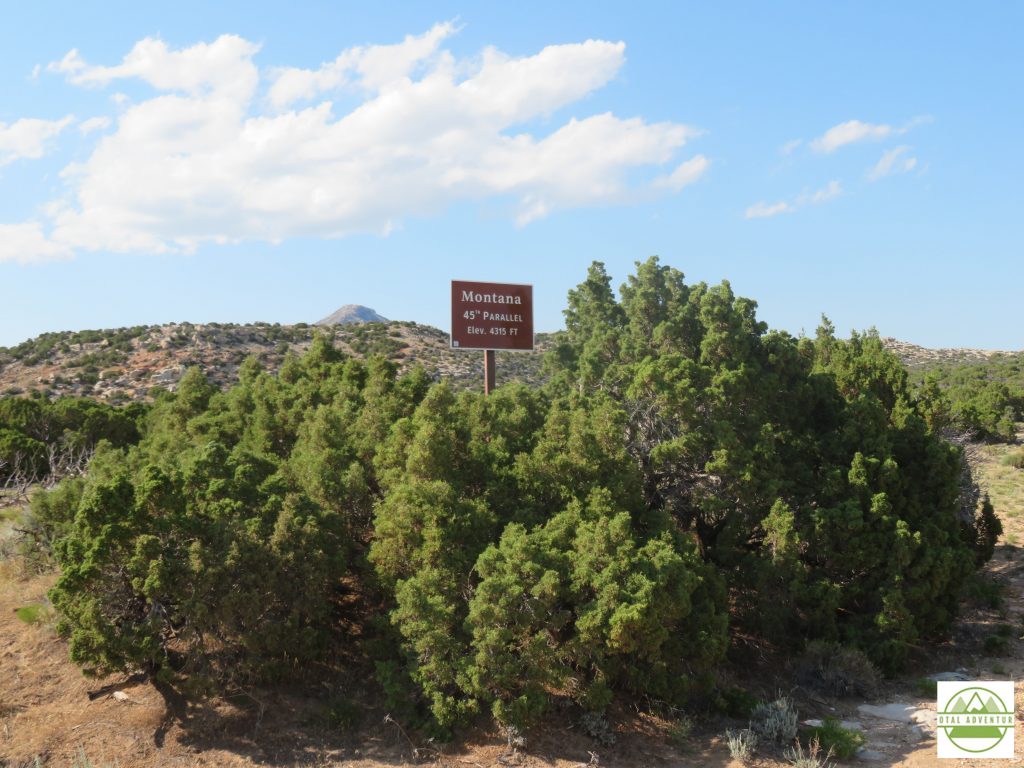 I then entered my 49th state, Montana ! Just one more to go – Oklahoma, but won't be there until the return trip East in September.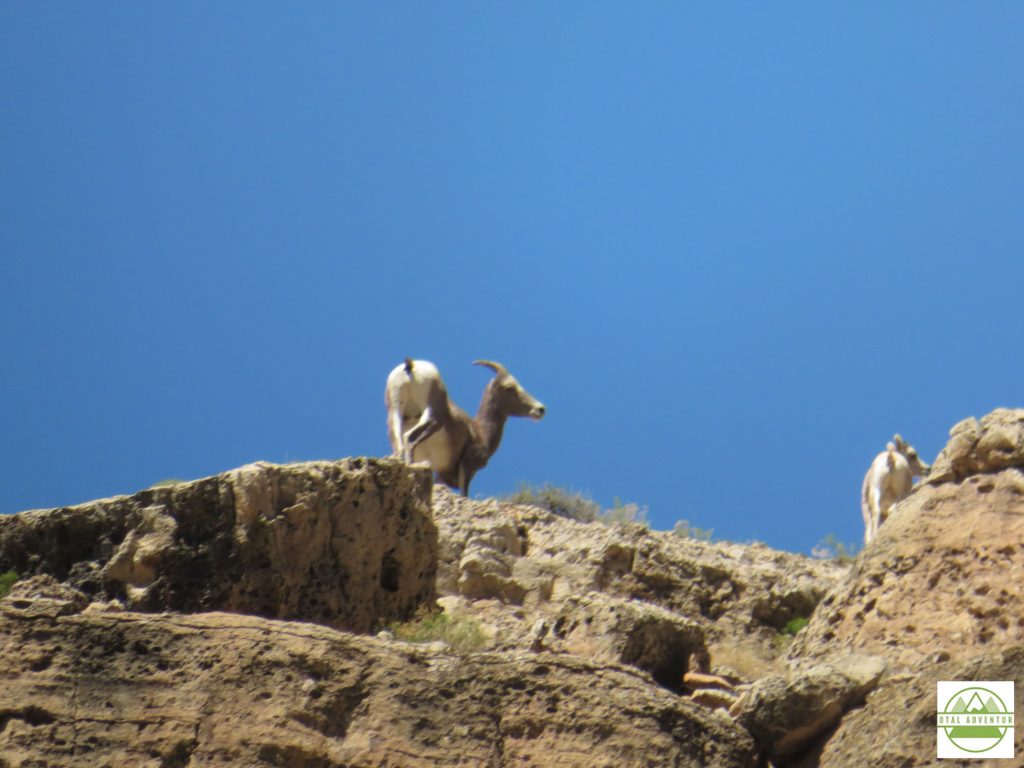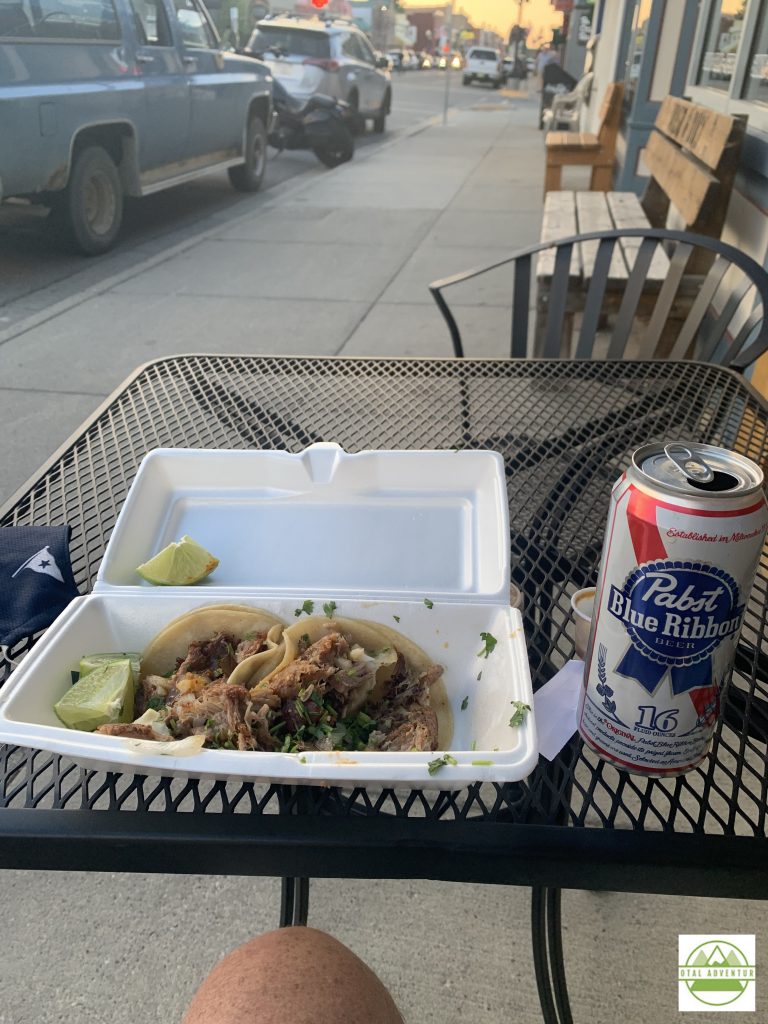 Before Yellowstone, I overnighted in Billings and Red Lodge Montana. In Billings I enjoyed a big Montana steak, but when I arrived at my hotel in Red Lodge after a day in Snake River, about 7:30 to discover that due to COVID my hotel restaurant was closed and the few restaurants still open in town would be closing at 8. This New York/Miami traveler is not used to small town hours but had to adjust on this trip or face night time starvation. I was the last one served from the line at a Mexican cantina and scored a PBR from the bar/casino across the street. The bars closed at 9 !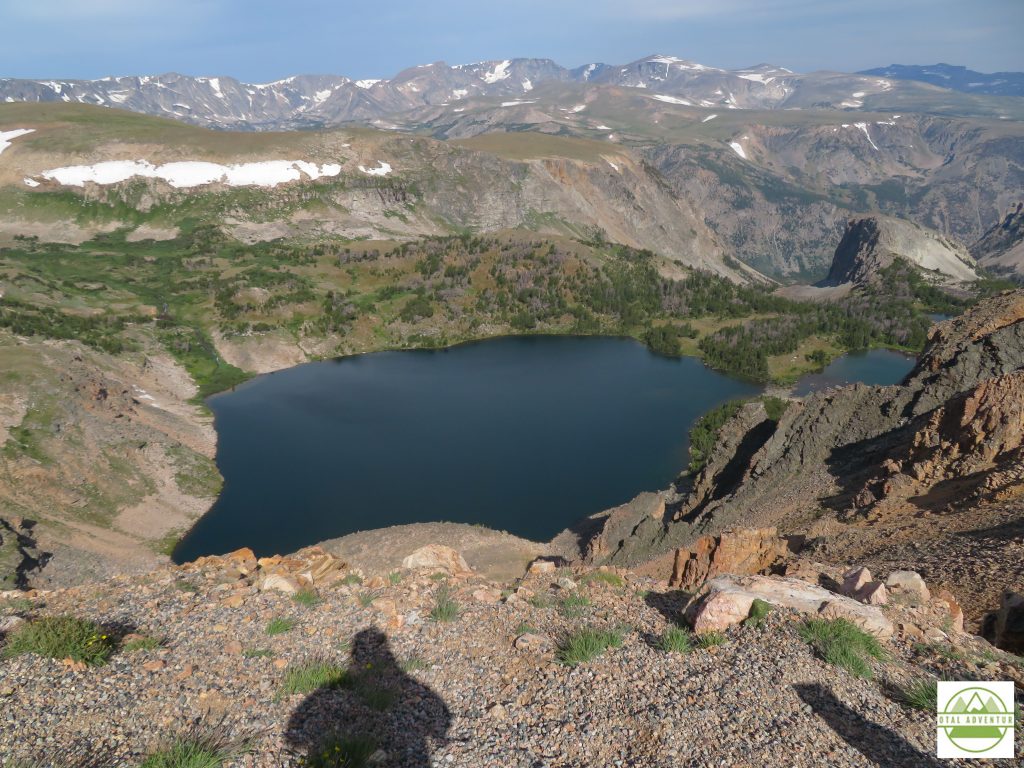 From Red Lodge to Yellowstone the winding ,high altitude Beartooth Highway crisscrossed several times between Wyoming and Montana.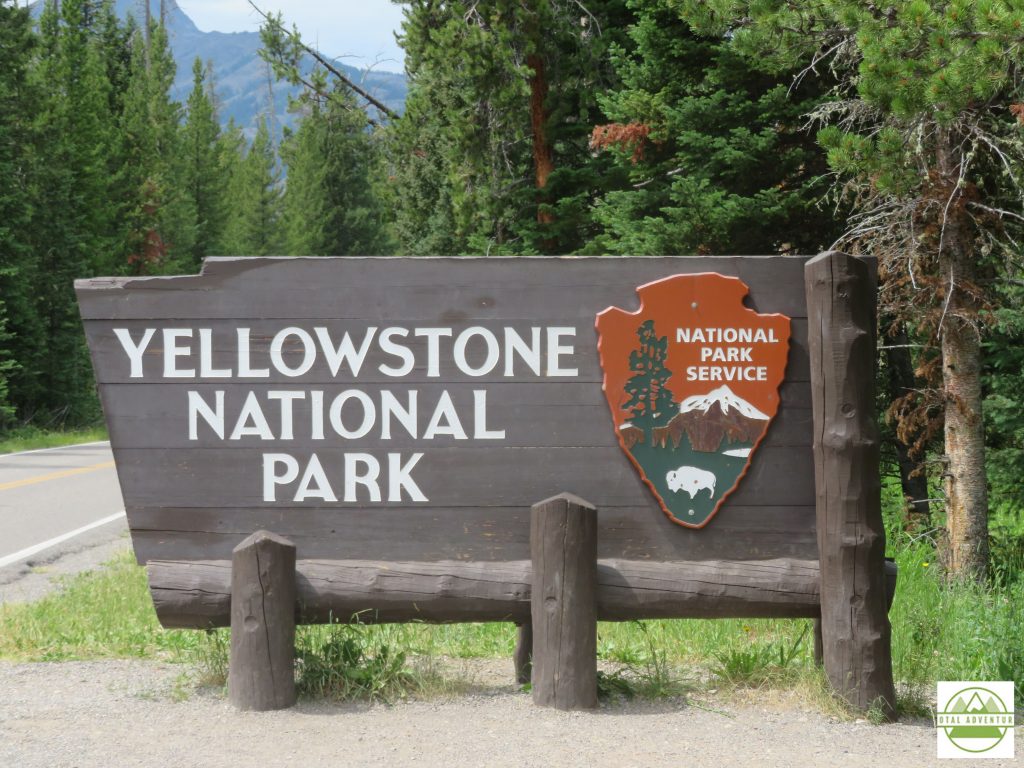 The Summer of 2020 was probably one of the best to explore Yellowstone. Though crowds were sizable , they were all American crowds, as most foreigners, not even Canadians, could visit in the COVID summer. The notorious traffic jams did not appear.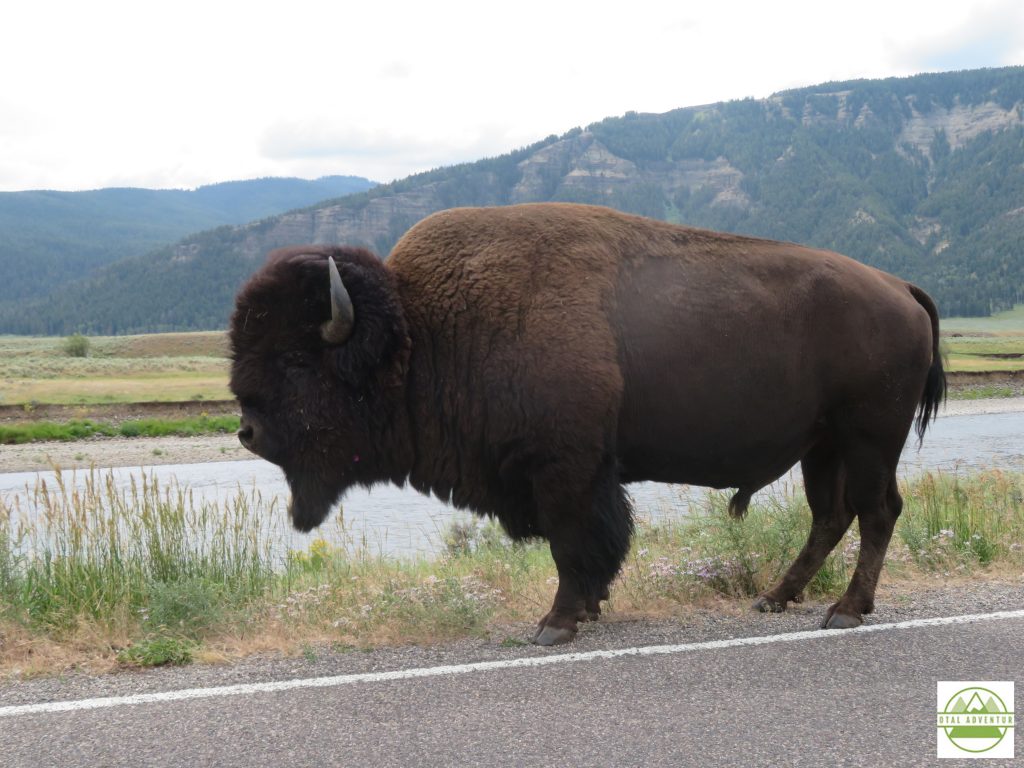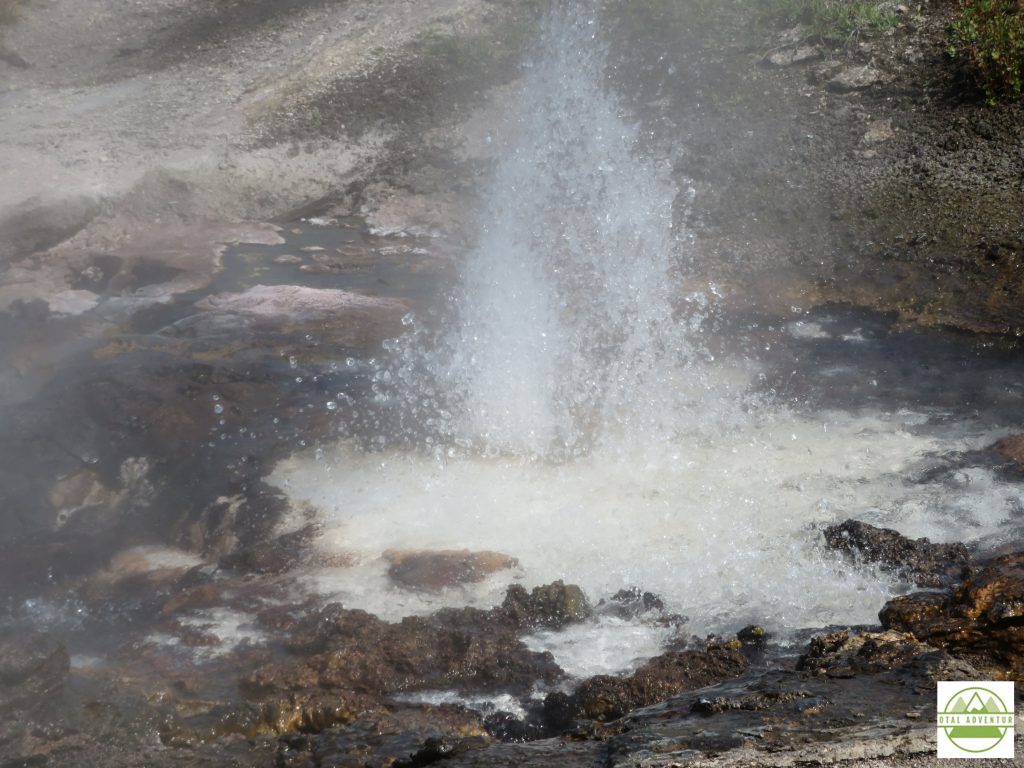 Yellowstone sits atop a super volcano. When it does finally blow – anytime between the next 10 minutes to 10,000 years – the park will become a 50 mile wide lake of boiling red lava and will cause global cooling for years to come.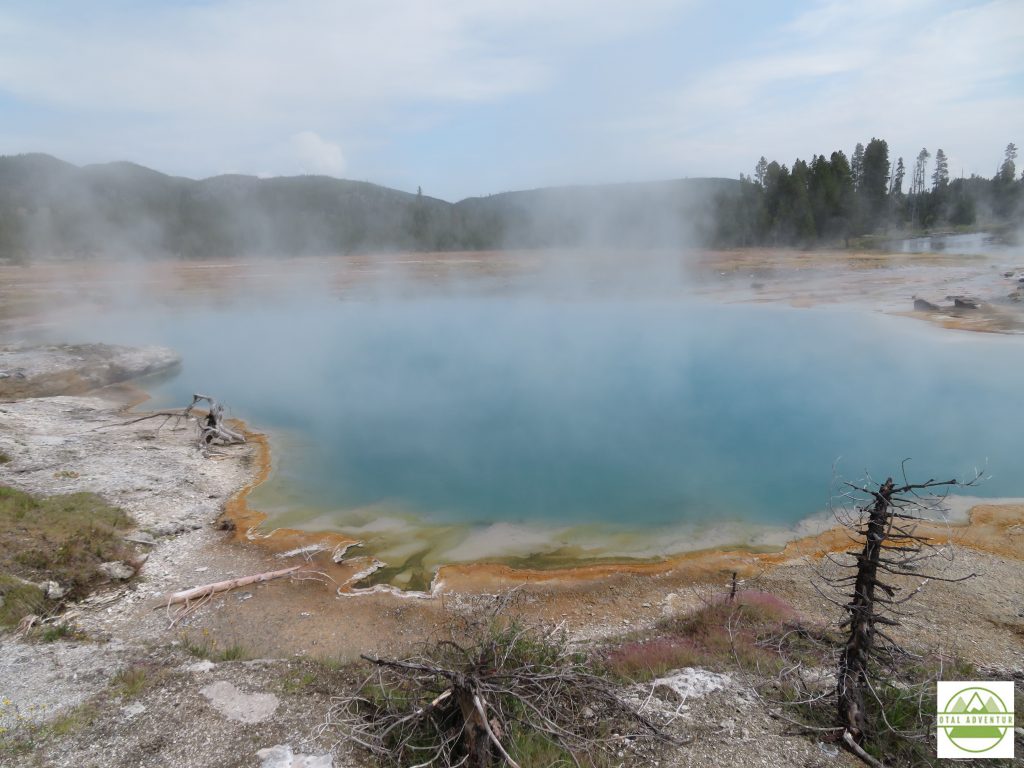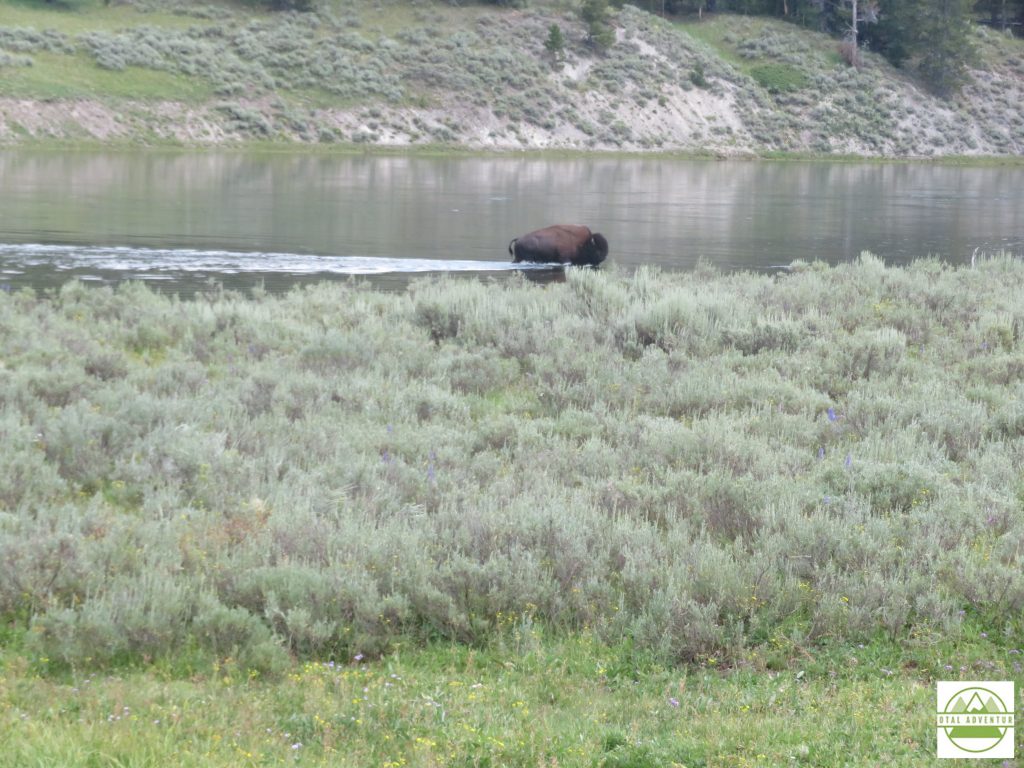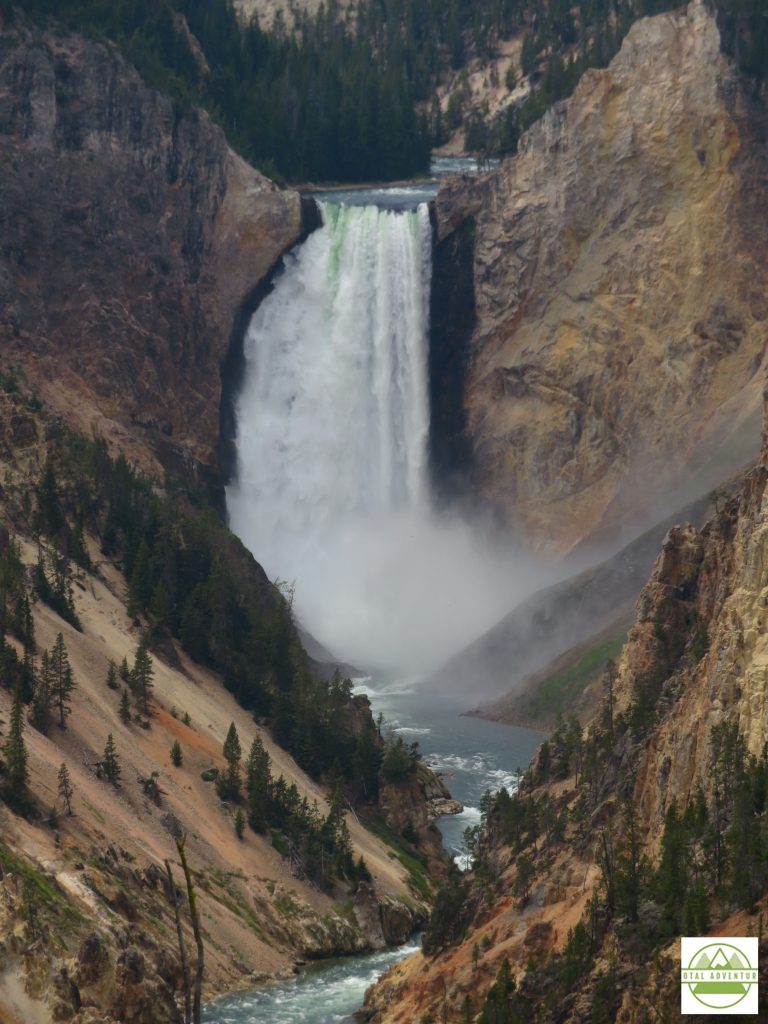 The falls look even more incredible in the video above. Be sure to watch it all.
After a day and a half in Yellowstone ( many people stay a week or more) it was time to head north into Montana. Passing Big Sky on a beautiful highway with a legal speed limit of 80 mph I arrived in Butte around sunset. I would stay there 2 nights, to explore the old mining city , to catch up on work ,do laundry and get the extremely dusty X2 washed.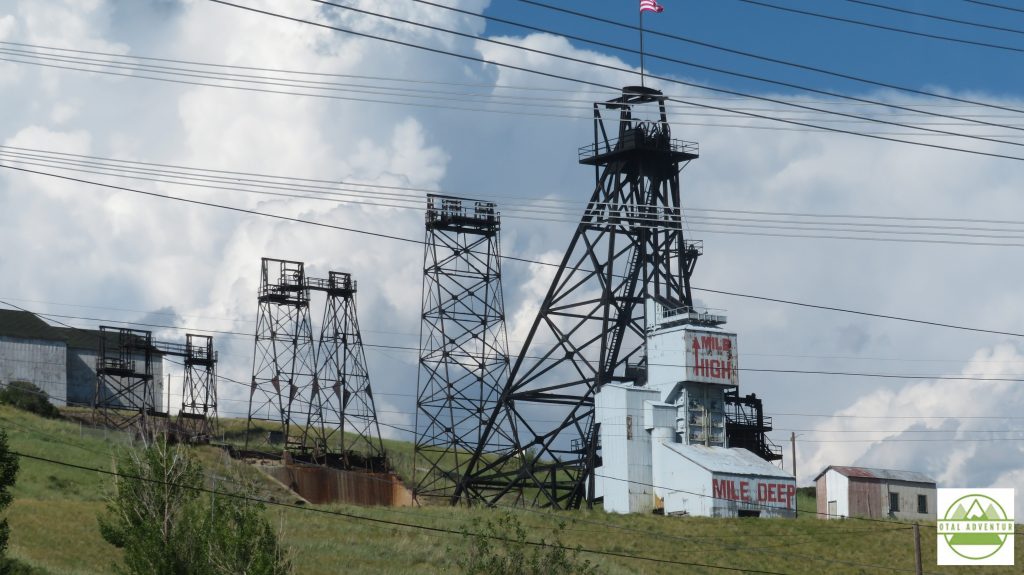 Gold Copper and silver were mined here. Butte was known as the "Richest Hill On Earth." Miners came from all over the world. Copper is still mined, but there's not much left. The old city is quiet but not quite abandoned.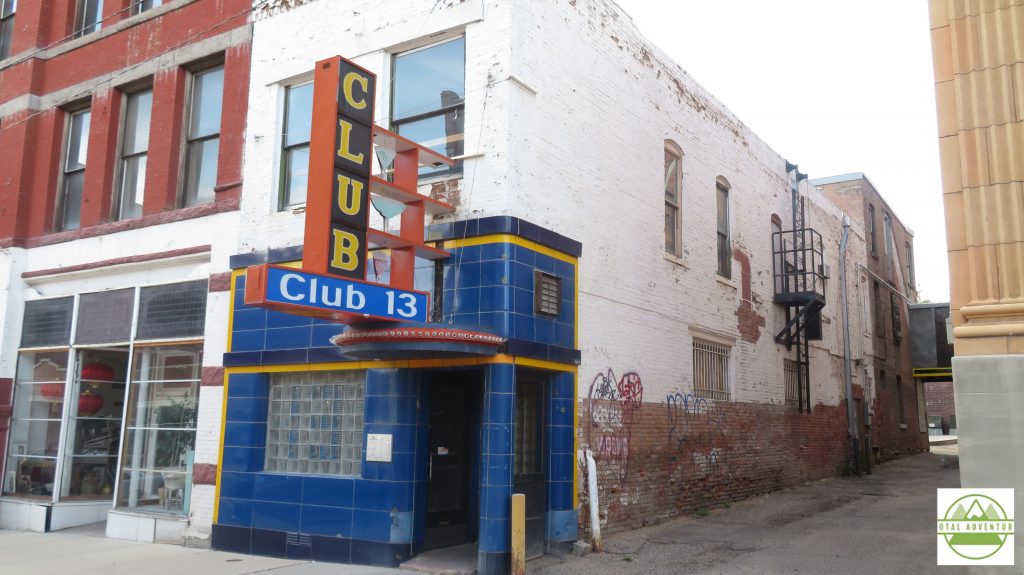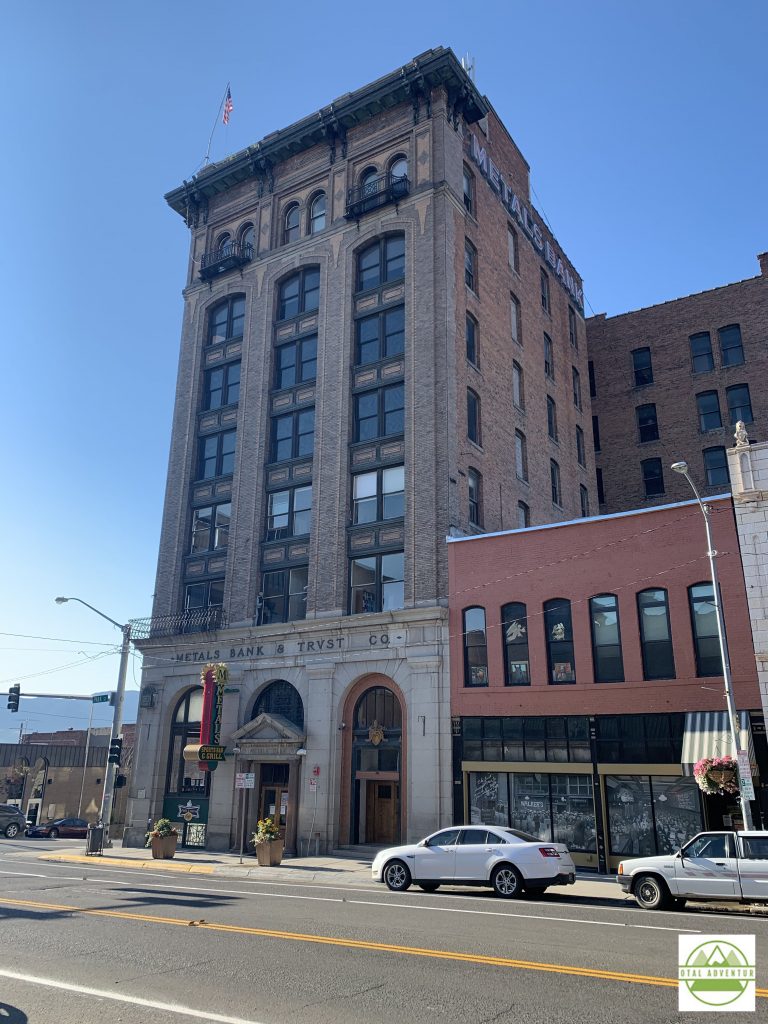 From Butte , a few more hours to the Northwest and I arrived in Whitefish ,gateway to Glacier National Park. Whitefish was full of California 'refugees",many who had arrived in private jets ,escaping mask and lockdown restrictions in their home state.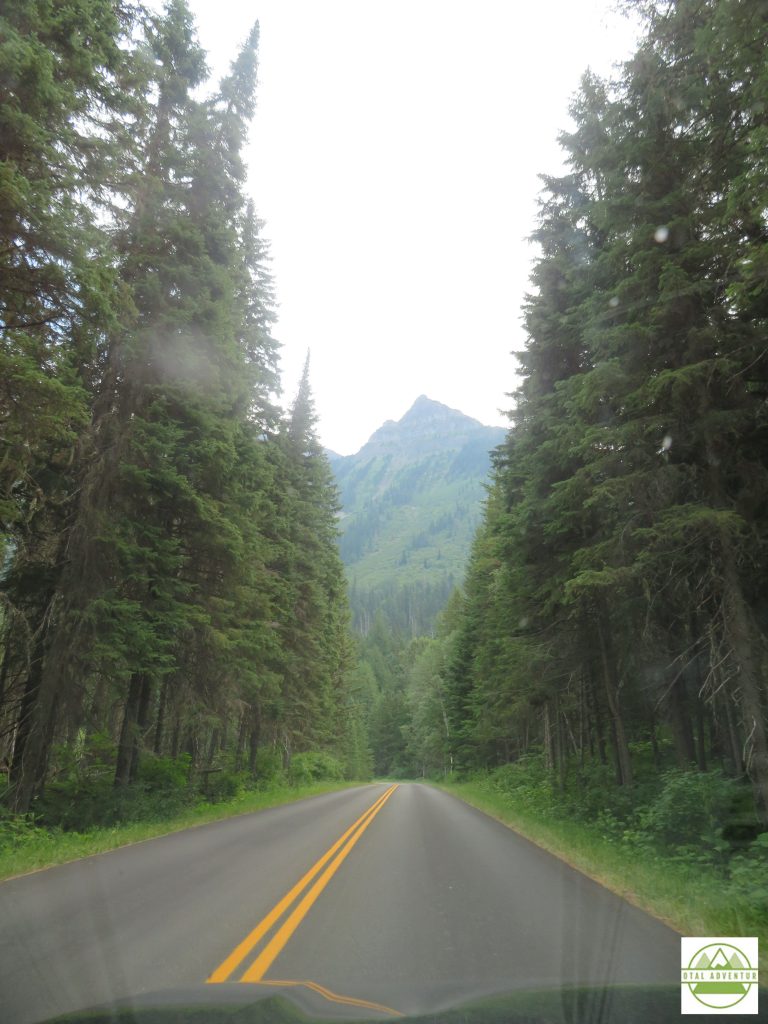 In Glacier , on the first day of August, I swam over a mile in 2 lakes and walked in the snow.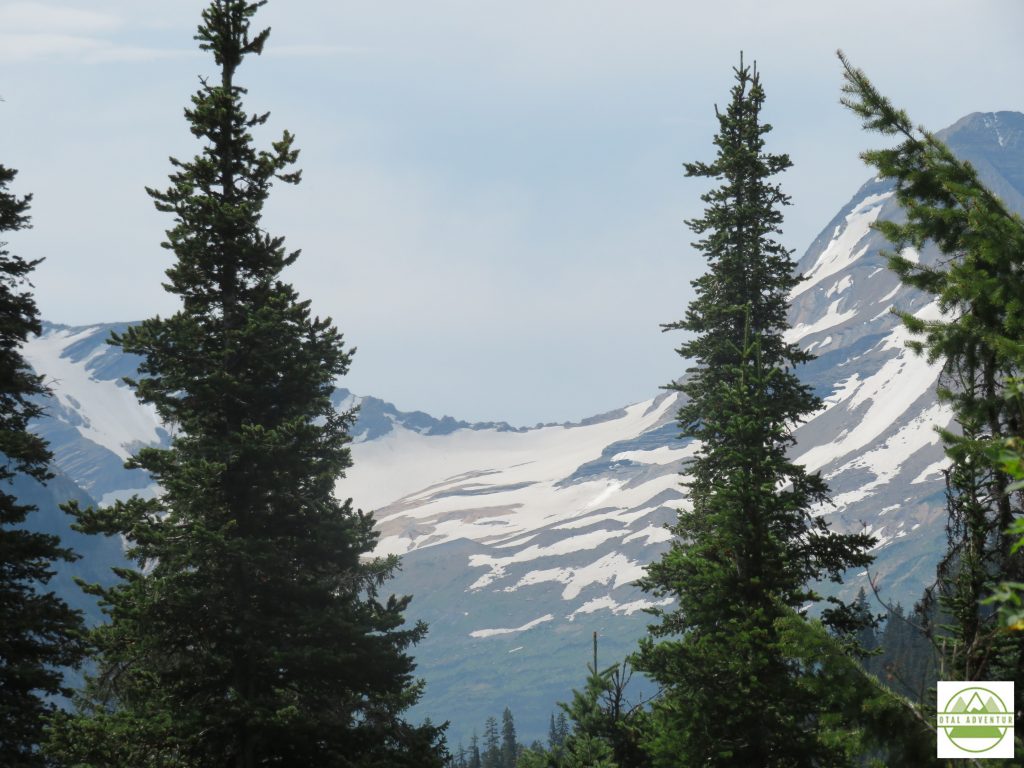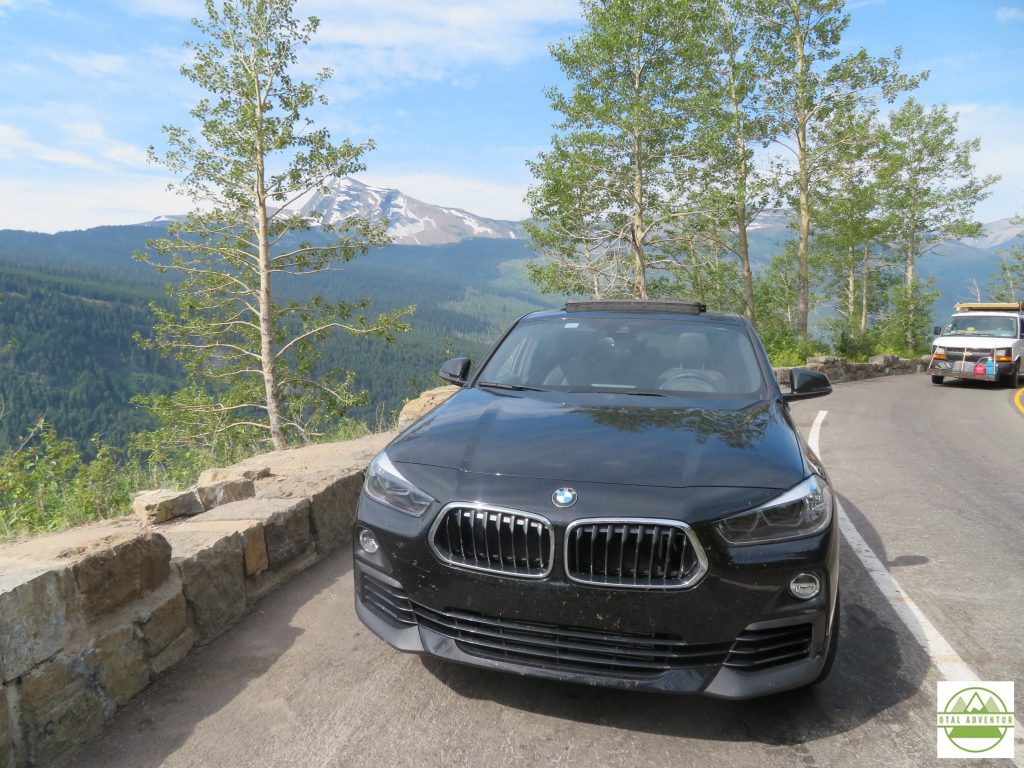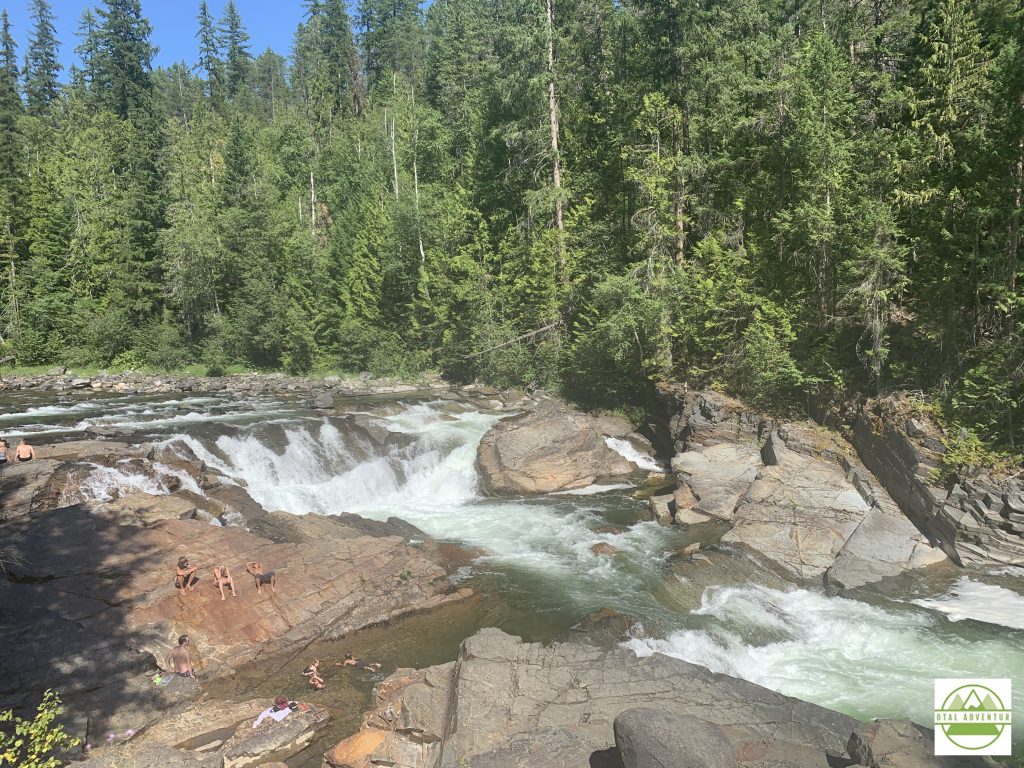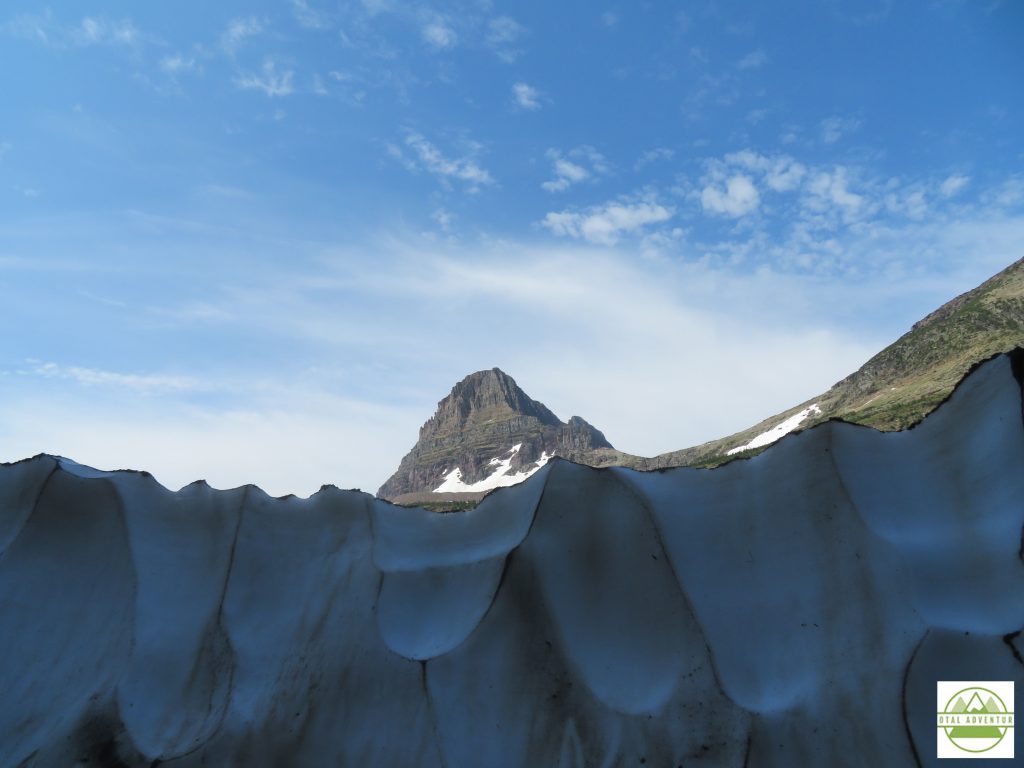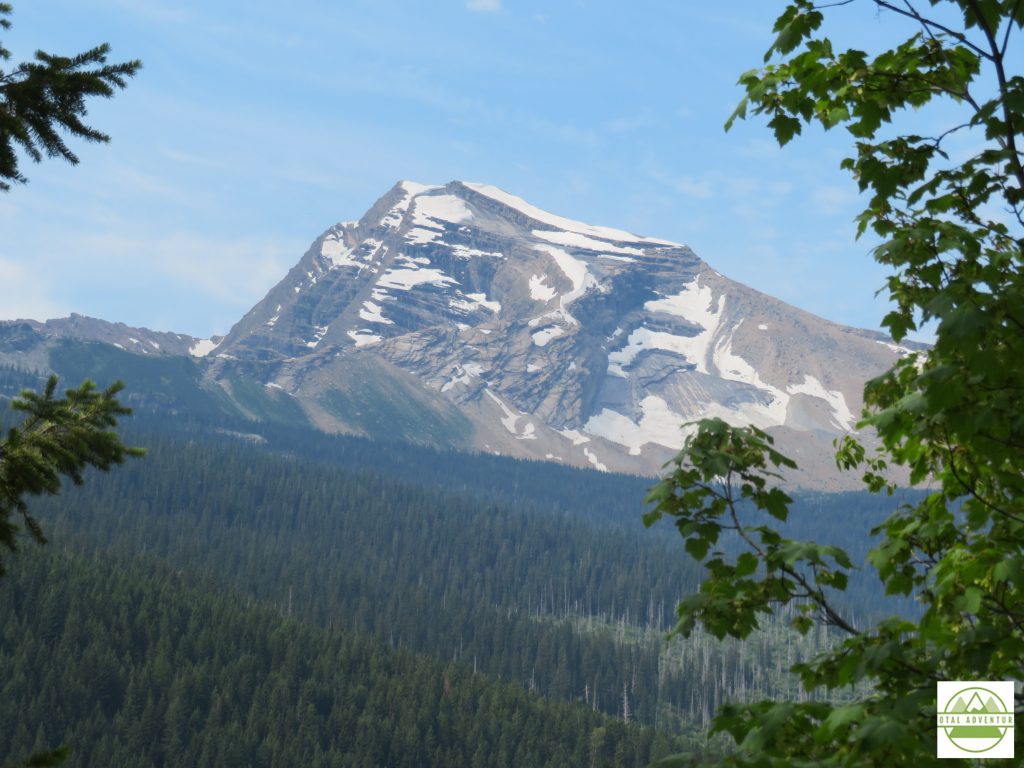 On the morning of August 2nd, I left Whitefish for a day of mostly dirt roads from Montana into Idaho. I missed my westward turn and would up at the Canadian border. When I originally thought of this cross country trip,years ago, I had always meant for it to include Canada. Winnipeg, Saskatoon, and Banff would have been on the itinerary. But in March 2020, the Canadian government had shut the borders to all but commercial traffic, due ,of course to disease spread.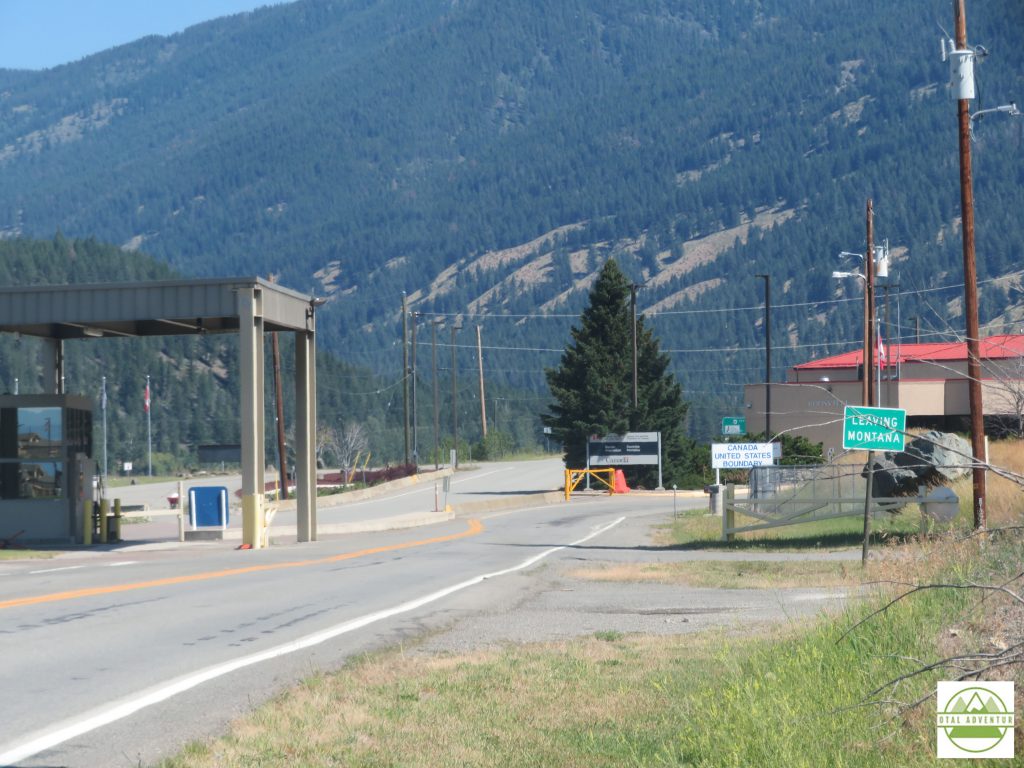 All I could do was look into this closed off , beautiful land – in this case the easternmost corner of British Columbia ,near Alberta. The next several hours was on windy isolated dirt roads – into the town of Yaak .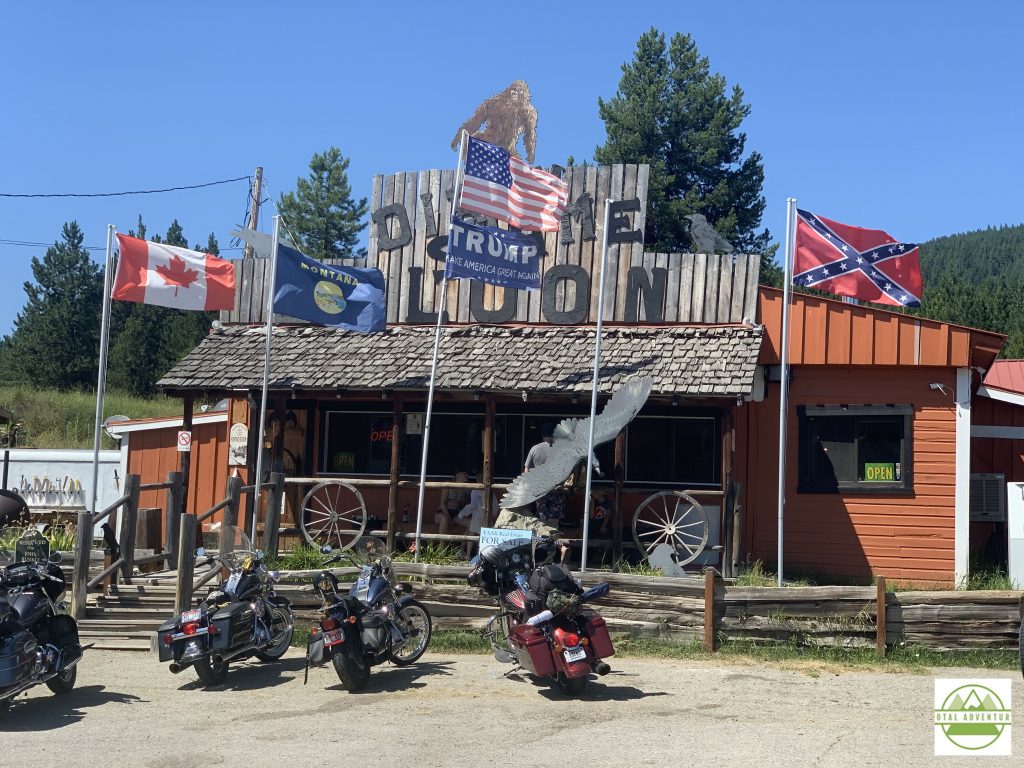 I walked inside the bar, which of course was all bikers . Had a friendly beer and they were amazed I was all the way from Miami. No photos were permitted, probably for very good reasons.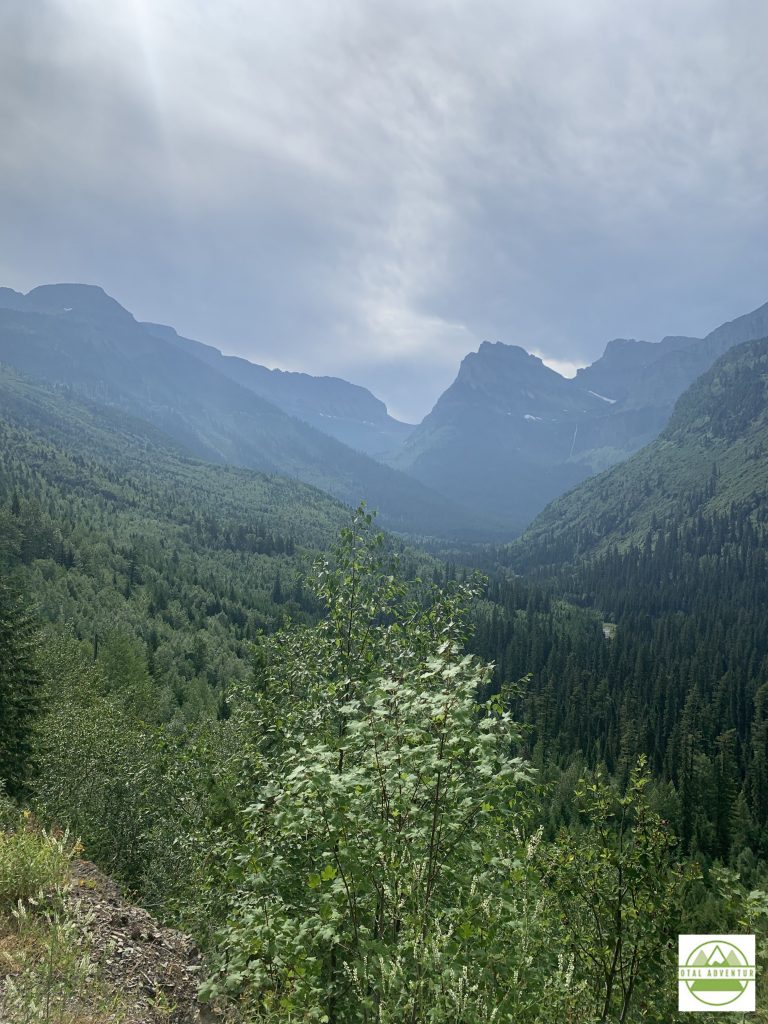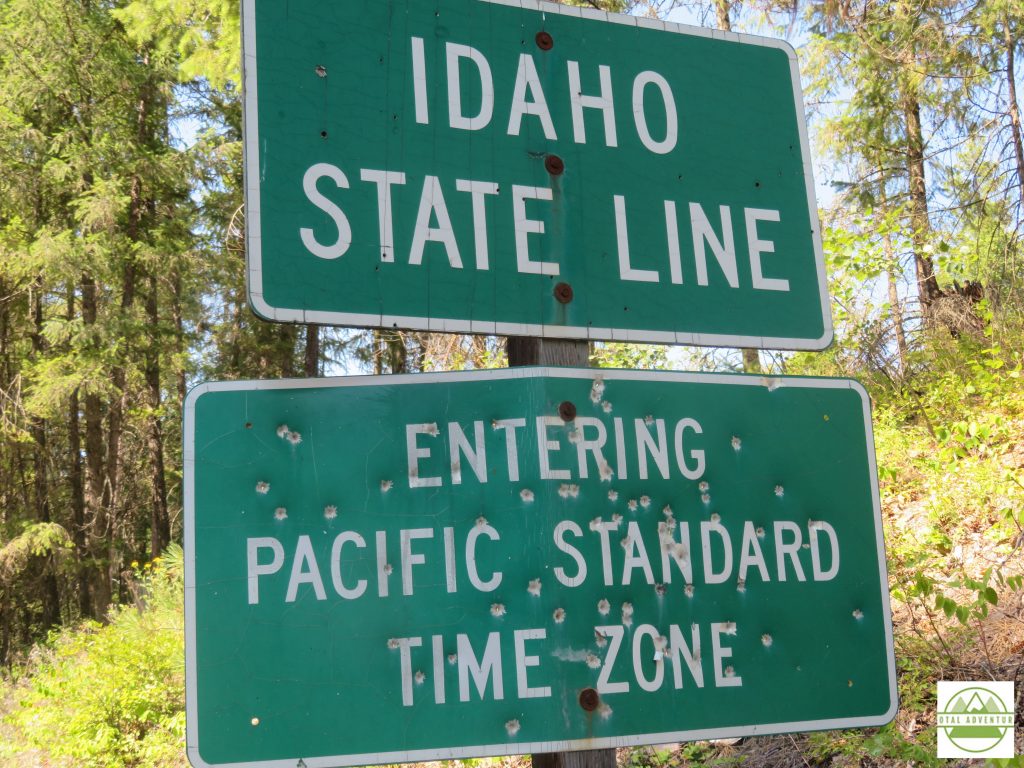 I spent the night in touristy Couer d'Alene, Idaho, another town where restaurants closed at 8 and I had to order pizza by 9 before that closed too. Changed clocks back for the last time. The next day – through Washington State, past Spokane – to Portland ,Oregon – almost completely cross country !
On the morning of September 10th, I awoke for an early morning dip in the Pacific before heading Eastbound the the Atlantic. Pulling out of my AirBnb Santa Monica garage I was soon eastbound on the 10 and then north on 15 to Las Vegas. Most of this TransContinental Adventure has been off interstates, but they will be used into Utah and again in Texas, Oklahoma and Florida.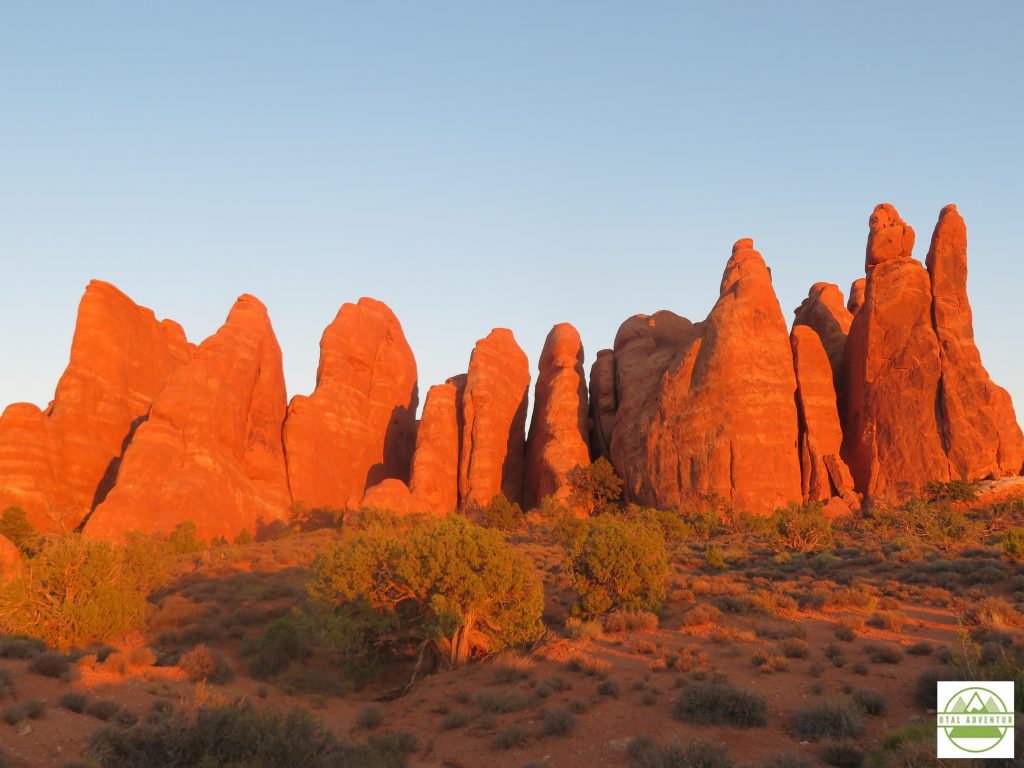 Fires raged in the San Gabriel Mountains to the north, sending thick smoke down to I-10. Some of the smoke from all the California and Oregon fires spread all the way to the East Coast ,dimming sunrises in New Jersey. This southern smoke band would follow me. I managed to always be a day ahead of it, until Colorado where I changed my itinerary because of it.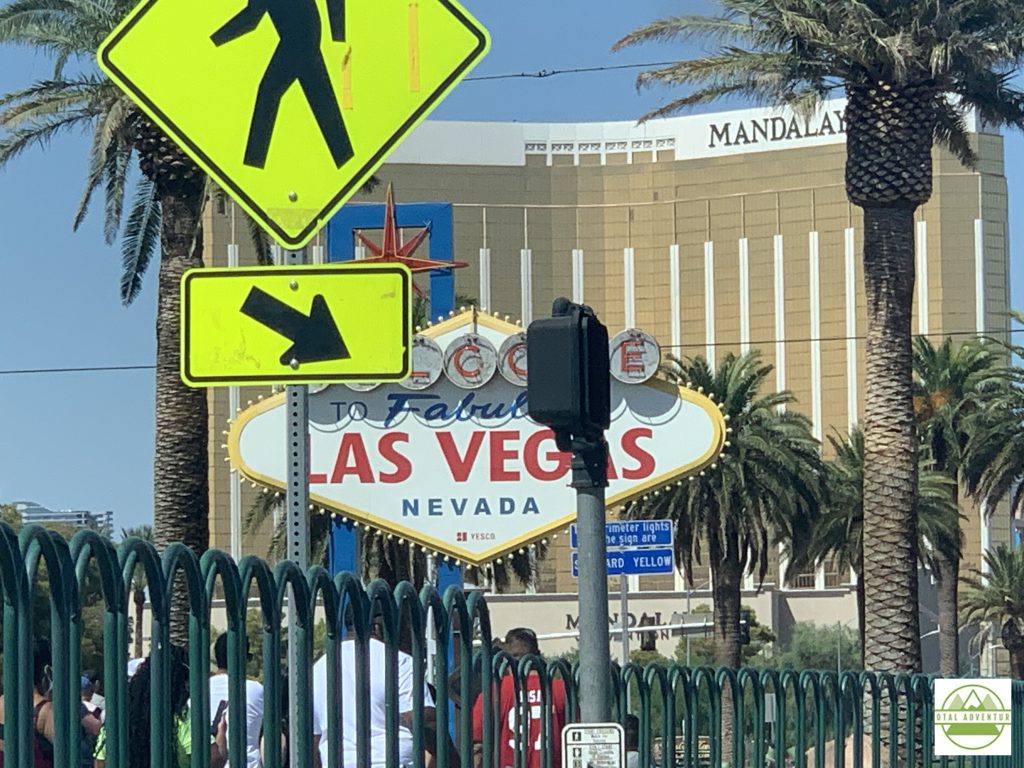 Normally I would spend a night in Las Vegas, but the wide open fun loving town is a bit clamped down for the moment due to COVID. In the video you can experience a very quick trip up the Strip. I did stop for some video poker at an empty slot hall in Mesquite, Nevada and walked out $ 30 richer. From there it was about 40 miles across extreme Northwest Arizona to St.George Utah where I would spend the night. Changed from Pacific to Mountain Time.

The next morning I was up with the sun and off to Zion National Park. It was an introduction to the the incredible Utah geology. On the way I visited Hilldale, on the Arizona border. Hilldale is the town known for the highest number of polygamous families adhering to the original Book of Mormon. I saw groups of wives out shopping together dressed in 1800s style farm dresses and driving pickups.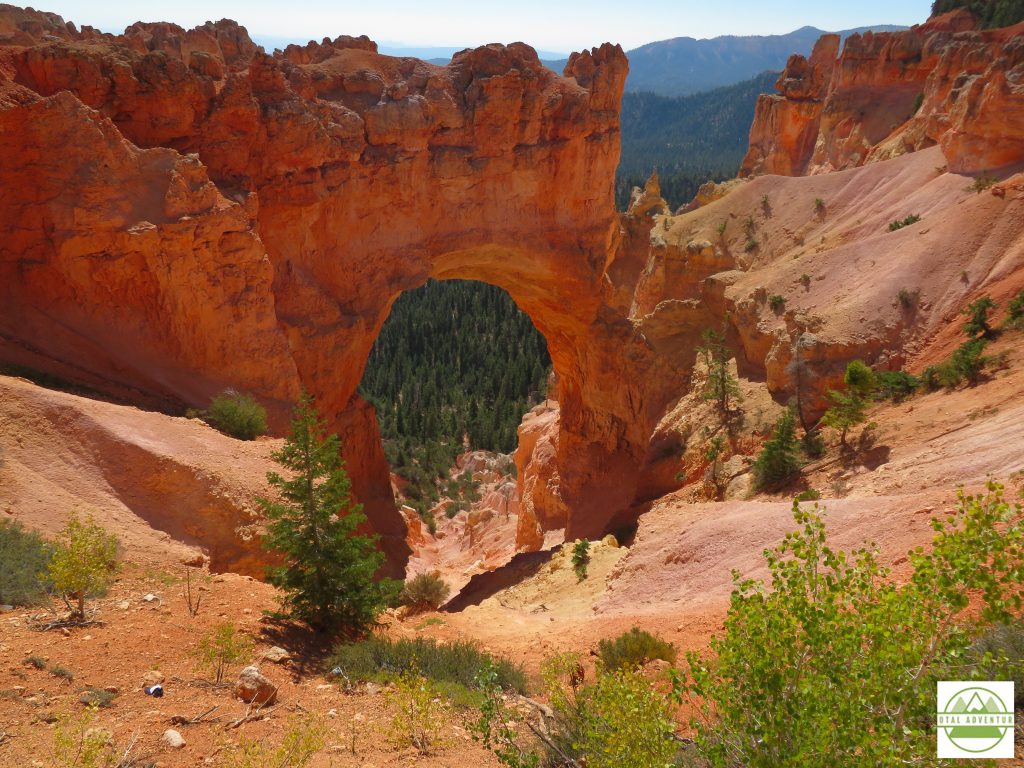 Bryce Canyon National Park was the next stop. Now the temperature changed drastically according to elevation. St.George had been expecting a high of 100 degrees and this evening near Bryce the temperature slipped to 32 – I was glad to have a gas fireplace in my cabin for the night.
In the morning I continued through Bryce and then headed Northeast to Teasdale where I would explore Capitol Reef National Park with an old childhood friend I grew up with in Germany. We took a 6 mile hike up a canyon.You can see all the national parks in the video at the top of the page.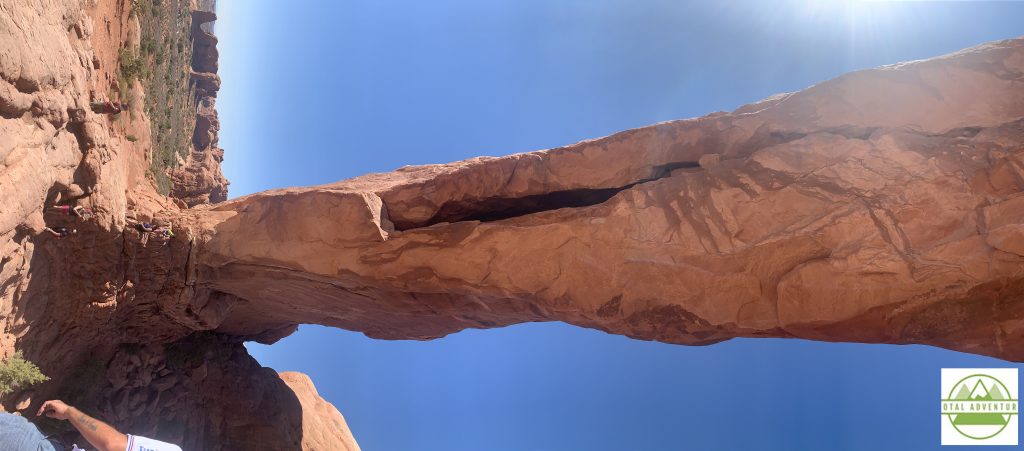 The final two nights were in Moab – home to Arches National Park and Canyonlands National park. In Canyonlands the X2 did amazingly well on rugged roads, in spite of the warning signs.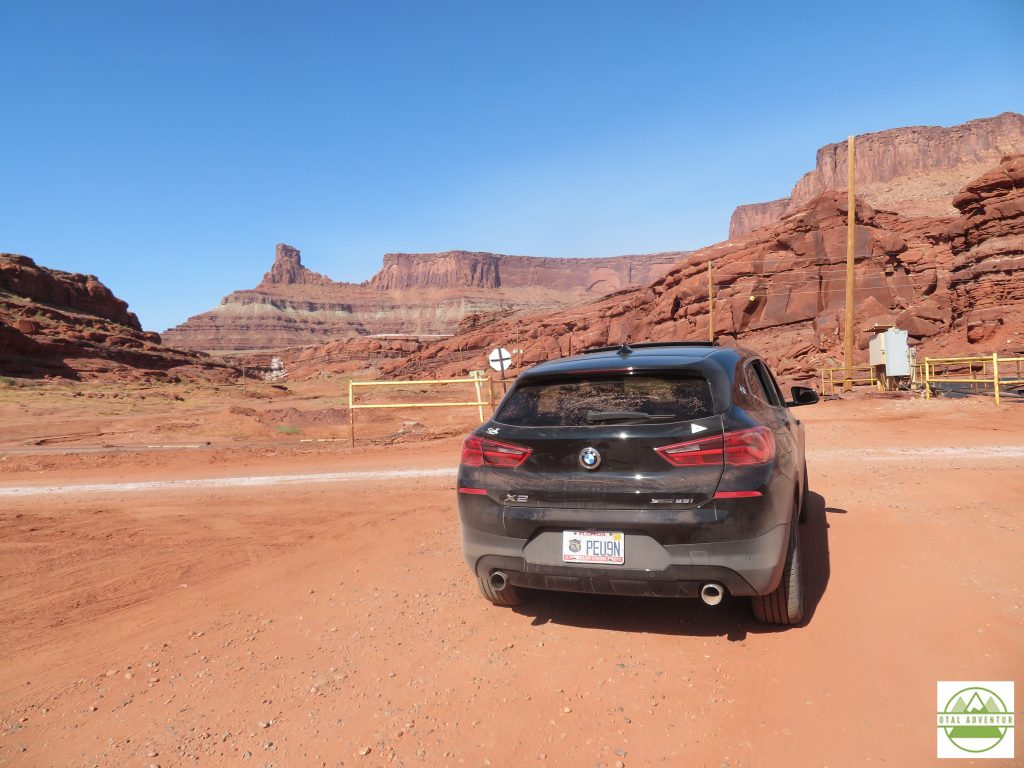 Finally I turned around where a spring had flooded a section of road turning it to muck. Without 4WD,I did not want to risk spending $1000 to be towed !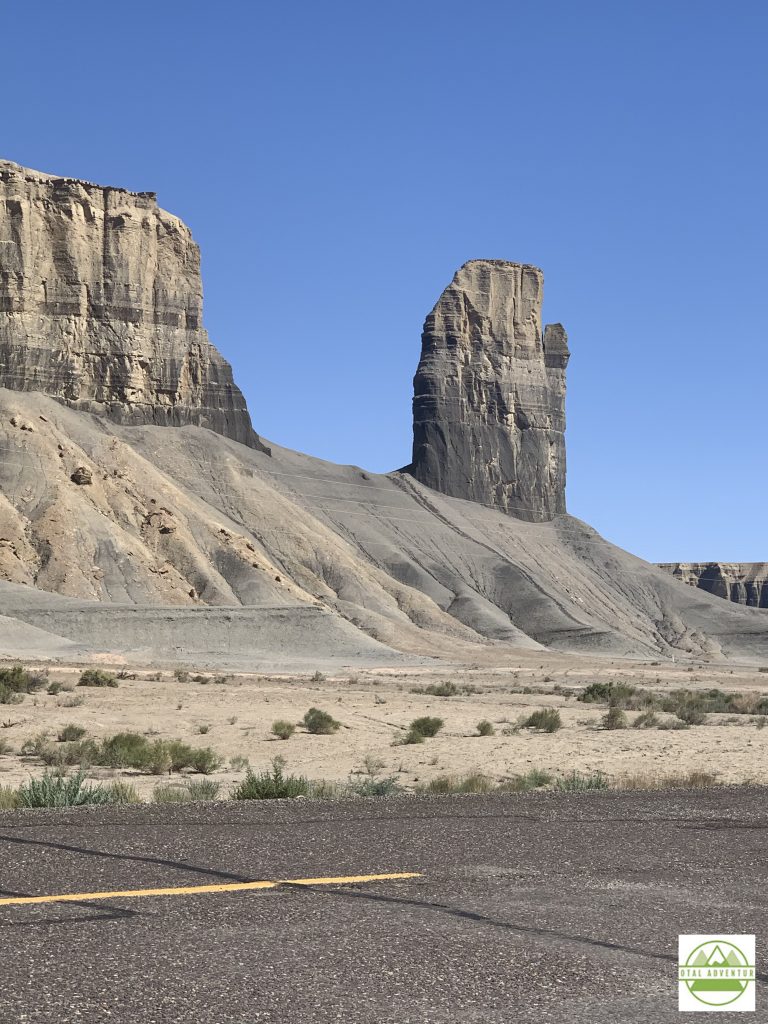 Crossing from Utah into Colorado, the smoke from California finally caught up, turning skies from bright Western blue to greyish white and encasing mountains in haze – diminishing prospects for photo and video acquisition.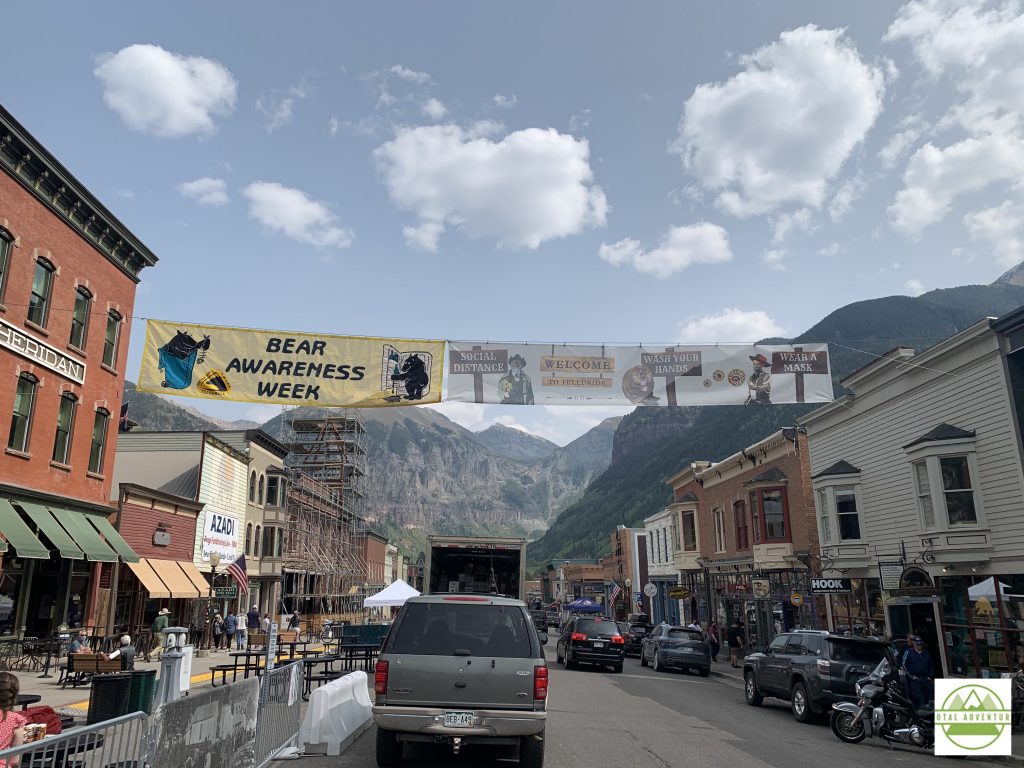 Highway 50 climbed rapidly higher into the Rockies and by lunchtime I had reached Telluride, for the first time in 30 years. The big changes are to be expected. What was once a laid back Wild West type town with great skiing with a few bars up and down the main drag was now clogged with tourists even in off season September – looking for parking and lining up for $ 6 lattes. Tourism was higher than in the summer when people had been more cautious of COVID.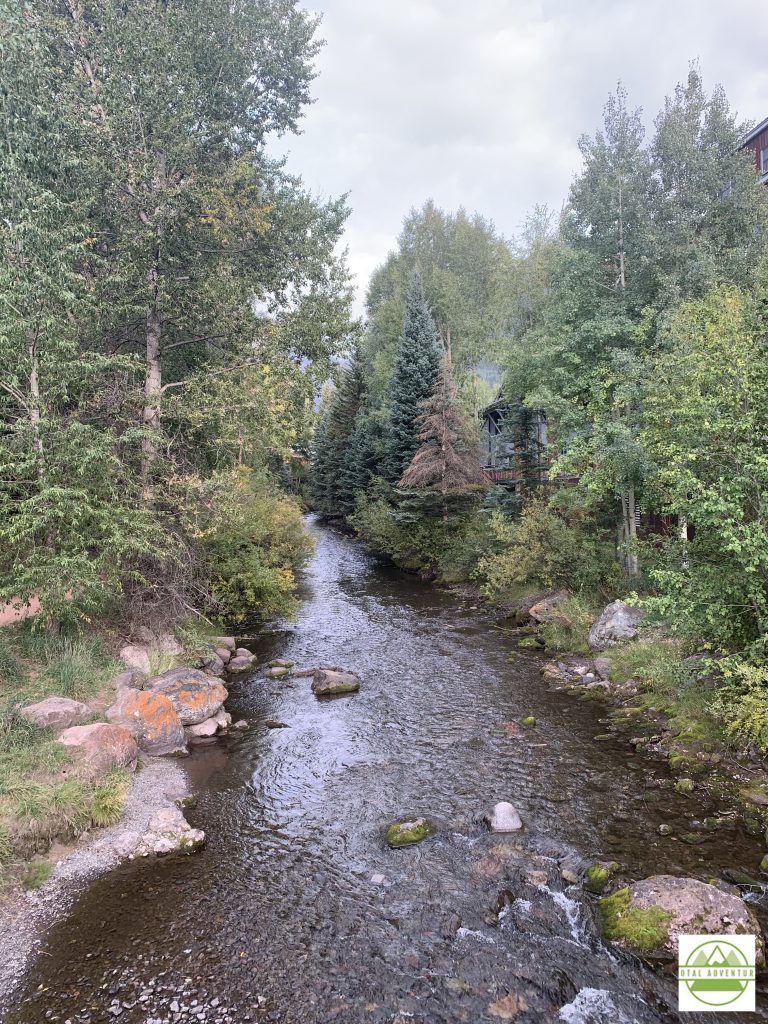 The second night in Colorado was spent at the home of an old friend from the East. His wife is an Olympic ski champion.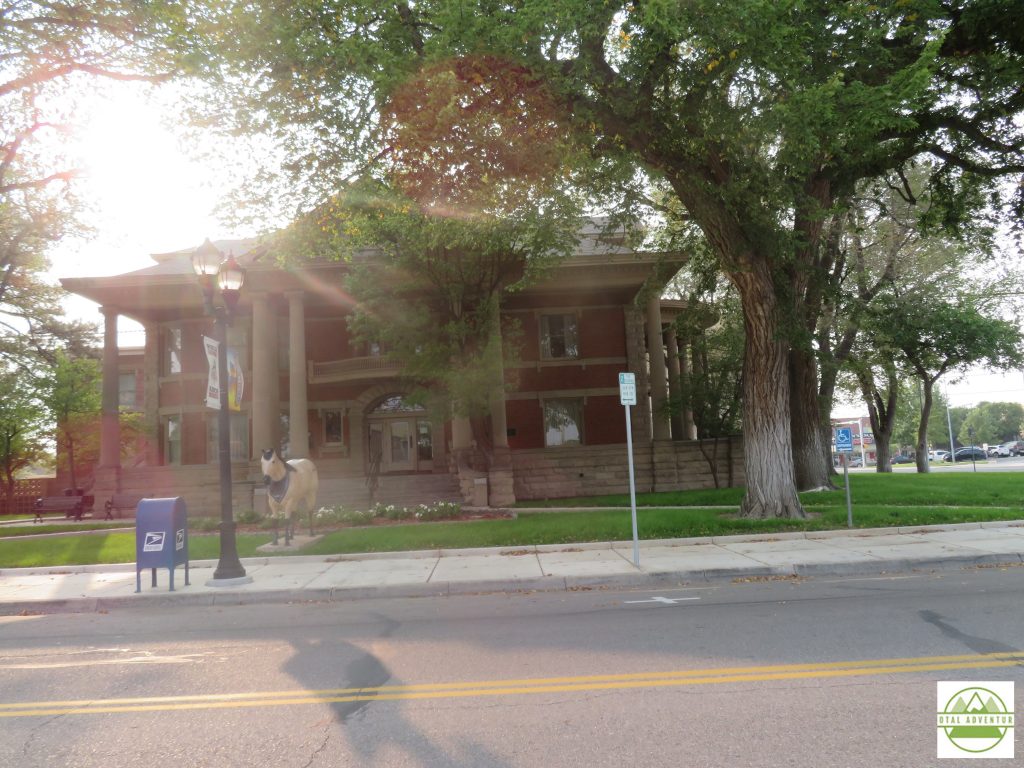 On Friday September 18th the X2 crossed the Continental Divide. For the next 1000 miles I would be tracking the Arkansas River from its' glacial small steam origins to the wide river flowing into the Mississippi.
Spent the night in Syracuse,Kansas . The next morning , driving across table top flat land and crossing from Mountain Time to Central Time, I entered my 50th State – Oklahoma !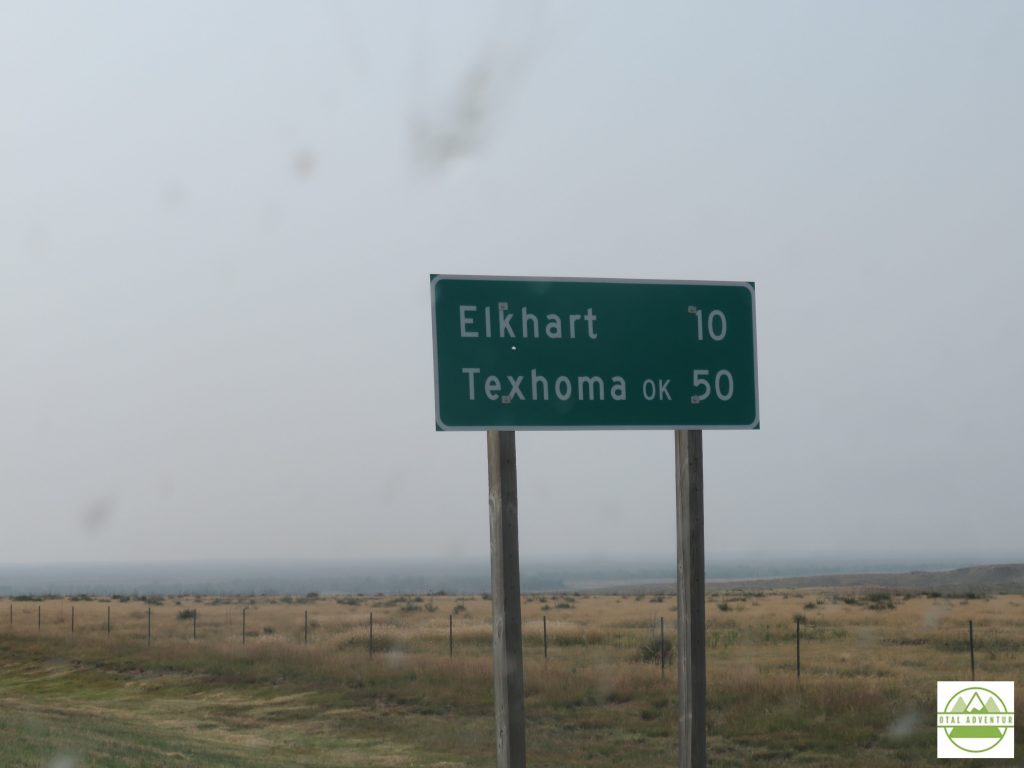 I stopped for lunch in the Panhandle town of Guymon and then went on to the Texas Panhandle.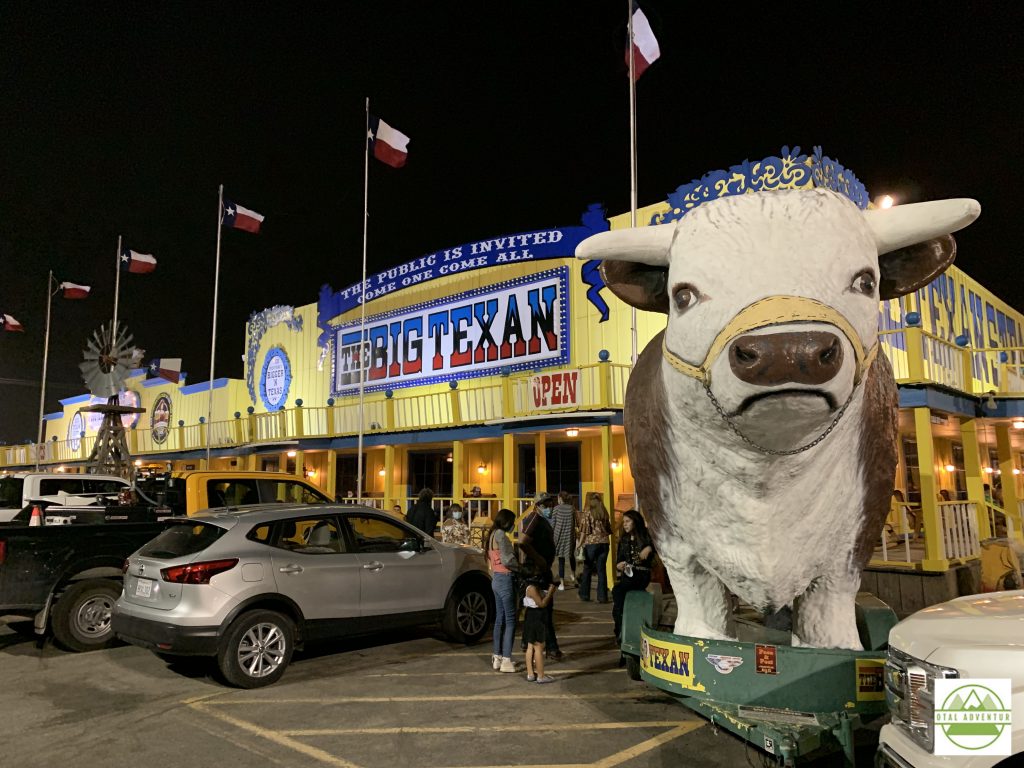 Stopping in Amarillo for the night, I stayed next door to the Big Texan. In one of my very few indoor meals of the trip, I dined on Rocky Mountain oysters and delicious Texas T-Bone that was about 20 ounces. The 72 oz steak is free if eaten in an hour. That's 4 1/2 pounds, 2 kilos of meat. It comes with salad and baked potato which also must be consumed. If not finished in one hour the price is $ 72.
I-40 Eastbound the next morning. Back into Oklahoma. At Oklahoma city, the California smoke finally ended and the skies were clear once again, over the rolling Southern Plains.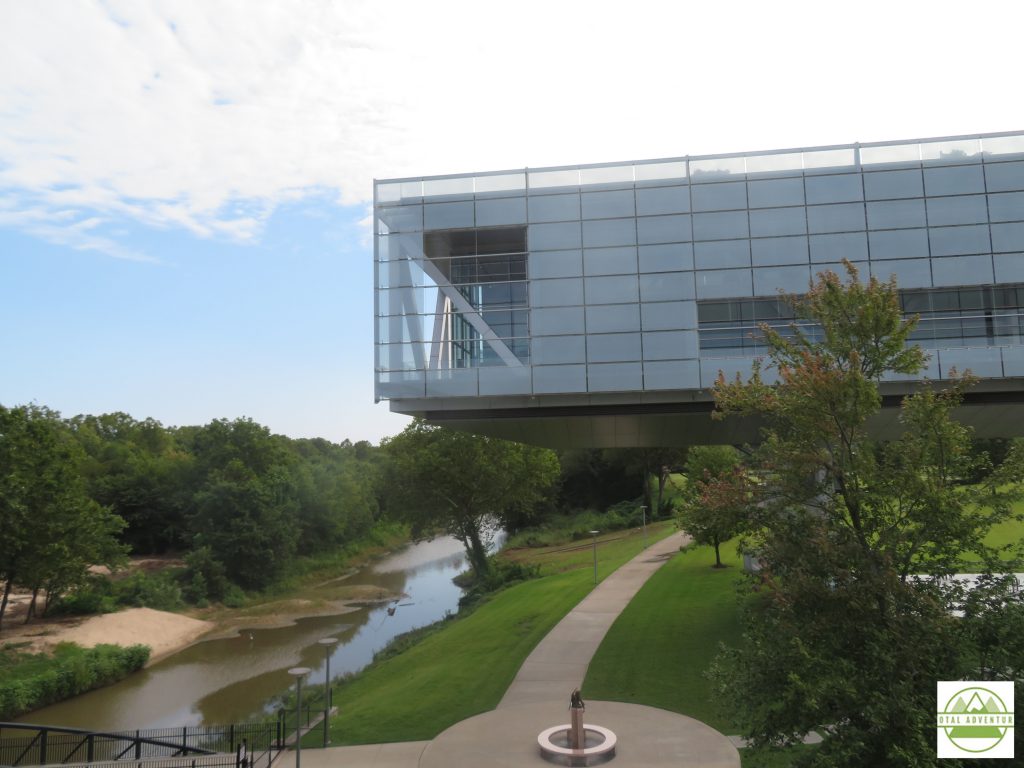 Spent Sunday night in quiet Little Rock and toured the Capitol city the next morning. The Clinton Library , on the Arkansas River is an architectural masterpiece but closed by COVID.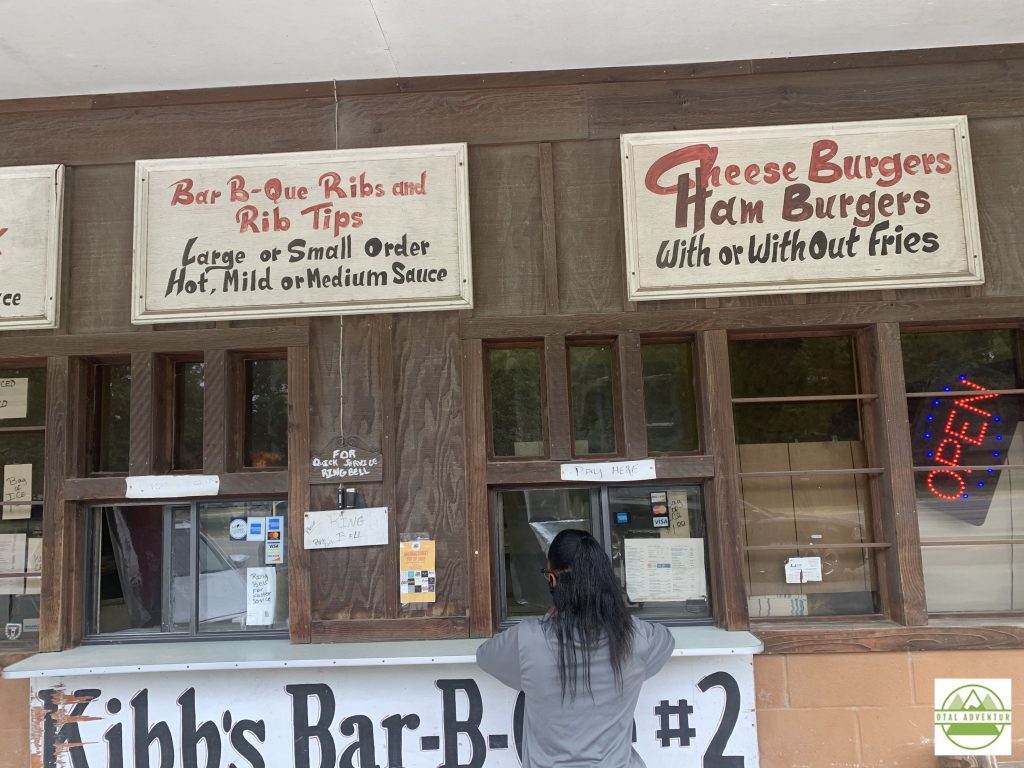 In Stuttgart I stopped for perhaps the best BBQ I've ever had with chopped ribs in a sauce that tasted like plums, coffee and super hot spice ! I bought a gallon jug to take home, which I carefully rationed over the next month.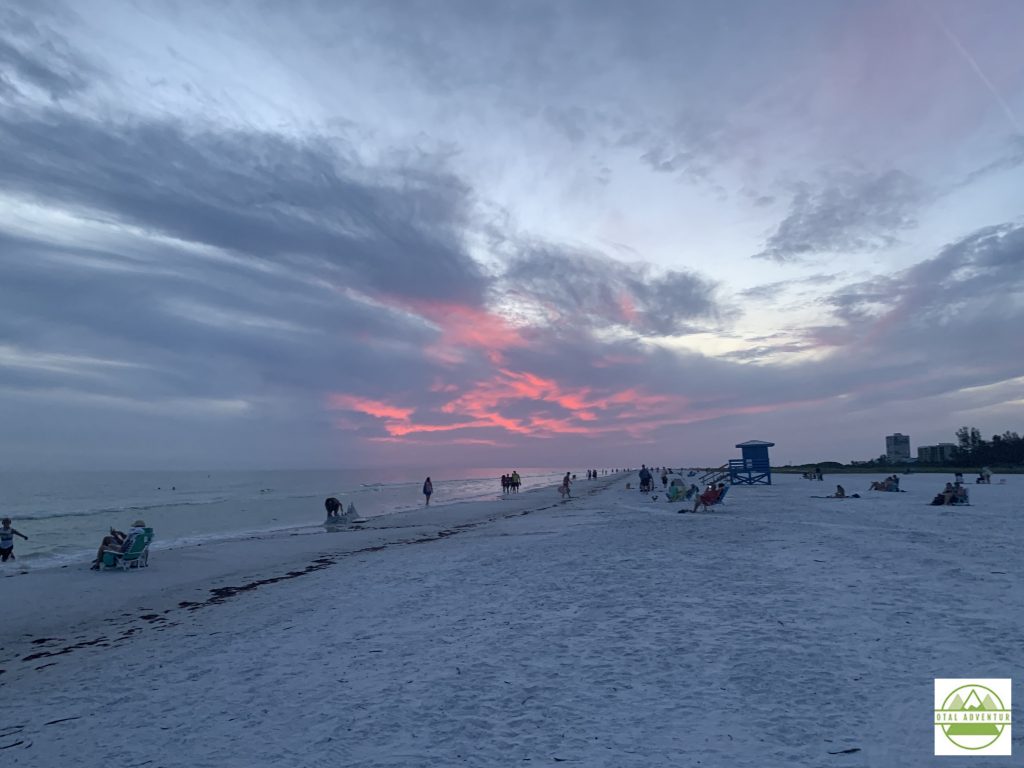 From Arkansas into Mississippi I began a straight run back to Miami. Overnighting in Hattiesburg and then through Mobile Alabama to Panama City Florida for a swim in the Gulf of Mexico. Across the beautiful Panhandle . Though TotalAdventure has been located in Miami for over 18 years, I have never been to the Panhandle. Overnighted in Perry and then to Sarasota, a surprisingly young and thriving town on the Gulf of Mexico.
Back to Miami for a dive into the Atlantic Ocean. Watch the video above !
The two day 500 KM journey from Addis Ababa to Lalibela is rugged and fascinating. Ethiopia is a land harkening to Biblical times, with a few modern twists like cars and smartphones.
The two day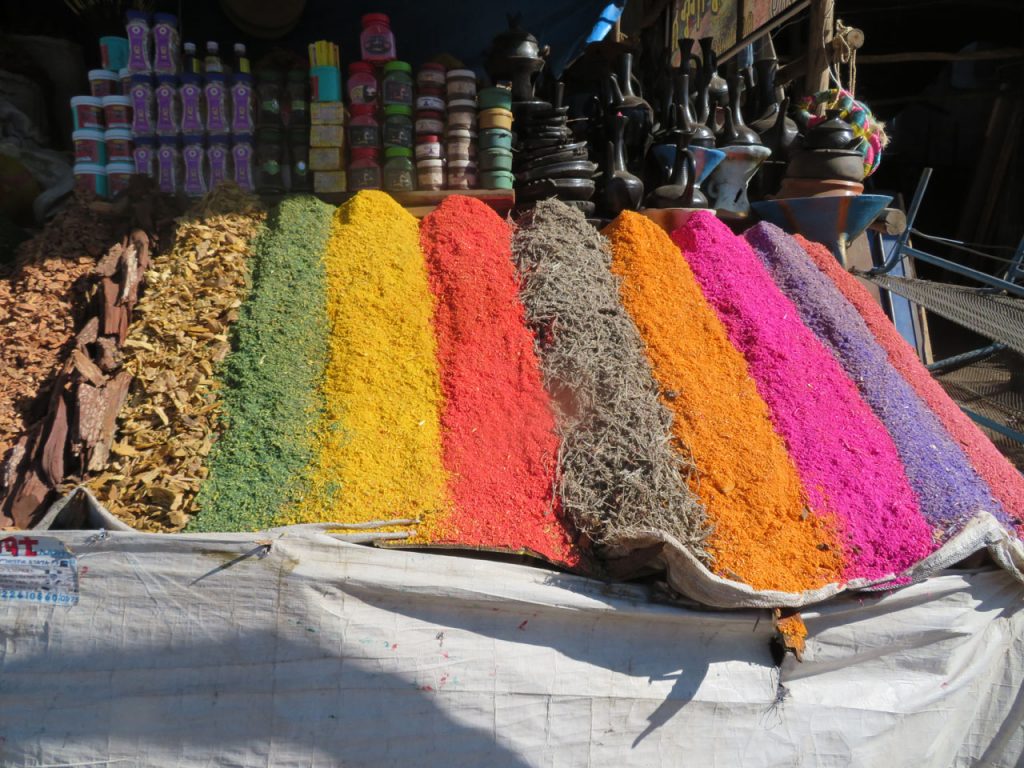 On the first night , TotalAdventure stayed in Kombolcha and posted for the first time to the Magazine. After that , the voyage became too bsuy, exploring and traveling until well past sundown, meals with locals, and slow internet made daily contributions difficult. The next morning, before leaving the city, we passed through a market on the main street.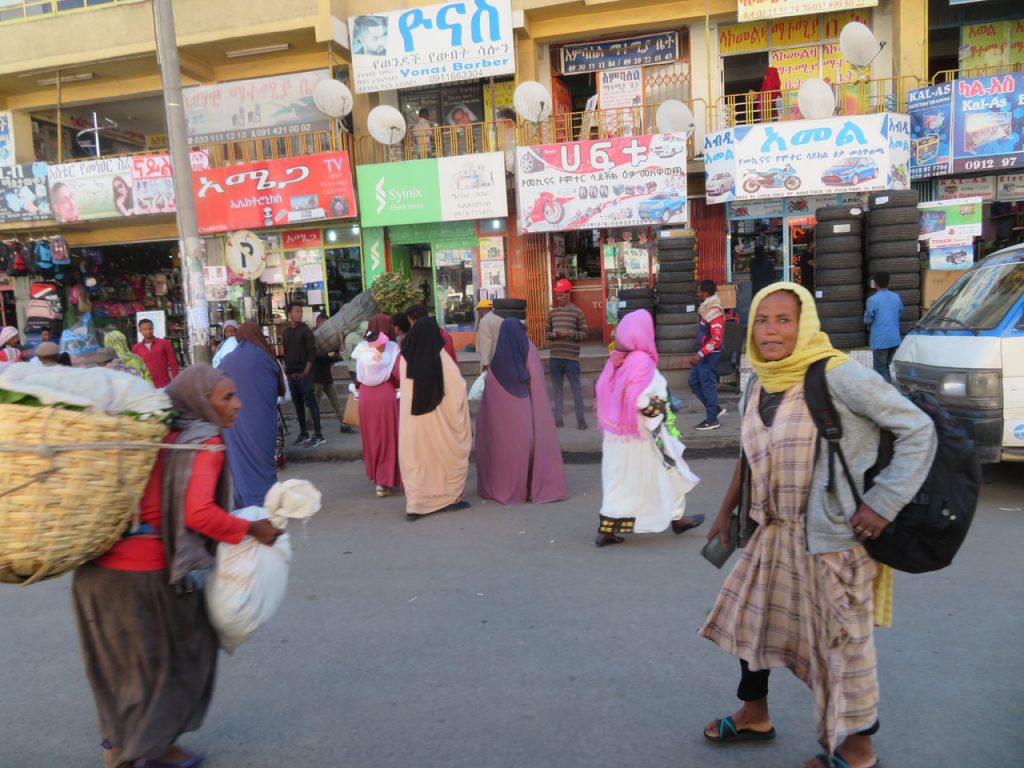 People walk for miles from the countryside to sell. their wares in the market.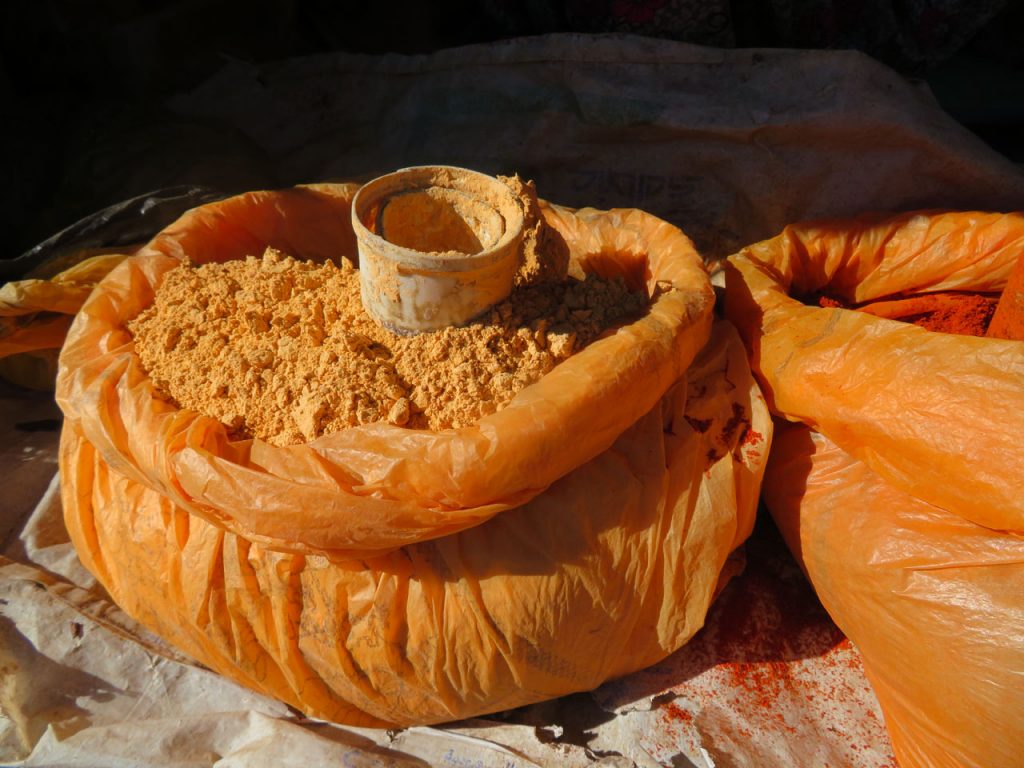 Ethiopian markets have many spices In the US this would be sold in tiny packets for many times the price.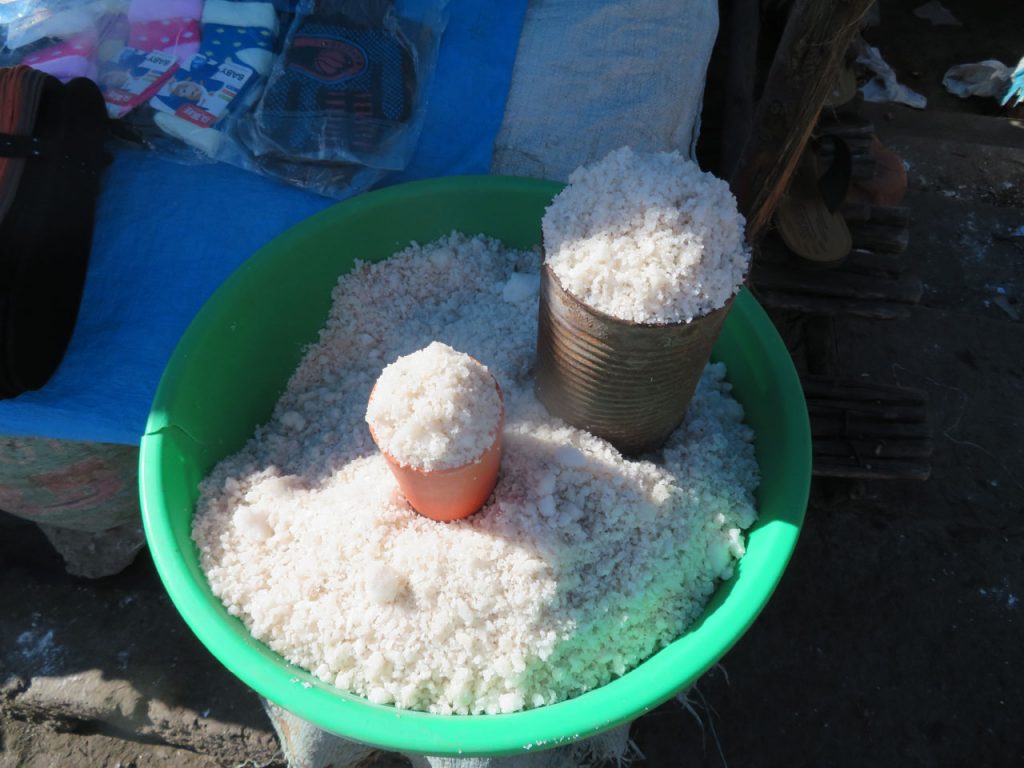 Salt , perhaps from Danakil .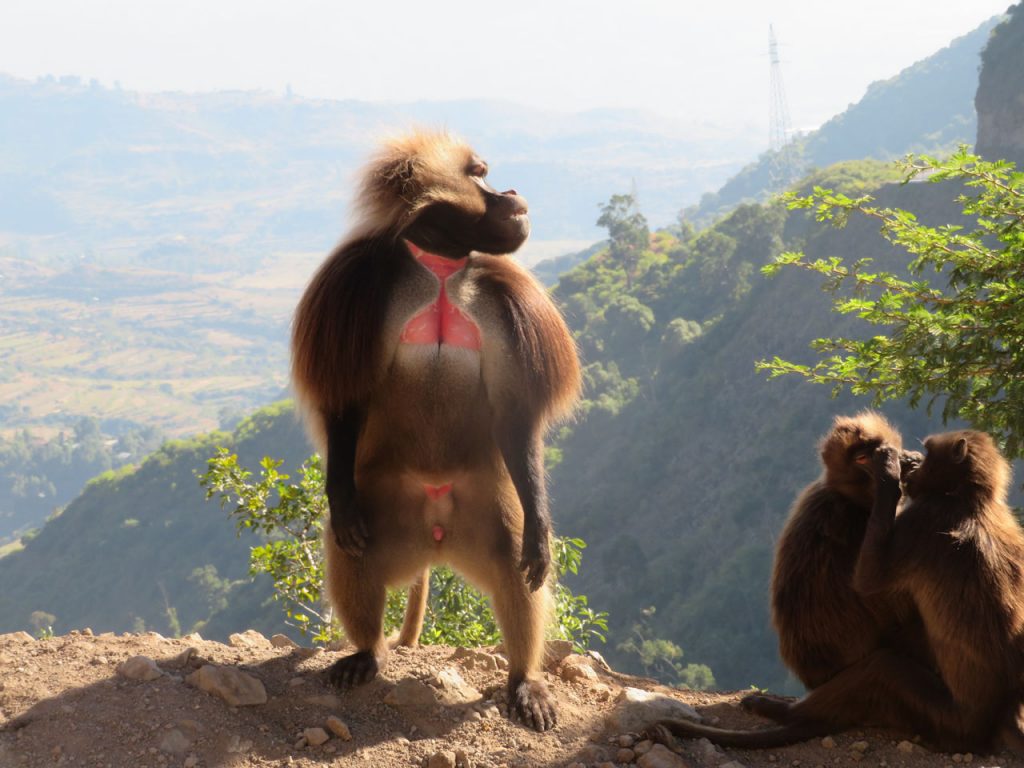 Outside town, Gelada monkeys also shopped for food, asking passerby in cars. While many think the climate must be hot, as Ethiopia in in Africa, we were almost always between 7500 and 11000 feet – 2300m -3400m. In January daytime temperatures were generally in the low 70s F( 21C) to about 40 F at night ( 4C ).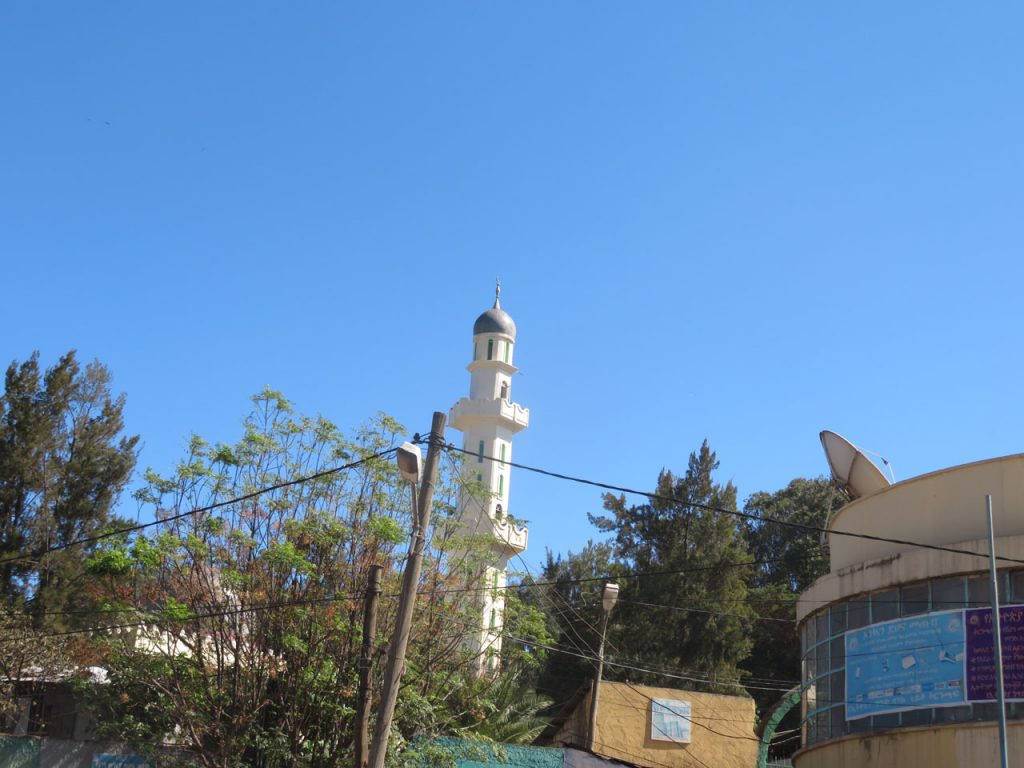 Ethiopia is 33% Islamic and 62%. ( mostly Orthodox) Christian. In general there are no conflicts over religion.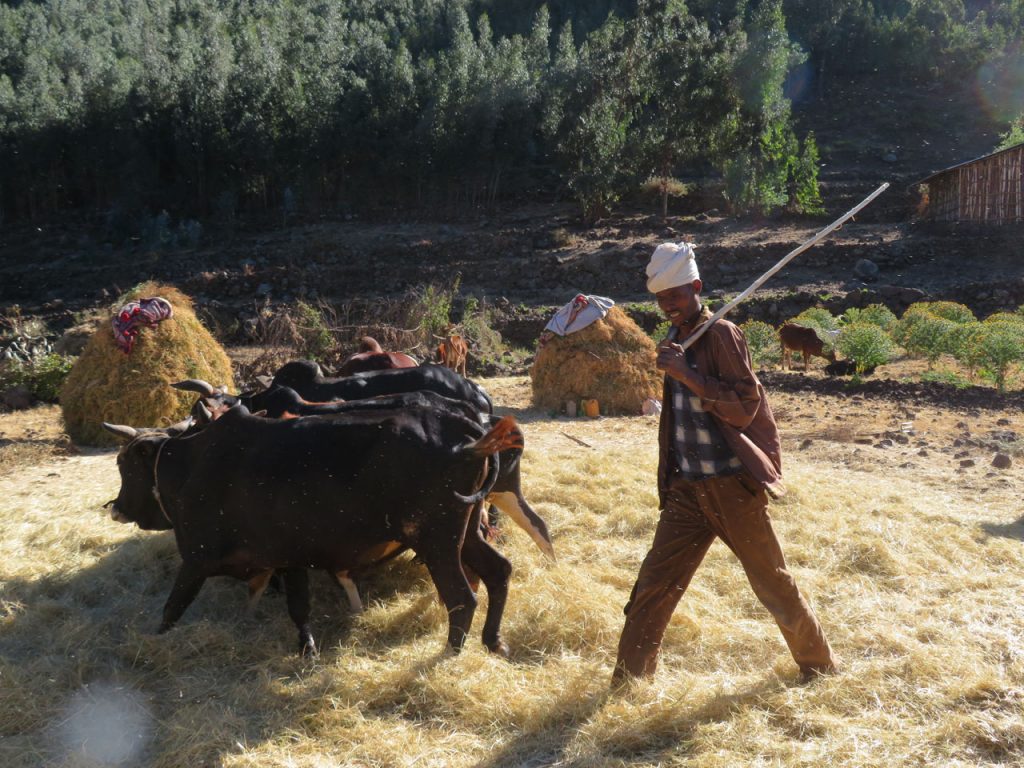 Wheat is pulverized into fine powder by the hooves of oxen.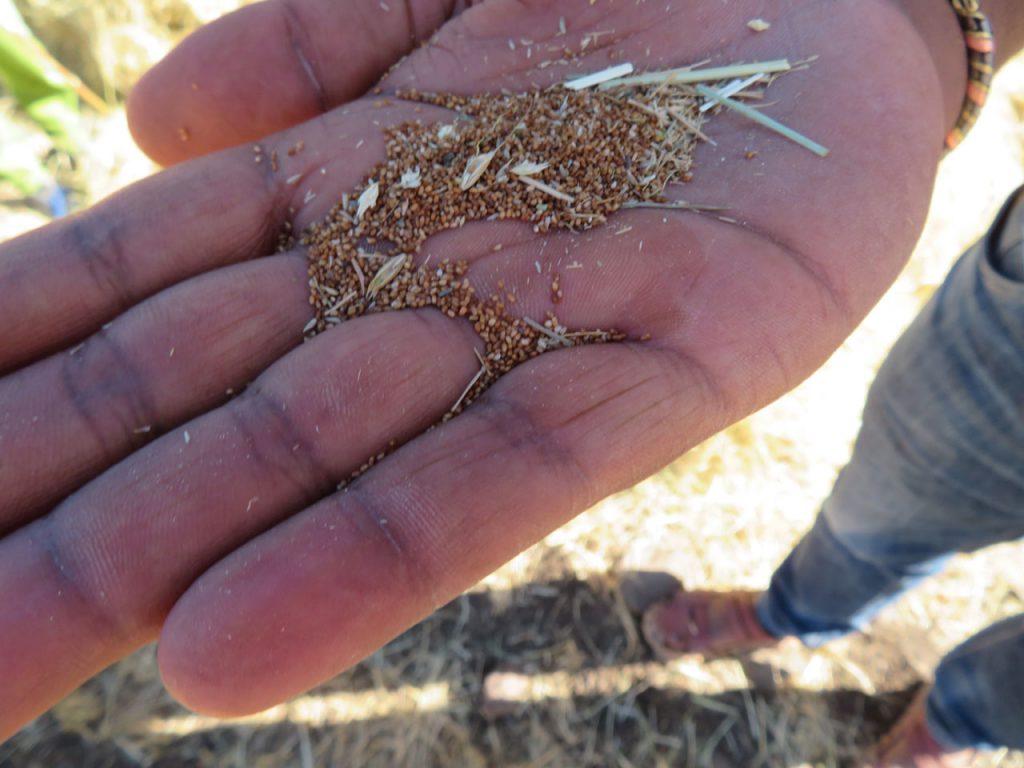 The powder is used to bake inerja – the ubiquitous bread that accompanies almost every meal in Ethiopia.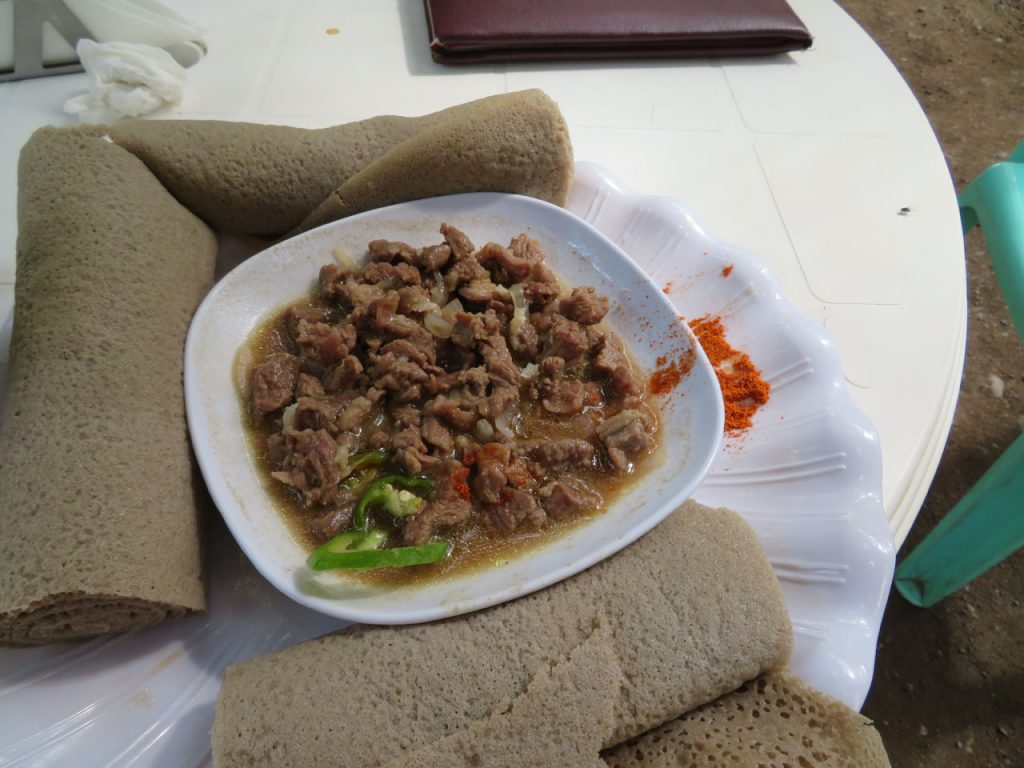 What appears to be a towel is the inerja. You use it to scoop up the meat and eat everything.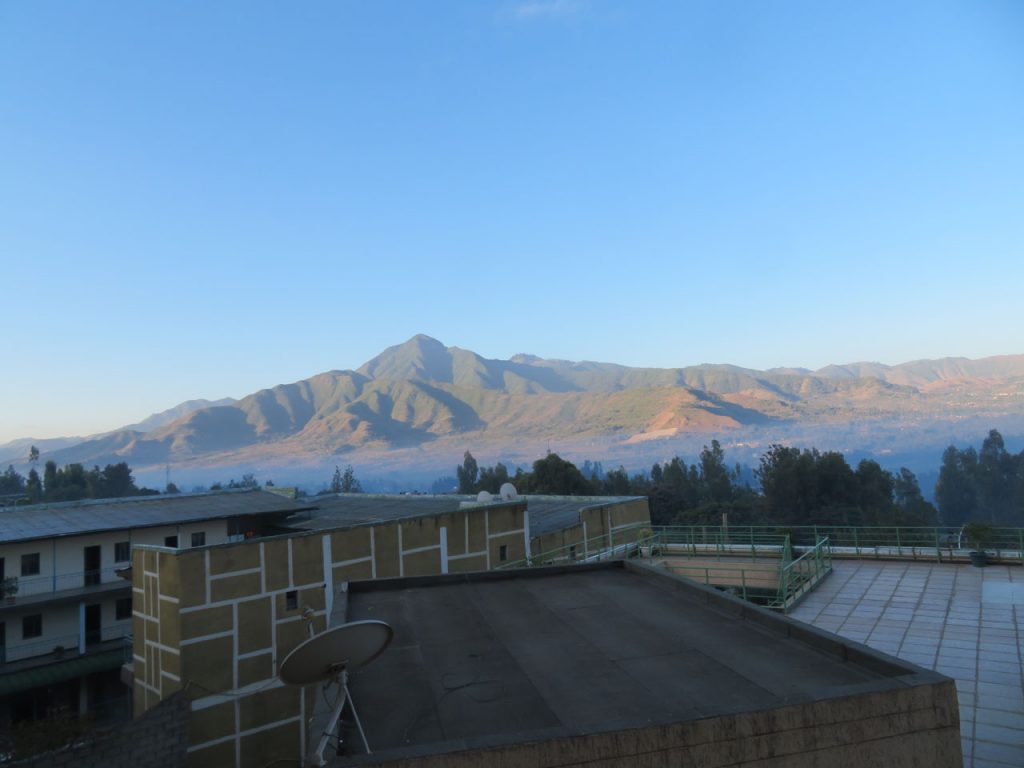 Evening in Kombolcha.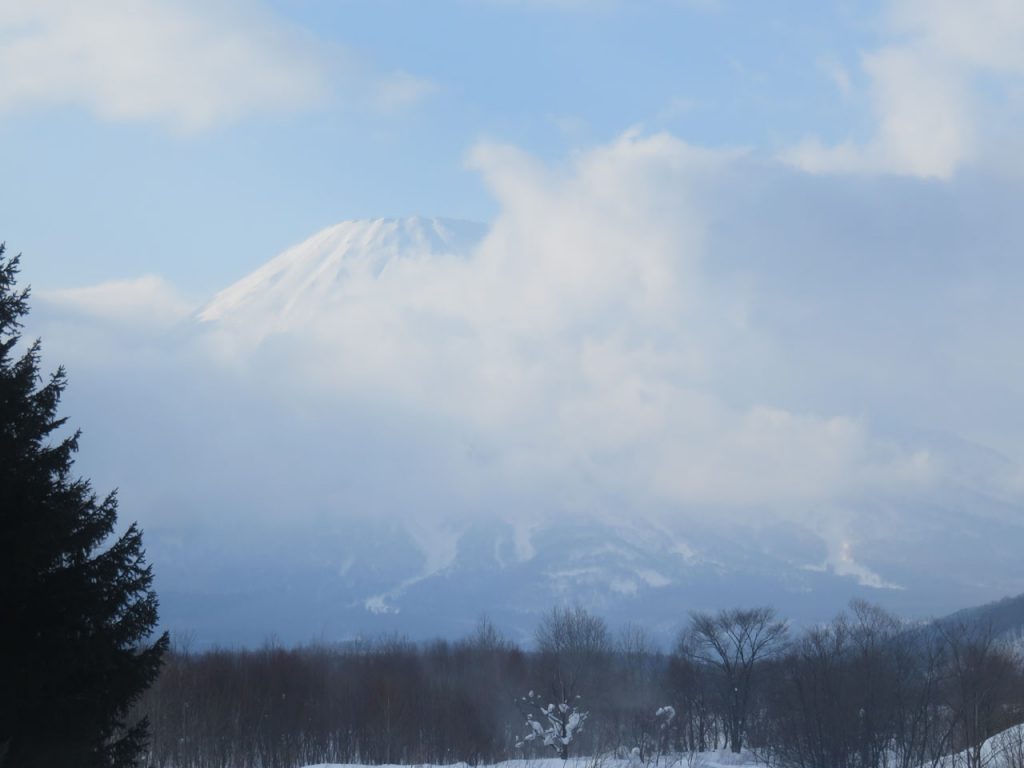 Last January TotalAdventure flew across the Pacific from Portland,Oregon to Tokyo. TotalAdventure had only 8 days in Japan, so we decided to split it between Tokyo, one of the most urban places on Earth, and Hokkaido, one of the widest ,snowiest islands on Earth.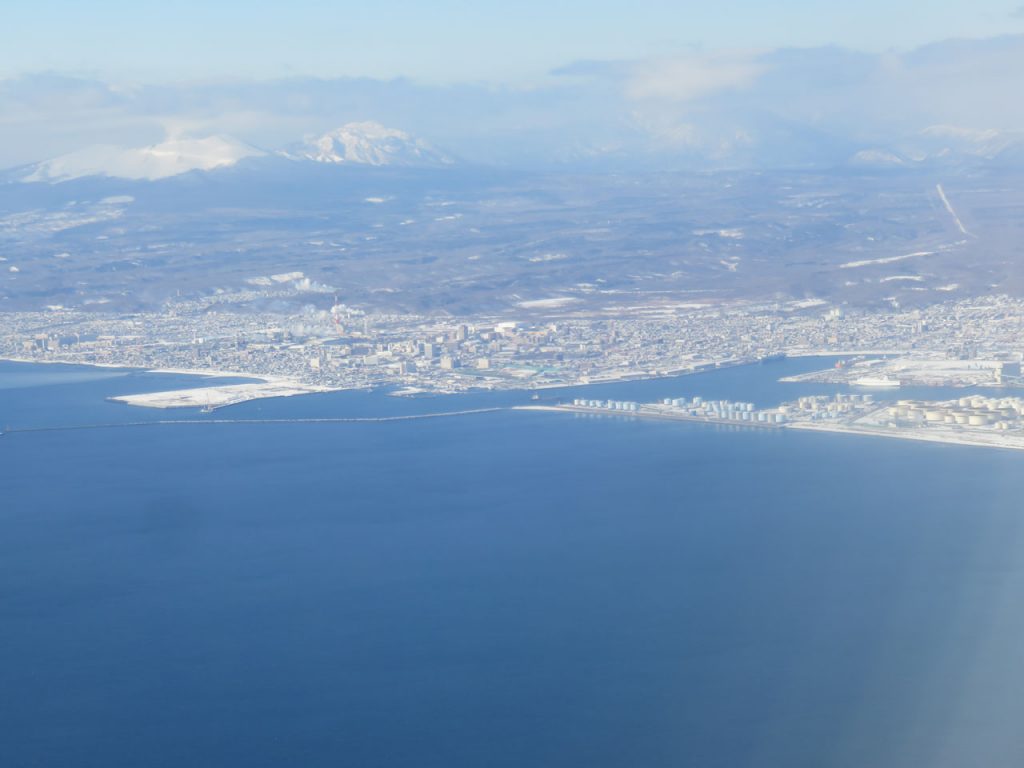 We Only Had Four Days, So We Stuck To The Sapporo Region. At Two Million People,Sapporo Is One Of Japan's Smallest Cities.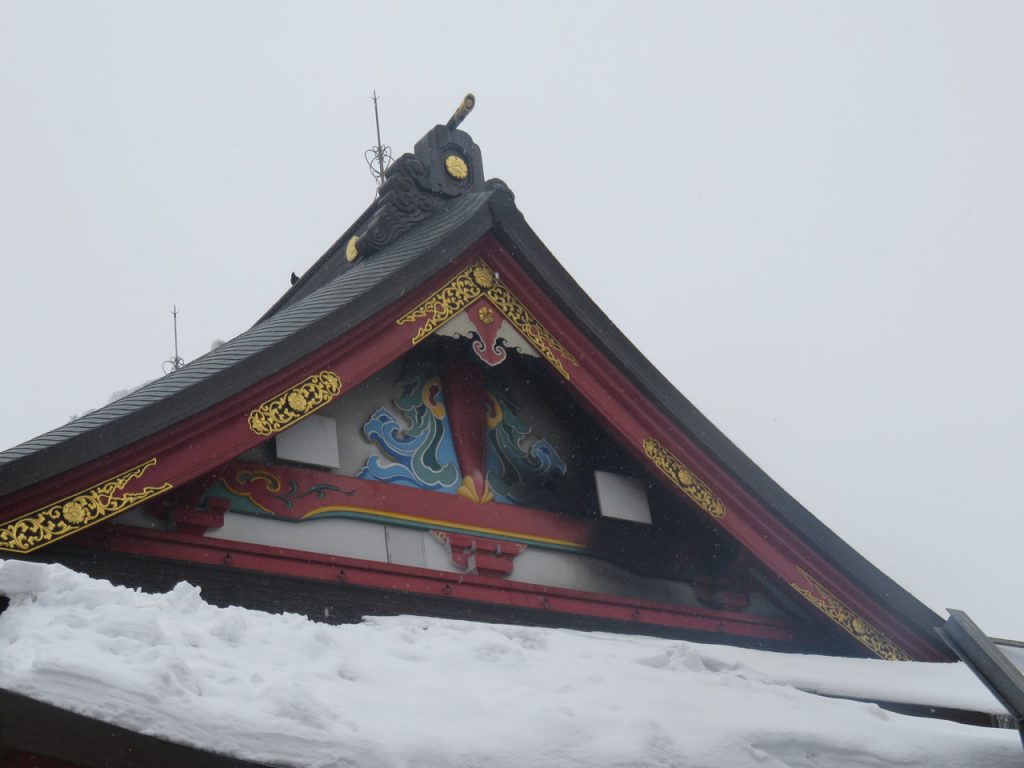 Shinto Temples Abound Everywhere.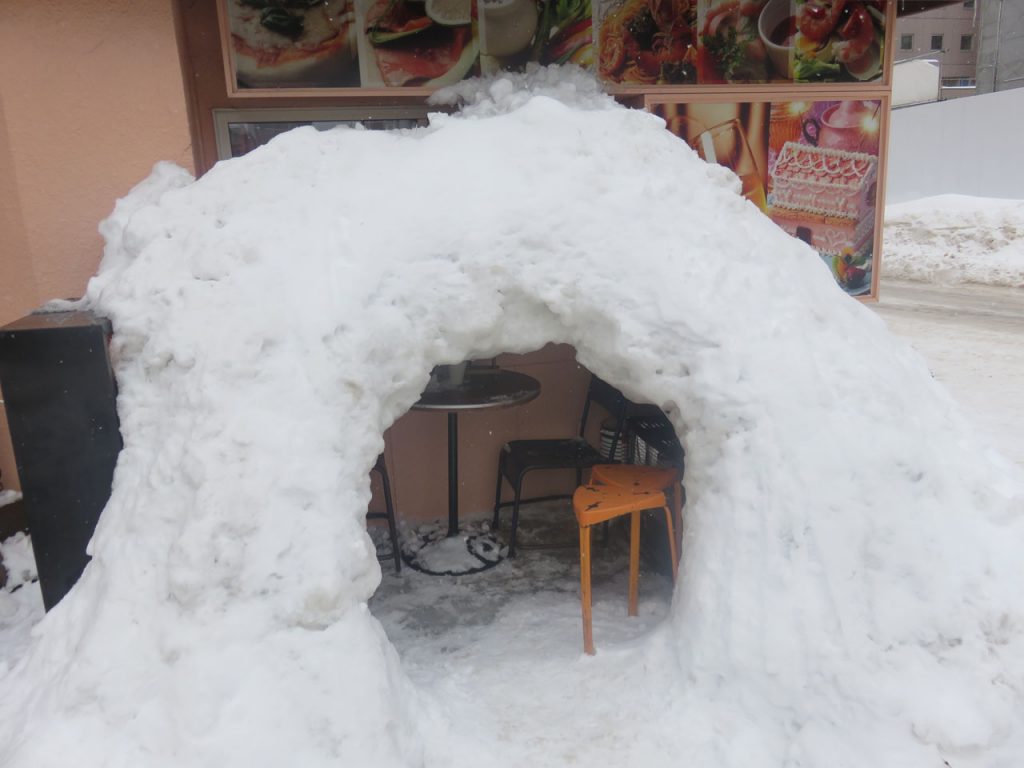 Year Round Outdoor Cafe. Coffee Is Overtaking Tea In Japan.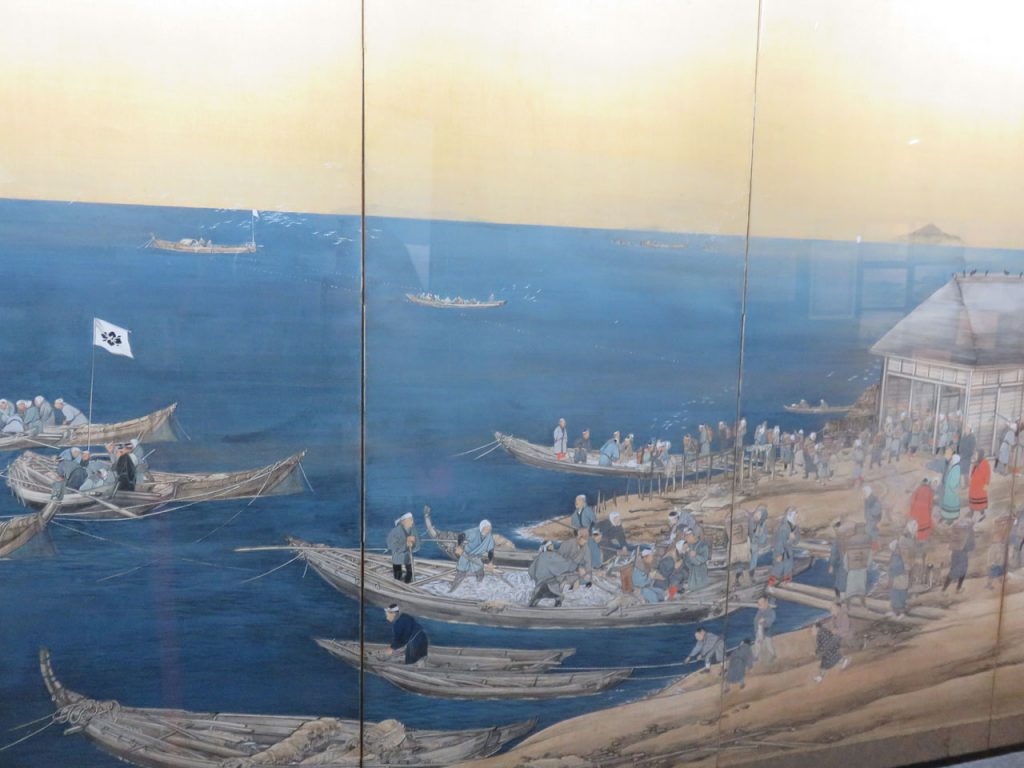 A Woodcut of Otaru Port In The 1600s.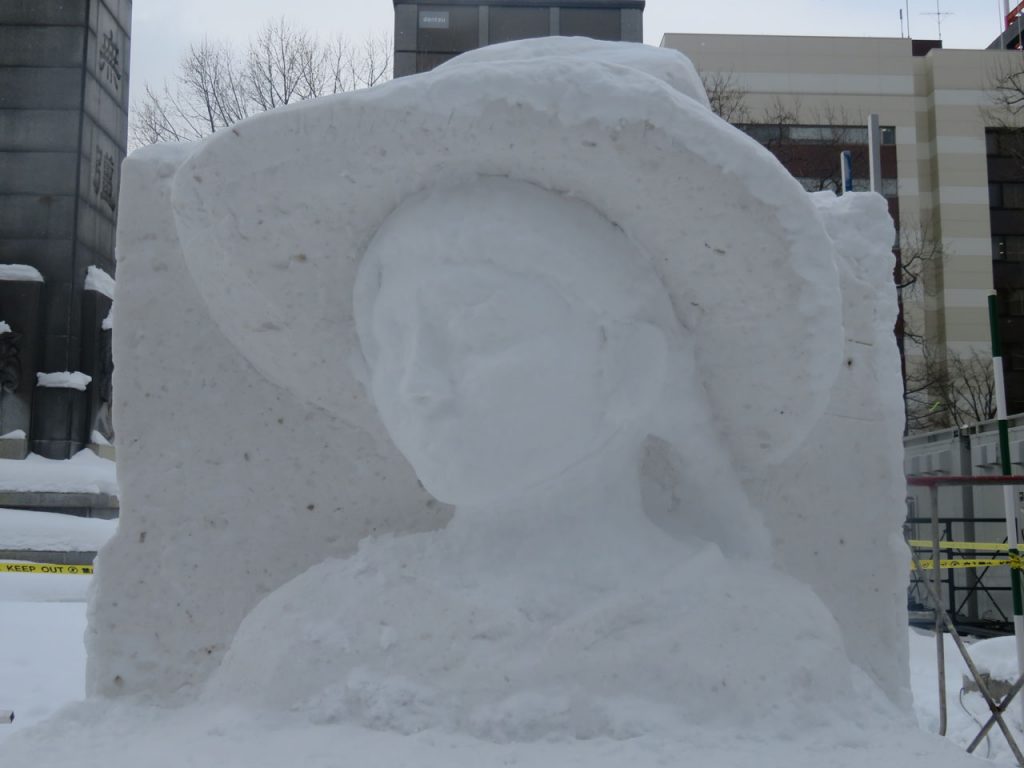 Winter Festival In Sapporo. TotalAdventure Watched The Sculpting.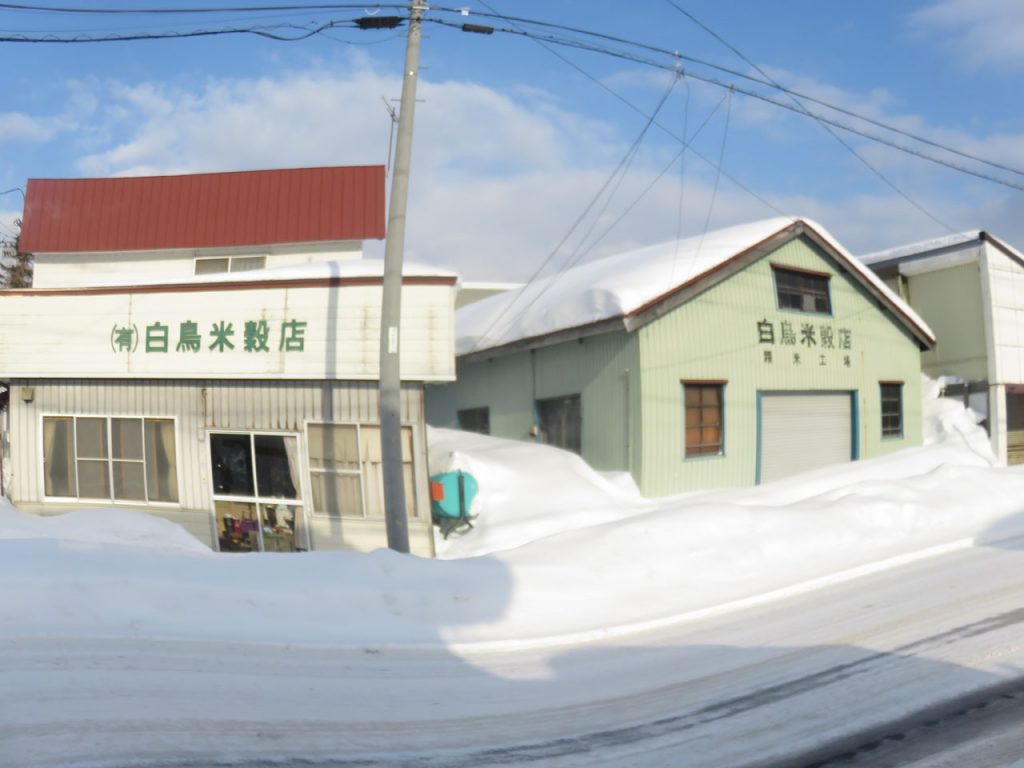 Global Warming Is Not Yet Affecting Hokkaido. When It Does, More Snow Will Fall.
The TotalAdventure Team flew Qatar Airways from Miami to Saigon (HCM) Vietnam .On the way we had an 8 hour layover in Doha. On the way back we stopped over for two days. The above video is a compilation of the two visits.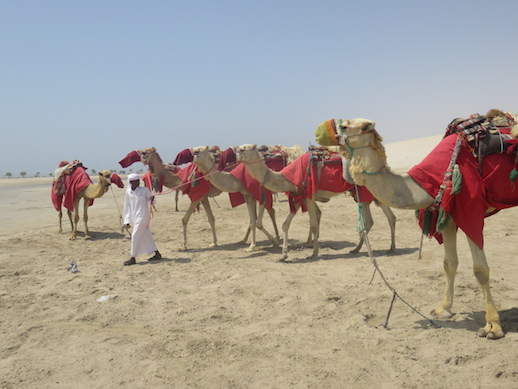 Qatar is the wealthiest nation in the world, per capita. But tradition prevails in the desert lands outside of Doha.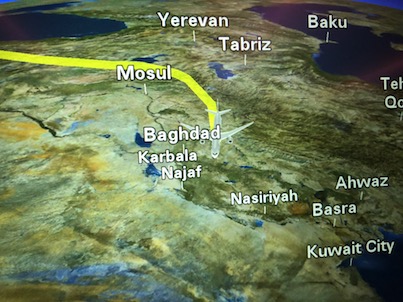 It's a 13 hour flight from Miami. 15 hours going back.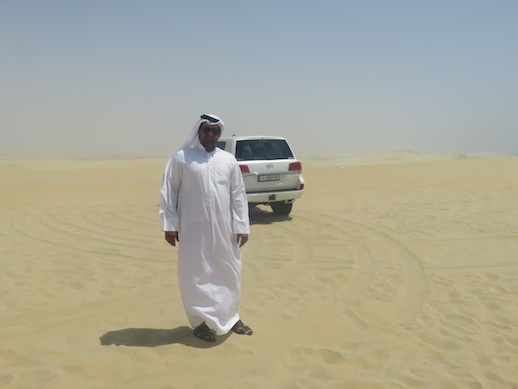 Right off the plane from Bangkok , we went riding the high sand dunes south of Doha. You can experience the adventure in the video above.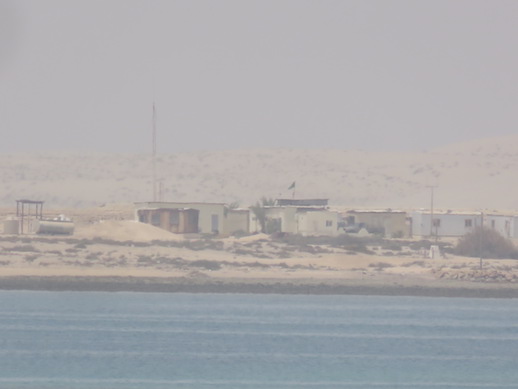 We went right dawn to the waterway that separates Qatar from Saudi Arabia, other than the narrow land bridge. The border between the two US Allies is currently closed. That's a Saudi Army post about 3 km in the distance.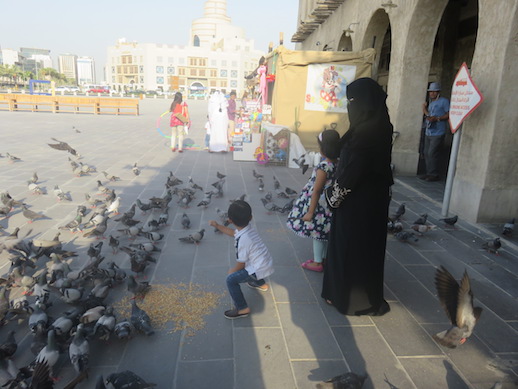 Back in the city , we went to Souk Al Waqif.
A delicious lunch of Sheep's Head.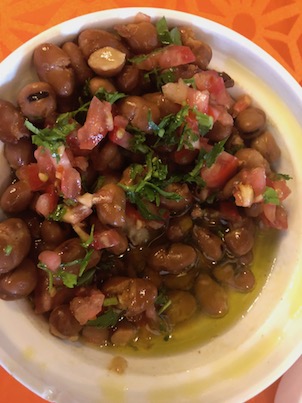 And Foul – a delicious Fava Bean stew.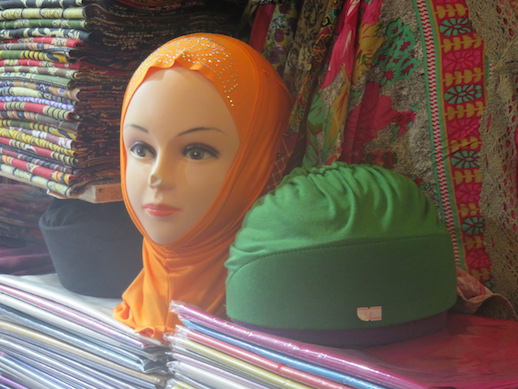 Modest, yet colorful fashions.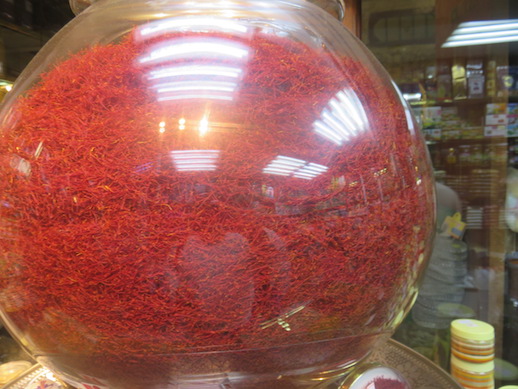 Saffron and other exotic, expensive spices for sale.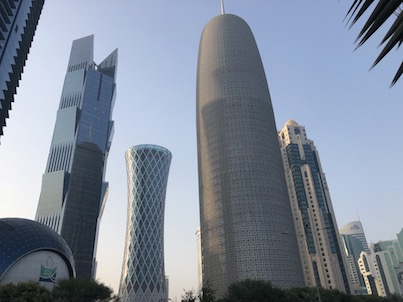 The Architecture is Amazing.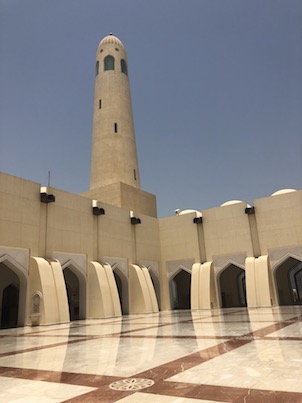 Qatar Grand Mosque .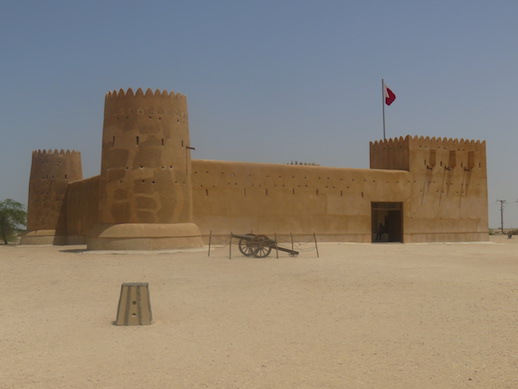 Al Zubara Fort.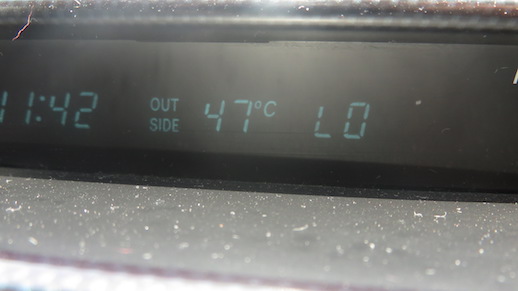 It's hot outside in July. That's 117 F !
TotalAdventure would like to Thank Mr.Ahmed Nasser Al Rayes , Chairman of the Al Rayes Group for making our excursion in Qatar so flawless, exploring the majority of the country in a very short time. The Al Rayes Group owns 83 companies ,and is a leader in tourism investment.
TotalAdventure returned Bangkok for the first time since 1995 ! It's our final stop in Southeast Asia before going to Qatar later this evening.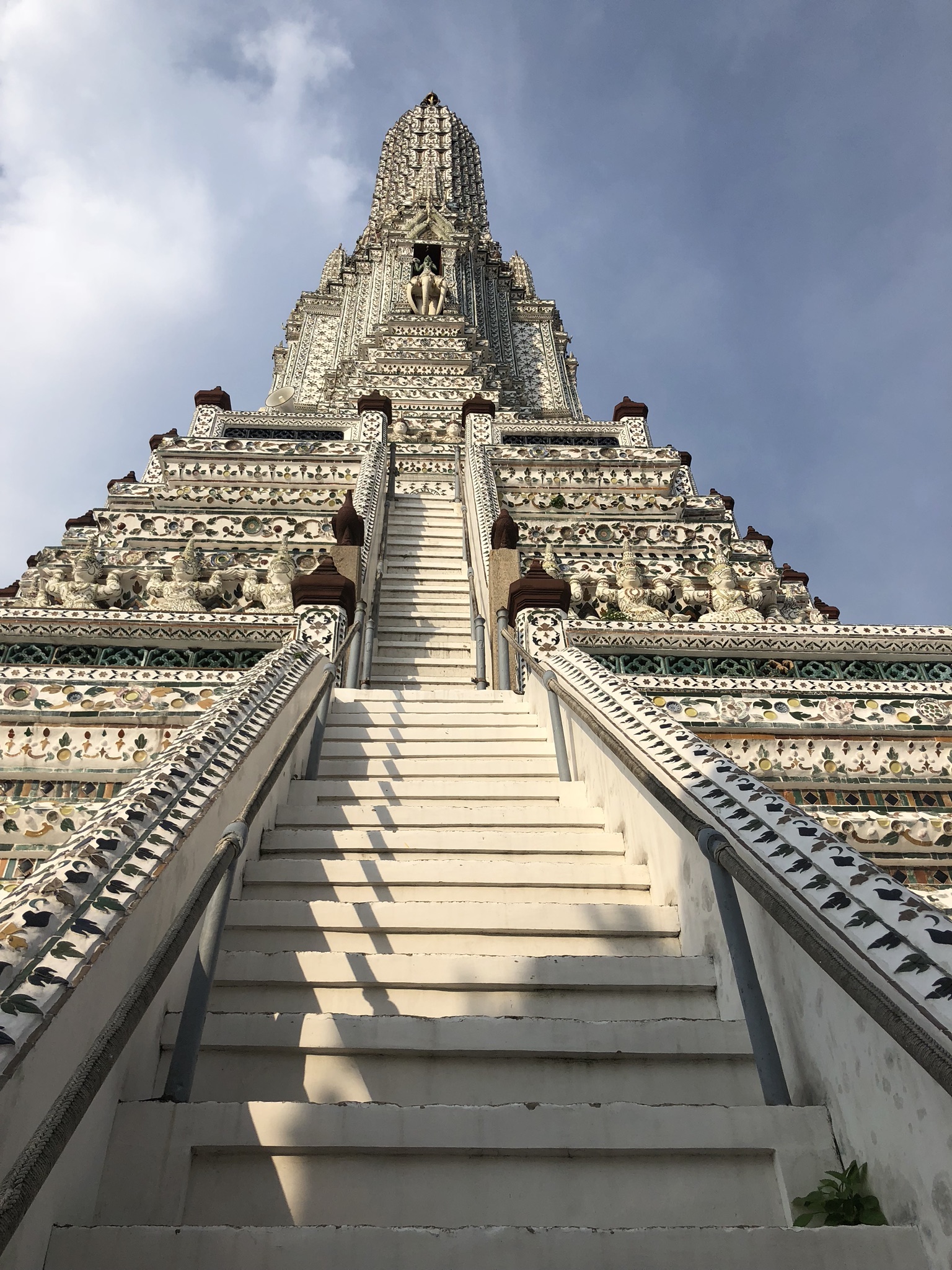 Wat Arun – The Temple of Dawn !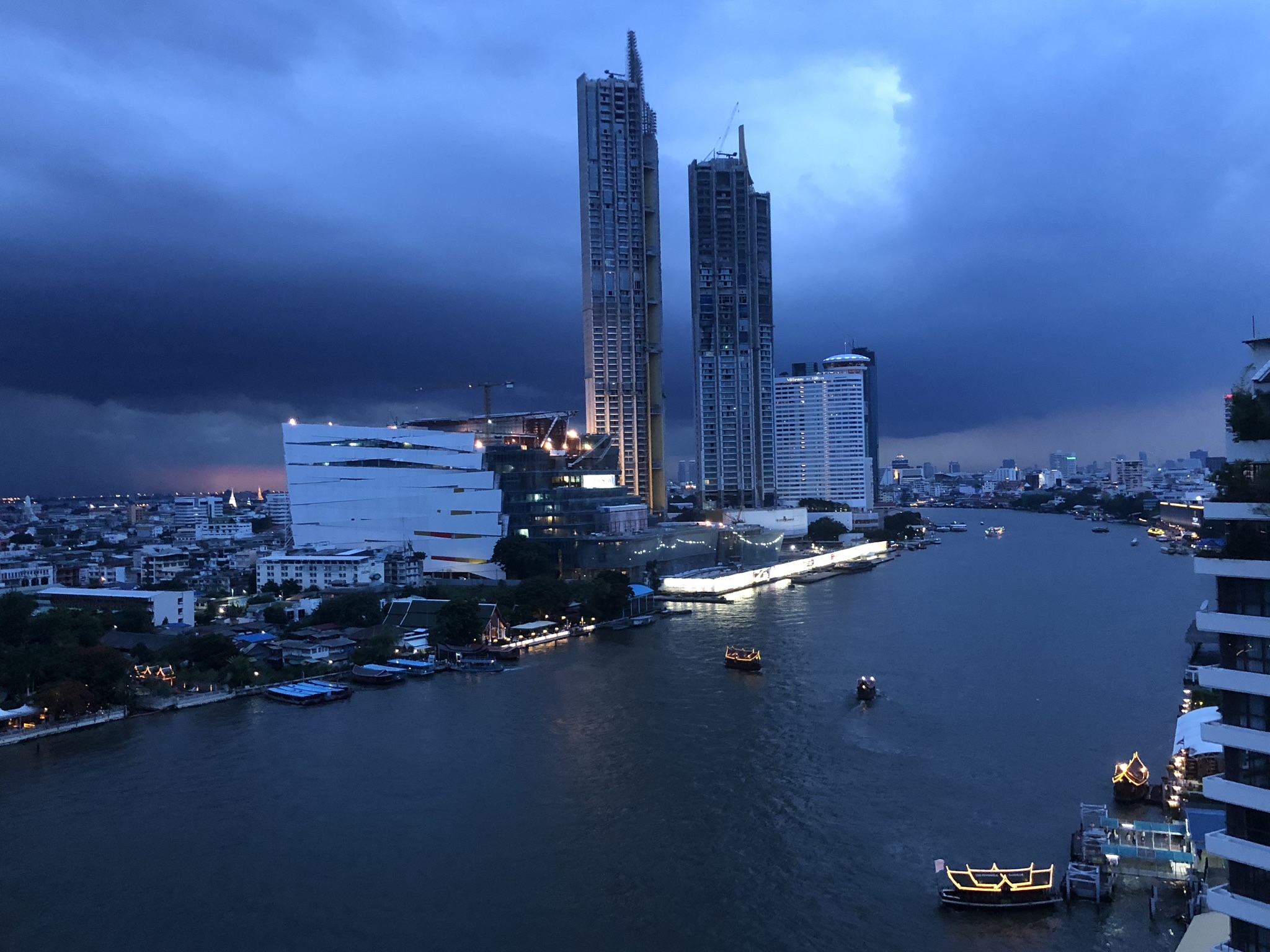 One Night In Bangkok……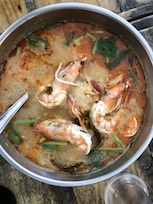 Hello Thai Restaurant owners in the USA . THIS is Tom Young Koong – not the watery tasteless stuff you serve. And it costs 150 Baht !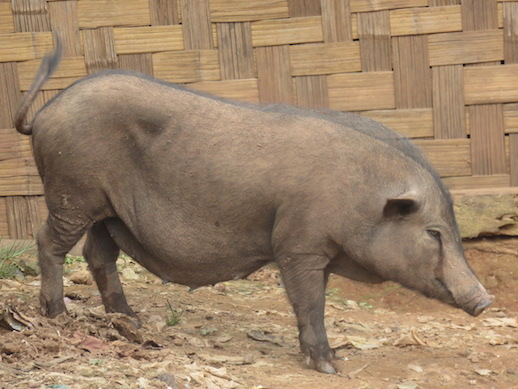 A local guide and driver accompanied us to Laos' Far North to the Luang Namtha district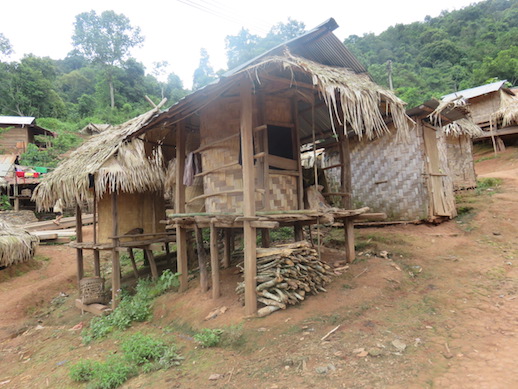 The Akha and Hmong tribes occupy much of the region. Unfortunately for outsiders, few wear tribal costumes anymore.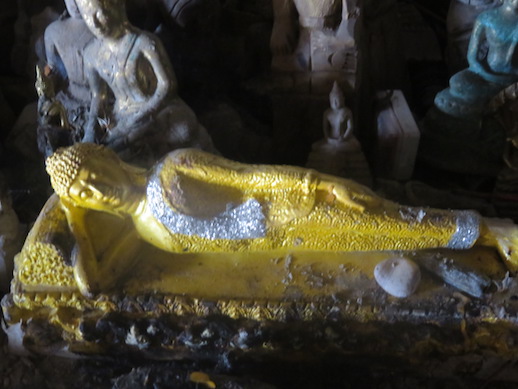 A Reclining Buddha.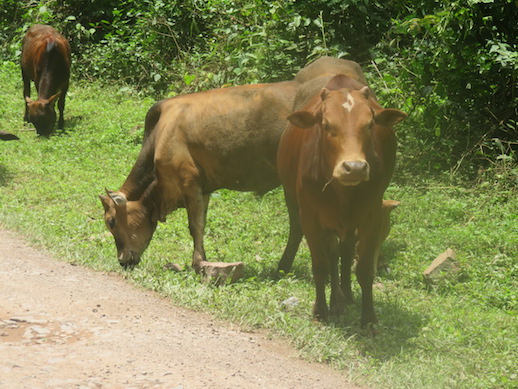 Bulls graze by the roadside.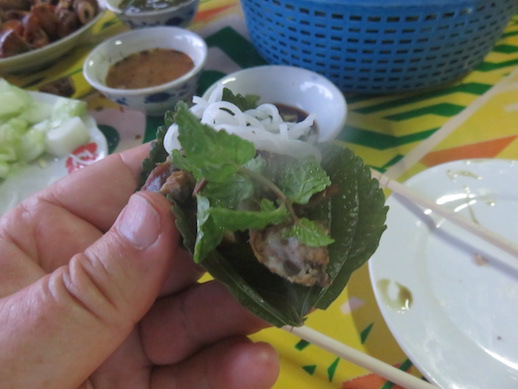 The cuisine is delicious.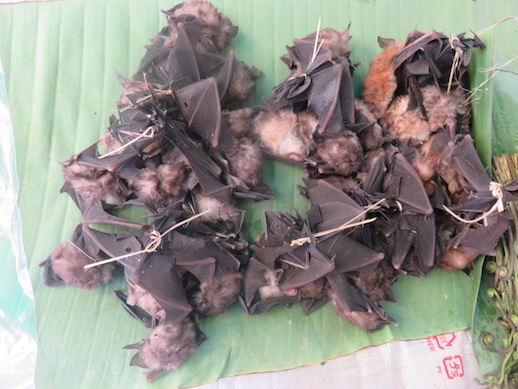 And unusual. Here we have some fresh Bat.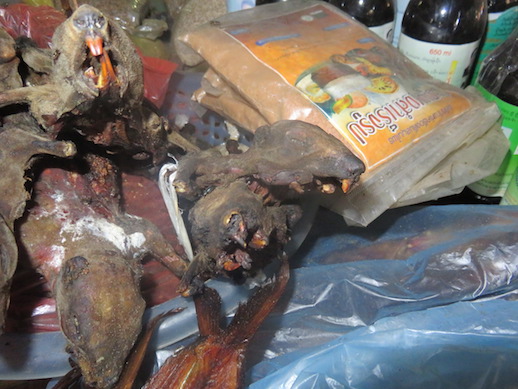 And cooked Rat.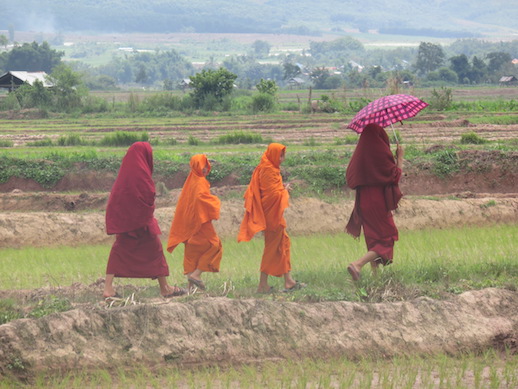 Monks and Novices cross the rice paddies.
Like everywhere else in Vietnam , Da Nang has changed immensely since TotalAdventure's first trip in 1993. 50 story buildings, many of them luxury hotels, dot the skyline in a city known as a large US Army base in a major combat zone, especially  in the late 60s.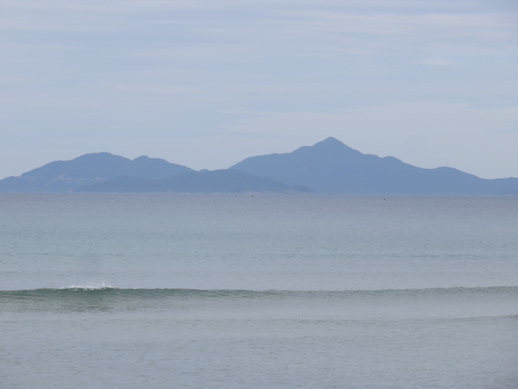 We climbed to the top of the Marble Mountains ,where we took in the view of China Beach , an R&R spot for the US Troops, and the South China Sea.
While the Marble Mountains were surrounded by US Troops, the caves within them were major operating bases for the Viet Cong. This large cave was a hospital for the wounded. The Americans could not penetrate. Instead, they bombed the mountain from above, finally opening these holes after months of round the clock raids. By that time it had been vacated. The cave is now a Holy Shrine.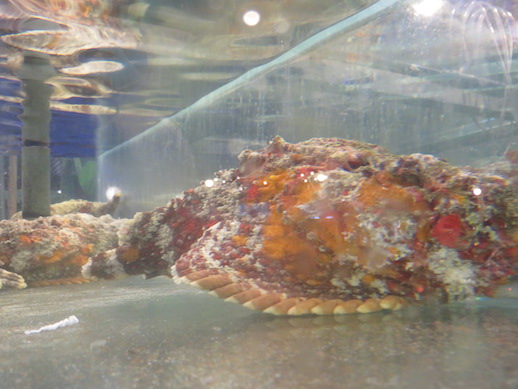 Da Nang restaurants have excellent seafood. This is apparently stonefish, which if stepped on means immediate death or loss of a leg.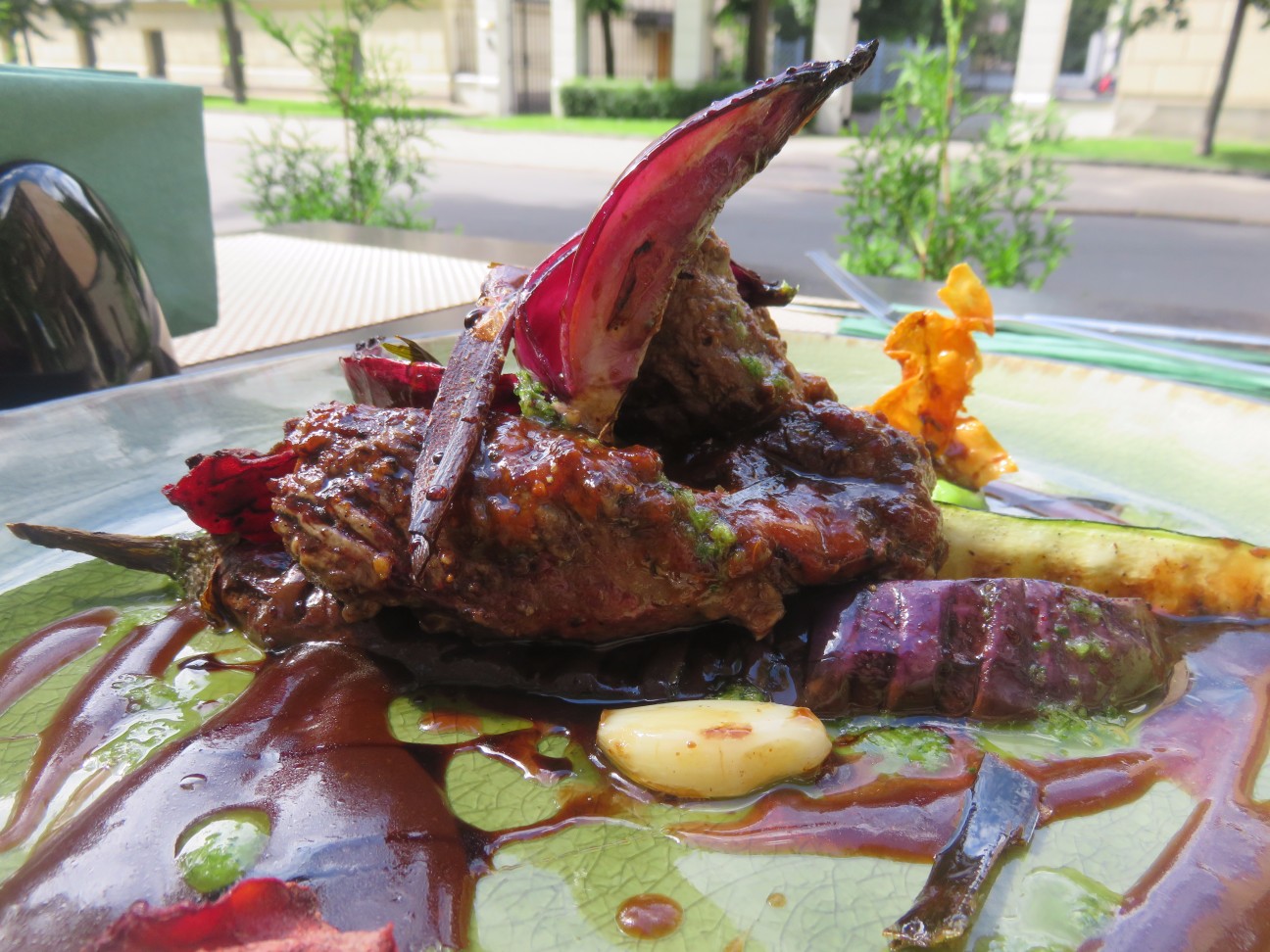 After settling into our Hotel in Riga, we were famished from our overnight journey across the Baltic. One of the reasons we visited Latvia was for dining on wild game, readily available from the primeval forests of the lightly populated Baltic Republics. A quick perusal on the web led us to Meža Garša  – " Taste Of The Forest ".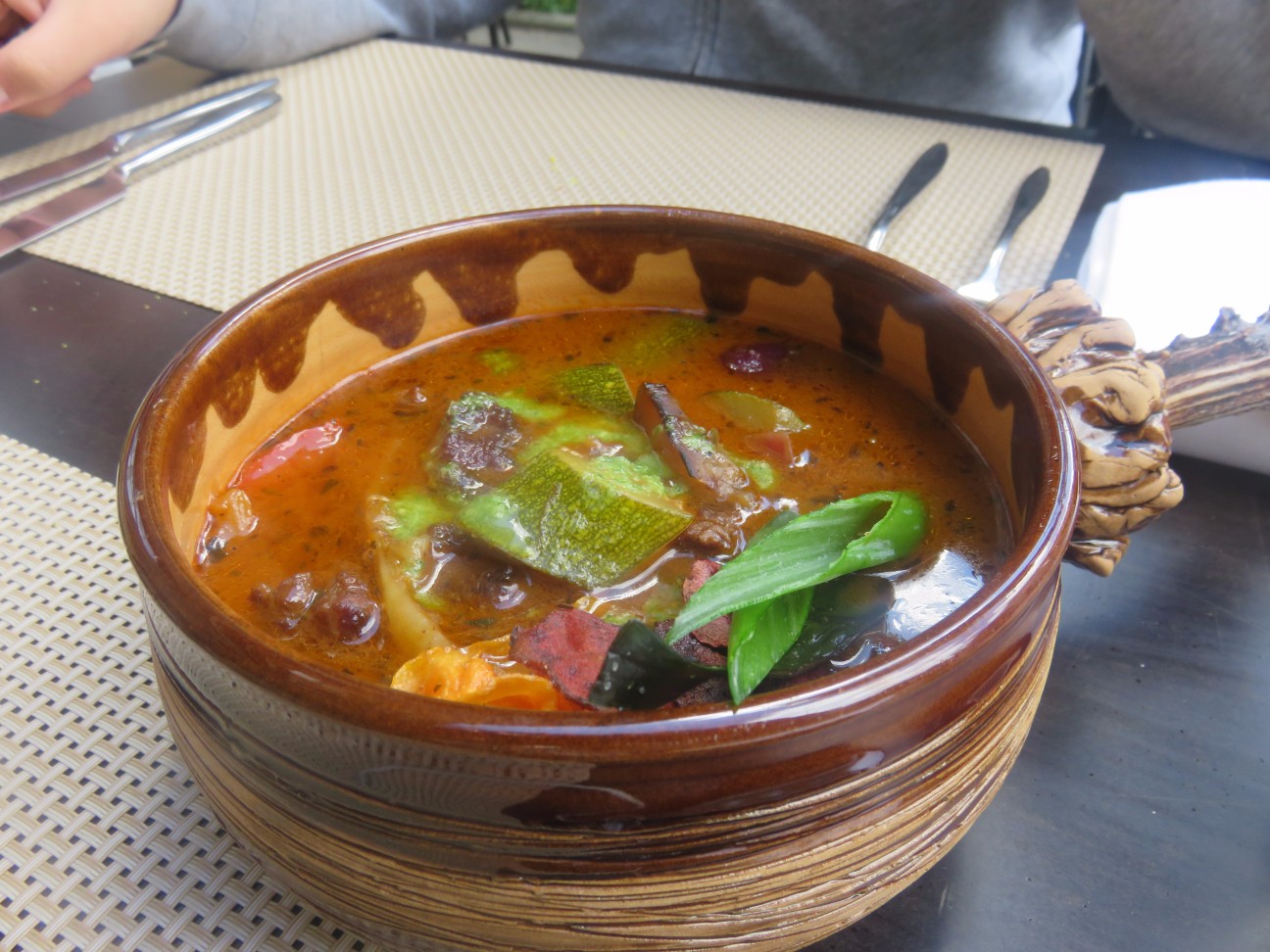 The first course was a wild soup – with venison ,rabbit and local forest mushrooms and totally organic vegetables.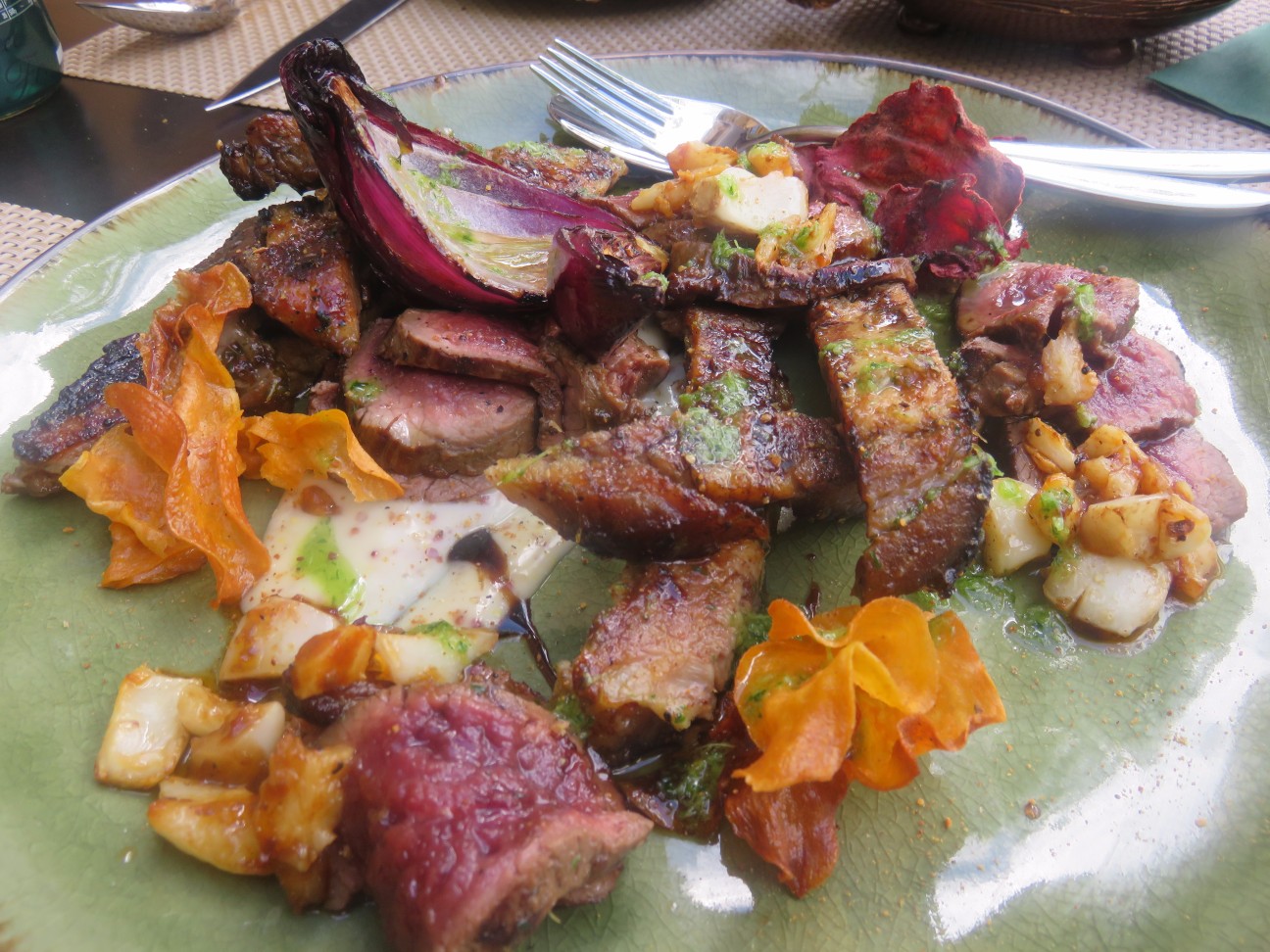 Next was an assortment of moose, bear and deer.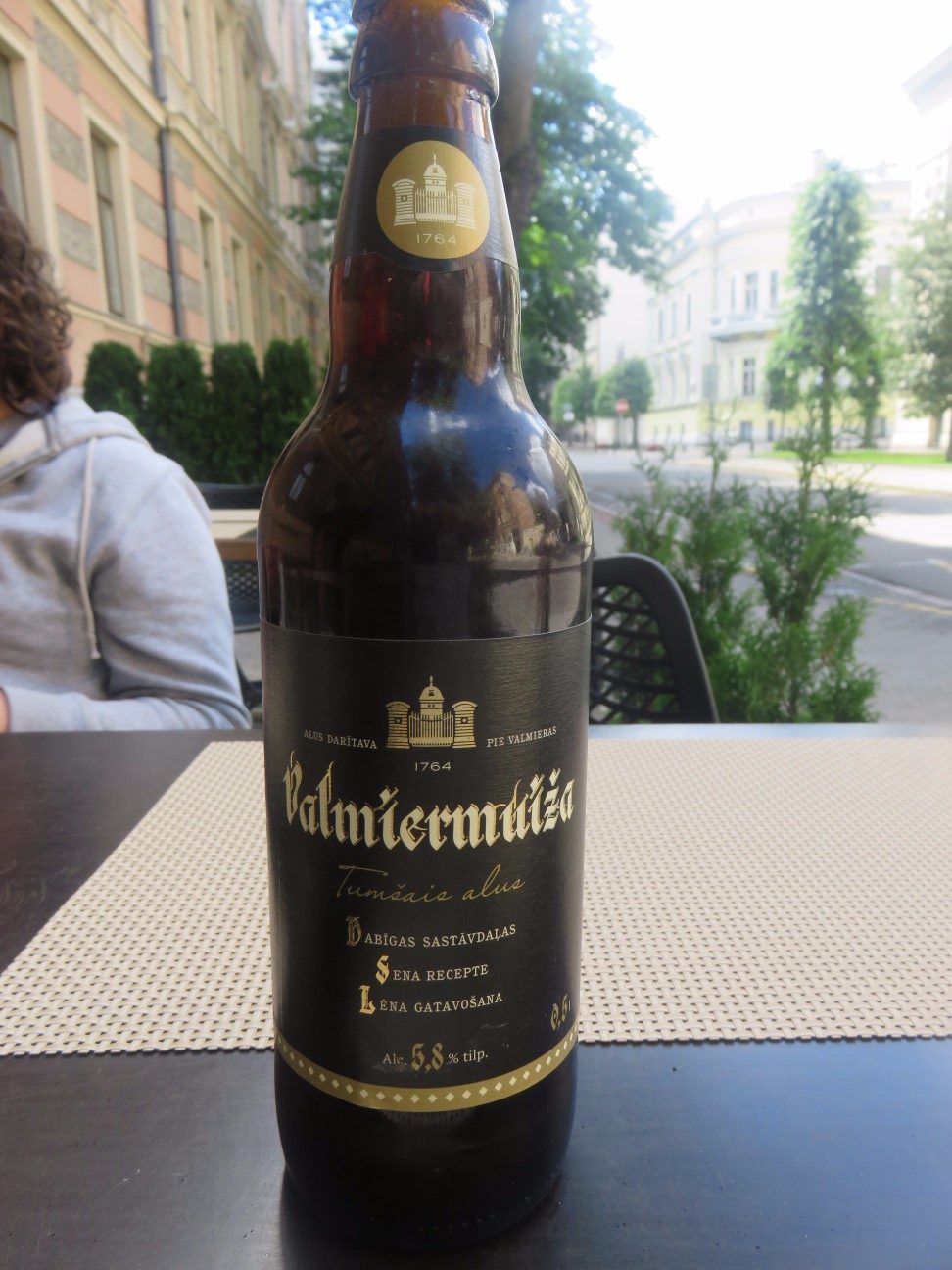 An excellent dark, cold ale to accompany.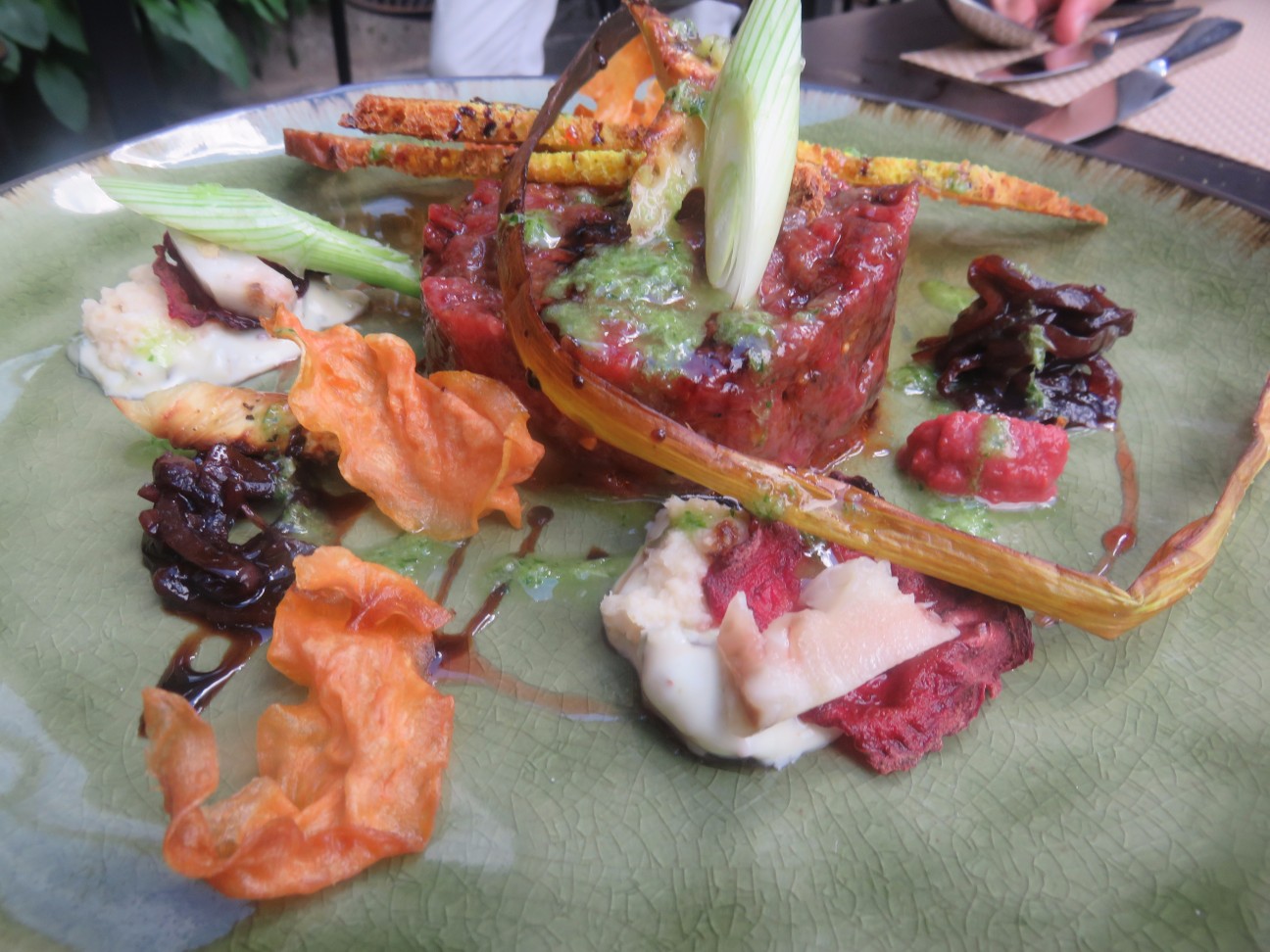 Venison Tartare.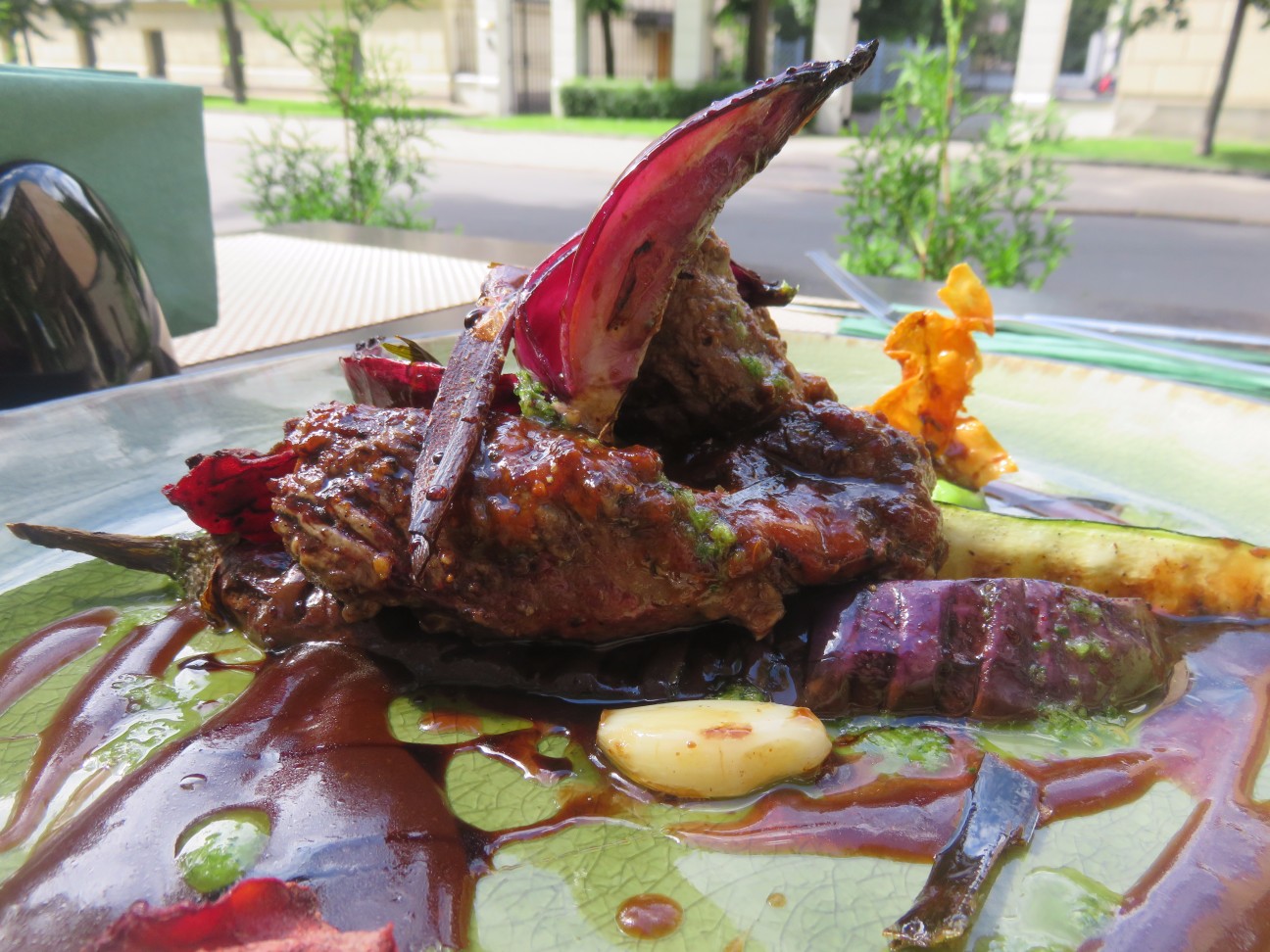 And Finally The Main Course – Roast Bear. According to the owner – Ivo , the best bear comes from Estonia because they live on a diet of berries – creating a sweet flavor. In many areas bears live near rivers and eat a lot of fish – creating a fishy flavor. All of Meža Garša 's game is fresh hunted or farmed and locally sourced in the Baltic Republics.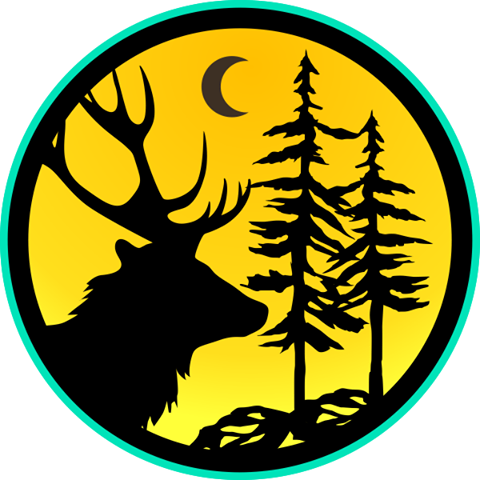 A lunch at Taste of The Forest Was Truly One of The Meals of a Lifetime For TotalAdventure – And We Beat Anthony Bourdain To It. !