Archive for the
'Architecture'

Category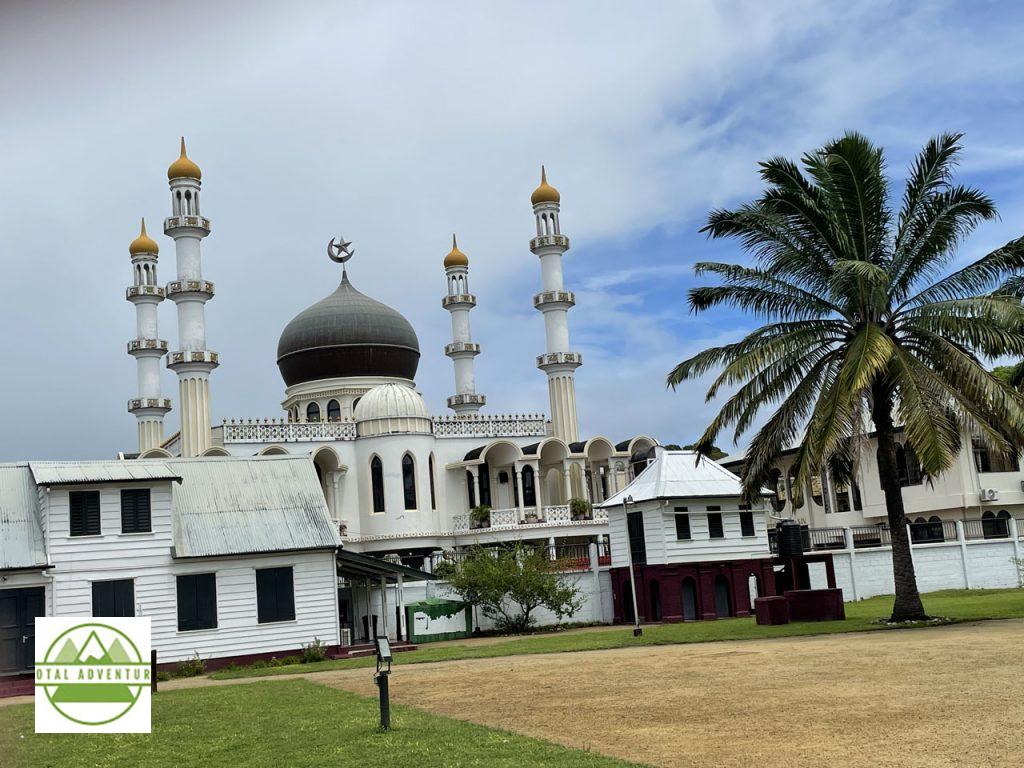 TotalAdventure had hoped to come from Georgetown Guyana via land and ferry across the Corentyne River. However the ferry , only recently running again after COVID shutdown had broken down and would not be repaired for weeks. The only way to go was to fly.
Be Sure To Watch The Video Above – To Experience Suriname !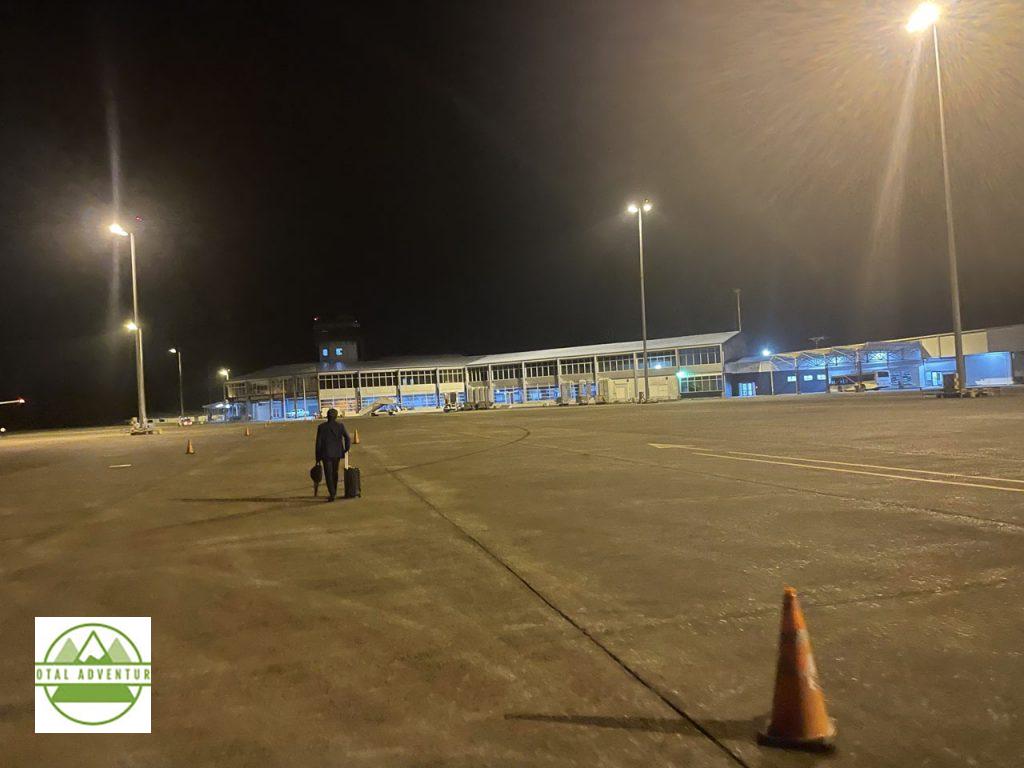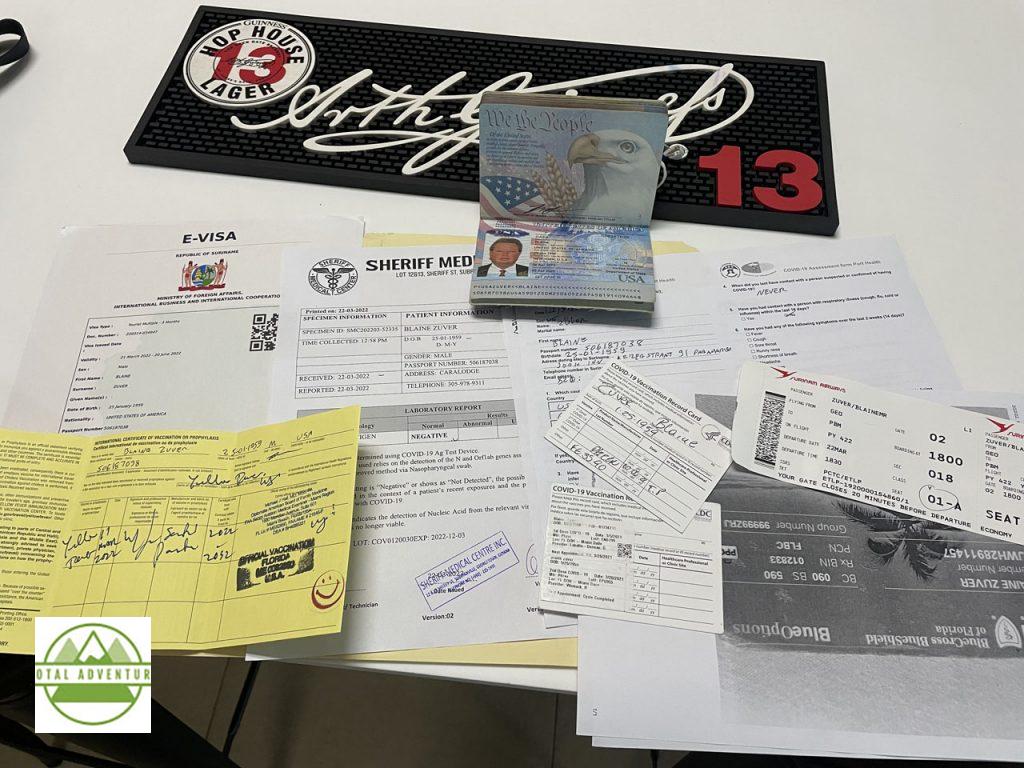 To enter Suriname, I needed my passport, E-Visa, Yellow Fever book, Covid Vaccination, Antigen test ( taken that day) Port Declaration of Health, Proof of Health Insurance and a landing card, with name and phone number of hotel. Never has TotalAdventure had to show so many documents, not even Russia or Turkmenistan.

Finally I received the stamp and it was off to Paramaribo.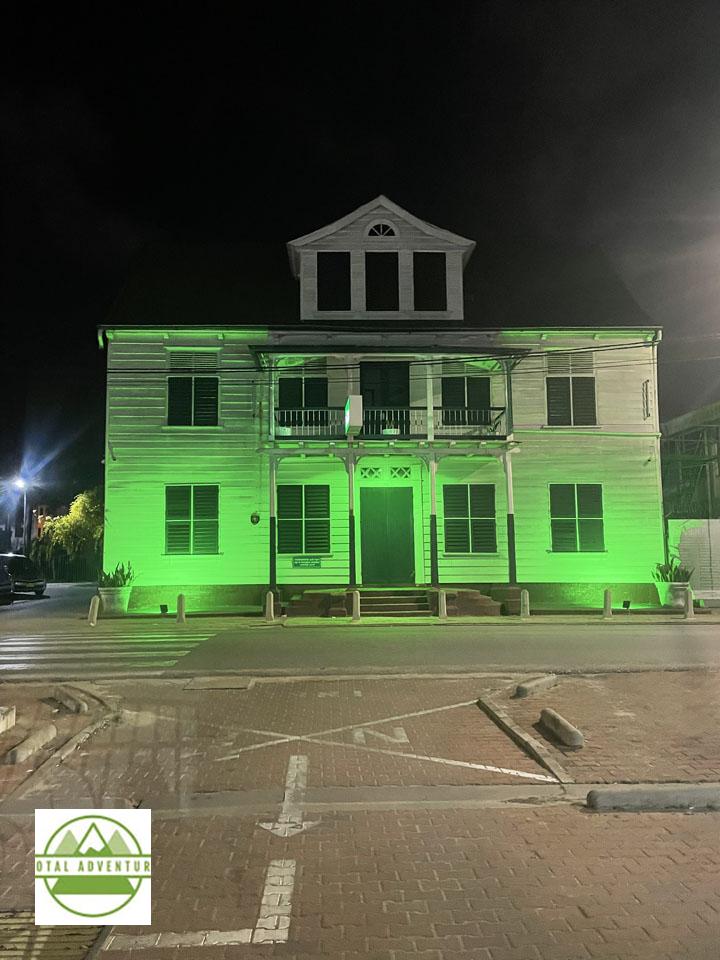 Across from my hotel on Keizerstraat. The city is mostly made up of colonial era buildings 100 to 200 years old, but have never been maintained. Built to Dutch specifications, the Equatorial heat and humidity are corrosive to the wooden structures.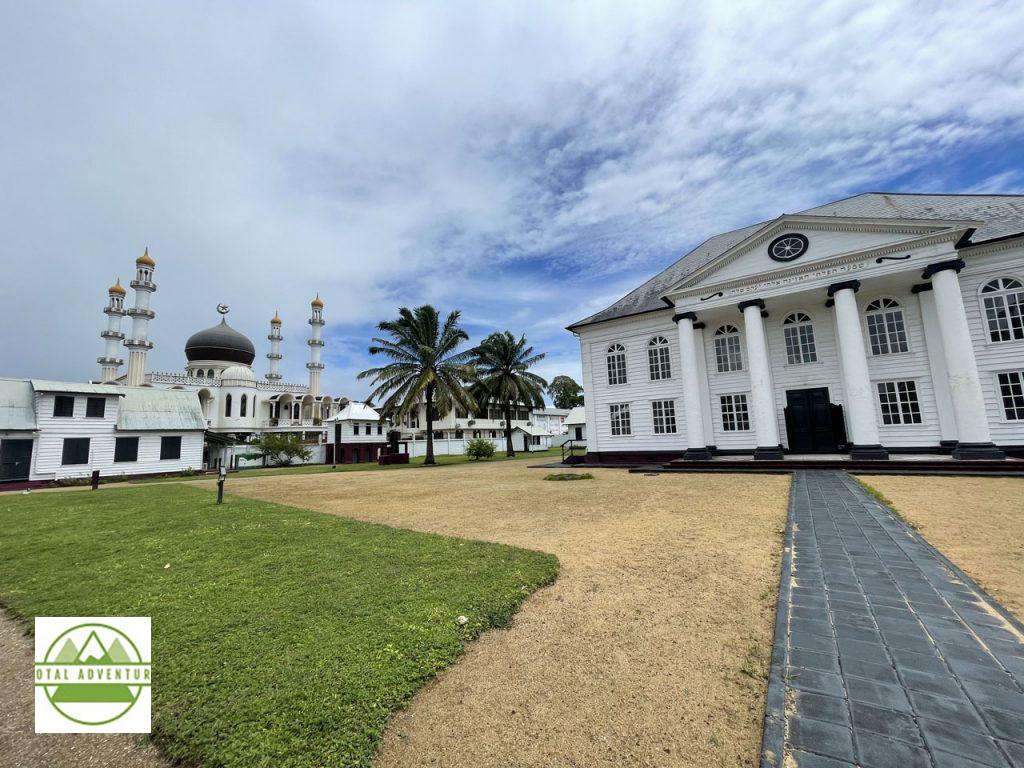 The Dutch bought in colonists and settlers from their worldwide territories Indonesian, southern African, Caribbean islanders and West African slaves all added to the mix. 13 different languages and dialects are spoken in Paramaribo, many more in the jungles.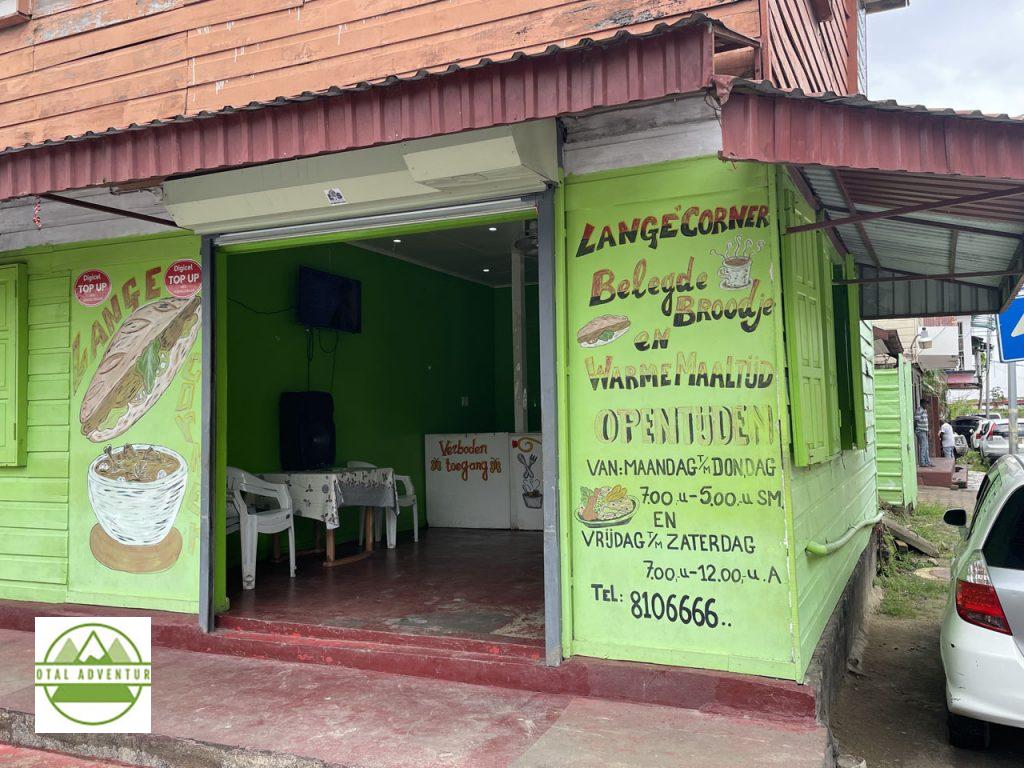 There is a true diversity of food everywhere. Dutch/French/Caribbean combo here.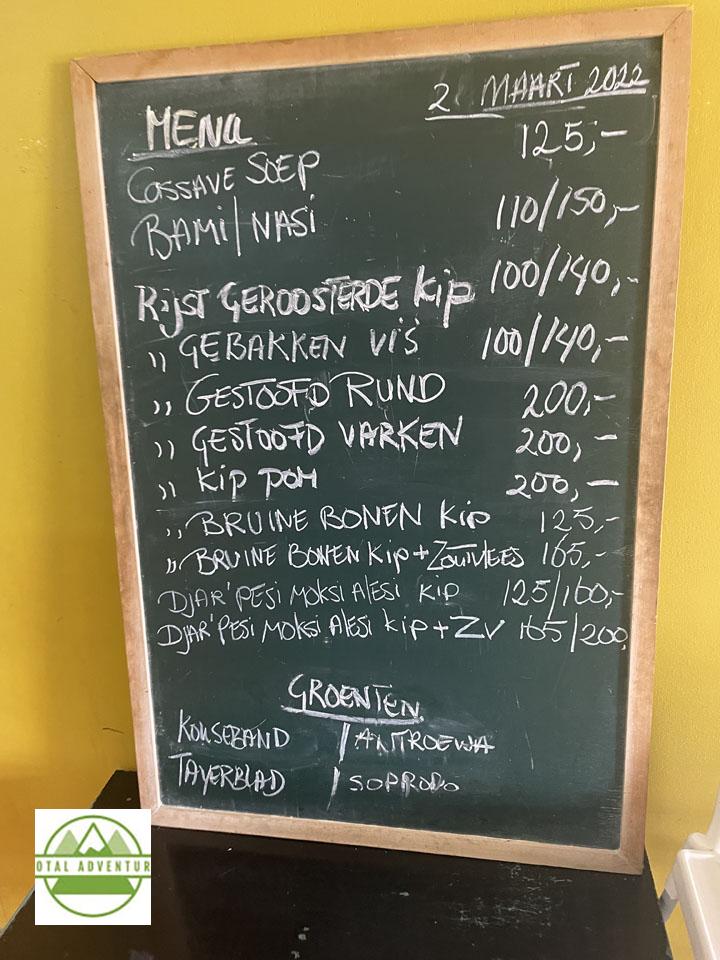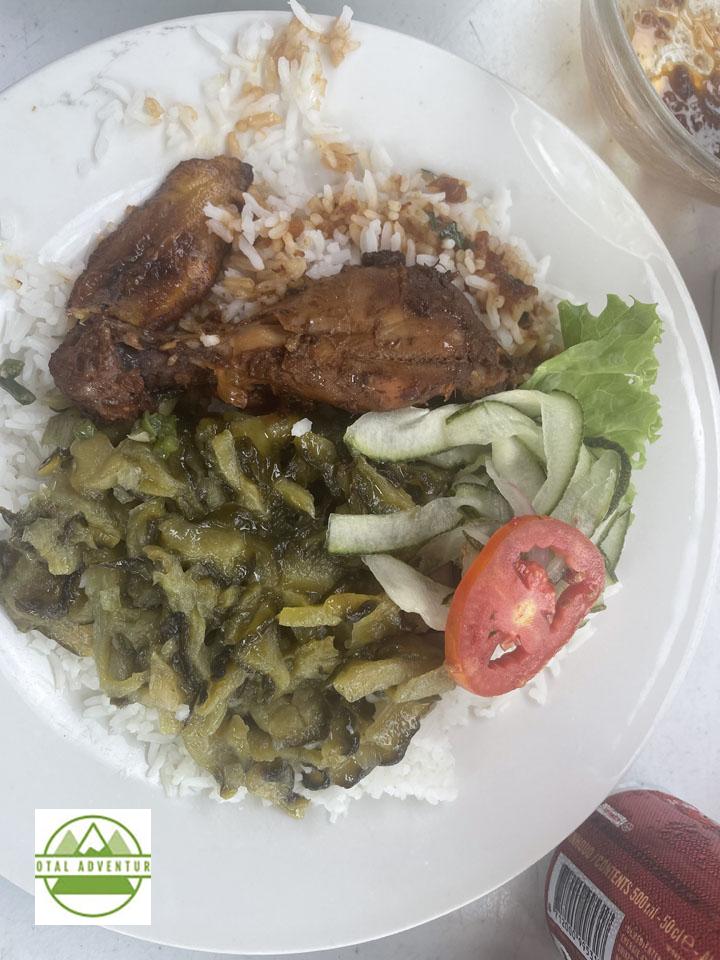 Indian chicken roti with West African style vegetables.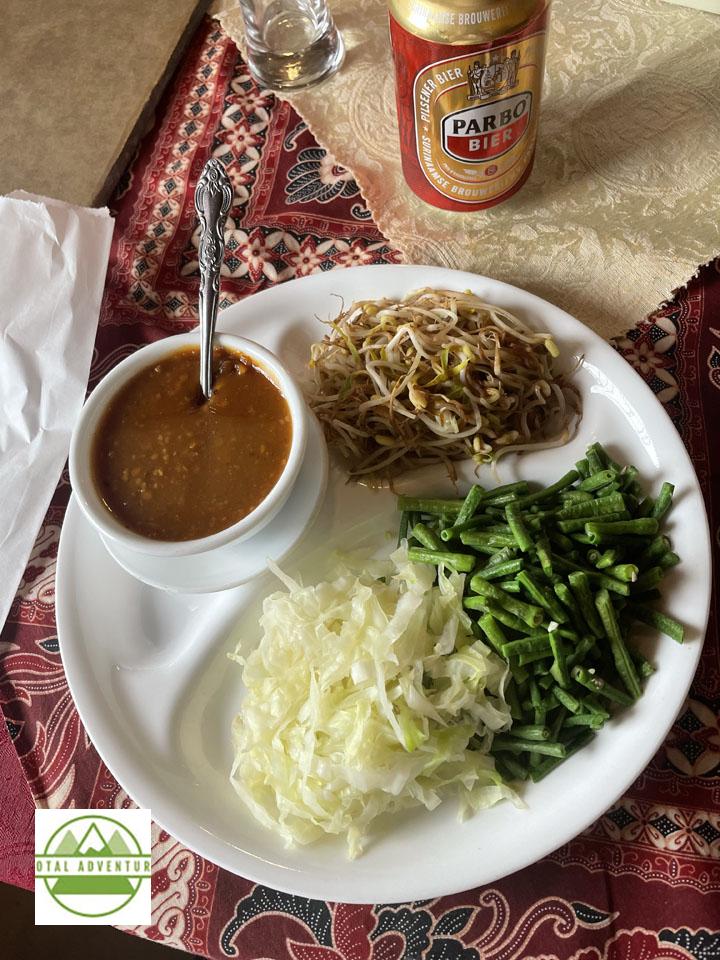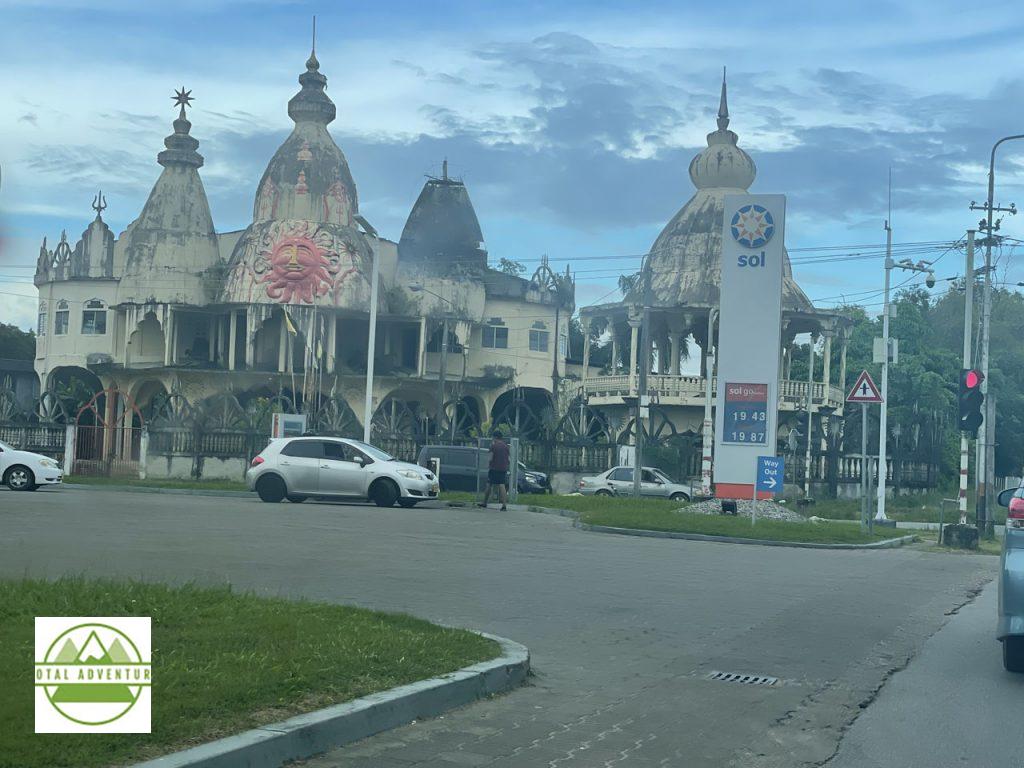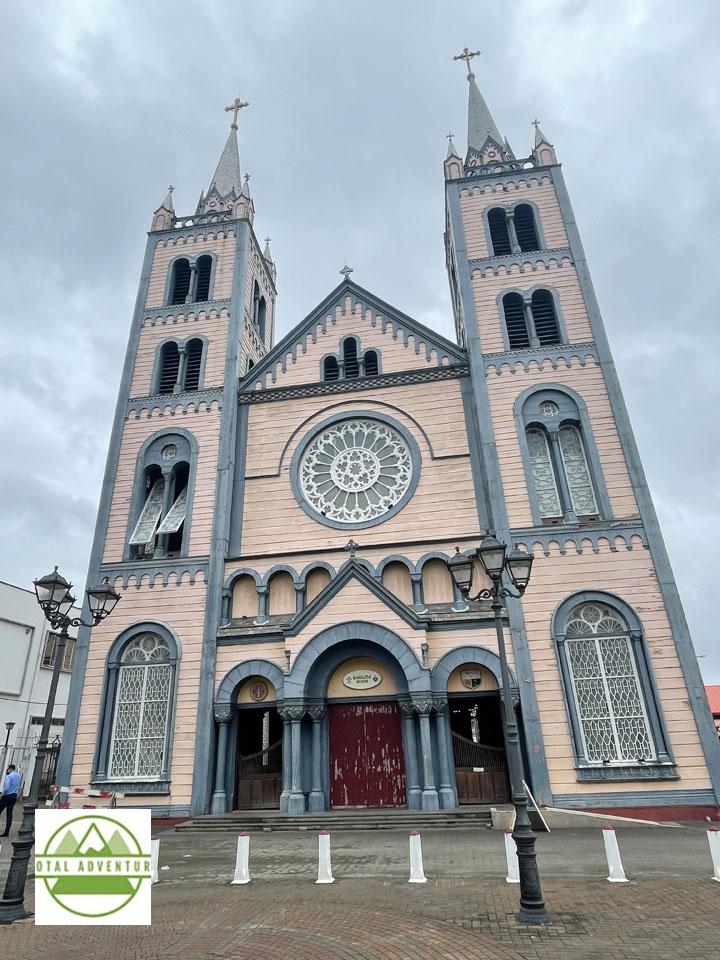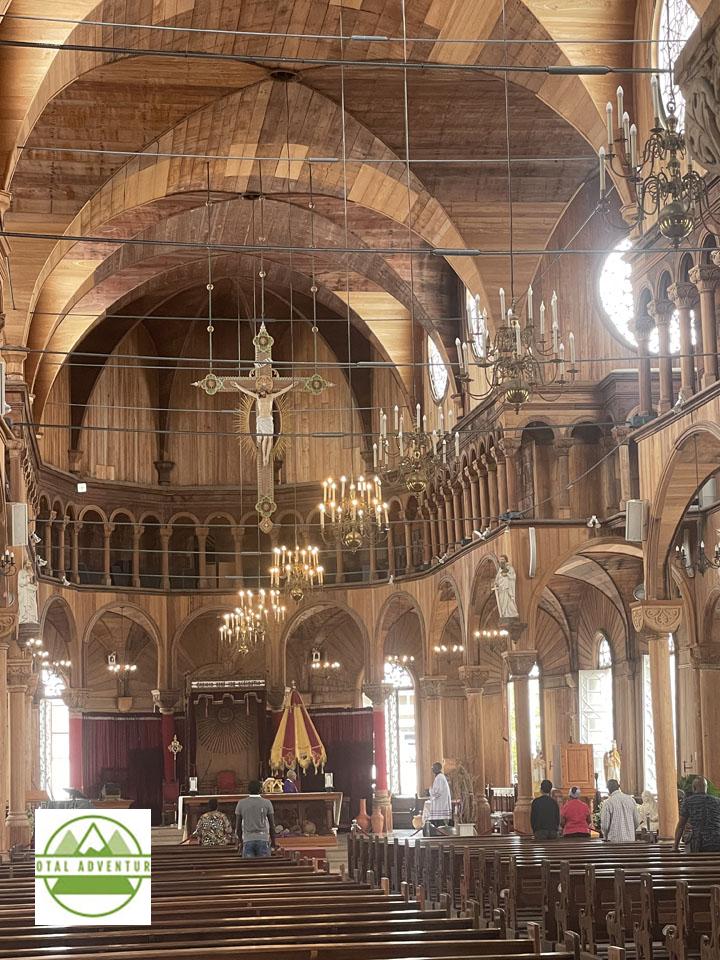 All Wooden Interior of Church.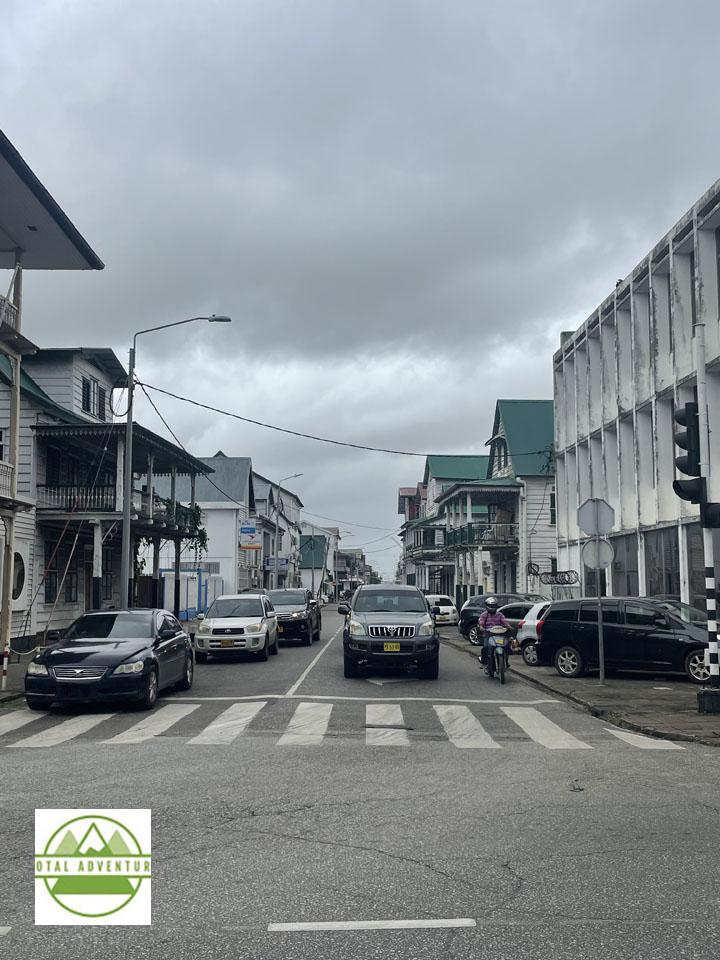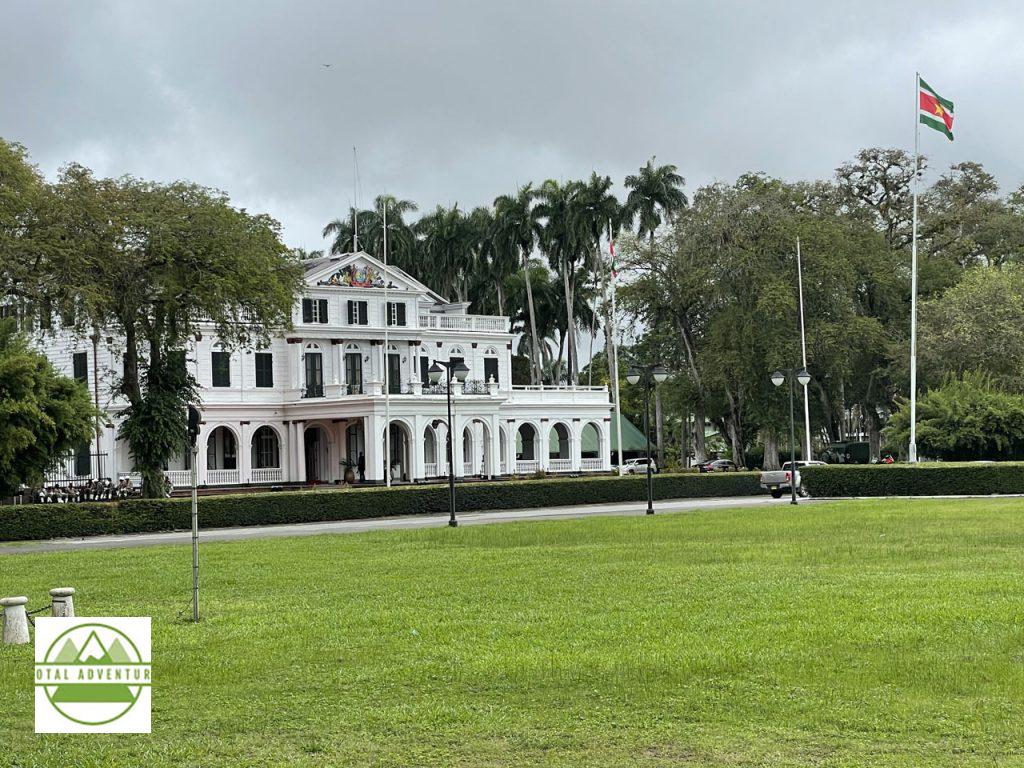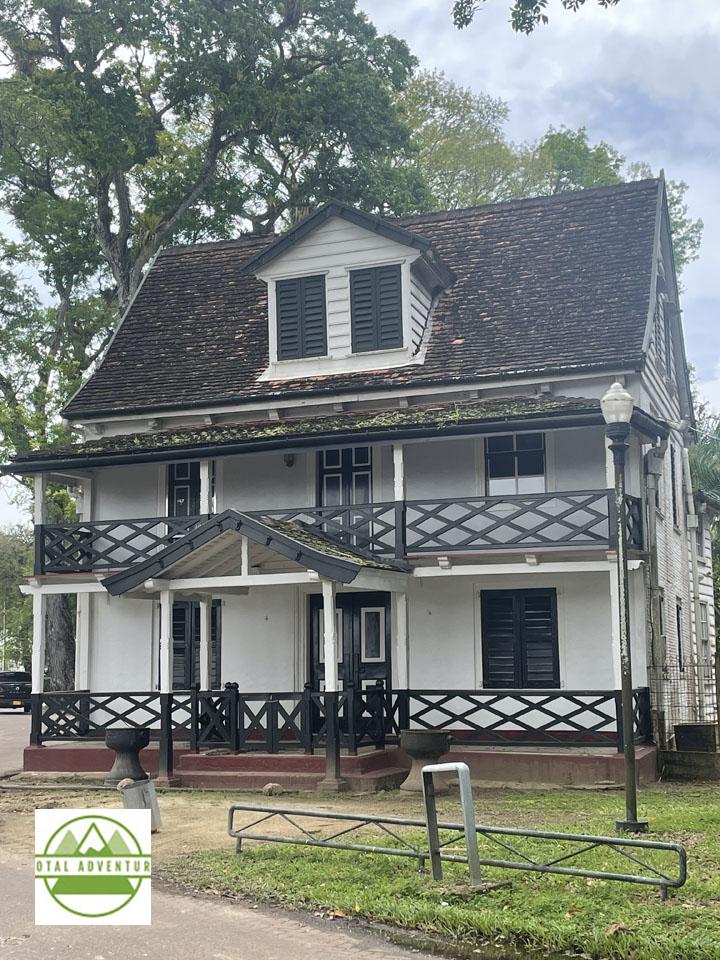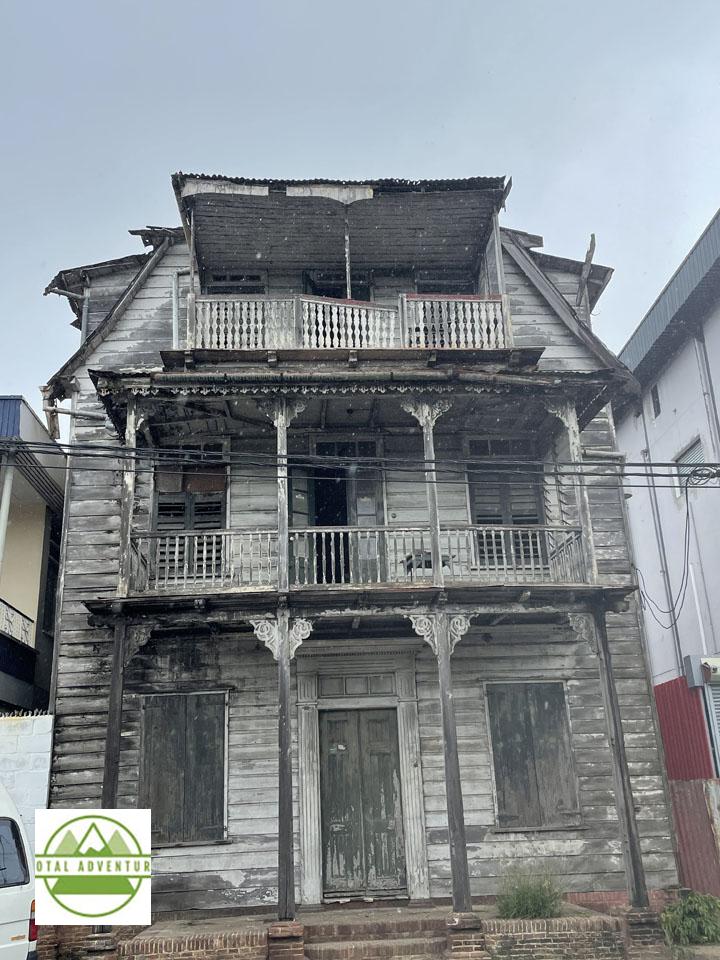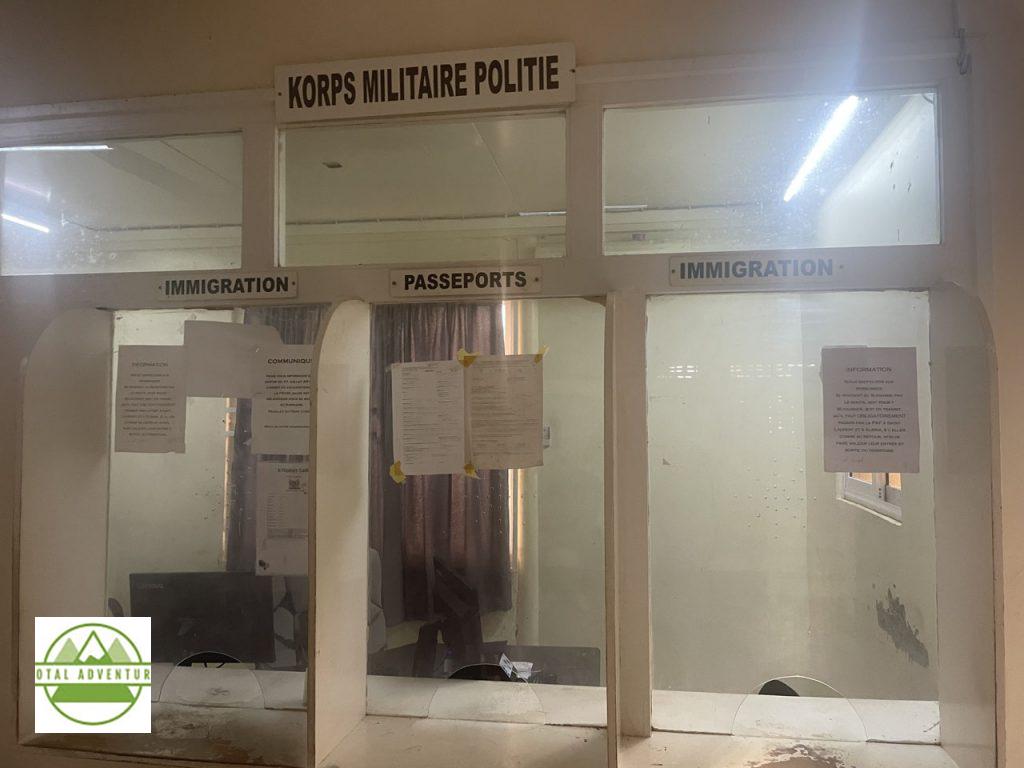 An early morning ride from Paramaribo got me to the border town of Albina by 9AM. Jungle and small villages all the way. Suriname is the most forested country in the world. Many less documents were required for exit.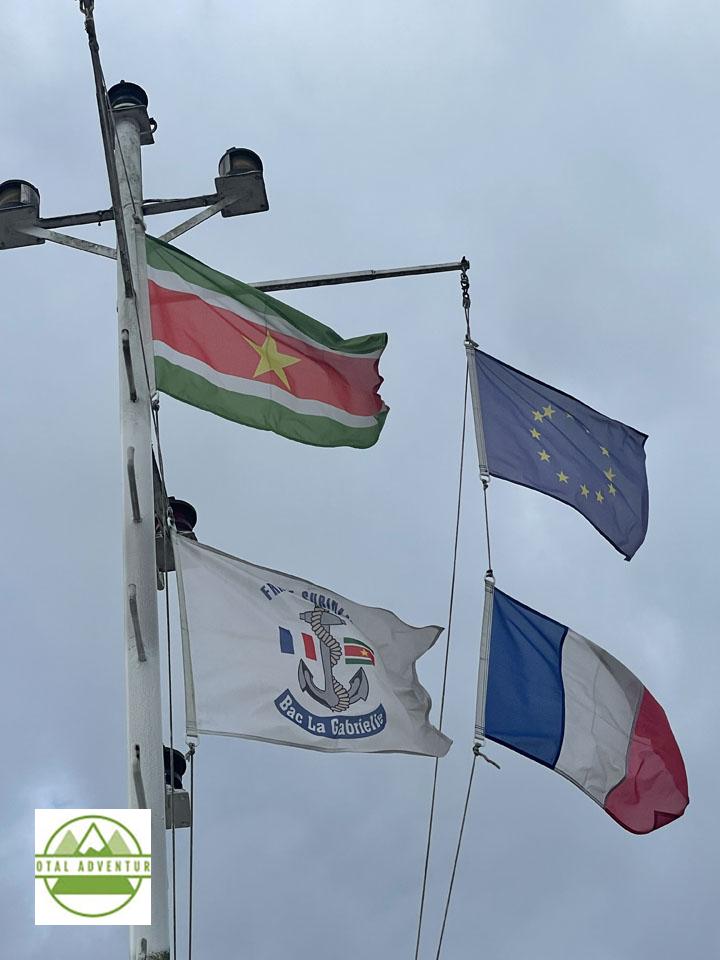 The ferry from Suriname to France takes about 20 minutes and costs 3.40 Euro. There is no direct flight from Cayenne to the US – one can go to Paris and fly from there , or island hop through French islands to Miami. Consequently I will return to Suriname after Cayenne.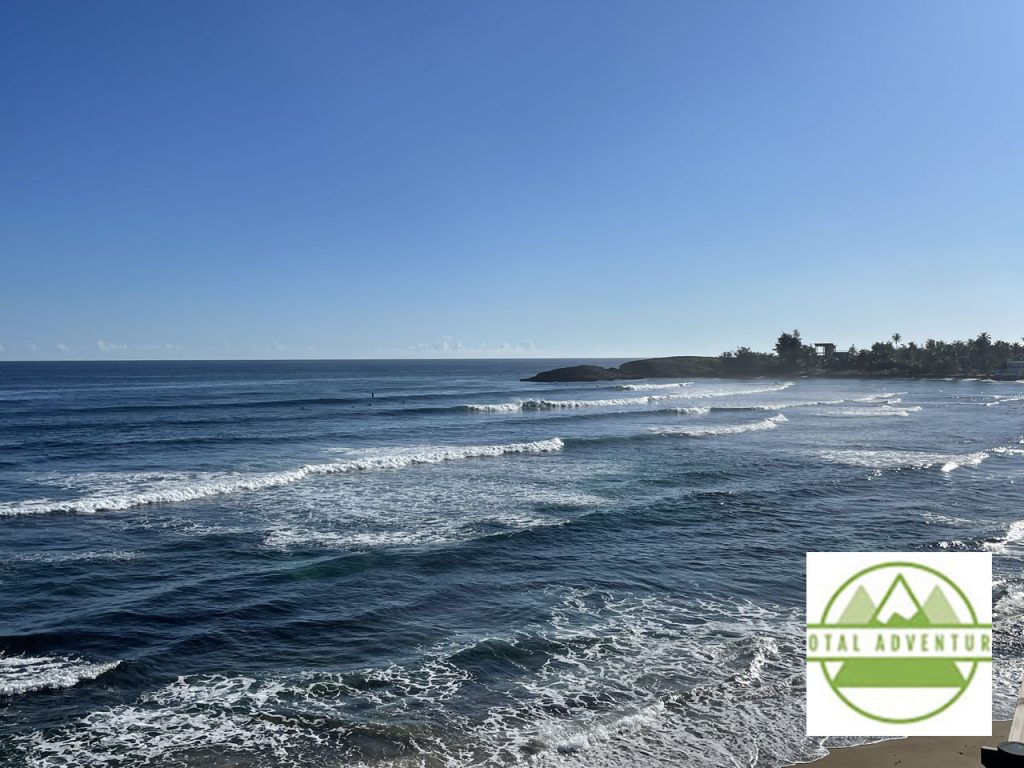 In late September,TotalAdventure decided to explore a part of the "Miami Neighborhood " which is basically the entire Caribbean Basin. Just two hours away from Miami is the US Territorial Island of Puerto Rico. At 107 mies long and 40 miles wide, it's perfect for a long weekend getaway. As a US Territory , it operates fairly independent of Washington.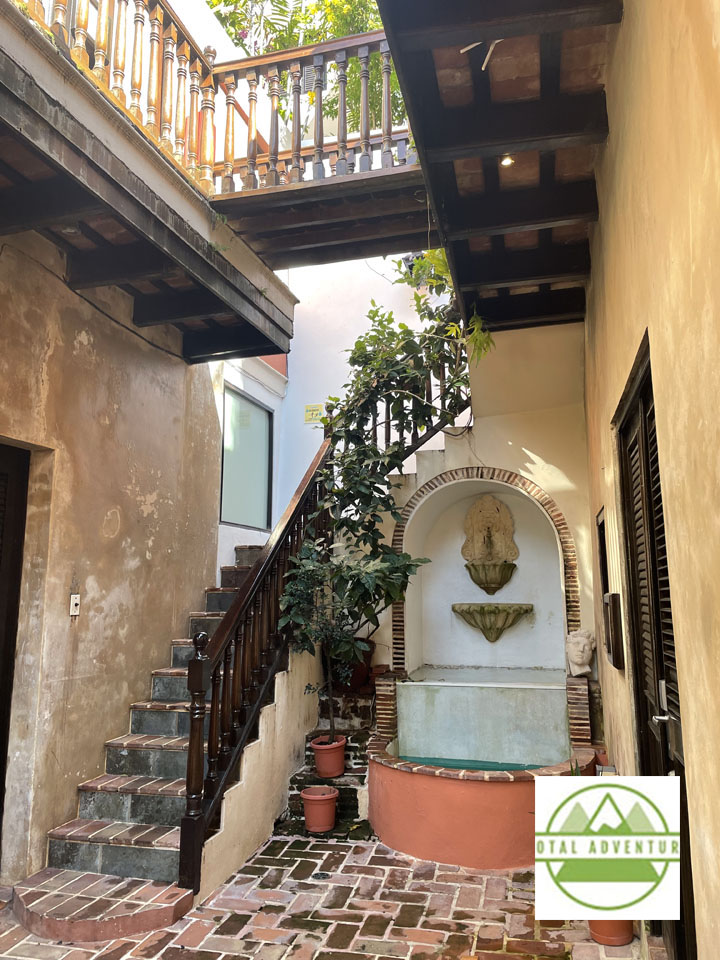 Just off the plane , I went right to the beach at Playa Piñones. The first and last nights were spent in San Juan..Here is the Villa Herencia, charming and from the colonial era.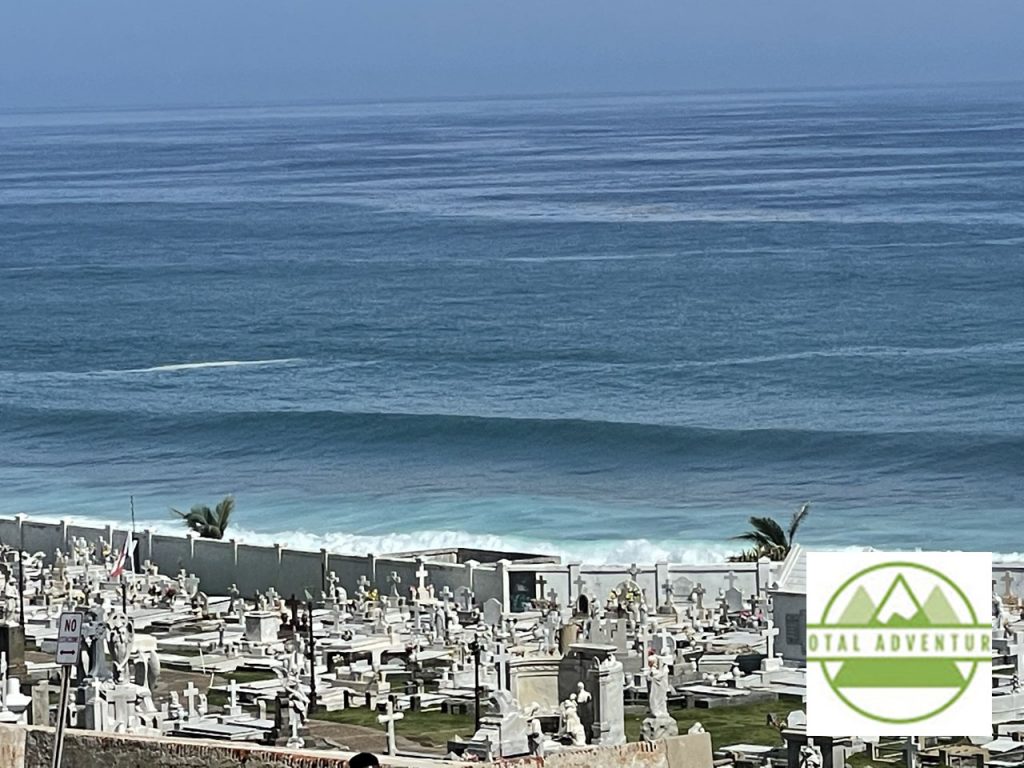 Breakers near El Morro. However there is no beach there, only sharp jagged rock.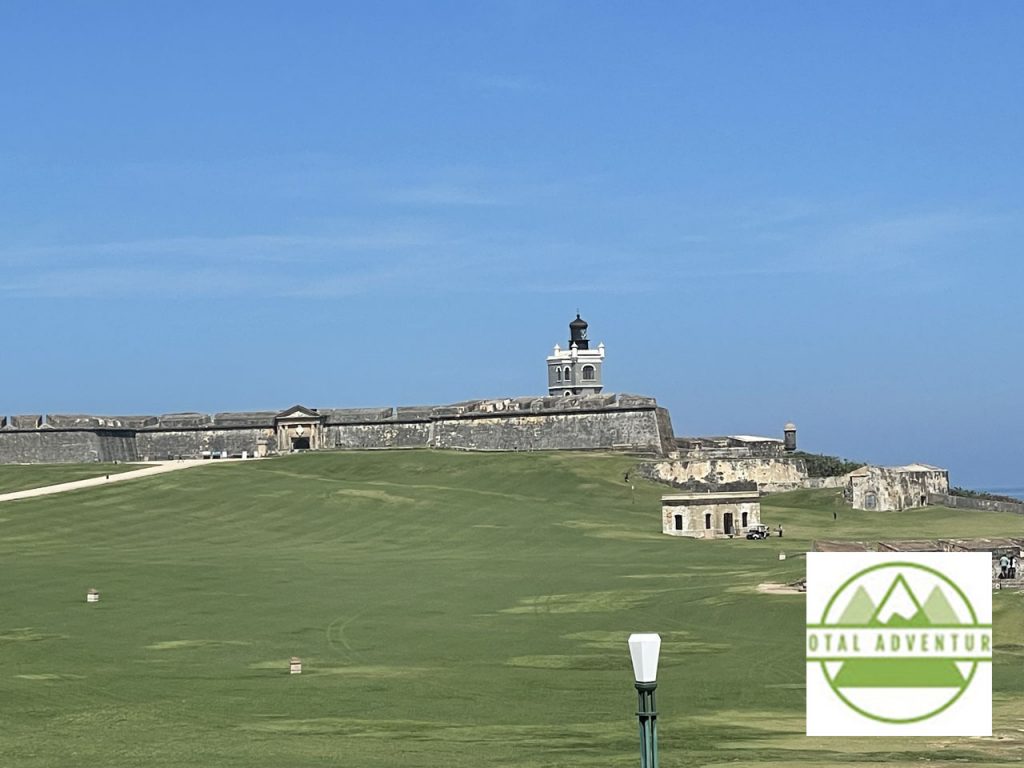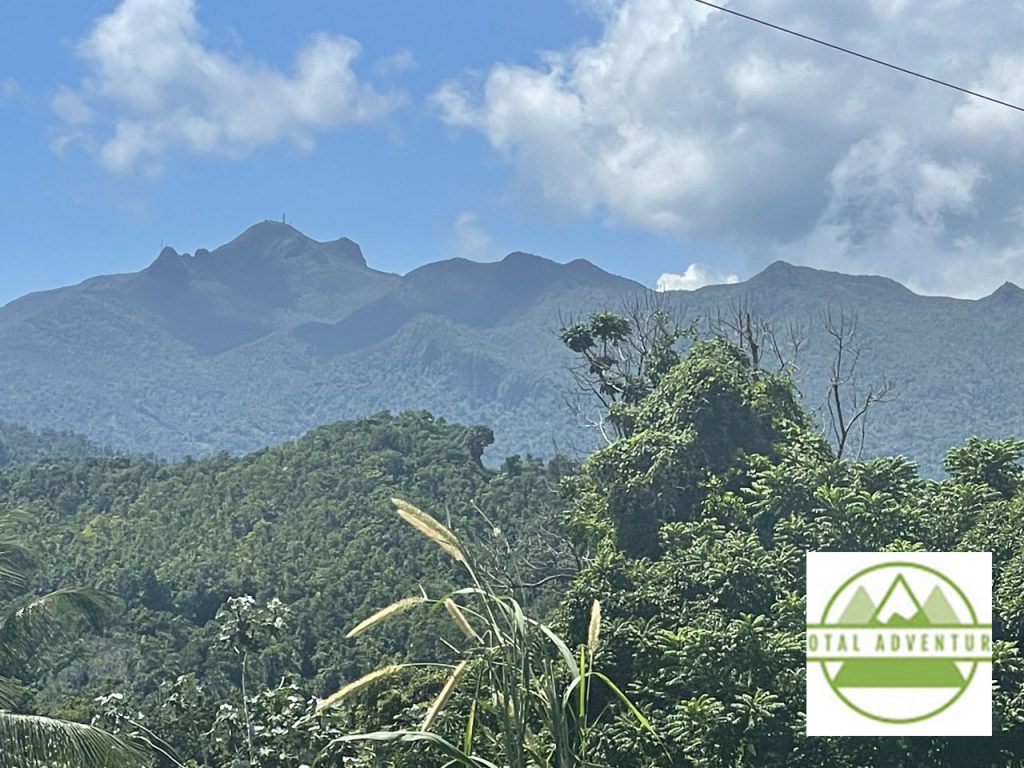 Just 30 miles from San Juan is El Yunque, a mountainous rainforest going up to about 4000 feet elevation. While not that high, temperatures there are much cooler than 90 degree San Juan, often remaining in the 70s during the day.

TotalAdventure circumnavigated half the Island in one day, arriving in Ponce by nightfall. The Eastern coast has great panoramas ,but very few hotels..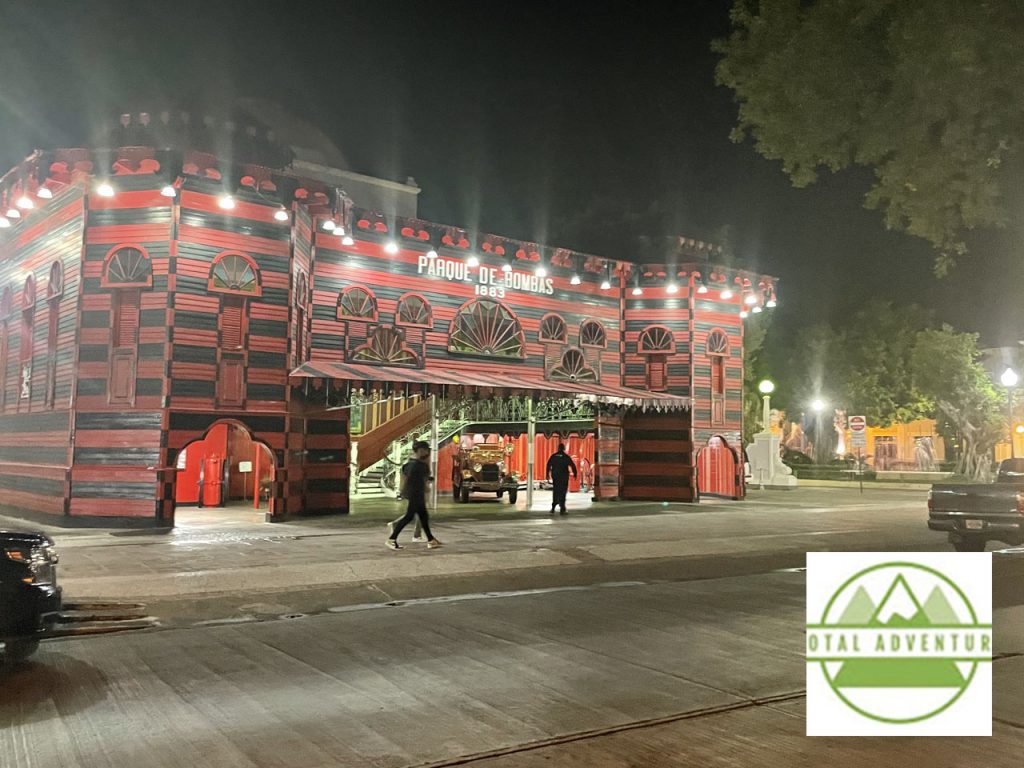 The Colonial city of Ponce is well preserved, despite recent bombardment by Hurricanes and Earthquakes.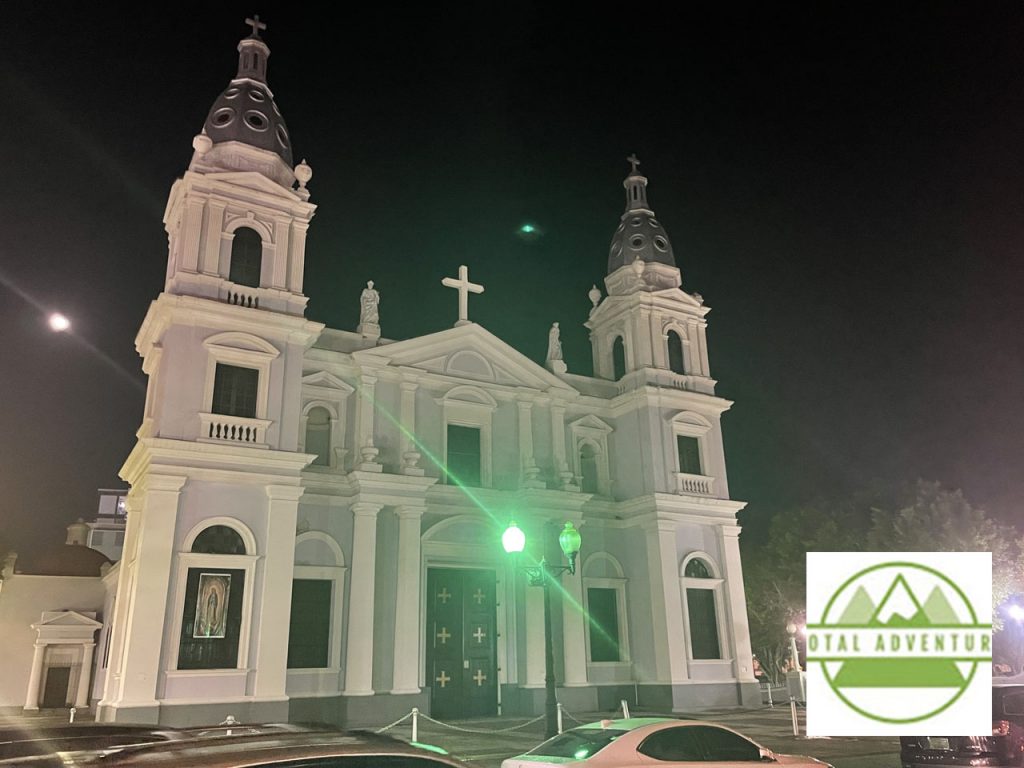 In the deadly earthquakes of 2020, an urn weighing several tons fell from the right tower. Luckily no one was under it.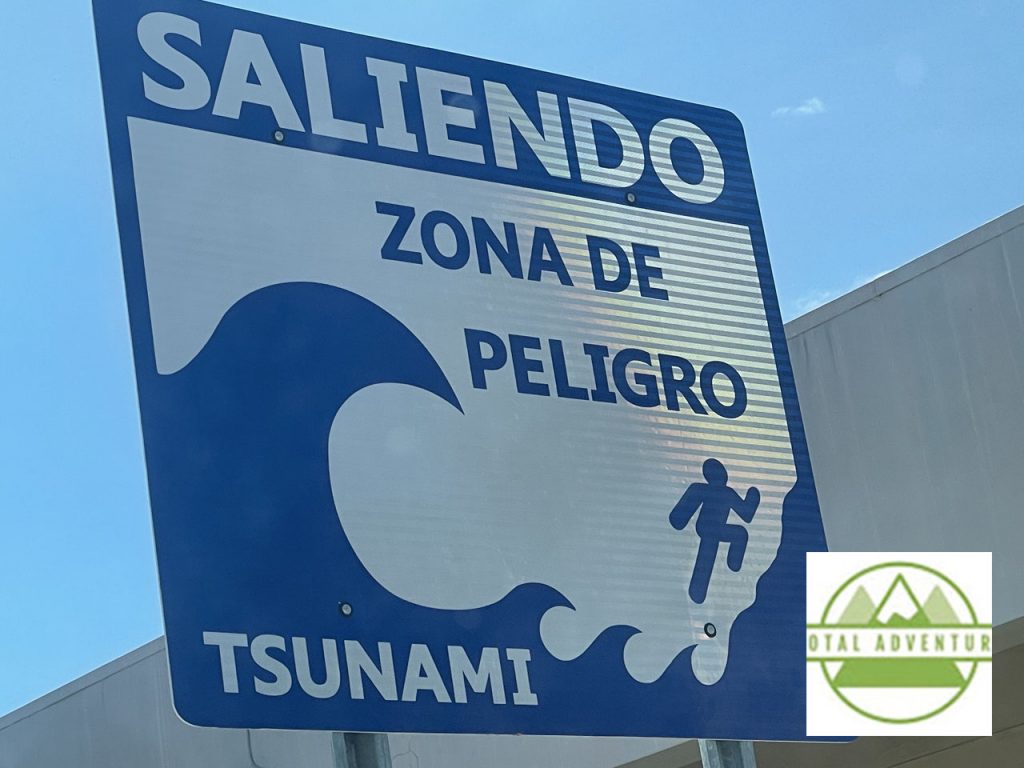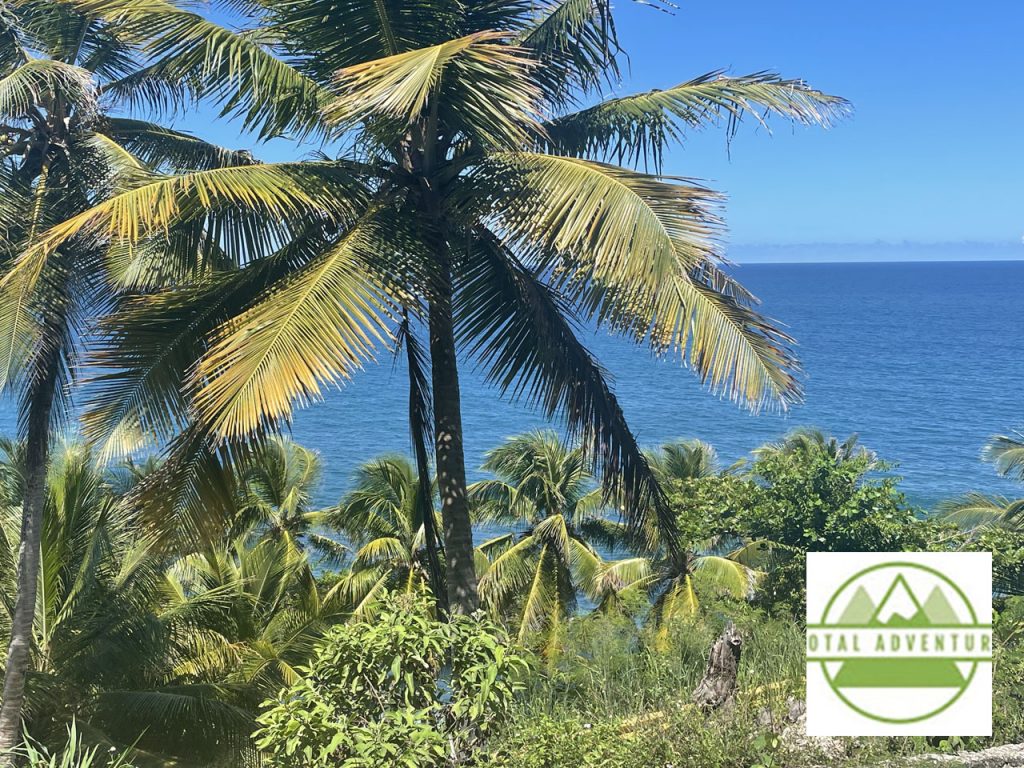 A great bodysurfer,TotalAdventure stopped in at Playa Rincon ,known all over the USA as a top surf spot. The waves were small right breaks onto a rocky shoreline. Waves get up to 20 feet with winter cold fronts. The cold fronts do not bring cold weather however, it stays in the 80s in January.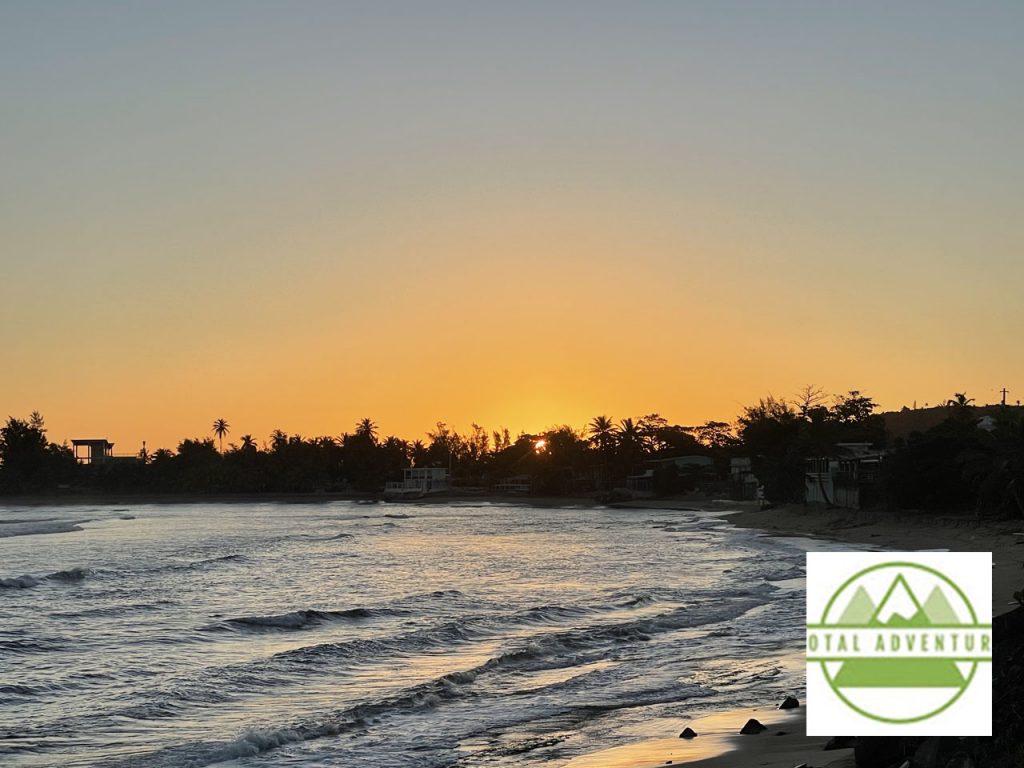 Saturday night was in Isabela, on the Northwest Coast. A rustic surfer hotel,The Oceanfront was very basic, no internet, for $ 100 per night. However ,it had incredible views as seen above. I spent the entire morning bodysurfing and seeing waves crash on the cliffs as well as following sea turtles. Watch the above video carefully.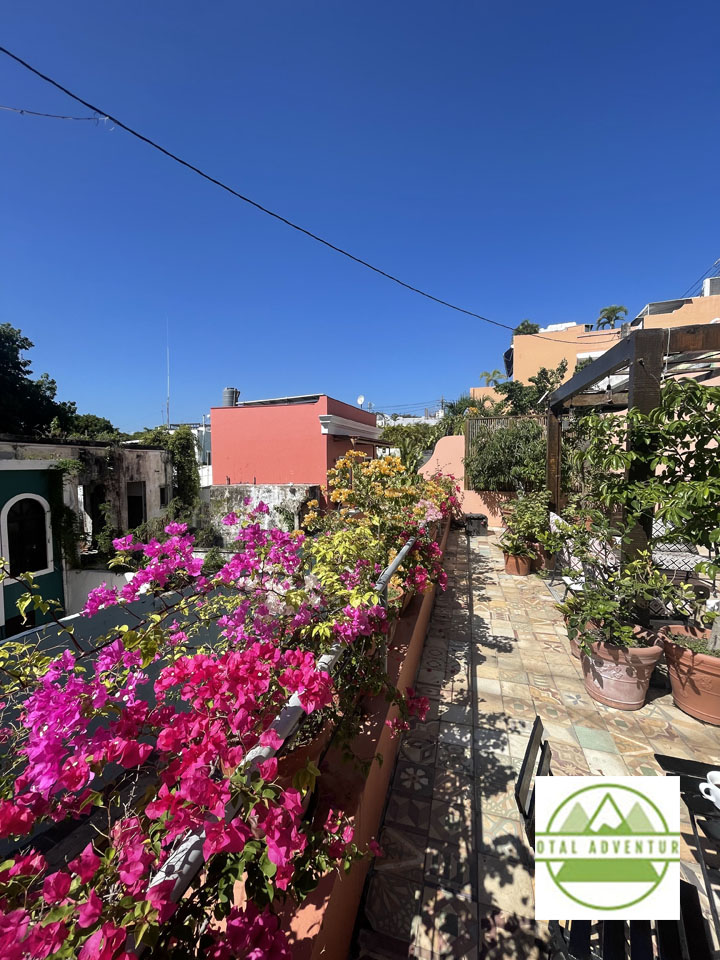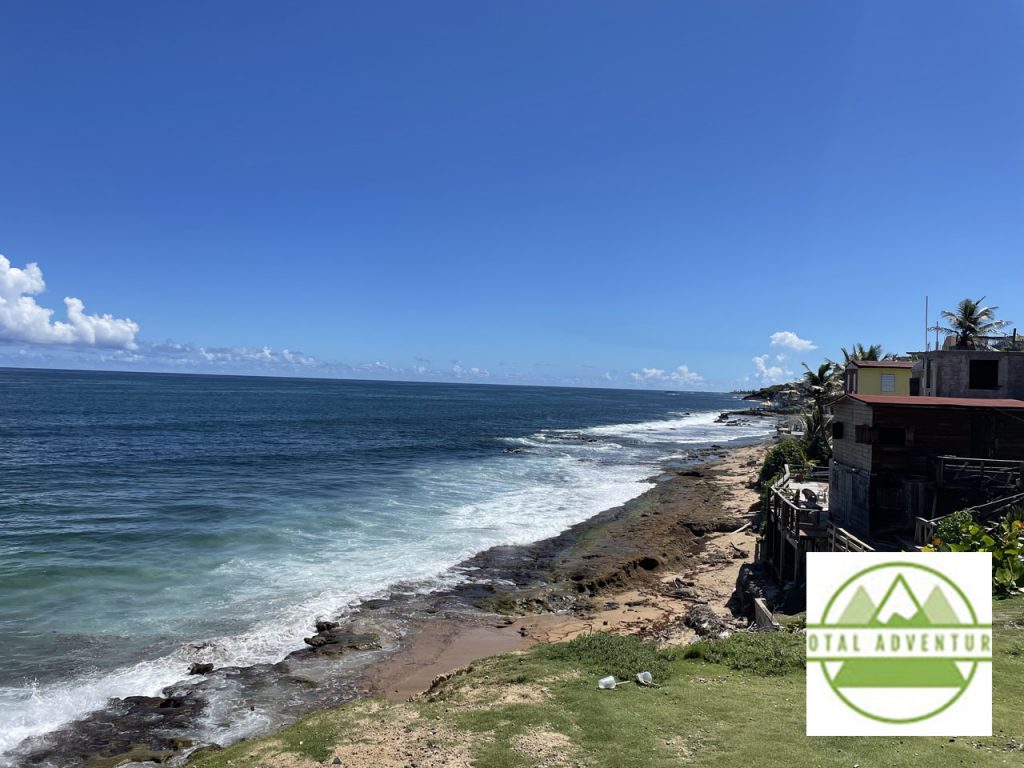 The final night was back in San Juan. I took a motor view of the seaside Barrio of La Perla, where cameras are strictly forbidden. The final activity was snorkeling just off El Morro, before dashing to SJU for the flight back to MIA.
On Saturday afternoon, July 18th, I crossed over the bridge from Superior Wisconsin to Duluth Minnesota. Minnesota was my 46th State and my second new state of the day.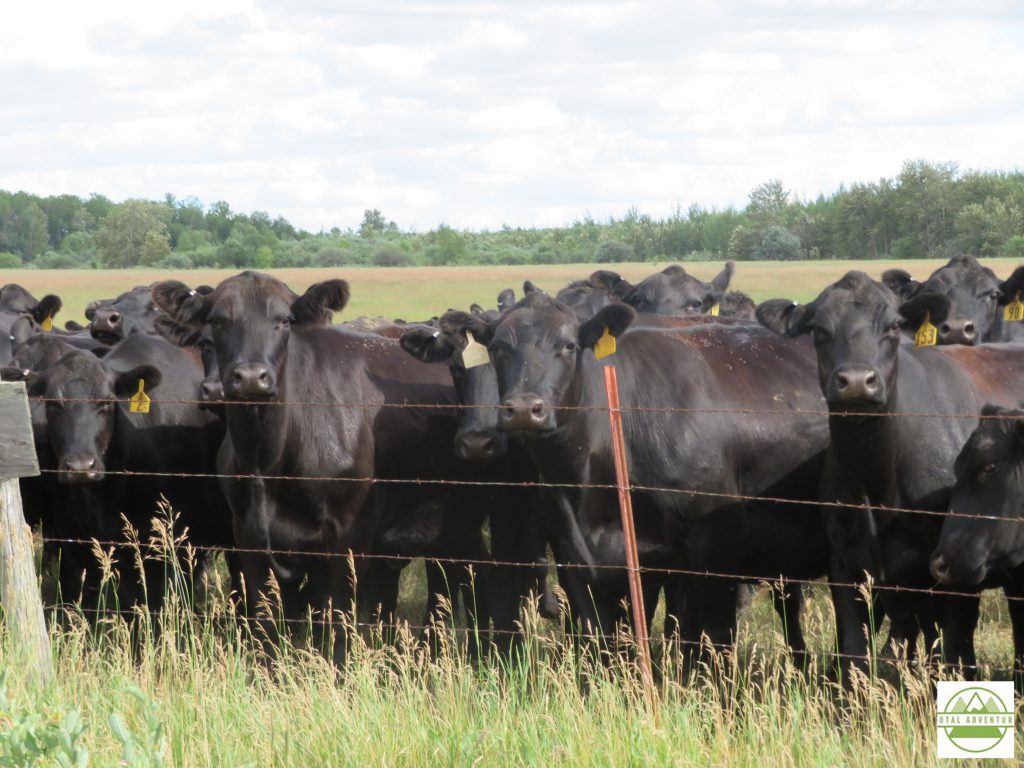 I spent the night in Duluth, a city of low mountains overlooking vast Lake Superior. Though the inhabitants are thoroughly American ,the city has a European look to it.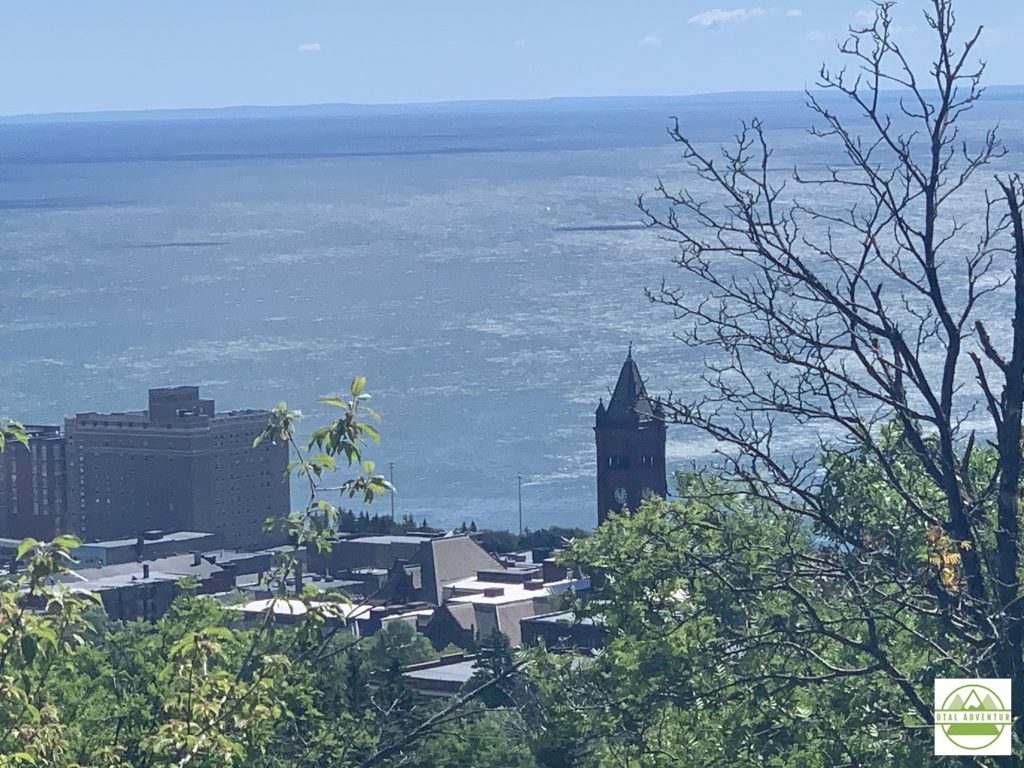 Iron Ore from the Iron Mountains is shipped to steel plants all over the world.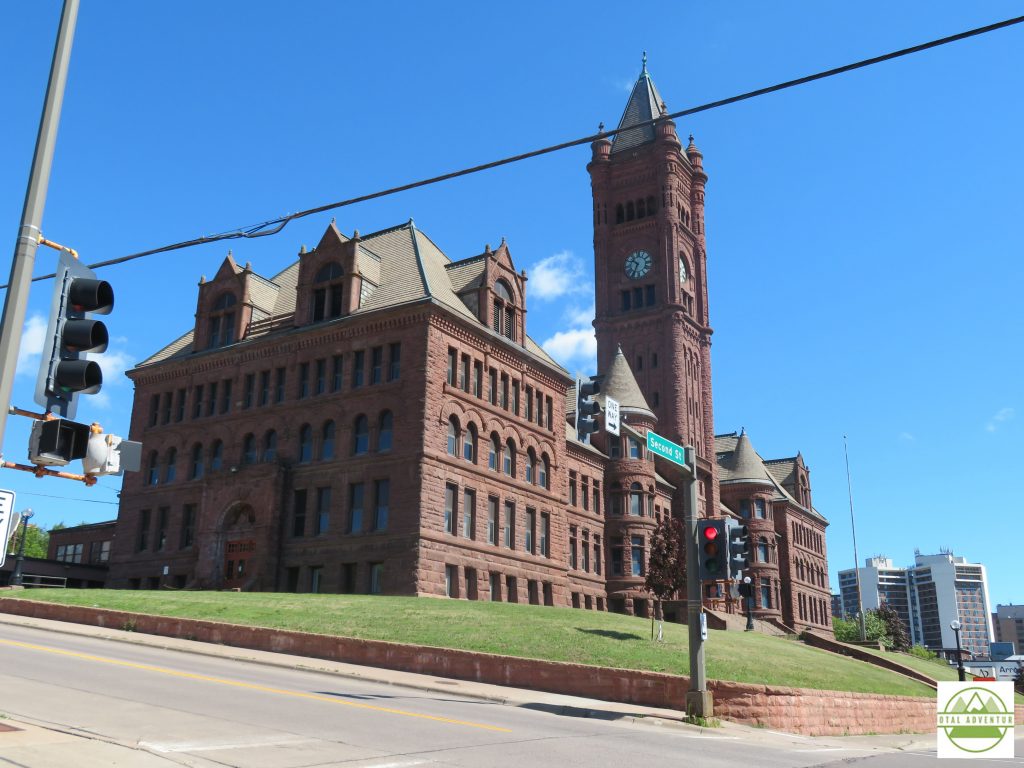 I stayed at Fitgers Inn, a nice splurge , located in an old brewery.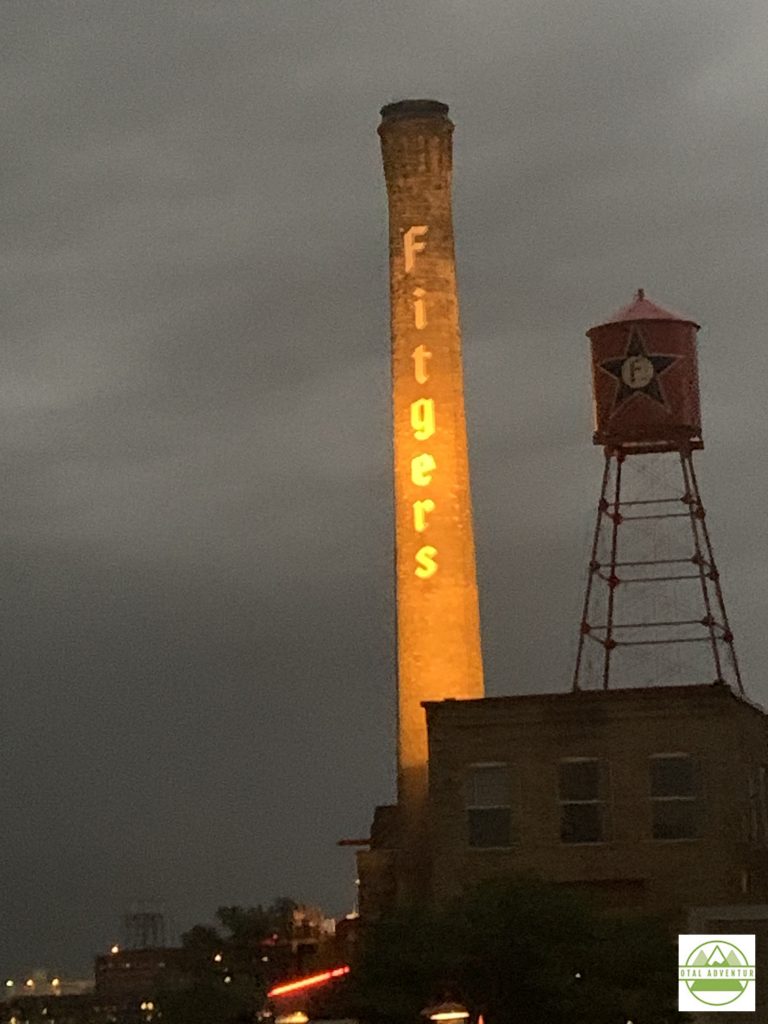 The Beer Is Pretty Good.
I stopped for lunch in Virginia,Minnesota, heart of the Iron Range.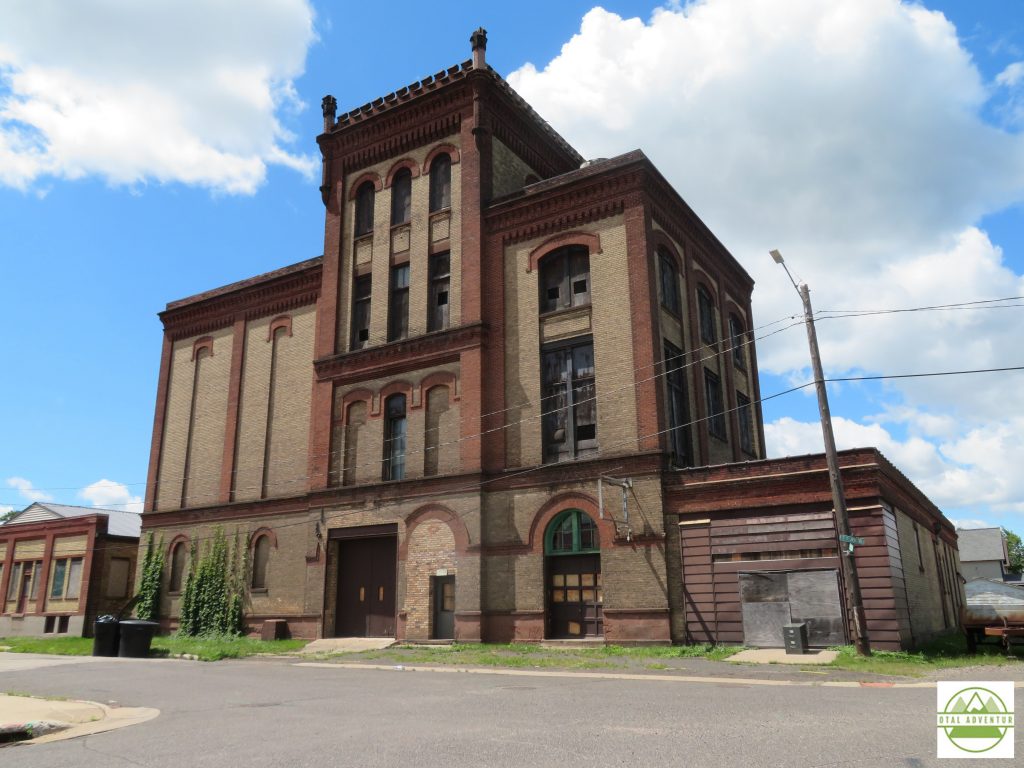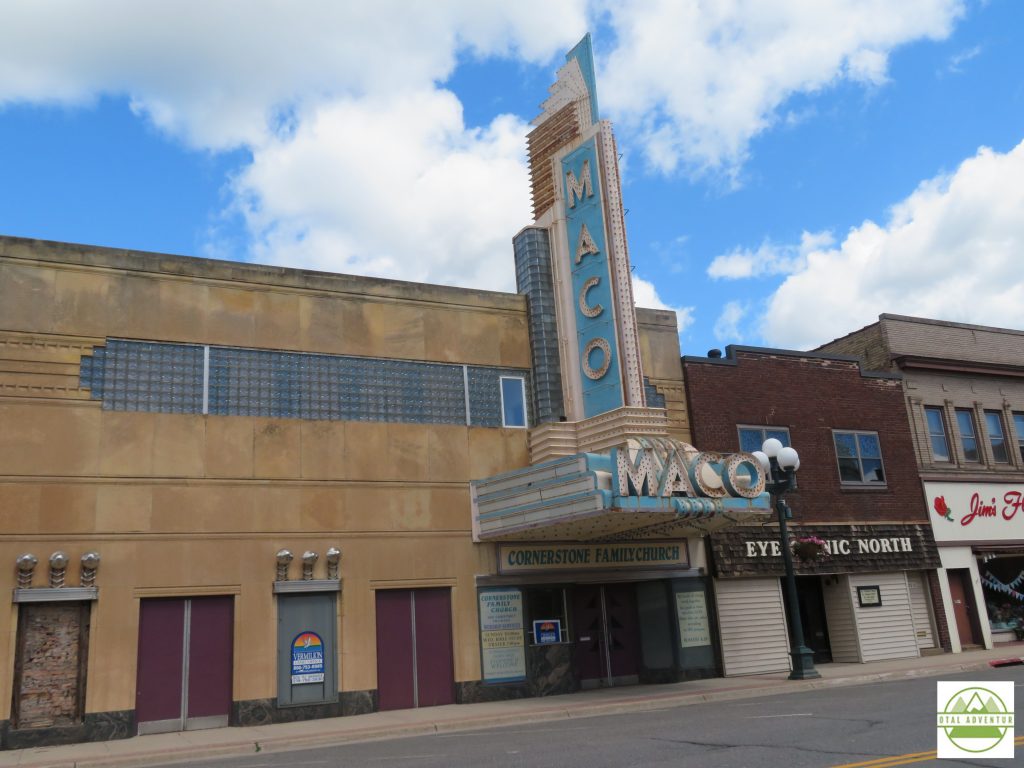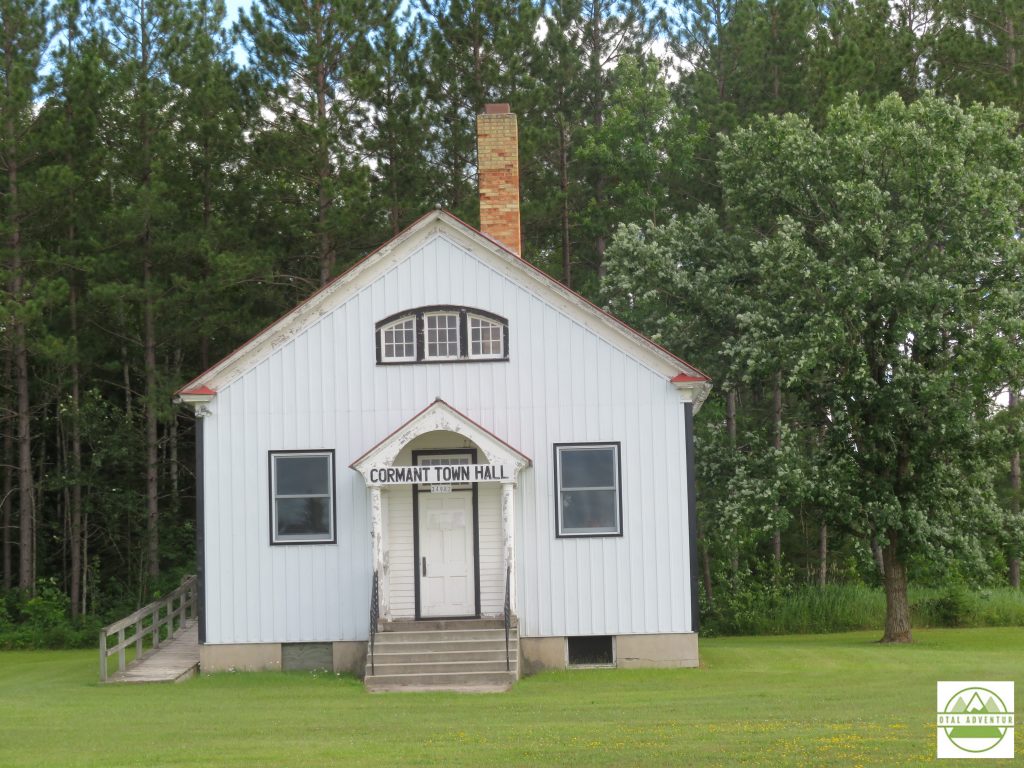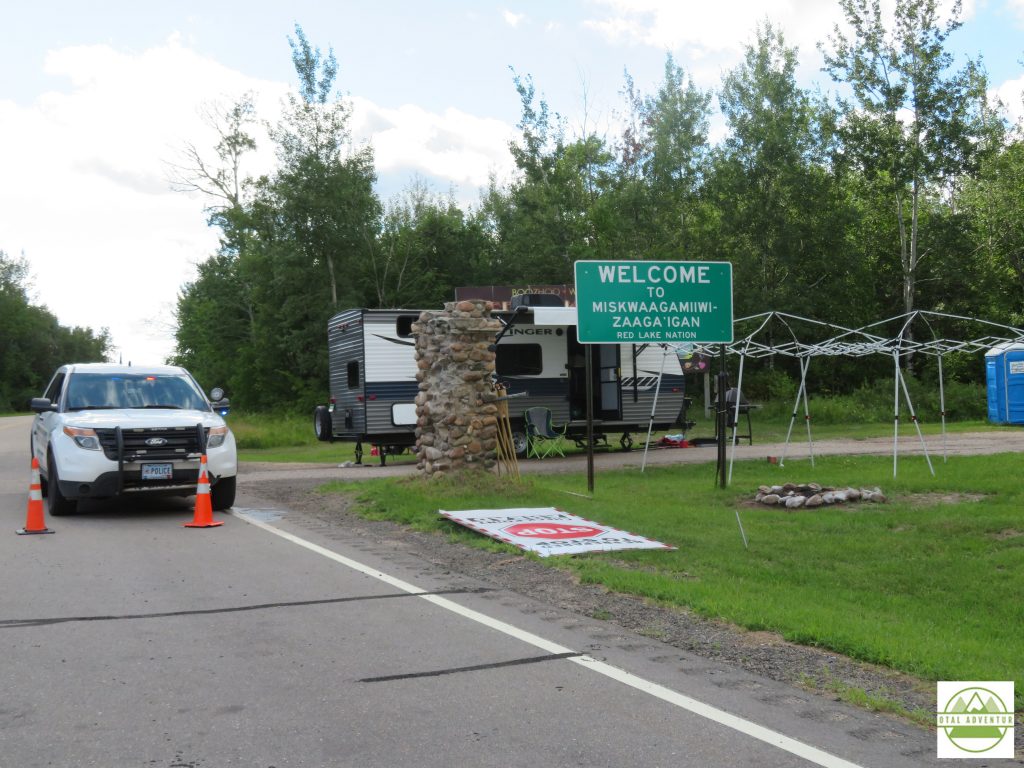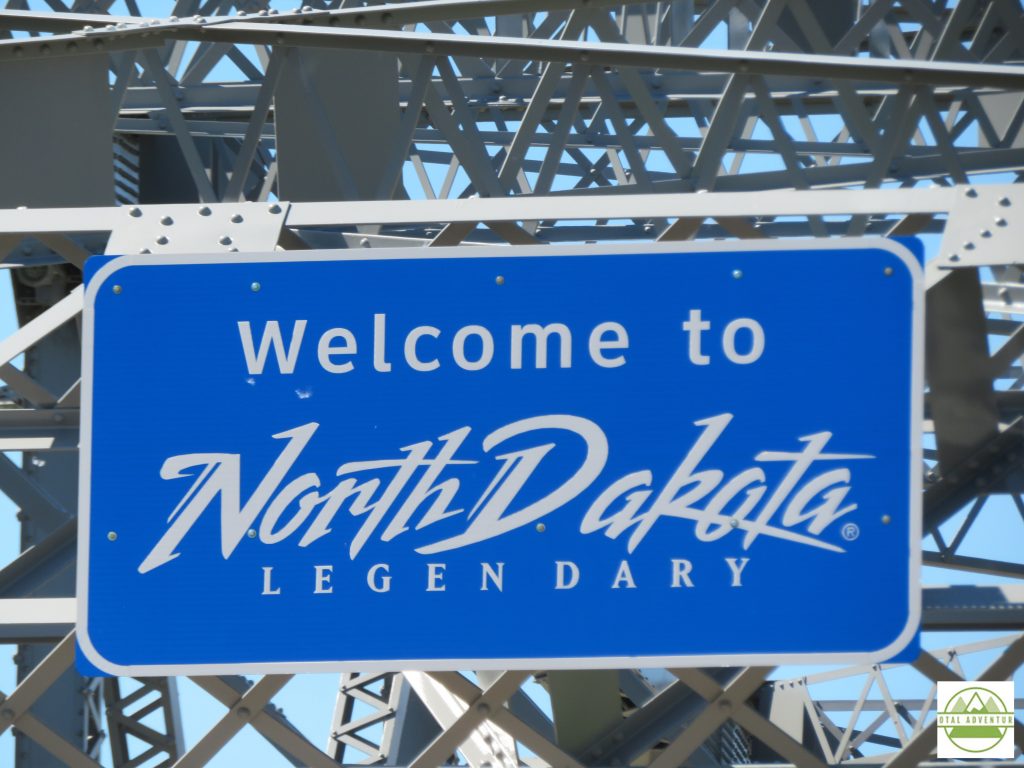 On Monday morning, July 20th, I crossed the Red River into North Dakota, my 47th State ! The Center of North America ! After an excellent Vietnamese lunch in Grand Forks, I headed out into the farmlands.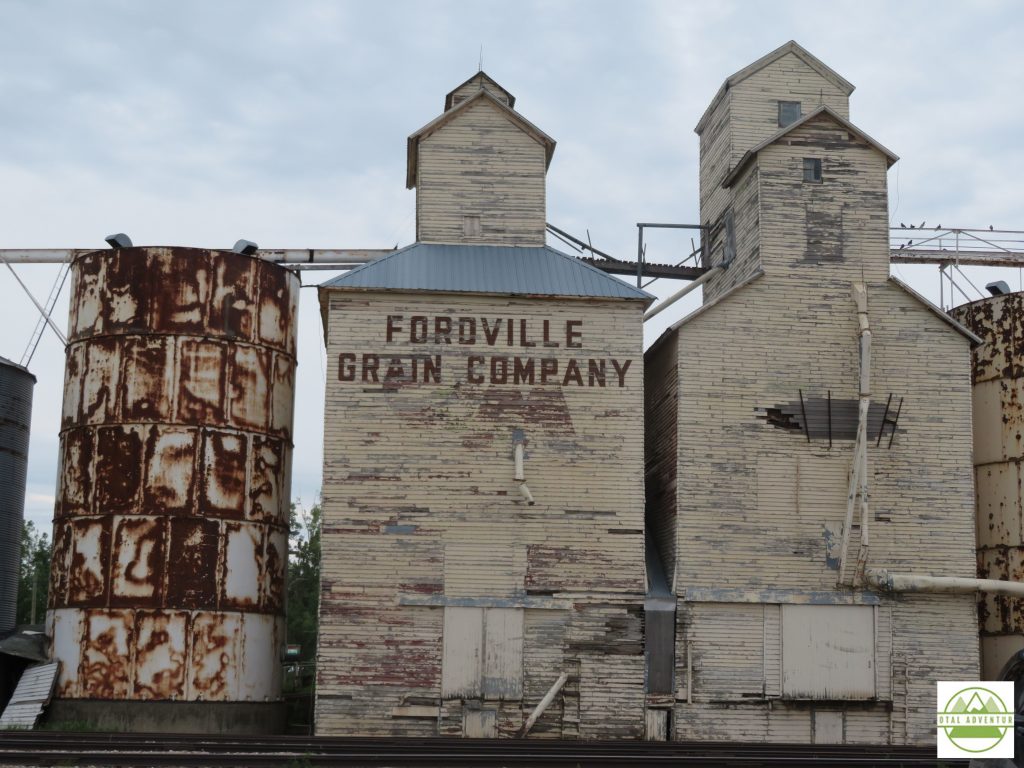 Miles and miles of soy and beans. Some corn, but this far north there's only one crop a year. And wheat more than anything.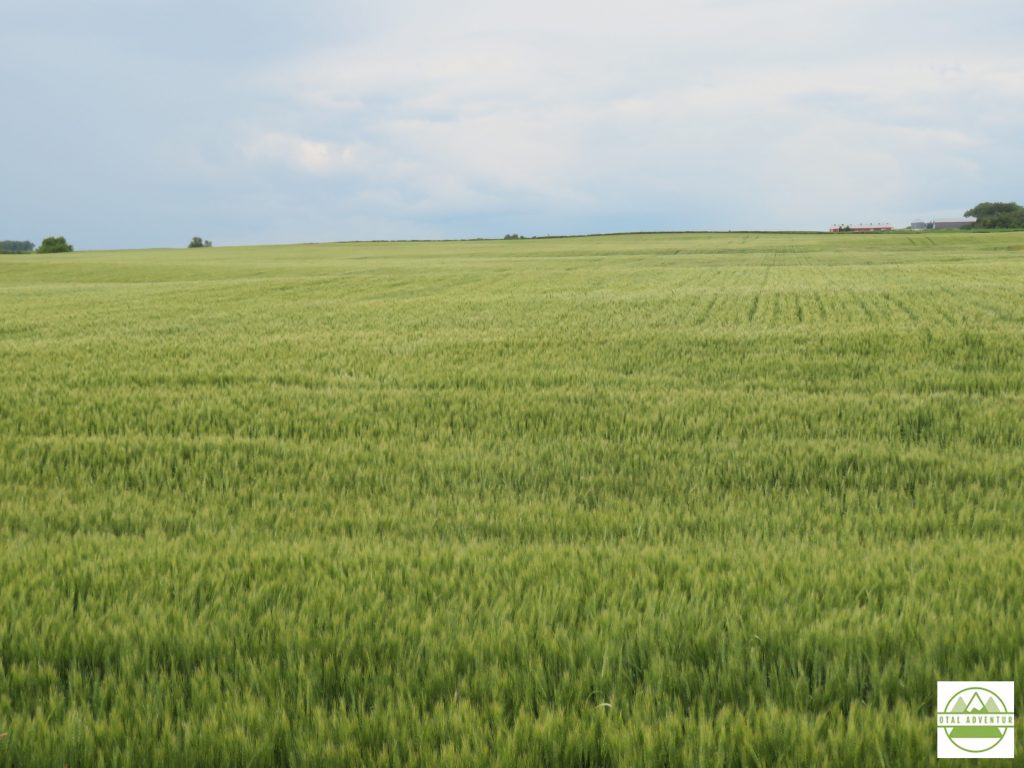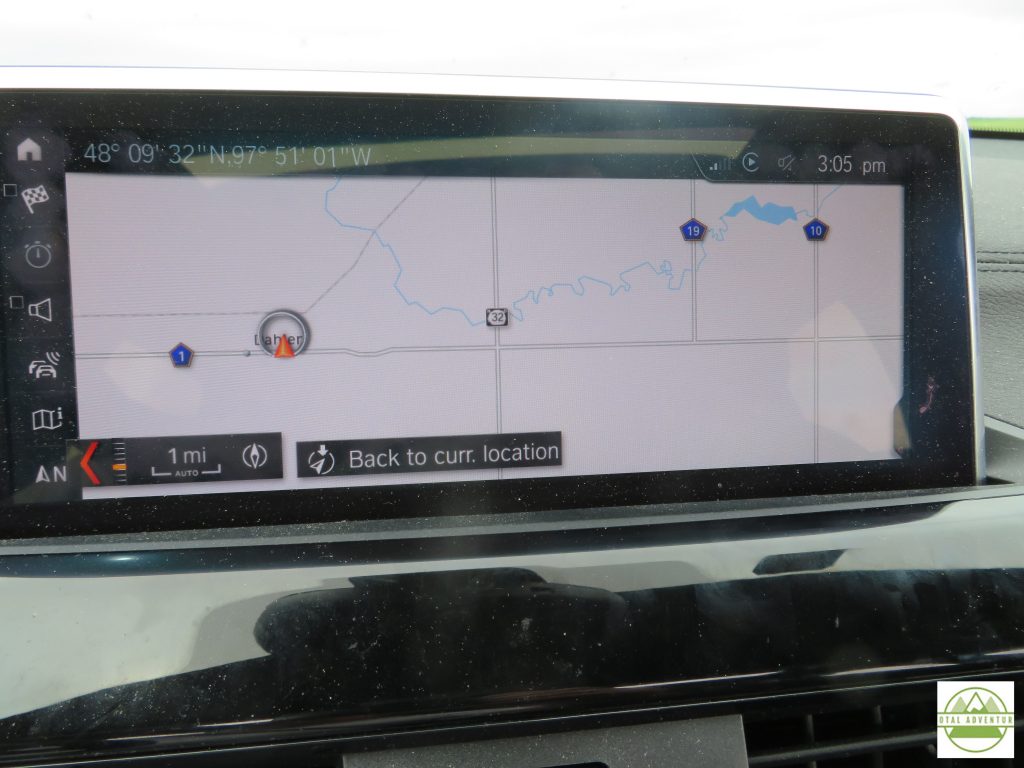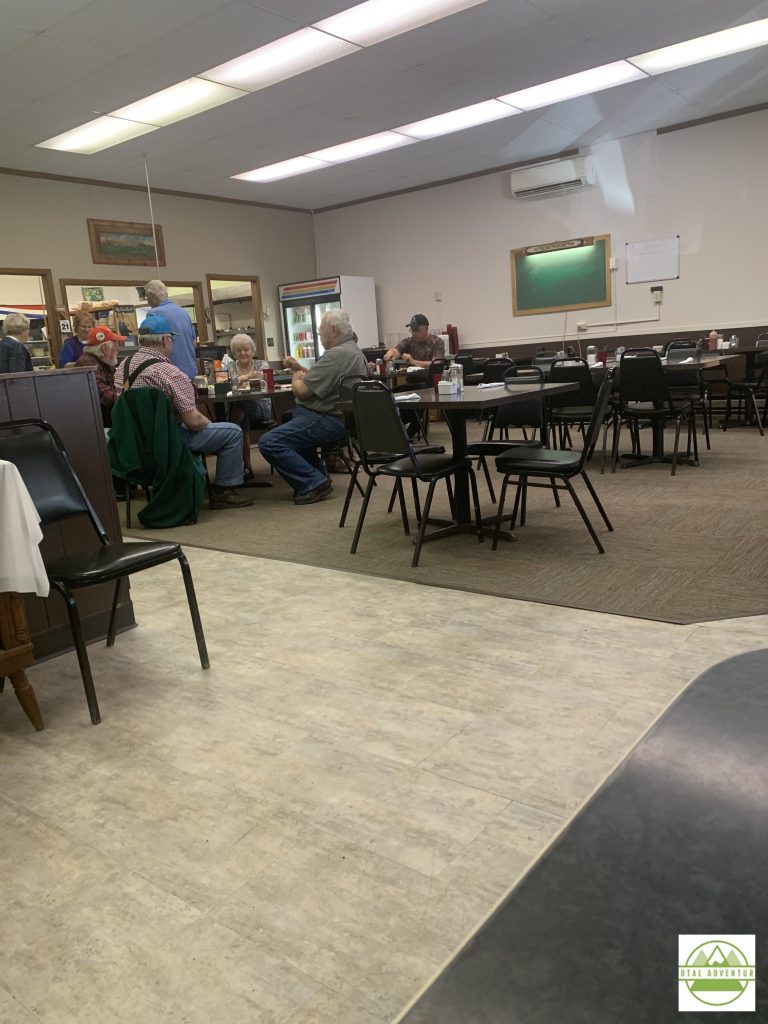 I stayed at a hunting and fishing lodge at Devil's Lake for the night. In the morning I stopped in Esmond and breakfasted at the Esmond Cafe. I ate inside for the first time on the trip. Not one mask in sight, except mine. Everyone very friendly and for most, the first time meeting someone from Miami or New York. COVID was almost nonexistent in North Dakota then, but later the state was devastated, with about 15 % of the population sickened and one in 500 of the population killed.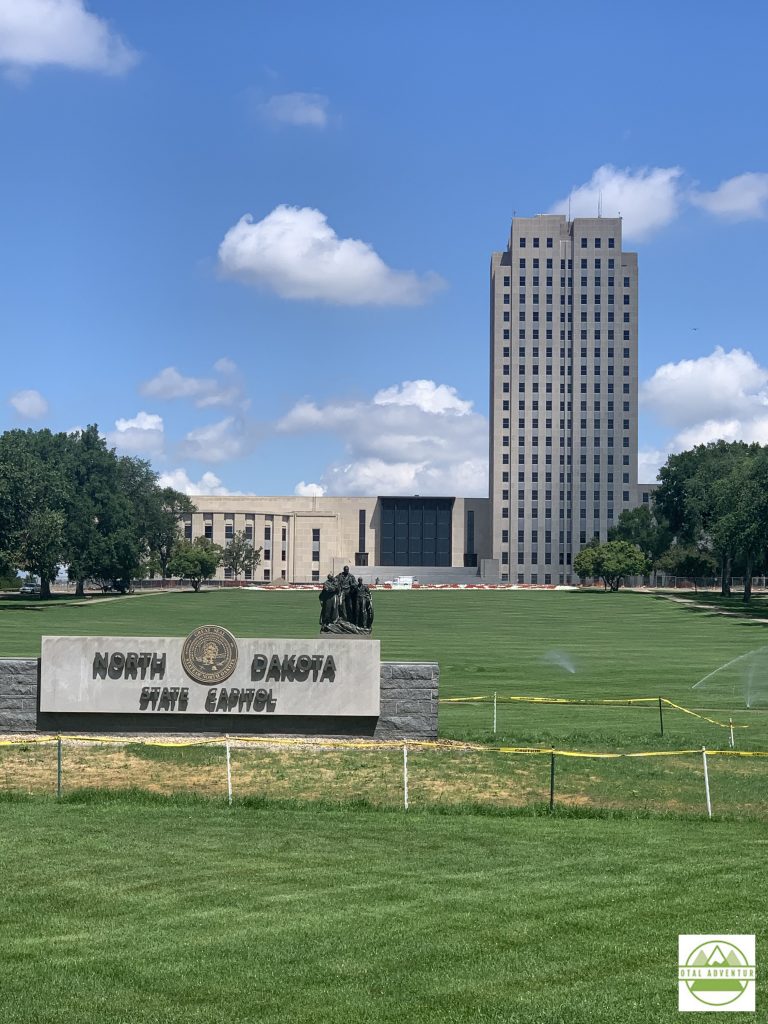 I stopped for lunch in Bismarck ,the capitol. That building is the tallest in North Dakota.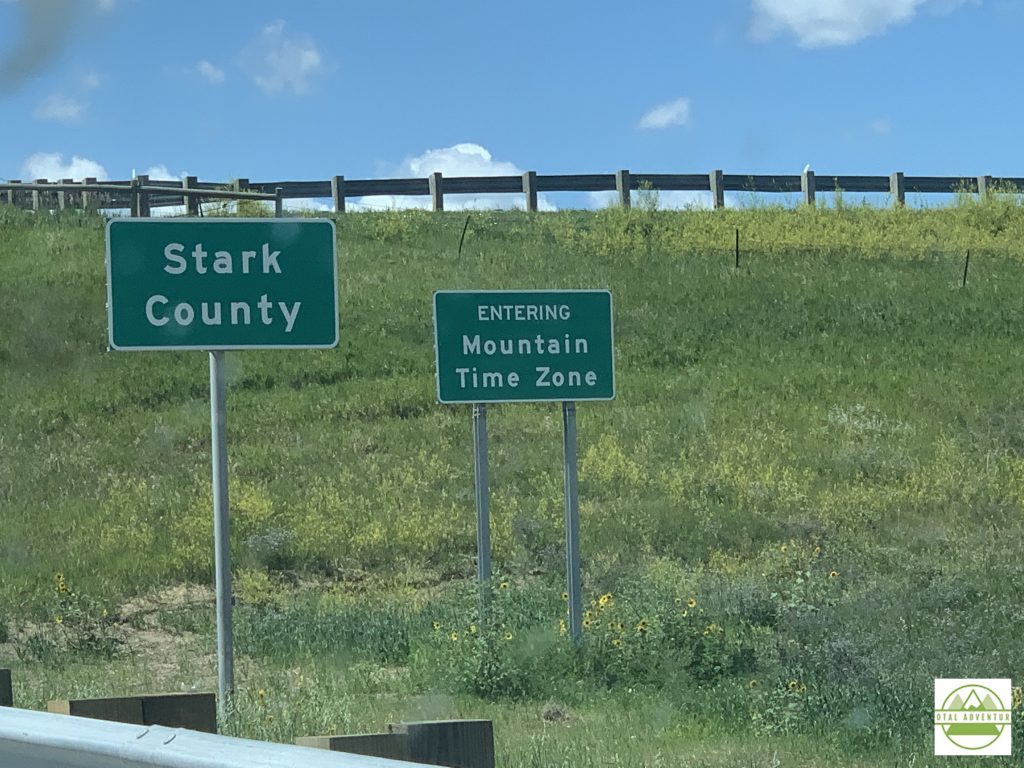 In Dickinson I was in the real West. Changed the clock back for the second time in 3 days.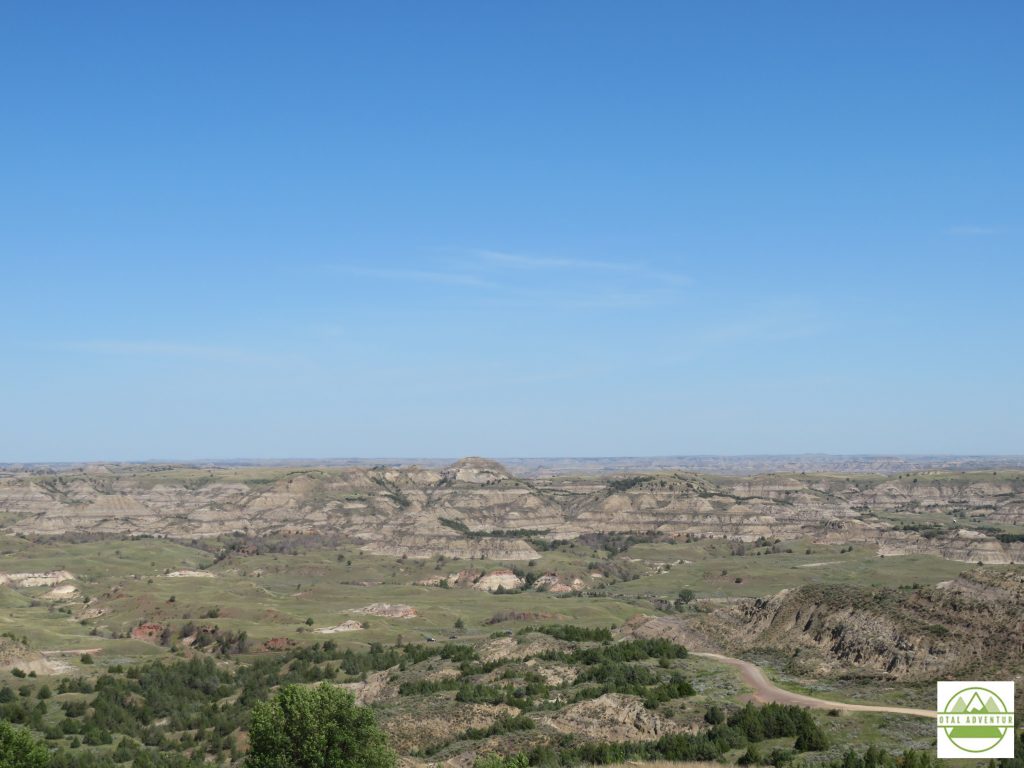 Theodore Roosevelt National Park is a real introduction to a western landscape. Green gives way to brown, flatlands give way to Bad Lands.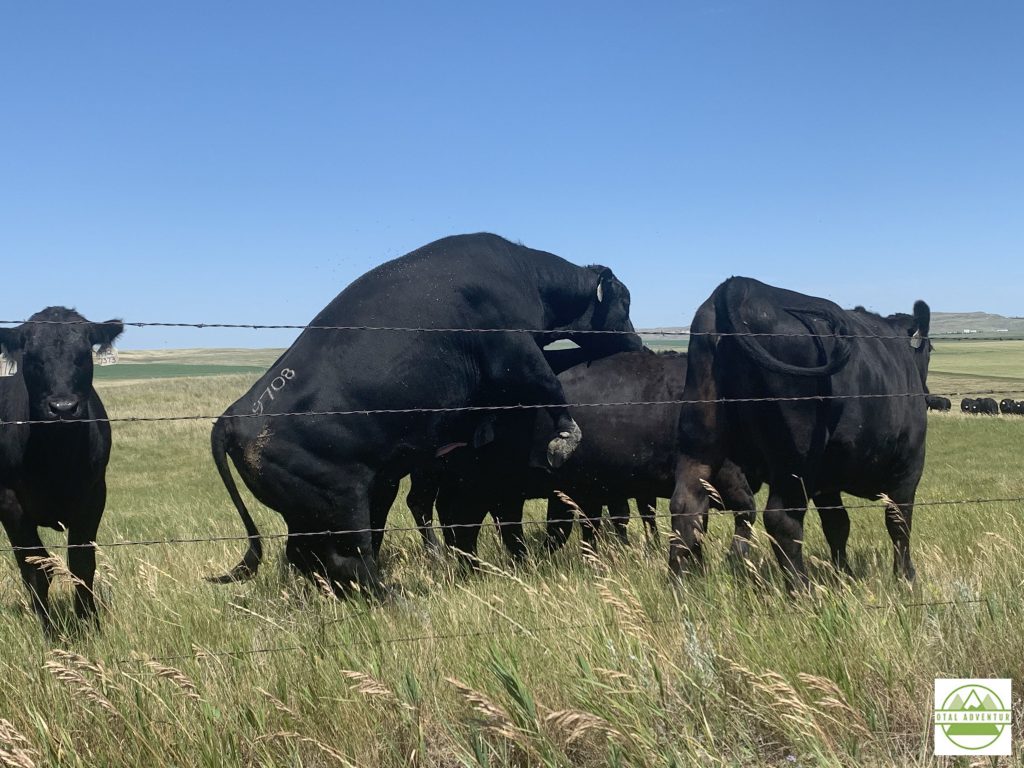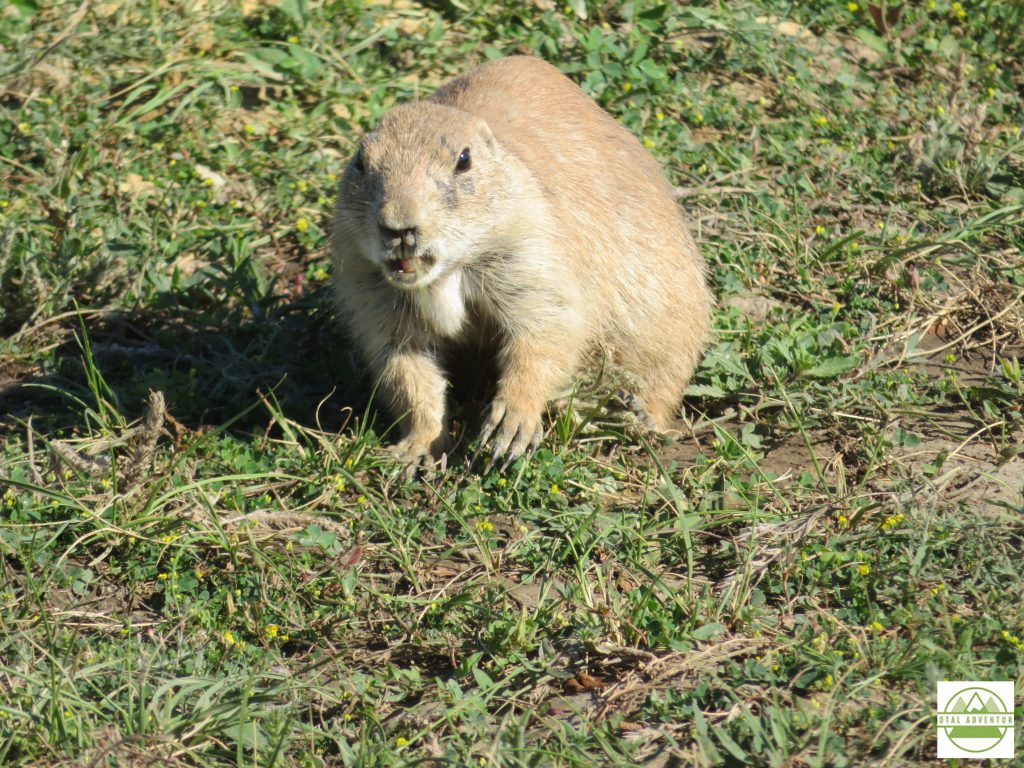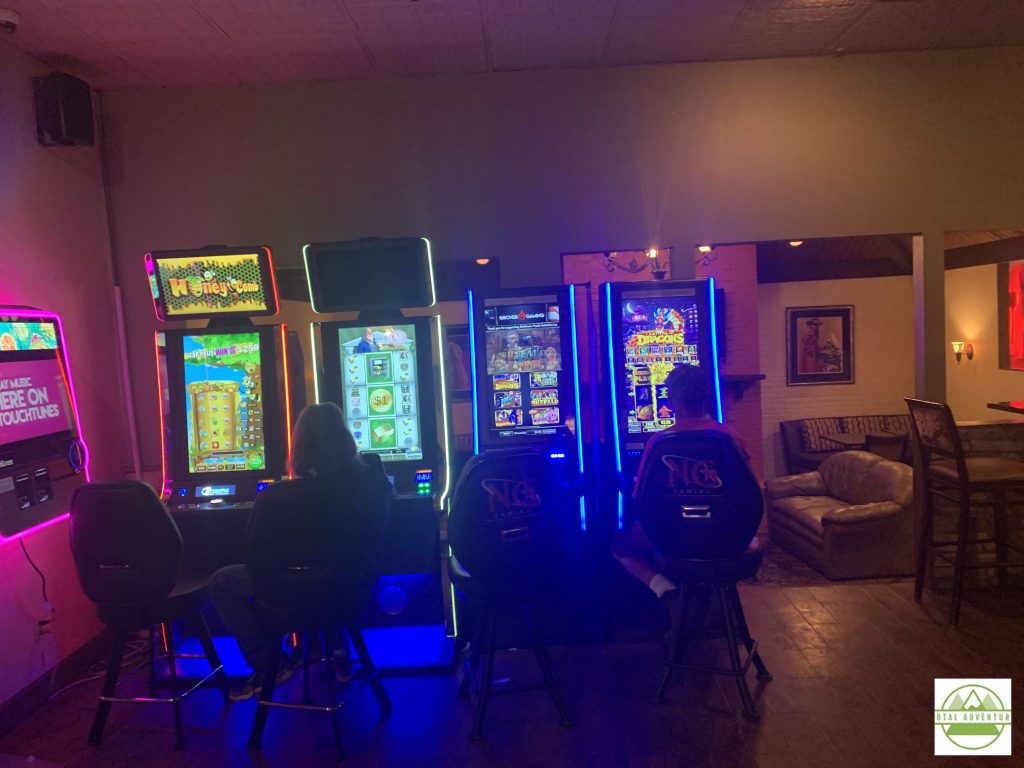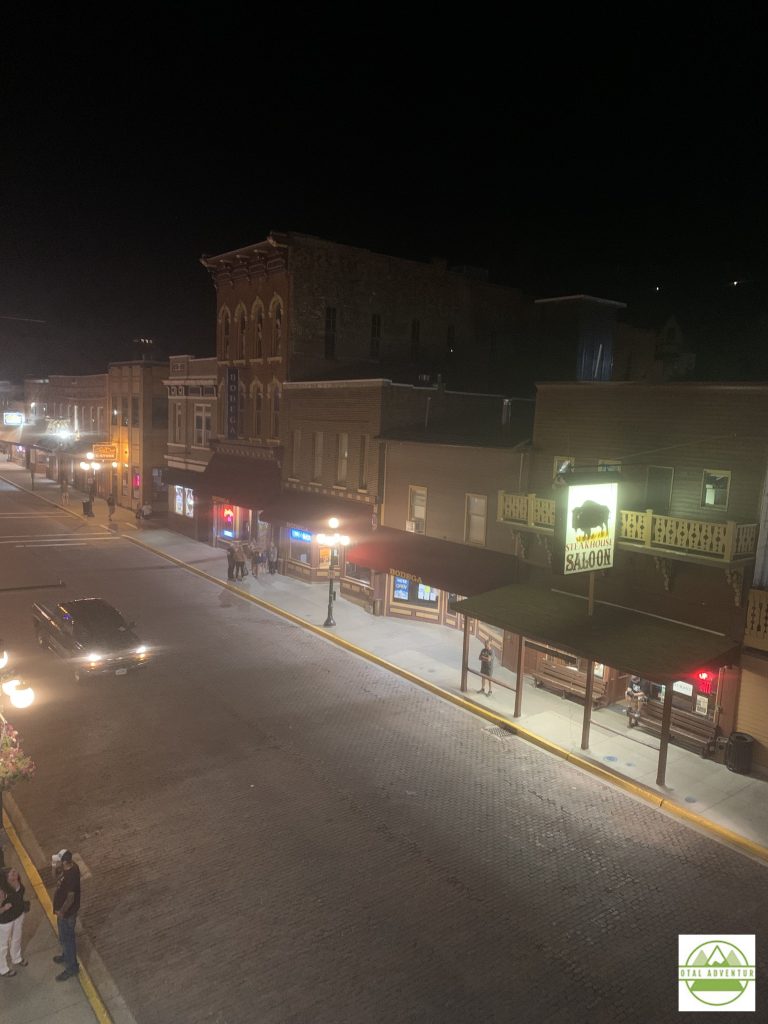 South of the Park, on US 85, I entered South Dakota , my 48th State ! Spent 2 nights in Deadwood, which was kind of dead, not because of COVID, which people there did not think existed, but because the drinking and gambling town shuts down at 9. Not quite Vegas !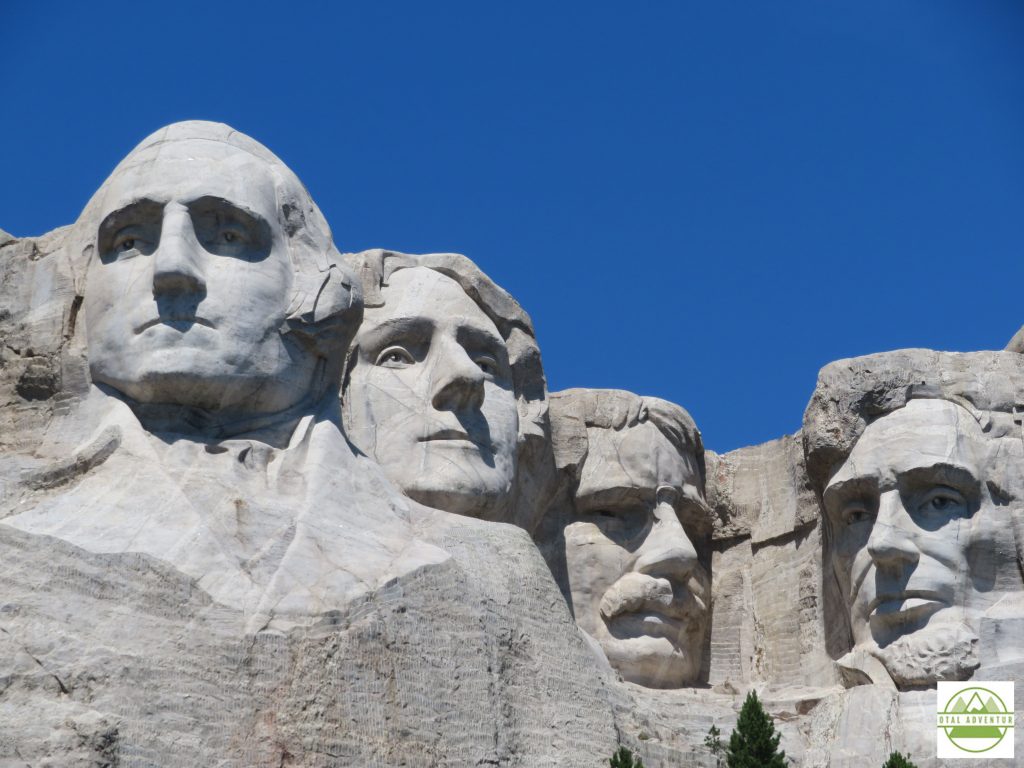 No words needed to describe Mt.Rushmore. And now – it was time to ride on into Wyoming….
On the morning of September 10th, I awoke for an early morning dip in the Pacific before heading Eastbound the the Atlantic. Pulling out of my AirBnb Santa Monica garage I was soon eastbound on the 10 and then north on 15 to Las Vegas. Most of this TransContinental Adventure has been off interstates, but they will be used into Utah and again in Texas, Oklahoma and Florida.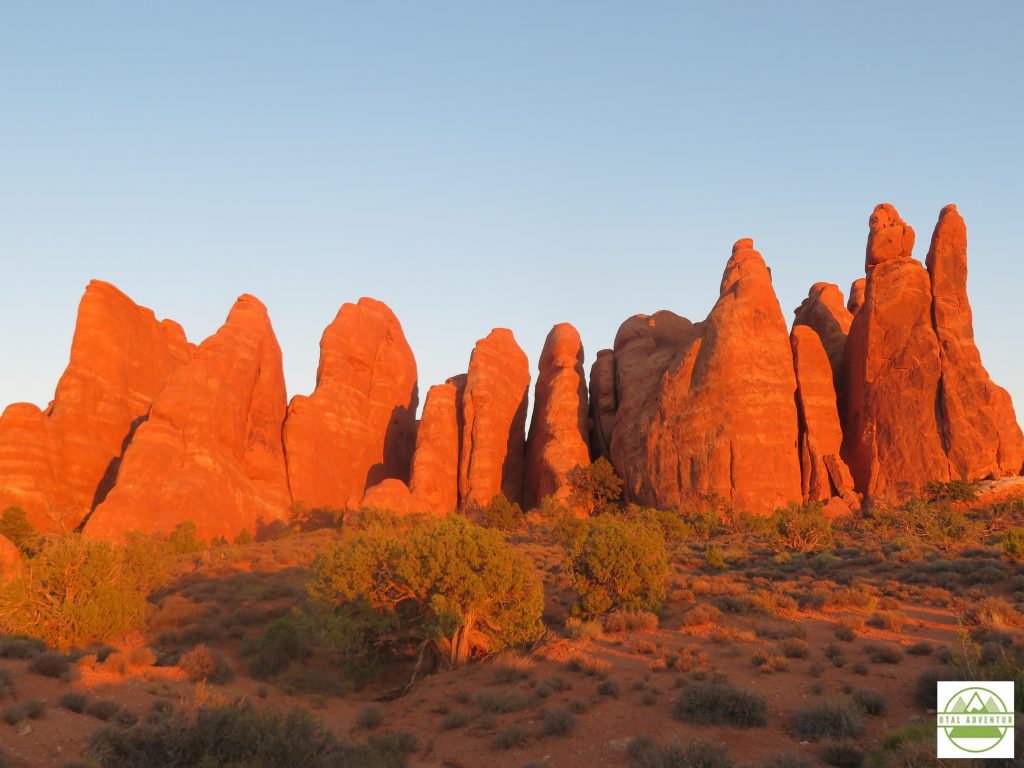 Fires raged in the San Gabriel Mountains to the north, sending thick smoke down to I-10. Some of the smoke from all the California and Oregon fires spread all the way to the East Coast ,dimming sunrises in New Jersey. This southern smoke band would follow me. I managed to always be a day ahead of it, until Colorado where I changed my itinerary because of it.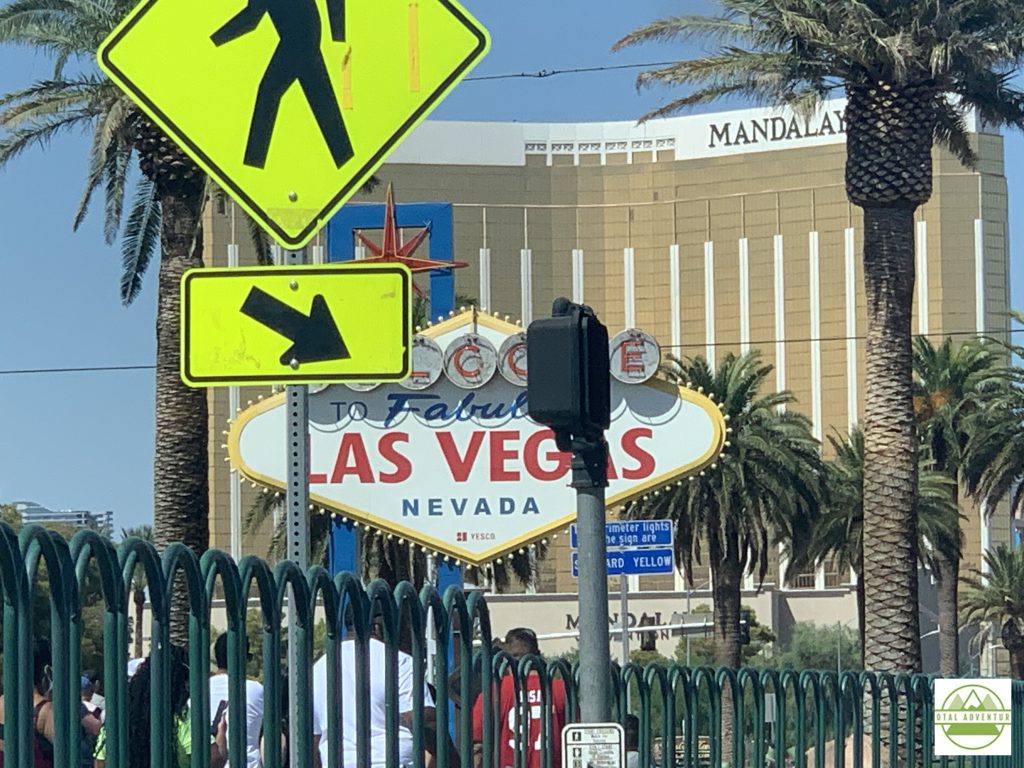 Normally I would spend a night in Las Vegas, but the wide open fun loving town is a bit clamped down for the moment due to COVID. In the video you can experience a very quick trip up the Strip. I did stop for some video poker at an empty slot hall in Mesquite, Nevada and walked out $ 30 richer. From there it was about 40 miles across extreme Northwest Arizona to St.George Utah where I would spend the night. Changed from Pacific to Mountain Time.

The next morning I was up with the sun and off to Zion National Park. It was an introduction to the the incredible Utah geology. On the way I visited Hilldale, on the Arizona border. Hilldale is the town known for the highest number of polygamous families adhering to the original Book of Mormon. I saw groups of wives out shopping together dressed in 1800s style farm dresses and driving pickups.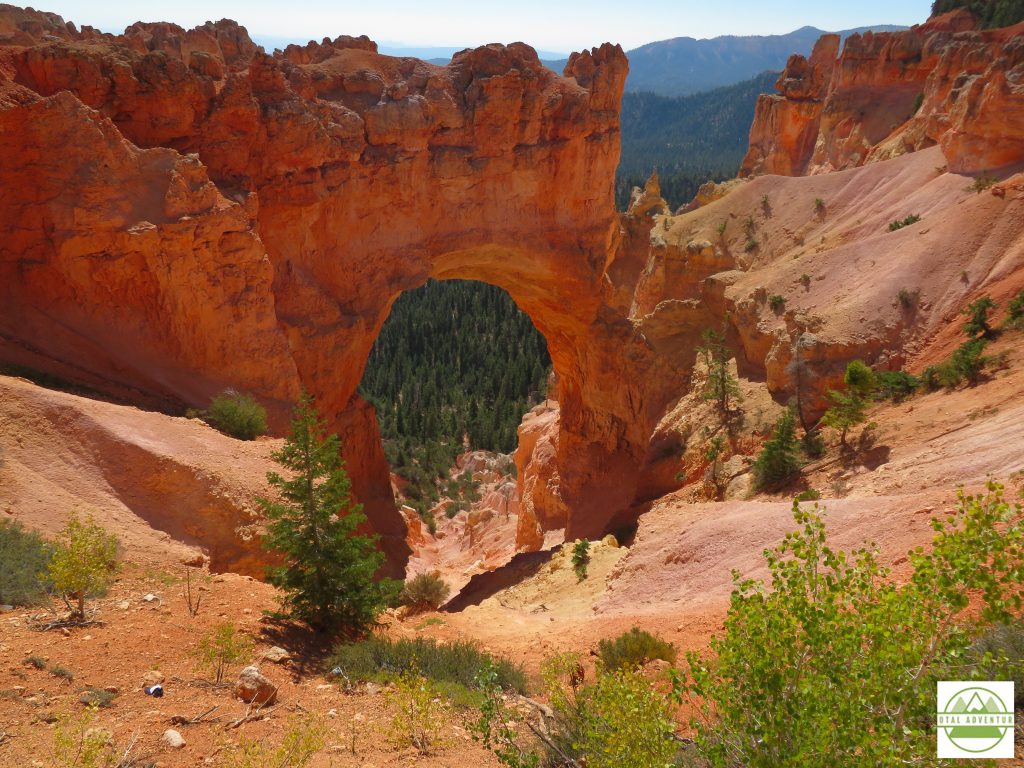 Bryce Canyon National Park was the next stop. Now the temperature changed drastically according to elevation. St.George had been expecting a high of 100 degrees and this evening near Bryce the temperature slipped to 32 – I was glad to have a gas fireplace in my cabin for the night.
In the morning I continued through Bryce and then headed Northeast to Teasdale where I would explore Capitol Reef National Park with an old childhood friend I grew up with in Germany. We took a 6 mile hike up a canyon.You can see all the national parks in the video at the top of the page.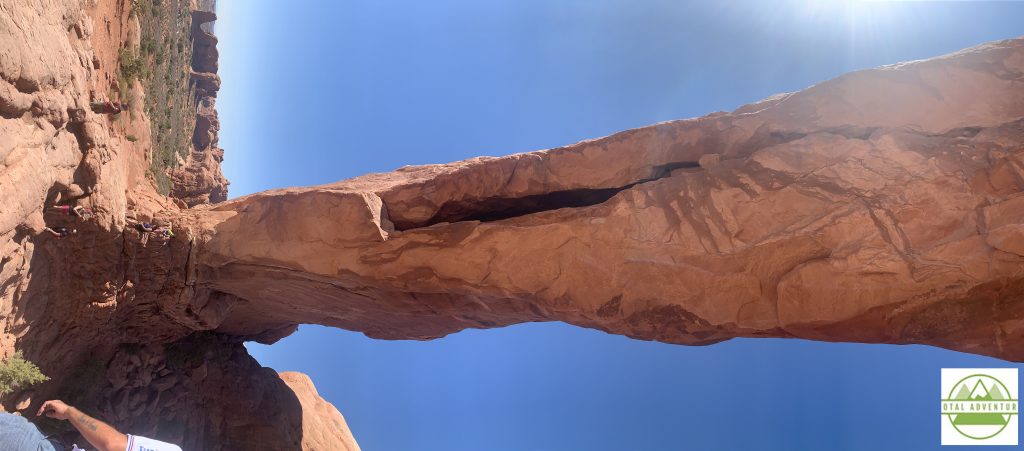 The final two nights were in Moab – home to Arches National Park and Canyonlands National park. In Canyonlands the X2 did amazingly well on rugged roads, in spite of the warning signs.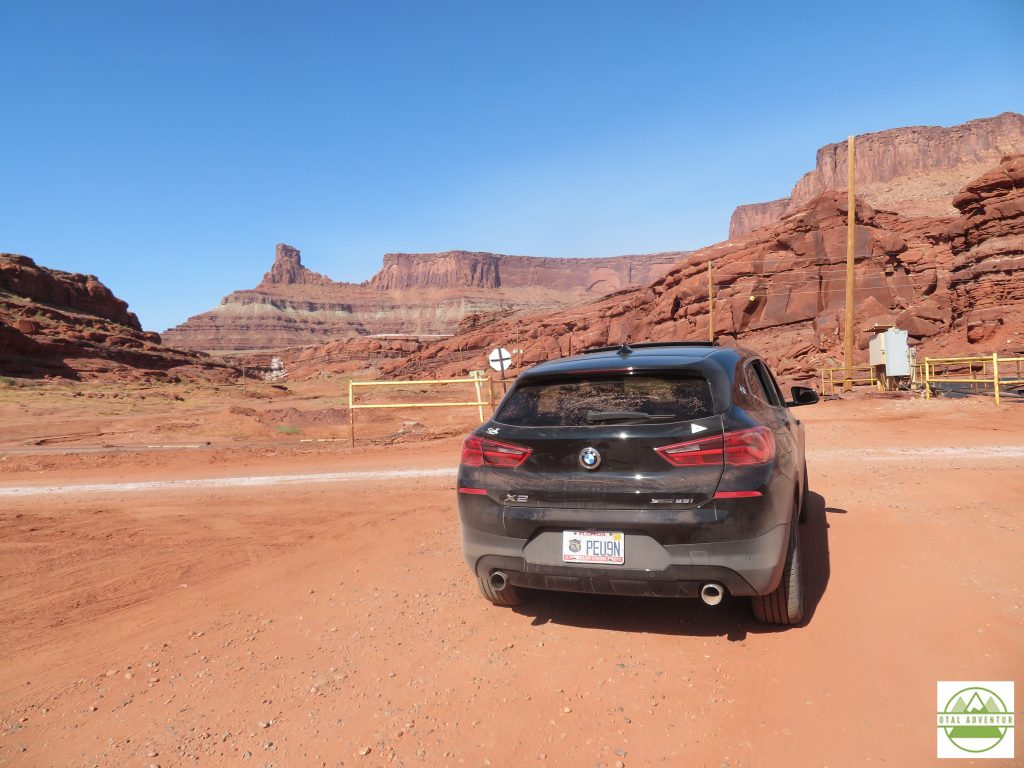 Finally I turned around where a spring had flooded a section of road turning it to muck. Without 4WD,I did not want to risk spending $1000 to be towed !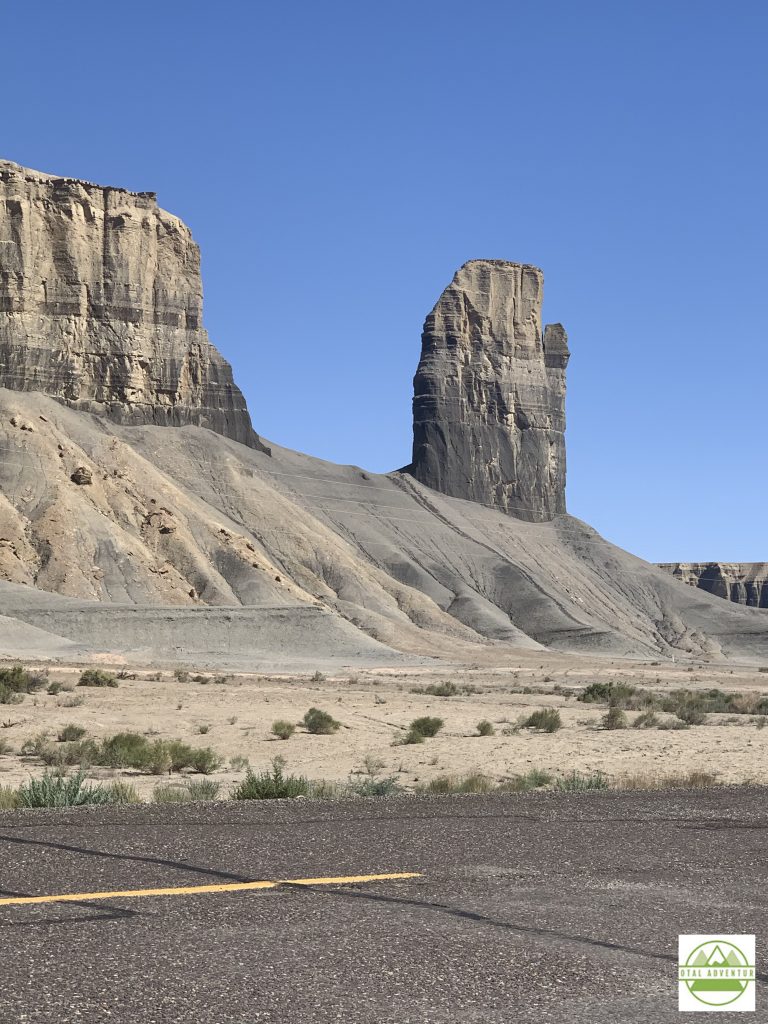 Crossing from Utah into Colorado, the smoke from California finally caught up, turning skies from bright Western blue to greyish white and encasing mountains in haze – diminishing prospects for photo and video acquisition.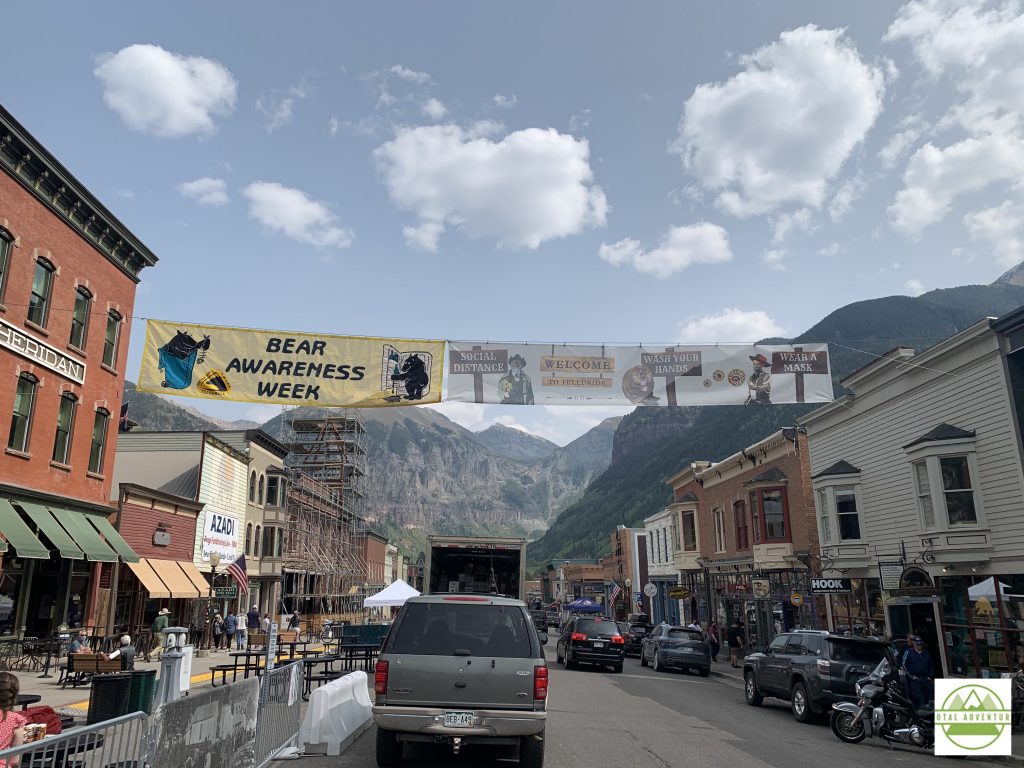 Highway 50 climbed rapidly higher into the Rockies and by lunchtime I had reached Telluride, for the first time in 30 years. The big changes are to be expected. What was once a laid back Wild West type town with great skiing with a few bars up and down the main drag was now clogged with tourists even in off season September – looking for parking and lining up for $ 6 lattes. Tourism was higher than in the summer when people had been more cautious of COVID.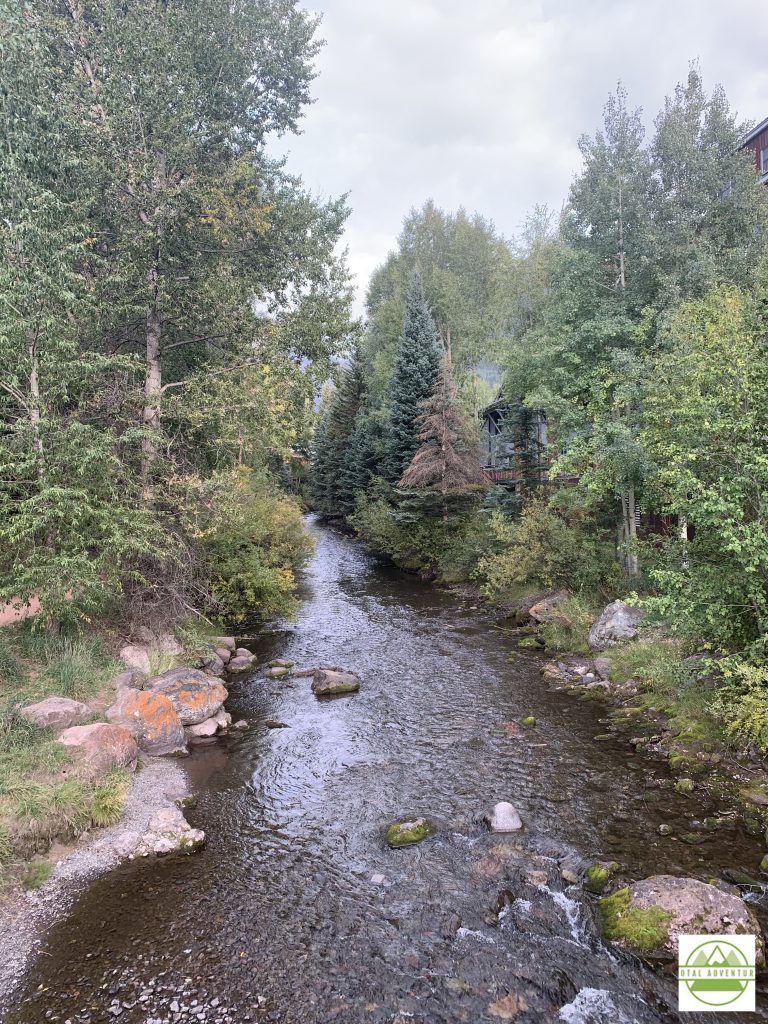 The second night in Colorado was spent at the home of an old friend from the East. His wife is an Olympic ski champion.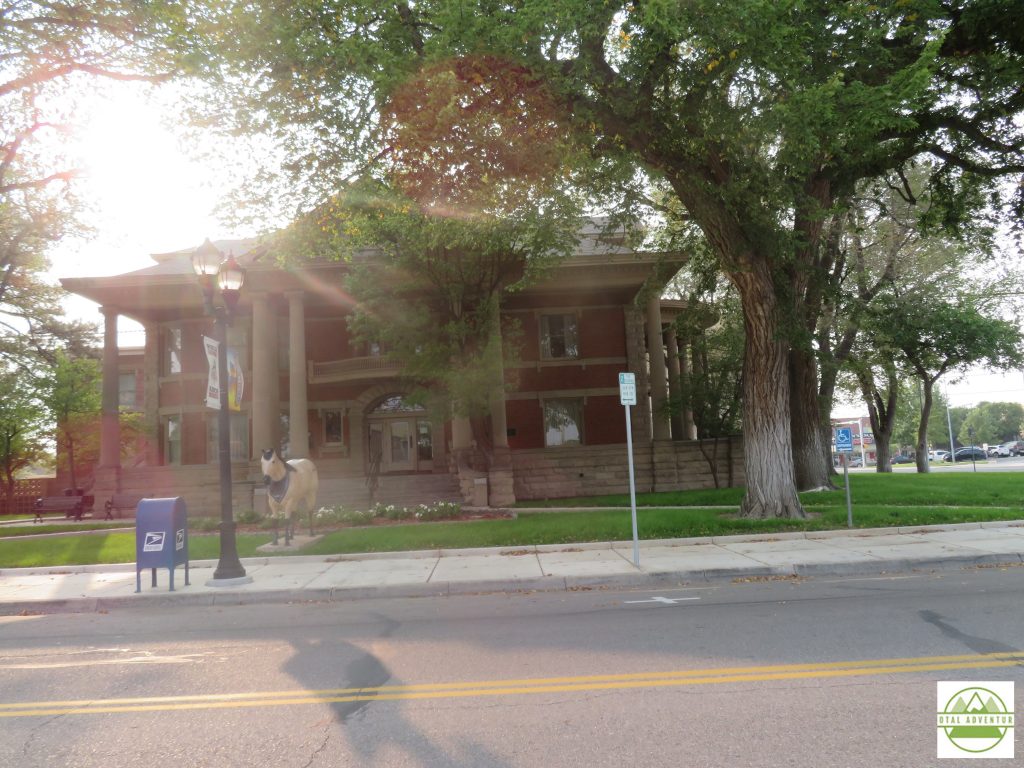 On Friday September 18th the X2 crossed the Continental Divide. For the next 1000 miles I would be tracking the Arkansas River from its' glacial small steam origins to the wide river flowing into the Mississippi.
Spent the night in Syracuse,Kansas . The next morning , driving across table top flat land and crossing from Mountain Time to Central Time, I entered my 50th State – Oklahoma !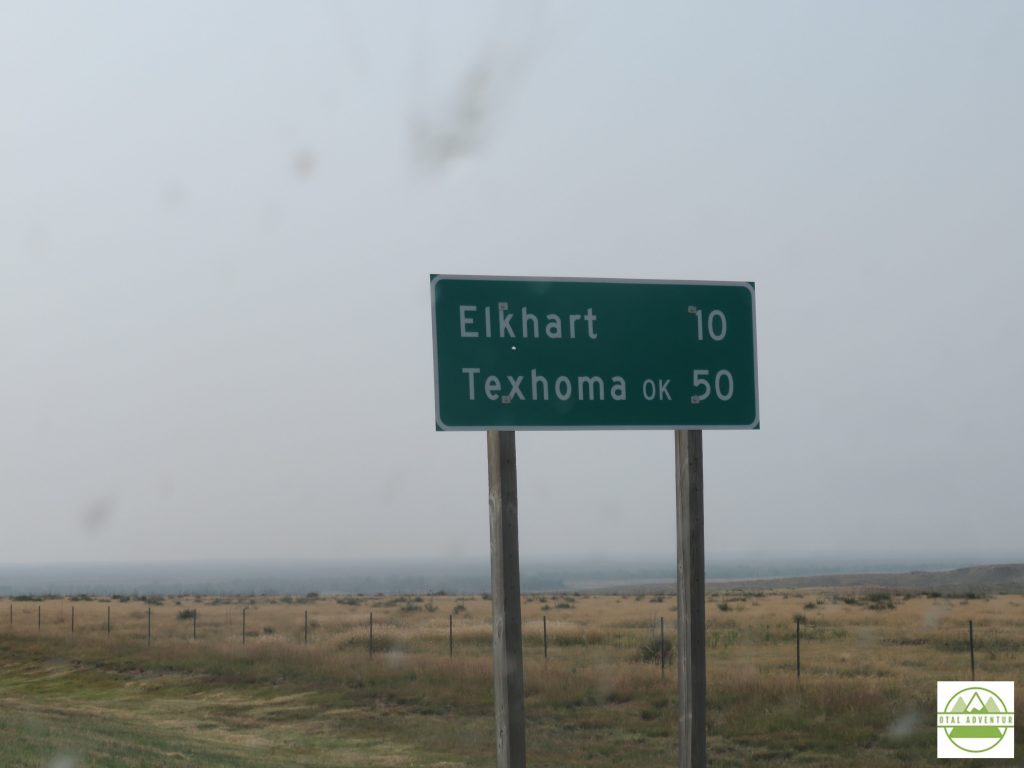 I stopped for lunch in the Panhandle town of Guymon and then went on to the Texas Panhandle.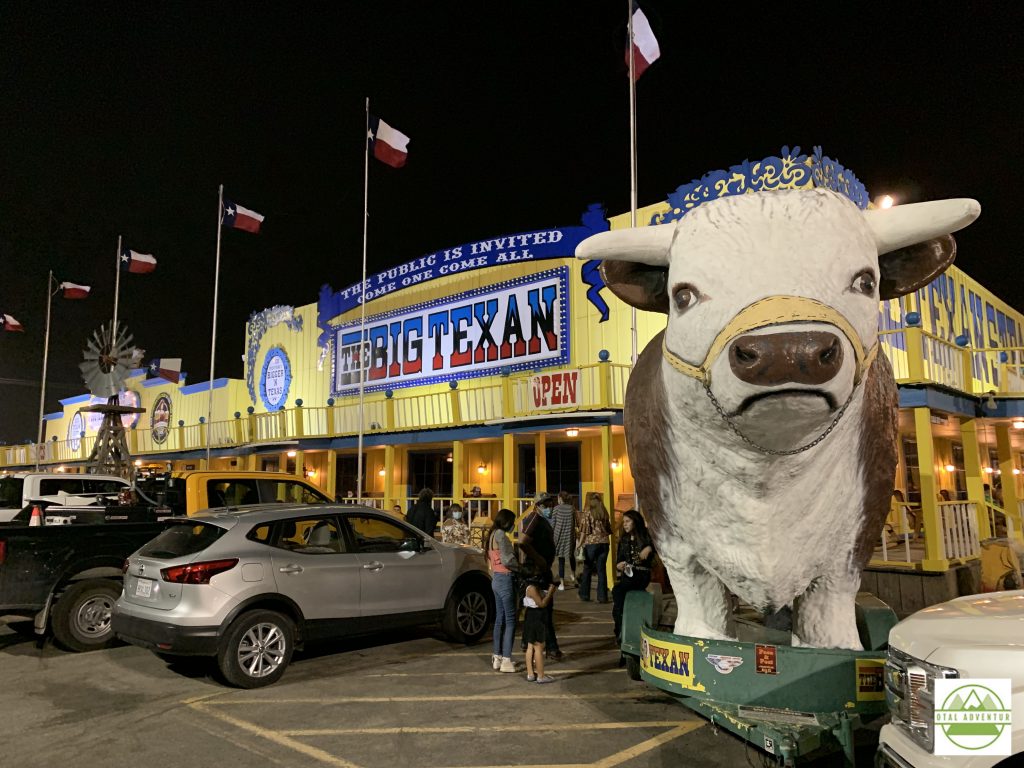 Stopping in Amarillo for the night, I stayed next door to the Big Texan. In one of my very few indoor meals of the trip, I dined on Rocky Mountain oysters and delicious Texas T-Bone that was about 20 ounces. The 72 oz steak is free if eaten in an hour. That's 4 1/2 pounds, 2 kilos of meat. It comes with salad and baked potato which also must be consumed. If not finished in one hour the price is $ 72.
I-40 Eastbound the next morning. Back into Oklahoma. At Oklahoma city, the California smoke finally ended and the skies were clear once again, over the rolling Southern Plains.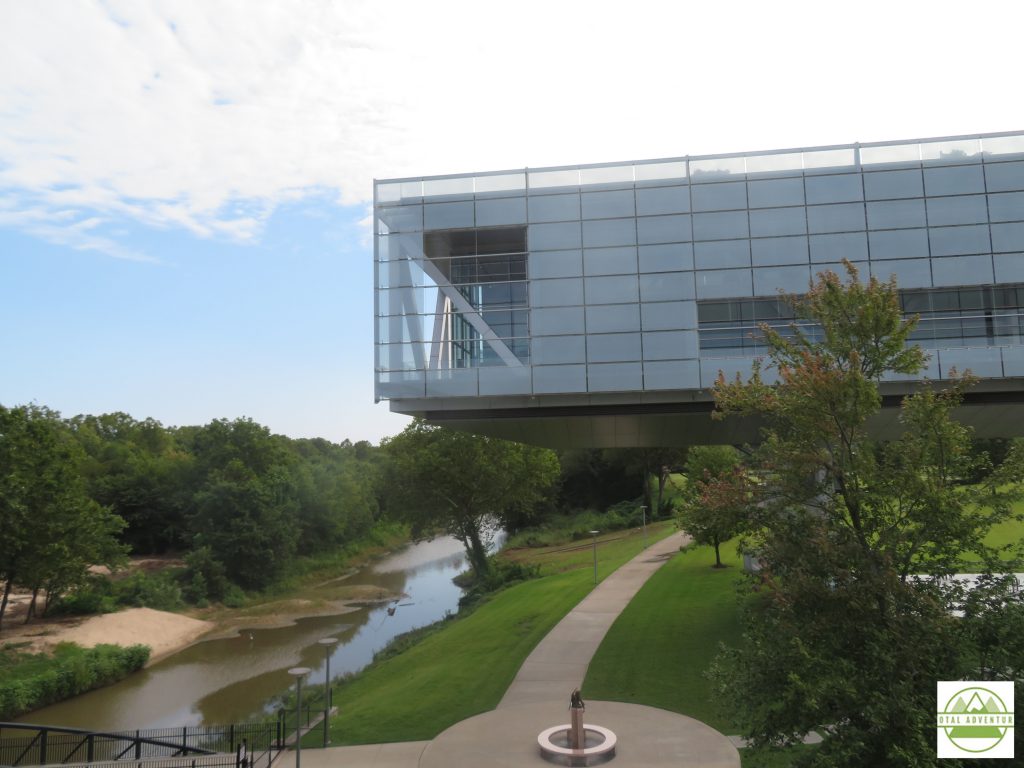 Spent Sunday night in quiet Little Rock and toured the Capitol city the next morning. The Clinton Library , on the Arkansas River is an architectural masterpiece but closed by COVID.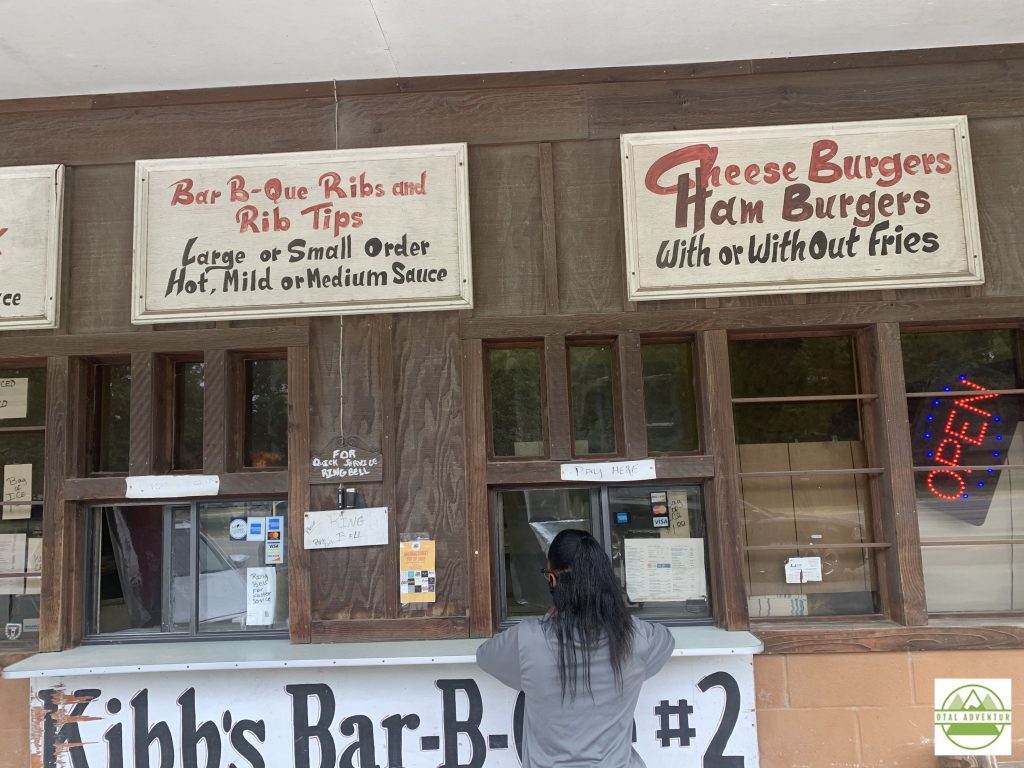 In Stuttgart I stopped for perhaps the best BBQ I've ever had with chopped ribs in a sauce that tasted like plums, coffee and super hot spice ! I bought a gallon jug to take home, which I carefully rationed over the next month.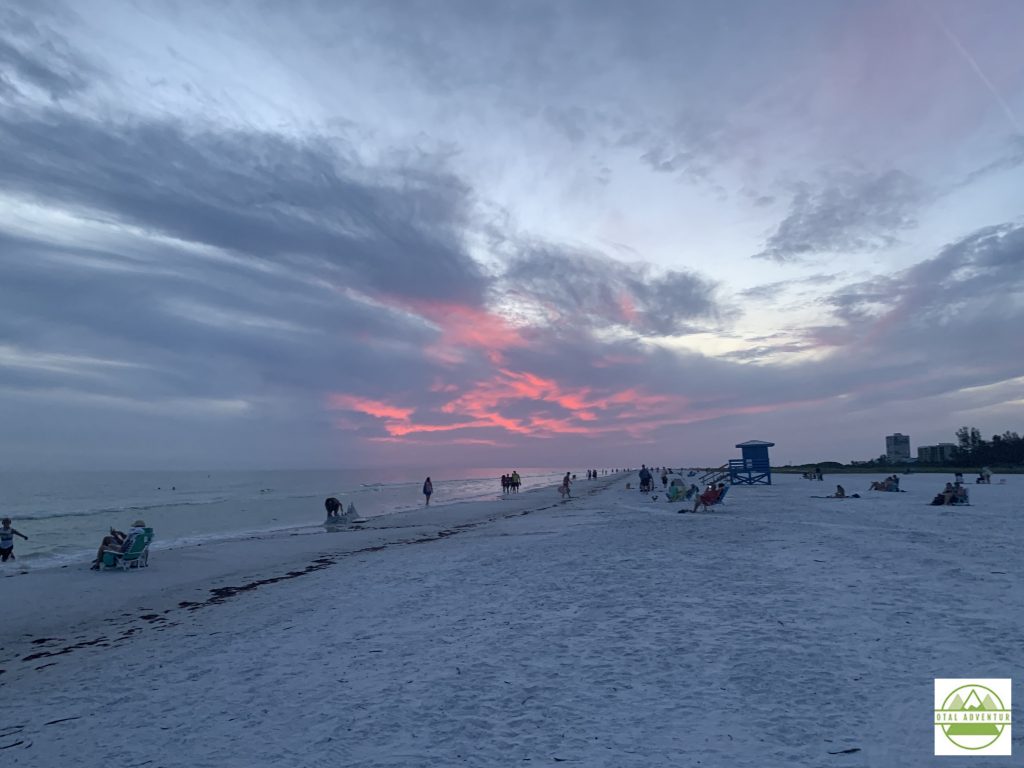 From Arkansas into Mississippi I began a straight run back to Miami. Overnighting in Hattiesburg and then through Mobile Alabama to Panama City Florida for a swim in the Gulf of Mexico. Across the beautiful Panhandle . Though TotalAdventure has been located in Miami for over 18 years, I have never been to the Panhandle. Overnighted in Perry and then to Sarasota, a surprisingly young and thriving town on the Gulf of Mexico.
Back to Miami for a dive into the Atlantic Ocean. Watch the video above !
Click For A Fast Tour Of Dubai !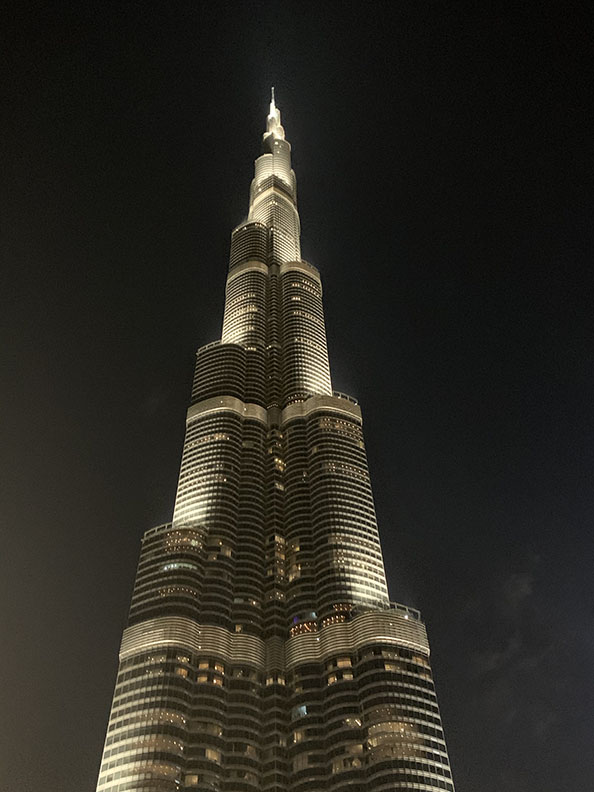 After leaving Asmara, Eritrea, a city locked in a 1930s Time Warp, TotalAdventure flew to Dubai, United Arab Emirates, where it seems already to be 2040. On the first evening we went to the top of 2700 ft. 0.8km Burj Khalifa, formerly known as Burj Dubai.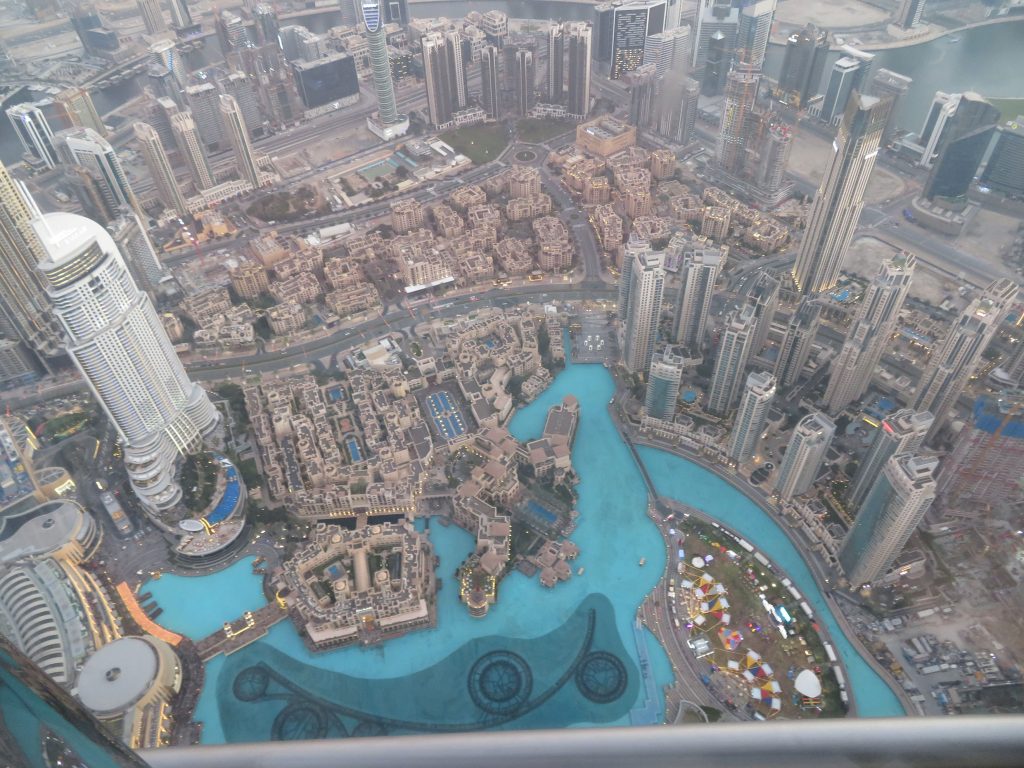 The view from the top deck, on the 148th floor.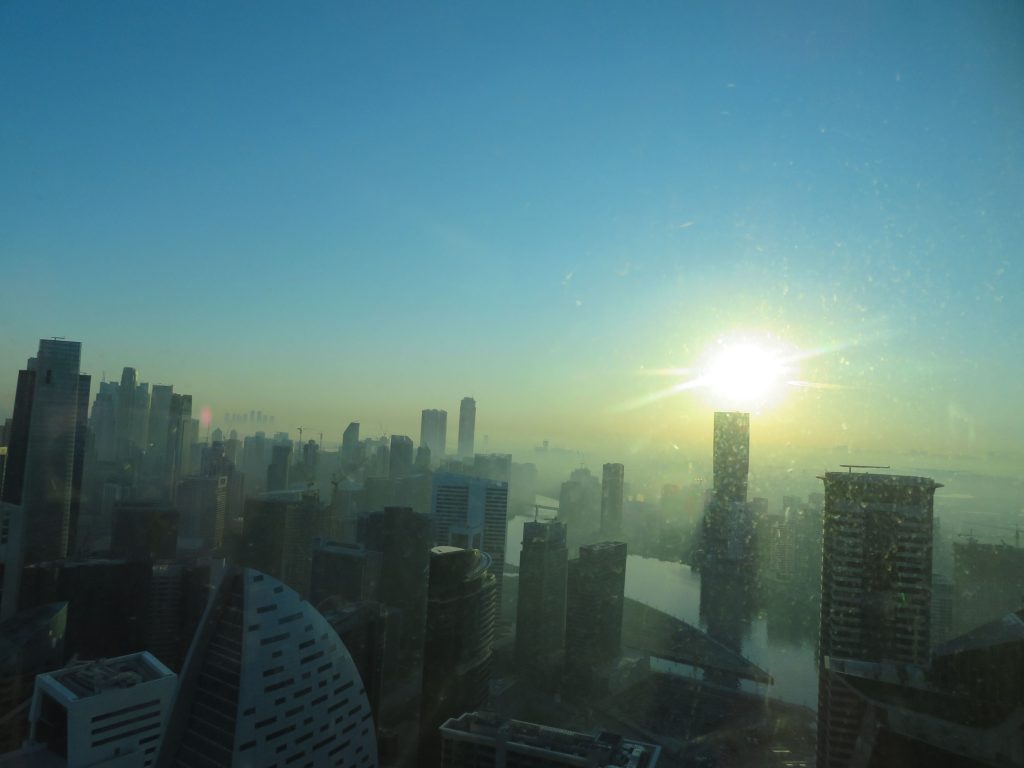 Looking out over the Persian Gulf. ON a clear day you can see Iran.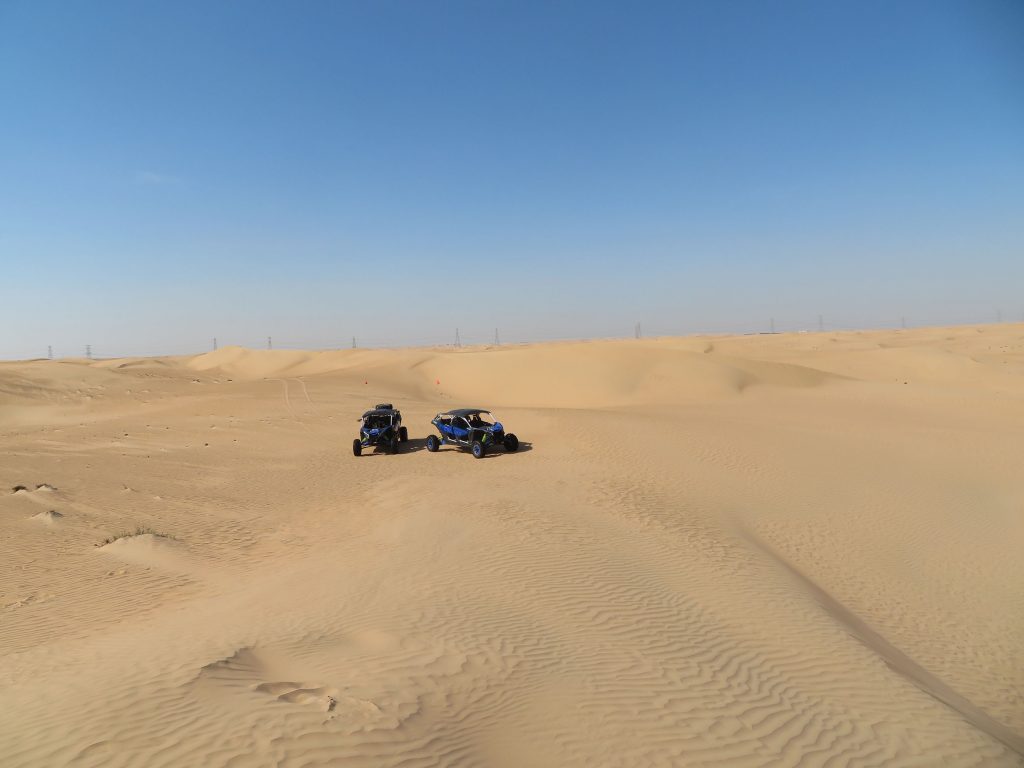 High Speed dune buggies are a great desert pastime.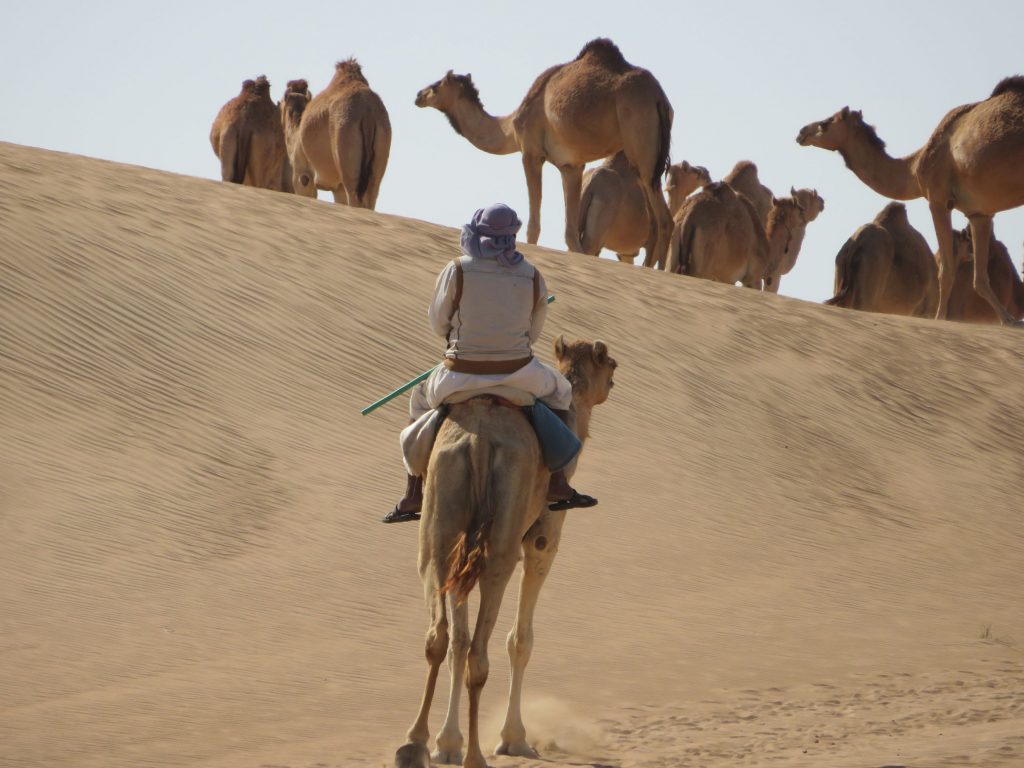 In a Land of the Future, echoes of the past.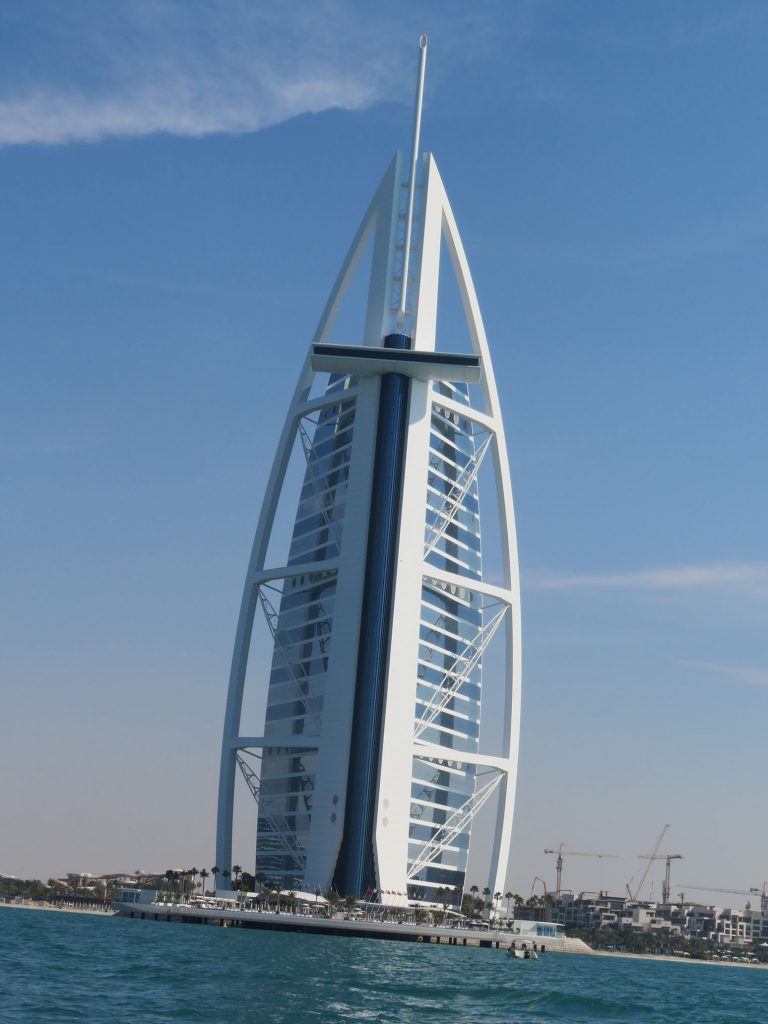 A view from a Cigarette Boat.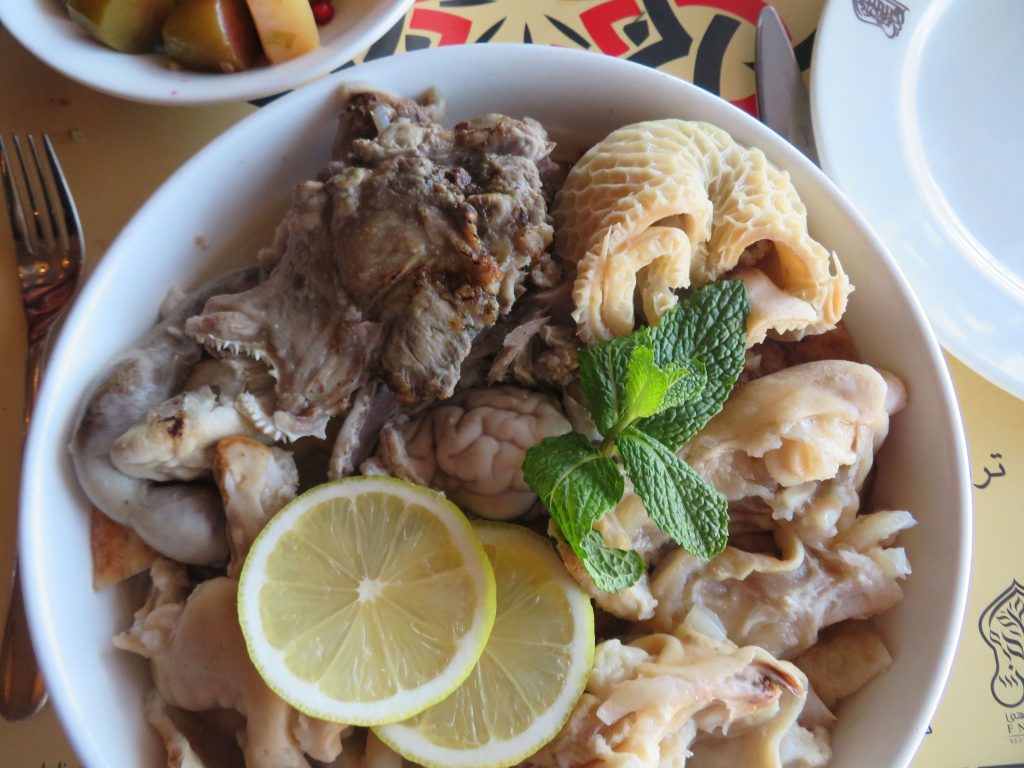 The best choice of Middle East cuisine anywhere. Here is Sheep Head, at an Iraqi restaurant.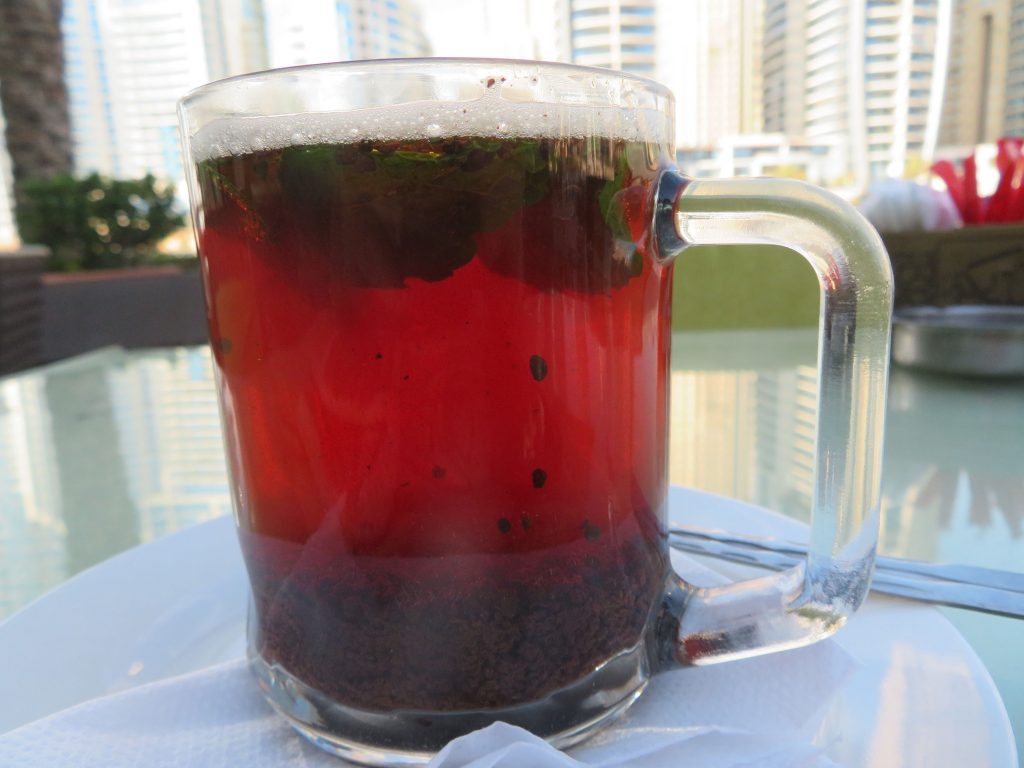 Although surrounded by Saudi Arabia, alcohol is served in international hotel bars and nightclubs, but not in public areas. Instead, enjoy a strong hot tea with your meal !
From Dubai ,TotalAdventure returned to the united States. THis was to be the first of may international trips this year, touching every continent except Antartica. The worldwide epidemic has postponed that temporarily and we will be exploring the United States instead.
The Highway From Asmara To Massawa Drops Over 8000 ( 2500m) Feet In Just 100 Kilometers. We left early morning temperatures not far above freezing arriving to close to 90 ( 32C) on the coast.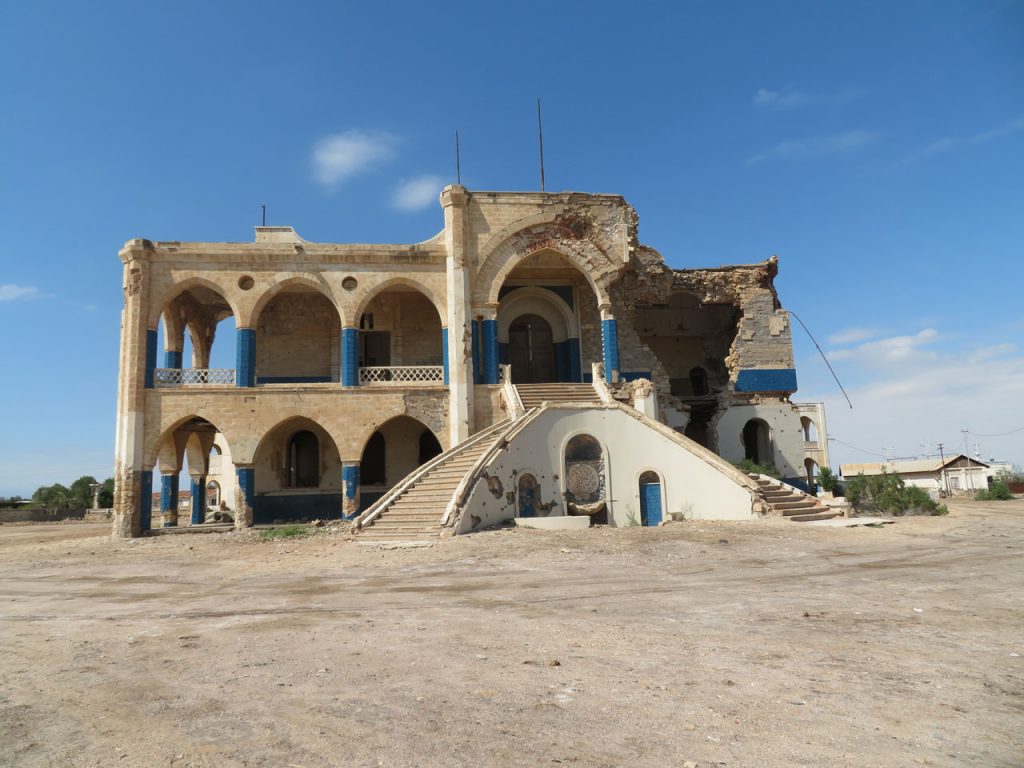 At the entrance to the city is the Palace of Emperor Haile Selassie. Though he was murdered by the Communist Derge in 1975, his palace continued to be used by officials until it was bombed by the Ethiopian Air Force in 1991, when Eritrea began its' War of Independence. To this day, it is still in ruins, like much of Massawa , in contrast to well preserved Asmara.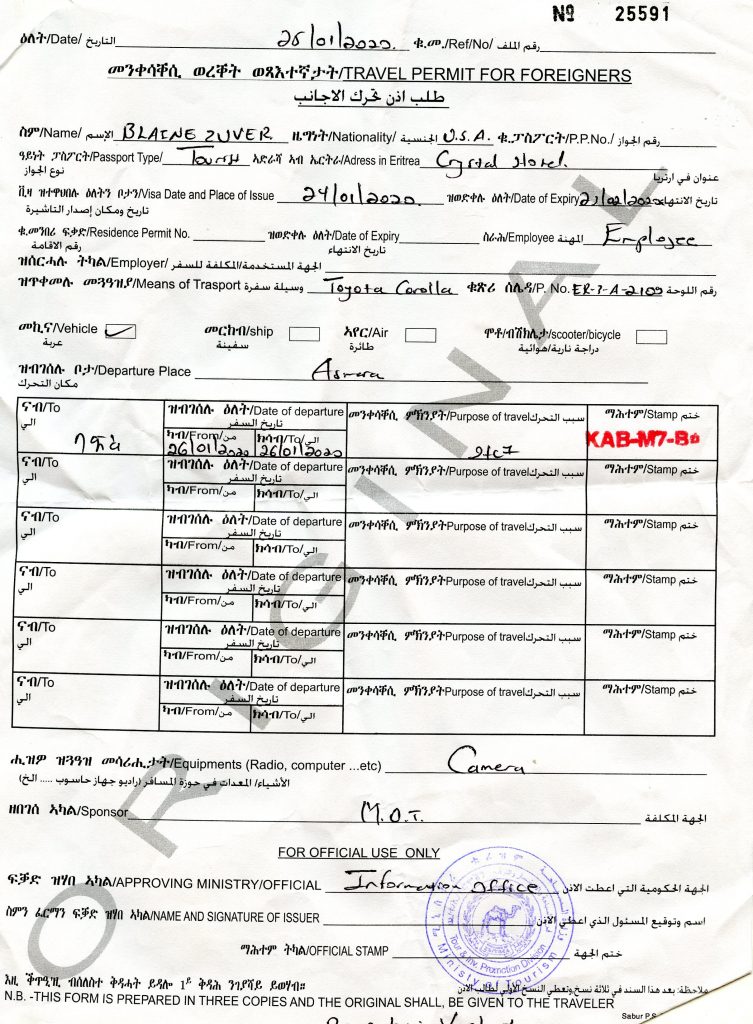 The visa to enter Eritrea is only good for Asmara itself. To travel anywhere else in the county , an interior Travel Permit is required. This took about 2 hours to acquire the day before. One must arrange transport as well. The driver's name and the car's license number are listed on the permit . TotalAdventure passport number deleted for security purposes.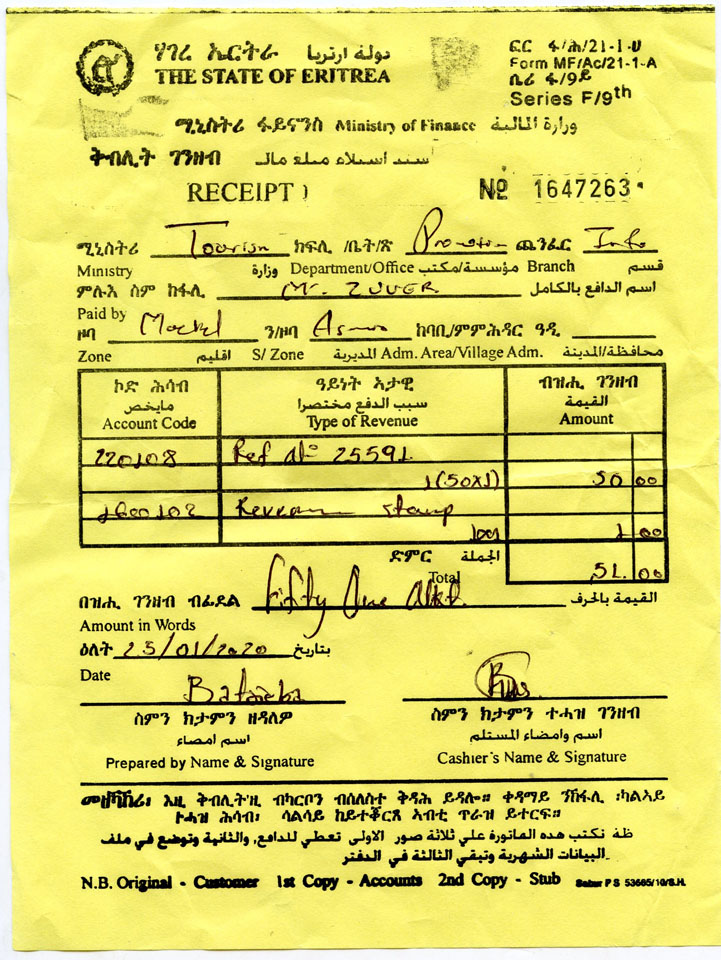 One must carry the receipt as well, to prove that the 51 Nafka ( $3 ) fee was paid.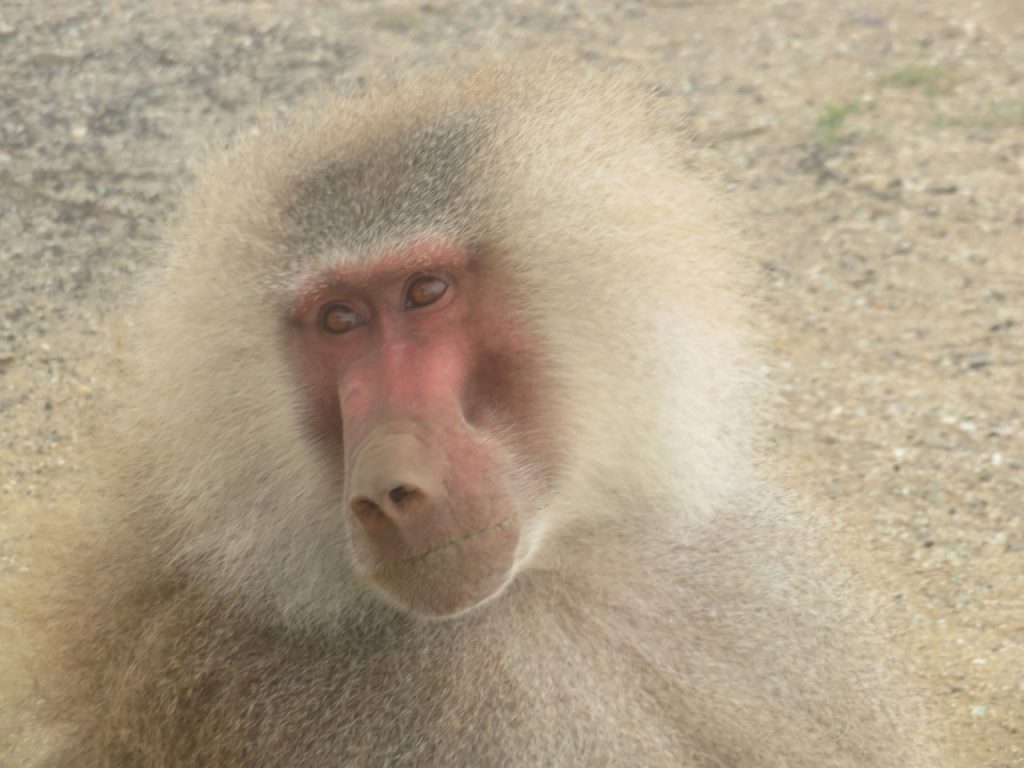 Along the highway there may be toll collectors.Baboons demand bananas in order to allow cars to pass without harassment.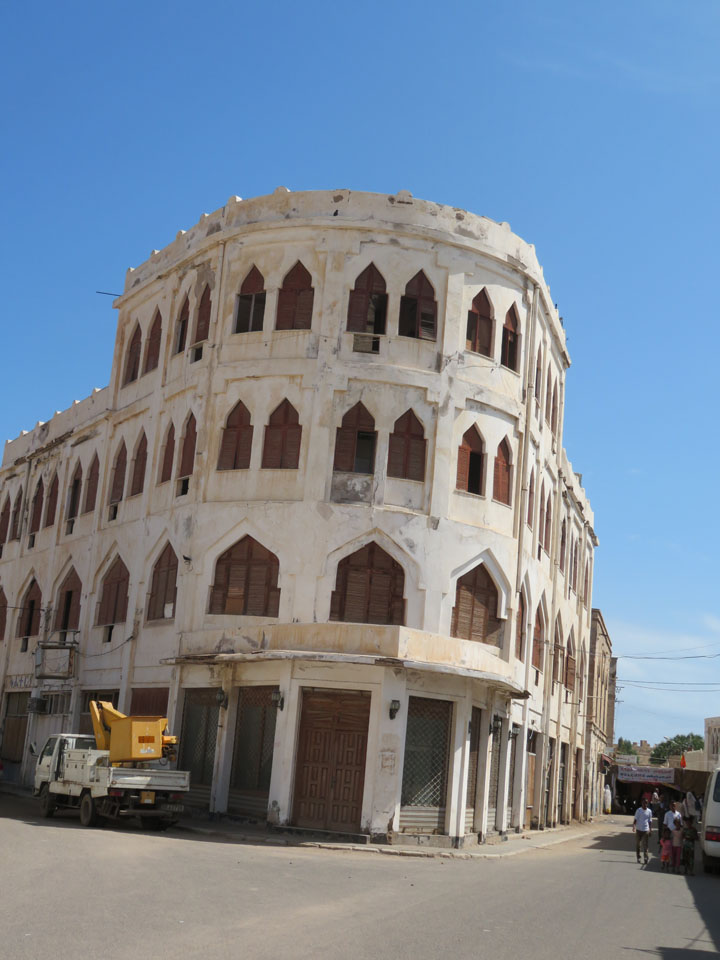 Massawa architecture is more Ottoman than Italian.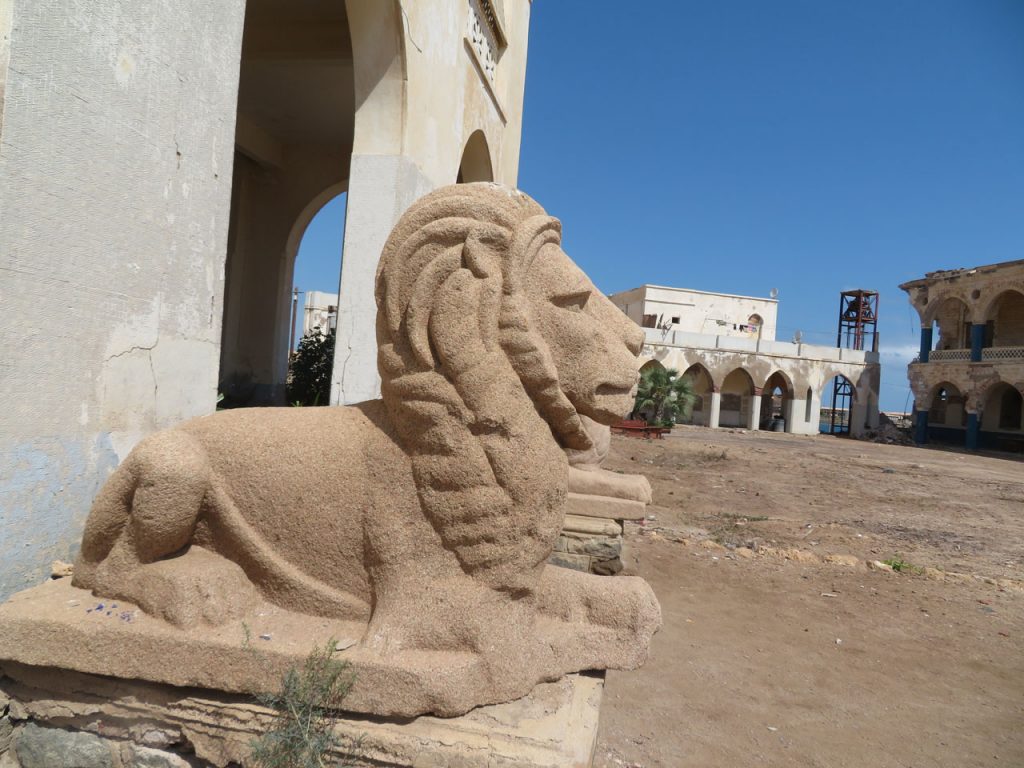 Statuary Of The Lion King.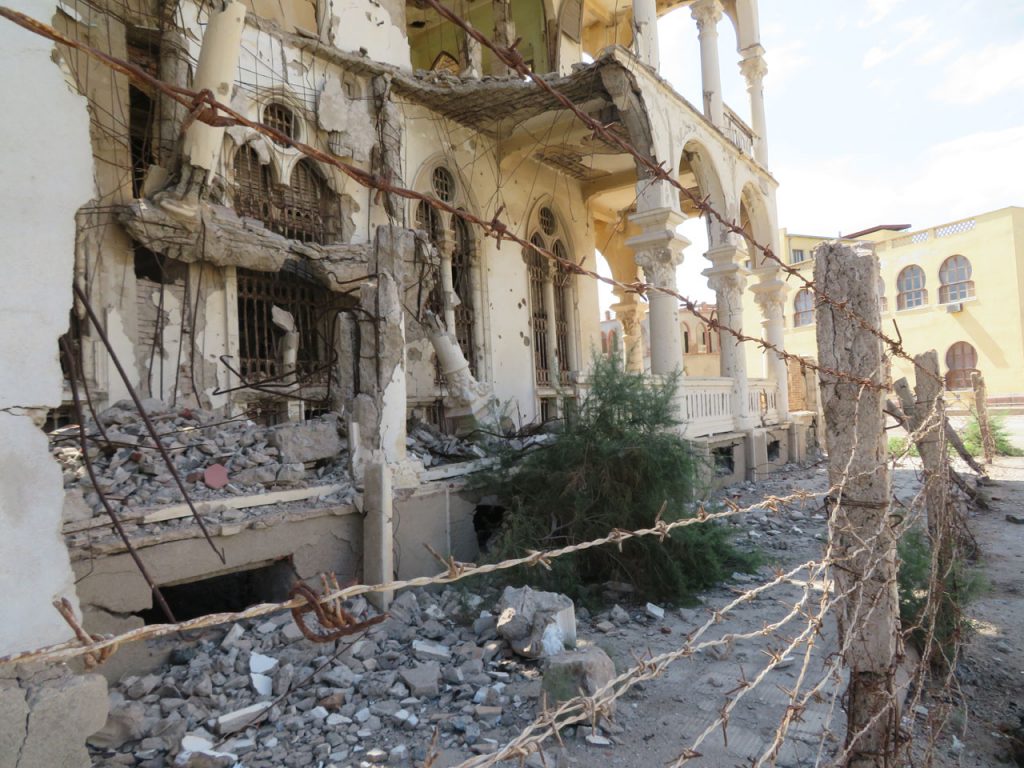 Barbed wire – possible live bombs inside of another palace.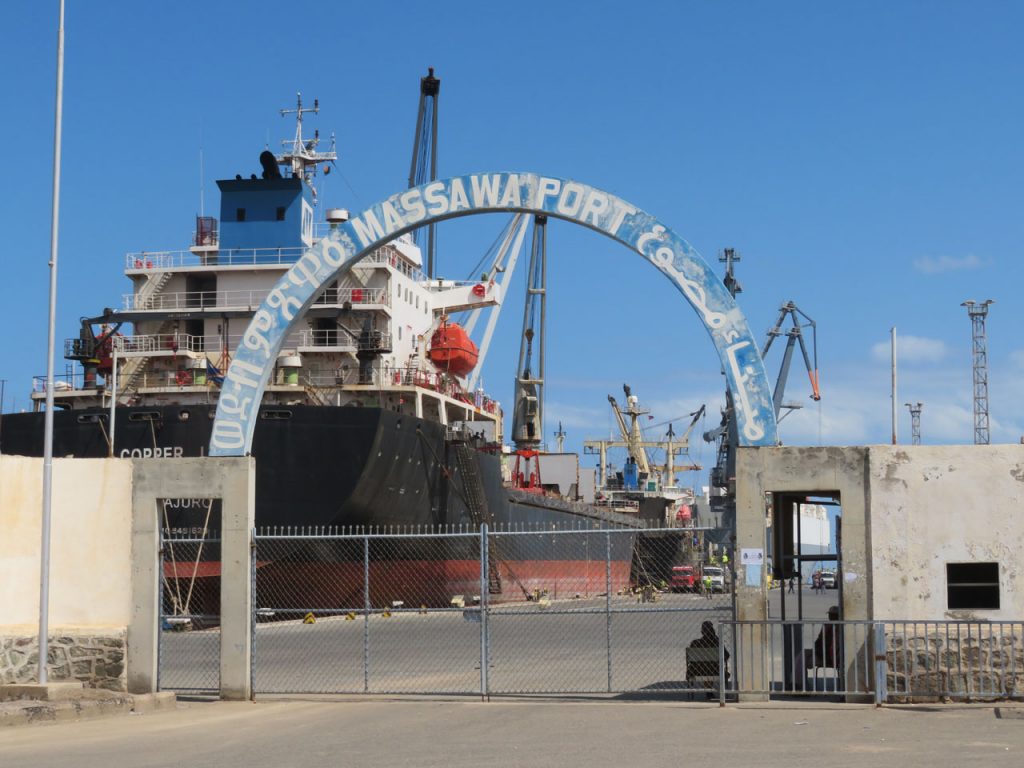 The port on the Red Sea – almost all ships from China.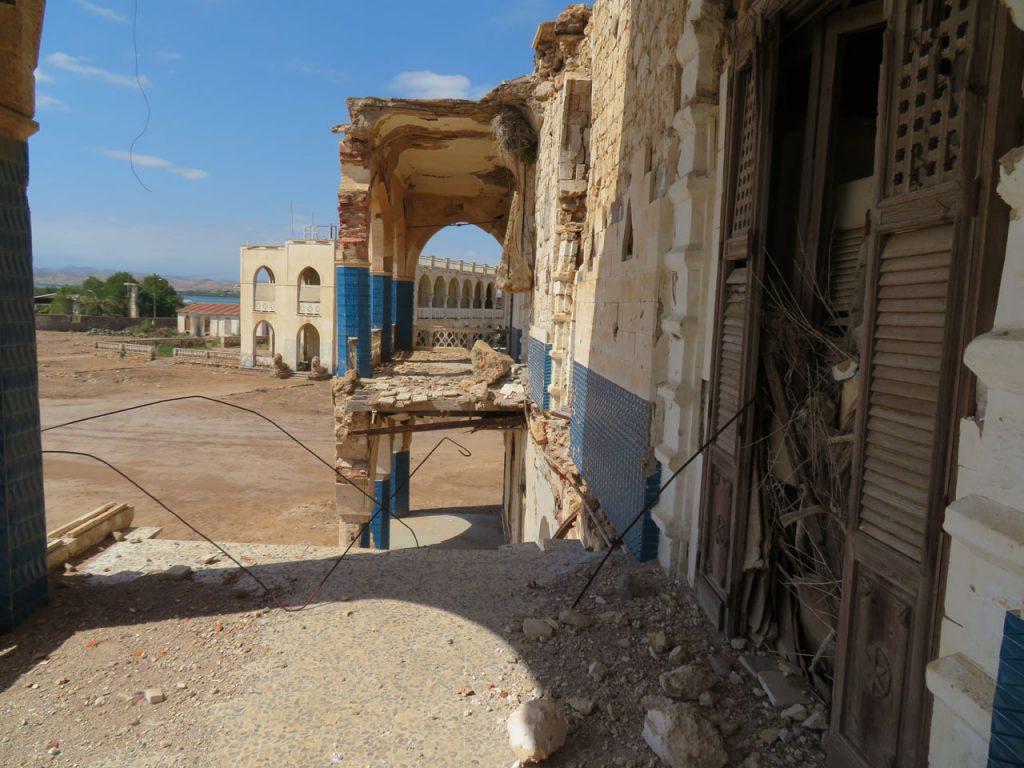 On Haile Sellasie's Porch.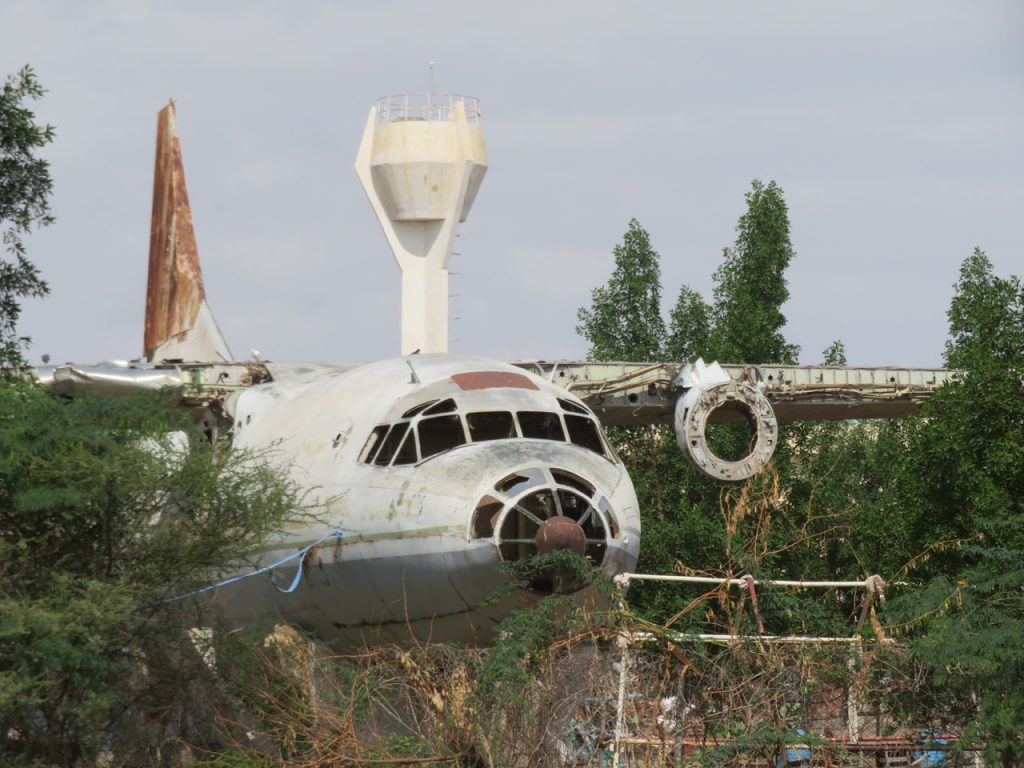 L – 1011 TO Nowhere.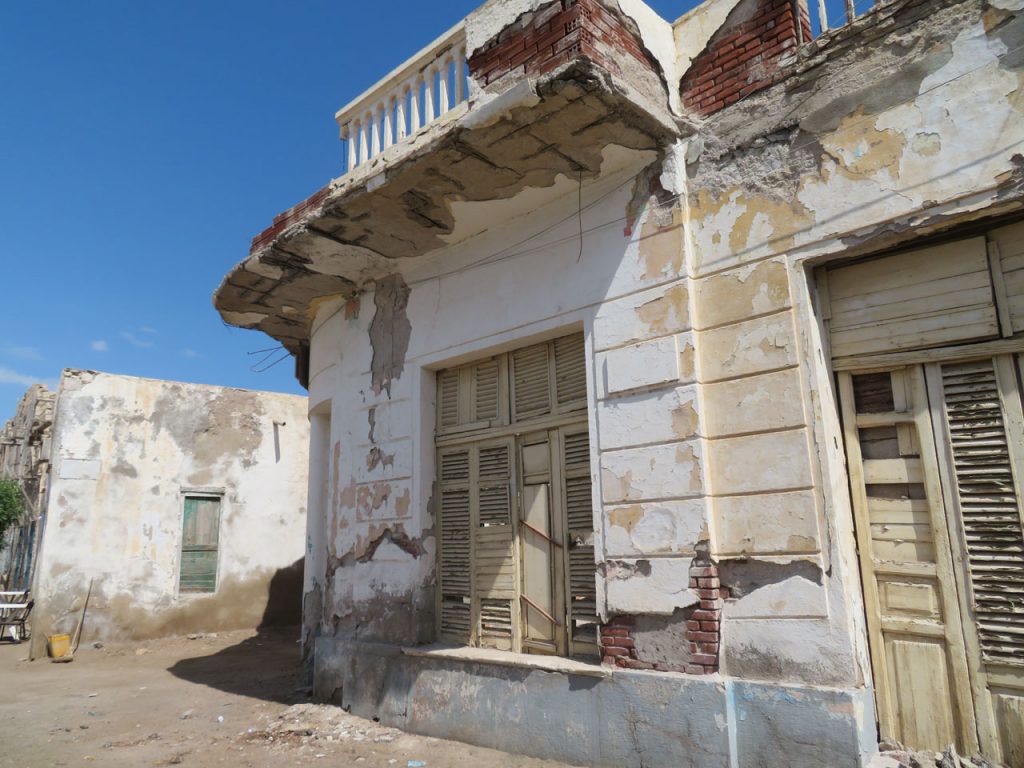 Wartime damage un repaired after 30 years. But people live here.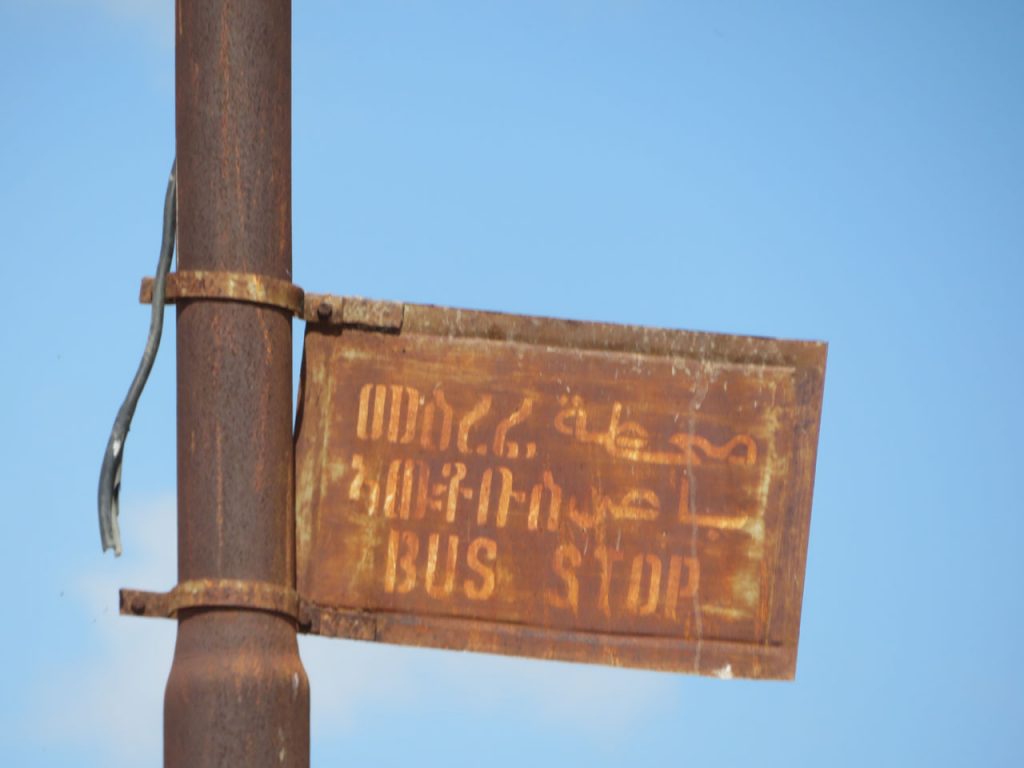 Its' been a long wait for the bus – about 45 years.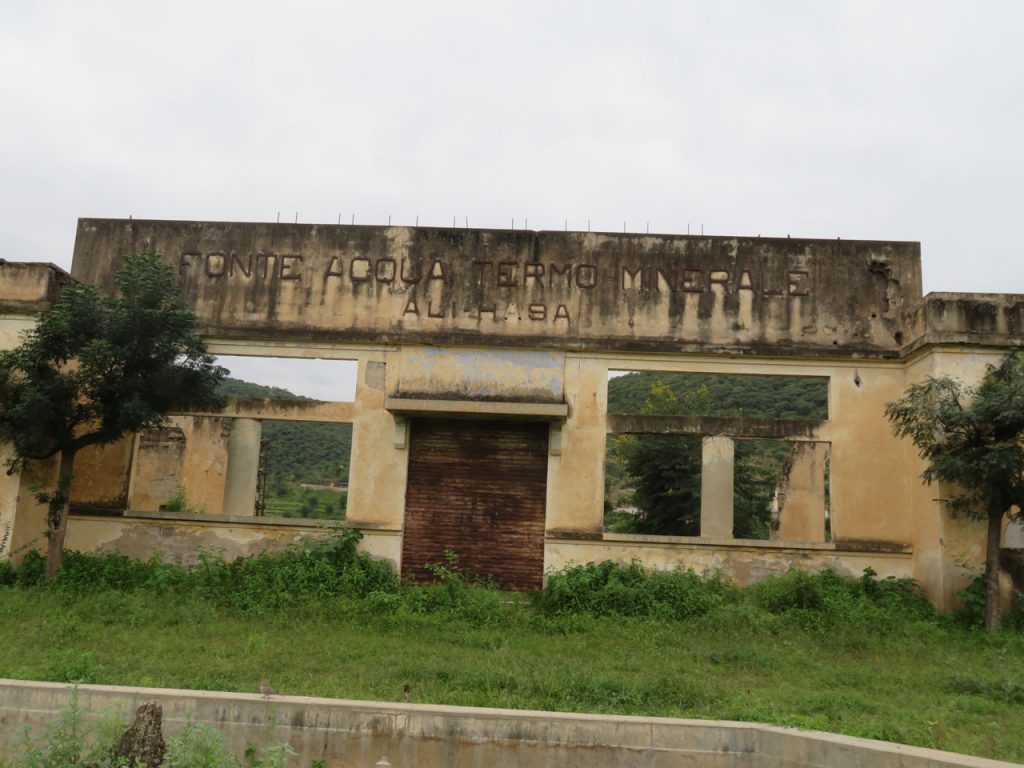 Bottled water plant , shuttered in the 60s.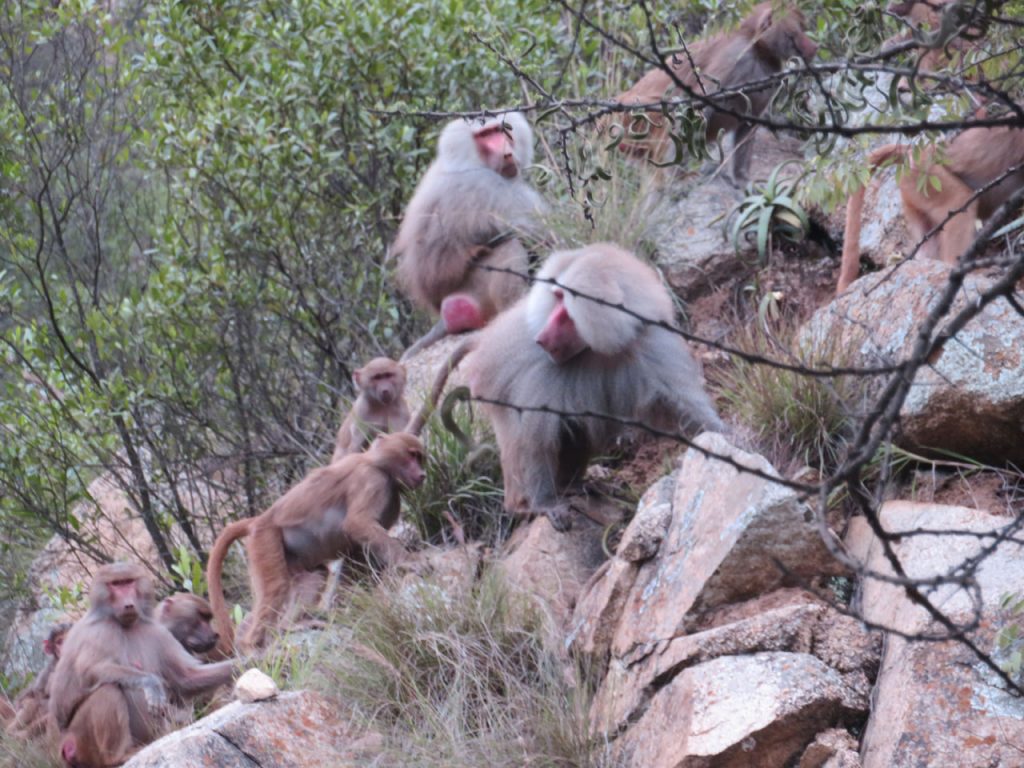 Mothers and Children.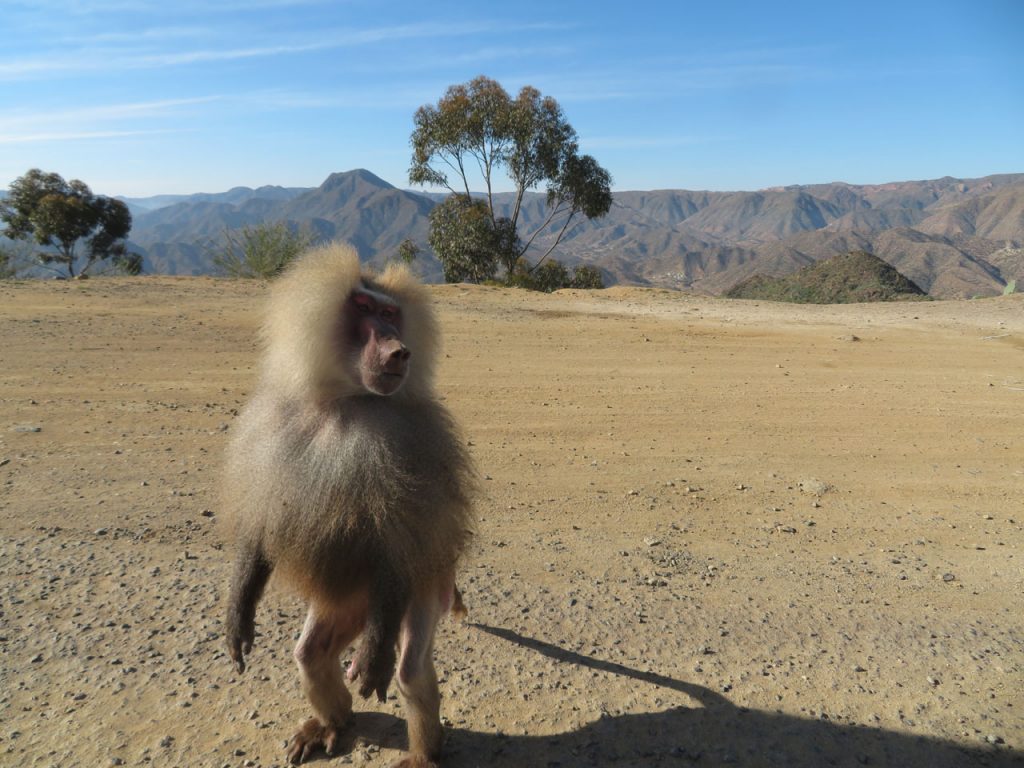 General of the Troop.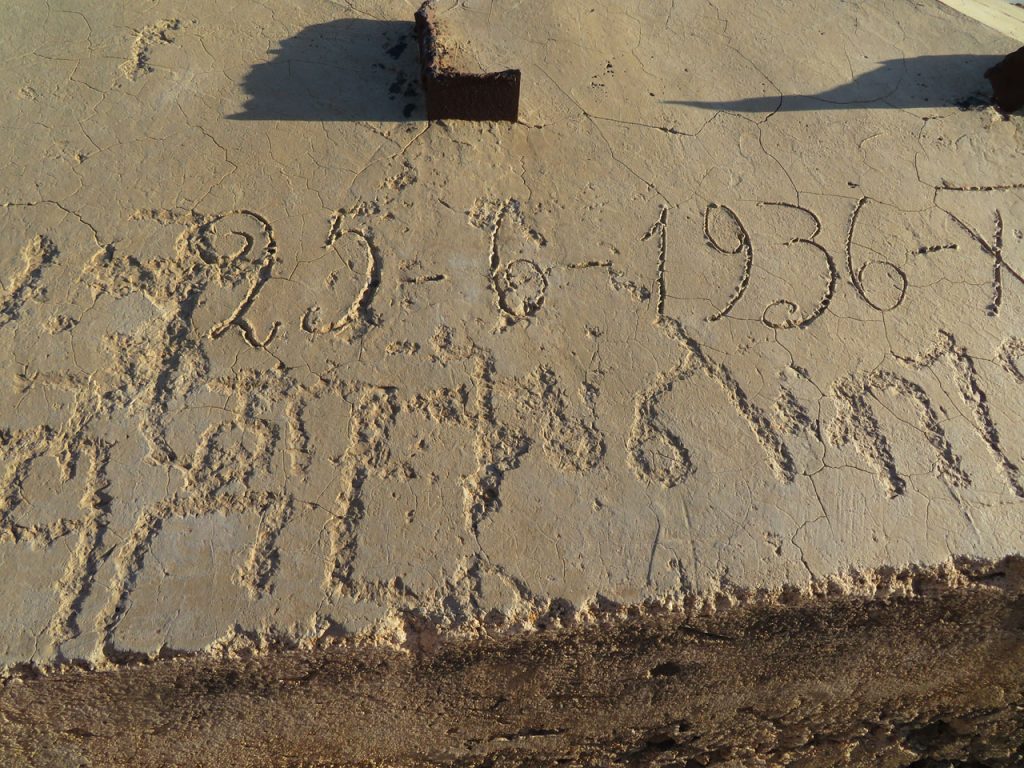 1930's Graffiti.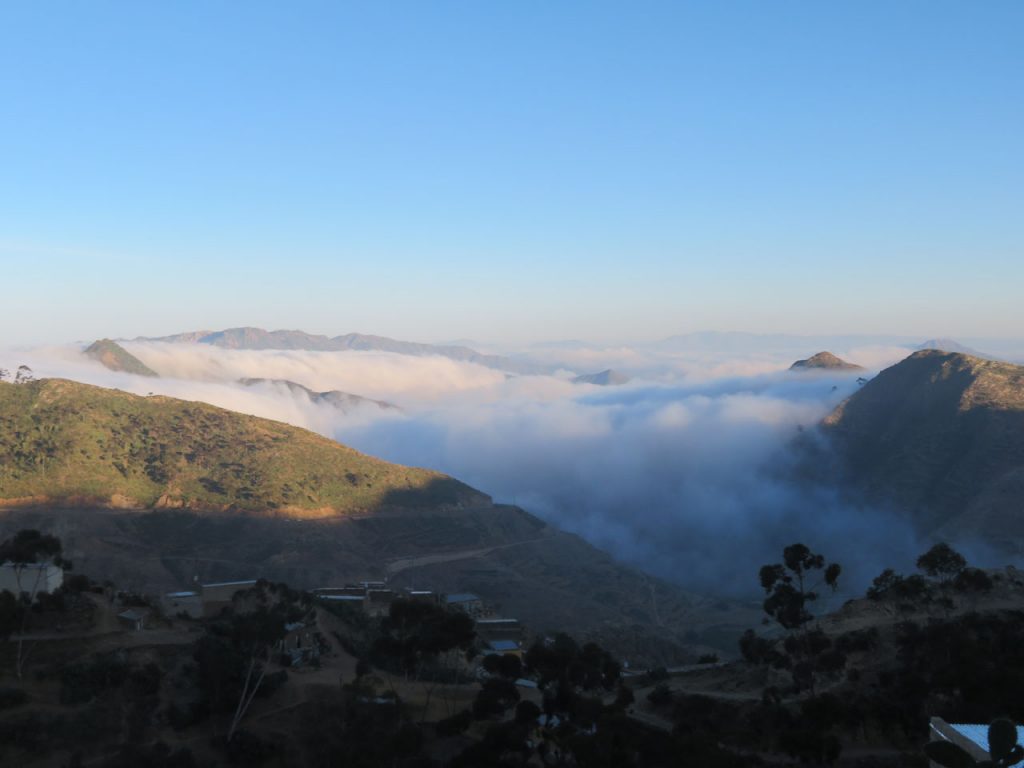 Returning to Asmara – high above the clouds.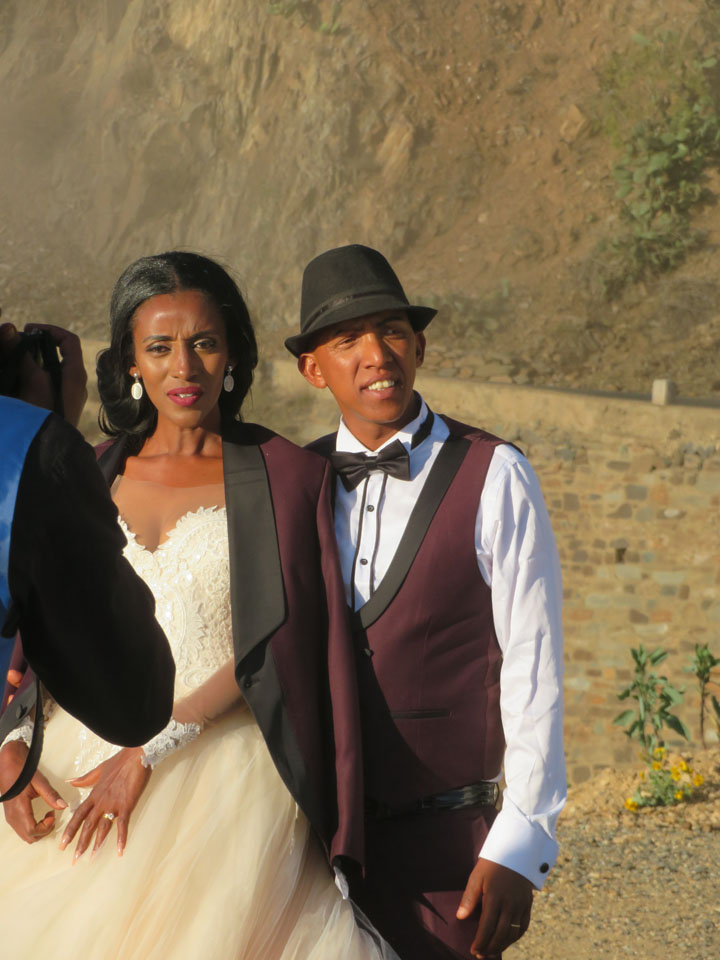 The New Generation Of Eritrea !
From Adigrat, Ethiopia , it is only 77 miles ( 120. km) to Asmara, Ethiopia. However, the border has been closed since it formed at independence in 1991, other than a brief period in 2019. Instead of 77 miles, I flew nearly 800 miles on 2 flights, from Mekele to Addis Ababa and then from Addis to Asmara, including a lengthy walk from.the domestic terminal to the international terminal.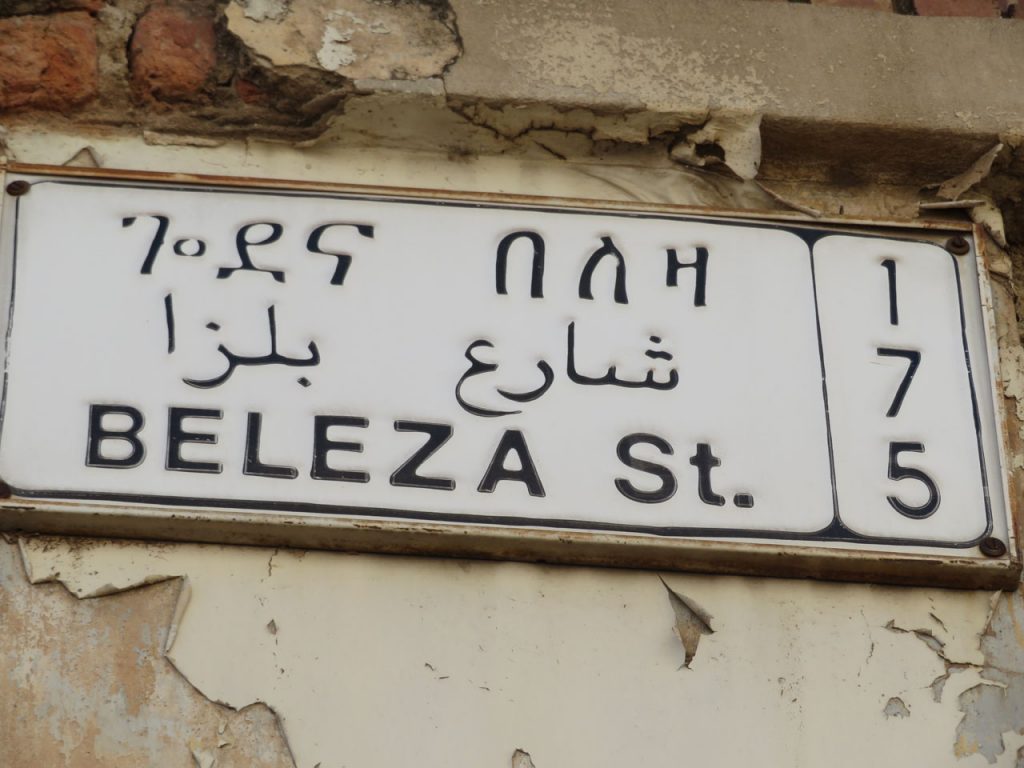 There are 4 major languages in Eritrea – Tigrina, Arabic,I talian and English, and 9 local languages.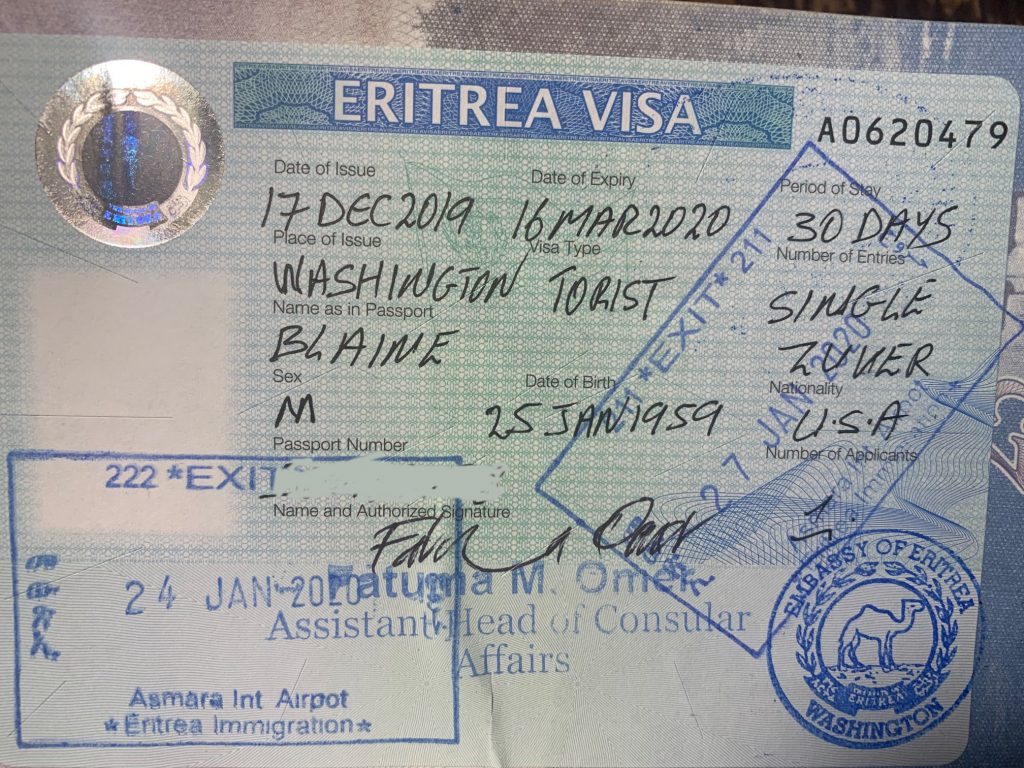 Arrival In Asmara was relatively smooth. Getting the visa is not easy – I actually had an agency in Washington DC handle it, whereas I normally get them on my own. Asmara Airport has flights to Addis Ababa,Dubai,Khartoum, and Mecca.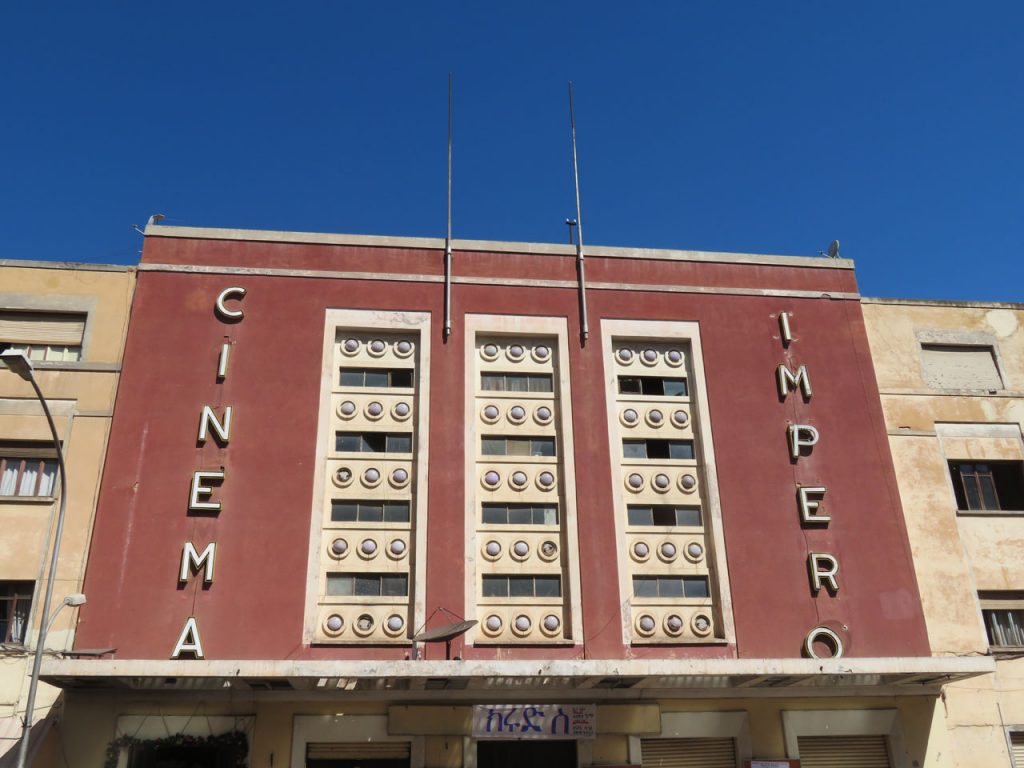 Asmara is perhaps the best preserved Art Deco city in the world. It is a 1930s Mussolini era time capsule.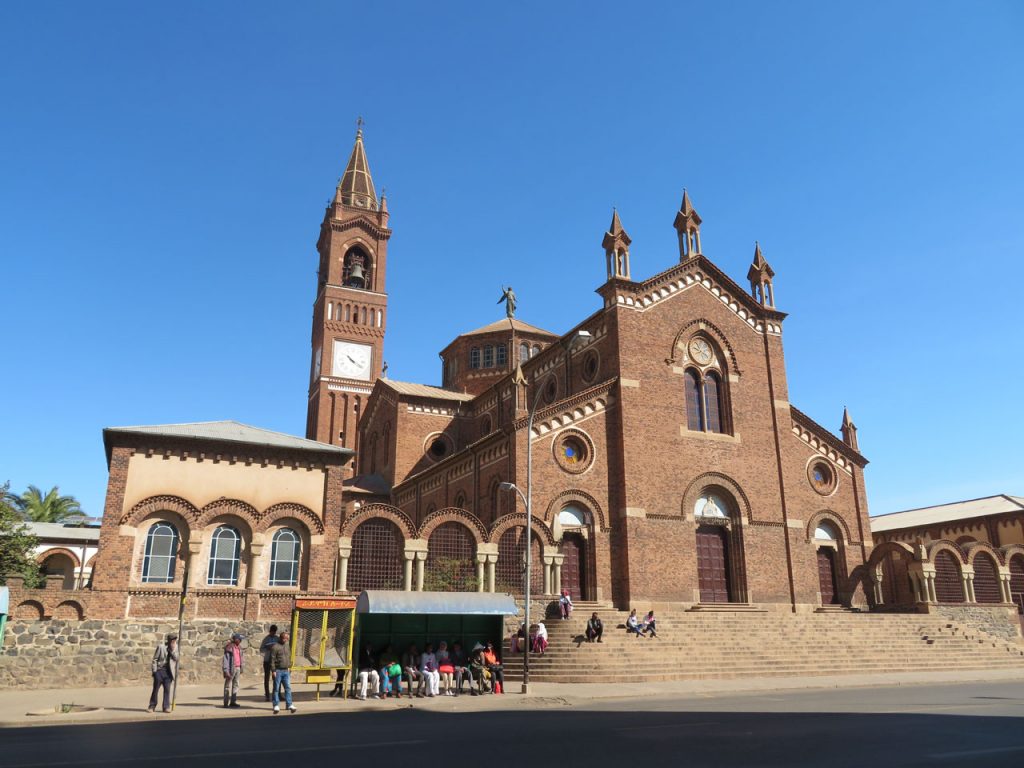 Ave Maria Roman Catholic Cathedral.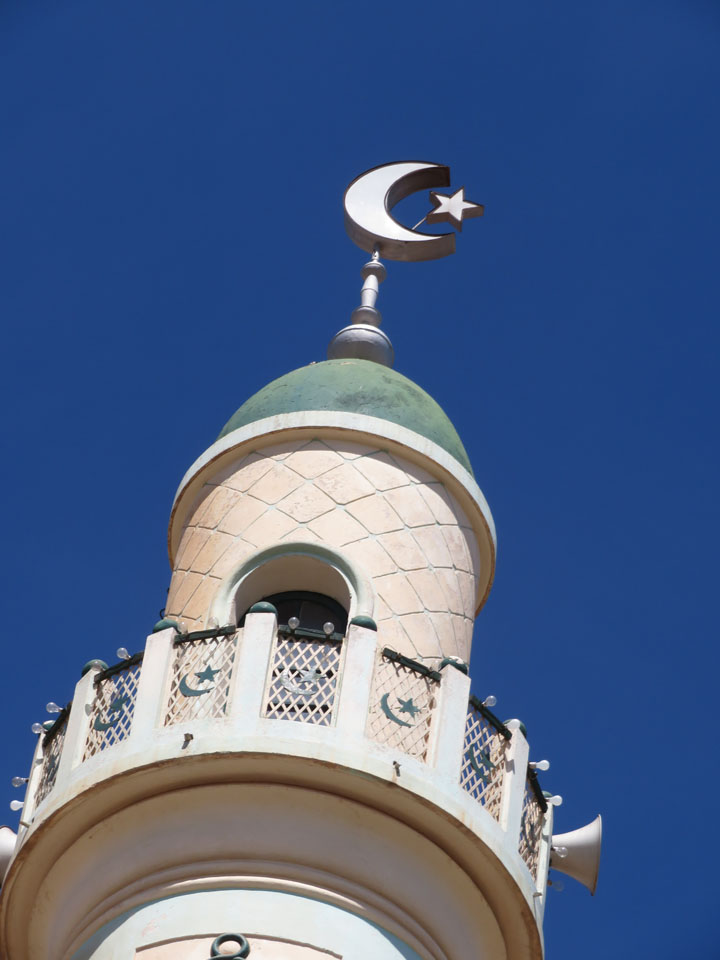 Grand Mosque.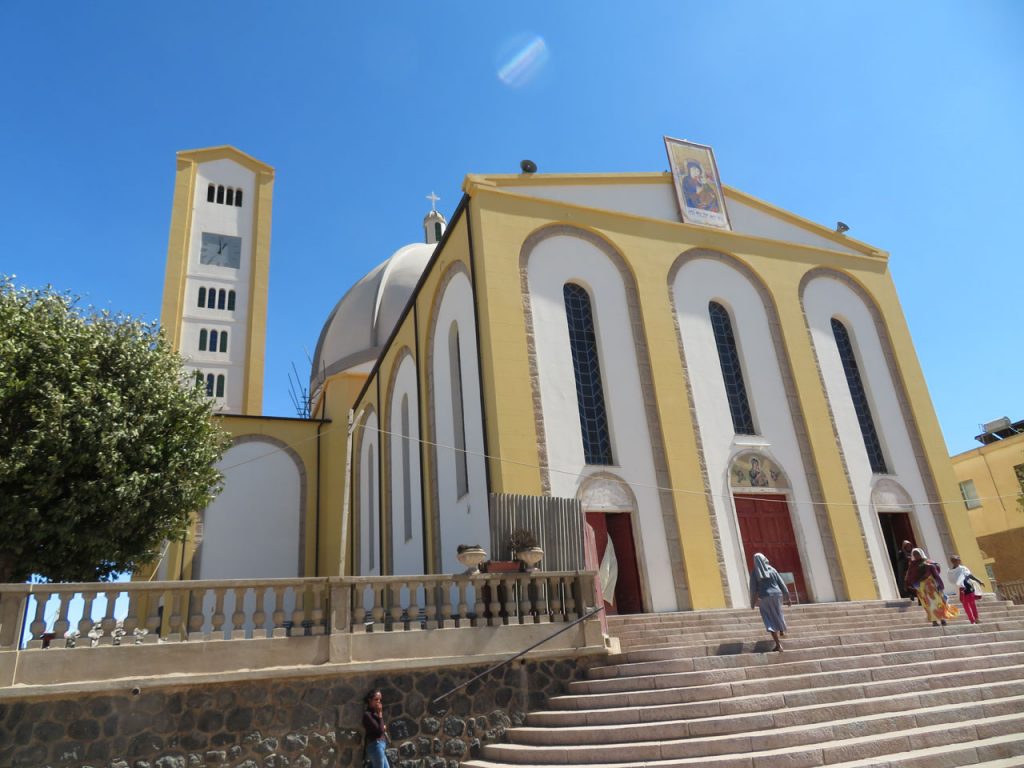 Eastern Rite Catholic Church.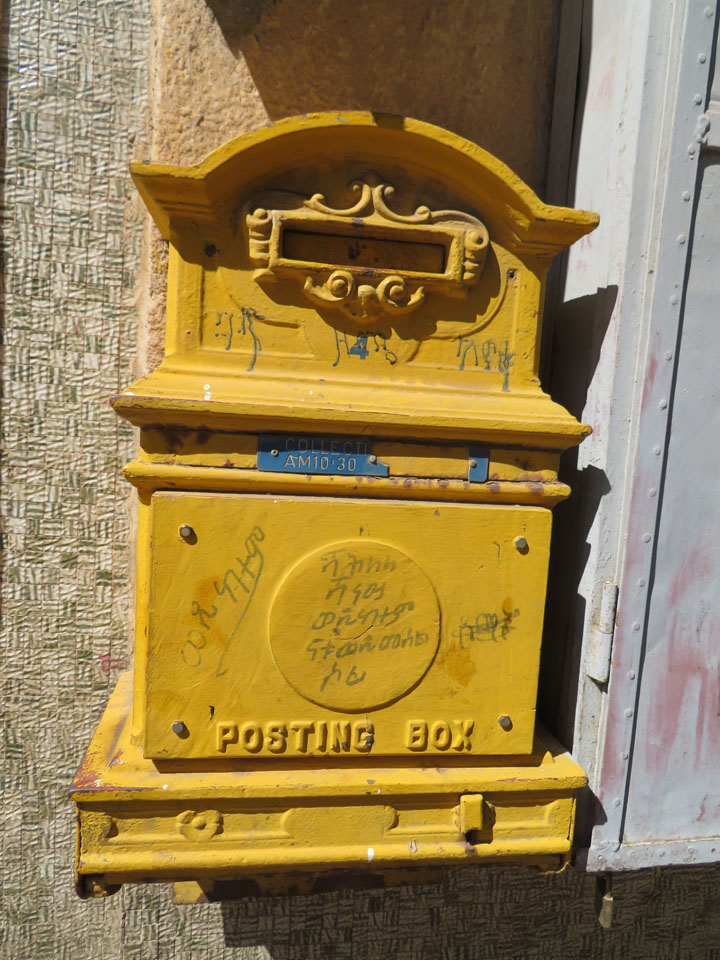 Snail mail is still used as internet is extremely slow. TotalAdventure could not even access What'sApp.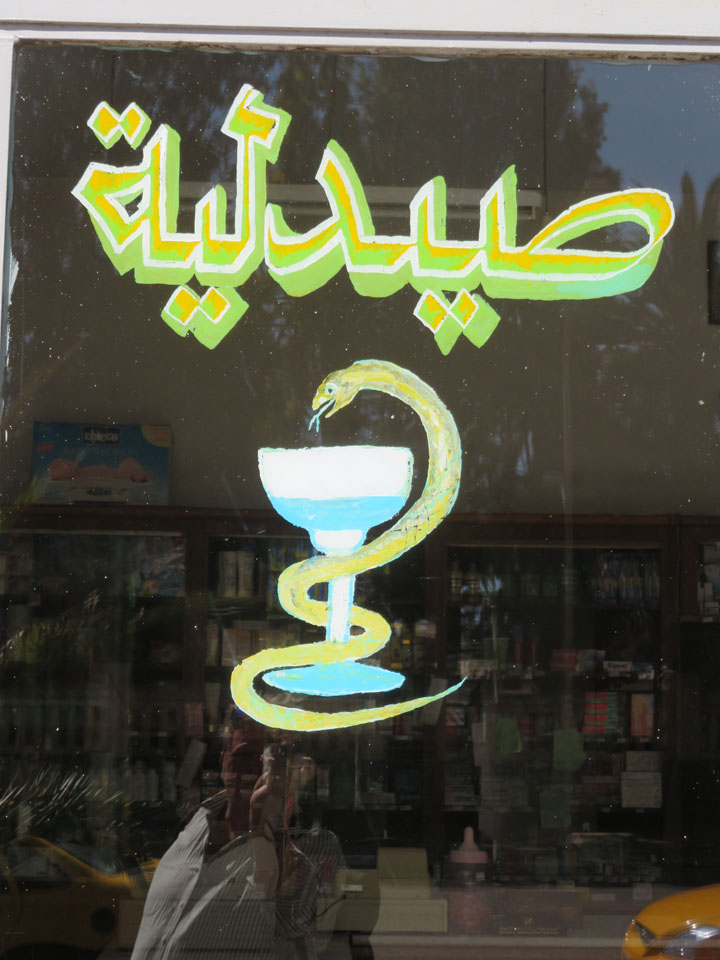 An Apothecary.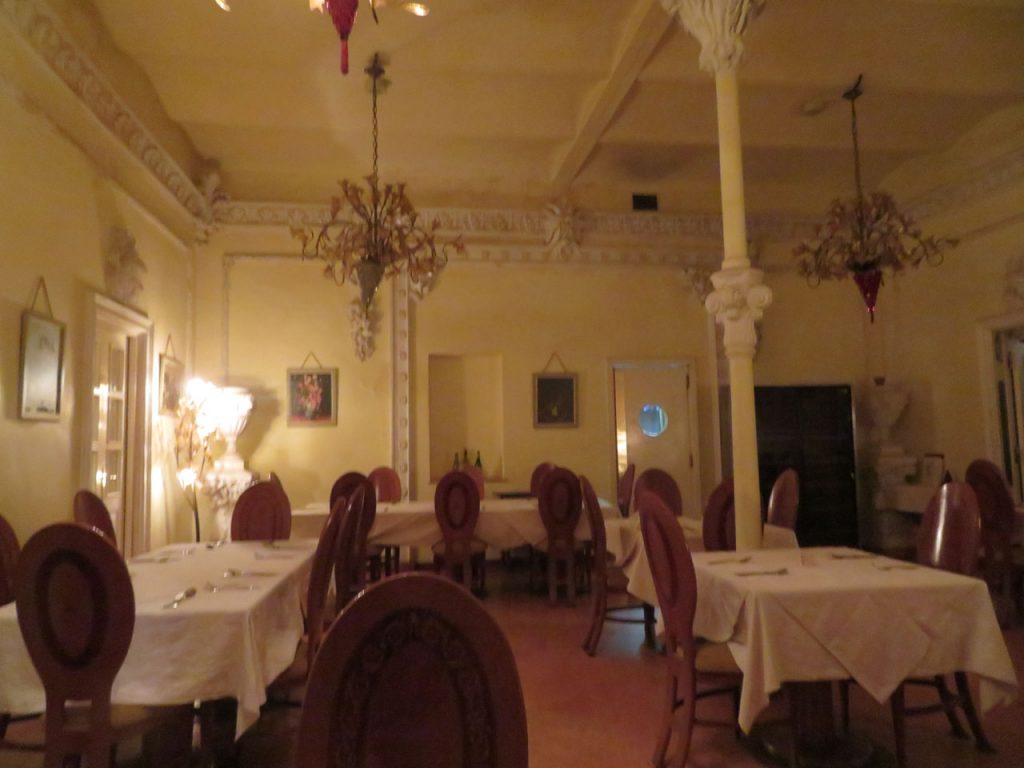 Dining At Hotel Italia. I was the only customer, but had a great pasta and soup meal with beer for about $ 5 – 75 Nafka.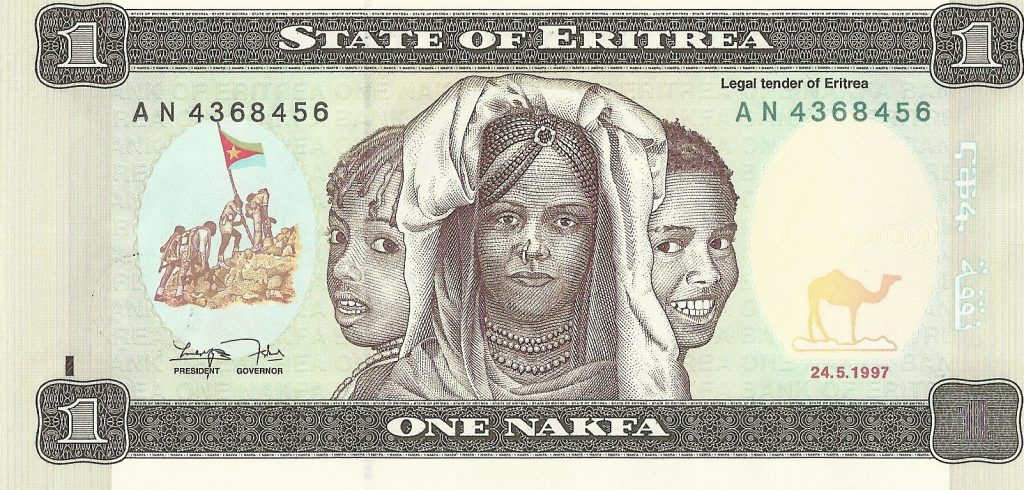 15 Nafka = 1 USD.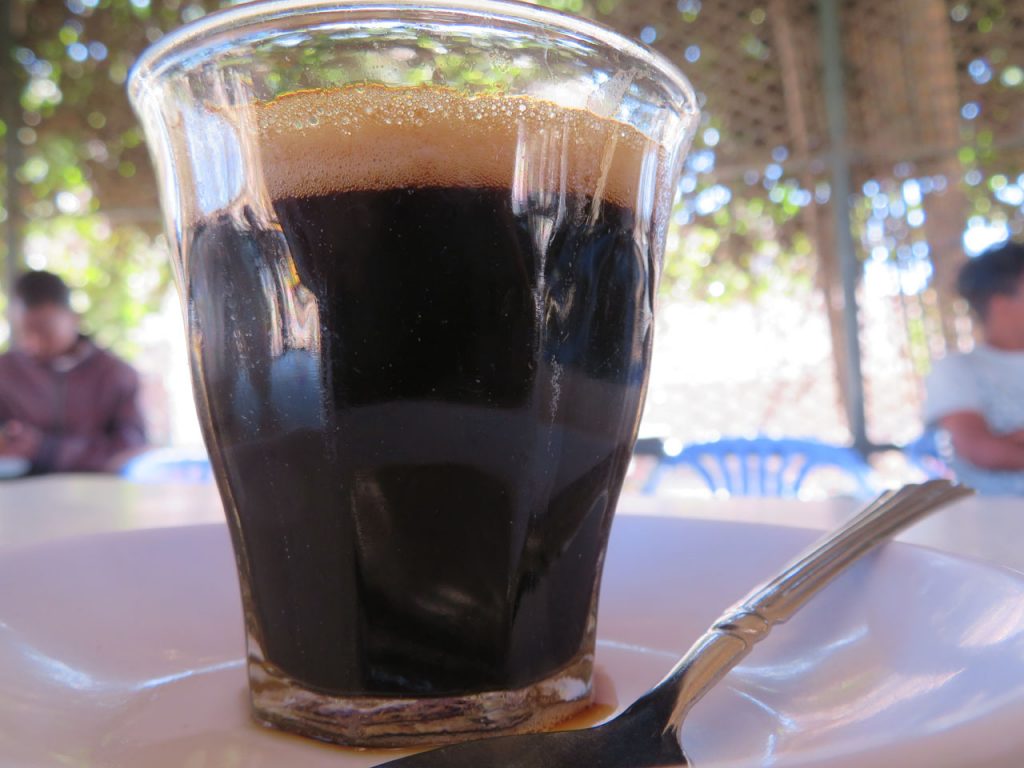 Perhaps The Best Coffee In The World. East African Beans, Italian Style.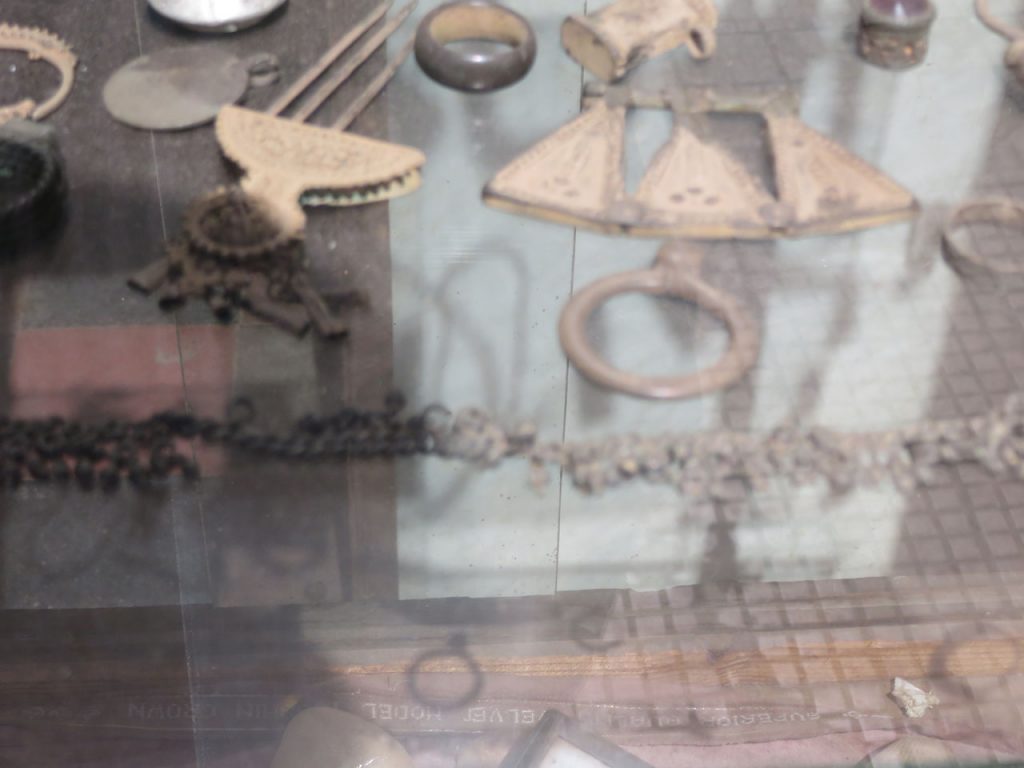 Ancient Jewelry For Sale.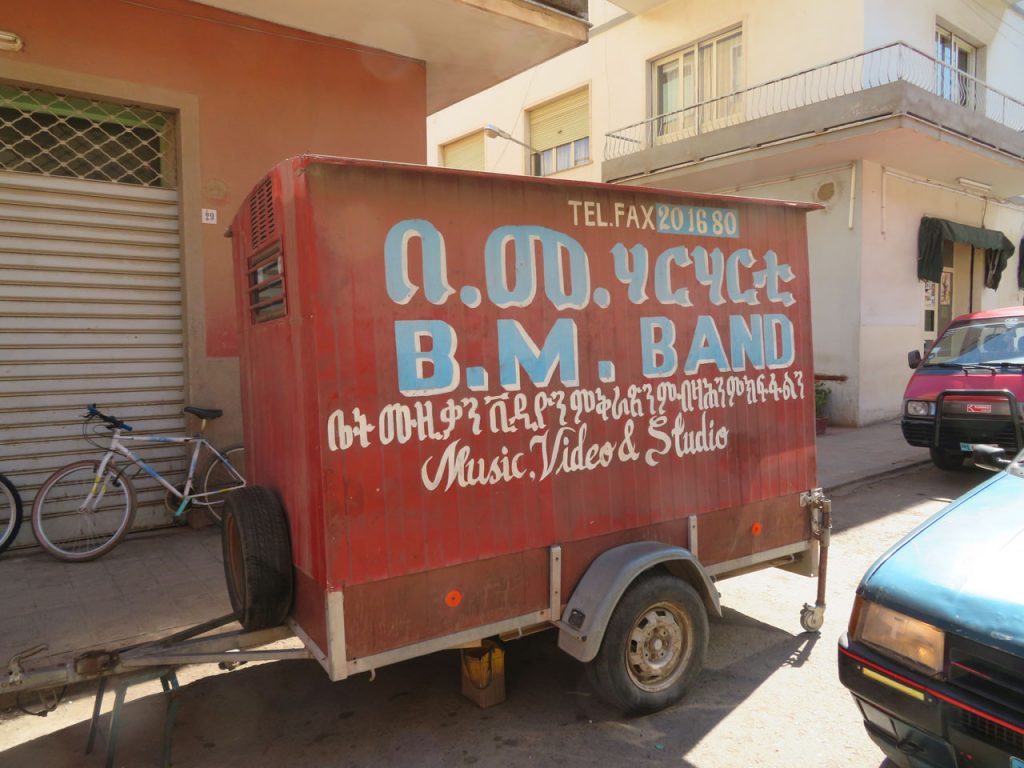 Getting Ready For Saturday Night.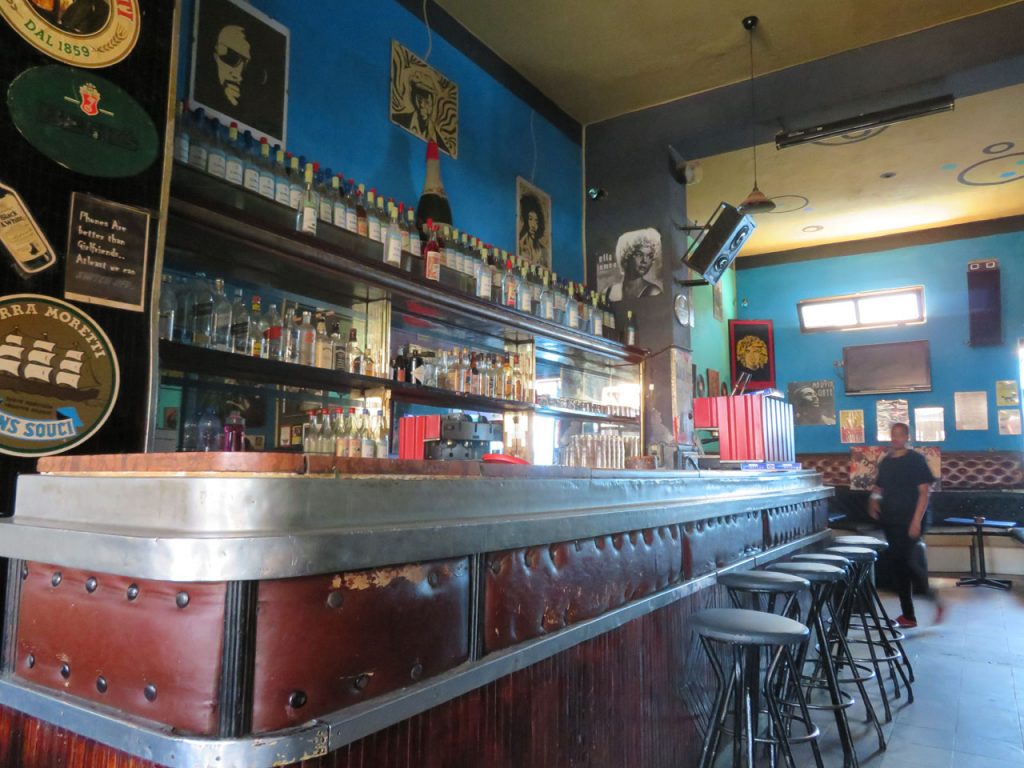 The city has a. lively nightlife. This picture was taken on a Saturday morning.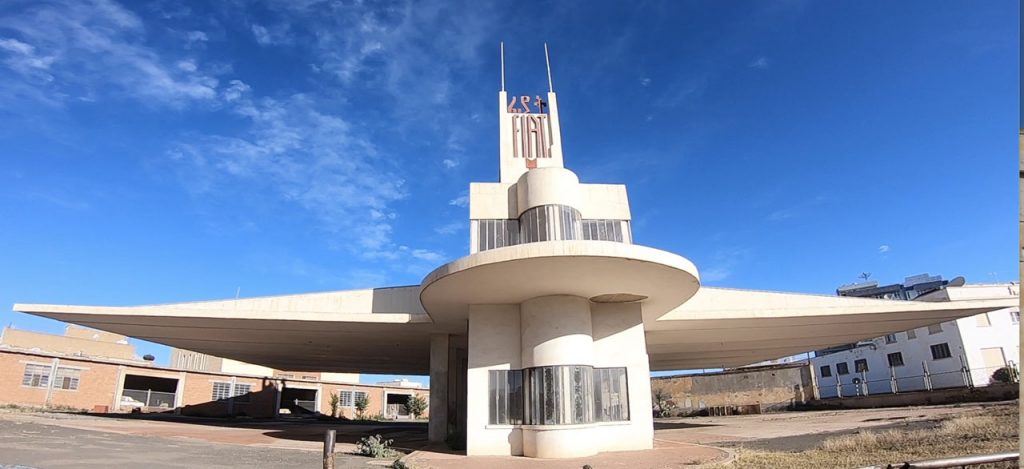 Perhaps The Most Art Deco Building In The World After The Chrysler Building In New. York. Fiat Dealership That Closed In The 1960s Due To War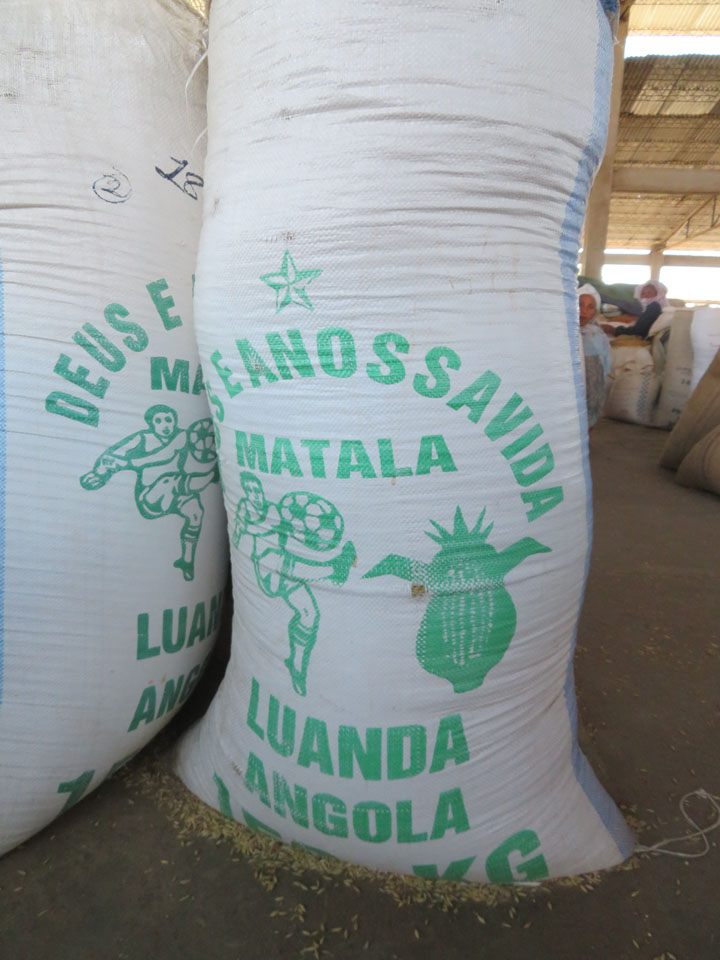 Imported Angolan Grain.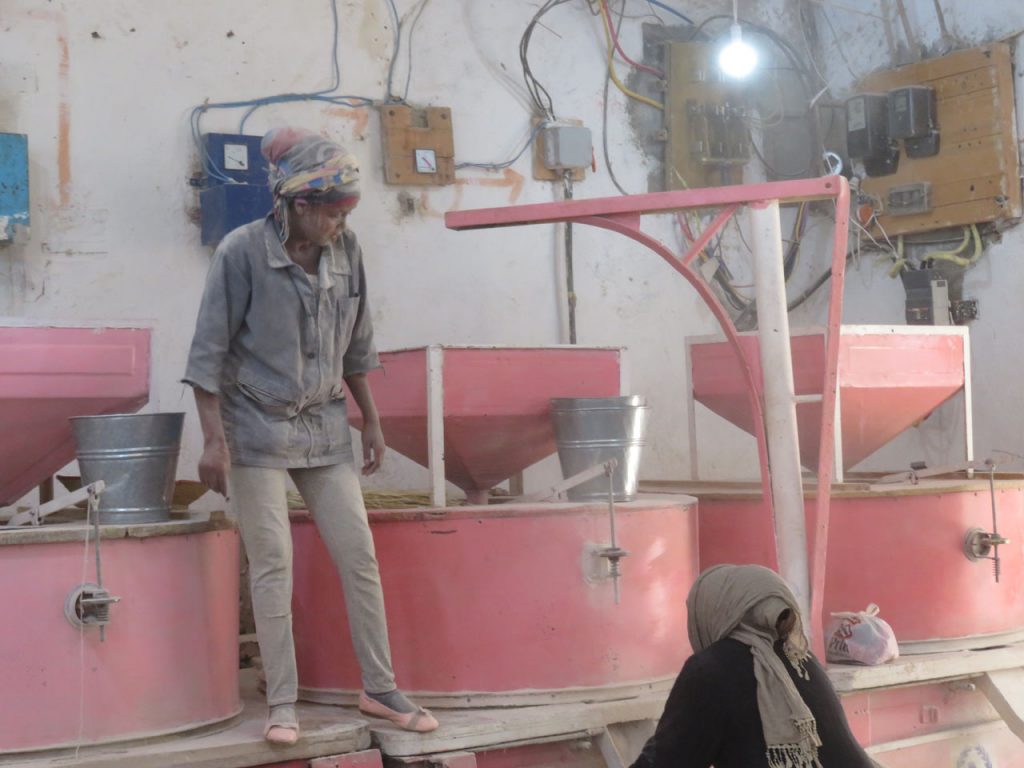 At the flour mill.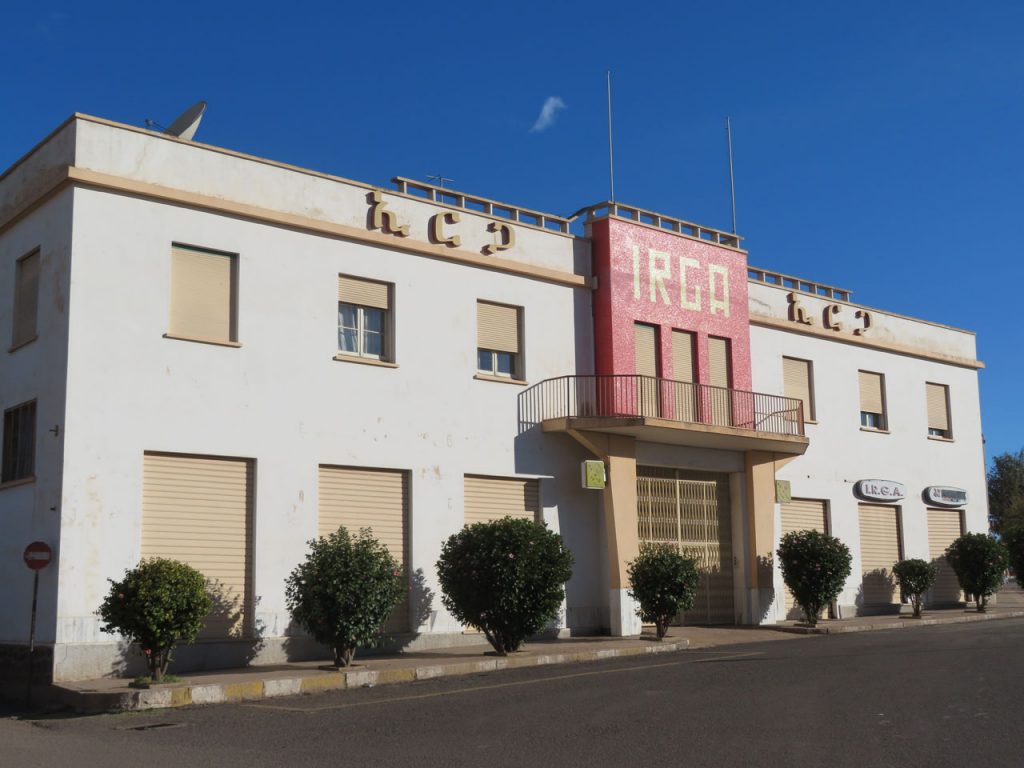 Extreme Deco.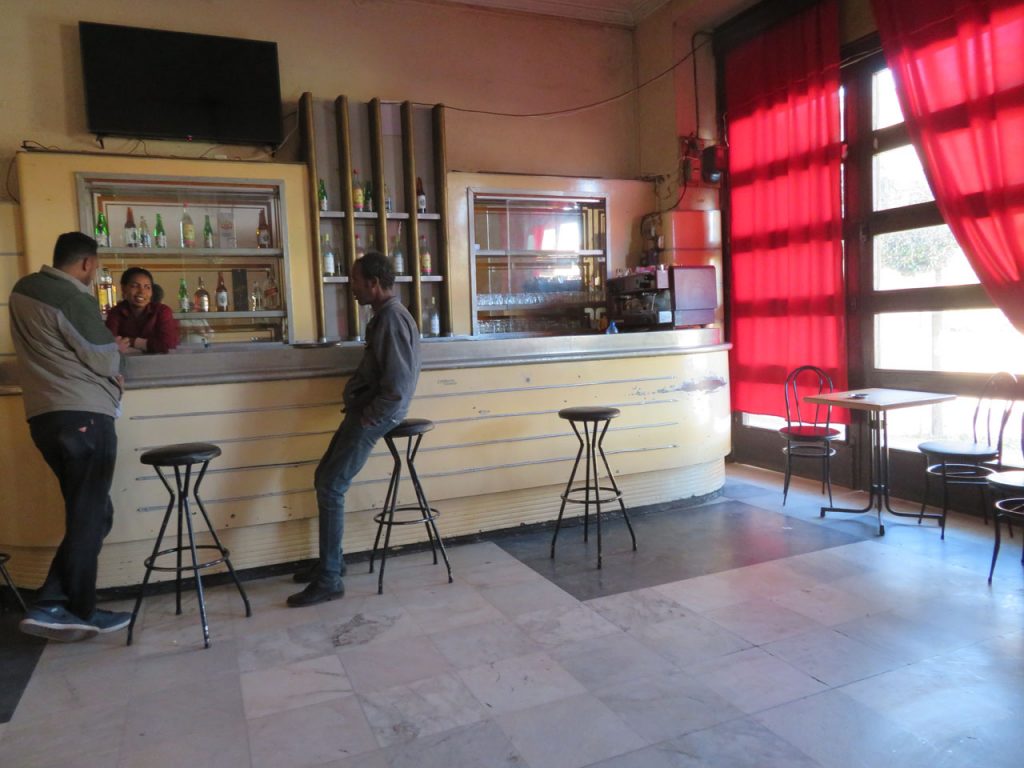 TotalAdventure saw most of Asmara in a day. It is a fascinating place with few foreign visitors, the majority of them Italian.
Axum Is One Of The Holiest Christian Cities On Earth. It Is Home To The Ark Of The Covenant – The Tablets Of The Ten Commandments Held By Moses.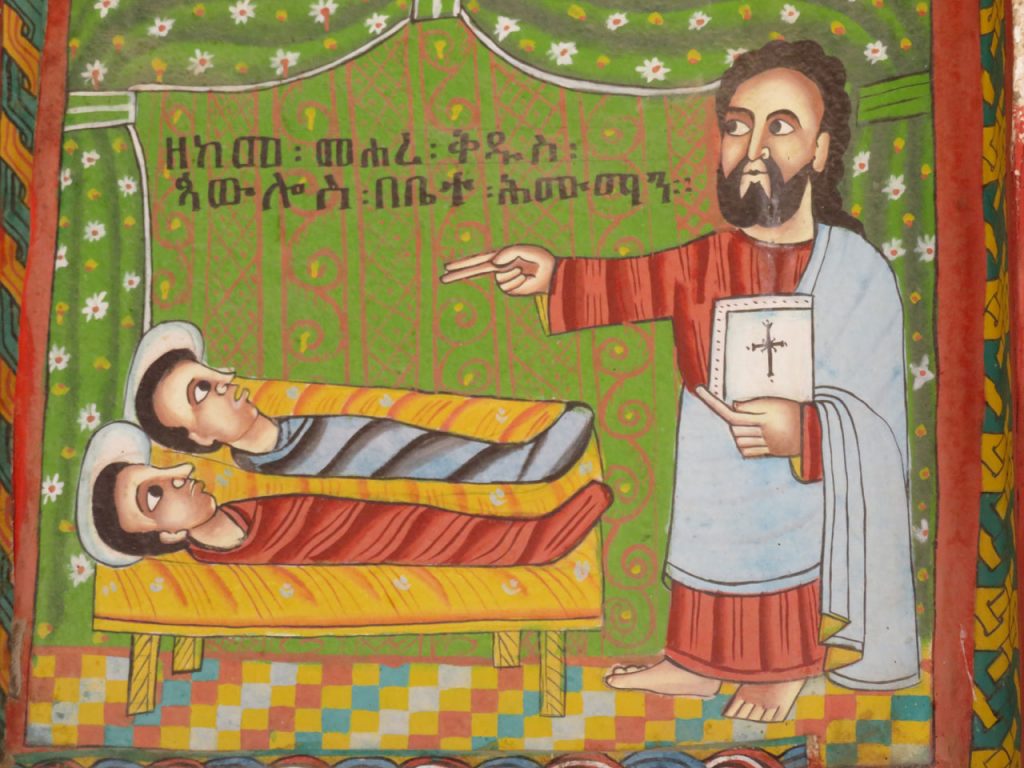 In Middle Ages Europe ,In The Time Of The Crusaders, there was a tale of a paradise called The Land of Prester John. A land of unimaginable riches, and home to the Holy Grail. Somewhere near Ethiopia, though the Crusaders never got beyond Jerusalem.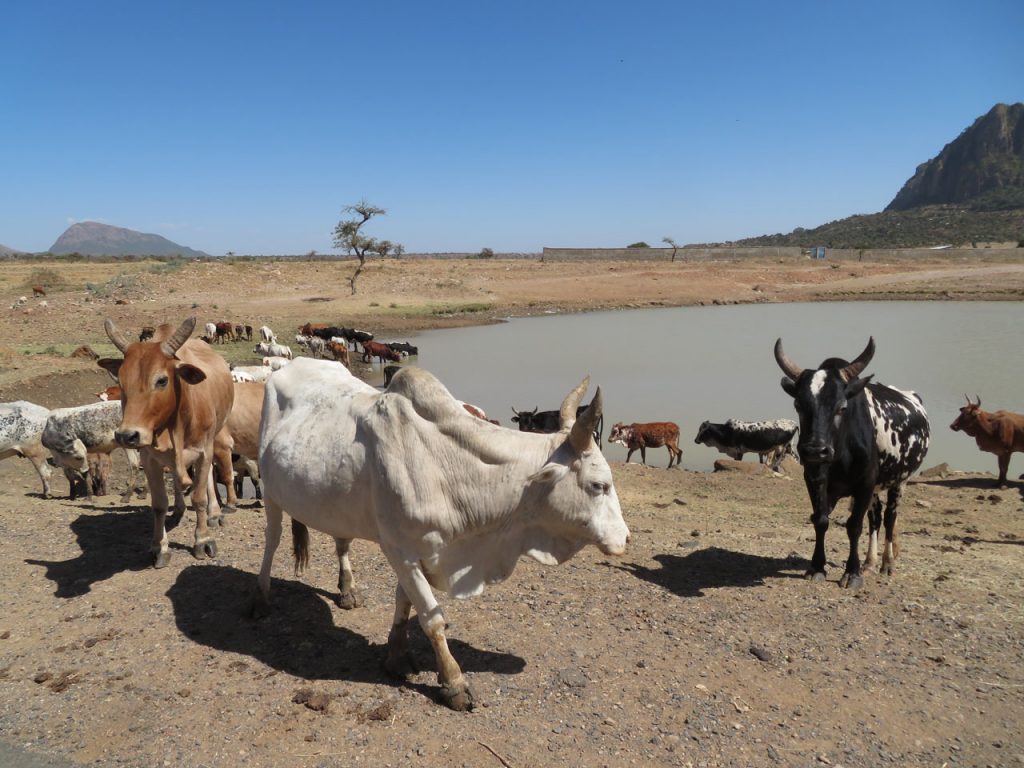 A Truly Ancient Land.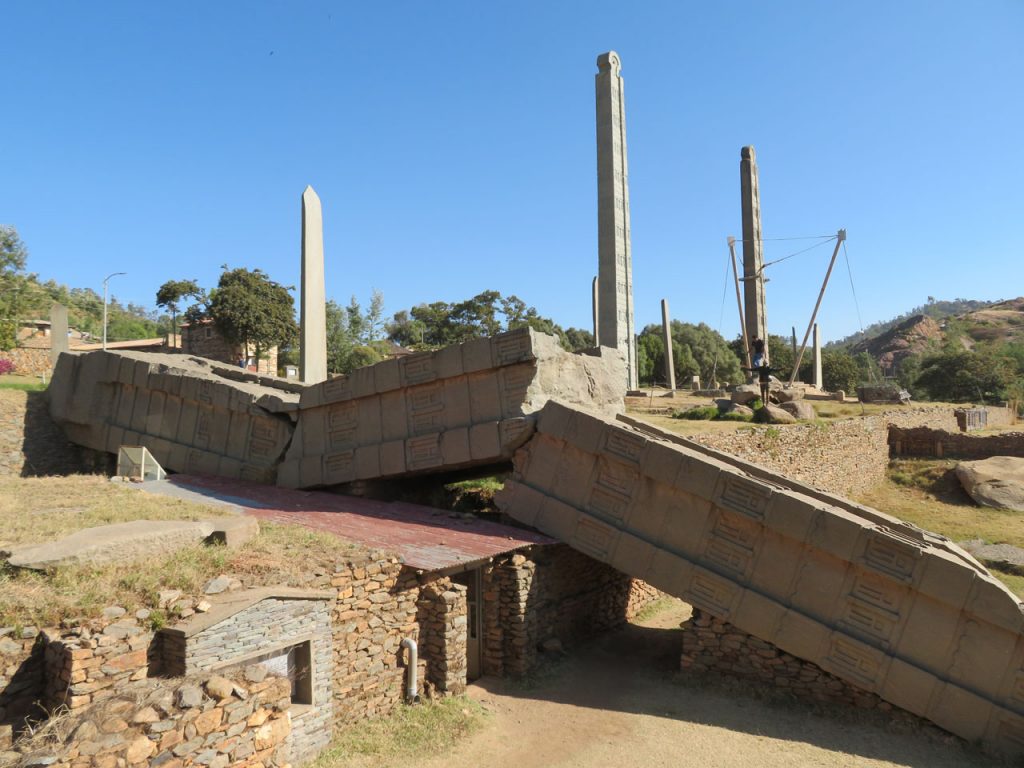 Egyptian emissaries erected stellae in the Fourth Century, though quite a few have fallen.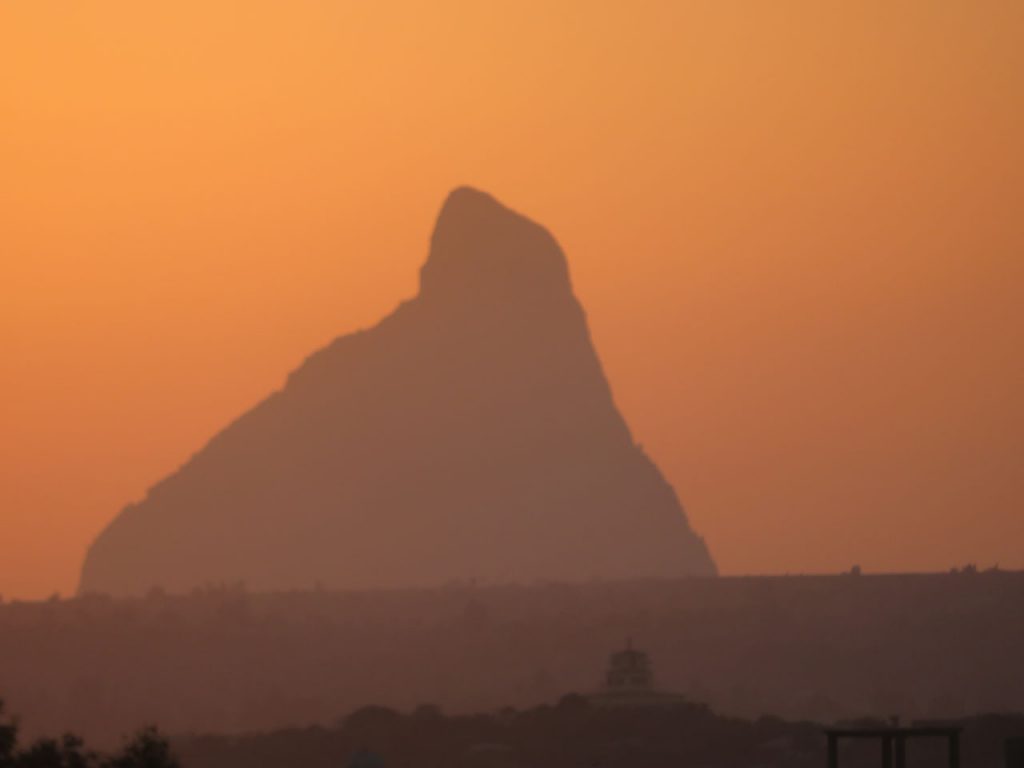 Sunrise in the Land of Prester John.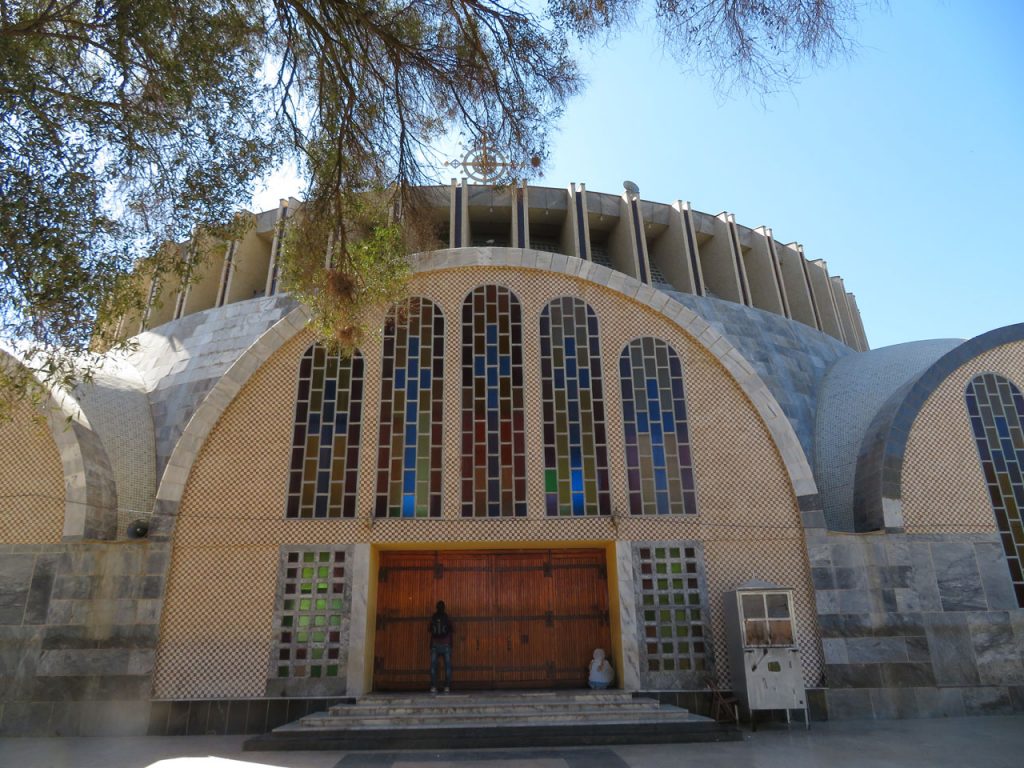 The modern Church of Maryam ( Virgin Mary ) near the Ark Of The Covenant.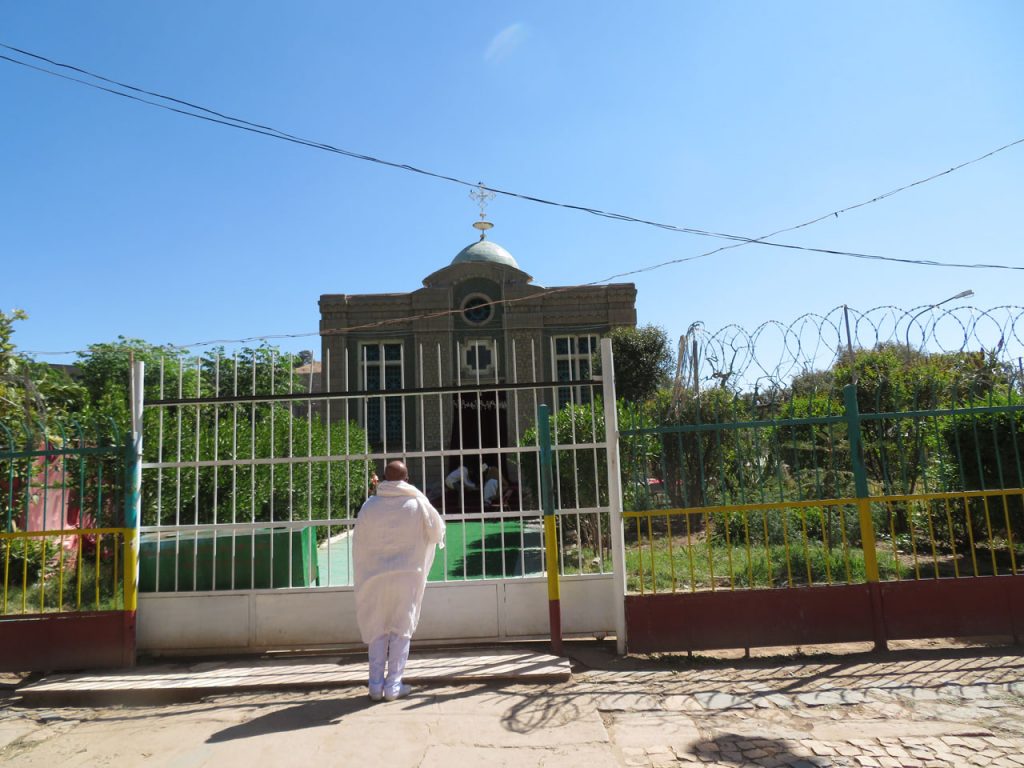 The Ethiopian Orthodox Tewahedo Church claims to possess the Ark of the Covenant, or Tabot, in Axum. The object is currently kept under guard in a treasury near the Church of Our Lady Mary of Zion.( Wikipedia) Ark of the Covenant was brought to Ethiopia by Menelik I with divine assistance, while a forgery was left in the Temple in Jerusalem. ( Wikipedia.) Melenik I was the son of King Solomon and Queen Sheba.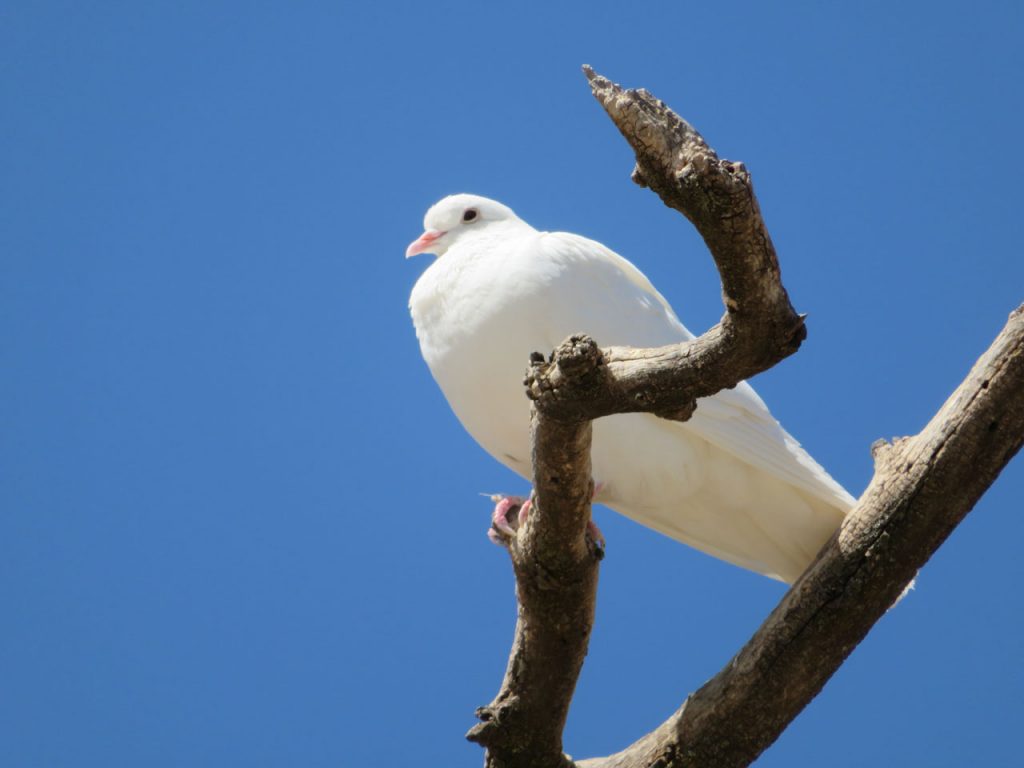 A Peaceful Dove – An Apparition ?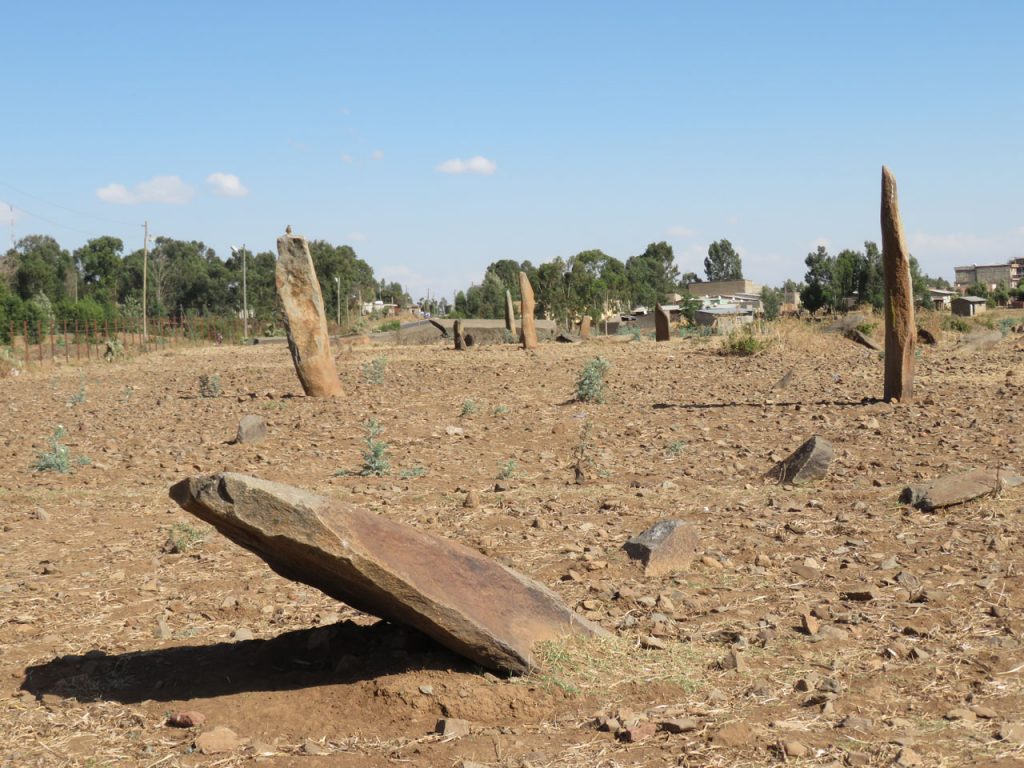 An Ancient Stellae Field.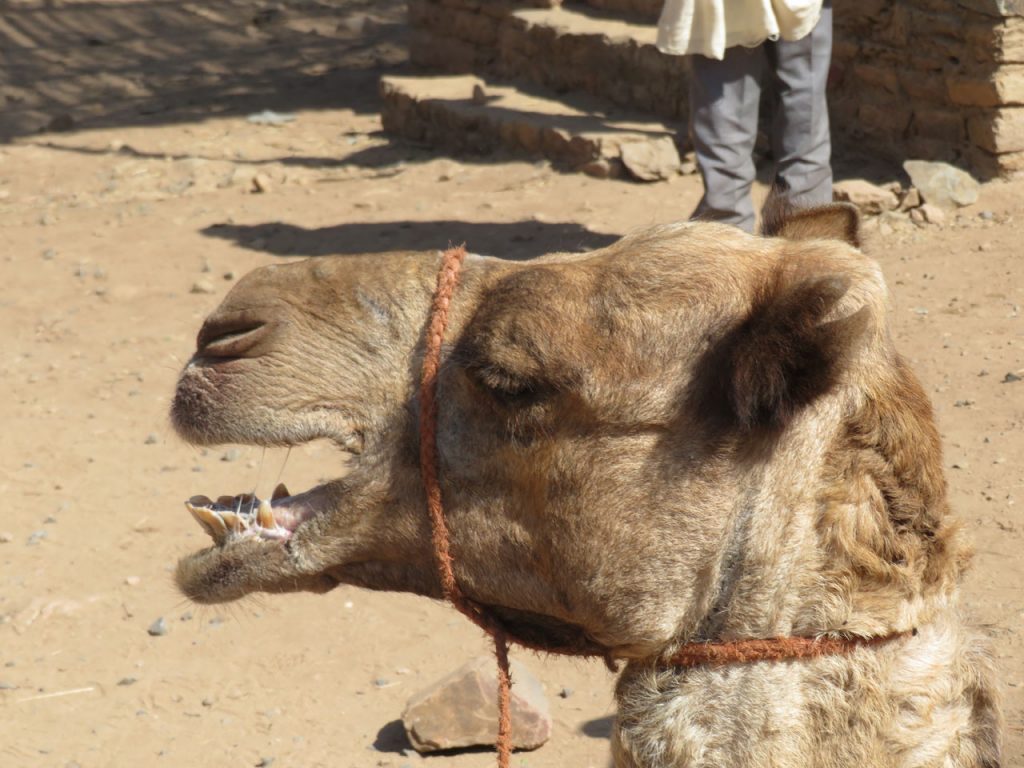 A Cantankerous Camel.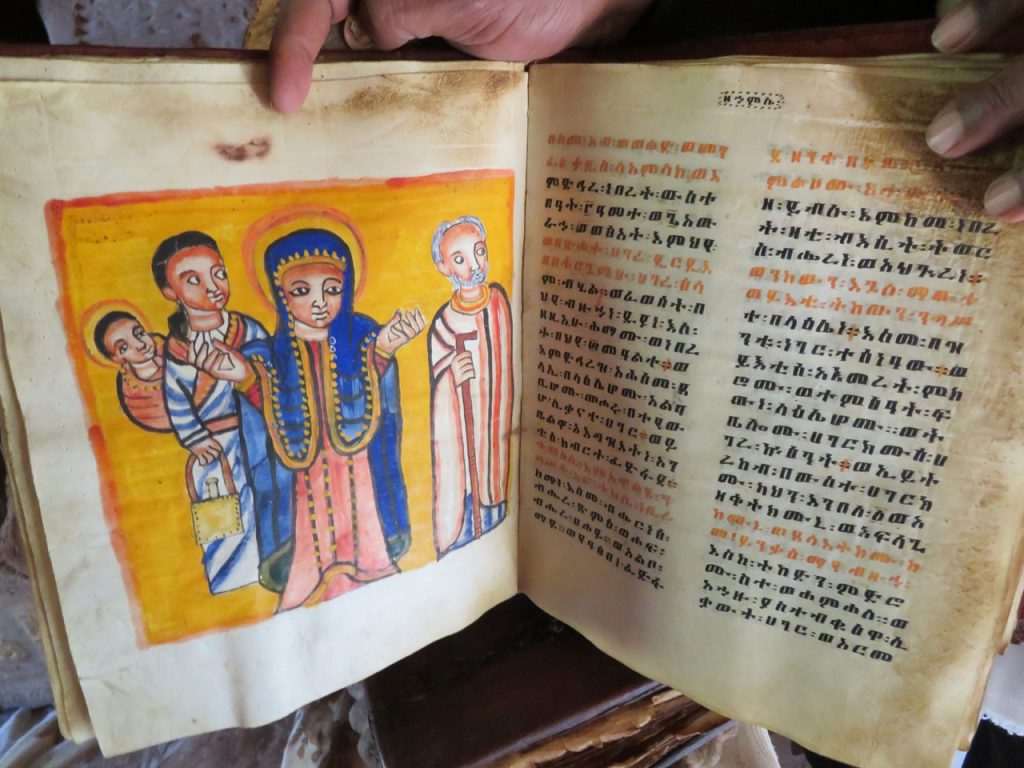 Holy Bible.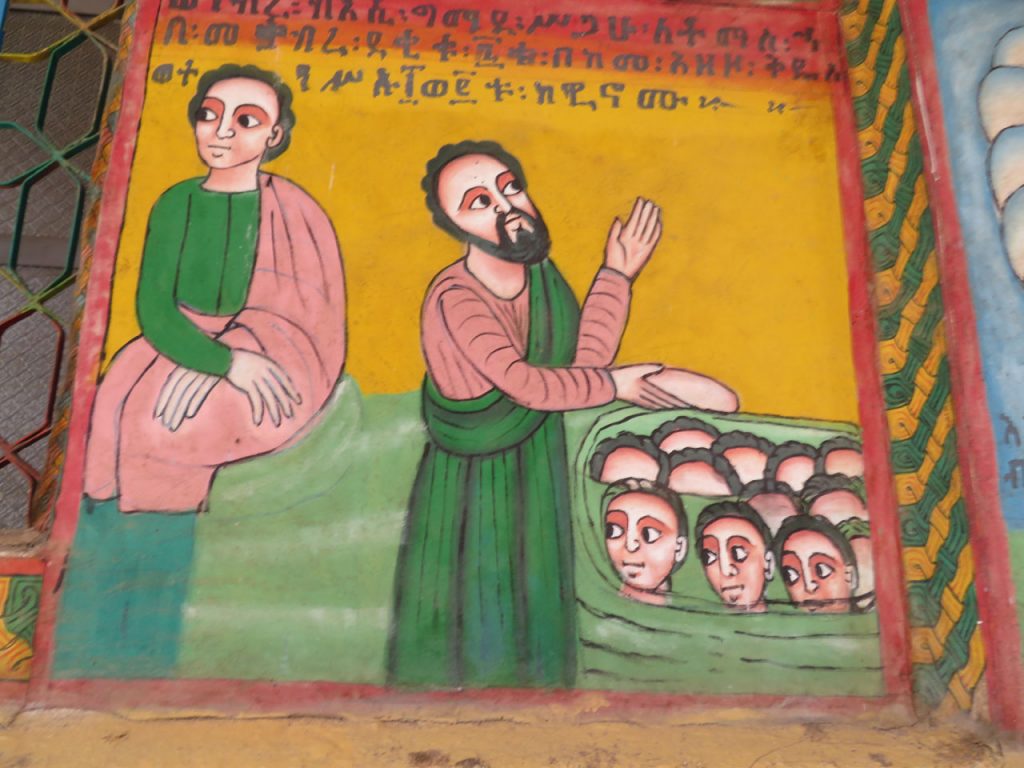 Brutal Punishments For Sinners.
Rugged Trees For the Dry Climate.Tigray only gets a few showers in the summer.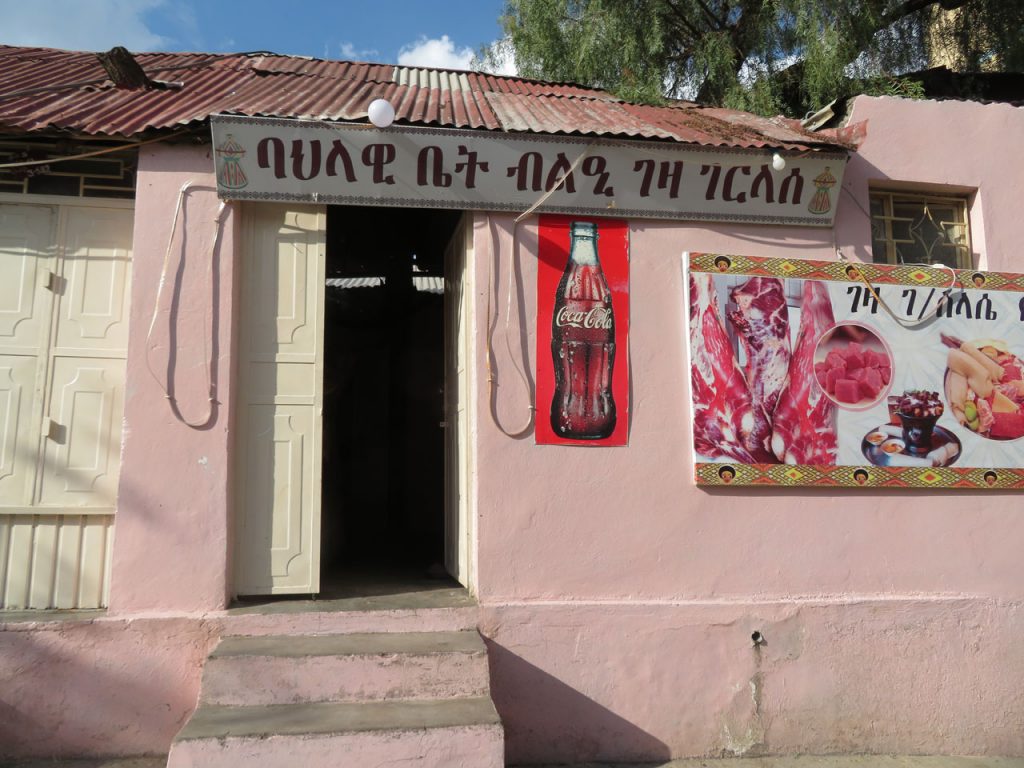 One of the best restaurants in Ethiopia – in Adrigat.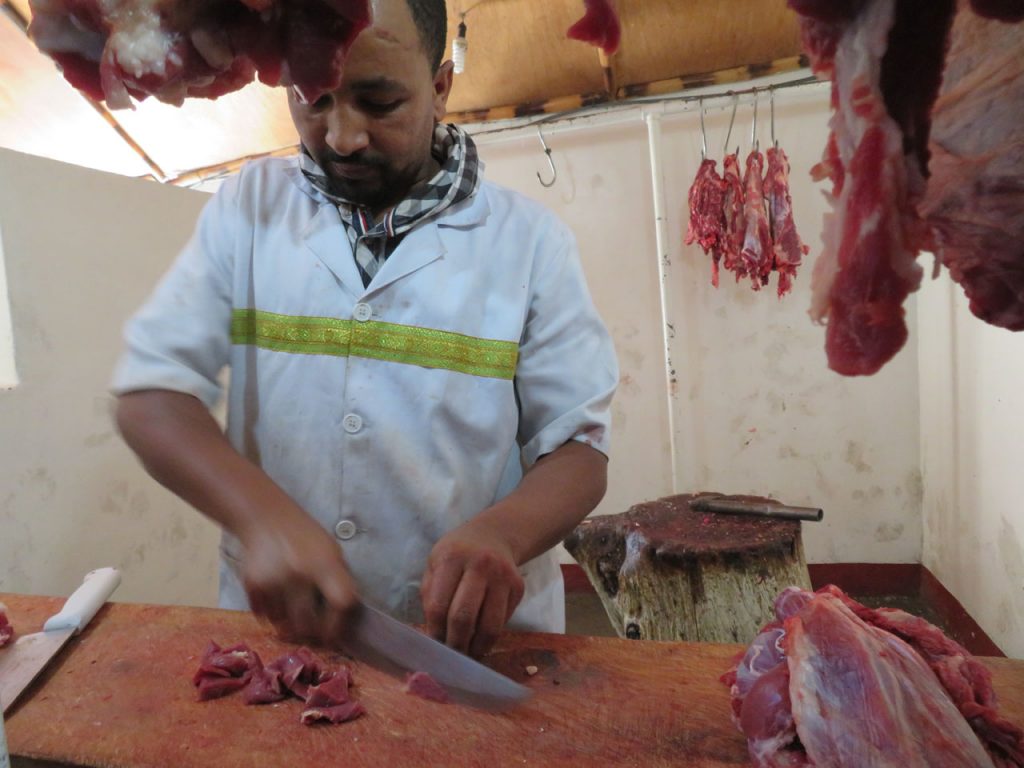 Lamb and Beef so fresh you can eat it raw.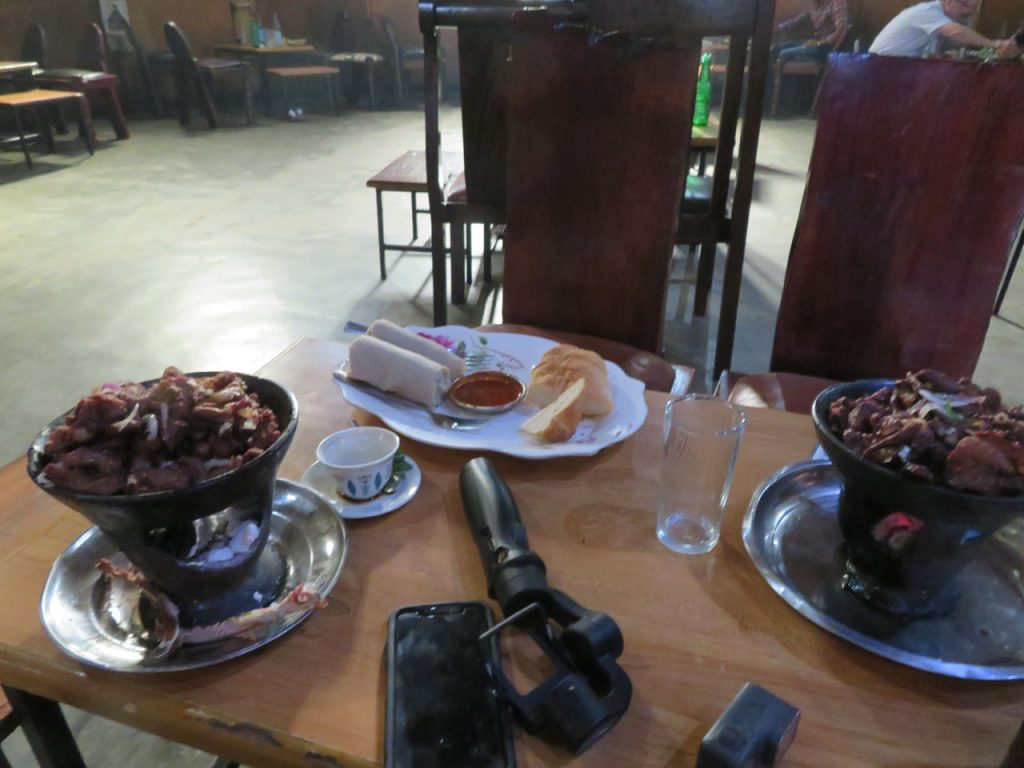 Hot Tibs.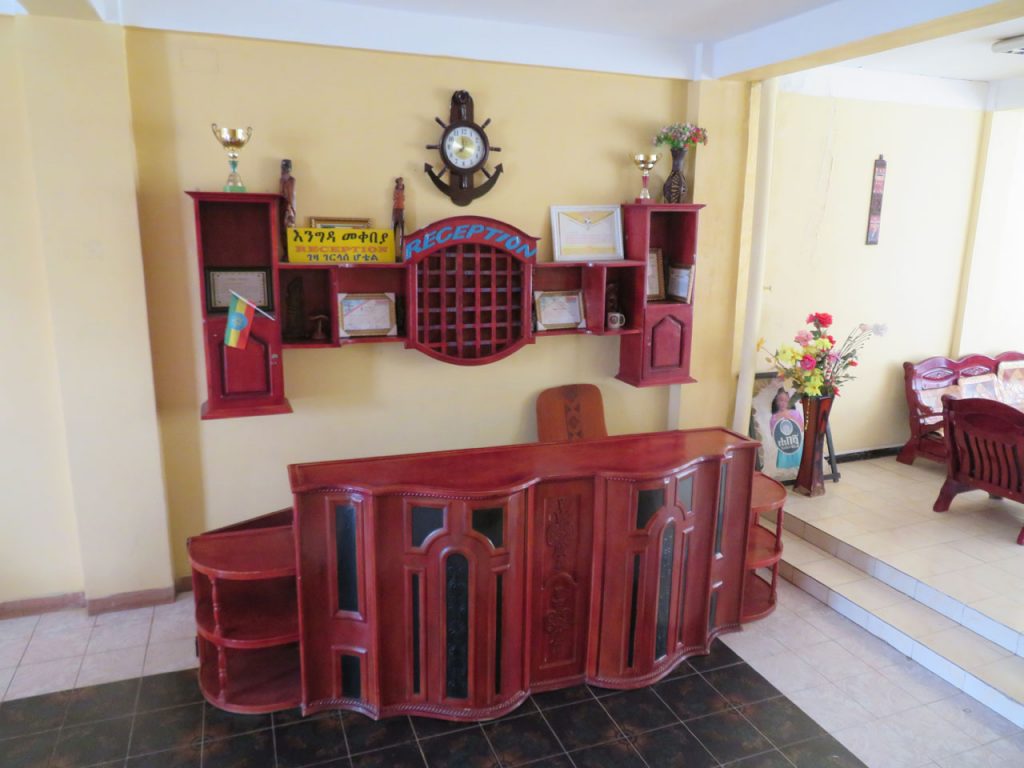 Hotel In Adrigat. Did not stay there.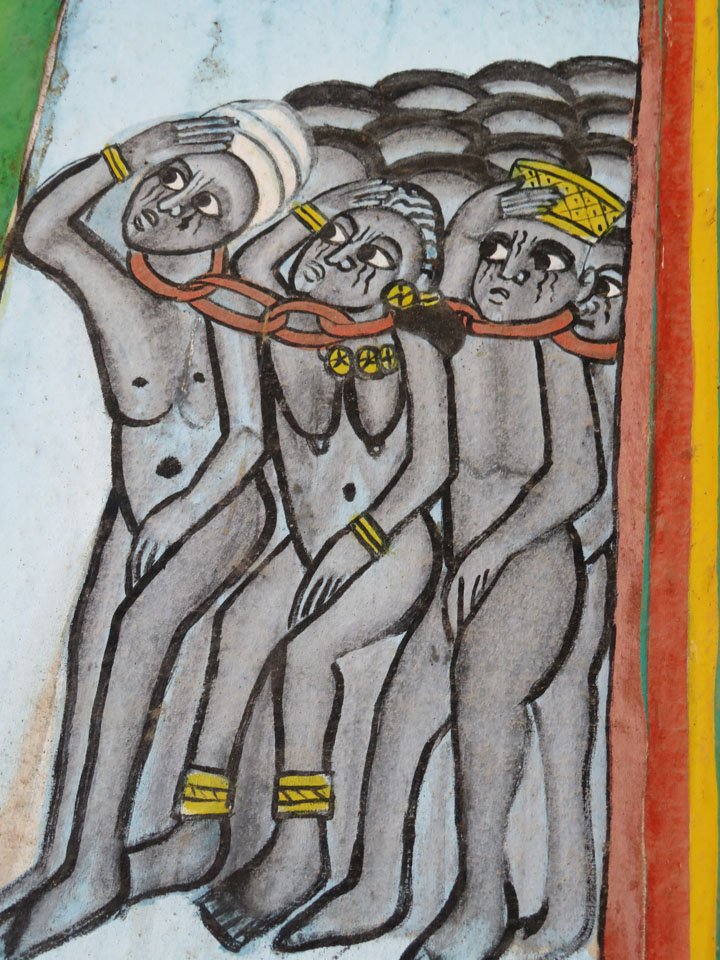 Captured In Battle.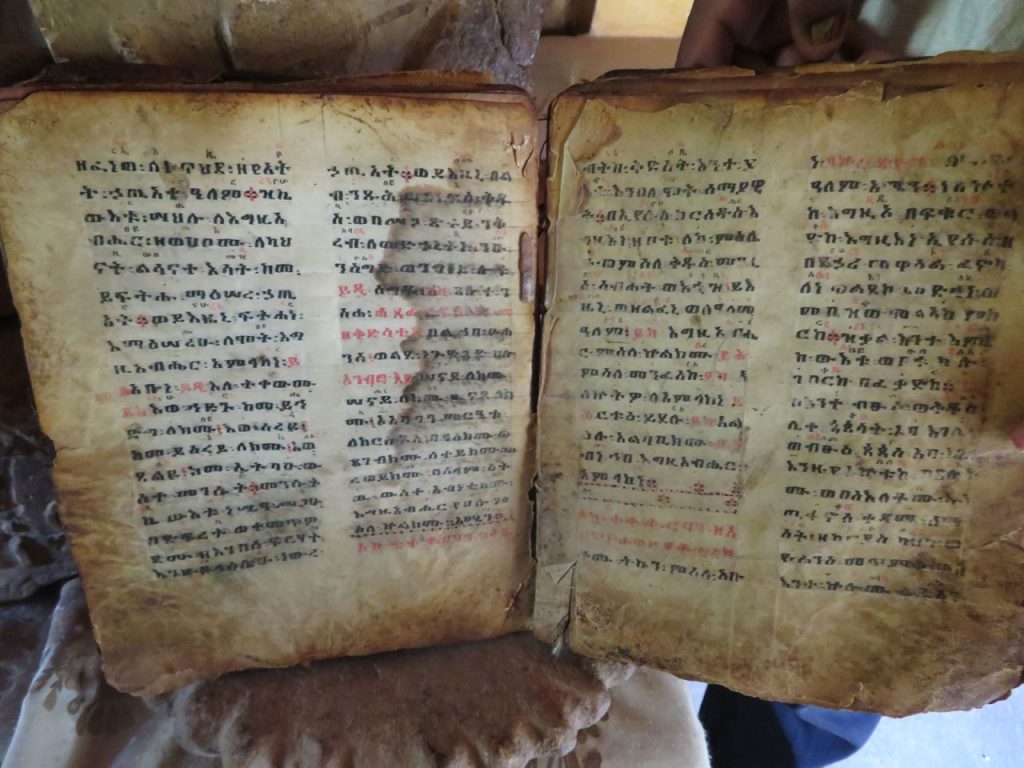 Ancient Scripture.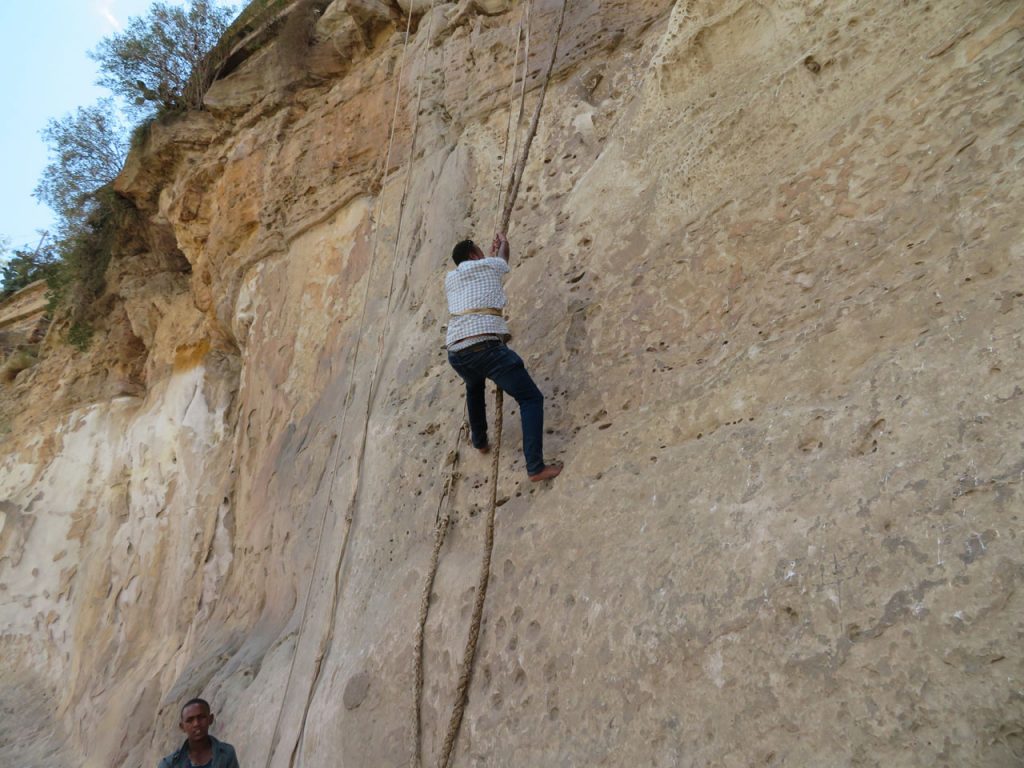 Debri Damo Monastery. Accessible only by rappelling up the cliff.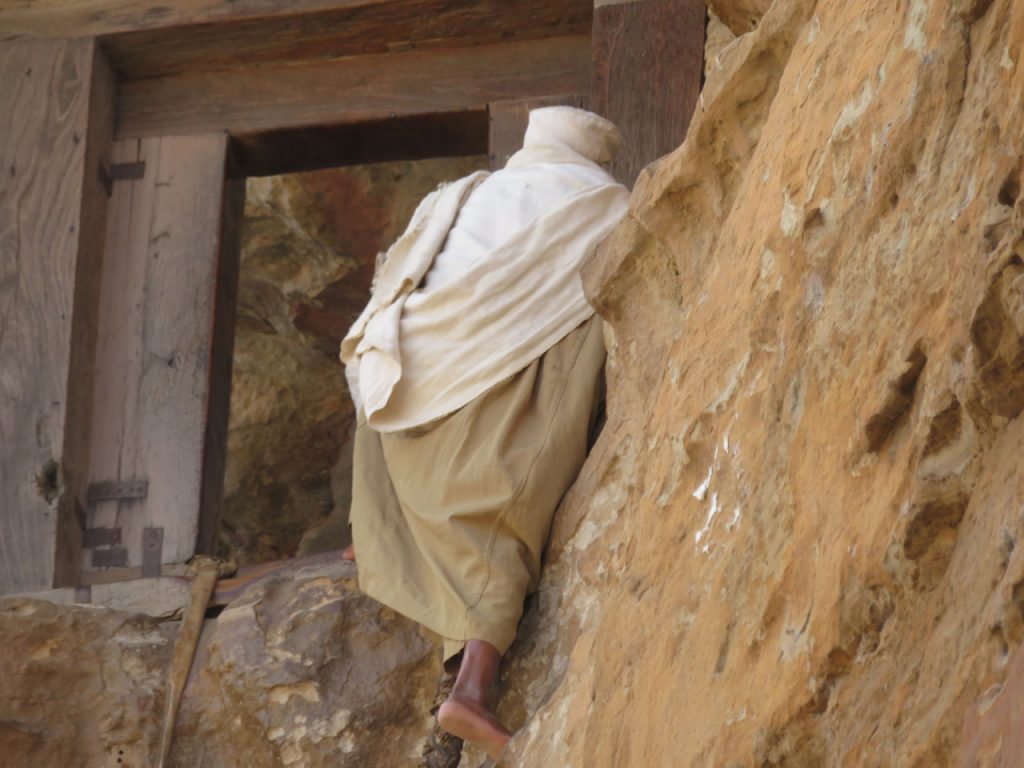 Even monks 80 or 90 years. old can do it. Once they can't, they stay.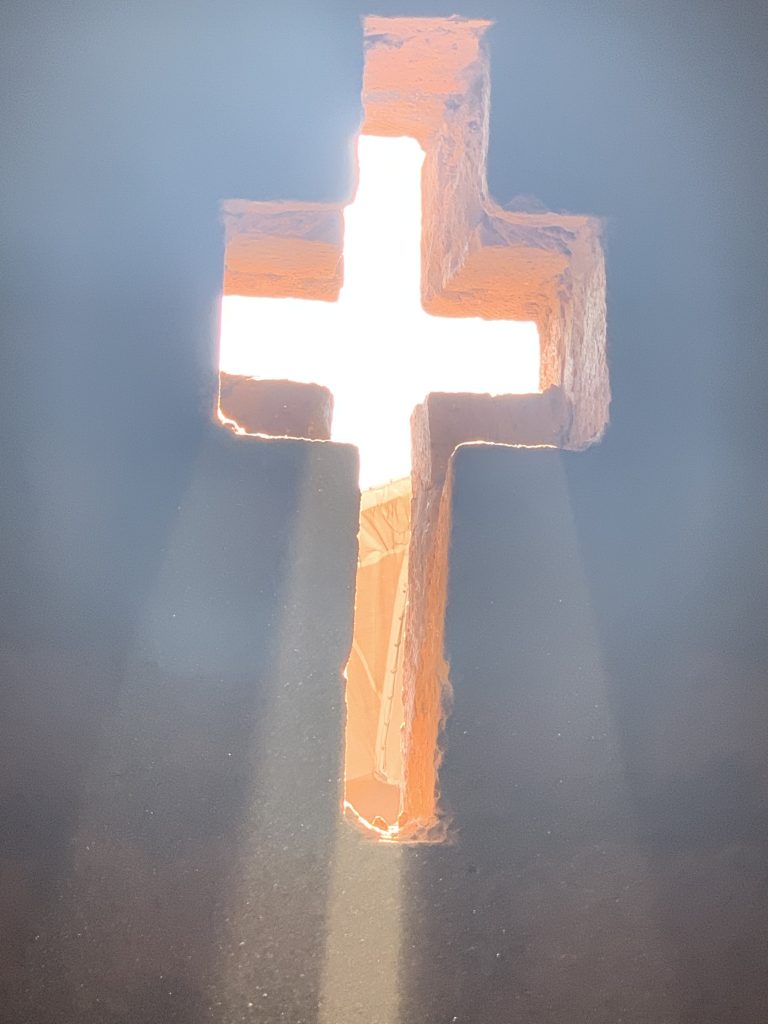 Two Fascinating Weeks In Ethiopia then came to an end. TotalAdventure moved on to nearby Eritrea, though it took two flights to get there. TotalAdventure would especially like to thank Awaze Tours for making our private journey possible. Also Special Thanks to our driver Engdu ! Ethiopia is not an easy country to navigate and Awaze helped make all this incredible experience possible.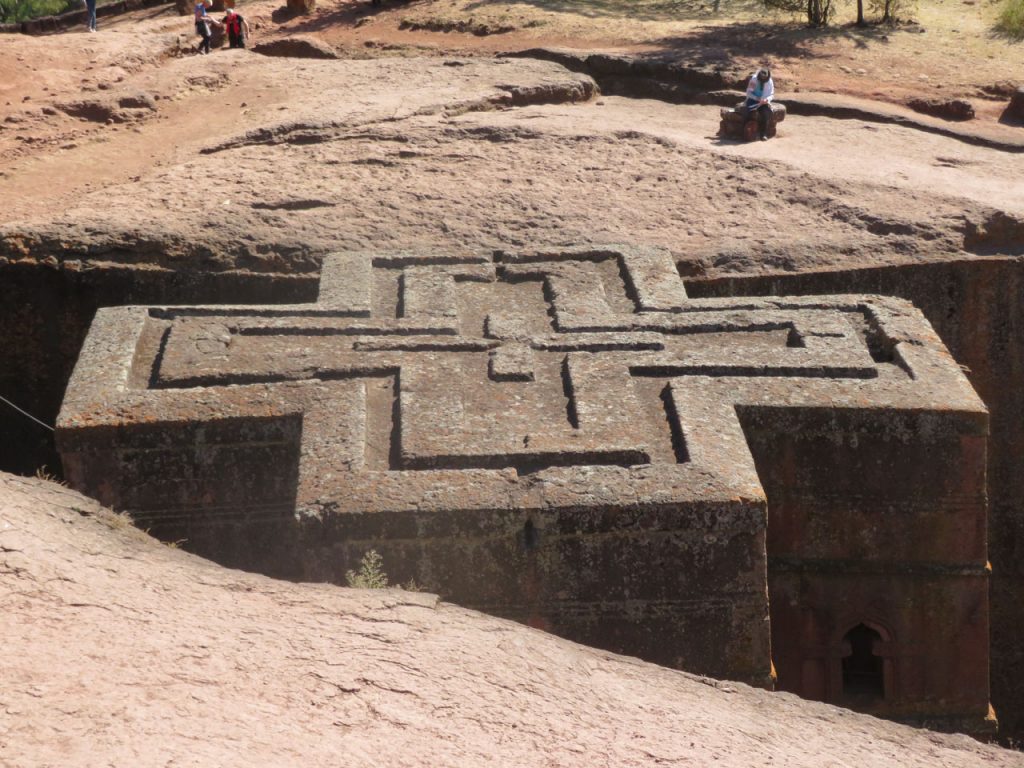 In The Twelfth Century King Lalibela Decreed A Holy City Known As New Jerusalem – To Be Built From Solid Rock. Above Is Beti Gyorgis – St.George ,One Of Eleven Churches Carved From The Earth.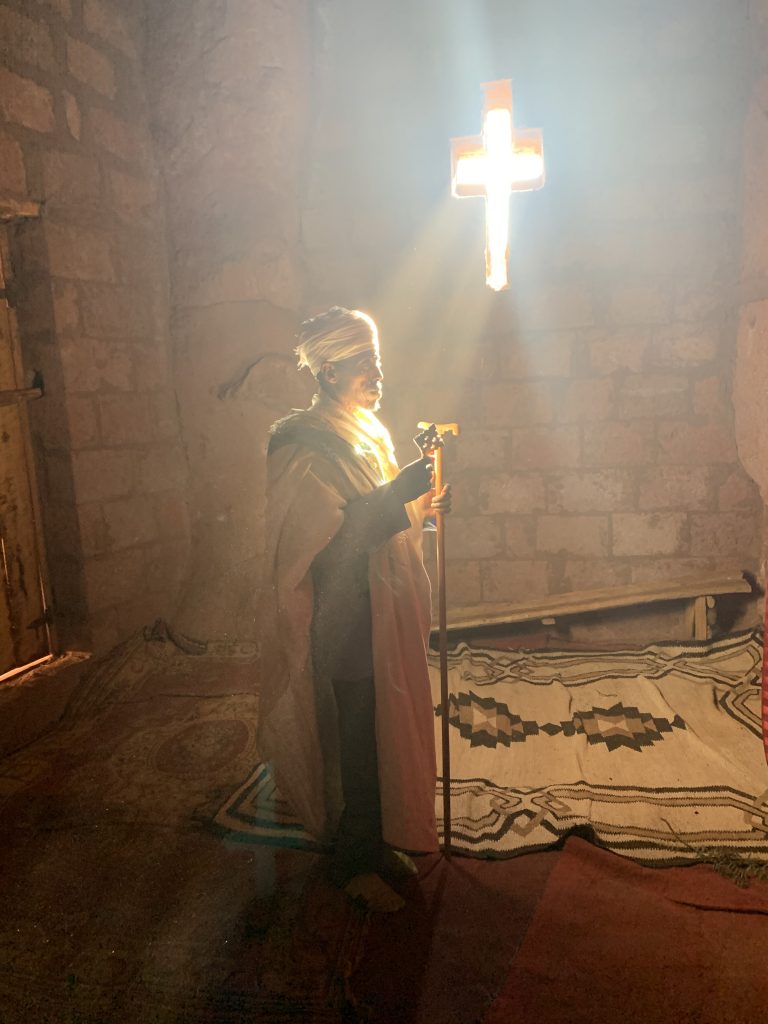 The Light of Jesus Shines Upon A Monk.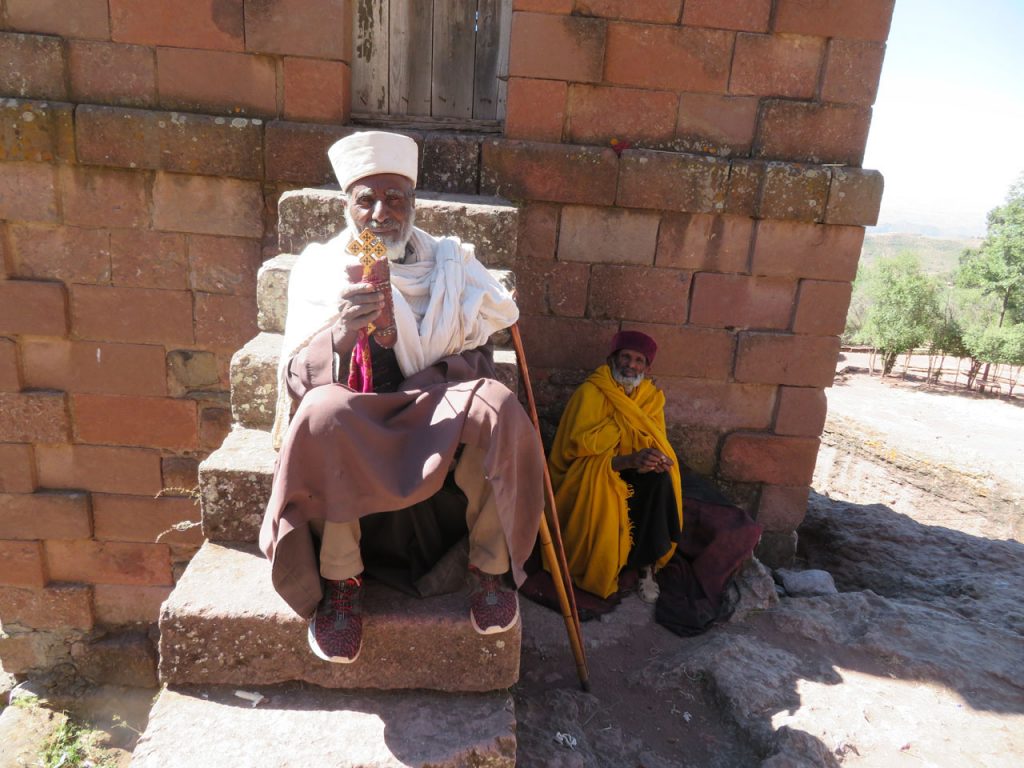 Days Spent In Prayer Unchanged From The Fourth Century.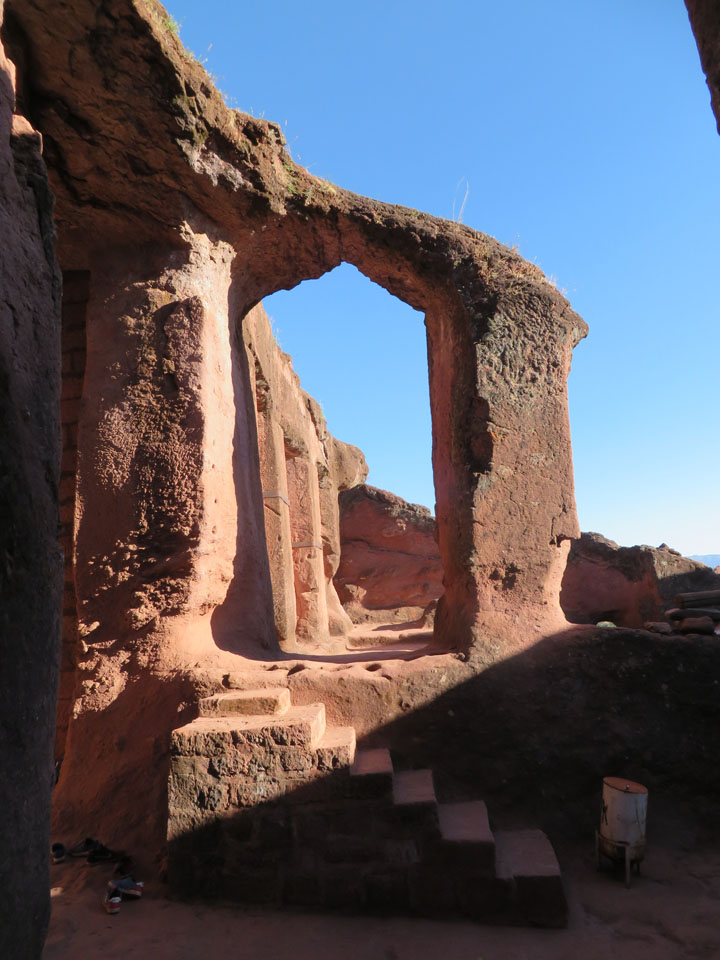 Very Little Restoration Has Taken Place. Due To The Arid Climate And Solid Rock Construction, Lalibela Remains Much Intact.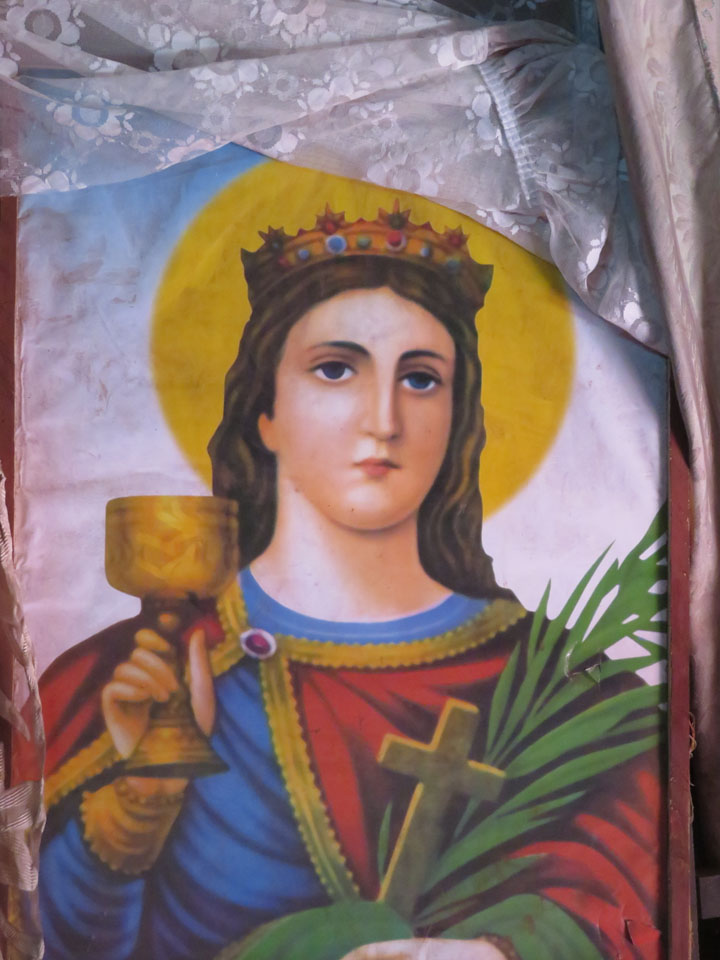 Envy Of The Crusaders Who Sought Ethiopia, But Couldn't Find It.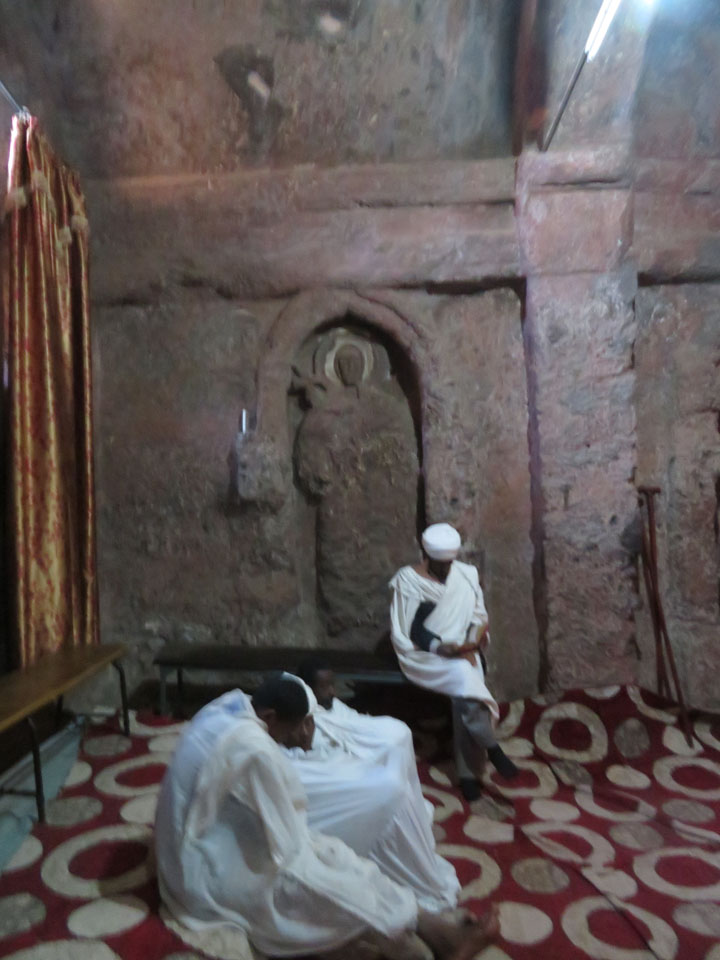 There Are 2 Masses Per Day, At Dawn And At Noon,Each For Two Hours. No Eating Or Drinking Is Permitted Beforehand ,Not Even Water.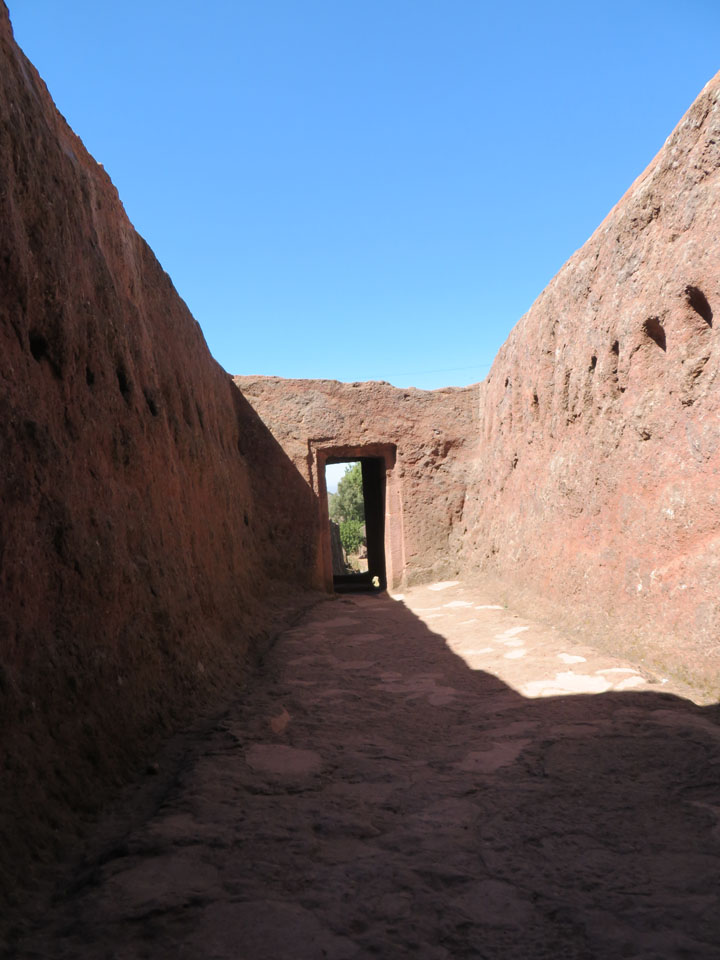 While Ethiopia is being "Discovered " there are few crowds.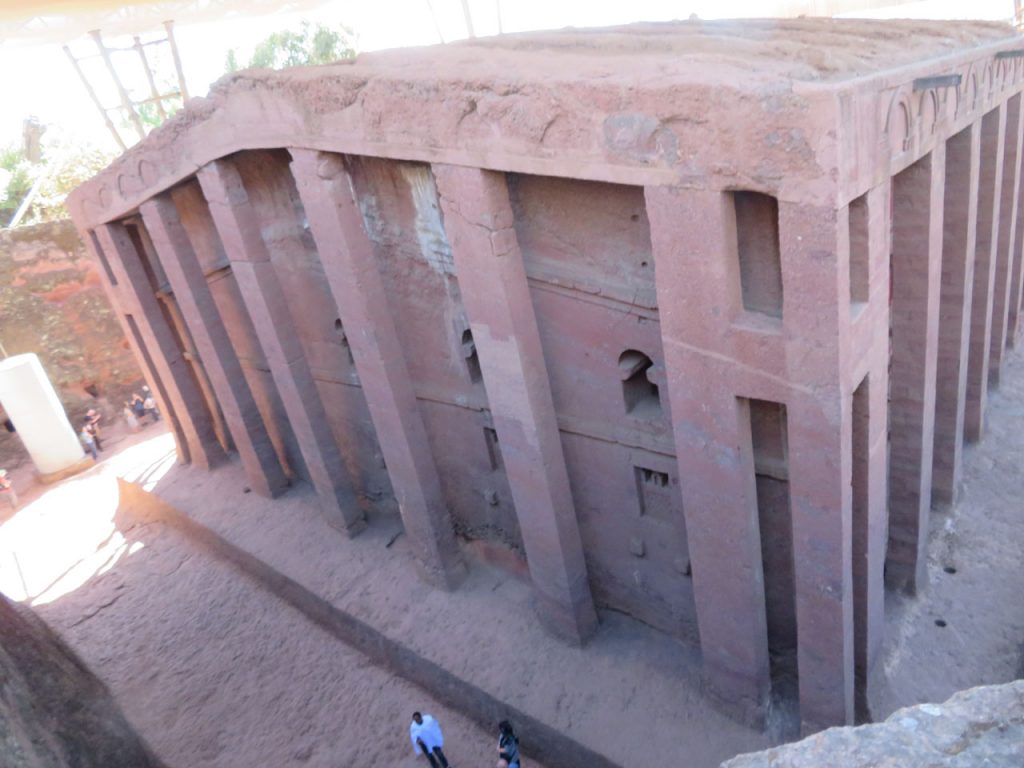 Rock Church From Above.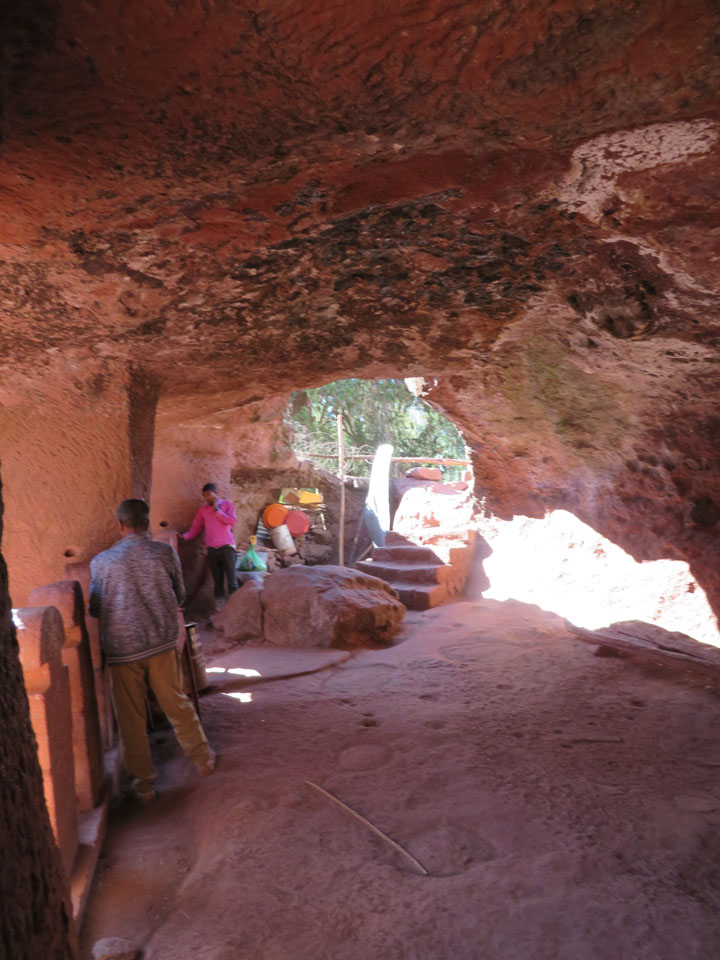 An Approach To Church.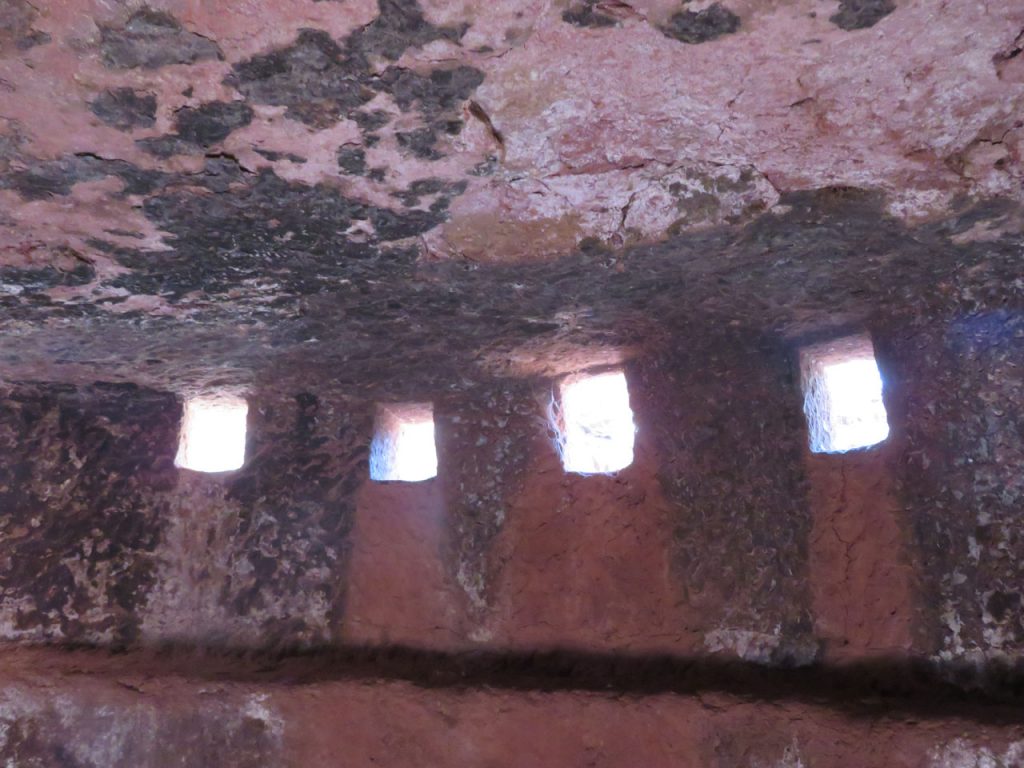 Circular Compound.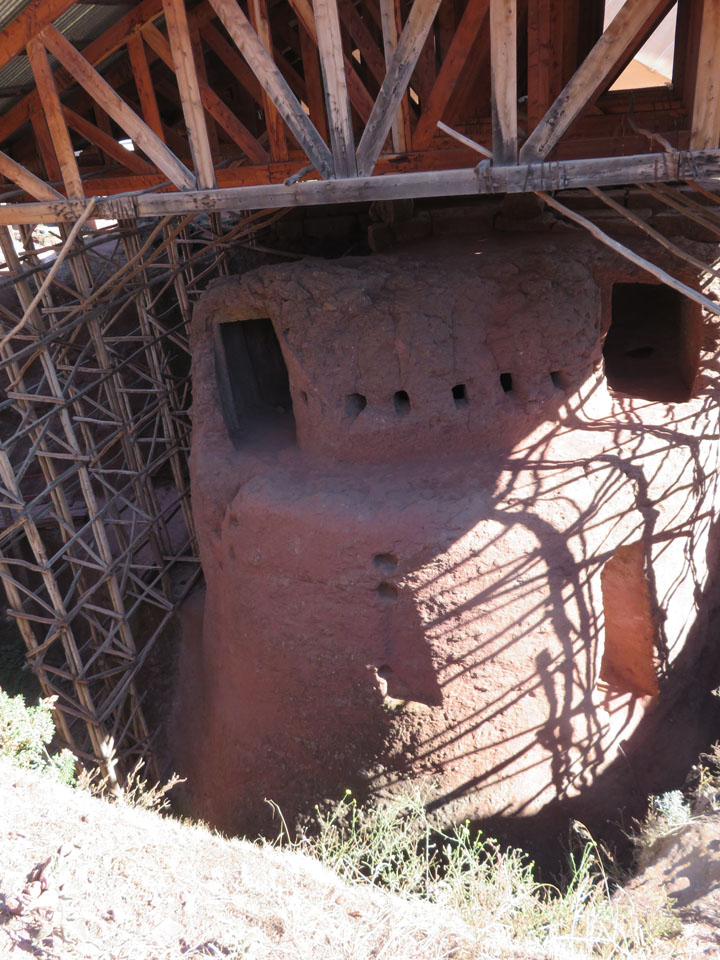 Exterior of Compound.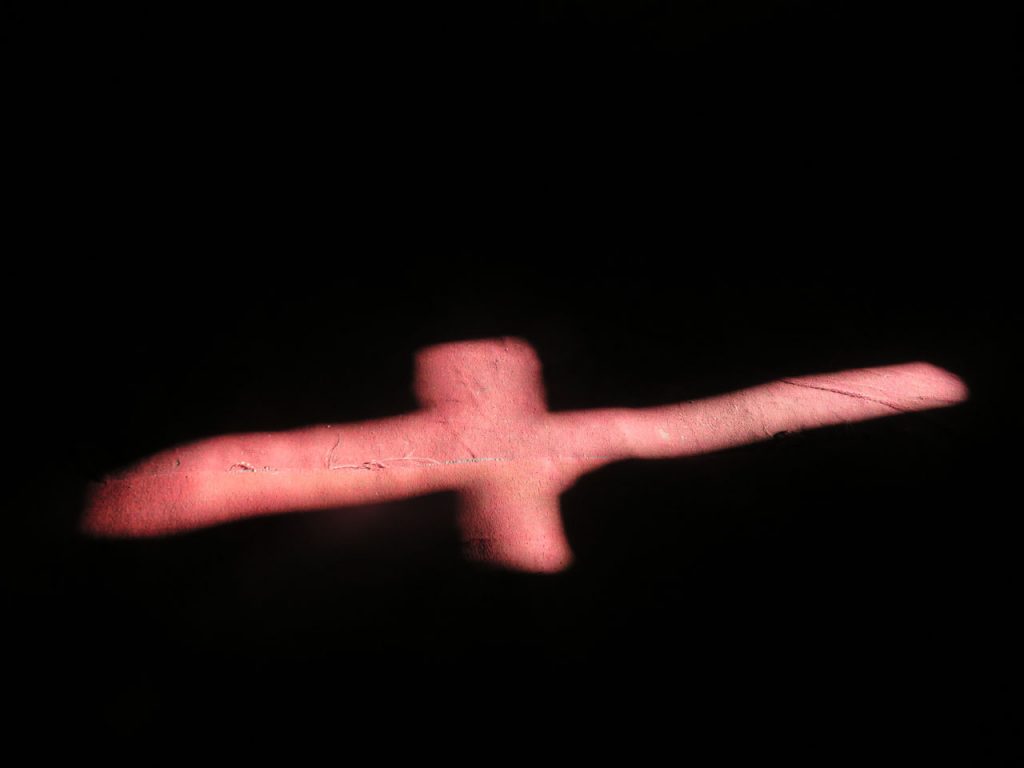 Light Of Jesus.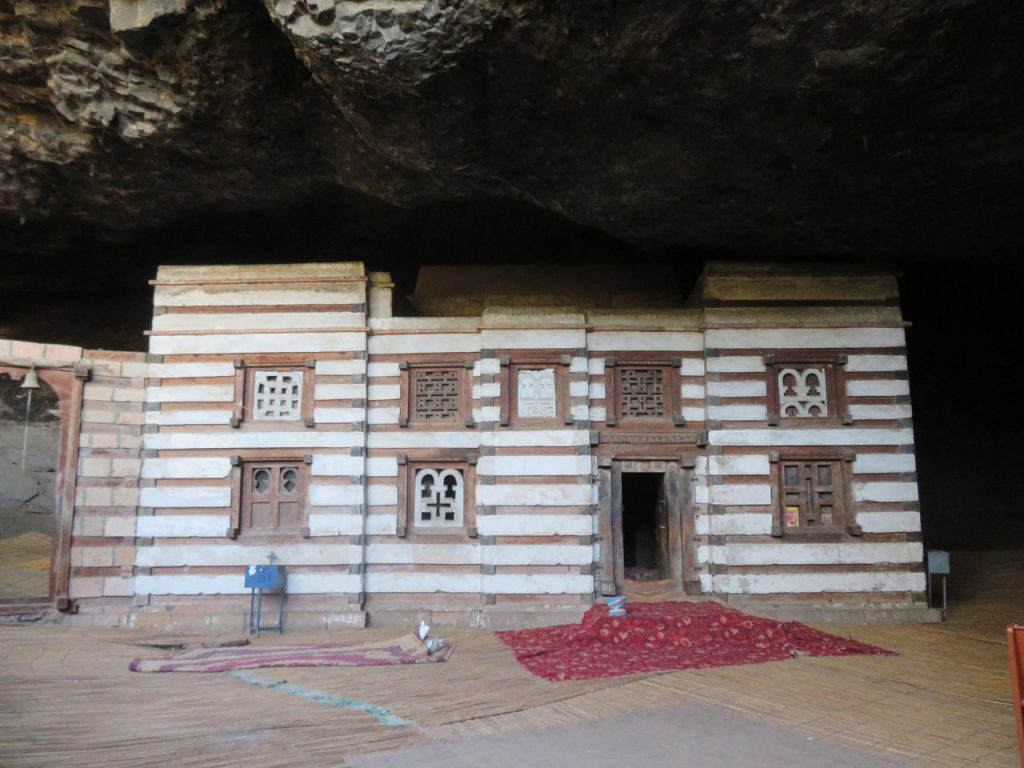 Outside Lalibela- A Church Built In A Cave.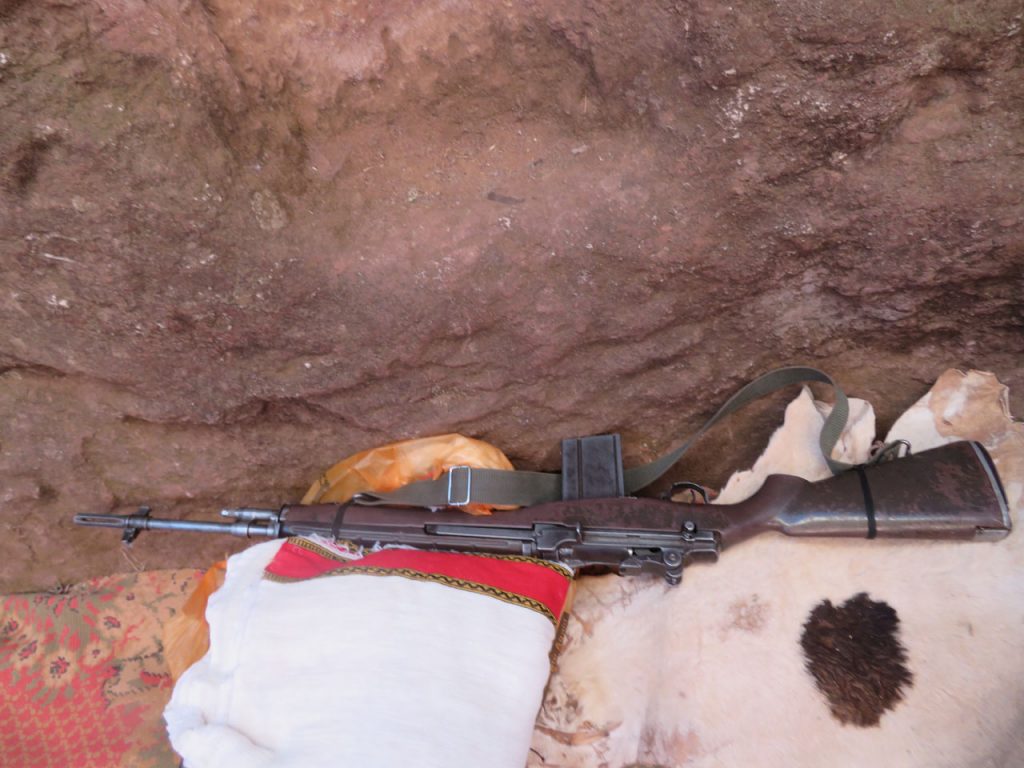 Guard's Rifle.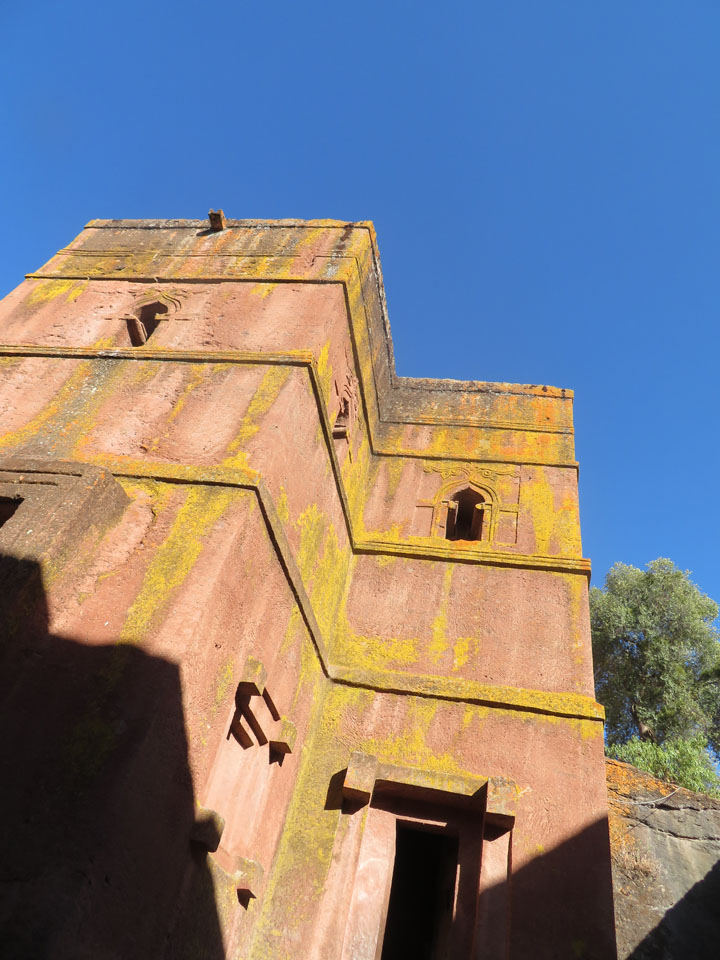 St.George From Below.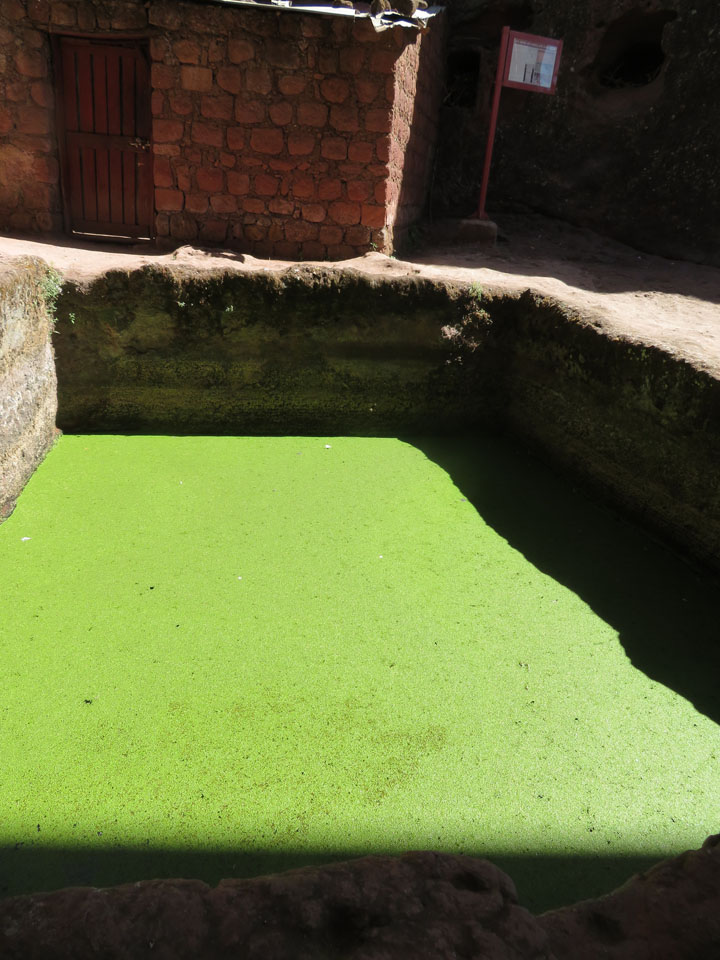 Holy Waters – A Bit Stagnant.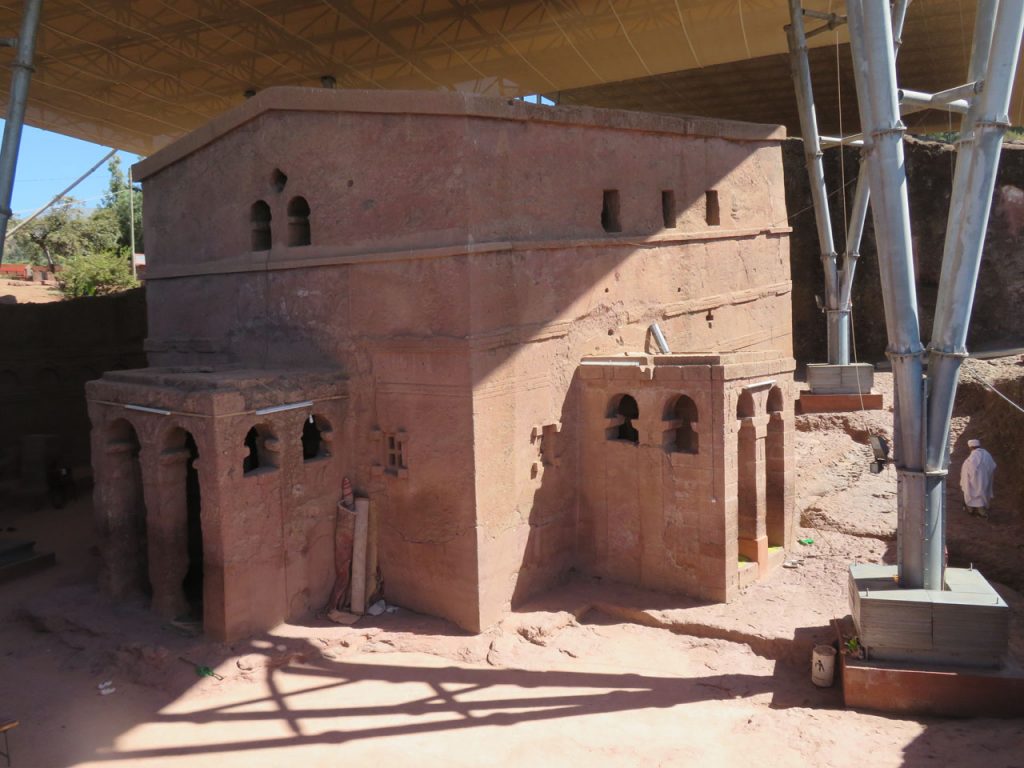 No Assembly – Just Carving !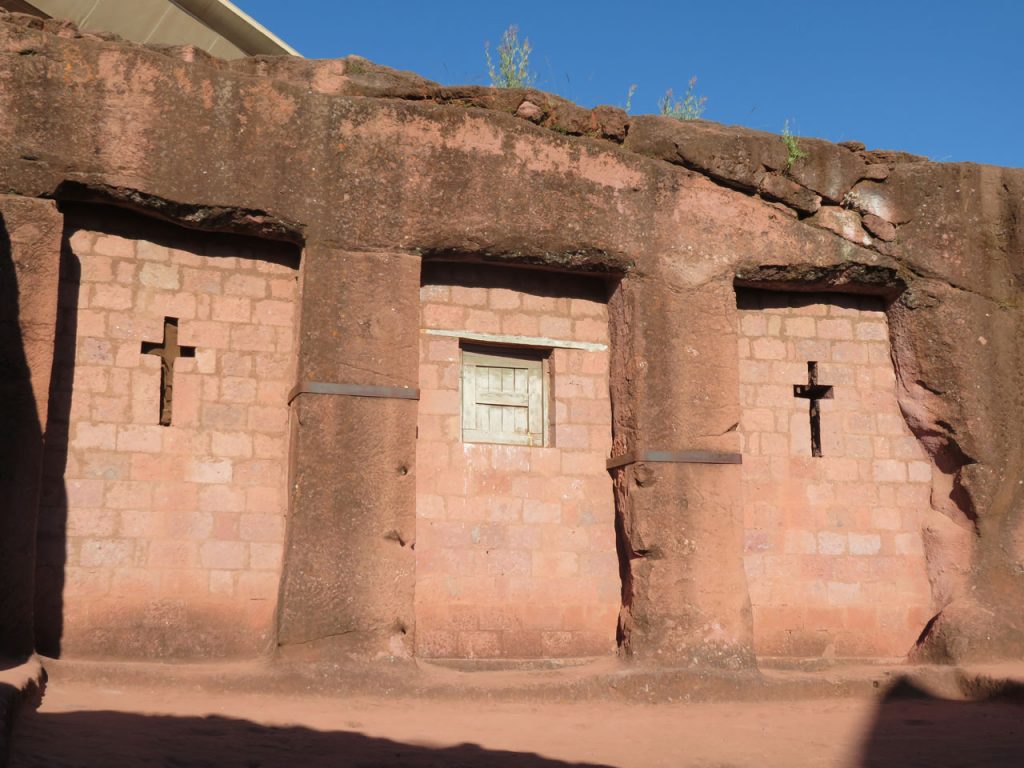 Church Exterior.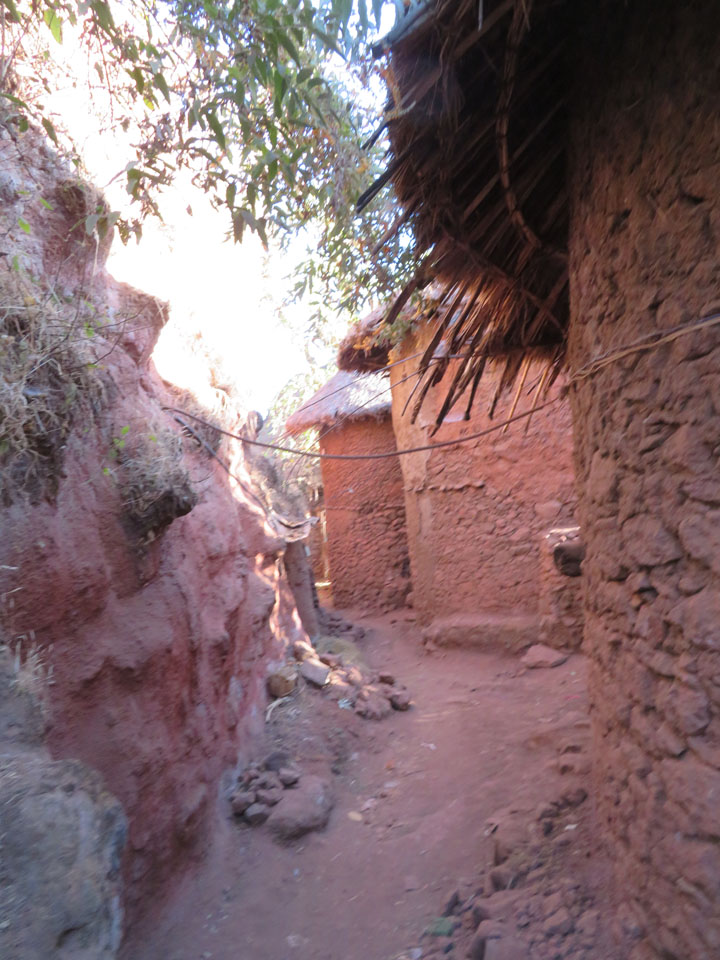 Lalibela Houses. Only Recently Did The Town Receive Electricity.
The two day 500 KM journey from Addis Ababa to Lalibela is rugged and fascinating. Ethiopia is a land harkening to Biblical times, with a few modern twists like cars and smartphones.
The two day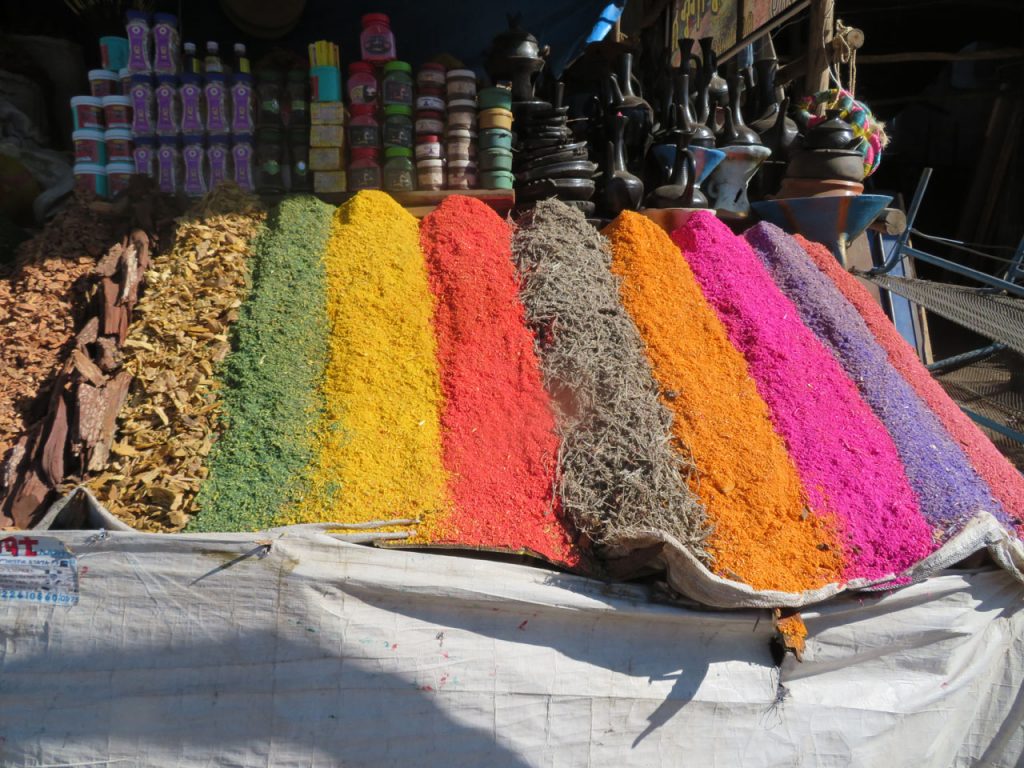 On the first night , TotalAdventure stayed in Kombolcha and posted for the first time to the Magazine. After that , the voyage became too bsuy, exploring and traveling until well past sundown, meals with locals, and slow internet made daily contributions difficult. The next morning, before leaving the city, we passed through a market on the main street.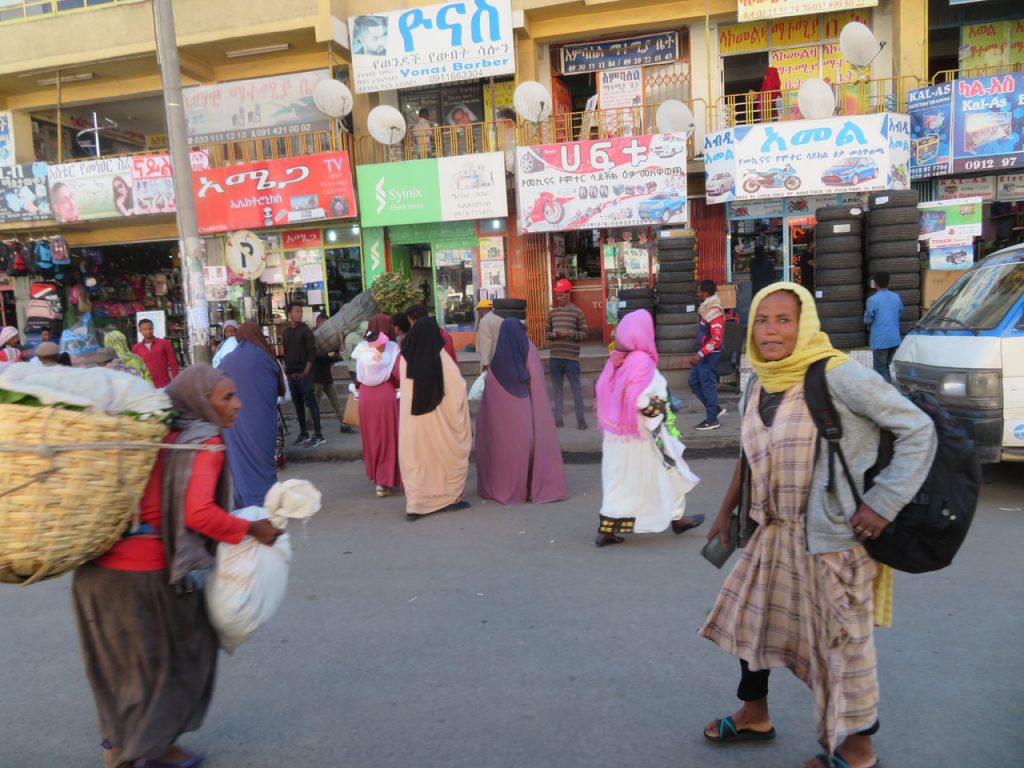 People walk for miles from the countryside to sell. their wares in the market.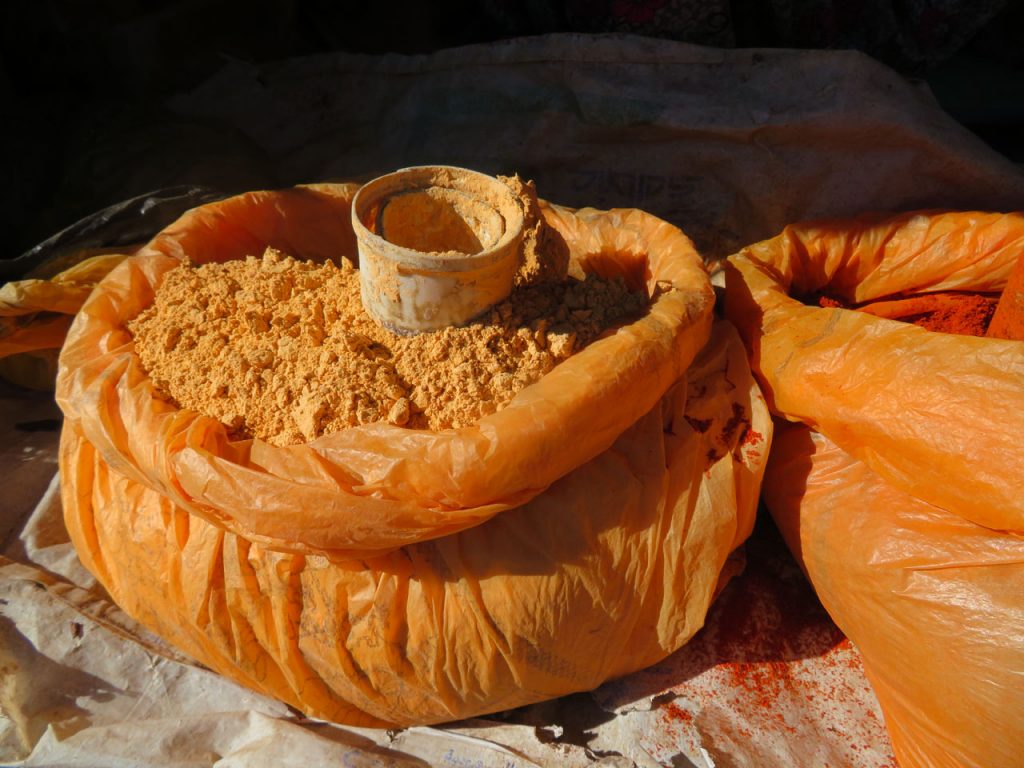 Ethiopian markets have many spices In the US this would be sold in tiny packets for many times the price.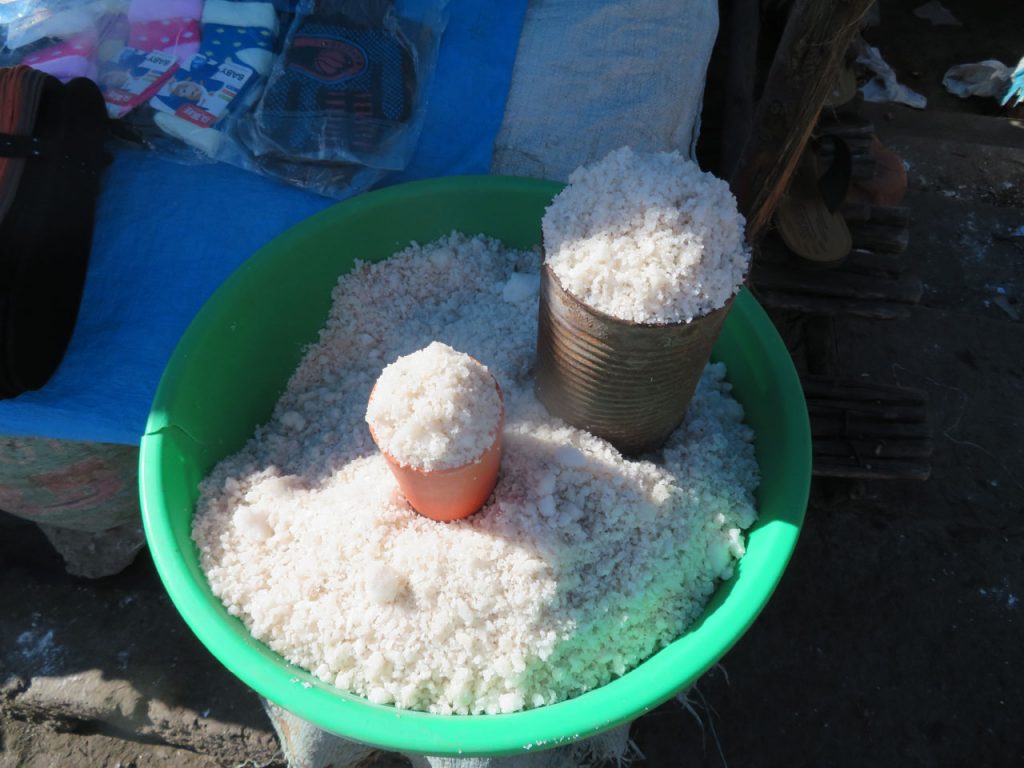 Salt , perhaps from Danakil .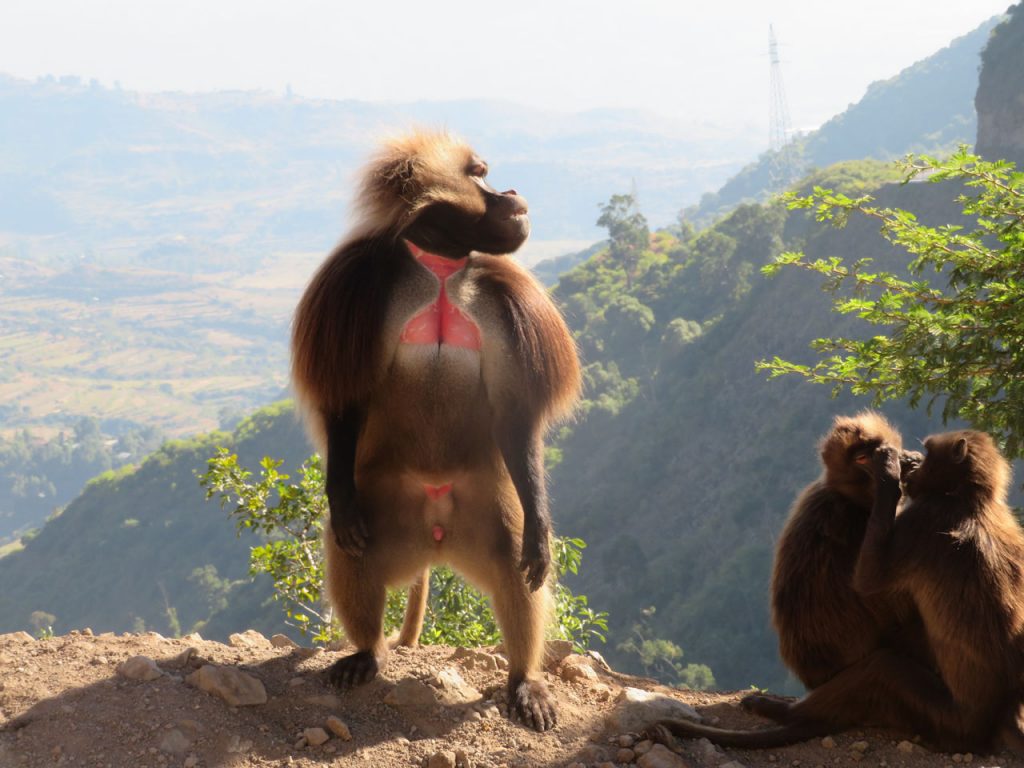 Outside town, Gelada monkeys also shopped for food, asking passerby in cars. While many think the climate must be hot, as Ethiopia in in Africa, we were almost always between 7500 and 11000 feet – 2300m -3400m. In January daytime temperatures were generally in the low 70s F( 21C) to about 40 F at night ( 4C ).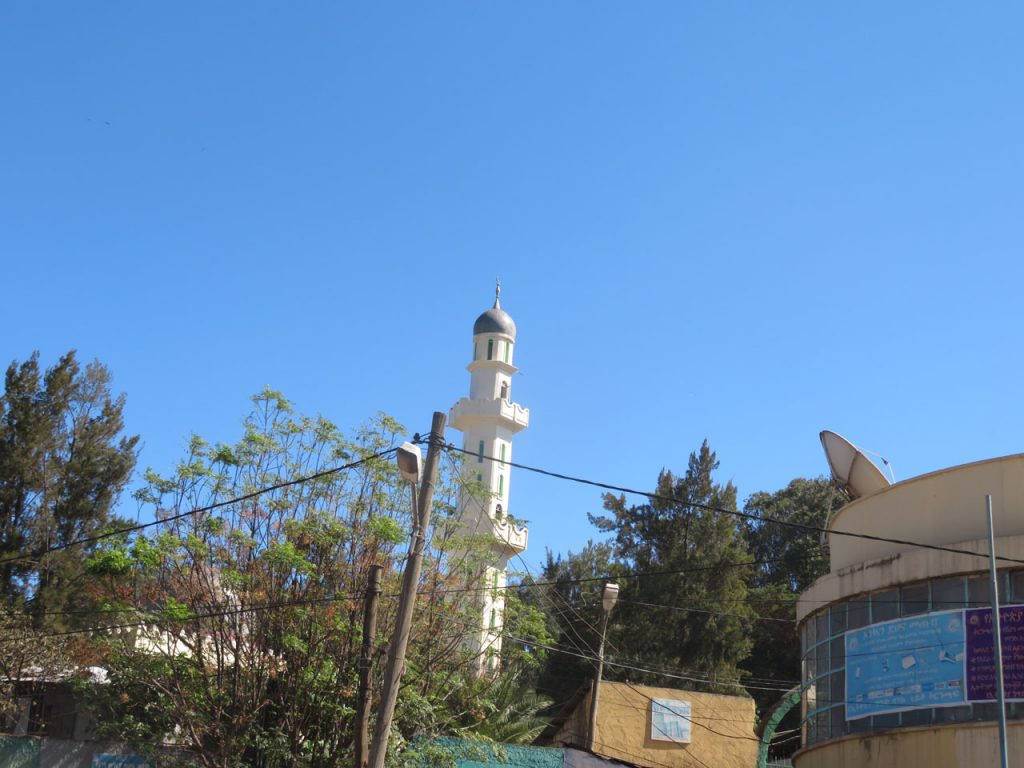 Ethiopia is 33% Islamic and 62%. ( mostly Orthodox) Christian. In general there are no conflicts over religion.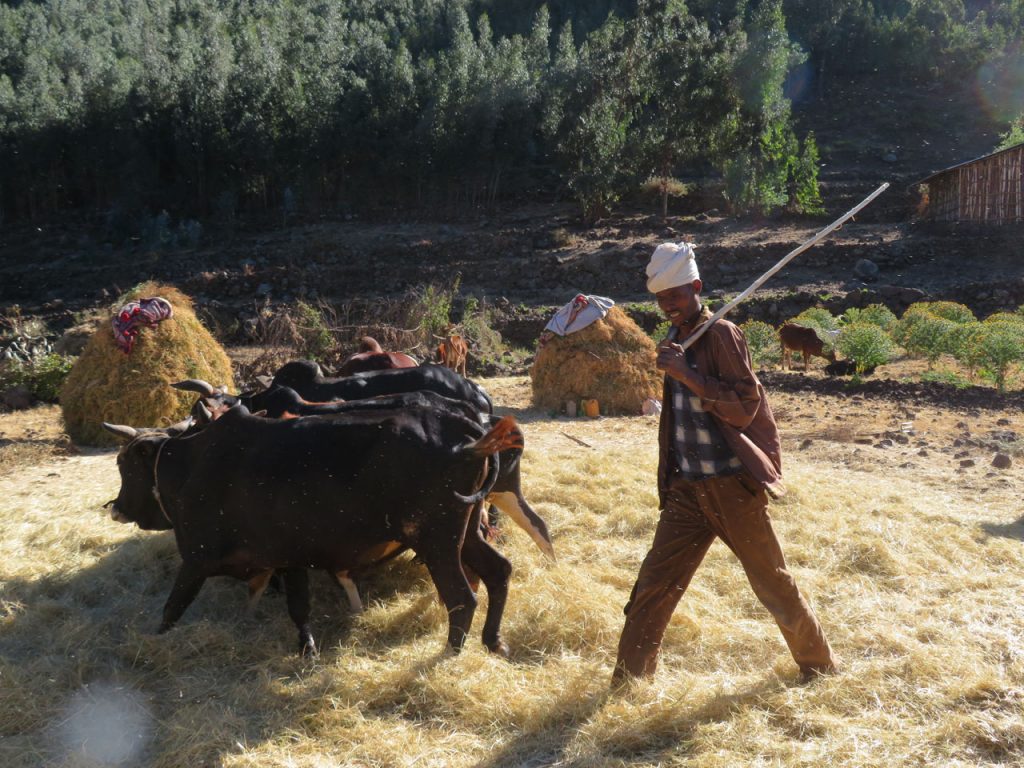 Wheat is pulverized into fine powder by the hooves of oxen.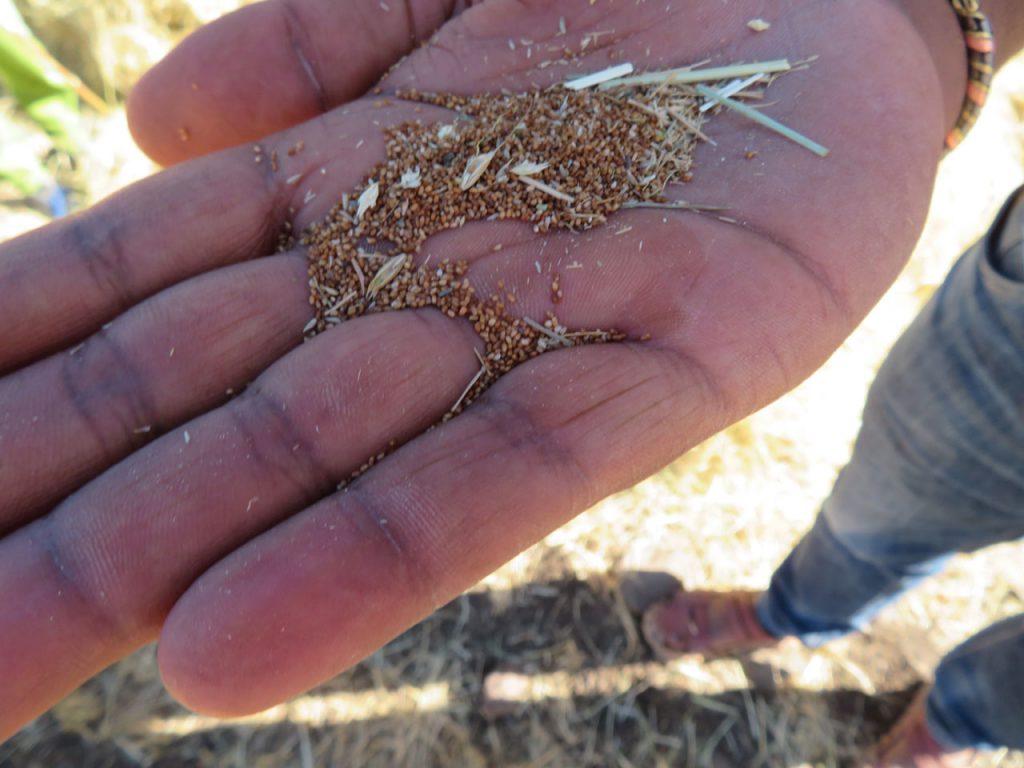 The powder is used to bake inerja – the ubiquitous bread that accompanies almost every meal in Ethiopia.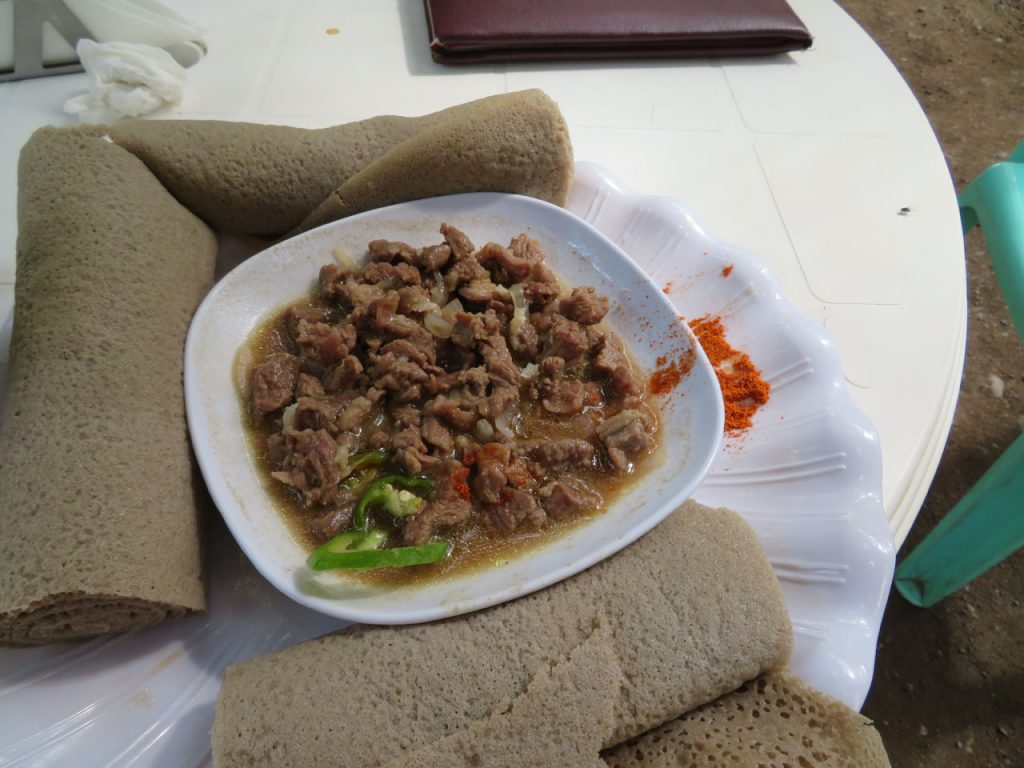 What appears to be a towel is the inerja. You use it to scoop up the meat and eat everything.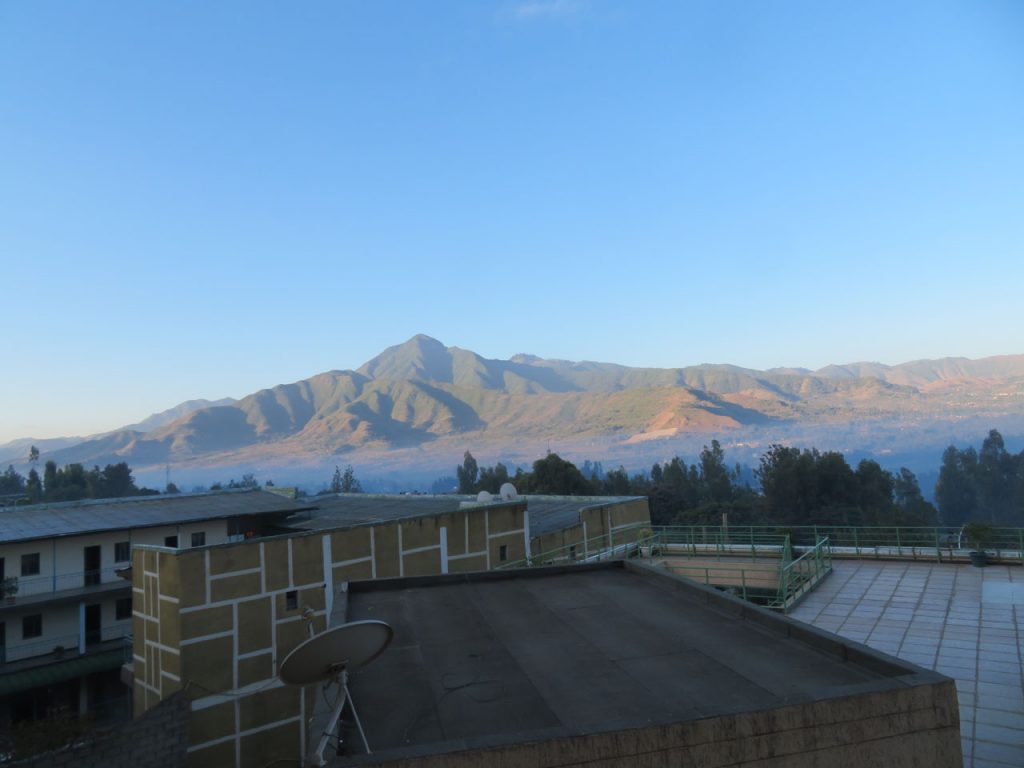 Evening in Kombolcha.