Tags:

Posted in: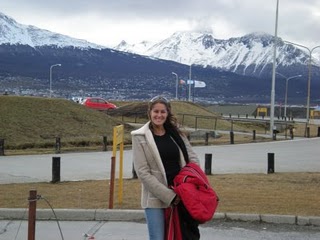 I left chilly Puerto Madryn for FREEZING, three-degree Celsius Ushuaia this morning.
The two-hour plane ride passed quickly as I spent the flight staring out the window looking for the Strait of Magellan and the Beagle Channel.
Although I couldn't tell the difference between those two bodies of water and all the other wide rivers cutting through the mountains, I got into town just in time to hop on a catamaran and sail the Beagle Channel; this channel divides Chile from Tierra del Fuego, Argentina. Luckily, there was an indoor cabin with the heaters turned on and a full bar that served the most delicious hot chocolates.
The port from which the ship sailed was a short four blocks from our centrally-located hotel. Ushuaia is a big city, but everything a tourist needs is within walking distance from any hotel. It's perfect.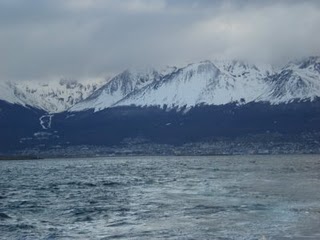 The ship left the port in the afternoon, just as the near-setting sun illuminated the mountain-covering clouds with an amazing pink/red color.
The two and half hour boat ride made its first stop at a small island where hundreds of cormorants called home.
The next island was my absolute favorite. It was littered with sea lions who were ready to play as soon as the ship got near the island.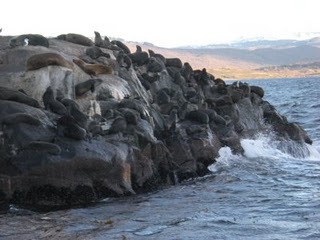 We were about 30 yards away from that island when several sea lions perked their adorable little heads with tiny little ears up and dove into the water. It was a wave of sea lions as we sailed towards them and they swam towards us, almost in unison, diving in and out of the water. Once they caught up, they put on a very enjoyable show as the jumped the waves the ship created, popped their heads out of the water to look at us, stick their tales out of the water and wave at us, flip around and even demonstrate their impressive speed as they swam alongside the ship.
The final stop of the trip was an island decorated with a beautiful red and white lighthouse, Les Eclaireurs Lighthouse.
What an amazing boat ride!
For more from Agustina Prigoshin, read her blog at www.agustinaprigoshin.com
FOR ADVENTURES IN CHILE, CLICK HERE