As an American kid growing up in Heidelberg, (West) Germany, back in the 60's I got to travel quite a bit around Europe – Western Europe. It was very difficult to travel to the mysterious lands beyond the Iron Curtain. I did traverse Yugoslavia by train on the way to Greece – fascinating to see out the window, but not really that "Communist". I wished that our family could be a little more adventurous and visit Czechoslovakia, East Germany, Hungary, etc. However – there was one country completely off limits – Albania! No one could go there –ever – under pain of death.
Xenophobic Stalinist Dictator Enver Hoxha had sealed the nation off from the world. In the 1960's the only diplomatic relations were with China – even those were broken in the 1970's when Hoxha denounced the Chinese for betraying true Marxism.
For the next 25 years or so – I often glanced at the globe – knowing one day I would finally get to Albania. In 1991 the evil regime finally collapsed and the world finally got a glimpse of life inside the bizarre hermit nation. The early 90's were a busy time for me, and I finally got a chance to visit in the Spring of 1995.
I flew from Bari, Italy to Tirana aboard an old YAK-40. Looking down from the plane it was hard to believe we were flying in Europe – the land was nearly unpopulated, with dirt tracks instead of roads. We had a slight delay in landing as sheep had to be cleared from the runway. On the runway were military aircraft – US, UN and Italian – as less than 80 miles away in Kosovo war was raging.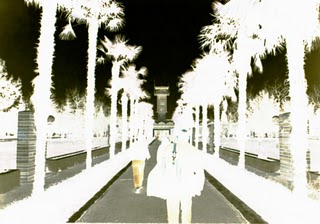 The first thing one notices when leaving the airport are the pillboxes everywhere. Hoxha had been convinced that the entire world was ready to attack and invade – so one pillbox was built for every four people (1 million pillboxes) to defend the homeland. In addition every fencepost had a razor sharp iron spike to impale invading parachutists.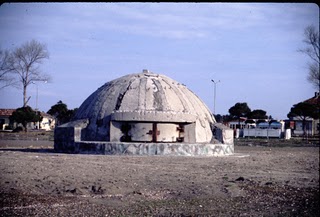 The city of Tirana had not been rebuilt yet, as it is apparently now. Free enterprise had taken over, but Western retail establishments had not yet entered the volatile war-prone market.
Proletarian flatblocks were dilapidated – and Communist propaganda was still visible. PPSH had been the acronym for the Communist Party.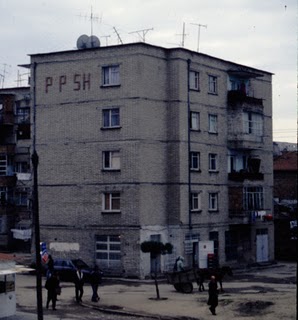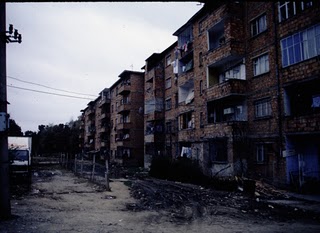 Religion was reappearing. The Iranian government was helping to reopen old mosques (one had been used as a hog slaughterhouse by Hoxha – to defile Islam and promote himself as a god) and build new ones. This mosque in Durazzo had been recently restored.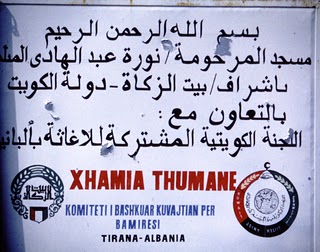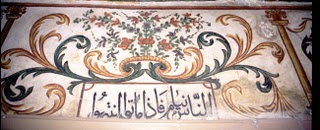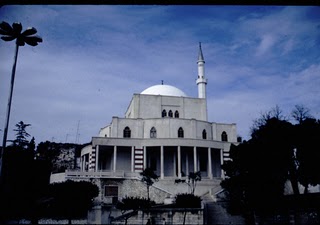 The people were very friendly – LOVED Americans and school kids cheered everywhere I went.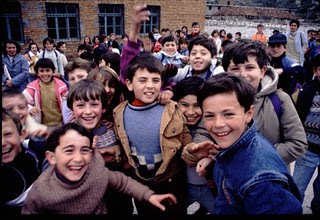 Government buildings were built in a way to inspire terror in would be dissidents.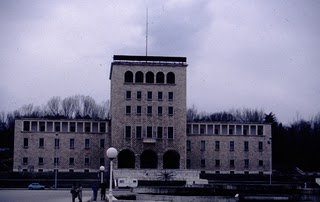 Factories had been destroyed in fighting during the collapse of the Hoxha regime in 1991 – mostly outdated make-work sort of places. Also, an amphetamine factory had been looted at the same time all the armories of AK-47s and grenade launchers had been totally emptied by the populace – making for a very touchy situation – even still in 1995.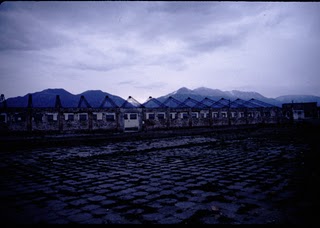 After a couple of days, first in a hotel, then at my guide's flat, we ventured into the countryside. The old fort of Kruje glares imposingly from the Balkan heights.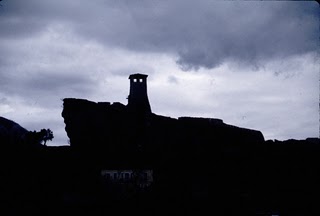 Small villages are not much changed from medieval times.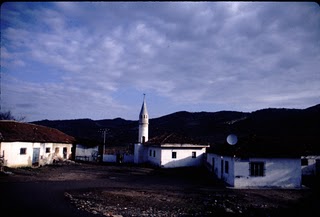 Transport is primitive, yet innovative.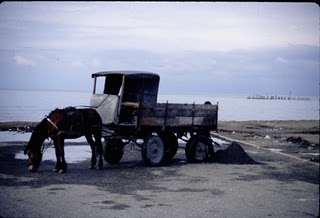 Pollution poisons the country air in many regions.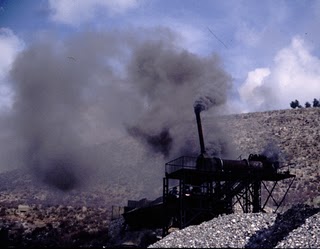 Once we were invited to a viewing of a 100-year-old man who had died that morning. In accordance with Islamic Law he was to be buried by sundown.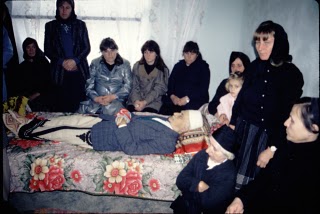 Propaganda is hard to remove.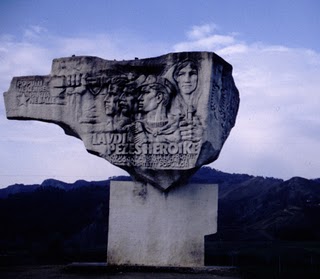 Business deals everywhere – here at a car market where stolen cars from all over Europe are traded.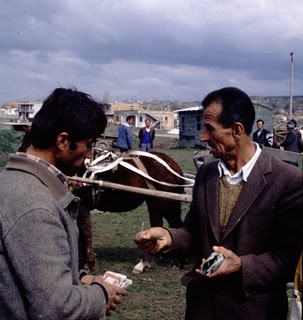 The coast is beautiful. 12 years ago the next Adriatic Riviera was waiting to be opened up – it still is.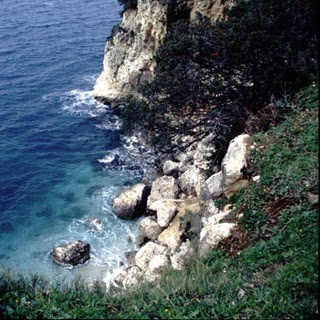 Two wars have been fought here since my visit,and now the nation is at peace.
ArcticTropic features Albania, with a hotel link. More accommodations and providers will be offered soon. Please suggest any provider HERE – and we will list if appropriate. For advertising opportunities click HERE – or click on Advertise in the top menu bar.